This page contains affiliate links. Please read our disclosure for more info.
An hour away from San Francisco, in Northern California, you will find three Sonomas—the town of Sonoma, the wine region of Sonoma Valley and both of which are situated in Sonoma County.
The gloriously relaxing Sonoma County.
The famous Napa Valley is the obvious Wine Country destination, but Sonoma wineries are more laid-back, cheaper, and quieter. Perfect for a weekend getaway.
You will also find plenty of things to do in Sonoma besides wine tasting. There is a delicious cheese trail, whale watching, beautiful coastal walks, quirky art trails, stunning Redwood trees, and so much more.
In this post, you'll find our tips on the best things to do in Sonoma County, where to stay, and where to eat.
There is also a Sonoma map at the end of the post with everything mentioned in this guide.
Contents
Where is Sonoma County?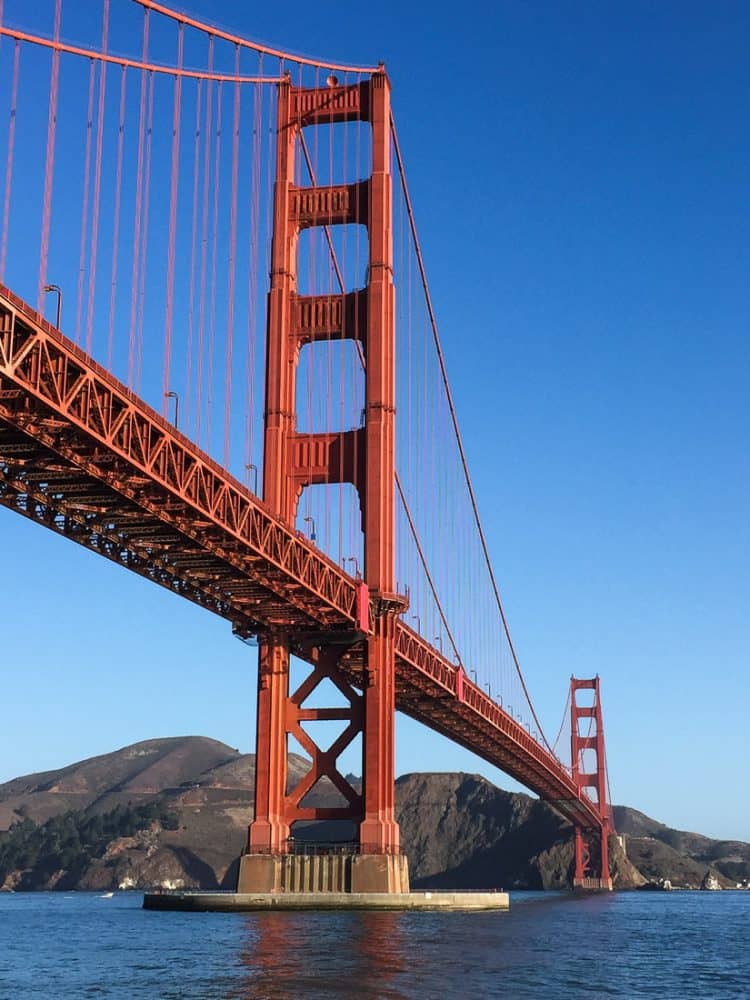 Head north out of San Francisco across the scenic Golden Gate Bridge, one of the best ways to start a trip.
Follow Highway 101, and in less than an hour, you will reach the historic town of Petaluma, a great starting point for trips to Sonoma County.
What to Do in Sonoma
Must Visit Sonoma Wineries
With over 450 wineries in the area, we recommend you narrow your focus as we did to the Alexander and Dry Creek Valleys in northern Sonoma Wine Country.
The further north we went, the more rural and prettier the countryside, with quiet roads gently winding through the green vineyards against a backdrop of hills, golden from the summer sun.
Sonoma is diverse—from the winemakers' approaches, to the soils in which the vines grow and the micro-climates created by the cool fog from the coast and the sun's heat from further inland.
Every winery we visited was very different, and that's what we liked about Sonoma. There are plenty of small, down-to-earth, artisan winemakers and opportunities to experience the more upmarket tastings you find in Napa, making winetasting a must do in Sonoma and one of the best ways to enjoy the county.
These are three of the best wineries that we visited:
1) J. Rickards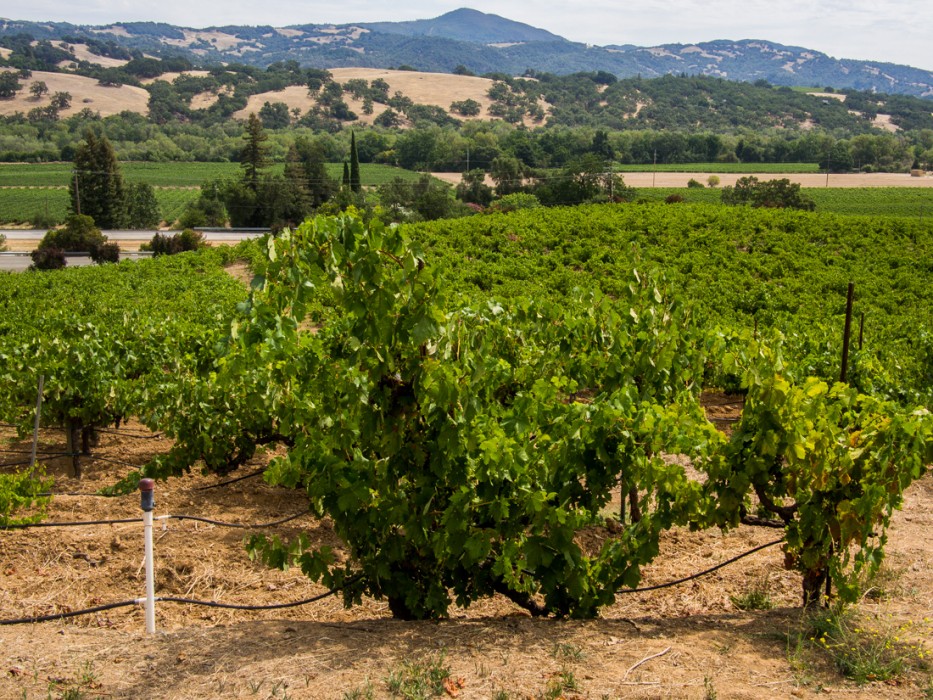 J. Rickards Winery isn't one of the well-known wineries, but it turned out to be just what we were looking for in Sonoma—great wine, fascinating stories, and a passionate producer.
We love small family-run vineyards, and J. Rickards is as down to earth as you get—they describe their wine as "Darn Fine Barn Wine".
Owner Jim is an unconventional winemaker who doesn't adhere to any particular farming philosophy. Focusing on doing what worked best for his farm instead of a one-size-fits-all approach meant that Jim discovered sustainable farming before it was fashionable.
Take a tour of the impressive vineyard to learn more about their sustainable practice, then sample their delicious Zinfandel in the rustic Tasting Room overlooking Sonoma Valley.
Address: 24505 Chianti Road between Geyserville and Cloverdale in the Alexander Valley.
Hours: Open 11am-4pm Monday to Saturday for wine pickups and tastings, Friday and Saturday tasting reservations are required.
2) Quivira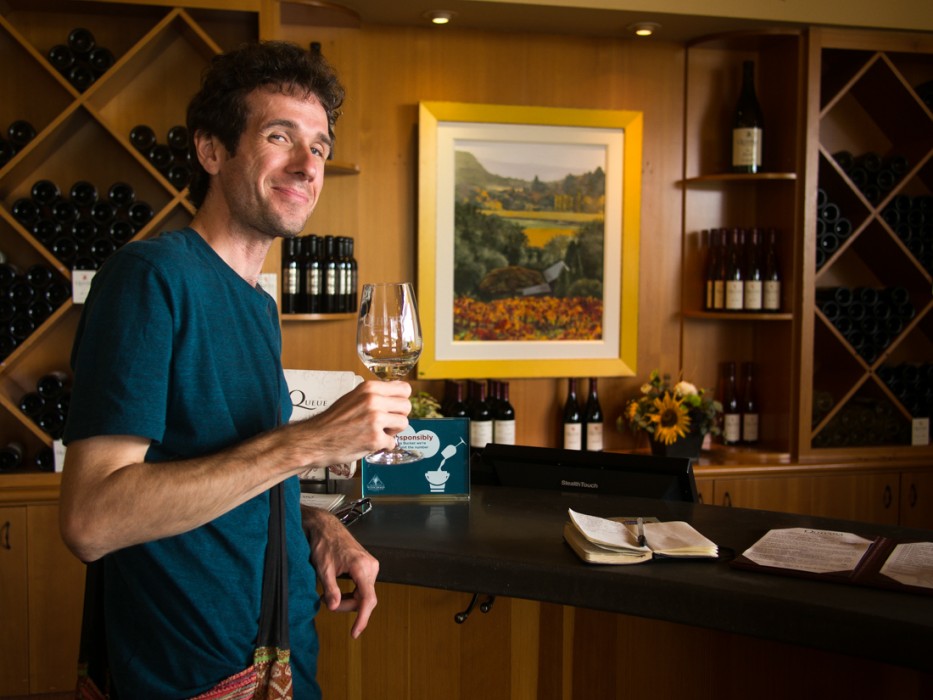 Our next winery was down West Dry Creek Road, a narrow, almost single track tree-lined road to Quivira Vineyards.
Quivira produces biodynamic wines, and their estate reflects their agricultural philosophy of recycling back into the earth everything that has come from it.
Their wines embody their place of origin and, as a result, are more distinctive and delicious because of it.
It is also a great place for a picnic in their gardens full of wildflowers, vegetables, and chickens.
Address: 4900 West Dry Creek Road in Dry Creek Valley.
Hours: The tasting room is open 10.30am to 4.30pm Monday – Thursday by appointment only.
3) Ferrari-Carano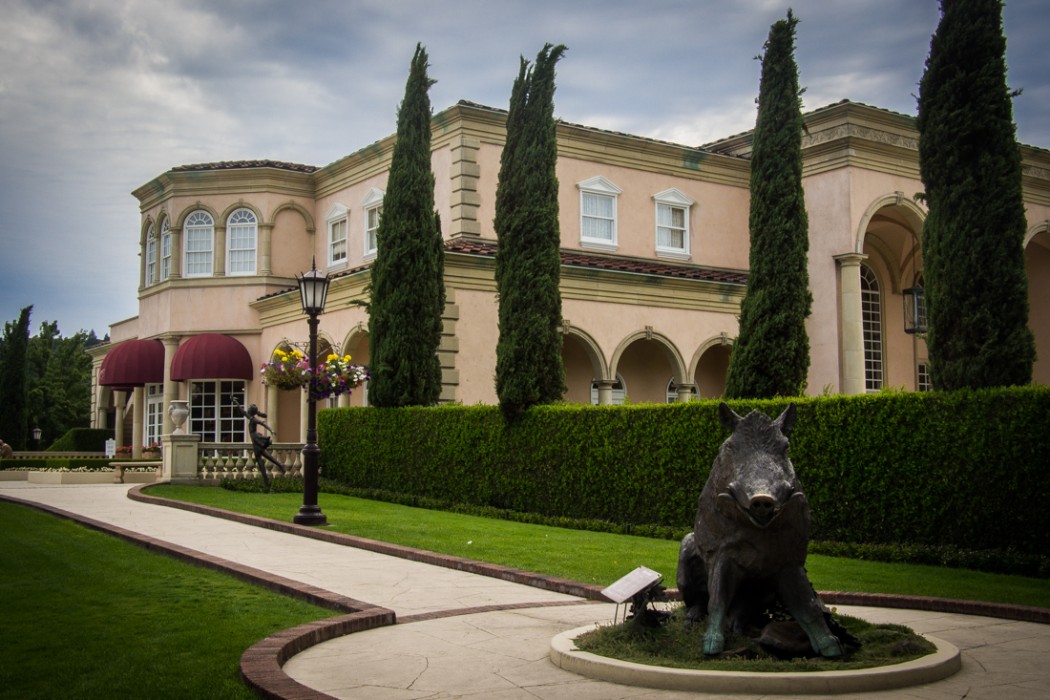 For a fantastic luxurious wine tasting experience, we would recommend Ferrari-Carano. It was created by Don and Rhonda Carano in 1981 and has grown rapidly since.
The winery consists of 19 vineyards across Sonoma and Napa, with the highlight their huge Tuscan-style mansion with extensive manicured gardens, a gift shop, and two popular wine tasting rooms.
We appreciated that the estate was fancy but friendly and unpretentious.
We took a tour of the winery, including their gorgeous gardens, extensive wine cellars, neat vines, and even saw the menus that were featured at White House meals.
Being a more extensive production means that they can produce a wide range of wines, and they produce 20-22 different wines a year.
Everything we tried was outstanding, but standouts included their flagship Fumé Blanc, a crisp Sauvignon Blanc that's a bargain at $17 a bottle and the Chardonnay, which is a bit more complex and is a blend of 60 different types of Chardonnay grapes.
Address: 8761 Dry Creek Road in Dry Creek Valley.
Hours: Tastings by appointment only 11am – 5pm, last reservation at 3:30pm.
Take a Sonoma Wine Tour
If you want to discover more Sonoma wineries without having to drive, why not try this small-group wine tasting tour with Sonoma Wine Rides, who can conveniently pick up from vacation rentals and hotels in various areas in Sonoma County. The tour costs $135 and includes three wine cellars.
For those who crave activity with their wine tours, check out this Sonoma Valley Wine and Bike Tour by Sonoma Valley Bike Tours. You can choose between regular or e-bikes, and all-day bike hire is included at $179.
The Delicious Sonoma Cheese Trail
There are many things to do in Sonoma without drinking.
Sonoma County is also home to dozens of artisan cheesemakers who use local milk from grass-fed cows to create small batches of cheeses that reflect the unique flavour of the region.
Like wine, cheese reflects the terroir, or flavours, of the soil and the climate, humidity, and environment of the place where it is made.
Marin and Sonoma Counties have created a cheese trail to help visitors discover the small cheesemakers in the area.
These are three delicious stops that we sampled on the trail, with plenty of options to pick up the perfect picnic lunch.
4) Petaluma Creamery
A historic dairy farm, Petaluma Creamery was established over 100 years ago and is the home of Spring Hill Jersey Cheese. Their large factory is next to a shop/cafe with pre-cut samples available in the fridge.
The cheeses were nice enough, but admittedly as Brits, we have pretty high standards when it comes to cheddar cheese!
In addition, they also make ice cream with a wide range of exciting flavours, including lavender.
Address: 711 Western Ave, Petaluma.
Hours: Open daily from 8am-5pm.
5) Epicurean Connection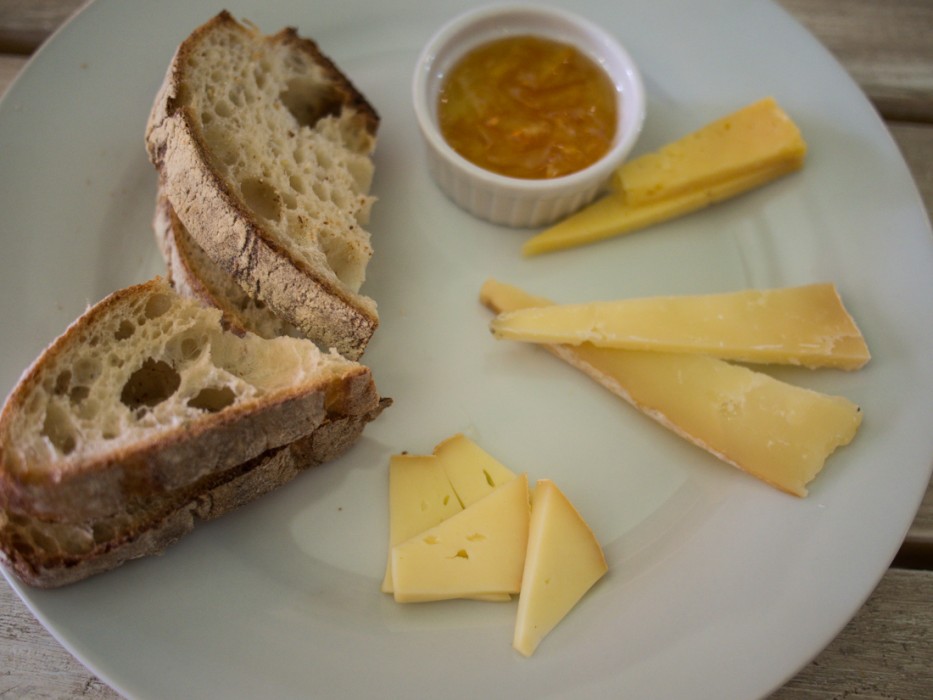 Sheana Davis at Epicurean Connection makes her own cheese which she sells through her lovely shop and cafe.
There is a wide range of local, organic and artisan cheeses and other gourmet local products. We had their small but delicious cheese tasting plate for $10.
We sampled a parmesan-like Two Rock goats cheese and the excellent Nicasio Reserve that's stinky and sweet at the same time.
Address: 19670 8th Street East, Suites A-B (4th Building in the back on the right with the Purple Awning), Sonoma.
Hours: Open for retail 9am-3pm Friday and Saturday only. They also offer Cheesemaking classes Thursday and Saturday 12pm- 2pm, Friday 3pm-5pm. RSVP only to attend.
6) Matos Cheese Factory
Turning down a dirt track to this cheesemaker, we reached the working farm at Matos Cheese Factory with the pungent smell of cows and flies buzzing all around them. Just what we were looking for.
Joe and Mary Matos are originally from Portugal, and when they relocated to California, they brought the recipe for their native cheese.
The farm makes just one cheese, St. Jorge, a buttery semi-hard cheese made in the style of the Portuguese Azores. It is terrific—creamy but firm and flavourful.
The Matos Cheese Factory offers a wonderfully no-frills tasting experience.
In a small room marked 'cheese factory', you ring a bell to get the staff's attention. Someone will most likely emerge from the back room full of wheels of cheese and, without fanfare, hand over cheese samples for you to taste.
Unfortunately, they do not currently offer tours of their farmstead and make sure you bring cash in person. However, you can alternatively order online for pickup.
Address: 3669 Llano Road, Santa Rosa.
Hours: Open daily from 9am to 5pm.
Cultural Sonoma Attractions
7) Discover Quirky Junk Art on Florence Ave Sebastopol
In Sebastopol, a hidden gem of a small town, be sure to head over to the residential suburban street of Florence Avenue. There you will unexpectedly find large colourful metal sculptures lining the front of everyone's front garden.
These delightful sculptures are all made from junk metal and found objects and are the work of artists Patrick Amiot and Brigitte Laurent.
The artists also live on the street themselves, and you can easily spot which house belongs to them. Look for the decorated car outside!
Taking a walking tour of these quirky artworks is definitely one of the most fun things to do in Sonoma.
Find out more about the artists and tips on visiting Florence Avenue.
8) Explore Vibrant Cultural Sebastapol
Beyond Florence Avenue, Sebastopol has so much more to offer, and it is worthwhile to spend some time in the town.
Sebastopol was a hippie hub in the 1960s, and the community declared it a "Nuclear Free Zone". They installed a sign proudly stating so which you can still see downtown.
Now, it is arguably the dynamic creative heart of Sonoma.
It may be a small town, but it packs in plenty to explore, from craft breweries, wine tasting rooms, clothing boutiques, and art galleries to exciting restaurants.
It still retains its independent vibe, insisting that all town tenants are locals and has a fierce producer-driven community.
Sonoma Outdoor Activities
9) Go Whale Watching at Bodega Head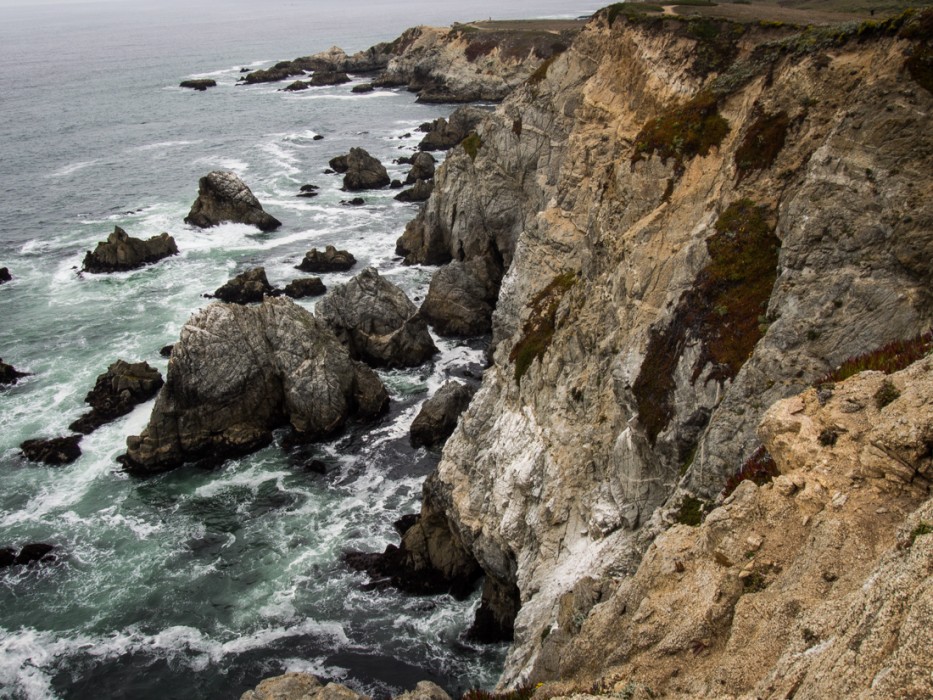 One of the best activities in Sonoma is to watch the annual north to south migration of grey whales at Bodega Head.
Bodega Head is a rocky peninsula that forms the entrance to Bodega Harbour.
Along the coast, fog adds to the atmospheric effect of the cliffs tumbling into the sea on one side and eerie moors on the other.
January is the peak time to wrap up warm with your binoculars to spot these majestic creatures, but you can still spot mothers with their calves as late as May.
The West Trail free car park cliffs are a popular destination to watch the whales swim by.
Even if you don't spot any whales or visit the peninsula outside of winter, Bodega Head is a relaxing place to stop and watch fishing boats go by and admire the impressive views.
10) Take a Hike in Sonoma Coast State Park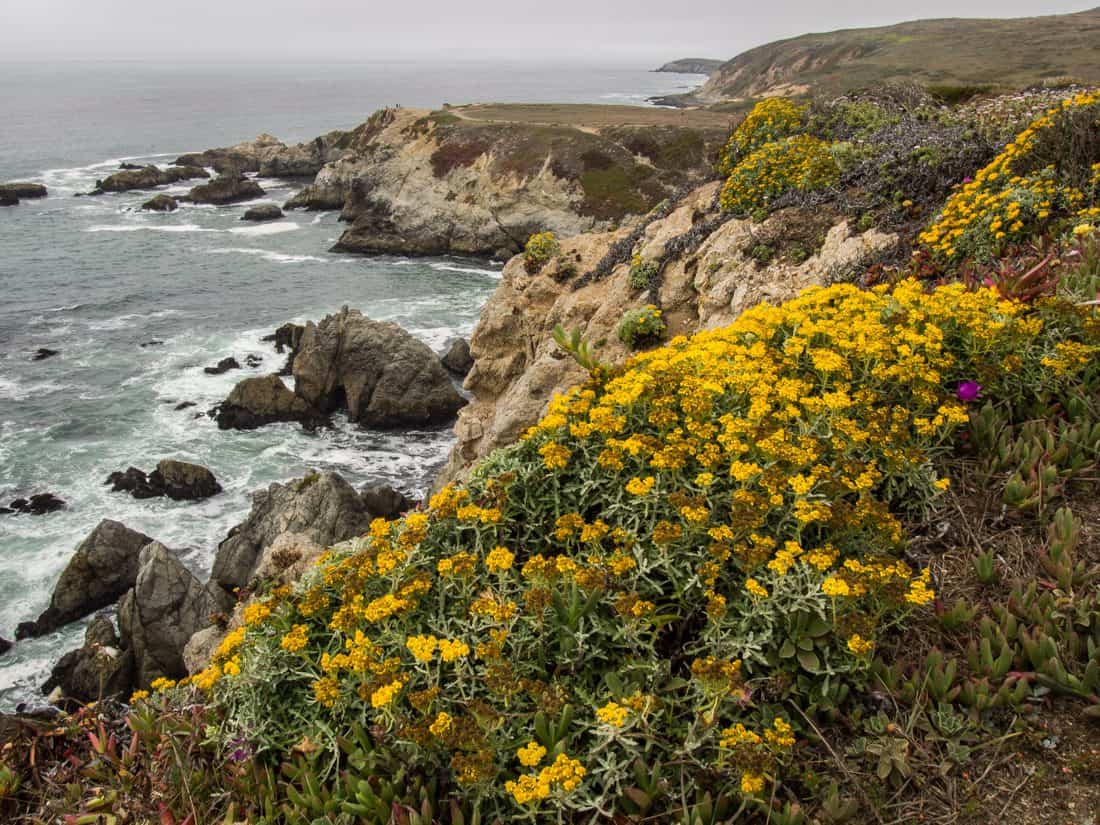 Bodega Head is also part of the Sonoma Coast State Park, stretching 17 miles along the Northern California coast from San Francisco and Mendocino.
The dramatic coastline offers some of the best hiking in Sonoma County, with miles of trails along the headlands past hidden sandy coves, colourful wildflowers, and panoramic views.
The accessible Bodega Head Trail is a 1.7-mile loop that takes you past the boat launch at Bodega Harbour, over the stunning cliffs at Bodega Bay and beautiful small beaches. Take care as it can get windy along the coastline.
We didn't get a chance on our last visit, but we are keen to return to walk the rugged coast more with these trails.
A fun fact for film buffs, the Potter Schoolhouse where Hitchcock's The Birds (1963) was filmed is a few miles inland from Bodega Bay. It is now privately owned, so please be respectful, but worth a side trip for film history lovers.
11) Discover Your New Favourite Secluded Beach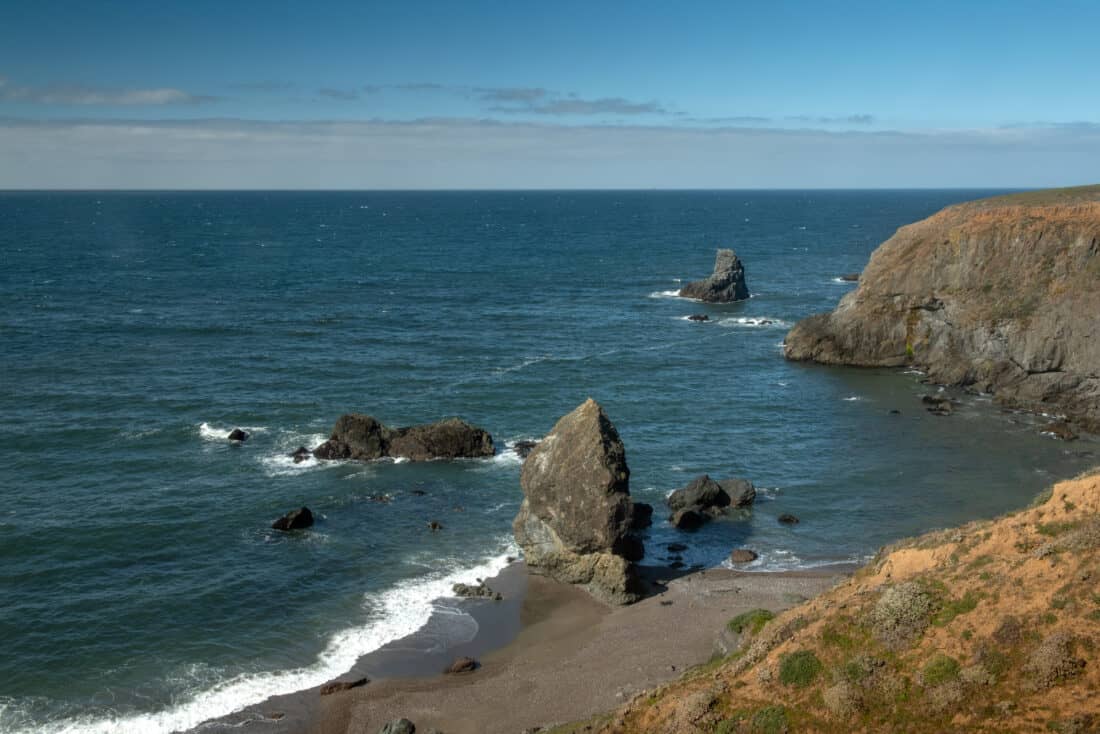 Nestled between the mouth of the Russian River and Bodega Bay, along the rugged coastline, you will find many secluded coves and sprawling sandy beaches.
The mornings will start cool and misty, but the beaches are warm and perfect for picnicking and strolling by the afternoon.
The Sonoma Coast State Park beaches are for those who love exploration, coastal hikes, steep dunes and dramatic coastlines, with some coves and beaches with tidepools perfect for families.
Only experienced surfers should think about venturing into the waters.
Stunning beaches include Goat Rock Beach, famed for being a film location for The Goonies, and Salmon Creek Beach, where the Russian River meets the Pacific Ocean.
Read more Sonoma beach tips.
12) Walk Amongst Giant Redwood Trees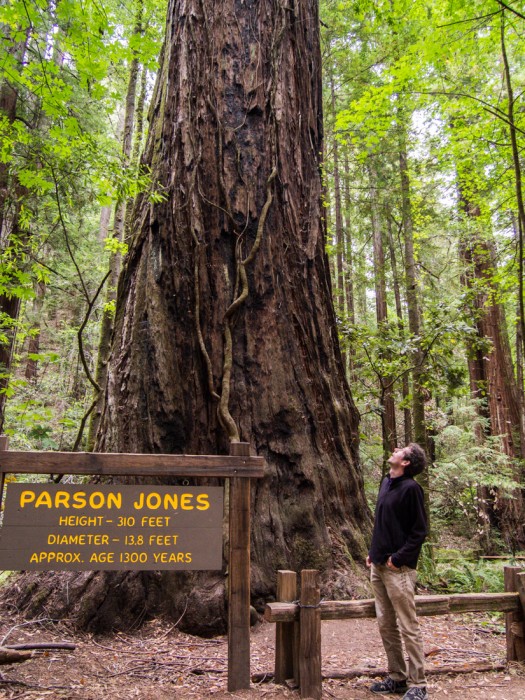 North of the Russian River and near the town of Guerneville, you will find the Armstrong Redwoods State Natural Reserve with its small grove of majestic redwood trees.
Walking through the giant redwoods is instantly revitalising, with the sweet, woodsy smell of the trees somehow soothing.
Redwoods are the tallest living things we have on the planet. The Parson Jones Tree is the tallest in the Armstrong Grove at 310 feet, and the famed Colonel Armstrong Tree is the oldest at 1400 years old.
Of course, recent wildfires have not been kind to the State Reserve, with the Giants subjected to the Walbridge wildfire in 2020.
Incredibly the Redwoods proved remarkably resilient, and after a period of closure for rehabilitation, the nature reserve reopened to the public. Scarring is still evident, but the trees have regenerated beautifully.
There are easy short trails to follow in Armstrong Redwoods to admire the trees but note that the longer loops are still closed for safety.
Why not combine a visit to the Armstrong Redwoods with wine tasting with this excellent Redwoods and Wine Tasting Tour from San Francisco courtesy of Best Bay Area Tours, at $179pp.
Other Top Things to Do in Sonoma Valley
13) Take a Tour of Sonoma's Historical Sites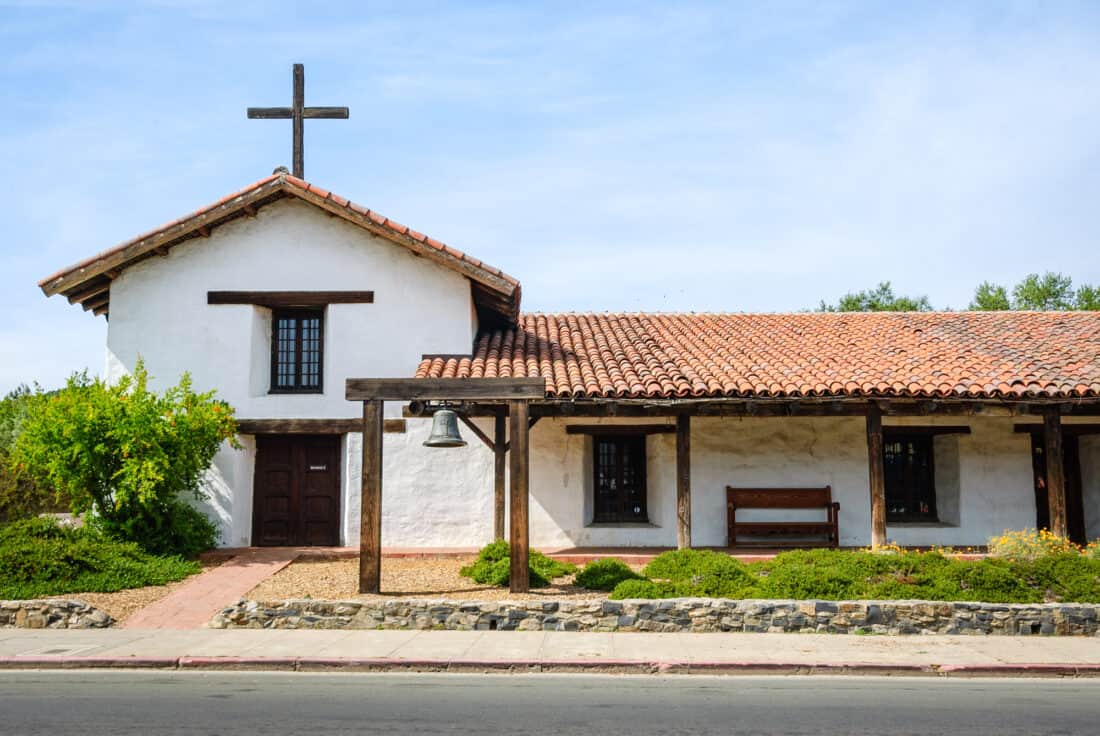 Given its location, Sonoma County has a long, rich and fascinating history. A great starting place is the town of Sonoma, the birthplace of the State of California.
Within the town, you will see the six historical attractions of Sonoma State Historic Park: Mission San Francisco Solano, the Blue Wing Inn, Sonoma Barracks, the Toscano Hotel, the Servants Quarters (the remains of La Casa Grande), and General Vallejo's Home.
The landmarks are all spread in downtown Sonoma, near the historic Sonoma Plaza, which is perfect for a walking tour.
Why not combine your history lesson with exploring the best food and drink Sonoma has to offer with this small guided tour by Sonoma Food Tour?
Where to Eat in Sonoma
14) Enjoy Excellent Farm-to-Table Cuisine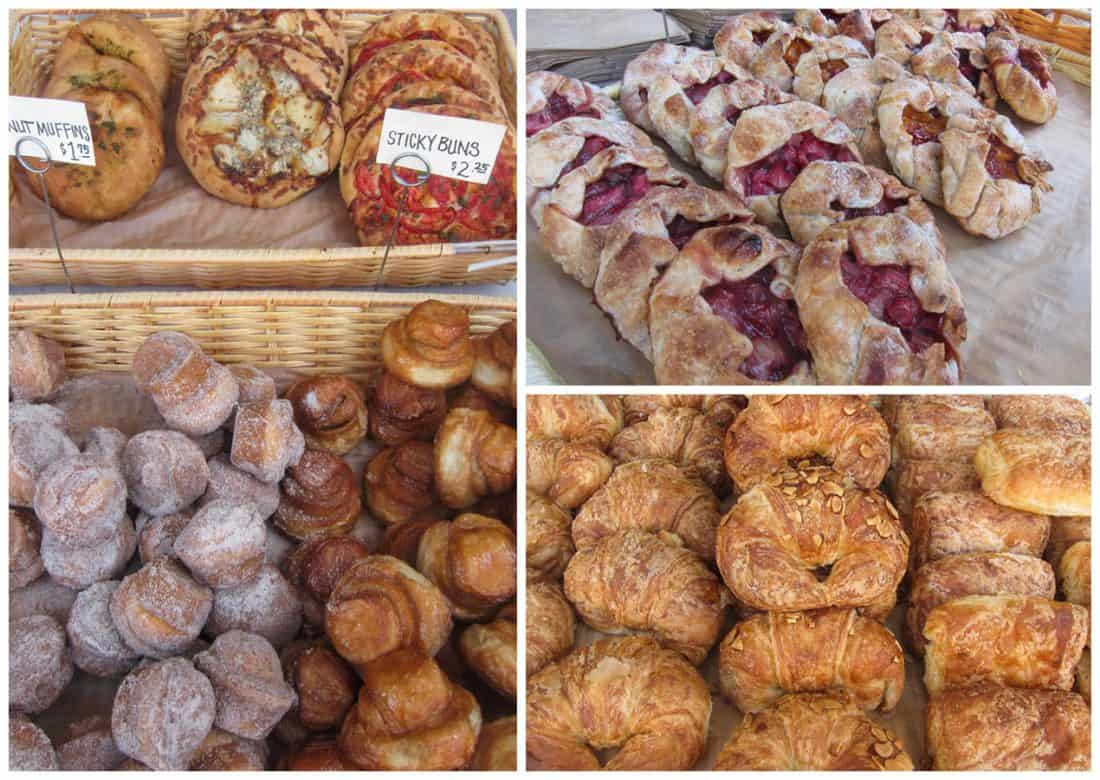 As you would expect across Sonoma County, with its many independent producers and vibrant farming communities, you can enjoy excellent farm to table cuisine even in the smallest towns.
Here are just some of our favourites:
Downtown Bakery, Healdsburg – We first tried the Downtown Bakery products at the Ferry Building farmer's market in San Francisco and liked them so much that we sought them out while in Sonoma. We love the pain au chocolate and sticky buns, and the bread looks fantastic.
Wild Flour Bread, Freestone – A must stop on the way to Bodega with incredible apple, rhubarb, and lavender vegan scones plus an array of delicious bread.
Diavola, Geyserville – The best pizza we've had since we were in Italy. We finished our first pizza (the spicy Inferno) and were seriously tempted to order a second. Diavola uses local ingredients and has some fantastic salads too—the oven-roasted beets with feta and rocket were wonderful.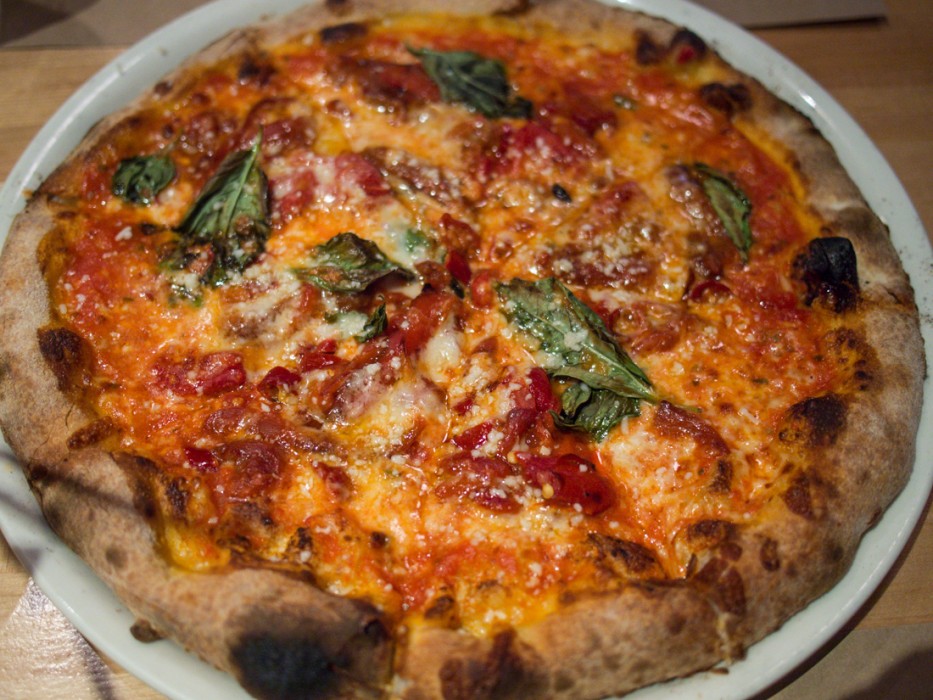 John Ash, Santa Rosa – This gourmet restaurant is located at Vintner's Inn, run by the Ferrari-Carano winery, with views over the vineyard especially impressive at sunset. Everything was terrific, from the white bean crostini and corn muffins that were served to start, a zesty peach gazpacho, the heirloom tomato and arugula salad, and the garganelli pasta with saffron cream, asparagus and peas.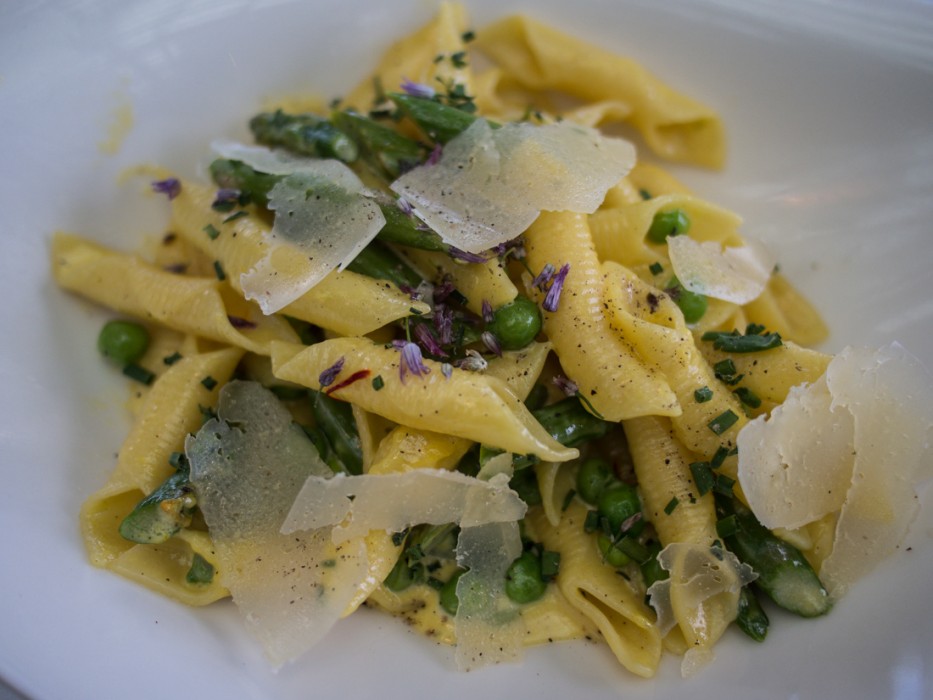 Where to Stay in Sonoma
15) Stay in a Historic B&B
We stayed at Hope-Merrill House (sadly now closed) in the cute small town of Geyserville, which is close to many wineries, so it makes a great base.
It's a historic B&B in a gorgeous Victorian dating back to 1870 that's been lovingly restored with antique furnishings and silk-screened wallpapers.
There's a large garden, heated pool, guest lounge and lots of places to relax, and the rooms are very comfortable.
Owners Cosette and Ron are welcoming hosts, and breakfast is served communally at 9am in a dining room that's like stepping back in time.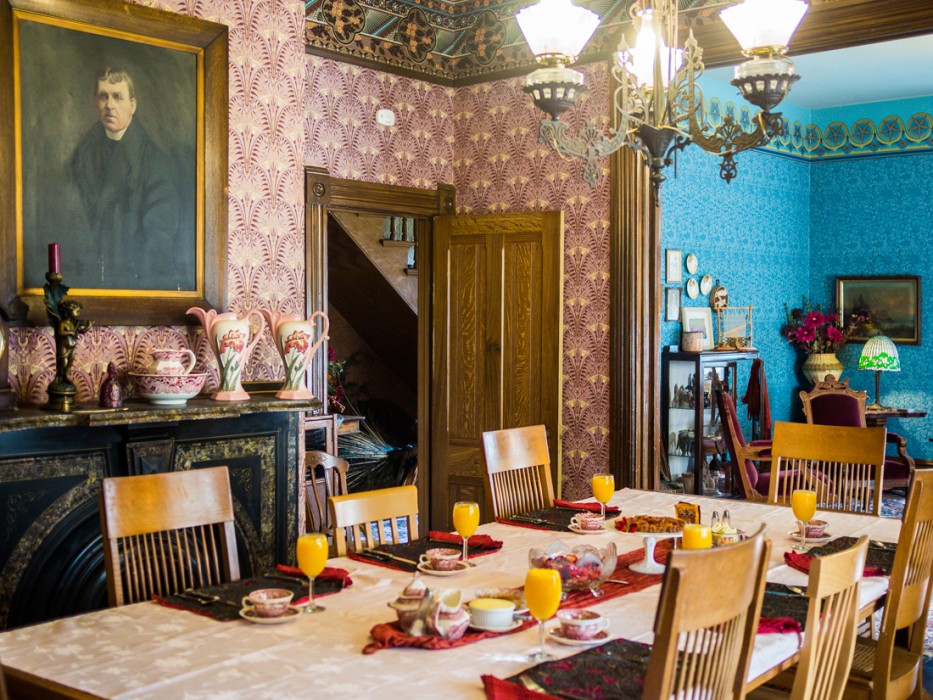 The home-cooked breakfast is delicious—ours featured oven-baked omelette, roast potatoes, popovers, homemade cherry tart, fresh fruit, freshly squeezed orange juice, homemade jams, and local butter.
Other B&Bs in Sonoma
Here are more highly-rated B&Bs in Sonoma on our wish list for next time:
The Grape Leaf Inn – Located in Healdsburg, one of Sonoma's most charming towns, this Victorian B&B has the perfect walkable location and includes complimentary wine tastings.
Beltane Ranch – Stylish rooms have gorgeous views in this countryside setting and food comes directly from their farm. Ideal for a peaceful getaway.
An Inn to Remember – In the heart of downtown Sonoma, this rustic chic B&B has a beautiful garden where you can enjoy breakfast on your terrace.
16) Relax in Luxury at Vintner's Inn, Santa Rosa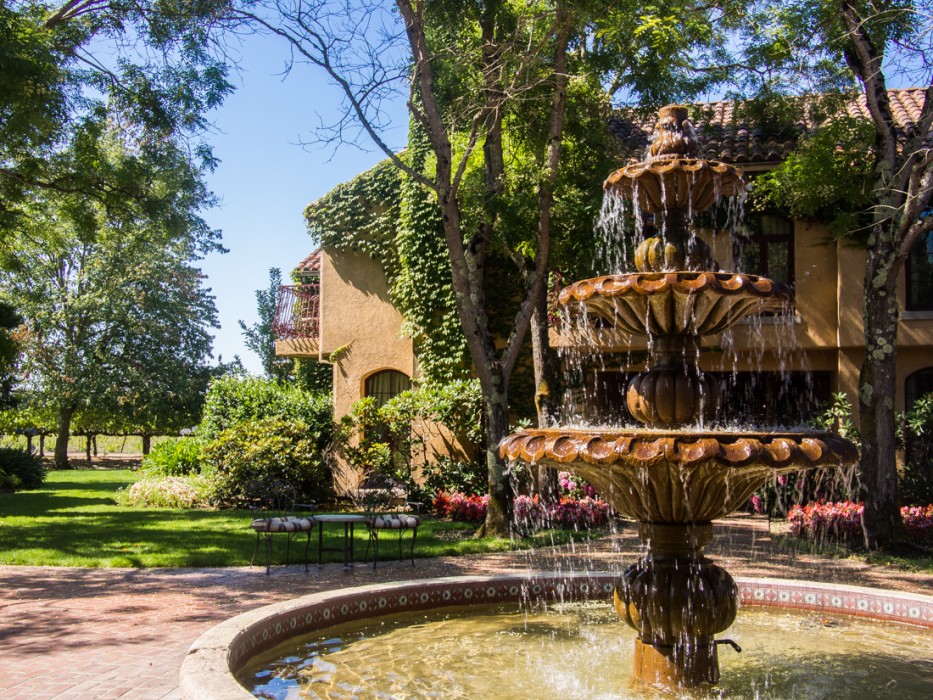 We also enjoyed our stay at Ferrari-Carano Winery's Vintner's Inn, which offers a luxury experience.
With its Tuscany village theme, the hotel is a collection of small stone buildings around leafy courtyards and fountains.
All rooms have balconies or patios to take advantage of the views of the gardens and vineyards.
The rooms are so comfortable that you won't want to leave with snuggly beds, sofas, and a jacuzzi bath.
A complimentary half bottle of Ferrari-Carano wine is provided in each room.
The onsite John Ash restaurant is fantastic too.
17) Spend Some Time in Sebastopol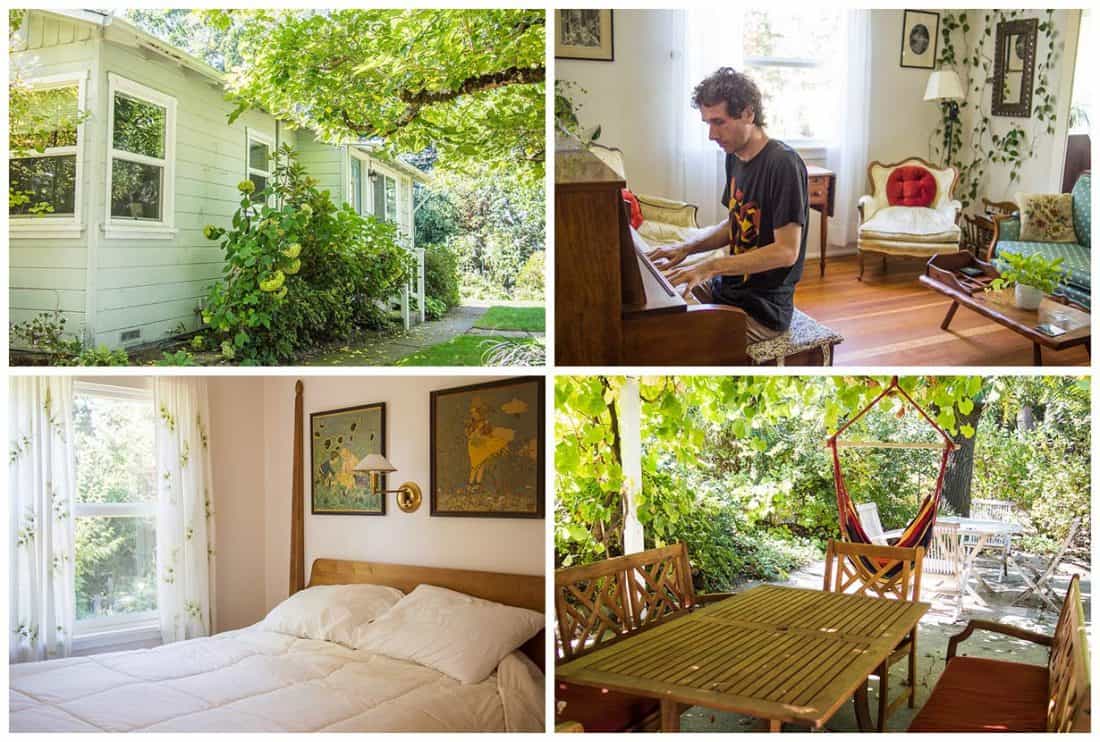 We stayed in a gorgeous Airbnb house just outside Sebastopol with a perfect tranquil setting surrounded by a large garden of apple trees.
Another great option if you want to spend more time exploring Sebastopol is Fairfield Inn and Suites, which has a pool and hot tub.
Search for more hotels and B&Bs in Sonoma County.
Map of The Best Things to Do in Sonoma California
Is Sonoma County Worth Visiting?
Yes absolutely! Sonoma County has it all: a relaxed wine destination, delicious food trails, quirky art, and beautiful state parks for nature lovers—all within an hour's drive of San Francisco.
Sonoma is perfect for day trips from the city but it's also well worth a longer stay. We've visited three times and know we'll be back.
More California Posts
Explore more of California with our other travel guides:
Northern California
Southern California
Enjoyed this post? Pin for later!