This page contains affiliate links. Please read our disclosure for more info.
Mono Lake in California is one of the oldest lakes in North America and a unique destination only 13 miles east of Yosemite National Park near the tiny town of Lee Vining.
The lake is an expansive 13 miles long, 8 miles wide and covers around 65 square miles.
What makes Mono Lake a must-see are the stunning tufa formations that emerge eerily from the water. Seeing the tufa at sunset and sunrise is a magical experience.
Below, you will learn more about this fascinating site, how to get there from Yosemite, where to stay, the best time to visit and some suggestions of things to do in Mono Lake.
At the bottom, you will find a Mono Lake California Map.
Contents
Video of Yosemite Highlights
Where is Mono Lake in California: Yosemite to Mono Lake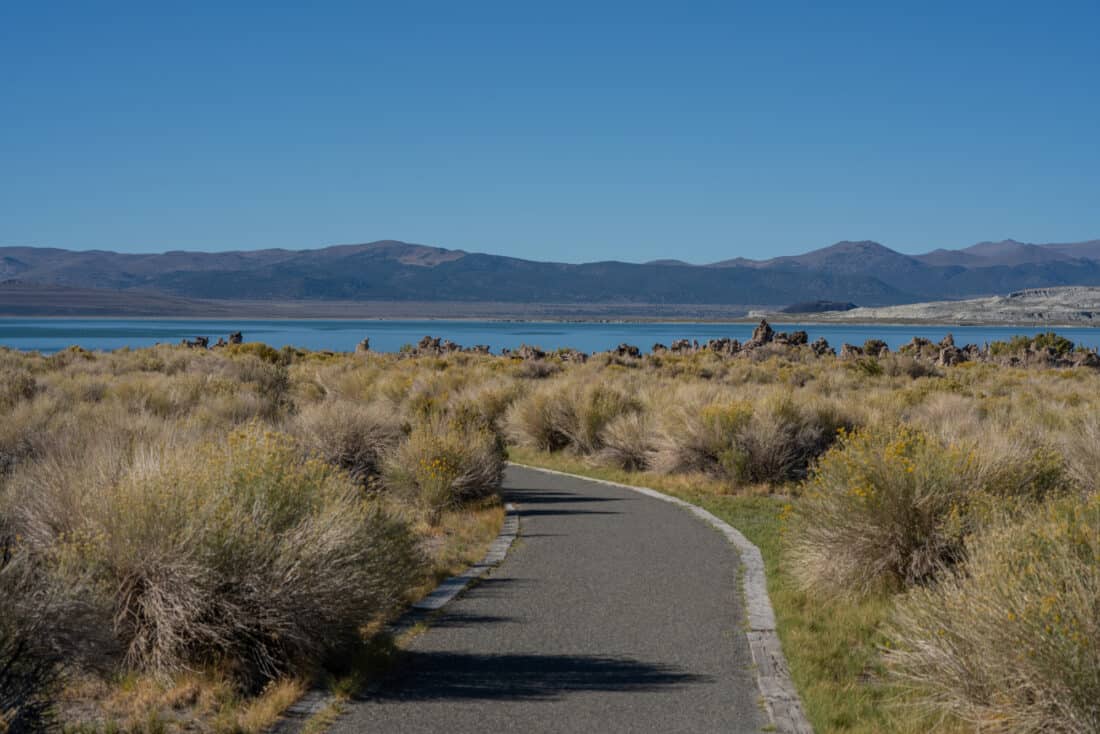 Mono Lake in California is on Highway 395 in the Mono Lake Tufa State Natural Reserve.
Head east of Yosemite National Park and exit from the Tioga Pass entrance/ exit (only accessible in summer). Follow Tioga Road (Highway 120) for 12 miles until it hits Highway 395.
The Mono Basin Scenic Area Visitor Center is the best place to start your visit, with lots of information about the history of the lake. You can pay the $3 per adult entrance fee here too. The Visitor Center is north of Lee Vining, just off the 395.
I would highly recommend adding an extra night to visit Mono Lake and Bodie, a ghost town near Mono Lake, as excellent additions to your Yosemite National Park Itinerary.
Visiting Mono Lake Distance/ Times
By Car:
Yosemite Tioga Pass entrance/ exit – Mono Basin Scenic Area Visitor Center: 13.6 miles (21.9 km)/ 19 min
Mono Basin Scenic Area Visitor Center – South Tufa Mono Lake: 7 miles (11.2 km)/ 17 min
Mono Basin Scenic Area Visitor Center – Bodie Ghost Town: 51 miles (82 km)/ 1 hr 56 min
San Francisco – Mono Basin Scenic Area Visitor Center (via Sacramento): 300 miles (482 km)/ 5hr 28 min
Sacramento – Mono Basin Scenic Area Visitor Center: 215 miles (345 km)/ 4 hr 10 min
There is a map at the bottom of the post to give you an idea of the surrounding area.
Where to Stay Near Mono Lake Yosemite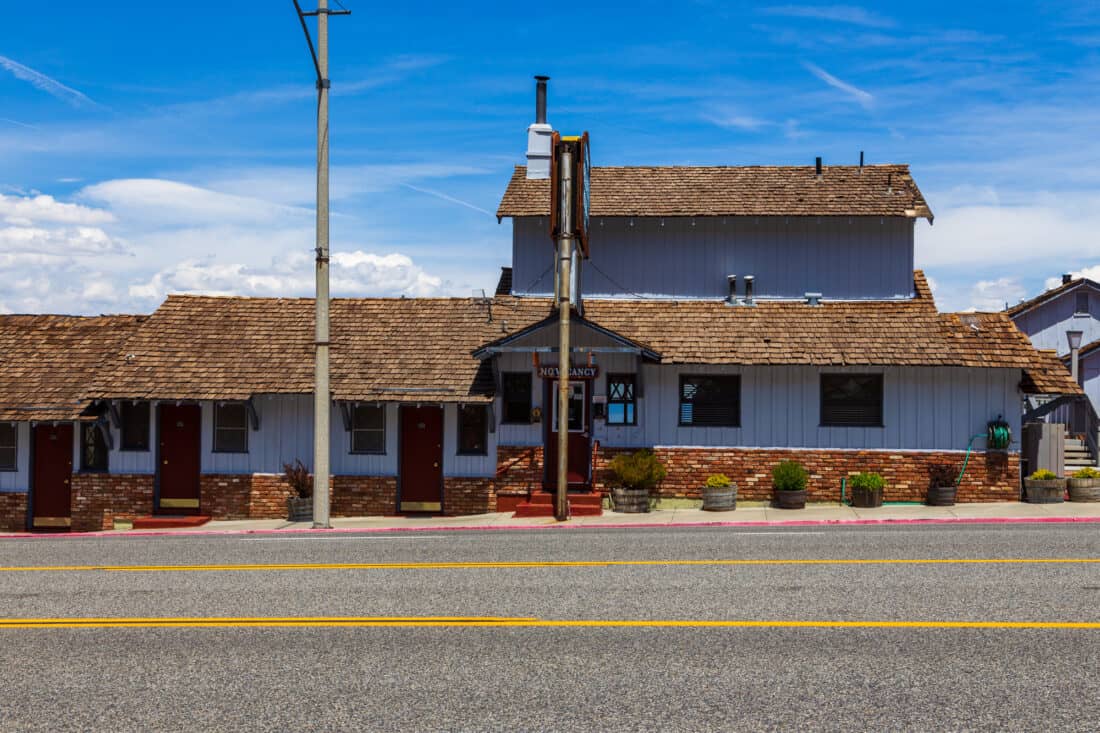 We spent a night in the small town of Lee Vining which enabled us to visit nearby Mono Lake at sunset and sunrise.
Lee Vining is conveniently next to the lake but about a 20-minute drive south to the South Tufa area, where the spectacular rock formations are.
We stayed at El Mono Motel, which has modern, nicely furnished rooms, a small garden, and an onsite coffee shop. Rooms start from $84 per night.
You can also search for accommodation in Lee Vining here. It makes a great base to explore the neighbouring Mammoth Lakes and the wider Eastern Sierra area.
Camping at Mono Lake Ca is allowed as long as you stay above the exposed lake bed. You will also require a permit for campfires. There are campgrounds near Lundy Canyon, Lee Vining Canyon, and the June Lake Loop.
Geology and History of Mono Lake in California
Mono Lake has a long, fascinating and often troubled history. It was formed in a basin over 760,000 years ago due to a volcanic eruption.
Mono Lake has no outlet, which means the water can only leave the basin by evaporation, causing salt to accumulate. As a result, it is highly alkaline and two and a half times as salty as the ocean.
The city of Los Angeles, in 1941, diverted water from Mono Lake. As a result, over a quarter of the water drained by 1981.
When the water diversions decreased the surface level, they exposed the dramatic Mono Lake tufa towers you see today. The calcium-carbonate spires are caused by the interaction of freshwater springs and alkaline lake water.
In 1978, the Mono Lake Committee was formed to protect the lake and restore it towards a more sustainable future. Eventually, water diversion was limited, and the water level has been rising steadily ever since.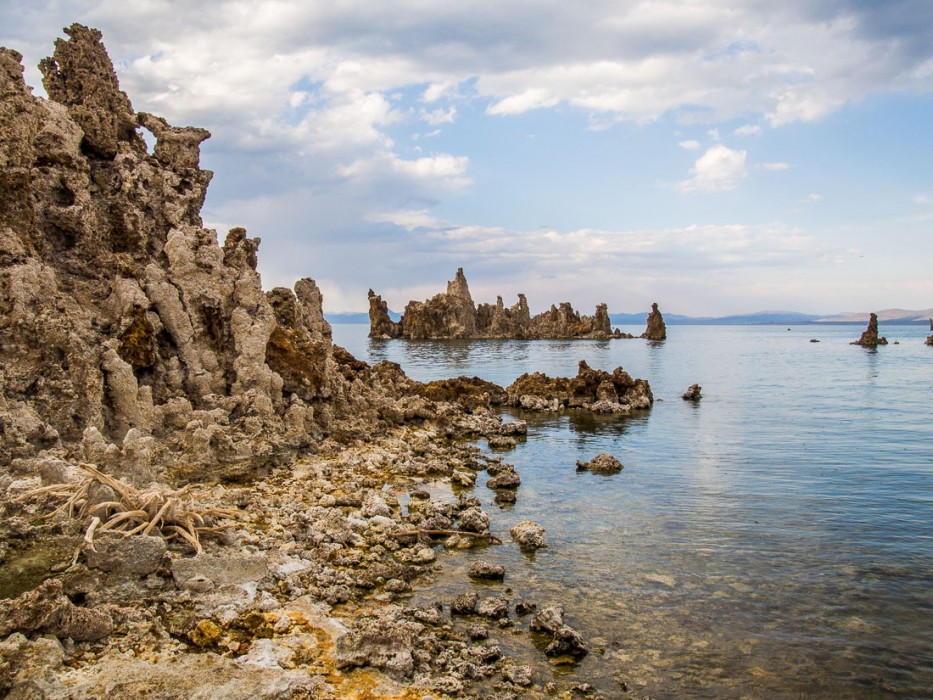 The tufa towers lining the shores at Mono Lake are incredibly atmospheric. They are also important habitats for migratory birds that forage on the alkali flies that thrive in the alkaline water.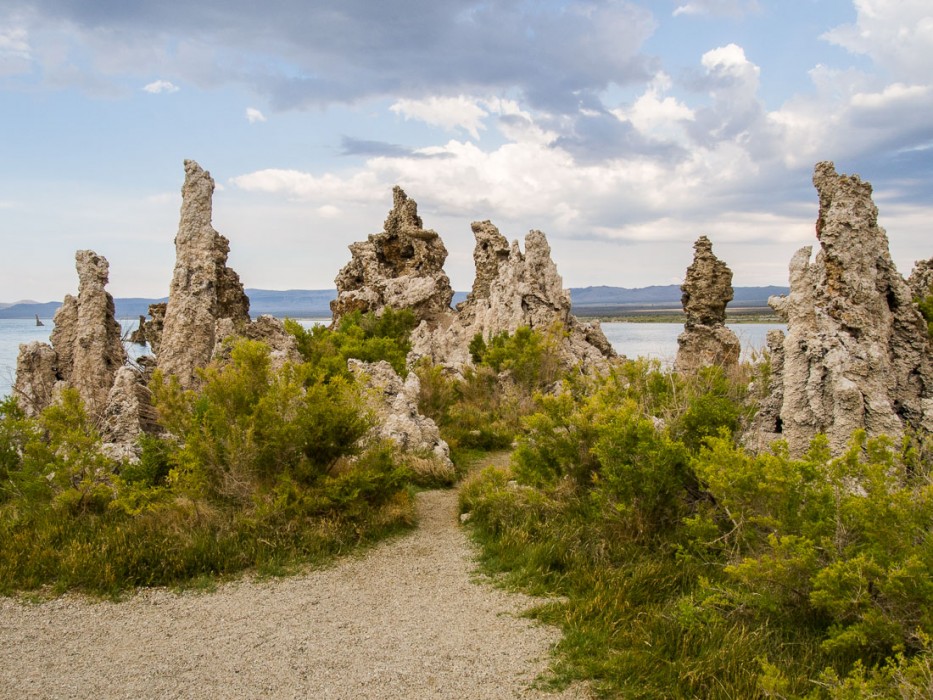 There are two volcanic islands in Mono Lake: Negit Island and Paoha Island. These islands were formed by volcanic activity and are part of the chain of Mono Craters in the area. Panum Crater south of Mono Lake is popular for hiking.
When visiting Mono Lake, please take care not to stand or climb on the tufa towers as they are very fragile.
Learn more about how was Mono Lake formed and the history of Mono Lake.
When Is the Best Time to Visit Mono Lake?
Best Season
We visited Mono Lake and Bodie ghost town in the summer. To easily combine these side-trips with Yosemite, you need to visit when the Tioga Rd is open between June and October.
It is, however, the busiest time to visit the South Tufa area.
Visiting Mono Lake in winter (December-March) would be a quieter experience, with the tufa towers no doubt looking incredible in the snow.
However, please note that the Tioga Pass entrance/ exit on Tioga Road (Highway 120) closes from Mid-November to Mid-May.
South Tufa Mono Lake is still accessible if you take Highway 50 (south of Lake Tahoe) and follow Highway 395. Please check the forecast before you set off and be equipped to drive in wintry conditions.
Mono Lake Sunset
Visiting Mono Lake at sunset or sunrise is an ideal time to explore the towers with their variety of twists and spires.
Both make for different experiences.
Our first visit to Mono Lake was about an hour before sunset, following the easy one-mile track to get up close to the tufa towers.
It's a fascinating place and we happily spent over an hour exploring the towers, many soaring above us in a variety of twists and spires.
It was a cloudy sunset but beautiful as the setting sun warmed the grey rock to a soft pink glow.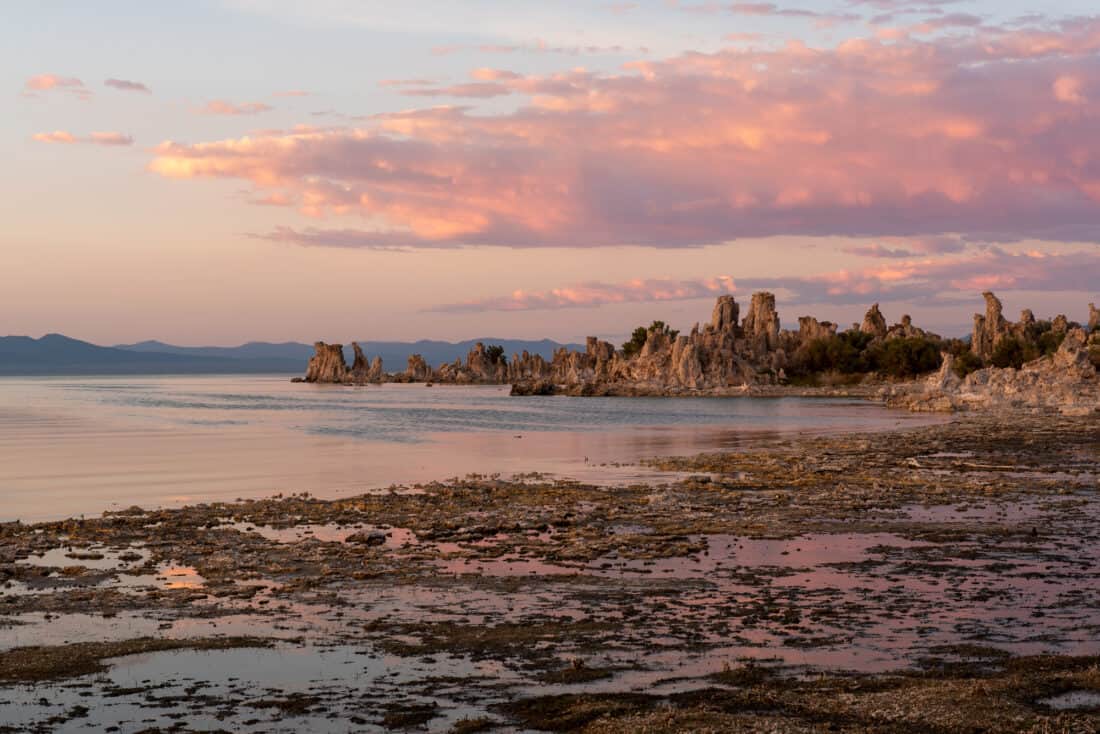 Mono Lake Sunrise
However, going at sunrise is utterly magical as you see the towers silhouetted against a sky that changes from purple to pink to orange.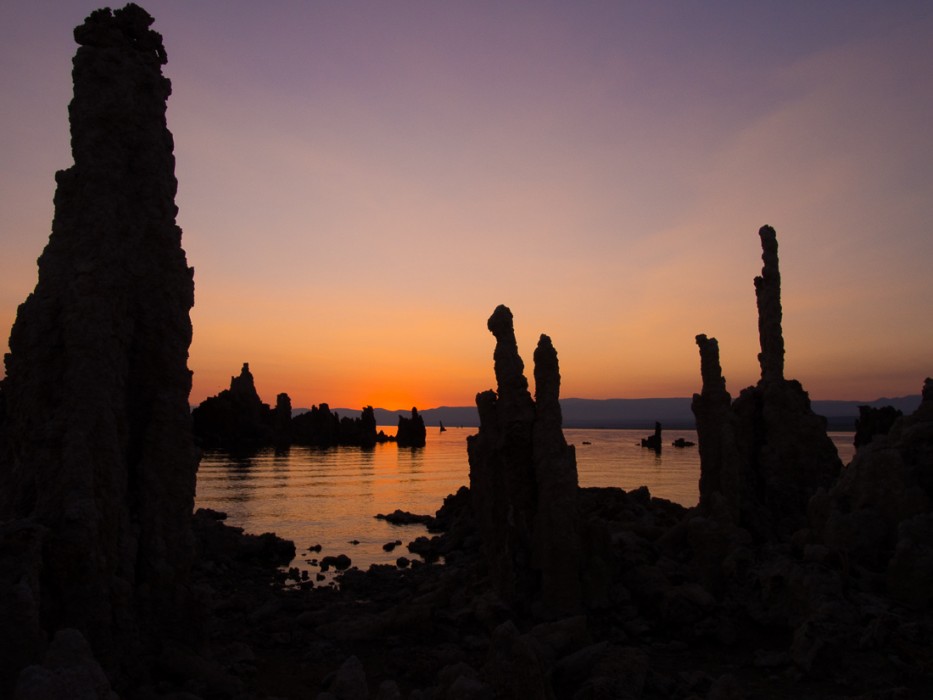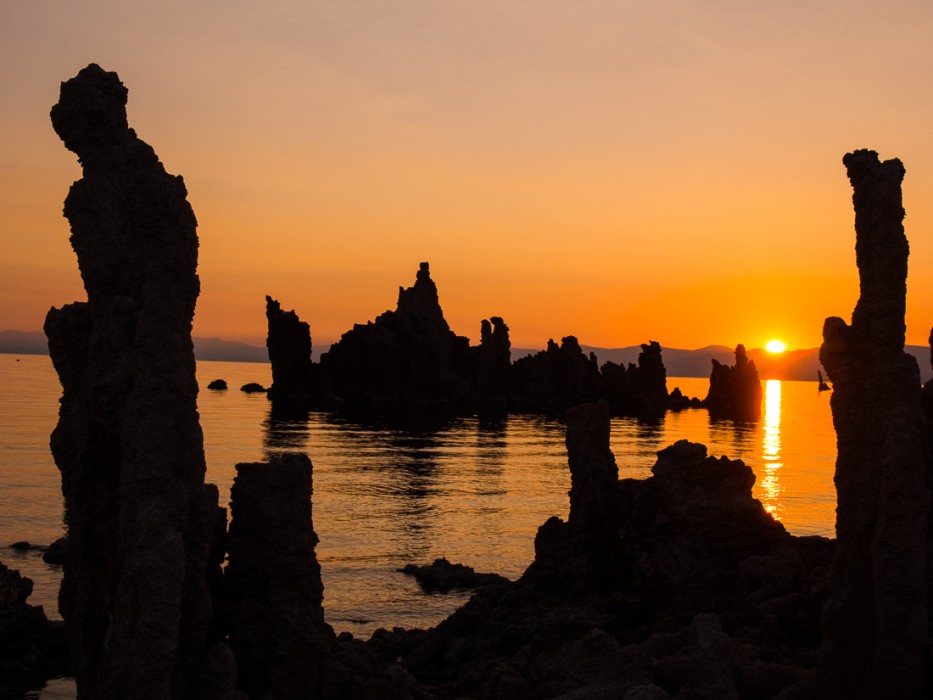 The tufa towers glow and reflect in the still water when the sun is up, with a backdrop of pink-tinged mountains.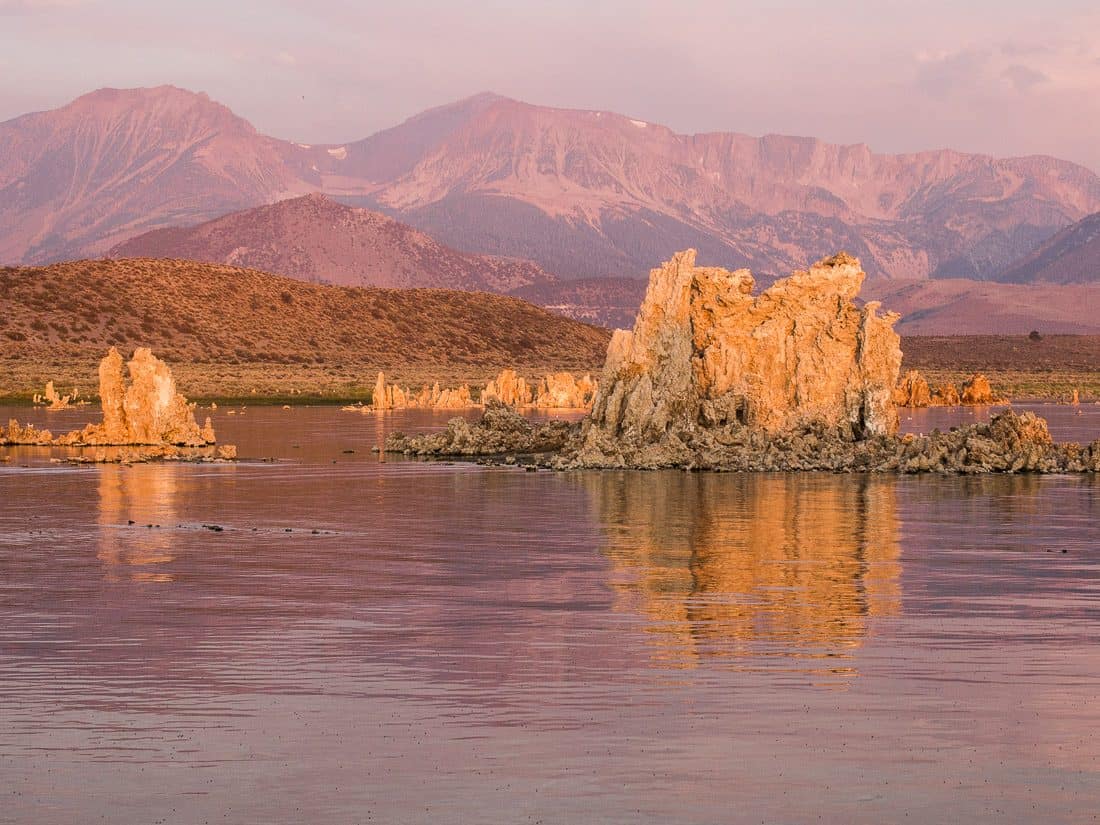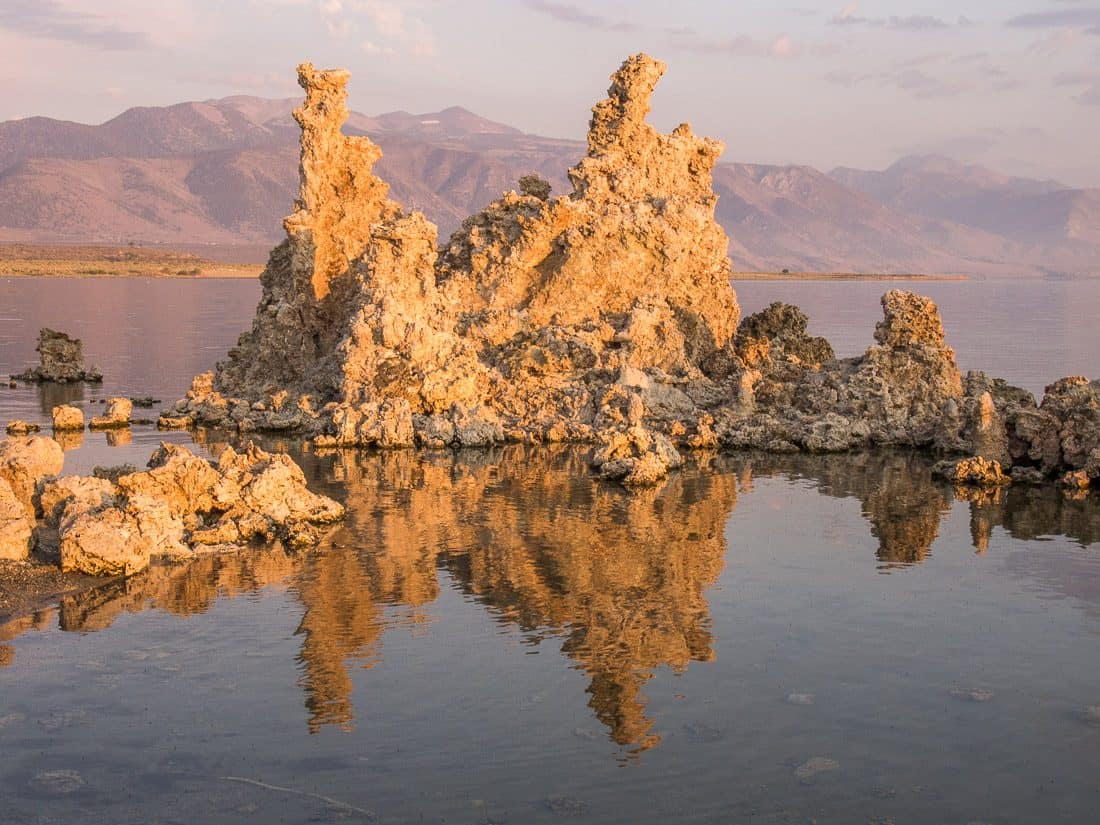 Can You Swim in Mono Lake?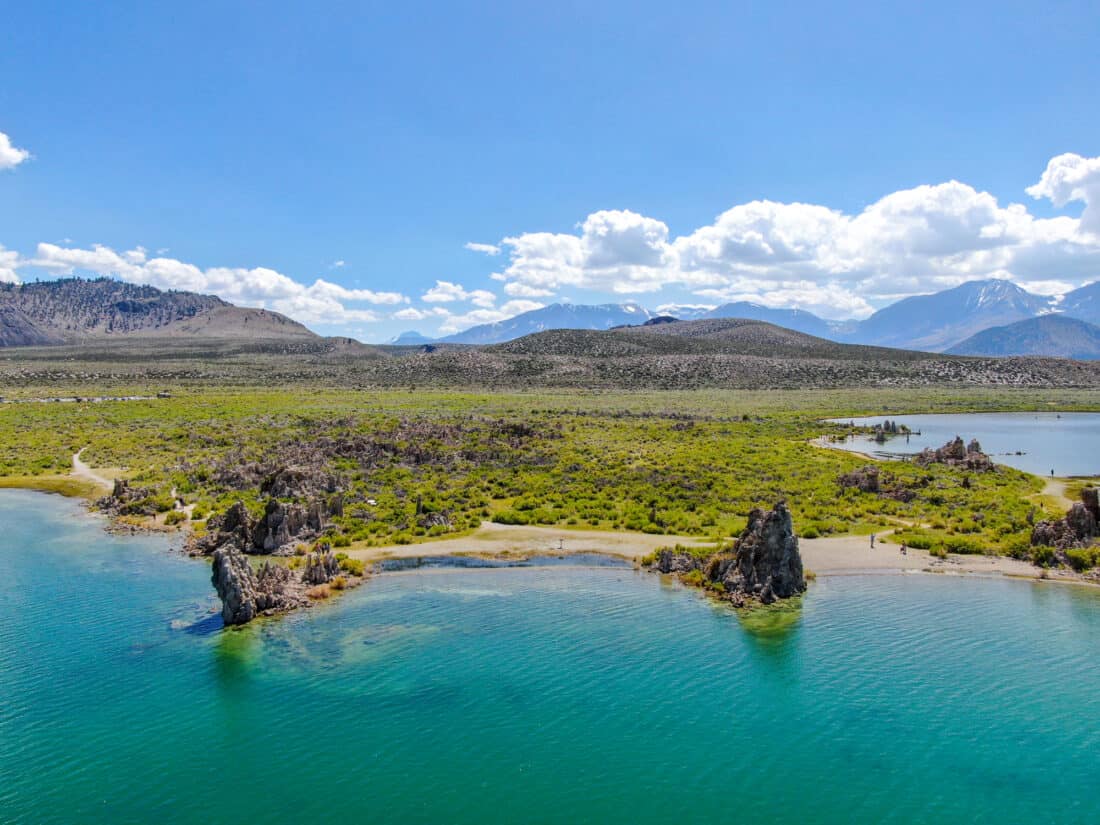 We were tempted to swim in the lake and float courtesy of the high salt content as we loved swimming in the Dead Sea in Jordan.
Unfortunately, clouds of buzzing flies at the edge of the water put us off.
However, plenty of people do swim in the lake, citing the medicinal qualities of the salty water.
If you decide to swim, keep your head above water and make sure you don't have any cuts as that would sting!
Things to Do in Mono Lake
Our visit was limited, but we are keen to revisit the area to explore the various things to do in Mono Lake.
Here are some suggestions:
Mono Lake California Map
Is Mono Lake Worth a Day Trip From Yosemite?
Yes absolutely! Mono Lake is a unique and otherworldly place and is well worth adding to your Yosemite National Park itinerary.
It's also close to the remote ghost town of Bodie, which is another fascinating place to visit.
More California Posts
Enjoyed this post? Pin for later!