This page contains affiliate links. Please read our disclosure for more info.
Last summer on our visit to Yosemite National Park we added an extra night to our trip to visit nearby Mono Lake and Bodie ghost town.
I've written about our 3 day Yosemite itinerary, but somehow I never got around to writing about stunning Mono Lake, just 13 miles east of the park, and well worth a visit if you are in this part of California.
After our third full day at Yosemite we exited the park in the late afternoon along the Tioga Pass (only accessible in summer) and spent a night in the tiny town of Lee Vining which enabled us to visit nearby Mono Lake at both sunset and sunrise.
Mono Lake is a large, shallow, saline lake 13 miles long and 8 miles wide and over a million years old. The lack of an outlet means the water can only leave the basin by evaporation which causes salt to accumulate. The lake is two and a half times as salty as the ocean and very alkaline.

What makes Mono Lake special are the unusual tufa rock formations that emerge from the water, calcium-carbonate spires and knobs formed by the interaction of freshwater springs and the alkaline lake water.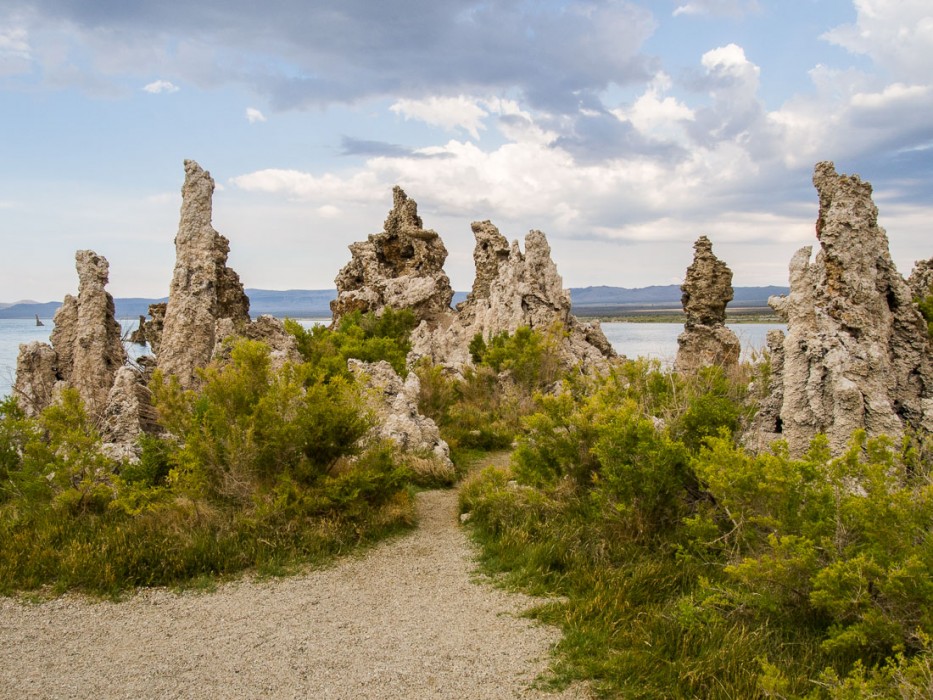 Mono Lake at Sunset
Lee Vining is right next to the lake, but it's about a 20 minute drive south to the South Tufa Area where the spectacular rock formations are. We began our first visit about an hour before sunset, following the easy one mile trail to get up close to the tufa towers.
It's a fascinating place and we happily spent over an hour exploring the towers, many soaring above us in a variety of twists and spires. It was a cloudy sunset but still beautiful as the setting sun warmed the grey rock to a soft pink glow.
We were tempted to swim in the lake where, like the Dead Sea in Jordan, the high salt content makes it easy to float, but we were put off by the clouds of thousands of buzzing flies at the edge of the water.
Mono Lake at Sunrise
Sunset and sunrise at Mono Lake were both different and worthwhile, but if you have to choose, go for sunrise.
It's magical to see the towers silhouetted against the sky as it changes from purple to pink to orange. When the sun is up the tufa towers glow and are reflected in the still water, with a backdrop of pink tinged mountains.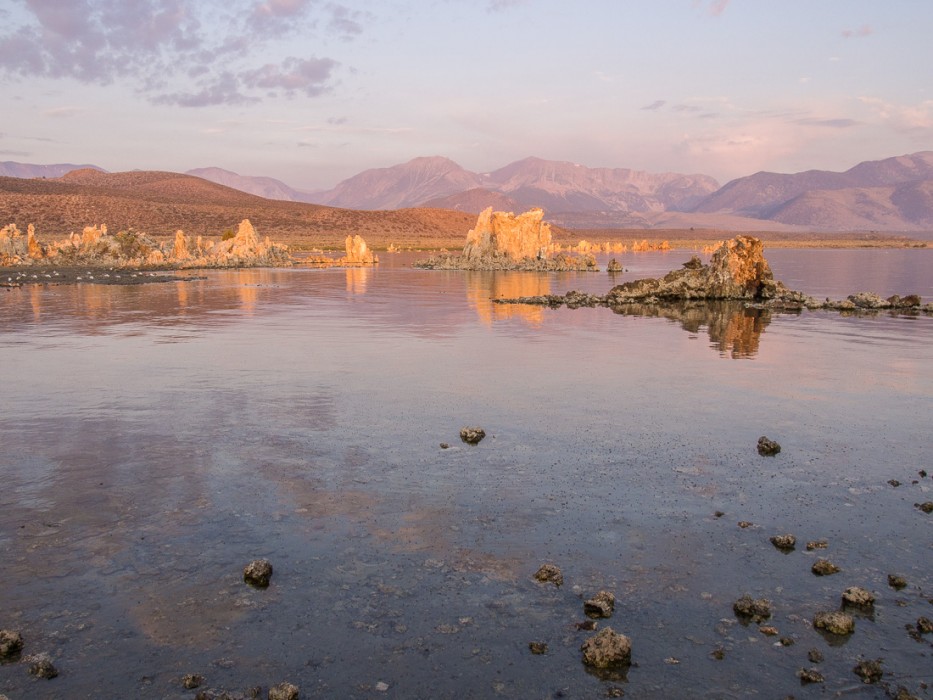 Mono Lake is a unique and otherworldly place and is well worth adding to your Yosemite National Park itinerary. It's also close to the remote ghost town of Bodie which is another fascinating place to visit.
For more information see the Mono Lake Tufa State Natural Reserve website. We've written a recommended Yosemite itinerary which includes details of El Mono Motel where we stayed in Lee Vining.