This page contains affiliate links. Please read our disclosure for more info.
Bodie California Ghost Town is a gold mining Wild West town that is frozen fascinatingly in time.
It is a 45-minute drive from the small town of Lee Vining and northeast of Yosemite National Park.
Bodie was a booming town during the gold rush and, in its heyday from 1877-1881, had a population of nearly 10,000 people.
The town was abandoned when the gold ran out, and in 1962 it became the Bodie State Historic Park. Ever since it has been preserved in a state of "arrested decay".
It's now possible to wander the deserted streets, which are much the same as they were over 50 years ago when the last residents left, often leaving their belongings behind.
Walking amongst the rusty iron machinery, past the old faded wooden buildings and peering through the saloon windows makes you feel as you've either stepped back in time or wandered onto a Hollywood film set.
Below, you will learn more about this stunning site, Bodie Ghost Town directions, where to stay, entrance fees and hours and some suggestions of things to do in and near Bodie Ghost Town.
At the bottom, you will find a Bodie California Map.
Contents
Video of Yosemite Highlights
Bodie is easy to combine with Yosemite National Park. Check out this video for trip ideas.
Bodie State Historic Park Entrance Fee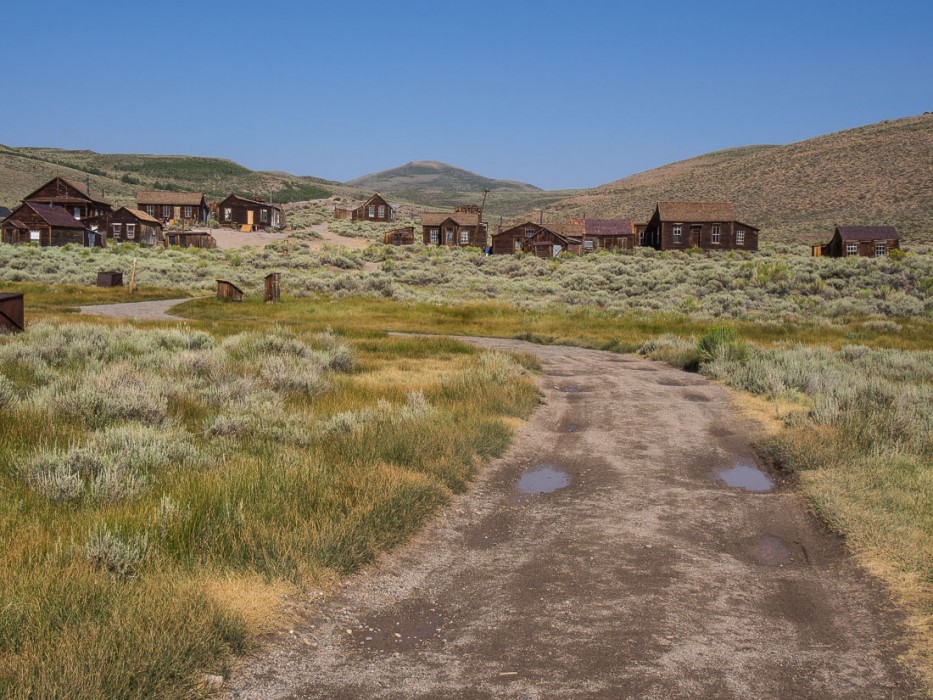 Entrance to Bodie Historic Park costs $8.00 per adult and $5.00 per child (ages 4 to 17). Infants 3 and under go free.
A Self Guided Tour Book is available for $3.00.
Please note that it is credit card only unless there is no one at the entrance kiosk, in which case you pay with cash in the self-pay envelope.
Bodie Ghost Town Hours
The park is open 9 am-6 pm (May-Oct) during the summer months.
Is Bodie Ghost Town Open in Winter?
Winter hours for Bodie Historic Park are from 9 am-3 pm (Nov-May).
However, even though Bodie is open all year round, I wouldn't advise going in the winter. The Ghost Town sits on a high elevation (8375 feet), which means that the winter months can be unpredictable with severe weather and potentially treacherous road conditions.
Bodie Historic State Park Facilities
Bodie has no commercial facilities purposefully to protect the ghost town atmosphere. So I recommend you bring your own food and water, especially during the summer.
There is a bookstore where you can book daily tours and private tours.
Toilets are in the parking lot, and there is a picnic area.
Please note that everything in Bodie is fully protected. It is not permitted to remove anything from the park. In fact, the Bodie Ghost Town curse is that bad luck will fall to those who take even a rock!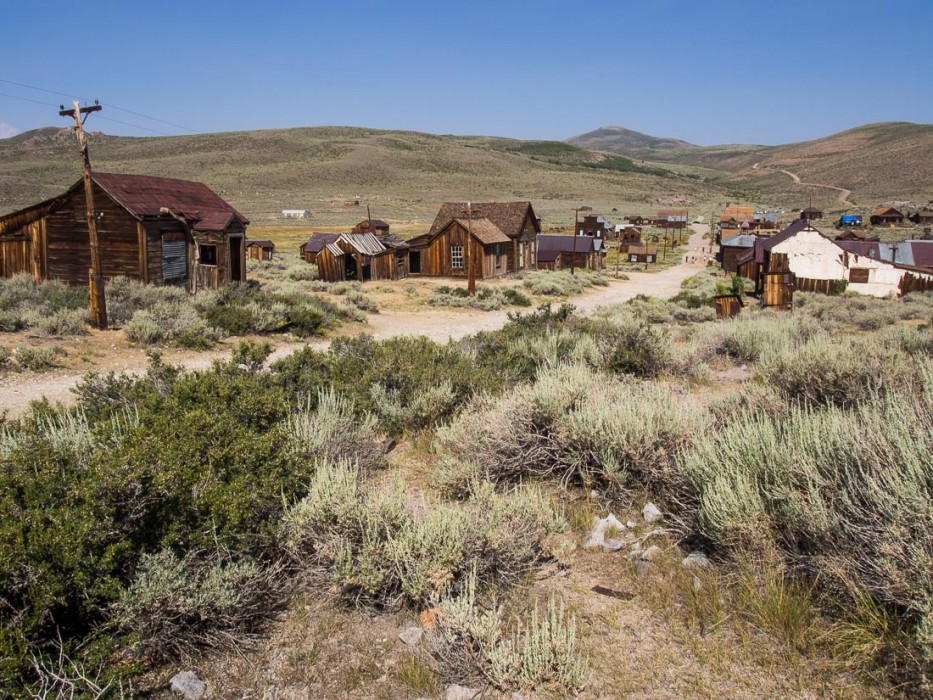 See Bodie State Historic Park for more visitor information.
Where is Bodie Ghost Town: Getting There From Yosemite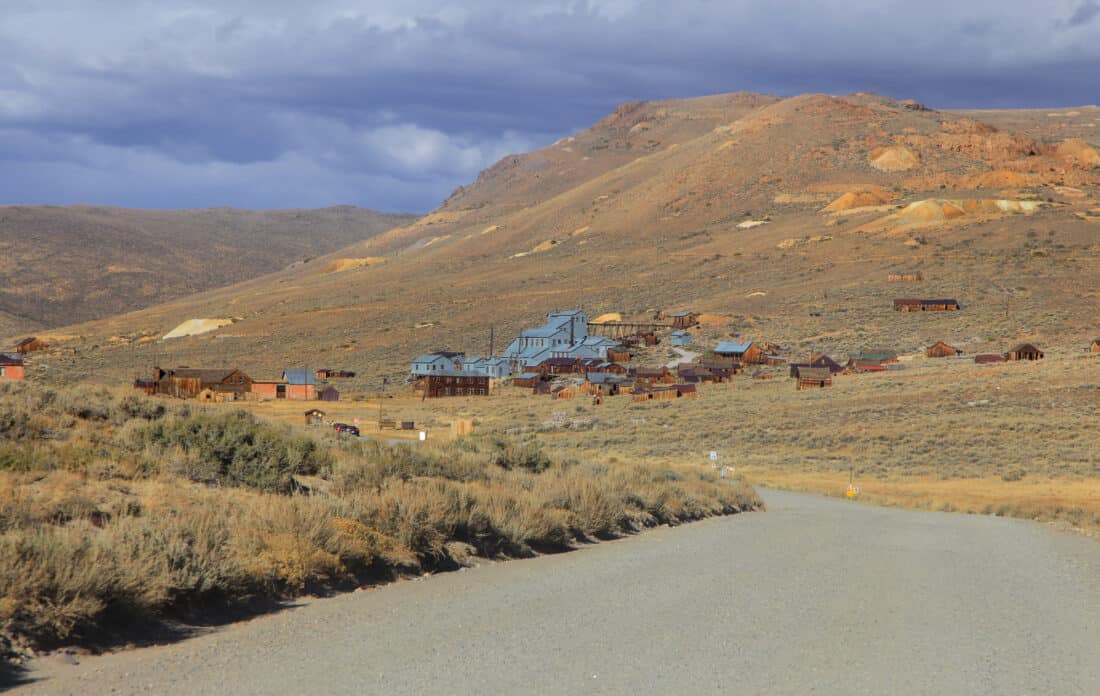 Bodie Ghost Town Directions
To get from Yosemite to Bodie Ghost Town, follow Highway 395 east for 13 miles, then Highway 270 east for 13 miles.
The last three miles of the drive are on a rough, bumpy, gravel track surrounded by bleak mountains, adding to the remote feel of the abandoned gold-mining ghost town.
It's hard to imagine getting here by horse and buggy as Bodie's residents once did.
Combined with Mono Lake, I highly recommend adding an extra night to visit the ghost town of Bodie while visiting Yosemite National Park in summer.
Visiting Bodie State Park California Distance/ Times
By Car:
Yosemite Tioga Pass entrance/ exit – Bodie Ghost Town: 44.1 miles (71 km)/ 1 hr
Bodie Ghost Town – Mono Basin Scenic Area Visitor Center: 41.6 miles (67 km)/ 1 hr 18 min
Bridgeport – Bodie Ghost Town: 46 miles (74 km)/ 2 hr
San Francisco – Bodie Ghost Town (via Sacramento): 296 miles (477 km)/ 6 hr 28 min
Sacramento – Bodie Ghost Town: 211 miles (340 km)/ 5 hr 11 min
There is a Bodie California map at the bottom of the post to give you an idea of the surrounding area.
Where to Stay Near Bodie California Ghost Town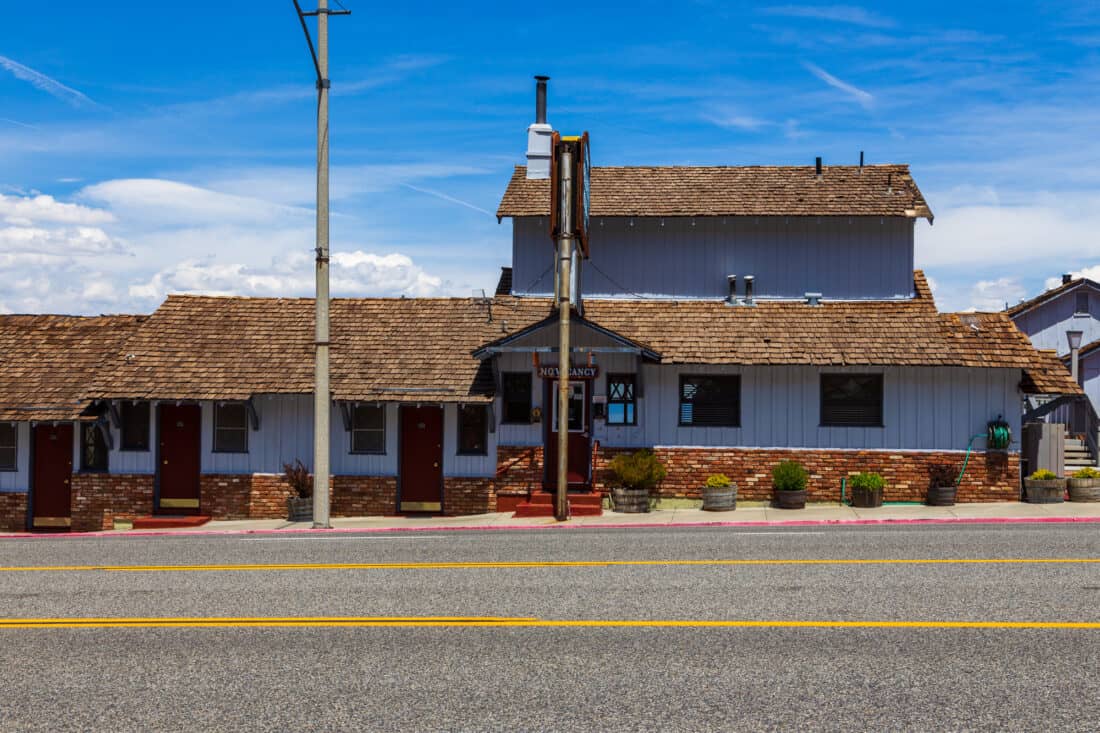 We combined our trip to Bodie with a visit to Mono Lake, so we spent a night in the small town of Lee Vining which was a convenient base for both.
We stayed at El Mono Motel, with its nicely furnished modern rooms, a small garden, and an onsite coffee shop. Rooms start from $84 per night.
You can also search for accommodation in Lee Vining here. It makes a great base to explore the neighbouring Mammoth Lakes and the wider Eastern Sierra area.
Another great base would be Bridgeport, a charming town that is the gateway to Lake Tahoe and the surrounding region. Search Booking for accommodation in Bridgeport.
Bodie Ghost Town History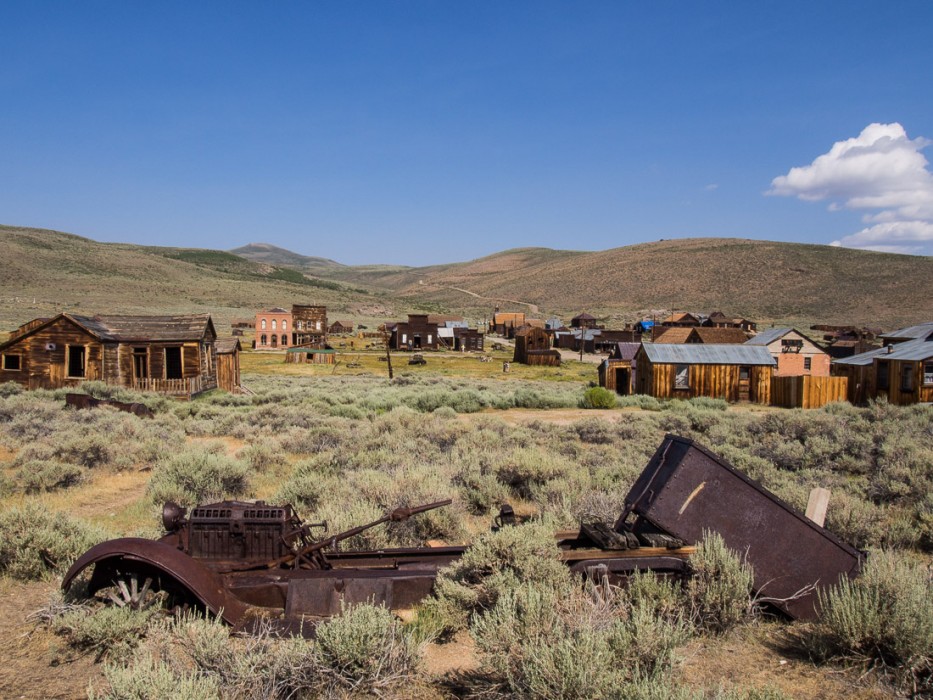 The history of Bodie is a fascinating tale.
During the California gold rush of the late 1800s, Waterman S. Bodey (AKA William Bodey) discovered gold in the nearby area.
The town sprung up not long afterwards and was subsequently named after him. Rumour has it that the misspelling was due to a sign painter.
Miners flocked here to make their fortune settling into the Bodie Hills, and Bodie became an instant boomtown with some massive gold strikes.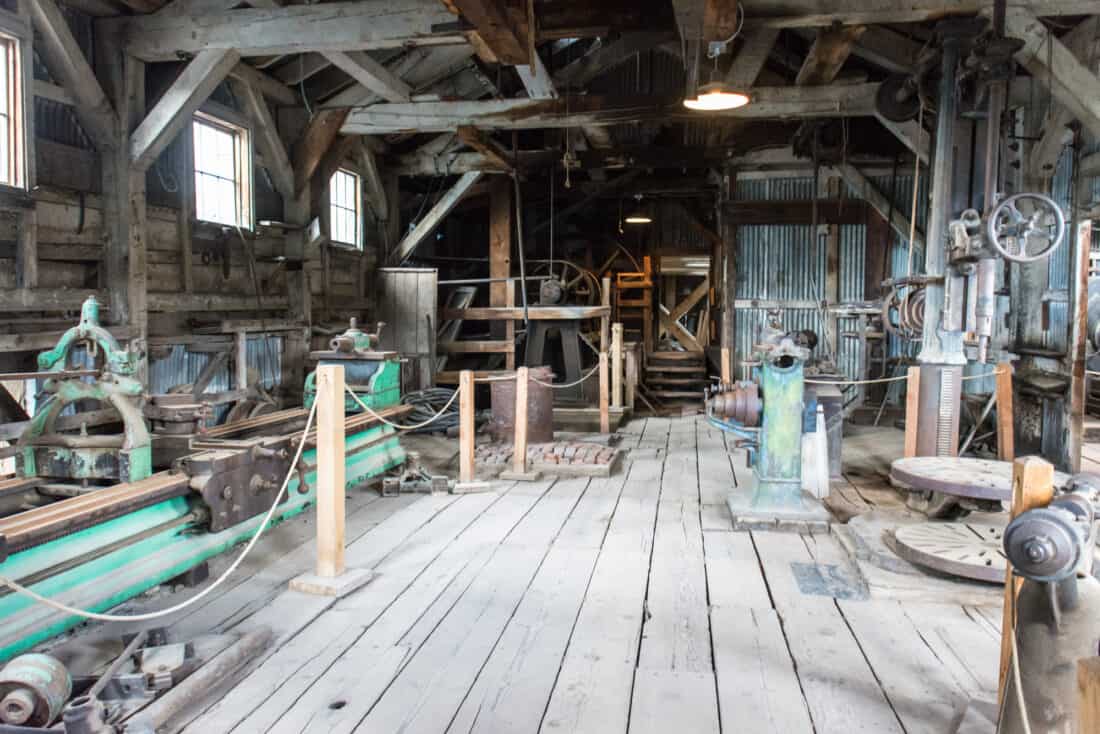 By 1880 the gold mines had spread, and the town's population reached 10,000 people. Bodie's main street reached over a mile in length at its peak.
With its gambling halls and opium dens, the mining town became known as the "most lawless, wildest and toughest mining camp the far west has ever known".
This website has some great archive newspaper articles transporting you back in time through Bodie Ghost Town history.
Why Was Bodie California Abandoned?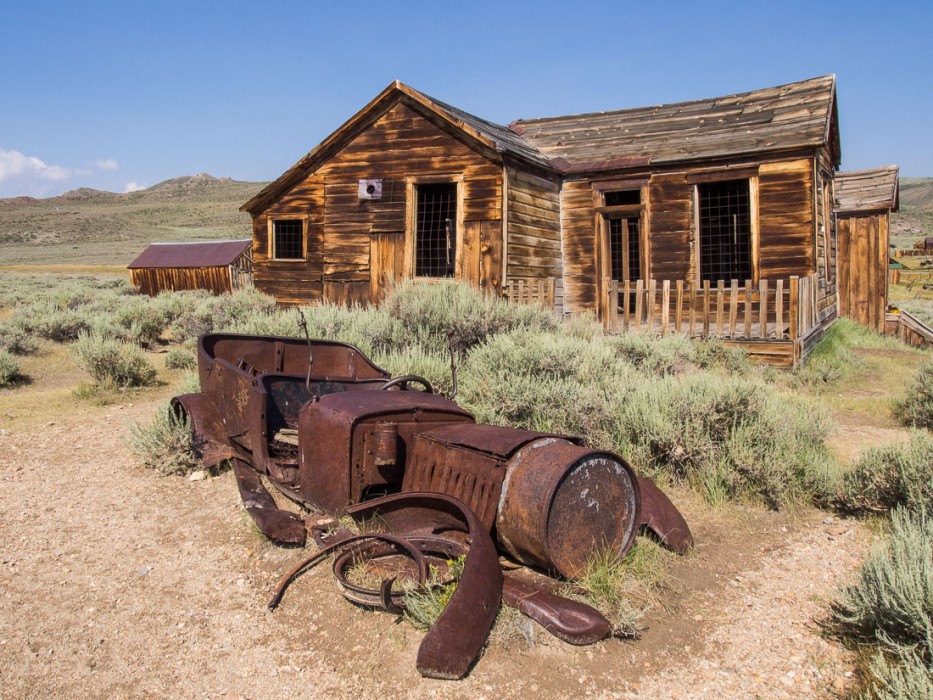 The prosperity didn't last long, and within the early 1880s, people started to leave when the gold ran out.
Further bad luck was visited upon the town by two major fires in 1892 and 1932 when most buildings burnt to the ground.
In the 1950s, the last of Bodie's residents abandoned the town altogether, some literally leaving all of their belongings behind.
In 1962 Bodie was designated a National Historic Site and became a State Historic Park.
The Bodie Foundation now supports this California State Park with the mission of preserving the remaining buildings in a state of "arrested decay".
You can learn more about Bodie Ghost Town history here.
Is Bodie California Haunted?
It is easy to see why Bodie feels haunted.
Dinner plates are still set on tables, and clothes are hung on bedroom walls.
There are bottles and glasses left in the saloons and general store and post office shelves stocked with goods.
Peek into the schoolhouse, and you can still see the lesson written out in chalk on the blackboard.
It is all very atmospheric.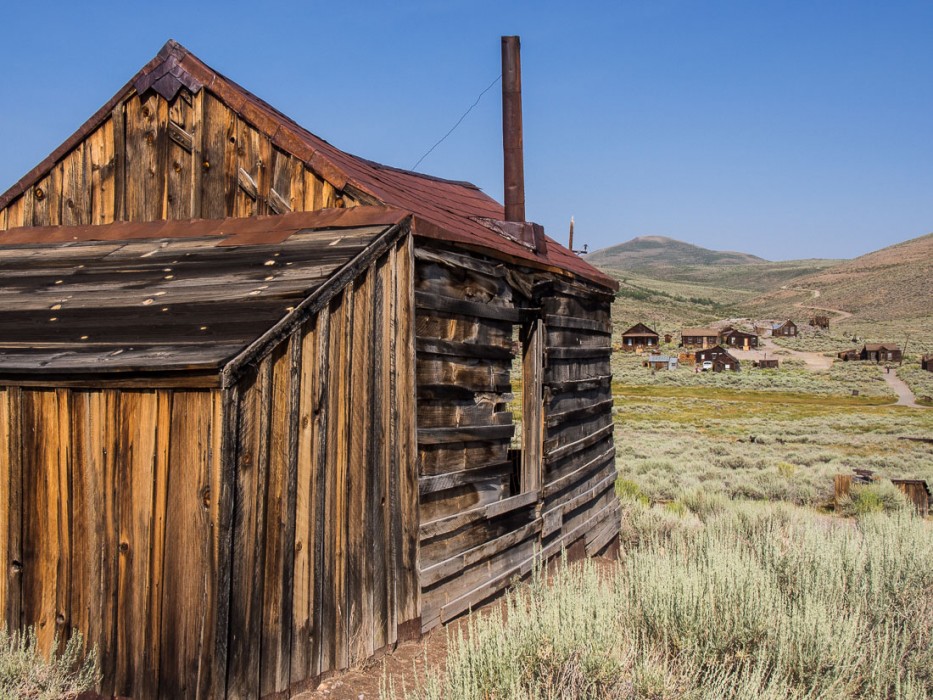 Wander further out where cars rot in the meadows and rusting iron machinery is scattered around the town.
It's like the whole place stands waiting for the residents to return.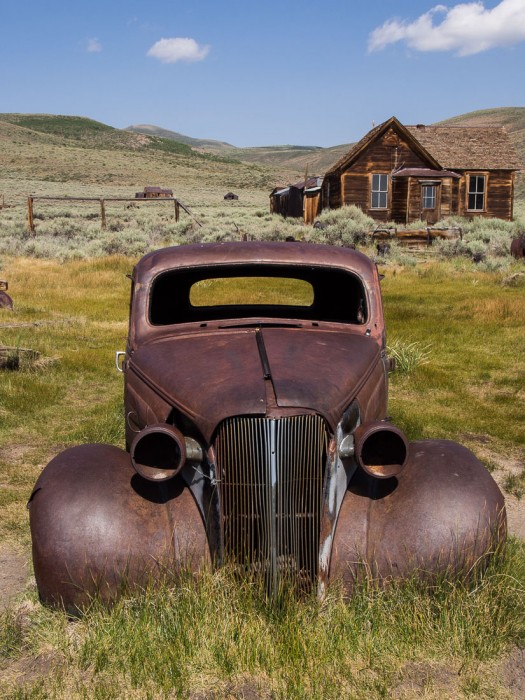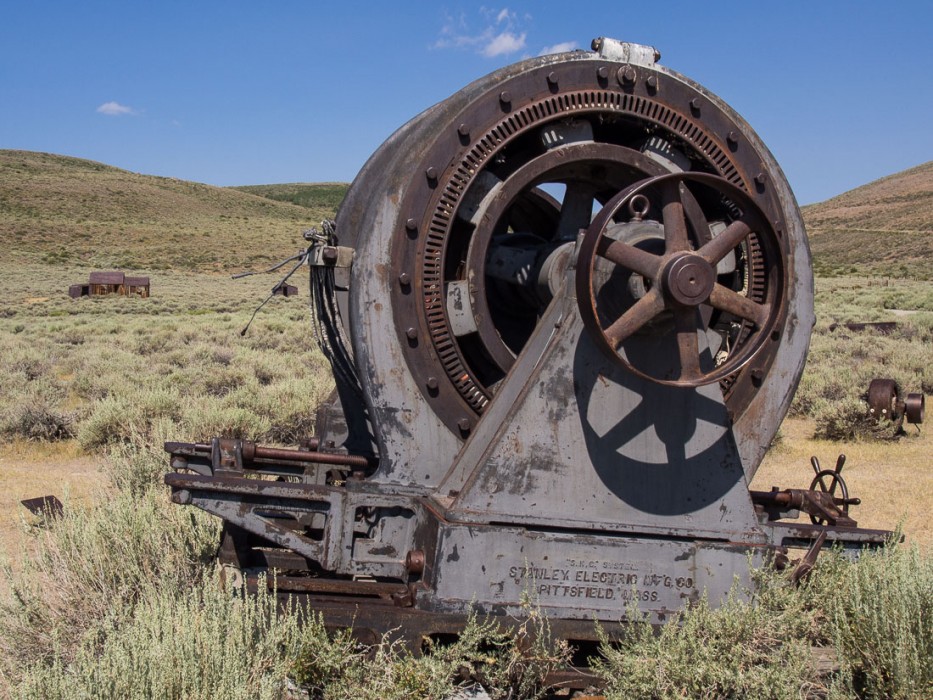 No wonder today Bodie is known as one of the best-preserved ghost towns giving you a window into life in the Old West.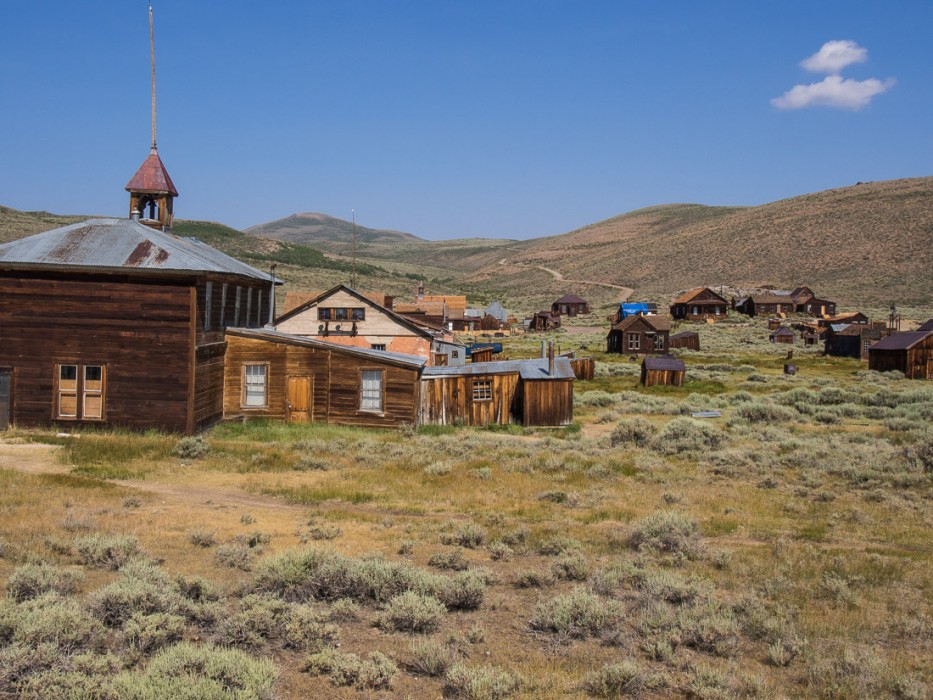 Things to Do in Bodie Ghost Town
Drive the scenic route to Bodie
Grab a guide from the kiosk and explore the park at your leisure, or join a guided tour
Photography – As you can imagine, the ghost town is a dream for any amateur photographer
Go on a Ghost Walk
Things to Do Near Bodie Ghost Town
Bodie California Map
Is Bodie Worth Visiting?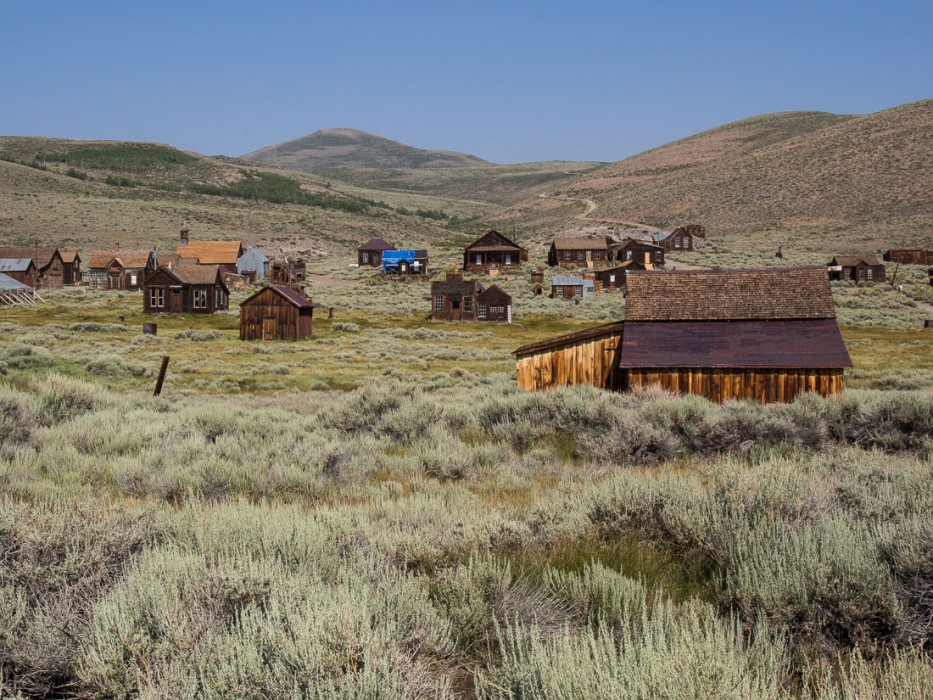 Yes absolutely! Bodie is a fascinating place that takes you back in time and is well worth adding to your Yosemite National Park itinerary. It's one of the best ghost towns in California.
It's also close to Mono Lake's stunning tufa towers, another fantastic place to visit.
More California Posts
Enjoyed this post? Pin for later!