This page contains affiliate links. Please read our disclosure for more info.
Our week hiking in Joshua Tree National Park was one of our top experiences in California. We didn't think we were "desert people", but the park changed our minds.
Far from being a lifeless place, Joshua Tree is full of stunning sights—the quirky, delightfully spiky Joshua trees, tumbling piles of granite boulders, rugged mountains, fuzzy cacti, lush palm oases, and crumbling gold mine ruins.
You can also see the transition between two deserts—the higher, cooler Mojave desert (above 3000 feet elevation), where you'll find the Joshua trees and surreal rock formations, and the lower, drier Colorado desert, full of cacti and spring wildflowers.
The best way to explore Joshua Tree's desert landscapes is to hit the trails. There's a hike for everyone, whether you are looking for an easy stroll or a challenging climb.
In this detailed guide I share our favourite hikes in Joshua Tree National Park divided by difficulty level. You'll also find our top tips for making the most of your trip, where to stay, a suggested itinerary, and a Joshua Tree hiking map.
Contents
Video: Best Hikes in Joshua Tree National Park
Watch our video for an overview of the best Joshua Tree trails.
What is a Joshua Tree?
Joshua Tree is the name of:
The National Park where these hikes take place
The small town that's the gateway to the park
The park's namesake plant
An album by U2 (with no connection to the park)
Joshua trees are the park's iconic sight. These spiky, twisty plants are actually yuccas (yucca brevifolia), and you'll find them in all shapes and sizes in the north of the park.
As they lack tree rings, it's difficult to tell their age, but it's believed they can live more than 500 years. Some are over 40 feet tall.
Joshua Tree National Park Entrance Fee
Entrance to Joshua Tree National Park costs $30 per vehicle and is valid for seven days. You can buy your pass at the North or West entrances (debit or credit card only), at the visitor centres, or online.
We bought an America the Beautiful annual pass, which costs $80 per vehicle and is valid for all US National Parks. If you visit three or more parks in a year, it'll save you money.
Buy the annual pass in advance here from REI to save time. REI will donate 10% to the National Park Foundation.
They had sold out of annual passes at the Joshua Tree Visitor Centre on our visit, so it is easier to be prepared.
A few Joshua Tree hiking trails don't require a park pass. I've noted these in the hike descriptions.
The park is open all day, every day. If you enter the park before the gates are staffed, you can buy or show your pass on the way out.
Easy Hikes in Joshua Tree National Park
These easy Joshua Tree hikes take most people under one hour to complete and are fairly flat.
The hike times are how long they took us without breaks. They could take longer if you aren't used to hiking or take many detours into the rock formations along the way.
1) Hidden Valley Nature Trail
Distance: 1 mile (1.6km) loop
Time: 35 minutes
Difficulty: Easy
Total elevation gain: 128 feet (39 metres)
Park pass needed: Yes
Facilities: Toilet and picnic tables at car park.
The Hidden Valley Trail is one of the most popular walks in Joshua Tree National Park and shouldn't be missed.
Parking does fill up, so prioritise doing this short hike early. We had it to ourselves just after sunrise (6.45am in late December), which was magical, especially with a luminous full moon.
The downside of starting so early is that the trail was in shade at first, although by the end the rocks were glowing orange. It was also very cold (26ºF/-3ºC) in winter.
Hidden Valley is a fantastic introduction to the park with information signs on the plants, animals, and history. The sandy track is mostly flat, although there are some rock steps, and it's very easy to follow.
The loop trail takes you into a small valley surrounded by towering boulder piles. It feels almost like a fortress and was once used as a hideout by cattle rustlers.
There are plenty of opportunities to detour onto the rocks, which are grippy so make for easier scrambling.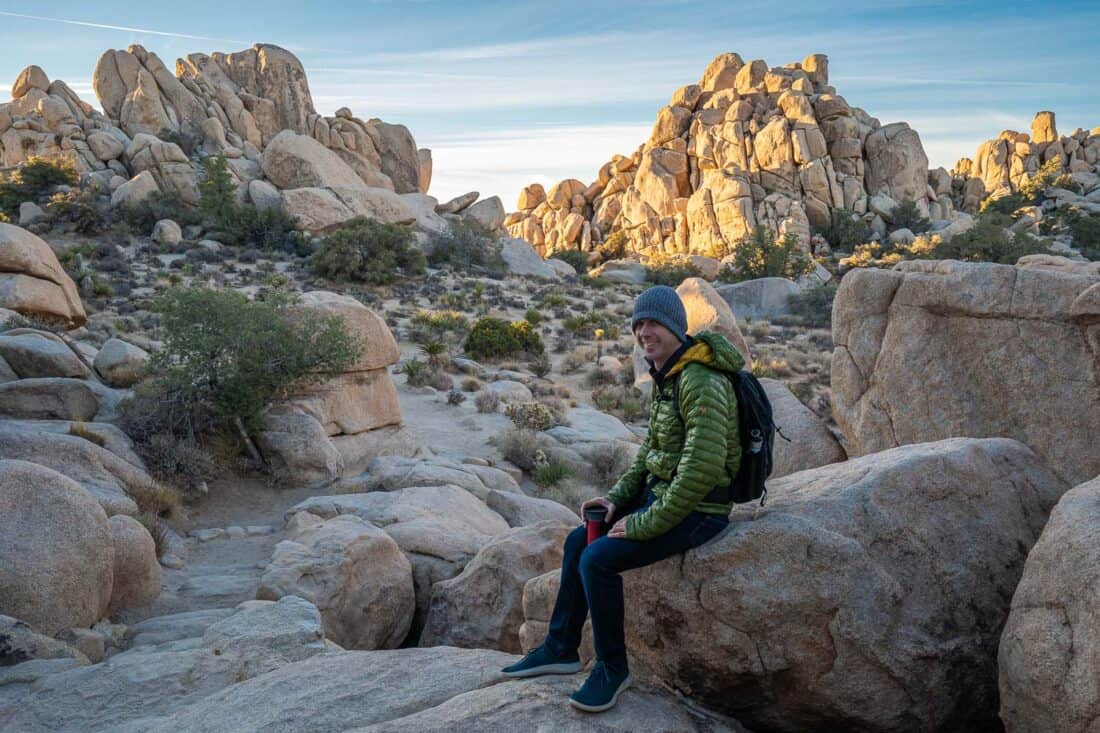 Amongst the boulders you'll see Joshua trees, cacti, yucca, pinyon pines, and lots of other desert vegetation.
Hidden Valley is one of the best hikes in Joshua Tree with gorgeous scenery for minimal effort.
It's even one of our picks for the best Southern California activities.
2) Barker Dam Nature Trail
Distance: 1.2 mile (2km) loop
Time: 35 minutes
Difficulty: Easy
Total elevation gain: 39 feet (12 metres)
Park pass needed: Yes
Facilities: Toilet at car park.
Barker Dam is only a five-minute drive from Hidden Valley, so it makes sense to combine them.
It's another popular spot that's best visited early. If you visit later when parking is full, follow signs for overflow parking at Echo T, which will add an extra 0.6 miles to the trail.
Barker Dam is an easy loop walk amongst boulders and Joshua trees that takes you to one of the few bodies of water in the park.
The water tank was built in 1899 by cattle ranchers and is now used by wildlife including bighorn sheep (sunrise is the best time to spot them).
Unfortunately, there was no water in the dam on our visit—spring is the most likely time to find it full.
After the dam you walk through a more open area with impressive rock piles. This is the most accessible hike in the Wonderland of Rocks, a maze of jumbled piles of granite.
Another unique feature of this trail is ancient rock art created by Native Americans migrating through the park. Sadly, a Hollywood studio painted over them to enhance the colours while filming a movie in the 1960s.
The Barker Dam trail is a Joshua Tree must-see if it's full of water, but even dry, it's worth the easy hike for the rocky landscapes.
3) Wall Street Mill Trail
Distance: 2.3 miles (3.7km) out and back
Time: 50 minutes
Difficulty: Easy
Total elevation gain: 82 feet (25 metres)
Park pass needed: Yes
Facilities: Toilet at car park.
The Wall Street Mill Trail starts from the same parking lot as Barker Dam. We hiked Hidden Valley, Barker Dam, and Wall Street Mill in under three hours and had a wonderful morning.
This flat out and back trail takes you to the ruins of an old gold processing mill built in 1891. It's one of the best hikes in Joshua Tree for gold mining history.
You start with a leisurely stroll past impressive Joshua trees and rocky outcrops.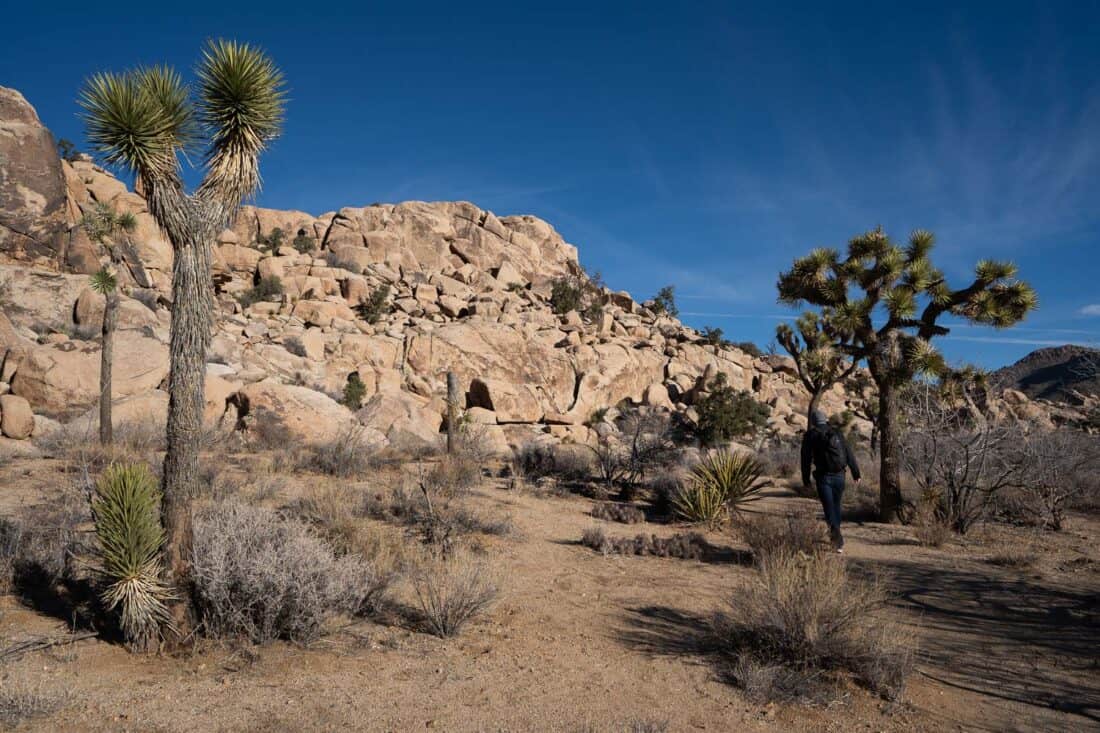 Eventually, you'll reach an old windmill and further on is the stamp mill, which was operated by William F Keys from 1930-1966 to process gold ore from local mines.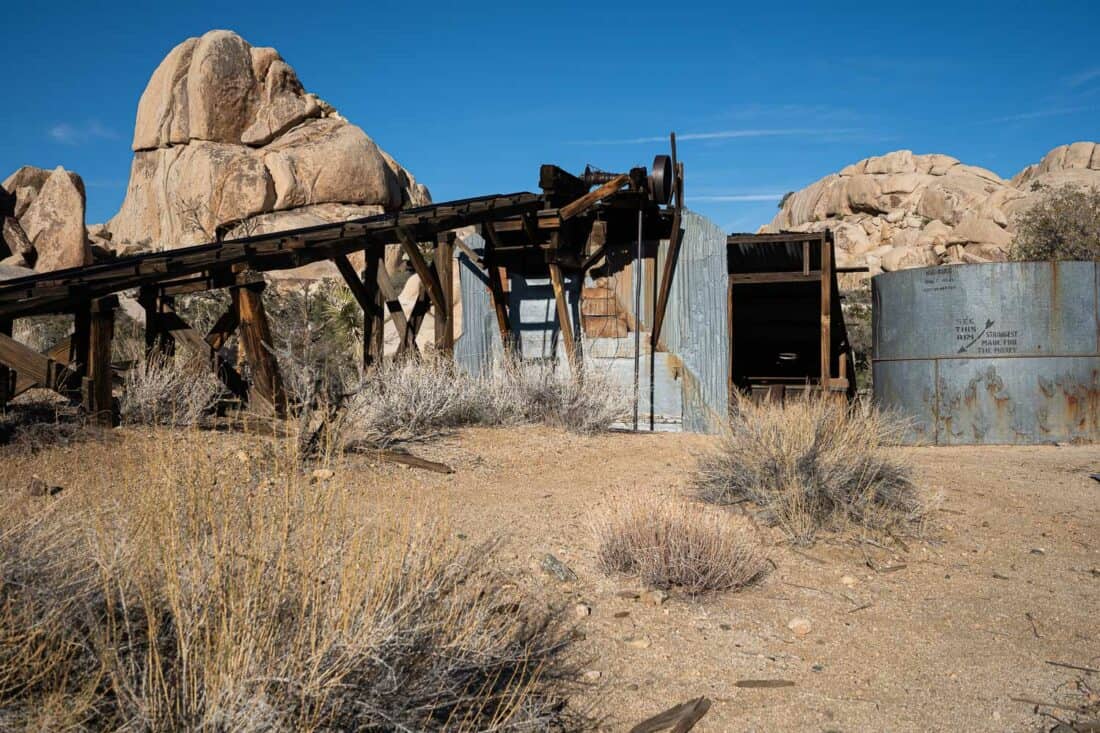 Everything is rusty and decaying now, including the ruin of an old car.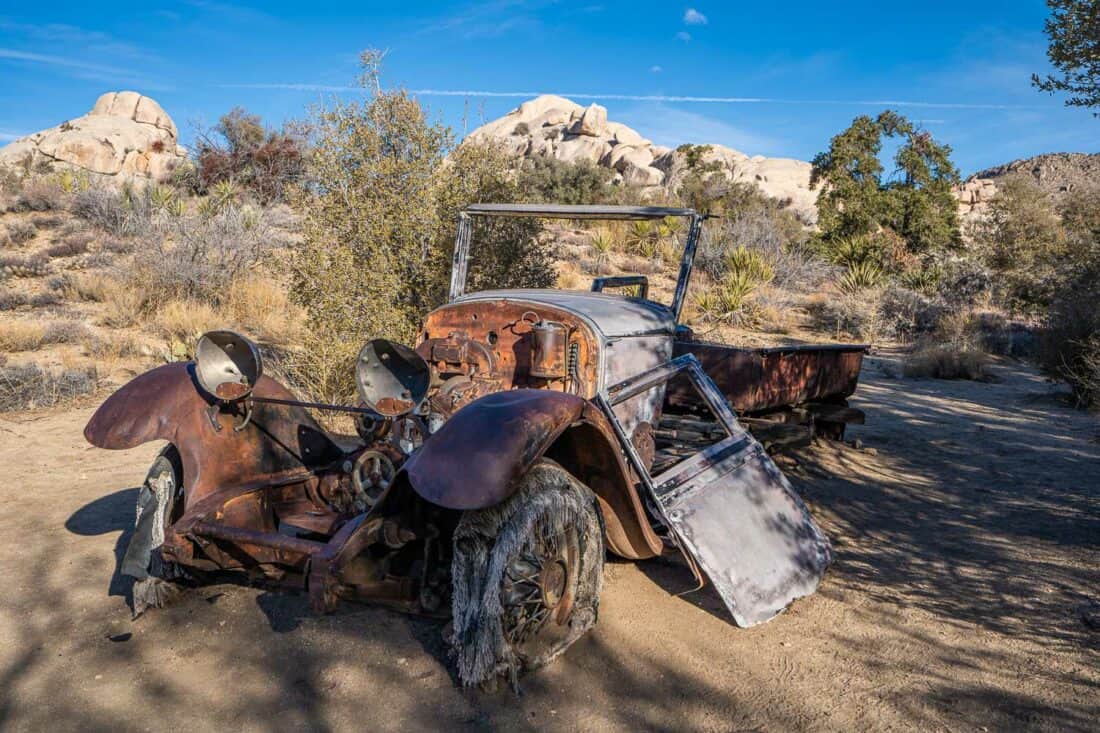 Once you're done exploring, head back the way you came.
Wall Street Mill doesn't attract as many hikers as Barker Dam, but I recommend it for beautiful scenery and interesting history.
4) Arch Rock Nature Trail
Distance: 2 miles (3km) out and back including wandering rocks
Time: 40 minutes
Difficulty: Easy
Total elevation gain: 141 feet (43 metres)
Park pass needed: Yes
Facilities: Toilet in campsite but not at parking.
On the other side of the park, about 25 minutes from Hidden Valley, is Arch Rock, one of the most famous sights in Joshua Tree.
This was one of the few hikes we did in the middle of the day (11am), and it was a reminder why an early start is important—the trail was crowded and by the time we returned, the parking lot was full.
Our hiking book said we could park at the White Tank Campground to visit Arch Rock, but this is no longer true. You have to park at the Twin Tanks parking lot, which is just before the campground (driving from the north).
The Arch Rock Nature Trail starts from here and involves crossing the road and then a fairly unexciting flat walk through scrubby desert to the granite formations near the campground.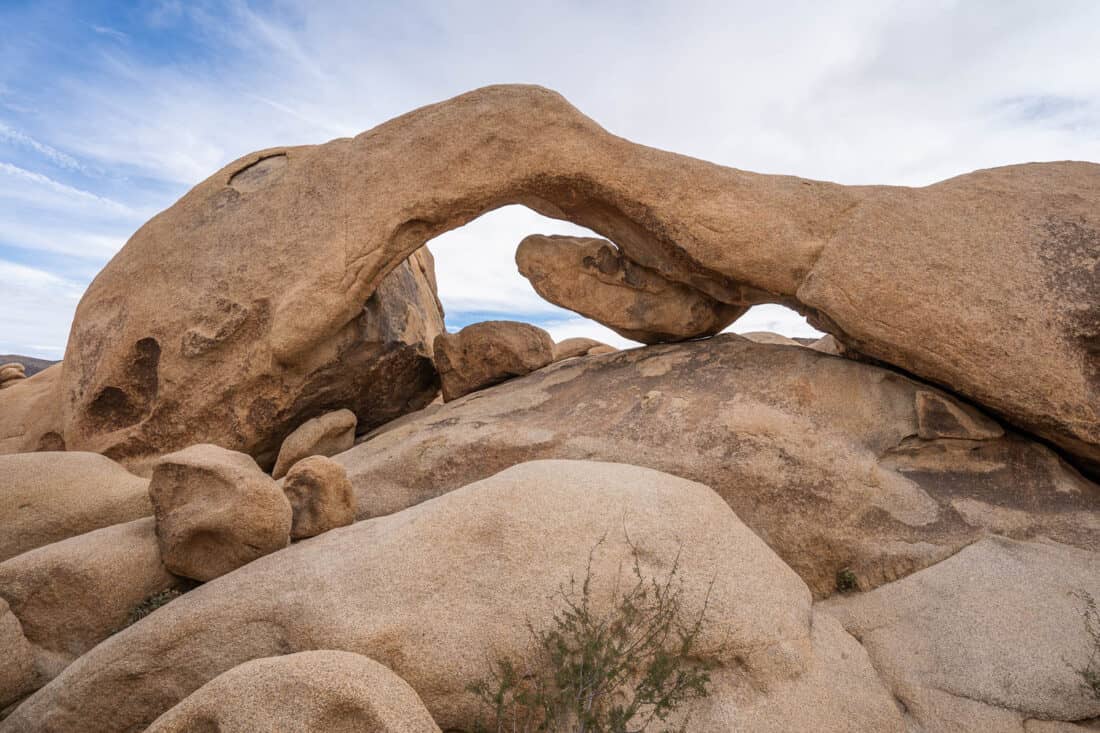 The arch-shaped rock draws the crowds, but there are plenty of other cool rocks to scramble on and slot canyons to squeeze through. It's a fun area to play.
I preferred other hikes in the park, but if you do want to visit, go early in the morning when it's quieter.
Moderate Hikes in Joshua Tree
These moderate Joshua Tree hikes are longer and/or steeper than the easy walks. If you are a regular hiker or fairly fit, you shouldn't find them too difficult.
5) High View Nature Trail
Distance: 1.3 mile (2.1km) loop
Time: 35 minutes
Difficulty: Easy-Moderate
Total elevation gain: 364 feet (111 metres)
Park pass needed: No
Facilities: None but Black Rock Nature Centre and Campground are nearby.
The High View Nature Trail is in the northwest corner of the park in the Black Rock area, which is often overlooked.
While the scenery here isn't considered as dramatic as other areas of the park—there are fewer rock formations—it's still beautiful and has several advantages.
It doesn't require a park pass and is one of the nearest hikes to Joshua Tree and Yucca Valley towns—just 15 minutes away. It's also much less busy—on a Sunday late afternoon we only saw one other group.
To get to the trailhead, head towards Black Rock Canyon Campground but before you enter, turn right at the sign for the horse farm and High View Trail. Drive down the dirt road (accessible to regular cars) past the farm and huge water tank and you'll reach a parking area.
The High View Nature Trail is a loop—we went counterclockwise for a more gentle ascent. There's an easy start on a sandy path and it gets steeper as you climb up the rocky mountain.
The ascent doesn't take too long, though, and from the top you can enjoy panoramic views of the surrounding mountains.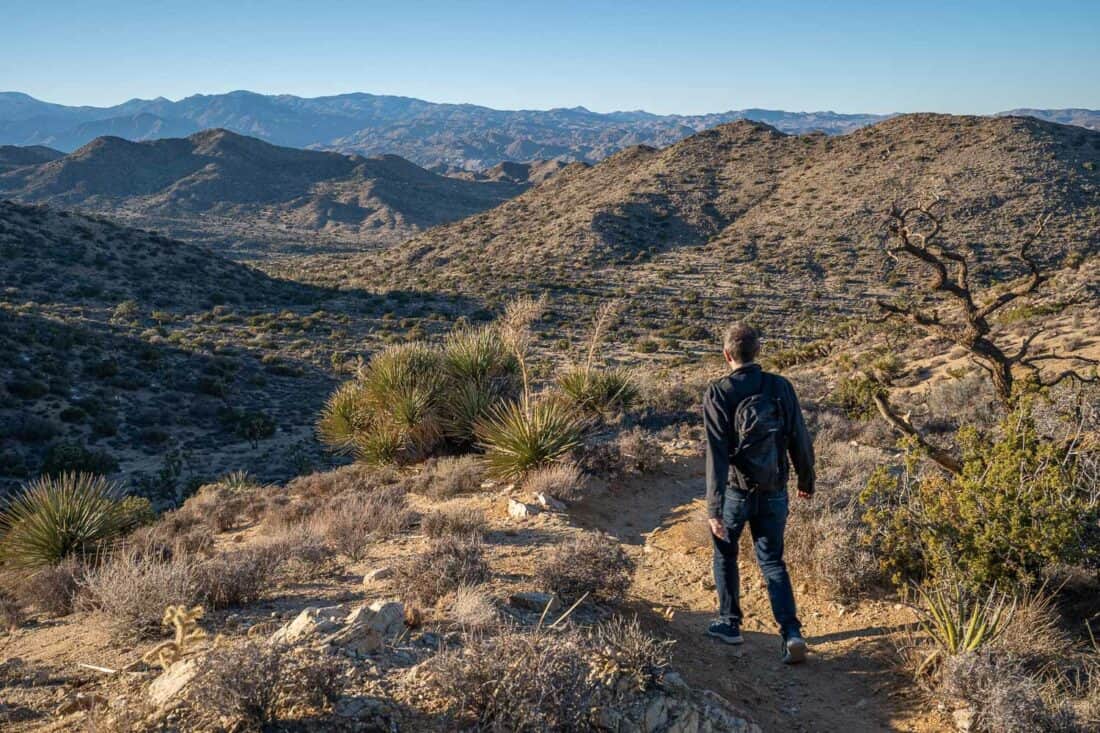 While High View isn't a Joshua Tree must-do hike, it's an excellent option if you want a quieter trail or somewhere easily accessible when you first arrive.
A more challenging hike in this area is the 5.5 mile Warren Peak Trail.
6) Skull Rock and Split Rock Loop
Distance: 4.8 mile (7.7km) loop
Time: 2 hours
Difficulty: Easy – Moderate
Total elevation gain: 567 feet (173 metres)
Park pass needed: Yes
Facilities: Toilet in Jumbo Rocks campsite. Toilet and picnic tables at Split Rock car park.
This hike combines two trails—the Skull Rock Nature Trail (1.7 miles) and Split Rock Loop Trail (2.5 miles) via the Discovery Trail. It's best accessed from the North Entrance and could be combined with nearby Arch Rock or Pine City.
Skull Rock is a well-known sight in Joshua Tree—a rock that looks like a skull. Honestly, I found it a little underwhelming, but I loved the second part of this hike.
We parked in one of the spaces along the road opposite Skull Rock. It pays to start early as the spaces were mostly full when we finished our hike at 9.40am.
After taking photos of the famous rock, we began the Skull Rock trail, which I didn't find very exciting. It passes through the Jumbo Rocks campground, where there are some cool boulders, but you spend too much time walking on or close to the road.
The loop took us 40 minutes. Unless you have plenty of time, I recommend skipping the Skull Rock trail and just doing the Split Rock Loop starting at the Split Rock car park.
I much preferred the Split Rock Trail, which we connected to via the short Discovery Trail. It took about 10 minutes from Skull Rock to get to the Split Rock Trail passing the large Face Rock on the way.
From there we followed the trail clockwise (although most people go in the other direction) and felt like we were deep into the desert. We didn't see anyone else until near the end.
The trail was easy with some gentle ups and downs, and the scenery was gorgeous with some amazing rock formations. There are fewer Joshua trees here but plenty of cacti.
Some sections of the trail were a little hard to follow—the All Trails offline map was helpful for this one.
About 35 minutes after Face Rock we reached the Split Rock parking area where there's a toilet, picnic tables, and the namesake rock.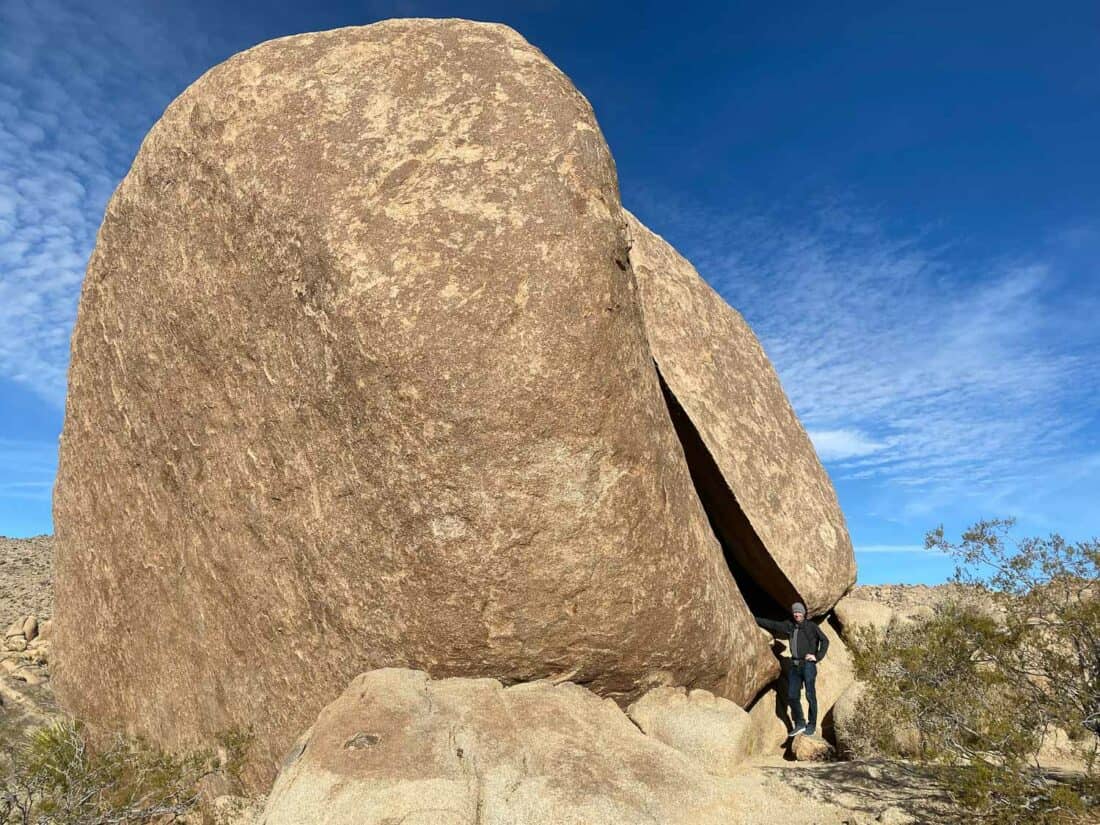 It took another 25 minutes to return to Skull Rock past many more wonderful boulder piles.
I highly recommend the Split Rock Trail—it's easy, beautiful, and quieter than many Joshua Tree trails. If you want a longer walk, add in the Skull Rock loop, but I don't think it's a must-do.
7) Pine City Trail
Distance: 4.1 mile (6.6km) out and back
Time: 1 hour 20 mins
Difficulty: Easy – Moderate
Total elevation gain: 272 feet (83 metres)
Park pass needed: Yes
Facilities: Toilet at car park.
If you want to get off the beaten track in Joshua Tree, head to Queen Valley. This is an excellent option in the afternoon when popular parts of the park are crowded.
This quieter area is accessed by the unpaved Queen Valley Road, which is usually fine for regular cars. The quickest route in is by Jumbo Rocks (not the Barker Dam end).
Pine City is an easy undulating out and back trail. We had it entirely to ourselves starting at 7.30am except for a cottontail rabbit and a few quail.
At first it traverses a flat open area with plenty of Joshua trees, yucca, and cacti with a snowy mountain in the distance.
After 25 minutes we reached Pine City—a collection of massive boulders and large pinyon pine trees that's unusually green for the desert. You could spend a while scrambling amongst the rocks.
Make sure to continue 10 minutes past Pine City to another rocky area with a view of the valley and mountains beyond. After enjoying the tranquillity, return the way you came.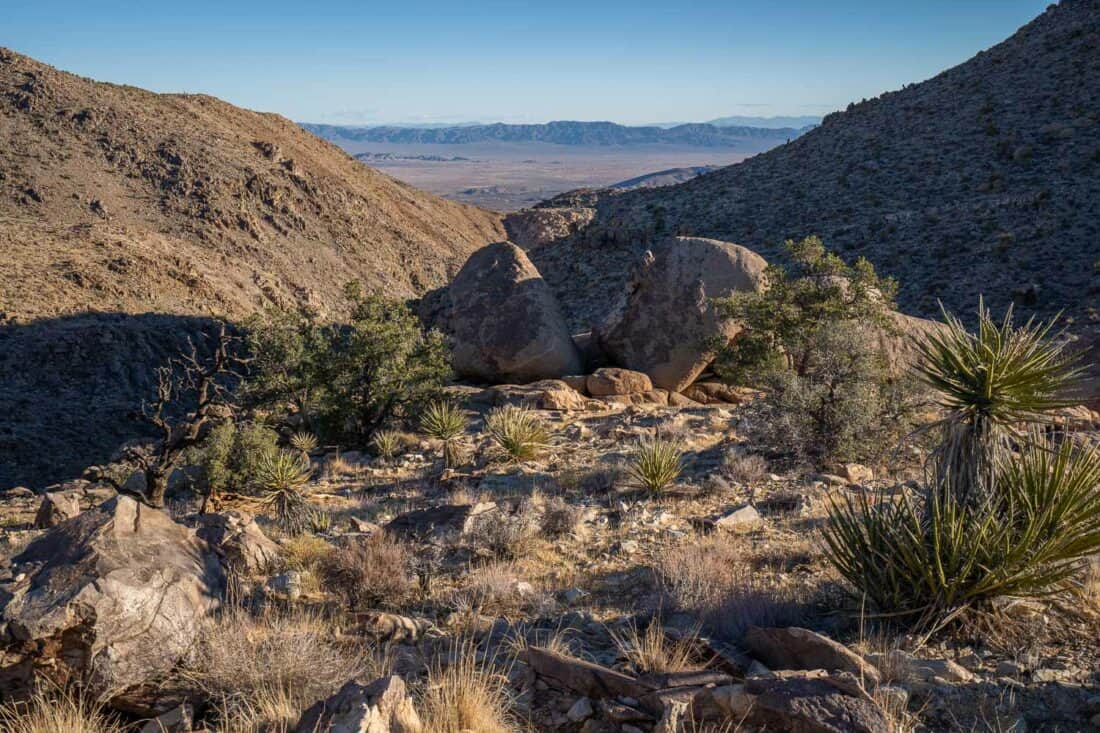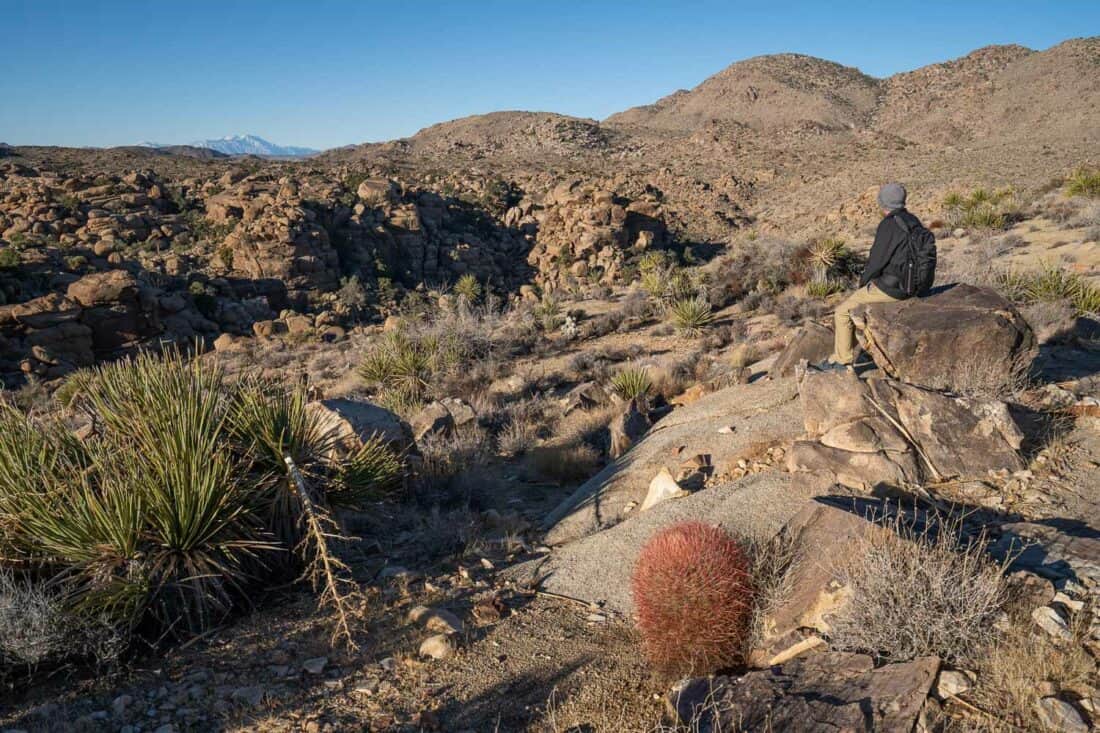 Pine City Trail is one of the best Joshua Tree hikes you probably haven't heard of. It's an enjoyable walk that offers solitude, classic desert scenery, and something a bit different.
If you want to continue hiking, there are two other trails that start from the same car park. We walked part of the Desert Queen Mine trail down a rocky canyon to an old gold mine (30 minutes return). You can continue for much longer. We found the trail confusing so I recommend having an All Trails offline map.
The other hike, which we didn't do, is the 2.5 mile Lucky Boy Vista.
8) Mastodon Peak Loop Trail
Distance: 2.6 mile (4.2km) loop
Time: 1 hour 10 minutes
Difficulty: Easy – Moderate
Total elevation gain: 525 feet (160 metres)
Park pass needed: Yes
Facilities: None. Nearest toilet at Cottonwood Visitor Centre or campsite.
This is the only hike on this list in the southern part of Joshua Tree National Park. It's a 1 hour 15 minute drive from Joshua Tree town, so if you are short on time, you'll probably skip it.
If you do have time, it is interesting to drive south to see the transition from the Mojave to the Colorado desert. This is at a much lower elevation—while Hidden Valley is at 4177 feet (1273 metres), Cottonwood Spring is at 2972 feet (906 metres).
Expect it to be warmer down here, which at 8.30am in winter was perfect for us with temperatures in the low 60s. There aren't any Joshua trees, but in spring it's a great place for wildflowers.
You'll also want to make a quick stop at the Cholla Cactus Garden (see below) on your way down.
The Mastodon Peak Loop Trail starts at Cottonwood Spring, which you can reach at the end of Cottonwood Oasis Road by driving past the Cottonwood Visitor Centre (use toilets here if needed) and Campground.
The trail starts by descending into the Cottonwood Spring Oasis, a dense patch of massive fan palms with shaggy trunks as well as Cottonwood trees.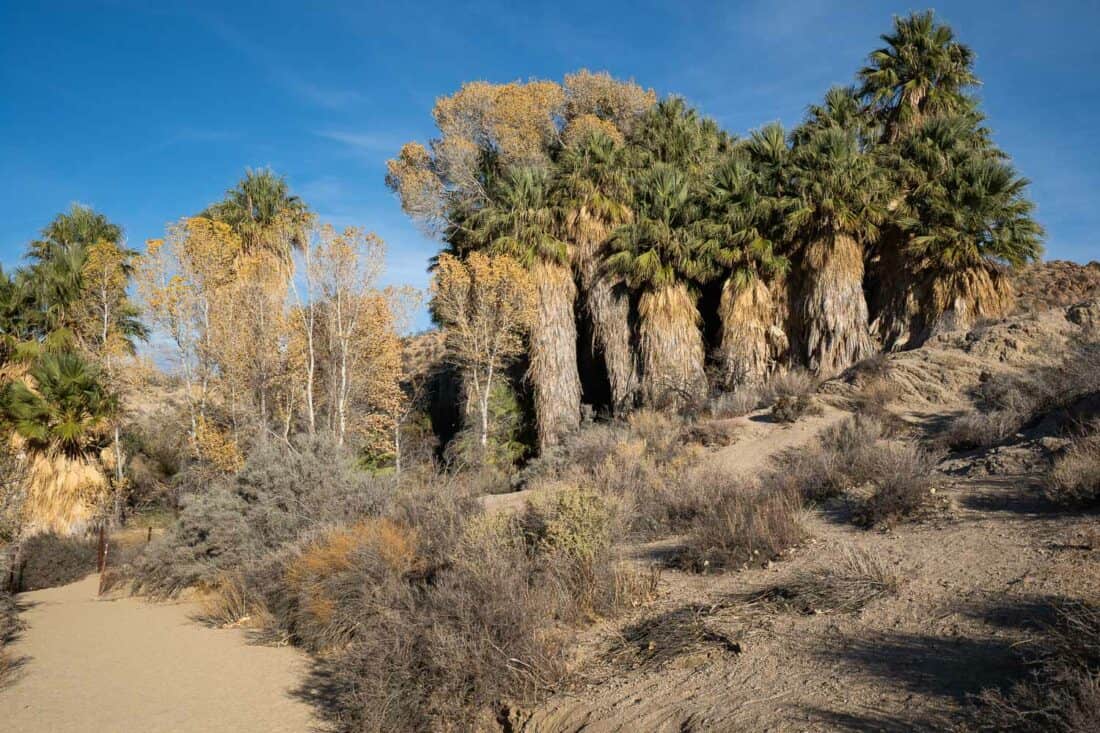 It's easiest to hike the Mastodon Peak Loop counterclockwise, so start on the Lost Palm Oasis trail and take a left at the sign for Mastodon.
There's a short ascent at the beginning and you can look back down at the oasis and rugged burnt orange hills. You can see many Mojave yuccas, cacti, and even ocotillos.
After about 30 minutes we reached Mastodon Peak, which is a pile of rocks. If you are feeling adventurous, you can scramble to the top of the granite peak.
I found the climb up a little scary, but it didn't take long and was worth it for the sweeping 360º views.
Continuing on the trail, you soon pass an old gold mine from the 1930s. You can peer down into the shaft and see the remains of the wooden building.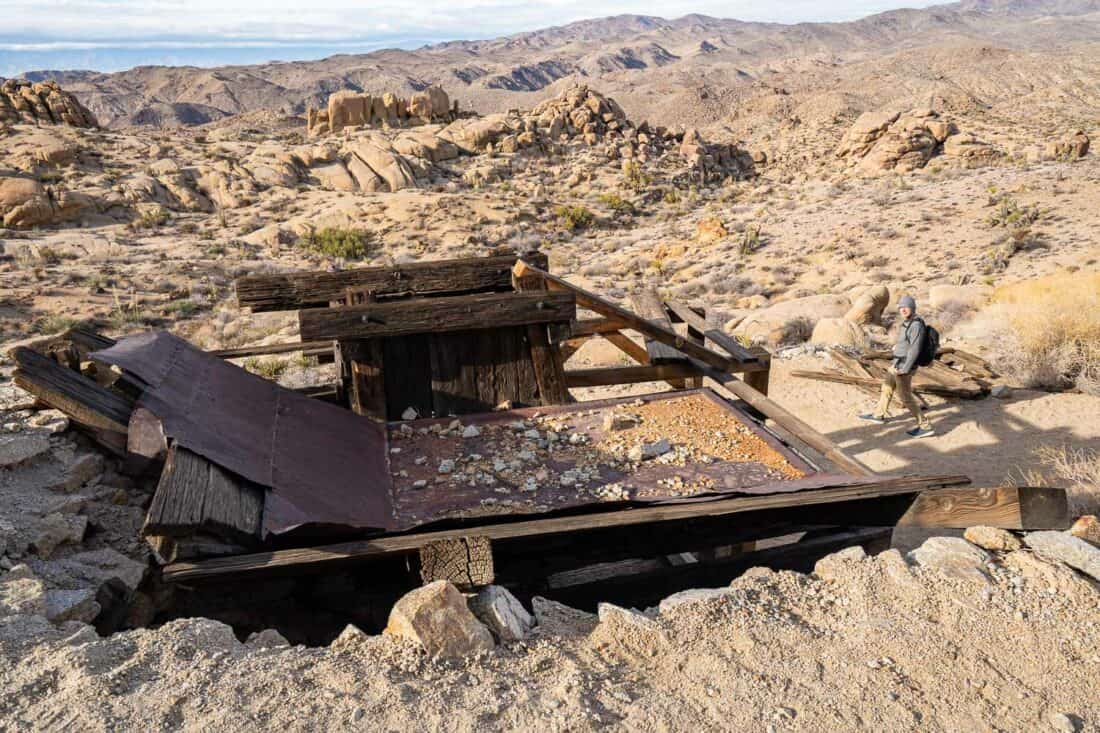 The rest of the walk is easy, scenic, and peaceful—we didn't see anyone else. We were back at the trailhead sooner than we expected.
I definitely recommend Mastodon Peak Loop if you have time. The trail combines a desert oasis, rocky scenery, some climbing adventure, panoramic views, and gold mining history.
If you want a longer hike, the 7.5 mile Lost Palms Oasis starts in the same place and takes you to another oasis. Combine it with Mastodon Peak for an 8.5 mile trail.
9) Ryan Mountain Trail
Distance: 2.9 mile (4.7km) out and back
Time: 1 hour 30 minutes (2 hours with breaks)
Difficulty: Moderate – Strenuous
Total elevation gain: 1020 feet (311 metres)
Park pass needed: Yes
Facilities: Toilet at car park.
Ryan Mountain is one of the most popular Joshua Tree trails for those looking for more of a challenge.
It has the most elevation gain of all the hikes on this list as it's a climb straight up to the summit of Ryan Mountain then back down.
The trail is simple to follow and is a mix of narrow dirt path and large rock steps. It definitely gets the heart going, but it wasn't as hard as we expected and we reached the 5457 ft summit in 50 minutes (not including a break halfway up).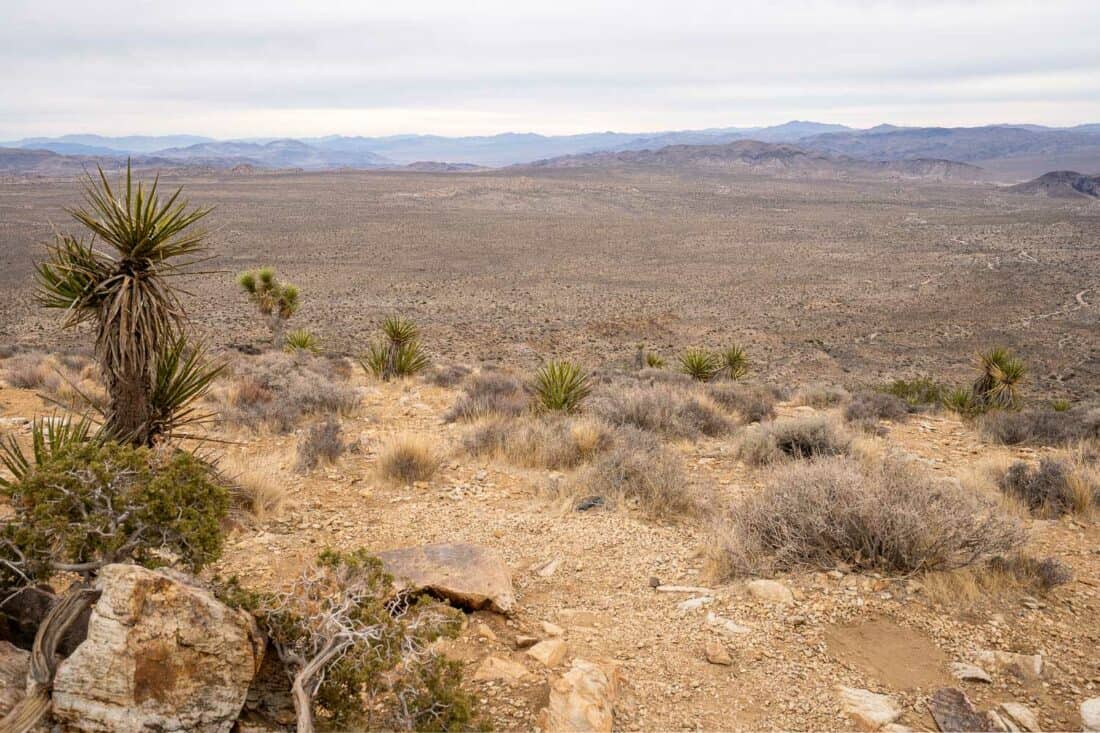 It's worth the climb for the spectacular 360º view of much of the park—the Wonderland of Rocks, Joshua trees, wide open plains, and distant mountains. Even on a cloudy day, it was stunning.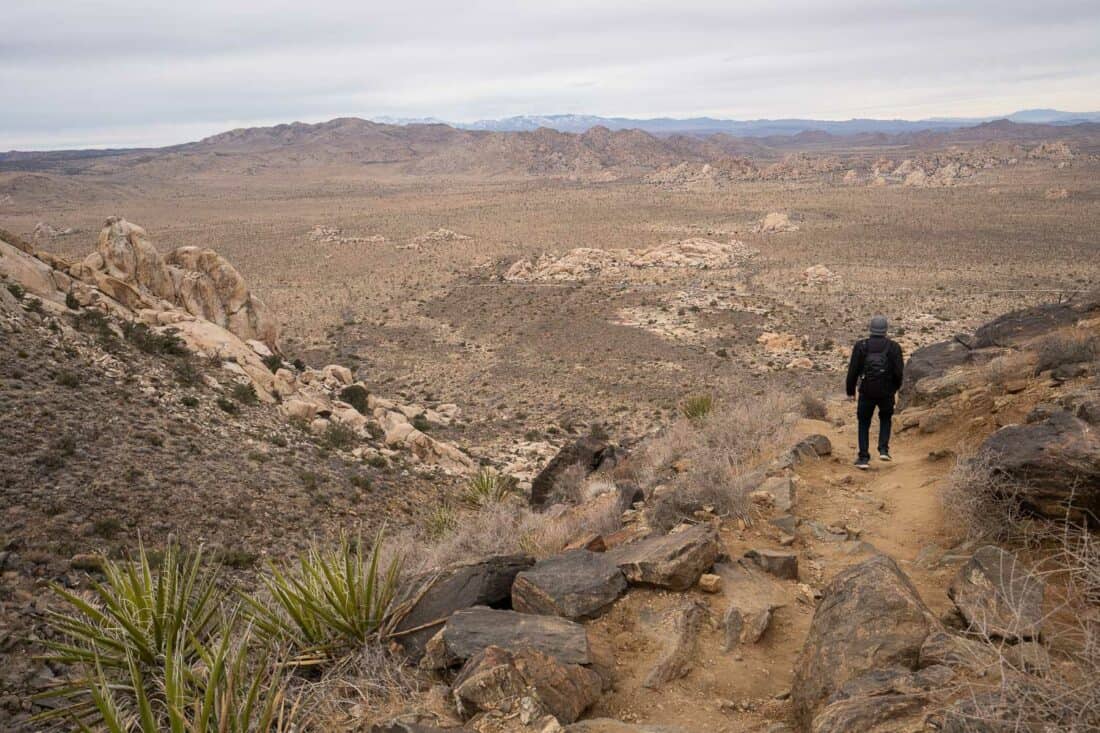 I recommend getting an early start for Ryan Mountain to avoid the crowds and heat (there's no shade). We started at 7.30am and only saw two other groups on the way up, but by the time we were finishing, the trail was much busier.
10) Fortynine Palms Oasis Trail
Distance: 3 mile (5km) out and back
Time: 1 hour 25 minutes (plus break)
Difficulty: Moderate
Total elevation gain: 794 feet (242 metres)
Park pass needed: No
Facilities: Toilet at car park.
Fortynine Palms Oasis is one of the best Joshua Tree trails to see a secluded desert oasis. It has its own access road off CA 62 so doesn't require a park pass.
I read warnings about how difficult and dangerous this hike can be, but I think this only applies in summer when it can be extremely hot. It's located at a lower elevation than the park's main areas with no Joshua trees.
We found it fairly easy on a cool winter afternoon and had shade for part of the way.
The out and back hike involves a climb up and over a hill then down into a canyon, so you'll have an uphill walk in both directions. It's the return journey that catches people out in hotter weather.
We found it an enjoyable walk into the rocky canyon with sweeping views of Twentynine Palms and beyond from the top and red barrel cacti brightening up the hillside.
It took us 40 minutes to reach the oasis, where we took a break on a rock to enjoy the view (don't approach the palms as they are protected).
The oasis was created on a crack in the earth's crust that enables groundwater to rise to the surface.
The massive shaggy California fan palms are stunning in the rugged brown canyon. It's a magical spot.
Short Joshua Tree Hikes
These quick stops in Joshua Tree National Park aren't really hikes as they can be walked in under 20 minutes. They are worth visiting for beautiful views.
11) Cholla Cactus Garden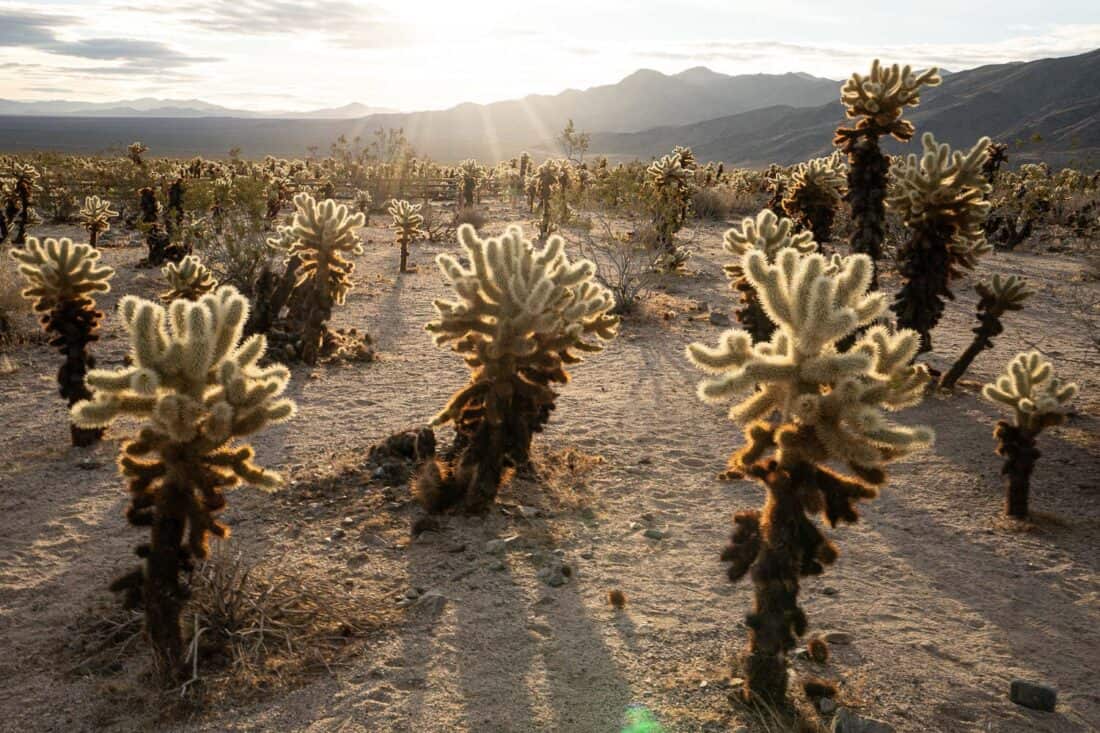 The Cholla Cactus Garden is unlike anywhere else in the park and is a must-stop if you drive south.
The short walk winds through 10 acres of teddy bear cholla, a cactus that looks fuzzy but has dangerous spines that can latch onto you—keep your distance.
The best time to visit is early morning or sunset when they glow in the soft light.
We spent 15 minutes here taking lots of photos. There's no toilet.
12) Cap Rock Nature Trail
The Cap Rock Nature Trail took us 10 minutes past Joshua trees, boulder piles, and signs with information on the flora.
It's also known as the place where Gram Parson's body was cremated.
There are picnic tables and toilets. Cap Rock can be visited on the way to or from Keys View or Ryan Mountain.
13) Indian Cove Nature Trail
The Indian Cove Nature Trail is located next to the Indian Cove Campground. Like nearby Fortynine Palms Oasis, it has its own access road and doesn't require a park pass. The road is unpaved but we were fine in a regular car.
The 20-minute easy loop passes towering boulder piles and interesting signs on how the plants were used by native peoples.
Afterwards we hung around for sunset and watched rock climbers. It's quieter than the main part of the park.
Drive through the campground to reach parking for the trail (and a toilet).
14) Keys View
Keys View is the highest point in Joshua Tree accessible by car.
It's just a few minutes walk to the viewing platform for a panoramic view of the Coachella Valley, Salton Sea, and San Jacinto and San Gorgonio mountains.
It is stunning, but I found it way too crowded an hour before sunset, and parking can be hard to get. Sunrise is quieter but we always prioritised hiking in the mornings.
There's a toilet in the car park.
Best Joshua Tree Hikes Map
Tips for Hiking in Joshua Tree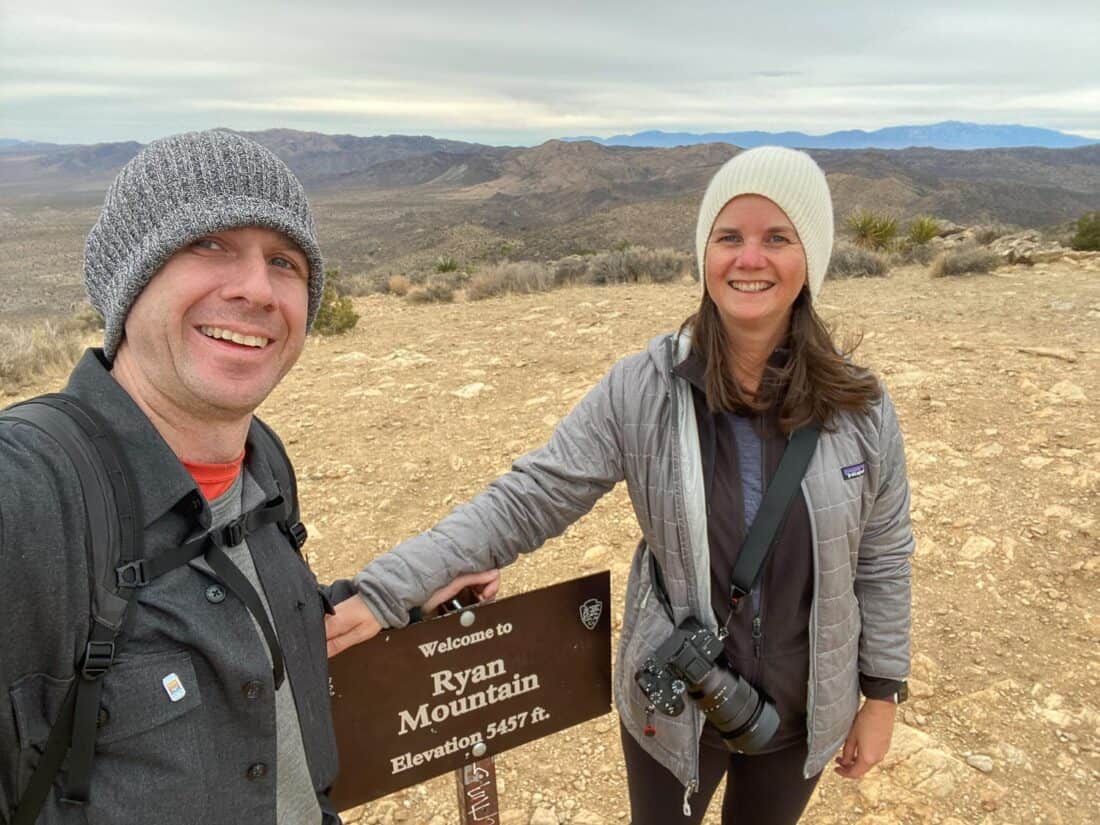 Avoid visiting in summer when it's sweltering (over 100°F/38°C during the day). We really enjoyed our winter trip—despite some freezing mornings, the cooler weather is ideal for hiking. Spring is the most popular time to visit.
Arrive early to avoid crowds. From 7am (or sunrise) to 9am the trails are almost empty, temperatures are cooler, and the morning light is beautiful. At peak times (weekends and holidays in winter and spring), parking at popular hikes can be full by 10am.
Stock up on fuel, water, and food before entering the park as there are no services inside.
There's no cell service so download maps in advance. We saved Google Maps offline and downloaded the Joshua Tree section from the National Park Service app.
We also got the 7-day free trial of the premium version of the All Trails app, which allows you to save hiking trail maps offline (this was very useful for some hikes).
See below for what to pack and wear for a hike in Joshua Tree.
Where is Joshua Tree National Park?
Joshua Tree National Park is located in Southern California. The nearby town of Joshua Tree is located about 3 hours from Los Angeles, San Diego, and Las Vegas.
Palm Springs is about an hour from the West and South Entrances.
If you want to combine Joshua Tree with another National Park, Death Valley is just over 4 hours away. See our guide to the best attractions in Death Valley.
You need your own vehicle to visit the park or you can take a tour from Palm Desert.
Best Entrance to Joshua Tree National Park
There are three entrances to the 800,000 acre Joshua Tree National Park. As it's over 50 miles from one end to the other, choose your entrance wisely.
You can see a map of all our recommended Joshua Tree hikes above.
West Entrance
The West Entrance is a 10-minute drive from the small town of Joshua Tree and is the most popular way to enter the park.
It's the closest entrance to some of the best hiking in Joshua Tree (like Hidden Valley and Ryan Mountain), and this area has the most Joshua trees—you'll see them even before you enter.
The downside of the West Entrance is that it can have very long queues. We never had a problem as we usually entered the park this way by 7.30am, but when we left after 10am there was always a queue. On the Sunday after Christmas, it was massive.
North Entrance
The North Entrance is near the small city of Twentynine Palms and a 25-minute drive from Joshua Tree town.
It's much quieter than the West Entrance and is the best option if you are entering the park after 9am, especially at busy times.
It's the closest entrance to visit the Split/Skull/Jumbo Rocks area as well as Arch Rock.
A popular way to explore Joshua Tree in one day is to make a loop on Park Boulevard by entering in the West Entrance and out of the North Entrance (or vice versa). Both entrances can be accessed from Highway 62 north of the park.
South Entrance
The South Entrance is more remote than the other gates and is accessed from Interstate 10. To pay for park entrance, stop at the Cottonwood Visitor Centre.
This isn't the best entrance for most visitors. While there are some worthwhile hikes nearby, it's not convenient for the main attractions, and there are no Joshua trees at this lower elevation.
It's a one hour drive from Cottonwood Visitor Centre to Hidden Valley.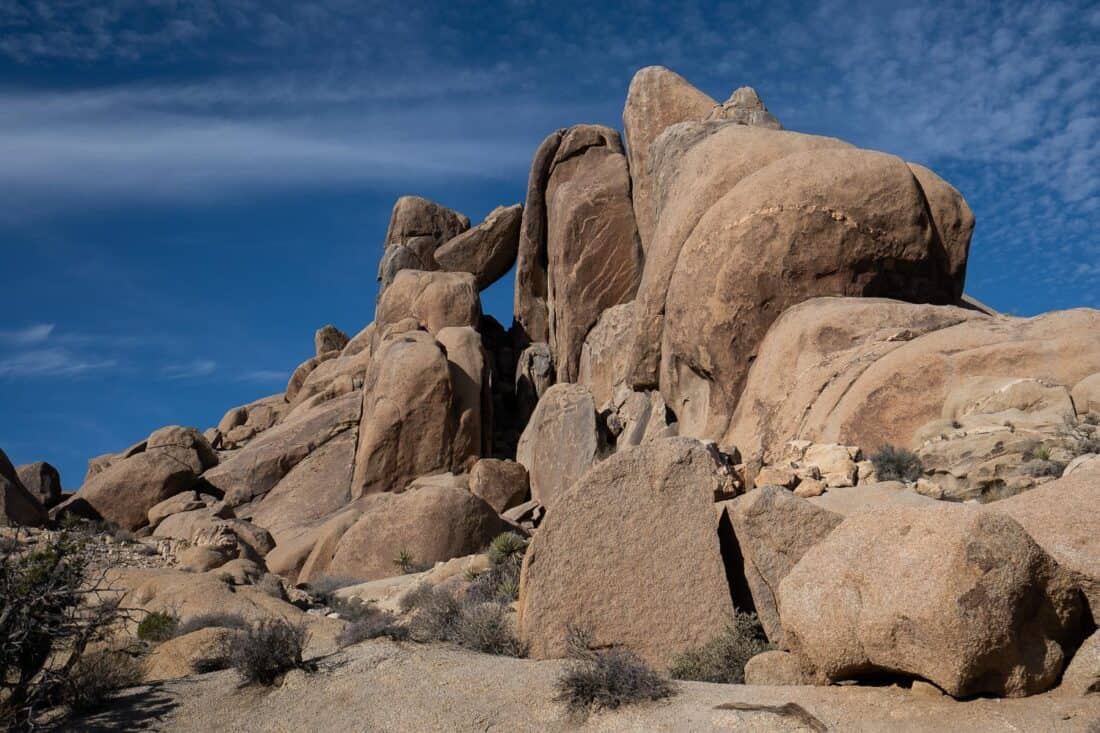 Where to Stay in Joshua Tree
Campgrounds are the only accommodation inside the park. These have basic facilities and book up quickly.
If you want more comfort and have at least a few days to explore the park, I recommend staying close to the West Entrance.
This makes it easier to arrive in the park early (the best time to hike to avoid crowds and heat) and perhaps take a break in the middle of the day before returning for sunset.
There are a few average motels in the area, but vacation rentals are the best places to stay. There are many stylish, characterful, and quirky options in Joshua Tree town.
Our vacation rental
We chose to stay in Yucca Valley next to Joshua Tree town. We preferred being in a more isolated location with distance from our neighbours. But if you want the convenience of walking to cafes, look for a place in Joshua Tree.
We rented this two-bedroom house in Yucca Valley on Vrbo, which was ideal.
It's spacious, comfortable, well-equipped, and was lovely and warm in winter.
After a day hiking we loved retreating to this peaceful location, enjoying views of snow-capped mountains from the garden (which has its very own Joshua tree!), and best of all, relaxing in the hot tub under the stars. The sunsets are spectacular!
Despite feeling secluded, it's only a 10-minute drive to the big grocery stores in Yucca Valley and 15-minutes to the West Entrance.
You do have to drive up a small dirt hill to access the house, but we managed fine in a regular car, even after rain.
Check prices and availability for this Yucca Valley private retreat here.
Or search for more vacation rentals in Joshua Tree here.
Joshua Tree Itinerary Suggestions
Most people don't have a week to explore the park at a leisurely pace like we did.
This suggested Joshua Tree itinerary packs a lot into two days. It's only practical in the cooler months—in the summer stick to shorter trails and avoid hiking in the afternoon.
Day 1
This route is a loop from Joshua Tree town. It's over 8 miles of hiking, so skip Fortynine Palms if you are too tired in the afternoon.
Enter through the West Entrance before 8am (ideally by 7am).
Hidden Valley
Barker Dam
Wall Street Mill
Lunch break at Cap Rock
Exit via North Entrance
Fortynine Palms Oasis (skip if hot)
Indian Cove
Day 2
This is about 6 miles of hiking starting with a strenuous climb. If you still have energy in the afternoon, add in Arch Rock or even Pine City.
Enter through the West Entrance before 8am (ideally by 7am).
Ryan Mountain
Quick stop at Skull Rock
Lunch break at Split Rock
Split Rock Loop
Cholla Cactus Garden (if you have an extra day do this on the way to Cottonwood)
Exit via North or West Entrance
If you have a third day, I recommend heading south to Mastodon Peak via Arch Rock and Cholla Cactus Garden.
What to Pack for Joshua Tree
We found the following items useful for hiking at Joshua Tree:
Cooler and ice packs – For storing food and drinks in the car.
Reusable water bottles or hydration bladder – Take much more water than you think you'll need. We like Platypus SoftBottles as they fold down small on travel days and weigh almost nothing once empty.
Insulated Travel Mug – You'll appreciate coffee on the go for early morning starts. We have the Contigo Autoseal West Loop.
Hand sanitiser – There's no soap in the park toilets so this is essential. Dr Bronner's lavender hand sanitiser smells lovely.
Moisturiser and lip balm – My skin got very dry in the desert.
Hiking backpack – The Matador Beast 18 was perfect for these hikes. It's comfortable but lightweight, can house a hydration bladder, and packs down to fit in your luggage. It's one of our top picks for best packable daypack.
What to wear in Joshua Tree:
Sun hat, sunscreen, and sunglasses – The sun is powerful even in winter.
Beanie hat and gloves – For freezing winter mornings.
Hiking shoes or sneakers – Hiking boots aren't necessary, but it's best to avoid sandals due to cactus spines. Shoes with good traction are best for scrambling on rocks. We are both Allbirds fans as they are so comfy. My Allbirds Wool Runner Mizzles were perfect for a winter trip as they are warm and have better traction than other Allbirds. My feet didn't get sore even after hours of hiking. Simon was fine in his Allbirds Tree Breezers, which are better for warmer weather.
Layers – Mornings are much colder than afternoons so being able to take off layers is best.
What I wore in winter:
Typically I started the day in a Bluffworks t-shirt (soft and moisture wicking), lightweight fleece or flannel shirt, Patagonia puffer jacket, and Lululemon leggings. Sometimes it was warm enough by mid-morning to be down to a t-shirt.
What Simon wore in winter:
Most of his clothes are by Bluffworks as they are incredibly travel-friendly. He usually wore their t-shirt, Gramercy shirt jacket, and jeans or chinos.
For extra warmth he added a long sleeve merino top and Mountain Hardwear Ghost Whisperer down jacket.
Is Joshua Tree Worth it?
Yes, Joshua Tree is absolutely worth visiting! It's a stunning, diverse park with wonderful hikes for all abilities.
Even at busy times, it's possible to find a quiet trail to enjoy the unique trees, rock formations, and desert tranquillity.
More California Posts
Read more of our tips for exploring California.
Southern California
Northern California
If you enjoyed this post, pin for later!