This page contains affiliate links. Please read our disclosure for more info.
When we planned our trip to the small desert town of Borrego Springs, California we expected to spend most of our time hiking in the Anza Borrego Desert State Park.
And we did some wonderful hikes, but what sticks with us most about our stay was hunting down the Borrego Springs sculptures that are scattered in the desert all over town.
There are 130 of these large-scale metal sculptures (also known as Sky Art) created by artist Ricardo Breceda.
He was inspired by three themes: extinct animals (based on fossils found in the area), the history and nature of Anza Borrego (including human sculptures), and whim and fantasy (most famously including a giant serpent and dinosaurs).
They are impressive creations with intricate, realistic details (the hair and feathers are particularly well done) and a beautiful desert location amongst the cacti and ocotillo with the Santa Rosa mountains in the distance.
In this post, I'll help you find the Galleta Meadows sculptures, share my favourites if you are short on time, and recommend where to stay. At the end, you'll find a map with the locations of all the sculptures.
Contents
How to Get to Borrego Springs Sculptures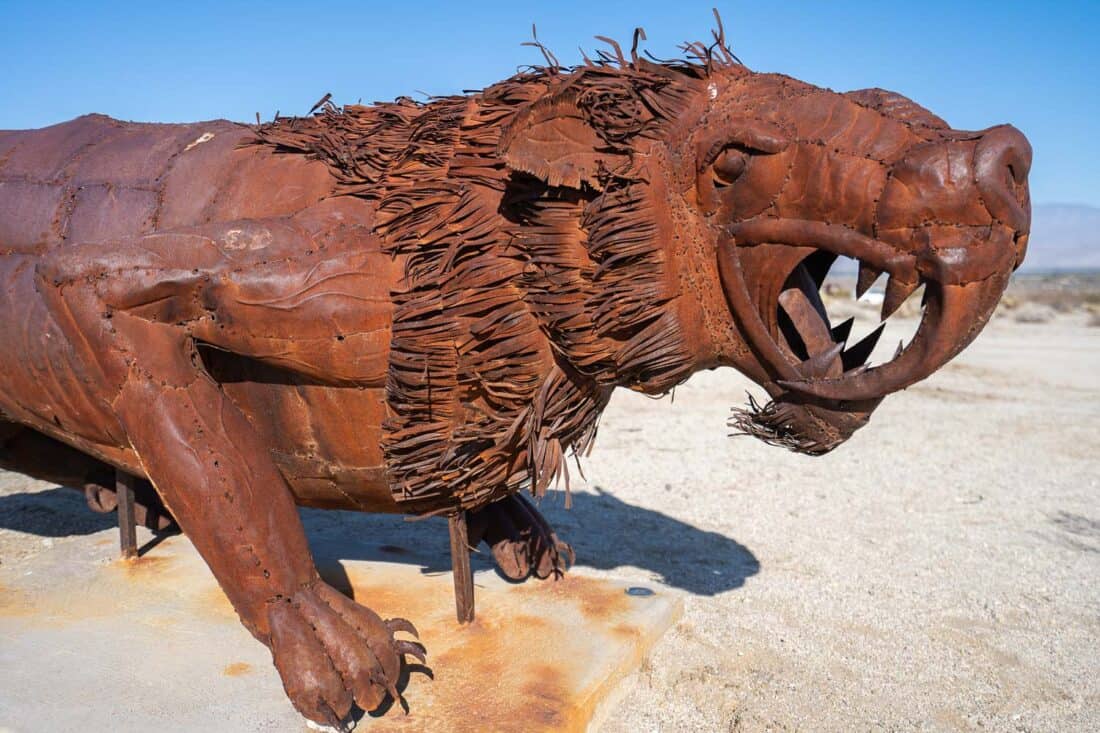 The Anza Borrego sculptures are located in Borrego Springs in San Diego County, Southern California.
The town is most known as the access point for Anza Borrego Desert State Park. The art is surrounded by the state park but not actually in it (although the boundaries are not very clear in this ungated park).
Local landowner Dennis Avery commissioned Ricardo Breceda to design and construct the metal art on his private property Galleta Meadows Estate, which includes separate plots in the Sonoran Desert across town. The ambitious project was created between 2008 and 2012.
Borrego Springs is best reached in your own vehicle (which you'll also need to visit the spread-out art). Here are approximate driving times from nearby destinations:
San Diego 2 hours
Salton Sea 45 minutes
Palm Springs 1.5 hours
Joshua Tree National Park 2 hours
Los Angeles 3 hours +
We visited Borrego Springs on a road trip between San Diego and Palm Springs (and onwards to Death Valley NP)—in both directions it's a beautiful drive. It's also ideal to combine with Joshua Tree National Park.
See our guide to the best activities in Southern California for more tips on the area as well as our post on the best hikes in Joshua Tree.
Tips for Visiting Galleta Meadows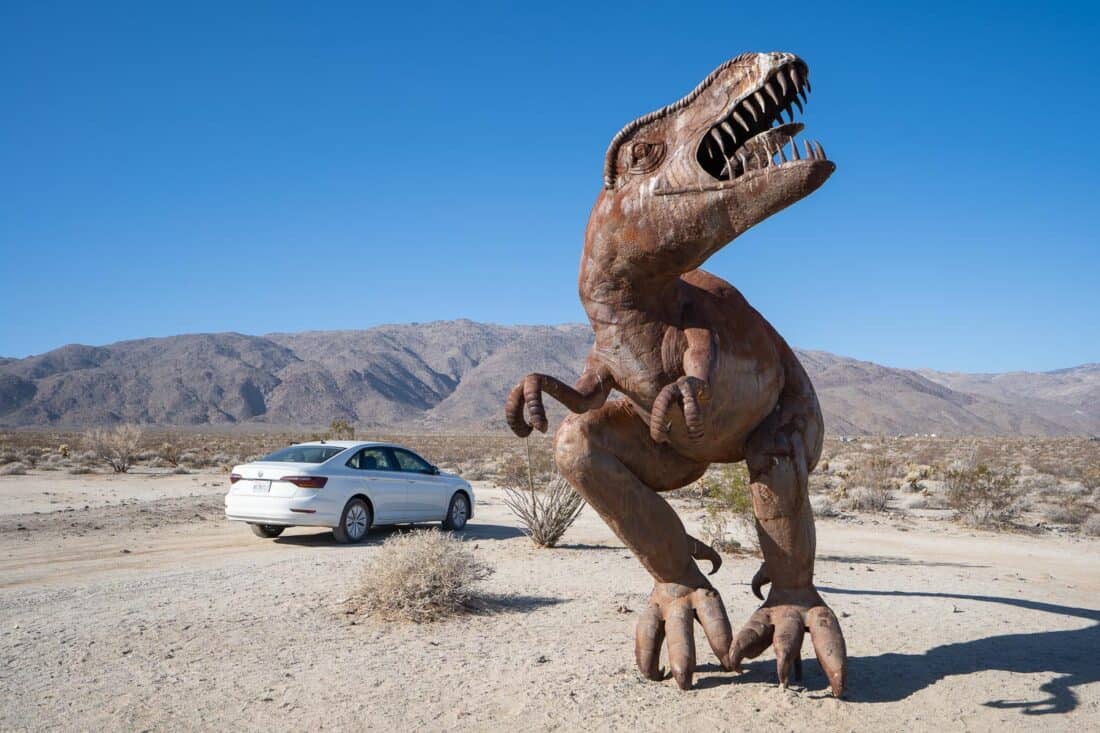 Galleta Meadows is free, unfenced, and open 24 hours.
As the Anza Borrego metal sculptures are spread all over town you'll need a car to reach them. We saw a few people cycling but it'll be hot and you'll have to ride on sand in parts. The northern sculptures are more accessible by bike.
As the Sky Art is in the desert, many of the works are accessed on sandy unpaved roads. Unless you have a 4WD, try to avoid driving on the sand so you don't get stuck.
Most of the time you can park by the side of the main road and walk. The exception is the Anza Borrego dinosaurs which can only be reached off-road—we did manage in a sedan, though (more on that below).
Be prepared for the heat by bringing water, hats, sunglasses, and sunscreen. You might want to wear closed-toe shoes for walking in the sand and watch out for snakes (not an issue in winter).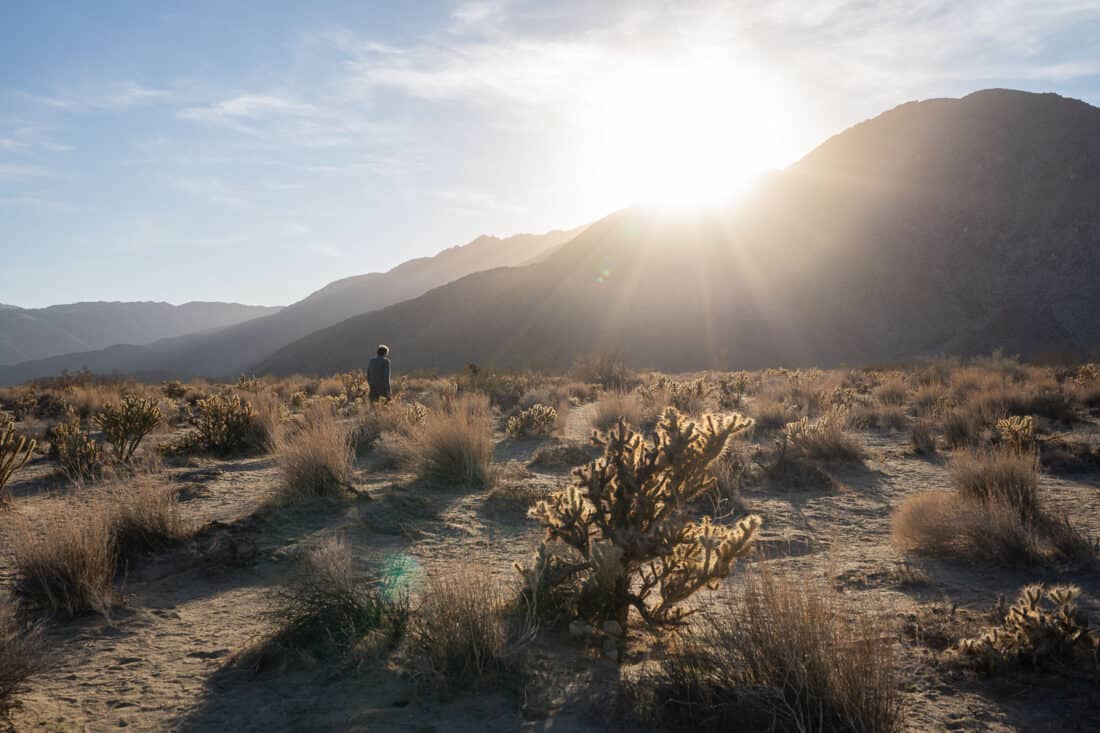 We visited in early February (winter) and it was hot in the afternoons.
I recommend visiting the sculptures in the morning (up to two hours after sunrise) and late afternoon (from two hours before sunset) for cooler temperatures and better light for photos.
We share an Anza Borrego sculptures map below, but if you want a physical map, head to the Anza Borrego Visitor Centre. Here you can get a free Chamber of Commerce guide which includes a map.
Or for $9 you can buy the Quick Guide to Sky Art Metal Sculptures in Borrego Valley by Diana Lindsay. It has the same map but with photos and details of the main works. This is useful if you want to know the names as there are no signs at the sculptures, but with our guide below you shouldn't need it.
Please don't climb on or touch the artwork.
Our Top Picks: Best Anza Borrego Sculptures
If you are short on time, these are the metal sculptures in Borrego Springs that I found most impressive.
Serpent
Harlan's Ground Sloth
Scorpion and Grasshopper
Gold Miner and Mule
Willys Jeep
Aiolornis Incredibilis (Incredible Wind God Bird) in Nest
Columbian Mammoths
Fighting Dinosaurs (harder to reach)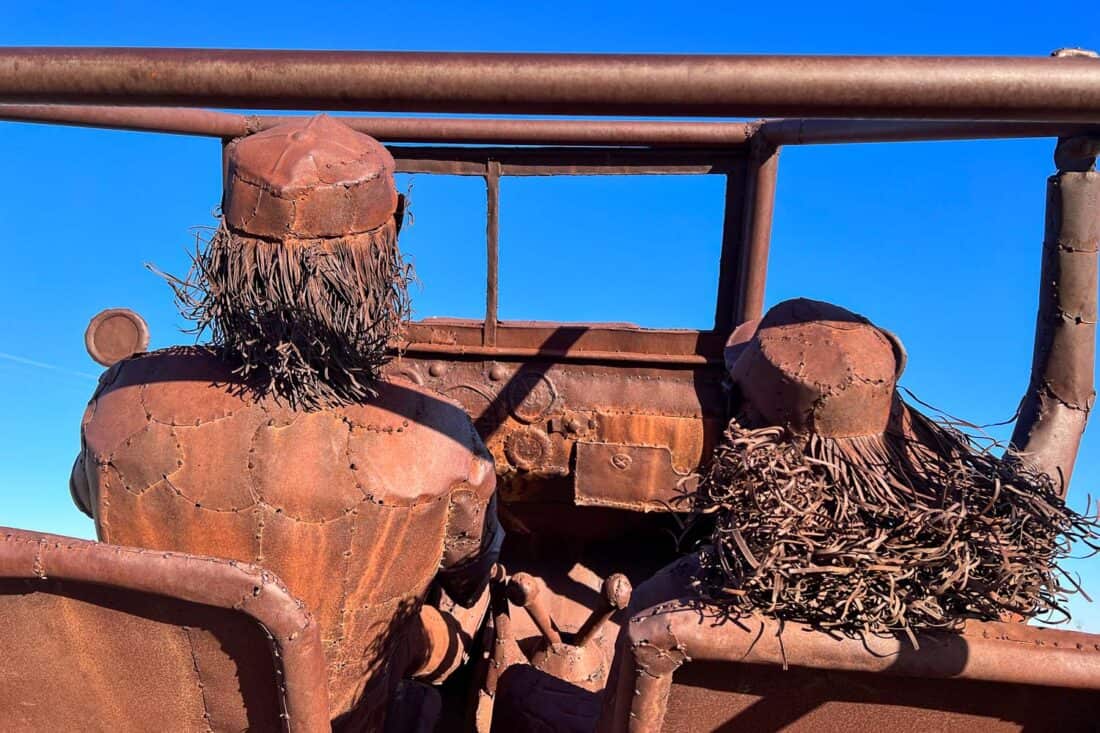 Exploring the 130 Borrego Springs Metal Sculptures
I've divided this Galleta Meadows metal sculptures itinerary into three clusters: heading north of Borrego Springs Christmas Circle (in the centre of town), further north along Borrego Springs Rd, and south of Christmas Circle.
We managed to visit them all on four trips (30-60 minutes each) over two days. You could visit them all with a dedicated half day.
I've included the reference codes that are used on the Sky Art map from the Under the Sun Foundation which manages the sculptures.
North of Christmas Circle: Camels, Sloths, Scorpion, Serpent
Christmas Circle (a large traffic circle containing a park) in the centre of town is a good starting point. There are two sculptures near here outside the Chamber of Commerce, but they aren't must-sees.
Further north there are more interesting and easily accessible works.
It's only a 4-minute/2.4-mile drive from Christmas Circle to the Serpent, but you'll want to take detours.
Chamber of Commerce
At the Chamber of Commerce you'll find two Velociraptors (WF2), which are often seasonally decorated—here for Valentine's Day—and Captain Juan Bautista de Anza (HN8), the Spanish explorer who the park is named after.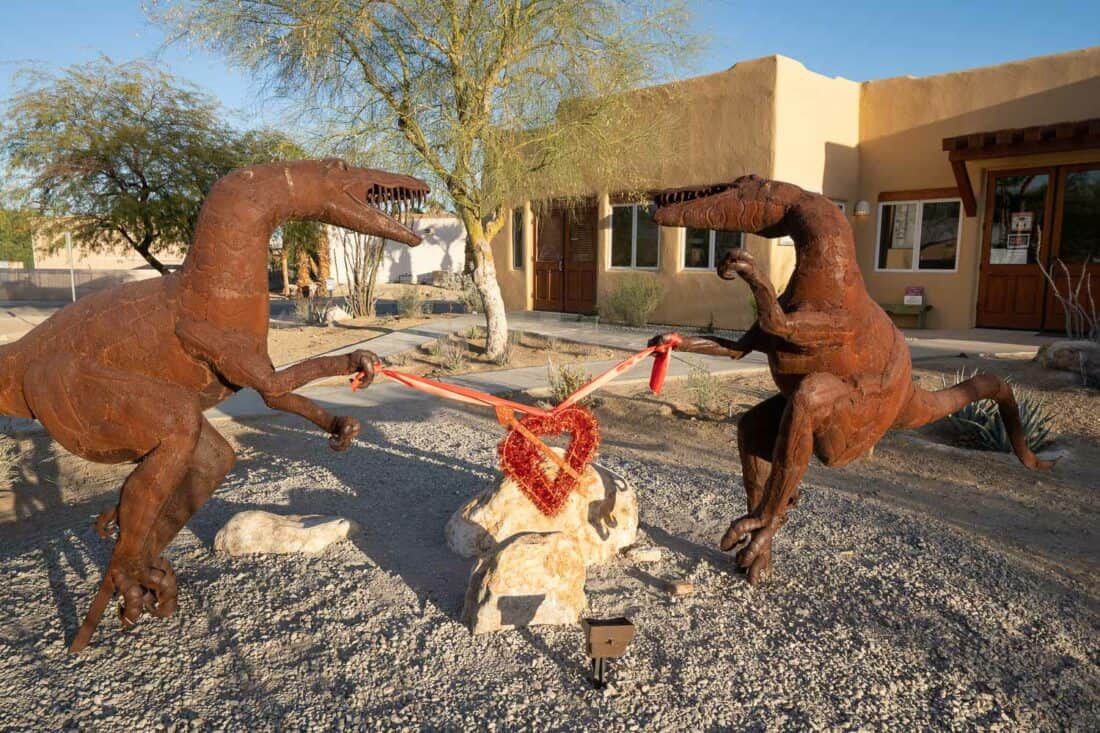 Camel and Sloths
Head out of town north on Borrego Springs Rd. Just after the junction with Big Horn Rd, you'll find the first cluster. We parked by the side of the road and walked to these at FT4.
The extinct North American camel, known as Camelops, roamed the desert millions of years ago.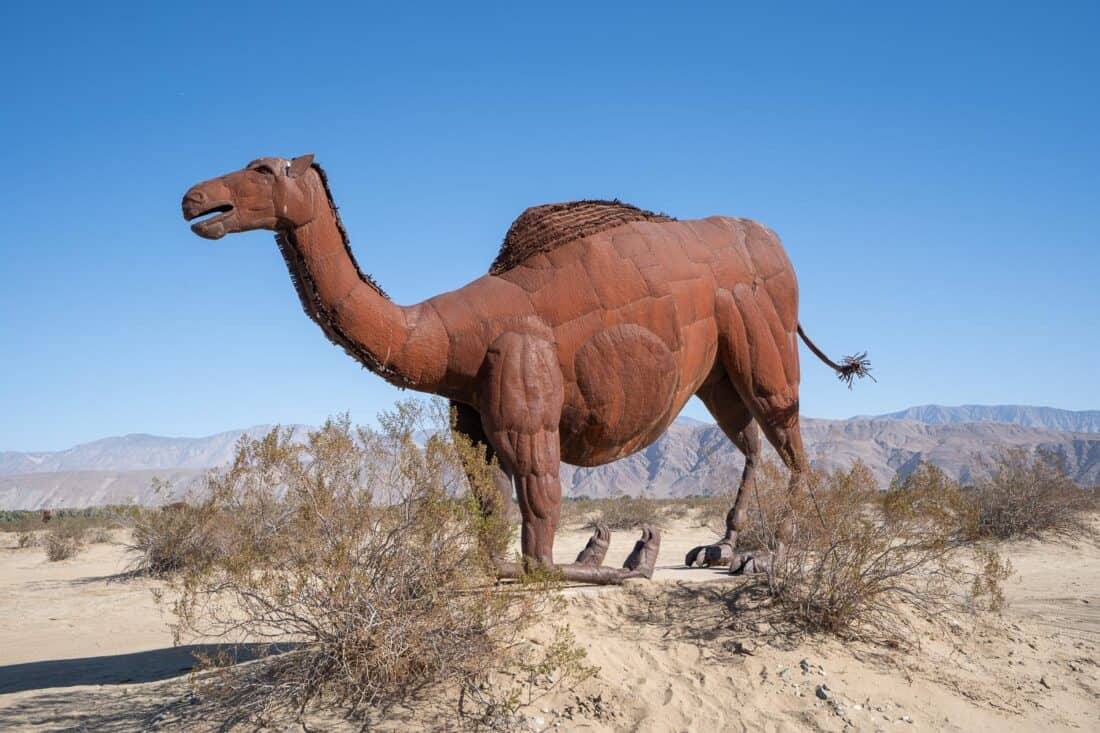 Just past it is a more unusual creature and one of our favourite sculptures in Anza Borrego—the Harlan's Ground Sloth with its baby.
This work was inspired by fossils found in the area from 2.3 million years ago when Anza Borrego was a savannah-like environment.
It was a huge, strange-looking creature with skin containing pieces of embedded bone as protective armour (much like an armadillo today). Breceda has depicted this wonderfully with his intricate metal creation.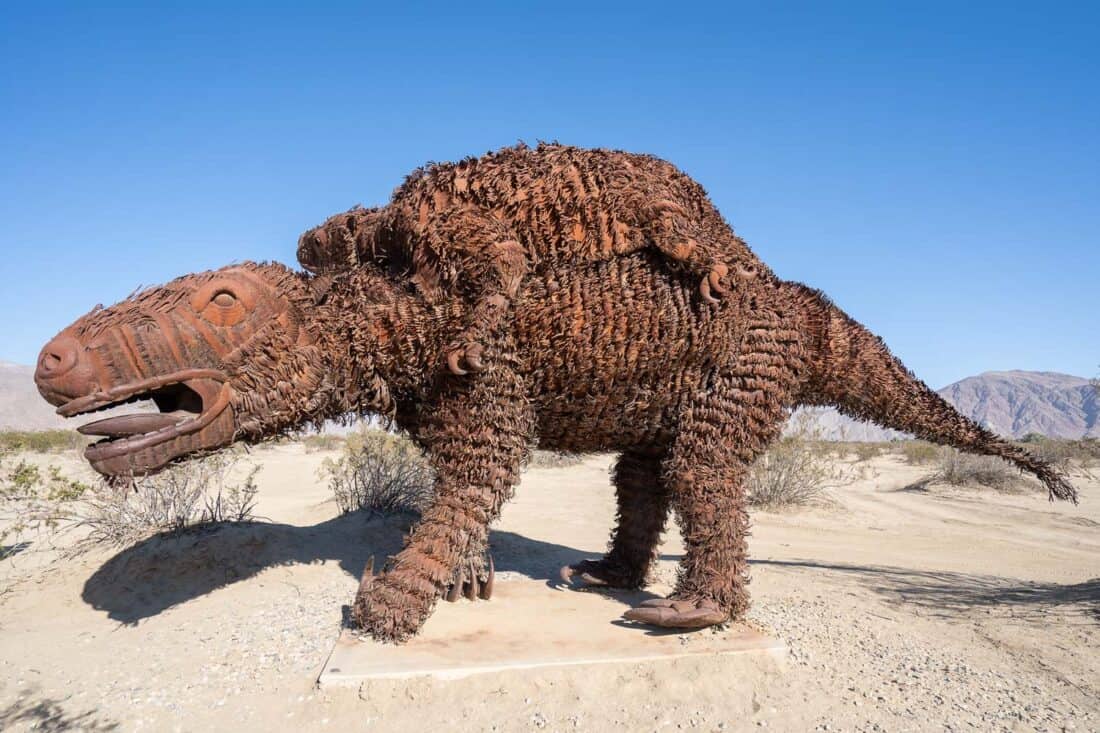 There are a few more sloths here too including one lying down.
Peccary, Sabertooth Cat, Tapir
Continuing on the left-hand side of Big Horn Rd, the FT5 plot contains more extinct animals from the Pleistocene Epoch: Peccaries (a relative of the pig), Gracile Sabertooth Cats, and a family of Merriam's Tapirs (looking very similar to modern tapirs).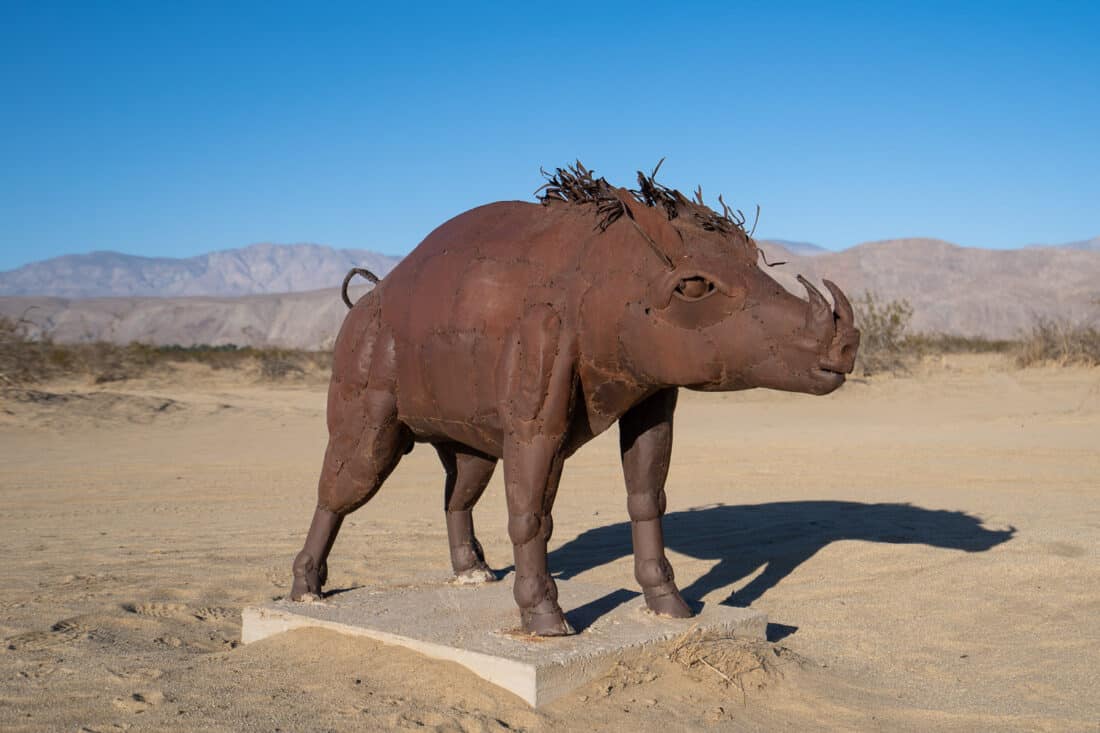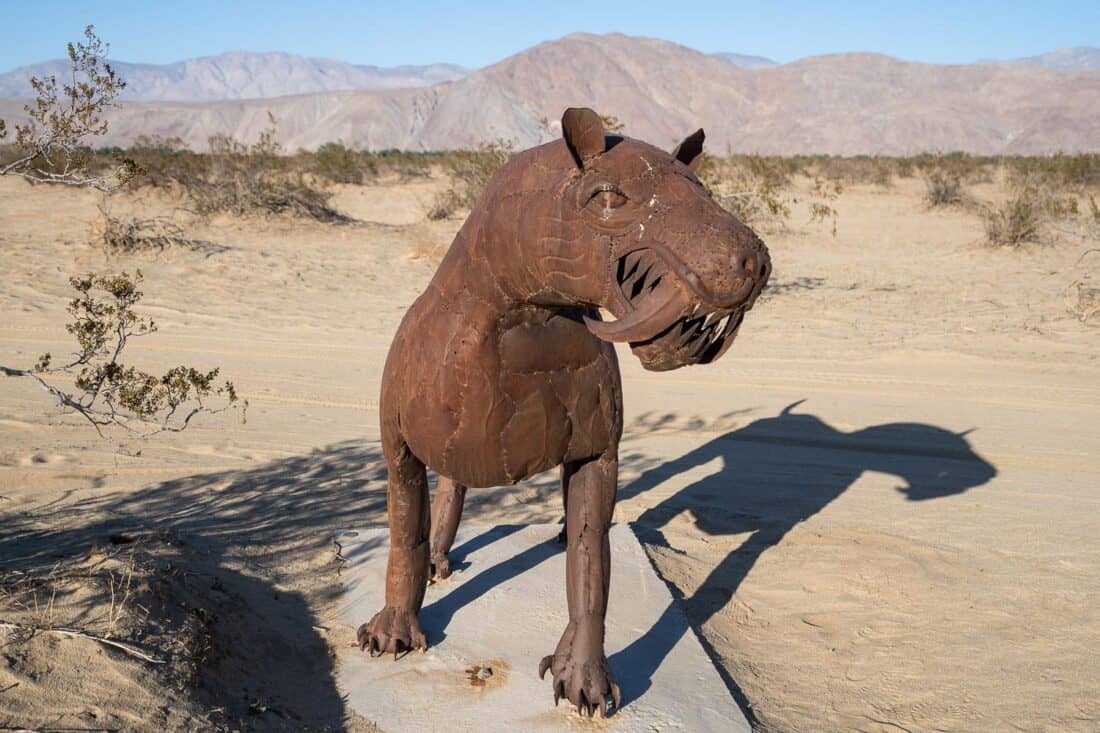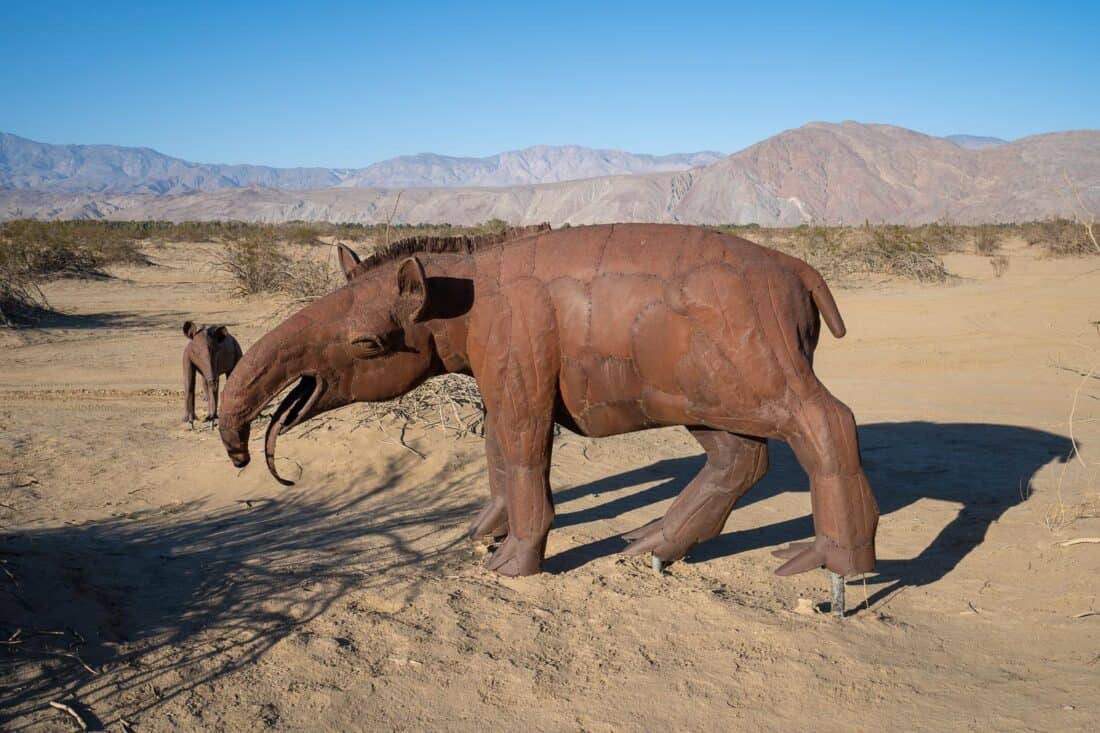 Shasta Ground Sloth
Next to these at FT6, the extinct Shasta Ground Sloth is another unusual creature. Unlike modern tree sloths, the ground sloths were huge—some as big as bears.
Their fossils were found in the area from 2 million years ago. Their closest living relatives are the anteater and armadillo who also crossed from South to North America.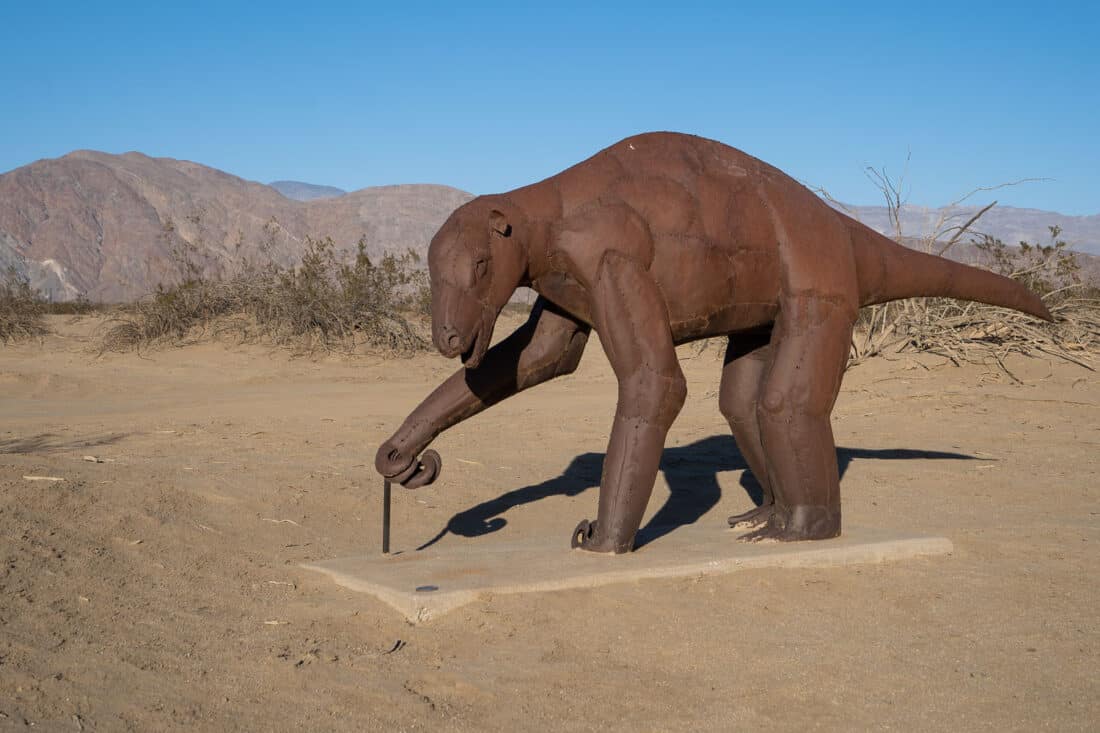 Camel, Gomphothere, Giant Tortoise
On the opposite side of Big Horn Rd, back at the corner with Borrego Springs Rd, the FT7 plot includes the extinct Camelops, two Gomphothere (an elephant-like animal with four tusks from 9 million years ago), and two Giant Tortoises.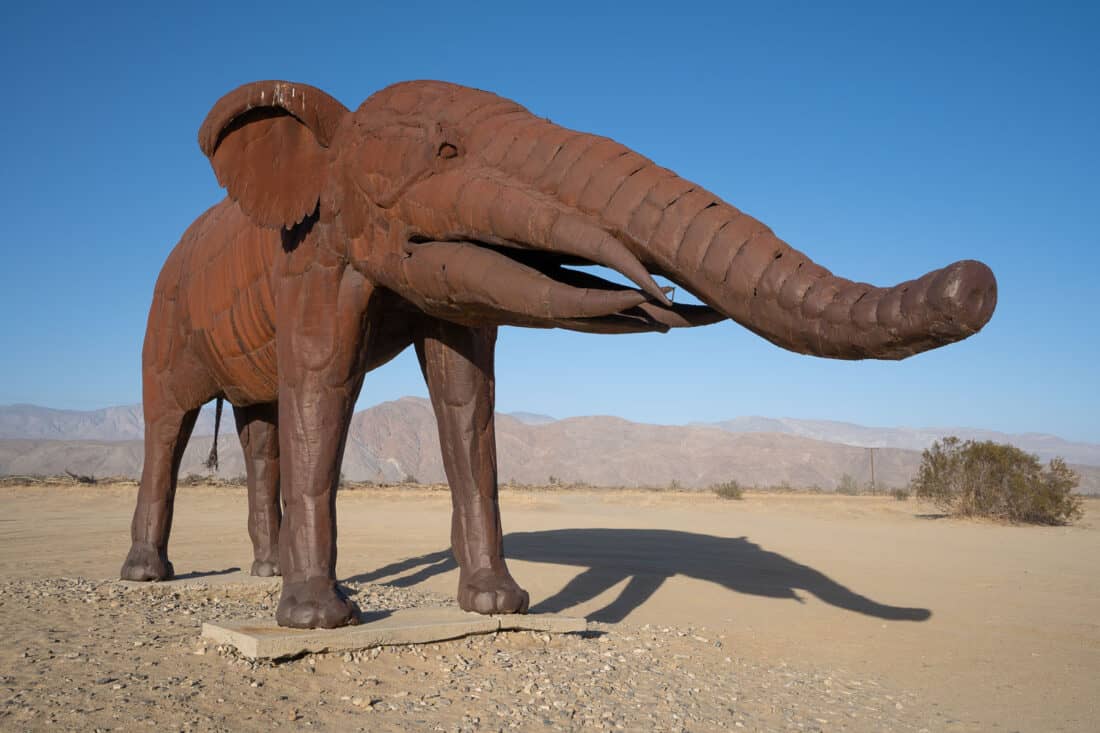 Scorpion and Grasshopper
We drove further down Big Horn Rd to see the Scorpion and Grasshopper facing off (HN6).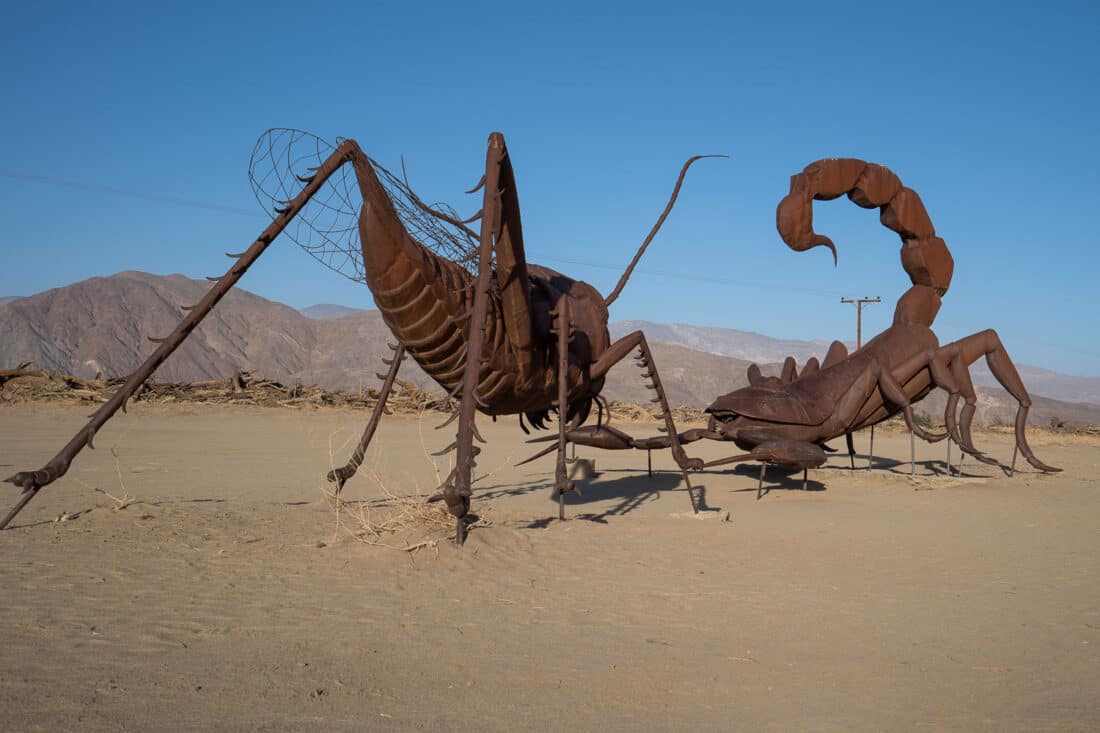 Farm Workers
At the end of Big Horn Rd at the junction with Di Giorgio Rd (marked as Breceda's Vineyard on Google Maps) is HN7, a collection of sculptures inspired by history.
Grapes were once grown in the area and harvested by migrant farm workers until the union boycotted the fruit corporation. A five-year grape strike from 1965-70 stopped grape production.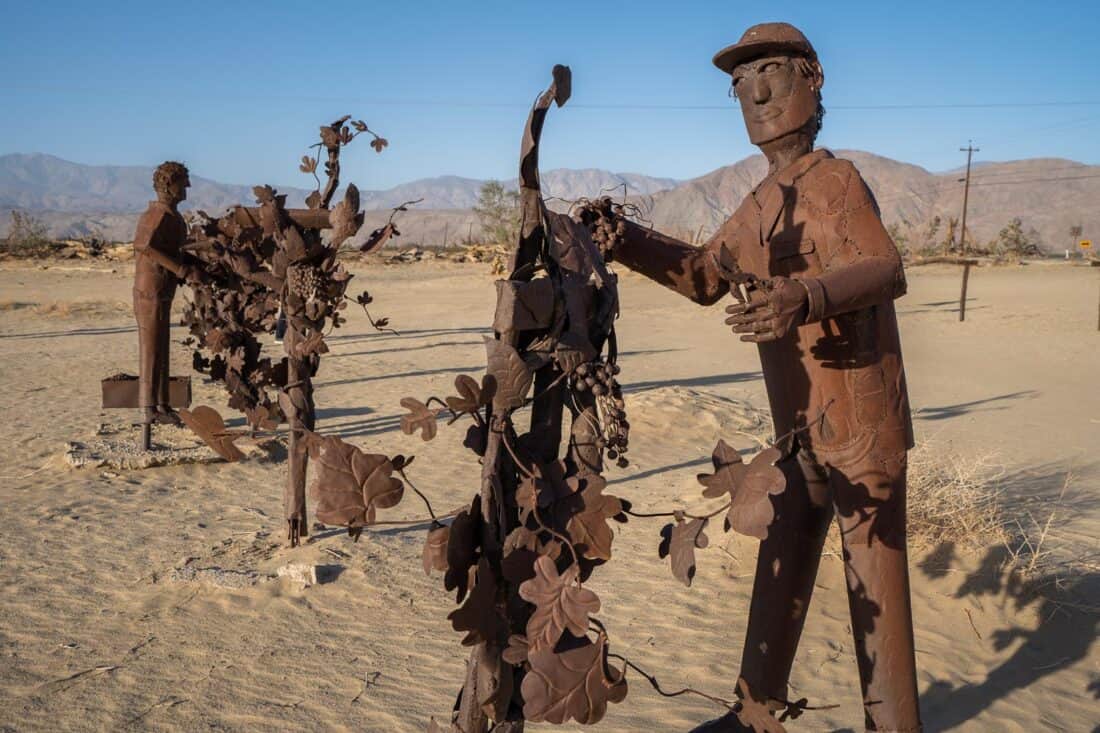 Serpent
The one Sky Art sculpture not to miss is the Serpent (WF1), also known as the Borrego Springs dragon.
You'll find this impressive creature further north on Borrego Springs Rd. The epic 350-foot-long serpent appears to be diving under the road with its head on the left side and its tail on the right.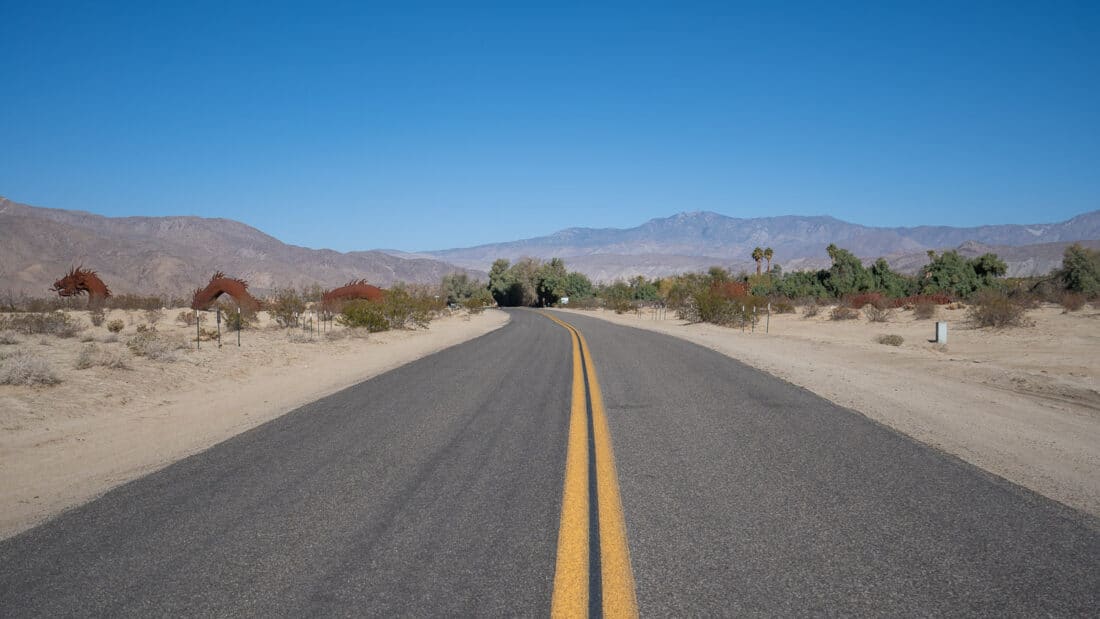 This fantastical creation combines the tail of a rattlesnake, the body of a sea serpent, and the head of a Chinese dragon. It took Breceda three months to design it and an additional three months to install it, complete with over 1000 scales.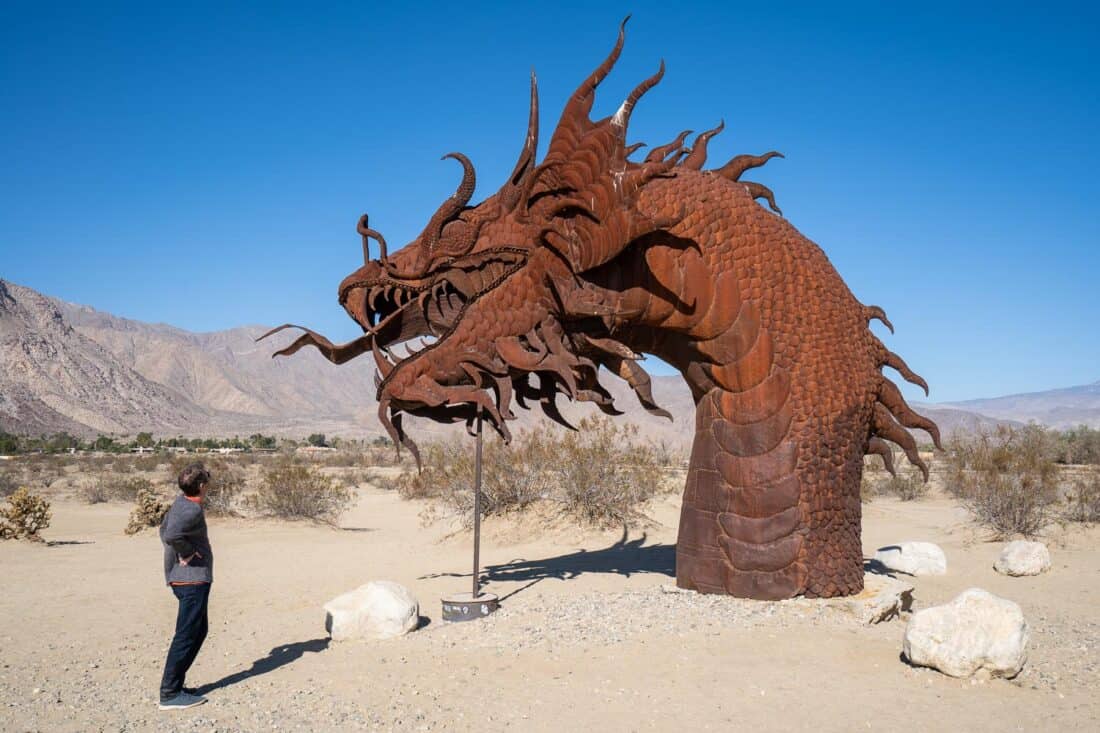 Llamas and Camels
Just past the serpent down San Ysidro Rd is FT3 with more camels plus cute fuzzy llamas. Llamas actually evolved in North America and dispersed to South America where you can still find them.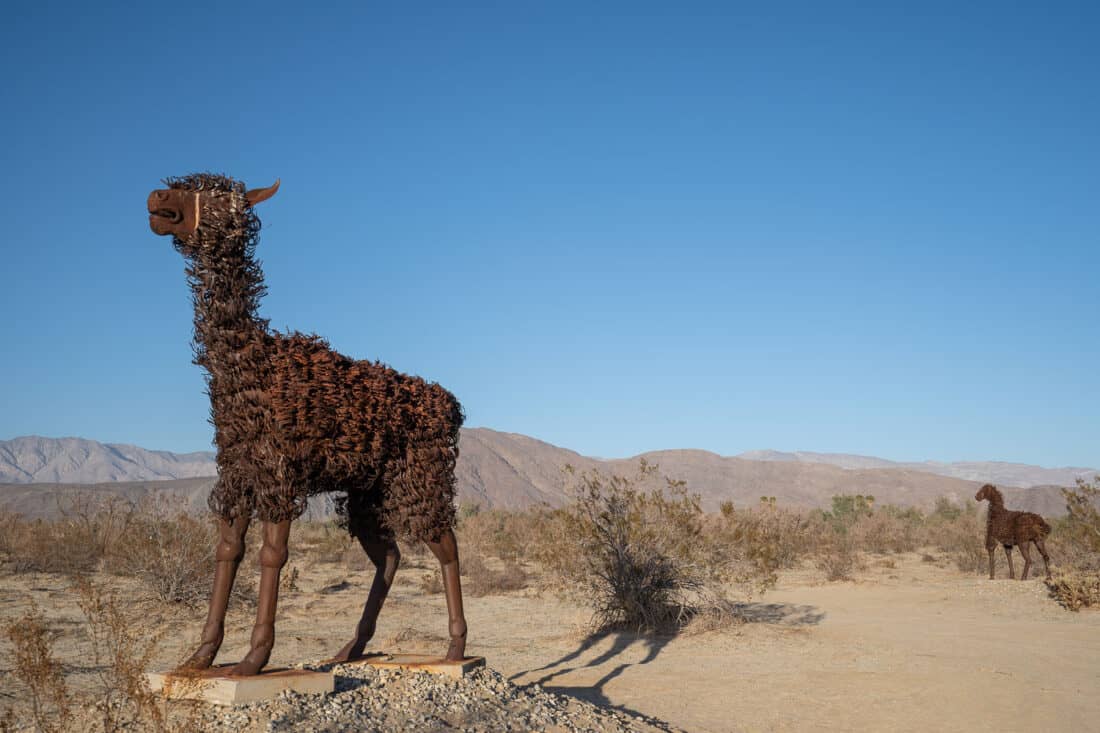 I'd skip this area if you are short on time.
Further North on Borrego Springs Road: Elephants, Indian Head, Jeep, Gold Miner
From the Serpent continue up Borrego Springs Rd then detour down a dirt road on the right—you'll find it next to the Galleta Meadows sign on a stone wall (where Borrego Springs African Elephants Sculpture is marked on Google Maps).
We didn't have a problem driving this road in a sedan but be careful.
African Elephants
The first statues down the dirt road are some gigantic African Elephants (FT2). The world's largest land mammal was actually never found in North America though.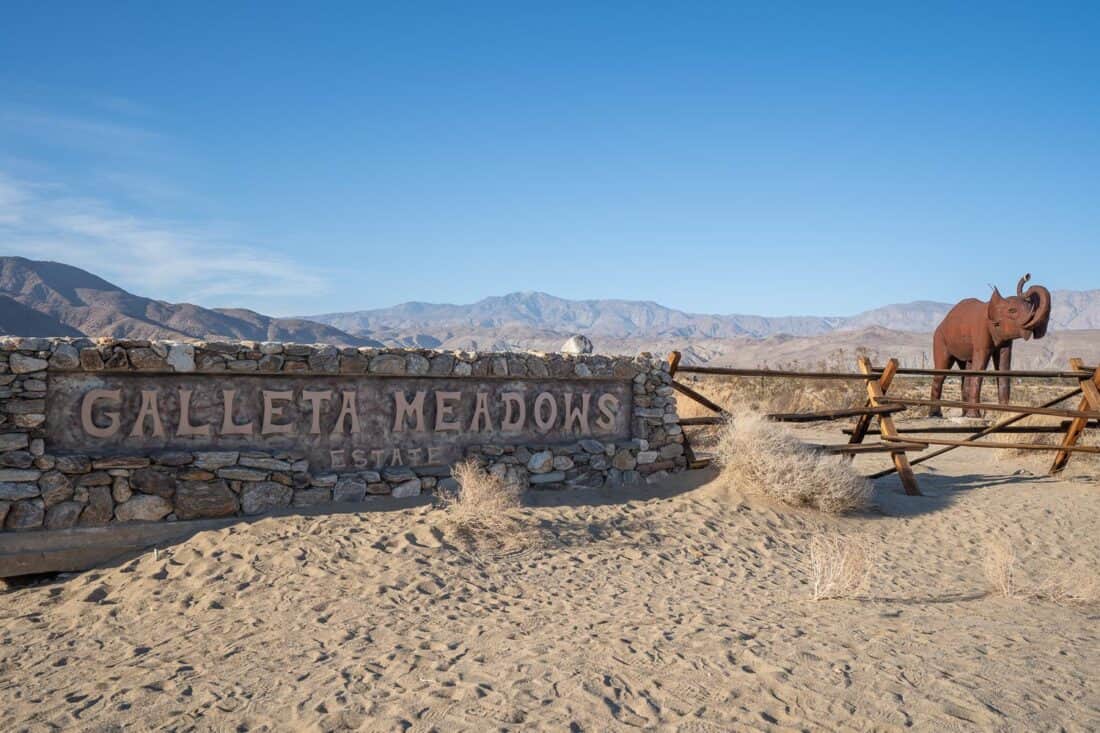 Big Horn Sheep
Just a little further along is another contemporary animal—the Big Horn Sheep (HN5). We saw some real-life big horns while hiking the nearby Borrego Palm Canyon trail (one of our top things to do in Southern California as it takes you to a gorgeous oasis).
Anza Borrego is one of the last places to find this endangered sheep and if you don't encounter them on the trail, you can see a whole flock here including a couple fighting.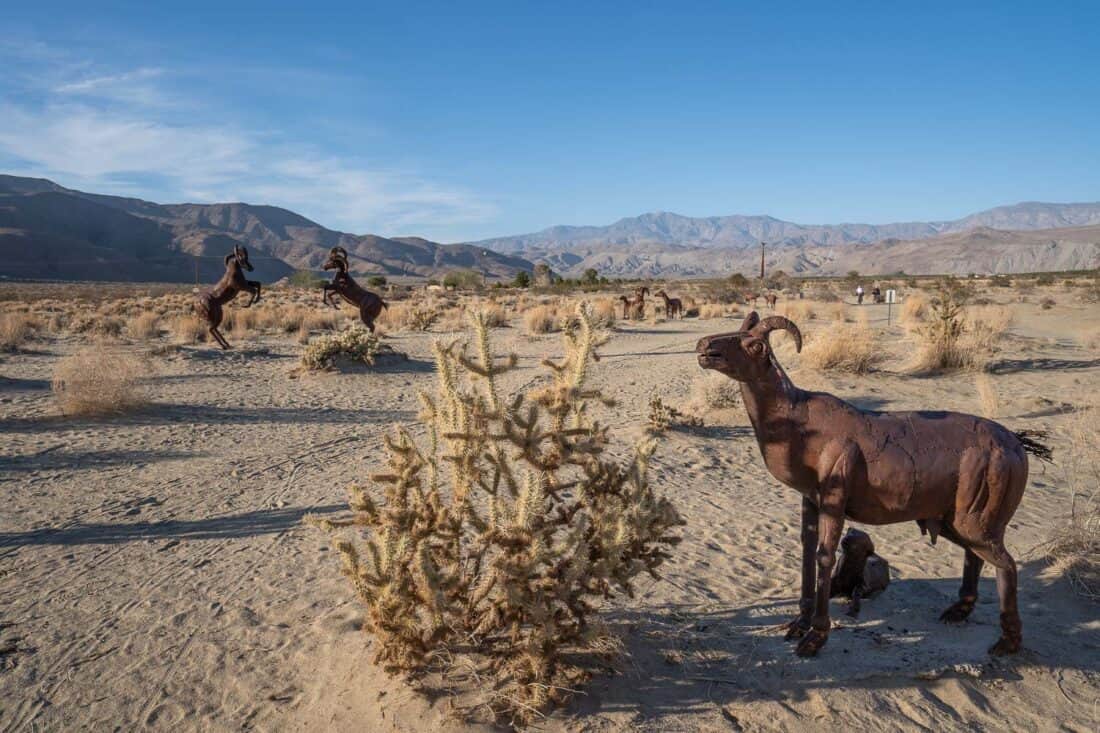 Indian Head and Giant Tortoises
Continue on the dirt road then take a left onto Henderson Canyon Rd. Opposite the Indian Head Ranch entrance is the Indian Head (HN4), which represents the Indians who helped the Anza expeditions to California in the 1770s.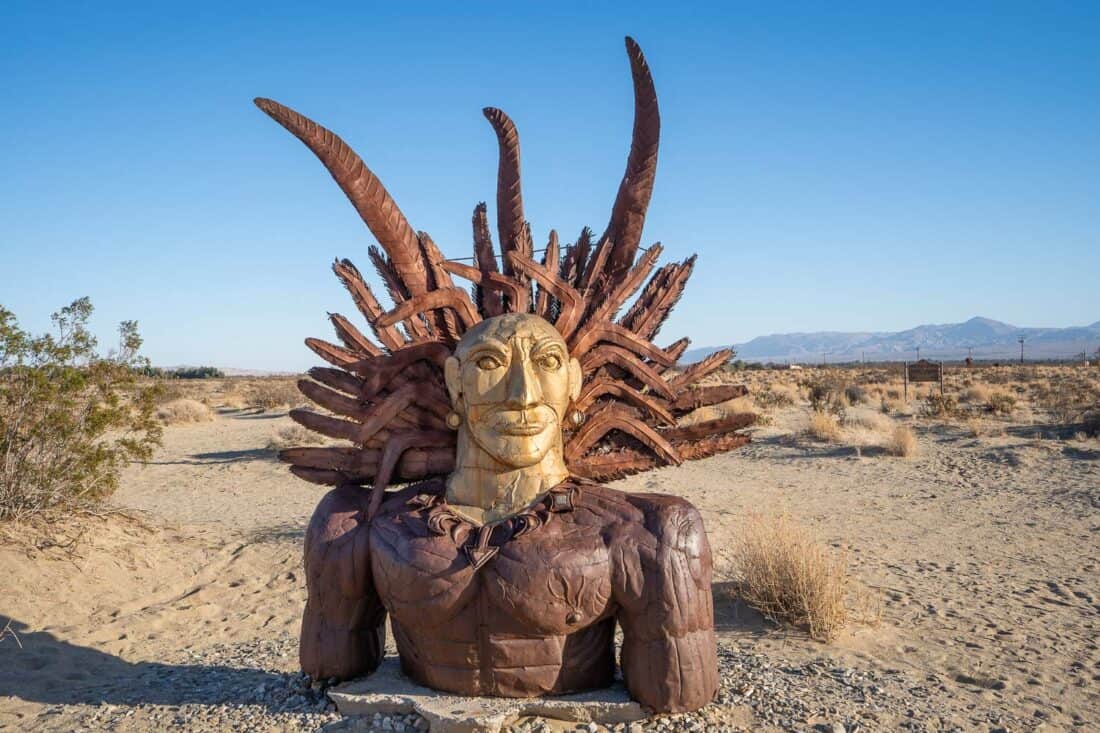 There are a few Giant Tortoises (FT1) next to Indian Head and under a palo verde tree outside the ranch gates—I love its green branches.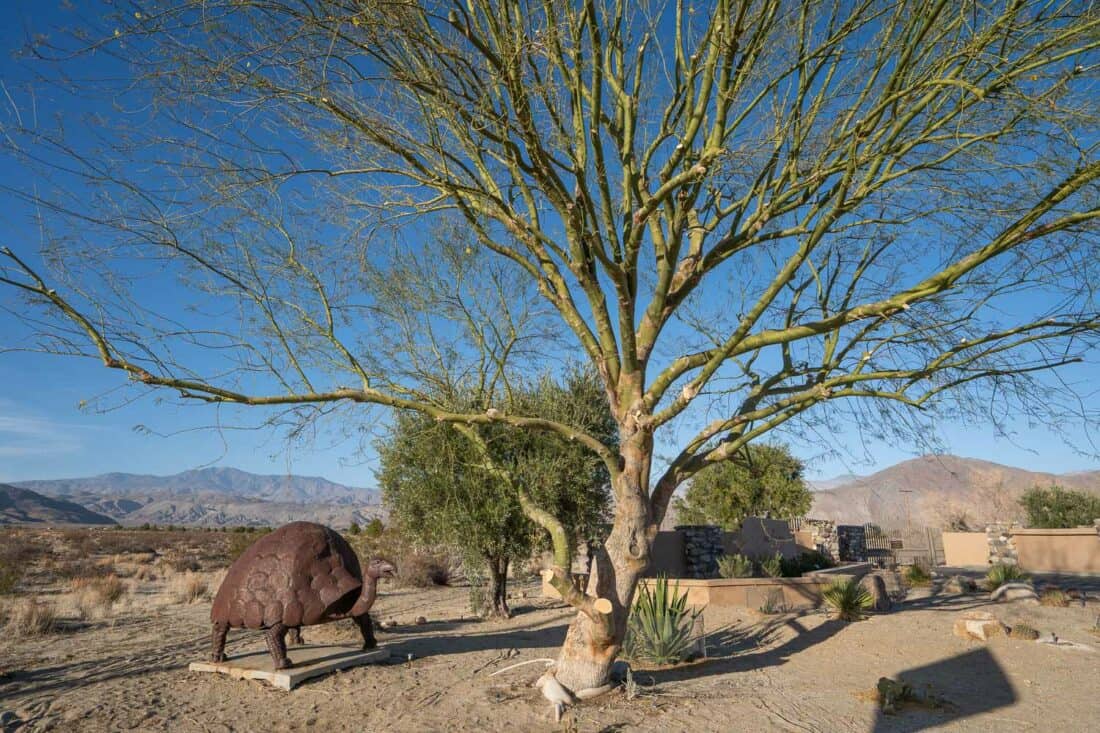 1946 Willys Jeep
Head around the corner to Borrego Springs Rd and park on the side of the road and walk to the next three sculptures (cars aren't allowed past the gate).
Another piece of history at HN3, the 1946 Willys Jeep commemorates the first civilian jeep built based on the WW2 military jeep. It enabled people to explore the desert easily for the first time.
It's a cute piece showing a couple going for a bumpy ride and feels full of life.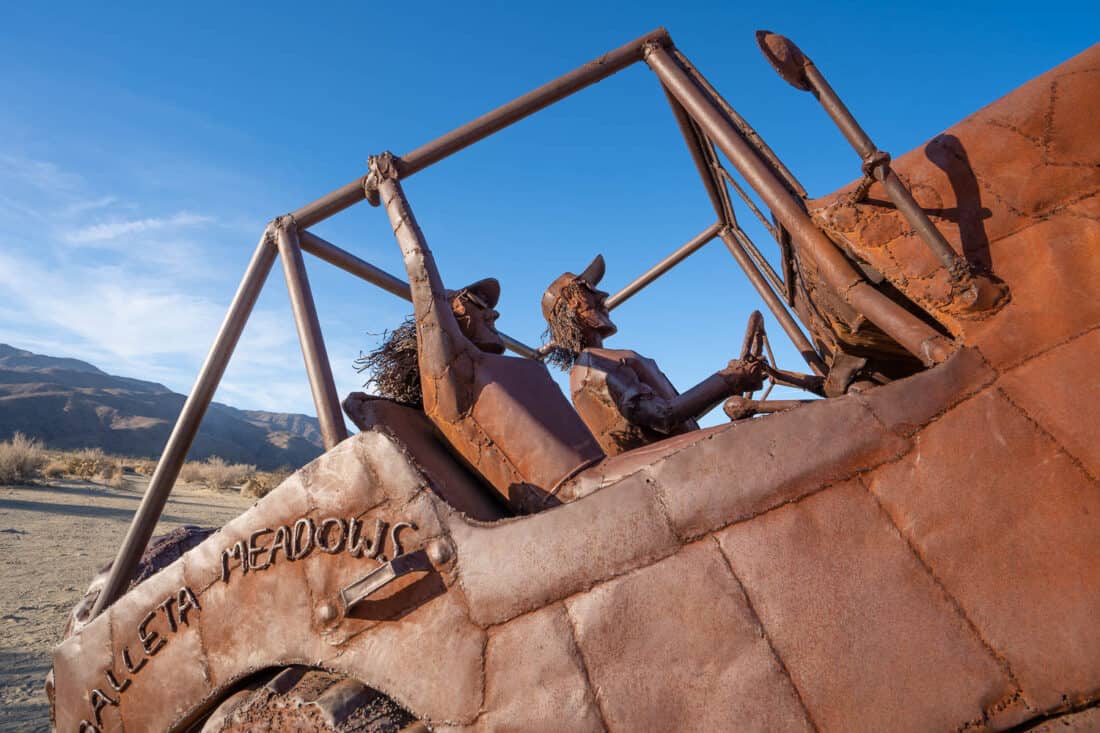 Gold Miner and Mule
Walk a little further to HN1, the Gold Miner and Mule.
The original 49ers came through Anza Borrego on their way to the California gold fields. It's another fun sculpture with a loaded mule who looks like he's about to run away.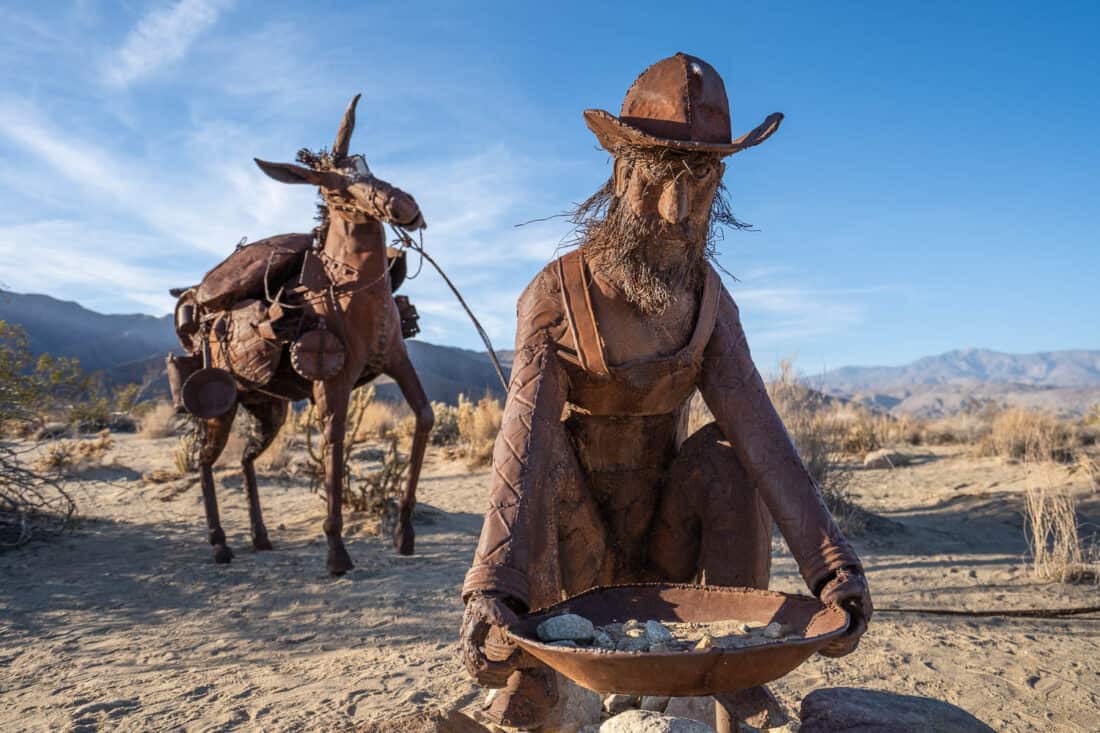 Spanish Padre
The nearby Spanish Padre (HN2), with his giant cross, rosary beads and trusty dog, represents the spiritual leaders of the Anza expeditions to California.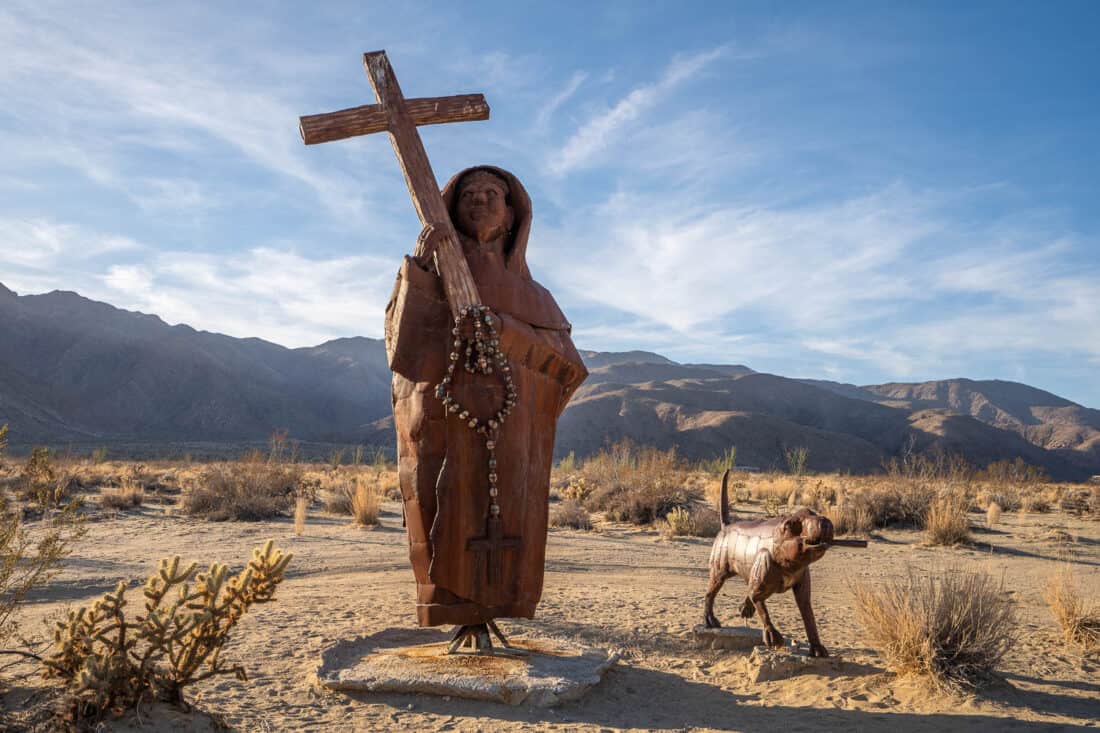 There's also supposed to be a Saguaro Cactus sculpture in this area, but it was the only one we couldn't find.
South of Christmas Circle: Wind God Bird, Horses, Mammoth, Dinosaurs
It's well worth heading south of Borrego Springs for more fascinating Sky Art.
These sculptures are 4 to 5 miles south of Christmas Circle and take 5 to 15 minutes to drive to. The dinosaurs are on a more difficult sandy road so take longer to get to.
We spent about an hour visiting this cluster (not including getting there—we visited after hiking the Slot Canyon trail early one morning).
Aiolornis Incredibilis in Nest
The first sculpture you come to, easily accessible from Borrego Springs Rd is Aiolornis Incredibilis (FT9) or Incredible Wind God Bird (marked Desert Eagle Sculpture on Google Maps).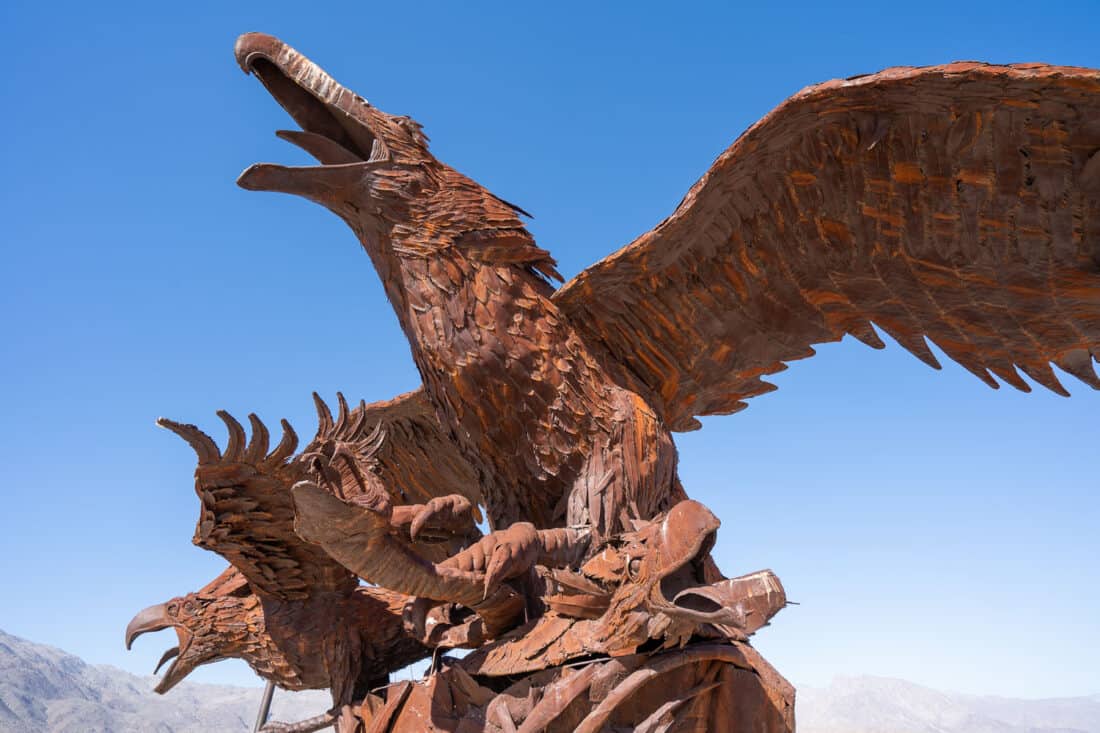 Honestly, I thought this must be one of Ricardo Breceda's fantastical creations, but no, this enormous bird really did exist with a wingspan of up to 20 feet!
The oldest found fossil is from 3.5 million years ago and it was the largest bird in North America that could fly.
This sculpture feels alive with the babies chirping from the nest beneath their huge mother.
Gracile Sabertooth Cat
On the other side of the road and a short way down a dirt track is FT8 featuring a Gracile Sabertooth Cat (smilodon gracilis), a terrifying creature with impressive tusk-like front teeth. It's marked on Google Maps as Galleta Meadows Saberwolf.
There are various extinct horses here too including one being pursued by a sabertooth.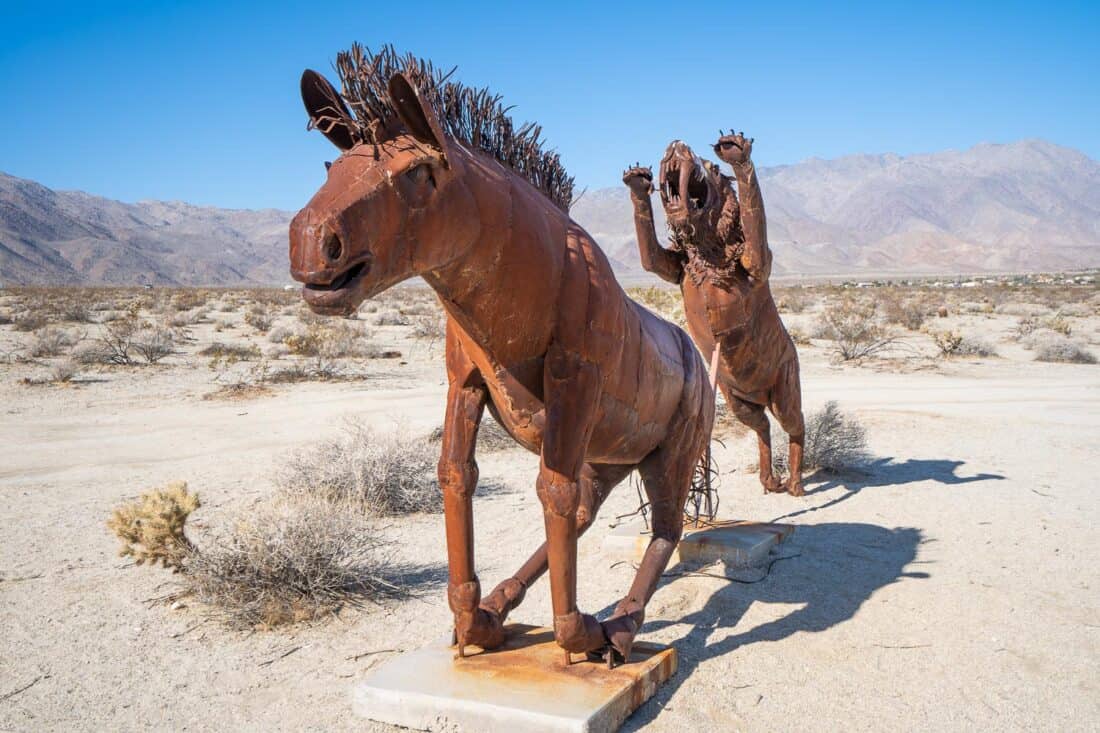 Extinct Horses
A little further on Borrego Springs Rd there are more extinct horses (FT10) including a pair fighting. Full of energy, their spiky manes seem to rustle in the breeze.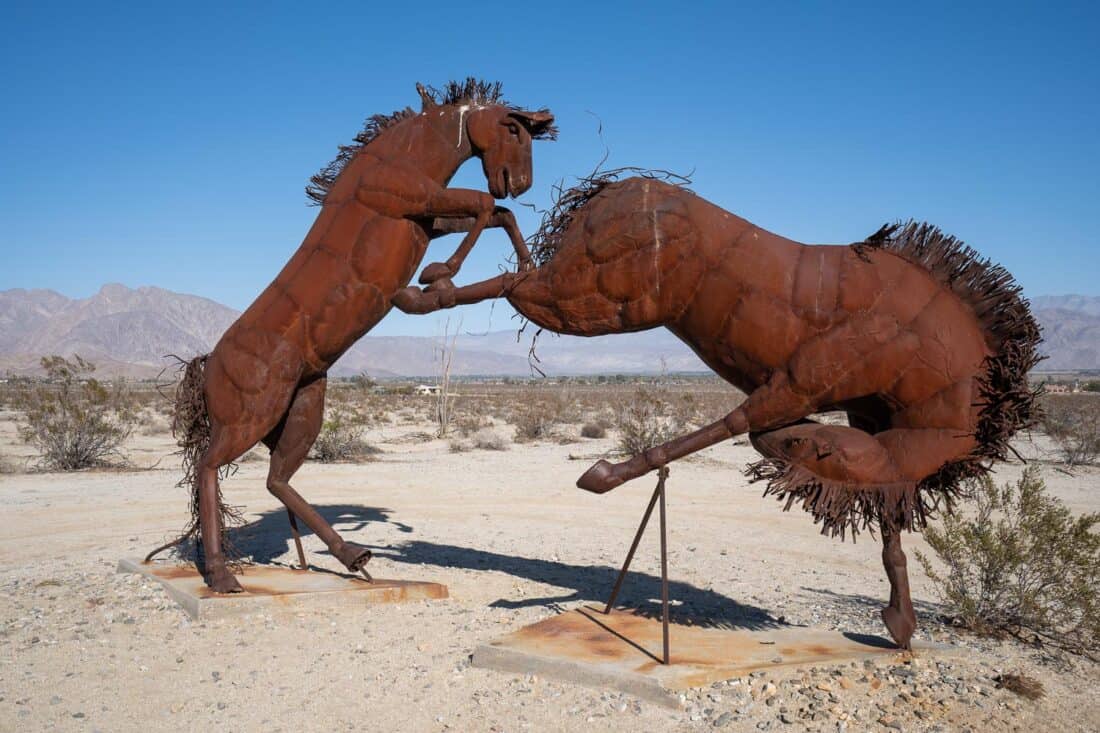 Horses originated in North America 57 million years ago before emigrating to the Old World and becoming extinct in North America 11,000 years ago.
Mammoths
Next up, opposite the junction with Anzio Drive are a couple of immense Columbian Mammoths (FT11). Their skeletons were found here from 1.1 million years ago.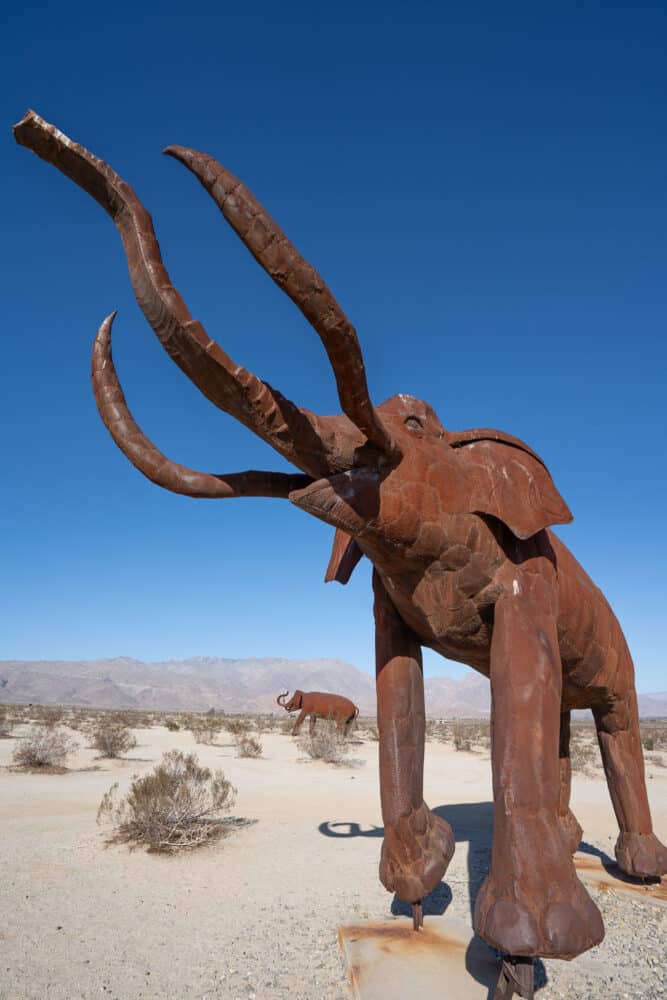 Aiolornis Incredibilis with Prey
Take a right down Anzio Dr and drive a short way (on a paved section) to see another Aiolornis (FT12), this time with prey (a peccary).
Again, this giant bird is intimidating and has amazing feather details.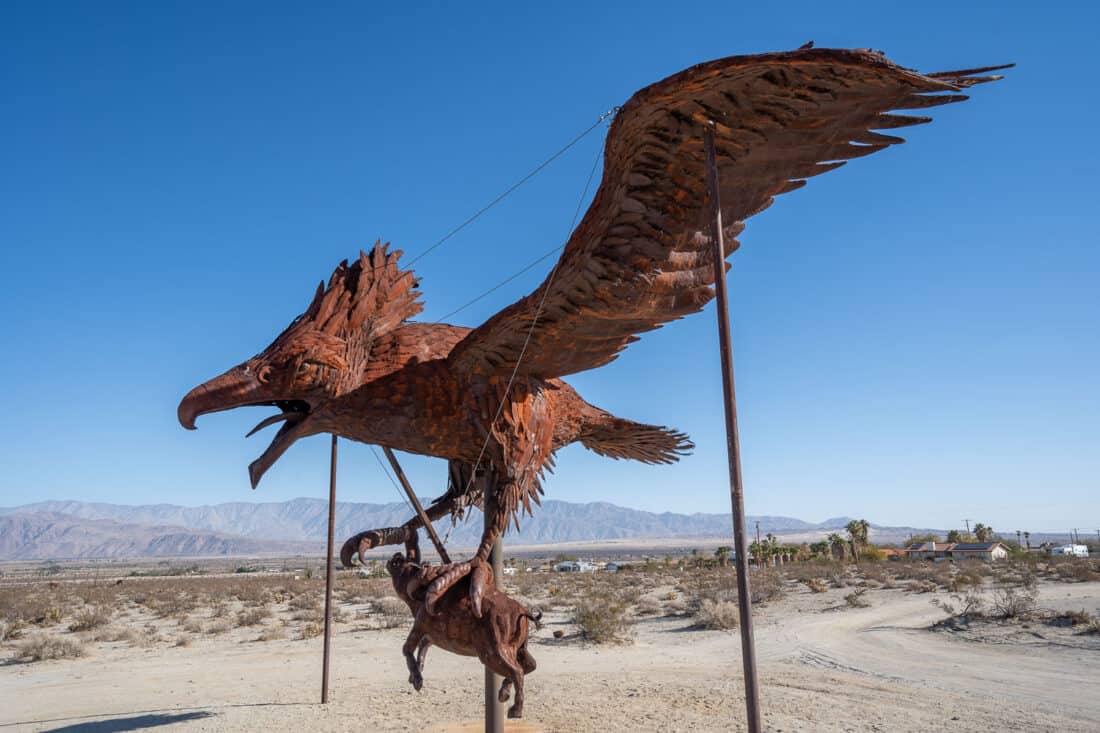 Dinosaurs
To continue down Anzio Dr to see the dinosaurs you'll need to navigate an unpaved, sandy, rocky road. We managed in a sedan but it was a bit nerve-wracking—a higher clearance vehicle would be better.
No dinosaur fossils have been found in Anza Borrego so these come under the Fantasy category of Sky Art. They are based on specimens found elsewhere in the world.
The first ones you'll see are the Spinosaurus (WF3) with scary teeth and sail-like structures on their backs.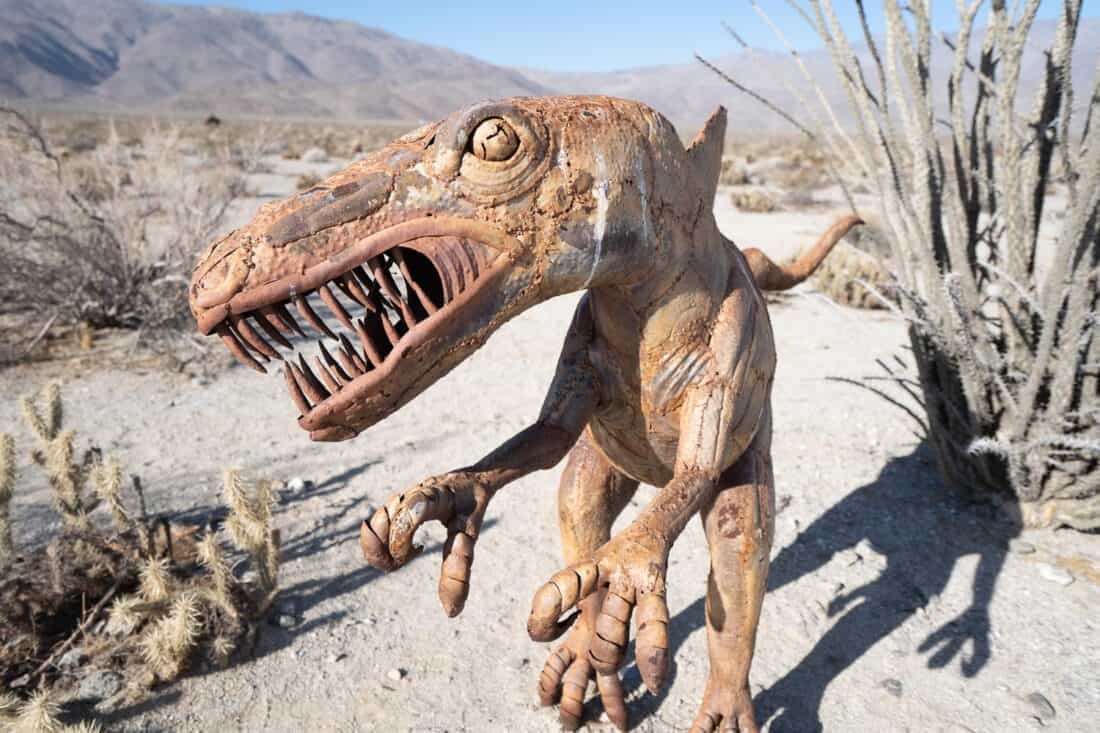 A little further on are the even more epic Carnotaurus and Allosaurus fighting (WF4). In reality, these two dinosaurs lived at different times.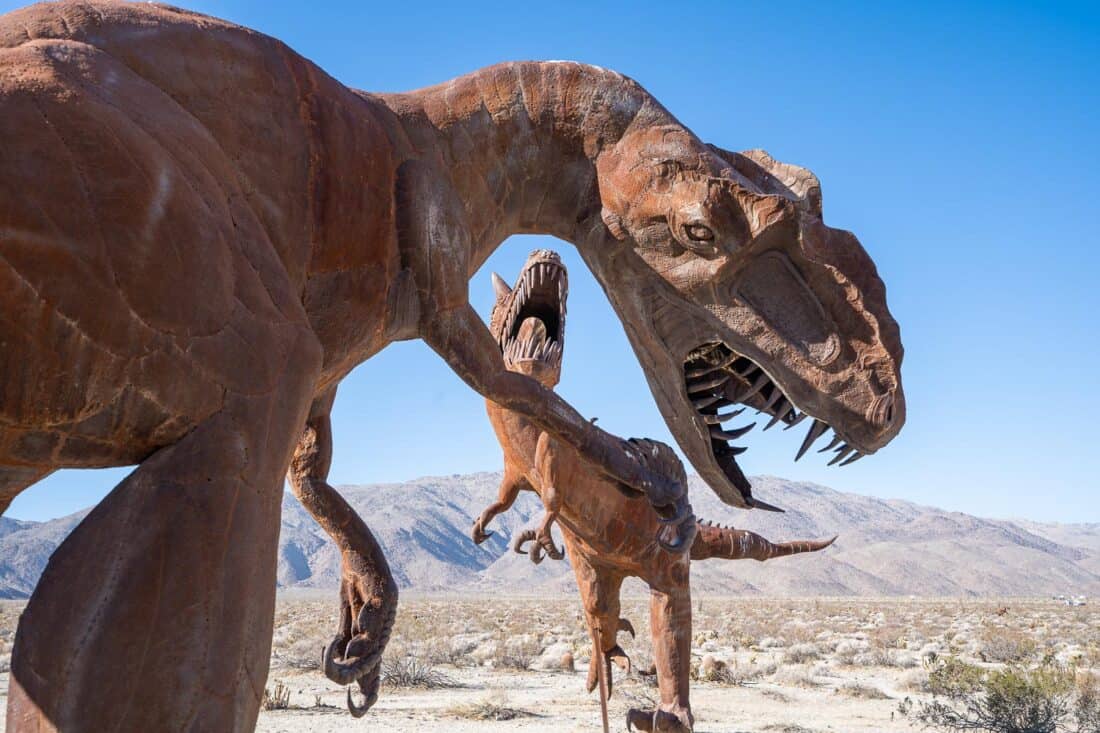 Next are the Tyrannosaurus Rex (WF6), giants hunched over with their little arms and razor-sharp teeth.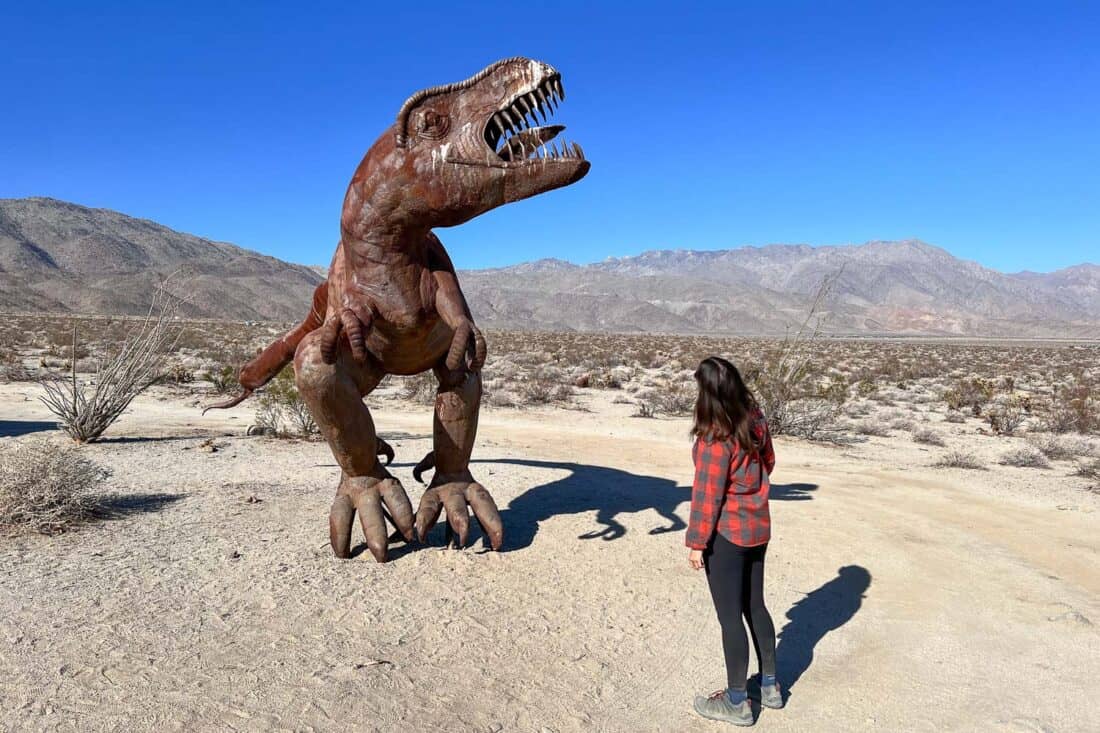 Across the road is the Utahraptor, a bird-like dinosaur, including one with a nest of eggs.
This is the last dinosaur sculpture so head back to the main road the way you came.
Borrego Springs Sculptures Map
Use this Galleta Meadows sculptures map to track down all the art mentioned in this guide.
Where to Stay in Borrego Springs
Try to stay somewhere with a pool so you can relax and cool off after a morning of hiking and sculpture hunting.
We wanted to self-cater so stayed at this two-bedroom Charming and Secluded Home with Pool on Airbnb. The interior was darker than we expected, but the pool area is amazing with sun loungers, hot tub, BBQ, and mountain views. The water is freezing in winter though!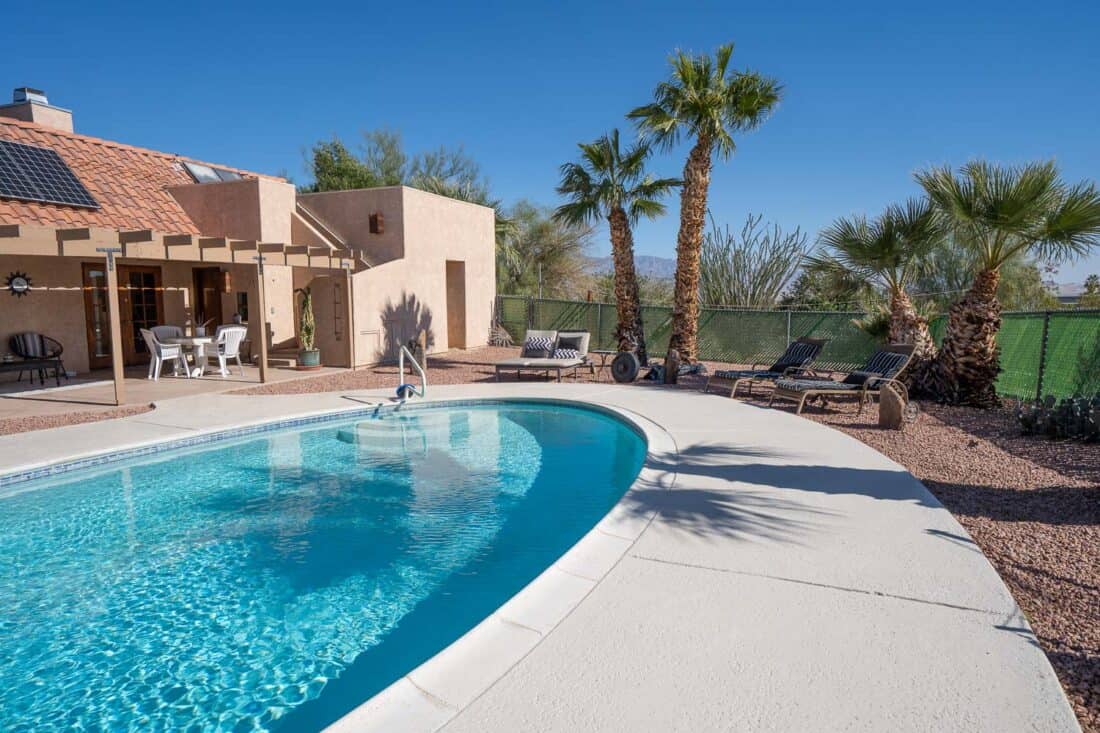 My pick for a Borrego Springs hotel is La Casa del Zorro—the resort is a peaceful desert retreat with multiple pools and stylish rooms. You can even choose a casita with a private pool. The food is supposed to be delicious too. It's only a few minutes from the southern cluster of Sky Art.
Check availability and prices for La Casa del Zorro here.
Other hotels with pools in Borrego Springs include Borrego Valley Inn and Borrego Springs Resort & Spa.

Check out more hotels in Borrego Springs here. Or browse some amazing vacation rentals on Vrbo.
Are the Galleta Meadows Sculptures Worth Visiting?
Yes, Galleta Meadows is public art at its best! It's so fun to drive around town and randomly come across a giant elephant or camel in the desert—from a distance they look real!
Borrego Springs is worth visiting even without the sculptures (don't miss hiking in Anza Borrego), but with them, it makes for an even more unique trip.
It's one of our favourite places to visit in Southern California and we highly recommend spending a relaxing few days here.
More California Posts
Explore more of California with our other travel guides:
Southern California
Northern California
If you enjoyed this post, pin it!