This page contains affiliate links. Please read our disclosure for more info.
3 days in Yosemite National Park is ideal to get a taster of this awe-inspiring natural wonderland.
The park is huge so you could spend weeks there and still not see it all, but this 3 day Yosemite itinerary covers the classic highlights as well as some less well-known sights.
We visited Yosemite in July and were worried that it would be crowded, temperatures scorching, and the waterfalls dried up.
While visiting Yosemite in the summer does have some downsides, it was absolutely worth it. We hiked through alpine meadows and giant sequoia groves, gazed at spectacular granite peaks, and admired one magnificent vista after another.
Despite our fears, the heat wasn't too bad, we had plenty of tranquil moments, saw some beautiful waterfalls, and benefited from all roads being open in the summer.
We had a full 3 days in Yosemite arriving on Wednesday night and spending Thursday, Friday and Saturday in the park. It was noticeably quieter midweek so avoid the weekends if you can or plan to visit the less visited areas.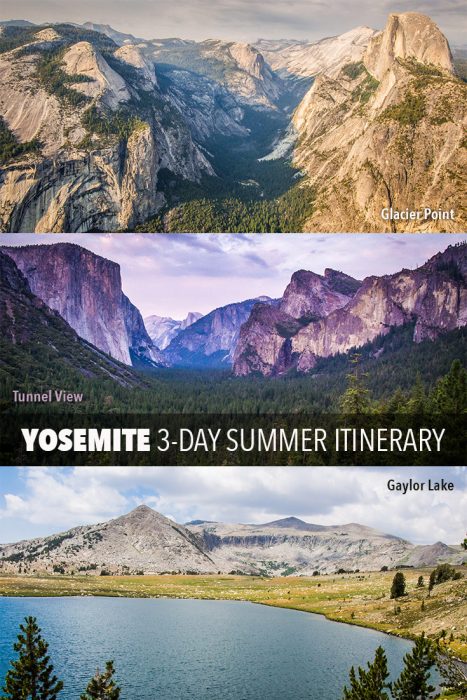 Contents
Yosemite Update 2023
Reservations no longer required
Reservations were required to enter Yosemite for the last few summers, but they will not be necessary in 2023.
Glacier Point Road Reopening
Glacier Point Road was closed to all traffic in 2022 while improvement works were carried out.
It reopened on July 1, 2023 but only on weekends until July 15, when it will be open seven days a week.
Expect 30-minute delays on weekdays as the work is ongoing.
Check the Yosemite NPS website for the latest updates.
The afternoon of Day 1 of our itinerary won't be possible when Glacier Point Rd is closed.
Video of Yosemite Highlights
Where to Stay in Yosemite
Choosing your accommodation is a key part of planning a trip to Yosemite National Park. In the summer it's essential to book as far in advance as possible.
I recommend staying as close to Yosemite Valley as you can afford in order to avoid long drives. We stayed an hour away to save money and regretted it.
Yosemite Accommodation Inside the Park
If you can afford it, definitely splurge on accommodation in the park (ideally Yosemite Valley)—we plan to do this on our next visit. It's the best way to see Yosemite in 3 days as you can maximise your time.
Make sure you book far in advance for the summer—the best rooms sell out a year ahead.
The Ahwahnee Hotel (formerly Majestic Yosemite Lodge) is the most luxurious hotel in the park and the Yosemite Valley Lodge (probably my choice for next time) is more affordable and has a great location close to Yosemite Falls.
You could also camp at a number of campsites (bookings needed). See the Yosemite National Park website for the full range of options.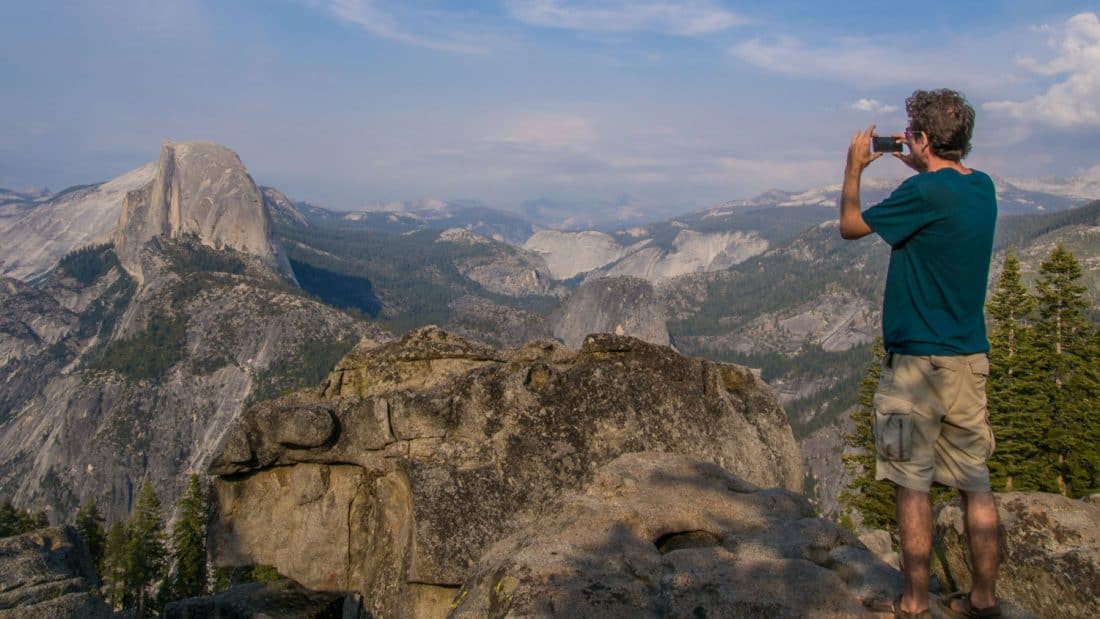 Yosemite Vacation Rentals
There are some vacation rentals inside Yosemite National Park. These are often available when the Valley lodges have sold out (although advance booking is still recommended) and offer a quieter, more private experience.
Having access to your own kitchen is an advantage over a hotel stay, and the extra space is great for families and groups.
Foresta is the closest area to Yosemite Valley (a 20-minute drive) and is the place to find cabins away from it all, but options are limited and book up fast. Here are a few homes that look ideal:
Lupin Cabin – This cosy one-bedroom cabin has plenty of windows to make the most of the mountain views.
Meadow Woods Home – A rustic two-bedroom cabin in the woods with a wood stove and outdoor wooden swing to enjoy the view.
See Half Dome and El Capitan from your Deck – This large, comfortable three-bedroom house has floor-to-ceiling windows to enjoy the mountains views and all the amenities a family needs. There's even a pool table and foosball in the basement!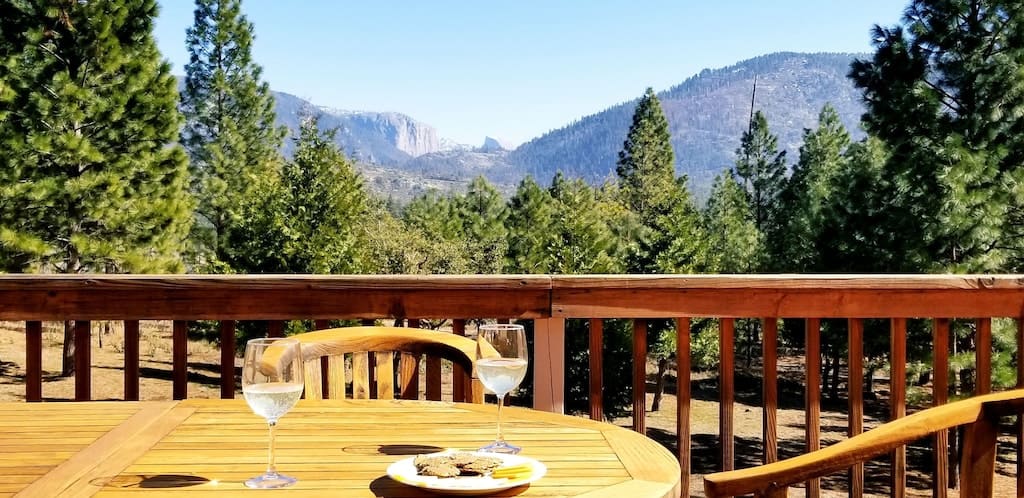 Yosemite West has more choice of cabins and condos. It's a little further away, a 30-minute drive from the Yosemite Valley at a higher elevation, but it's closer to Glacier Point. Here are some lovely rentals:
Wawona is the other area with vacation rentals inside the park, but it's much further from the Valley (nearly an hour from the visitor centre).
There are plenty more options, so search here for vacation rentals in Yosemite National Park on Vrbo.
Accommodation Outside Yosemite
If you can't afford Yosemite Valley accommodation or it's already fully booked, I recommend looking for hotels in El Portal, which is the nearest town to the Valley.
Yosemite View Lodge is a good affordable option—rooms have mountain views and kitchenettes, there are indoor and outdoor swimming pools, and it's only a 20-minute drive to Yosemite Village.
If you are looking for a more special stay, Rush Creek Lodge has beautiful rooms and villas (some with fireplaces) in a tranquil forest setting with an outdoor pool and hot tubs.
They even provide complimentary s'mores to grill on the campfire. It's only a 5-minute drive to a Yosemite National Park entrance and about 40 minutes to Yosemite Village.
Search for more hotels near Yosemite here.
Yosemite Bug Rustic Mountain Resort
To save money, we stayed at Yosemite Bug, a hostel 26 miles from Yosemite Valley near Midpines.
They have a range of accommodation from dorm beds to private cabins. We went for the least expensive private option, a tent cabin with a proper bed, electricity, and shared bathroom.
We liked the forest setting, having access to a kitchen to make packed lunches, and the comfy sofas in the cafe, but it had some issues.
The car park, kitchen and showers were really busy if we got back too late, the food in the cafe wasn't great with limited vegetarian options, and we really would have appreciated air conditioning at that time of year (available in the more expensive rooms).
Our biggest regret was staying so far out of the park. The drive takes an hour or more each way and as we were getting started early, the days were really long and we were too exhausted to stay out for sunset. It would have been great to have a break in the middle of the day, but it was too far to travel.
Check the latest prices of Yosemite Bug here.
Yosemite Entrance Fee
Entrance to Yosemite costs $35 per vehicle and is valid for seven days. You can pay in advance or on arrival at the entrance gates (credit card only).
If you plan to visit a number of National Parks within a year, it might be worth purchasing the America the Beautiful annual pass which costs $80 per vehicle. You can buy the annual pass in advance from REI.
Arriving in Yosemite
We arrived at our hostel late afternoon on Wednesday from Sonoma County. We knew Midpines was very small so we stopped in Merced for groceries on the way. There are some big grocery stores there, but we wished we'd done our shopping in foodie heaven Sonoma instead where everything is local and organic.
We'd planned to go into the park for sunset at Artist Point but were too exhausted after the long drive—another reason to stay in the park as you can maximise your time there.
Yosemite Itinerary Day 1 (9.30am to 9pm) – Cooks Meadow Loop, Glacier Point and Tunnel View
Cooks Meadow Loop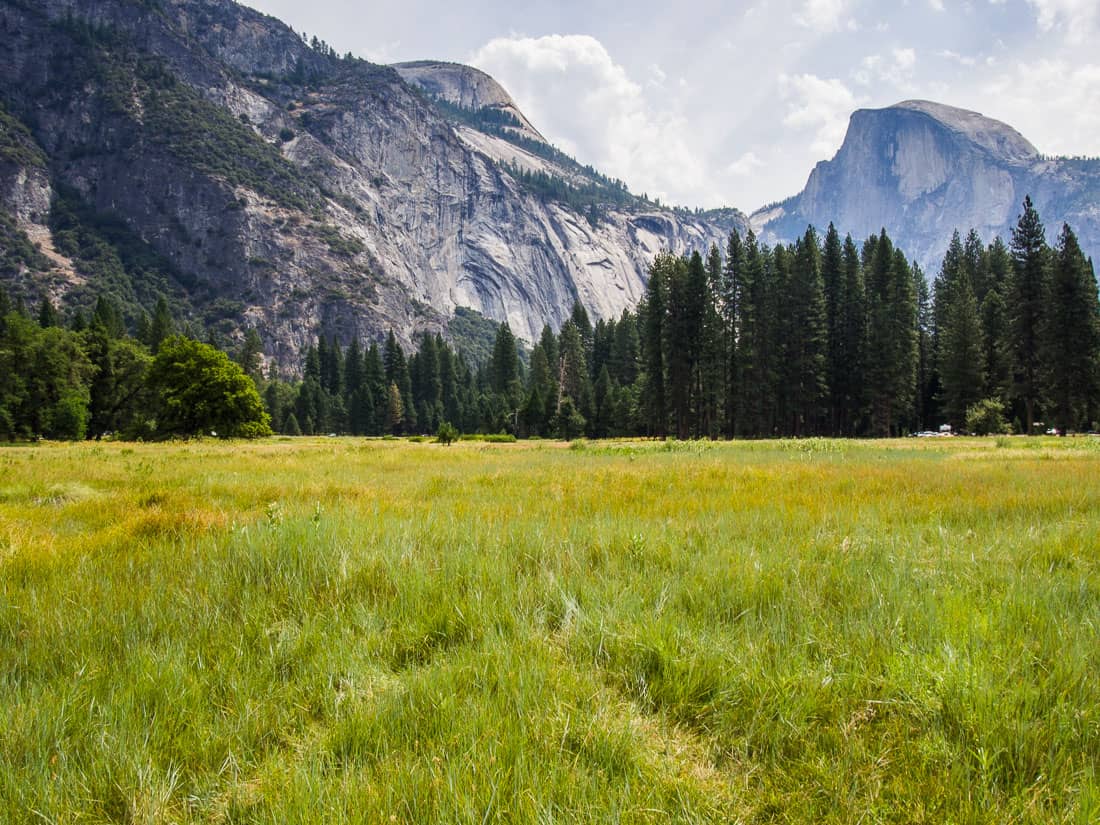 On Day 1 of our Yosemite National Park itinerary, we had every intention of making an early start, but we were tired after the drive and didn't make it into the park until 10.30am. We entered at the entrance on Highway 140 and bought our ticket.
It wasn't as crowded as we expected and we got parked easily at Sentinel Bridge for the Cooks Meadow Loop hike (2.25 miles) around the Yosemite Valley.
It's one of the best things to do in Yosemite and was the perfect introduction to the park—easy and flat, not too busy, and with stunning views.
We walked through lush green meadows and along the river, with views of Half Dome and granite cliffs soaring above.
Usually there are views of Yosemite Falls but in the summer it had completely dried up, and the side trip to the falls wasn't worth it.
We also took a side trip to Yosemite Village to pick up a hiking map and visit the Ansel Adams gallery. There's also a shop and restaurants here.
By the time we'd finished the short hike, things were getting busier and the nearby picnic spots were full.
We drove to the base of El Capitan which is a bit further out, so picnic tables were still available for our packed lunch. (We bought a cool bag and ice blocks to keep our food and water cool during the day.)
Taft Point & Sentinel Dome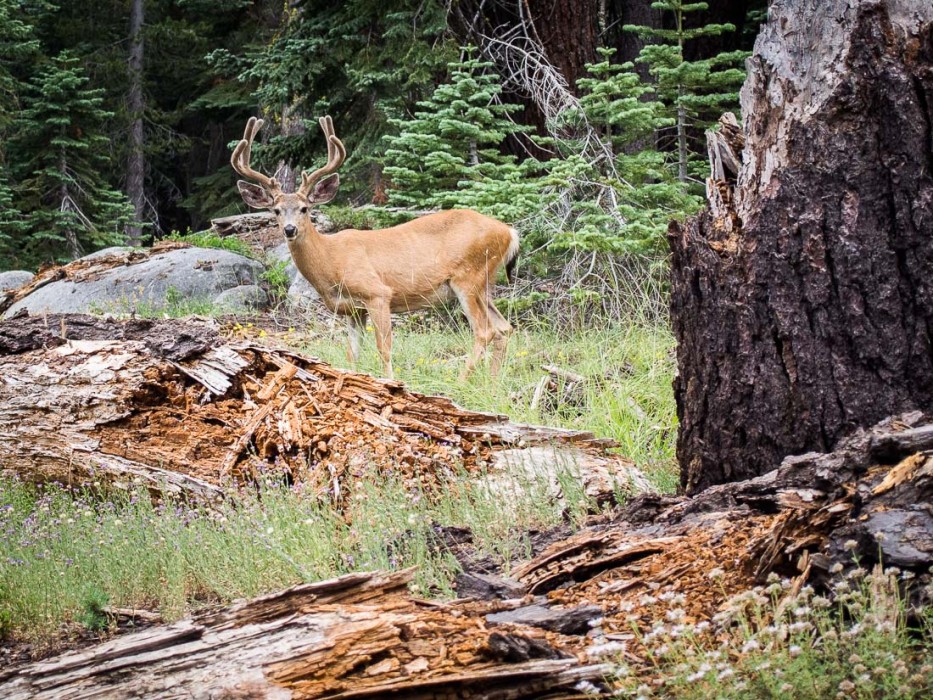 After lunch we made our way out of the valley and up winding Glacier Point Road (open from mid-May to October/November).
Most people come for the panoramic views at Glacier Point (a one-hour drive from the valley), but we stopped off for some hikes along the way.
We arrived at the trailhead to Sentinel Dome and Taft Point at about 3pm and spent three hours there—an hour for each hike and 30 minutes at the top of each.
Both hikes are short, not too crowded or difficult (there are some steep parts but we hiked them in sports sandals), and have seriously spectacular views at the top.
It is possible to do a loop that combines the Taft Point and Sentinel Dome hikes, but this actually takes longer (perhaps four hours total) and the trail is less obvious. Plus by returning to the trailhead between each hike we could use the toilet and get more water from our car.
The Taft Point hike (2.2 miles) started through the forest with furry green moss glowing on the trees and deer getting surprisingly close.
At the top we enjoyed the vertigo-inducing views as we tentatively peered over the edge of the rock fissures and down and down to the valley.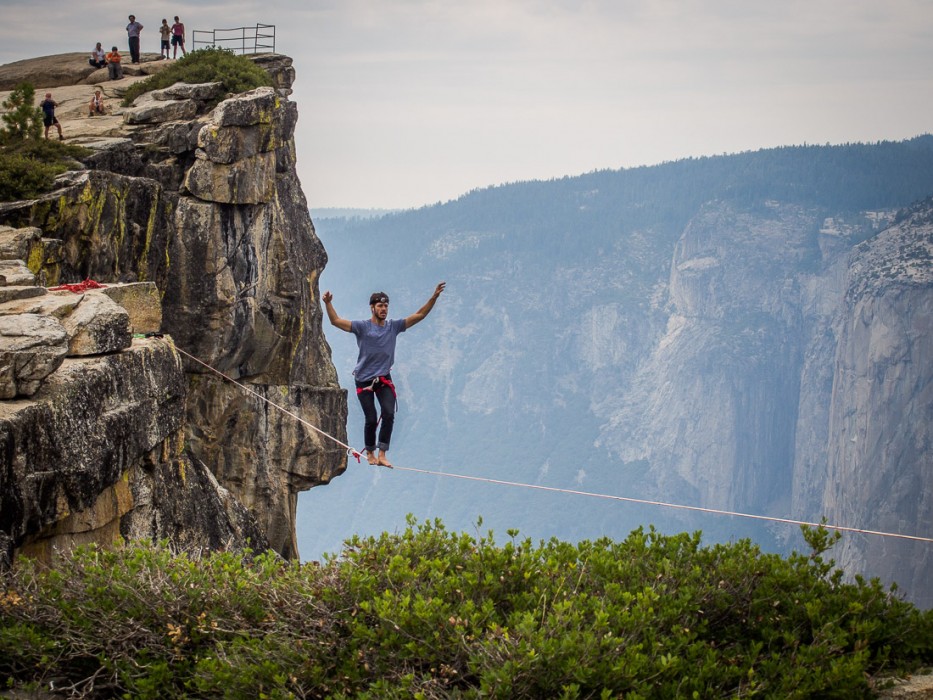 A couple of brave guys were attempting to slackline between two rocks, nothing but thousands of feet of air beneath them.
The first one got halfway across before he lost his footing and fell, his cries piercing the air as our hearts stopped. His harness caught him and he managed to get off unharmed but obviously shaken. It didn't stop his friend who we watched holding our breath as he slowly made it all the way across.
We followed the trail back the way we came to the trailhead before continuing on to Sentinel Dome (2.2 miles). This was a bit steeper at the end as we ascended the rocky dome but still a fairly easy hike.
The views at the top were even better with a 360-degree view of multiple peaks including Half Dome glowing in the late afternoon light.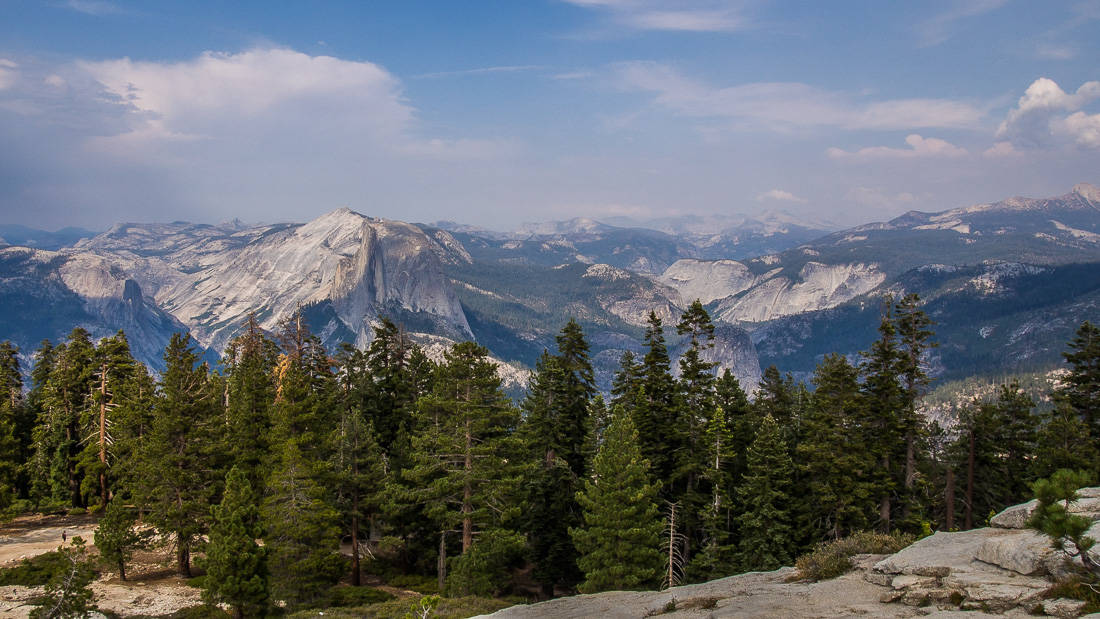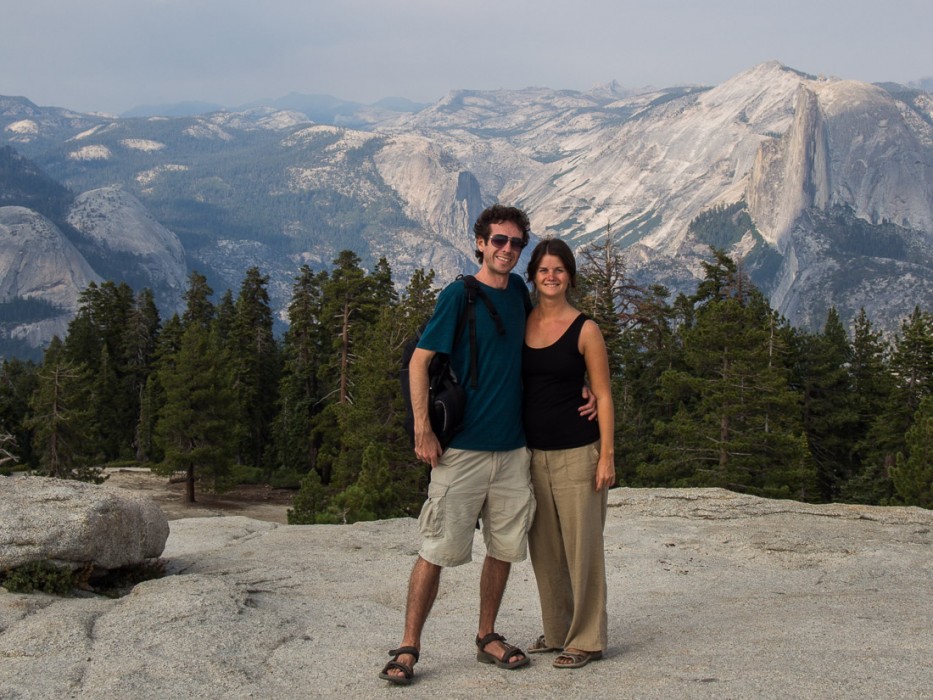 Glacier Point & Tunnel View
We continued on up to Glacier Point stopping along the way for more amazing views at Washburn Point.
Glacier Point is rightly popular and was quite busy. The views are incredible and it's the best place to get a sense of the scale and beauty of Yosemite.
You can see the peaks of the high country, Half Dome, Nevada Falls, and right down to the verdant carpet of meadows and forest in the valley far below.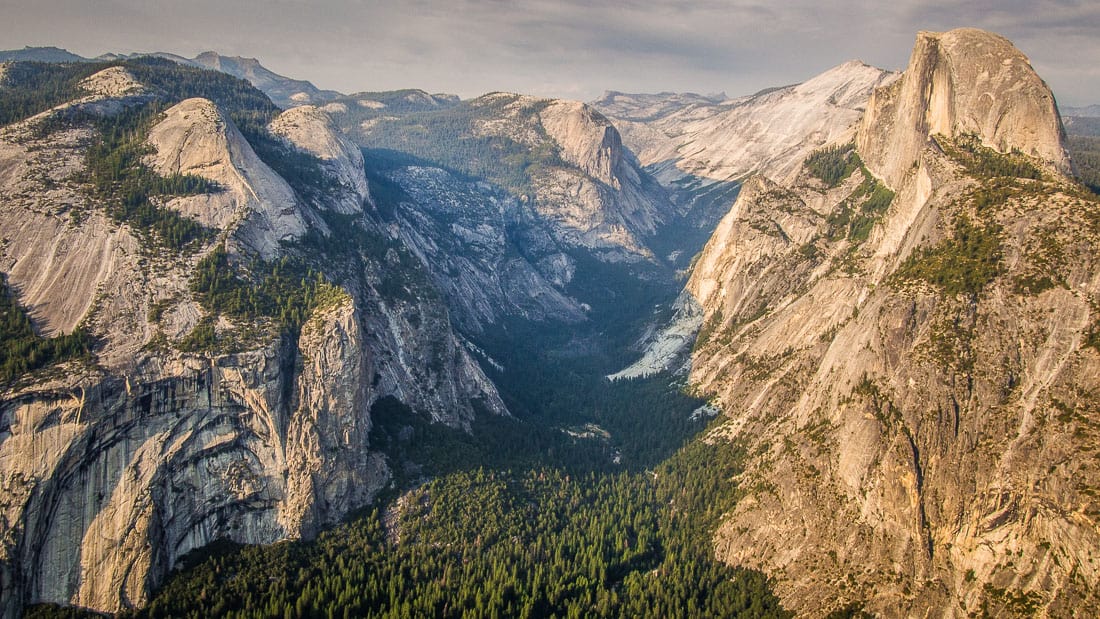 The cafe closed at 5pm so we were glad we had enough food for a picnic dinner. We'd have loved to have stayed for sunset, but it was too late in summer (8.15pm) and we were now a two-hour drive from our hostel.
So we headed back down to the valley hoping to catch sunset at the famous viewpoint Tunnel View.
30 minutes before sunset it was empty, though, as the sun was hidden behind mountains and I think we missed the best light. We were treated to a sky illuminated in pink and purple on the drive back.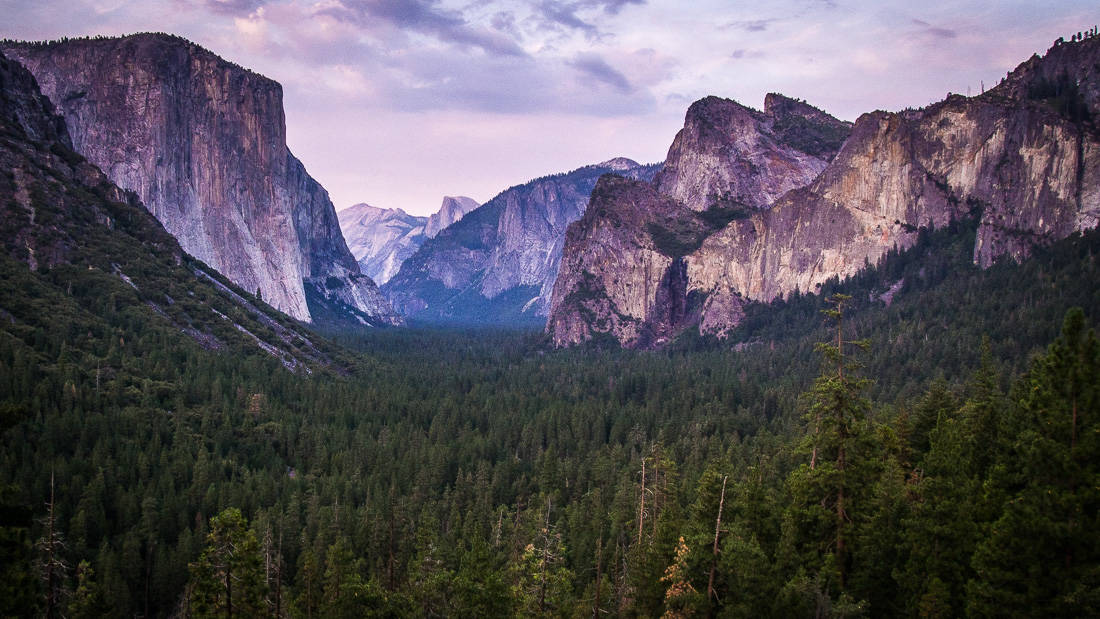 Day 2 (6am to 5pm) – Mist Trail & Mariposa Grove
Mist Trail
For our "big hike" we chose the Mist Trail (7 miles/ 5 hours). We were worried that this popular hike would be very crowded and hot in the summer, but by starting at 7am it was fine.
There were other hikers but not too many, and we easily got parked at the trailhead despite hearing that it's often full with early risers hiking up to Half Dome.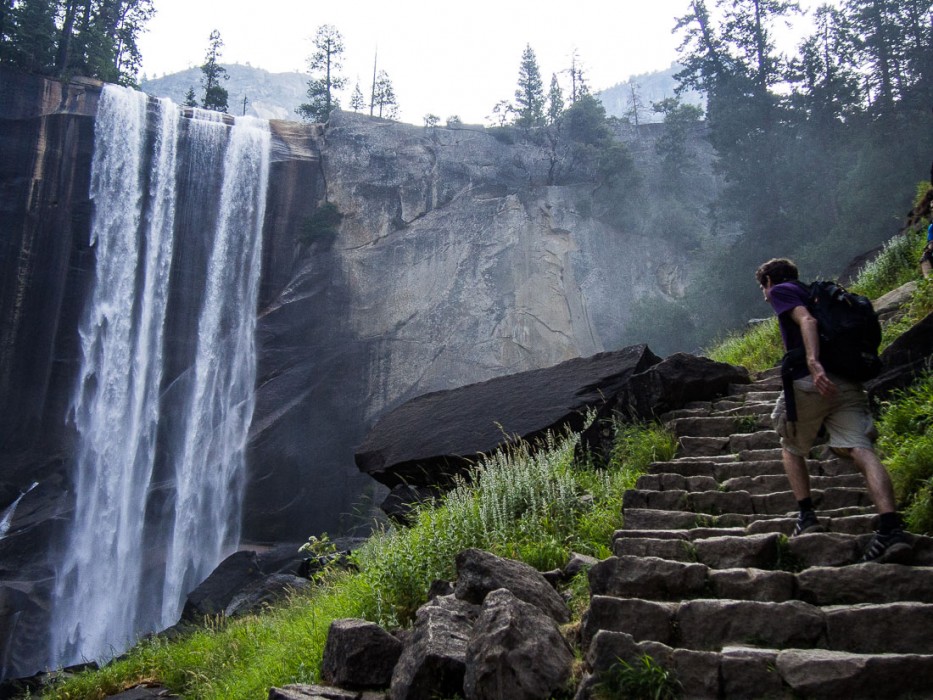 The steep trail, partly on stairs carved out of the rock, took us up past Vernal and Nevada Falls which even in summer had good flows (but not enough to get wet as you do in the spring).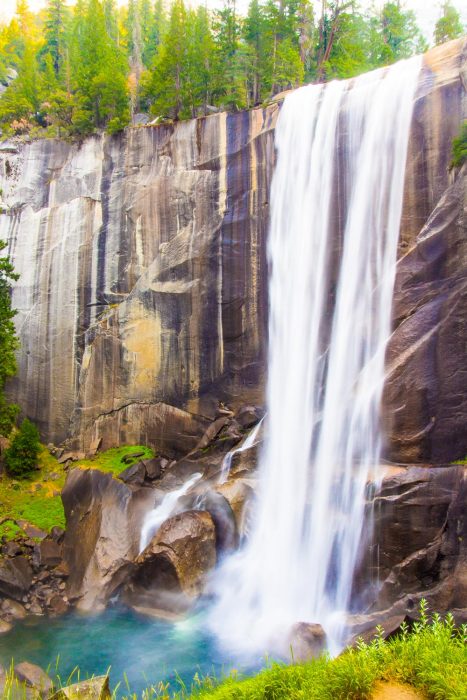 At the top of Nevada Falls we chose to hike back down via the Muir Trail rather than retrace our steps.
The trail was much quieter and there are fantastic views of Nevada Falls from afar. We were often alone and got a taste of the wilderness experience without having to hike too far.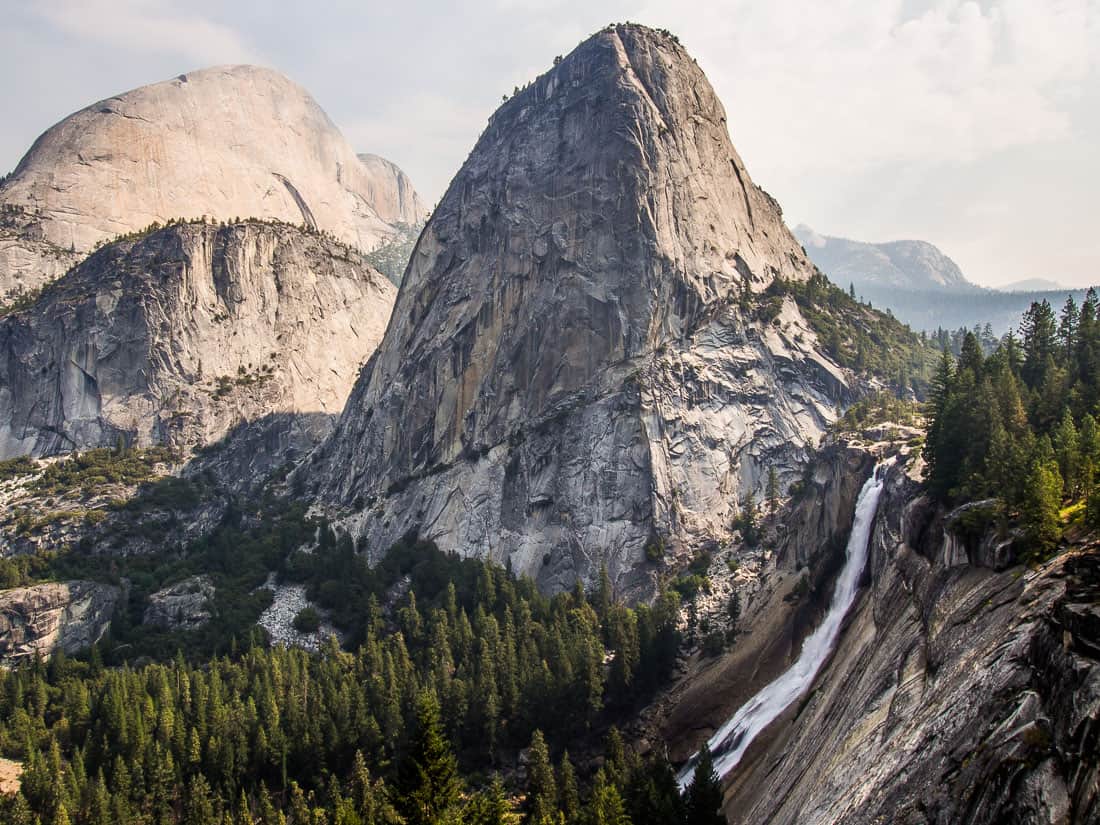 Near the bottom we rejoined the trail to Vernal Falls and at 11am it was extremely busy with tourists struggling up to Vernal Bridge. An early start is definitely recommended.
We treated ourselves to pizza, coffee, and ice cream at Curry Village for lunch.
Mariposa Grove
After our 5am start and five-hour hike, we were exhausted and really wished we were staying in the park for a nap.
After a long lunch we made the effort and headed up to Mariposa Grove, about an hour's drive away, to see the giant sequoia trees.
Unfortunately, we missed the sign saying the car park at the Grove was full and had to drive an extra four miles each way and come back to the visitor centre parking where we took the shuttle.
I admit our enthusiasm was waning at this point and we decided just to do the short 1.2-mile hike to the 1800-year-old Grizzly Giant.
The giant red trees are impressive, but at this time of year many were burnt (the burning is needed for restoration) and it was very hot and crowded—Friday afternoon definitely felt busier than Thursday. We much preferred our experience at Armstrong Redwoods State Reserve in Sonoma.
I think it's only worth going up to Mariposa Grove for a longer hike, preferably early, in order to escape the crowds.
It probably would have made more sense to combine the grove in the morning with Glacier Point in the afternoon and do the valley stuff in one day, but we didn't get an early enough start on Day 1 to do that.
Day 3 (7am to 3pm) – Olmsted Point, Tenaya Lake, Tuolumne Meadows, Gaylor Lakes
Our final day was a Saturday, so we visited one of the quieter areas of the park high up along Tioga Rd (only accessible in the summer), a two-hour drive from our hostel (one hour from the valley).
We entered the park through the west 140 entrance as usual but left via the east Tioga Pass entrance and spent our last night in Lee Vining (details below).
Olmsted Point & Tenaya Lake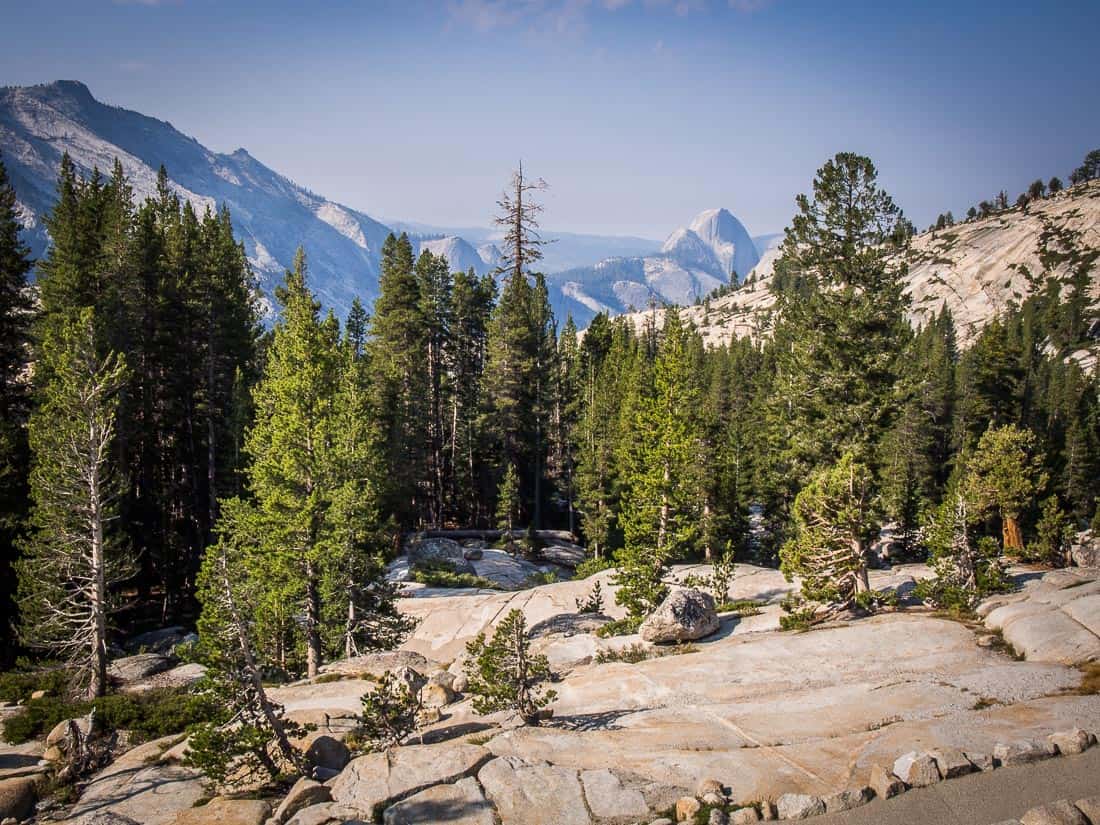 Our first quick stop was at Olmsted Point for yet another view of Half Dome, this time from far above, and as always, it was stunning. We were sad to realise this would be our last glimpse of the valley.
A little further along is Tenaya Lake. It was quiet and beautiful, with reflections of the surrounding granite domes in the calm water, and only a couple of stand up paddleboarders around.
We didn't hike around the lake, but it's only 2.5 miles so it would be worthwhile.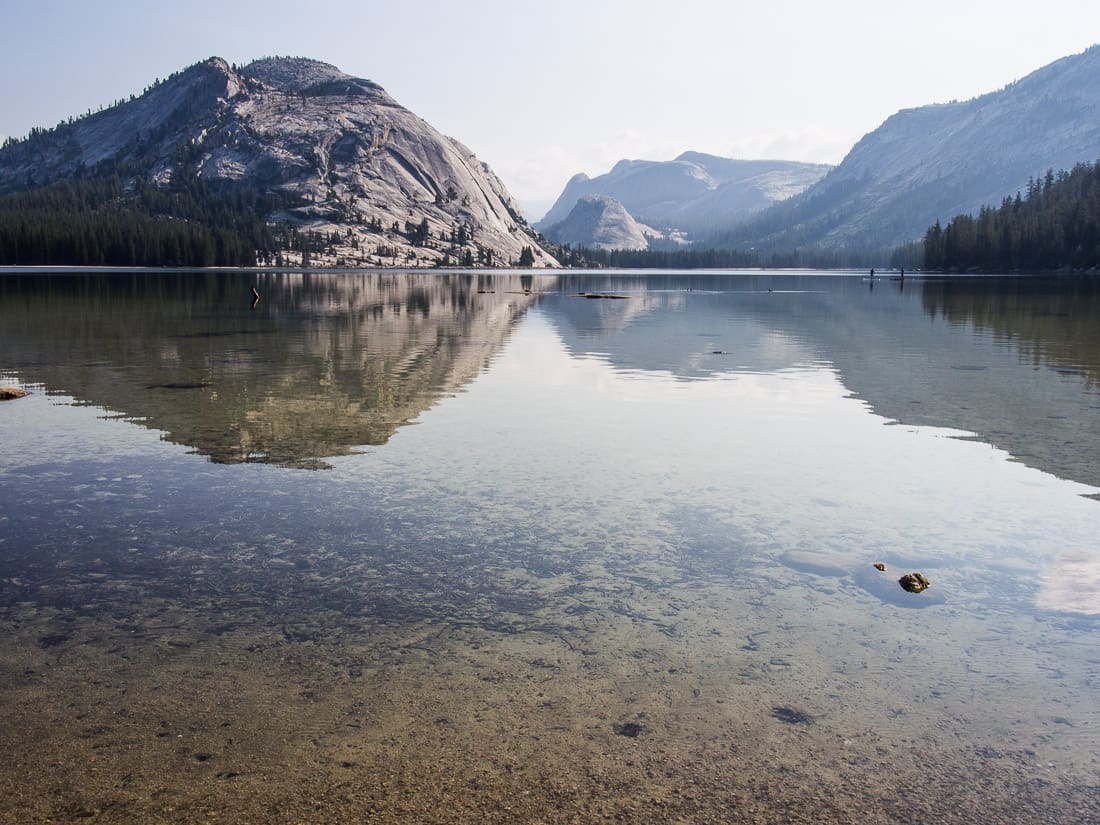 Tuolumne Meadows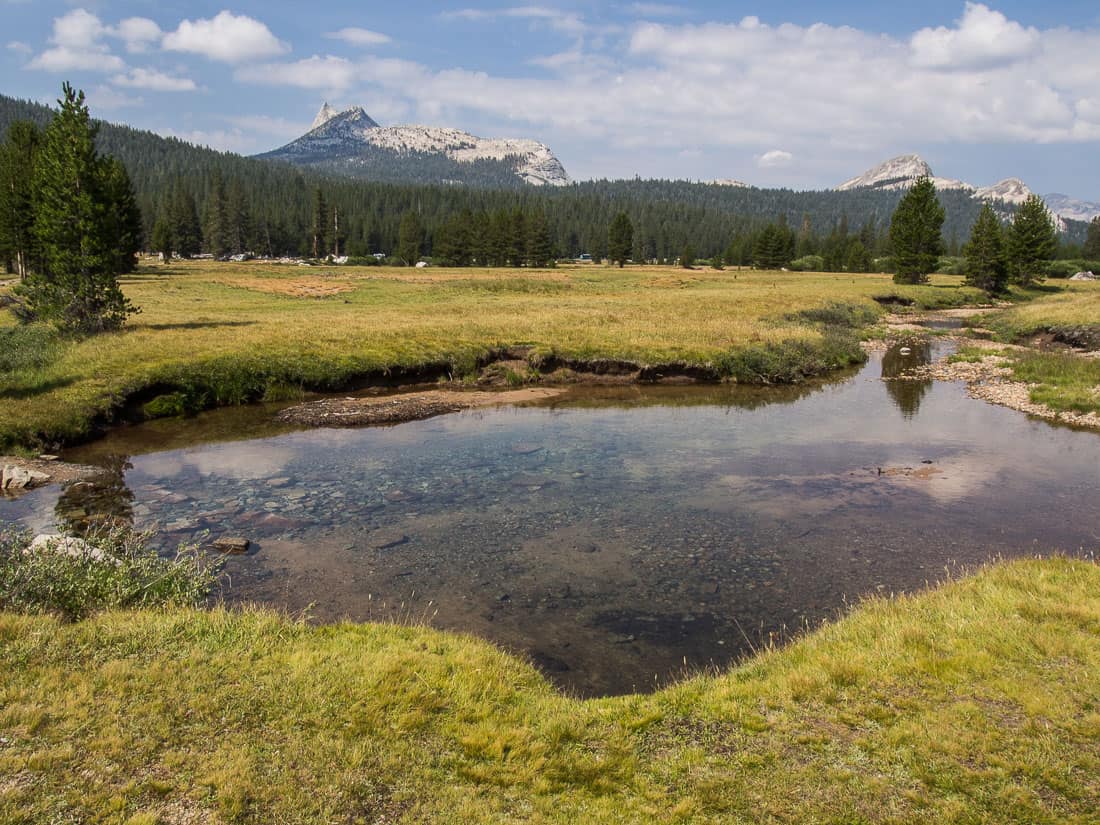 After stocking up on food at the Tuolumne Meadows grill and store, we went back a few minutes down the road to the Tuolumne Meadows Visitor Center. From here we did the flat, easy, and surprisingly quiet 1.5 mile hike to Soda Springs.
It was a gorgeous sunny day but cooler than the valley and far quieter, even on a Saturday.
We walked through the green Tuolumne Meadows, along a winding crystal clear river with a backdrop of granite mountains and forest in the distance. Soda Springs is a small spring with carbonated water bubbling from the ground.
Gaylor Lakes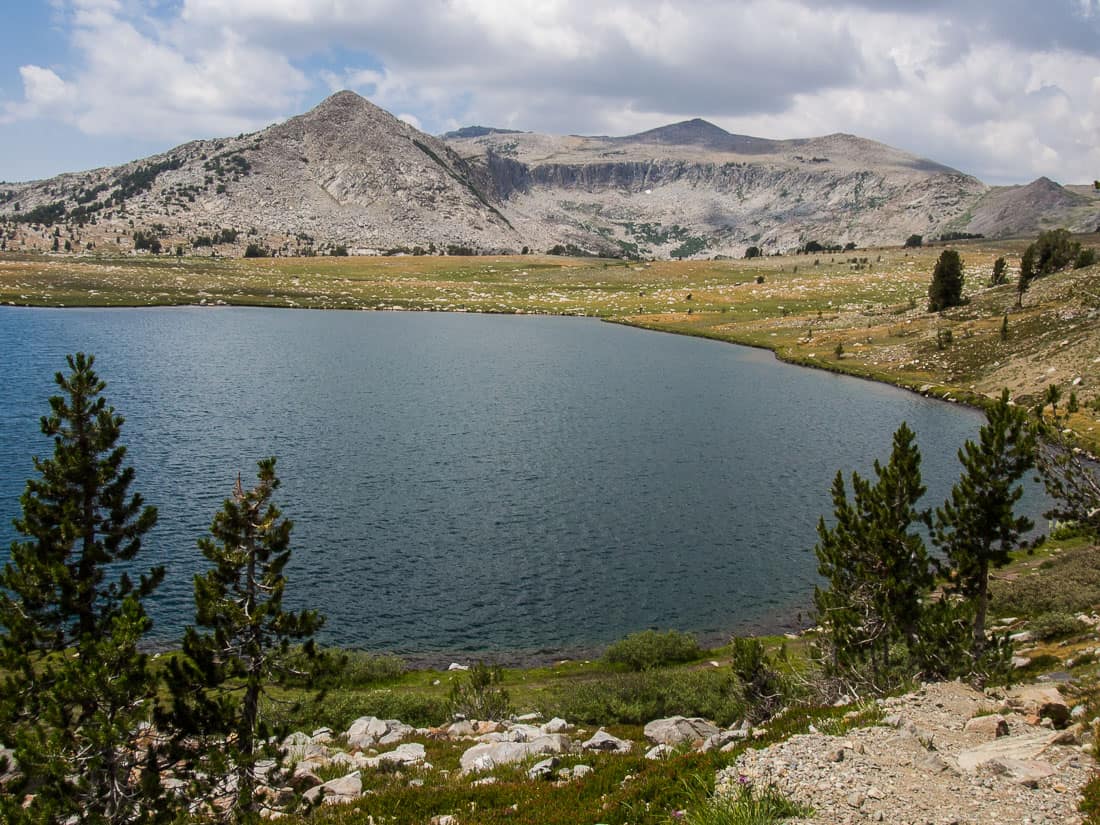 Our last hike was at Gaylor Lakes just before the Tioga Pass park entrance at nearly 10,000 feet (3000 metres) altitude.
We felt the altitude on the short but steep climb at the beginning, but it was worth it for the views down to the lakes and back to Dana Meadows and Mt Dana.
From the pass we climbed down to Middle Gaylor Lake which, with only a few other people around, felt very remote, incredible considering how close we were to the car park.
The changeable weather and craggy granite mountains surrounding the lake gave it a real alpine feel.
After walking around the middle lake we set off through the meadow of boulders and wildflowers towards Lower Gaylor Lake. We'd lost the trail as we didn't have a map, but it's open and flat up here and hard to get lost.
It felt utterly secluded and peaceful, and even on a Saturday afternoon, there were only a few fishermen on the far side of the lower lake.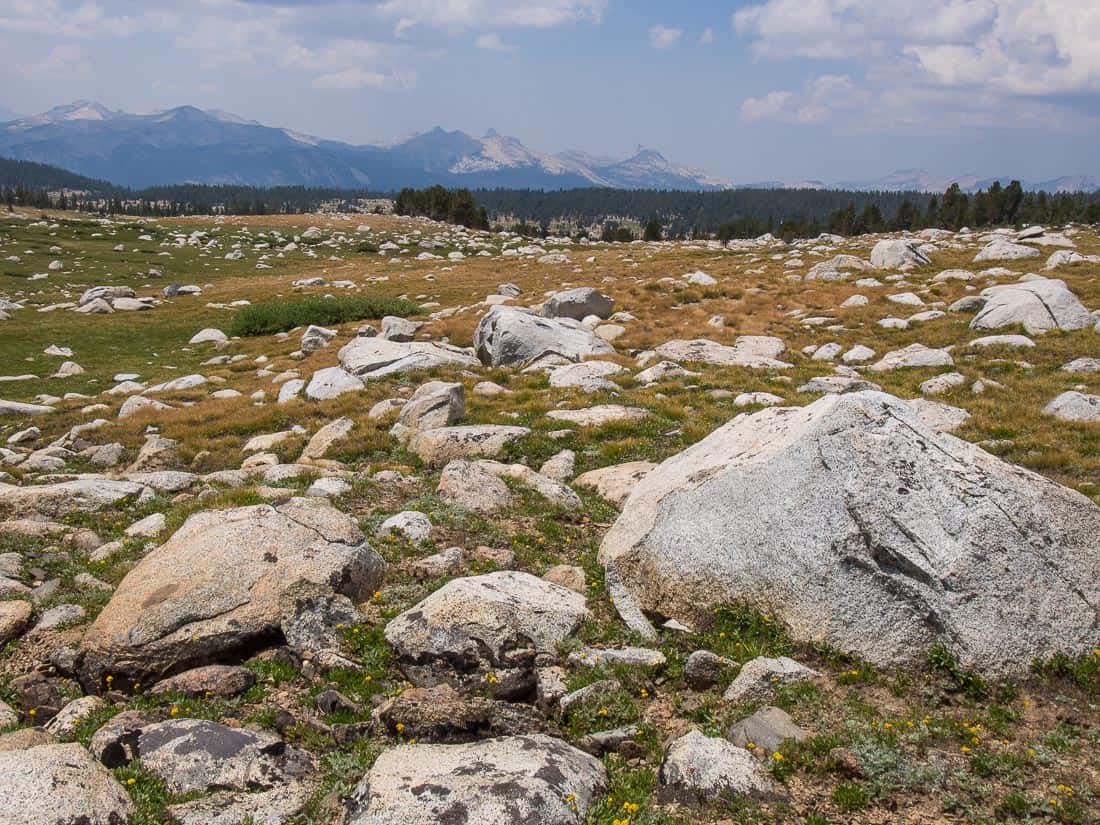 It took us three hours to visit the two lakes including a leisurely picnic, but you could spend as long as you like up here visiting the other lakes.
We highly recommend this hike for a taste of high mountain scenery and seclusion without having to hike too far.
After Gaylor Lake we left the park at the Tioga Pass and drove along the narrow winding road on the edge of the dramatic Lee Vining Canyon.
Yosemite 3 Day Itinerary Map
Here are all the places we visited on our 3 day trip to Yosemite plus a few of the best places to stay.
I also recommend the Alltrails app for trail maps on your phone. We have the Alltrails+ subscription, which allows us to download maps in advance for offline use (definitely useful in Yosemite).
Extending Your Trip – Mono Lake & Bodie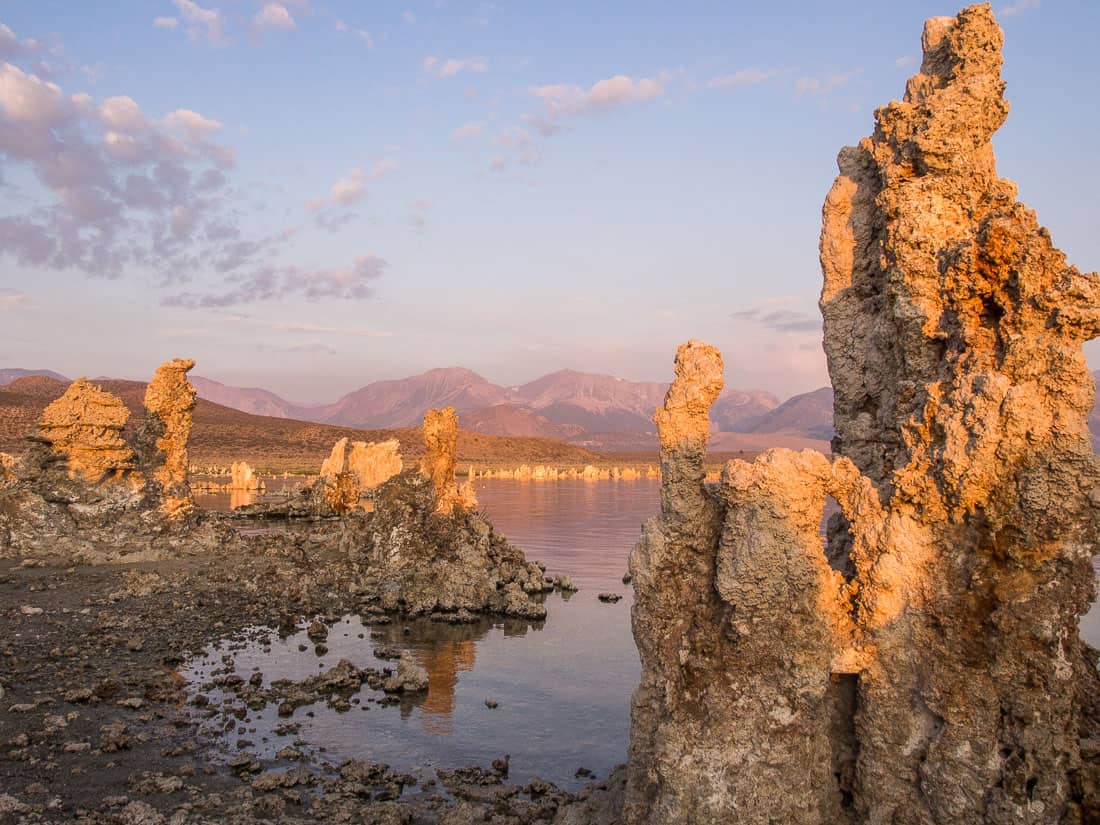 We were finished by 3pm on Day 3 and could have driven back to San Francisco, but it's a long drive (5 hours) and there are some fascinating attractions just outside the park.
We spent the night in Lee Vining, a tiny town a short drive outside of the park. We stayed at El Mono Motel which was the cheapest we found and had modern, nicely furnished rooms, a small garden, and onsite coffee shop.
We were there to visit the unusual tufa rock formations at Mono Lake at sunset and sunrise, just a 20-minute drive away.
On our way back to San Francisco the next day we also stopped at the remote ghost town of Bodie.
Both places are definitely worth a detour and adding an extra night to your Yosemite itinerary.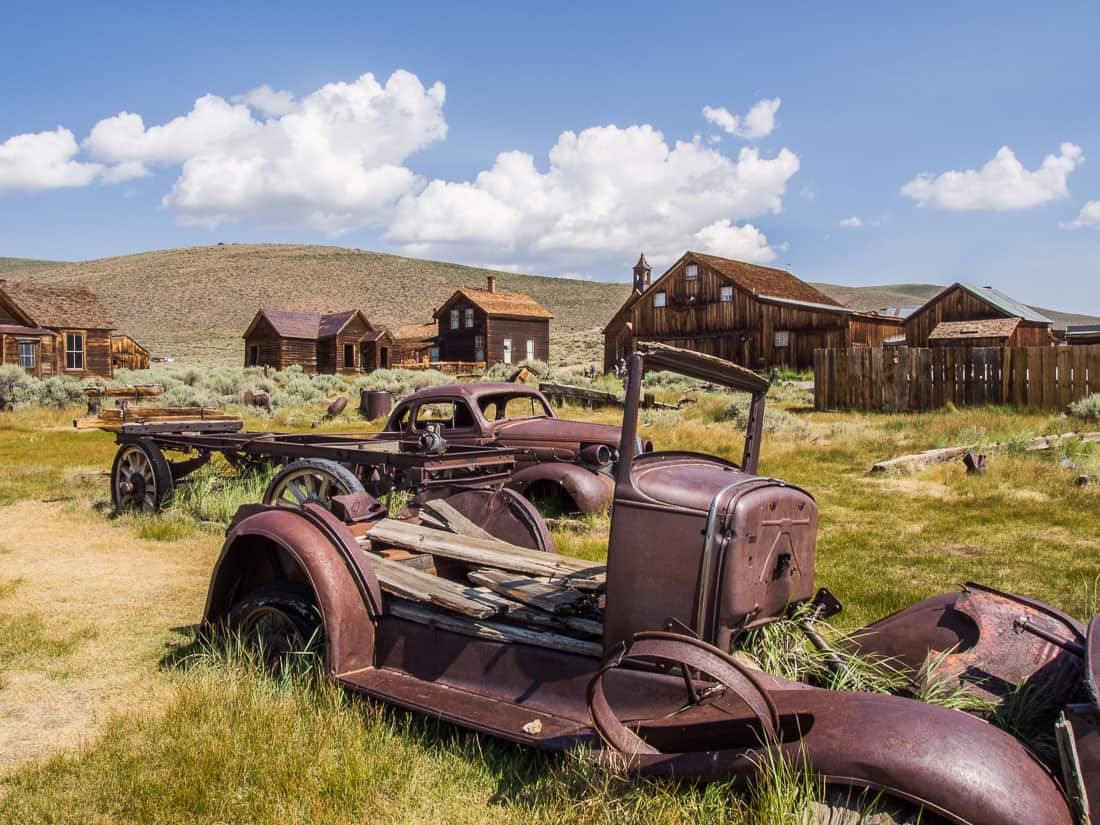 Other California National Parks
If you are inspired to explore more of California's National Parks, we recommend picking up an America the Beautiful annual pass (excellent value if you visit three or more parks in a year).
Death Valley National Park is very different to Yosemite but just as beautiful with its stark wildness. It's about six hours from Yosemite village in the warmer months (when you can drive out via Tioga Rd) or eight hours in winter.
See our guide to what to see in Death Valley for all our tips.
Joshua Tree National Park is another desert park in Southern California that we absolutely love with quirky trees and massive boulder piles. It's about seven hours from Yosemite or you could do an epic road trip and stop at Death Valley on the way.
We share the best hikes in Joshua Tree as well as lots of other useful advice.
Is Yosemite Worth Visiting in Summer?
Yosemite exceeded all of our expectations. With some careful planning, the summer weather and crowds didn't prevent us from enjoying this spectacular place, which has some of the best views and hikes we've ever experienced.
We saw a lot in three days but still only a fraction of what the park has to offer. We know we'll be back—at any time of year.
More California Posts
Are you looking for more California travel tips? Read these posts:
Near Yosemite
Further Afield
If you enjoyed this post, pin it!