This page contains affiliate links. Please read our disclosure for more info.
Queenstown is known as the adventure capital of New Zealand and attracts adrenaline junkies wanting to jump off bridges, swing through canyons, and ski down mountains.
But there are plenty of relaxing things to do in Queenstown if you want to explore at a slower pace.
This is one of the most beautiful parts of the country with a stunning location on huge Lake Wakatipu surrounded by alpine mountains. Turquoise rivers, dramatic canyons, and picturesque vineyards are found nearby.
From soaking in hot pools to sampling local pinot noir, relaxing on beaches to cycling through vineyards, there's so much to do in Queenstown in both summer and winter. We've visited three times, most recently for a month, and still haven't got bored.
In this post, I share our favourite Queenstown activities for those of you, like us, who don't fancy a bungy jump. You'll also find our favourite Queenstown restaurants and cafes, recommendations on where to stay, transport tips, and a useful map.
Contents
Where is Queenstown New Zealand?
Queenstown is located in the Otago region in the southwest of New Zealand's South Island. Arriving by car, it's a 1.5 hour drive from Wanaka, 4 hours from Dunedin, 7 hours from Christchurch and 5 hours from Milford Sound.
See the map at the end of this post with the locations of these Queenstown activities.
Video: What to Do in Queenstown
Best Things to Do in Queenstown
I've included costs for these Queenstown attractions when applicable (many are free). All prices are in New Zealand dollars. The current exchange rate is NZD $1 = AUD $0.95, USD $0.70, GBP £0.51, and EUR €0.59.
1) Relax with a View in the Onsen Hot Pools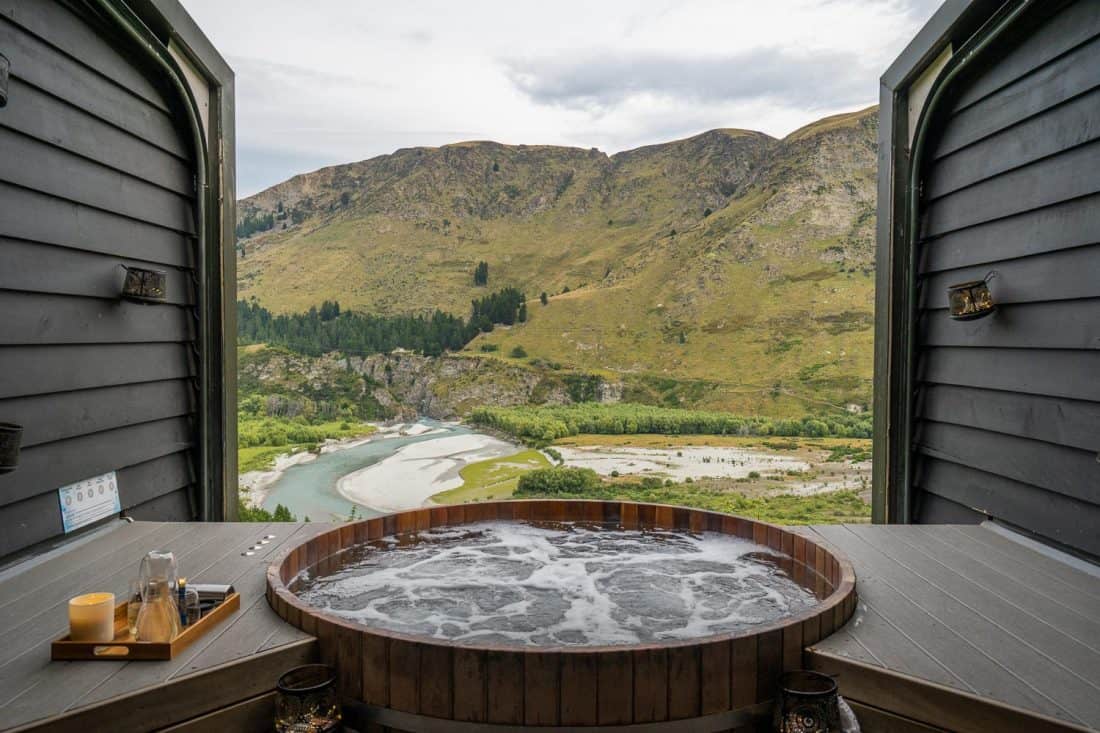 The most relaxing (and romantic) activity in Queenstown is soaking in one of the Onsen Hot Pools overlooking the Shotover River Canyon.
Book an hour in one of the private cedar tubs and enjoy gorgeous views of the turquoise river and rugged mountains. The retractable roofs make them suitable in any weather.
On a busy road trip, we really appreciated our hour of quiet relaxation drinking a glass of bubbly in the pools.
You can also combine a soak in the pools with a massage, facial or other spa treatment.
Details: A one-hour soak in the original Onsen Hot Pools costs from $126 for two adults. Towels, a drink and a snack are included in the price.
Book well in advance here—in high season all the sunset slots were already booked up two months before our visit. The pools are located in Arthur's Point, a 10-minute drive from Queenstown. A complimentary shuttle is available.
2) Cycle to the Gibbston Valley Wineries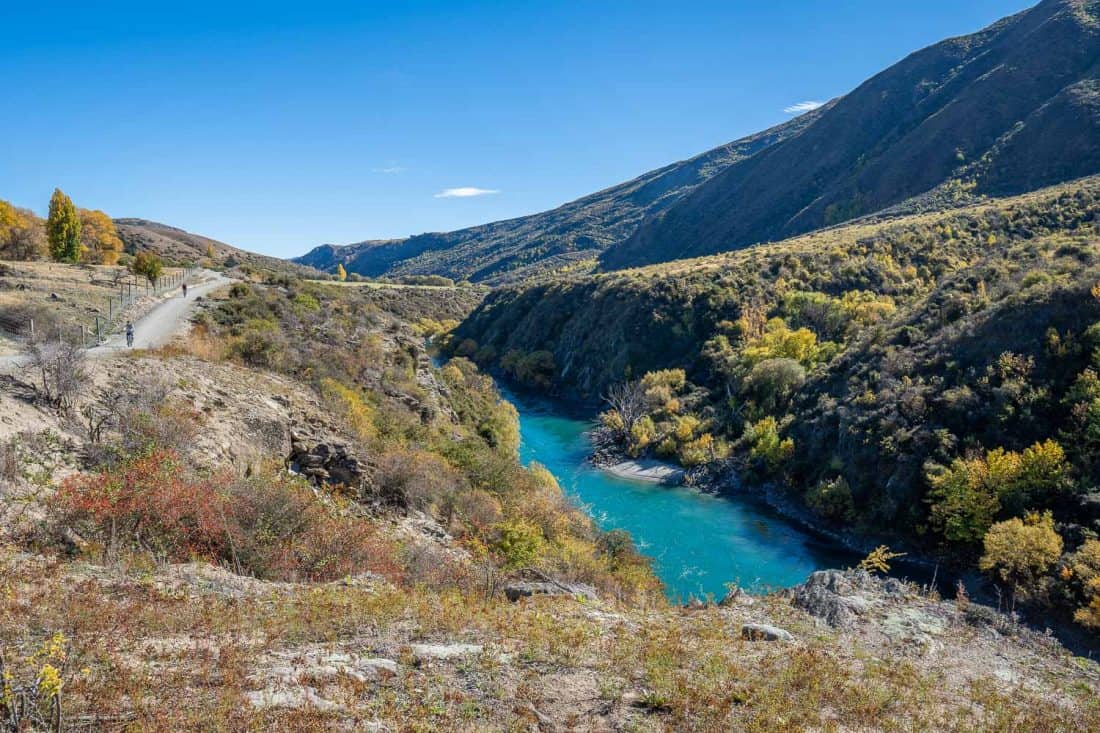 My favourite Queenstown activity is cycling from Arrowtown to the Gibbston Valley wineries. Not only is this a fantastic car-free way to sample the superb Central Otago pinot noir, but the scenery is spectacular.
You can cycle at any time of year but autumn was especially glorious. We rode through golden forest, across suspension bridges, alongside the turquoise Kawarau River, and past terraced vineyards beneath craggy mountains.
E-bikes made the 23km ride (approximately two hours of cycling) easy, and our rental company picked us up at the last winery (just as well as Mt Rosa gave us 10 wines to try!). If you don't want to cycle the whole way, they can drop you nearer the wineries.
Our favourite cellar doors are Kinross (also great for lunch), Peregrine, Brennan, and Mt Rosa.
On a later trip, we also spent the night at one of the Kinross Cottages overlooking the vineyards, which I highly recommend.
Read our detailed guide to the Gibbston Valley wineries for everything you need to know.
Details: We hired e-bikes from Going Blue ($149) who picked us up from our accommodation in Queenstown, dropped us in Arrowtown and collected us from a winery of our choice later in the day (just text them one hour before you are ready). The service was excellent and they had the latest bikes. Check availability here.
If you don't want to cycle, check out this half-day wine tasting tour to four cellar doors with a knowledgeable guide. Alternatively, join an affordable hop on hop off winery bus tour.
3) Walk or Paddleboard at Moke Lake
Moke Lake is a small but stunning lake that feels far away from it all despite being only a 20-minute drive from Queenstown. It's surrounded by mountains that are reflected in the water on calm days.
One of my favourite things to do in Queenstown is standup paddleboard on Moke Lake—it's so peaceful. The lake is also a great spot to picnic or swim (in summer) and there's a beautiful, easy 6km trail around the lake (it took us 1 hour 15 minutes walking briskly).
The DOC campsite here would be a lovely place to stay. If you want more luxury, Glam Camping Queenstown has a few stylish glamping tents and geodome that are on my list for next time.
Details: Moke Lake is a 20-minute drive from Queenstown. The last section is a narrow gravel road that can be challenging if you meet cars coming in the other direction. I only recommend it for confident drivers. It's 4WD only in winter and spring.
If you don't have a paddleboard, this Moke Lake Experience includes kayak or paddleboard rental and transport from Queenstown.
4) Fly to Milford Sound for Incredible Views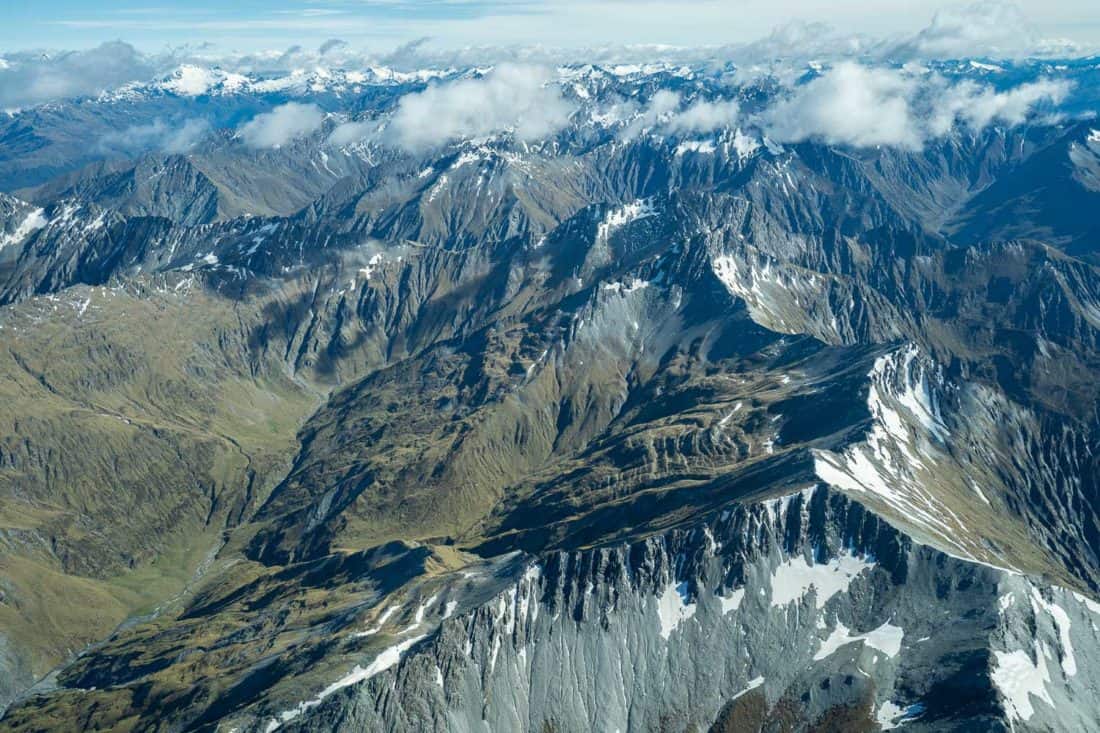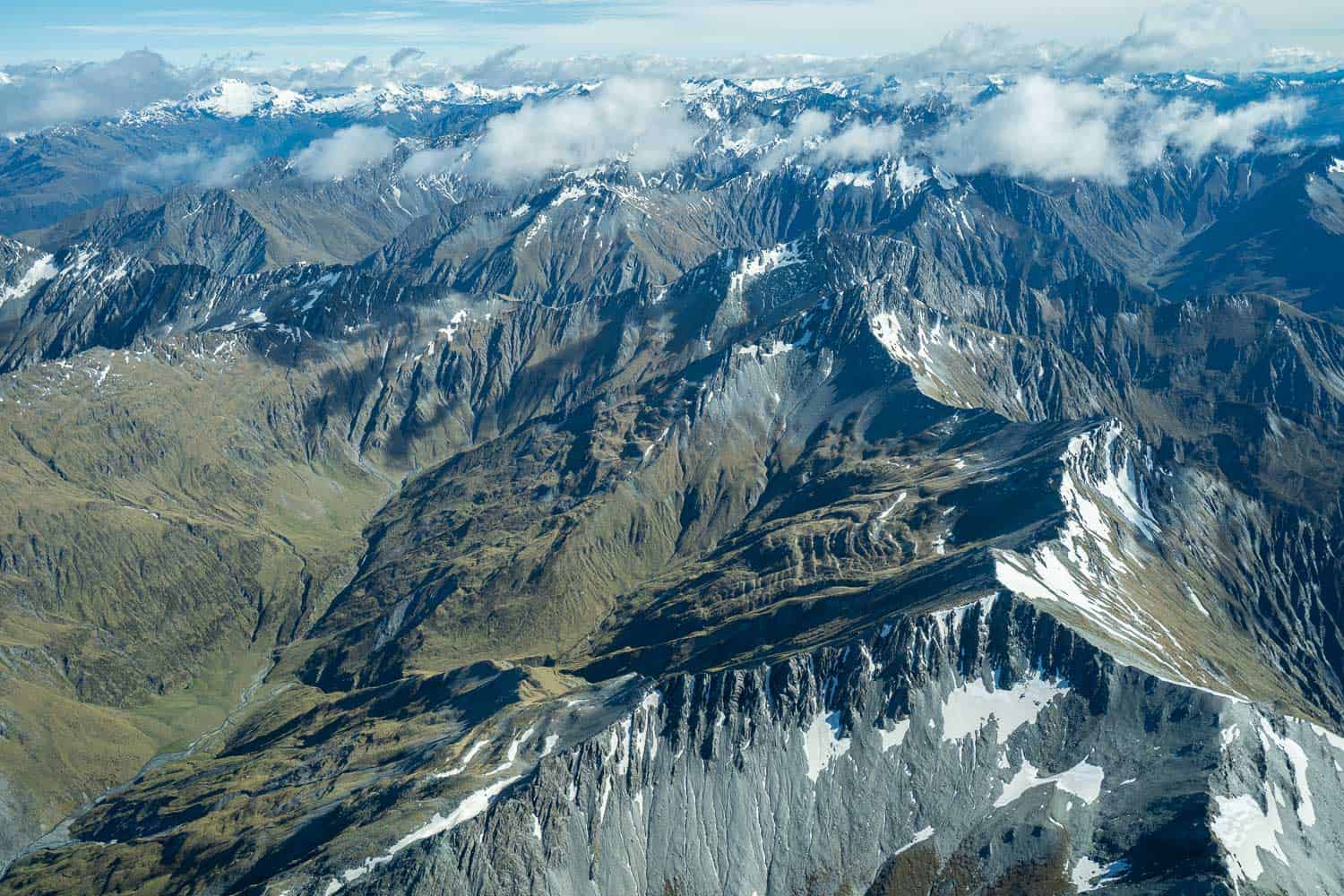 Cruising Milford Sound is a Queenstown must do for many visitors, despite being a five-hour drive away. This glacier-carved fjord with its soaring peaks and dramatic waterfalls is one of the most beautiful places in New Zealand.
We didn't fancy spending all day on a Milford bus tour, so we flew on a small plane to Milford Sound instead, and it was well worth the splurge. The flight was just as spectacular as the boat cruise through Milford Sound and the whole trip only took five hours.
In just half a day we experienced dramatic mountain ranges, snowy peaks, turquoise glacial lakes, braided rivers, lush farmland, dense native forest, gushing waterfalls, and even dolphins and seals. It is one of our top experiences in New Zealand.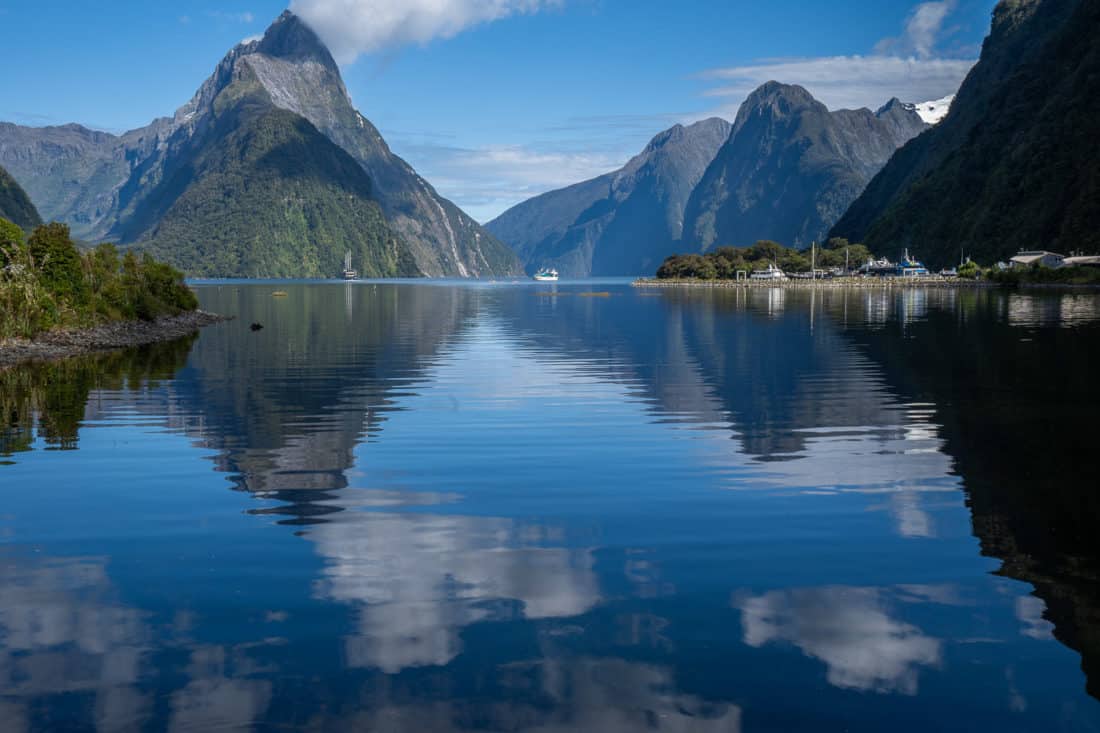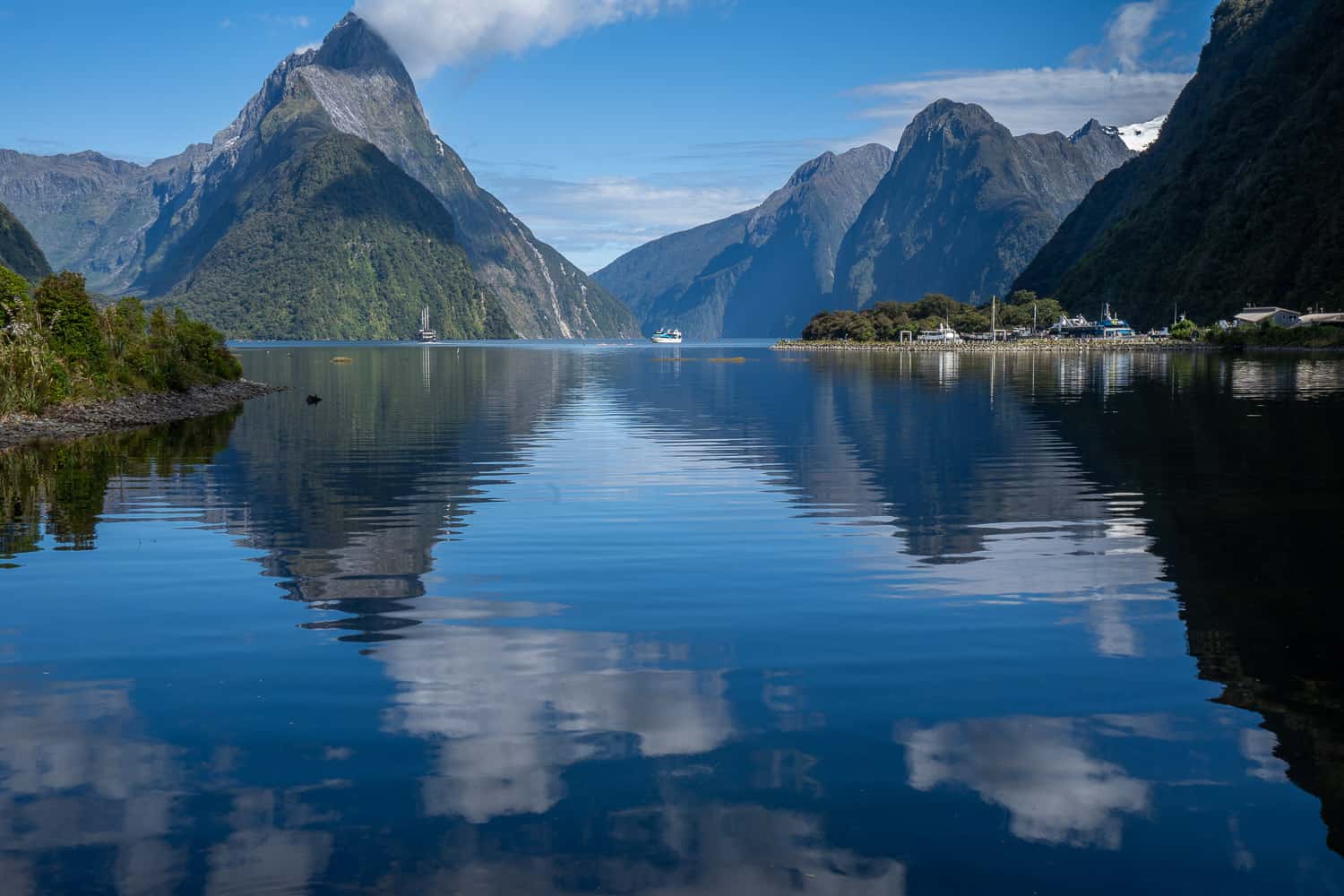 See our post about flying from Queenstown to Milford Sound for more details and photos.
If you want to explore Queenstown from above but can't afford the Milford trip, check out this short helicopter ride which includes an alpine landing.
Our guide to the top things to do in the South Island has more suggestions.
Details: We did the Milford Sound Flight and Cruise trip with Air Milford which currently costs $449. It includes a 35-minute scenic flight on a small plane, a two-hour cruise through Milford Sound, and the flight back on a different route for more incredible views.
I recommend taking a morning flight to avoid the bus tours that arrive in Milford around midday. Book here for early in your trip as flights can be cancelled due to the weather.
5) Chill Out on a Lake Wakatipu Beach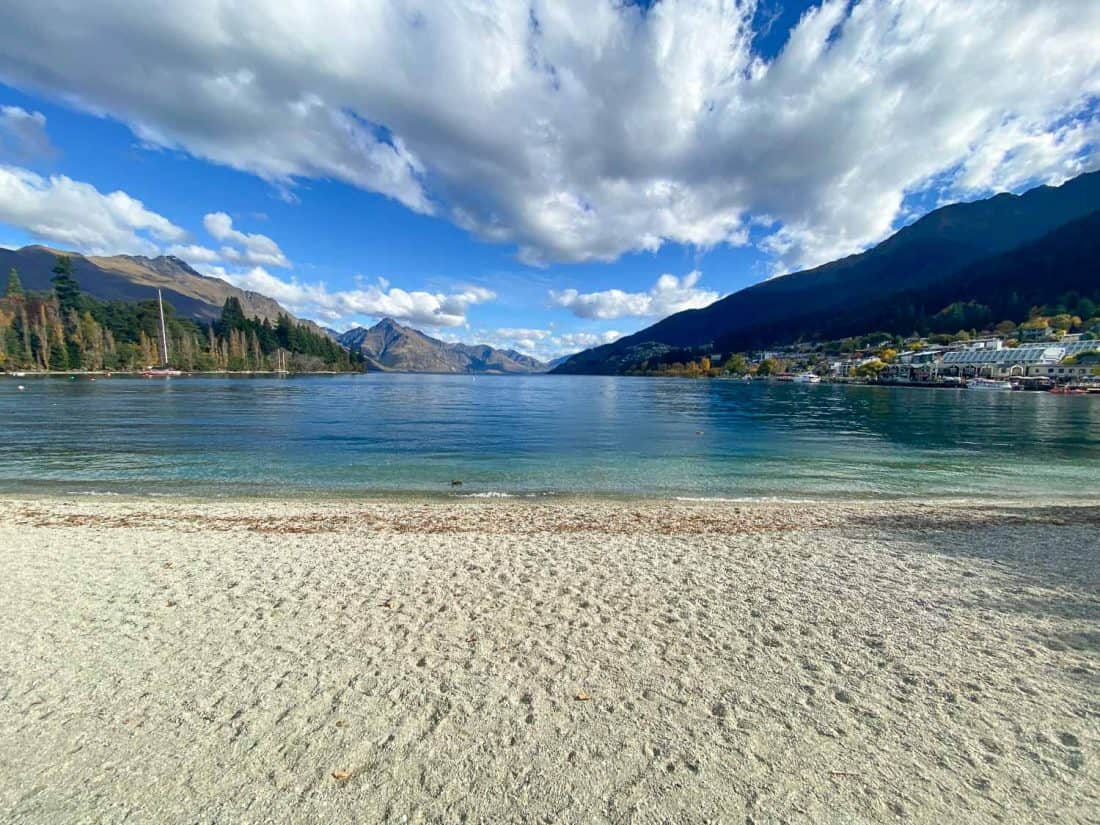 One of the best things to do in Queenstown in summer, when the temperature can reach 30ºC, is to relax on one of the many beaches on Lake Wakatipu.
At 80km long, Lake Wakatipu is the third largest lake in New Zealand, and there are plenty of beaches to choose from.
Queenstown Bay Beach, right in the centre of town, has a beautiful view of Cecil and Walter Peaks, but it's packed in summer. It has the advantage of being next to Patagonia for delicious gelato and you can rent kayaks and paddleboards here.
A short walk from town, you'll find St Omer Park, where lawns and weeping willow trees overlook the long pebbly beach. It's stunning in autumn when the trees turn golden. In summer I swam here while staying at the nearby QT Queenstown Hotel, but it can get busy.
My favourite beach is at Sunshine Bay, located 3km outside town, which can be reached with a five-minute drive or 1.5-hour walk on the Sunshine Bay Track.
The beach is set back from the road so it feels secluded, and the trees provide plenty of shade. Even on a hot holiday weekend in summer, it wasn't too crowded.
Further along the Queenstown to Glenorchy Road, you'll find Wilson's Bay, another pretty beach, although it's closer to the road, and gorgeous Bob's Cove, reached by a 10-minute walk from the car park (see below).
I love to swim in the lake but be warned, it is cold! On calm days, standup paddleboarding is a great way to get out on the water.
Details: You can rent standup paddleboards at Queenstown Bay Beach, and the Small Planet Outdoors shop advertised inflatable paddleboards if you want to get on the water further from town (recommended as the main beach is busy with boats).
6) Discover the Scenic Viewpoint on Bob's Cove Track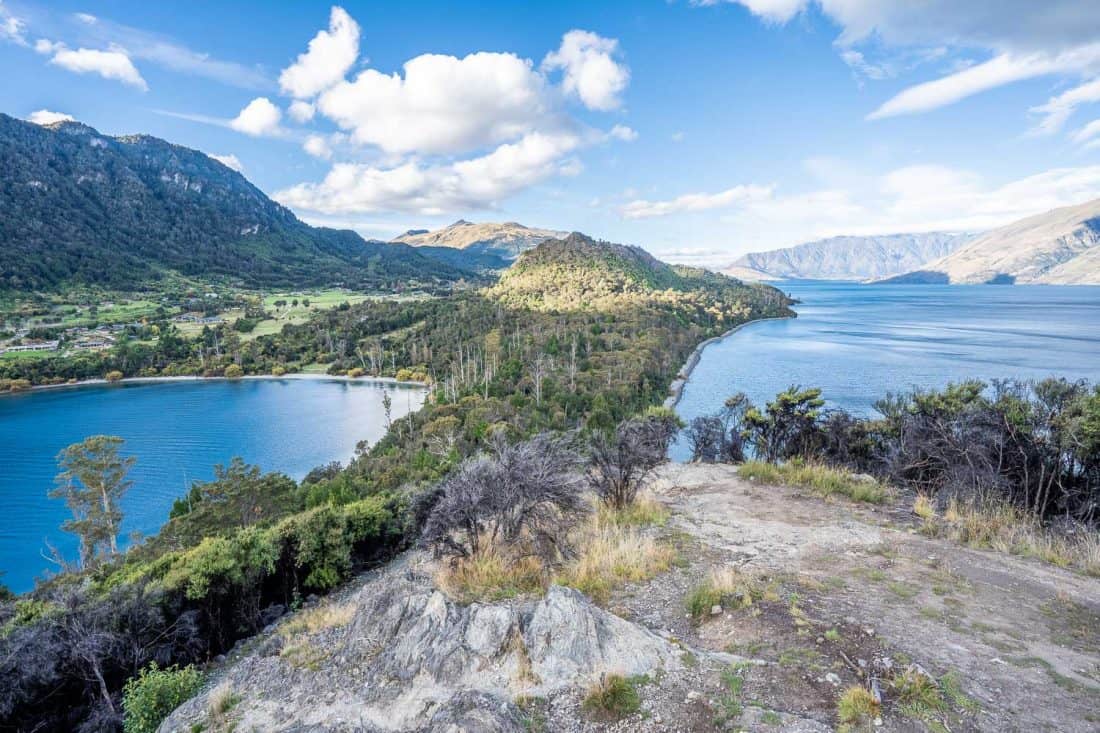 Bob's Cove is one of the best places to visit in Queenstown for a short walk with an Instagrammable view. It has a beautiful beach and network of trails a 20-minute drive from Queenstown on the way to Glenorchy.
There are longer trails (including to Twelve Mile Delta), but our walk from the car park to the lookout and back was 3.8km and took just under an hour with 111 metres of elevation gain.
It can be a bit confusing—first follow signs to Lime Kilns and Jetty Direct (20 mins), an easy walk through native bush to the beach, jetty, and historic lime kiln from the 1800s.
After the jetty follow signs for the Picnic Point Loop (20 mins). This is the hardest part, but it only took about 10 minutes of walking uphill to reach the top.
It's worth it for a stunning view of the bay and wider expanse of Lake Wakatipu from a little peninsula that juts into the lake.
The loop continues onwards with more lovely views on the descent, but it's quite steep and can be slippery after rain—decent shoes are a good idea. At the bottom of the hill go left back to the beach for a swim or beyond to the car park.
Details: Bob's Cove Track is marked on Google Maps. Look for the DOC sign where there's a small car park.
7) Hike Up Queenstown Hill (Te Tapu-nui) for 360º Views

Queenstown Hill is called Te Tapu-nui in Maori or Mountain of Intense Sacredness. The trail up this 907m mountain is short but steep and rewards with fantastic 360º views of Queenstown, the lake and surrounding mountains. It has a high reward to effort ratio even if it will get your heart pumping.
You could walk here from the centre of town, but we saved 200 metres of elevation gain by driving to the trailhead on Belfast Terrace where there's a small carpark.
From there it was a 5.8km return hike to the summit and took us 1 hour 40 minutes (plus breaks) with 422 metres of elevation gain.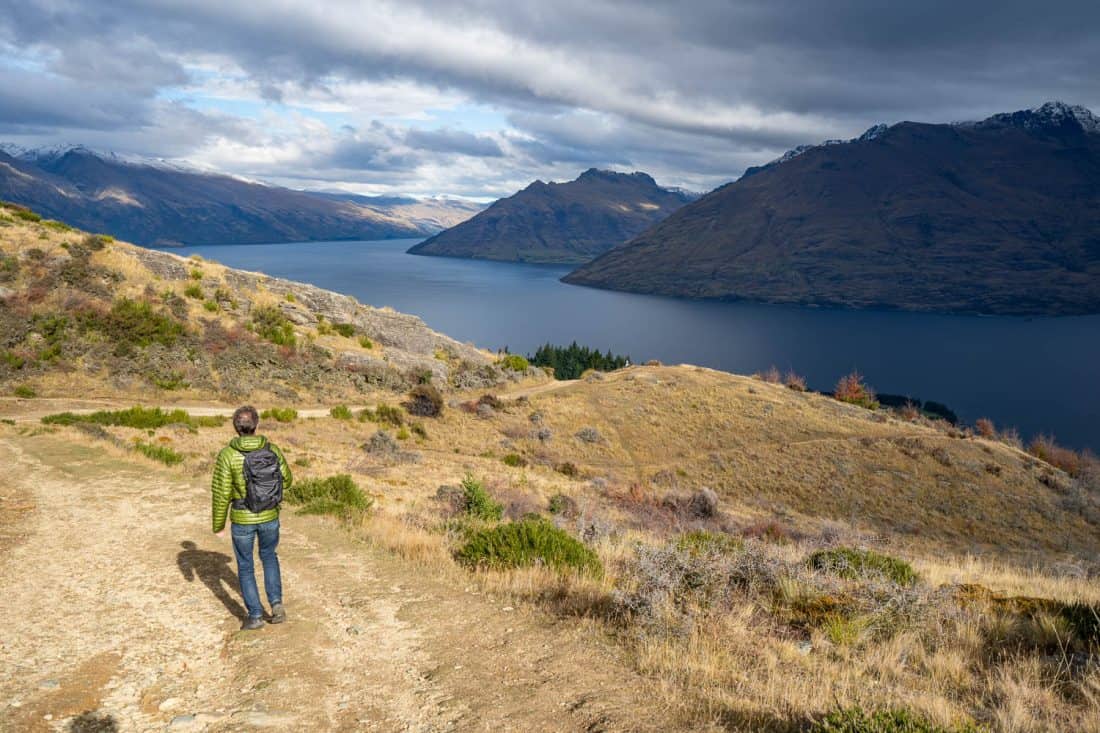 Most of the hike is through the forest—the first section is steepest but it gets a little easier as it zig zags up the hill. About halfway up the trail splits—we went left for the shorter, steeper trail and came down the slightly longer trail.
After 2km and 40 minutes of walking, we reached the Basket of Dreams sculpture, but it's well worth continuing the extra 15 minutes to the summit where the views are astounding.
You can see in all directions to the Remarkables, Cecil Peak, Ben Lomond, the gondola, airport, and Coronet Peak ski field. Even on a cloudy afternoon, it was spectacular.
The track is well-maintained, but as it's quite steep, wear shoes with good traction for the descent, especially in winter when it could be icy.
Details: The small car park on Belfast Terrace is marked Queenstown Hill Walking Track on Google Maps. If it's full, there's street parking nearby.
8) Walk Around Lake Hayes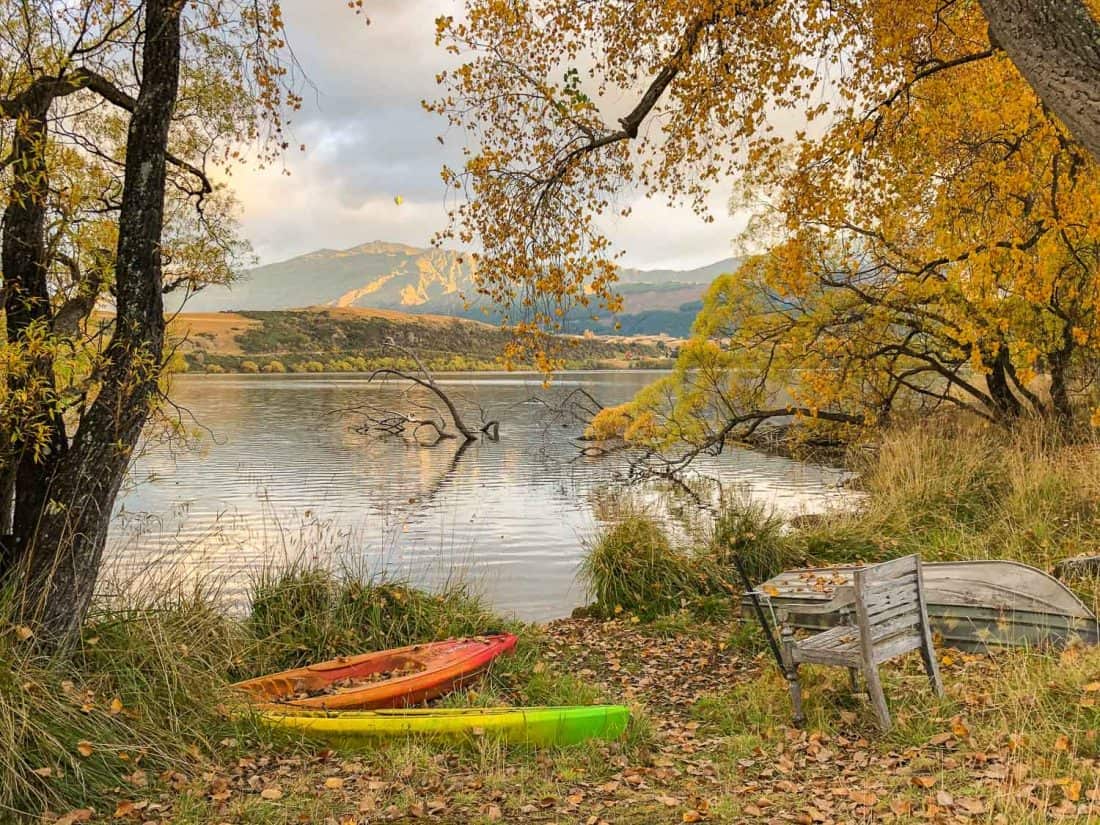 My favourite place to run near Queenstown is Lake Hayes. This lovely lake is a 15-minute drive from Queenstown on the way to Arrowtown.
The gravel Lake Hayes Walkway around the lake only has a few small hills, so it's ideal if you want an easy but rewarding walk. Officially the trail is 8km but my watch GPS said 9km—allow around two hours to walk it.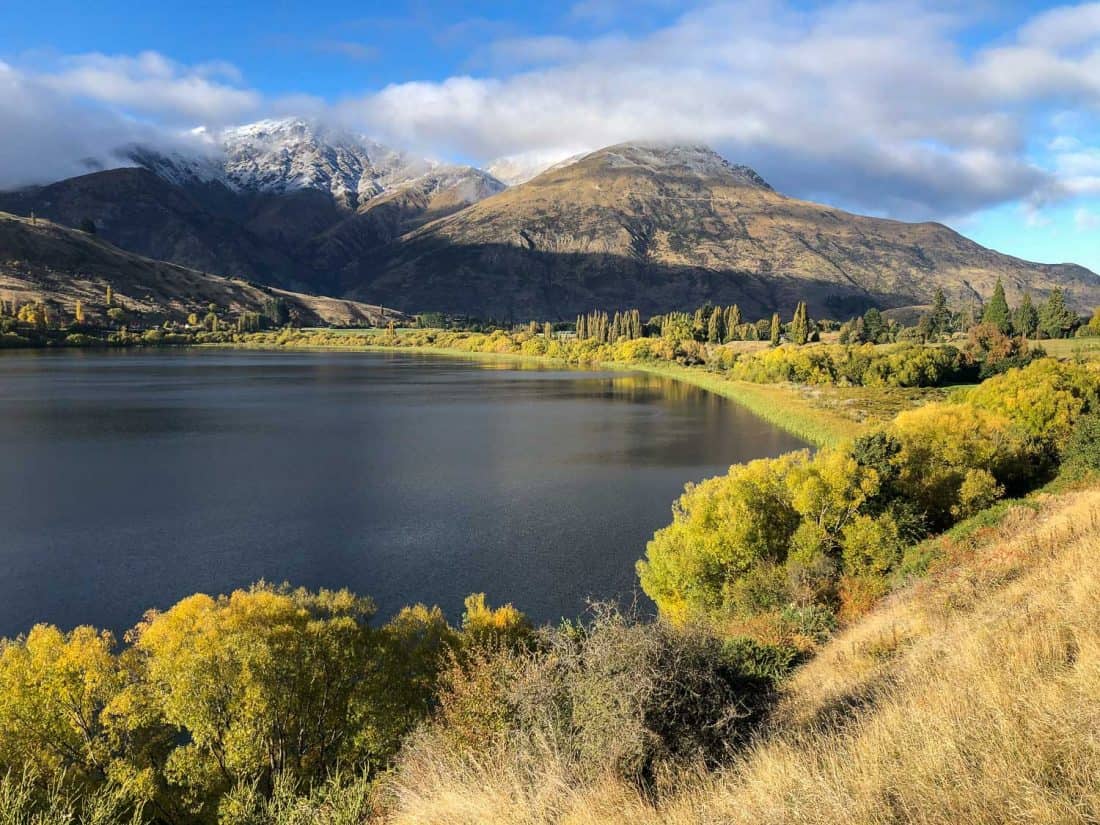 Lake Hayes is a year-round destination—in summer you can picnic and swim (the water is warmer than in Wakatipu), in autumn the foliage turns a glorious gold, and in winter and spring you can admire the surrounding mountains in all their snow-capped glory.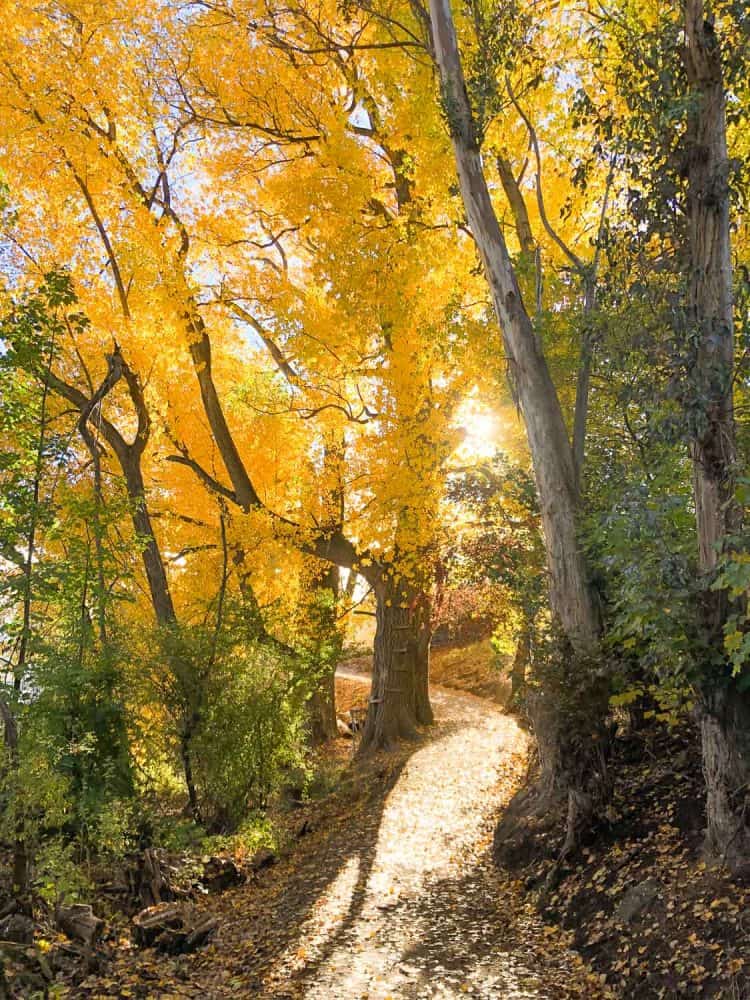 It's especially beautiful on a calm morning when the mountains are reflected in the water. I also love to paddleboard here.
I recommend combining Lake Hayes with a visit to Arrowtown and one of the nearby wineries such as Amisfield.
Details: There are a number of access points to Lake Hayes from SH6 which runs next to one side of the lake. The Lake Hayes Pavilion is the easiest place to stop if you just want a quick view from a slightly elevated position above the lake.
Slightly further on is "Lake Hayes scenic spot" on Google Maps—follow the signs for the rowing club down a short gravel road. Here there's a toilet and you can park right by the water so it's great for paddleboarding.
For the best views of the Remarkables, head to the Lake Hayes Scenic Reserve at the far end of the lake, marked "Lake Hayes Lookout" on Google Maps. There are also toilets here.
9) Wander Cute Arrowtown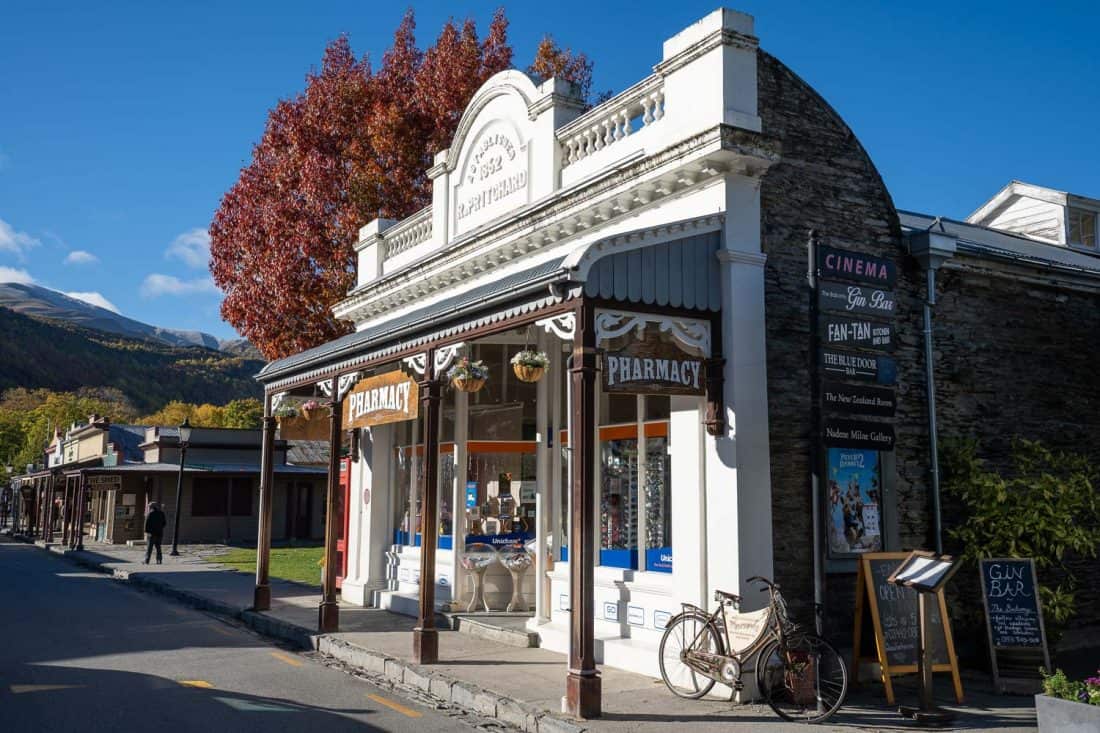 20 minutes from Queenstown is the historic gold mining village, Arrowtown. It's a charming place for a wander with many shops and cottages dating back to the Otago gold rush of 1862.
Now you'll find boutique stores, cosy cafes, the crystal clear Arrow River (where gold can still be found), and in mid to late April, a hillside glowing with oranges and reds and yellows.
Arrowtown is ideal to combine with a trip to Lake Hayes, the Gibbston Valley wineries (we cycled from here), or a bungy jump on the Kawarau River, or you could stop here on the way to Wanaka.
Our favourite places to eat in Arrowtown are:
10) Cruise the Lake on a Historic Steamship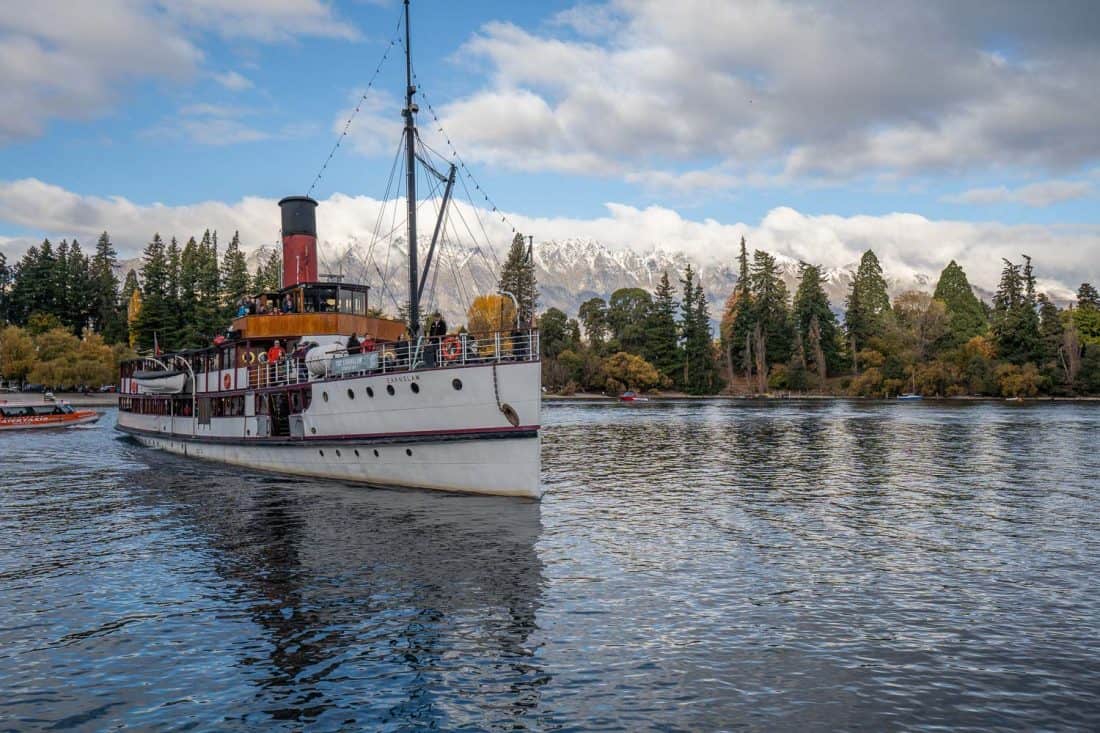 Cruising on the historic TSS Earnslaw is a relaxing way to see Lake Wakatipu and get up close to Cecil and Walter Peaks.
This coal-powered steamship dates back to 1912 (the same year the Titanic sailed) when it was used to connect the railways to the remote lakeside farms that didn't have road access at the time.
Since then it's had many famous visitors including Queen Elizabeth, Prince Phillip, and President Bill Clinton.
Now it's a popular Queenstown tourist attraction and many guests combine a cruise with a visit to Walter Peak High Country Farm where you can have a BBQ lunch or dinner, take a farm tour or go horse riding. We didn't stop at the farm but it looked like a beautiful spot.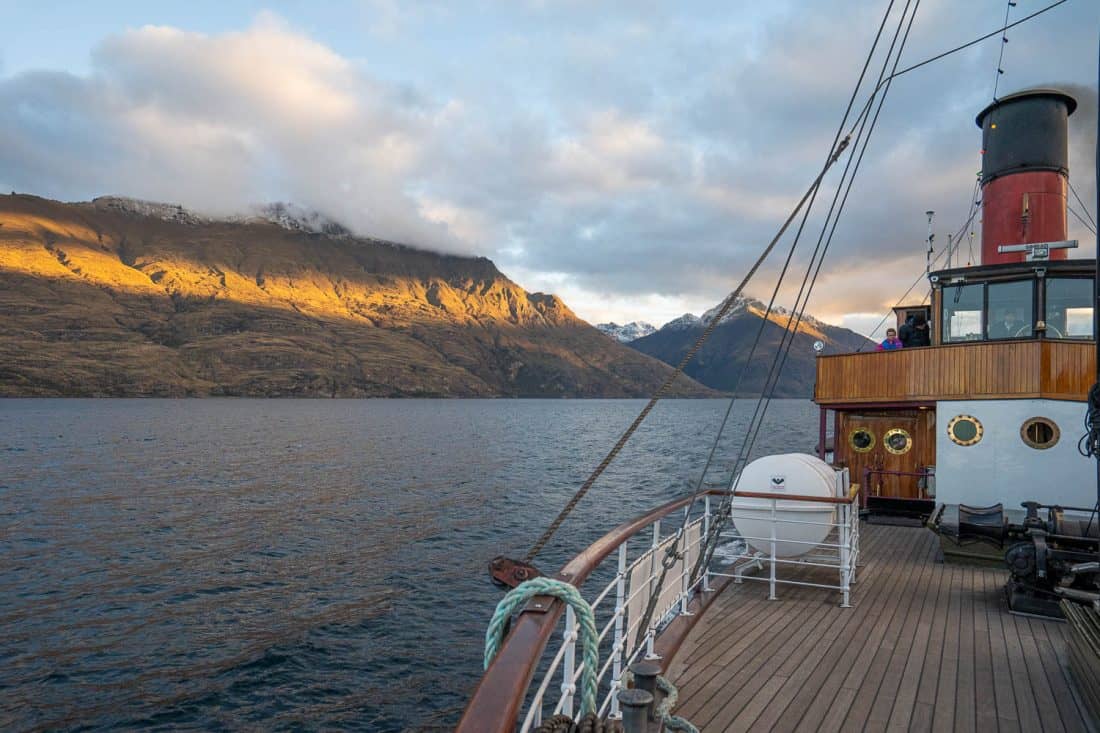 There's plenty of space for guests to spread out on the boat. When it got too cold on deck, we explored the engine room where stokers feed the fires with coal and bought a drink and cookie from the bar. We liked the saloon downstairs which is quieter than the bar area and has comfier seats.
Details: A 1.5 hour cruise on TSS Earnslaw costs $70. Book in advance here in high season. The ship departs from the Steamer Wharf in the centre of Queenstown. There are multiple sailings a day—we went a couple of hours before sunset in autumn for beautiful glowing light. It was quieter on the way out as we picked up guests at the farm.
You can also combine a cruise with a BBQ lunch or farm tour and tea at Walter Peak High Country Farm.
11) Drive to Glenorchy and Paradise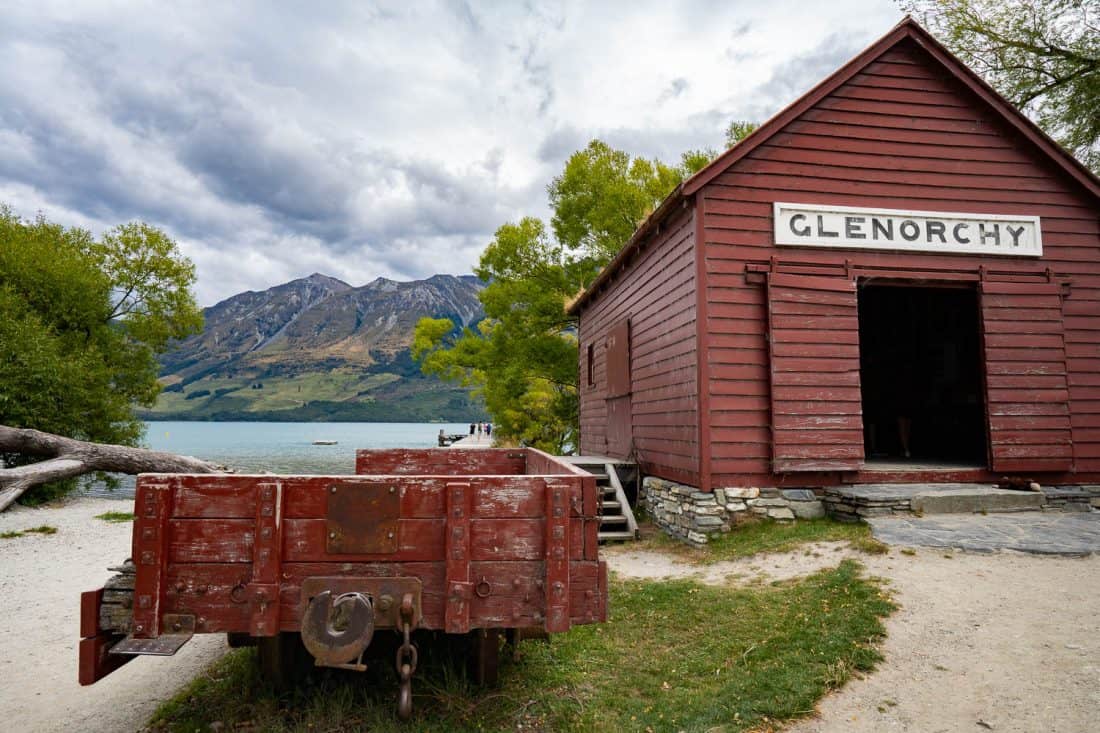 Enjoy scenic views on the 45-minute drive from Queenstown to Glenorchy, which has enough stops on the way for this to be a half or full day out.
The road winds next to the lake and you can stop at several beaches (see above) as well as walk to the stunning viewpoint at Bob's Cove. We also detoured to Moke Lake on this drive.
Glenorchy is a cute small town that feels deeper into the mountains than Queenstown. Many hikes, including the Routeburn Track, start nearby, but if you just want a relaxing stroll, the Glenorchy Walkway starts near the iconic jetty and red shed and is a flat walk through the wetlands with mountain views.
We had lunch at the excellent Mrs. Woolly's General Store, which has delicious pies (including vegetarian) and other tasty baked goods.
From Glenorchy you can drive 20 minutes further to Paradise, but part of the road is gravel and involves fording streams, so check conditions before heading out. There's not much out here, but it's very pretty and is one of the locations for the Lord of the Rings films.
Details: If you don't have your own car (or just want to enjoy the views), check out this Glenorchy & Paradise Scenic Half-Day Tour from Queenstown, which visits many Lord of the Rings filming locations.
12) Sample Local Wine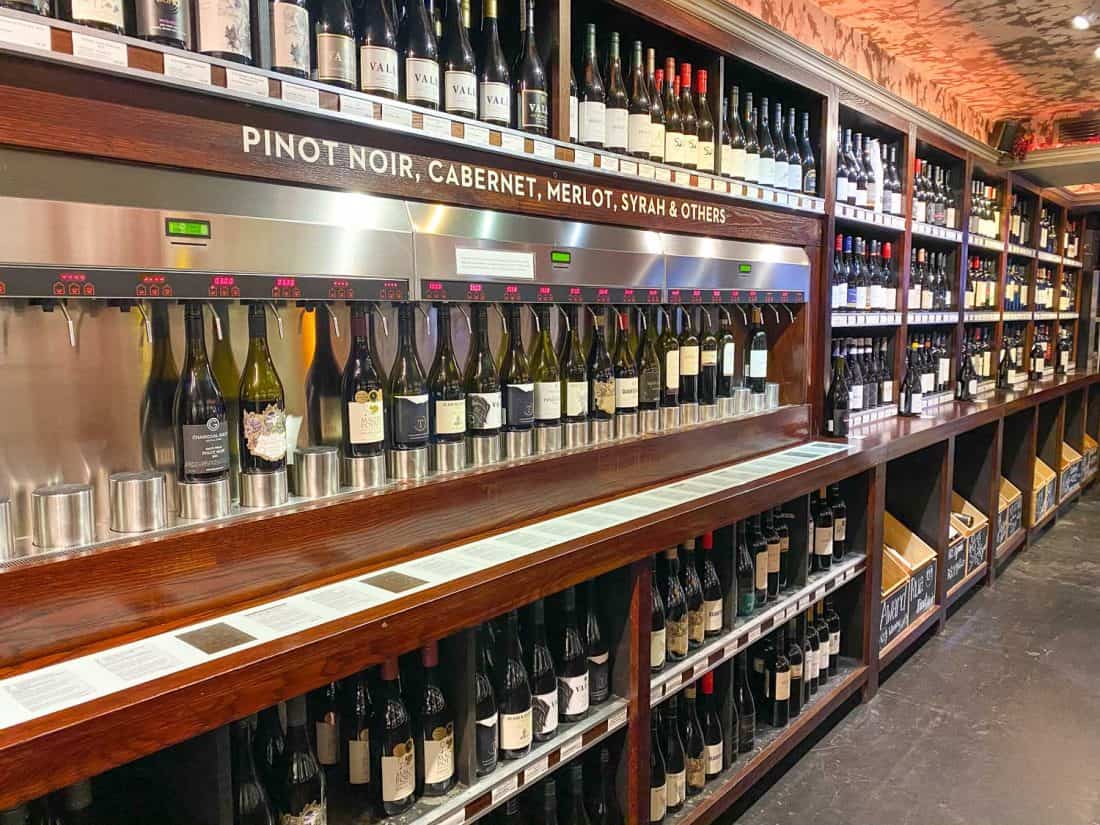 Central Otago is New Zealand's southernmost wine region and one of our favourites. The pinot noir is outstanding, although if you prefer white wine, you'll also find excellent pinot gris, chardonnay, and riesling.
I think cycling the Gibbston Valley wineries (see above) is the best way to visit cellar doors while also enjoying the stunning scenery.
But if you have limited time, the easiest way to sample multiple local wines is to visit The Winery in the centre of Queenstown (there's also a branch in Arrowtown).
It's a wine bar with a difference as you can help yourself to dozens of wines from across New Zealand. Just collect a tasting card, scan it at the bottle of your choice, and choose a size—a tasting, half or full glass.
It's a fun way to compare many different wines, although it's easy to get carried away. Don't miss their cheese plates to accompany your tasting.
If you'd prefer to visit a cellar door, the nearest to Queenstown are at Lake Hayes. We enjoyed our tastings at upmarket Amisfield ($15 for your choice of five wines and no charge if you buy a bottle) and down-to-earth Wet Jacket Wines ($5 for four wines and no charge if you buy).
I've also heard good things about nearby Akarua, which has a popular restaurant.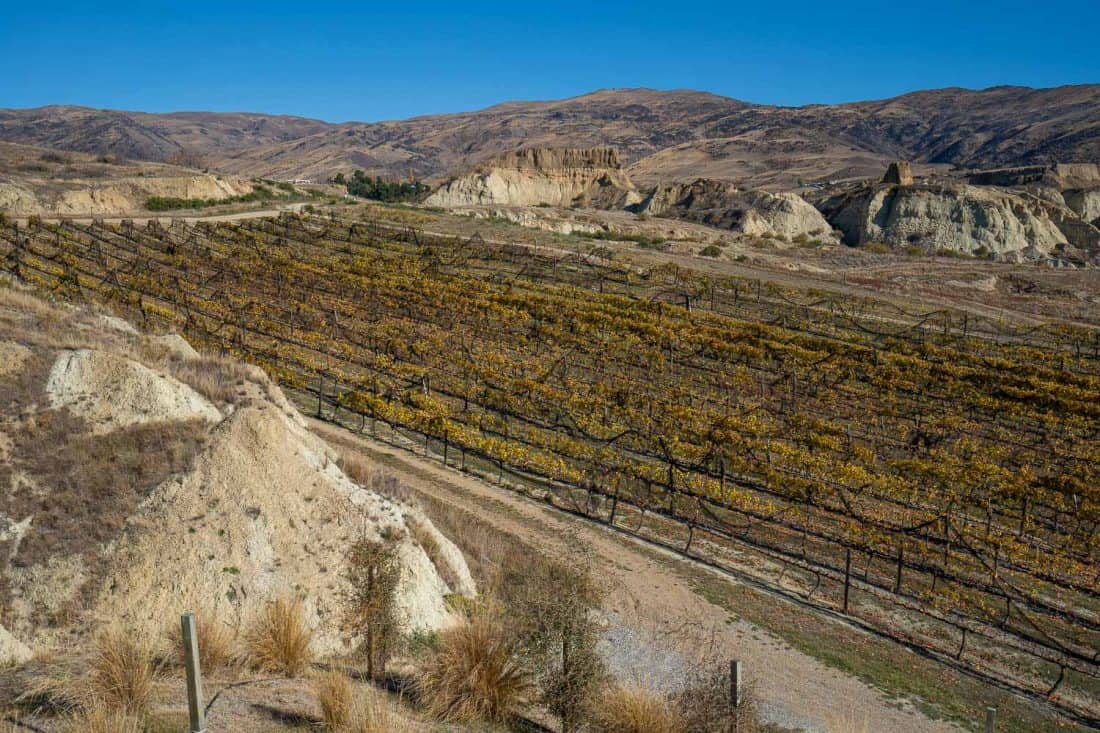 My favourite winery for lunch is Mt Difficulty which is further afield (50 minutes from Queenstown) in the Bannockburn sub-region where it's warmer and drier. On the way to Wanaka we stopped for lunch on their terrace overlooking the rugged landscape and vines turning golden in autumn.
Simon loves their chardonnay and I'm slightly obsessed with the Mt Difficulty Bannockburn Pinot Noir—you can order the 2012 by the glass and it's superb.
Also worth visiting nearby is the Cromwell Historic Precinct, a pretty collection of historic buildings overlooking Lake Dunstan. We cycled the spectacular Lake Dunstan Cycle Trail from here to Clyde.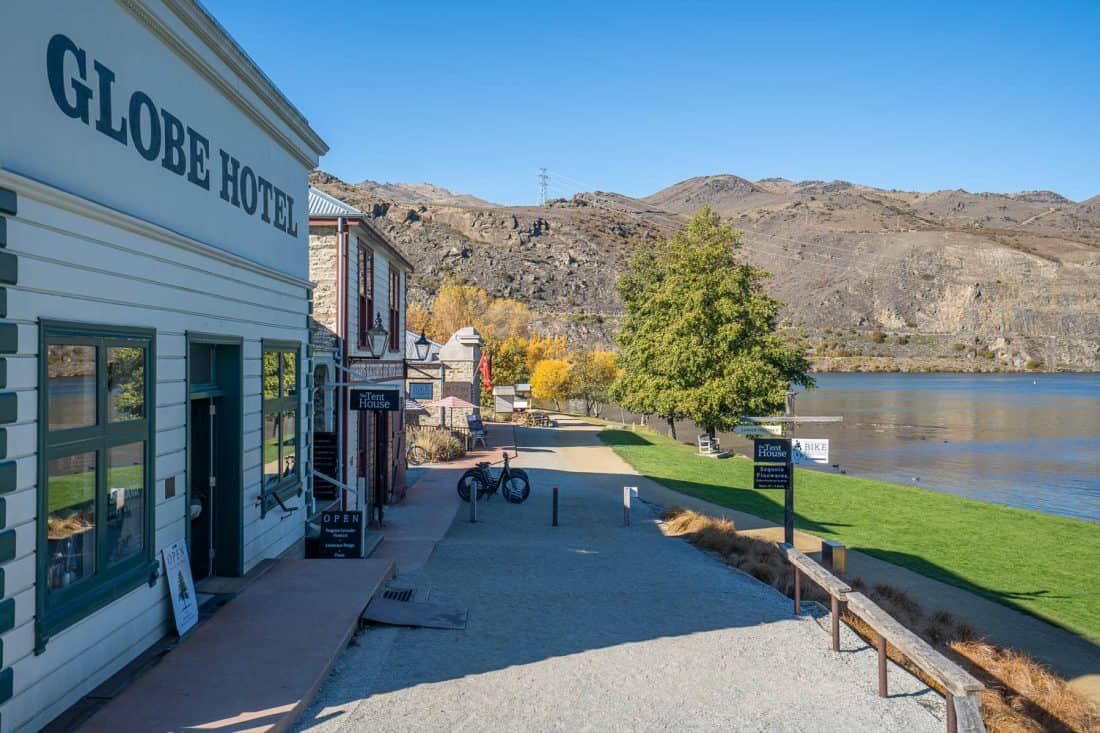 13) Ride the Queenstown Gondola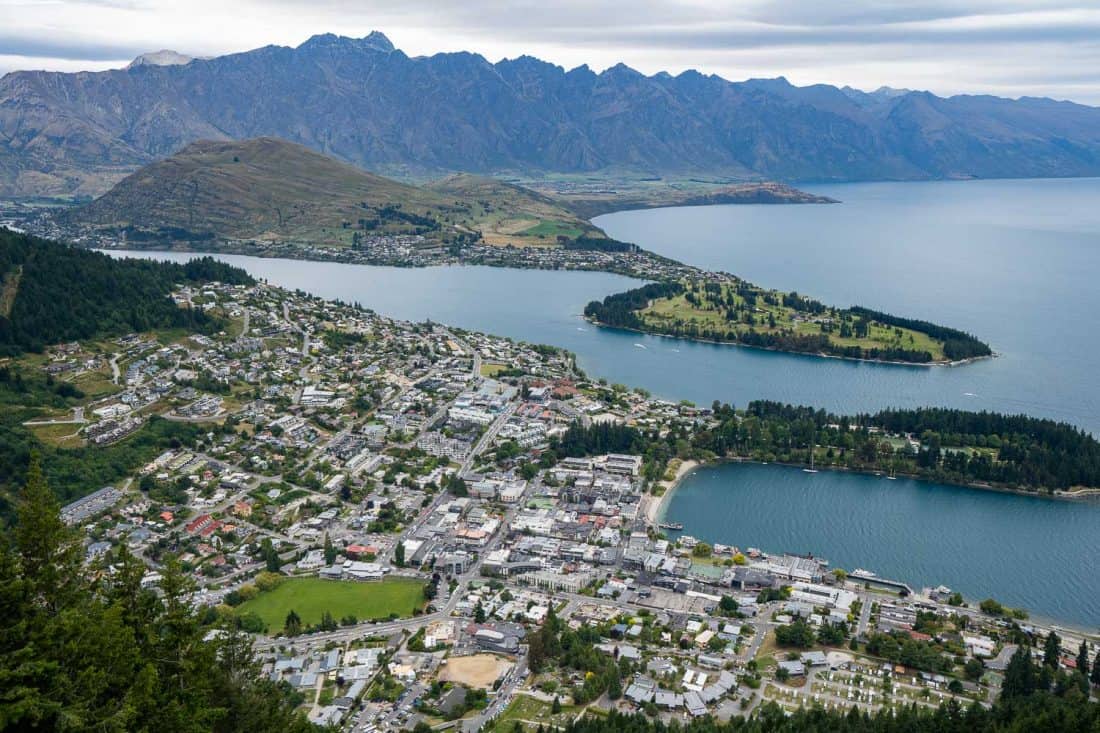 The easiest way to see Queenstown from above is to ride the Queenstown Gondola up 450 metres to the top of Bob's Peak where you can enjoy views of Coronet Peak, The Remarkables, and Walter and Cecil Peaks.
At the top you can also do a bungy jump, ride the luge, or follow the challenging hiking trail up Ben Lomond.
We enjoyed relaxing with drinks and tapas at the bar up here, but I think the view is better from Queenstown Hill and it's a more peaceful experience.
Details: The Skyline Queenstown Gondola costs $44 and is located near the centre of Queenstown at the top of Brecon Street. There's free street parking but it can be a pain to find a space at busy times.
14) Stroll in Queenstown Gardens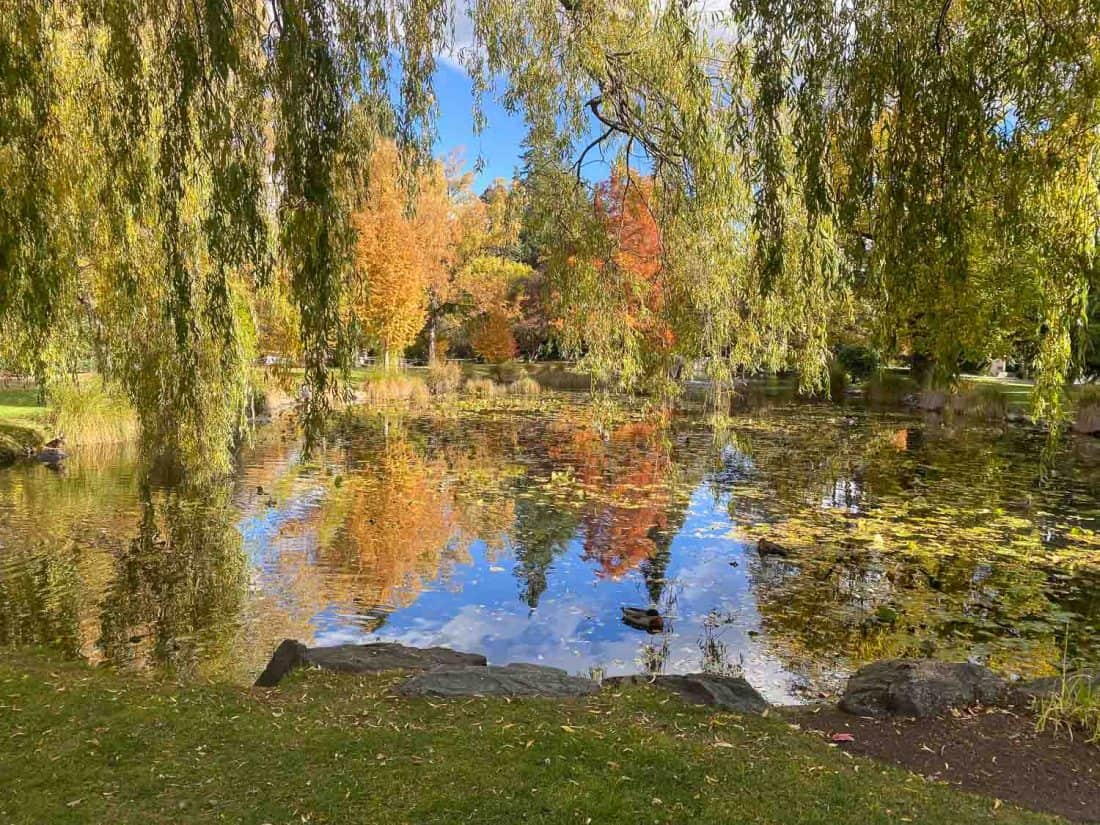 If you are looking for a leisurely stroll in the centre of town, head to Queenstown Gardens on a small peninsula jutting into the lake. The loop around the edge of the gardens has lovely lake views and took us about 30 minutes. The autumn colours are at their best in mid-April.
You can also find an 18 basket disc golf course (rent frisbees at the Ice Arena), an ice skating rink in winter, and a kid's playground.
15) Ride Horses in Cardrona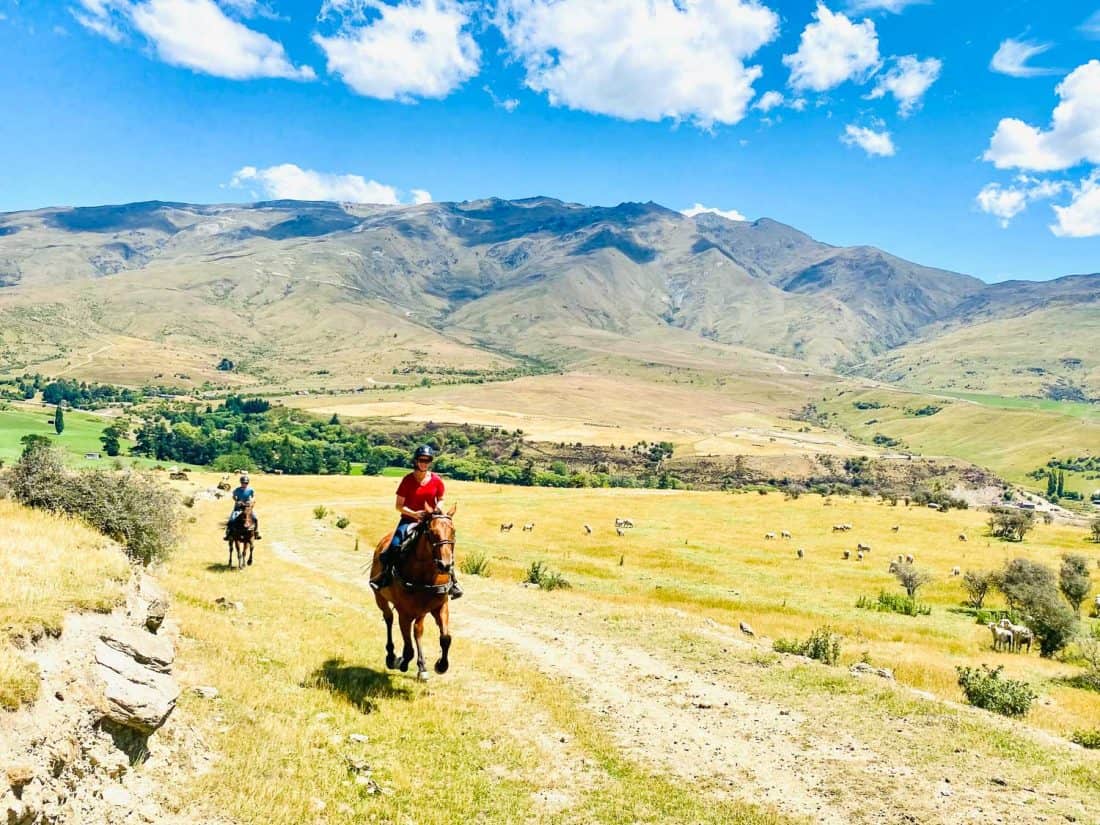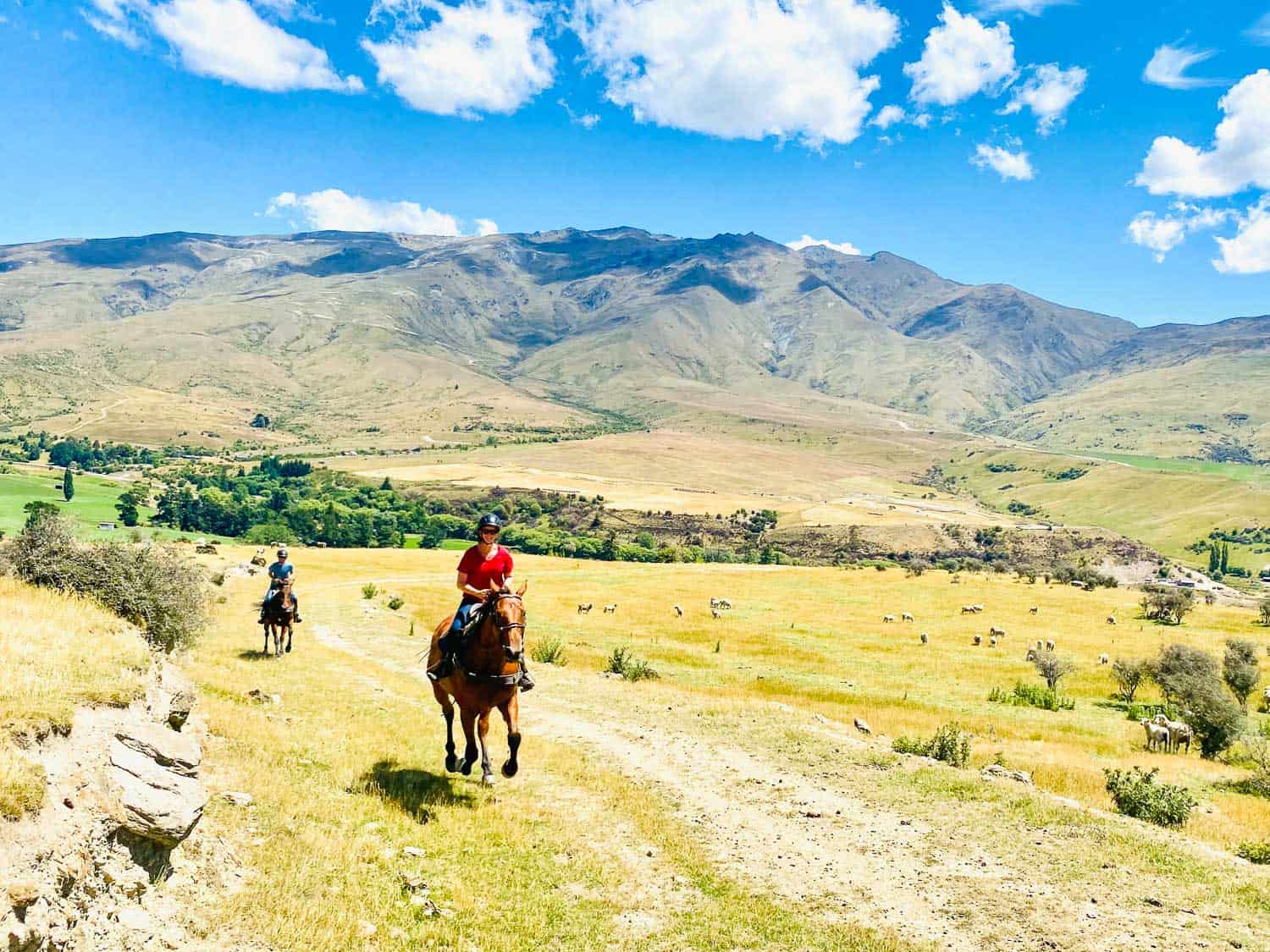 Cardrona is a historic village up in the mountains that still has buildings dating back to the gold rush era of the 1860s.
One of the best ways to learn about the area's history and enjoy the spectacular scenery is on horseback. Our ride was fast and fun as we crossed rivers and cantered along narrow mountain trails. We even hitched our horses outside the pub for a well-earned drink.
This would be a great activity to combine with a Wanaka visit—see our picks for the best things to do in Wanaka.
Details: The Cardrona Horse Trekking is about 45 minutes from Queenstown on the winding Crown Range Road (check conditions in winter). We did the 3-hour afternoon High Country Pub Trail ride which costs $259 including a drink at the pub. No riding experience is necessary. Check here for availability.
16) Jet Boat on the Shotover River
Jet boats are uniquely New Zealand boats that can skim across shallow water at an astonishing speed.
While jet boating might be considered more adventure than relaxation, I'm including it here because it's a fun Queenstown activity that doesn't take much effort.
One of the best places to ride a jet boat is at the Shotover Canyon near Queenstown. The boat spins its way down the turquoise river getting scarily close to the edge of the canyon. It's an exhilarating experience.
Details: A 25-minute jet boat ride on the Shotover Jet costs $129 including transport from Queenstown (it's a 10-minute drive). If you'd prefer a longer jet boat trip, I've heard good things about the Dart River jet boat near Glenorchy.
17) Eat!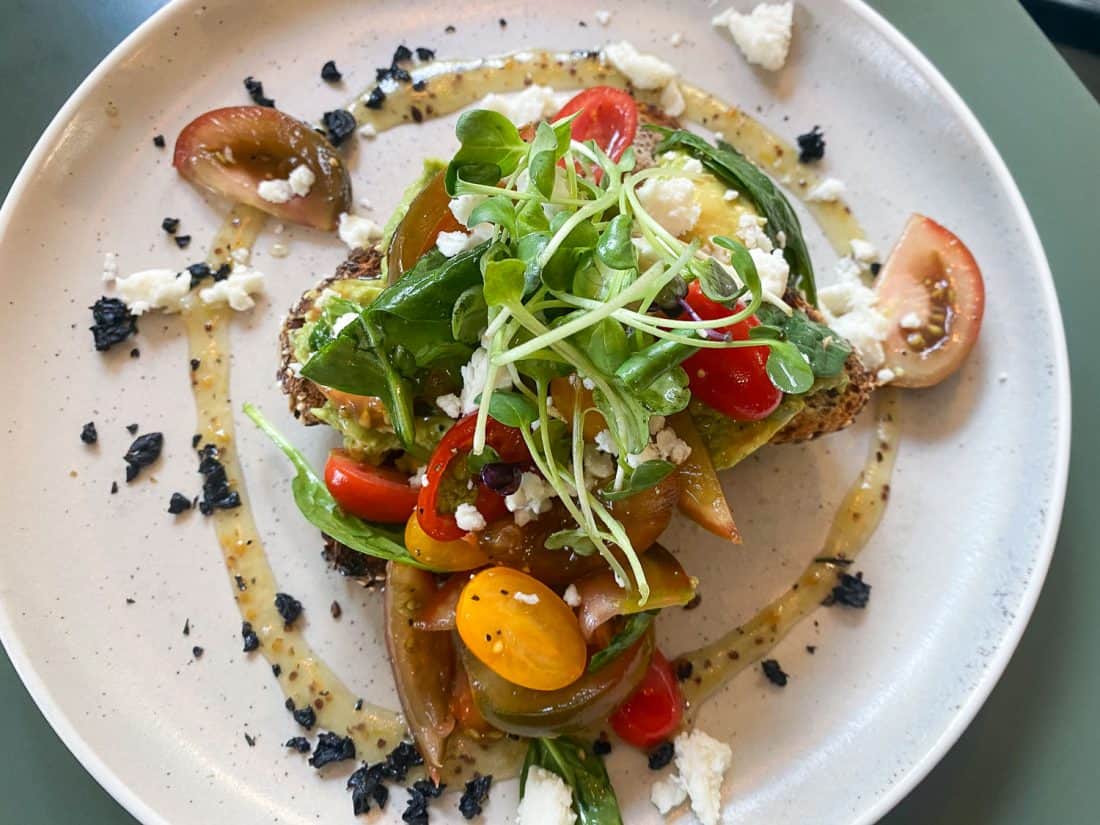 An important part of a relaxing Queenstown trip is enjoying some delicious meals. Here are our favourite restaurants in Queenstown:
Queenstown Accommodation
QT Queenstown Hotel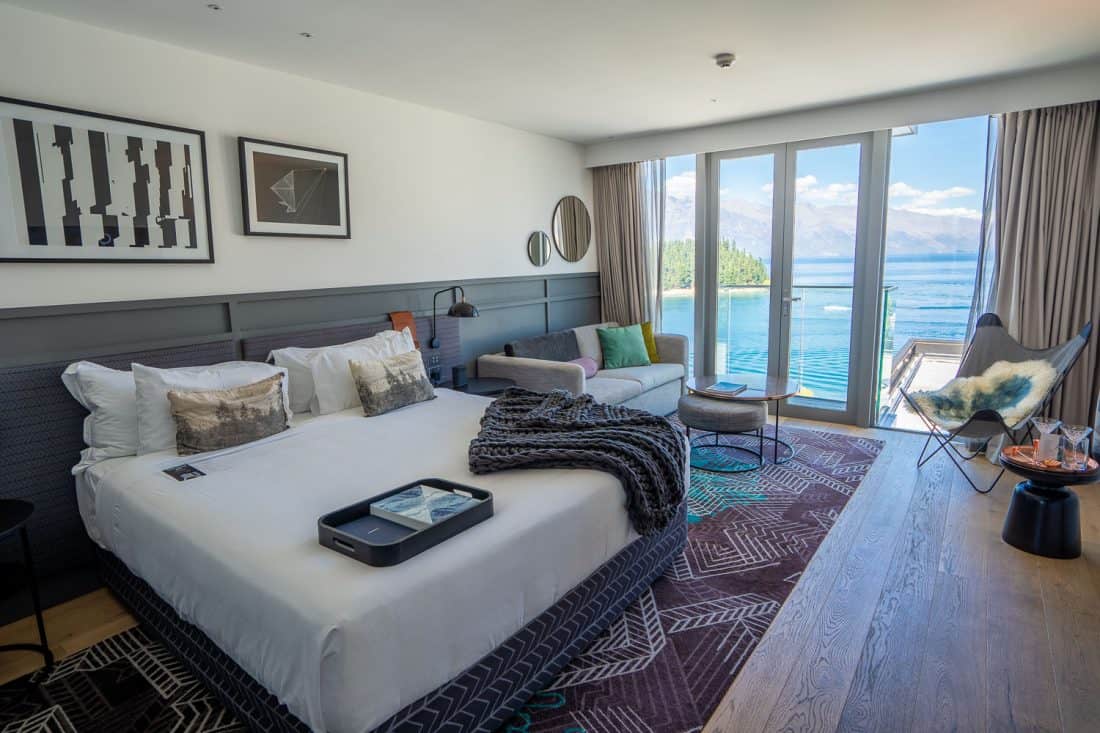 Our favourite place to stay in Queenstown is the QT Queenstown. This stylish boutique hotel is just a short walk from town but away from the hustle and bustle near a quieter beach.
Our lake view room was well worth the upgrade with stunning views of the lake and mountains (it's just a shame the car park is in the foreground).
The spacious room had a comfortable bed and couch and nice touches like a Nespresso machine, mini bar stocked with local products, and everything you need to make your own gin martinis.
I also found room service really good and loved enjoying a smoothie bowl in bed in the morning.
Check prices of QT Queenstown here.
Search for more hotels in Queenstown here.
Holiday Rentals
We've also rented houses just outside the centre a few times. There's a huge amount of choice and this is a good option for longer stays or if you're travelling with a group.
Search on Vrbo/ Book a Bach for holiday rentals here.
How to Get to Queenstown
Queenstown has an international airport with direct flights from Auckland, Wellington and Christchurch as well as Australia. The airport is in Frankton, a 15-minute drive from central Queenstown.
There are daily buses to Queenstown from Wanaka, Dunedin, Invercargill and Christchurch.
Although, as always in New Zealand, it's best to have your own vehicle for the most freedom to explore, Queenstown is one of the easiest places to manage without a car. Many of the Queenstown attractions above are in walking distance of the centre or offer complimentary shuttles.
There's also a local bus service to Fernhill, Frankton, Lake Hayes, and Arrowtown.
Map of the Best Queenstown Activities
I hope this blog post has helped you decide what to do in Queenstown without having to jump off any bridges. Let me know if you have any questions below!
More New Zealand Posts
South Island
North Island
If you enjoyed this post, pin for later!