This page contains affiliate links. Please read our disclosure for more info.
Taking a scenic flight from Queenstown to Milford Sound was our biggest splurge in New Zealand, but we didn't regret it for a minute.
Milford Sound is one of the highlights of the country with waterfalls and soaring peaks in a glacier-carved valley.
Accommodation is limited at this remote fjord in the southwest of the South Island, so most people visit on a day trip from Queenstown. We couldn't face 10 hours on a bus, so we decided to fly instead.
We're so glad we did as the flight to Milford Sound was just as spectacular as the cruise through Milford Sound, so it was a two-for-one experience—and the whole trip only took five hours.
In just half a day we saw the best of what New Zealand has to offer—rugged mountain ranges, snowy peaks, turquoise glacial lakes, braided rivers, lush farmland, dense native forest, gushing waterfalls, and even dolphins and seals.
We think flying is the best way to travel from Queenstown to Milford Sound if you have limited time and some cash to spare.
Contents
Queenstown to Milford Sound Flight
We chose a morning flight with Air Milford and our adventure started with a pick-up from our accommodation in Queenstown for the short drive to the airport.
After a briefing with our pilot, we were taken to our plane—a 13-seat Cessna Caravan with two seats on one side and one on the other.
It was a bit cramped in our two-seater, especially trying to manoeuvre to take photos, but after takeoff we forgot any discomfort.
The views from the air were astounding.
First we flew over huge Lake Wakatipu, on Queenstown's doorstep, past patchworks of lush farmland and the rugged green mountains that surround the lake.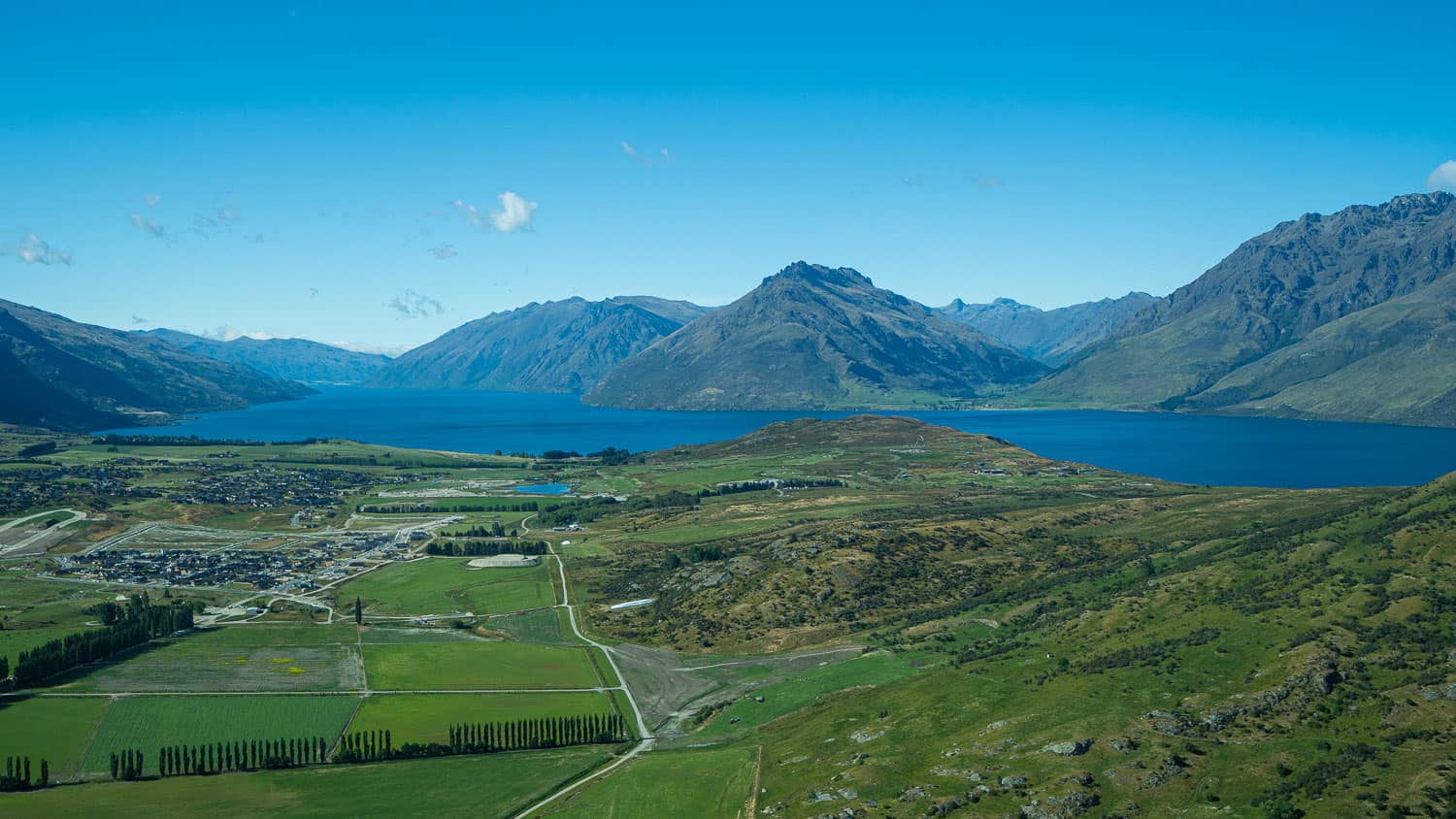 In minutes we were in another world entirely. We couldn't believe how close we flew to the Southern Alps, at first a chiselled grey and soon covered in snow, even in summer.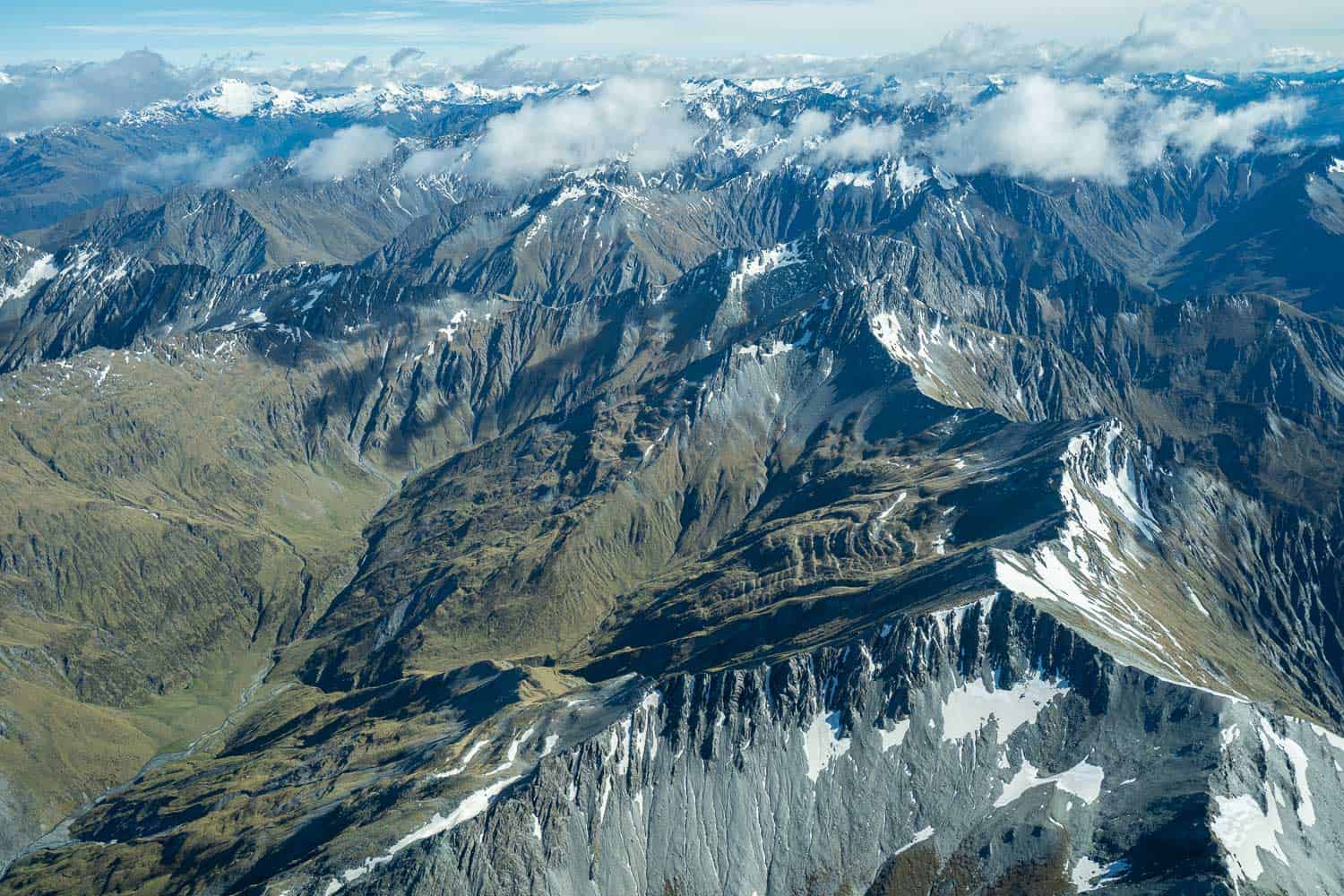 The landscape changed again as we flew over Paradise, one of the locations where The Lord of the Rings trilogy was filmed. Flat green farmland was surrounded by towering emerald peaks and crisscrossed with the surreal white and blue swirls of the wide braided river.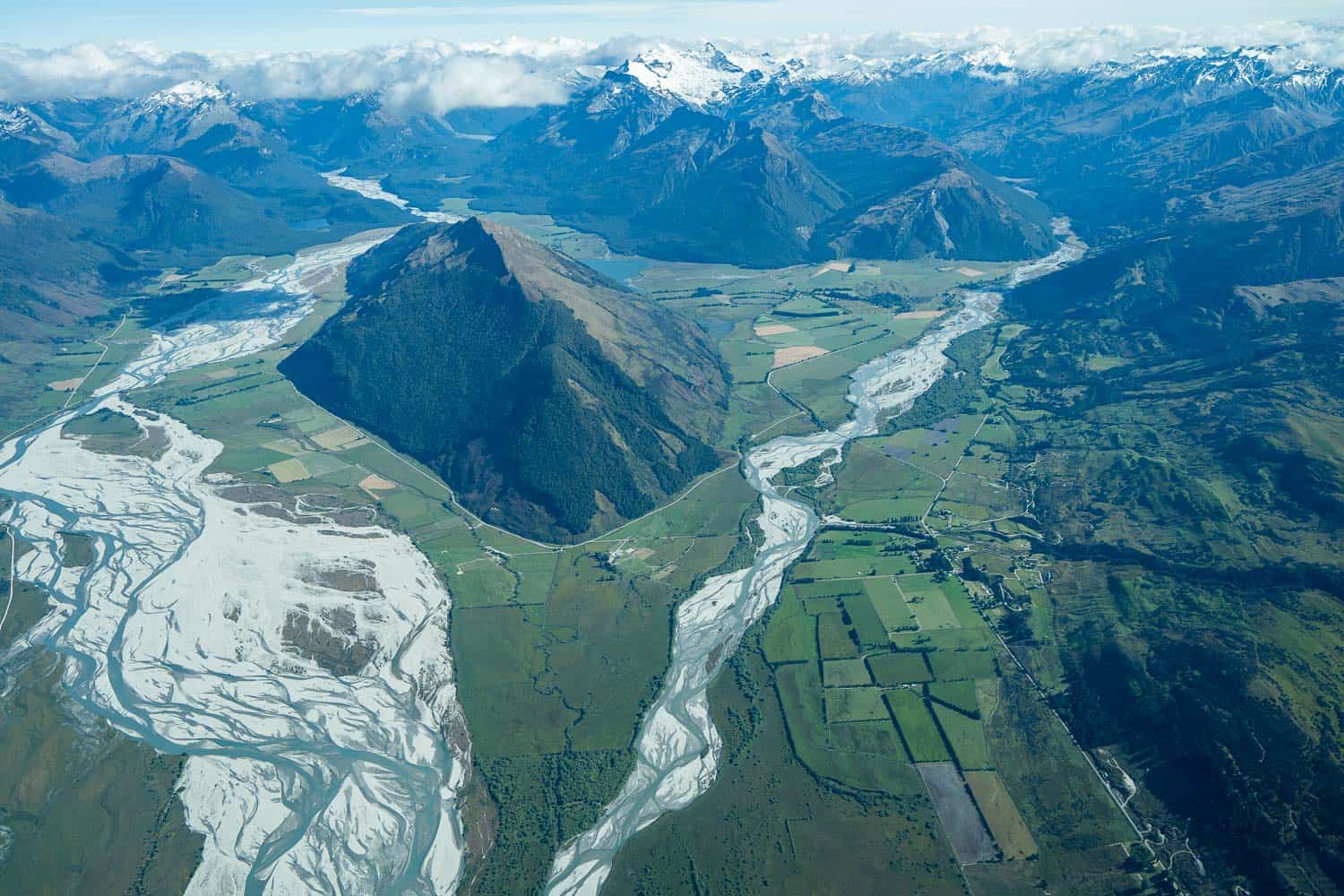 Back over the mountains we returned to the snow and passed turquoise glacial lakes hidden in the peaks. The clouds came in and we were immersed in the Alpine world as we bumped along in our tiny plane.
Fiordland National Park, where Milford Sound is located, is one of the wettest places in New Zealand. As we approached we noticed the change from the drier brown peaks near Queenstown to the much lusher mountains where every surface was covered in dense rainforest.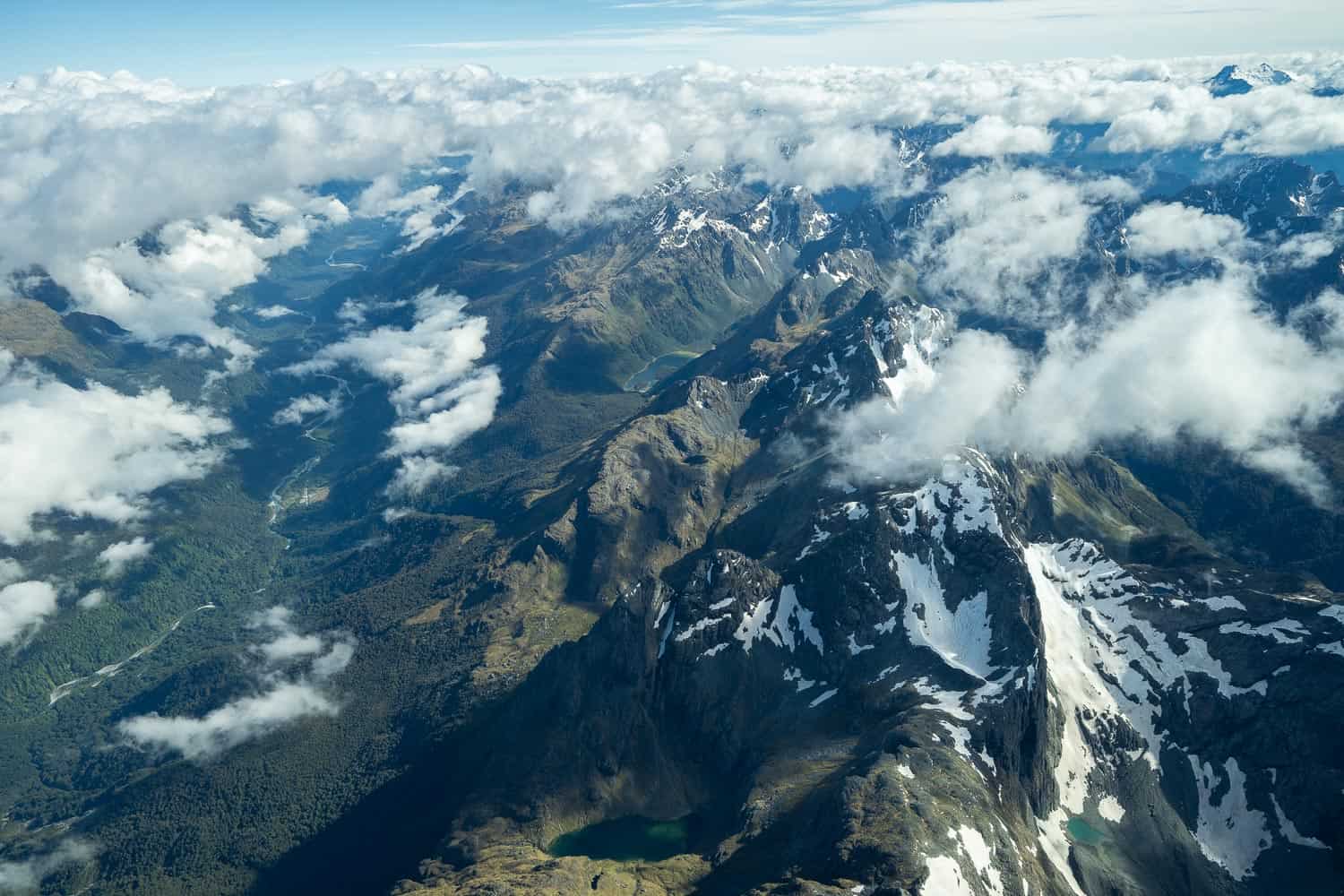 The forest-covered mountains reached to the sea and the wild green coastline was truly stunning and unspoilt with no roads in sight.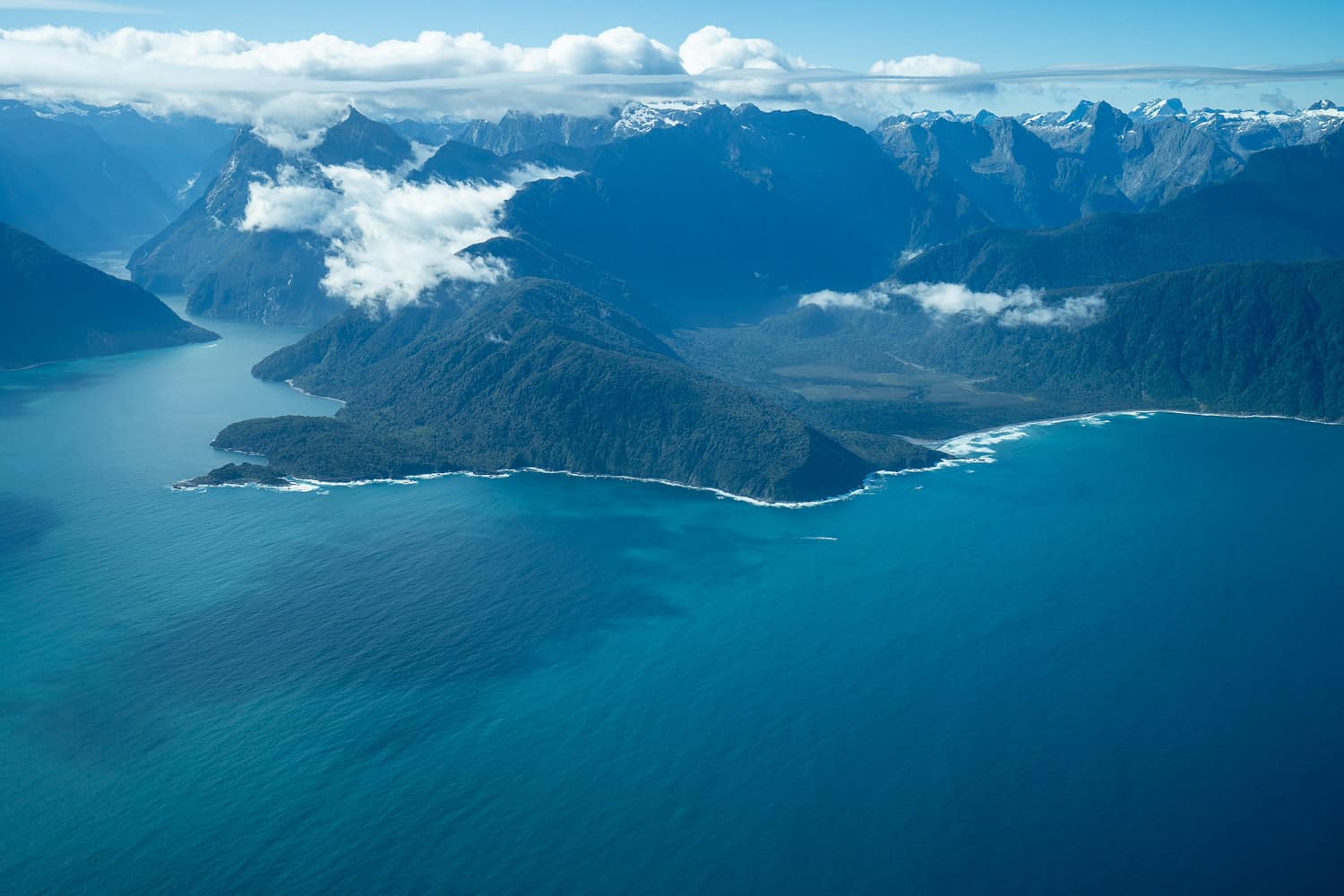 Finally we reached Milford Sound—which was misnamed as it's actually a fjord formed by glacial action rather than a sound created by a river—and flew into the valley just above the cliffs that plunge into the emerald water.
Our 35-minute flight was over too quickly, but we still had the main reason people come to Milford Sound to look forward to—a cruise down the fjord.
The great thing about this trip is that it combines two of the best things to do in Queenstown—a scenic flight and a Milford cruise.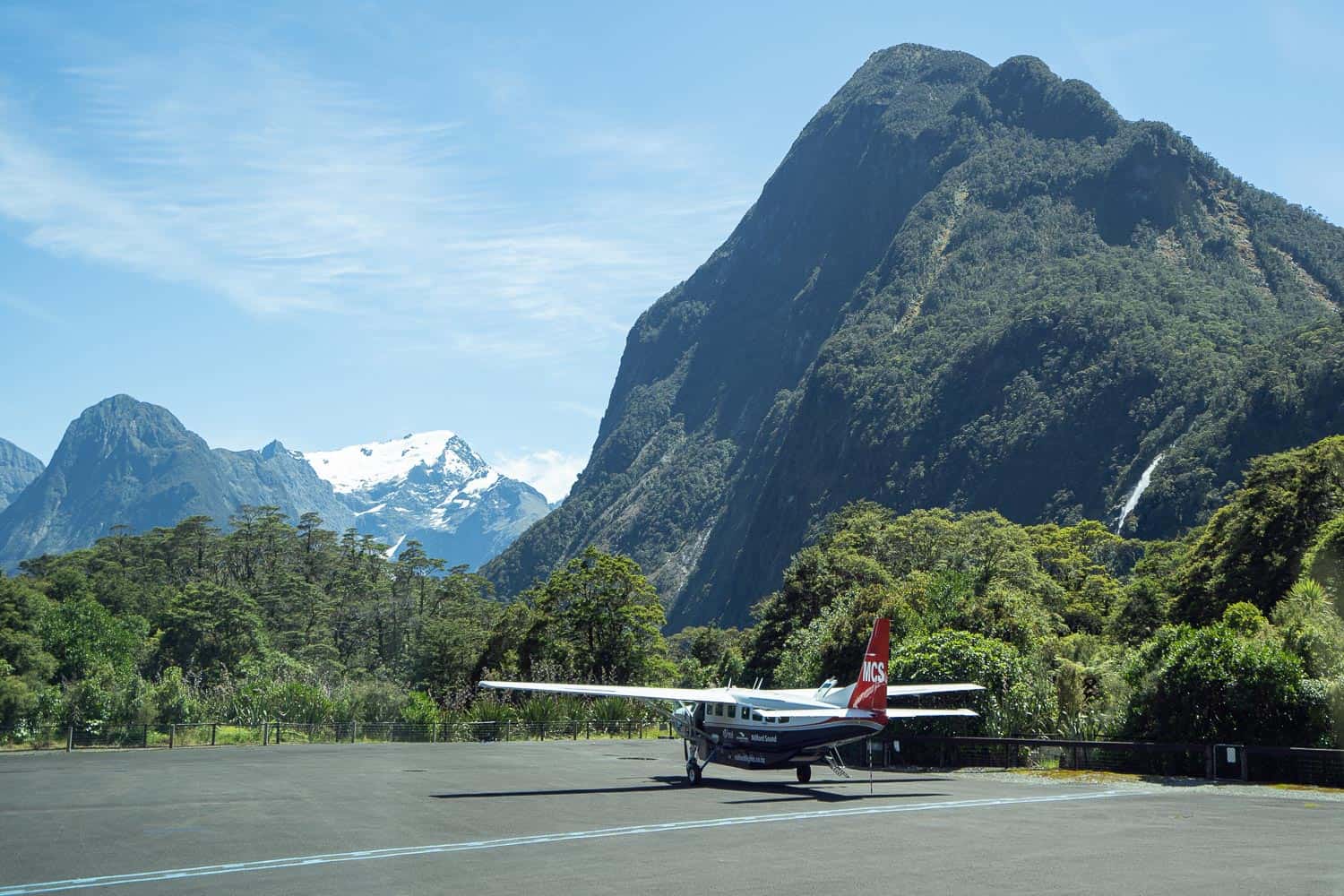 We opted for a 15-minute stroll from the "airport" (more like a parking lot) to the boat dock and fell in love with the area immediately. We were lucky with bright blue skies and a still morning sea that allowed us to see the iconic triangular form of Mitre Peak reflected in the water.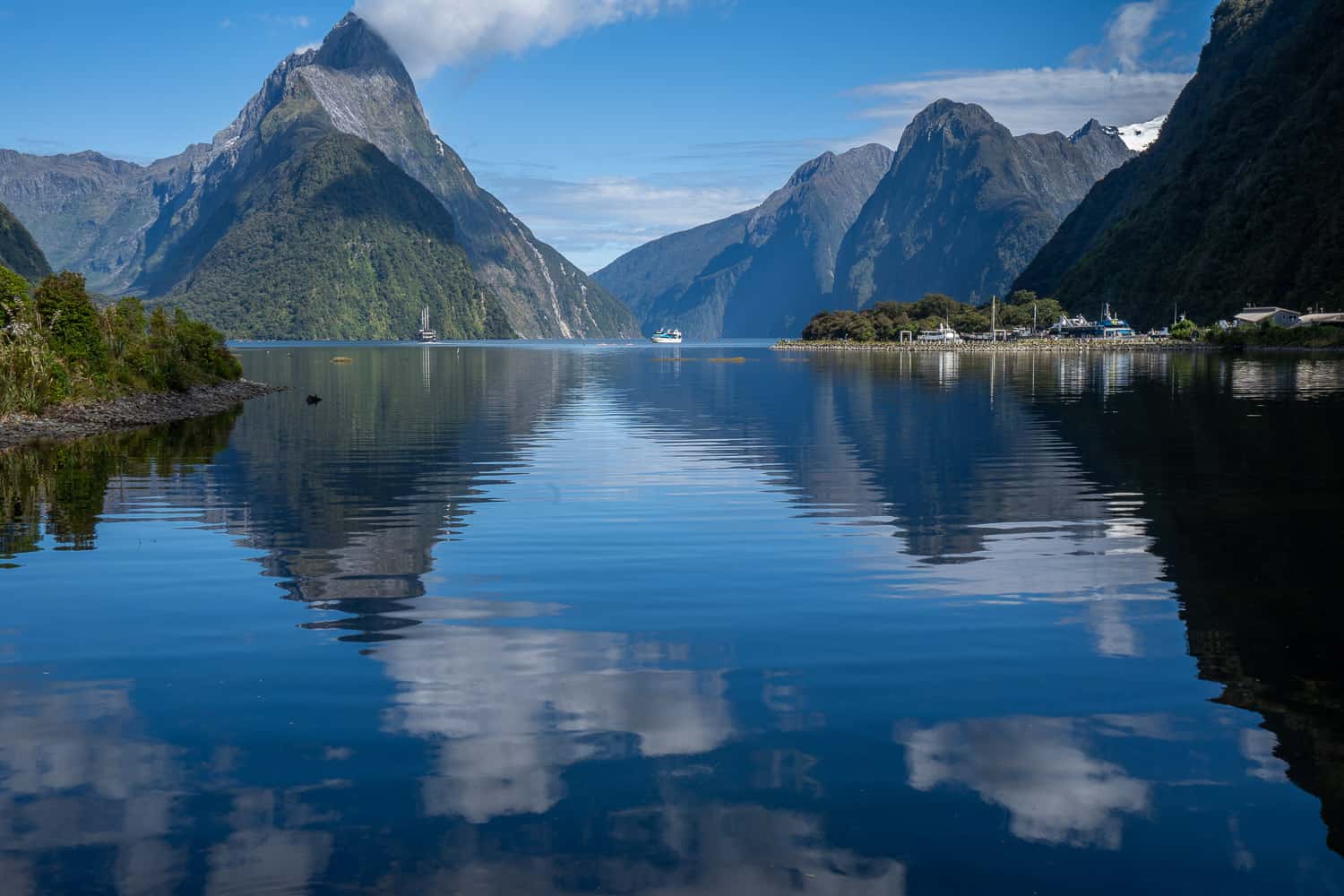 Milford Sound Nature Cruise
The boating section of our trip was with Cruise Milford whose smaller boats (up to 75 passengers) allow you to get closer to the waterfalls and wildlife. Like most of the trips on offer, ours would take just under two hours which is enough time to cruise the length of the 16km (10-mile) fjord and return.
We chose an outside spot downstairs at the very front of the boat, which turned out to be perfect. I was glad I'd worn lots of layers to protect me from the chilly wind, though.
Mitre Peak is the first sight that struck me. The triangular mountain rises one mile above the sea and photos don't do its grandeur justice. Before we'd even begun, Milford Sound was even more beautiful than I'd imagined.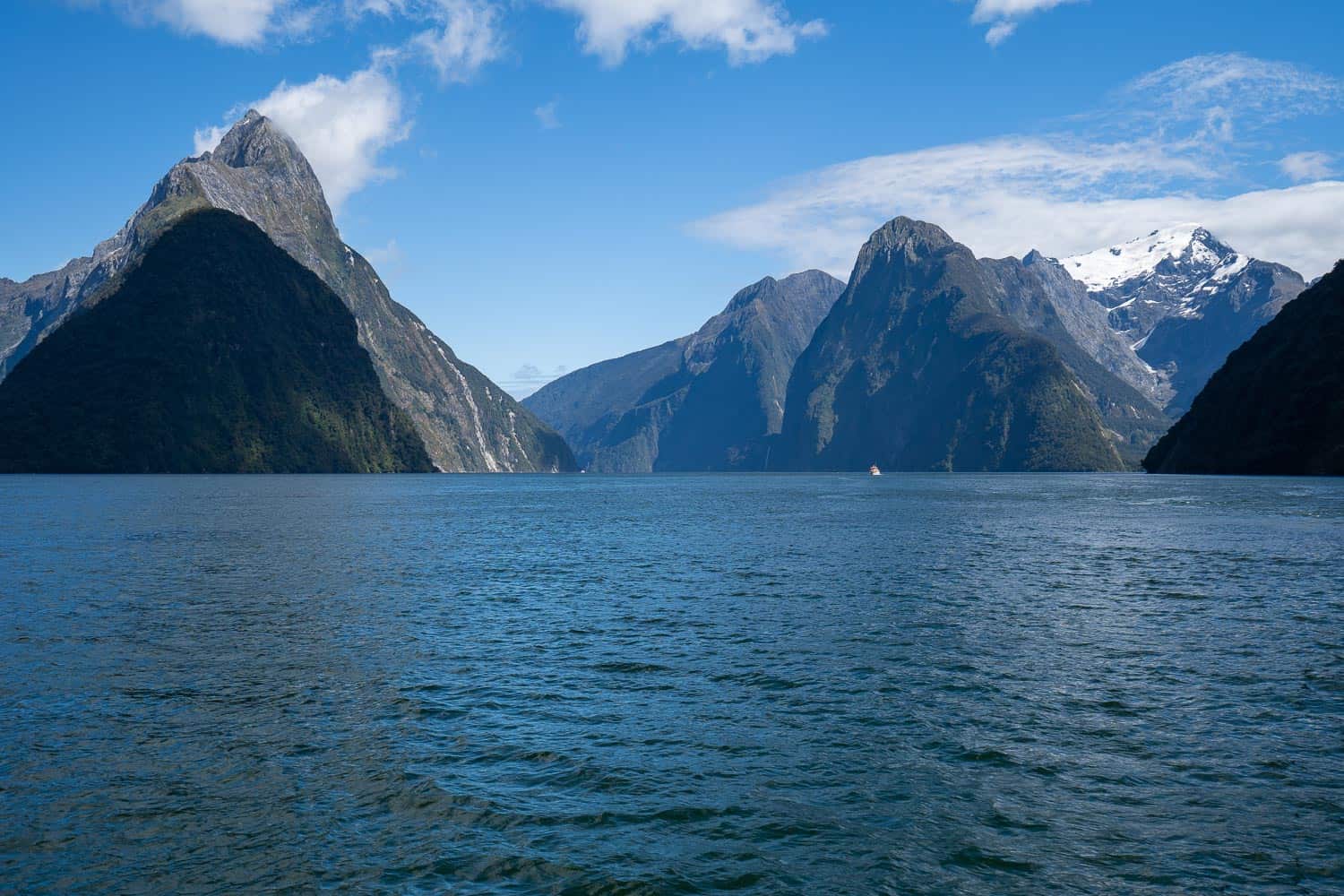 As we were visiting in high season (early January) and Milford Sound is one of the most popular destinations in the country, we'd expected it to be crowded with boats, but there were only a few others around.
The advantage of flying is that you can arrive first thing in the morning and finish the boat trip before the coach tours from Queenstown even get there.
We sailed deeper into the fjord, close to forest-covered peaks and the many waterfalls that plummet down the sheer sides of the cliffs. Our boat even went under a couple of them—stand back if you don't want to get wet! On a rainy day the waterfalls are supposed to be even more stunning.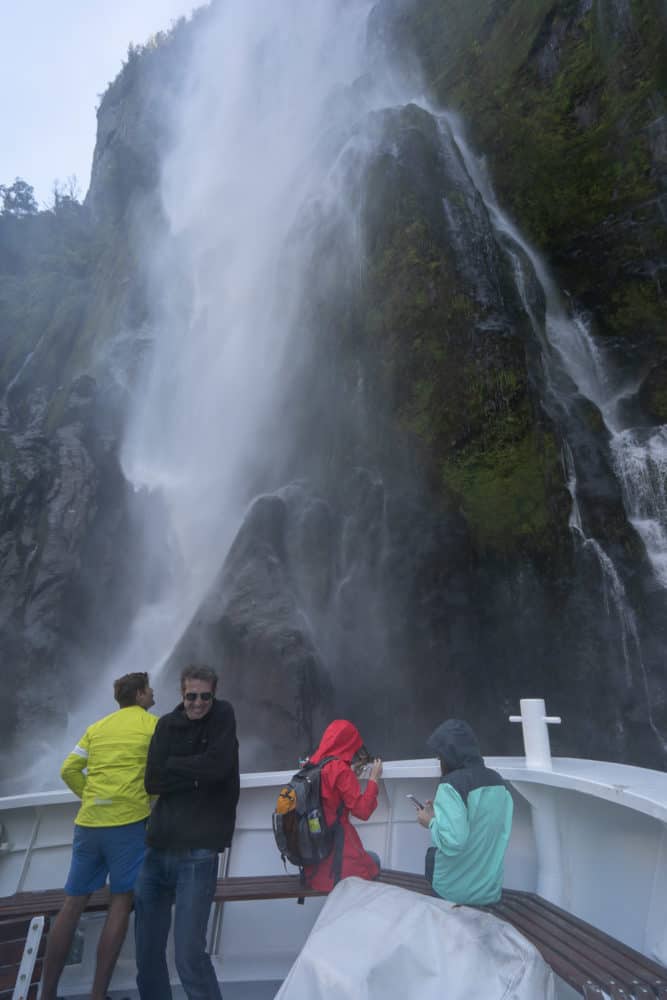 A highlight was a pod of bottlenose dolphins gliding and jumping alongside our boat.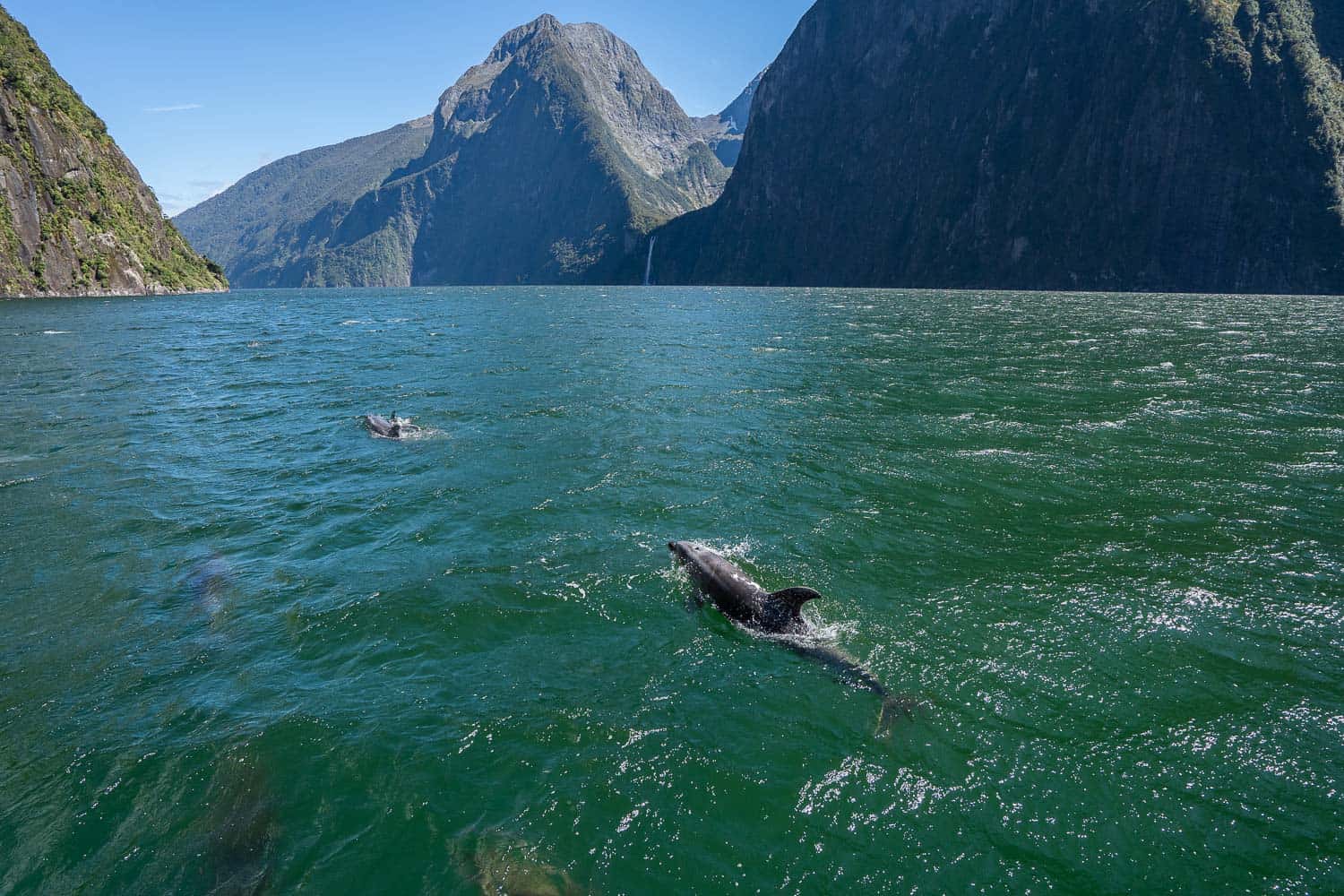 A more common sight is fur seals who sun themselves on rocks.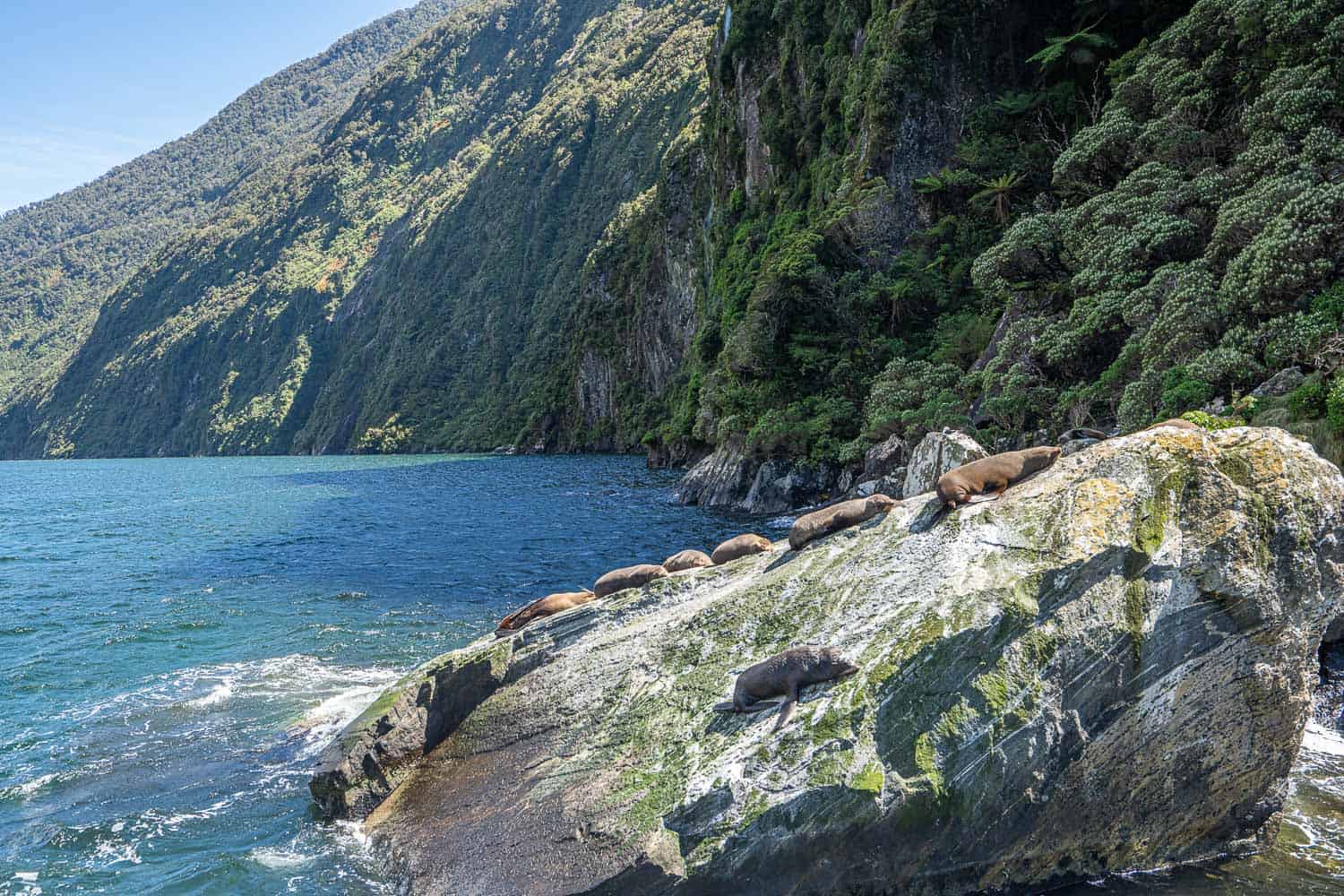 A spectacular finale was Pembroke Glacier, all that remains of the historic glaciers that carved out Milford Sound, an incongruous snowy peak in a landscape of green.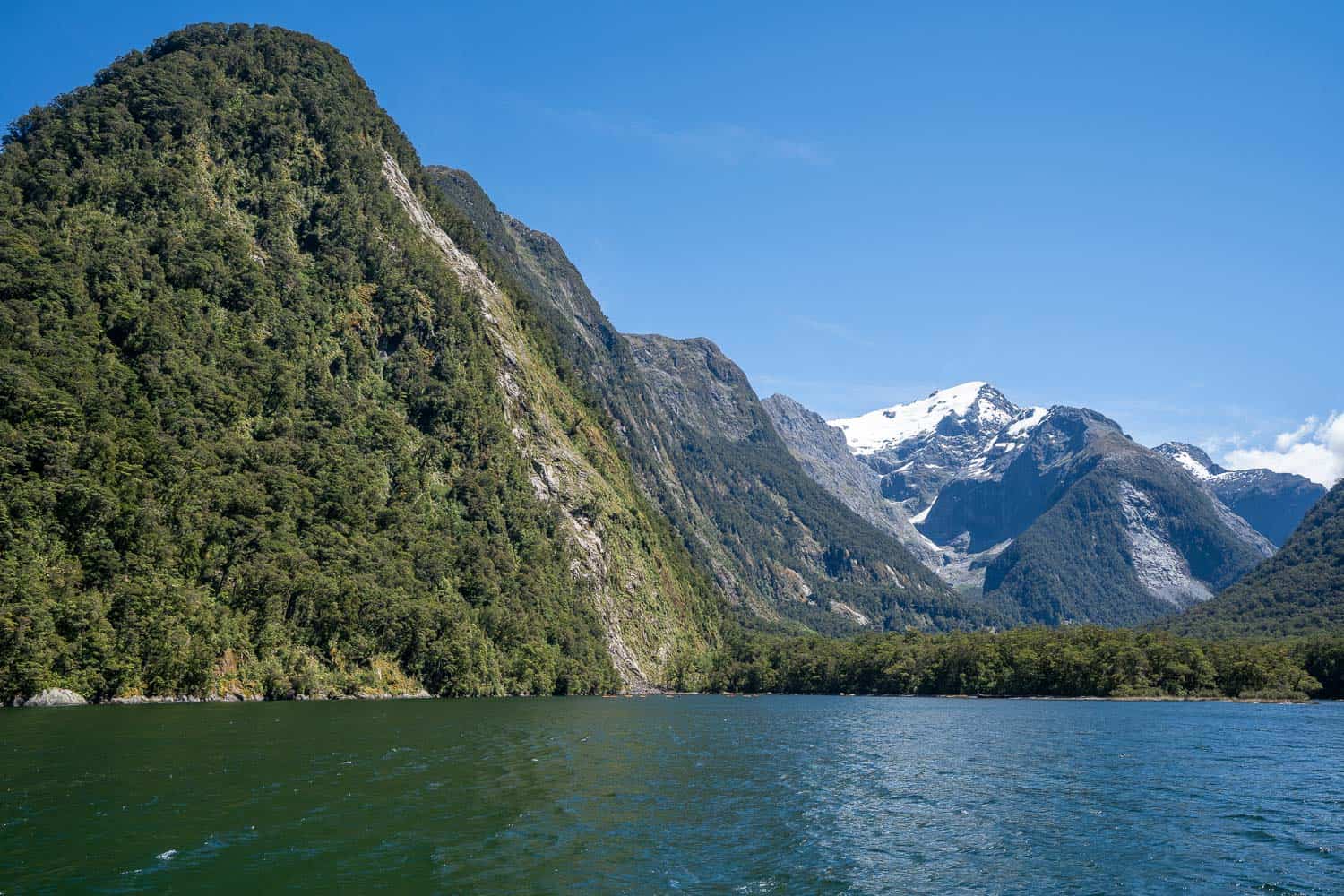 Return Flight from Milford Sound to Queenstown
Although we wished we could stay at Milford Sound for days, we were excited about the return flight. I volunteered to take the seat next to the pilot, which I highly recommend for the views.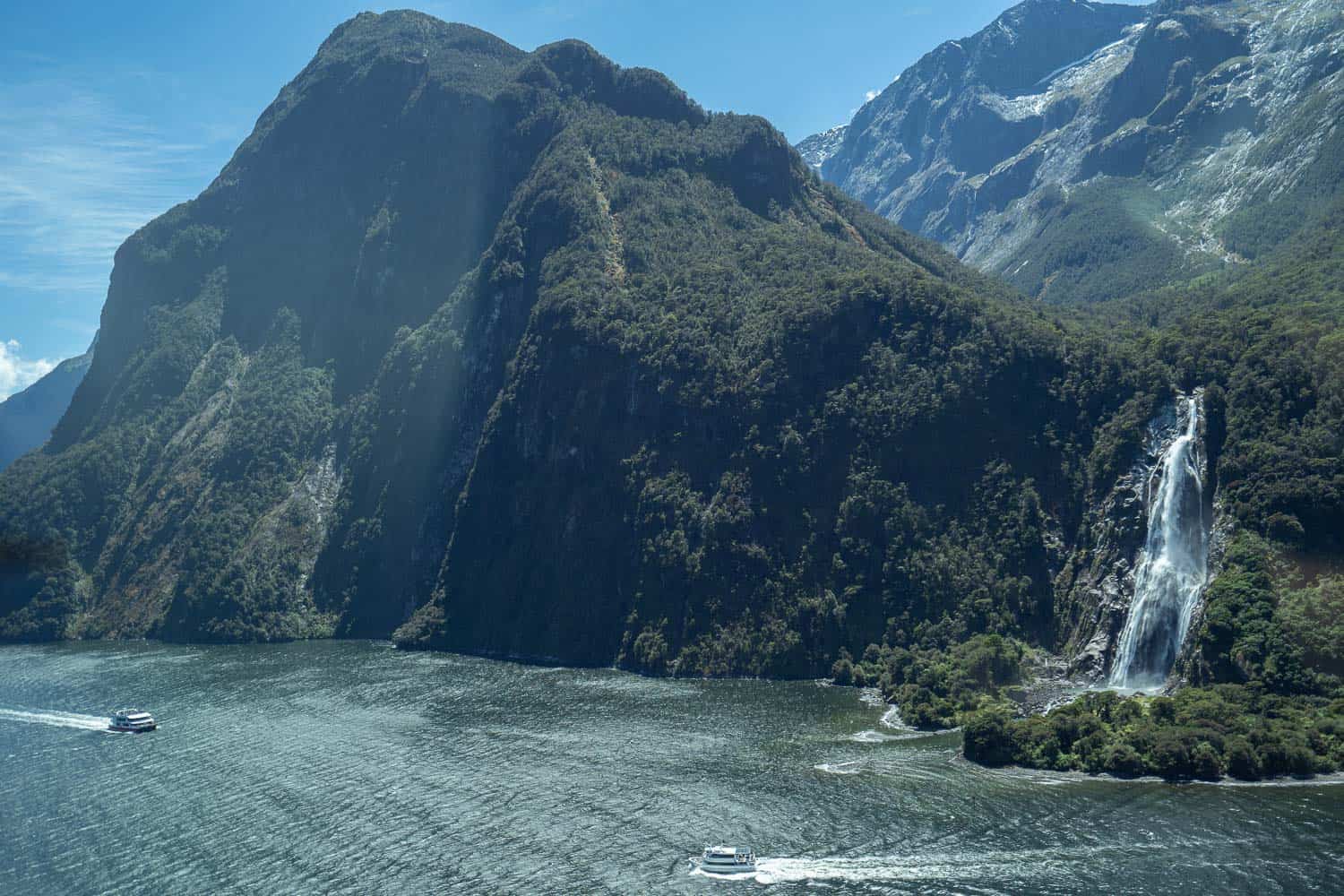 We returned on a different route that was just as beautiful over craggy peaks, snowy summits, and glacial lakes.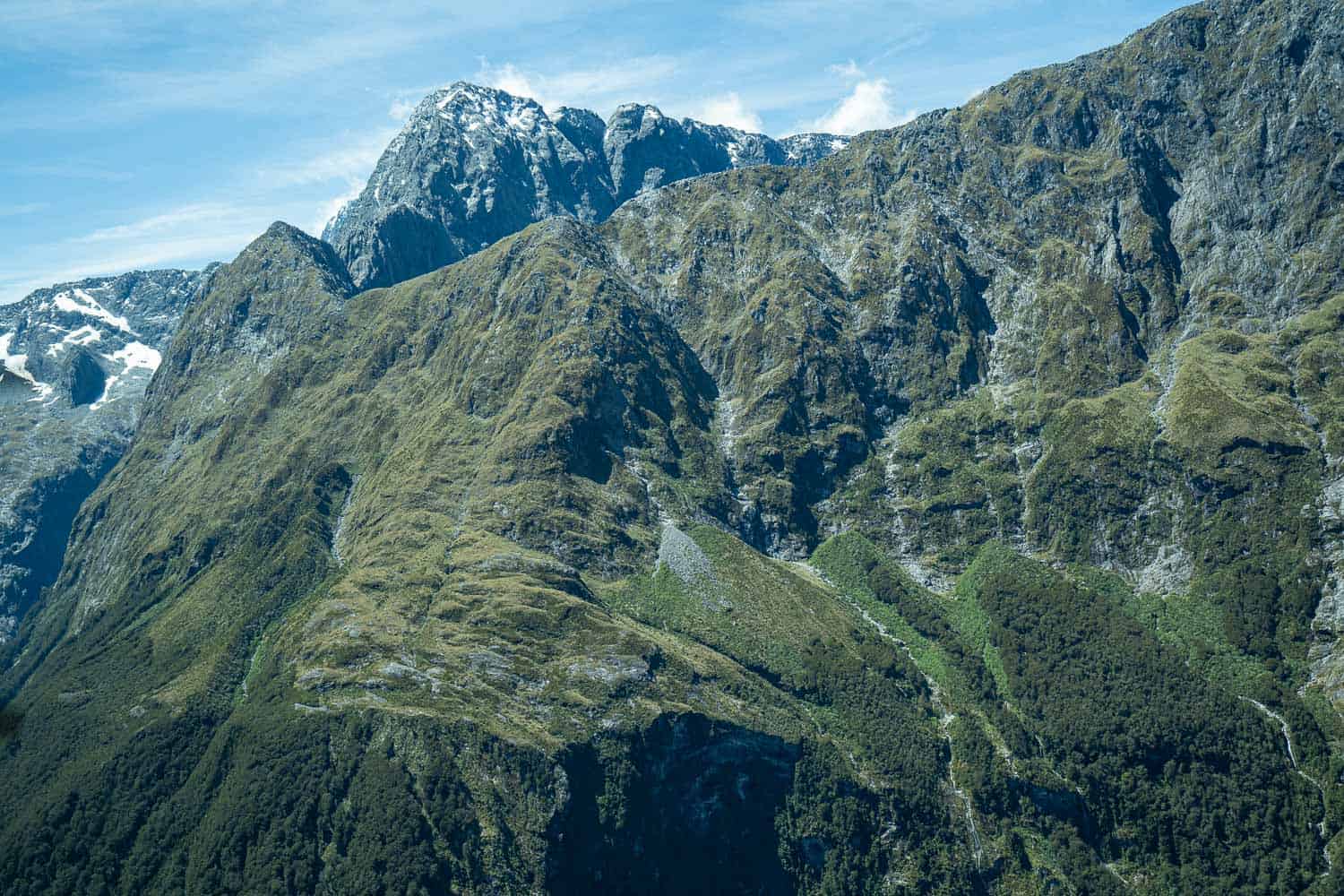 We also flew over the immense Lake Te Anau, the second largest lake in New Zealand at 65km (40 miles) long.
Our final view was of the turquoise Kawarau River just outside Queenstown, which is a popular spot for jet boating.
Summary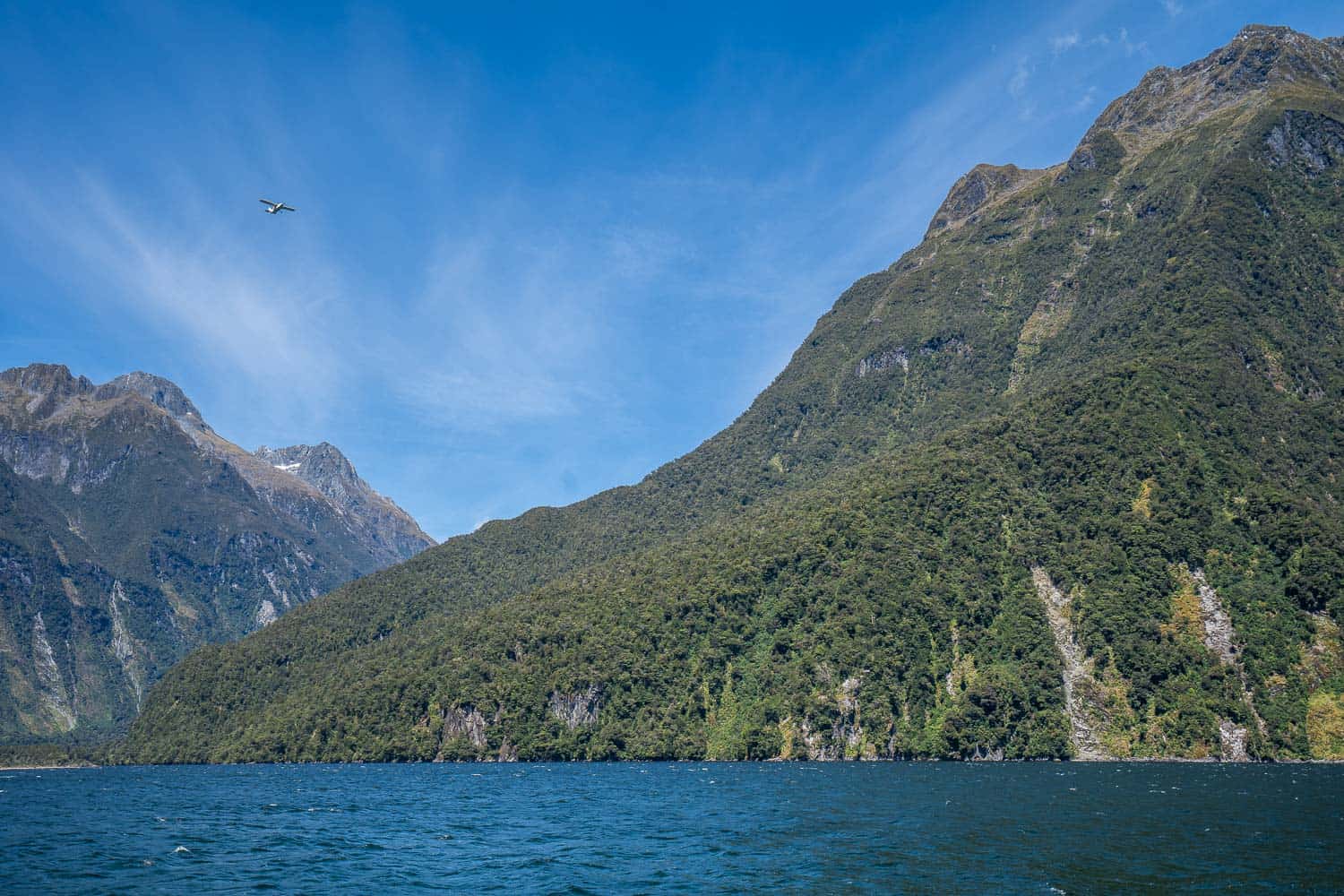 Our scenic flight and Milford Sound trip was one of the best things we did in New Zealand and well worth the splurge. I can't imagine how else you'd see so much spectacular scenery in just half a day for minimal effort.
We highly recommend a Milford Sound flight if you can afford it. If not, you could take a bus day trip from Queenstown to Milford Sound instead.
Alternatively, base yourself in the closest town of Te Anau, a 2-hour drive from Milford Sound, which would make driving yourself more manageable.
We'd love to return to Milford Sound for a longer stay to kayak through the fjord, hike the trails, and soak up the scenery when the day-trippers have left. Unfortunately, Milford Sound Lodge is the only place to stay and it's very expensive and gets booked up far in advance.
Visiting Milford Sound on a day trip from Queenstown is a more practical option for most travellers and taking a scenic flight makes it an easy and breathtaking trip.
For more suggestions of activities in the area, see our posts on the best Queenstown activities and the best things to do in Wanaka.
Milford Sound Fly Cruise Fly Trip Details
We booked our Milford Sound Fly Cruise Fly Trip with Air Milford. It cost us NZ $565 per person but is currently discounted to $449. The trip takes four hours (five hours including pick-up from accommodation).
We booked the 9.30am flight and were picked up from our accommodation at 8.30am and were back by 1.30pm. No food is provided except for biscuits and tea and coffee on the boat, so you might want to bring snacks. Warm and waterproof clothing is also essential.
Make sure you book the trip for your first day in Queenstown as flights are often cancelled due to weather, so you'll want time to reschedule.
More New Zealand Posts
South Island
North Island
Enjoyed this post, pin it!