This page contains affiliate links. Please read our disclosure for more info.
Abel Tasman National Park may be New Zealand's smallest National Park, but it's one of the most stunning. It's a popular destination for hiking, kayaking, and sailing.
The golden sand beaches and crystal clear turquoise water feel almost tropical, and the native bush is rich with lush vegetation and birdsong. Fur seals are often seen, and if you get lucky like us, you might even see dolphins.
The Abel Tasman Coast Track is a 60km (37 mile) trail that hugs the coastline in the park and is one of New Zealand's most popular and easiest Great Walks.
The whole track takes 3–5 days to hike (or kayak) between Marahau and Totaranui. If you don't have the time or energy for the full trail, you can easily experience Abel Tasman on a day trip.
Water taxis run between the beaches, so it's simple to hike a small section of the track. Just choose how far you'd like to go and the water taxi will drop you off and pick you up at the other end of your walk.
If you don't want to hike, you can also kayak a section or just sail along the coastline and enjoy the scenery. There's an option for all abilities and interests.
Abel Tasman is one of our favourite places in New Zealand. We've visited the park six times—four day trips from Nelson or Kaiteriteri and two three-night stays within the park.
Most people don't know there is comfortable accommodation within Abel Tasman National Park—camping is not required! This is a wonderful way to experience the park.
In this post, I share details on where to stay in Abel Tasman, the best day walks (including how to avoid the crowds), and how to visit the park if you don't want to walk. At the end, there is a map with everything mentioned.
Contents
What to Expect on the Abel Tasman Coast Track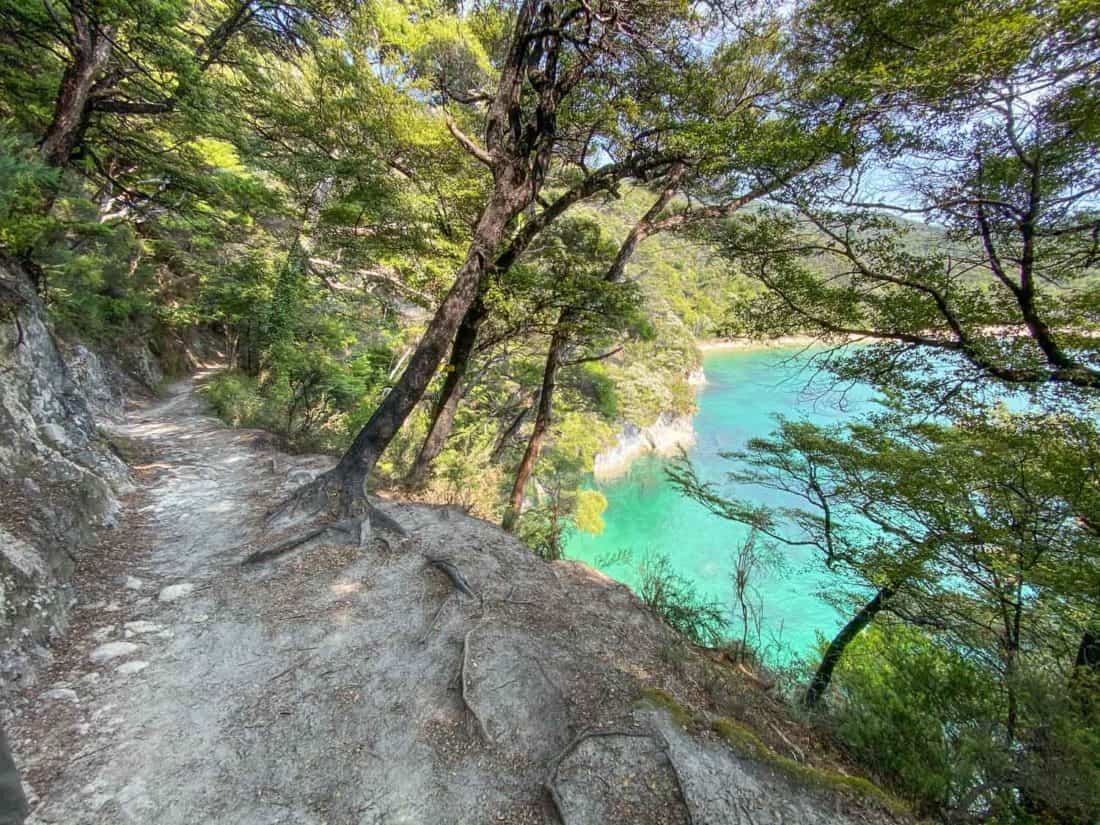 The Abel Tasman Track is well-marked so it would be difficult to get lost and you don't need to take a map. The walking is fairly easy with some uphill sections but nothing too strenuous.
You don't even need hiking boots—hiking sandals, walking shoes, or trainers are fine. I'd avoid flip-flops, though.
We found the DOC time estimates for sections of the walks to be overestimated. A one-hour walk usually took us 40 minutes.
If you are reasonably fit, you'll probably find the same. The estimates do allow time for taking breaks on the beaches, though.
There are different routes in some sections depending on whether it's low or high tide.
The relevant campsites post tide times, and there are signs to lead you the right way. You can also see the tide tables on the DOC website.
The biggest issue is walking north from Awaroa to Totaranui as there's no high tide alternative track—you must get the timings right. For this reason, I'd avoid this section if you are just doing one day trip.
At most beaches, you'll find campsites with long drop toilets available for day hikers. Some also have taps, but the water isn't guaranteed to be safe to drink, so it's best to bring enough water.
There are filtered water stations at DOC huts/campsites at Anchorage, Bark Bay, Awaroa, and Totaranui.
There's nowhere to buy food (except for the restaurant at Awaroa Lodge), so stock up before you start your hike. Take all rubbish out of the park with you.
An All Trails+ subscription is useful for looking up hiking routes and saving maps offline.
When to Visit Abel Tasman National Park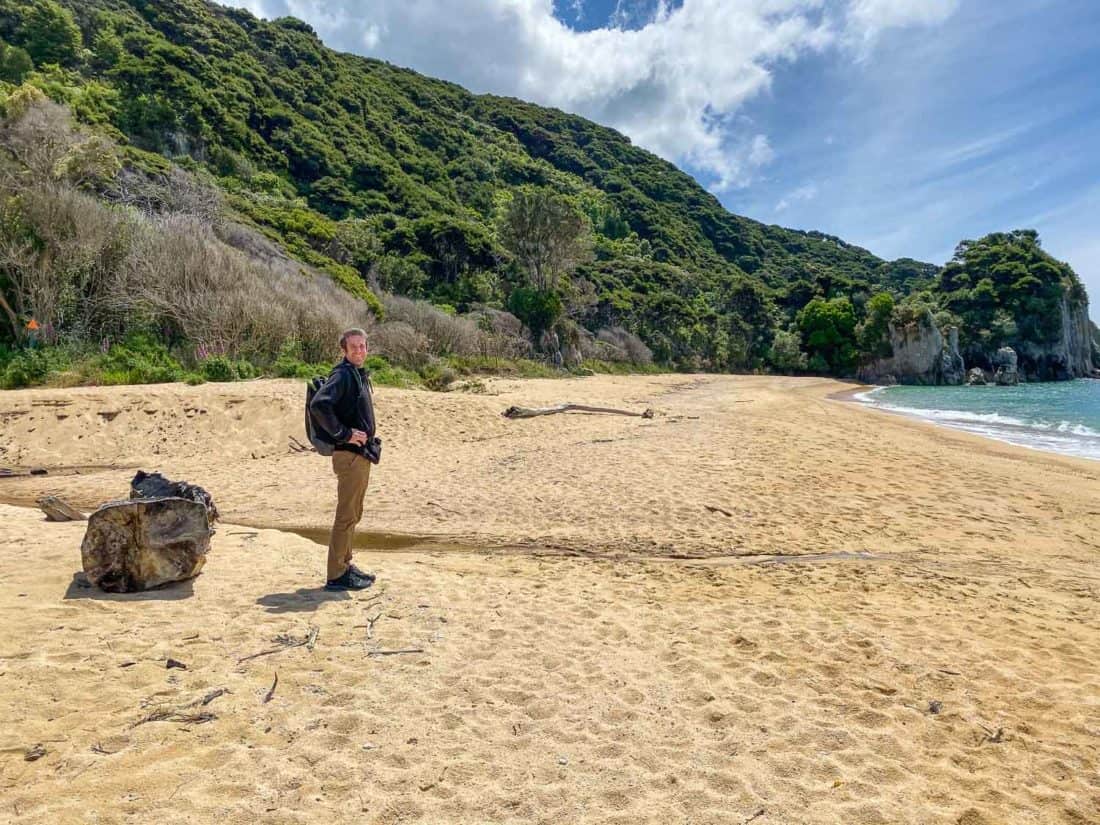 Abel Tasman is a South Island must see. Its mild climate means it can be visited at any time of year.
The park is popular so don't expect to have the beaches or trail to yourself in summer (mid-December to March).
We've visited in July, November, December, January, and February. January (school holidays) was the busiest time. North of Totaranui is quieter than the southern section of the park.
My favourite time to visit is February—after the school holidays but still warm enough to swim. I imagine March would also be a good month.
Although it can be chilly (but usually sunny) in winter, we had a lovely hike in the park in July. It was much quieter than summer (even during the winter school holidays) and we got lucky with beautiful sunny weather.
The morning was frosty and we definitely needed a hat, gloves and layers, but it warmed up in the afternoon to 13ºC and we enjoyed our lunch on a beach in the sun.
Our kayaking guide said in winter the baby seals are active and may come and play alongside your kayak.
Abel Tasman Water Taxis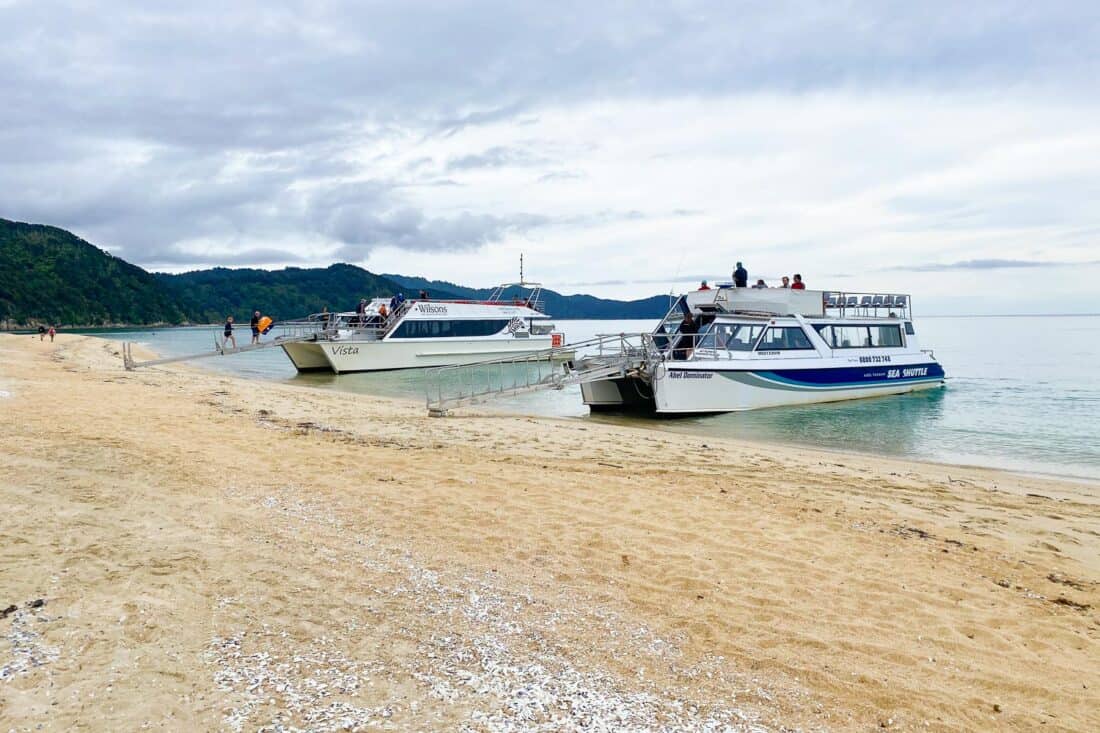 Most of the park is only accessible on foot or by water taxi. Most day trips require taking a water taxi.
All water taxis provide commentary on the park and make brief stops at Split Apple Rock and one of the islands to see seals (we always see plenty of seals).
It's best to book at least a few days in advance and even further in the summer high season.
In Kaiteriteri there are two options—Wilsons and Abel Tasman Sea Shuttle. Both have large, comfortable boats with toilets and both indoor and outdoor seating. You can usually avoid getting your feet wet (except at Torrent Bay).
They have similar timetables and prices and we've enjoyed trips on both of them. I tend to book with Wilsons these days just because I find their website easier to use.
In Marahau there appears to be two options—Marahau Water Taxi and Abel Tasman AquaTaxi—but they are now run by the same company. In Marahau a tractor pulls the boat into the water.
These boats are much smaller, without toilets or space to walk around, but they are fine for shorter trips like Anchorage. You may get your feet wet getting off the boat, but we managed to avoid this at Anchorage.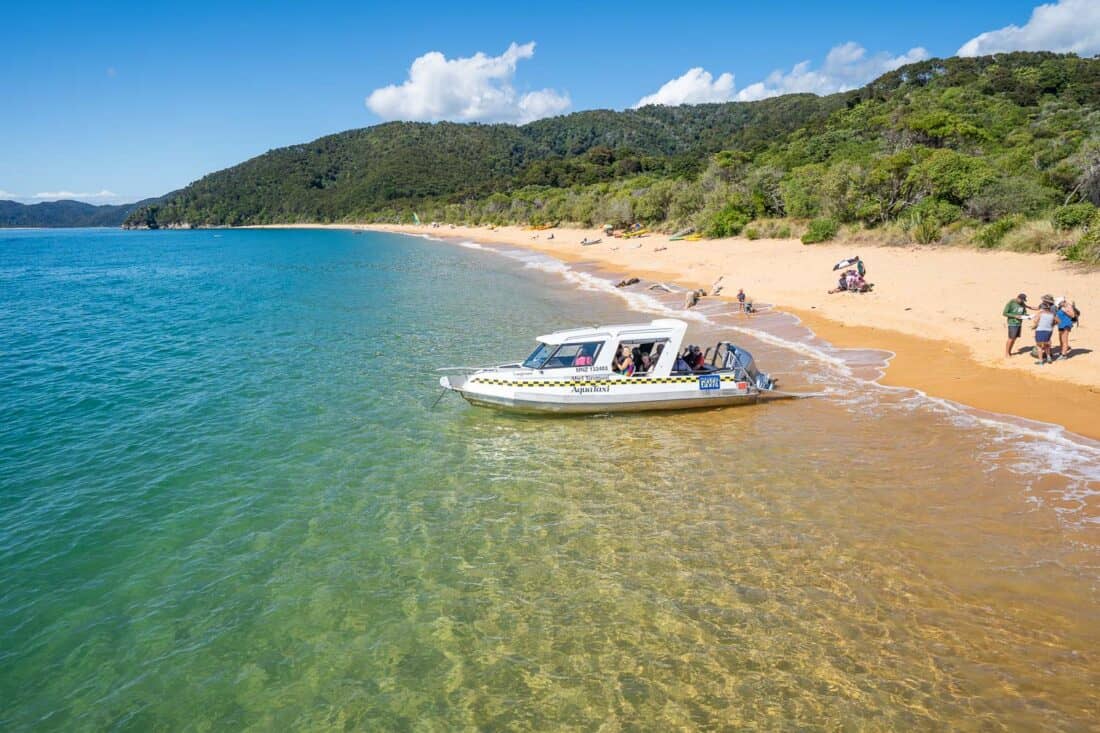 Abel Tasman Accommodation
While it's not necessary to stay in Abel Tasman National Park as it's easily visited on day trips from surrounding towns (see below), it is a magical experience if you can.
By staying overnight the gorgeous beaches will be on your doorstep, you'll have easy access to the coastal track, and the park is quieter after the day trippers have left. The park is also beautiful at sunrise and sunset.
Here are the three options for accommodation in Abel Tasman:
Camping on the Abel Tasman Coast Track
Most hikers on the Abel Tasman Coast Track either carry a tent and stay at one of the beach campsites or stay in a bunk in one of the shared huts.
Both require advance booking on the DOC website and in summer cost $42 (free for children under 17) for huts ($56 for international visitors/ $32 for children under 17). $16 (free for children under 17) for campsites ($24 for international visitors/ $12 for children under 17).
If you don't want to hike to a campsite, you can drive to Totaranui Campground in the northern section of the park. This is a popular spot for locals in summer.
Holiday Rentals in Torrent Bay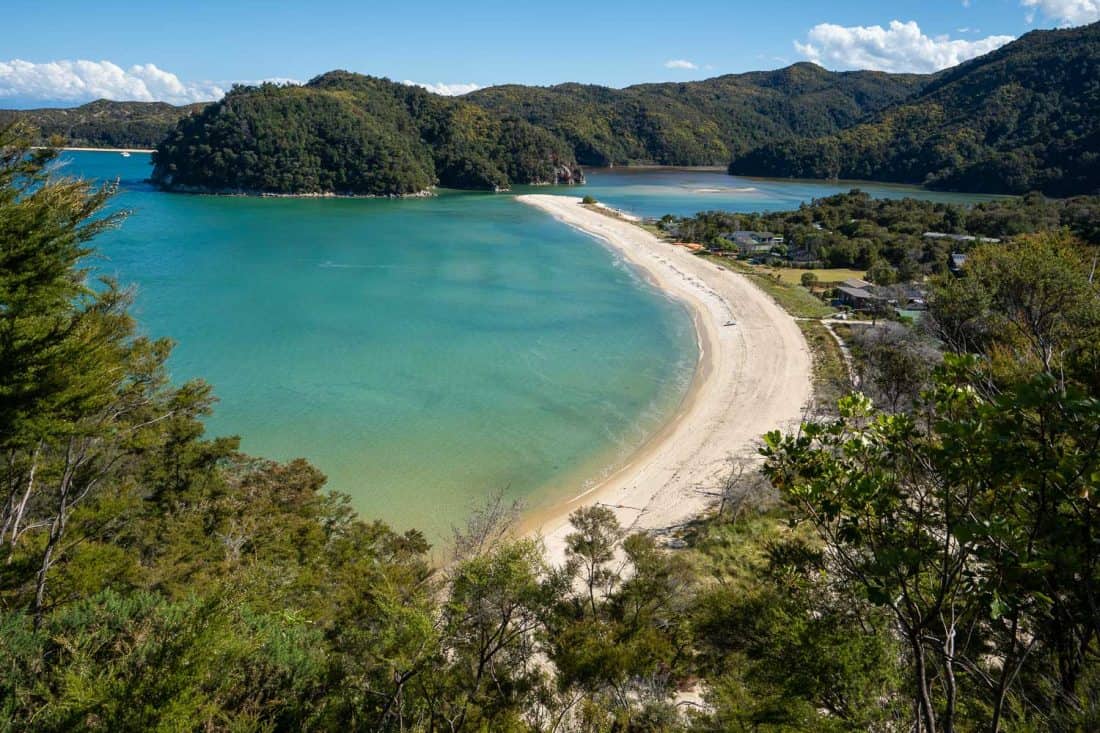 Camping is not our thing, so we stayed at a bach (holiday home) in Torrent Bay instead.
Torrent Bay has a village feel with the largest collection of privately owned homes in the park. The beach is gorgeous—a wide stretch of golden sand leading into the green sea where we saw stingrays every day.
On the other side of the village is the estuary which has extreme tidal changes—at high tide we kayaked here and at low tide we walked across the sand to Anchorage.
We were a little worried about staying here—our bach was off the grid (with solar power for lighting and the fridge but no wifi/phone signal) and you have to carry all your food with you.
Access is only on foot or by boat and there are no shops in the park. You also have to carry out all your rubbish.
We soon relaxed into the slow pace of life, though, and didn't want to leave after three days. We kayaked, hiked, swam, and drank sundowners on the beach.
It was mostly quiet although some water skiers did ruin the peace. Outside of school holidays and summer weekends, I don't think this would be a problem though.
We did two beautiful hikes from Torrent Bay. One involved getting the water taxi to Awaroa and walking the coast track back south. This was 18km and 4.5 hours of walking plus breaks.
The other was a loop to Anchorage—we walked there on the low tide track and back on the high tide track with a detour to Cleopatra's Pools. This was just over 8km and took 2.5 hours.
Note that on arrival in Torrent Bay you may have to wade through knee-deep water from the water taxi. We were glad we wore hiking sandals so didn't have to take them off.
Where We Stayed in Torrent Bay
There aren't many rentals in the village. We stayed at this Torrent Bay holiday home.
It's a typical Kiwi bach, which means decor is simple, and you have to do your own cleaning before you leave (we did rent linen and towels for an extra fee).
While the house was more dated than we'd like, the shower was hot and powerful, kayaks were included, and the location was excellent—just a two-minute walk from the beach down a sandy path.
It's set among trees, and we saw wekas, keas, and fantails. The birdsong was lovely but ruined slightly but the next-door neighbour's noisy generator (daytime only).
If you are looking for a base to explore the park and won't spend much time inside, the house is good value and much more comfortable than camping.
Check out the latest prices and availability here.
Torrent Bay Lodge also has a great beachfront location here, but it's only available to guests on a multi-day hike with Wilsons. This is something we'd love to do in the future, but it's pricey.
Awaroa Lodge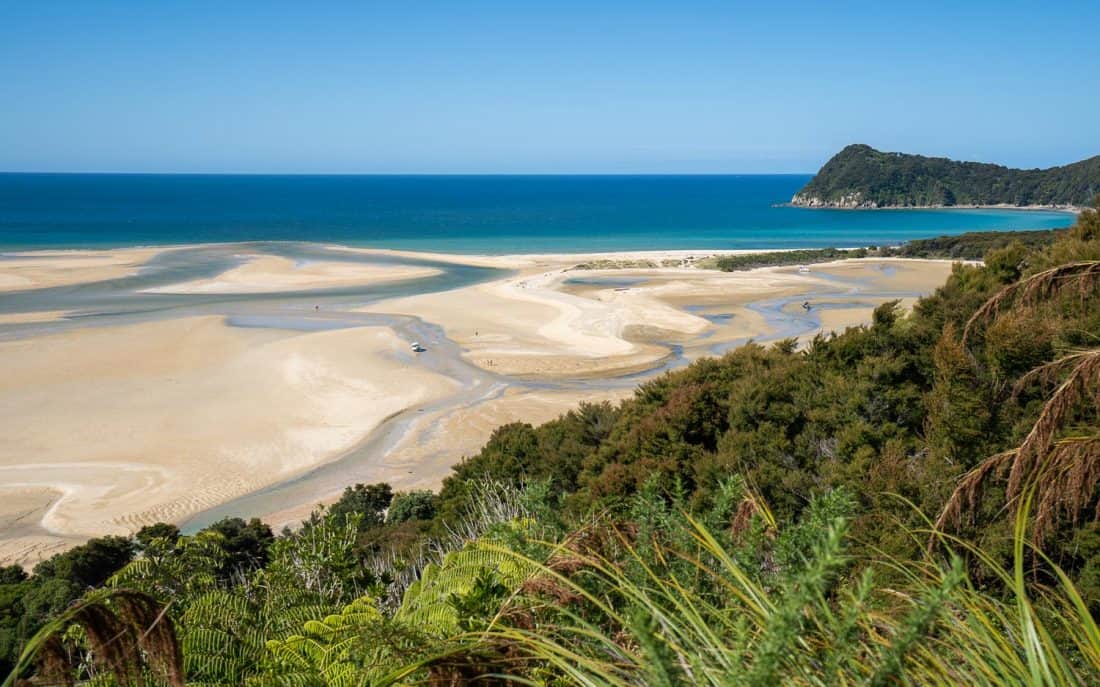 For more luxury and to avoid the need to self-cater, stay further north at Awaroa Lodge, which we did on our second stay in the park.
This is the only proper hotel within Abel Tasman. It has a range of rooms, restaurant, pizzeria, and spa.
It's located a five-minute walk down a forest track from beautiful Awaroa Beach, which we had to ourselves for the most spectacular sunsets and sunrises.
There's a water sports centre with paddleboard hire and guided kayak trips.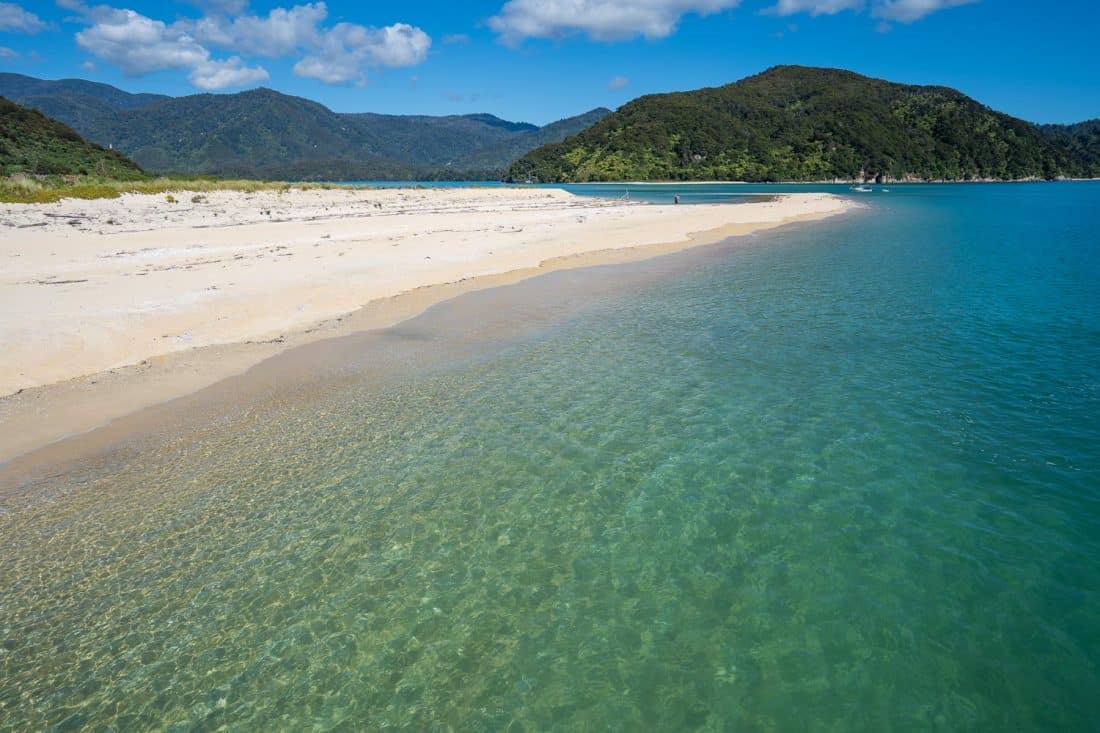 We did one hike here taking the water taxi north to Totaranui and hiking further north to lovely Anapai Beach and then back to Awaroa. It was a long but beautiful walk with plenty of beach breaks on the way.
Unfortunately, the only time we've gotten lost in the park was finding our way from the Awaroa hut (after crossing the inlet) to the lodge.
Do not make the mistake we did and follow the Coast Track uphill—just head to the beach and walk along that back to the lodge.
Note that to hike north of Awaroa it is essential to time your crossing of the inlet for low tide and even then, you'll get wet feet.
We stayed in a superior room at Awaroa Lodge which was lovely. It overlooked the wetlands and had plenty of space with a huge sofa in the room and a chaise lounge, table and chairs on the terrace. There was also a fridge, Nespresso machine, kettle, and air conditioning.
It wasn't as perfectly quiet as I would have liked with generator noise and the sound of other guests passing our room or drifting from the cafe.
The major downside was the food. As there are no self-catering rooms, you are forced to eat at their restaurant in the evening.
It's quite expensive and the food is fancier than we wanted after hiking with limited vegetarian options.
We much preferred the garden pizzeria (a popular spot for hikers), but it's only open for lunch and outside of high season, on weekends only.
It's not a deal breaker, though, and we would stay here again.
The lodge closes for winter from late April until late September.
Check the latest prices and availability for Awaroa Lodge here.
Where to Stay for an Abel Tasman Day Trip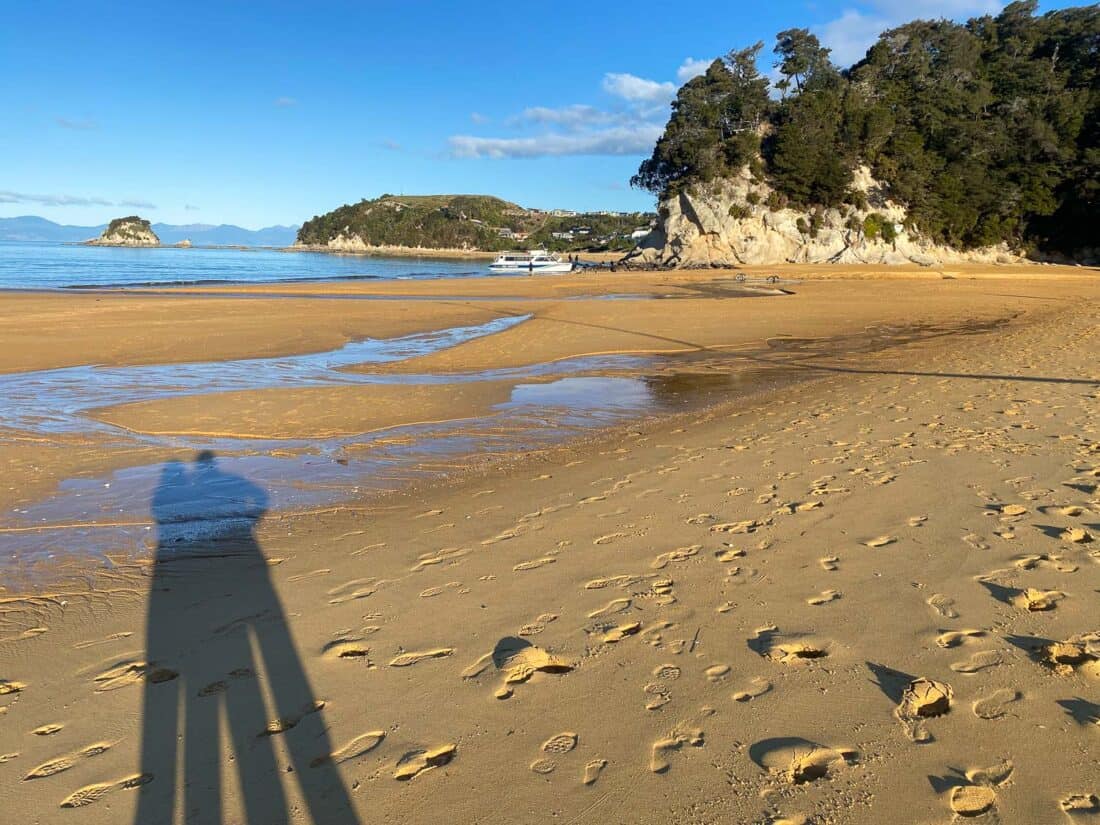 Abel Tasman National Park is located at the top of the South Island and there are a few towns that make good bases for day trips into the park.
Marahau or Kaiteriteri
Marahau or Kaiteriteri are the nearest places to Abel Tasman National Park and are where the water taxis leave from.
You can't beat the convenience, but they are tiny villages with limited accommodation that books up quickly in summer.
Marahau is located right at the start of the track, so it's the best option if you want to avoid taking a water taxi (although your hiking options are limited without using one).
Kaiteriteri is a little bigger, and it's where the larger, more comfortable water taxis depart from. You can't walk the track from here without taking a boat.
It has its own beautiful beach, and there's a 10-minute track that takes you to the quieter Little Kaiteriteri Beach.
There are only a few restaurants in Kaiteriteri (with limited hours in winter)— Gone Burgers, next to the shop and water taxi offices, and The Beached Whale, which has standard pub grub including pizzas.
We stayed at Kimi Ora Eco Resort in Kaiteriteri for five nights on our winter visit, and I highly recommend it for a relaxing stay.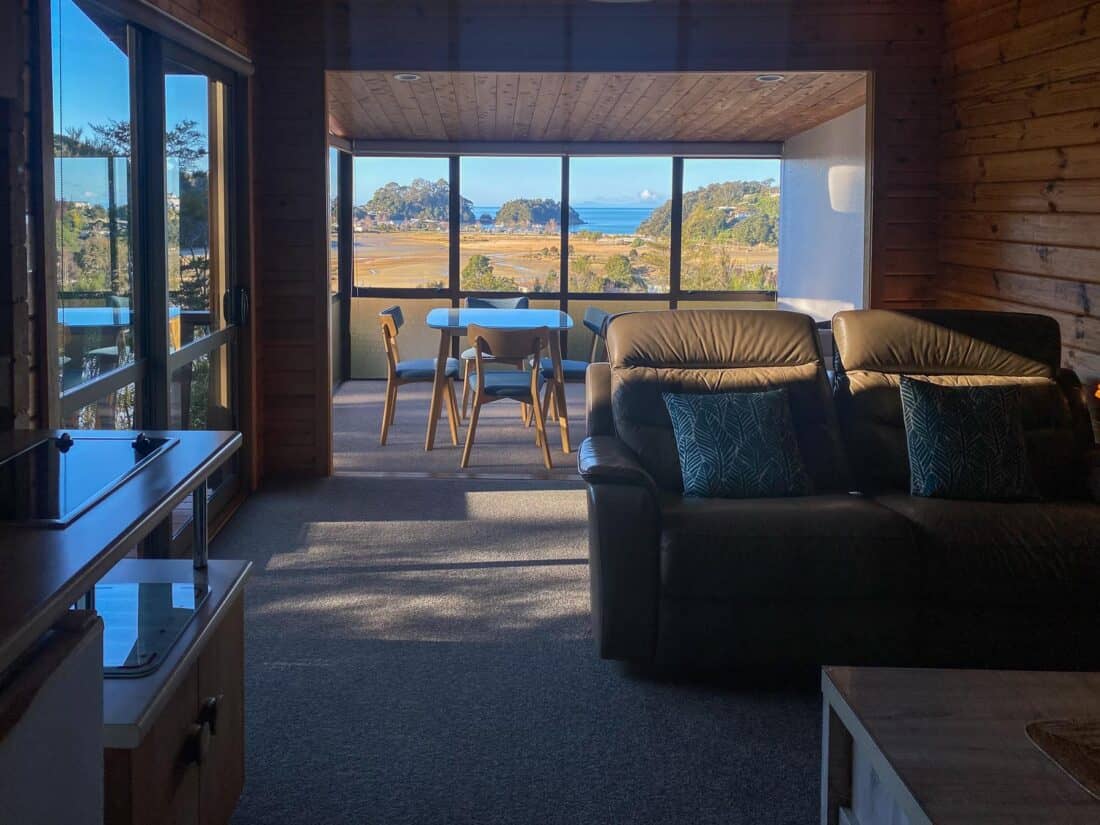 It's a 15-minute walk from Kaiteriteri Beach up on a hill with stunning sea views.
The facilities are great with indoor and outdoor pools, hot tubs, sauna, steam room, spa for treatments, pool table, table tennis, and vegetarian restaurant (dinner at weekends only in winter).
The healthy breakfast buffet is delicious.
There are bush trails right from the resort including one to see glowworms at night.
While the self-catering units aren't fancy, they are comfortable enough, and we loved being surrounded by native bush listening to the birdsong. It was a fantastic place to relax after hiking in the park.
Check availability and prices for Kimi Ora Eco Resort here.
A few other options in the area include:
The Barn Backpackers – Private cabins or dorms in a beautiful location right at the start of the Abel Tasman walk in Marahau.
Ocean View Chalets – A more upmarket option with comfortable chalets only 500 metres from the National Park in Marahau.
Kaiteriteri Reserve Cabins – Tiny but cute cabins with shared facilities on the beach where the water taxis leave in Kaiteriteri.
Motueka
The nearest town is Motueka, which is a 25-minute drive away and organised tours can pick you up from here. Search for accommodation in Motueka here.
Nelson
Nelson is a popular base for visiting Abel Tasman and is an hour away. It's a larger city (although still small) with plenty of accommodation, restaurants, and activities (see our tips on the best things to do in Nelson).
It's the best base if you don't have a car as you can easily get to Nelson by plane or bus and the town is walkable.
Organised tours to Abel Tasman will pick you up from Nelson. We did options 2 and 3 below from Nelson.
Nelson has lots of hostels, B&Bs, motels and holiday rentals to choose from. Search for accommodation in Nelson here.
Takaka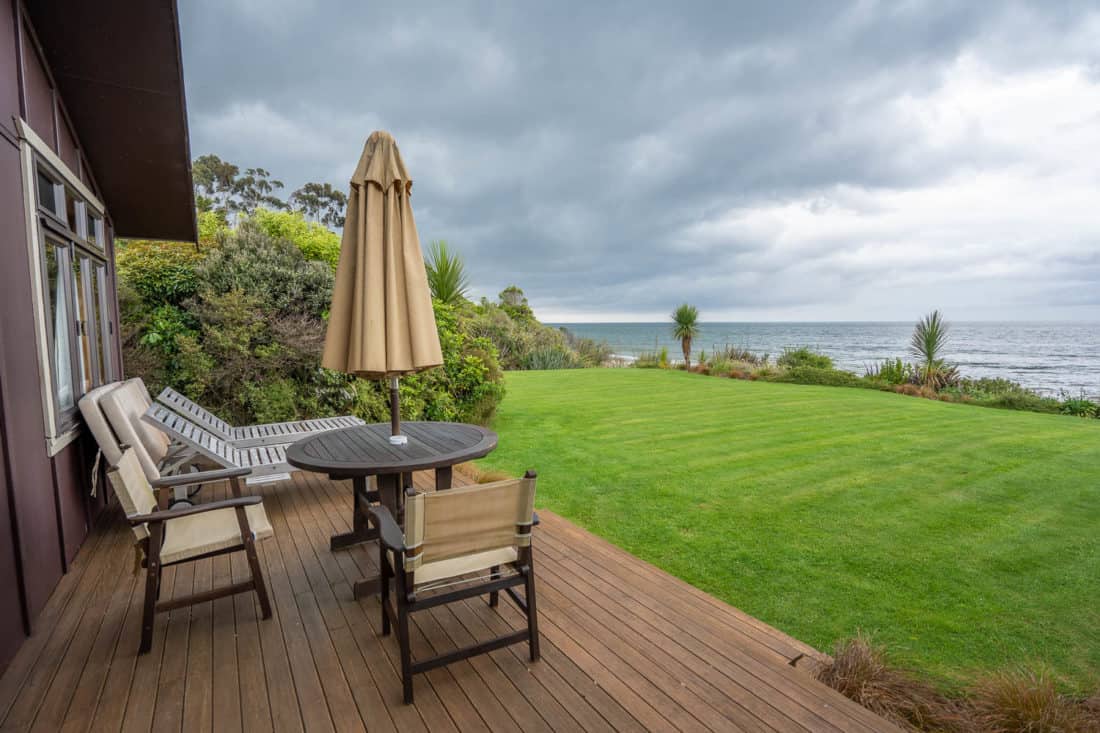 A more unusual base to visit Abel Tasman is Takaka or anywhere in Golden Bay.
This isn't the most convenient base if you want to explore the southern sections of the park as it's over an hour's drive from Takaka to Marahau on a winding road over a hill.
It can be a good option for exploring the quieter northern section of the park from Totaranui.
From Takaka, you can drive to Totaranui campsite in about 50 minutes and start your hike from there. It is a bumpy drive, though, as the last section is on a winding gravel road.
We stayed a 10-minute drive outside Takaka in a luxury beachfront cottage at Adrift in Golden Bay.
The location on an empty beach was wonderful, and the cottages are comfortable and well-equipped with a breakfast basket provided in your room. This was our base for option 1 below.
Best Part of Abel Tasman Track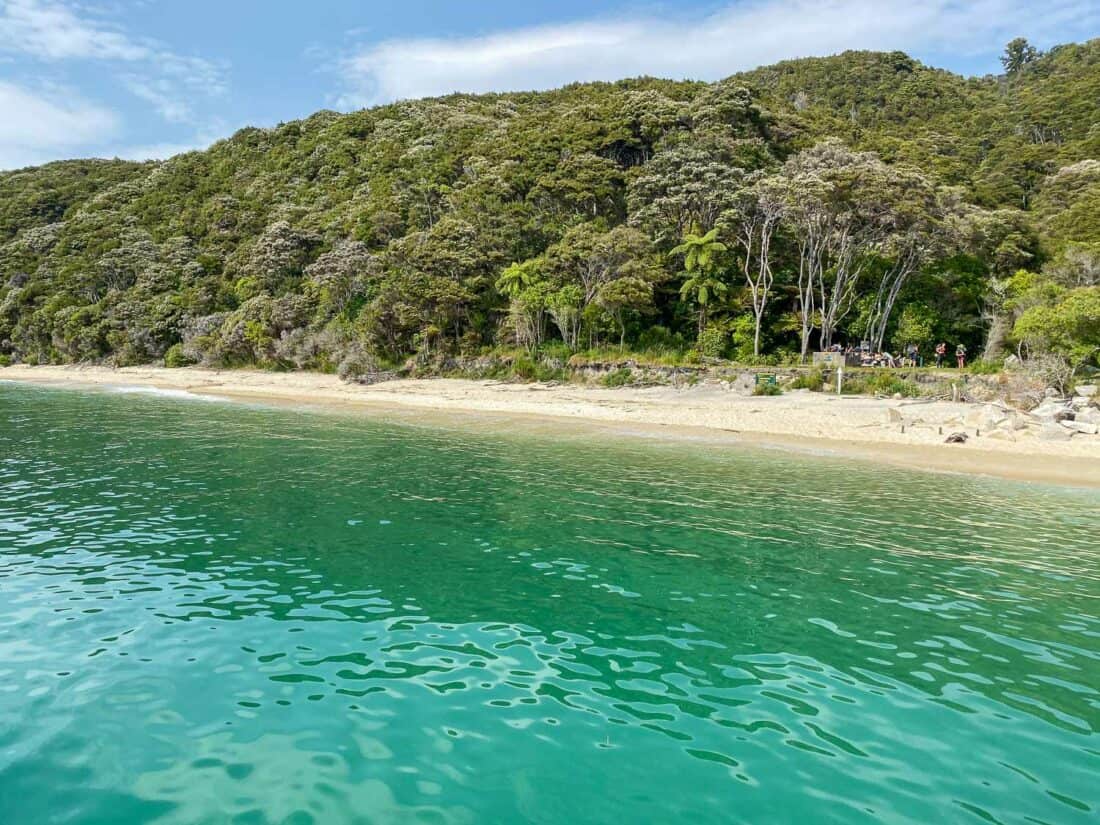 If you have one day to hike a section of the Abel Tasman coastal track and are reasonably fit, I recommend Tonga Quarry to Anchorage via Bark Bay and Torrent Bay.
Take a water taxi from Kaiteriteri to Tonga Quarry ($47, 1.5 hours) and walk to Anchorage to catch the return boat ($41, 40 minutes).
This 13km section took us about four hours if you can time it to cross from Torrent Bay to Anchorage at low tide. The high tide track takes a lot longer.
Check water taxi times as this trip might not allow much time for relaxing on the beaches.
We also did this as a hike/kayak combo (see Option 2 below).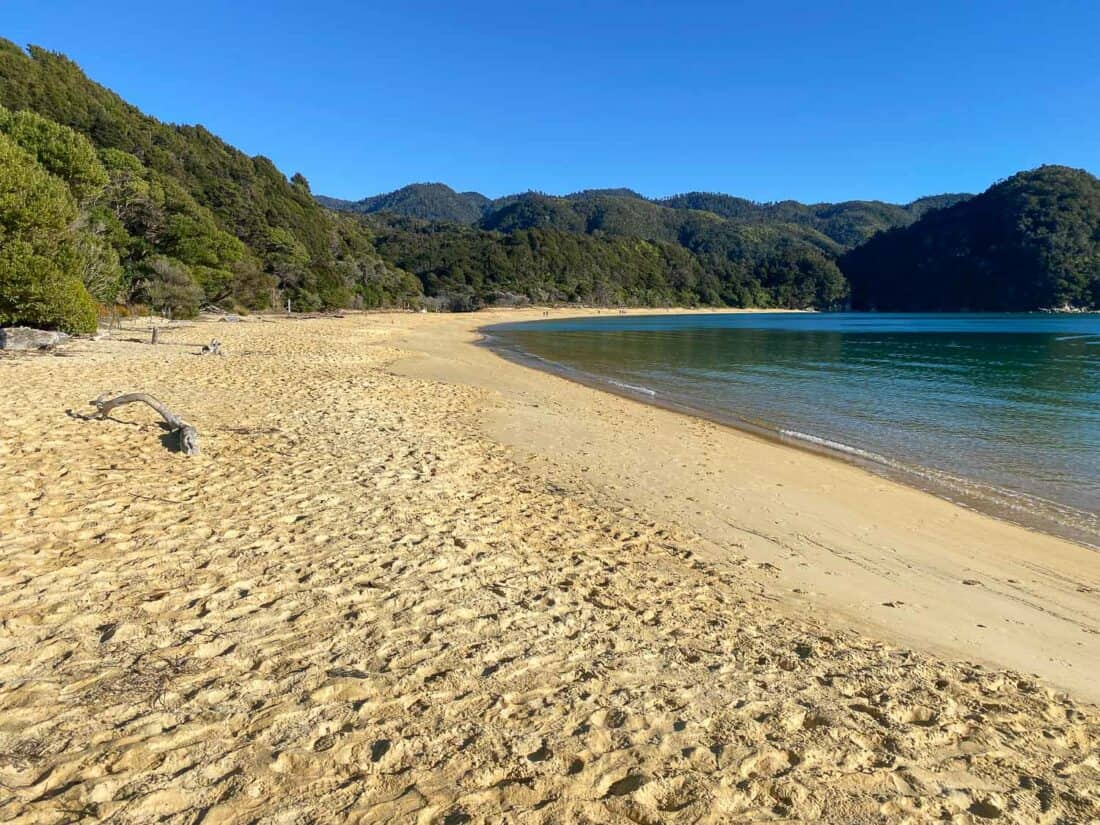 A shorter but still excellent option would be to hike from Medlands Beach to Anchorage via Torrent Bay. This would allow more beach time.
The 7.5km hike took us around two hours at low tide. Allow at least three hours at high tide when the track is 10.6km.
You could add detours to Bark Bay (near Medlands) and Te Pukatea Bay (40 minutes return from Anchorage).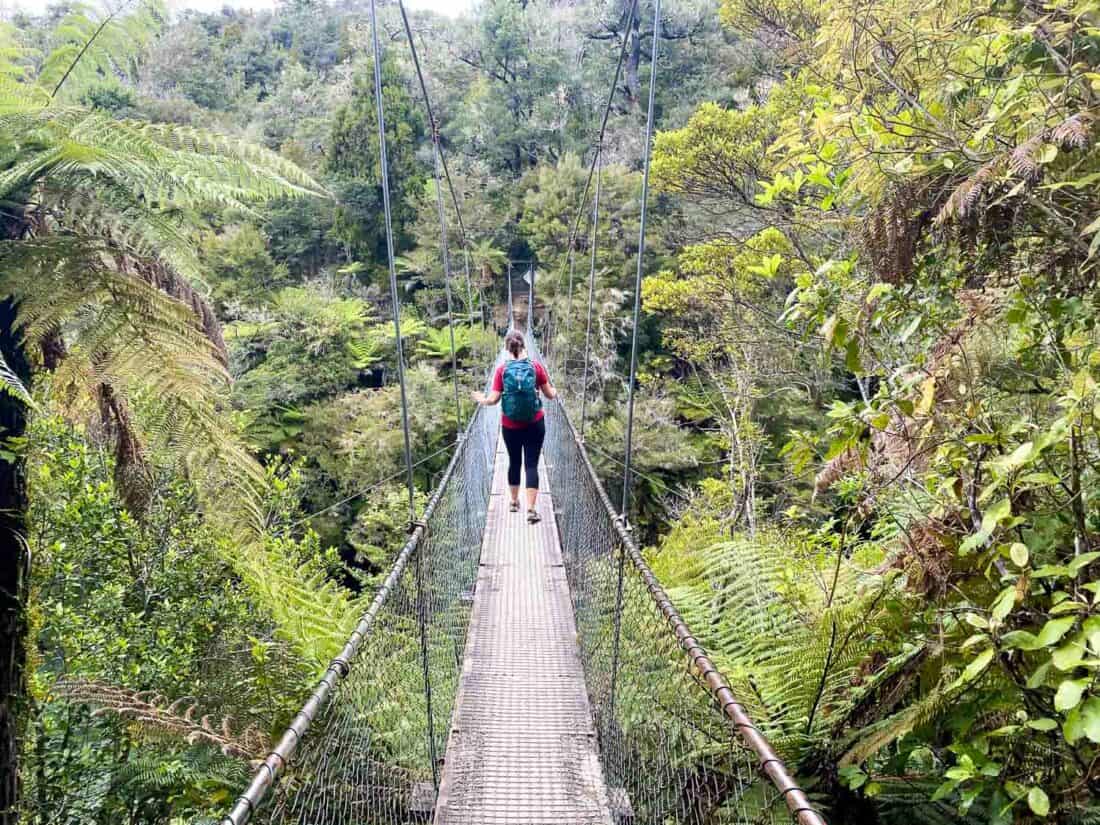 If you are coming from Takaka and Golden Bay, I recommend driving to Totaranui and doing a return hike (Option 1 below).
Low Cost Abel Tasman Day Trips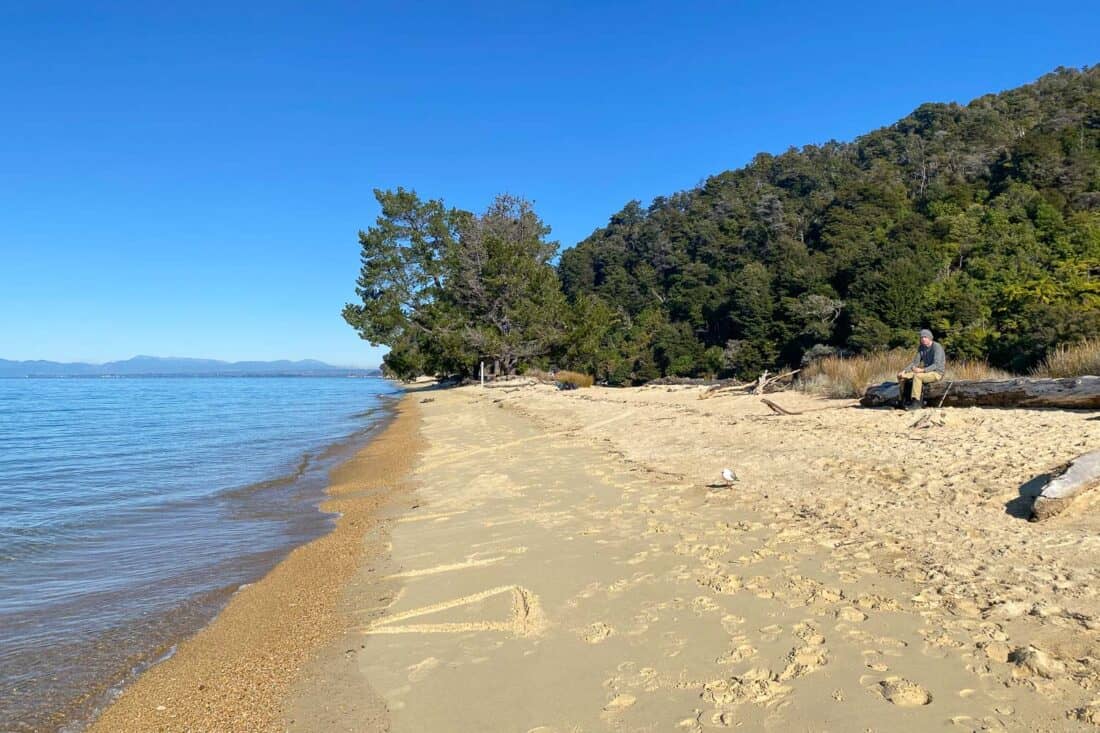 If you are on a tight budget and want to avoid water taxi fees, you could do return hikes from either Marahau or Totaranui, which are accessible by car.
The end near Marahau isn't the most beautiful part of the Abel Tasman track, but it is still an enjoyable hike from Marahau to Apple Tree Bay (just over an hour from Marahau) and back.
Or as we did on one trip, you could take the water taxi from Marahau to Anchorage ($40) and walk back to Marahau.
The 13km hike took us three hours plus breaks. It doesn't pass through any beaches, but there are various detours to beaches possible along the way.
If you only have one day in the park, though, it is worth taking a water taxi further north to hike a more scenic section of the track.
Best Abel Tasman National Park Day Trips
1) Hike the Quiet Northern Section of Abel Tasman from Totaranui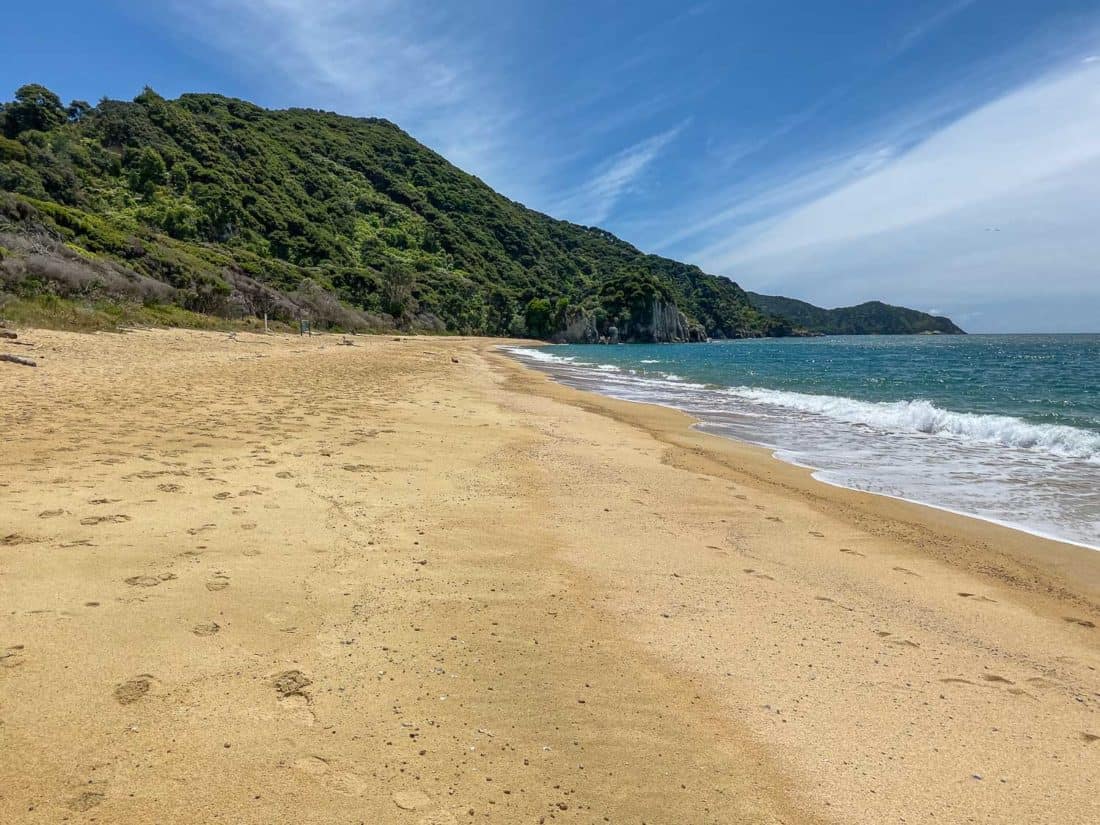 Our first Abel Tasman day trip was to the northern part of the park.
If you want to escape the crowds on the Abel Tasman Coast Track, especially if you are visiting during the school summer holidays (Christmas to early February), I highly recommend this hike.
Almost all multi-day trampers finish their walk at Totaranui, the last beach served by water taxis. So if you hike north from Totaranui, you can avoid most hikers and have the gorgeous beaches to yourselves.
I think it's the best part of the Abel Tasman track, although it's not the most convenient to reach.
We first visited this section of the park while staying at Adrift in Golden Bay near Takaka. The drive to Totaranui campsite took us one hour and the last 20 minutes was quite tiring as the road turns to gravel and is narrow and winding.
If you don't want to drive there, you can take the water taxi from Marahau or Kaiteriteri to Totaranui.
This is the best way to visit if you're coming from the south (Nelson or Motueka). It's easier than driving and the boat ride is scenic.
It's a fairly long journey, though. The water taxi from Kaiteriteri to Totaranui takes two hours, so you'll need to get the 9am (with Abel Tasman Sea Shuttles) or 9.20am (with Wilsons) departure to allow time for hiking.
The last boat back from Totaranui is at 2.40pm with Wilsons or 4pm with Abel Tasman Sea Shuttles. Timetables are reduced in low season. Water taxis cost about NZ $50 each way and must be booked in advance.
At Totaranui there's a large campsite, toilets, and maps showing the hikes in the area but no shop, so come prepared.
Totaranui itself is a lovely 1km long golden beach, but you'll find even more beautiful beaches if you walk north towards Separation Point.
At the very least, I recommend following the coast track north to Anapai Bay, our second favourite beach in the park. The DOC estimate for this walk is one hour each way, but it only took us 40 minutes.
The trail takes you through lush forest over a hill and down to the lovely curve of golden sand at Anapai Bay with granite outcrops at each end.
In November we had the beach to ourselves as we ate our packed lunch. Even when we returned here in February (while staying at Awaroa Lodge), it was very quiet.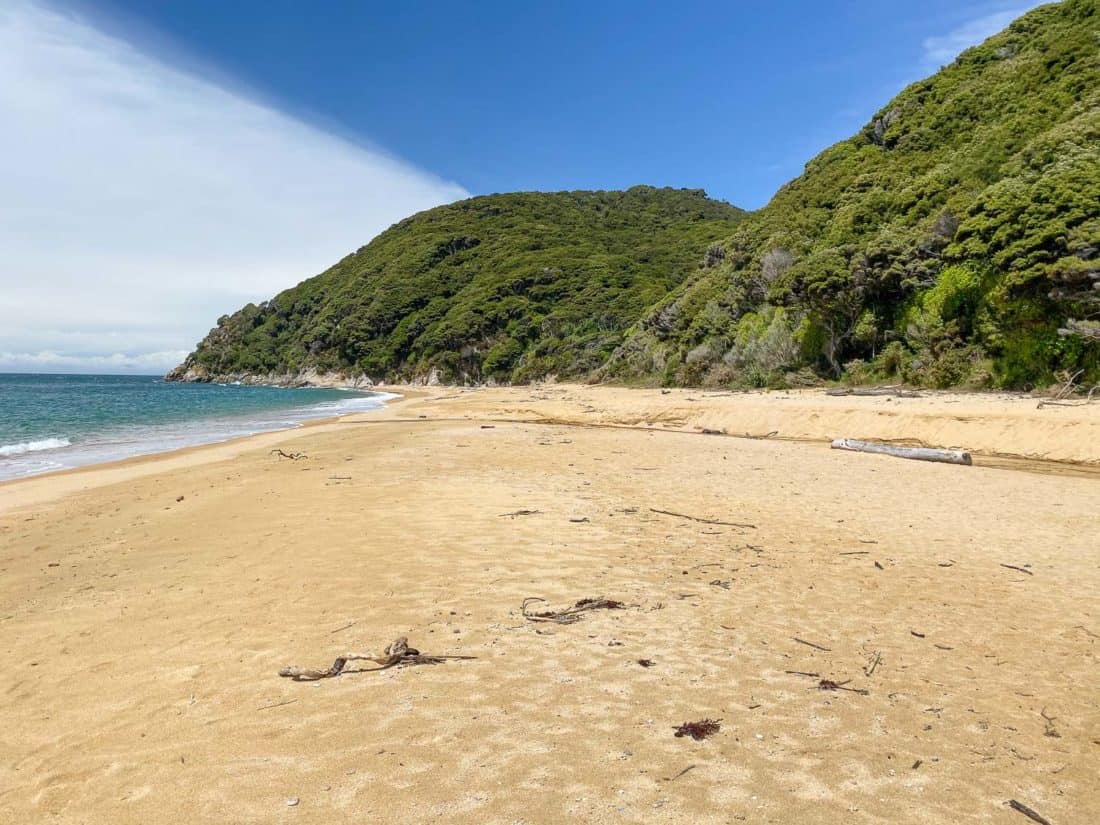 From here the trail continues up and over the headland, through native bush with occasional sea views, to Mutton Cove.
The estimate from Anapai Bay to Mutton Cove is one hour but again it took us 40 minutes.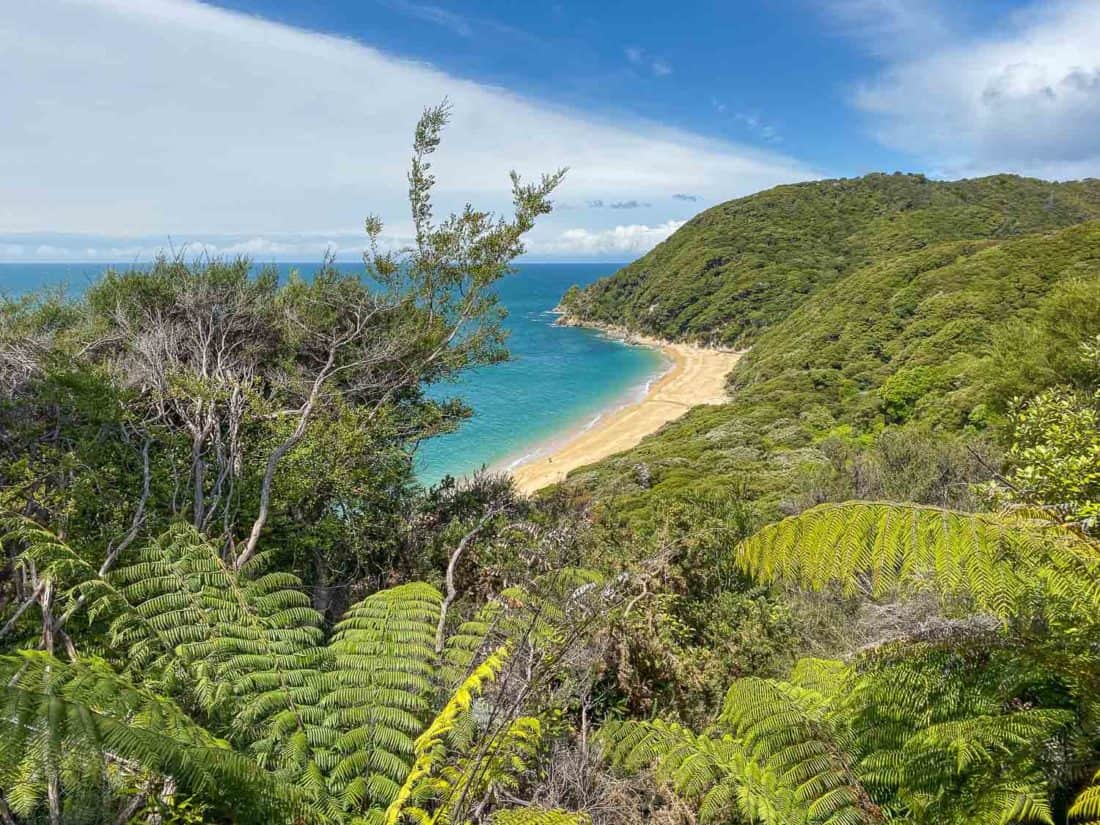 Mutton Cove is even more beautiful than Anapai Bay and is my favourite beach in Abel Tasman.
The wide stretch of golden sand leads to emerald water with rocky headlands at each end. At the far end of the beach, you can scramble over some rocks to reach the second section of the beach (and continue on the trail).
This would be a lovely place to camp (20 tents allowed and bookings required).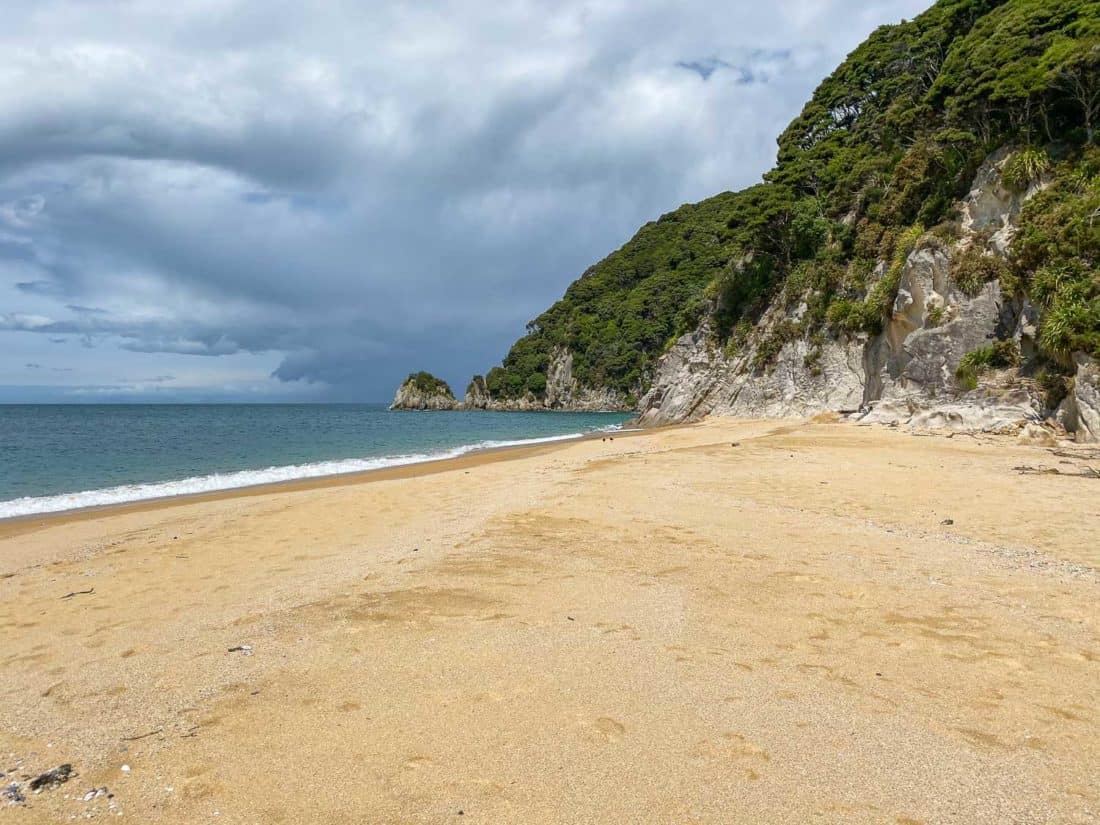 After relaxing on the beach for a while, we decided not to continue on to Separation Point but returned to Totaranui back the way we came.
Our Abel Tasman day walk from Totaranui to the far end of Mutton Cove and back was 14km (8.7 miles) and took us four hours including plenty of breaks (3 hours 15 minutes of walking).
The total elevation gain was 433 metres (1420 ft), but this was made up of smaller hills with nothing too challenging.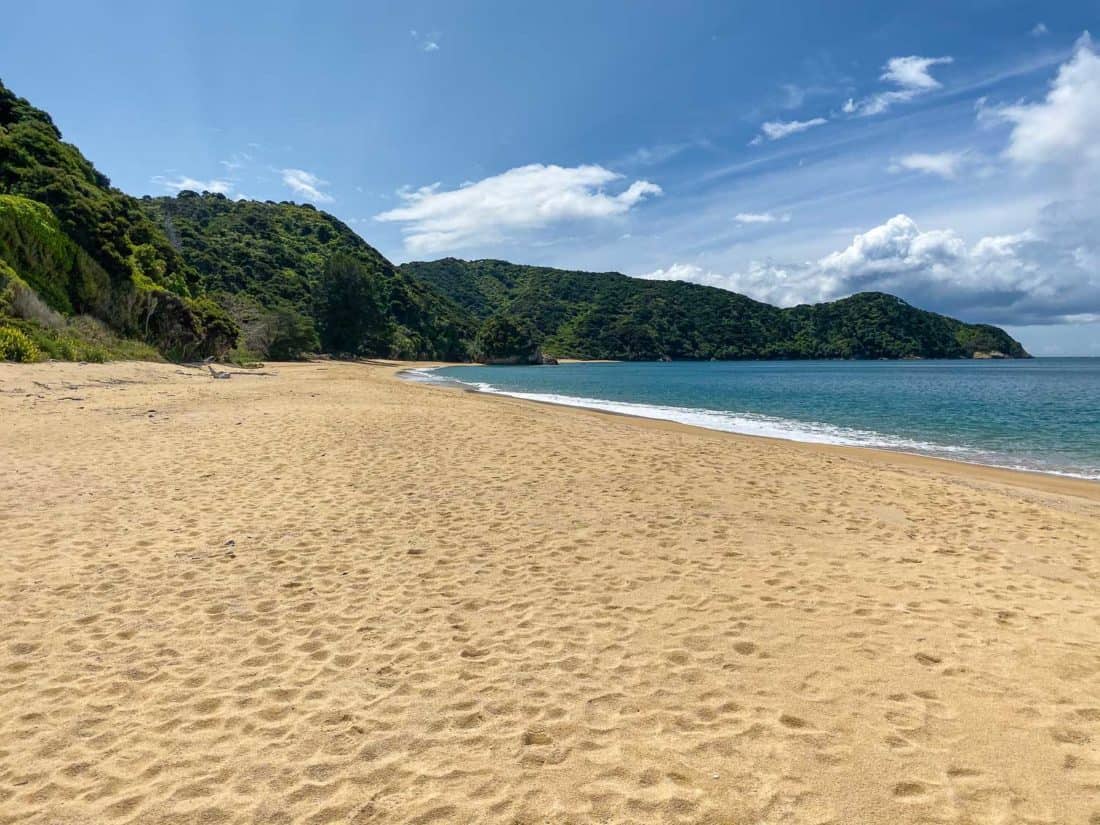 If you want a longer walk, you could continue on to Whariwharangi Bay and return to Totaranui via the inland route over Gibbs Hill (a much steeper and more exposed route).
Another interesting but long (23km/14 mile) option if you are starting in Golden Bay that would avoid the drive to Totaranui is to start at Wainui Bay car park (a 30-minute drive from Takaka).
From here you can hike to Whariwharangi Bay and continue to Mutton Cove, Anapai and Totaranui. Return on the coast track or over Gibbs Hill.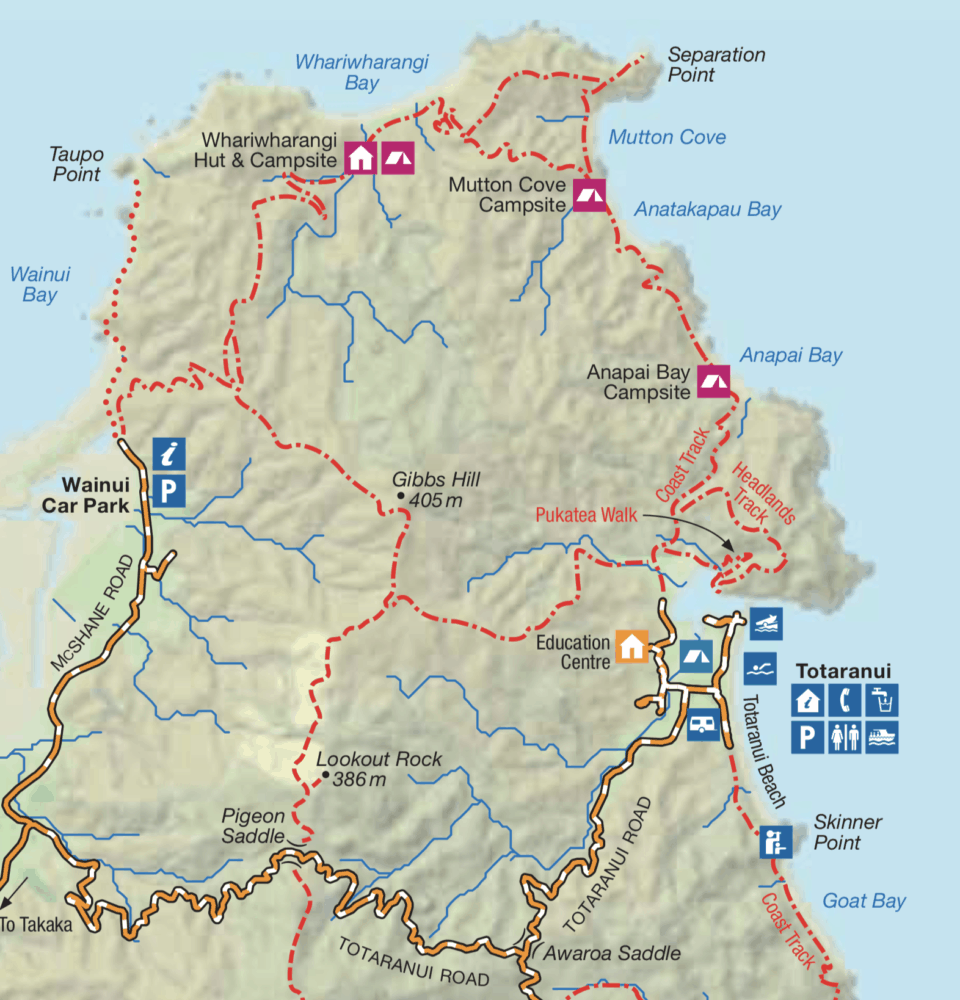 2) Hike and Kayak Day Trip from Tonga Quarry to Anchorage
For our second trip to the park, we did an Abel Tasman Cruise, Self-Guided Walk and Kayak Experience with Kaiteriteri Kayaks, which unfortunately they no longer offer.
Check out Abel Tasman Kayaks in Marahau for other options.
A combo tour is an excellent option if you only have one day in Abel Tasman National Park as you can combine a boat trip, hiking, and kayaking.
Our trip began on the 9am Abel Tasman Sea Shuttles water taxi from Kaiteriteri.
The boat was quite large with a toilet and small kiosk onboard. The journey was scenic as we headed north along the coast into the park.
Along the way we heard commentary about the area and took detours to Split Apple Rock and Adele Island, where we saw a few fur seals lazing on the rocks.
We disembarked at Tonga Quarry for the self-guided hiking section of the trip. We had two hours to get to Bark Bay, so we first took a detour north to beautiful Onetahuti Beach, a 15-minute walk away.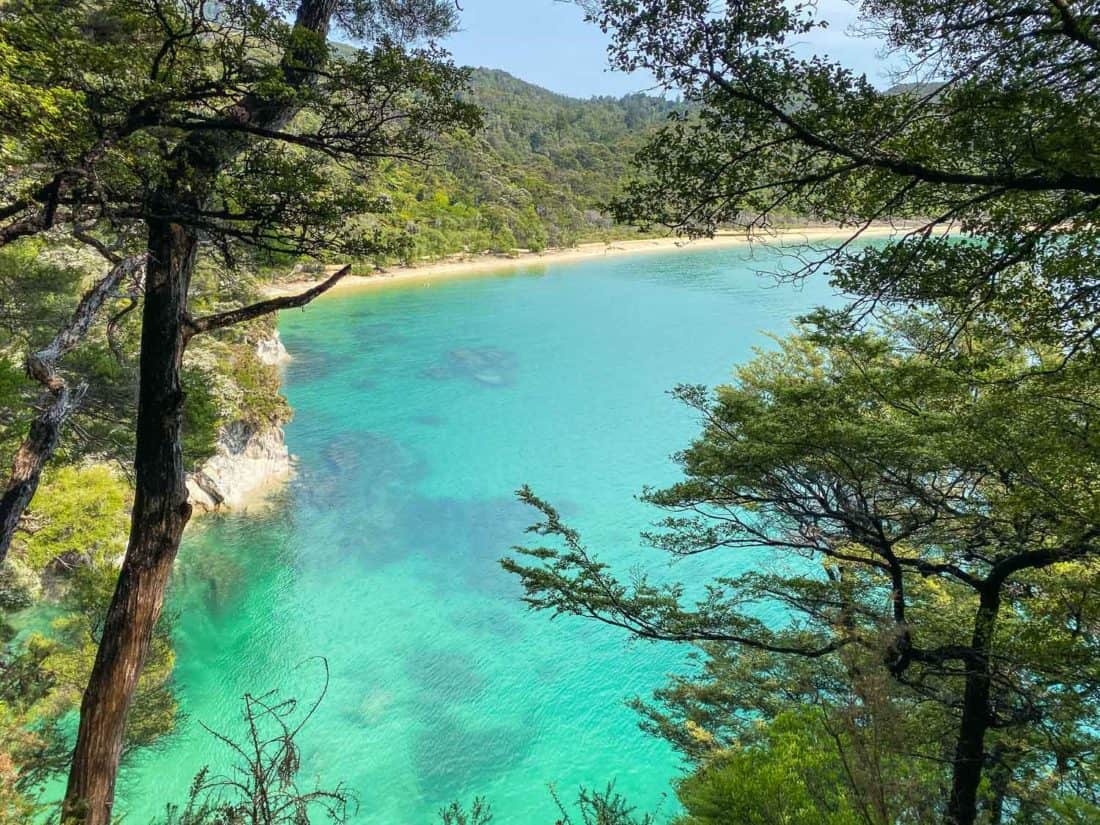 From Onetahuti to Bark Bay is 4km (2.5 miles) and the estimated time is 1 hour 45 minutes, but it took us 1 hour 15 minutes.
It was a lovely walk through native bush past a few little waterfalls, over a suspension bridge, and ending with good views of Bark Bay lagoon from above. There are some fairly big hills but nothing too intense.
Bark Bay is a beautiful long beach with a tidal estuary on the other side of the sand. There's a large campsite here and it was the busiest beach we'd visited so far.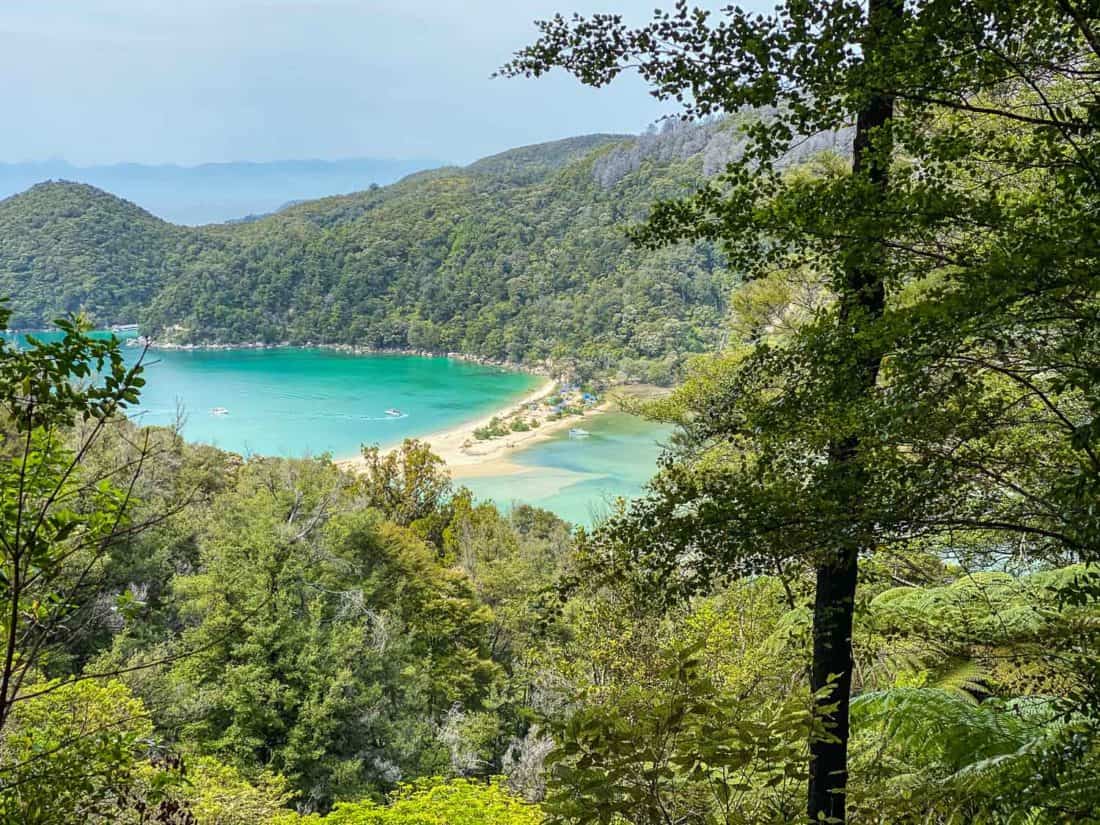 On the beach we met up with our kayak guide, Pandi from India, and two other Brits on our tour for the provided picnic lunch (sandwich, cake, fruit, cookies, a hot drink, and juice).
Then it was time for the kayaking portion of the day. Pandi gave us some kayaking tips and got us set up with spray skirts which kept us surprisingly dry.
The double kayaks have rudders and are fairly easy to control (the person in the back steers with foot pedals).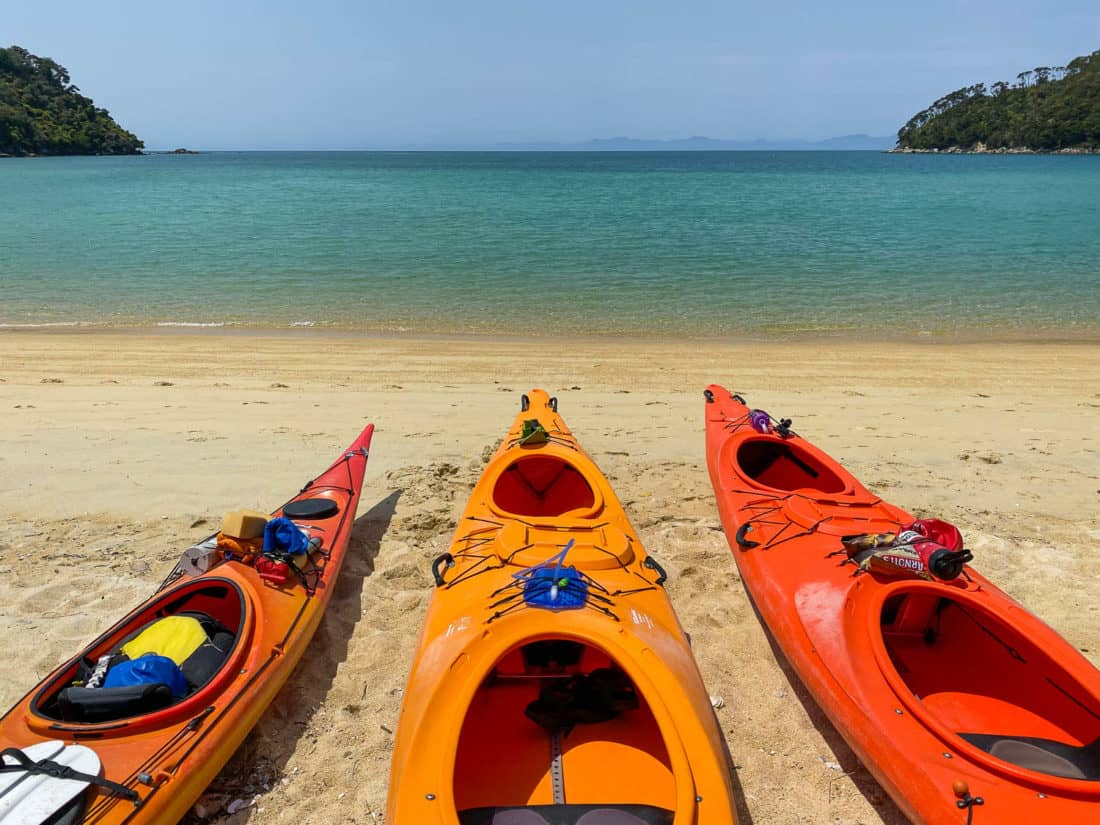 We set off down the coast towards Anchorage. We enjoyed getting a different perspective of the park, seeing the golden beaches and lush green hills from a distance and gliding over the clear emerald water.
Along the way we saw cormorants and seals and passed some beautiful bays. Sandfly Bay looked peaceful and we made a note to return one day (despite the name, it has no more sandflies than anywhere else).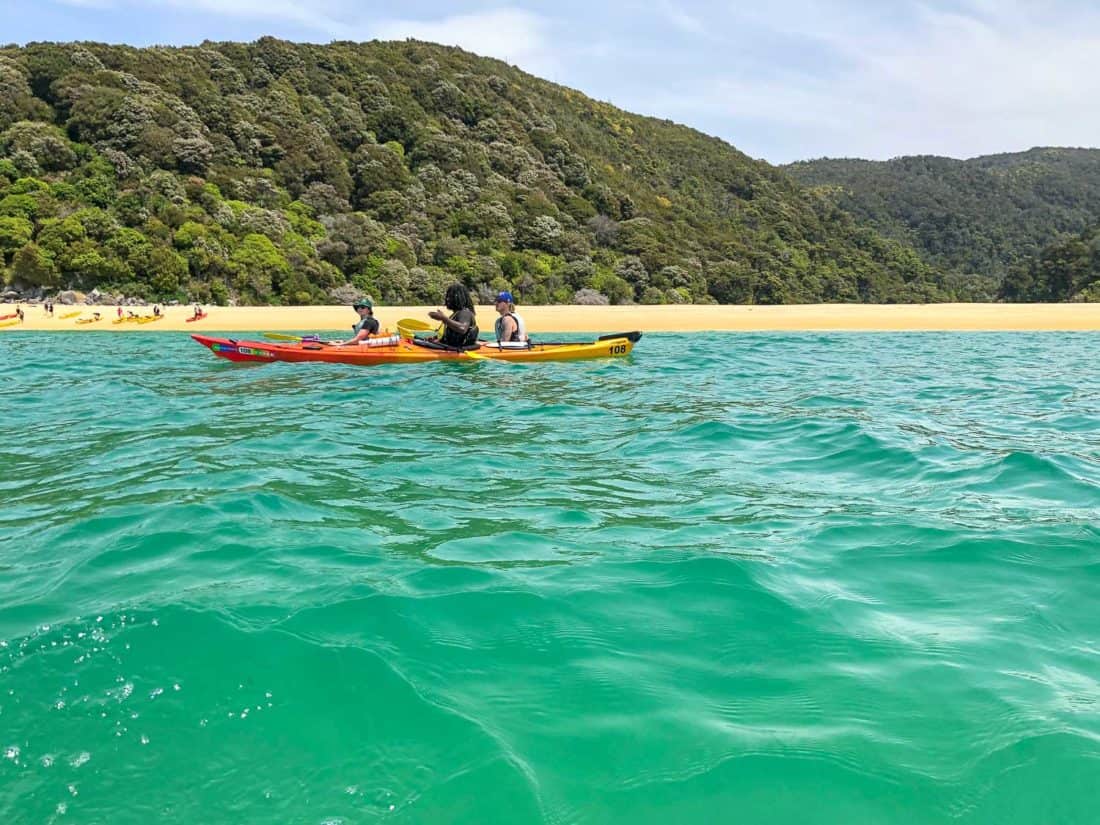 Torrent Bay is home to many off-the-grid holiday homes with no road access—kayaking past here was our inspiration to return to stay in one (see above).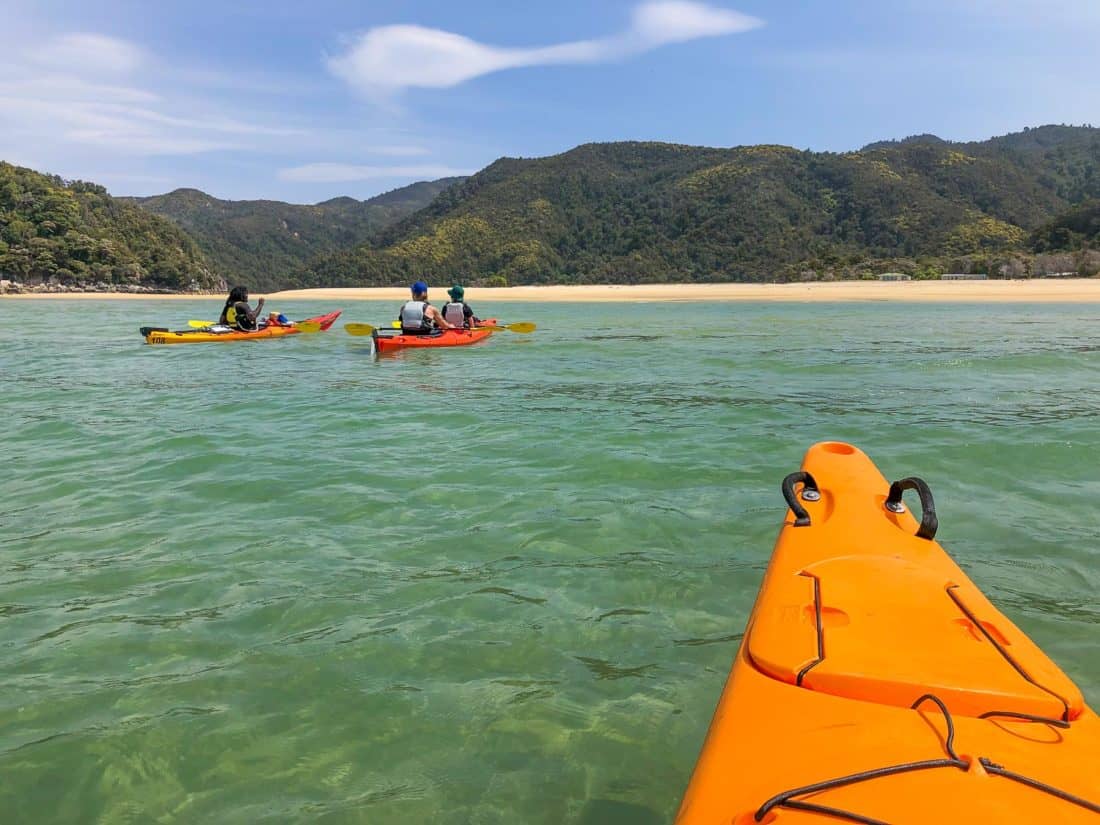 We even got our kayaks together, raised a canvas sheet and had a go at kayak sailing.
Our kayak trip ended at Anchorage, a large beach that's popular with walkers and yachties. It was the busiest beach we visited in Abel Tasman but with plenty of space for everyone.
After relaxing on the beach for a while, we took the 3.45pm water taxi back to Kaiteriteri. On the way we were lucky to see a large pod of dolphins who swam alongside our boat. They are a rare sight in Abel Tasman and it was the perfect way to end the day.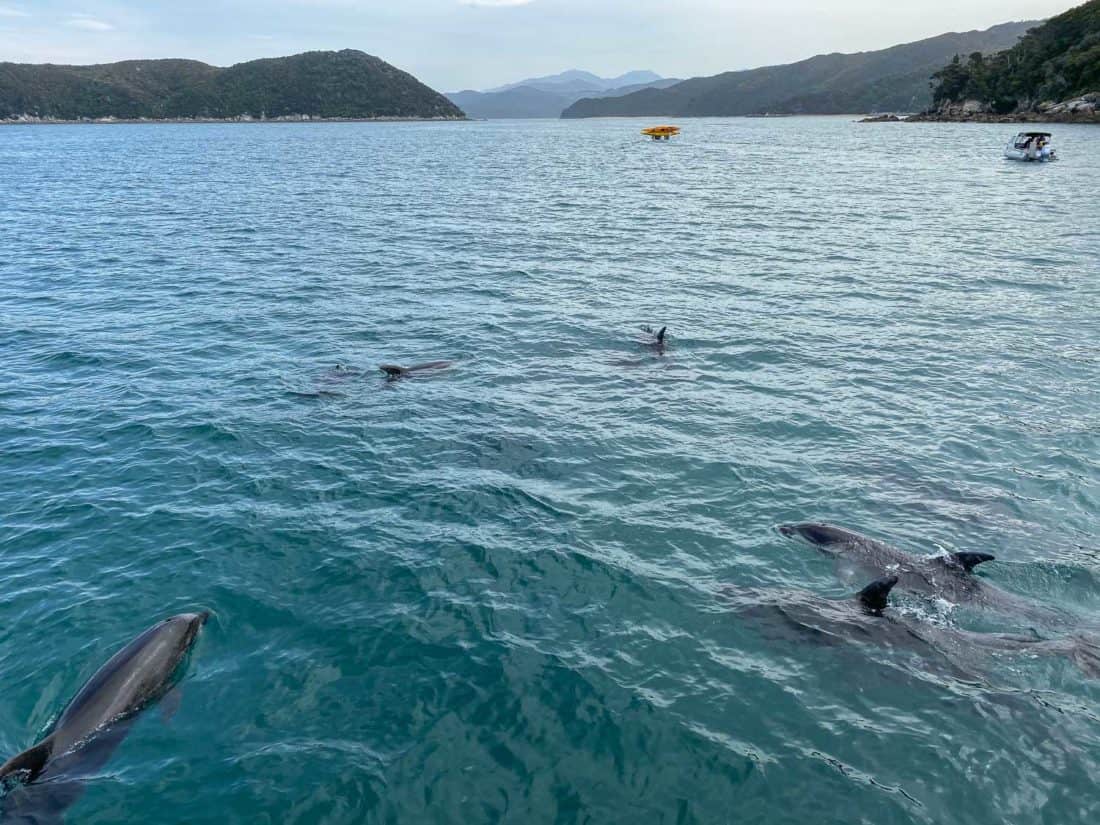 3) Sail Abel Tasman National Park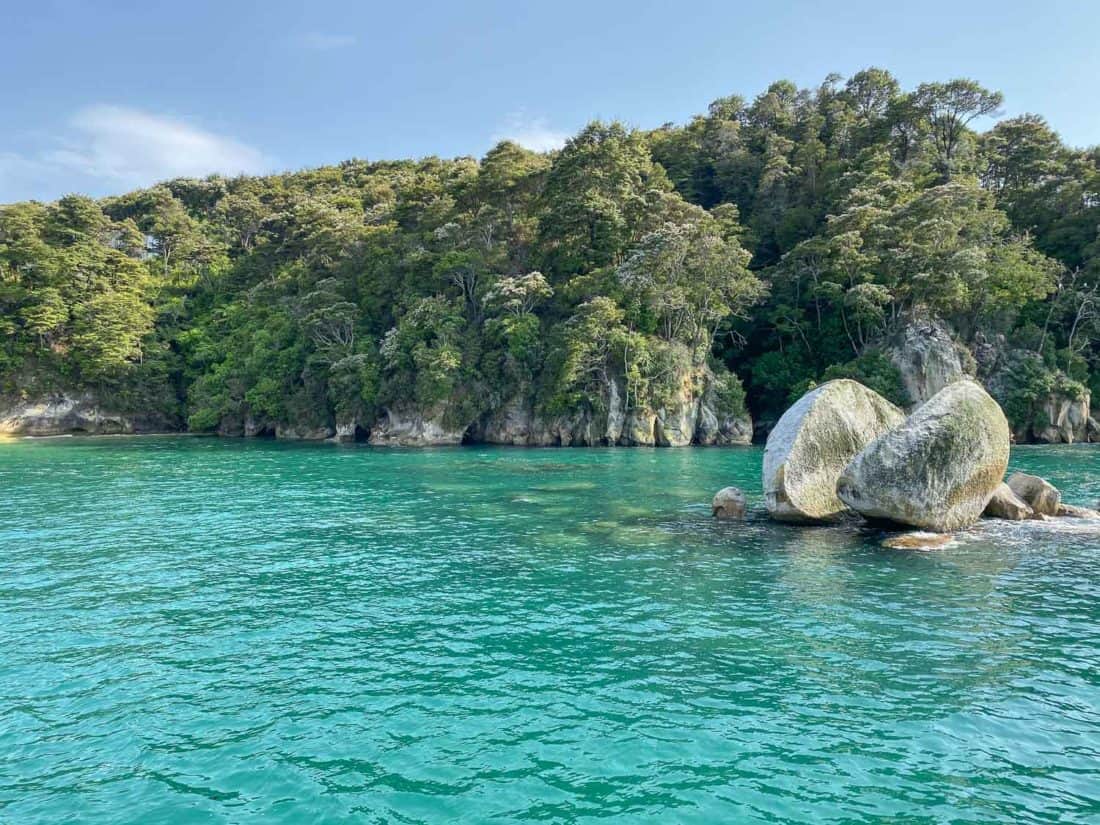 If you're not feeling energetic, you can still enjoy Abel Tasman National Park by taking a boat trip.
On our third Abel Tasman day trip, we rented a sailing catamaran with a group of friends from Abel Tasman Sailing Adventures.
We relaxed, drank and ate on the boat as we enjoyed the views of the coastline. We anchored off Te Pukatea, a perfect crescent of sand near Anchorage, where we standup paddleboarded and swam to shore.
This is a fun option if you have a group and are more interested in relaxing than hiking.
If you aren't with a group, they run scheduled Abel Tasman sailing day tours that individuals and couples can join.
You can also explore the park by taking a water taxi to one of the beaches. There you can relax or do a short walk before being picked up by the water taxi later in the day.
There are so many options. From Kaiteriteri or Marahau one of the closest options is to get the water taxi to Anchorage where there's a large beach. You can also walk from here to lovely Te Pukatea Bay in about 20 minutes.
Abel Tasman National Park Map
You can also download a detailed Abel Tasman walking map from the DOC website.
Is Abel Tasman Worth Visiting?
Abel Tasman is wonderful whether you visit on a day trip, stay overnight, or hike the whole track.
There are so many options for all fitness levels and interests. I hope I've given you some ideas above but you can also take a water taxi to any of the beaches, walk a section of the track, and then get picked up by the water taxi at the end.
Although it's possible to visit on a half-day trip, I highly recommend giving Abel Tasman at least one full day as it's such a beautiful place and you'll want time to linger on those beaches.
Even after six trips to the park, we still can't wait to return.
More New Zealand Tips
Read more of our tips for exploring beautiful New Zealand:
Top of the South Island
Rest of the South Island
North Island
If you enjoyed this post, pin for later!