This page contains affiliate links. Please read our disclosure for more info.
The Bay of Islands is a stunning holiday destination in subtropical Northland in the far north of New Zealand. It's an area of idyllic islands, golden beaches, rolling green hills, and native forest rich with birds.
It's an important place in New Zealand's history—Waitangi is known as the birthplace of the nation, and Russell is the oldest and prettiest town in the country.
If you love beaches, water activities, and coastal hikes, don't miss Bay of Islands.
Here are my picks for the best things to do in Bay of Islands as well as where to stay, how to get there, and a map of the top Bay of Islands activities.
Contents
Where to Stay in Bay of Islands
The Best Base for Bay of Islands
The three main towns in the Bay of Islands are Paihia, Russell, and Kerikeri.
Paihia is the most popular base. This small seaside town has the most accommodation, restaurants, and tour options, and it's conveniently located on the mainland.
Paihia is the best place to stay if you want to be in the heart of the action and have easy access to the rest of Northland or are visiting without a car.
While Paihia is pleasant enough, we much prefer Russell. It's smaller, quieter, prettier, and full of historic charm.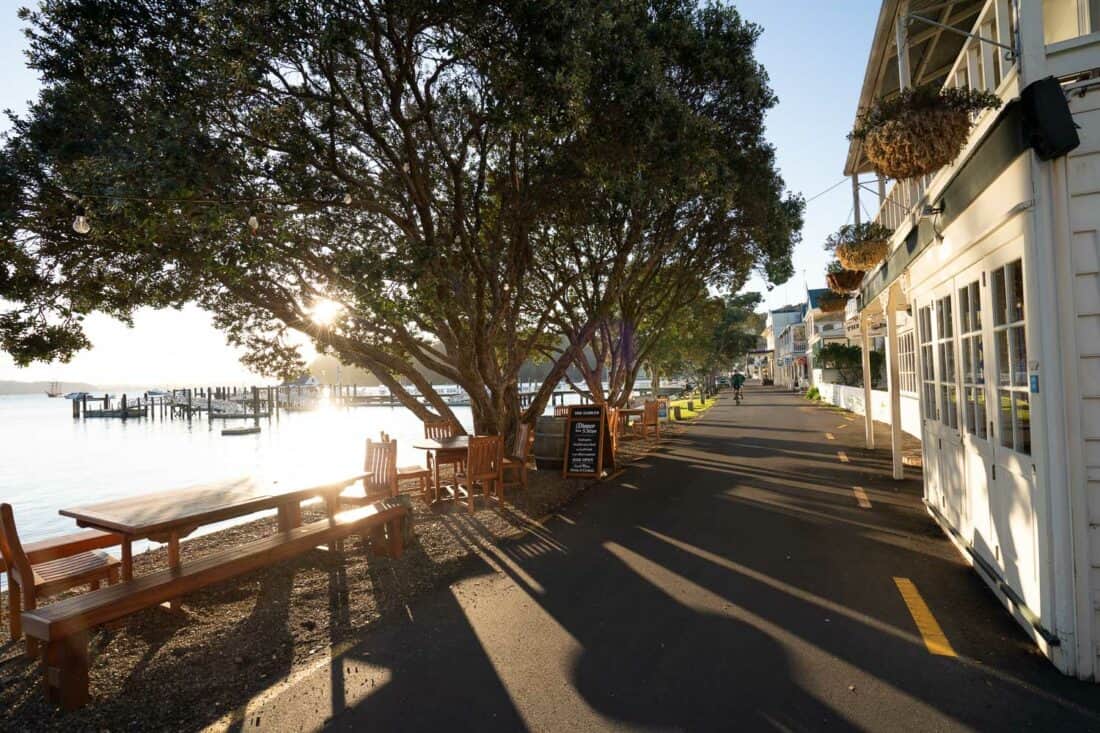 Russell is a bit harder to reach as it's on a peninsula and is best accessed from the mainland via a short car ferry ride from Opua.
There are passenger ferries ($14 adult/ $6.50 children return) between Russell and Paihia, which only take 15 minutes, so it's easy to visit one from the other.
Kerikeri is a bigger town a 30-minute drive north of Paihia. While I think it's worth visiting, I wouldn't stay here as it's away from the sea.
Where We Stayed in Russell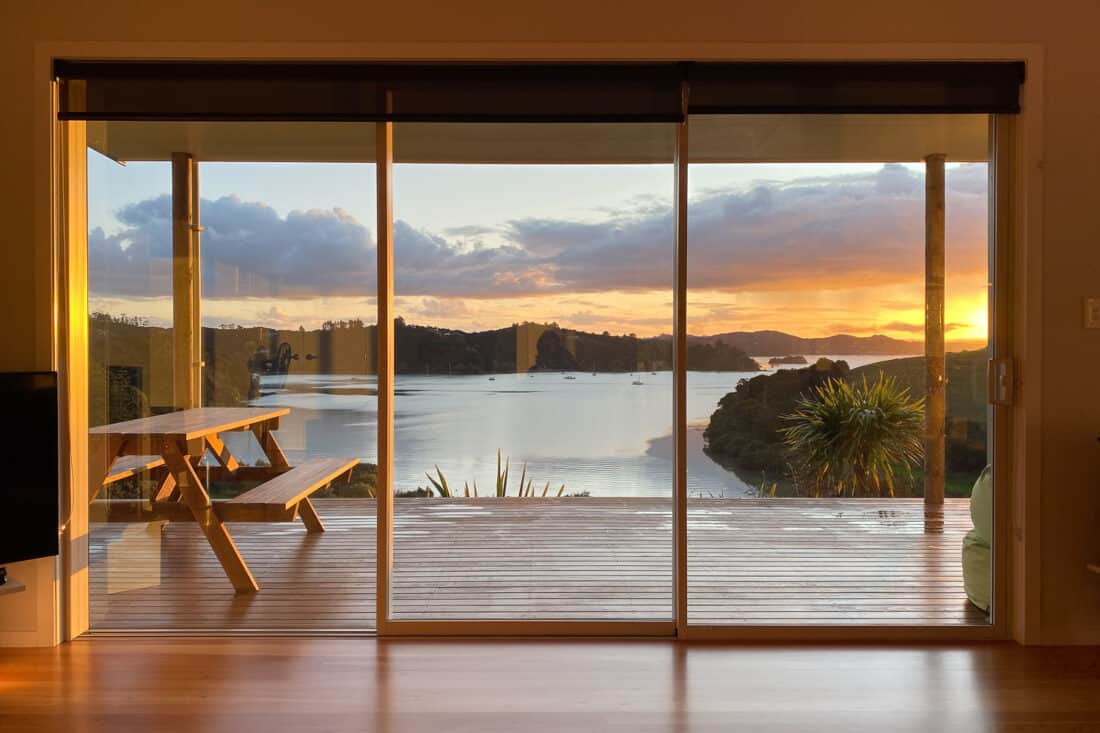 We stayed in this beautiful two-bedroom house with incredible bay views from all rooms and the large terrace. It's immaculate and well-equipped.
The house is only a five-minute drive from Russell, but it feels far away from it all up on a hill. We heard kiwis at night and saw many native birds in our garden during the day.
If you have a car, it's the perfect place for a relaxing stay. Check prices and availability here.
Other Options
If you'd rather be in walking distance of restaurants, beaches, and the ferry to Paihia, stay in the centre of Russell.
The 19th century Duke of Marlborough Hotel has the perfect location on the waterfront. Go for a room with a sea view and balcony.
If you'd like to stay at the best beach in the area, look for a bach at Oneroa Bay, a five-minute drive from Russell. Options include Pencarrow Cottage and Oceanfront Beach House.
Another lovely, secluded spot five minutes from Russell is Tapeka Point—staying in one of the beachfront baches would be wonderful.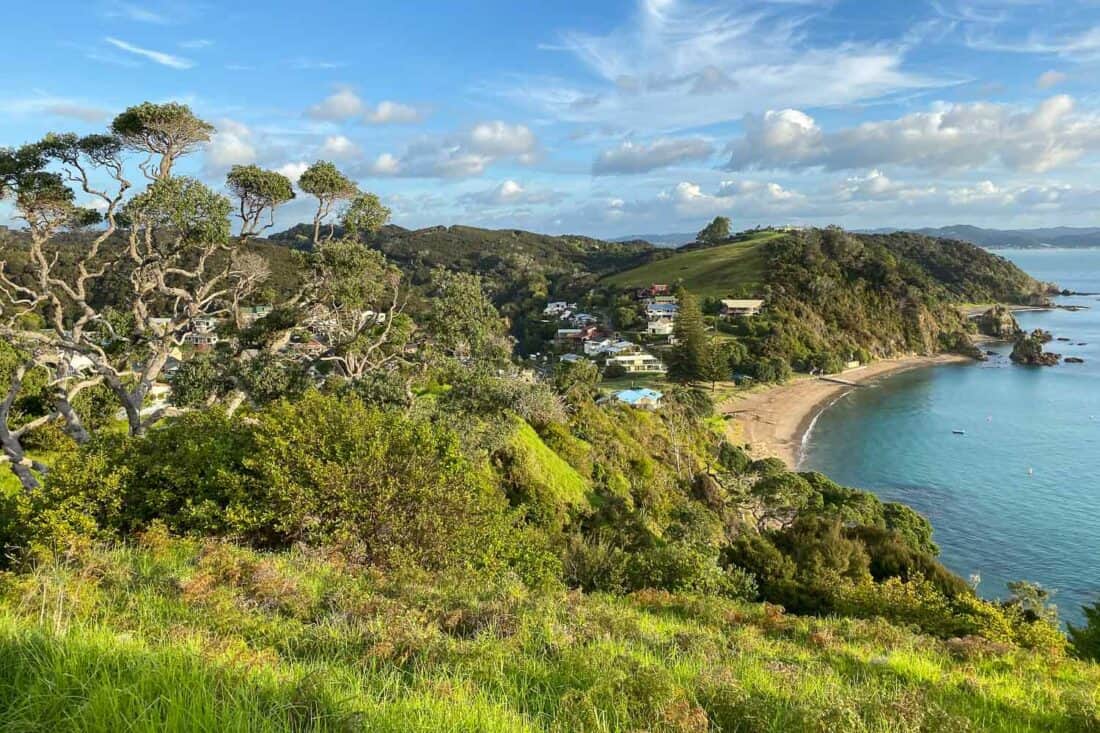 Search for more accommodation in Russell here.
Or browse the options in Paihia here.
Best Things to Do in Bay of Islands
1) Cruise the Islands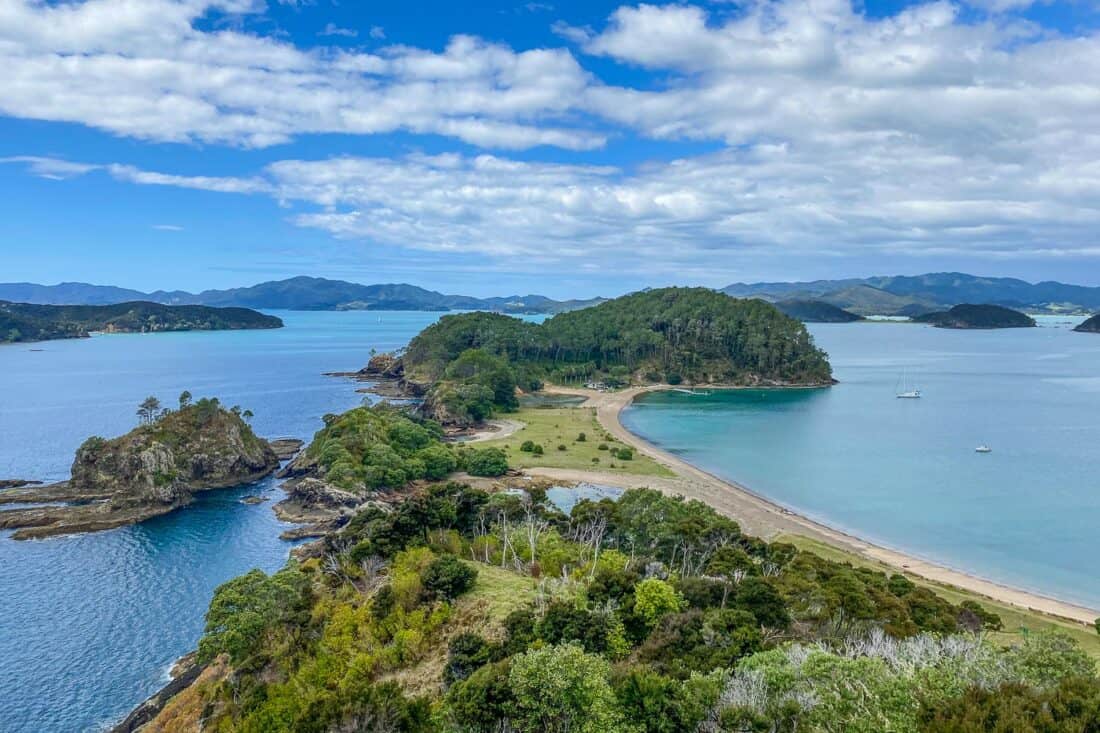 The absolute best thing to do in Bay of Islands is get out on the water and explore the 144 islands in this natural harbour.
On a Bay of Islands boat trip you'll see dramatic rock formations, lush green islands, sandy beaches, native birds, and, if you are lucky, dolphins, seals, and whales.
We sailed ourselves in a small yacht as part of a six-day learn to sail in the Bay of Islands course.
Most people take a day cruise that includes the iconic Hole in the Rock and perhaps a stop at one of the islands. Here are a few options: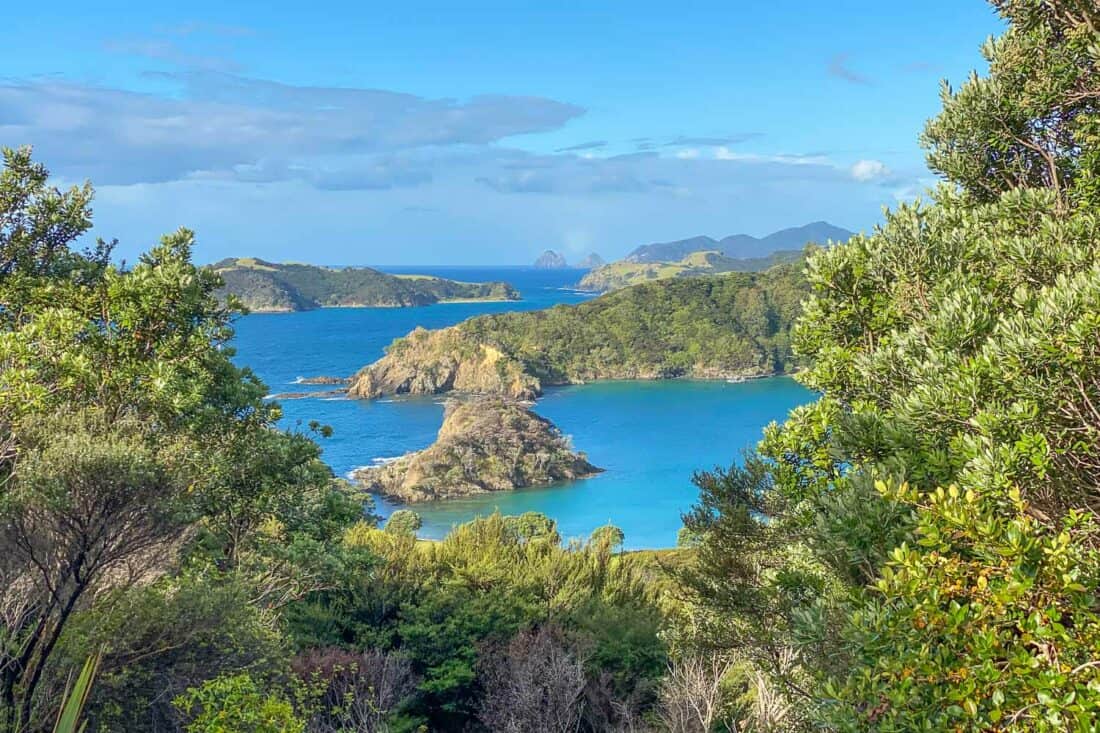 If you'd rather spend more time on an island and less on a boat, you can take a water taxi to one of the islands.
Urupukapuka Island (see below) is the most accessible with regular ferries in high season.
We also enjoyed Motuarohia Island (also known as Roberton Island), which has a beautiful viewpoint, and Moturua Island, where we saw many native birds (included the rare tieke) on the 4.6km track that loops the island.
We used the Sea Shuttle Bay of Islands water taxi, which runs on-demand from Paihia or Russell. The helpful Russell Information Centre helped us get a group of five together in off season, so it only cost us $60 per person return from Russell to Urupukapuka.
2) Hike Around Urupukapuka Island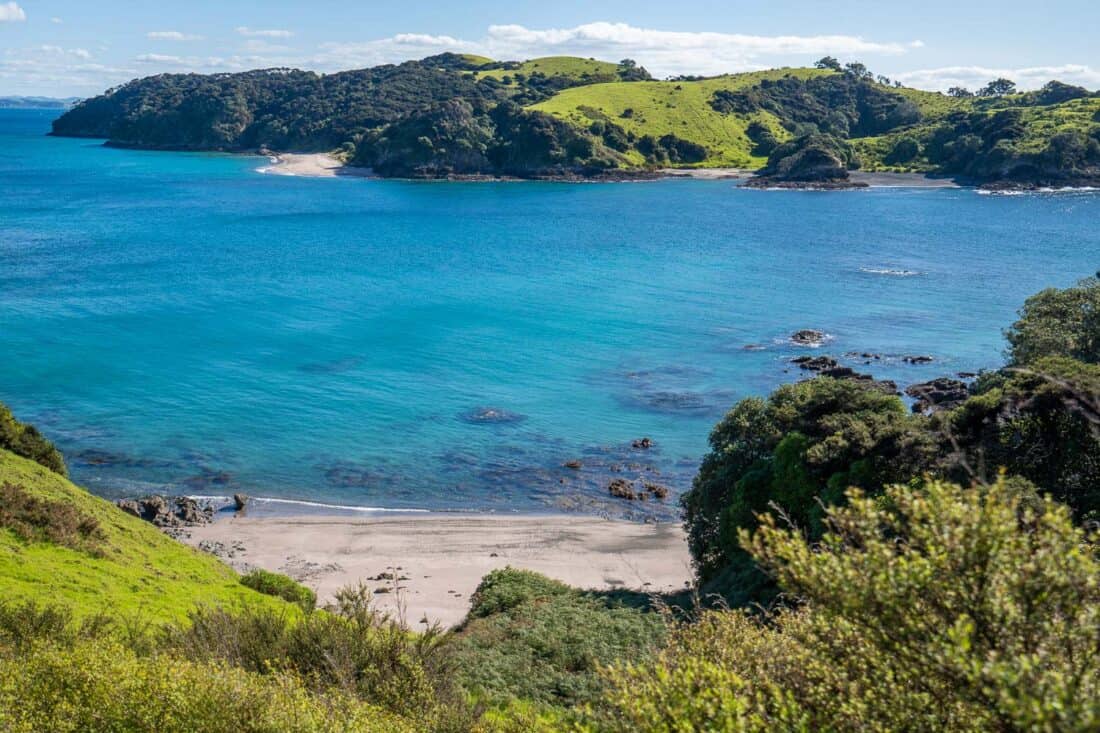 Urupukapuka Island is the largest island in the Bay of Islands, and it's well worth spending the day there in addition to a boat cruise.
We fell in love with its white sand beaches, vibrant green hills, rugged cliffs, and idyllic bays.
It's perfect for hiking, swimming, snorkelling, kayaking, or relaxing on some of the best beaches in Bay of Islands. In summer, there's even a cafe in Otehei Bay.
One of our favourite Bay of Islands activities is to hike around the entire island. We walked an 11.5km loop to most of the bays, but there are plenty of shorter hikes.
We like using the AllTrails+ app for our hikes, and it's worth upgrading to the paid subscription for the handy offline maps.
See my guide to Urupukapuka Island walks for more details.
3) Explore Historic Russell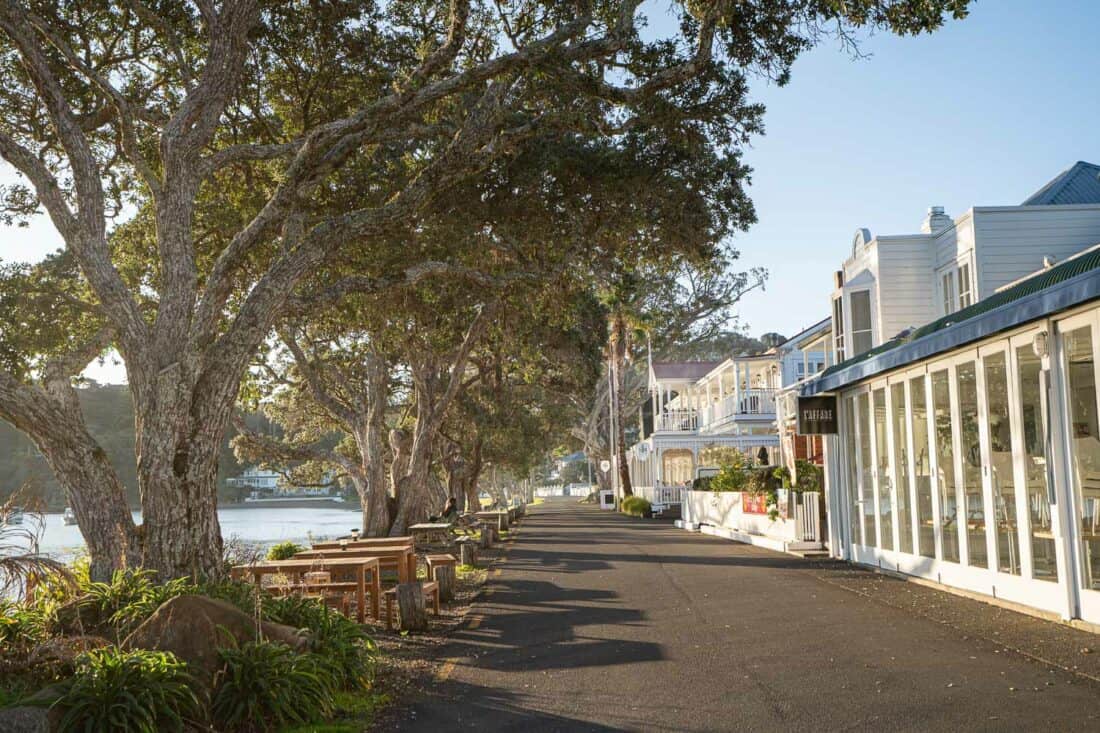 I think Russell is the prettiest town in New Zealand and a must-see on your Bay of Islands itinerary.
On the waterfront, historic white buildings, gnarled pohutukawa trees, and an impressive Moreton Bay fig tree overlook the beach and calm bay. It's a scenic spot for a stroll or sunset drink at one of the cafes.
Russell was the first permanent European settlement in New Zealand, and in the early 1800s, it was a very different place. Known as Kororāreka, it attracted traders and whalers, and the lawless town was know as the Hell Hole of the Pacific.
Now the tiny town has a laid-back atmosphere with its seafront cafes and cute shops (I recommend Newport Chocolates).
There's not much to do in town, but it's a charming base for exploring the Bay of Islands. I recommend some hikes and beaches on the peninsula below.
Hone's Garden is our favourite restaurant in Russell—the wood-fired pizzas are served in their garden (or get a takeaway). Greens is a solid choice for Indian food (there's also a branch in Paihia).
The iconic Duke of Marlborough Hotel and Restaurant, which dates back to 1827, has the best waterfront location. We enjoyed a sunset drink on their terrace but didn't eat here as vegetarian options are limited.
4) Enjoy the View on Flagstaff Hill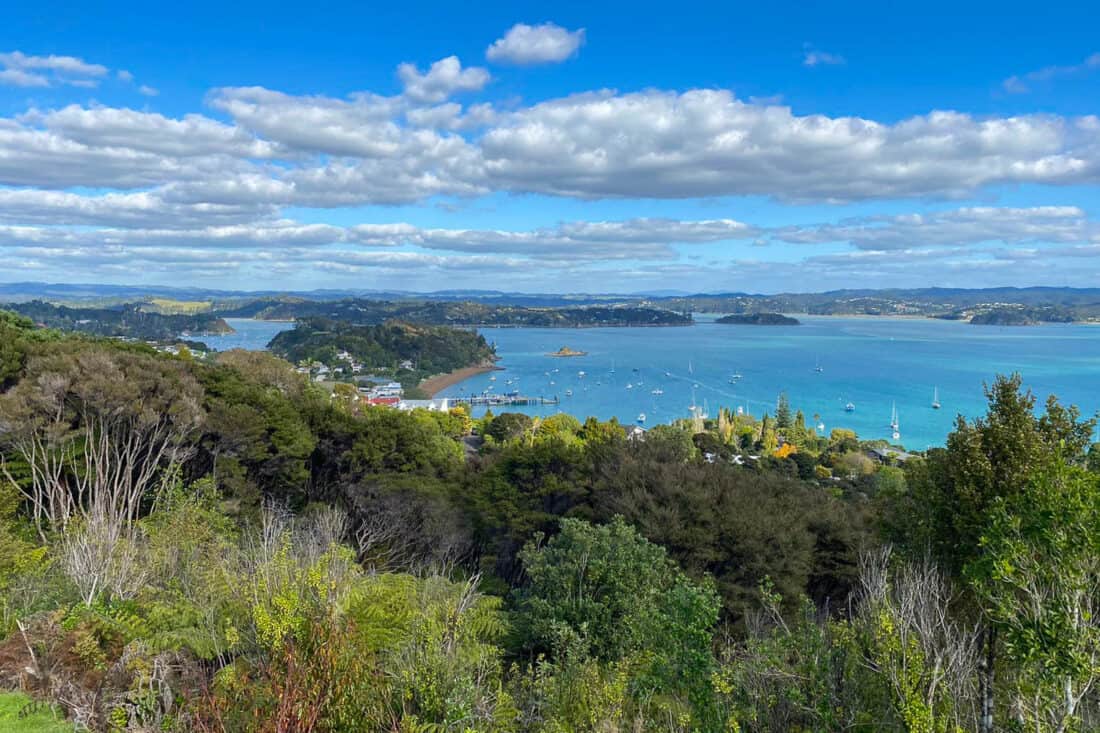 One of the best things to do in Russell is visit Flagstaff Hill Historic Reserve. You can drive up, but it's worth the walk.
At the top there are stunning views down to Russell and over to the islands. Information panels explain the historical significance of the flagstaff.
The Union Jack that flew here in 1840 was cut down four times by Māori leaders in protest against British rule, eventually leading to the Northern War in 1845.
We walked the Flagstaff Hill Track, a 3.4km loop that took us an hour from the centre of Russell.
At low tide, it starts at the far end of the beach over the rocks, up a trail through the forest, and then on the road to the flagstaff. At high tide, walk up Wellington Street to reach the track.
5) Relax on Long Beach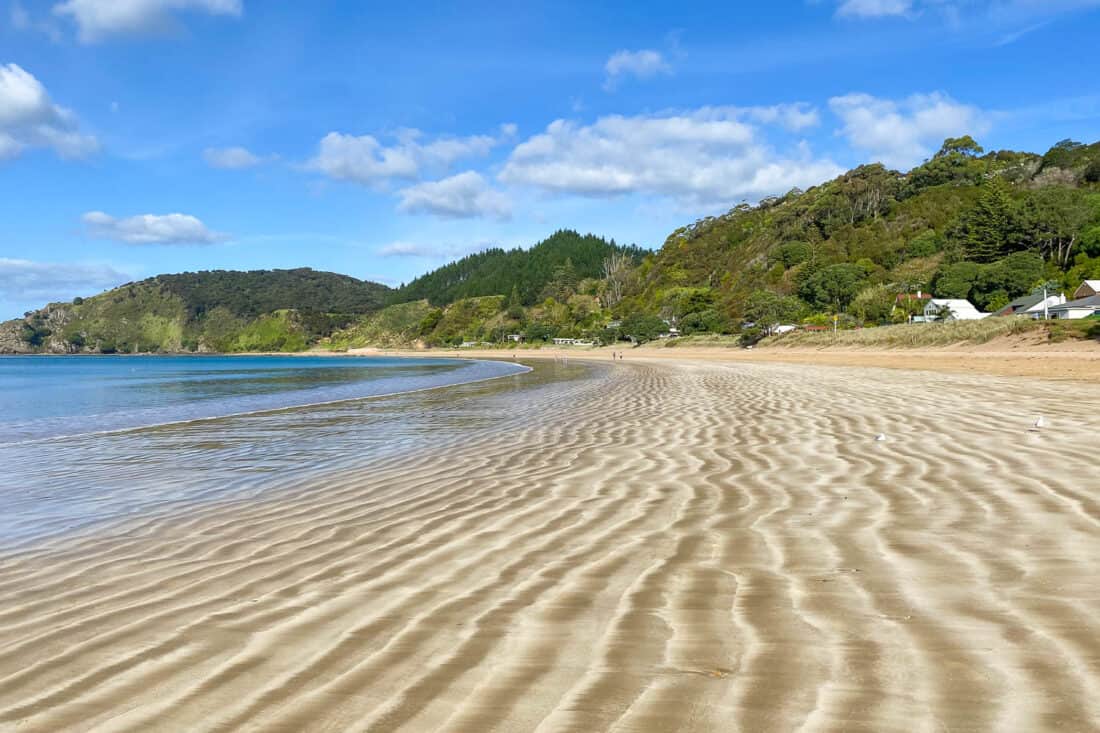 We were regulars at Long Beach (also called Oneroa Bay) during our stay in Russell. It's the best beach in the area with a lovely curve of golden sand and usually calm water for swimming.
We liked walking here at low tide when the patterns in the sand were exposed. A return walk from one end of the beach to the other took us about 25 minutes.
At low tide, you can scramble over the rocks on the left (facing the sea) to a smaller beach that's popular with naturists (it was empty on our visit).
You can walk to Long Beach from Russell in 20 minutes or drive in five minutes.
The only facilities are toilets and a coffee cart. One of the beachfront baches would be a great place to stay (see options above).
6) Walk the Tapeka Point Track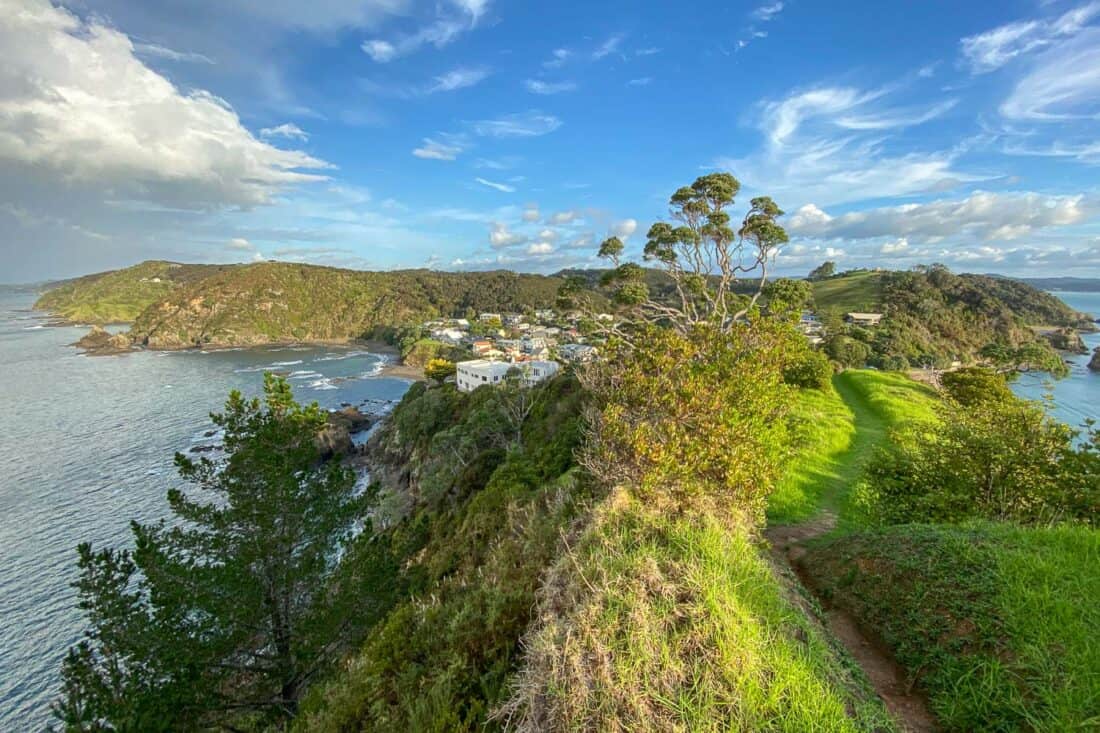 Our favourite walk near Russell is the Tapeka Point Track at the far end of the peninsula.
From the top there are spectacular 360º views of the surrounding bays and islands. It's especially beautiful in the late afternoon light and at sunset.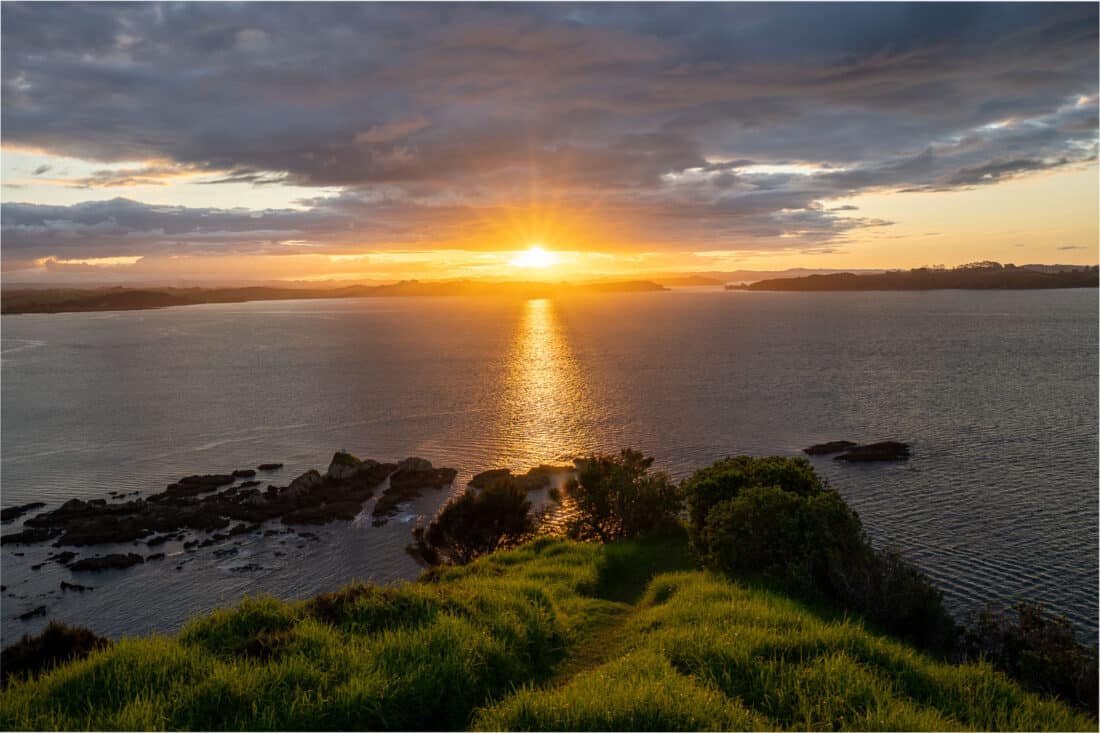 It's a steep but short 1km return walk that took us about 20 minutes. The grassy track can be muddy and slippery after rain.
The trail starts from Du Fresne Place, where you can find street parking. Or park at Tapeka Point Beach and walk from there. It's a pretty little bay that's usually calm for swimming.
Tapeka Point is a five-minute drive from Russell or you can walk here in about 30 minutes, but you have to climb up and over a fairly big hill. You could also stop at Flagstaff Hill on the way.
Top tip: Don't forget travel insurance for your New Zealand trip. We recommend SafetyWing, which is ideal for long term travellers, available worldwide, and can be purchased even after you've left.
7) Eat Lunch at Paroa Bay Winery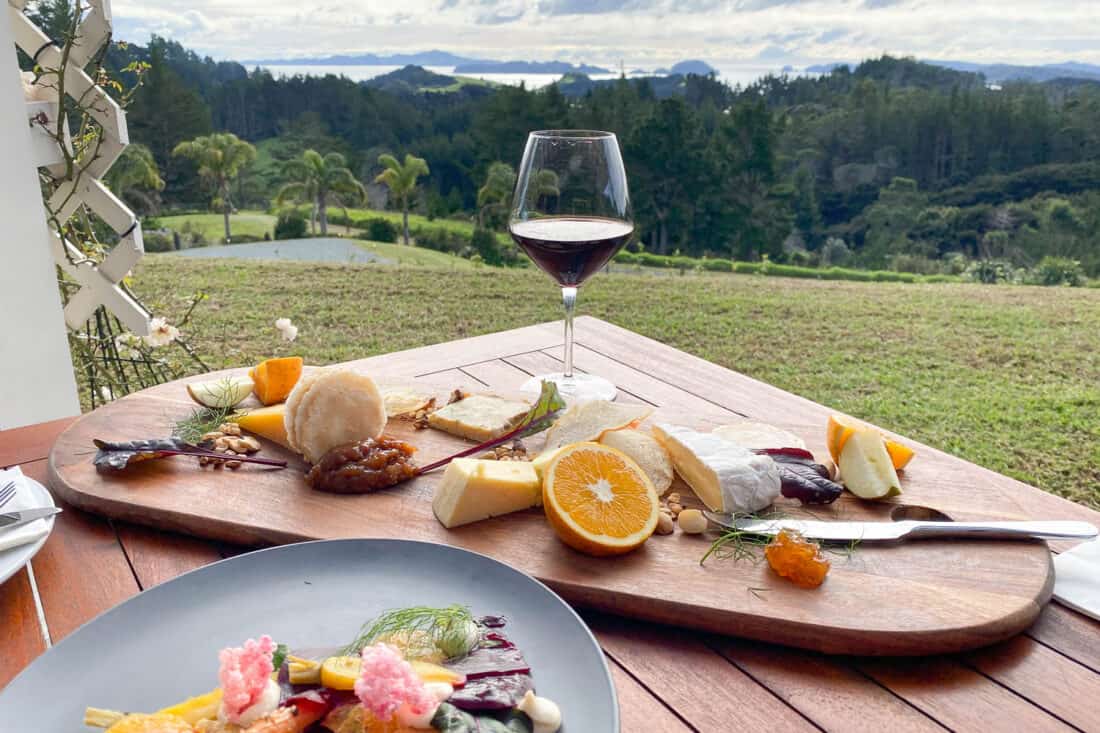 For beautiful food in a beautiful location, head to Sage at Paroa Bay Winery for a leisurely lunch on their hillside terrace overlooking the bay.
A few vegetarian options are marked on the seasonal menu—we shared a beetroot carpaccio and wonderful cheese plate. Their chardonnay and CMC red blend are just as good as the food and setting.
It's well worth the winding 15-minute drive from Russell. It's best to book in advance and request an outdoor table.
Omata Estate is another winery and restaurant near Russell, and there are many more in Kerikeri.
8) Escape the Crowds at Mimiwhangata Coastal Park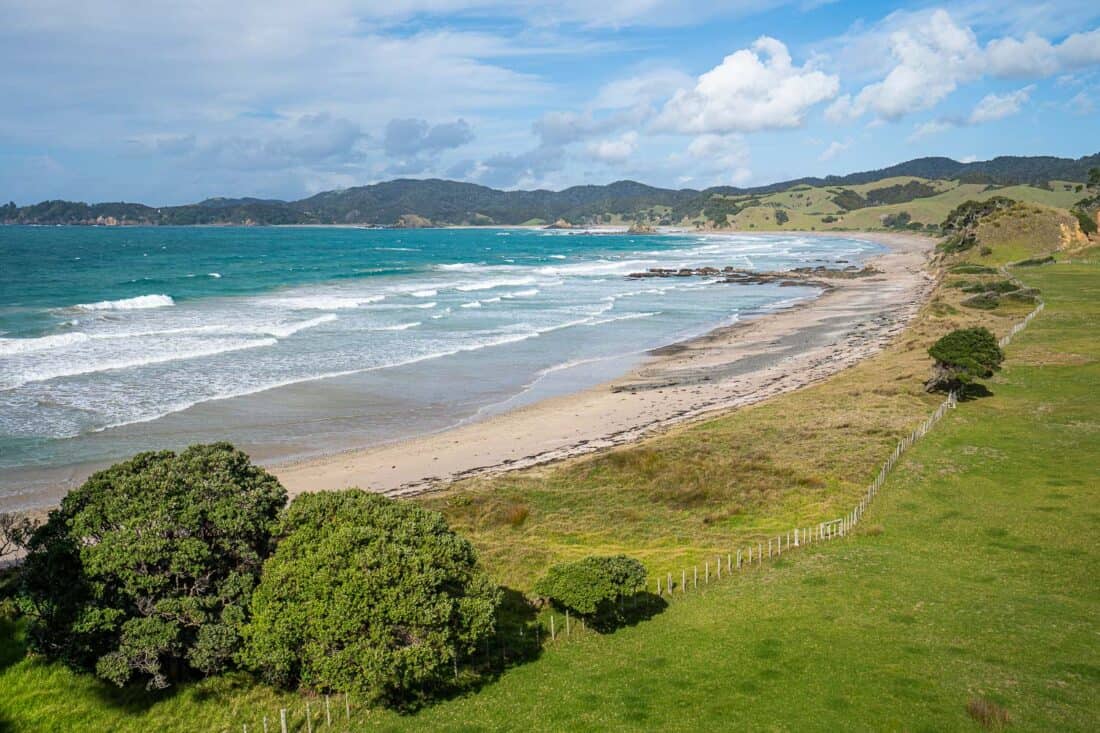 If you want to get away from it all, drive the Secret Coast Route from Russell to Helena Bay.
It's a beautiful, quiet, but nausea-inducing winding road past lush hills, picturesque bays, and native forest.
We've visited several beaches and hikes on the route, but our favourite is Mimiwhangata Coastal Park near Helena Bay.
We spent a glorious few hours hiking the trails and relaxing on the wild empty beaches in this stunning park—and we only saw two other people.
We did the Peninsula Loop walk (5km, which took us 1.5 hours), which included some hills but wasn't too challenging. We hiked through farmland past fluffy black cows and young horses, over ridged green hills, and along sandy beaches.
It's a breathtaking place and we couldn't believe we had this hidden gem to ourselves.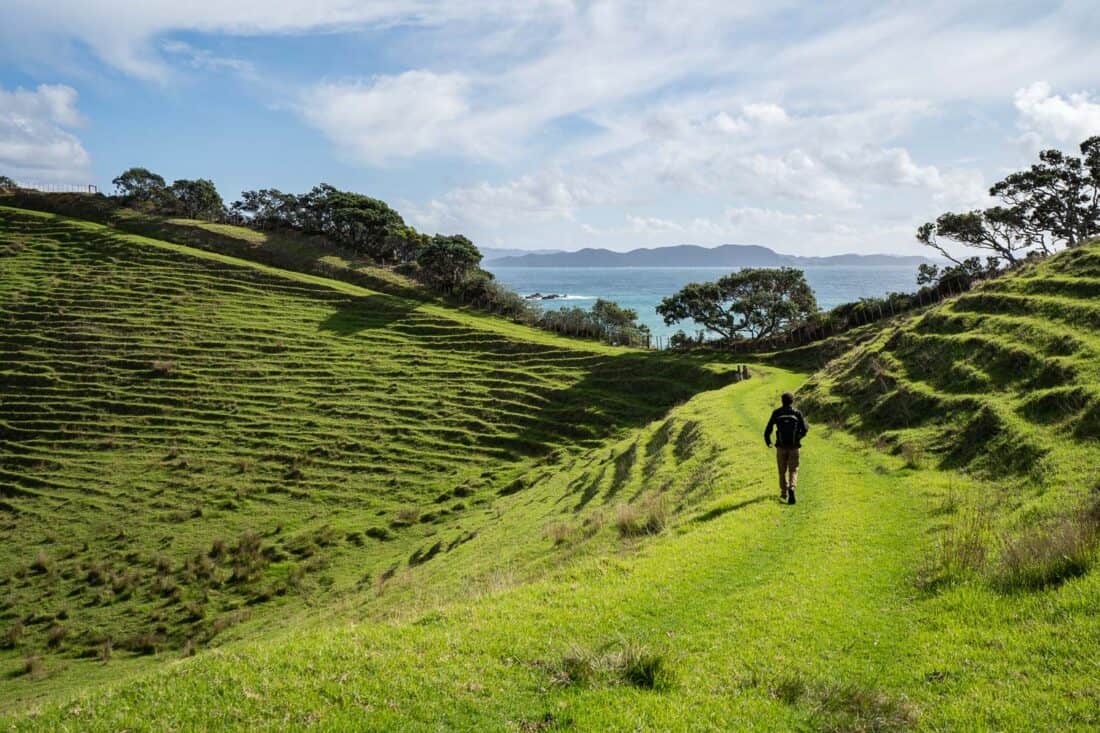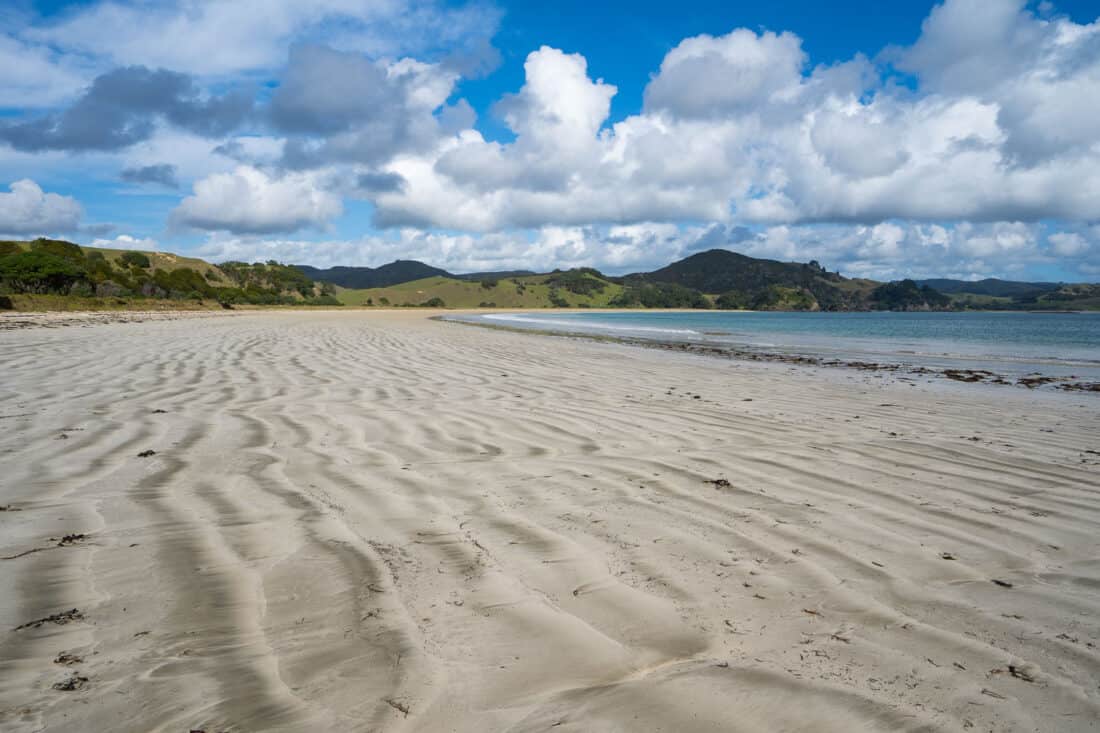 It took us 1 hour 15 minutes to drive from Russell to Mimiwhangata, and the last 15 minutes is on an unsealed gravel road with farm gates to open and close.
The main car park is in a field next to Okupe Beach. There's a toilet and info board with a map, but there are no details of the walks, so download the brochure from the DOC website in advance.
If you really want an escape, there are a couple of DOC-managed houses for weekly rentals on Okupe Beach. There's no cell service and they book up far in advance for the summer.
After visiting Mimiwhangata, I highly recommend stopping at Helena Bay Gallery and Cafe. This quirky family-run place is 25 minutes from the park up a hill with incredible views over the forest with the sea in the distance.
The sculpture garden and gallery are fun to wander, and the delicious cake (and glass of wine) was much appreciated after our hike.
9) Learn About Māori Culture at Waitangi Treaty Grounds
Waitangi Treaty Grounds are one of the top Bay of Islands attractions.
It's an important historical site where the Treaty of Waitangi, New Zealand's founding document, was signed in 1840 by Māori leaders and the British Crown.
It's so much more than just a museum. You need at least three hours and could spend the whole day here learning about the history and Māori culture. The grounds are beautiful with views over the bay to Russell.
Highlights for us were:
50-minute guided tour for an overview of the history of the treaty.
Cultural performance in the Te Whare Rūnanga (Carved Meeting House) including songs, poi, and haka (traditional war dance).
Huge waka (war canoe) built in 1940 to hold up to 150 paddlers.
The Waitangi Experience Pass costs $60 for international visitors and $30 for NZ residents (free for children) and is valid for two days. It includes entrance to two interactive museums, guided tours, and performances.
The Waitangi Treaty Grounds are a five-minute drive outside Paihia.
10) Admire Haruru Falls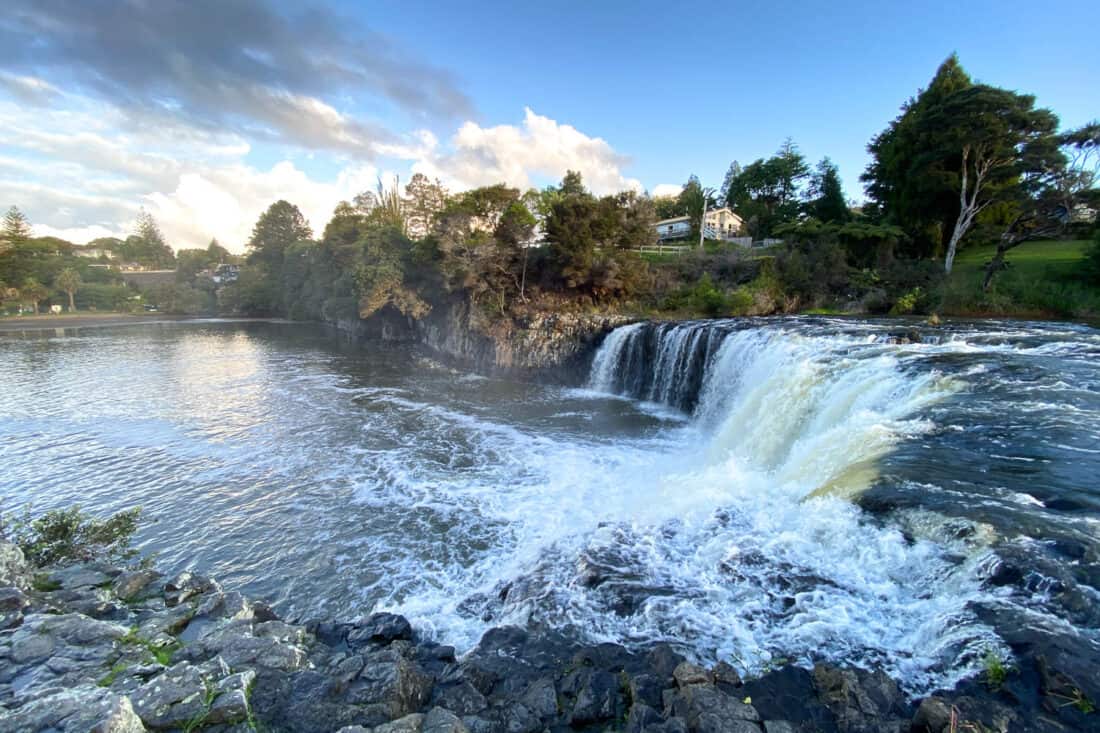 Haruru Falls are worth a quick stop while you are in Paihia. These horseshoe-shaped falls are short but wide and intensely powerful after rain—Haruru means "big noise".
We drove to Haruru after visiting Waitangi (the falls are a short walk from the car park), but you can also walk there on a 6km trail (each way) through mangroves and along the Waitangi River.
The most fun way to experience the power of the falls is in a kayak. This one way Waterfall and Mangrove Kayak trip is suitable for all levels and takes you through mangroves on the way to the waterfall.
11) Hike the Bay of Islands Coastal Walkway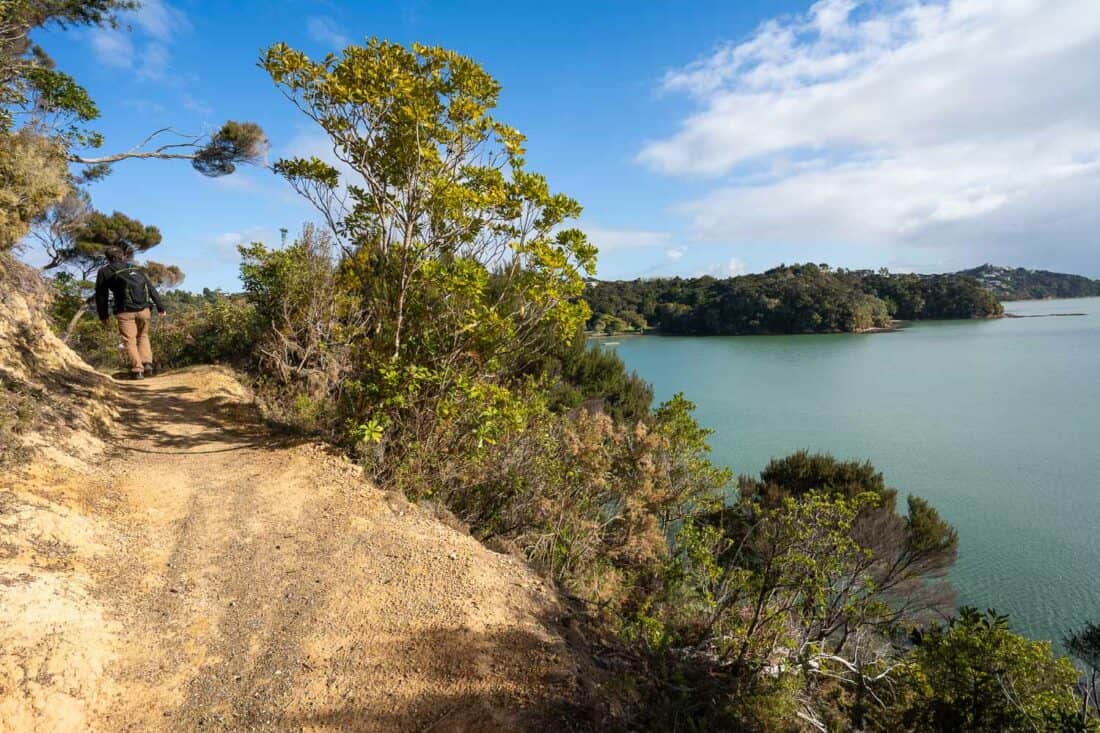 The Bay of Islands Full Circle Coastal Walkway connects Paihia to Russell in a loop hike that includes two ferries (Opua to Okiato and Russell to Paihia).
You can start at any point and it takes up to six hours for the 14km hike. The trail is a mix of boardwalk through mangroves, dirt and gravel trails through forest and along the coast, and road walking (outside Russell).
We did shorter sections of the track, and the one I most recommend is from Paihia to Opua. It has the best sea views and is easier than the steep forest track near Okiato.
We did this from Russell by parking at the Okiato car ferry terminal (a 10-minute drive from Russell), taking the short ferry ride as passengers ($1 each) to Opua and walking to Paihia Wharf. If you are staying in the centre of Russell, take the passenger ferry to Paihia and walk from there.
Each way the walk was 6.5km and took us 1.5 hours. There are some ups and downs but nothing too steep. My favourite part is walking around the bay in the little port town of Opua, admiring the yachts in the marina, discovering little beaches, and eyeing up the holiday homes on the water.
We had a Mexican lunch at El Cafe in Paihia and then walked back.
It's best at low or mid tide so you can walk on the beach outside Paihia—otherwise, you'll have to walk on the road.
12) Discover Waterfalls and Historic Sites in Kerikeri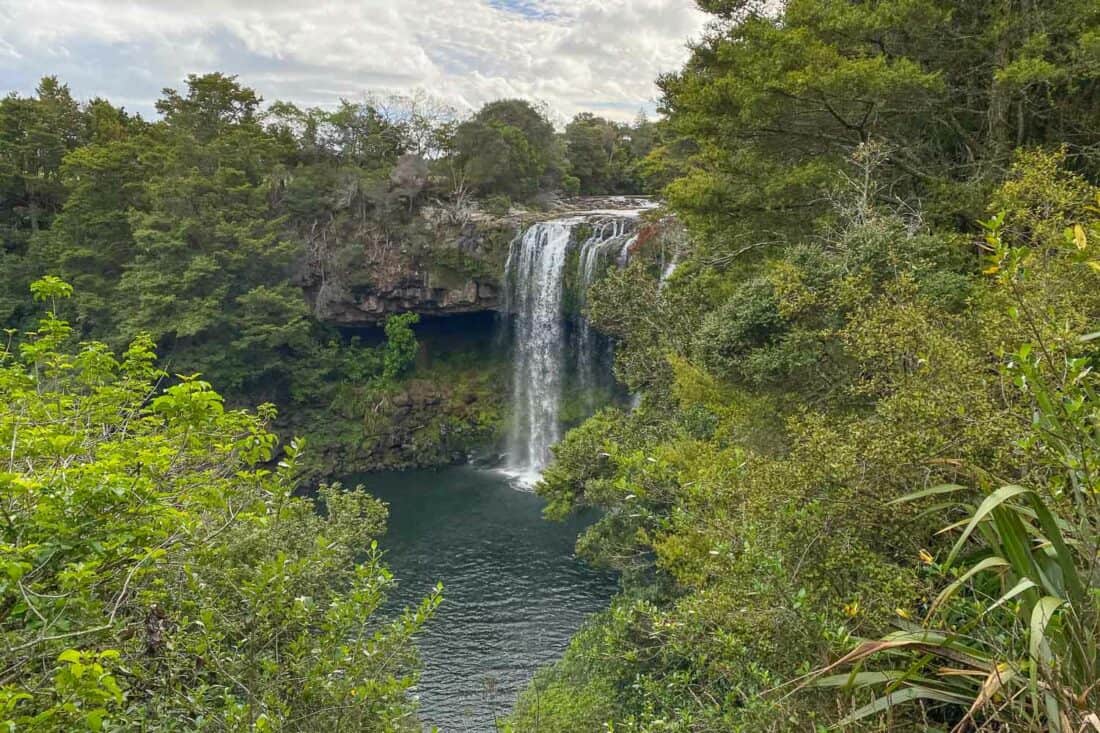 Kerikeri is the largest town in the area. It's located inland and is surrounded by gentle rolling hills and farms growing grapes, oranges, avocados, and kiwifruit—look for the roadside farm stands or visit the weekend farmers market.
My favourite thing to do in Kerikeri is swim in the large pool at the lovely 27-metre Rainbow Falls.
The waterfall is only a short walk from the car park (there's also a tea house), but it's worth continuing down the Kerikeri River Track.
It's an easy, pretty walk through a forest of young kauri and totara trees, along the river, past more waterfalls and the 1930 hydro-electric station, which provided the first electricity to the area.
We finished our walk at the Georgian Stone Store, which dates back to 1832 and now sells souvenirs and local products.
It's part of the 1819 Kerikeri Mission Station including Kemp House, New Zealand's oldest European building, which can be visited on a guided tour.
The complex is worth visiting even just to stroll the gardens and have a drink or meal at the Honey House Cafe.
The river walk from Rainbow Falls car park to Kemp House is 4km and takes about an hour each way.
Other popular stops in Kerikeri include the Makana chocolate shop and wineries such as Sovrano Estate and Winery and Marsden.
You can also do a scenic skydive in Kerikeri.
Kerikeri is about an hour's drive from Russell (via the Opua ferry) and 30 minutes from Paihia.
13) See Giant Kauri Trees in Puketi Forest
1500-year-old Tāne Mahuta is New Zealand's largest kauri tree at 51 metres, but Waipoua Forest is a 90-minute drive from Paihia on the other side of Northland.
A more accessible and quieter alternative to see the majestic trees is Puketi Kauri Forest, a 20-minute drive outside Kerikeri (partly on gravel roads). We stopped here on our way back from the Far North.
We did two short walks—the Manginangina Kauri Walk on a boardwalk (15 mins) and Puketi Nature Trail (30 mins)—and were entranced by the immense kauri.
14) Head North to Cape Reinga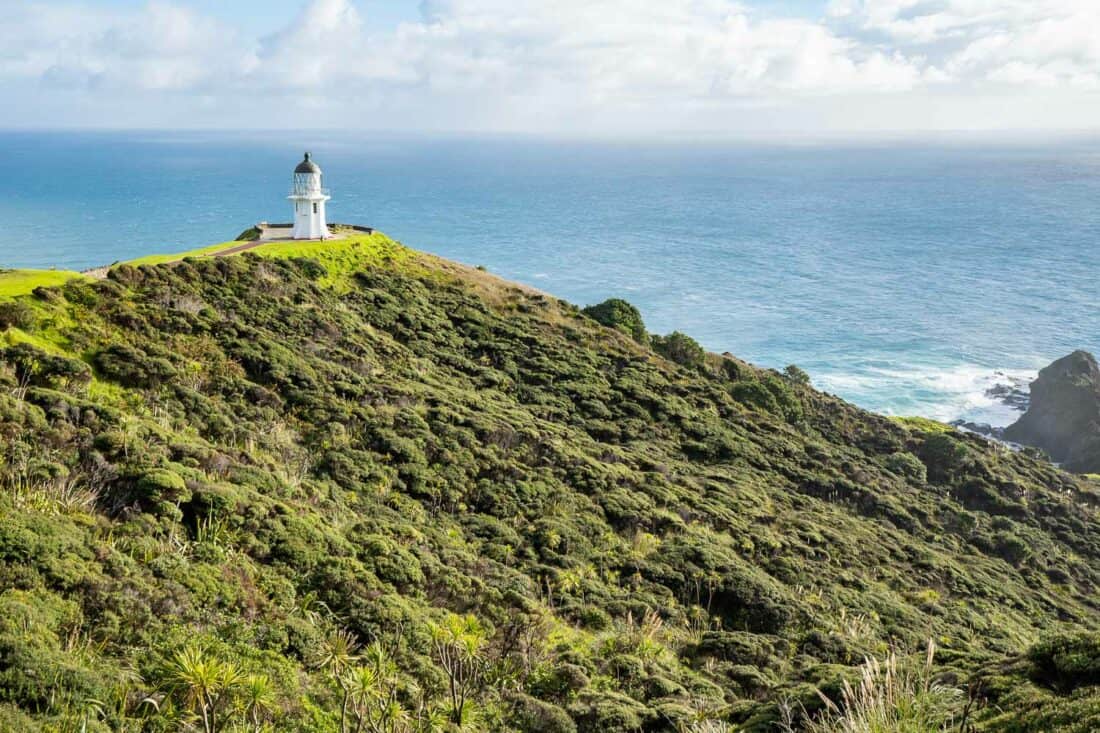 A popular day trip from Bay of Islands is Cape Reinga (Te Rerenga Wairua) at the northern tip of the country.
The Far North is wild and beautiful with long empty beaches and dramatic coastal scenery.
The highlight is the Cape Reinga lighthouse on the edge of a rocky cape where the Tasman Sea and Pacific Ocean meet—it feels like the end of the world.
This is a sacred spot for Māori, the jumping-off point for the spirits of the recently deceased to return to their ancestral land of Hawaiki. Eating, drinking, and smoking are not allowed.
The lighthouse is an easy 10-minute walk from the car park. Once you've admired the view, I recommend hiking some of the Te Paki Coastal Track for more incredible clifftop scenery.
The trail goes in either direction from the lighthouse and you can walk for hours to beautiful beaches. We walked 2km/ 35 minutes each way to the lovely, empty Te Werahi Beach.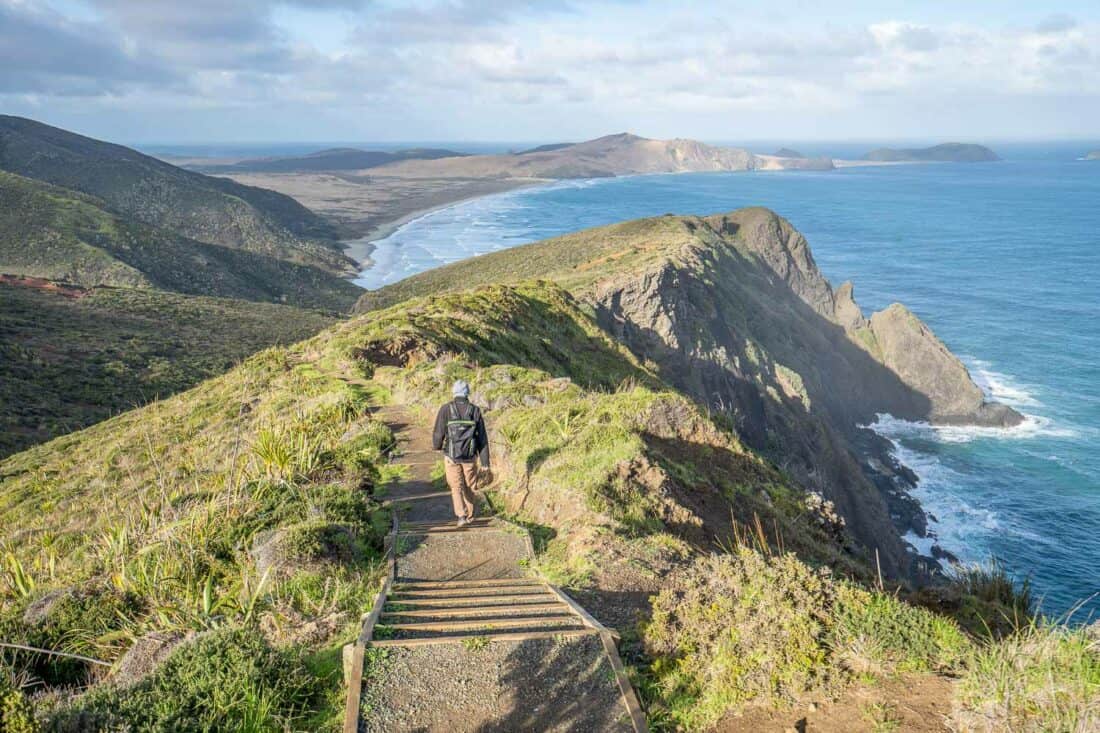 Another beautiful nearby beach is Tapotupotu Beach, a 10-minute drive or steep 5km hike from the lighthouse. This is a good camping spot.
A Northland must-see is the Te Paki Stream Giant Sand Dunes, a 20-minute drive from Cape Reinga.
The huge dunes are a strange and unexpected sight in New Zealand, such a contrast to Northland's green hills. You can rent sand boards for $15 from a truck at the car park and ride down the dunes or just hike as far as you'd like.
We walked up the dunes until we could see the famous 90 Mile Beach, officially a highway but only suitable for 4WD vehicles (it's best to take a tour).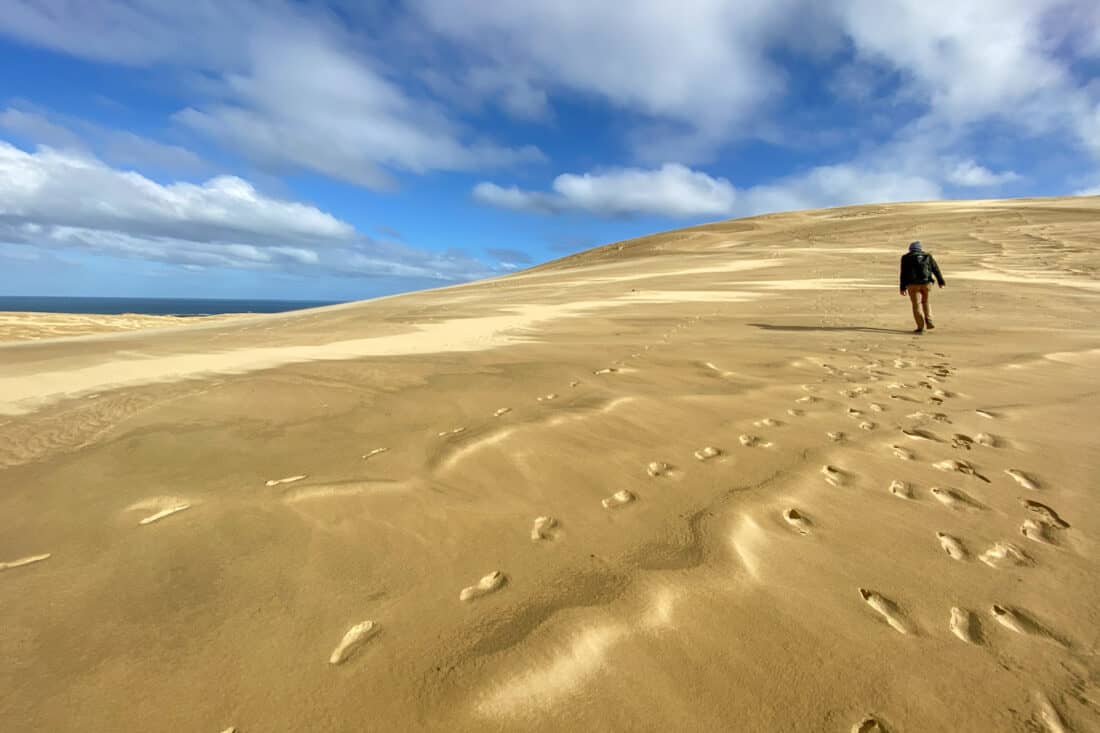 While the Far North is stunning, it's a very long day trip with a three-hour drive each way from Paihia (longer from Russell).
If you are short on time, take a guided tour rather than driving yourself. This Cape Reinga day trip with lunch includes the lighthouse, 90 Mile Beach, and sand dunes.
Or this Cape Reinga fly-drive tour is a fantastic way to see the area in just half a day.
Ideally, spend a night or two in the area, as we did. Accommodation is limited near Cape Reinga, though, and unless you camp, you'll need to stay somewhere further south such as Tealuca Holiday Home, which is 35 minutes away.
You can also search for holiday homes in the Far North.
15) Get Adventurous
There are many more exciting Bay of Islands activities. On our wish list for next time are:
How to Get to Bay of Islands New Zealand
Bay of Islands is located on the North Island in Northland, the northernmost region in New Zealand.
Bay of Islands by Car
It's a three-hour drive from Auckland to Bay of Islands. It's an easy journey up SH1 and SH11 to Paihia.
To get from Auckland to Russell, you follow much of the same route but turn off SH11 at Opua to take the car ferry to Okiato. The ferry is a short hop that runs every 10 minutes (from around 6am – 10pm) and costs $16 per car. From the other side it's a 10-minute drive to Russell.
There is a land connection to Russell on the old Russell Road (aka Secret Coast Route) via Helena Bay, but it's a very winding road that takes a lot longer than the ferry route.
If you have plenty of time and energy, you might want to drive this one way and stop at Mimiwhangata Coastal Park (see above).
When we left Bay of Islands, we drove from Russell to Hahei Beach on the Coromandel Peninsula. It's a long drive and took us 6.5 hours plus a 45-minute lunch break in Auckland.
Bay of Islands by Bus
It's best to drive so you can explore the area, but a trip to the Bay of Islands without a car is possible.
There is an InterCity bus from Auckland to Paihia, which takes about four hours.
Paihia is small enough to get around without a car, and you can take tours out into the bay and the ferry to Russell.
Bay of Islands by Plane
The nearest airport to Bay of Islands is Kerikeri Airport, 20 minutes from Paihia. It's a short flight from Auckland. From other New Zealand destinations, you'll likely have to change in Auckland.
Air New Zealand is the main airline that flies to Kerikeri.
Bay of Islands New Zealand Map
Is Bay of Islands Worth Visiting?
Yes, Bay of Islands is absolutely worth visiting! It's one of the most beautiful places in New Zealand and ideal for those who love beaches, sailing, and coastal hikes.
Add in some fascinating history, charming towns, delicious food and wine, and it's perfect for a relaxing trip.
As it's only three hours from Auckland, it's easy to add the Bay of Islands to your New Zealand road trip.
I hope this post has inspired you to visit and given you some ideas on what to do in Bay of Islands.
More New Zealand Posts
Read more of our tips for exploring New Zealand.
North Island
South Island
Enjoyed this post? Pin for later!