This page contains affiliate links. Please read our disclosure for more info.
Wellington may be New Zealand's capital, but it's a compact, relaxed, and walkable city.
It has a stunning location between the hills and sea with easily accessible nature—you can bike through native forest, hike the rugged coastline, or swim from sandy beaches.
There's delicious food, coffee, and craft beer, and plenty of creativity.
It's a city that grows on you, as we found after spending many months in the region.
Here are our picks for the best things to do in Wellington including fun outdoor activities, where to hide on a rainy day, what to do at night, and all our favourite places to eat and drink.
At the end of the post you'll find a map of these Wellington attractions.
Contents
Many of these places in Wellington are free, but I've included costs when applicable. All prices are in New Zealand dollars. The current exchange rate is NZD $1 = USD $0.70, GBP £0.53, and EUR €0.62.
Where to Stay in Wellington
If you only have a few days in Wellington, I recommend staying in the CBD (Central Business District), where you'll be able to walk to many of these Wellington activities.
Parking can be expensive, though—hotels usually charge $30-40 a night. Taranaki Street Parking is a cheaper alternative.
I prefer Te Aro, in the southern part of the centre, where you'll find many of the best places to visit in Wellington including Te Papa, Cuba Street, and excellent restaurants and bars.
The northern section of the CBD is more business orientated, although it's convenient for the train station, parliament, and shopping at the bigger stores on Lambton Quay.
It's a 25-minute walk from Wellington Station to Cuba Street in Te Aro.
Here are my Wellington hotel picks, all of which we've stayed at.
Budget: Mercure Wellington Central City – Simple, affordable rooms and apartments close to the action in Te Aro.
Midrange: Rydges Wellington – Not my favourite area for sightseeing, but it's close to the train station, Bluebridge ferry, and waterfront. Rooms are comfortable and the hotel has a pool, gym, and restaurant.
Luxury: – QT Wellington – My favourite hotel in the perfect location overlooking the waterfront opposite Te Papa. Rooms are stylish, comfortable, and some feature unique artwork by local artists. Splurge on a Harbourview Gallery King room if you can. There's a pool, gym, restaurant, and fun artwork in common areas.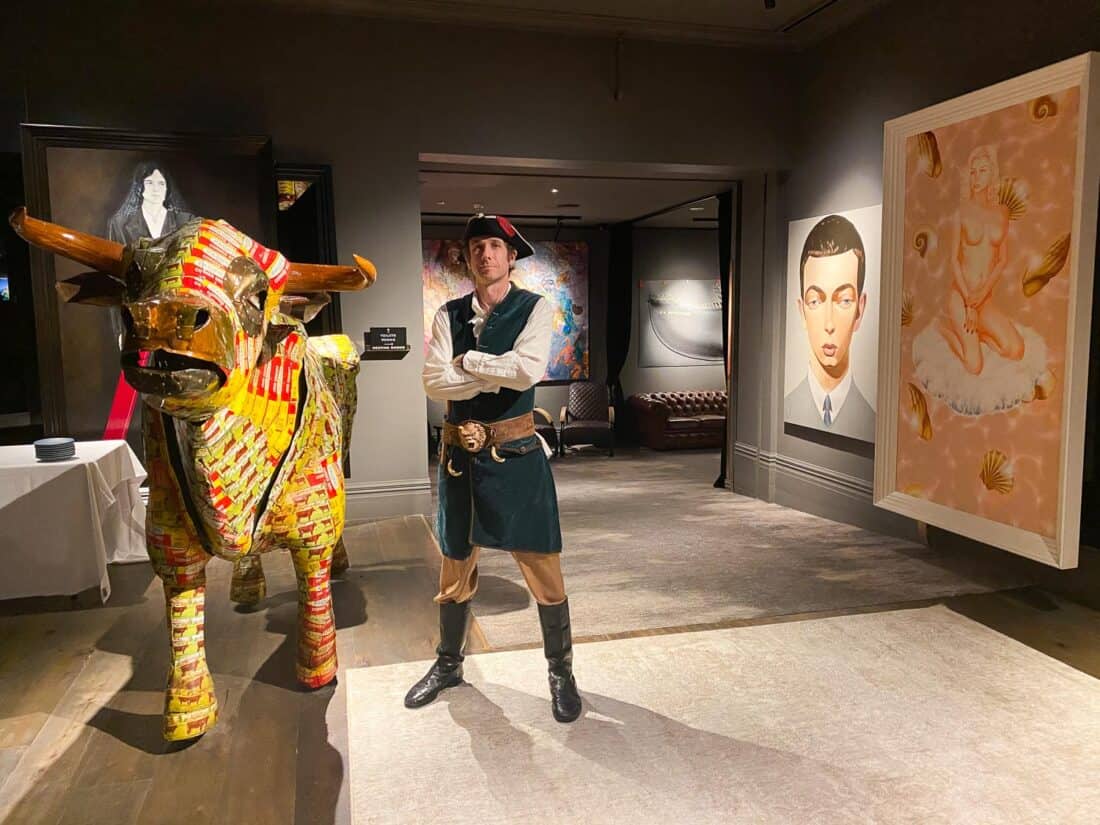 If you are staying longer and have a car, consider a holiday rental in one of the surrounding coastal suburbs.
Places like Lyall Bay, Island Bay, and Seatoun are only a 15-minute drive from the CBD, but they have a village feel and lovely beaches. Options include:
Kelburn or Thorndon near the Botanic Gardens are also worth looking into as they are walkable into the centre (about 30 minutes but uphill on the way back). Check out rooms in this Thorndon Heritage Listed Villa.

Best Things to Do in Wellington New Zealand
I've divided our top things to do in Wellington into three areas: the city centre, the outskirts, and further afield locations which are great for day trips. I've also included suggestions of what to do in Wellington at night.
Central Wellington
All these Wellington activities are walkable if you are staying in the CBD. Traffic and parking can be a pain, so it's best to leave your car in the car park and explore on foot.
1) Walk Along the Wellington Waterfront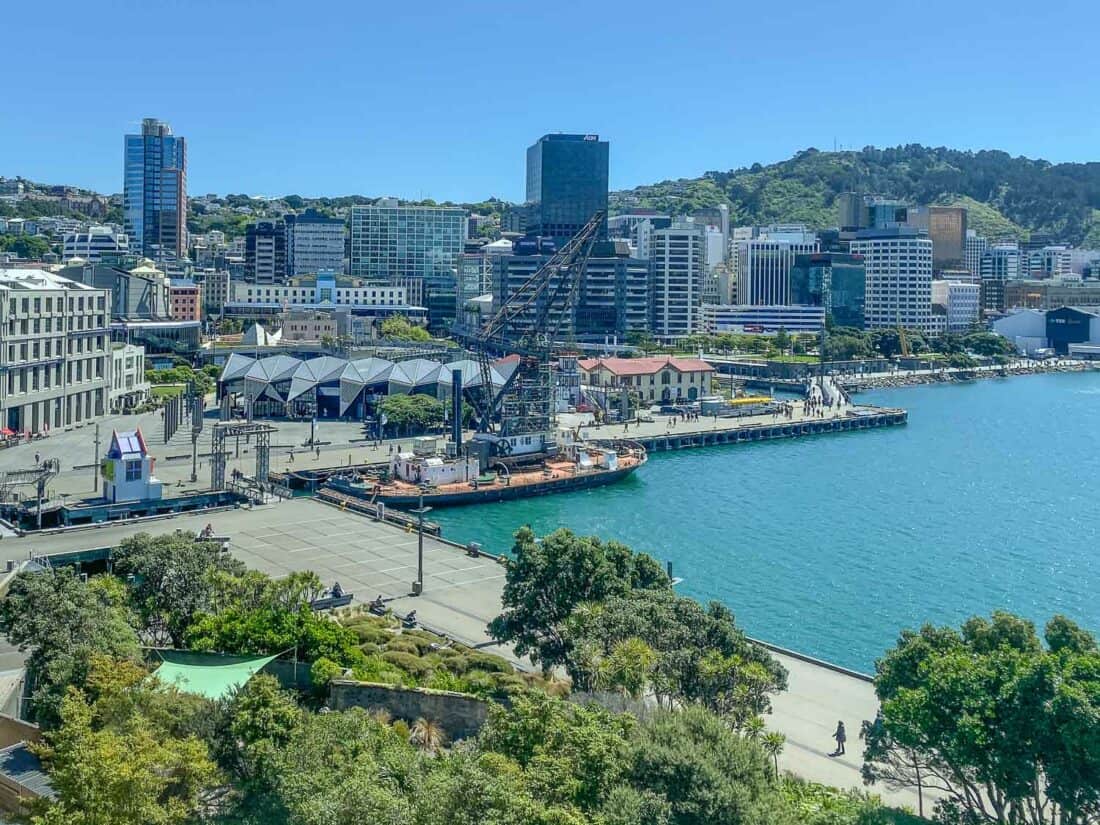 The best introduction to Wellington, especially on a sunny day, is walking along the waterfront. There's a beautiful pedestrian walkway from Queens Wharf to Clyde Quay Wharf.
On the way you'll have views of yachts and Wellington's hills and will pass Wellington Museum and Te Papa Museum, sculptures like Len Lye's Water Whirler and the iconic Solace in the Wind, and the colourful boat sheds of Clyde Quay.
You can even rent a kayak or paddleboard at Ferg's Kayaks.
Karaka Cafe is the perfect place to take a break—relax on the bean bag chairs on the grass overlooking the water.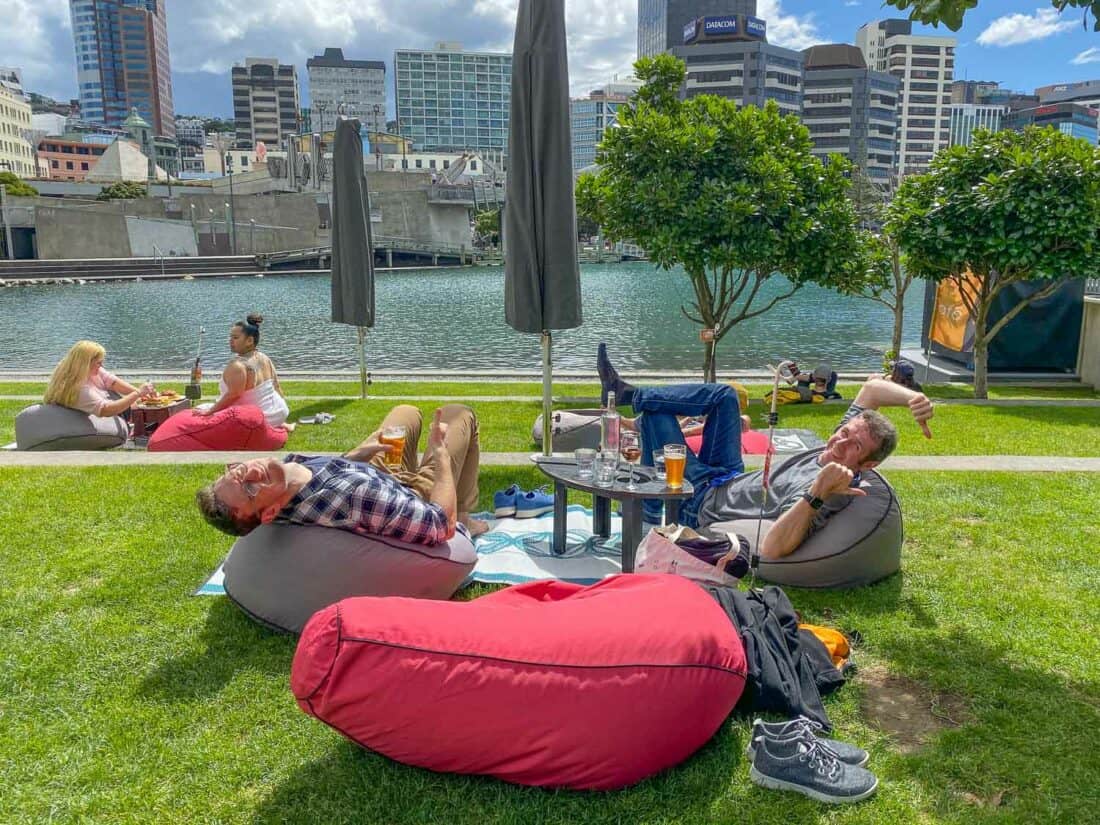 You can continue to Freyburg Beach in Oriental Bay, the closest sandy beach to the centre, and if you are feeling energetic, head up to the Mount Victoria Lookout for wonderful views.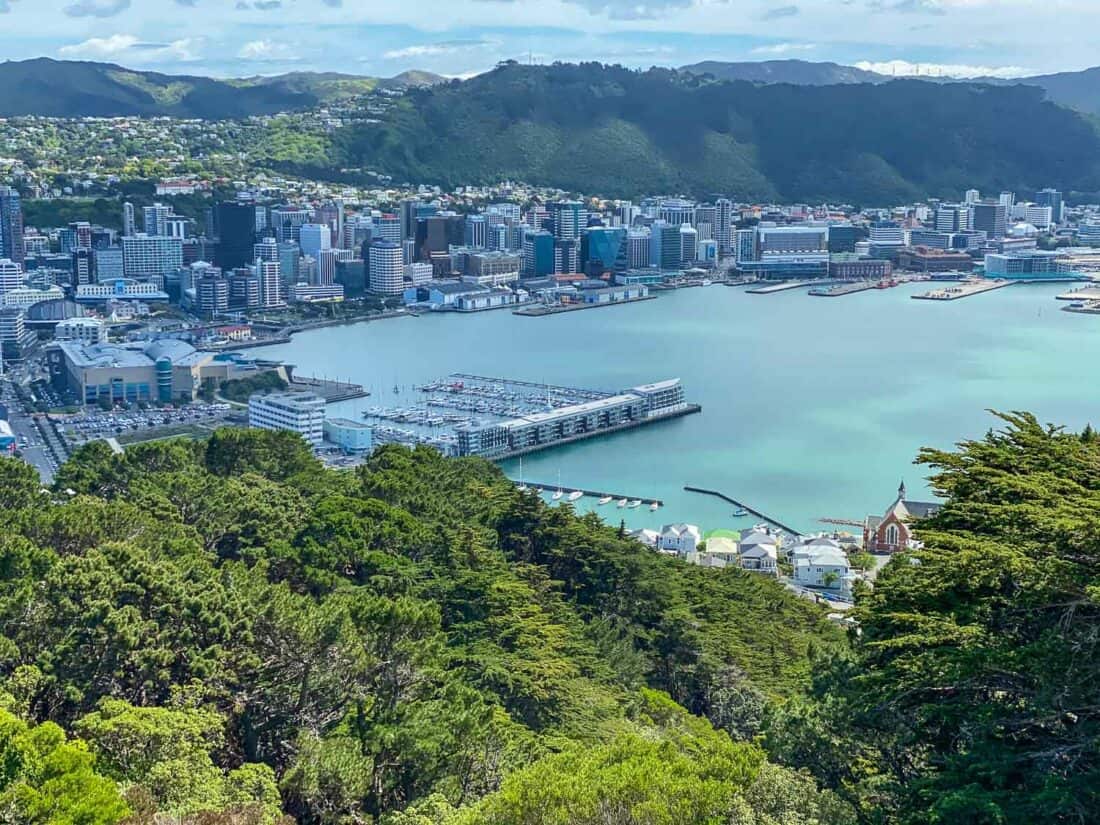 One of the most fun things to do in Wellington is Clue Zealand's The Search for the Lost Human. For $39 per group, you'll receive clues on your phone on a quest to find a dog's missing owner.
It's a great way to explore the waterfront as it makes you pay attention to historical plaques and sculptures as part of your mission. It took us an hour but can take up to two hours.
I think Wellington looks most beautiful from above. If you aren't taking a flight to the South Island, you can enjoy the view on this scenic harbour helicopter flight.
2) Browse the Harbourside Market
A top Wellington attraction is the outdoor Harbourside Market. It takes place overlooking the harbour next to Te Papa and can be incorporated into the waterfront walk on Sundays.
You can buy fruit and vegetables at reasonable prices as well as locally made bread, cheese, honey, and crafts.
The highlight for us is the many cooked food stalls—Indian dosa followed by Dutch pancakes is a winning combo, but you'll also find Italian, Indonesian, Thai, Cambodian, Syrian, Greek, Mexican, Moroccan, Chilean and more.
When the sun is shining and live music is playing, there's no better spot in Wellington.
Harbourside Market is at the corner of Cable Street and Barnett Street in Te Aro. It operates on Sunday mornings from 7.30am to 2pm (1pm in winter). Go early to avoid the crowds.
3) Visit Te Papa Museum
Te Papa is a Wellington must do and the ideal activity on a rainy day. New Zealand's national museum is located on the waterfront and has free entry (except for some special exhibitions).
The permanent exhibits explore Māori culture and New Zealand's history and natural world.
There are also contemporary art installations and temporary shows like the powerful Gallipoli (until April 2022), where you learn about the war through the eyes and words of eight New Zealanders. The oversized, incredibly life-like figures were created by Weta Workshop, who made the props for Lord of the Rings.
Te Papa is at 55 Cable Street in Te Aro. It's open every day from 10am to 6pm. Entrance is free.
4) Ride the Cable Car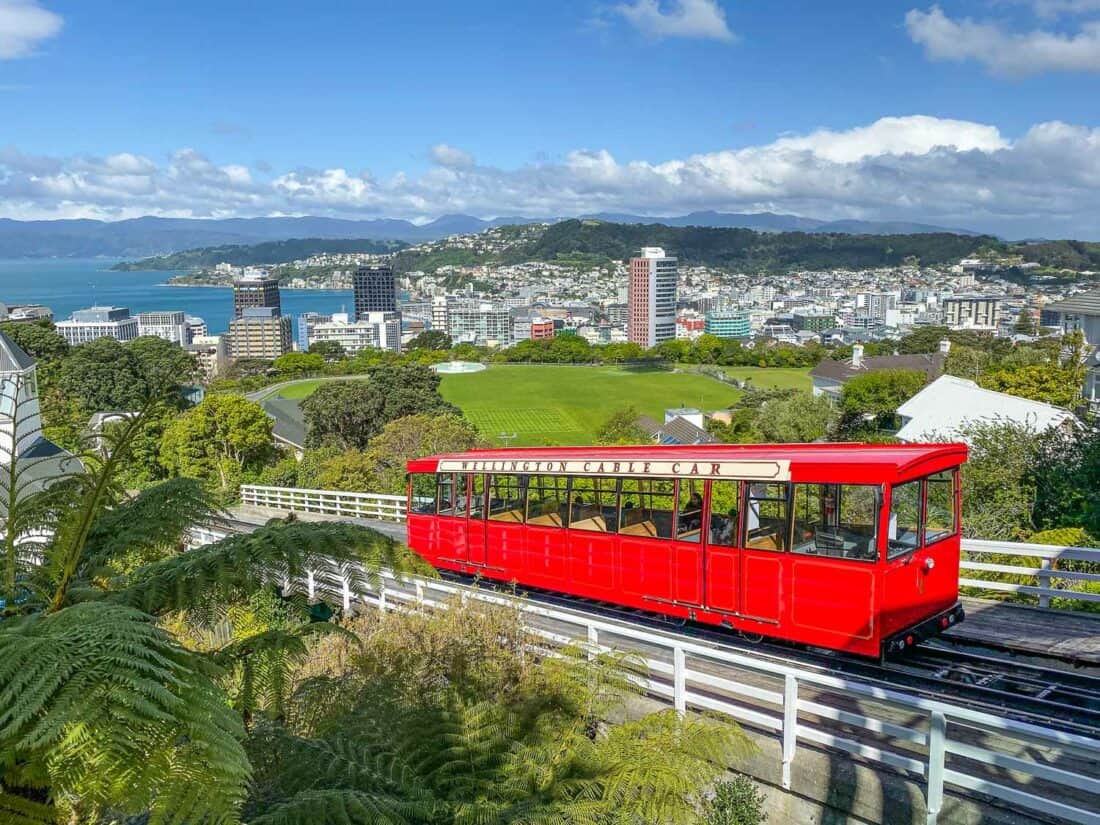 One of the most popular Wellington tourist attractions, as well as a mode of transport for locals, is the Wellington Cable Car, which has been running since 1902.
A five-minute ride on the distinctive bright red car takes you from Lambton Quay, the main shopping street in the CBD, up to the Botanic Gardens for beautiful views of the city. There are fun light shows as you go through the tunnel.
At the top there's the Cable Car Museum and a free shuttle bus to Zealandia.
Wellington Cable Car operates from 7.30am (8.30am on weekends) until 8 or 9pm. It costs $5 each way for adults and $2.50 for kids.
5) Stroll Through the Botanic Gardens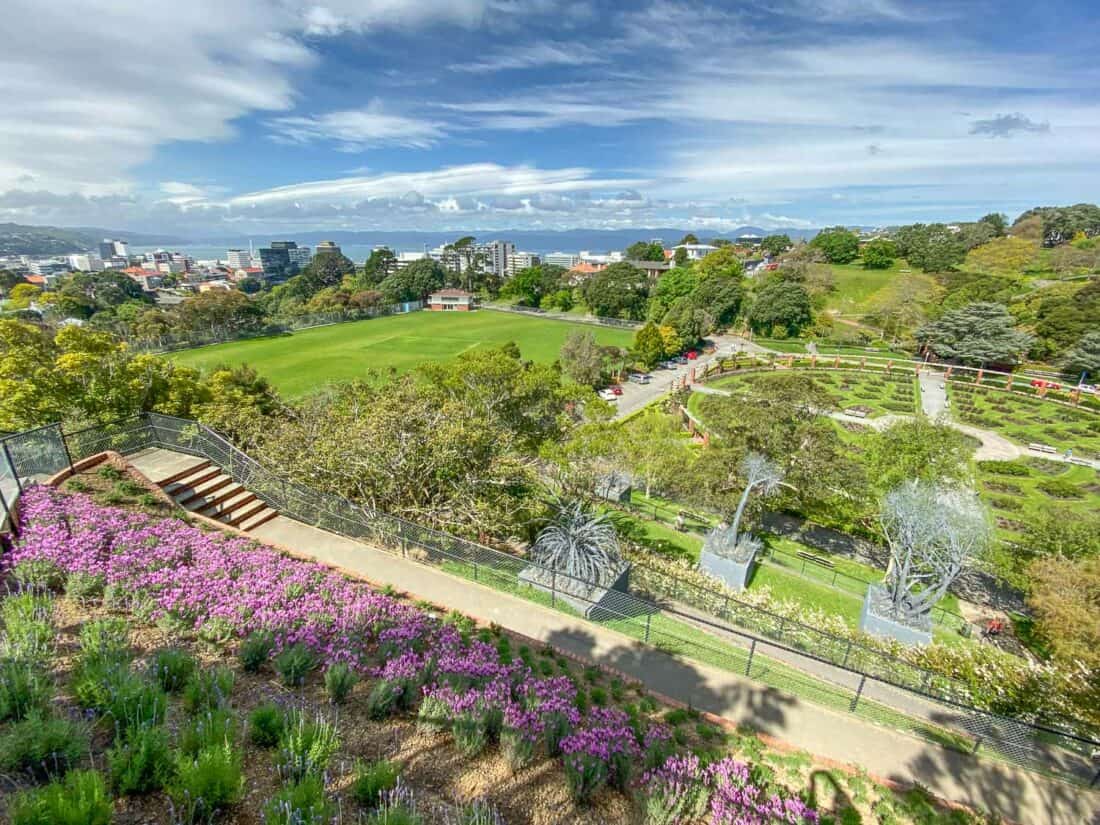 Once you've ridden the cable car, wander through the Wellington Botanic Gardens, one of the best free things to do in Wellington, especially on a sunny day.
The extensive gardens date back to 1868. Trails through native bush wind up the hillside and make you feel far away from the city.
There's also a rose garden, impressive spring tulip display, duck pond, treehouse, herb garden, cafe, and various sculptures.
At night you can see glowworms along the banks.
Wellington Botanic Gardens are free and open every day from dawn to dusk. You can walk there from the CBD or take the cable car.
6) Shop and Eat on Cuba Street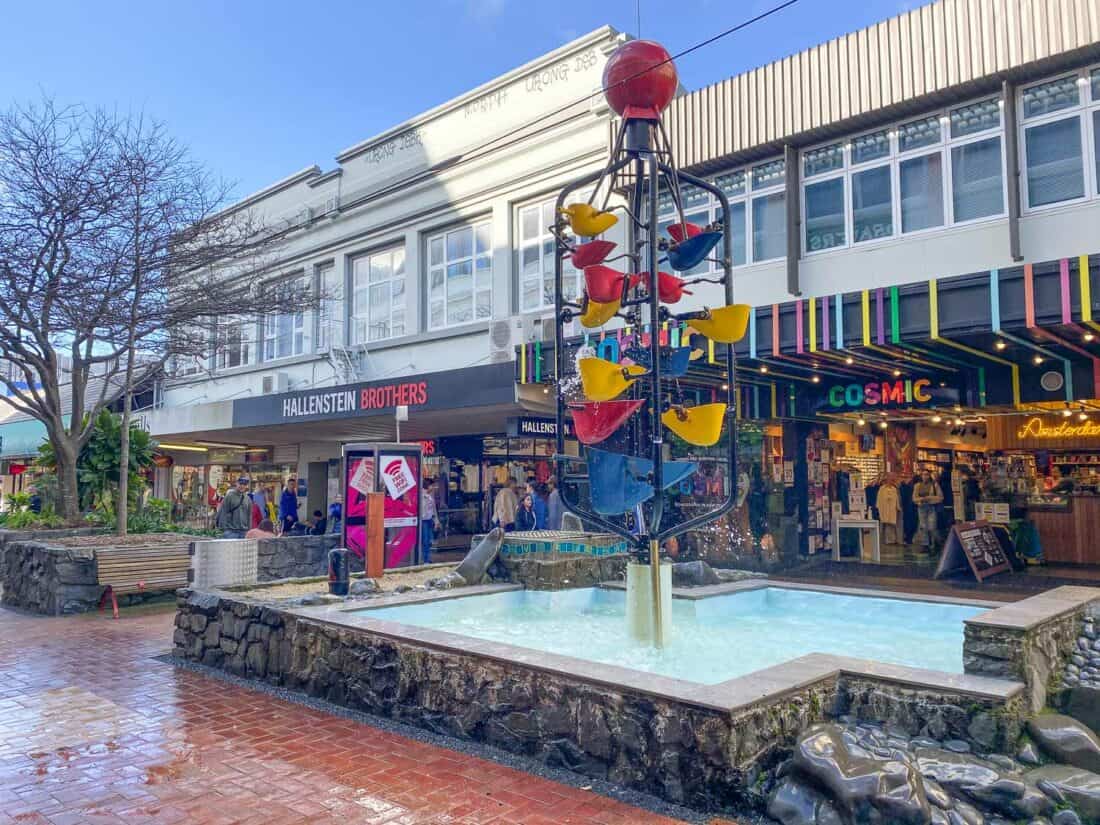 Cuba Street is the heart of Wellington's CBD. This lively pedestrian street is colourful and creative with independent shops (think vintage and artsy), cafes, buskers, and the splashy Bucket Fountain.
These are our favourite places to eat on Cuba Street, all of which have good vegan options (except Ombra).
1154 Pastaria – Delicious fresh pasta in a casual setting.
Scopa – After pasta, pop into this Italian restaurant across the road for the most decadent, thick hot chocolate. Order a large!
Nolita – Vegan Italian with delicious sourdough pizza (I love the patatine) and hearty pasta.
Fidel's – A Wellington institution that's great for brunch or an afternoon sweet treat.
Olive – Creative brunch and dinner. It's always busy so booking is a good idea.
Laundry – Tasty burgers and a grungy bar vibe with live music later on.
Zelati – The best ice cream we've had in Wellington with some interesting flavours.
Aunty Mena's – Cheap and cheerful vegan Asian food like BBQ steam buns, curry noodles, and laksa.
Ombra – Aperitivo drinks from 3-6pm are a good deal at this Italian restaurant as they come with a complimentary snack.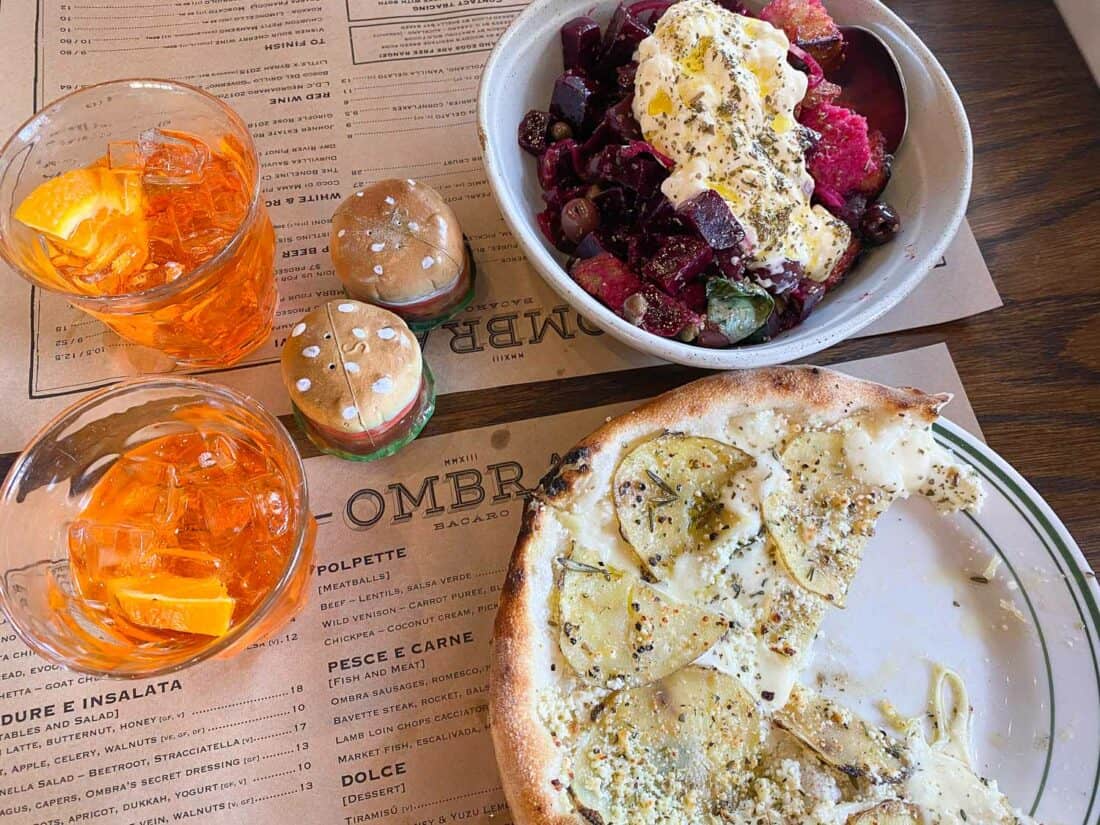 After exploring Cuba Street, take a short detour to the hidden Hannahs Laneway for the Fix and Fogg peanut butter booth and Leeds Street Bakery, which makes the most delicious salted caramel cookies.
For pies and bagels, head to NYC-style deli Pickle and Pie just a few minutes away on Lombard Street.
7) Drink Coffee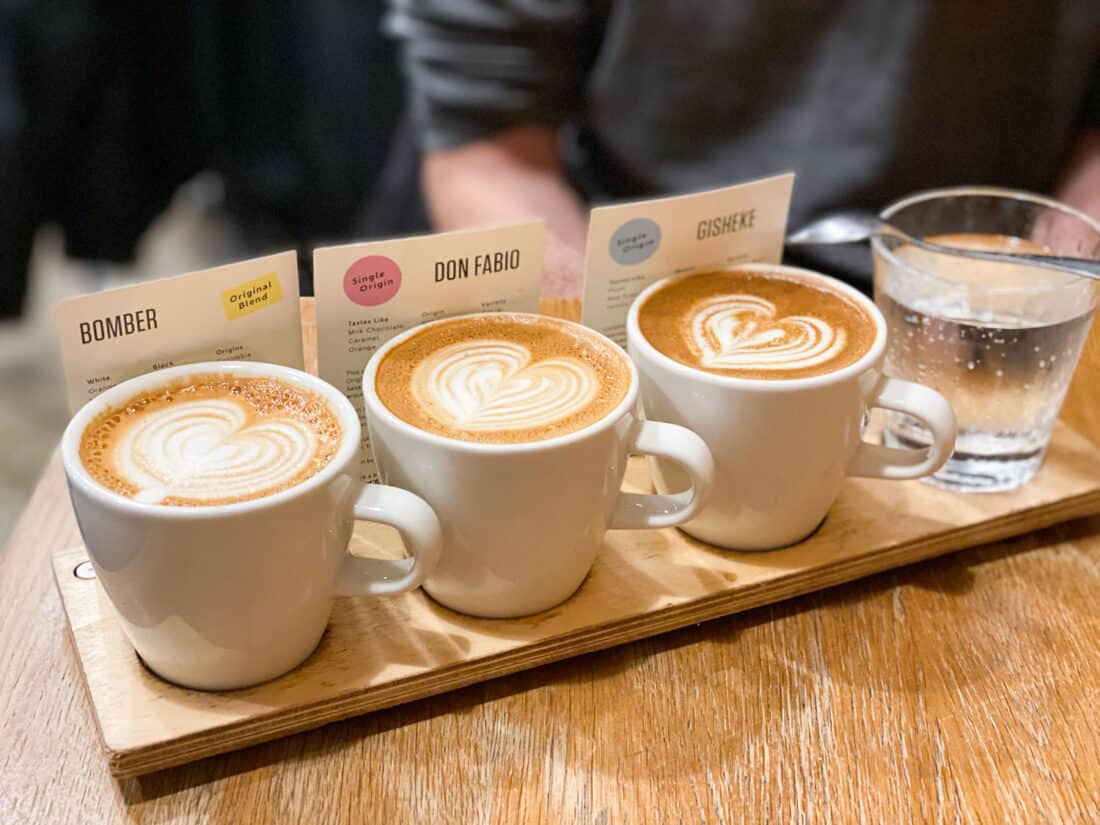 Wellingtonians take their coffee seriously and you are spoilt for choice with quality roasters and cafes in the city.
Peoples Coffee is Simon's favourite (he buys their Don Wilfredo beans to use at home)—it's organic and fair trade. The Lukes Lane branch is central and, conveniently, they sell salted caramel cookies from Leeds Street Bakery.
The Hangar is another excellent coffee spot where they roast Flight Coffee. You can even do a tasting flight to compare different beans—as it's three full cups, it's best to share. Their food is tasty too.
You can also expect a quality brew at Customs, which is just off Cuba Street.
Wellington Outskirts
Some of the best things to see in Wellington are a 10-20 minute drive from the centre—you'll soon feel far away from the city's bustle.
8) Spot Native Birds at Zealandia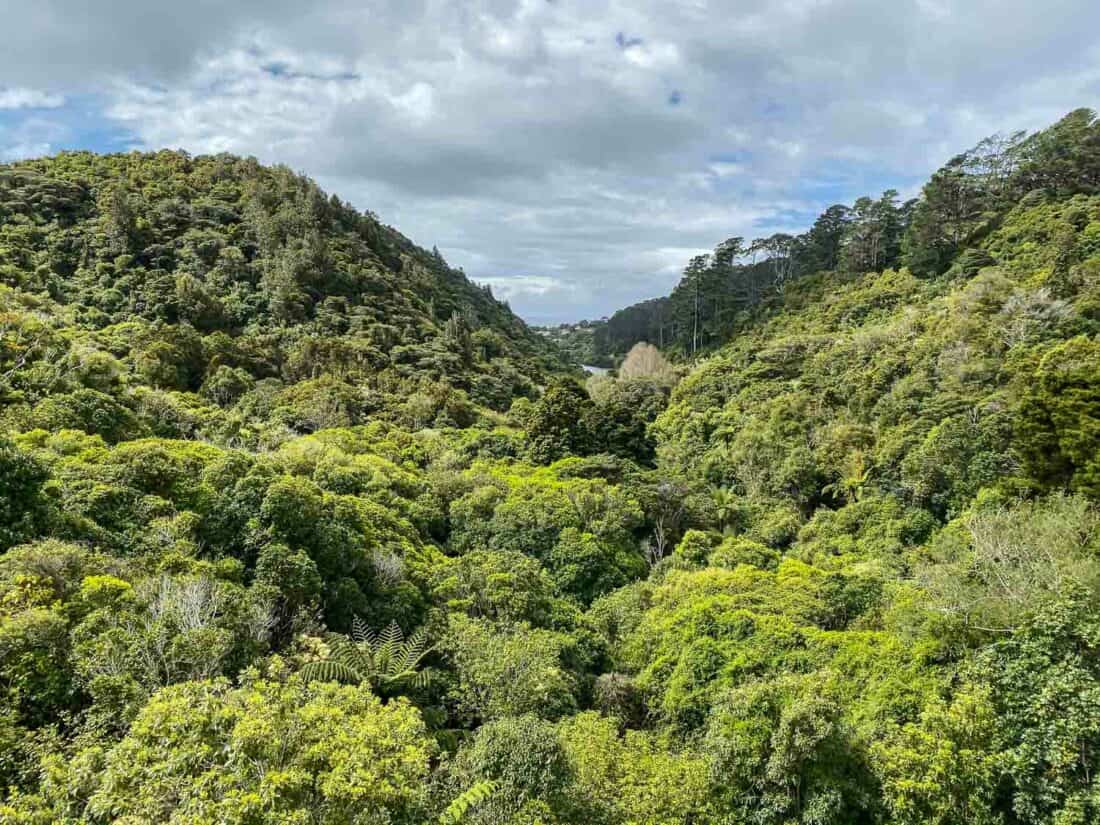 Zealandia is a fantastic place to visit in Wellington, especially at the beginning of your New Zealand trip so you can learn more about the country's native birds.
This fenced ecosanctuary protects the birds, many of which are endangered, from imported predators. There are 32km of forest trails with options for all fitness levels, and you are sure to see plenty of wildlife. Allow at least a few hours to explore.
We saw kaka (a large parrot), tui, saddlebacks, robins, fantails, and a nest of baby shags in the water.
If you visit on a guided tour at night, you have the chance to see the rare kiwi as well as glowworms.
Zealandia is a 10-minute drive from the CBD. If you don't have a car, there's a free shuttle bus from the i-Site and top of the Cable Car. It's open from 9am to 5pm every day. Entrance is $23 for adults and $10 for children (under 5s are free).
9) Brunch by the Beach in Lyall Bay
I adore Wellington's beautiful coastline and you only have to drive 15 minutes from the centre for lovely bays, beaches, and coastal hikes.
I recommend driving around the Miramar Peninsula and along the southern coast through Lyall Bay, Island Bay and out to Red Rocks.
You'll find more activities below, but start your day with a delicious brunch at Lyall Bay, a surfer beach next to the airport, which has three of our favourite cafes in Wellington.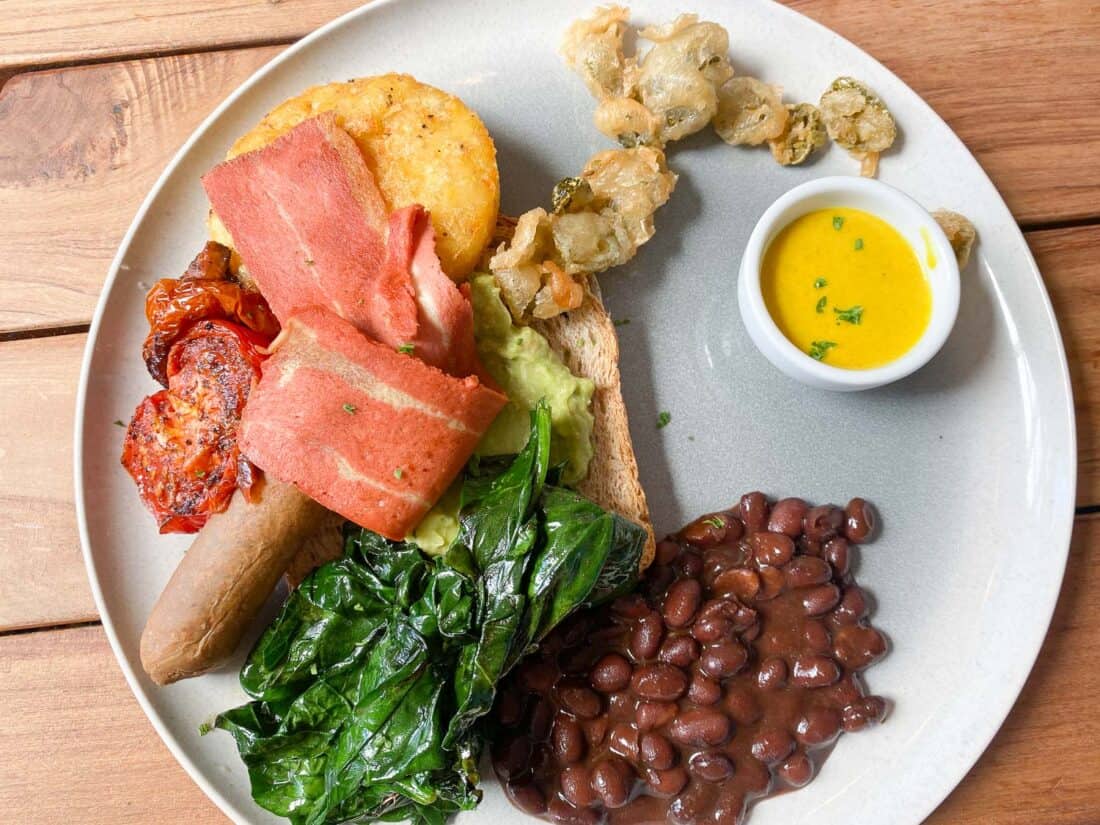 The Botanist – This vegetarian (mostly vegan) cafe is our favourite place to eat in Wellington. It's a lovely space with hanging plants across the road from the beach.
The Veganise Me vegan breakfast will set you up for the day—it features avo toast, hash browns, black beans, veggie sausage and facon, and battered jalapeños. Yum! It's also open for dinner.
Maranui Cafe – For the best sea views, head to the iconic Maranui right on the beach inside the Surf Life Saving Club. It's very popular so try to go on a weekday and arrive early.
It's worth the wait for the view as well as the food and coffee (with some vegan choices). I adore their (huge) green smoothies.
Queen Sally's Diamond Deli – Maranui's sister cafe is just around the corner. It's a tiny place with mostly vegetarian and vegan cabinet food—sandwiches, salads, samosas, cakes, and scones.
The food is always exceptionally good. My personal favourites are the vegan cheese scone and the three cheese and pumpkin sourdough toastie (one of my favourite sandwiches anywhere).
This is the best place to pick up a packed lunch for a hike or beach trip.
My perfect day in this area is eating breakfast in Lyall Bay, walking the Eastern Walkway, relaxing on Scorching Bay Beach (with lunch or a drink at Scorch-O-Rama), and then continuing on a loop around the Miramar Peninsula's rugged coastline.
Simon would add—ending with a beer at Parrotdog Brewery back in Lyall Bay.
10) Relax at Scorching Bay Beach
Scorching Bay on the Miramar Peninsula is my favourite beach in Wellington. It's a lovely curve of golden sand between a grassy lawn and calm green sea—perfect for swimming if you can stand the chilly temperature.
There are good facilities including toilets, showers, and some oversized benches for lounging. It can be very busy in summer, but we've only visited on sunny spring days when it wasn't crowded at all.
The quirky Scorch-O-Rama cafe overlooks the beach and its terrace is one of the best places to go in Wellington for a waterfront meal.
The food is tasty, portions are generous, and there are vegan options. It's a Wellington highlight for sure.
11) Snorkel at Island Bay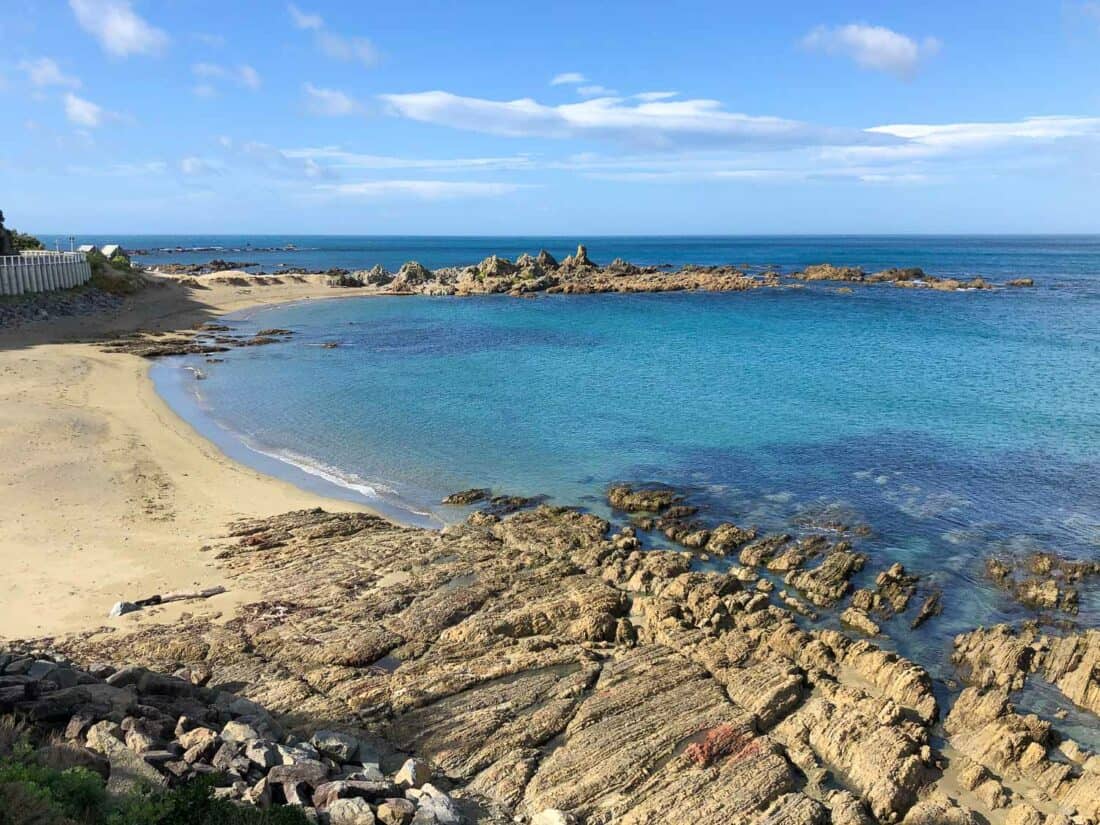 One of the coolest things to do in Wellington on a calm summer day is go snorkelling—it just feels so unexpected in a capital city!
Taputeranga Marine Reserve is just around the headland from Lyall Bay. There are multiple entry points—near the public toilets at Princess Bay is a popular entry point or I've gone in just past Island Bay beach.
You can rent snorkelling gear and wetsuits (which you'll need) at Island Bay Divers and check the latest conditions on their Facebook page.
I was amazed by how much we saw so close to the shore—an octopus, a huge eagle ray, crayfish, blue moki, sea cucumbers, starfish, triplefins, and more. Magical!
12) Hike the City's Trails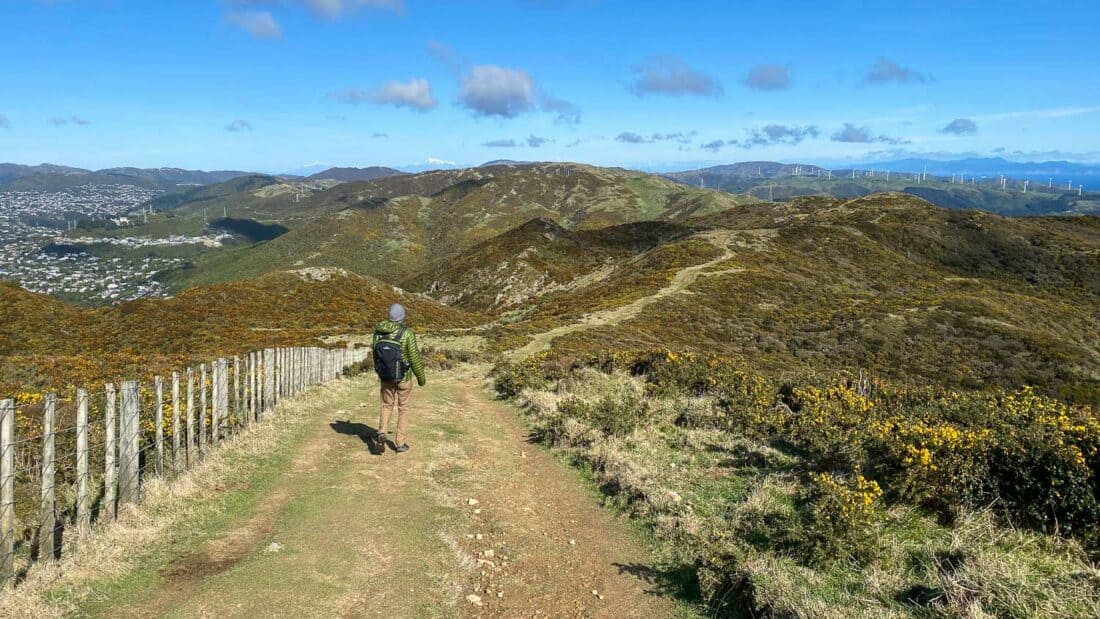 I love how much nature is so close to the centre of Wellington with some fantastic hikes (or bike rides).
My favourites are the Red Rocks Walkway to see seals, the Eastern Walkway for sea views, the Skyline Track for sweeping views across the whole region, and Makara Beach for remote coastal scenery.
See my guide to the best Wellington walks for more details.
13) Play Junkyard Mini Golf at Carlucci Land
If you are looking for fun things to do in Wellington with kids or adults, head to Carlucci Land, one of the most unique mini golf courses we've played.
There's a junkyard vibe with 18 holes on the hillside amongst quirky sculptures. Some of the holes are pretty challenging as the ball goes through hidden passageways and down ramps and spirals.
We usually head here after brunch in Lyall Bay and you could also combine it with a visit to nearby Red Rocks.
Carlucci Land is located at 281 Happy Valley Road. It's open from 9.30am until late every day. It costs $12 per person (payable by honesty box midweek). The only facilities are toilets so take your own drinks and snacks.
Top Things to Do in Wellington at Night
In addition to these Wellington activities at night, Zealandia has night tours, and you can see glowworms for free in the Botanic Gardens after dark.
14) Watch the Sunset at Mount Victoria Lookout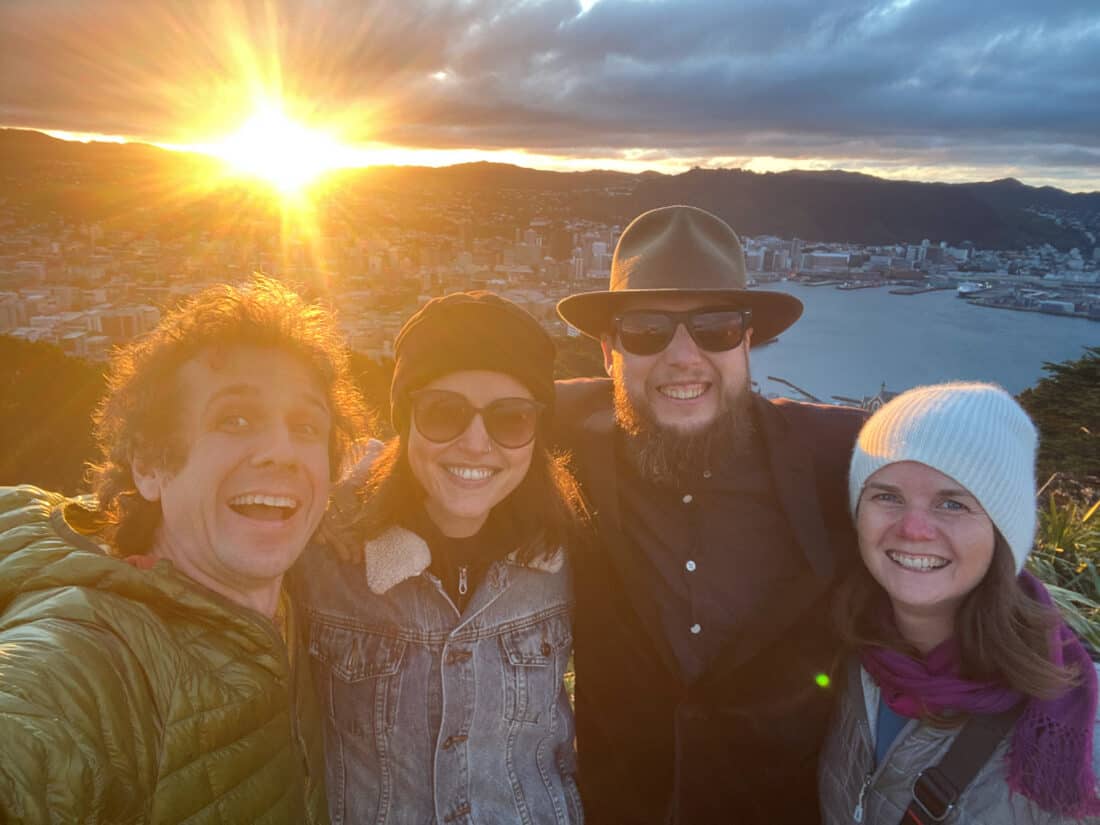 The Mount Victoria Lookout is one of the top Wellington attractions for its 360º views of the city, harbour, and surrounding bays.
You can walk up the steep hill from Oriental Bay or drive up. There's a grassy area for picnics.
Mt Vic is great to visit at any time of day, but sunset is my favourite time. Stick around long enough to see the city lights switch on.
15) Enjoy Delicious Vegan Food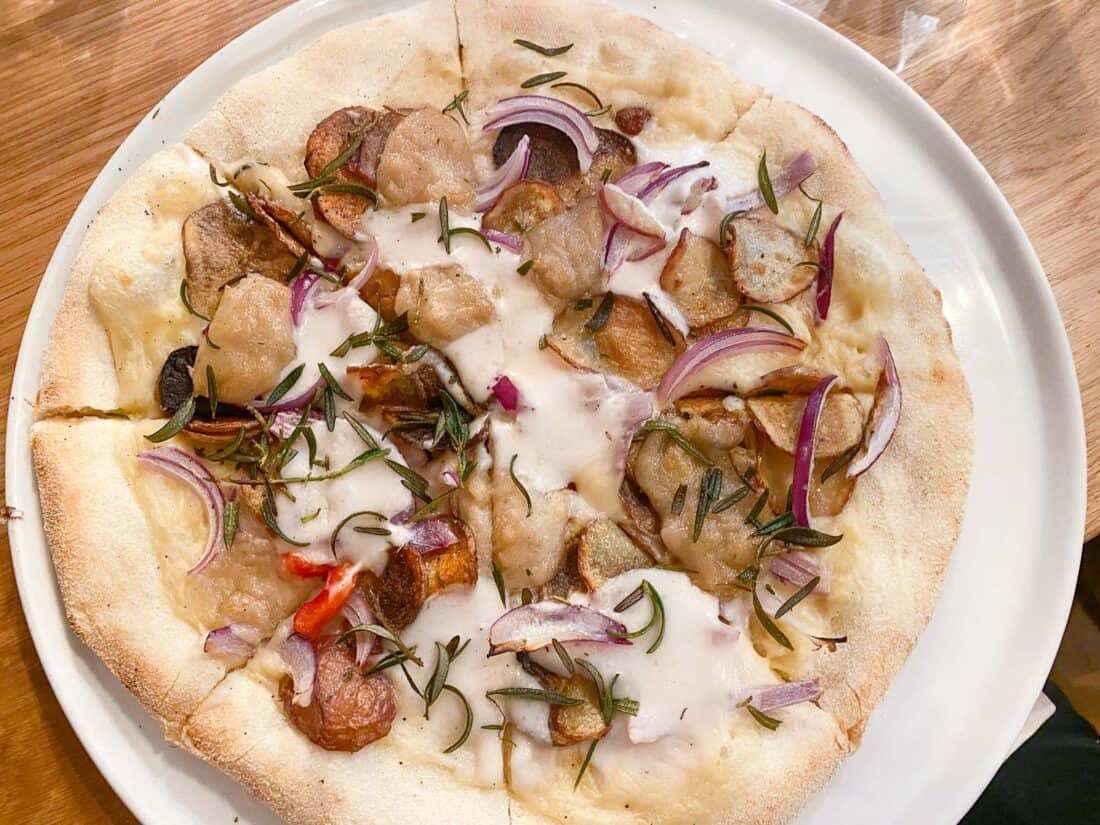 Wellington has some fantastic food with plenty of choice for vegans. These are our top picks, all of which are open in the evening. There are many more options on Cuba Street and in Lyall Bay—see above.
Hillside Kitchen – This friendly, fine-dining vegetarian restaurant is perfect for special occasions.
The five or seven course tasting menus feature creative dishes using local ingredients, some of which are foraged or from their garden. You can request a vegan menu.
Allow plenty of time—we usually spend four hours when dining with friends.
They are usually based in Thorndon but are currently on Victoria Street in the CBD. Check the Hillside website for updates and to make a booking (essential).
Mockingbird – Mockingbird is the place to come for plant-based junk food and international street food. Their burgers feature "beef" or "chicken" patties and their new pies are tasty. My favourites are the enchilada loaded fries and sangria.
Other vegan-friendly restaurants we like include Mr Go's (Asian tapas), Seize (healthy lunch bowls), Southern Cross (bar snacks), and The Ramen Shop in Newtown.
16) Buy Local Art at Welly Collective on Courtenay
The Welly Collective is a cool space featuring artwork, jewellery, clothes, and gifts made by local artists. Check out the Cara Rose Art table run by our friend who paints beautiful Wellington scenes.
Welly Collective is at 100 Courtenay Place in Te Aro. It's open from 10.30am to 6.30pm every day and until 10.30pm on Fridays and Saturdays—perfect for post-dinner shopping.
17) Play Games at Counter Culture Board Game Cafe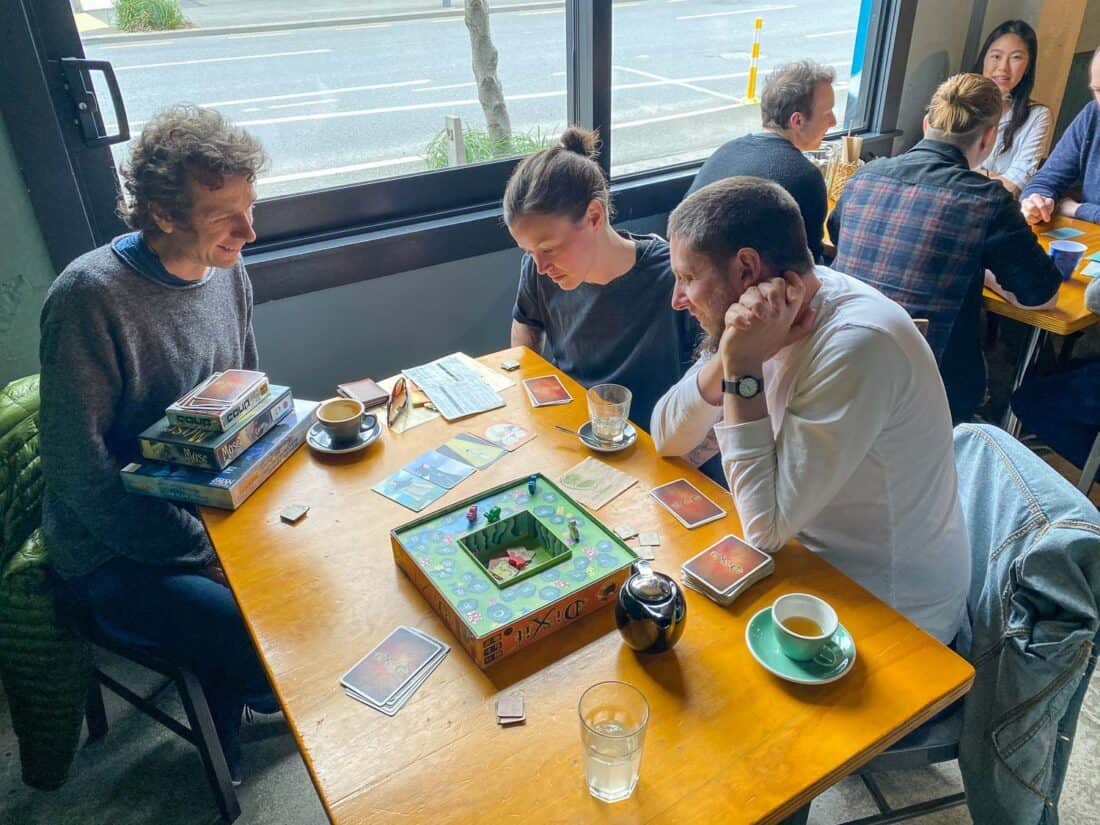 If you are looking for rainy day activities in Wellington, the Counter Culture Board Game Cafe is ideal. We have whiled away many hours here.
They have a vast collection of board games—ask the helpful staff for advice. Some of our favourites are Marrying Mr Darcy, Cockroach Poker, Dixit, Pictures, and Coup.
Their food is also good—I love the brownie with salted caramel ice cream. There's plenty for vegans and they have tasty craft beers.
Counter Culture is at 211 Victoria Street in Te Aro. It's open from midday until late (from 4pm on Mondays and Wednesdays). They are closed Tuesdays. Bookings are highly recommended, especially on weekends. A three-hour slot costs $5 per person with a food or drink purchase.
18) Go Cocktail Bar Hopping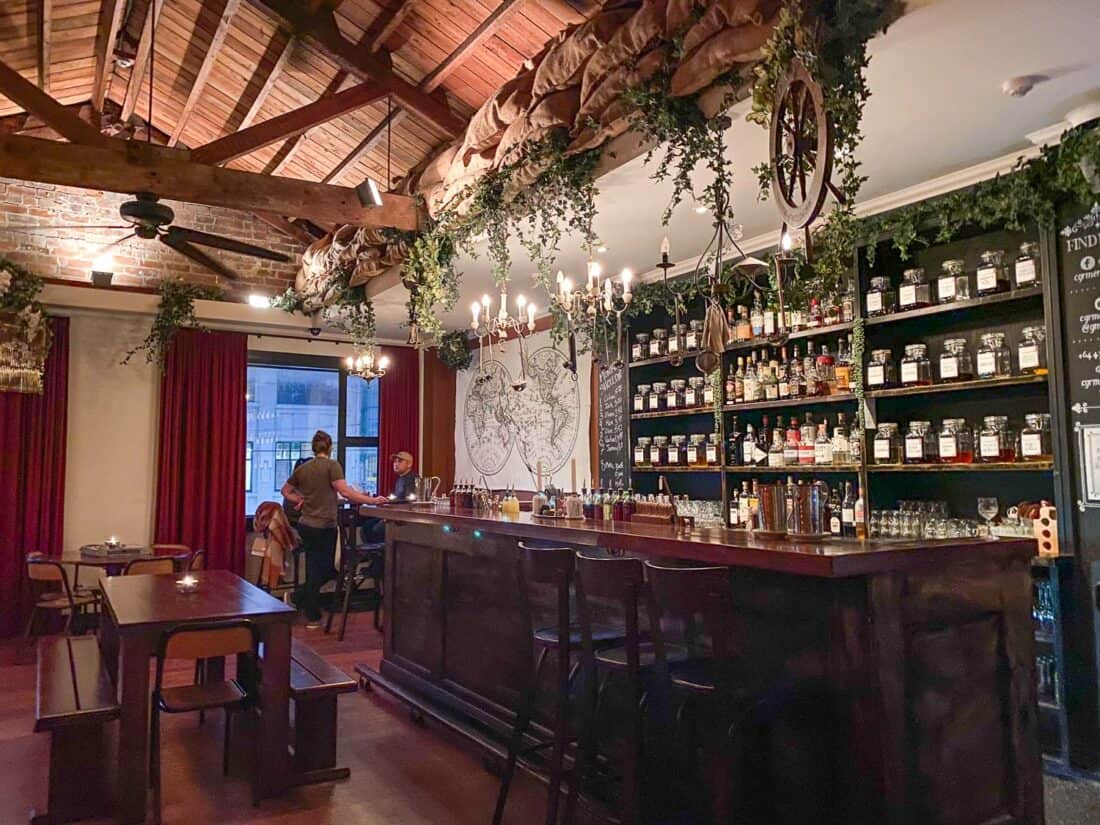 Wellington has an extraordinary number of craft cocktail bars, and as they are all in Te Aro, it's easy to put together a classy bar crawl. Here are our picks (roughly in order of preference):
Night Flower – There's no menu at this speakeasy style bar with a hidden entrance. Instead, tell the staff what flavours you like and they'll craft the perfect drink for you, with a focus on old-fashioned cocktails in keeping with their classic decor.
Poquito – An unpretentious, friendly bar where they can create a custom cocktail for you. The espresso martinis are superb.
CGR Merchant & Co – A beautiful bar decorated with hanging plants and big jars of their homemade gins and rums in interesting infusions. The gingerbread gin is glorious.
Hawthorn Lounge – This intimate cocktail bar feels exclusive and is one of the few places open until 3am on weeknights.
R Bar – The cocktails may not be as good as at the other bars, but the pirate-themed decor and drinks are fun. It feels like Disney!
Library Bar – Tasty drinks with walls lined with books.
19) Work Your Way Through the Wine List at Noble Rot
If you prefer wine to cocktails, Noble Rot is the absolute best place to drink in Wellington.
They have a huge list of wines by the glass from New Zealand and all over the world (I enjoyed an excellent Syrah from Syria!). The knowledgeable staff helped us make great choices.
You can pop in for a drink, but I recommend booking a table for dinner and making a night of it (we were there for hours).
There's only one vegan choice per course, but the menu changes seasonally and it's always delicious.
Noble Rot is at 6 Swan Lane in Te Aro. It's open Tuesdays to Saturdays from 4pm until late. Closed Sundays and Mondays.
20) Sample Local Craft Beer
Craft breweries and brewpubs are everywhere in Wellington. These are Simon's favourites:
Garage Project in Aro Valley – The best beer in Wellington with flavours for all tastes including lots of creative brews.
Parrotdog Brewery in Lyall Bay – Excellent beer and a great setting to drink it by the beach with good food and a pool table.
Panhead Tory Street – Central brewpub with a cosy fireplace, exclusive brews, and a great gin and tonic menu for the non-beer drinkers.
Little Beer Quarter in Te Aro – A relaxed bar with lots of craft beer and tasty snacks.
If you'd rather explore Wellington's breweries with a local expert, check out this Wellington Craft Beer Brewery Tour.
Wellington Day Trips
If you are in Wellington for a longer stay, it's well worth exploring the wider Wellington region.
21) Kapiti Coast for Hikes and Beaches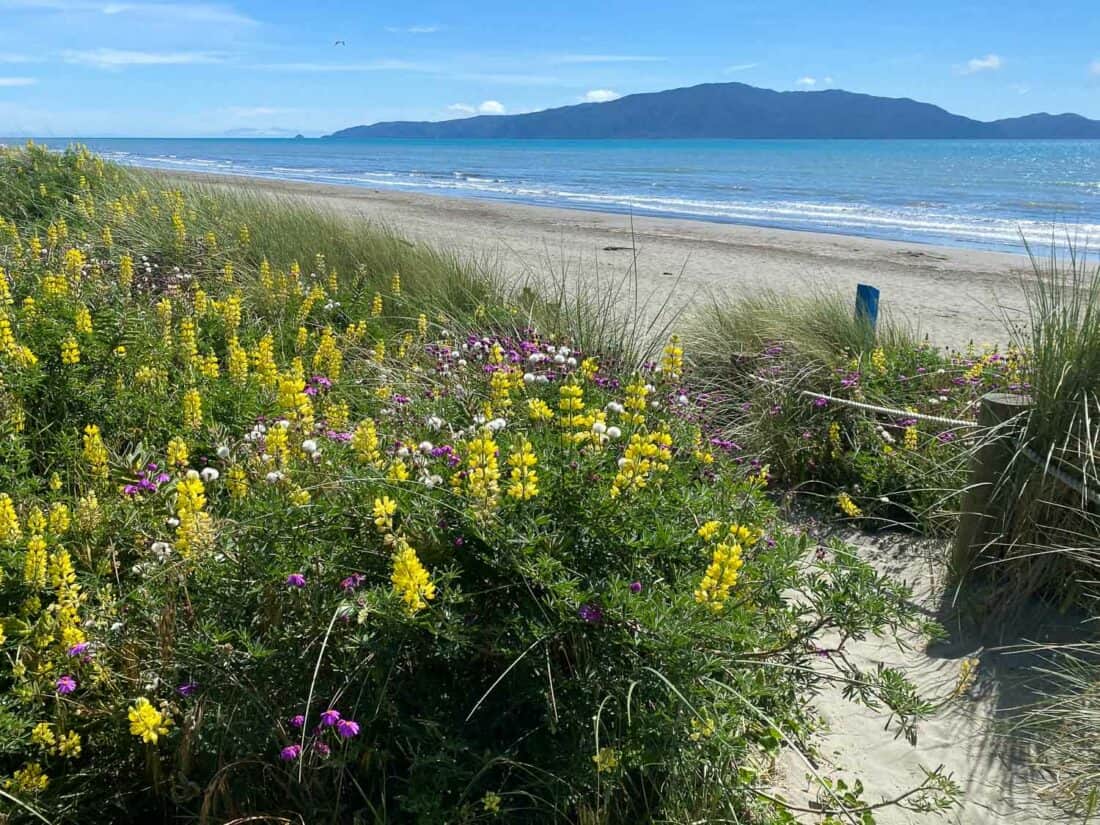 The Kapiti Coast is a stretch of black sand beaches starting about 40 minutes north of Wellington. We've spent many months based there and it also makes a good day trip from Wellington.
Paekākāriki is the best stop, especially if you are coming by train. This tiny creative village has a few excellent cafes and a quiet stretch of sand.
It's also the starting point for the stunning Escarpment Track hike to Pukerua Bay (10km/3 hours), which is one of the best walks in Wellington.
In Paekākāriki I recommend coffee at The Perching Parrot, delicious pizza (on Friday nights and weekends) at Beach Road Deli, and a real fruit Paekākāriki Pop from the Village Grocery Store.
Sunday Cantina in Raumati South is another favourite cafe and can be combined with a walk in Queen Elizabeth Park.
15 minutes further up the coast is Paraparaumu, which doesn't have Paekākāriki's charm, but it is the launching point for boat trips to the Kapiti Island nature reserve.
Kapiti Island is well worth visiting, especially if you like hiking and birds. Visitor numbers are limited so you must visit as part of a boat trip, but you are free to explore the island once you get there.
As the island is predator-free, native birds thrive so you can see rare ones like the hihi and kokako and hear a chorus of birdsong. There's a beautiful hike through the forest to the highest point on the island.
Book a Kapiti Island boat trip here.
For food in Paraparaumu, we like Tom Thumb Cafe (takeaway cabinet food) and Passo for Italian.
Even further north (one hour from Wellington) is Waikanae Beach with lovely beach and river walks and tasty pies at Olde Beach Bakery.
See my Wellington hikes post for details on the beautiful walks on the Kapiti Coast.
22) Martinborough for Wineries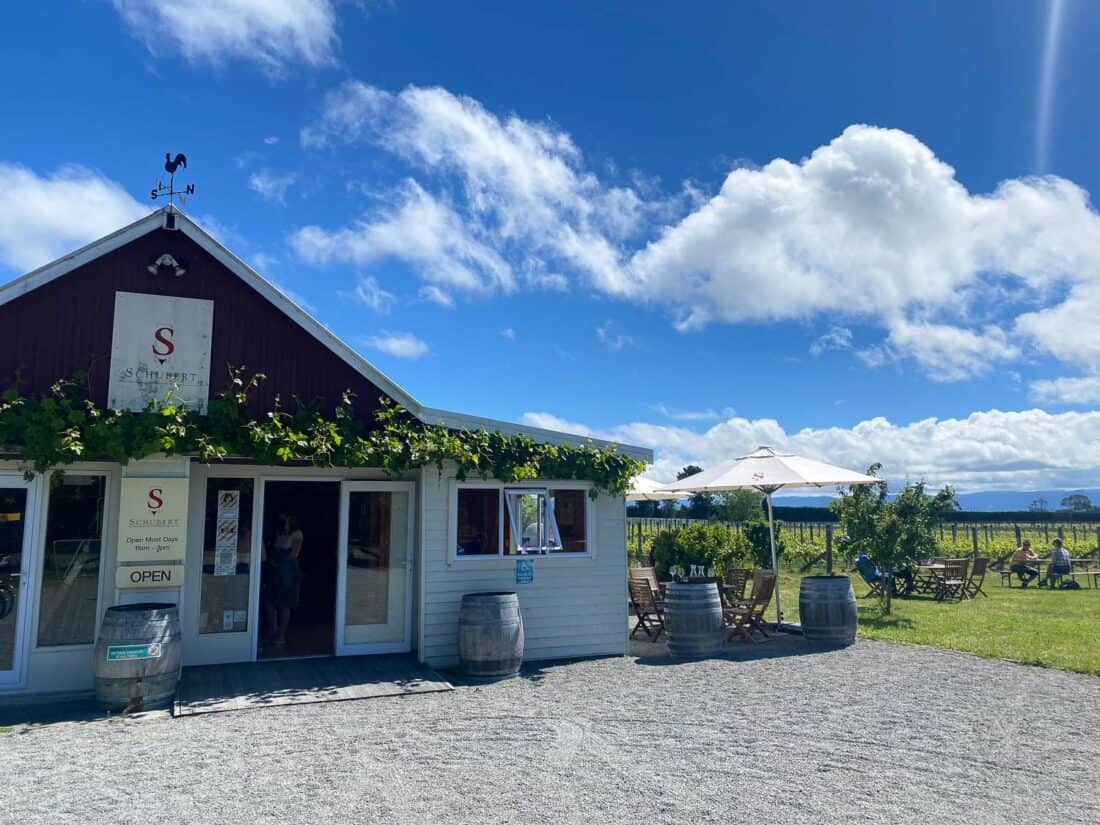 Martinborough is a pretty town, about 1 hr 20 mins from Wellington, surrounded by wineries and known for its superb pinot noir.
It's a flat, compact area so it's easy to explore by bike (Green Jersey rents them for $40 a day). In one afternoon we cycled about 6.5km to four wineries.
Poppies is our favourite winery—the lunch platters and rosé are delicious (book ahead).
We've also enjoyed tastings at Palliser (for excellent pinot noir and chardonnay), Escarpment (where you can pair wine with canapés), Schubert (for the unusual Tribianco and sweet Dolce), and tiny Muirlea Rise (try the dessert wines). For unusual natural wines, head to Cambridge Road.
If you want to stay overnight, we love historic Martinborough Hotel (originally built in 1882), which has beautiful rooms on the picturesque village square.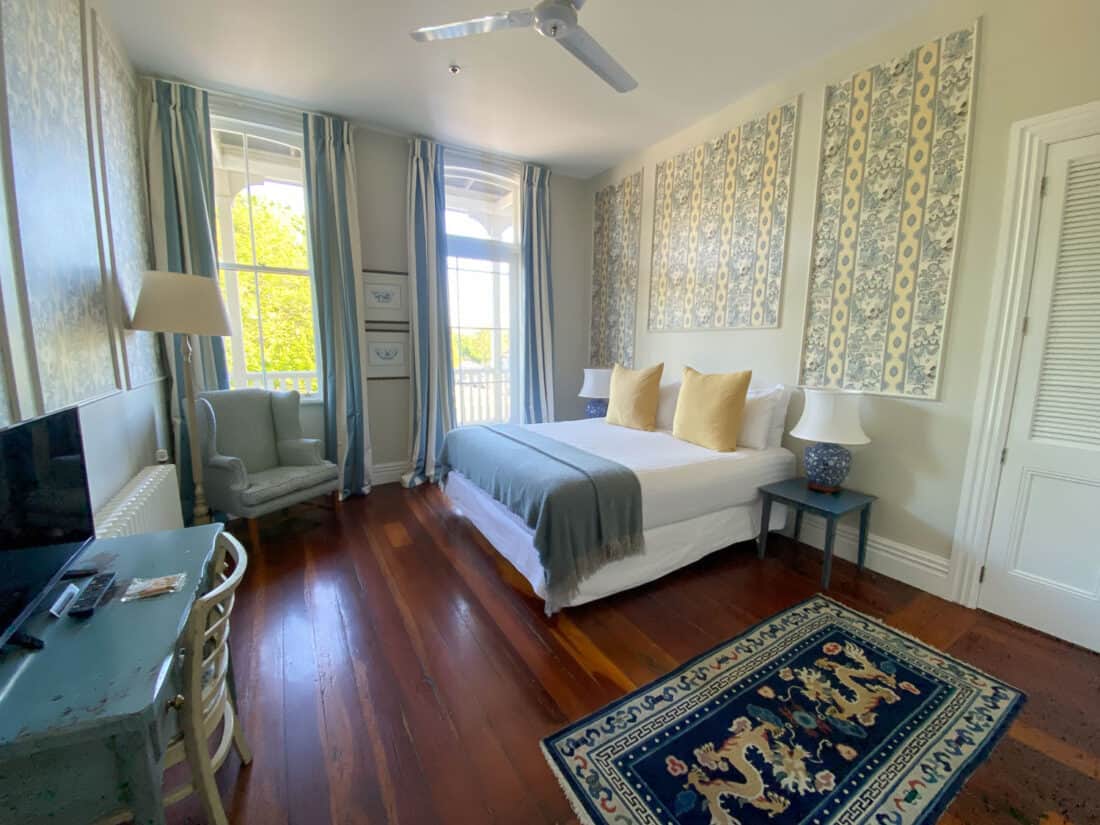 To visit Martinborough as a day trip from Wellington, it's best to take a tour so that someone else can do the driving. Check out this highly-rated Martinborough Winery Tour, which includes tastings at three wineries.
Just bear in mind that the drive back to Wellington involves crossing over the steep, winding Remutaka Hill!
On the way to or from Martinborough it's worth stopping at Kaitoke Regional Park to hike the 2km Swingbridge Track through beautiful forest, swim in the river, and see where Rivendell in Lord of the Rings was filmed.
Wellington Activities Map
Summary
It might be a cliche that "you can't beat Wellington on a good day", but it's also true! When the sun is shining and the wind has died down, it's glorious to explore the city's parks, waterfront, gardens, nature trails, and beaches.
You can hike, bike, sail, snorkel, kayak and still be within 10 minutes of delicious food, coffee, and adult beverages.
Even when the winds are roaring, there are enough indoor activities in Wellington to keep you busy. Or just keep eating and drinking.
I hope this post has given you some ideas on what to do in Wellington (rain or shine). For more New Zealand tips, you'll find links to lots more posts below.
A big thank you to Ru, Ian, Dunstan, Lydia, and Cara, our wonderful friends and local guides who have made our many trips to Wellington so special.
More New Zealand Posts
Read more of our tips for exploring beautiful New Zealand.
North Island
South Island
Enjoyed this post? Pin for later!