There are so many incredible things to do in the South Island of New Zealand that one trip is never enough.
Most South Island activities are focused on the outdoors—you can hike on glaciers, cycle through vineyards, sail down majestic fiords, paddle on turquoise lakes, and bungy jump into emerald rivers.
The scenery is magnificent from snow-capped mountains to golden beaches, and wildlife is easily seen—seals, dolphins, whales, penguins, albatross and more.
The South Island (Te Waipounamu in te reo Māori) is best explored with your own vehicle (car or campervan), and I recommend allowing at least two weeks to see the highlights.
We've spent over nine months there and road tripped four times around the island, and we still can't get enough.
Below I share our South Island must dos roughly in order from the top of the island down to the south. You'll find a map at the end of the post and our favourite places to stay and eat throughout.
Contents
I've included costs for these South Island attractions when applicable (many are free). All prices are in New Zealand dollars. The current exchange rate is NZD $1 = USD $0.71, GBP £0.51, and EUR €0.61.
Video: Explore Queenstown, a South Island Must See
Best Things to Do in South Island New Zealand
1) Explore the Golden Beaches of Abel Tasman National Park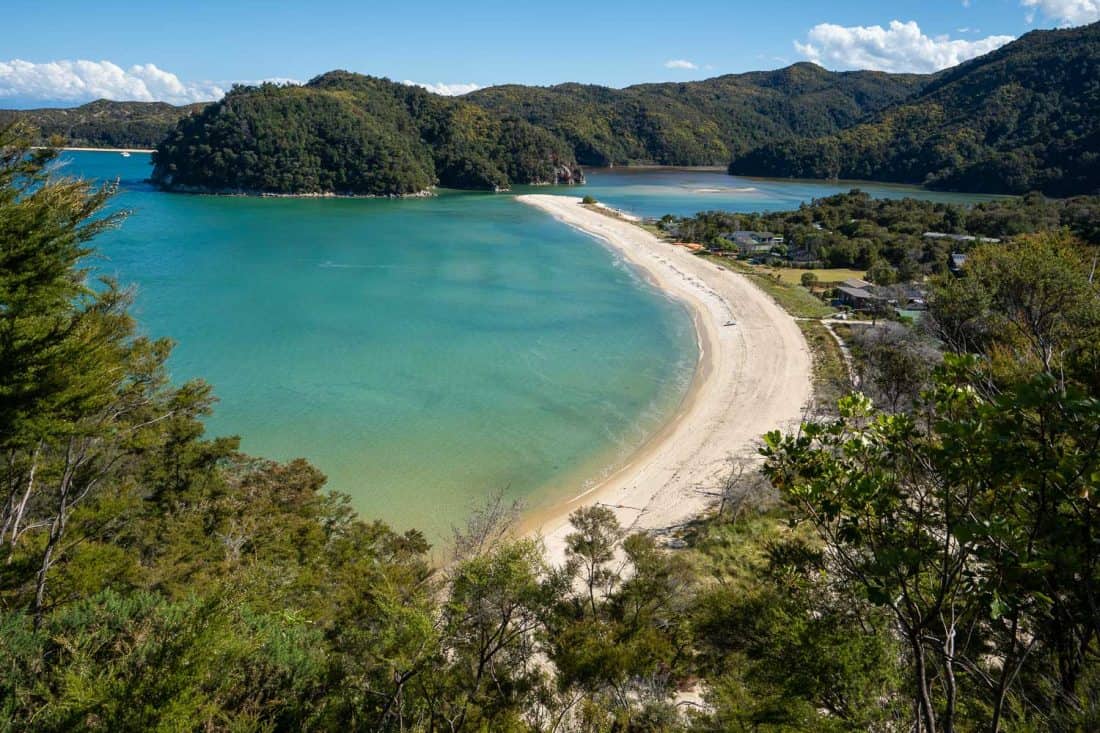 Visiting Abel Tasman National Park is definitely one of the best things to do in the South Island (and it's our pick for one of the most beautiful places in New Zealand).
We love it so much that we've visited six times and know we'll be back.
This gorgeous coastal park of golden beaches and turquoise bays is located at the top of the South Island.
You can visit as a day trip from Nelson (an hour away) or Kaiteriteri (where the water taxis depart), stay in the park, or walk or kayak the 60km Abel Tasman Coastal Track.
If you don't feel like tackling the entire 3-5 day trail, there are plenty of easier options.
You can take a water taxi and spend the day lazing on a beach, hike a section of the trail, or kayak along the coast. You are very likely to see fur seals and native birds, and once we were lucky to sail alongside a pod of dolphins.
Our favourite Abel Tasman hike is in the quieter northern section of the park from Totaranui to Mutton Cove, but the whole coast is stunning.
See my detailed Abel Tasman National Park guide for everything you need to know.
2) Admire the Stunning View at Cable Bay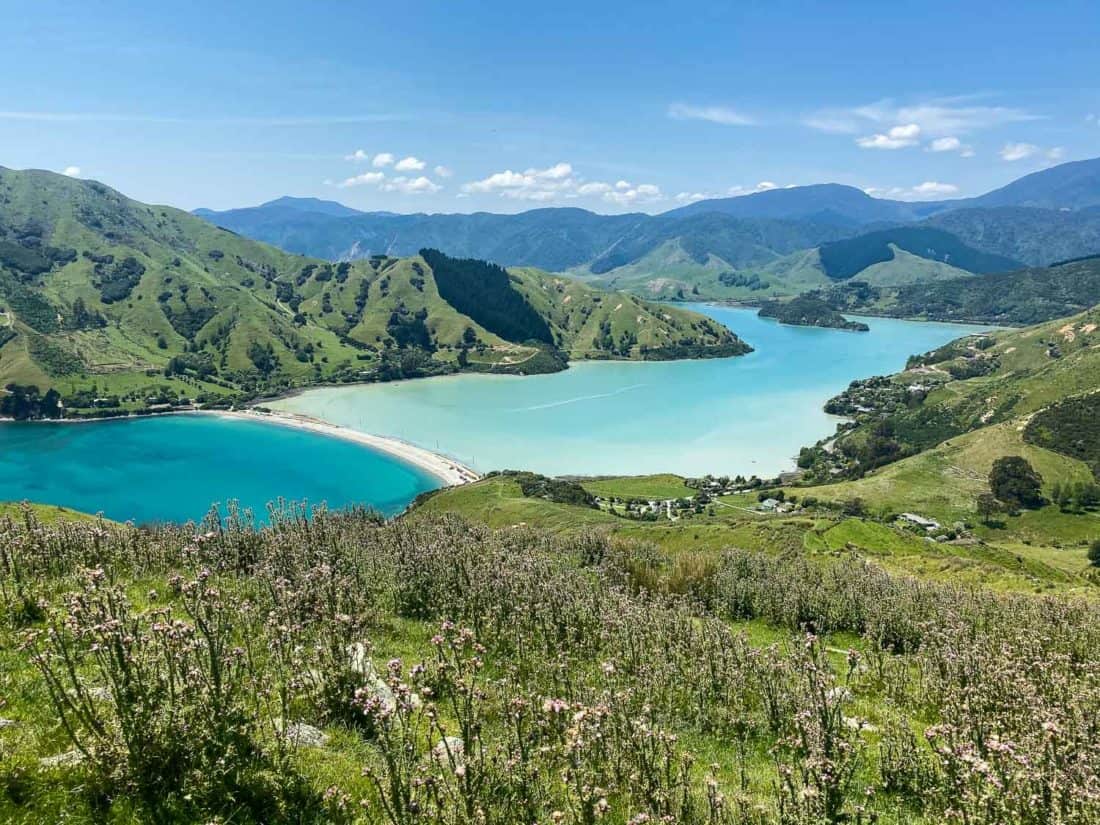 Cable Bay is one of my favourite places in the South Island, but most visitors haven't heard of it. This tiny hamlet is only a 25-minute drive from Nelson but feels far away from it all.
Cable Bay's pebble beach connects to Pepin Island and acts as a natural barrier between the turquoise estuary and teal sea.
It's surrounded by rugged green hills and climbing the steep hill from the beach is the best way to admire the view, which is spectacular at high tide.
You could continue on all or part of the Cable Bay Walkway, which runs for 8km to Glenduan.
In summer, don't miss lunch or a cake at Cable Bay Cafe—the perfect treat after a hike, swim, or kayak.
See my post on the best things to do in Nelson for more activities in this area including beautiful hikes in Nelson Lakes and Kahurangi National Parks.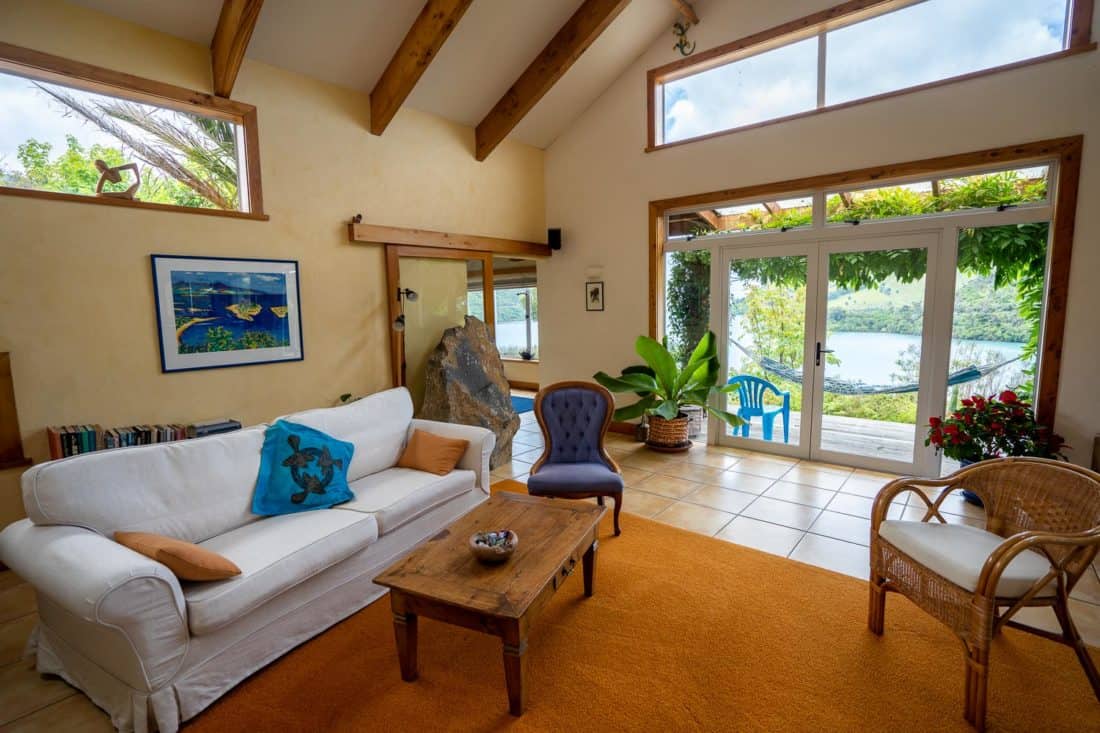 3) Walk the Queen Charlotte Track in Marlborough Sounds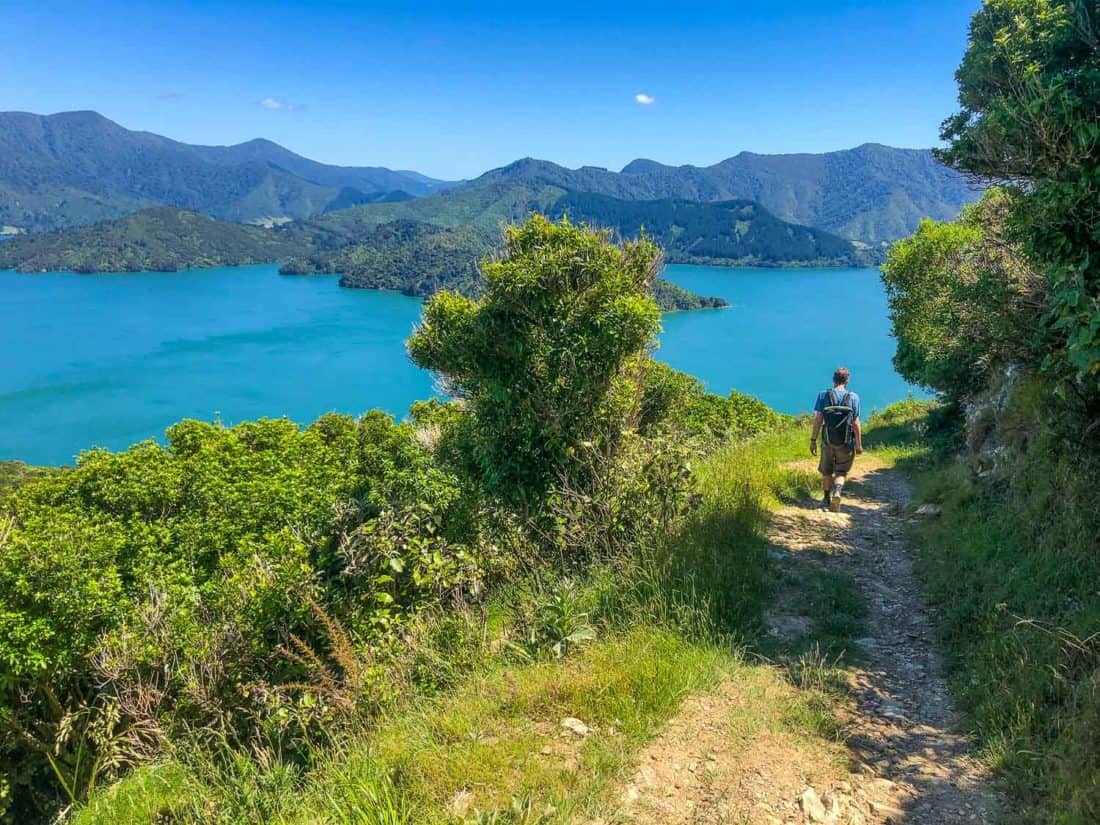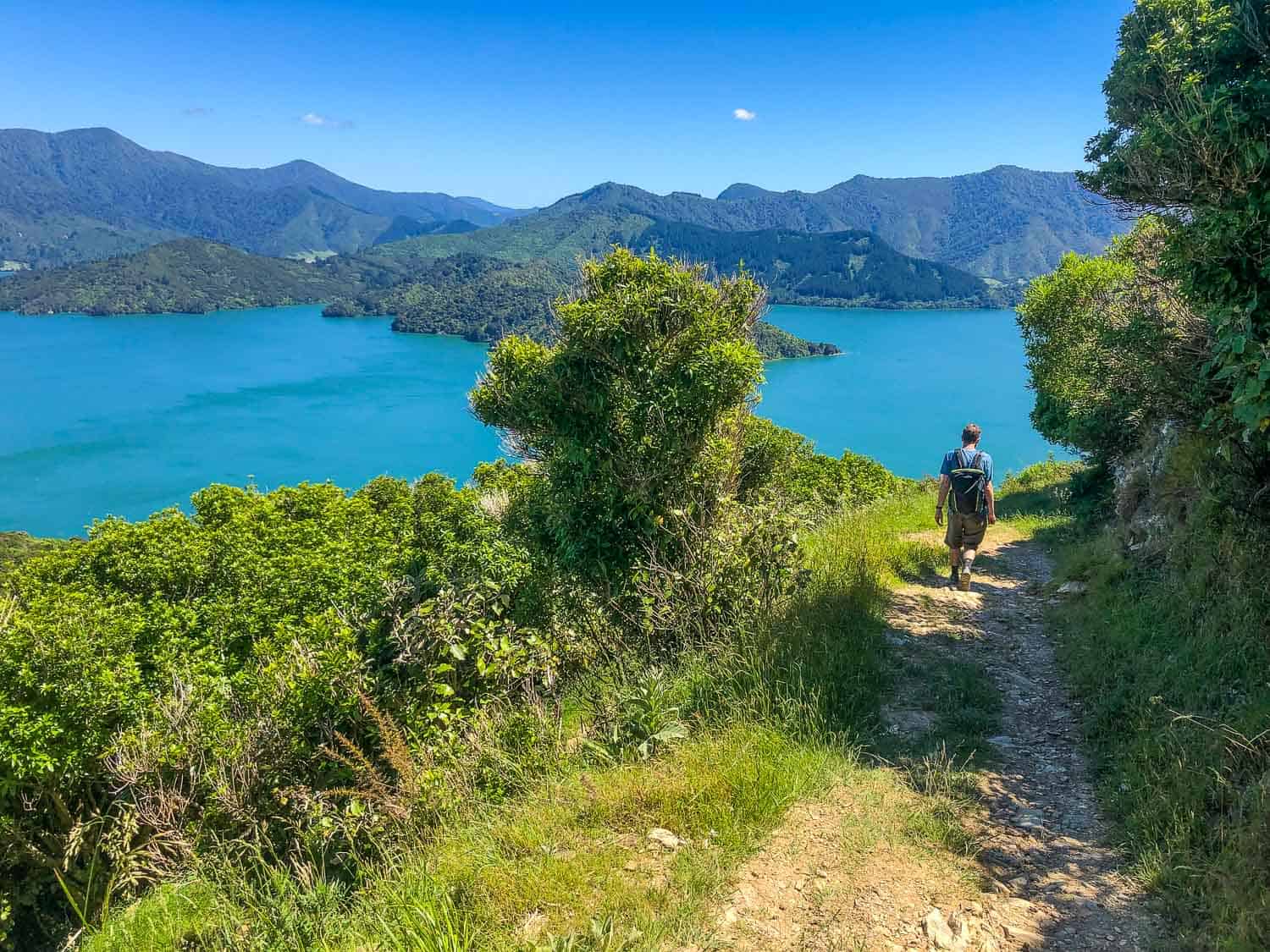 One of our most memorable South Island activities was hiking the 72km Queen Charlotte Track through the gorgeous Marlborough Sounds, a network of sea-drowned valleys.
Multi-day tramping (hiking) is a classic Kiwi activity and this is one of the best routes for newbies or those, like us, who want a bit more comfort.
On our five day trip we had our luggage transported by water taxi, stayed in luxurious lodges, and spent the evenings sipping local sauvignon blanc and soaking in hot tubs.
The coastal track is fairly easy if you are prepared for some hills, and the views of the forested hills and aqua sea are astonishing—so many shades of blue and green. We even saw dolphins, stingrays, and lots of native birds (the cheeky weka always turns up for lunch).
My guide to walking the Queen Charlotte Track has everything you need to know to plan the trip.
If you don't have time for the full hike, you could walk a section by taking a water taxi from Picton (where the ferry arrives from the North Island).
4) Stay in a Remote Bay in Marlborough Sounds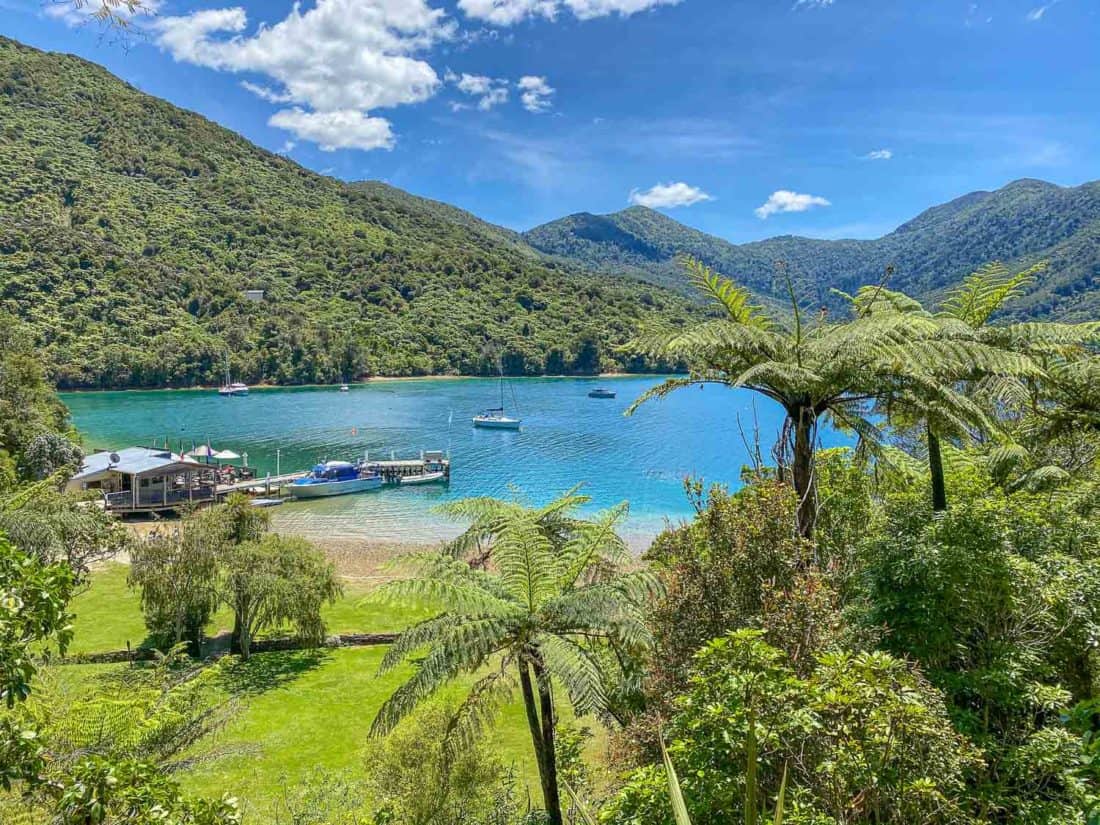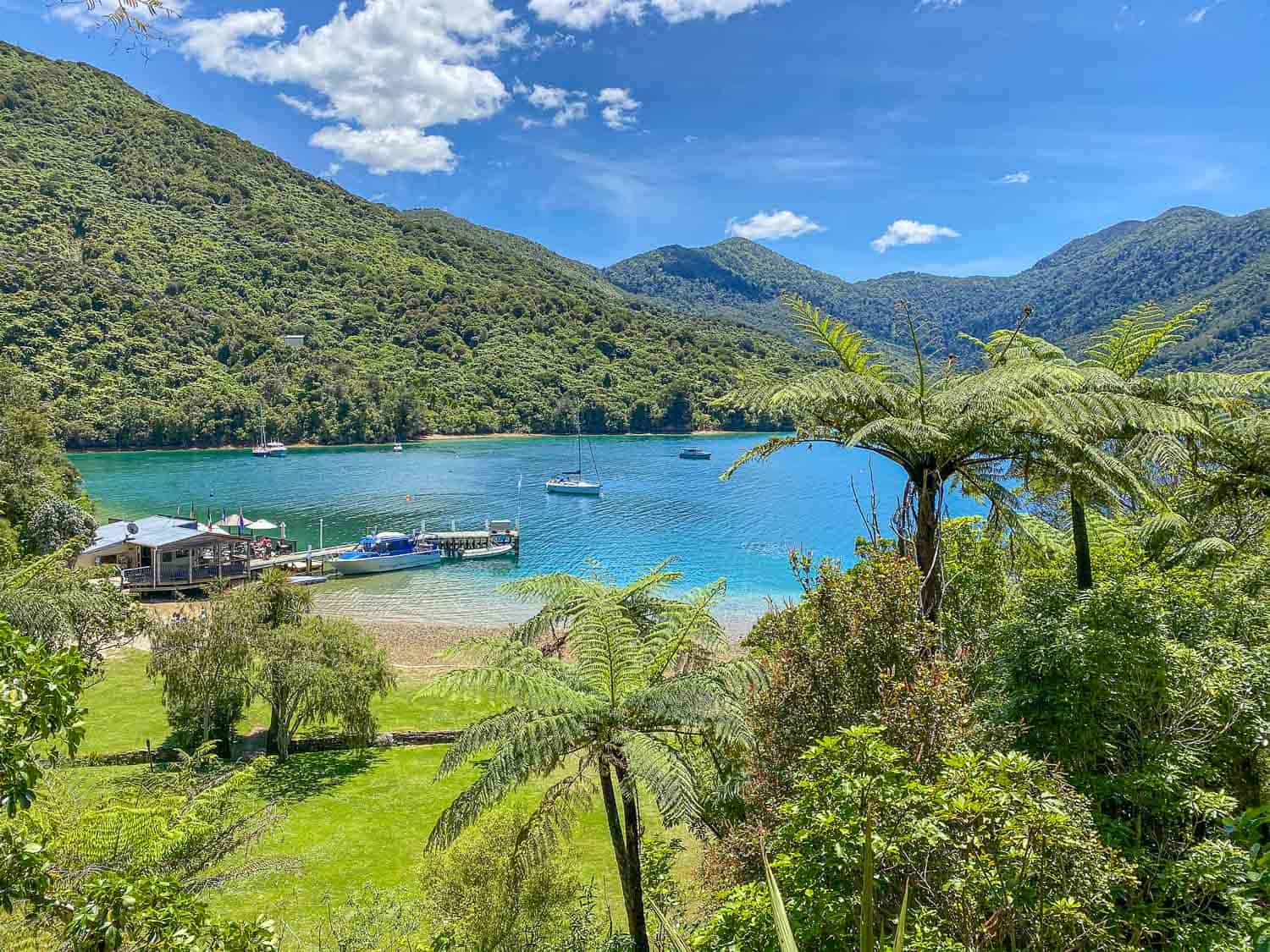 We also love visiting the Marlborough Sounds to get away from it all in one of the hundreds of remote bays. It's so peaceful out here with limited WiFi and no restaurants or shops (except at a few resorts).
We spend our days swimming and paddleboarding, relaxing on the beach, sipping wine on our terrace at sunset, and enjoying the birdsong.
If you only have a few days, I recommend taking a water taxi from Picton to one of the lodges that we stayed in on the Queen Charlotte Track.
Punga Cove was our favourite—it has a beautiful location, rooms with sea views, free kayaks and paddleboards, hot tubs, and a waterfront cafe.
If you'd rather drive, Te Mahia Bay Resort is an hour from Picton and looks lovely—we've had a drink at their cafe a couple of times on our way out to Kenepuru Sound.
For longer stays or if you want to self-cater or just avoid people, we adore St Omer's Hideout, a three-bedroom, off-the-grid house with stunning views. It's a 2.5 hour drive from Picton on a twisting road and you'll need to bring all food with you.
5) Visit Picturesque Wineries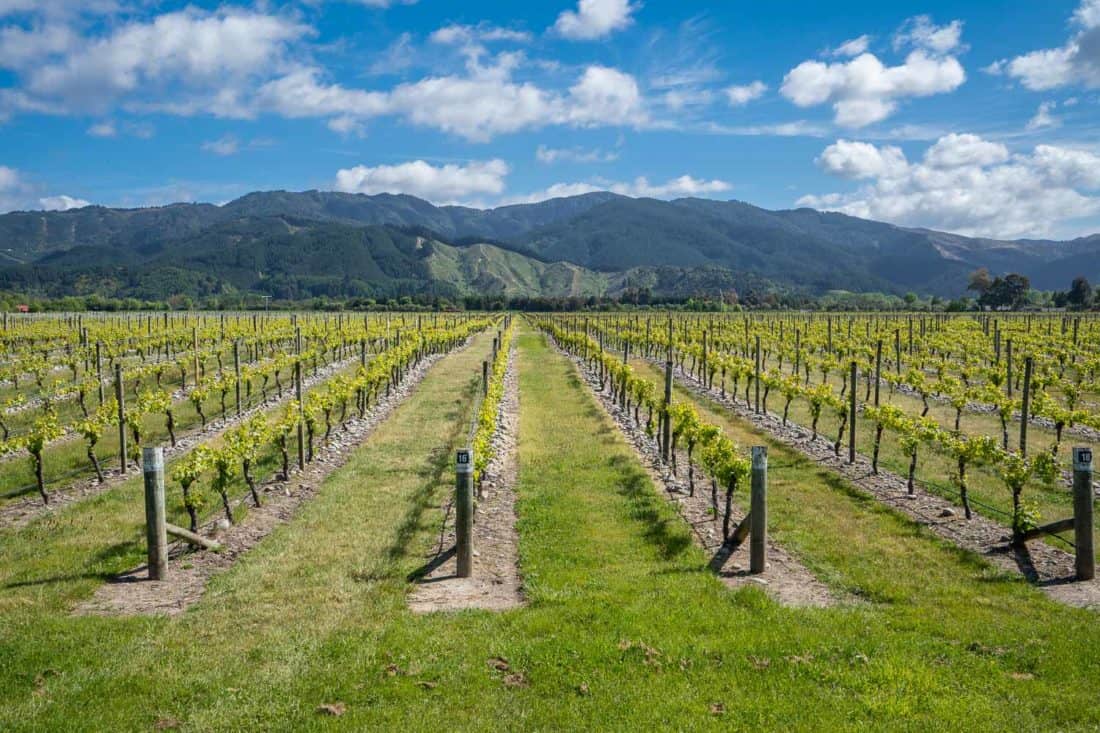 A major South Island attraction is the many excellent wineries. Wine regions are perfect for a scenic, relaxing break with good food and wine.
Marlborough wineries are excellent, especially for sauvignon blanc fans. Renwick is the best base as there are 20 wineries within 5km and they are easily explored by bike.
Our favourite wine region is the Gibbston Valley in Central Otago (more on that below) for superb pinot noir.
We also love lunch on the terrace at Mt Difficulty in Bannockburn and the lake view from Rippon Winery in Wanaka.
There's a less visited wine area outside Nelson—Neudorf makes our favourite chardonnay—which can be visited on your way up to Abel Tasman.
If you don't make it to the wineries, visit The Winery bar in the centre of Queenstown for a DIY tasting of a wide variety of New Zealand wines and delicious platters.
6) Spot Seals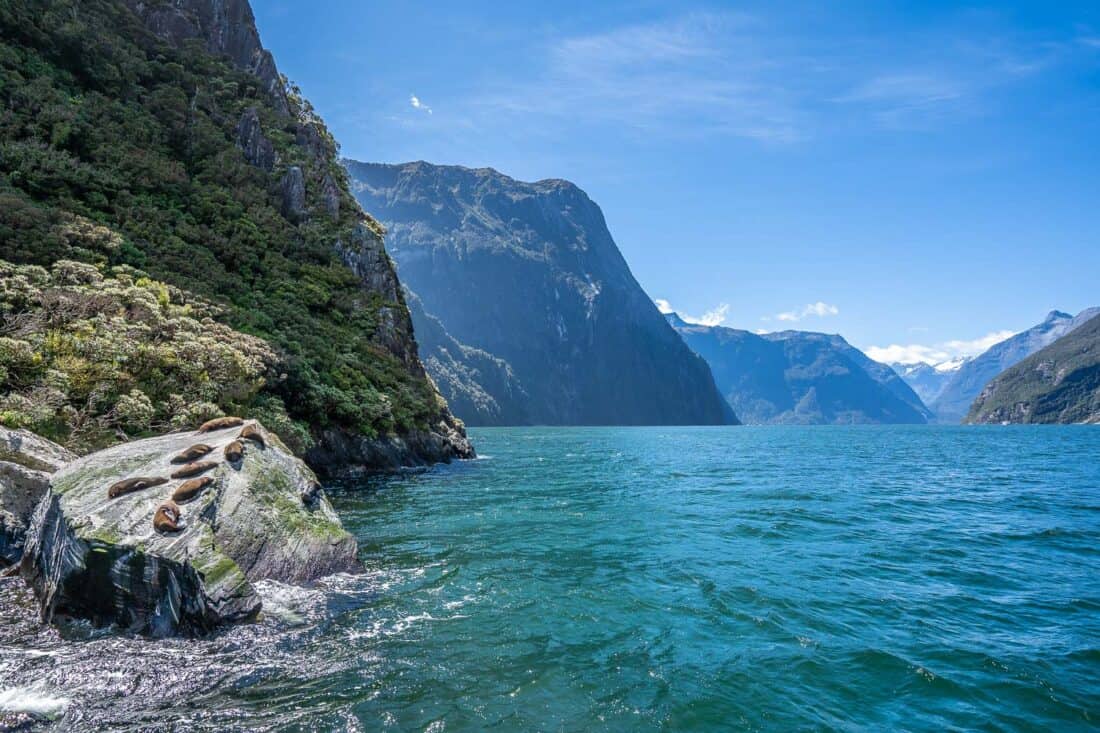 You are almost guaranteed to see New Zealand fur seals on a South Island road trip.
We saw the most at Ohau Point where hundreds of seals (including pups in late summer) laze on the rocks, frolic in the pools, and play fight.
It's a must stop on the drive from Marlborough to Kaikoura as the viewpoint is right next to the road, so it takes no effort to see them.
We also saw plenty of seals in Abel Tasman (all the water taxis stop at one of the islands they inhabit), on boat cruises in Milford and Doubtful Sounds, and on the Otago Peninsula.
My East Coast South Island guide has more recommended stops for road tripping down the coast.
7) Swim with Wild Dolphins in Kaikōura or Akaroa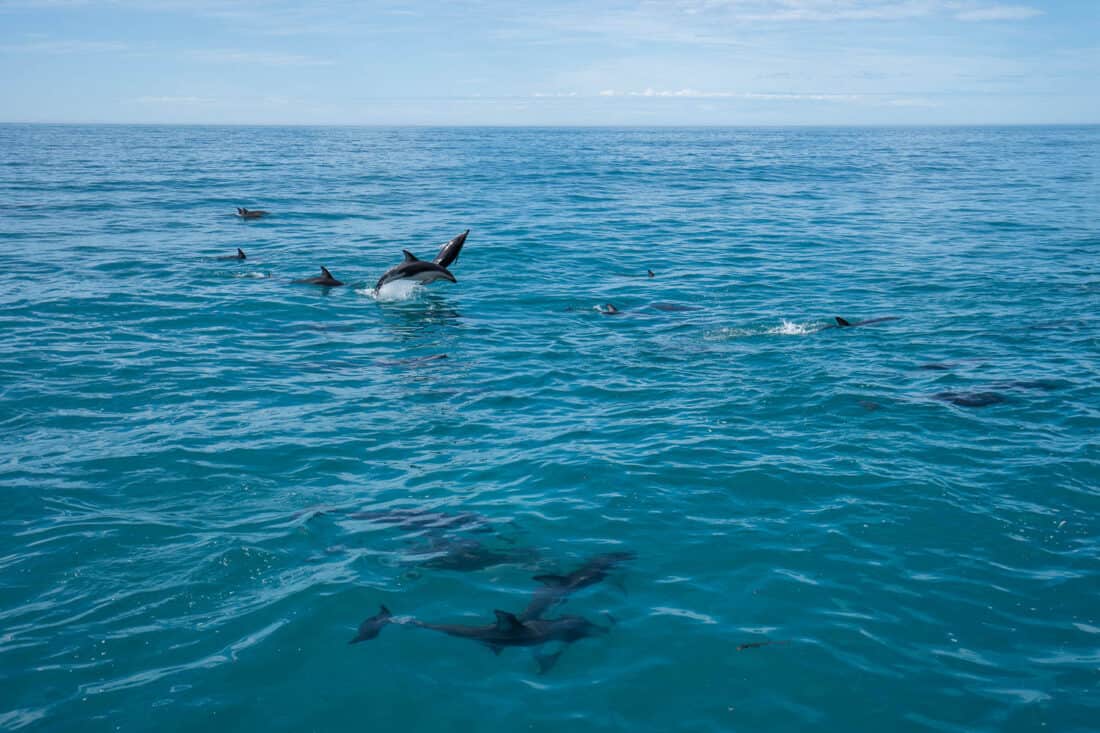 Kaikōura is one of the best places to go in South Island to see wildlife, especially whales, dolphins, and seals. We were astonished by how many dolphins we saw on our Dolphin Encounter boat trip ($220).
It was magical being in the water with a pod of hundreds of dusky and common dolphins as they dove and jumped and flipped in the air. They even circled around with us if we caught their eye.
Even if you don't want to get wet, it's worth taking the boat trip as an observer to see the playful creatures. We also saw orcas and seals on our way back.
My only complaint with the Kaikōura tour was the large numbers in the group (pre borders closing). We visited in summer—it'd be quieter at other times of the year.
A more intimate alternative is swimming with rare Hector's dolphins from Akaroa (on the Banks Peninsula outside Christchurch).
We went out with Black Cat Cruises ($199) on a much smaller boat than in Kaikōura, but although we saw a couple of the cute dolphins (the smallest in the world), we didn't have a chance to swim with them.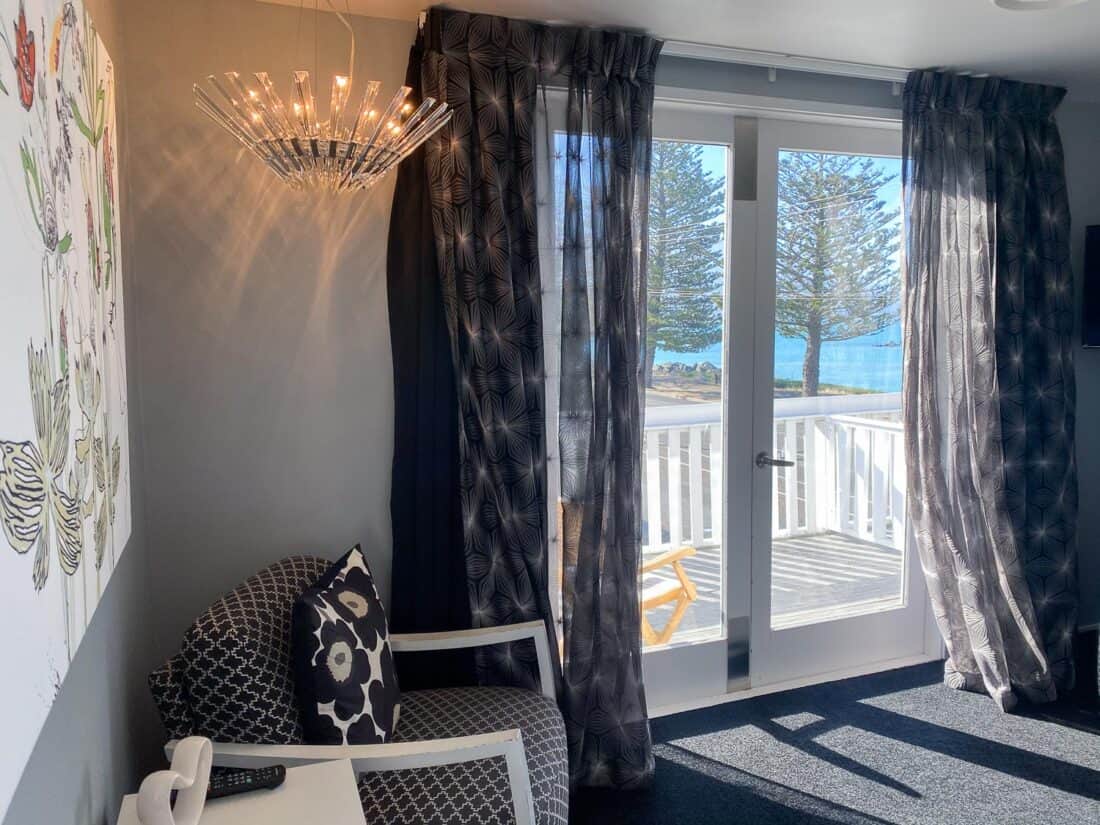 8) Soak in Hot Springs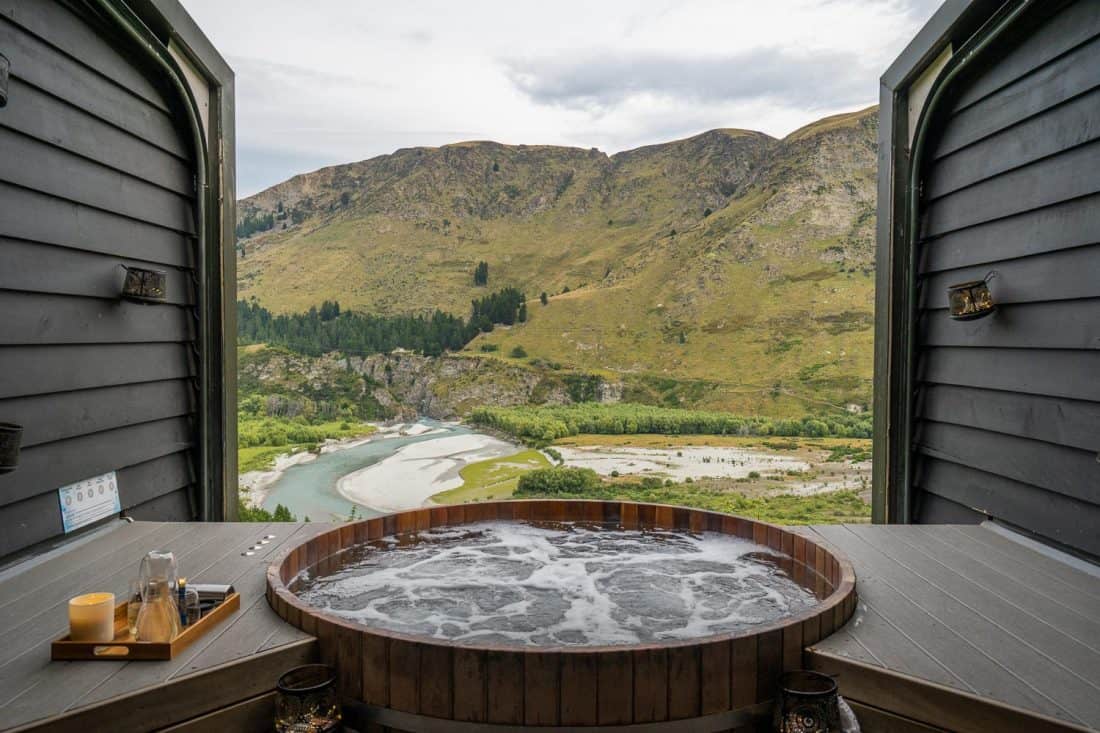 While the South Island isn't known for its hot springs as much as the volcanic North Island, there are still plenty of options to ease those aching legs.
Hanmer Springs is a mountain village known for the Hanmer Springs Thermal Pools ($35). It's a good spot to break up the journey between Nelson and Tekapo.
The busy and extensive complex includes 22 pools of all sizes and temperatures, some with jets or waterfalls. You'll also find a lap pool, waterslides, and a mini lazy river. It has more of a water park feel and is great for kids. While it's busier than I'd like, it's still possible to find quieter spots (Cascade Pools is my favourite).
We preferred Maruia Hot Springs ($45) for a quieter, more natural experience. They are located about an hour before Hanmer driving from Nelson.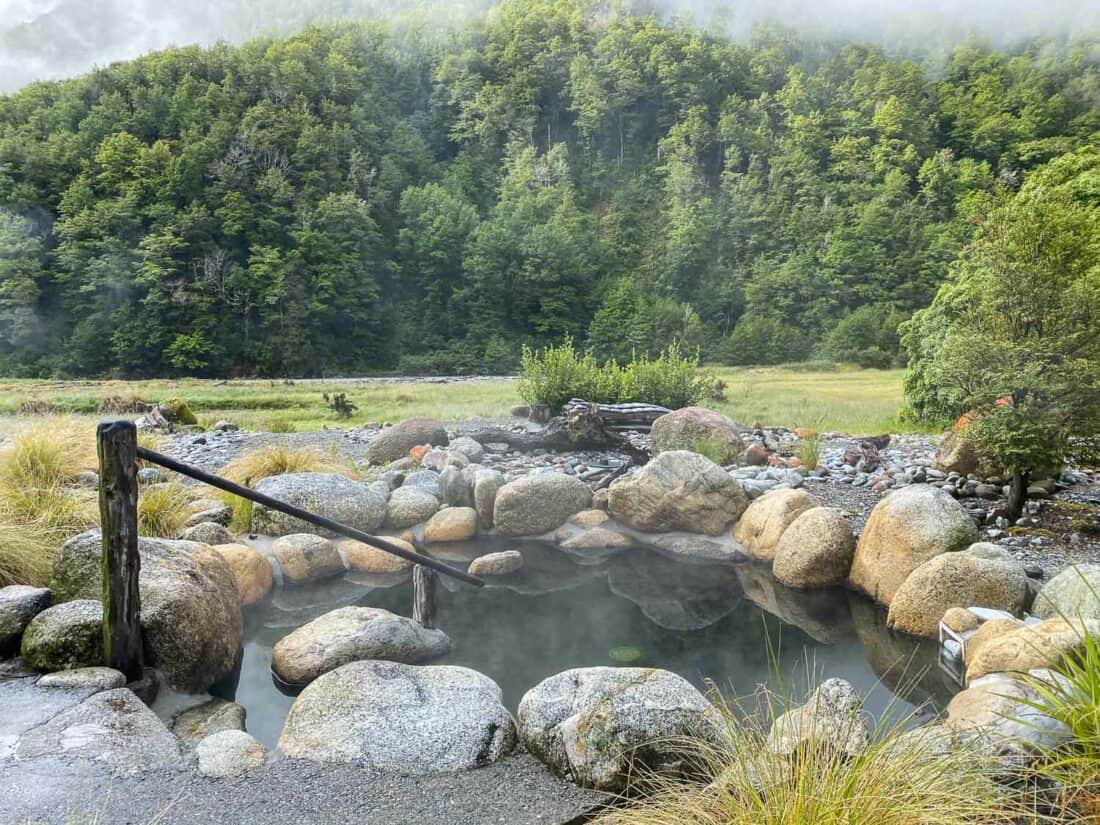 The three outdoor rock pools have gorgeous views of the bush-covered hillside, and there's also a cold plunge pool, sauna, steam room, and Japanese-style indoor bath.
Further south we admired the constellations while floating in a warm pool on the Tekapo Springs Star Gazing tour ($99, best on a clear night).
At Onsen Hot Pools ($126 for two) in Queenstown we soaked in a private cedar tub with stunning mountain and river views (book far in advance at this popular spot).
On a rainy day in Franz Josef, we relaxed in the rainforest pools at Franz Josef Glacier Hot Pools ($29).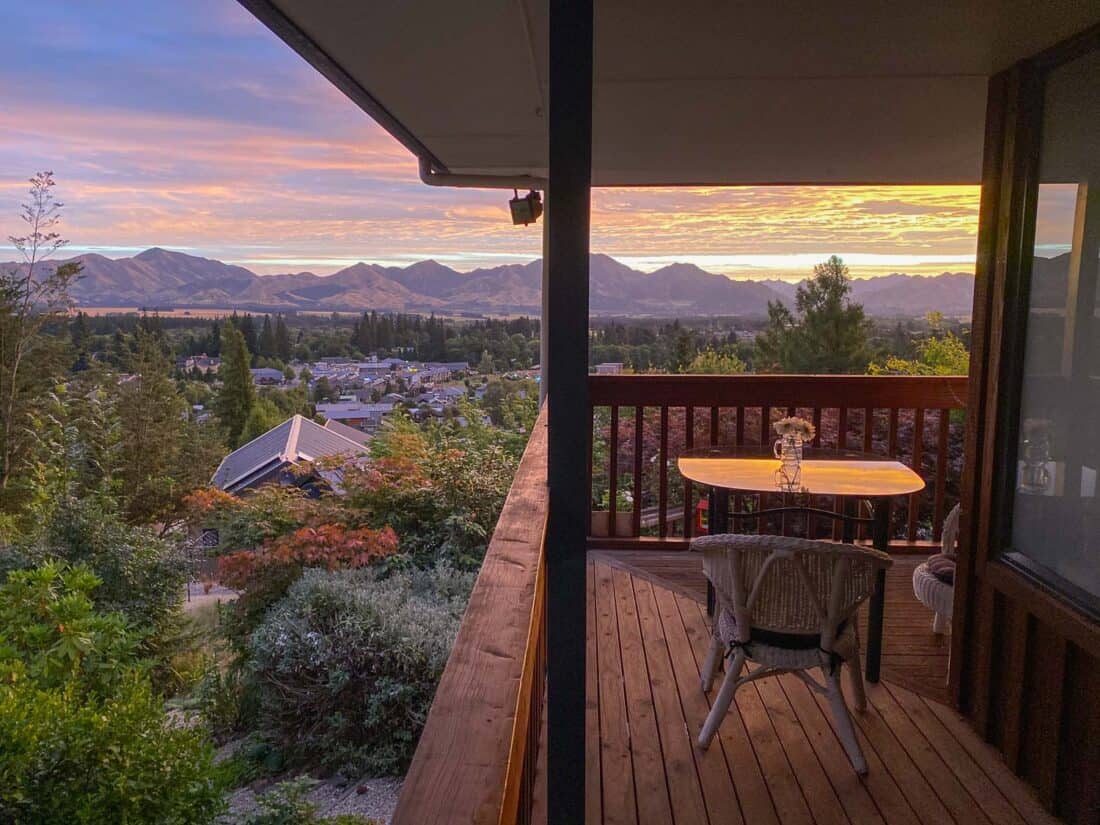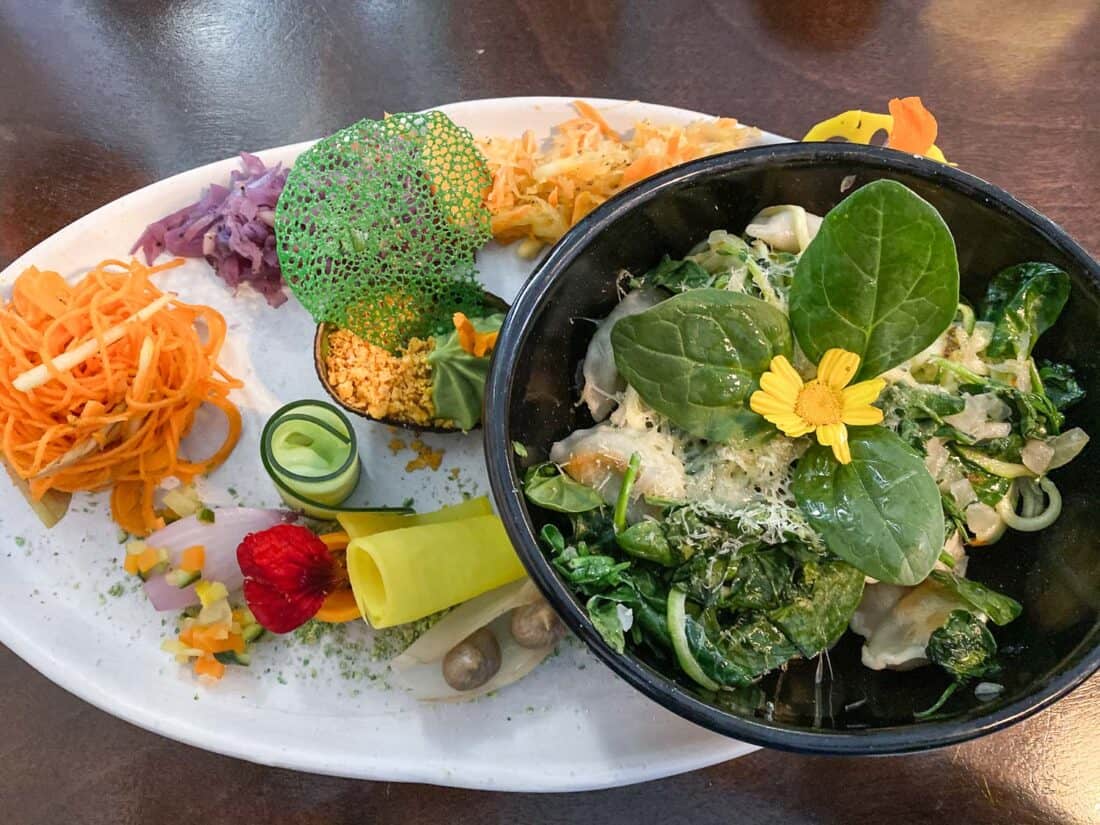 9) Explore the Rocks and Rivers of Punakaiki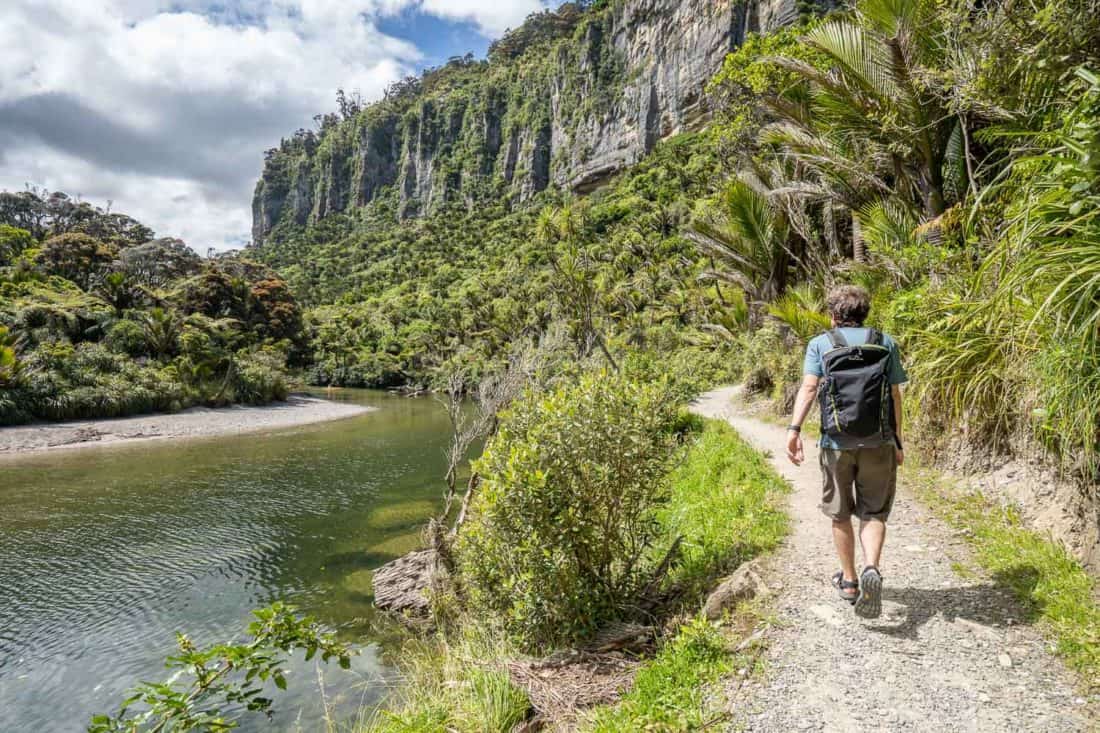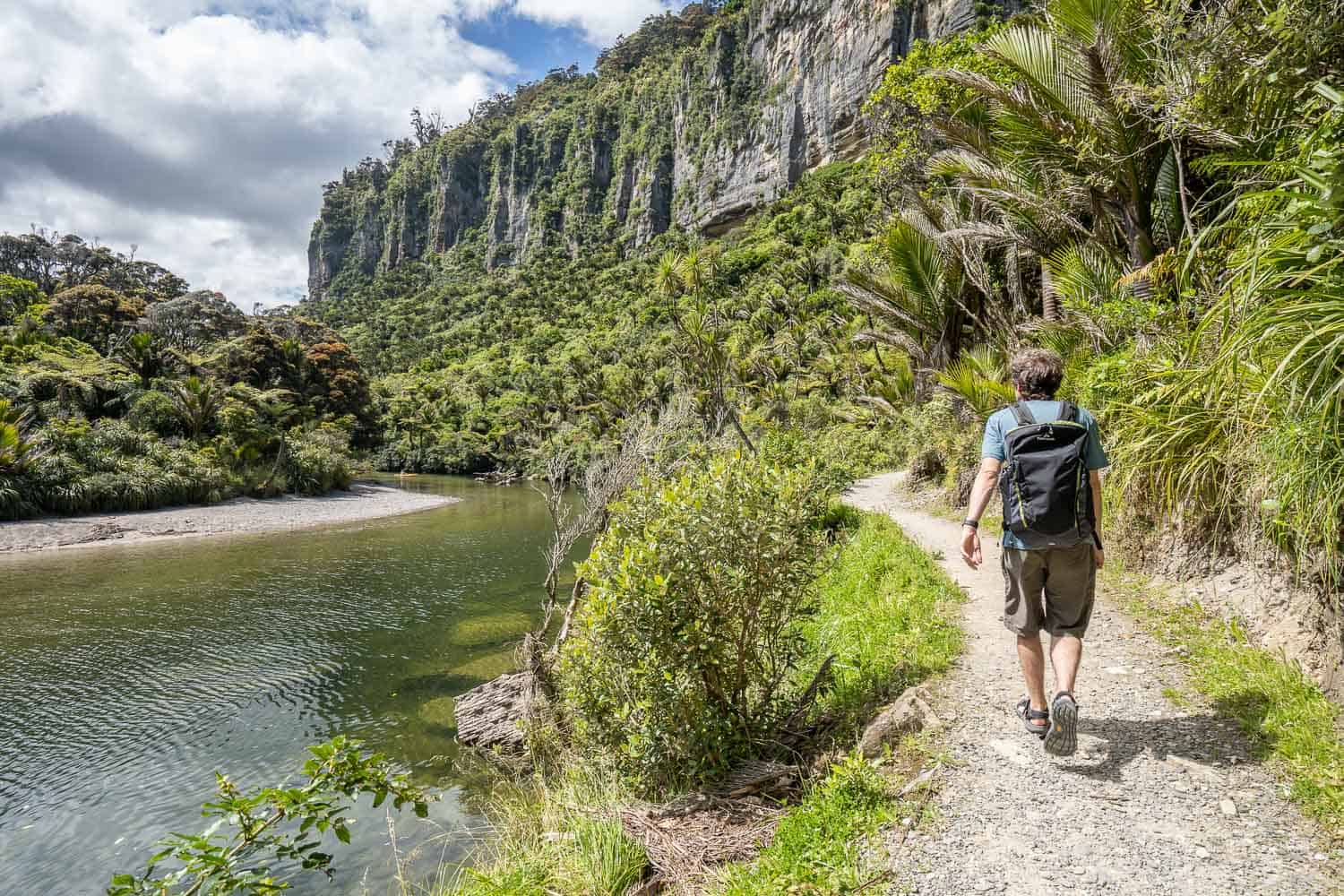 The scenic village of Punakaiki is our favourite stop on the South Island's West Coast for its beautiful coastal and river walks in Paparoa National Park.
The Pancake Rocks are the most famous attraction—a 20-minute walkway takes you to viewpoints of unique limestone rock formations, and in the right conditions (high tide with a south-westerly swell), a blowhole where seawater is forced upwards from the caverns below.
My favourite hike is the Pororari River Track which takes you along a clear green river in a limestone gorge with dramatic cliffs. You can also rent a canoe for even better river views.
It took us 45 minutes to walk to the swing bridge. You could turn back here (perhaps after a swim) or as we did, turn off to the Inland Pack Track and loop back to town via the Punakaiki River.
It's a steeper, more challenging route, but it was peaceful walking deep into the rainforest, with splashes of red from the rātā trees. The total hike was 12km and took 2.5 hours plus breaks.
Stunning Truman Beach is also well worth visiting (especially at sunset) and it's only a 10-minute walk each way.
10) Heli Hike on Fox or Franz Josef Glaciers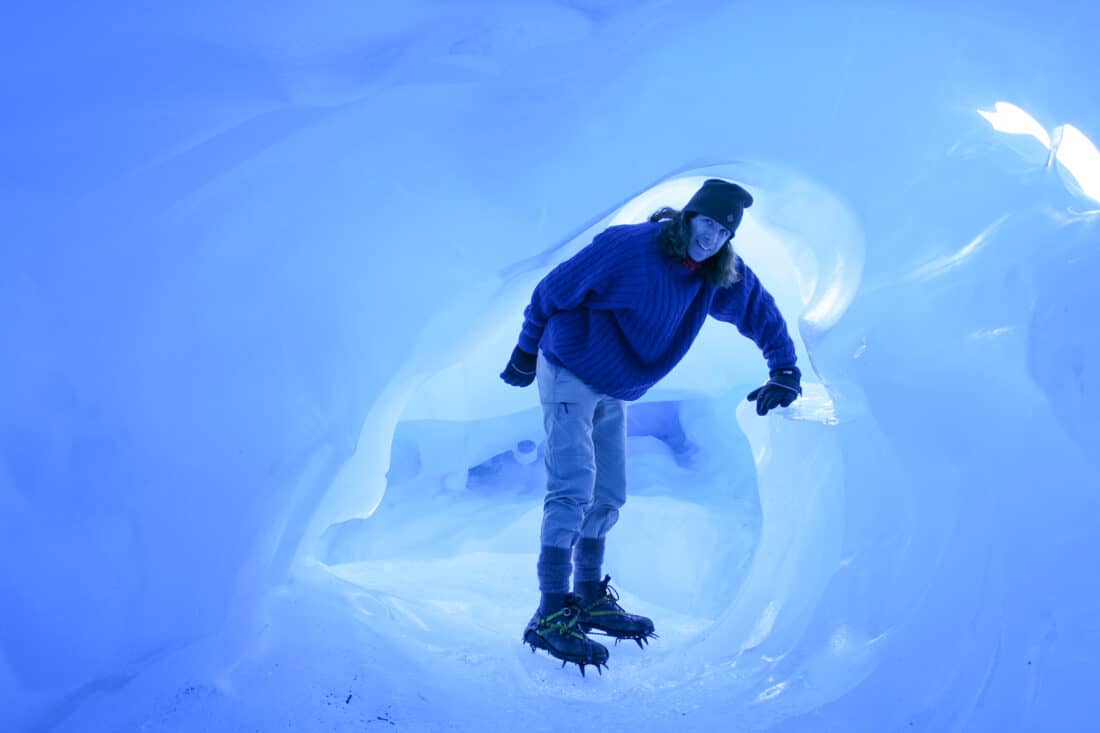 One of the top things to do in the South Island is visit the West Coast glaciers—Franz Josef (the most popular) or Fox (quieter).
The glaciers are receding (over 1km in the last decade) and you can only see them at a distance from the viewpoints in town, so the best way to experience them is to heli hike.
We did this on Fox Glacier on our first New Zealand trip years ago and it was well worth the splurge on our backpacker budget.
You take a helicopter to the top of the glacier, don crampons (provided), and hike on the ice to see pristine blue ice caves and arches.
The four-hour Fox Glacier heli hike tour costs $520—check availability here.
11) Admire Turquoise Lakes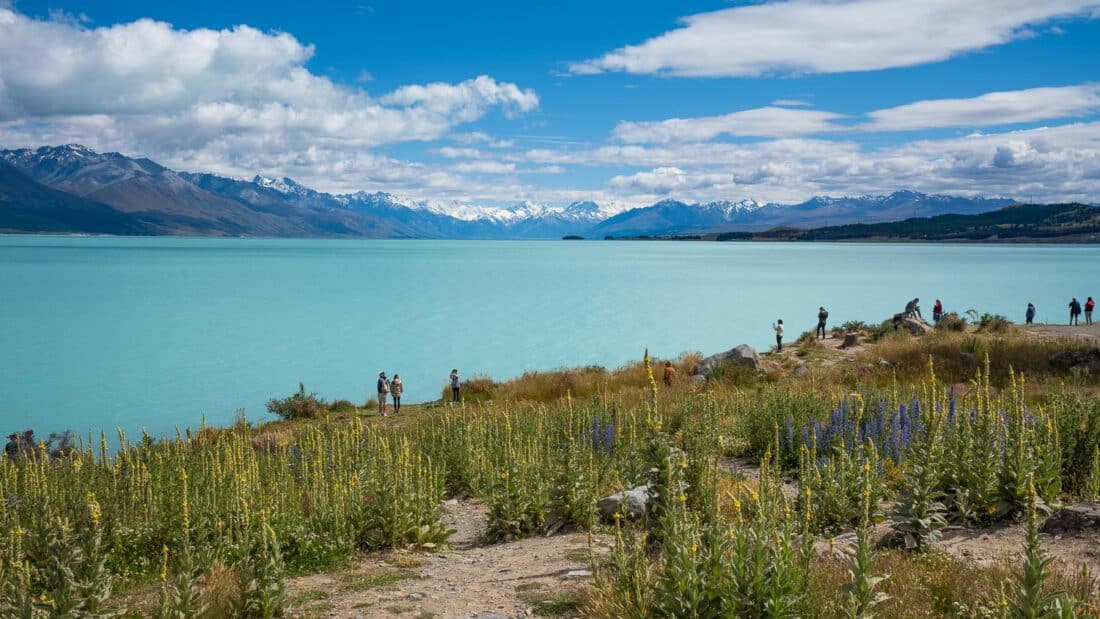 The South Island has an astonishing array of colourful lakes and rivers from aqua blue to emerald green.
The most famous of the turquoise lakes is Lake Tekapo, which makes a great stop between Christchurch and Queenstown.
The vibrant blue-green colour looks unreal and is caused by glacial flour suspended in the water—a fine dust that's formed when the nearby glaciers grind rock on their journey towards the lake.
With a backdrop of snowy peaks and a foreground of purple lupin flowers (in summer) and the stone Church of Good Shepherd, Lake Tekapo is a stunning spot.
I think an even more beautiful turquoise lake is nearby Lake Pukaki, which you drive alongside on the way to Aoraki Mt Cook (a South Island must do). On a clear day with New Zealand's tallest peak beyond the shimmering water, the view is one of the best things to see in South Island.
12) Walk the Hooker Valley Track at Aoraki Mt Cook
Aoraki Mt Cook is the tallest mountain in New Zealand and Mt Cook Village is the best place in the South Island to get up close to massive peaks without any effort.
There are many hikes in the area, but the one I think everyone should do is the Hooker Valley Track, one of the easiest but most stunning hikes in the South Island.
The 10km out and back trail is mostly flat and took us 2.5 hours including a 15-minute break.
The hike takes you over three suspension bridges and past glaciers, mountains, gushing rivers, and tussock fields. After about 40 minutes Aoraki comes into view and it dominates the scene as you walk towards it—just spectacular.
At the end of the trail you reach the iceberg-filled Hooker Lake with the iconic peak beyond.
We loved the Hooker Valley Track in summer, but it's even more magnificent in the snowy landscape of winter (when it's also much quieter).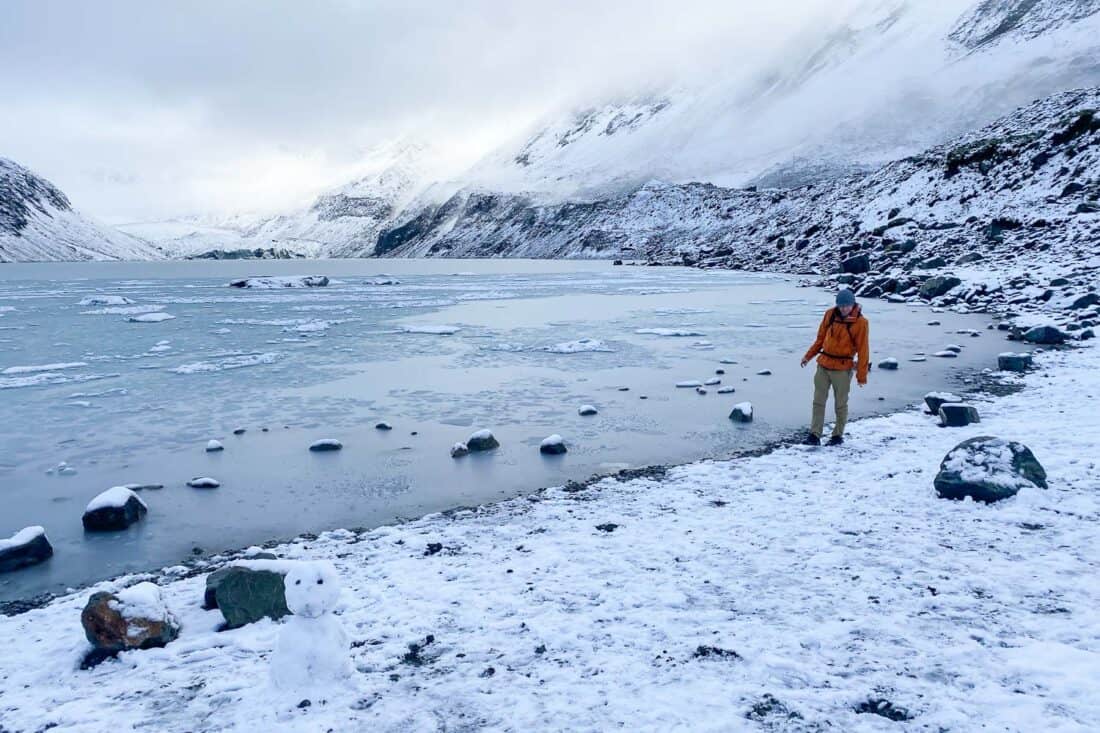 The trail does get busy so I recommend starting early if you can, but it's best to wait until Aoraki emerges if it's cloudy.
13) Swim at Peaceful Lake Hawea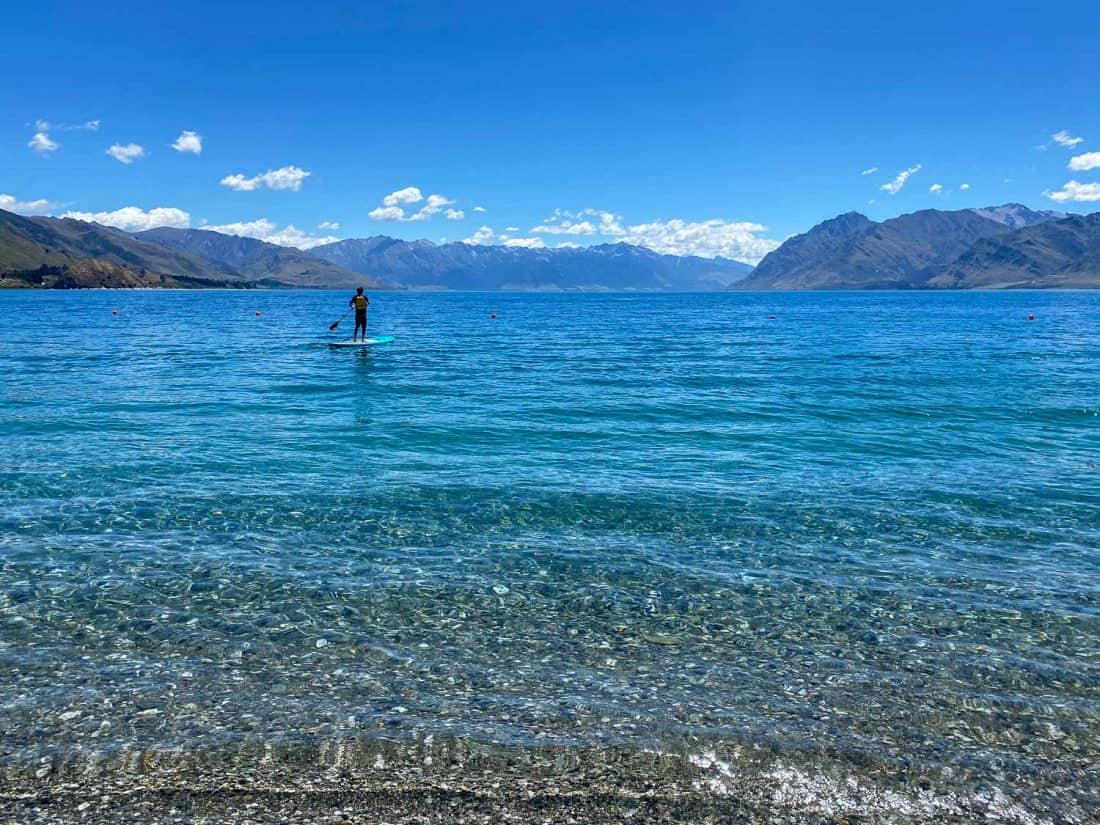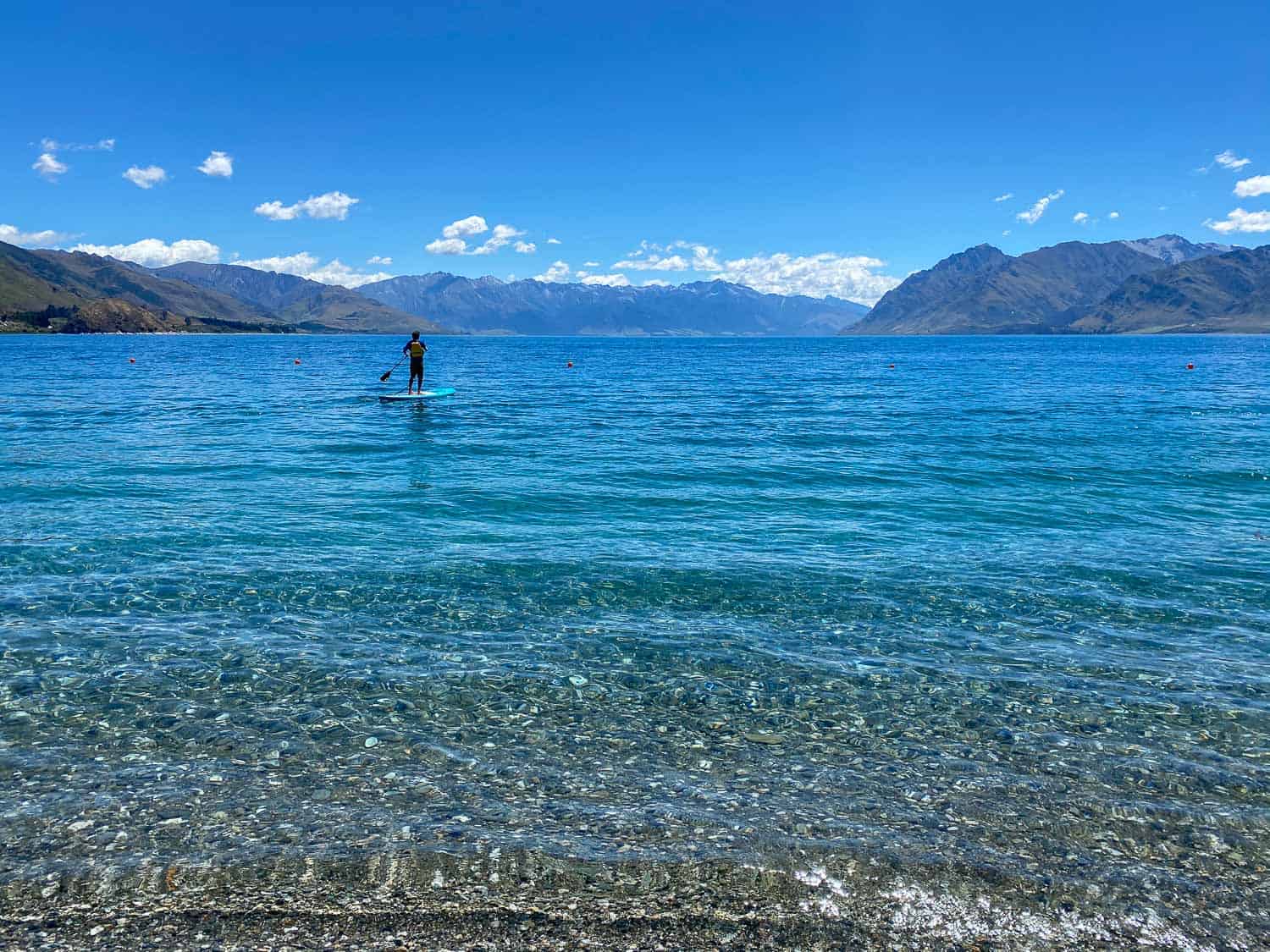 We've spent three extended stays at peaceful Lake Hawea and especially love it in the summer. This small town with just one hotel/pub and one grocery store is only 20 minutes from Wanaka but feels far away from it all.
We've spent many blissful afternoons on the pebble beaches, swimming and paddleboarding in the clear blue water. Our favourite beach is at Johns Creek, a dusty 10-minute drive or 6.5km walk, run or cycle on the lakeside Gladstone Track from the centre.
Another amazing hike overlooking Lake Hawea is the challenging Isthmus Peak Track—it's a quieter alternative to the famous Roy's Peak hike in Wanaka.
See my guide to the best things to do in Wanaka for more activities in this stunning area.
14) Hike in Mt Aspiring National Park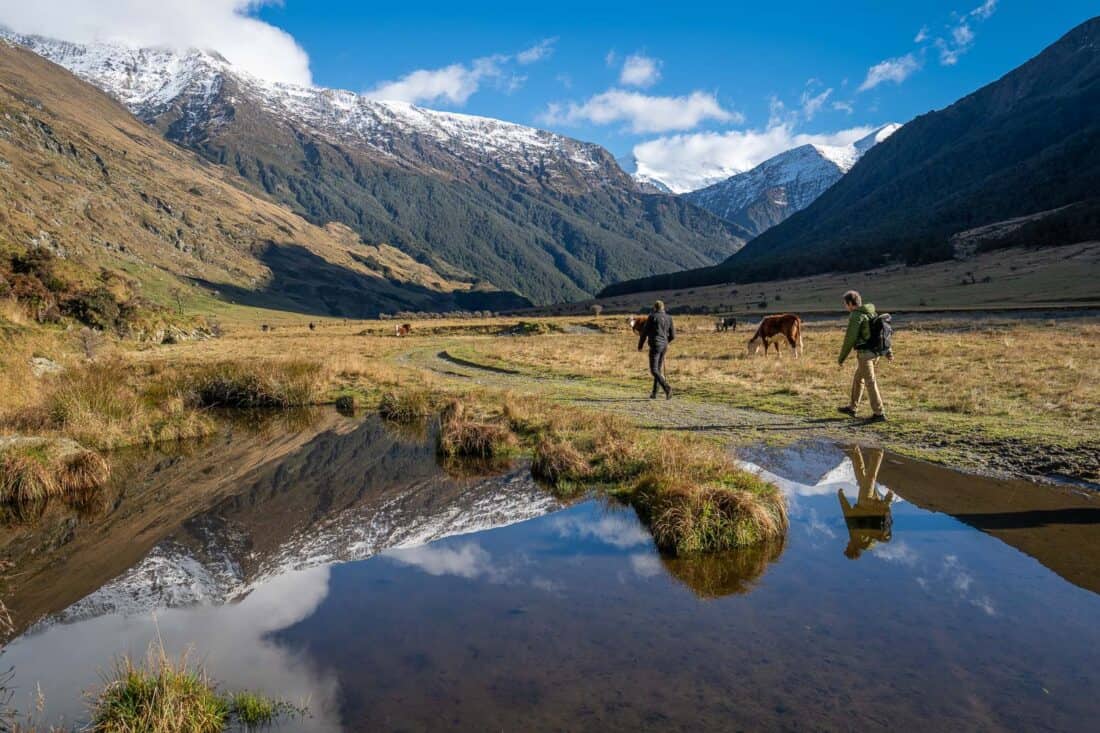 Mt Aspiring National Park is a South Island must see. Whenever I visit I'm in awe of the stunning scenery—it feels like classic New Zealand with its rugged mountains, snow-capped glaciers, turquoise rivers, and gushing waterfalls. It's beautiful in both summer and winter.
My favourite hike is from Raspberry Flat car park to Aspiring Hut (18km / 4 hours return).
It's mostly flat and is gorgeous the whole way as you walk next to the Matukituki River towards Mt Aspiring, snow-topped even in summer.
Another easy but adventurous hike is part of the Siberia Experience ($455) in the other side of the park near Makaroa. The half-day trip involves a scenic flight to a remote valley, self-guided 7km hike, and jet boat ride back.
See my Wanaka activities guide for more details.
15) Visit a Lake Within a Lake in Wanaka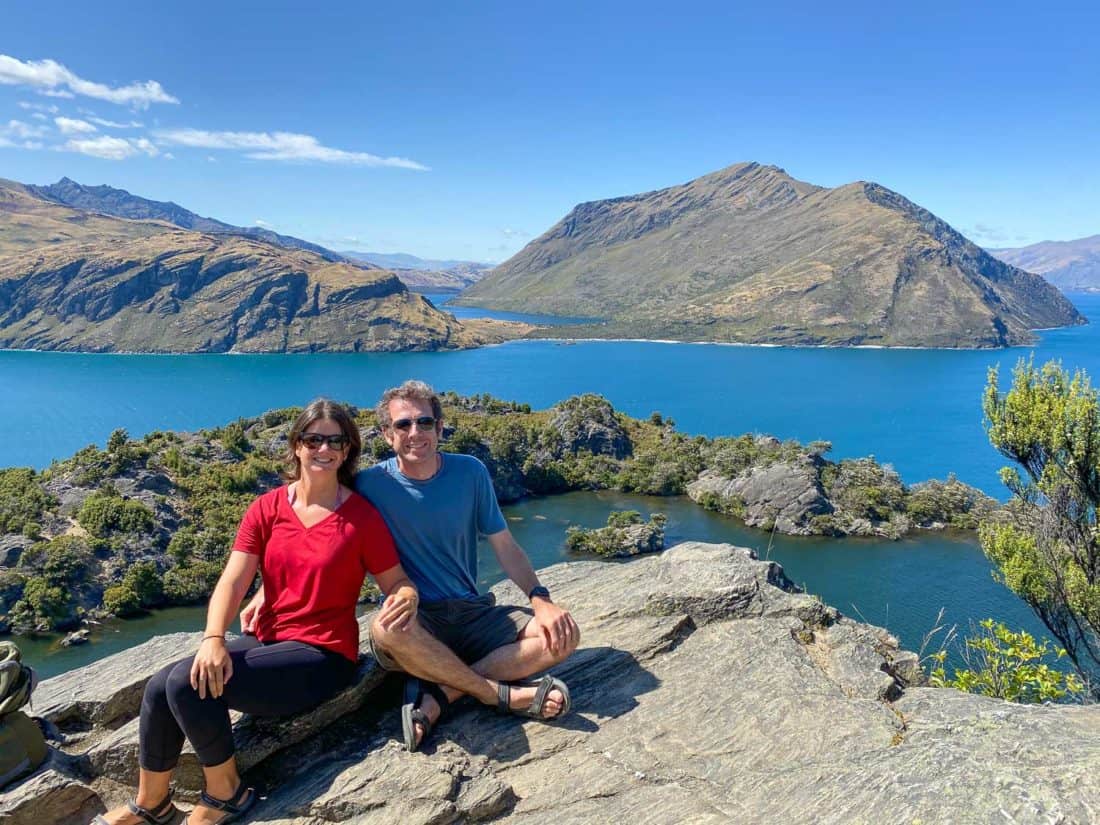 Another of our favourite things to do in Wanaka is take a boat trip to Mou Waho ($125), a predator-free island rich in native birds.
A 20-minute uphill walk takes you to Arethusa Pool, a unique lake within a lake—we loved swimming here!
Check availability for the Mou Waho boat trip here.
16) Climb a Waterfall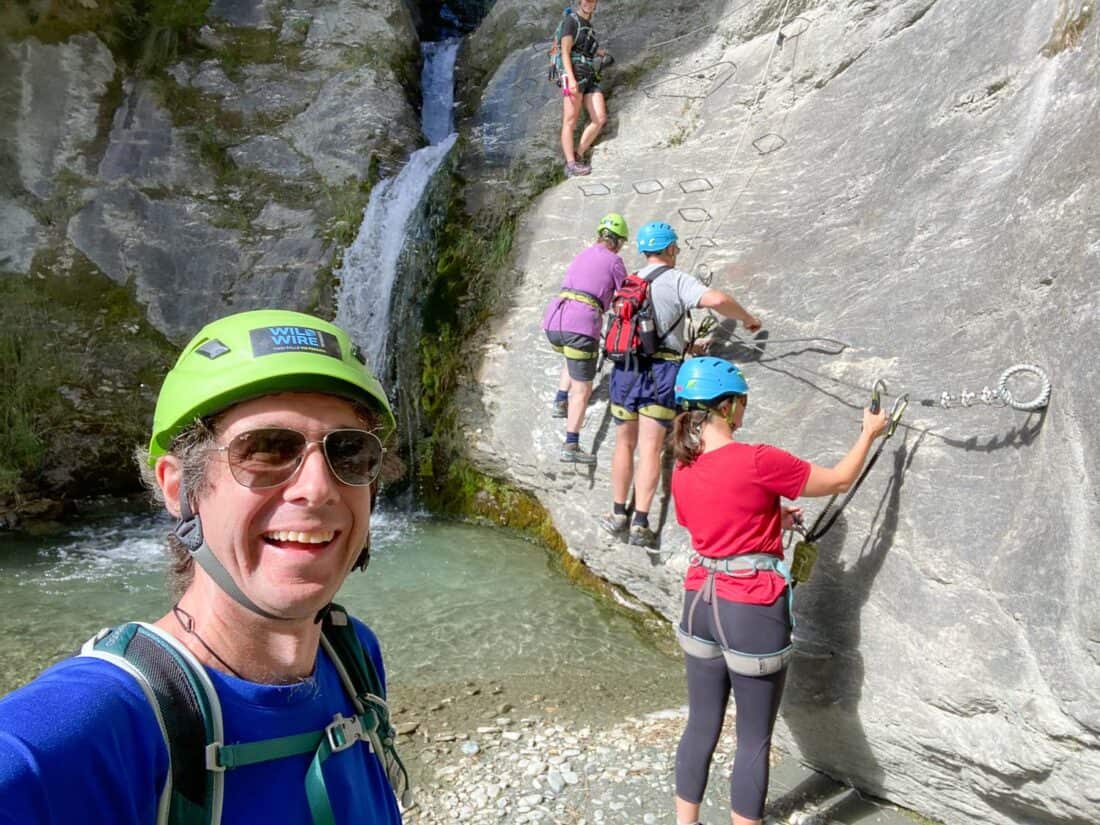 Our most adventurous South Island activity was climbing a waterfall in Wanaka.
Wildwire has a Via Ferrata route which makes rock climbing accessible with a trail of cables and iron rungs.
Although we chose the easiest route and felt safe in the hands of expert guides, it was still nerve-wracking clambering up rock faces next to the waterfall and venturing over narrow swing bridges.
We eased into it, though, and it was an exhilarating experience with beautiful views.
We did the Level 1 Beginner Waterfall Climb ($199) and next time want to try the more challenging Level 2 climb ($299).
17) Ski or Snowboard in the Mountains
If you are visiting the South Island in winter (July to September), don't miss the opportunity to ski or snowboard in the snowy mountains. Resorts offer packages for beginners if you haven't tried it before.
Cardrona Resort between Wanaka and Queenstown is beautiful, beginner-friendly, and has a gondola, which you can ride even if you don't want to ski.
I've boarded before but I got a private lesson here which really helped with my confidence.
Wanaka and Queenstown are the main ski towns on the South Island with a variety of resorts to choose from.
Mt Hutt near Christchurch is another popular ski area and you can find small ski fields all over the island.
18) Cycle Through a Gorge on the Lake Dunstan Trail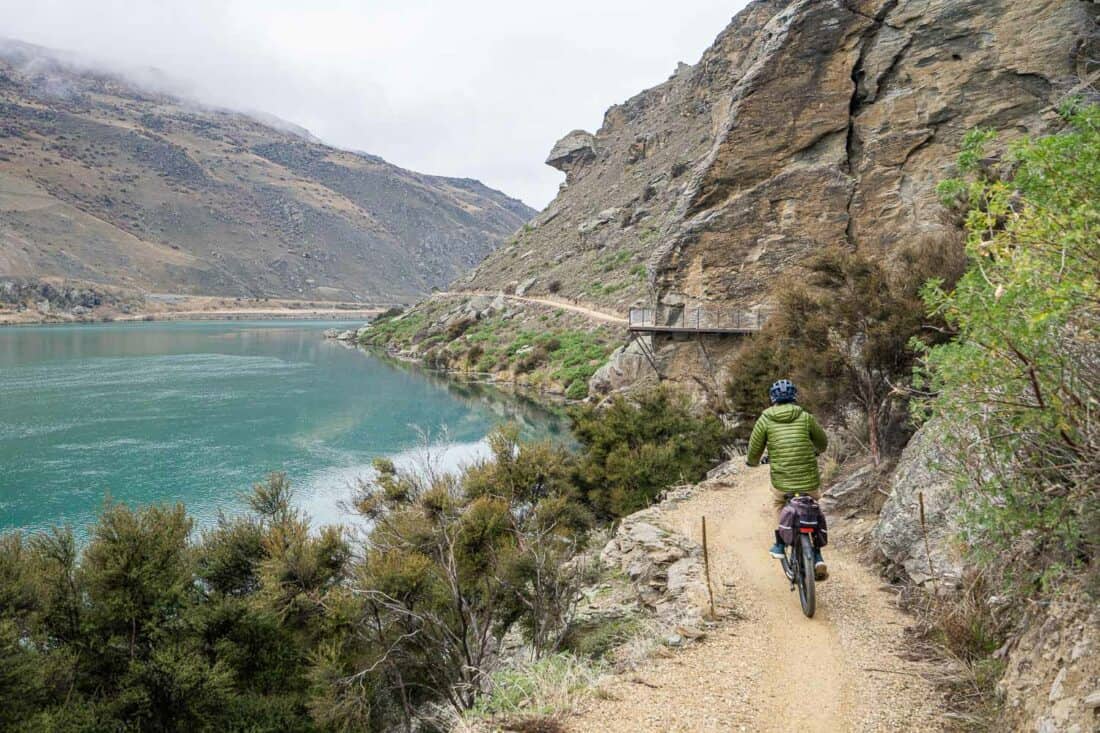 The Lake Dunstan Trail is New Zealand's newest cycle trail and it is stunning. It connects Cromwell and Clyde in Central Otago and is easily accessible from Wanaka or Queenstown.
The lakeside track passes vineyards and rugged mountains before entering a gorge where platforms have been bolted onto sheer rock faces. There's even a coffee boat for refreshments along the way!
There are a couple of big hills on the 42km route, so I recommend renting an e-bike if, like me, you aren't an experienced cyclist.
Read my Lake Dunstan cycle trail guide for everything you need to know.
19) Get Adventurous or Relax in Queenstown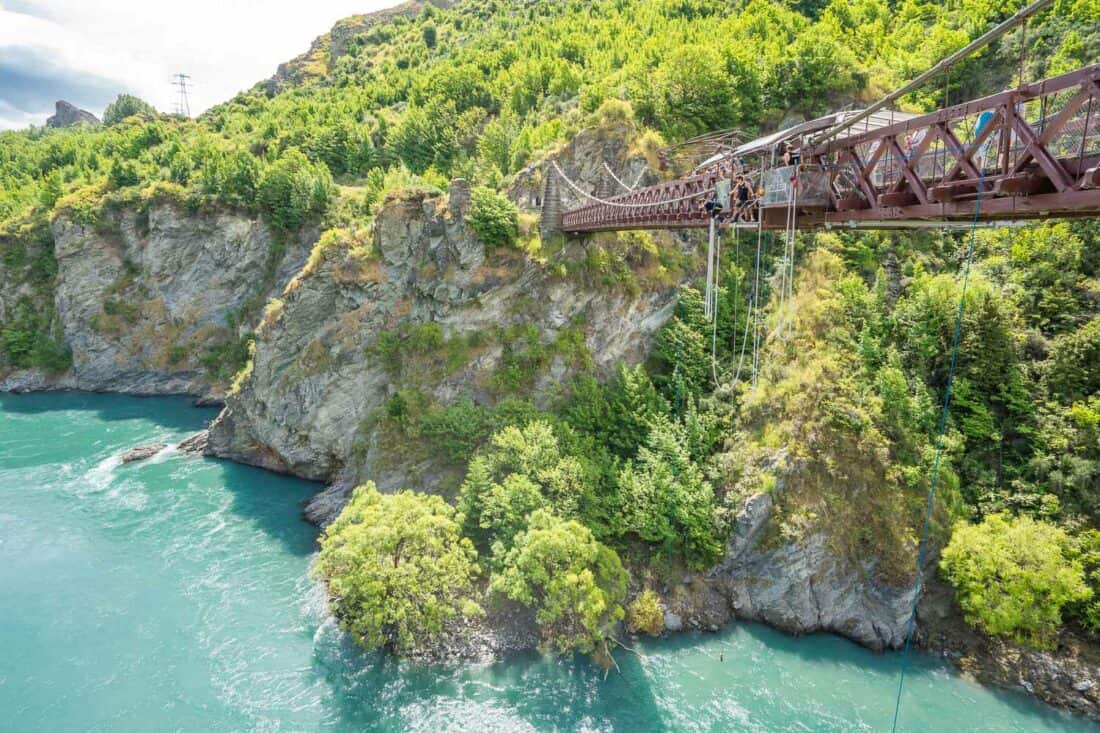 Queenstown is the South Island's most popular destination. The beautiful, bustling lakeside town has a lot to offer whether you are looking for adventure or relaxation.
It's a hub of bungy jumping and jet boating, but if you prefer to take things at a slower pace, there are pools to soak in, wineries to visit, and lots of easy hikes and bike rides.
You'll find a few of our favourite activities below, but see my things to do in Queenstown post for a complete guide.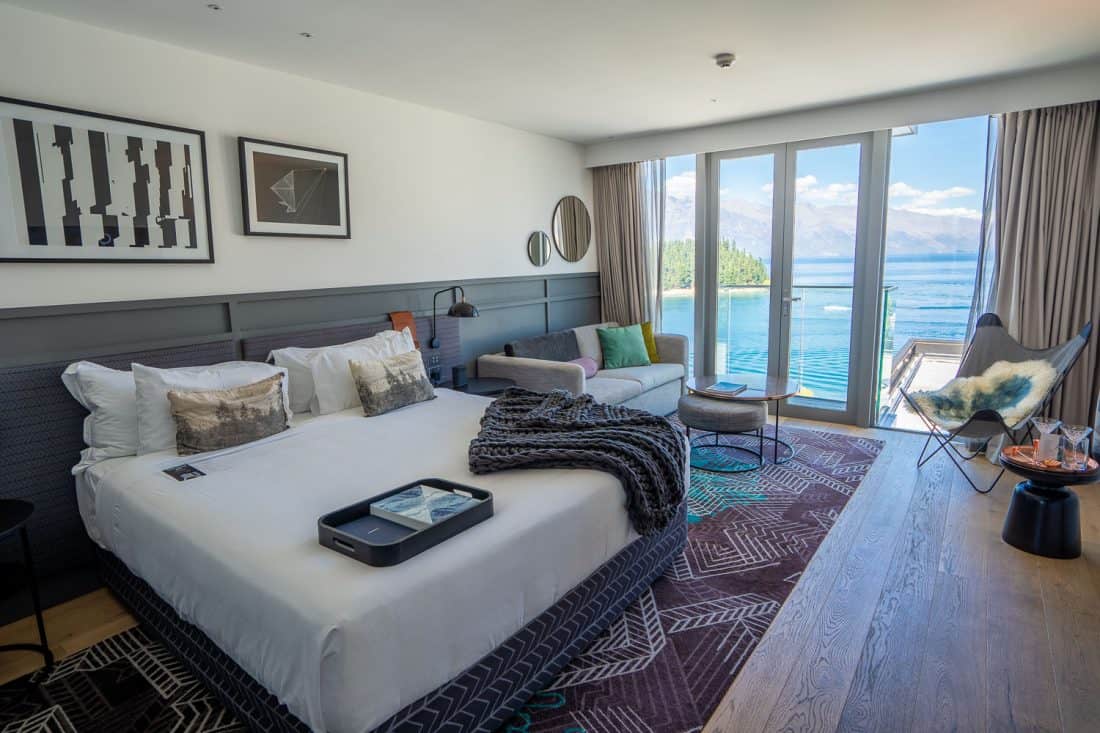 20) Paddleboard on Moke Lake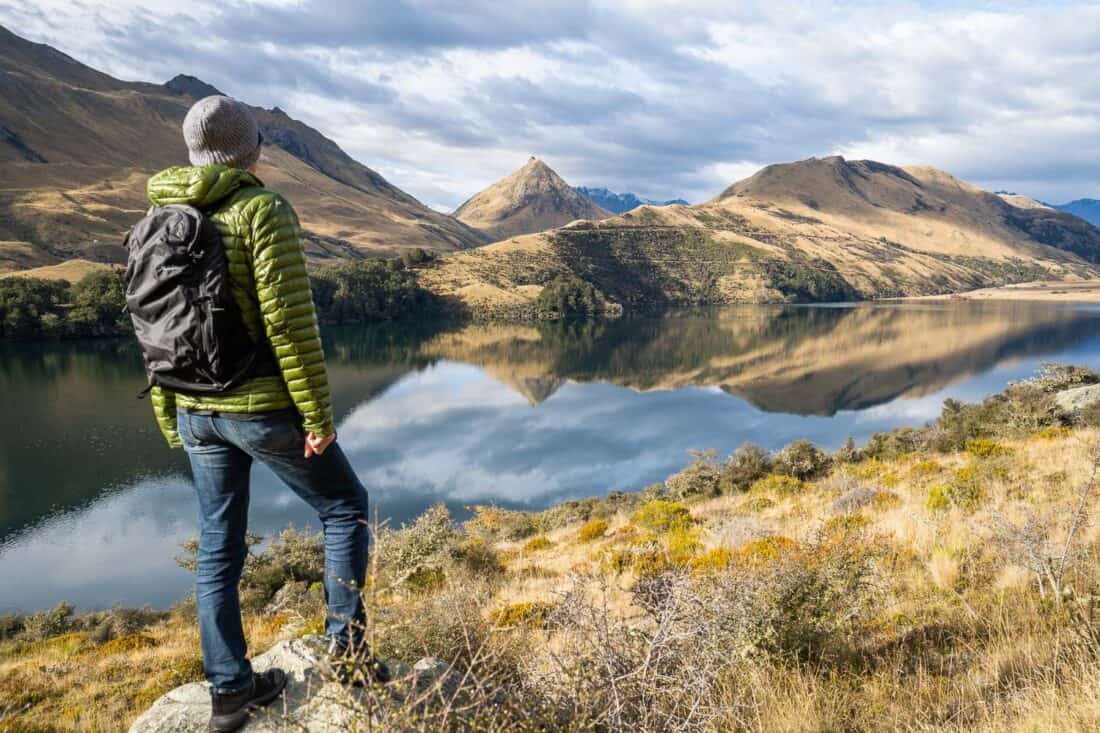 Moke Lake is gorgeous with rugged mountains reflected in its calm waters. It's only a 20-minute (slightly challenging) drive from Queenstown but it's much more peaceful.
The easy 6km trail around the lake is a great way to enjoy the view or you could just have a picnic on its banks (there's also a campsite). My favourite activity is to paddleboard—it's so tranquil out on the water.
This Moke Lake Experience ($143) includes paddleboard or kayak rental and transport from Queenstown.
21) Cycle from Arrowtown to Gibbston Valley Wineries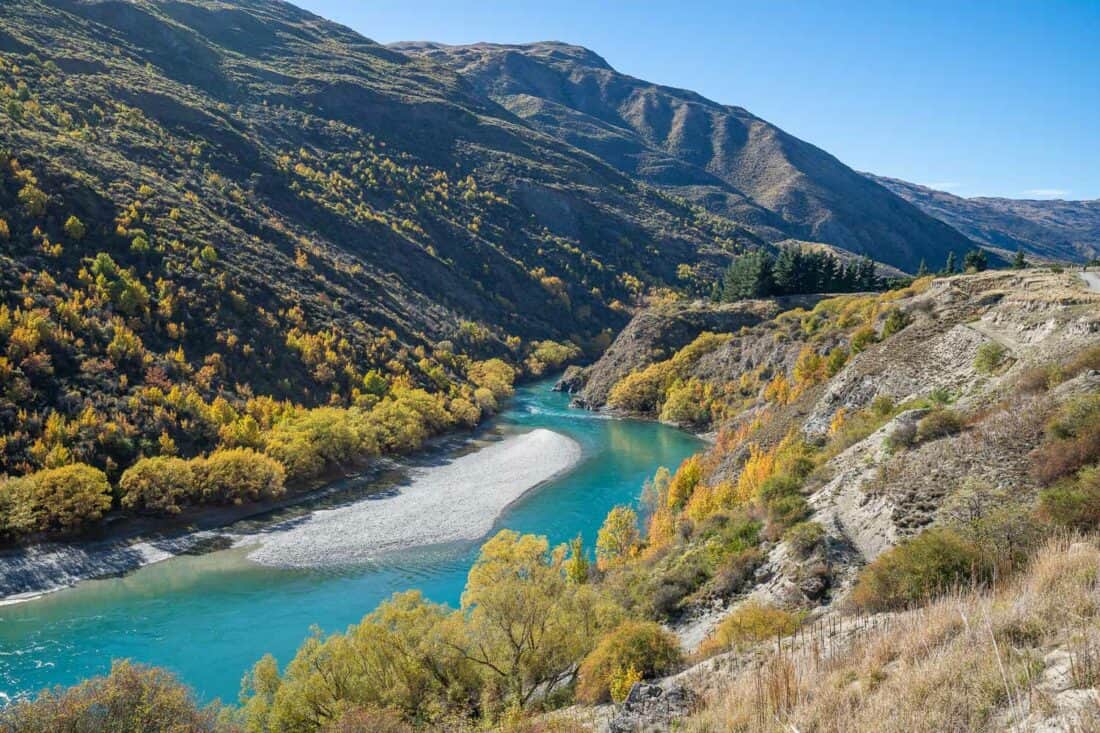 Arrowtown is an old gold mining village near Queenstown. It's a charming place for a stroll and is the starting point for one of the best bike rides in the South Island.
The Arrowtown to Gibbston Valley trail is fairly easy (especially on an e-bike) and passes native forest, turquoise rivers, snow-capped mountains, and vineyards.
It's especially beautiful in autumn (colours peak in April), and the ride is worth doing even if you don't want to drink wine.
The trail is 15 – 28km depending on which wineries you visit. The pinot noir in this part of the world is superb.
You can rent bikes in Arrowtown or if you are based in Queenstown, Going Blue provides transport and bike hire for $99 (their e-bikes are the best).
Read my Gibbston wineries guide for which wineries to visit and other useful tips.
22) Fly to Majestic Milford Sound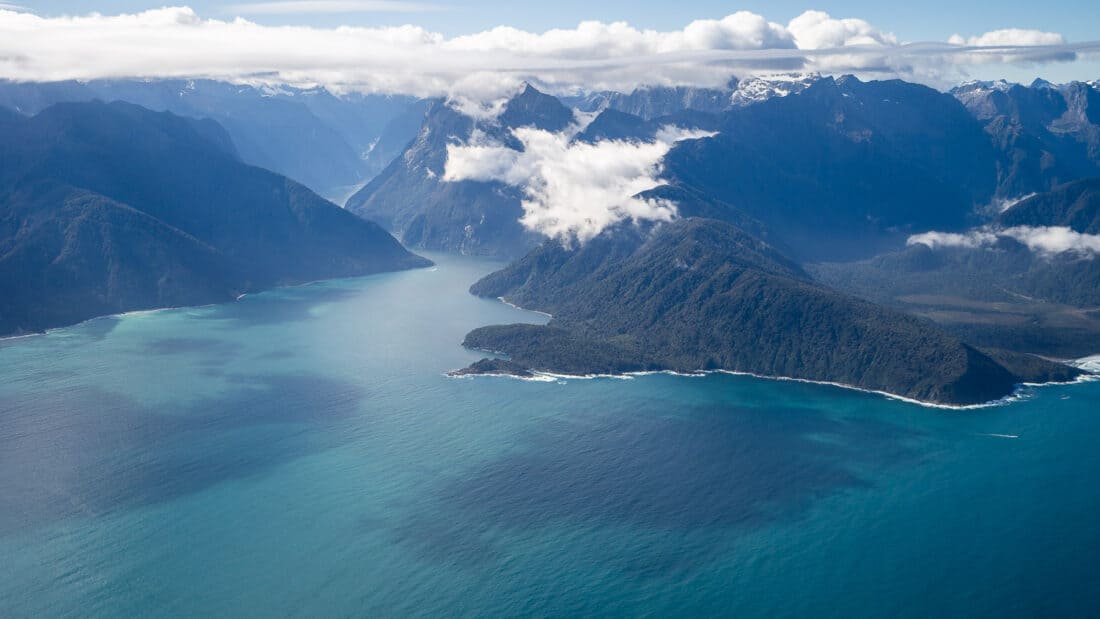 Cruising amongst the majestic peaks of Milford Sound is undoubtedly one of the most popular and best things to do in the South Island.
Many people visit as a day tour from Queenstown, but it's a long day—five hours on a bus each way.
If you are short on time and don't fancy a day on a bus, I highly recommend flying instead—it was one of our South Island highlights.
This Milford Sound Fly-Cruise-Fly trip from Queenstown ($565) takes five hours total and includes an incredibly scenic 35-minute flight on a small plane.
The views of snowy peaks, glacial lakes, and Milford from above are spectacular. The cruise through the ancient, glacially carved valley is just as beautiful past waterfalls, dolphins, and glaciers.
My post on the Queenstown to Milford Sound flight and cruise has more information.
23) Kayak Milford Sound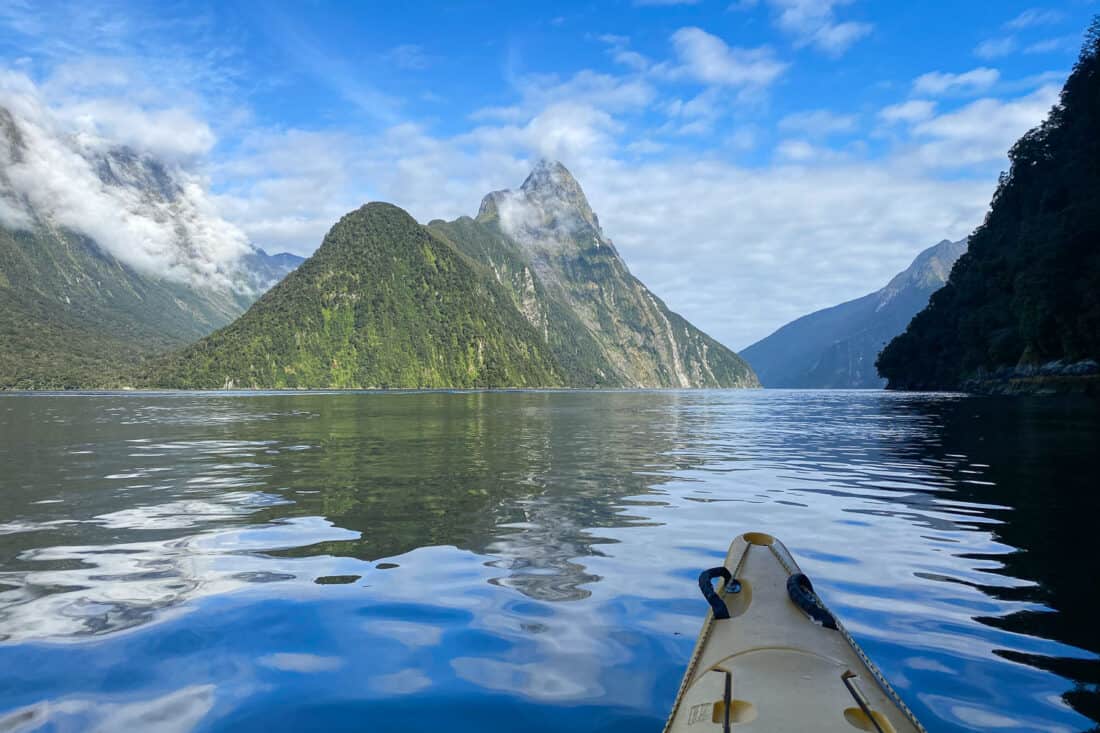 If you have more time, I recommend staying overnight at Milford Sound. There's only one hotel, the Milford Sound Lodge, and it's expensive and gets booked up far in advance.
It's worth the splurge, though, to have Milford to yourself once day-trippers have left.
You'll also be close by for one of our top South Island activities—a sunrise kayak trip on Milford Sound.
We loved the cruise on Milford Sound and that's the easiest way to see the whole fiord, but kayaking is a more intimate experience. As you start early (before the boat tours), the light is beautiful and the peaks are reflected in the calm water.
We did Rosco's Sunriser Classic kayak trip ($139), which includes three hours of paddling in a 10km loop around the first part of the fiord past waterfalls and seals. They are a professional operation who provide everything you need—even clothes if you need them.
Next time I'd like to do the 18km Morning Glory trip to paddle the entire fiord and take a water taxi back.
24) Cruise Overnight on Doubtful Sound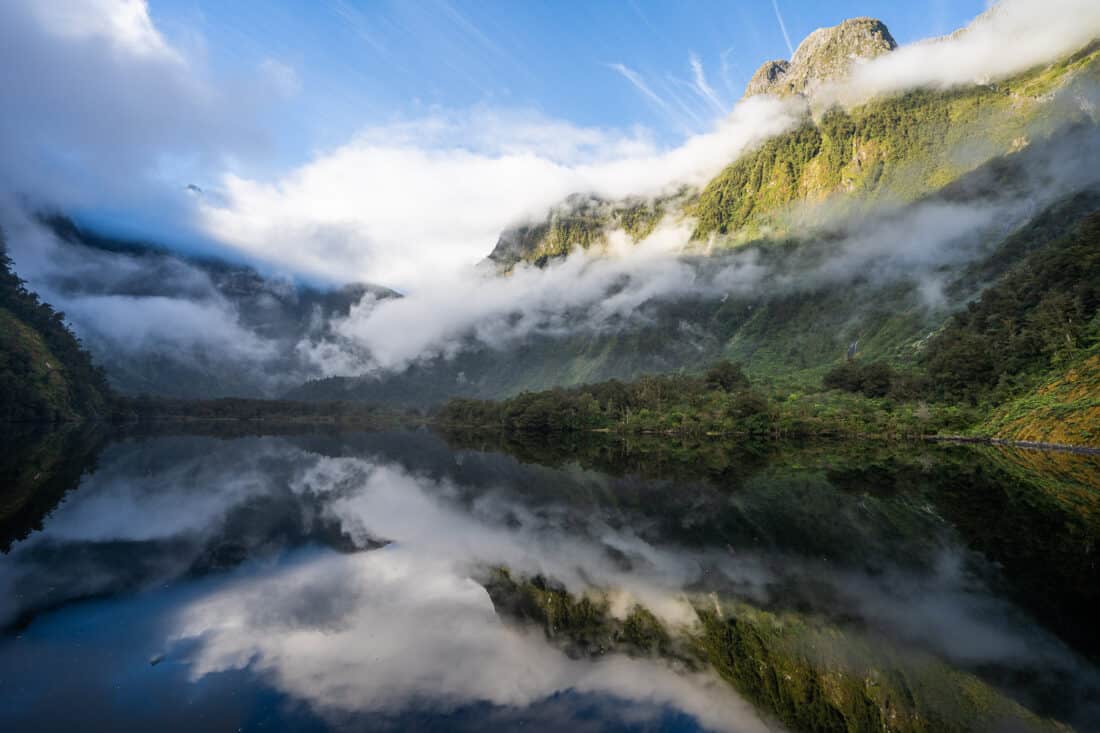 Doubtful Sound doesn't get the attention of Milford Sound as it's even more remote, but the fiord is just as beautiful, more peaceful, and three times longer.
As it's a mission to get to, the best way to experience Doubtful Sound is on an overnight cruise, which leaves from Manapouri (two hours from Queenstown) and starts with a water taxi and bus trip before reaching the boat.
As well as having more time to enjoy the stunning scenery, an overnight trip means you get to experience sunset and sunrise on the water. It was magical to see how the sheer cliff faces and waterfalls change in different light.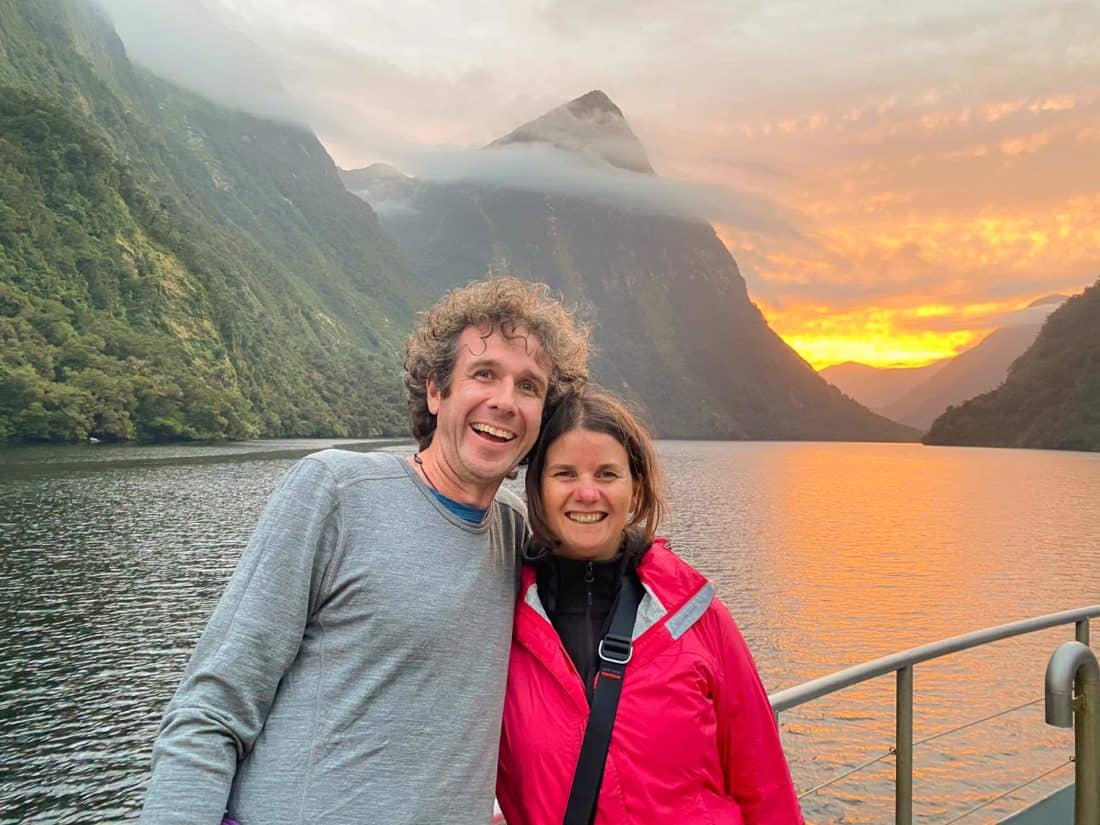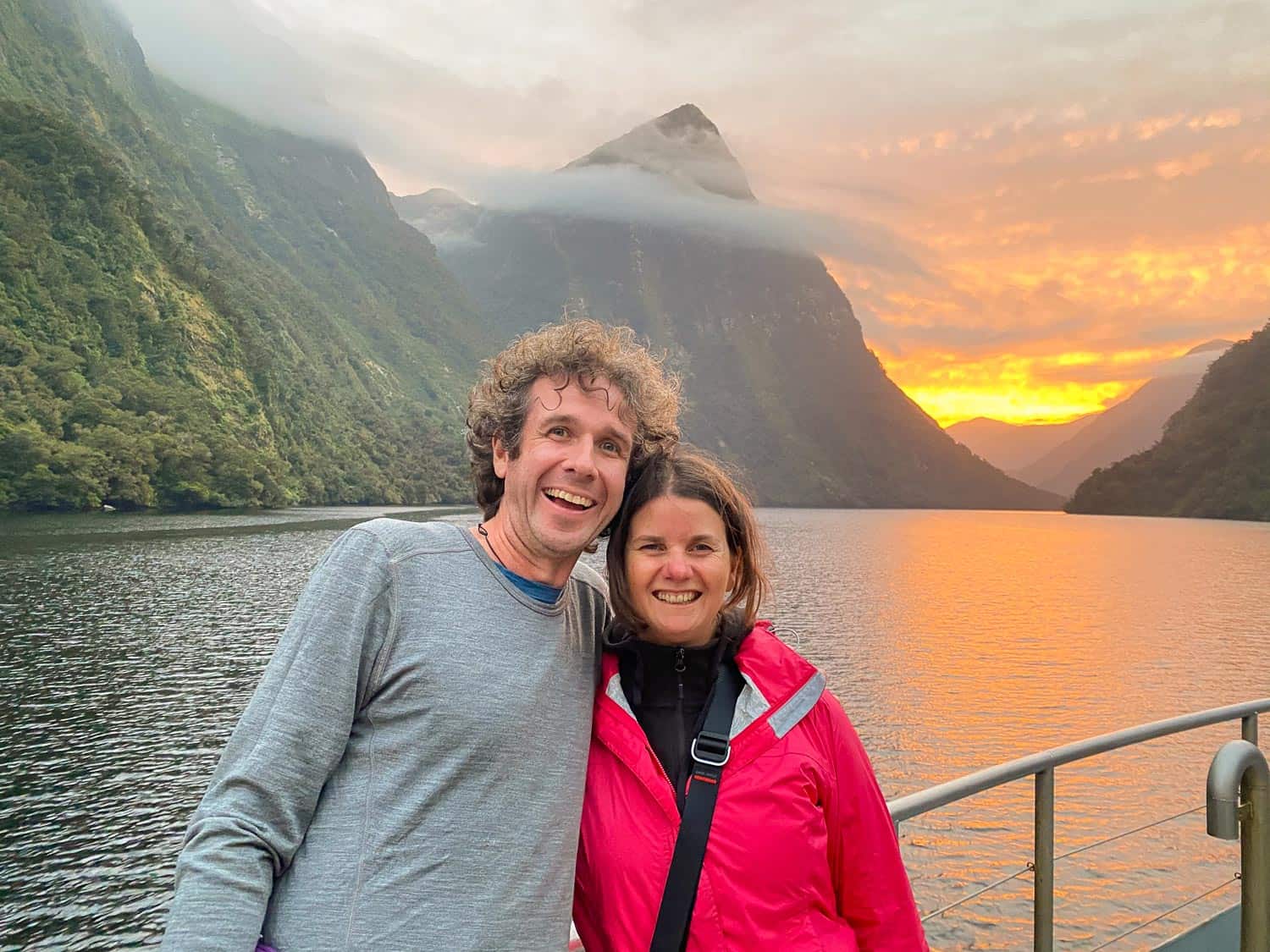 We also swam in the cool, astonishingly deep water, kayaked, and saw sea lions and albatross.
We sailed Doubtful Sound with RealNZ. An overnight trip costs from $499 in a private ensuite cabin and includes an afternoon snack, dinner, and breakfast.
It was noisier (the engine/generator is constantly running) and busier (72 people) than we liked, but the smaller cruises are much more expensive and focus on fishing.
I'd love to do an overnight kayaking trip in Doubtful Sound, but that would be a lot less comfortable and you'd be at the mercy of the dreaded sandflies.
25) Spot Wildlife on the Otago Peninsula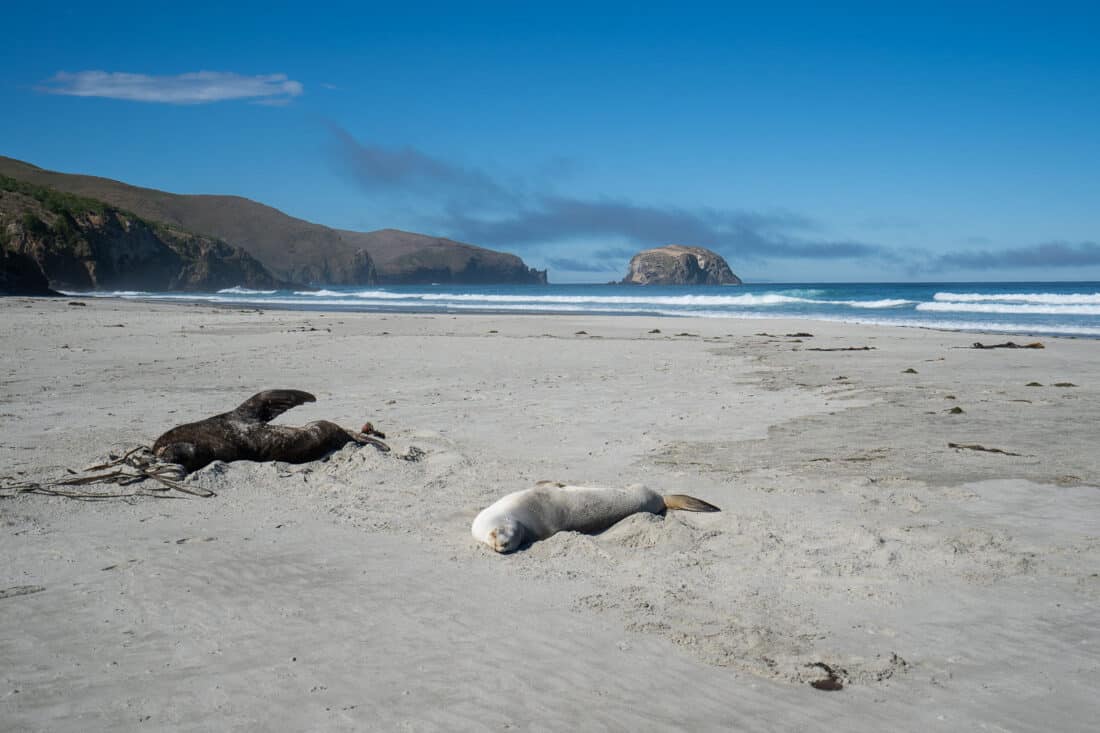 The Otago Peninsula outside Dunedin is one of the best places to visit in the South Island for wildlife viewing.
We saw massive sea lions on wild Allans Beach, took an albatross viewing tour to learn more about these majestic and fascinating birds, and watched adorable little blue penguins come ashore at dusk.
We did the albatross and penguin combo tour, which starts a few hours before sunset, at the Royal Albatross Centre and highly recommend it.
The Otago Peninsula is also a great destination for coastal hikes and long sandy beaches, and there's even a castle! Don't miss the short walk to spectacular Tunnel Beach near Dunedin either.
See my guide to the best East Coast South Island road trip stops for more tips.
South Island Must See Map
Summary
I hope this post has given you plenty of ideas of what to do in the South Island. It's a stunning part of New Zealand that we know we'll return to again and again.
Although it's tempting to try to do as much as possible, a South Island road trip can be exhausting, so pick your priorities from this list and make sure you allow time for relaxation too (and the changeable weather).
For more details on many of the South Island destinations in this post, check out my other New Zealand travel guides below.
More New Zealand Posts
South Island: Queenstown and Wanaka
Top of South Island
North Island
If you enjoyed this post, pin it!