This page contains affiliate links. Please read our disclosure for more info.
The Gibbston Valley is our favourite wine region in New Zealand. Located between rugged mountains and the dramatic Kawarau Gorge, the scenery is spectacular, the pinot noir is some of the best in the world, and it's easily accessible from Queenstown.
The compact area (part of the larger Central Otago wine region) has just eight cellar doors open to the public. It's easy to explore in a day or two by bike (our favourite), or there are hop-on hop-off buses or guided tours available.
We love Gibbston so much that we've visited five times—ranging from a quick wine tasting on the way from Queenstown to Wanaka to a cycling day trip from Queenstown and an overnight stay at Kinross Winery (best of all).
In this post, I share the best Gibbston Valley wineries for a self-guided tasting tour, how to get around, where to eat lunch, and accommodation options. You'll also find a map at the end.
Contents
About Gibbston Valley Wine
At the south of the South Island, Central Otago is the southernmost wine region in New Zealand, and some say, the world (Patagonia also makes a claim).
At 45 degrees south of the equator, everyone thought it was too cold for grapes until Alan Brady planted vines in Gibbston in the early 1980s.
After his first pinot noir was released under the Gibbston Valley Wines label in 1987, word got out. Since then, many more winemakers have been attracted to the region, and Central Otago pinot noir became famous worldwide.
While pinot noir dominates, you'll also find excellent whites including pinot gris, chardonnay, riesling, and a sauvignon blanc that's very different from a Marlborough sauv.
When to Visit the Gibbston Valley
The Gibbston Valley is beautiful at any time of year. We've visited in summer, autumn, and early winter and loved them all.
In summer (December to February), the vines are green and laden with fruit, and it's the busiest time of year with the warmest weather for hanging out in winery gardens.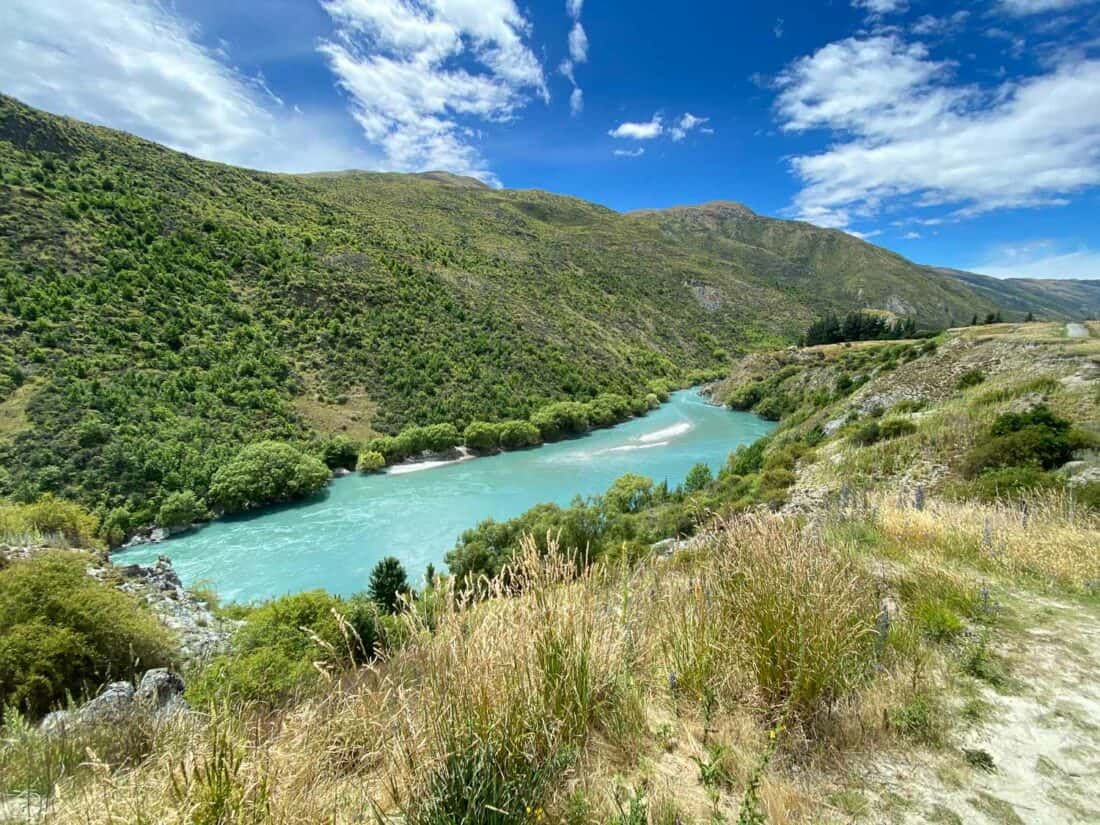 Autumn (March to May) is our favourite time to visit—the autumn foliage is best in mid to late April. The vines turn golden and the harvest begins. Mornings are cold, but we were warm enough in the afternoon to sit outside on a sunny day.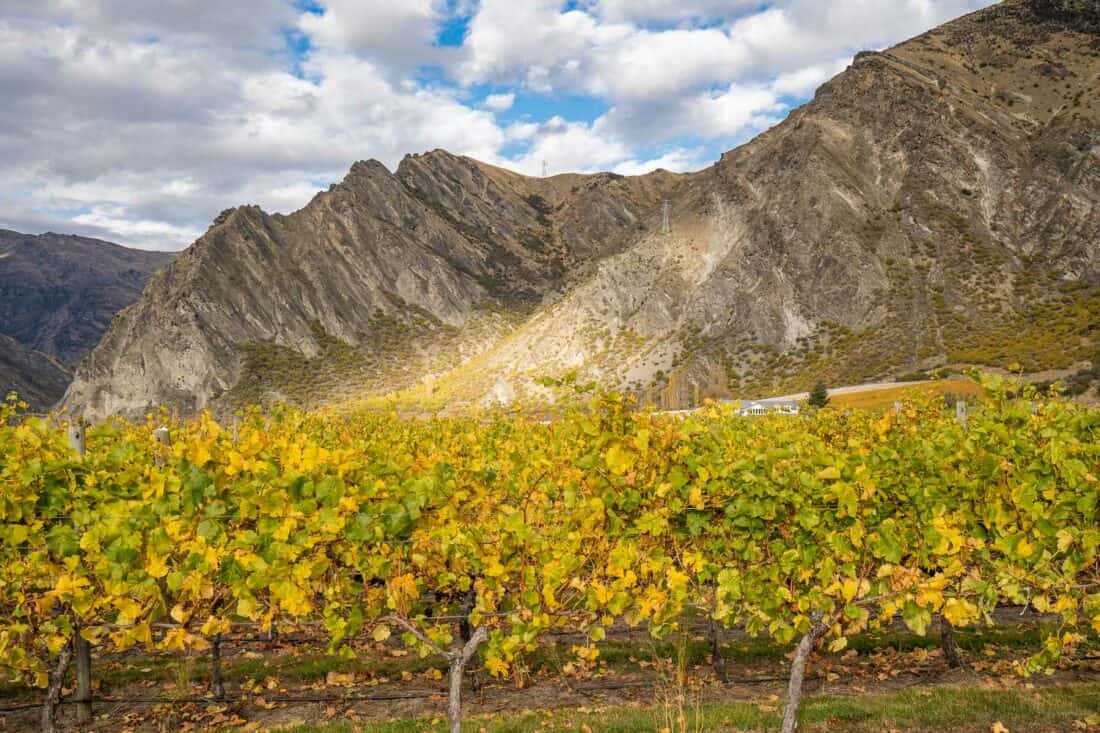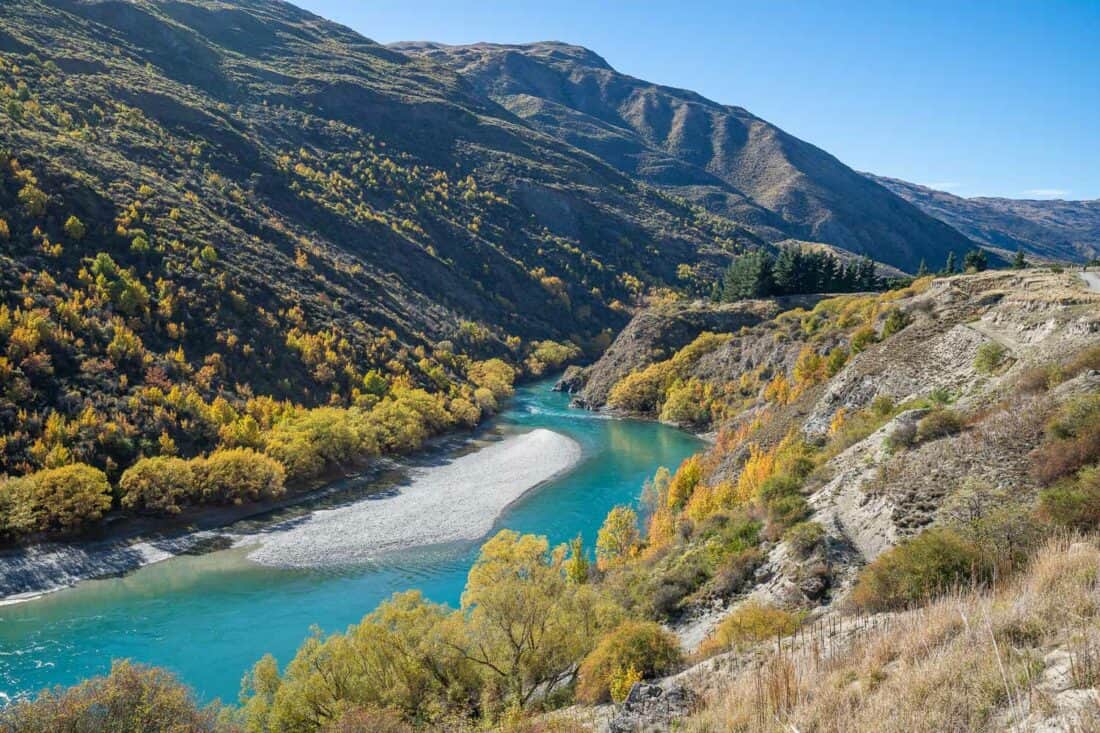 Winter (June to August) is also beautiful, despite the vines being bare post-harvest, and it's much quieter.
On our bike trip in early June, we enjoyed views of snowy mountains with a frosty morning start but warmer afternoon where we sat outside (in jackets). An evening drinking pinot noir by the outdoor fireplace at Kinross was a highlight.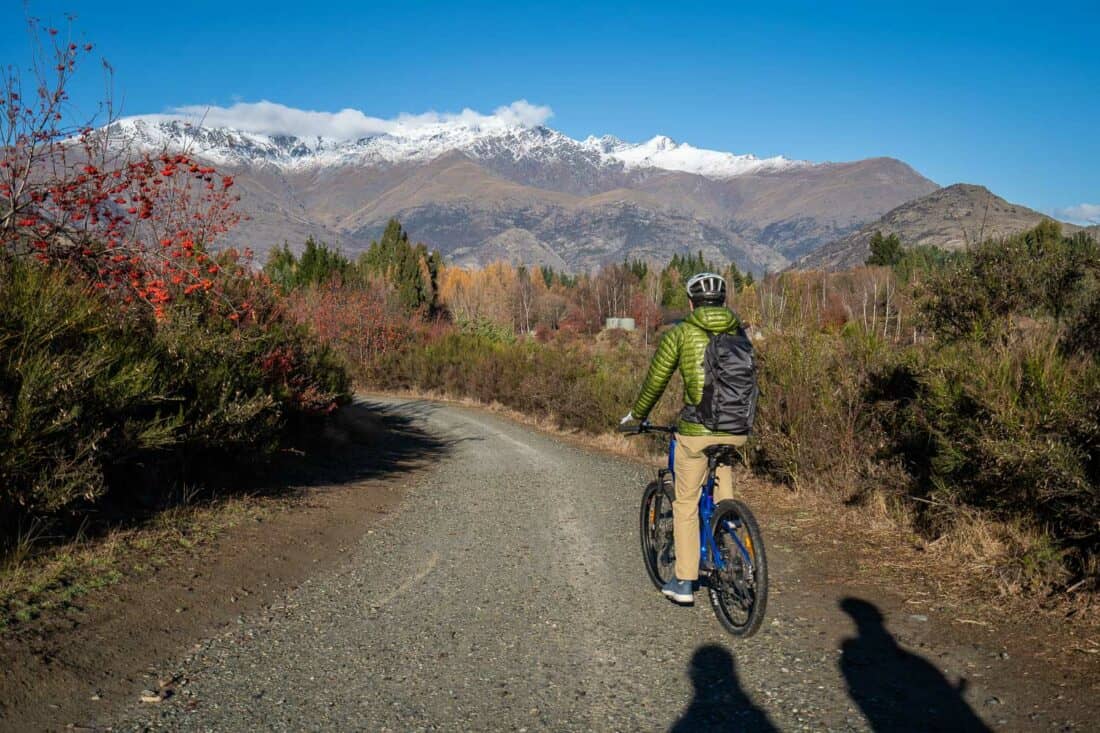 While we haven't visited in spring (September to November), I'm sure it's lovely with warmer days and wildflowers in bloom.
Whenever you choose to visit, pick a sunny day, if possible, to enjoy al fresco wine drinking and the vibrant colour of the Kawarau River.
Video: Explore Queenstown
Watch this video for ideas on what to do in Queenstown.
How to Get Around the Gibbston Valley
The Gibbston Valley wineries are 12km from Arrowtown, 25km from Queenstown, and 56km from Wanaka.
There's no public transport, so you'll need your own vehicle, or best of all, take a tour so no one needs to be the designated driver.
Cycle the Gibbston Valley Bike Trail
I think the best way to experience the Gibbston Valley is to cycle to the wineries. Riding the bike trail from the historic gold rush town of Arrowtown to Gibbston is one of my favourite things to do in New Zealand—we've done it twice.
The route is part of the Queenstown Trail network and starts with the Arrow River Bridges Trail (13.7km from Arrowtown to the Kawarau Bridge) and turns into the Gibbston River Wine Trail (8.7km from Kawarau Bridge to the Gibbston Back Rd at the end of the valley).
The scenery is absolutely stunning with a mix of forest, river, mountain, and vineyard views.
The trail crosses three dramatic suspension bridges including the Kawarau Suspension Bridge, where you can watch thrill-seekers bungy jumping to the turquoise water below.
Most of the gravel trail is away from the road, and it's well-signposted and fairly easy (Grade 2), but we were glad we rented electric bikes to help with the hills.
It's 15km from Arrowtown to the first winery, and from there you can choose how far to cycle. On both our trips we spent about two hours in the saddle (over a six hour day) and cycled 23 – 28 km.
On an e-bike we found it easy, but if you don't fancy cycling so far or have limited time, many of the bike companies will drop you at the Kawarau Suspension Bridge. From there it's only a 15-minute ride to the first winery.
Simon did the shorter route with friends as an afternoon trip, but we recommend the full trip from Arrowtown if you have time as it's a beautiful ride.
If you are cycling in winter, the mornings are chilly (often close to freezing), so gloves are essential and wear more layers than you think you need. Snow on the ground is rare.
Renting Bikes
If you are based in Queenstown, I highly recommend hiring bikes from Going Blue. They have the latest, most comfortable and powerful electric bikes and offer a great service.
They picked us up from our accommodation, dropped us off in Arrowtown (with interesting commentary along the way), and collected us from a winery of our choice at the end of the day (we texted them an hour before).
The full day trip costs $99 for a regular bike or $149 for an e-bike (recommended) including transport.
Check availability for Going Blue here.
We've also used Better by Bike in Arrowtown while staying at Kinross Winery ($100 for an e-bike plus $50 to collect the bikes at the end of the day).
Their e-bikes weren't as comfortable or powerful up hills as Going Blue's bikes, but it was still a fun trip and much easier than a regular bike.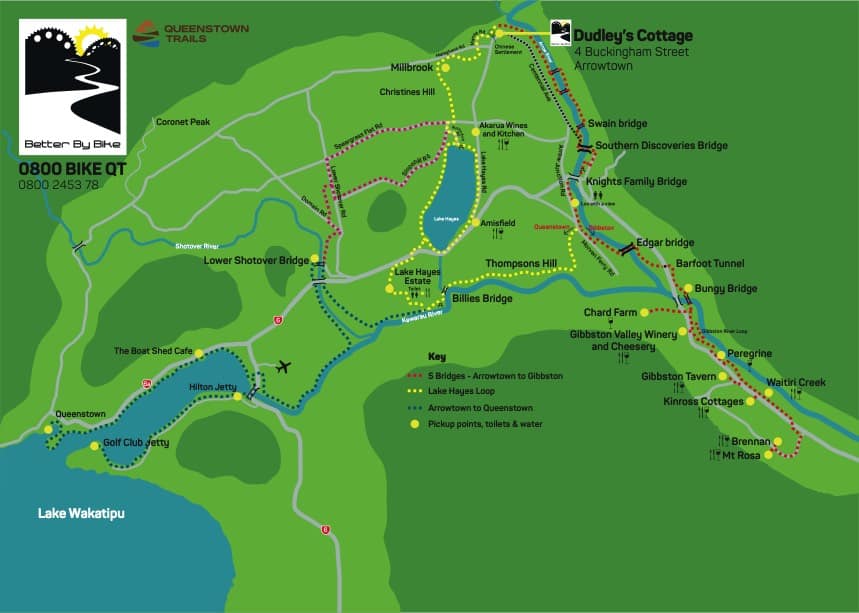 Gibbston Winery Hop-On Hop-Off Bus
If cycling isn't for you, the Gibbston Wine Hopper Bus offers the flexibility to explore at your own pace without having to drive. It departs daily from Queenstown and loops around the Gibbston wineries every hour.
At $79 it's an affordable way to experience the Gibbston Valley wineries. Book the Wine Hopper bus here.
Hop On Hop Off Wine Tours Queenstown offers a similar service. Check it out here.
Gibbston Valley Wine Tours
If you'd prefer to explore the Gibbston wineries with an expert, there are plenty of wine tours from Queenstown.
This half day Otago winery tour includes a wine-paired lunch and a visit to the Gibbston Valley wine cave.
For a longer trip, this small group wine sampler tour visits four wineries (lunch is at your own cost) including the wine cave.
Gibbston Valley Accommodation
While most of our trips to the Gibbston Valley have been day trips from Queenstown (the boutique QT Queenstown Hotel is our favourite place to stay there), on our latest visit we stayed overnight with friends at a cottage at Kinross Winery.
We loved not having to leave at the end of a day cycling—instead we spent the evening drinking wine by the outdoor fireplace, enjoying a delicious dinner, and admiring the star-filled sky from the hot tub (although sadly it was lukewarm on our visit).
Our spacious, modern cottage overlooked the vineyard and Pisa mountain range. Our package included a 5pm wine tasting, hot tub (make sure to book in advance), and a delicious cafe-style breakfast (the French toast is amazing).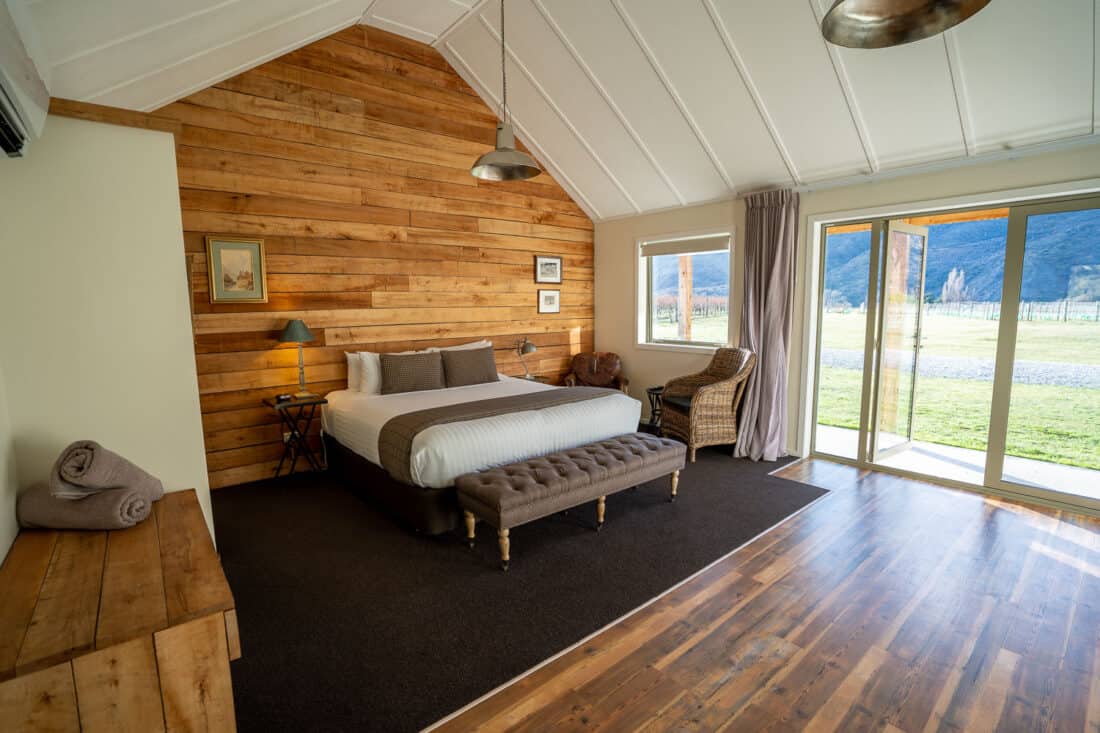 To cycle from Arrowtown to Kinross before our one night stay, we dropped off our car at Kinross in the morning, took a taxi to Arrowtown ($70), and then cycled back. Better by Bike collected our bikes at the end of the day. In summer they may be able to pick you up from Kinross, but they had limited staff in winter.
Check prices and availability for Kinross Vineyard Cottages here.
Gibbston Valley Winery also has luxurious villas overlooking their vineyard. They look beautiful and get excellent reviews, but we prefer the food and wine at Kinross.
Best Gibbston Valley Wineries for Wine Tasting
These are all the Gibbston Valley wineries with cellar doors open to the public in the order you'll reach them when travelling from Queenstown or Arrowtown.
Don't try to do them all in one day—on a full day bike trip when we arrive at the first winery around midday, we find we can comfortably visit three or four wineries including a lunch stop.
Many of the best tastings are detailed and the wineries often have lovely gardens to relax in. Allow around one hour per tasting, longer for lunch.
While you won't have a bad experience at any of the wineries, our personal favourites are Peregrine, Kinross, Brennan, and Mt Rosa.
If you are cycling, it took us 80 minutes (plus a few photo breaks) on an e-bike to cycle the 15km from Arrowtown to Gibbston Valley Winery or Peregrine.
Cellar doors are typically open from 10am or 11am to 5pm every day—I've noted if any of them have different hours or regular closing days.
Chard Farm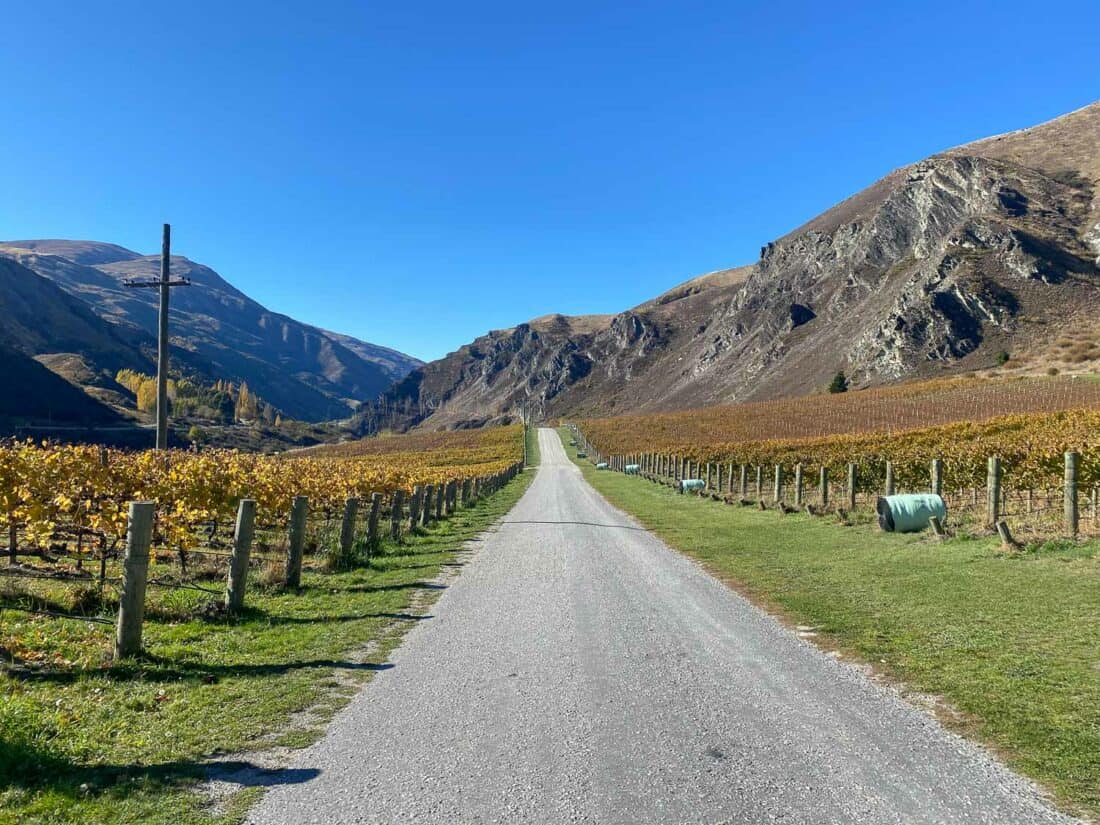 With its elevated position, Chard Farm has the best views in the valley across the vineyards and down into the Kawarau Gorge. It's the most challenging to reach, though, up a 2km gravel road—not recommended on a regular bike unless you are used to hills. We drove here on a separate trip.
The farm dates back to the early 1860s when it was a market garden to feed the passing gold miners. The current owners bought it in 1987 and started planting vines.
The wine tasting takes place inside at the counter and is relaxed and friendly. It's free if you purchase a bottle; otherwise, they ask for a donation to a local charity.
We tried three whites (and were surprised how much we enjoyed the sauvignon blanc this far south) and three pinot noirs. Our favourite was the Finla Mor pinot noir.
Gibbston Valley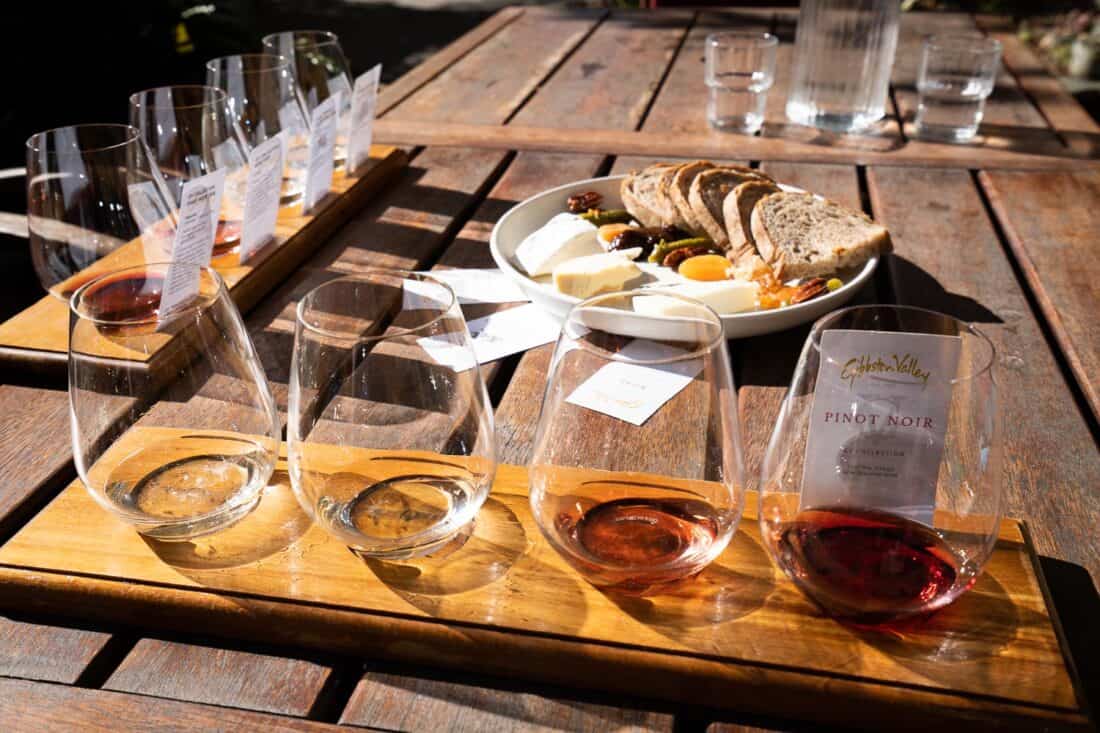 Gibbston Valley Winery is the oldest winery in the area. It's also the largest, most commercial, and busiest with tour groups (at least in normal times).
The wine here is not our favourite, but it's a convenient first stop in the valley, especially if you are hungry.
There are a few different restaurants—we like the simple cheese plates from the cellar door which you can pair with a wine flight. The outdoor seating area is a lovely place to enjoy it.
Gibbston Valley is famous for its wine cave, but you can only visit on a tour ($19.50 including a tasting of three wines).
It also advertises a Cheesery, but this is just a shop selling Whitestone cheeses—they don't make their own. The Cheesery/Deli is worth a stop if you want a coffee or to purchase some foodie treats.
Peregrine (TOP PICK)
If you aren't too hungry, I recommend pushing ahead to Peregrine instead. It's a 10-minute bike ride from Gibbston Valley Winery on one of the most beautiful parts of the trail, hugging the edge of the gorge with the startling turquoise Kawarau River far down below. In autumn the colours are incredible.
Peregrine's cellar door is housed in a striking building designed to evoke a falcon's wing. Tastings take place standing at the counter looking out onto barrels of their latest wines.
You can taste any three of their organically farmed wines for free—their focus is pinot noir but they also have some excellent whites.
When we visited with friends, these were the wines that everyone enjoyed the most, and we keep returning here (and ordering their wine online).
I love their pinot gris and Simon is a fan of the chardonnay, but it's the pinot noir we always come back for—the 2014 is our favourite.
Peregrine is closed on Sundays. Groups larger than six need to book.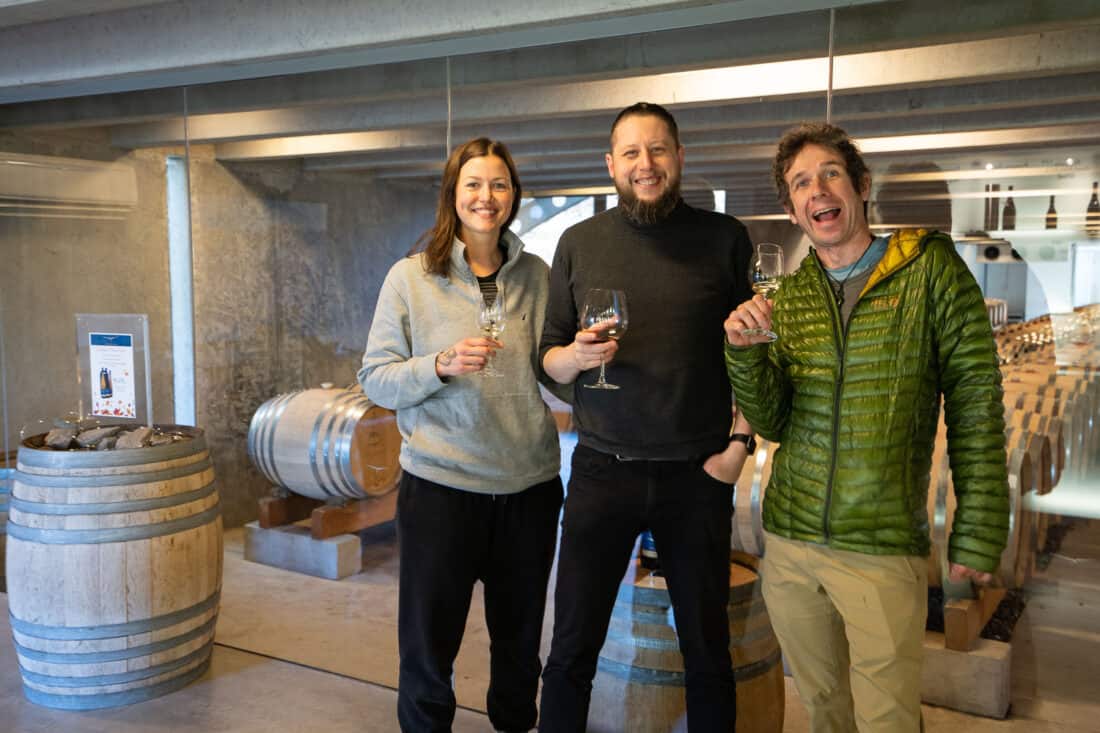 Rockburn
Rockburn is the only Gibbston Valley winery we haven't visited—we didn't realise it was there until we had lunch at the Gibbston Tavern and found it tucked next door.
It's open from 12 – 5pm every day.
Kinross (TOP PICK)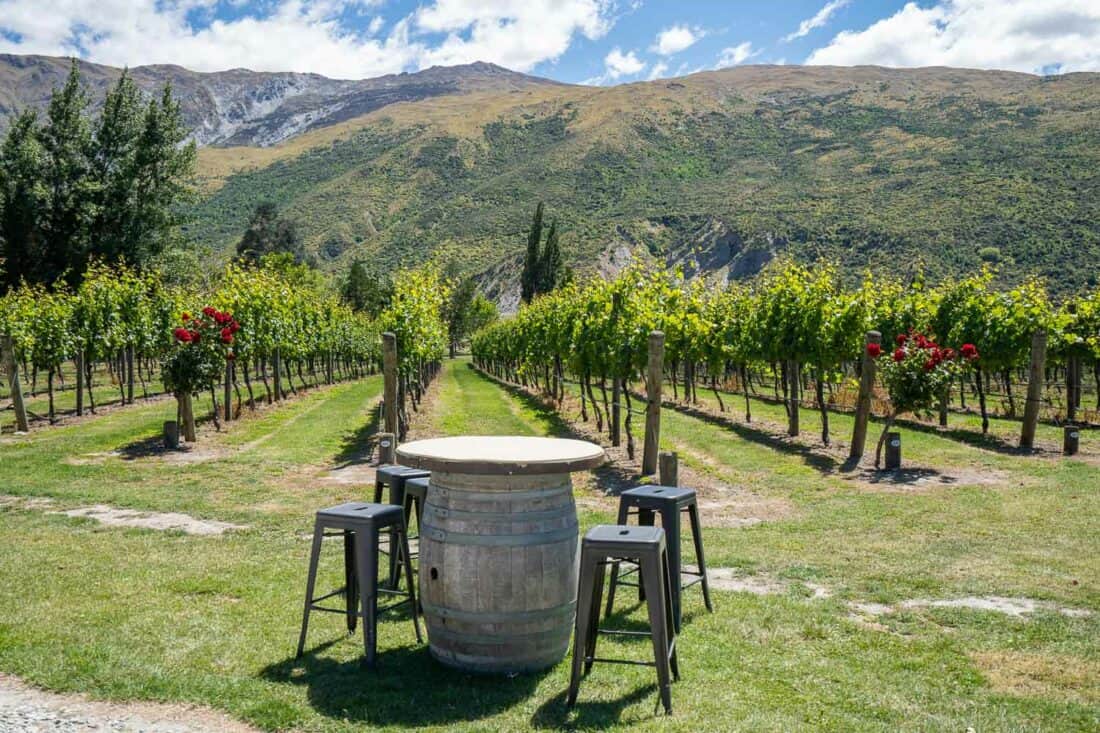 Kinross is the best all-round winery in the Gibbston Valley and we visit on every trip. It has excellent wine, delicious food, a beautiful setting, and even cottages you can stay in.
It's a five-minute cycle from Peregrine and makes a great lunch stop.
Kinross acts as the cellar door for five boutique wineries that are too small to have their own—Coal Pit, Hawkshead, Valli, Wild Irishman, and Kinross itself. We love trying a range of wines and hearing the stories of the winemakers who are truly passionate about their craft.
Detailed tastings take place seated in a tasting room and last about 45 minutes for five wines. They cost $15 (free for overnight guests), which is waived if you buy a bottle.
Their classic tasting includes some whites, but it's always the pinot noir we love here, so I recommend red wine lovers request a pinot noir only tasting. At busy times it's best to book.
Our favourite wines have been from bonus tastings they sometimes add at the end—small-batch wines that are only available to their wine club members.
In particular, Wild Irishman pinot noir is our favourite New Zealand wine. It's created by the valley's pioneer Alan Brady who sold his original winery when it got too big. Now in his 80s, he makes small amounts of exceptional wines that always sell out.
We've also big fans of the Kinross Discovery Coxs' Vineyard Pinot Noir 2016, of which only 2200 bottles were made.
Even if you don't join the wine club, you can buy a glass or bottle of the wine club wines (including Wild Irishman) in the restaurant.
The restaurant has a pretty outdoor setting overlooking the vineyards and mountains. The food is made with seasonal produce and has options for vegetarians and vegans.
We've enjoyed the pizzas, parmesan and truffle fries, focaccia, and crispy cauliflower with rosti. Next time we want to try the vegetarian platter.
Cargo Brewery at Waitiri Creek
Just past Kinross is Cargo Cellar Door where you can sample Bald Hills wine and Cargo beer or have lunch in a restored 1894 church.
Simon visited with friends and they didn't rate the wines, but it's a beautiful spot to hang out with a large beer garden and plenty of games.
It's open from 12 – 5pm every day.
Brennan (TOP PICK)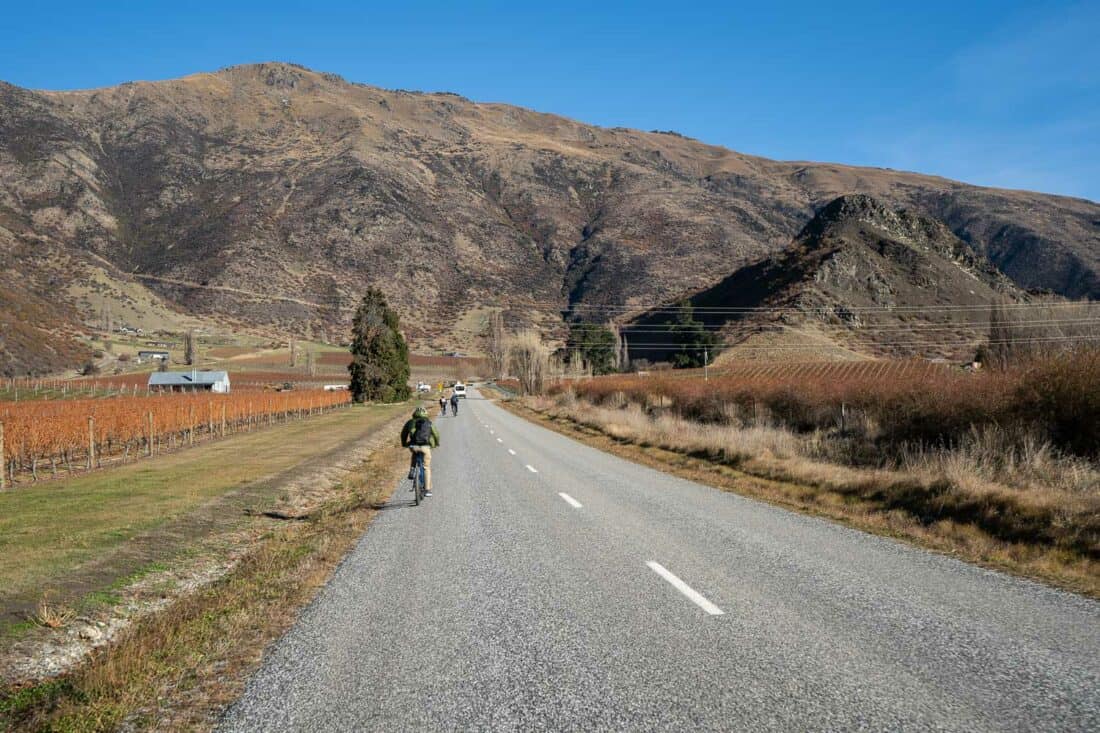 Brennan has the best setting for a wine tasting in the Gibbston Valley. It's located on the Gibbston Back Road (a 10-minute cycle from Kinross) and as it's away from the main road it feels more tranquil and deeper into the mountains.
All Brennan's grapes are grown on the small family vineyard next to the winery and produced on site.
The large garden next to the vineyard is an idyllic setting for a wine tasting or platter lunch, and the pétanque court makes it easy to linger even longer.
Tastings cost $15 (no charge if you buy a bottle) and you can choose to sample three wines self-guided or five wines guided (allow an hour). You can choose any from their list.
We chose the guided option and appreciated that we could do the tasting at a table in the garden rather than standing at the counter. Our host brought us each tasting, gave an introduction to the wine, and then left us to sample and discuss it amongst ourselves. It was a slow and relaxed tasting.
While Simon liked the chardonnay, the favourite all around was the award-winning B2 pinot noir 2016. With notes of blackberry, tobacco, and white pepper, it was just lovely and at $35 is excellent value compared to others in the area.
They don't have any younger wines for sale as they believe they benefit from ageing so do it for you.
Brennan also makes the only red wine in the area that's not pinot noir (most varieties struggle in the cold here)—a fruity, spicy tempranillo we really enjoyed.
After leaving Brennan, we continued down the Gibbston Back Rd and onto Coal Pit Rd, which is on a steep hill leading back to the main road.
It's a longer route than going back the way we came but quiet and scenic. If you are cycling, definitely head down Coal Pit Rd rather than up it! It took us 20 minutes to cycle back to Kinross this way.
Brennan is open Thursday – Monday from 11am – 5pm.
Mt Rosa (TOP PICK)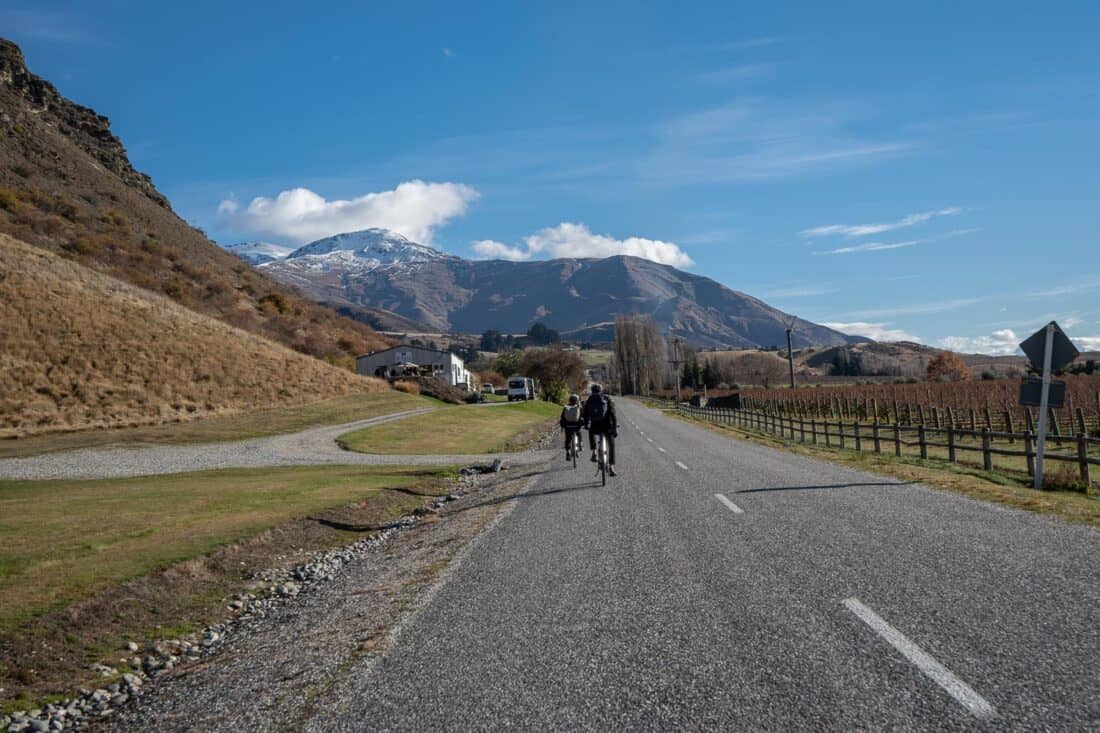 Across the road from Brennan is Mt Rosa, another small, family-run winery with a relaxed, friendly vibe.
Their tasting costs $15 (waived if you buy two bottles) and takes place sitting at the bar in their old woolshed.
It's the most extensive tasting we had in the valley—it lasted 45 minutes and we ended up trying 10 wines! I recommend sharing a tasting with a partner, especially if you are visiting at the end of the day (luckily our bike company picked us up from here!).
Their pinot gris is one of the best whites in the area (we tried three different ones), the rosé is very enjoyable, but the pinot noir 2014 was our favourite.
They also have platters available, but I think Brennan has a nicer setting if you want to eat.
Best Gibbston Valley Restaurants
Having lunch at a winery is not only delicious but a sensible move if you are tasting lots of wines.
Kinross is my top pick, but these are all the Gibbston Valley wineries and pubs that serve food:
Gibbston Valley Winery – There are multiple places to eat including the cellar door and deli for platters, main restaurant for fancier fare, and a pizzeria (summer only).
Gibbston Tavern – The wood-fired pizza is delicious and they even have vegan cheese. They also have pub grub like fish and chips, nachos, and burgers. There's a cosy fire inside or outdoor seating with heaters plus table tennis and other games.
Kinross – The bistro has a full menu with sourdough pizza, sharing platters, and creative mains. The outdoor seating is lovely on a sunny day.
Cargo – Pizza, hot dogs, salads, and platters in a great beer garden with games.
Brennan – Various antipasti platters or create your own from the list of cheese, meat, vegetables, and dips. We'd love to return for a platter on one of their picnic tables amongst the vines.
Mt Rosa – Cheese, meat or salmon platters.
Kinross and Gibbston Tavern are the best options for vegans, although it looks like you could put together a platter at Brennan.
Other Central Otago Wineries to Visit
These are our other favourite Central Otago and Queenstown wineries to visit:
Gibbston Valley Wineries Map
This map shows all the Gibbston Valley wineries with cellar doors open to the public plus places to eat.
All the blue markers are on the Arrowtown to Gibbston Valley bike trail or in the valley itself. The red markers are our favourite other Central Otago wineries.
Summary
The Gibbston Valley is well worth adding to your New Zealand itinerary whether you visit on a day trip from Queenstown or stay for a night or two on a vineyard.
Its compact size and friendly atmosphere make it more manageable than other wine regions. If you want more, you can compare and contrast the wines with the other Central Otago sub-regions of Bannockburn, Cromwell, Alexandra, Bendigo, and Wanaka.
If you are a pinot noir fan, don't miss Gibbston, but even non-wine drinkers can enjoy the spectacular scenery, fun bike trail, tasty food, and relaxing gardens.
More New Zealand Posts
South Island
North Island
If you enjoyed this post, pin for later!