This page contains affiliate links. Please read our disclosure for more info.
Nelson has a thriving food and drink scene and the most choice of restaurants at the top of New Zealand's South Island.
Whether you are looking for a sweet treat with a view, special occasion dinner, or relaxed curry night, Nelson has something for everyone (including vegetarians and vegans).
In this post we share our picks for the best places to eat in Nelson after spending months eating our way around the city.
It's a compact place so most of these Nelson restaurants and cafes are easily accessible on foot. At the end of the post you'll find a map with all their locations.
Contents
Video: Explore Nelson
For more ideas on visiting Nelson watch the video below and see my post on the best things to do in Nelson.
Best Restaurants in Nelson
Most of these Nelson restaurants are open for lunch and dinner. Many close on Sundays and Mondays—check the opening hours below.
I recommend making reservations for most of these places, especially on weekends and during school holidays (Nelson is busiest over New Year and in January).
If you haven't booked, your best options are the Indian restaurants, Lombardis, and Burger Culture.
On our list to try next time is Le plônc, a new fine dining restaurant in Nelson.
1) Arden (Top Pick)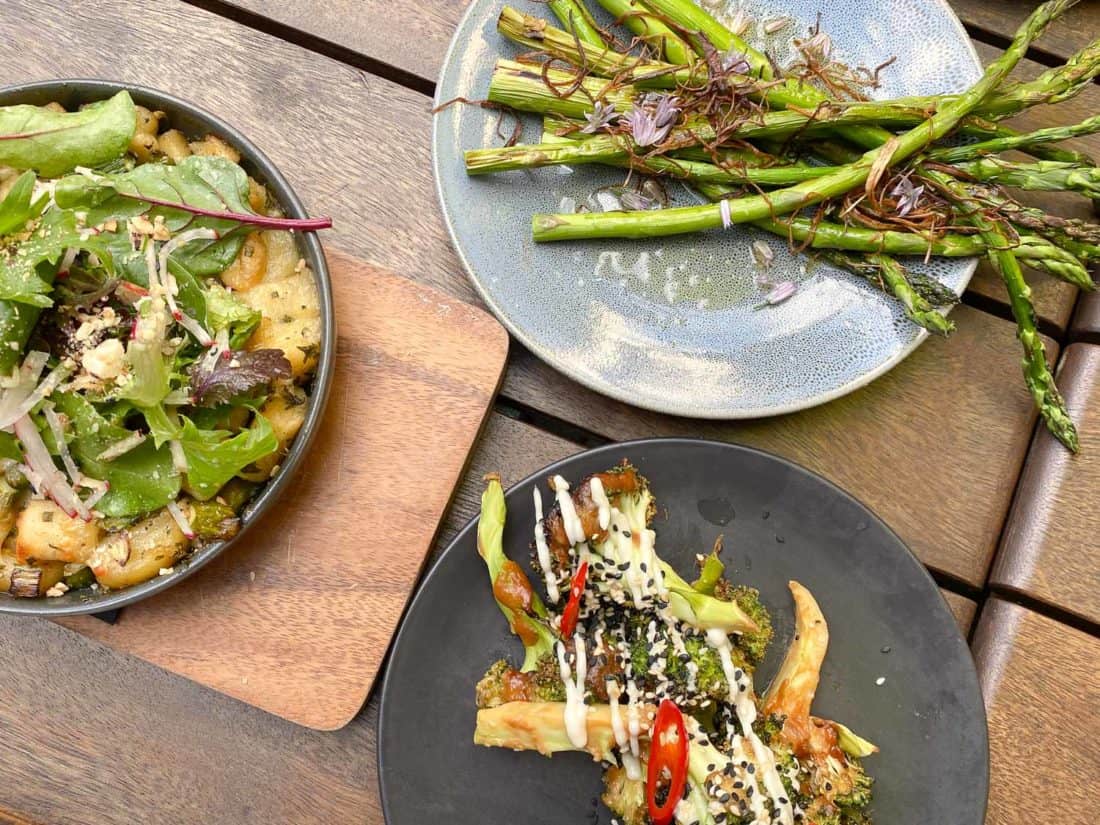 You'll find the best food in Nelson at Arden, a wine and tapas bar in the centre of town. It's casual but stylish with indoor and outdoor seating.
The cocktails are delicious and there's an interesting selection of wines by the glass including natural wines.
The seasonal menu consists of sharing plates with enough veggie options to keep us happy. Although it's not advertised, they can adapt most of them to be vegan.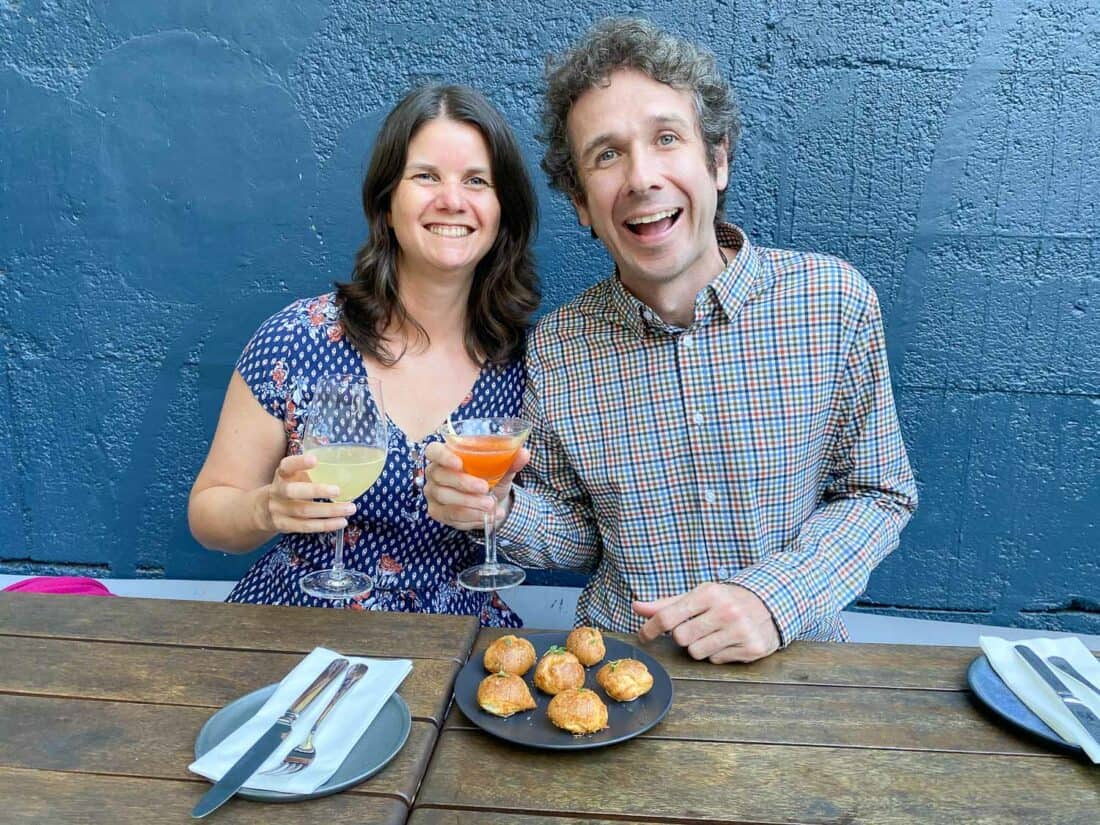 Our favourite dish is the gnocchi with brown butter, spring greens, and pecorino, but we also love the patatas bravas and roasted broccoli with sesame, miso, and pickled chilli.
During the day they open as Arden Porta Via where you can pick up cabinet food or buy a bottle of excellent wine including our favourite chardonnay from local winery Neudorf.
Details: 216 Hardy St. Open Wed-Sun 4pm till late. Closed Mondays and Tuesdays. Bookings recommended.
Website: Arden
2) Harry's Hawker House (Top Pick)
Another top Nelson restaurant is lively Harry's Hawker House, which serves Southeast Asian fusion sharing plates.
The menu changes regularly and features veggies straight from the farm and a decent number of vegetarian options.
When we visited we loved the bang bang cauliflower and cabbage and shiitake potstickers. The green curry was also delicious.
Don't expect rice or noodles, but the flaky roti makes a great alternative with the curry.
We usually find three dishes plus roti is enough for us to share.
All the food is full of flavour, service is good, and we appreciate the well chosen list of craft beer and wine by the glass.
The owners also run Urban Oyster Bar, one of the most popular restaurants in Nelson with locals, but as vegetarians we skipped it.
Details: 296 Trafalgar Street. Open Tues 3pm till midnight, Wed-Sat 11am till midnight. Closed Sundays and Mondays. Bookings are recommended (they take reservations for 6pm and 8pm), but some seating is unreserved.
Website: Harry's Hawker House
3) Nahm (Top Pick)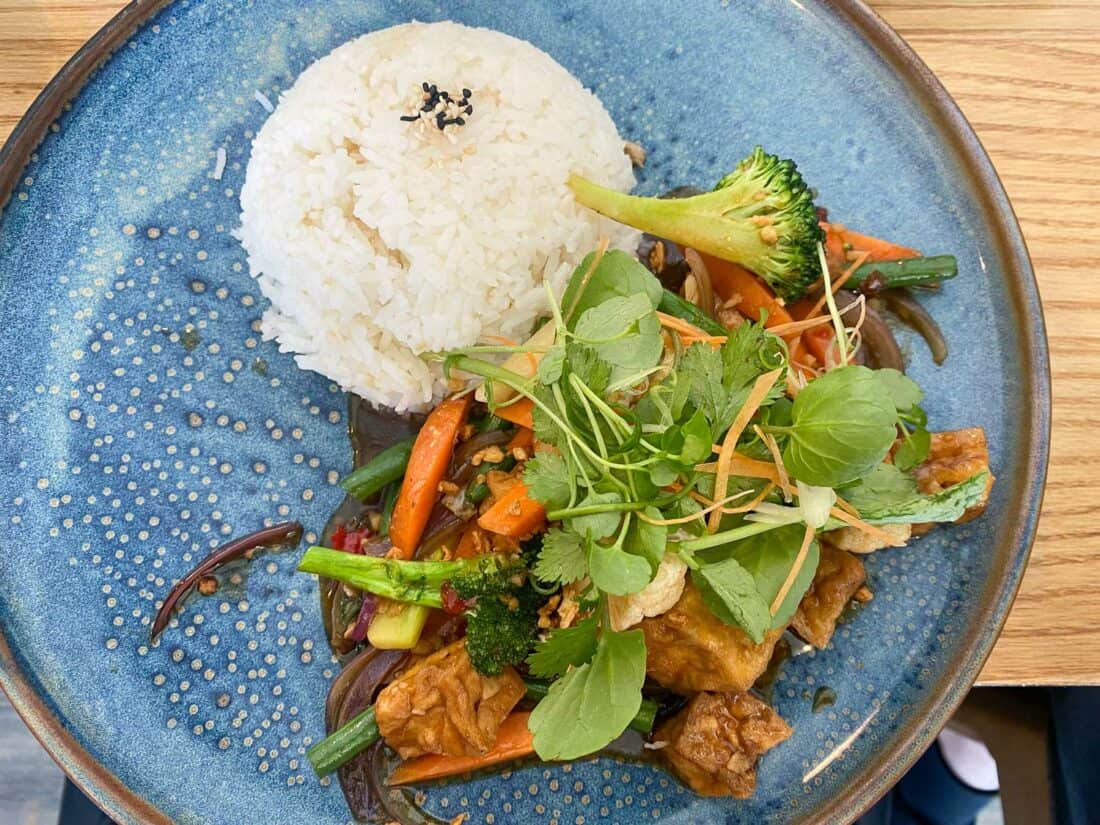 Based in the yacht club on the waterfront, a 30-minute walk or short drive from the centre of Nelson, Nahm has the best sea view from any restaurant in Nelson.
The delicious, beautifully presented Thai food is just as good as the view.
They can adapt most things on the menu as vegan by using tofu. I love the cashew or chilli and basil stir fries, while Simon is a fan of the green curry.
There are lots of tasty starters too like puffed roti with satay sauce, spring rolls, and eggplant nuggets.
On a warm day you can sit outside and watch windsurfers and sailboats going by.
Nahm is one of the top Nelson restaurants if you want a veggie-packed meal with a beautiful view.
It's also a great option for dinner on Sundays when many other places are closed. They do usually close over the New Year break, though, so check in advance.
Details: 322 Wakefield Quay. Open Tues-Sun 11.30am-2.30pm and 5pm-9.30pm. Closed Mondays. Bookings recommended.
Website: Nahm
4) East St Cafe and Bar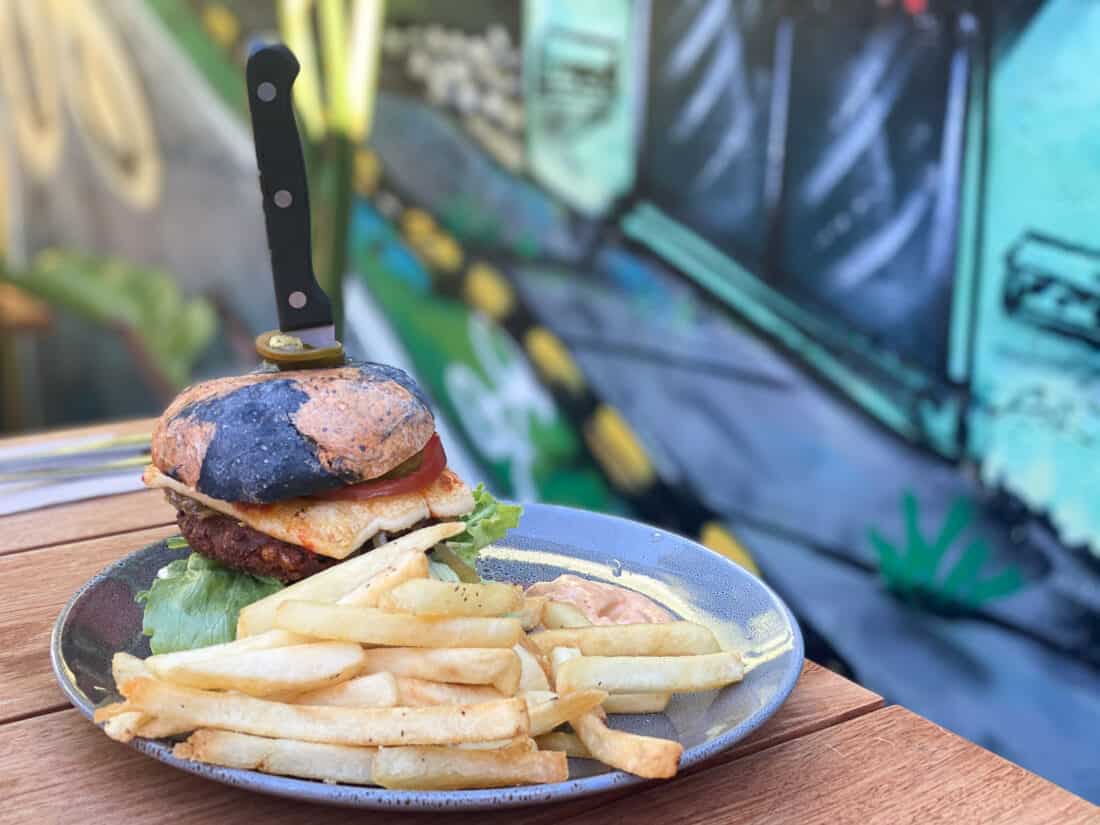 Back in the centre of town, East St. Cafe and Bar is the only vegan restaurant in Nelson and is the best choice for anyone avoiding meat.
The funky, colourful interior and courtyard garden are great places to hang out, and you can get a snack in the afternoon when everywhere else is closed.
Their wide ranging menu includes various burgers, salads, fish and chips, and much more. There's craft beer and kombucha on tap.
They also sell some vegan products like chocolate bars.
East St has become one of our go-to Nelson restaurants for a casual lunch or dinner.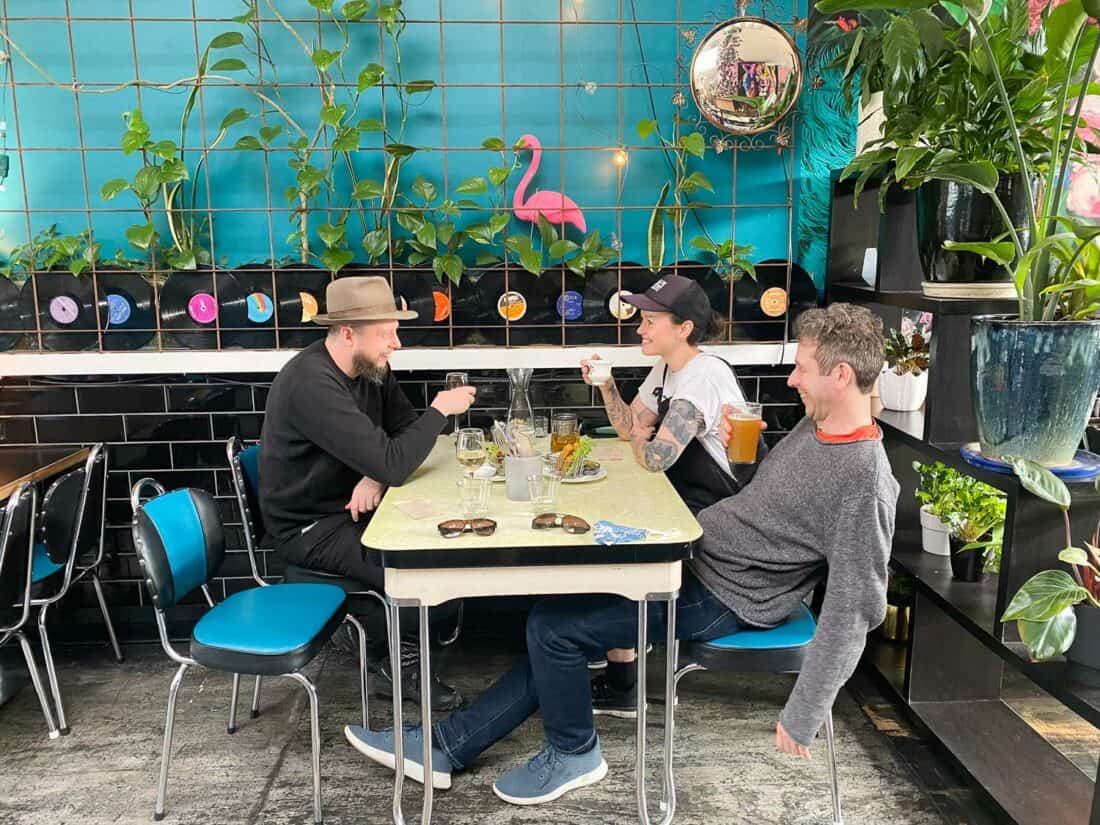 Details: 8 Church Street. Open Tues-Sat 12pm-late. Closed Sundays and Mondays.
Website: Facebook page
5) Little India
A family business founded in 1991, Little India has since grown nationwide across New Zealand.
Their menu specialises in recipes from North India with many vegetarian options (the aloo baingan is delicious). Vegan dishes are marked on the menu.
This is our favourite of Nelson's Indian restaurants, and it's a good choice on Sundays and Mondays when many Nelson restaurants are closed.
Details: 269 Hardy Street. Open Mon-Fri 11.30am-2.30pm and 5pm-9.30pm, Sat-Sun 12pm-2pm and 5pm-9.30pm. BYO wine is an option for a corkage fee.
Website: Little India
6) The Indian Cafe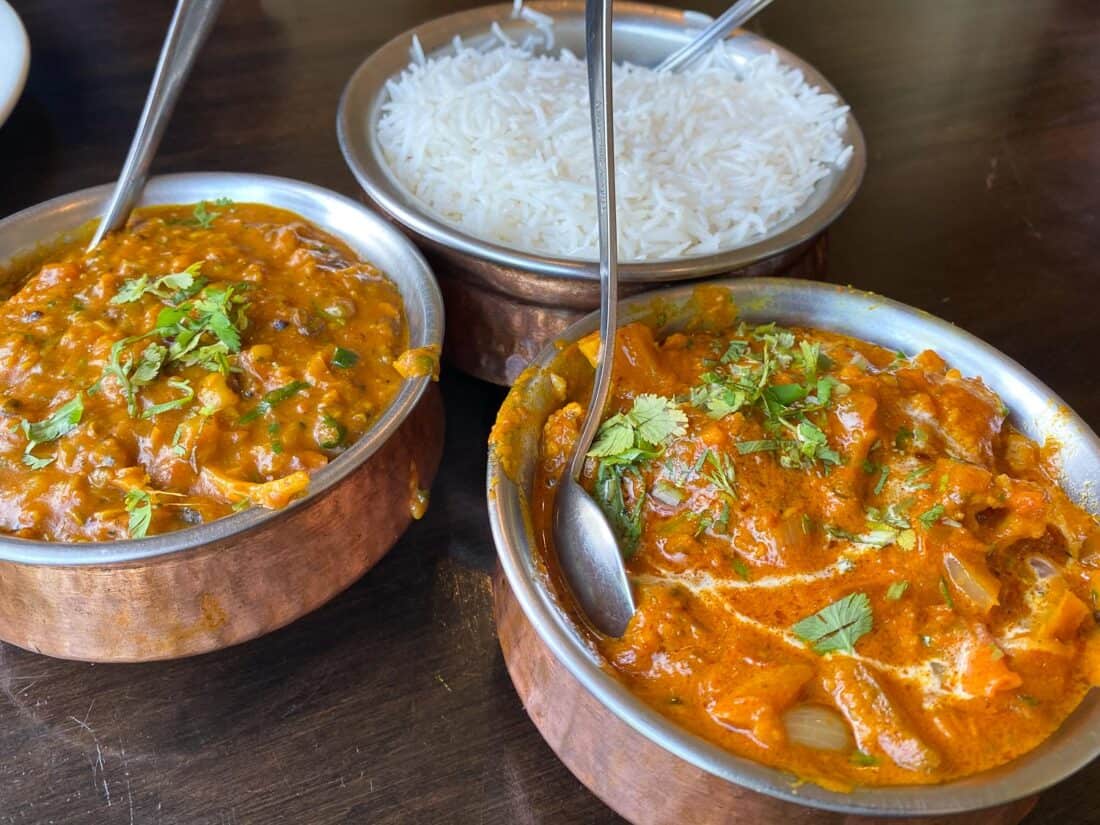 The Indian Cafe is a British-style curry house and a local favourite.
They have all the standards with plenty of veggie options. Don't ask for spicy unless you really mean it!
You can dine in their characterful old villa or order a takeaway to eat in The Free House beer garden across the road.
It's another spot that's open every day.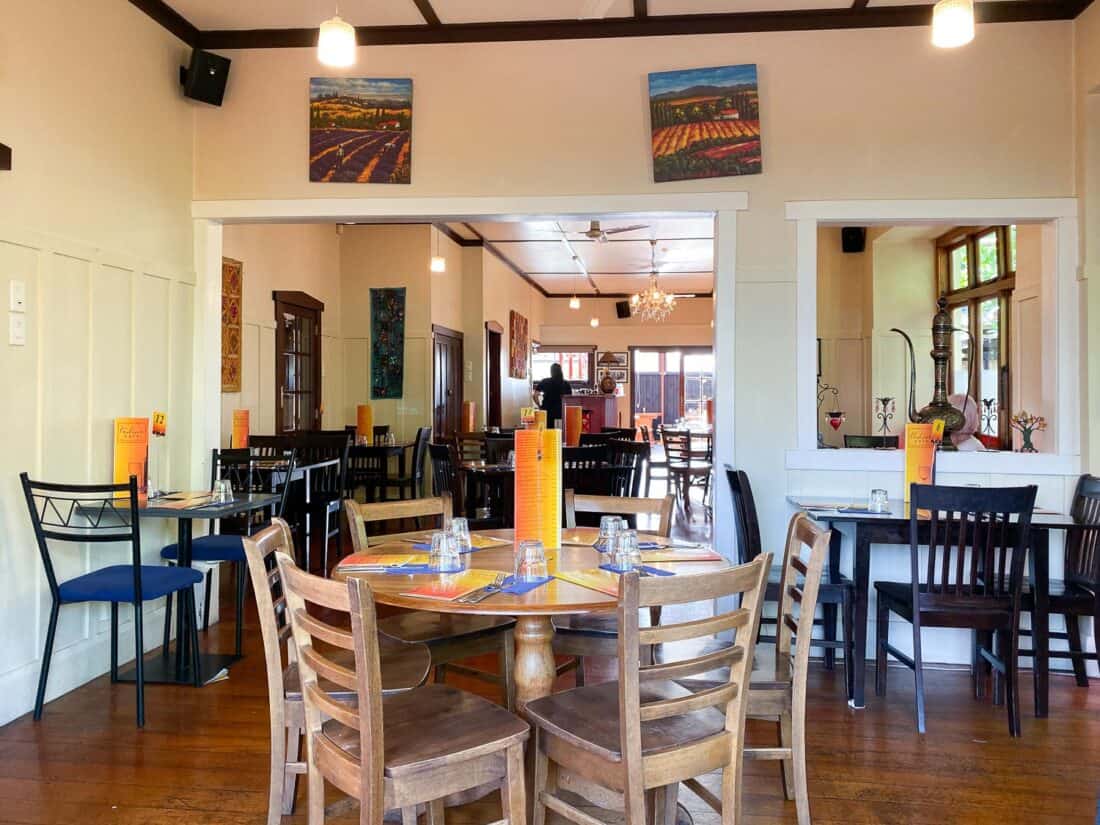 Details: 94 Collingwood Street. Open Mon-Fri 12pm-2pm and from 5pm, Sat-Sun from 5pm.
Website: The Indian Cafe
7) Nicola's Cantina
Nicola's Cantina is a decent Mexican restaurant with cute decor in the centre of Nelson.
The food isn't outstanding, but we go here when we want a quick burrito or quesadilla. We don't rate the nachos.
Details: 6 Church Street. Open Tues-Sat 11am-2pm and 5pm-9pm. Closed Sundays and Mondays.
Website: Facebook page
8) Lombardi's
Lombardi's is an Italian restaurant with outside seating on Trafalgar Square, charming red-checked tablecloths, and friendly service.
Their menu includes freshly made pasta, seafood, and the best pizza in Nelson (but honestly, there's not much competition).
Details: 295 Trafalgar Street. Open Lunch Sun-Fri 11.30am-2.30pm, Dinner every day 4.30pm-10pm.
Website: Facebook page
9) Burger Culture
A dedicated burger joint that prides itself on making a lot of its menu fresh every day, from the burger buns to the sodas.
They have an inventive pun-filled menu that includes homemade donuts (if you have room afterwards).
We had a mixed experience—Simon enjoyed his Run VMC (a vegan Beyond Burger), but I wasn't a great fan of the fried tofu patty. They have since added a mushroom, beetroot, and kumara patty that I'd like to try.
Details: 279 Trafalgar Street. Open Tues-Fri 12pm-3pm and 5pm-8.30pm, Sat-Sun 12pm-8.30pm. Closed Mondays.
Website: Burger Culture
Best Cafes in Nelson
These Nelson cafes only open during the day and are good for breakfast, lunch, or an afternoon treat.
Don't expect most cafes to be open after 3pm.
The Nelson Market (featured in our Nelson travel guide) is also worth visiting on Saturday mornings for a bite from one of the many food stalls.
10) Melrose House Cafe (Top Pick)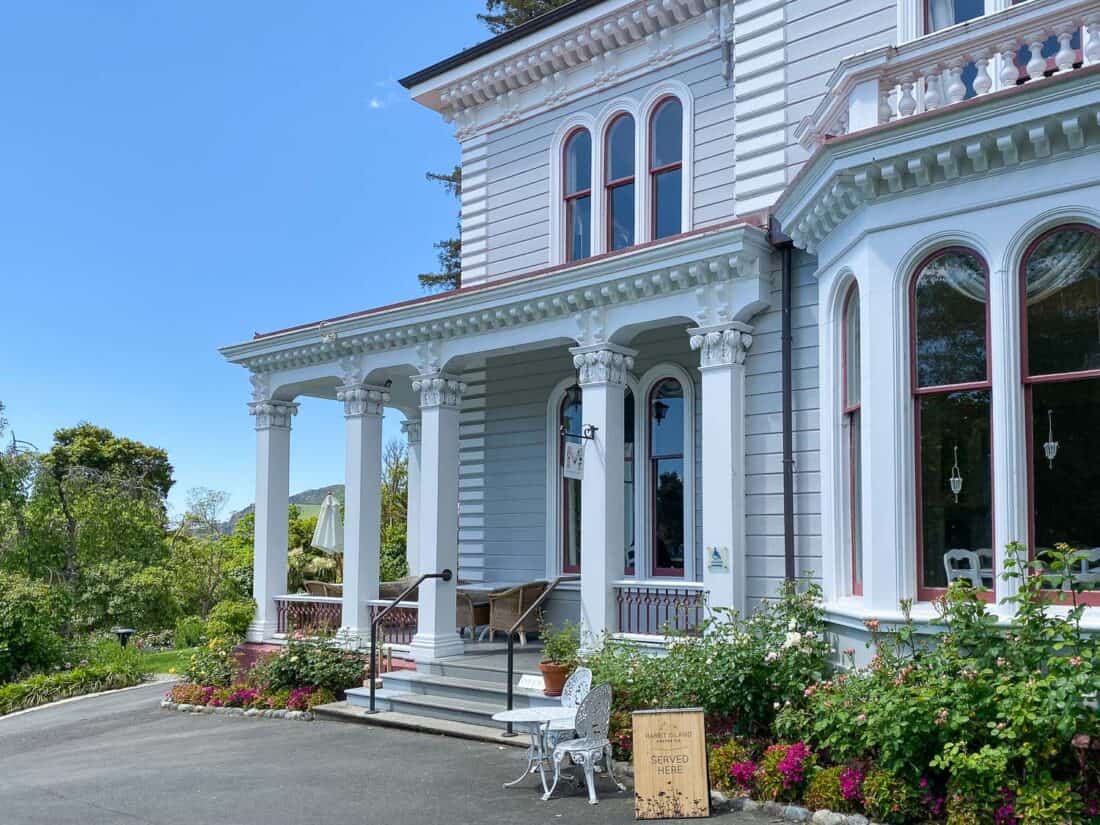 The cafe at the historic Melrose House is one of the most beautiful places for lunch or afternoon tea in Nelson. It's a 10-15 minute walk from the centre.
We loved relaxing outside by the rose garden after walking up the Grampians (one of our top Nelson activities).
Their menu includes classic brunch dishes as well as salads and heartier roast lunches. Don't miss the decadent cakes.
High tea, a selection of sweet and savoury treats served on tiered platters, takes place at 2.30pm and must be booked in advance.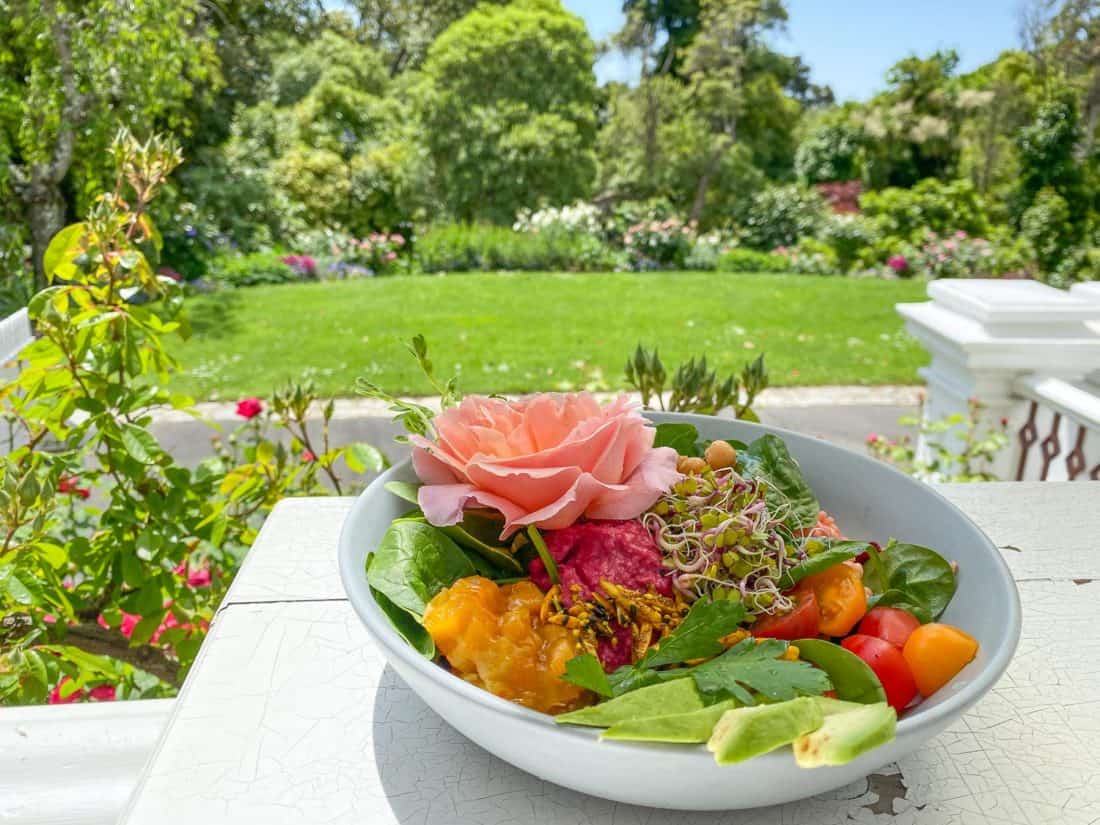 Details: 26 Brougham Street. Open every day 9am-4pm.
Website: Melrose House Cafe
11) Suter Cafe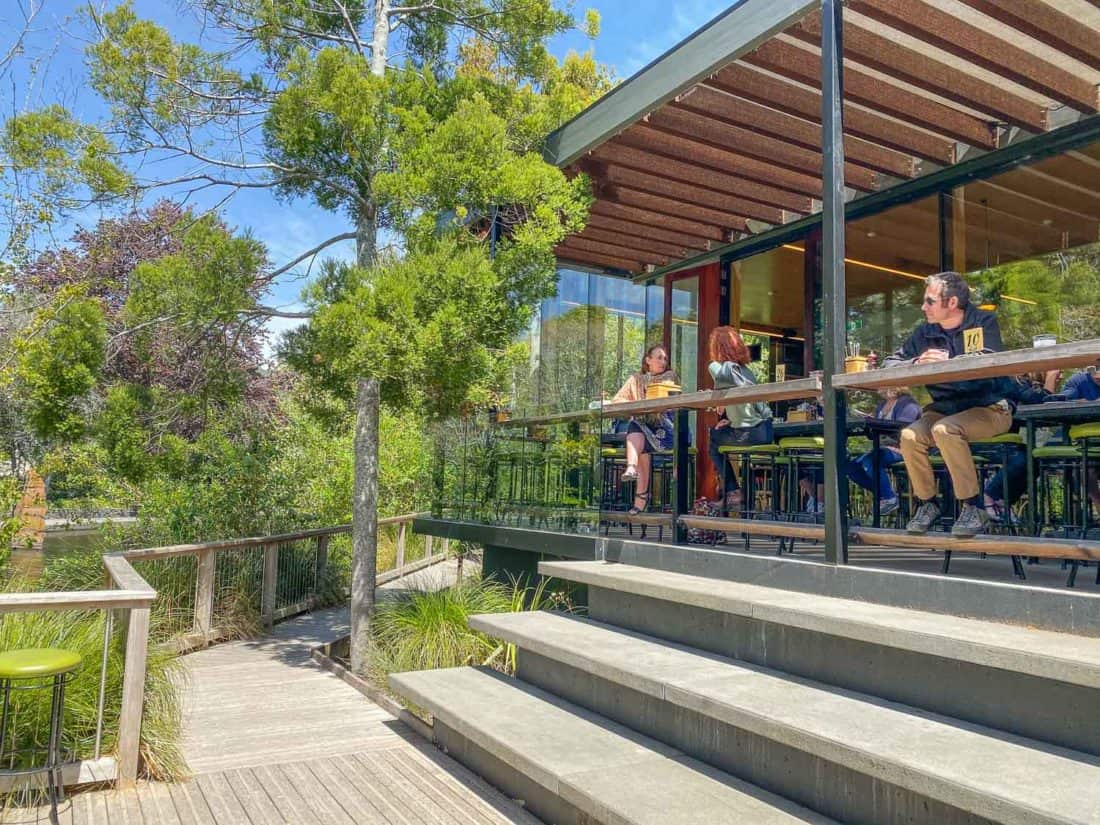 Suter Cafe is another great option if you're looking for an outdoor lunch in Nelson as it has beautiful views overlooking Queens Gardens.
For lunch, they have a range of tasty cabinet food, including salads and filo pastry rolls.
On a sunny afternoon this is our favourite spot for a glass of wine and slice of cake.
It's part of the free Suter Art Gallery, which is worth a quick visit.
Details: 208 Bridge Street. Open every day from 8am-3pm.
Website: Suter Cafe
12) Little Dove (Top Pick)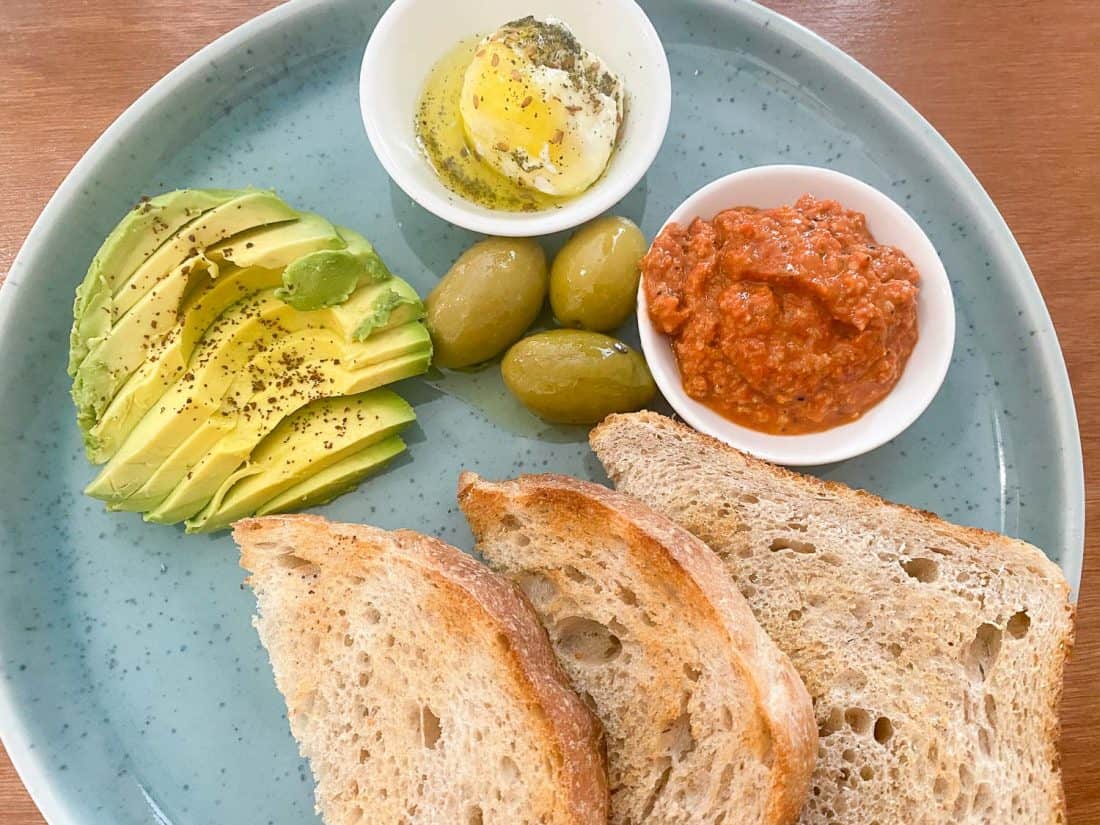 New in 2020, Little Dove sits by the river with a creative menu inspired by the kitchens of the Levant, making it a unique addition to Nelson.
They make everything in-house, including their sourdough bread which is proven for 48 hours.
We love the simple but tasty Little Dove Plate, which includes their superb homemade labneh (as good as any we ate in Jordan).
Their poppy seed babka, cheese scones, and other cabinet treats are also excellent.
With friendly service and delicious food, Little Dove is one of the best cafes in Nelson.
Details: 36 Collingwood Street. Open Monday to Friday 7am-3pm. Closed Saturdays and Sundays.
Website: Facebook page.
13) Morrisons (Closed Permanently)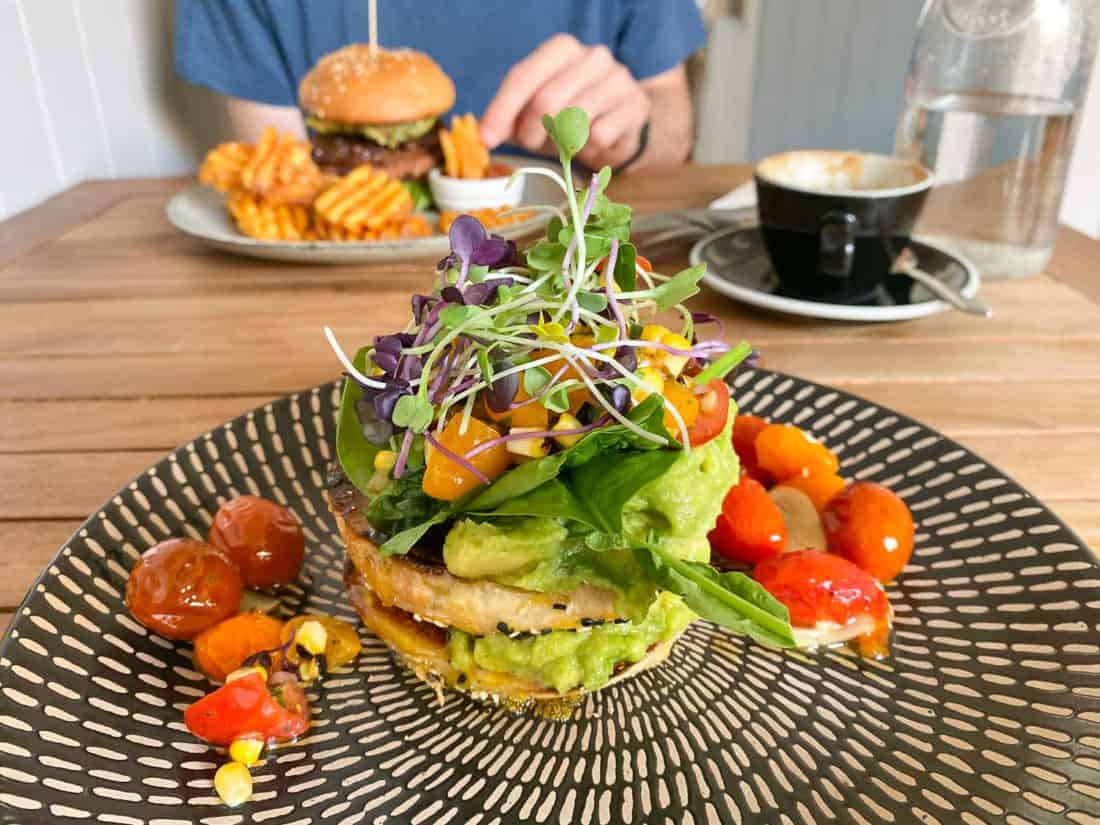 Morrisons is a Melbourne-style cafe with a good range of brunch options. We liked the avocado smash on a bagel and the bean burger.
Details: 244 Hardy Street. Open every day from 8am-2pm (3pm on weekends).
14) Sublime Roastery and Brew Bar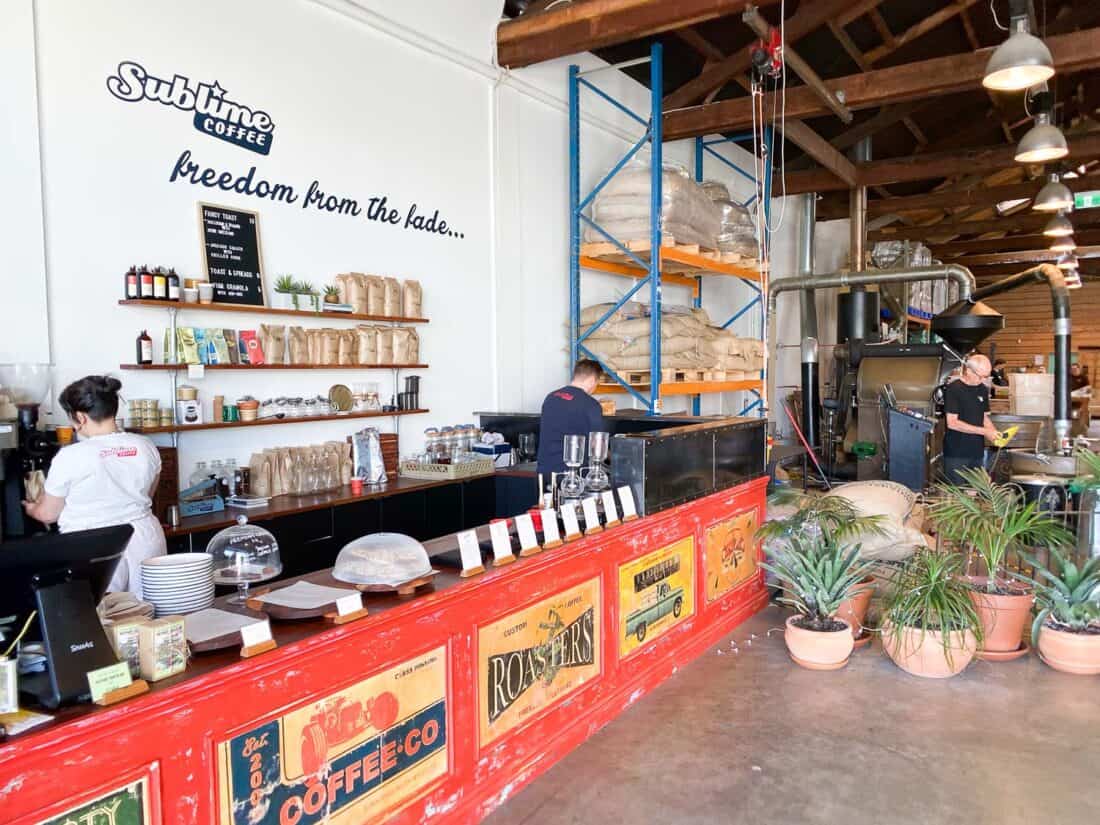 Sublime makes the best coffee in Nelson and Simon regularly popped in for a cup and bought their beans to use at home.
At this flagship location, they provide a whole experience along with your coffee order. You watch as they roast their own beans in a semi-industrial space. At the same time, you get to taste a variety of single-origin coffee.
There's no espresso machine, but you'll be presented with a variety of different brewing methods to truly appreciate the coffee to its fullest.
Details: 32 New Street. Open Mon-Fri 8am-2.30pm. Closed Saturdays and Sundays.
Website: Sublime Brew Bar
15) Red Art Gallery Cafe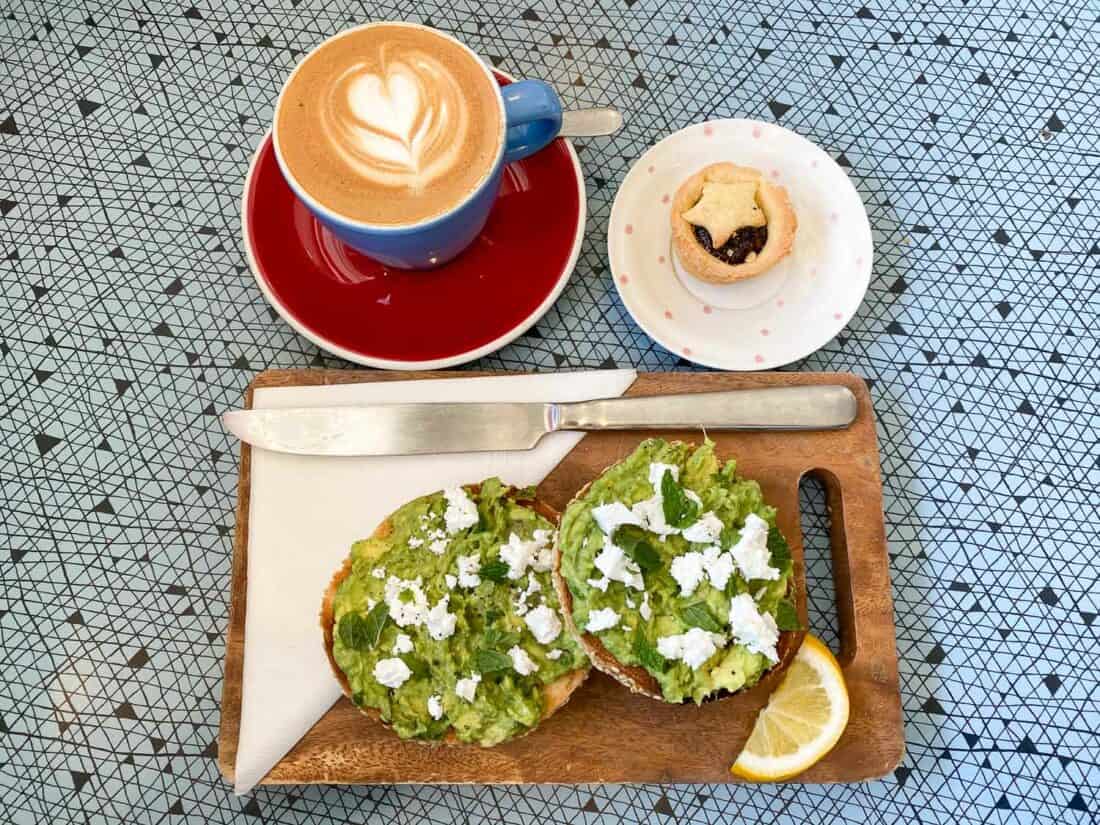 This cute cafe is located inside an art gallery that sells lovely gifts and artwork.
The menu is small, but the bagels are tasty (we got the avocado smash).
Details: 1 Bridge Street. Open Mon-Fri 8am-4.30pm, Sat 8.30am-2.30pm and Sun 9am-2pm. Closed on Sundays in winter.
Website: Red Art Gallery Cafe
16) River Kitchen
Sitting on the banks of the Maitai River, this is the perfect place to relax. You can sink into a bean bag chair on their sunlit terrace or find somewhere cosy inside. We often come here to work.
The food is pretty good, but you're mostly here for the setting.
Details: 81 Trafalgar Street. Open Mon-Fri 7.30am-4pm, Sat 8am-4pm and Sun 8.30am-4pm.
Website: River Kitchen
17) Bobby Franks
A neighbourhood gem in a charming villa, just on the fringes of central Nelson, Bobby Franks is another good spot for brunch. Serving up Soul Arch Coffee and an all-day brunch menu with not an eggs benny in sight.
I recommend The Hippie Breakfast, a generous plate of potato rosti, spicy beans, toast, avocado, and an array of vegetables.
Details: 40 Tasman Street. Open Mon-Fri 7.30am-2pm and Sat-Sun 8am-2pm.
Website: Facebook page
18) Deville Cafe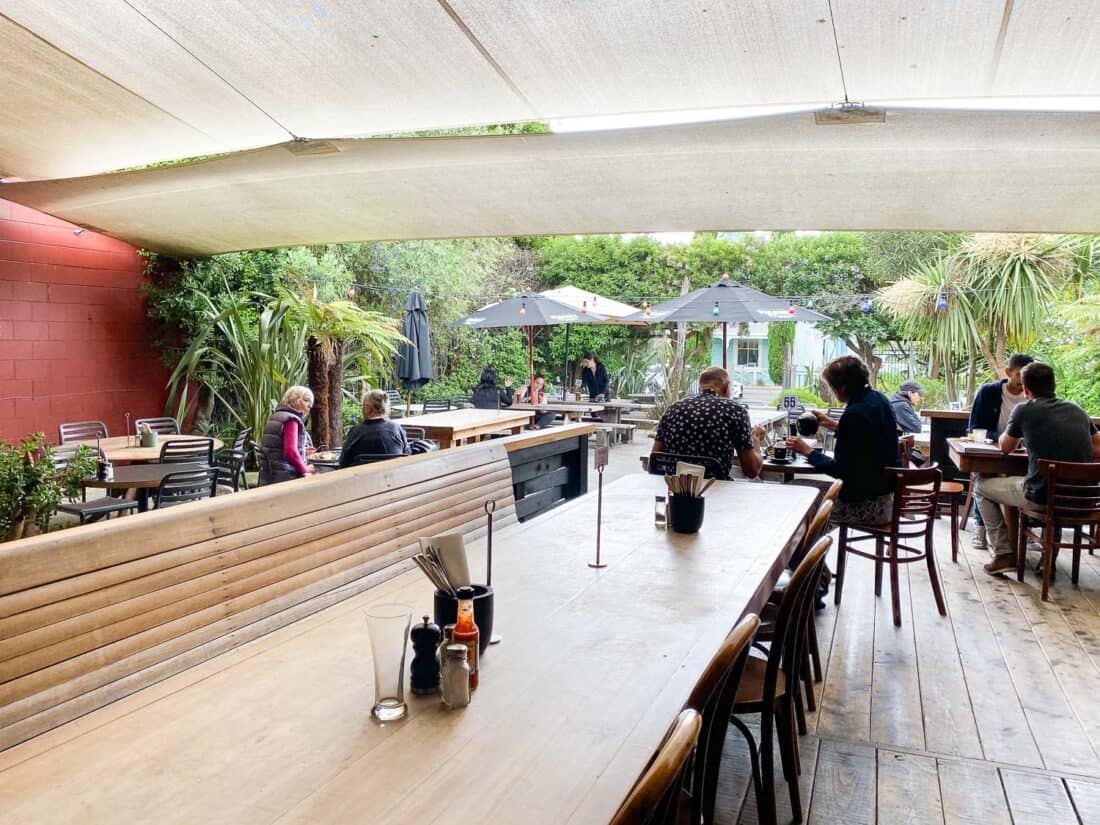 Deville is a lovely space to eat with a large garden.
The menu includes classic brunch dishes, burgers, and tacos. We found the vegetarian options limited if you don't like eggs but enjoyed the massive halloumi and grilled vegetable sandwich.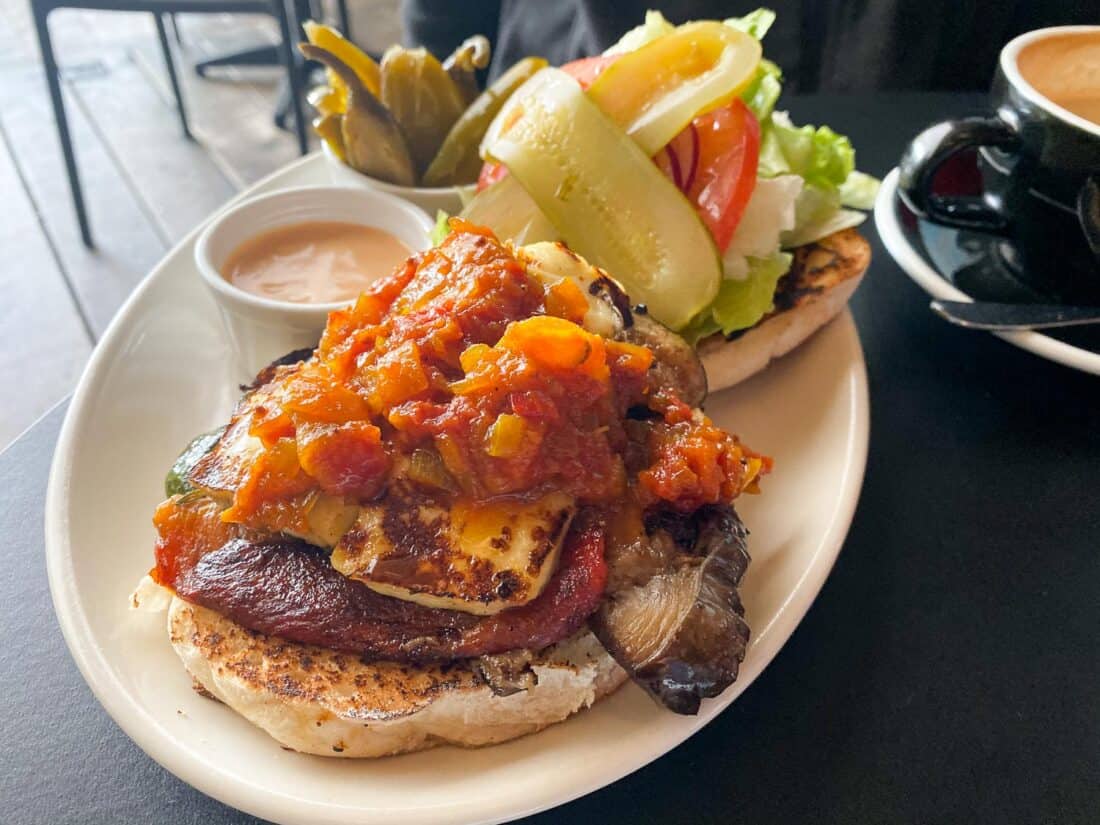 Details: 22 New Street. Open Mon-Fri 8am-3pm, Sat-Sun 9am-3pm. Kitchen closes 2.30pm.
Website: Deville Cafe
19) The Baker's Coffee Shop
A European style cafe with good coffee and a delicious array of freshly baked goods. Their almond croissants are yummy and we always pick up a loaf of bread if they haven't sold out.
Details: 105 Collingwood Street. Open Mon-Fri 7.30am-2.30pm. Closed Saturdays and Sundays.
Website: Facebook page
Best Places to Eat Outside Nelson
These cafes and restaurants are located 20-40 minutes outside Nelson but are worth the drive. All can be combined with some fun activities—see my Nelson day trip suggestions.
20) Cable Bay Cafe (Top Pick)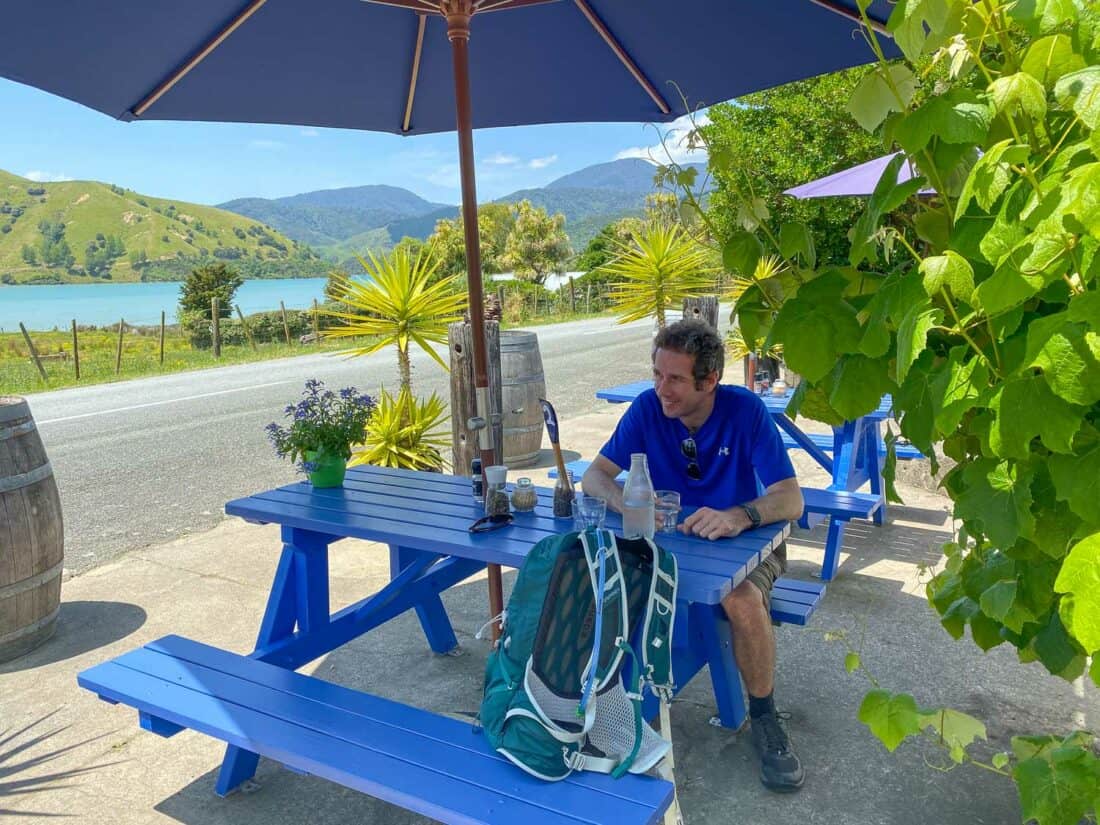 Outdoor seating with beautiful sea views makes Cable Bay Cafe one of our favourite lunch spots.
The cabinet food includes vegetarian and vegan options, plus tasty cakes.
It's the perfect place to relax after hiking the Cable Bay Walkway or kayaking to Pepin Island.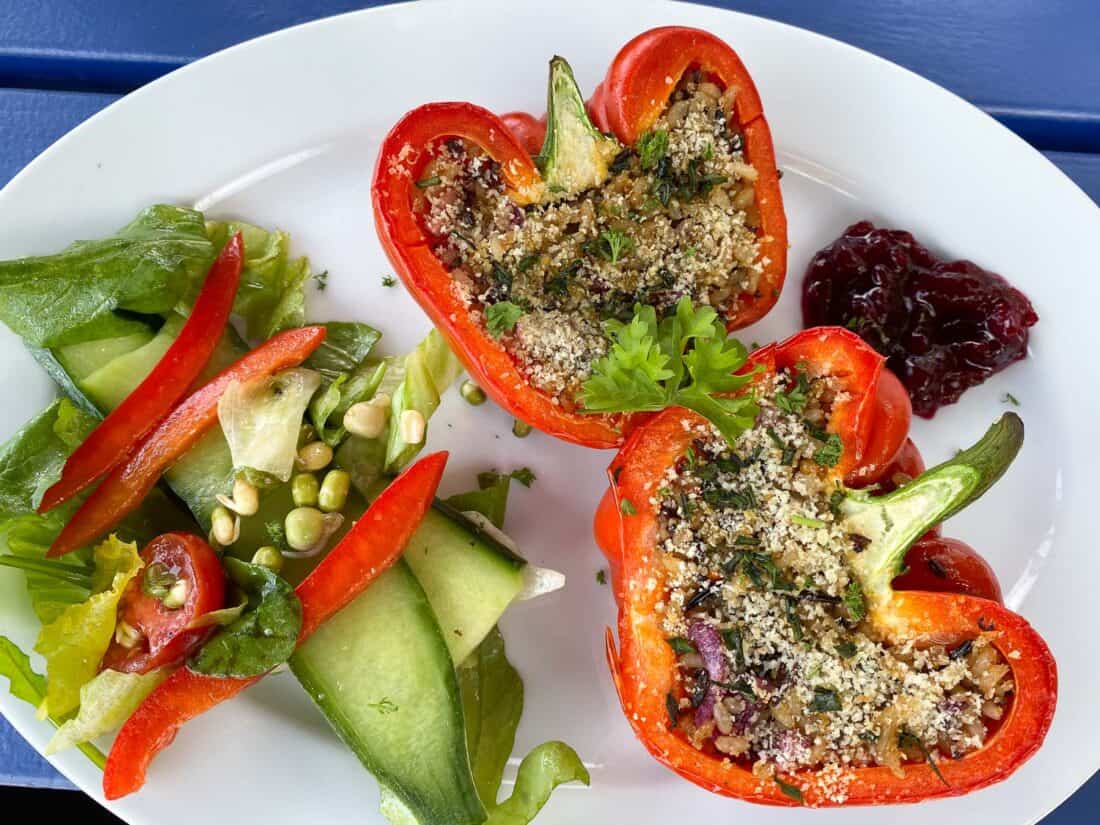 Details: 799 Cable Bay Road. Open Thurs-Sun 10am-3pm in summer only. Hours do vary so check their website before visiting. Bookings are recommended on Sundays in peak season.
Website: Cable Bay Cafe
21) Forsters at Moutere Hills Vineyard (Top Pick)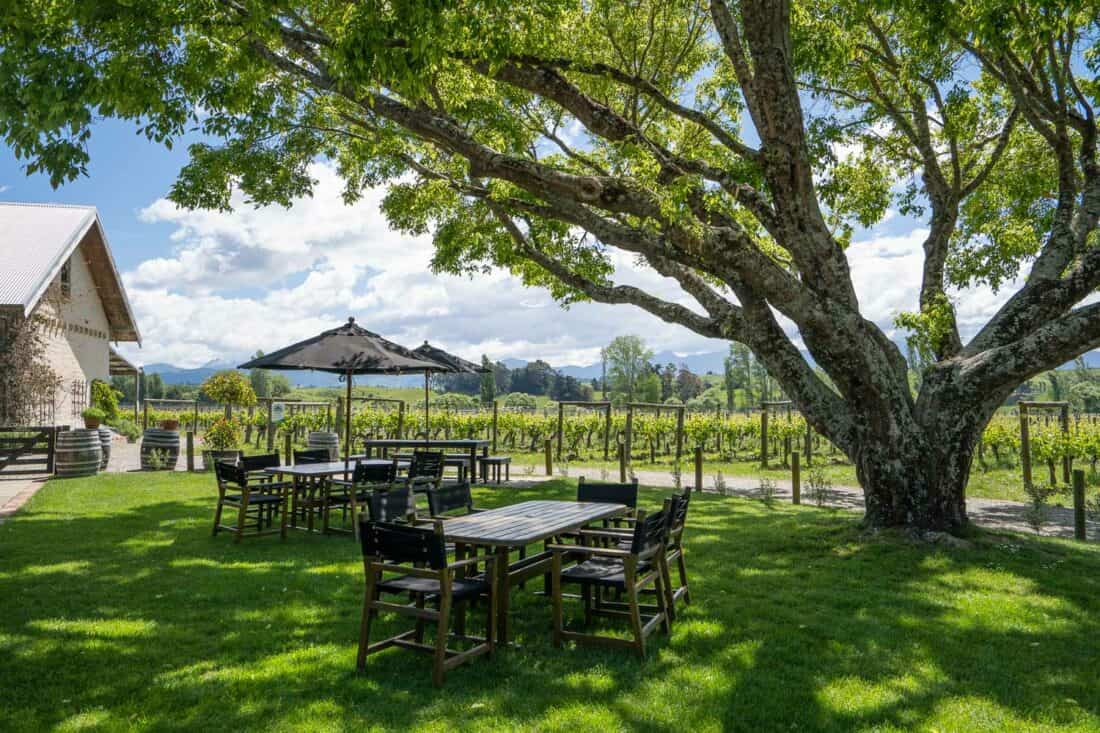 The Moutere Hills is a beautiful wine region of green rolling hills a 40-minute drive from Nelson.
It's worth the trip out here for some wine tasting, which you can combine with lunch at Forsters restaurant at the Moutere Hills Vineyard.
We had lovely views of the vineyard and a small lake with the hills beyond from our table.
Our cheese plate, goats cheese ravioli, and deconstructed white chocolate cheesecake were all delicious and beautifully presented.
We sampled their wine with our meal and particularly liked their Sauvignon Blanc and Reserve Chardonnay.
Details: 42 Eggers Road. Open Wed-Thurs 11am-3.30pm, Fri 11am-9pm and Sat-Sun 11am-4pm. Closed Mondays and Tuesdays.
Website: Forsters Moutere Hills
22) The Grape Escape Cafe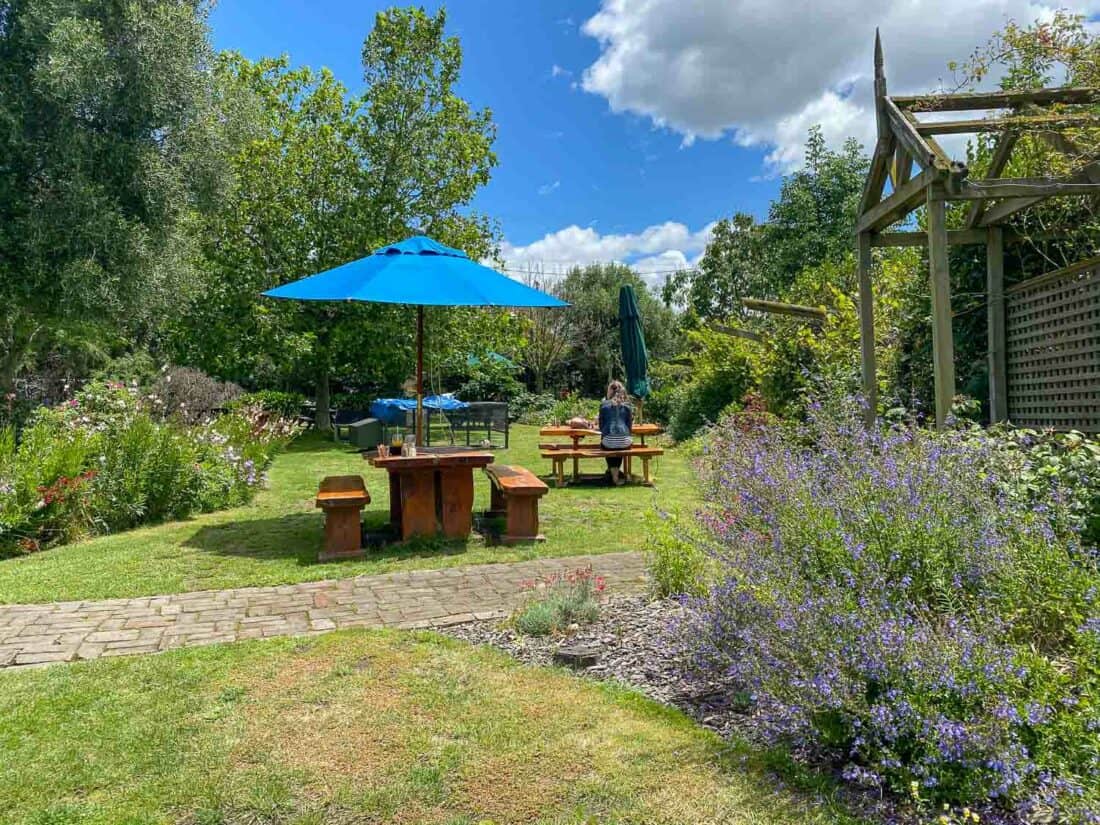 Located in Richmond (20 minutes drive from Nelson), The Grape Escape Cafe is worth visiting for lunch if you are in the area. We like berry picking nearby in summer and it's on the way to Rabbit Island.
The cafe has a relaxing setting with large gardens and a playground next door, so it's great for kids.
I didn't find the vegetarian options on the menu particularly exciting but the food was tasty. The wide range of cakes looked very tempting.
Details: 143 McShane Road. Open every day 10am-4pm.
Website: The Grape Escape Cafe
23) Toad Hall Cafe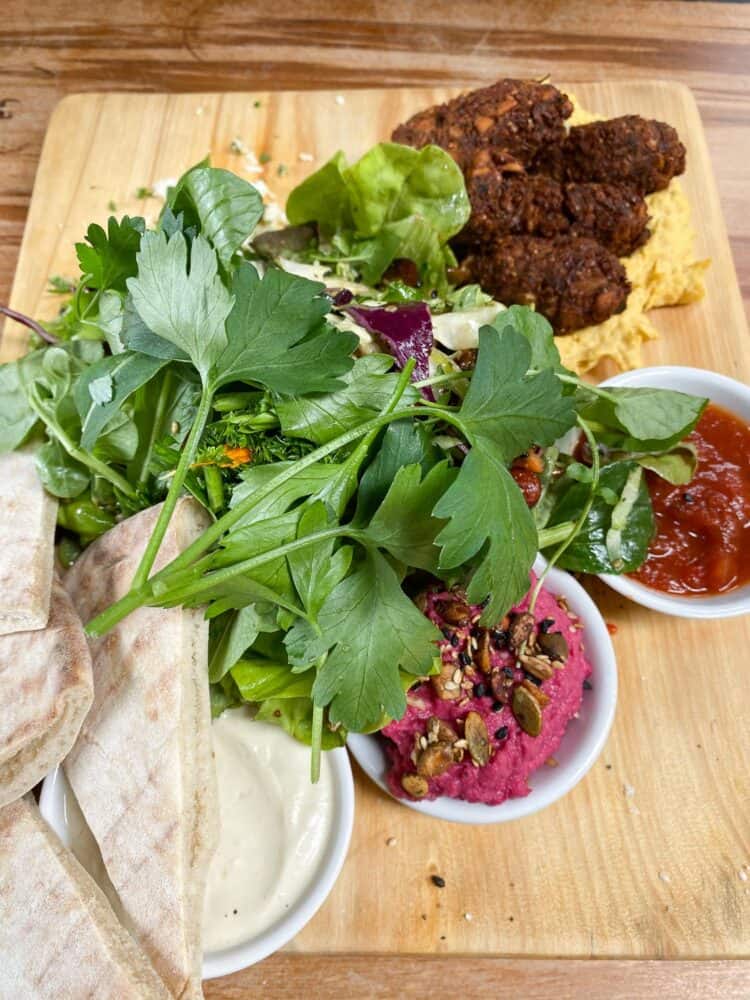 Toad Hall is an excellent stop for lunch if you're returning from Golden Bay or Abel Tasman.
Located in Motueka (40 minutes from Nelson), it's a cafe, store, and brewery with plenty of outdoor seating and tasty dishes (with big portions).
There's a playground in the huge grounds so it's very child-friendly.
Afterwards, you can get yourself some treats to take away.
Bloom is another good cafe in Motueka that we visited on our way back from Abel Tasman with a few interesting vegan options.
Details: 502 High Street. Open every day 8am-4pm (5pm on weekends), later in summer.
Website: Toad Hall Cafe
Map of Restaurants and Cafes in Nelson
More New Zealand Posts
I hope we've given you some ideas on where to eat in Nelson. Let us know if we've missed any of your favourites!
Read more of our tips for exploring this beautiful country.
Top of the South Island
Rest of the South Island
North Island
If you enjoyed this post, pin for later!