This page contains affiliate links. Please read our disclosure for more info.
Southern California conjures up images of golden beaches, palm trees, blue skies, and surfers. And it is all that, but also so much more.
We've visited several times and most recently spent a few months exploring both the coast and the desert. We discovered otherworldly landscapes, quirky art, gold mining history, beautiful wineries and much more.
These are our picks for the best things to do in Southern California from San Diego to Santa Barbara. You'll find a map with all these SoCal attractions at the end of the post.
Contents
Best Things to Do in Southern California: San Diego
In the far south of the state, San Diego is one of the best places to visit in Southern California with its mild climate, many beaches, and laidback surfer lifestyle.
These are our top picks for the area and you can see our guide to the best outdoor activities in San Diego for more ideas.
1) Hike the Coast at Torrey Pines
Torrey Pines State Natural Reserve is our favourite place to hike in San Diego. It's easy, beautiful, and offers trails for all abilities through the namesake pines and along the chiselled sandstone cliffs.
We like to do a 3-mile loop starting up on the cliffs on the Razor Point and Yucca Trails for stunning views and then head down to the long wild beach (only accessible at low tide).
Torrey Pines is popular so it's best to start early.
2) Beach Hop in San Diego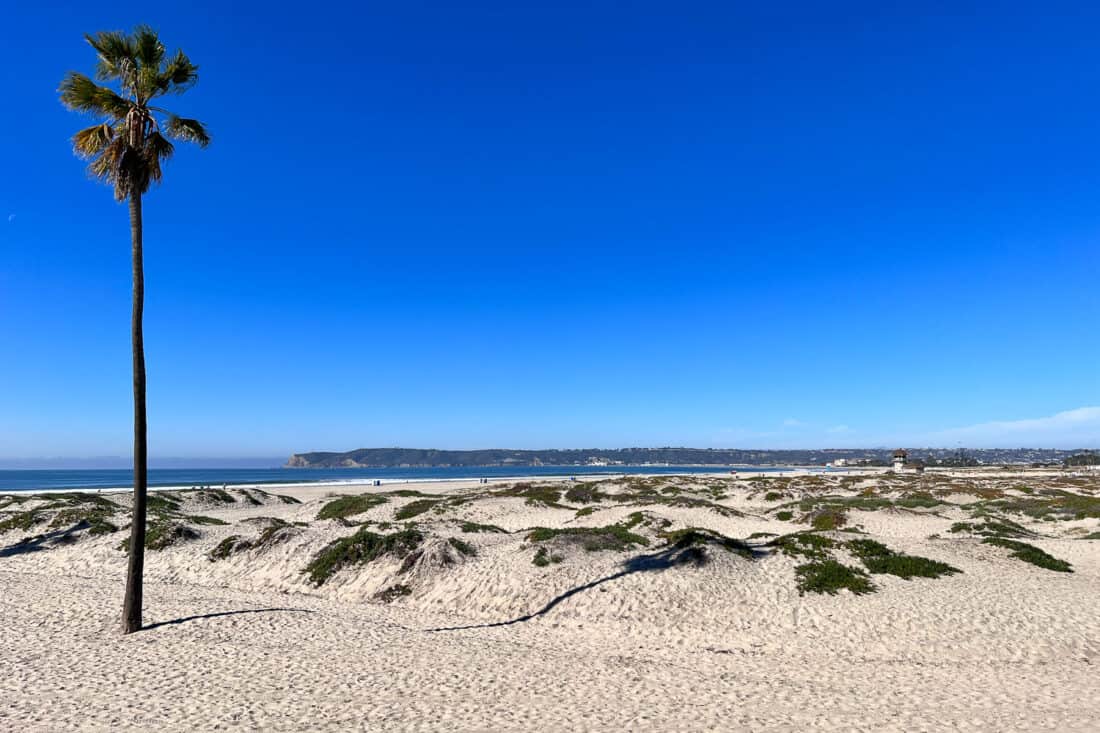 There are miles of sandy beaches to explore in San Diego County. Whether you are looking to surf, swim, play beach volleyball, walk, or sunbathe, you'll find a beach for you.
Some of our favourites include Coronado (white sand and calmer ocean), La Jolla Cove (walk along the coastal path to spot sea lions), Swami's (legendary surf and great for a walk at low tide), and Moonlight Beach (an easily accessible all-rounder with plenty of facilities).
See our post on the best things to do in Encinitas for more beach suggestions in this surfer town just north of San Diego.
3) Spot Sea Lions and Seals at La Jolla Cove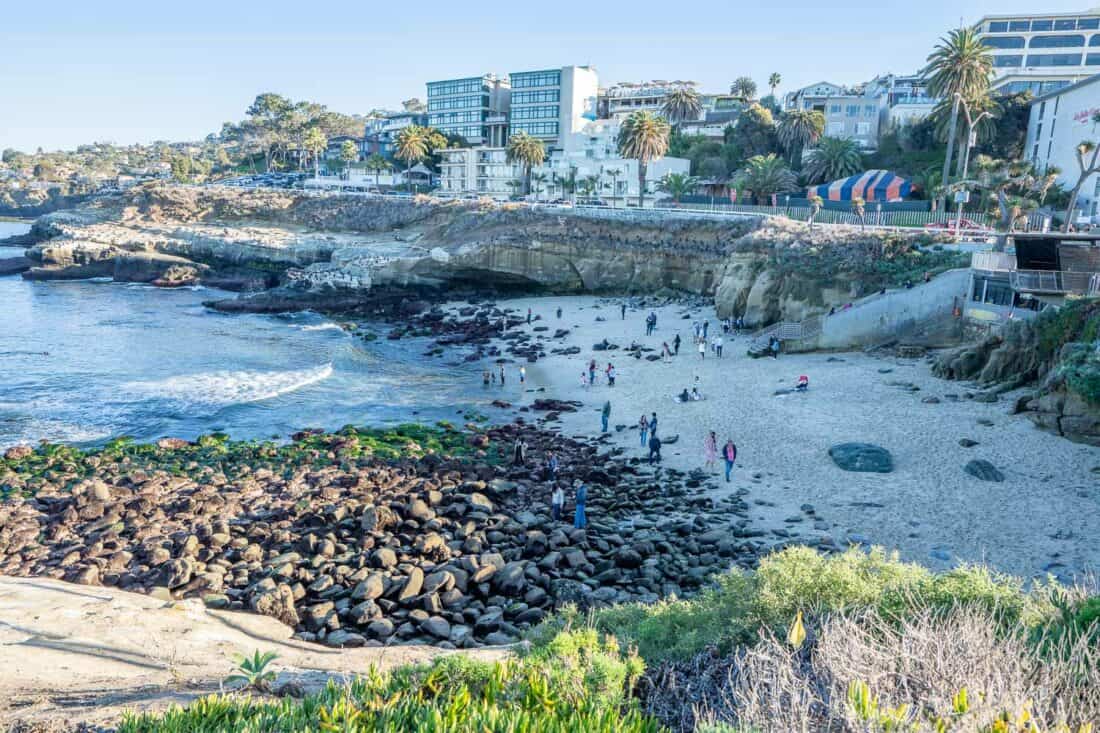 La Jolla is one of the best places to go in San Diego to see wildlife.
On the half-mile walk on the boardwalk from La Jolla Cove to Children's Beach we saw dozens of California sea lions, a flock of California Brown Pelicans, and a few Pacific Harbor seals (sometimes you can see a lot more).
We also tide pooled at Shell Beach and watched a tiny hermit crab changing its shell home.
On our Southern California bucket list for next time is a La Jolla kayaking and snorkelling tour for the chance to see dolphins, turtles, and many fish including the orange garibaldi.
4) Admire the View at Cabrillo National Monument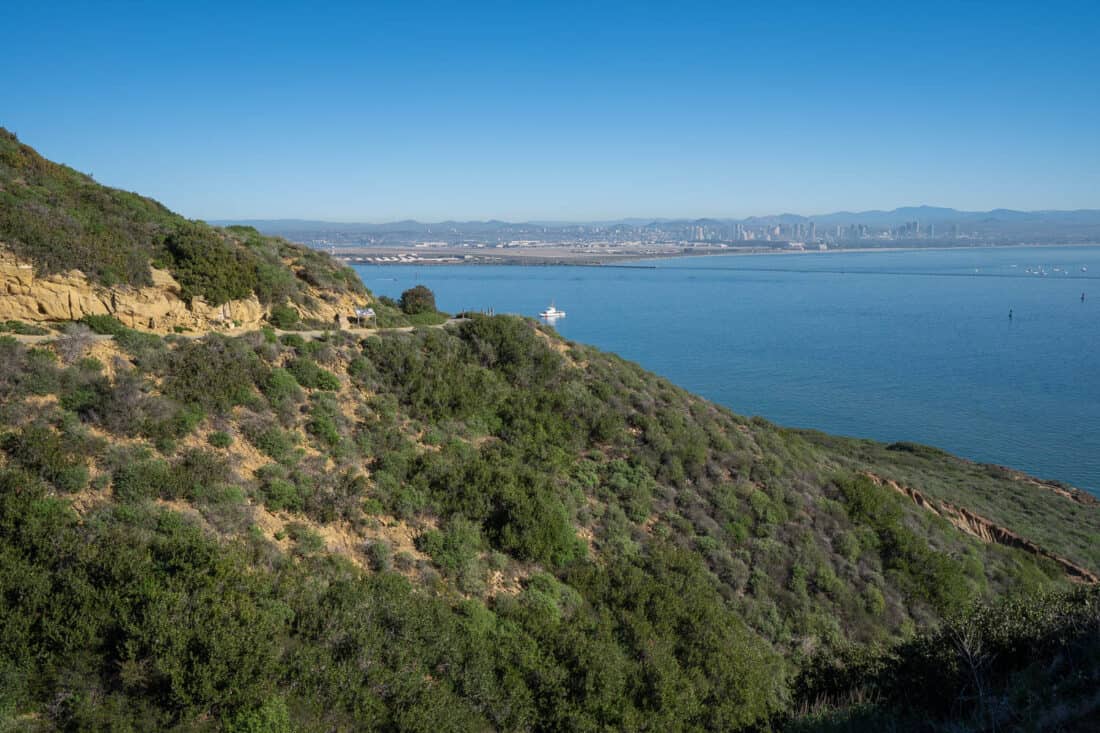 At the end of Point Loma Peninsula, you'll find one of the best views of downtown San Diego, Coronado Island, and beyond to Mexico.
The Cabrillo National Monument commemorates the first European to set foot on the West Coast. You can learn more in the visitor centre, but our focus was on exploring the beautiful scenery on the Bayside Trail.
The 2.5-mile out and back trail starts from the 1855 Old Point Loma Lighthouse and has gorgeous ocean views throughout.
As with most Southern California hikes, start early to avoid the crowds and heat.
Parking at the monument costs $20 or you can use an America the Beautiful National Parks pass.
5) Eat Apple Pie in Julian
It's worth dragging yourself away from the coast and driving about an hour inland to the charming mountain town of Julian.
It was once a bustling gold mining town and the main street with its historic storefronts is a fun place to wander.
The main attraction, though, is the superb apple pie you can buy from Julian Pie Company.
It was absolutely delicious with perfectly flaky pastry and flavourful juicy filling. We bought a couple of slices to take away and later regretted we didn't buy a whole pie.
We stopped here on the way from San Diego to Borrego Springs (see the desert section below) and it's the perfect place to break up the journey.
In September and October, another fun Southern California activity is to go apple picking in the orchards around Julian.
What to Do in Southern California: Orange County and Los Angeles
Heading north up the Southern California coast on the legendary Pacific Coast Highway, you'll find even more golden beaches in Orange and Los Angeles Counties.
We haven't spent as much time as we'd like in Orange County, but high on our list for our next visit is Laguna Beach, home to gorgeous beaches, cool artwork, and the Crystal Cove State Park.
Huntington Beach and Newport Beach (where The OC tv show was set!) are also popular places to visit in the area.
In LA our wish list includes Malibu and Topanga State Park.
6) Have a Fun-Filled Day at Disneyland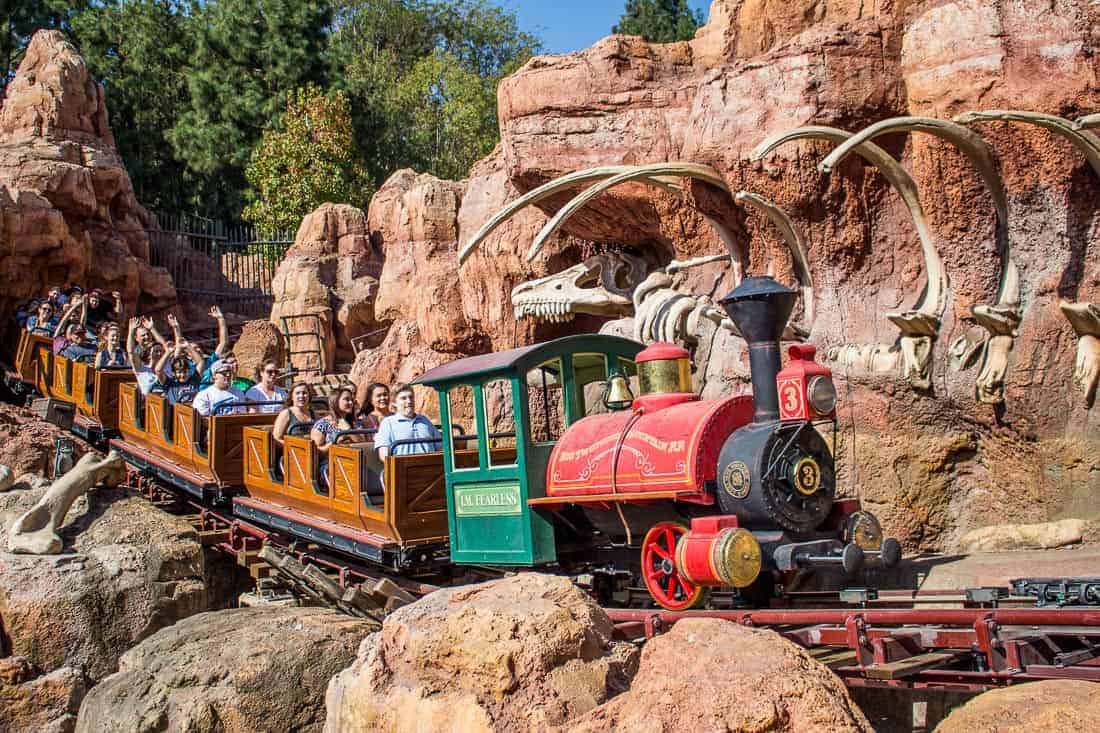 Our favourite Orange County attraction (only 30 minutes south of LA) is Disneyland. The two theme parks here (the original Disneyland plus Disney California Adventure) are fun for both adults and kids.
Ideally, you'd allocate two days to the parks, but our itinerary shows it is possible to visit both Disneyland and California Adventure in one day.
Highlights in the parks include the new Star Wars: Rise of the Resistance experience, the classic Space, Splash and Thunder Mountain rides, Incredicoaster (for pure thrills), Soarin' Around the World (a gentle hand glide over the world), Guardians of the Galaxy (for a terrifying drop!) and so much more.
7) People Watch on Venice Boardwalk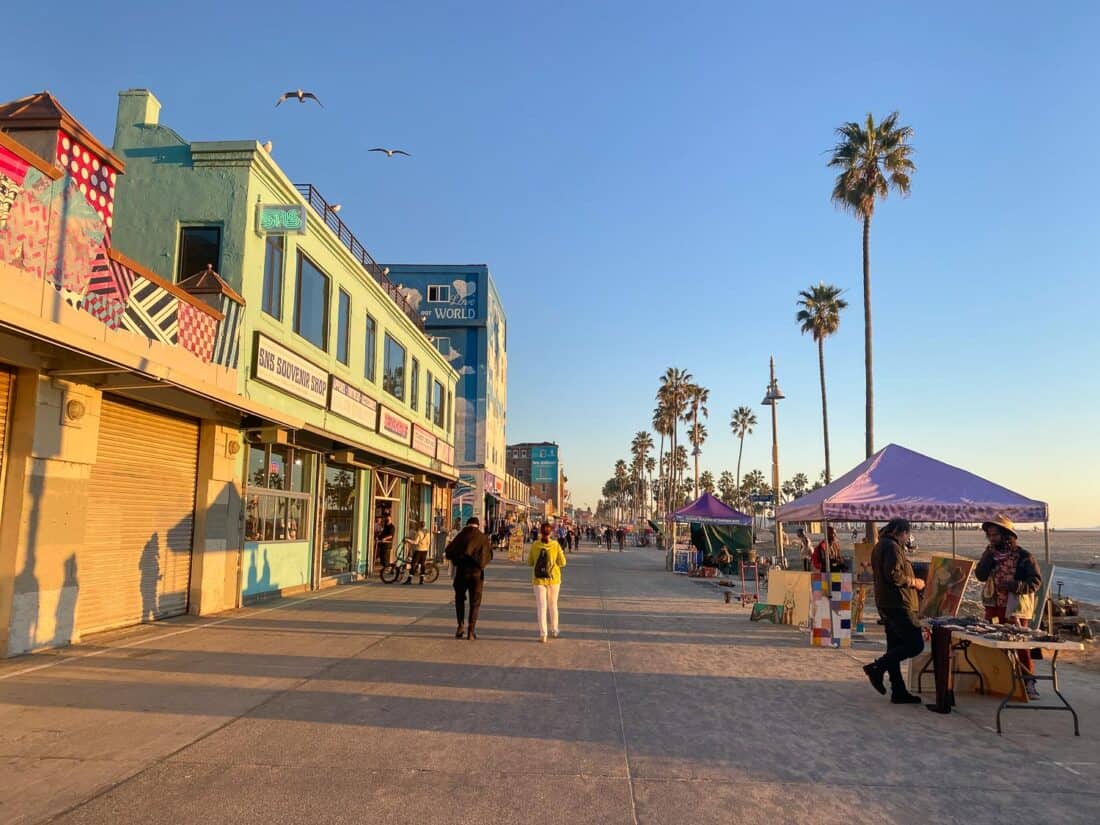 On our last trip to Los Angeles, we stayed in Venice Beach, a lively, bohemian, and somewhat gritty beach town.
Strolling the Venice Boardwalk is one of the most iconic Southern California activities—it's a real scene.
The wide pedestrian pavement runs between tacky souvenir shops and the palm tree-lined sandy beach. Expect to see plenty of characters, smell weed (legal in California), and hear the sounds of a drum circle or skateboarders blasting their tunes.
There are beachside skate ramps, pickleball and basketball courts, and the Muscle Beach Gym where Arnold Schwarzenegger once worked out.
It's loud, overwhelming, fun, and so California.
8) Stroll the Venice Canals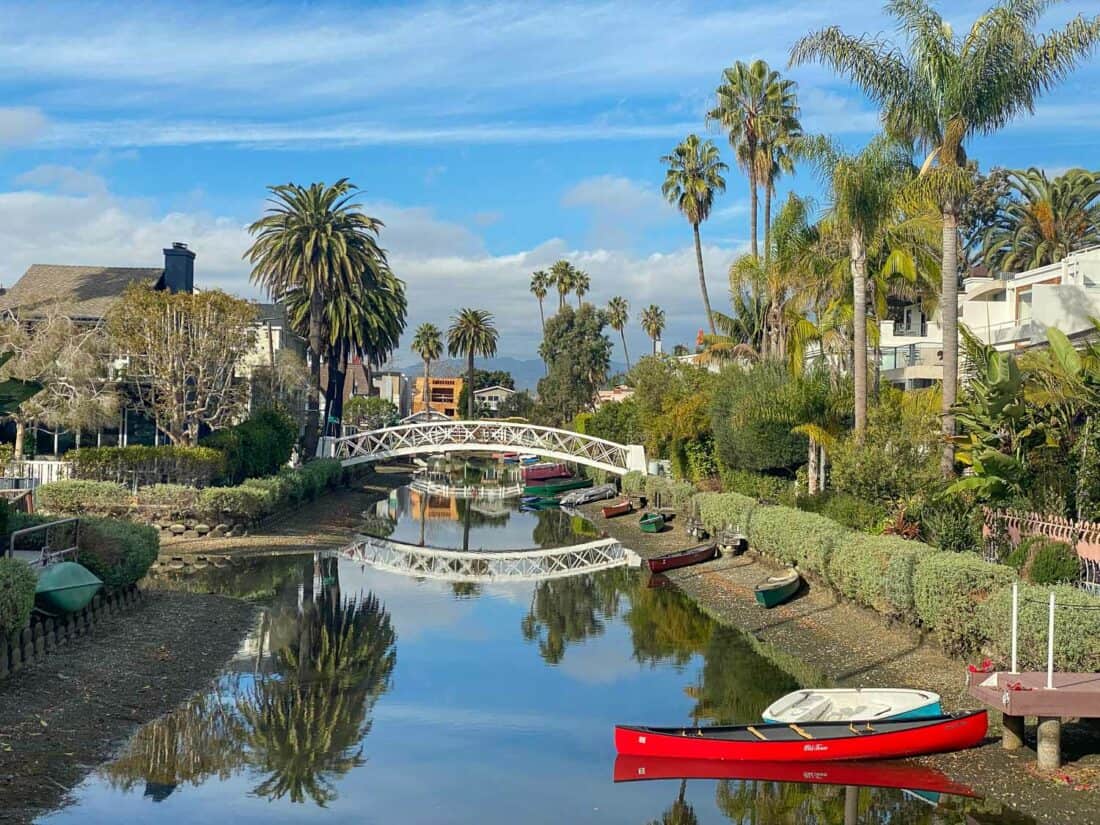 Escape the chaos of the Boardwalk by walking just a few minutes away to the Venice Canal Historic District. Designed in 1905 by Venice's founder Abbott Kinney to be a miniature replica of its namesake in Italy, the canals are an unexpected peaceful retreat.
It's a pretty place to stroll along the canal paths and over the bridges, but do be quiet and respect the residents' privacy as the path goes right past the fancy homes that line the canal.
After exploring the canals, head to Abbott Kinney Boulevard to shop at the upmarket boutiques and eat some excellent food. We loved the breakfast burrito at vegetarian Butcher's Daughter and the raclette pizza and perfect kale salad at Gjelina Take Away.
For Mexican, head to Tocaya Organica closer to the beach—the vegan queso is amazing.
9) Cycle the Coast from Venice to Santa Monica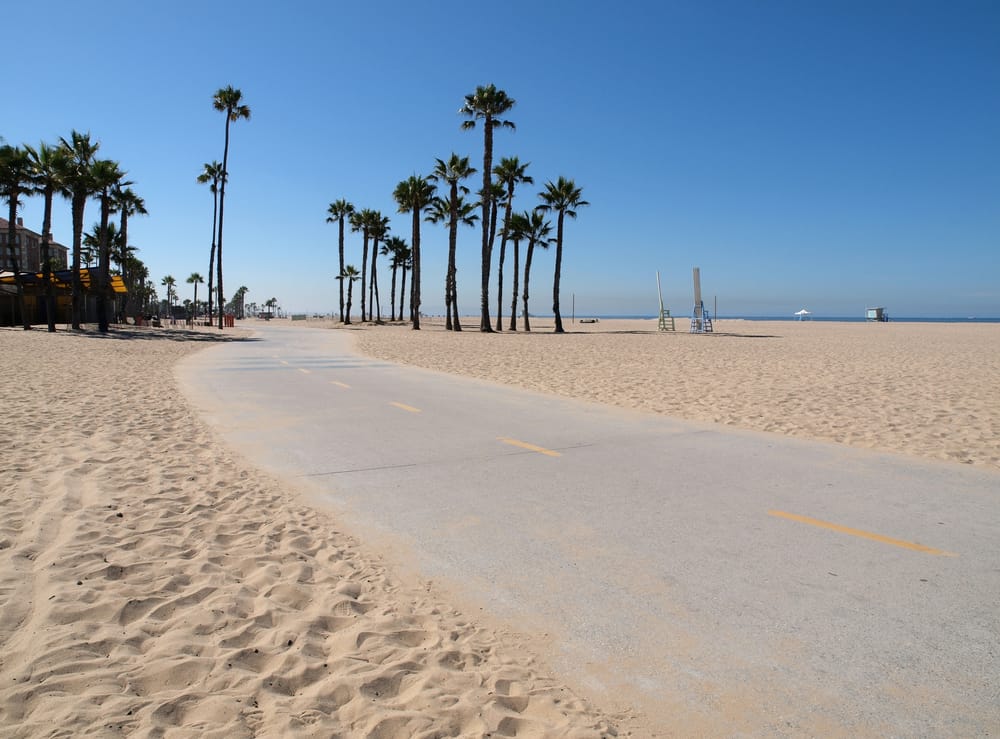 One of our favourite experiences in LA was riding bikes along the boardwalk from Venice to Santa Monica. Cycling under the palm trees and deep blue sky next to the ocean felt like quintessential SoCal.
The trip is only a few miles, but if you want to ride further, it's part of the 22-mile South Bay Bicycle Trail (also known as Marvin Braude Bike Trail) that stretches south to Torrance Beach via beaches that are familiar from movies and music—Manhattan, Hermosa, Redondo.
In Santa Monica you can walk the famous pier, ride the Ferris wheel, explore the amusement park, swing on the acrobatic rings and ropes at the original Muscle Beach Gym, and shop at the outdoor Third Street Promenade.
Another Southern California oceanfront bike ride we loved was around Coronado Island in San Diego.
10) Enjoy the Sunset at the Beach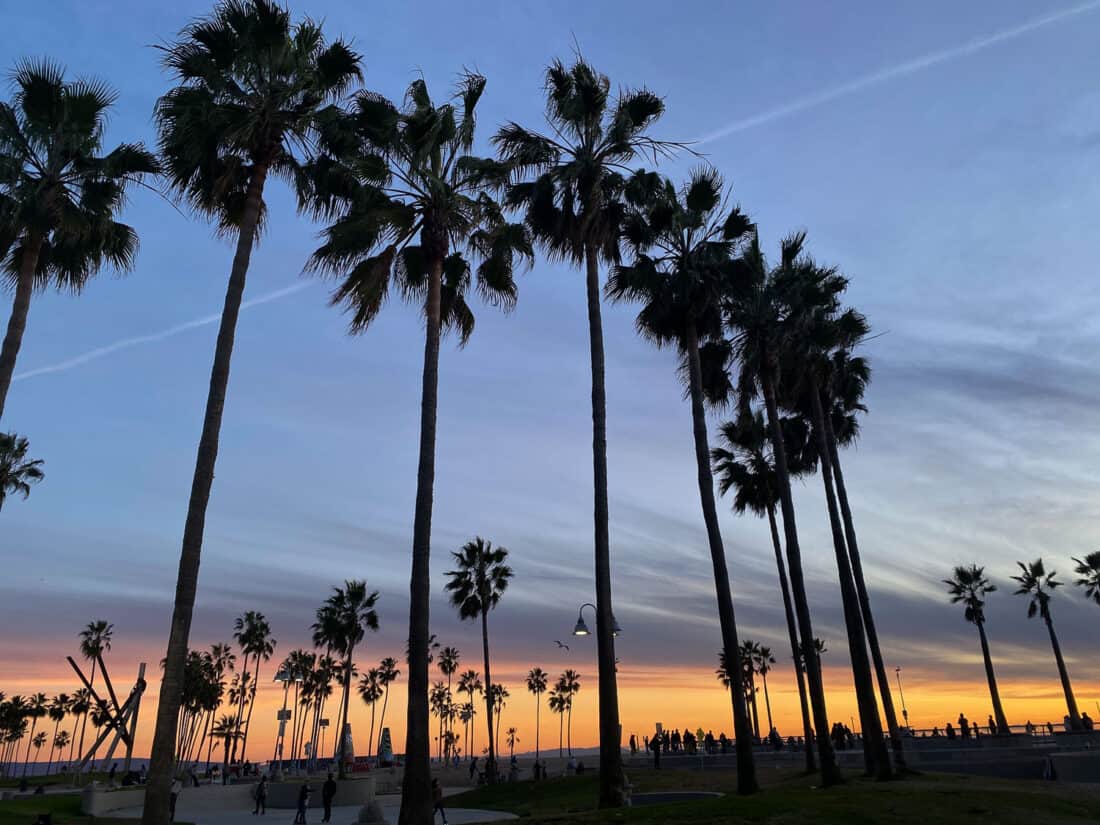 Watching the sunset is a must do in Southern California and something you can enjoy anywhere along the coast.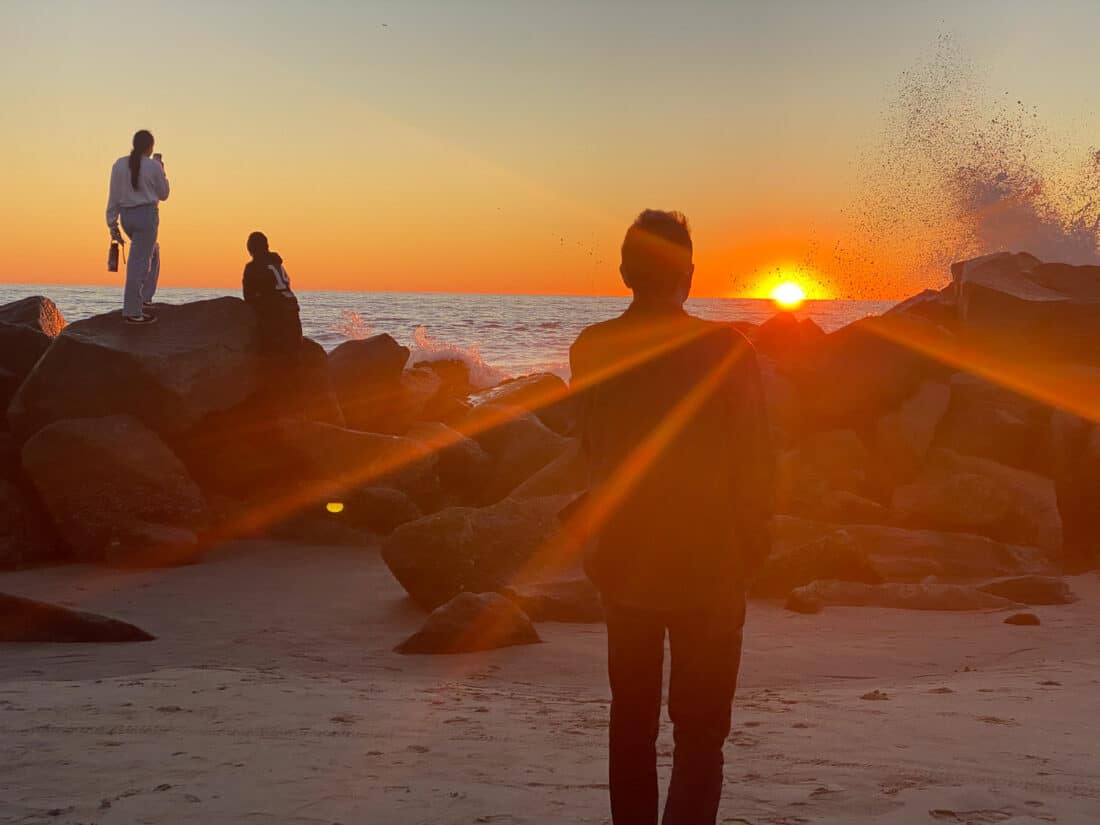 We especially enjoyed the sunset in Venice with its vibrant atmosphere, palm tree silhouettes, and crashing waves on the breakwater.
11) Eat Ice Cream at Salt & Straw
We ate a lot of ice cream in California (check out our favourites in Encinitas), but none came close to Salt & Straw.
This might be a controversial opinion as they are originally from Oregon, but the ice cream is just so good. Seasonal flavours are inventive, the texture is perfectly creamy, and they use only the best farm-sourced ingredients.
I always have to pay 50c extra to get a split scoop as I can never decide on just one flavour. They have a good vegan range too.
There are Salt and Straw branches at various locations in LA (including Abbott Kinney in Venice), San Diego, and even at Disneyland.
Unique Things to Do in Southern California: The Desert
I didn't think I loved the desert until our latest trip to Southern California when we finally ventured inland. We discovered incredible landscapes, quirky artwork, and gorgeous National and State Parks.
I recommend visiting the desert in winter or early spring before it gets too hot. In January and February, we had temperatures close to freezing in the morning, but it quickly warmed up and it was ideal for hiking.
12) Hike in Joshua Tree National Park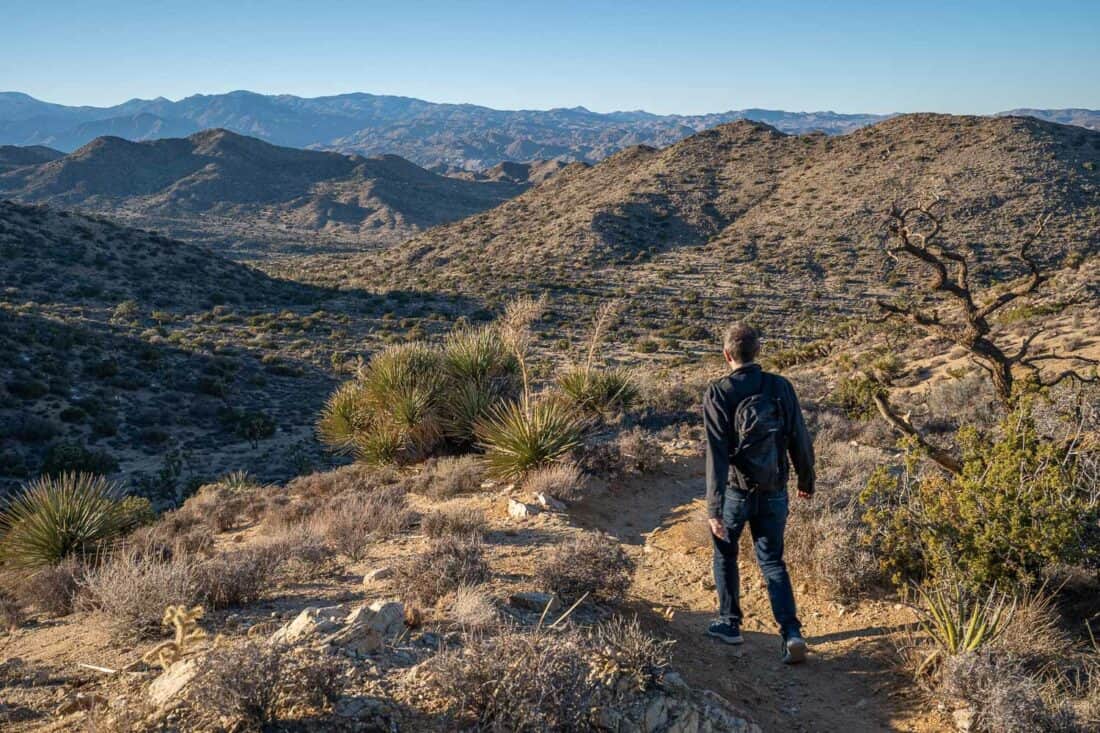 I never expected how much I'd fall in love with Joshua Tree National Park. Just three hours from Los Angeles and San Diego, it feels like another world with its quirky Joshua trees, tumbling piles of boulders, cacti gardens, lush palm oases, rugged mountains, and starlit skies.
We spent over a week hiking the trails from the easy 1-mile Hidden Valley (the perfect introduction to the park) to the more challenging Ryan Mountain (worth it for the views).
See our detailed guide to the best hikes in Joshua Tree including tips on how to avoid the crowds, which entrance to use, and more tips to make the most of your visit.
13) Head to the Wild West in Pioneertown
20 minutes from Joshua Tree is a Wild West-inspired town that feels like stepping back in time. In fact, Pioneertown was created in 1946 as a permanent 1880s town for filming Western movies.
The pedestrian-only Mane Street is a fun place to wander with its wooden post office, hotel, and storefronts—many of them are functioning shops (most only open on weekends).
There are also various places to eat including the legendary Pappy & Harriet's, famous for its BBQ and live music.
Twice a month you can catch the free Mane Street Stampede Wild West show.
Pioneertown is open every day and is free to enter.
14) See Junk Art at Noah Purifoy Desert Art Museum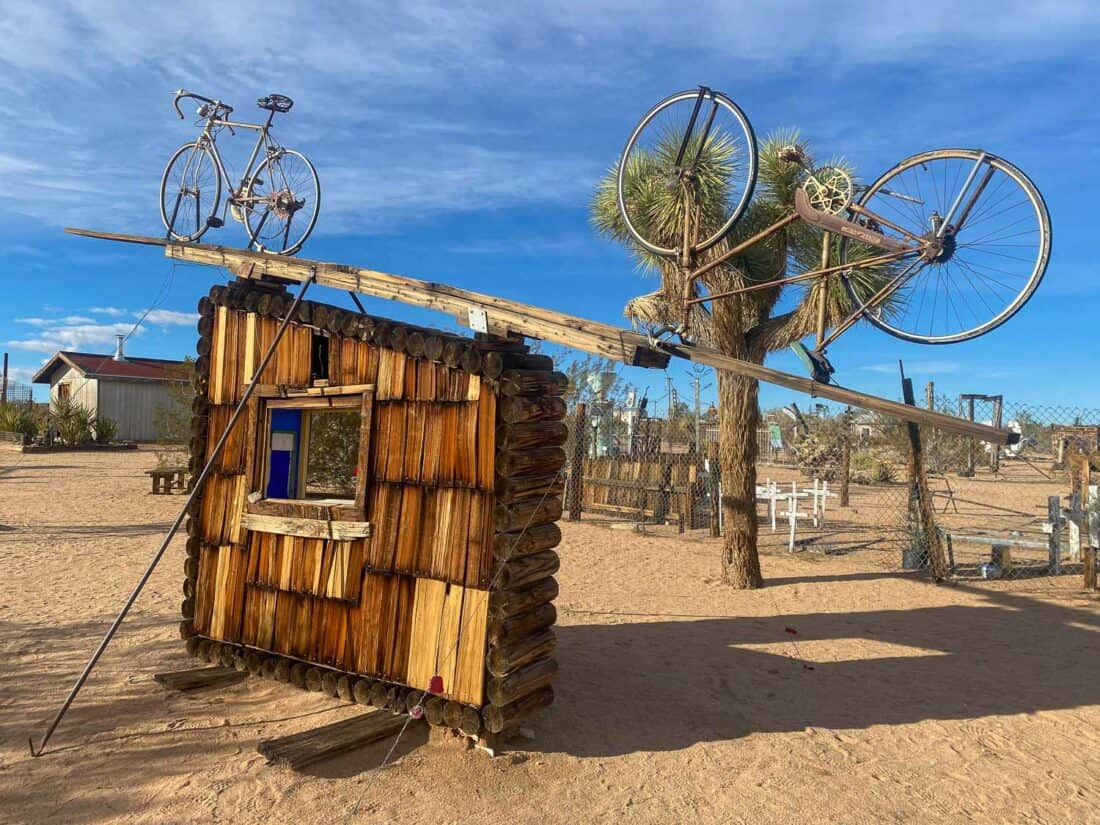 Another attraction close to Joshua Tree is the free outdoor art exhibition by Noah Purifoy.
In a remote desert setting, you'll find an eclectic collection of large-scale sculptures created out of discarded materials.
I can't say I understood what I was looking at, but it's a unique, quirky place to explore.
15) Explore Gold Mining History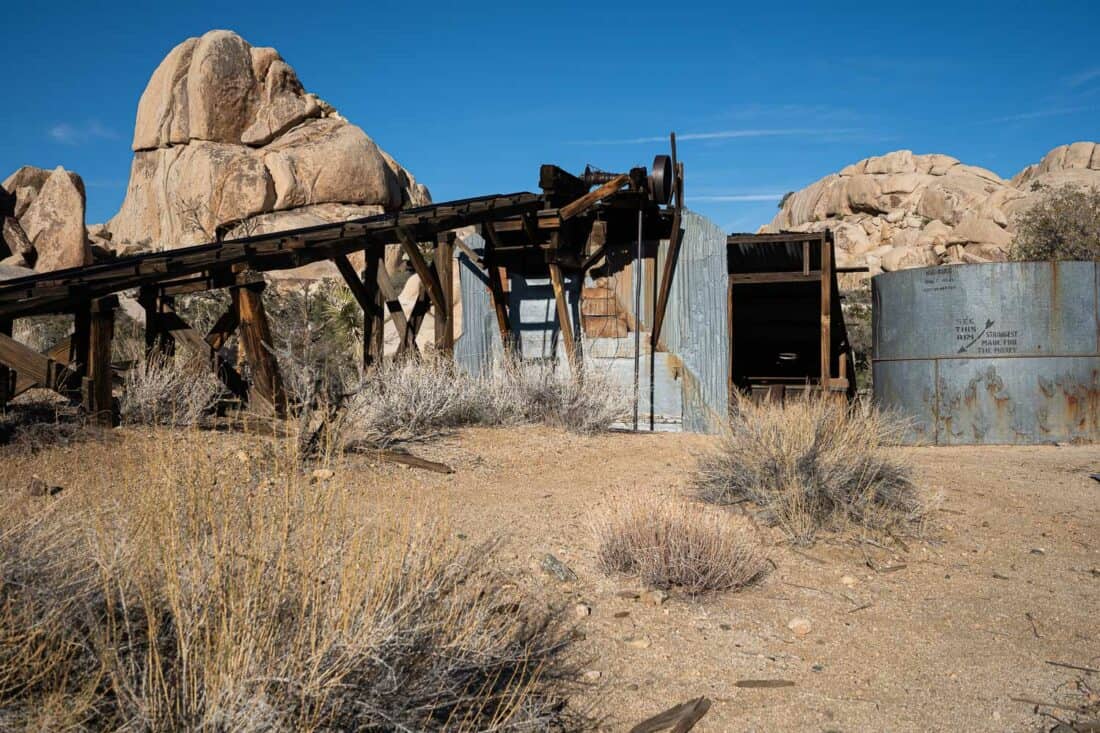 You can find remnants of Southern California's gold mining history in many places.
In Joshua Tree National Park we enjoyed the Wall Street Mill Trail, a 2.3-mile flat walk to the ruins of an old gold processing mill built in 1891. It ran until 1966 to process gold found in nearby mines.
On the Mastodon Peak Loop, we passed the remains of one of the gold mines from the 1930s. Or visit Lost Horse Mine, which was one of the most profitable in Joshua Tree.
You can also visit ghost towns, once thriving towns created by the gold mining boom that emptied out when the mines went bust. They feel like living museums with a desolate beauty.
Ghost towns in Southern California include Calico (a good stop between Joshua Tree and Death Valley) and Ballarat (on the edge of Death Valley). We didn't make it to these but we did visit Rhyolite in neighbouring Nevada while visiting Death Valley National Park.
16) Hunt Desert Sculptures in Borrego Springs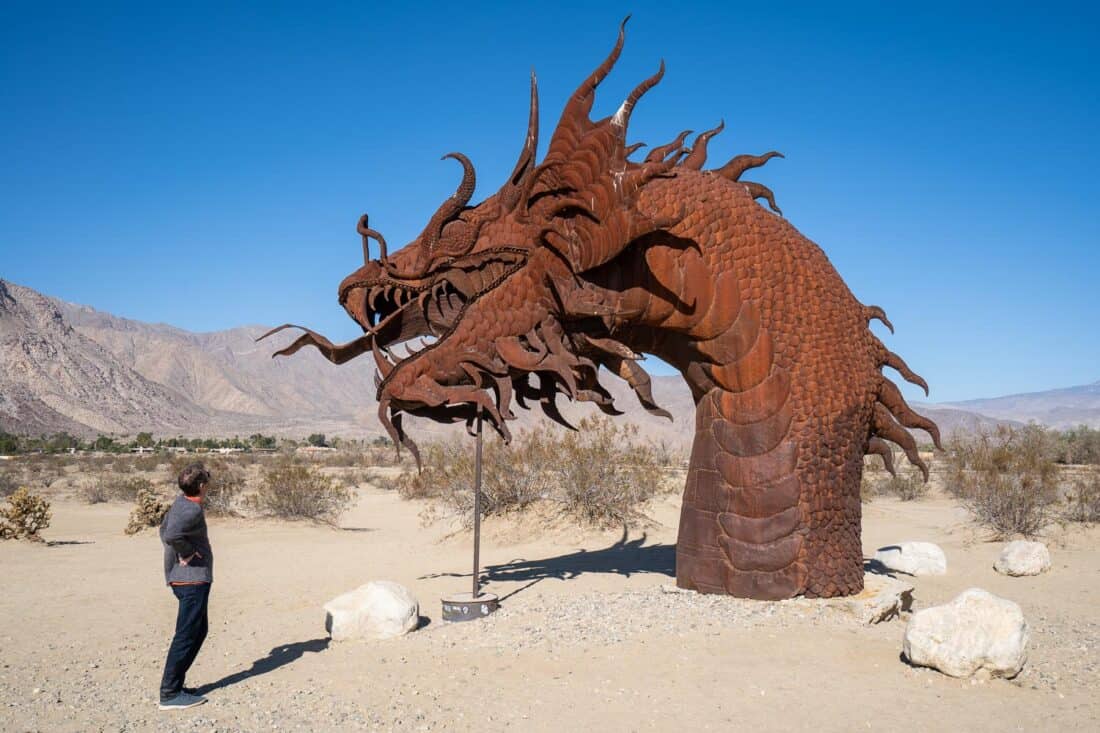 Borrego Springs is one of the most interesting and underrated places to visit in Southern California.
We loved our stay in this tranquil desert town both for the hikes in Anza Borrego State Park and for the unique metal sculptures found all over town.
The 130 pieces of art in Galleta Meadows were created by artist Ricardo Breceda and we made it our mission to hunt down as many as possible. Some are right next to the road while others take some off-roading through the sand (or a long hot walk) to reach.
Many of the sculptures represent creatures that once roamed the desert such as the Camelops (a type of camel) and Gomphothere (an elephant-like animal from 9 million years ago). Others are more fantastical like the 350-foot-long serpent or the dinosaurs (which were never found here).
It's an incredible place and free to visit. Read our detailed guide to the Borrego Springs sculptures for tips on how to find them all.
17) Squeeze Through a Slot Canyon
While Arizona might be more famous for its slot canyons, you can find them in Southern California too.
The best one we hiked was the Slot Canyon Trail in Anza Borrego State Park. At 8am we had it to ourselves, which we were glad of as it's very narrow in parts (we were squeezing ourselves between the rocks), and we wouldn't have wanted to meet others coming out.
The Arch Rock area of Joshua Tree also has some fun slot canyons to explore, although not on the same scale.
You don't even need to head into the desert as you can find a slot canyon in San Diego. Annie's Canyon in Solana Beach is a narrow sandstone canyon next to San Elijo Lagoon.
There's some scrambling and tight squeezes but it's a fun hike. See our post on the best things to do in Encinitas for details.
18) Hike to a Desert Oasis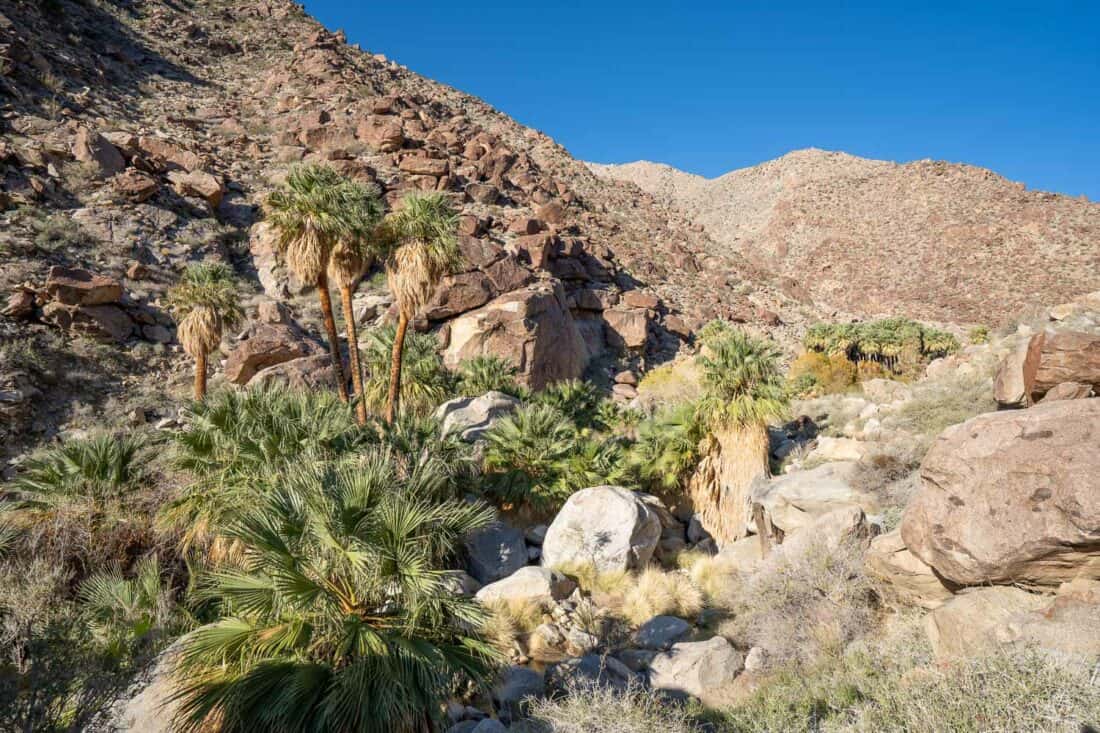 There's something magical about hiking through the desert, all arid ruggedness and craggy mountains, and coming upon a literal oasis of green, a refuge of water and shade.
Our favourite oasis was on the Borrego Palm Canyon trail in Anza Borrego State Park. The 3-mile out and back trail leads gently uphill into the canyon past rocky mountains where you might spy bighorn sheep.
Eventually, you reach the picture-perfect oasis with a huge stand of California fan palms and a lovely stream. It's a peaceful place to sit and listen to the birds. As always it's worth starting early to have it to yourself.
We also hiked to two beautiful oases in Joshua Tree National Park—Fortynine Palms and Cottonwood Spring—although they lacked water on our winter trip.
19) Relax in Palm Springs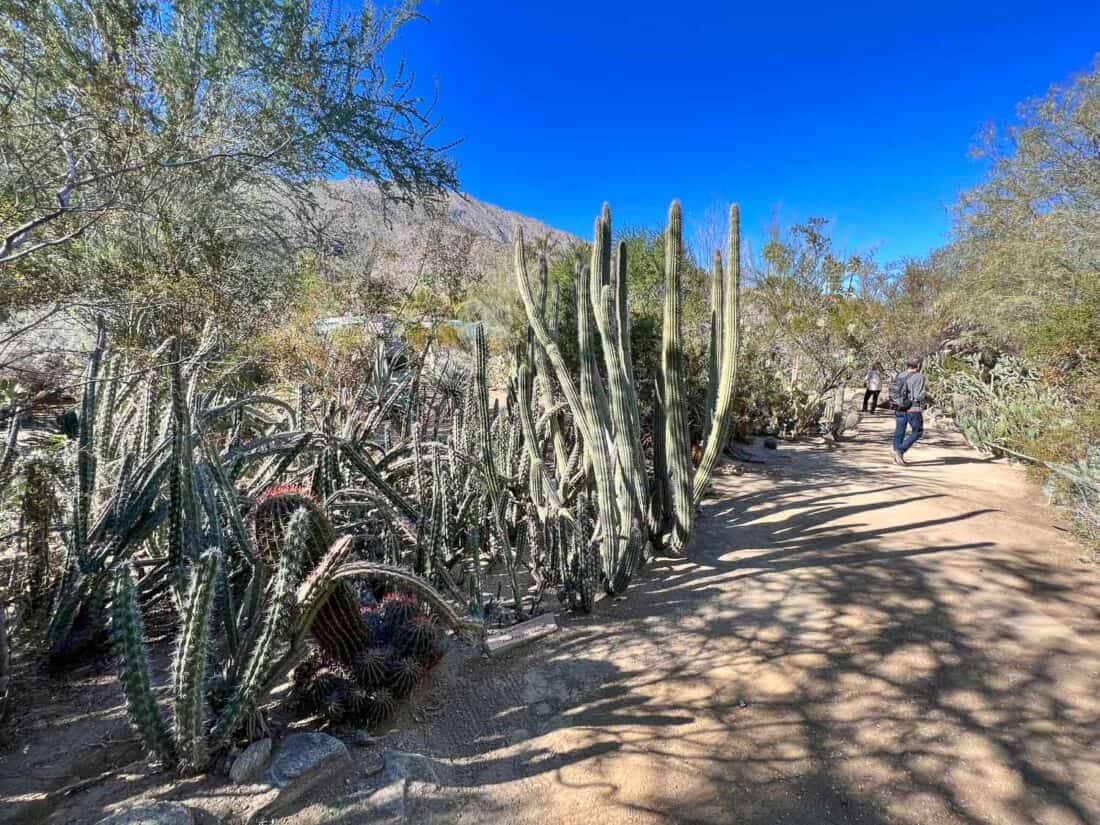 The drive from Borrego Springs to Palm Springs was one of the most beautiful we've done in California—past colourful desert mountains, date palm farms, and the immense, shockingly blue Salton Sea.
We only spent a night in Palm Springs but it was enough to make me want to return. The vibrant blue skies and sunshine (even in February), the many promised palm trees, and the low rise midcentury architecture all add to a relaxed vibe.
It's known for its golf, shopping, dining, and art museums. There are plenty of hikes in the surrounding desert (and Joshua Tree is about an hour away) and we enjoyed the cute collection of cacti and agave at Moorten Botanical Garden.
For many, Palm Springs is just a great place to relax by the hotel pool and enjoy the winter sun.
You can definitely splurge in Palm Springs (check out Ace Hotel or L'Horizon Resort), but Caliente Tropics Resort is a good budget option.
The rooms are motel basic but the heated pool is great—I loved swimming here at night under the stars when the tiki torches were lit up. There's also a tiki bar and restaurant overlooking the pool.
20) See the Giant Cabazon Dinosaurs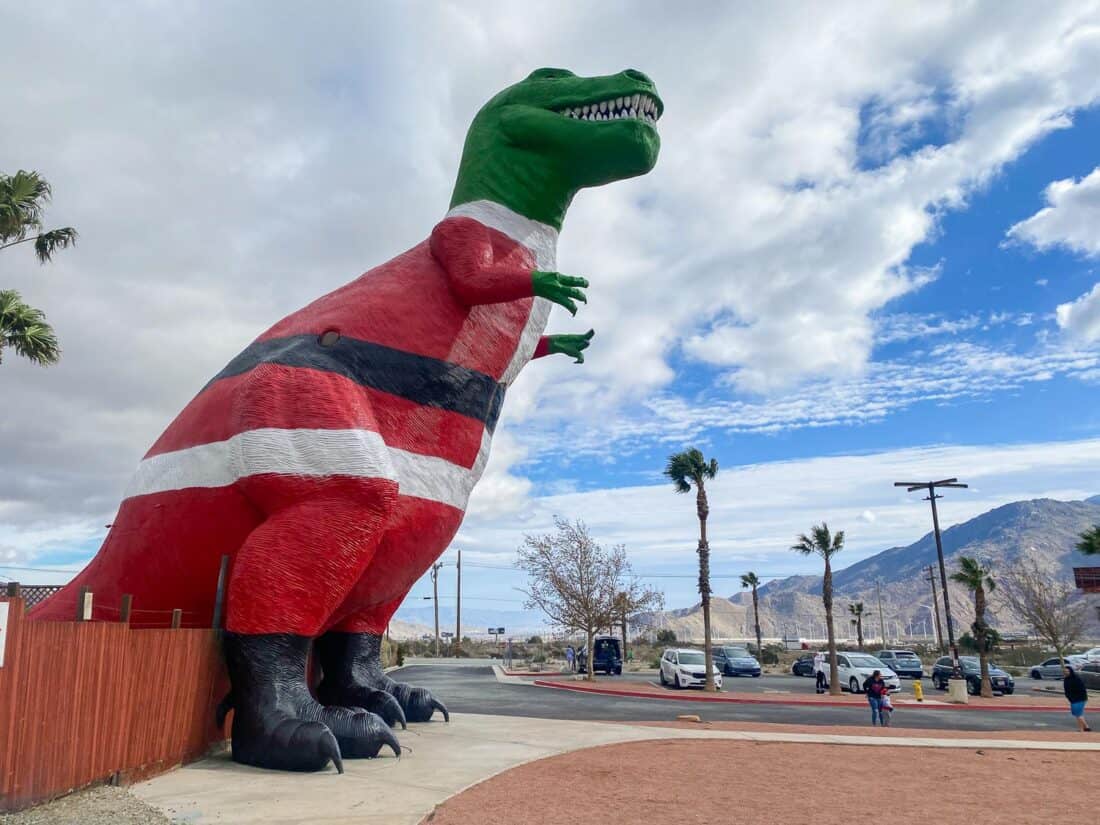 If you are looking for a quick fun stop on the way to Palm Springs or Joshua Tree, take a break at the Cabazon Dinosaurs.
This vintage roadside attraction is silly in the best way. The giant T-Rex is decorated seasonally (as Santa on our December trip) and you can pay to go inside its mouth (we just looked around outside). The Brontosaurus houses a gift shop.
21) Admire the Stark Beauty of Death Valley National Park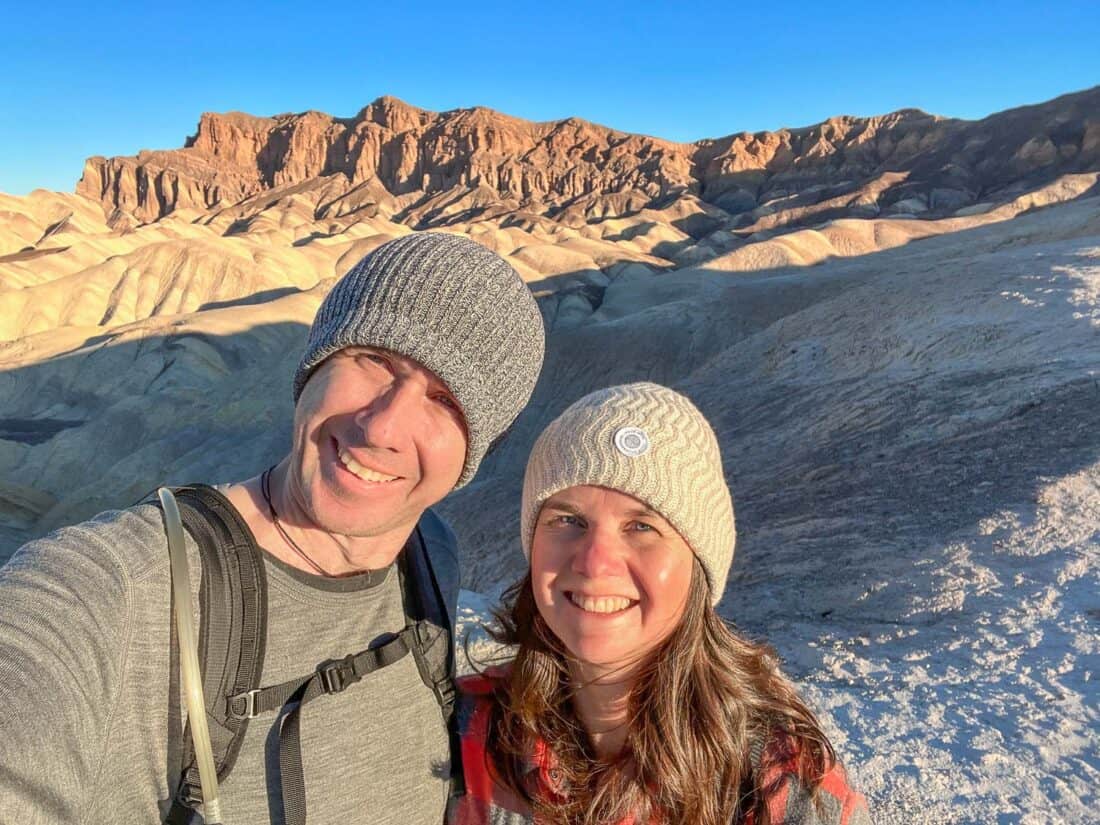 Death Valley is incredible—an immense National Park of rippled badlands, dramatic sand dunes, white salt flats, and golden canyons.
While there's very little vegetation, the desert landscape is surprisingly colourful with minerals colouring the hills pink, green, and gold.
This is one of the lowest places on earth with Badwater Basin at 282 feet below sea level. And it's hot! Even in winter temperatures reached 90F in the afternoons. I do not recommend visiting in summer!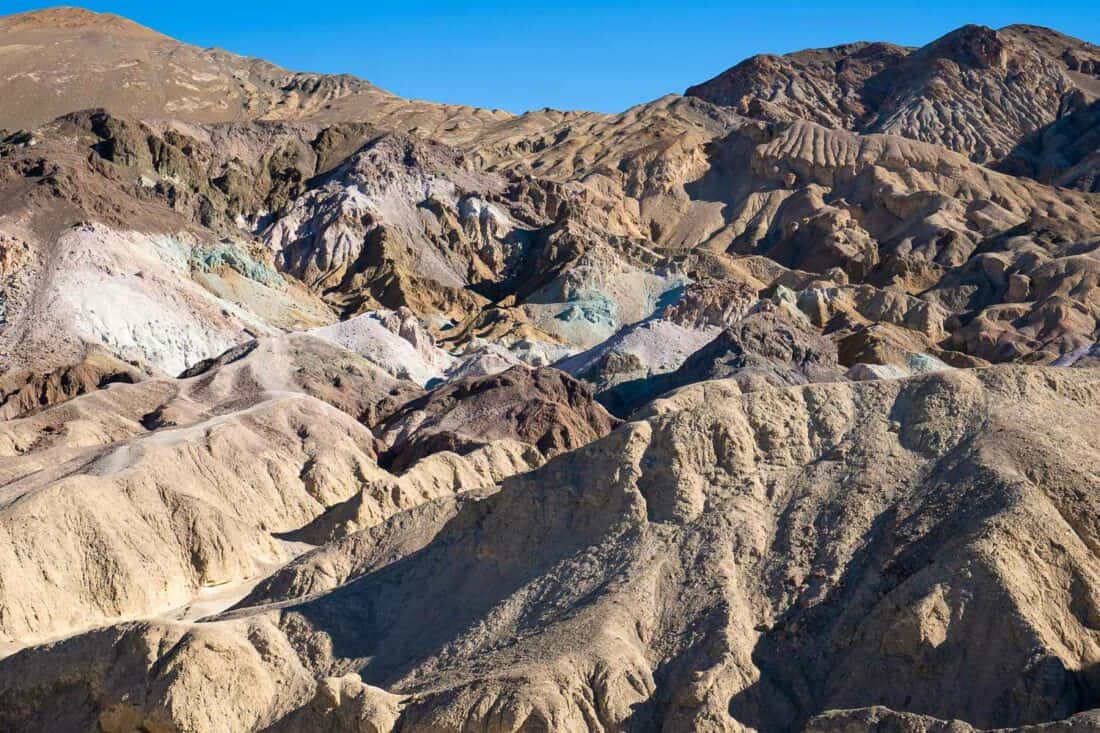 There's a huge amount to do and see in the park. Highlights for us included hiking from Zabriskie Point to the Golden Canyon early in the morning, sunset at Dante's View, and hiking the rim of the extinct volcano Ubehebe Crater.
See our detailed guide to the best things to do in Death Valley for all our tips.
Fun Things to Do in Southern California: Santa Barbara
There's some debate about whether Santa Barbara counts as Southern California or the Central Coast, but as it's only 90 minutes north of Los Angeles, I think it counts and is well worth a visit.
22) Wander Downtown Santa Barbara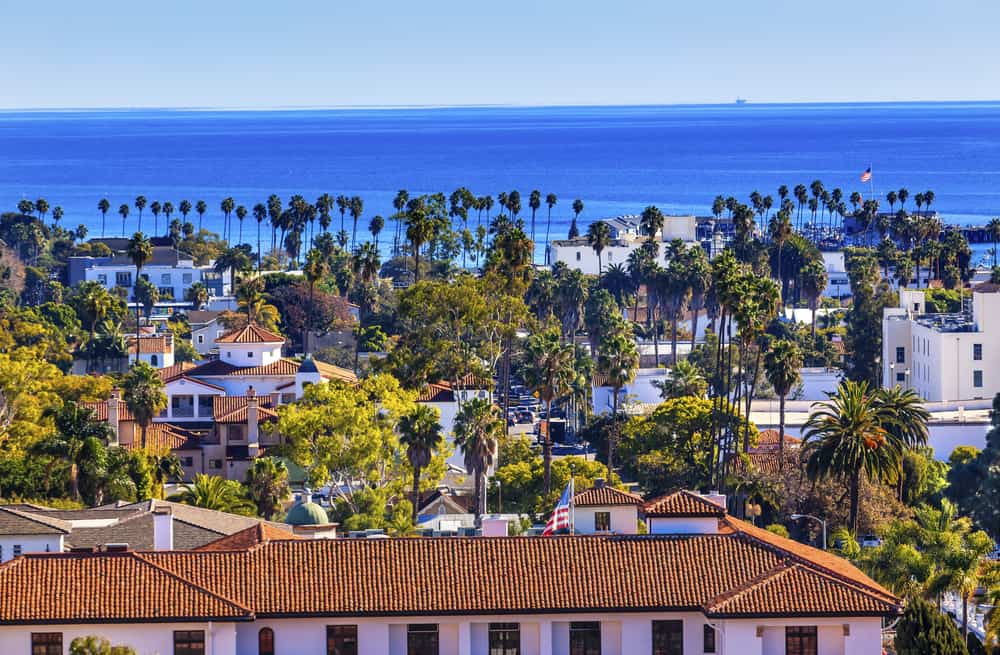 Santa Barbara is gorgeous—the prettiest city we've visited in SoCal. Sandwiched between the Santa Ynez mountains and the Pacific Ocean it has a glorious location and an attractive downtown with red-roofed white stucco buildings that feel like you're in the Mediterranean.
It's a glitzy place for sure with upmarket boutiques and gourmet restaurants that add to its reputation as the American Riviera.
See our friend Victoria's guide to the best things to do in Santa Barbara including beaches, food, wineries, water sports, and the Old Mission.
23) Taste Wine in the Santa Ynez Valley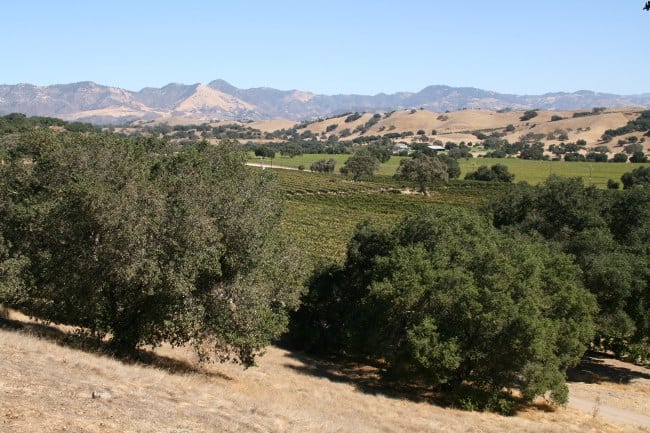 45 minutes north of Santa Barbara is the Santa Ynez Valley, one of the best places for wine tasting in Southern California. It's a beautiful area of rolling hills and charming towns with plenty of wineries to discover.
We did a tasting at upscale Firestone Winery which was featured in the movie Sideways (where we first heard about the region). Make sure to try some pinot noir!
Map of Things to Do in SoCal
More California Posts
Southern California
Northern California
Enjoyed this post? Pin for later!