This page contains affiliate links. Please read our disclosure for more info.
Worthing is an often overlooked seaside town in West Sussex. While visitors flock in overwhelming numbers to Brighton, just 11 miles down the coast, Worthing never feels crowded.
Yet it has everything you want from a classic English beach town—a beautiful pier, pebble beach with deck chairs, stylish Art Deco architecture, and plenty of entertainment.
In recent years you've been able to find surprisingly good food too. As well as the essential ice cream and fish and chips, gourmet and vegan eats abound.
It also seems to have its own microclimate and locals boast that it's always sunny in Worthing. It's certainly one of the sunniest places in the UK.
We've been visiting friends in Worthing for years and recently spent a month there to explore more.
Here are our picks for the best things to do in Worthing from mini golf to museums, parks to paddleboarding, as well as day trips to the nearby South Downs National Park.
Worthing is a compact, walkable town. You'll find a map at the end of the post with all these Worthing attractions.
Contents
Best Things to Do in Worthing
All these places to visit in Worthing are within walking distance of the pier.
1) Explore the Iconic Worthing Pier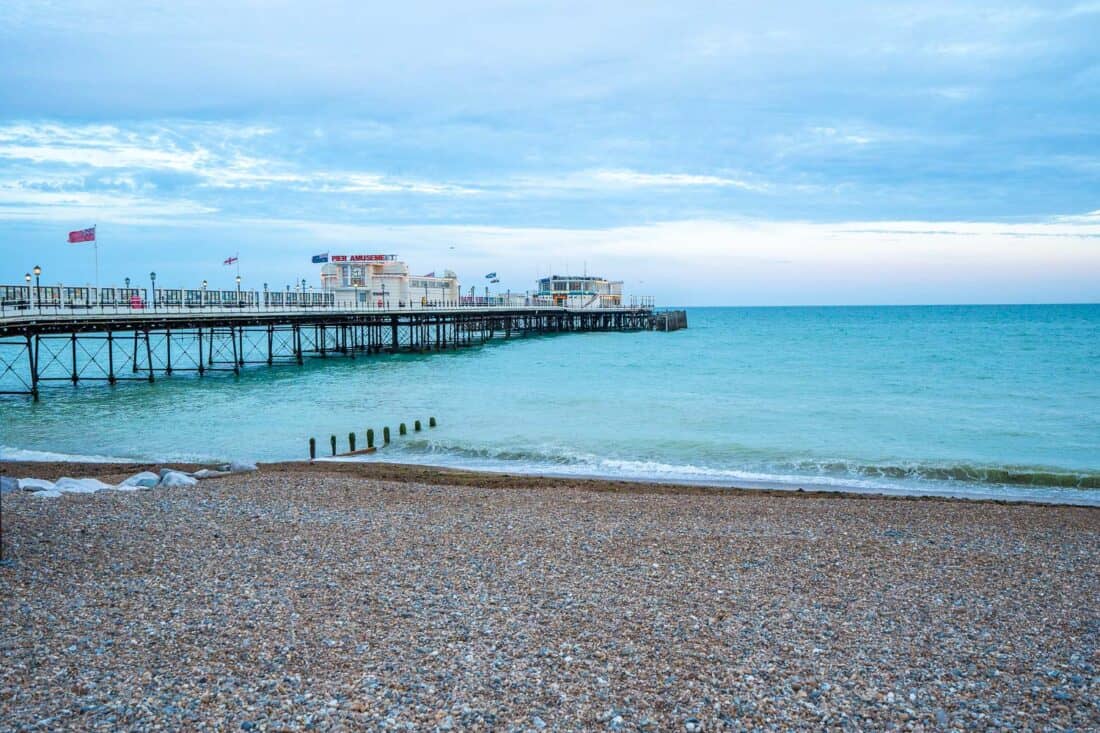 Worthing Pier is the town's most beloved landmark and a must do in Worthing.
The Grade II listed Art Deco pier was built in 1862 and won UK Pier of the Year for the second time in 2019.
It's a lovely place for a stroll day and night. The changing light, weather, and tides mean it looks different every time. It's especially beautiful in the evening golden hour.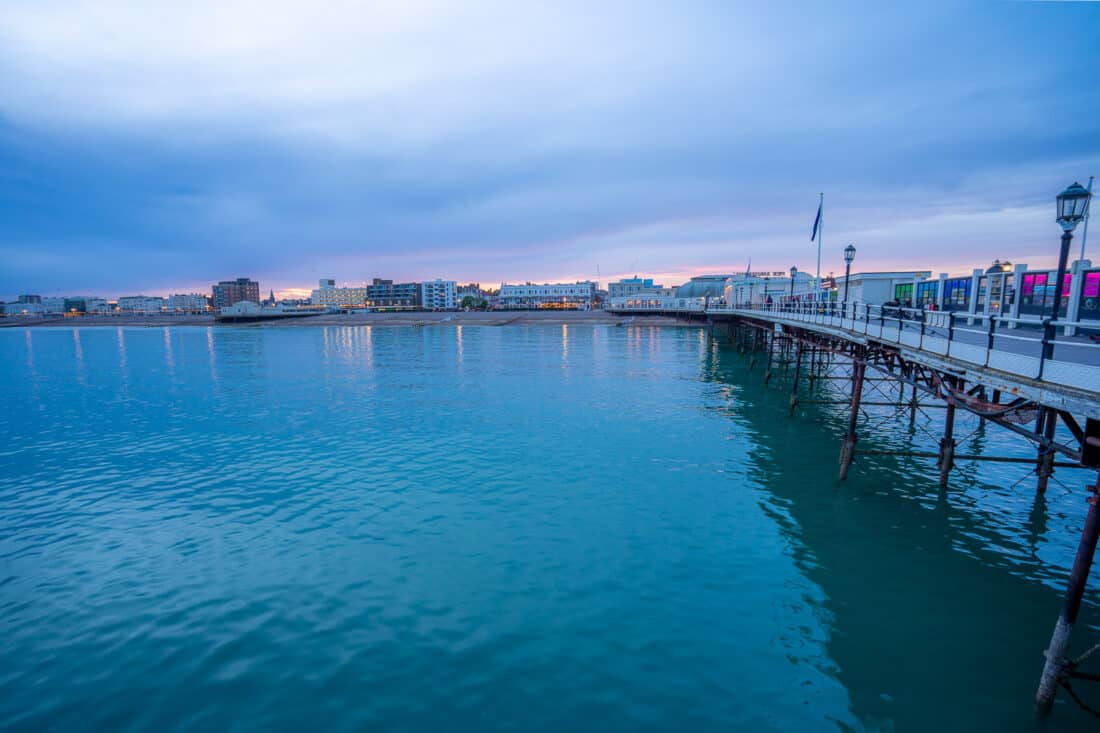 The white 1920s Pavilions mark each end of the pier and in-between you'll find a classic amusement arcade (dating back to 1935) and ice cream stand.
I love the shimmering colourful stained glass windows in the middle which feature local information and artwork. When we visited the latest exhibition celebrated the sea with photos, poems, and art.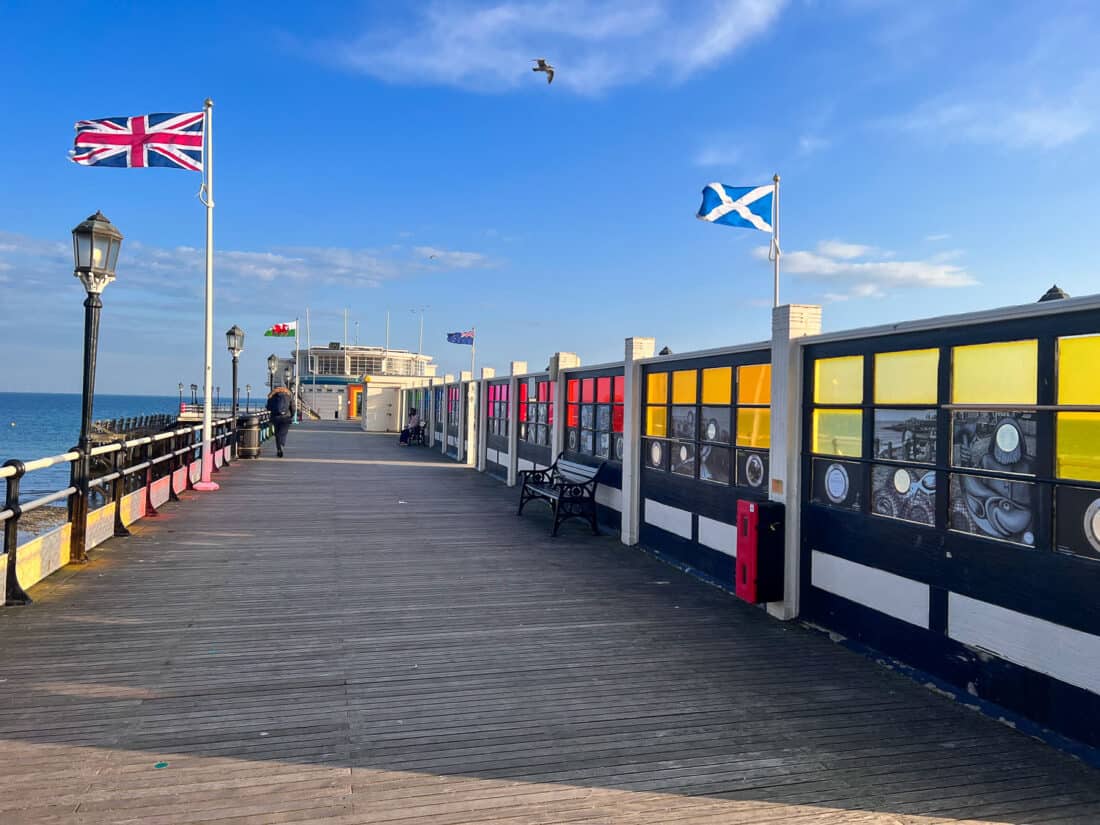 In 2022 the Southern Pavilion at the far end of the pier was revamped into the new Perch on the Pier cafe. It's a stunning space with sea views on all sides and delicious food. See our guide to the best restaurants in Worthing for more details.
At the other end, the Worthing Pavilion Theatre hosts a variety of performances.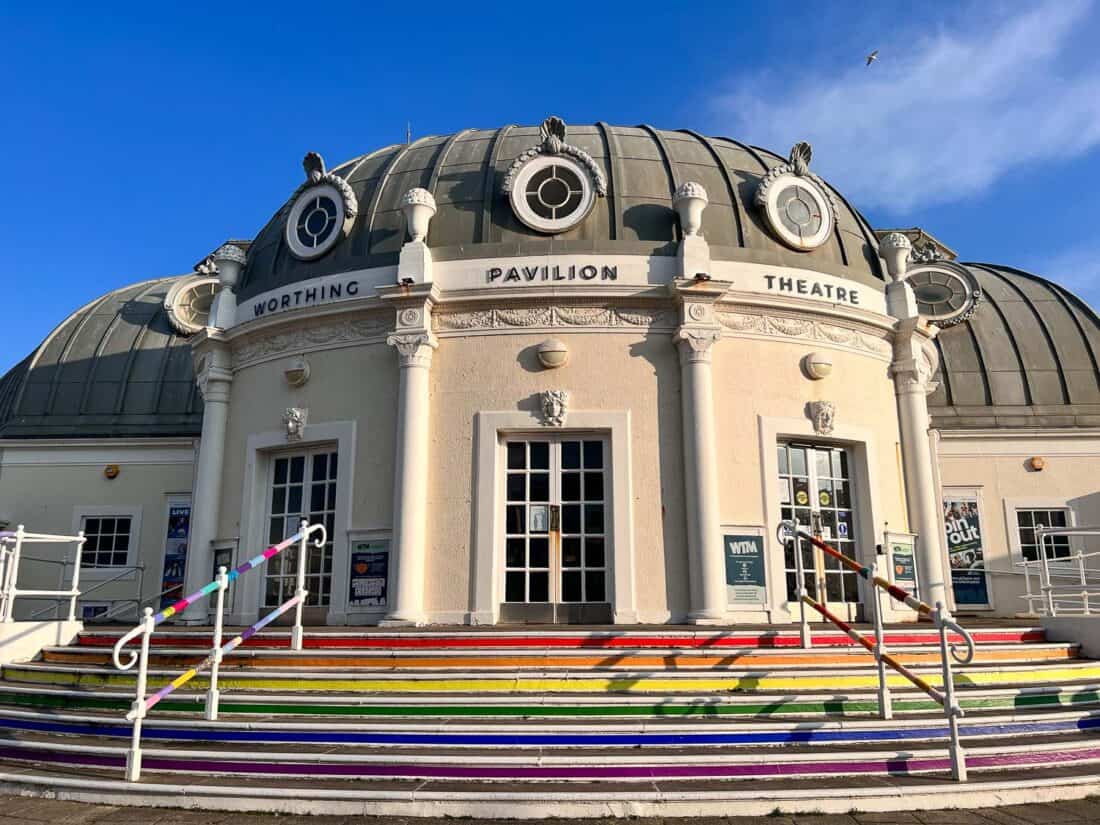 2) Stroll Along the Promenade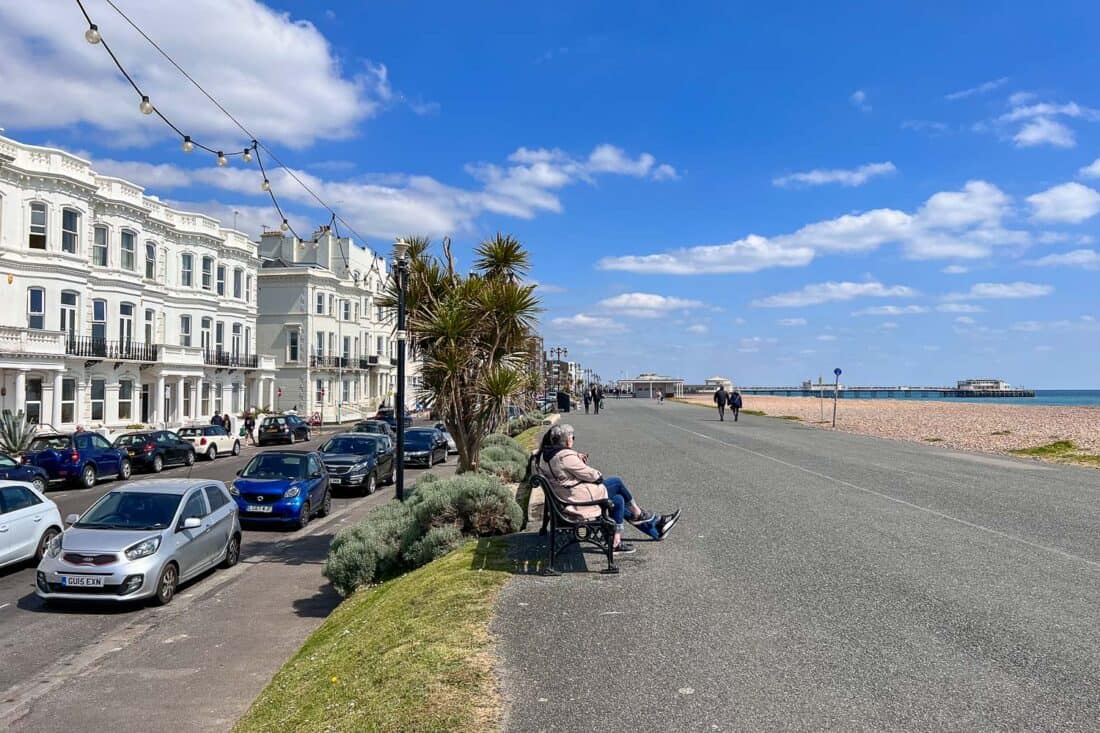 Another Worthing highlight is the wide, flat pedestrian promenade that runs next to the beach. It stretches for five miles and is the best place in Worthing to walk, run or cycle.
Along the way, you'll discover local artwork, kid's playgrounds, fun activities, and plenty of places to eat and drink.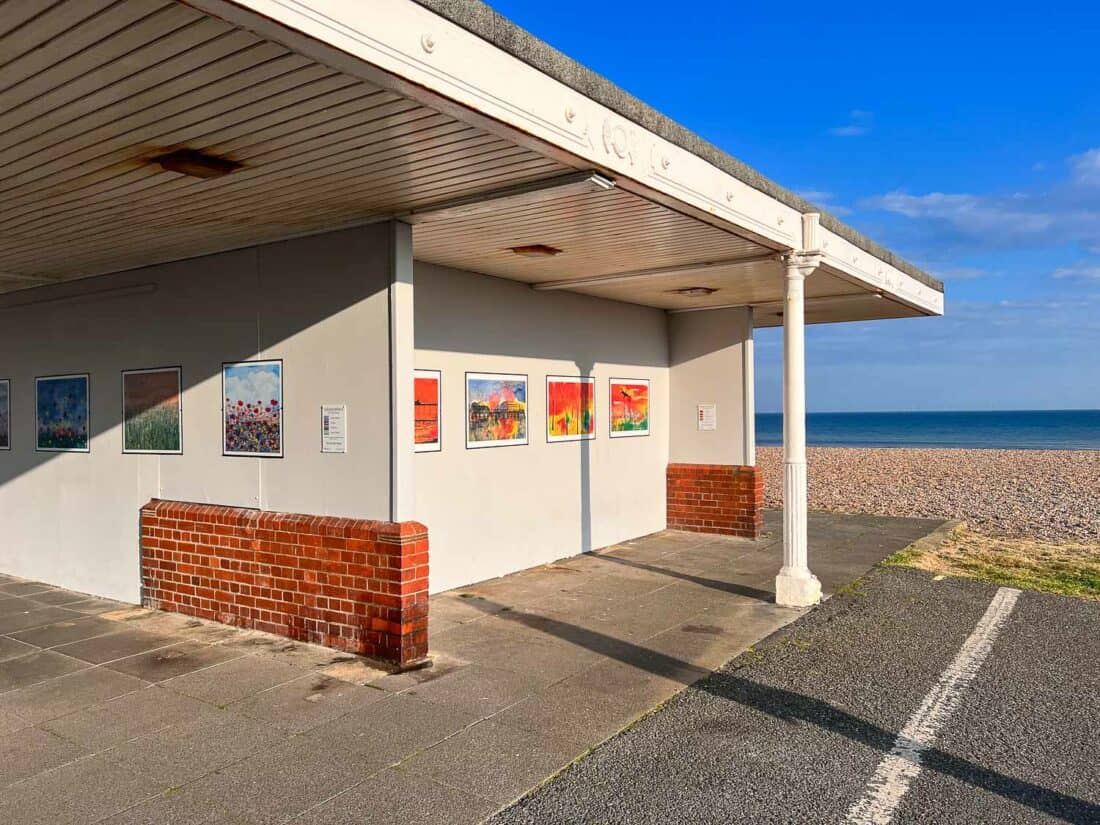 My favourite direction for a walk is west from the pier (towards Goring) where the promenade is wider and more protected from the road.
You'll pass Worthing Lido (once a 1920s bandstand, now an amusement arcade), a variety of food trucks and a pop-up sauna on weekends, colourful beach huts, and the Waterwise Playground.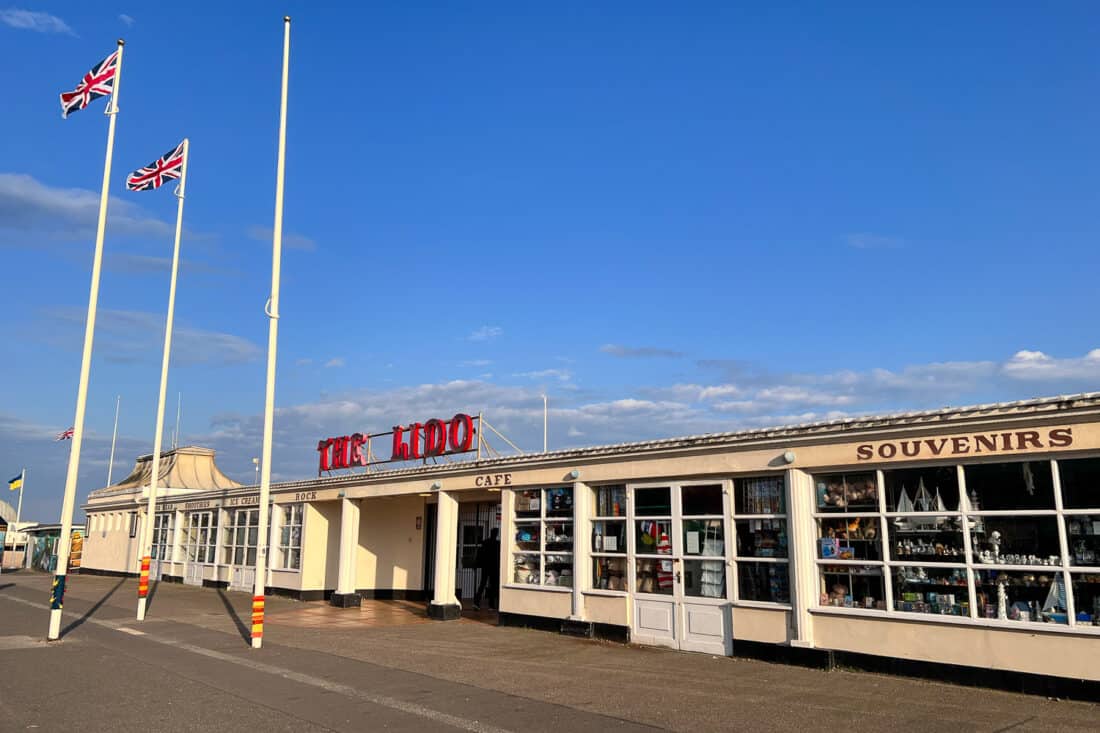 Heading east of the pier towards Lancing you'll find even more attractions—the Edwardian Dome Cinema, fishing boats, Rocks water fountain, mini-golf, beach volleyball courts, artist huts, Gull Island Playground, and paddleboard hire.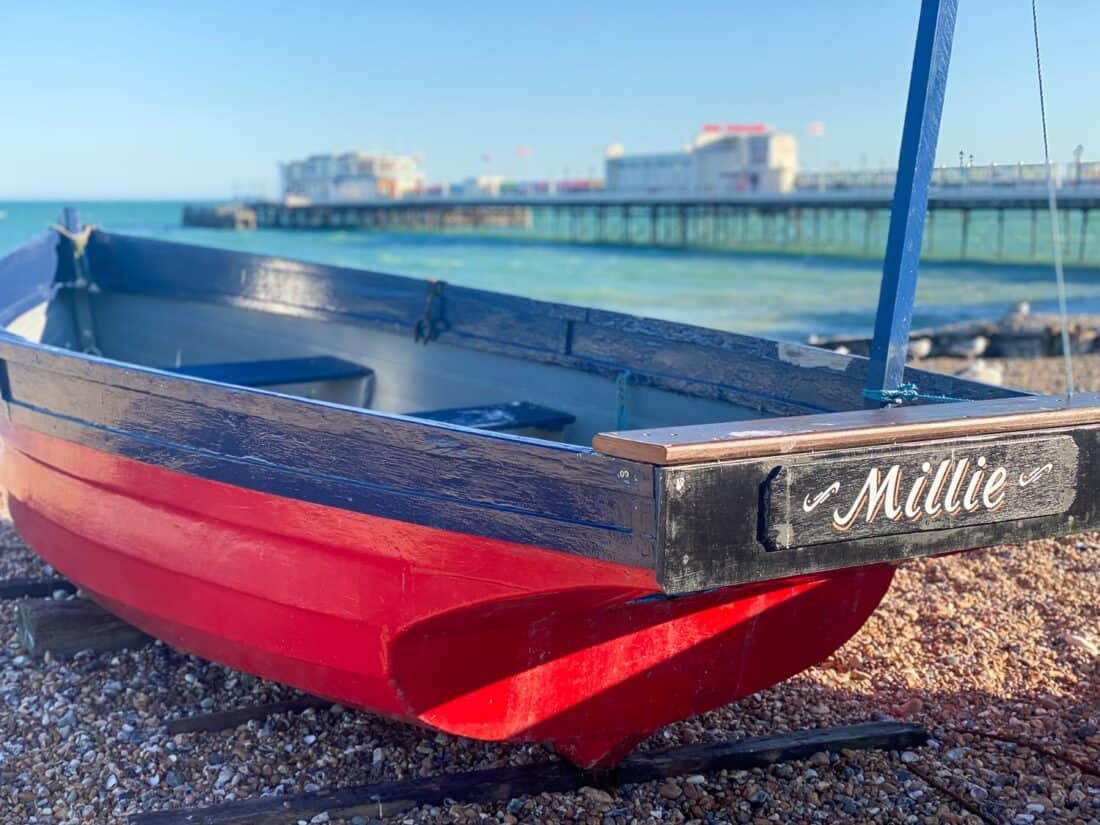 Two of the best places to eat in Worthing with a sea view are on this section—Coast and Bayside Social.
For runners, the free 5k Parkrun event takes place on the promenade on Saturday mornings.
3) Sunbathe or Swim on Worthing Beach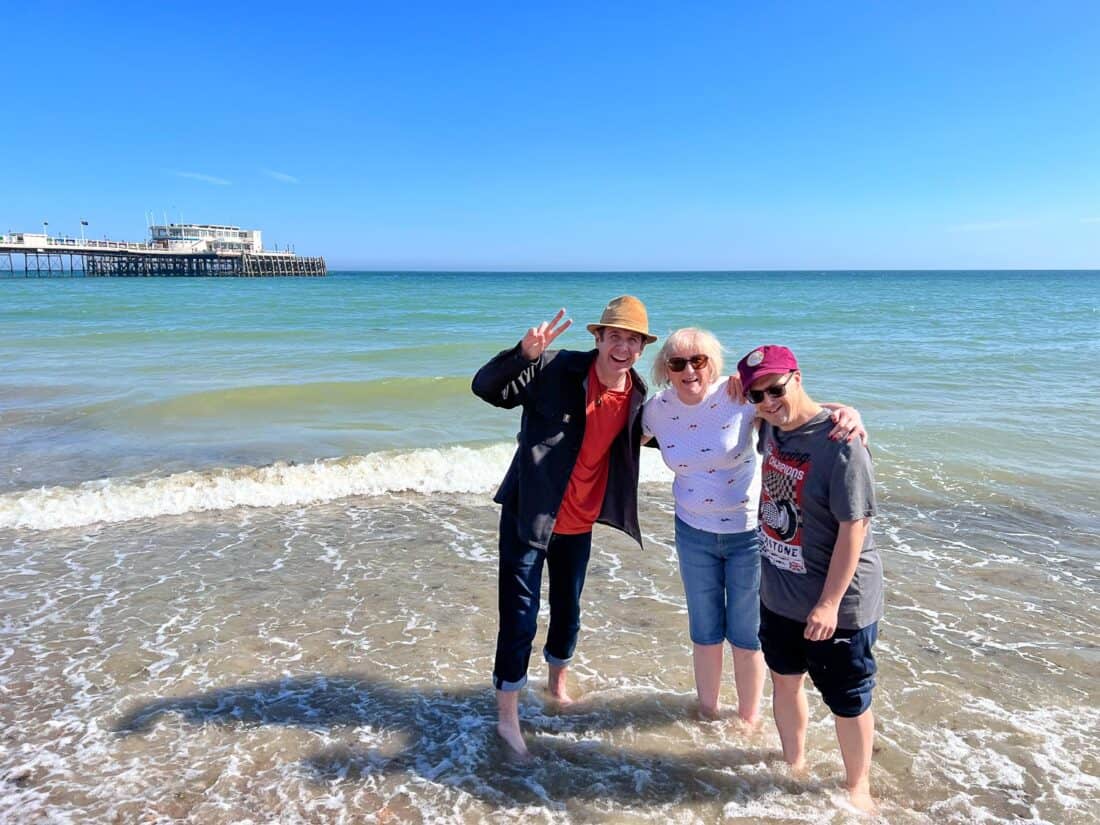 Worthing has a long shingle or pebble beach that's a great place to relax on a sunny day. In summer you can rent deckchairs for £4 a day.
Even on weekends it never feels too crowded and it gets quieter the further from the pier you venture.
On sunny days the water is a surprisingly vibrant teal.
High tide is best for swimming—even in winter, you'll find some hardy swimmers taking the plunge. In May the water temperature was 12ºC and I enjoyed my swims, but it's too cold for most people until high summer.
Low tide is the best time for a walk—the sea retreats and exposes the sandy section of the beach which is easier to walk on than the pebbles.
This is also the time to go rock pooling. If you have kids, one of the best free Worthing activities is to pick up a Marine Warrior backpack (£30 returnable deposit) from the Worthing Coastal Office—it has all the gear you need to explore life in the rock pools.
4) Relax in a Sauna on the Beach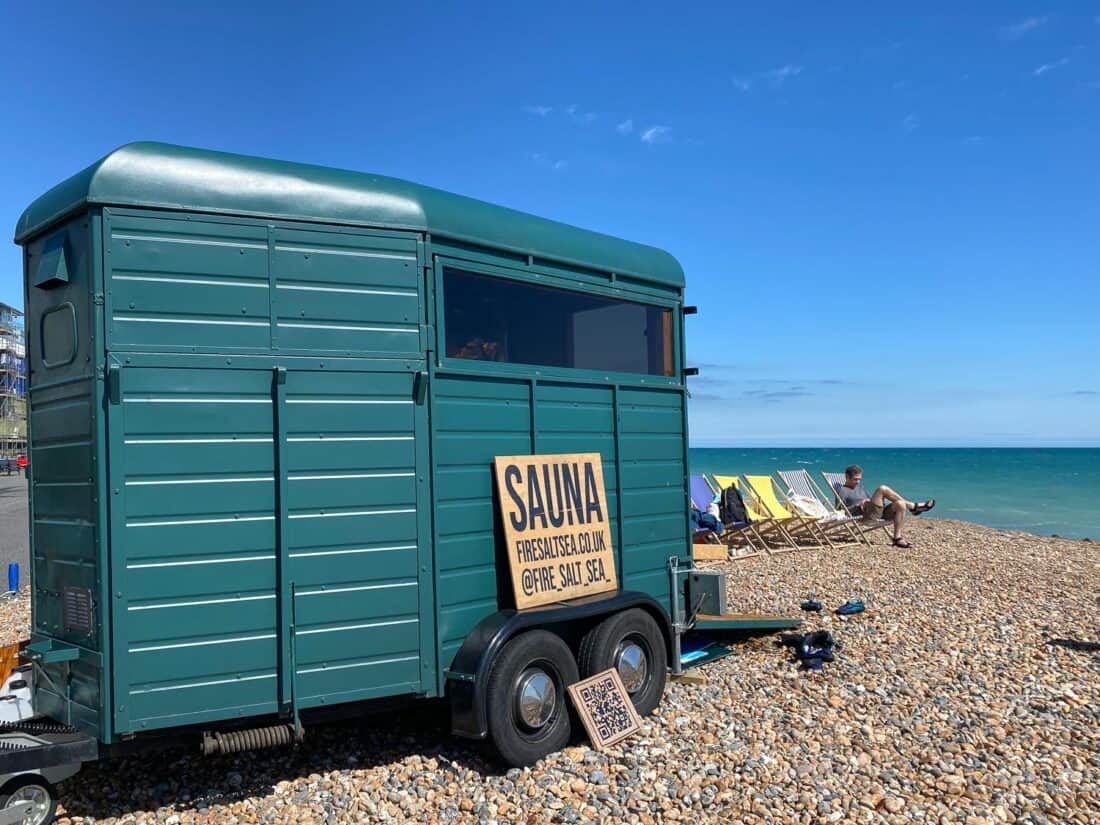 One of the most unusual things to do in Worthing is to enjoy a sauna on the beach—something we never expected to see!
Fire, Salt & Sea is a wood-fired Finnish-style sauna in a vintage horse box that pops up on the beach on Fridays to Sundays.
The sauna has a glass door and window so you can enjoy the sea view while you steam. It seats six people and you book a private session.
It's best to book in advance to guarantee a slot, but they do sometimes have walk-in availability (and this can work out cheaper for a couple). We booked for 30 minutes but it went quickly, so it might be worth going for an hour.
I recommend booking for hide tide so that it's easy to jump into the sea in the middle of your session to cool off (water shoes will make this easier on the pebbles).
5) See Worthing's Beautiful Gardens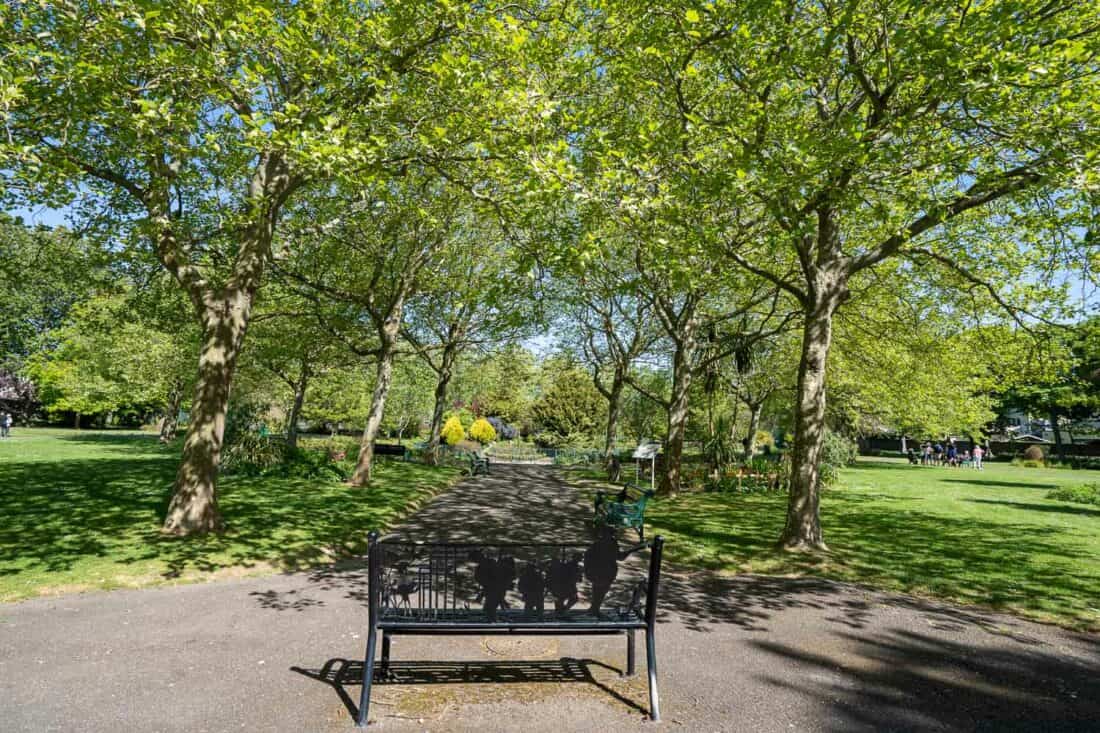 Worthing has many small but beautiful and well-maintained gardens.
Just east of the Pier, Steyne Gardens is a small seafront park with a Triton fountain, benches, and a grassy area for picnics. It hosts winter ice skating and other events throughout the year.
A little further on, walk past the mini-golf course and the tiny but lovely Denton Gardens to reach Beach House Park. This is the largest park in central Worthing and features many beautiful flowers and trees, an avenue of maple trees, and a community garden.
There's also a bowling green, the Palm Court Pavilion cafe for breakfast or afternoon tea, and an unusual memorial to WWII carrier pigeons.
In the other direction from the pier, a 25-minute walk along the prom will take you to the 1930 Marine Gardens. Here you'll find a fountain, bowls, putting, and a simple cafe. It's close to the Waterwise Playground.
A more off-the-beaten-track park that's worth a wander is Amelia Park. It's a shady little park with benches to enjoy the quiet, but what makes it stand out is its location next to the curving Park Crescent.
This Georgian street features huge Grade II listed houses from the early 1800s and is reached through a grand arch. It feels like the setting of a Jane Austen novel.
6) Ride Bikes Along the Seafront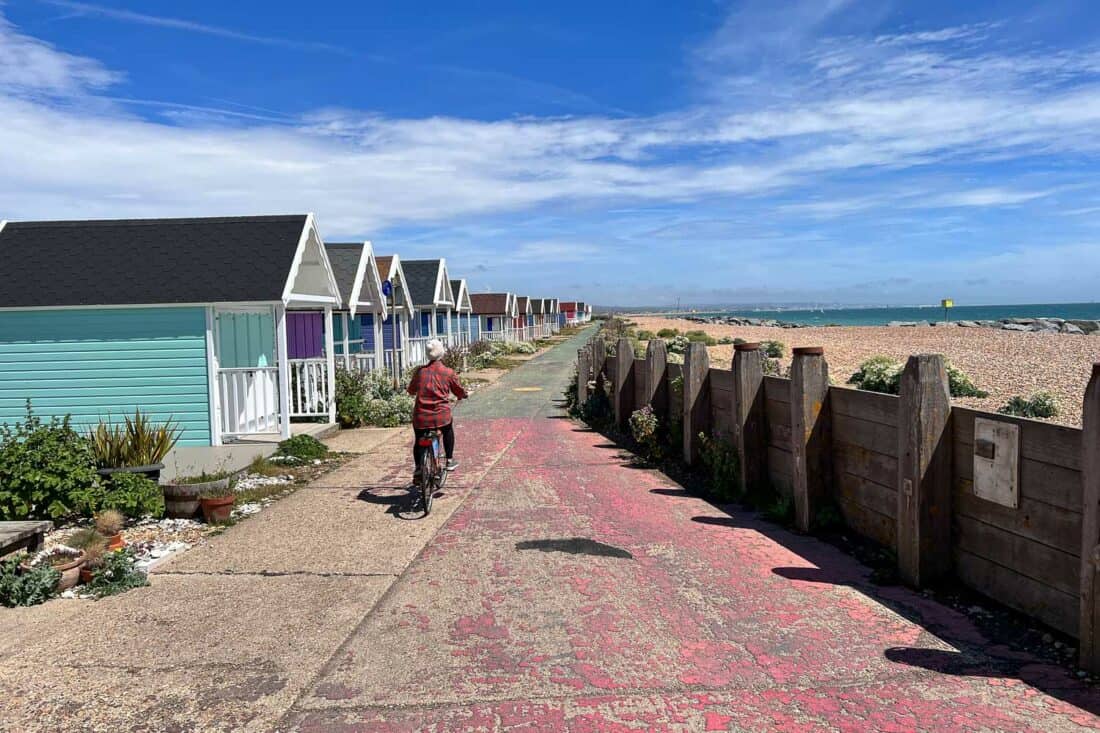 To make more progress along Worthing's promenade, I recommend renting bikes.
You can find the orange Donkey bikes at various spots near the pier—unlock them using their app, return them to any official stand, and you'll pay based on how long you had them (just under three hours cost us £7 each).
Before you set off on your bike ride, check the weather. It's best when it's not windy as otherwise, the ride will be difficult in one direction.
From the pier, you can cycle in either direction past all the Worthing attractions listed in #2.
I like the wider section of the promenade going west (and this is a good way to get to Marine Gardens quickly), but after about 20 minutes of cycling you reach a narrow path by the Goring by the Sea beach huts and either have to get off and walk or ride on the road.
For a longer ride, you are better off going east. There's a bike path all the way to Brighton but Shoreham is a more achievable goal (11 miles/2-hour return) where you can explore its fort, estuary, houseboats, and cute town centre with plenty of cafes.
After cycling first to Goring, we only made it to Lancing on route to Shoreham.
Lancing is a great destination as the cycle path and promenade are away from the road and it's very pleasant cycling between the grassy green and beach lined with colourful huts. If you are in need of sustenance, Perch cafe is right on the beach.
Just past Lancing is the Widewater Lagoon where you can see lots of birdlife.
7) Stand Up Paddleboard or Kayak in the Sea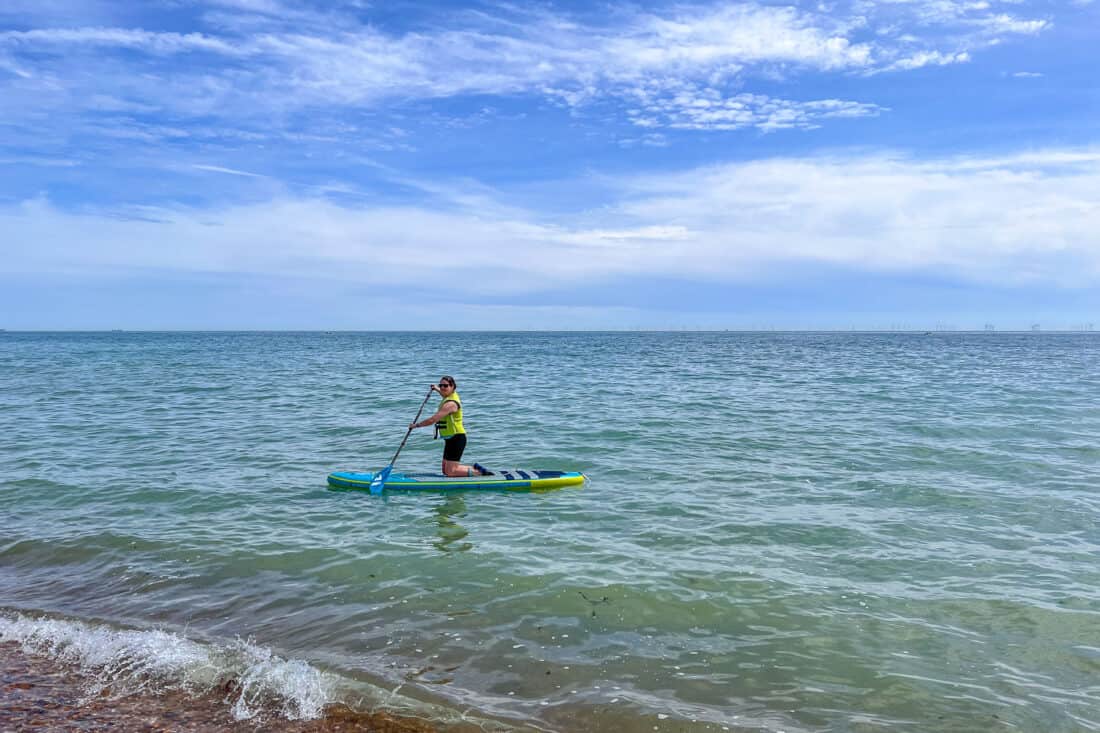 Renting a standup paddleboard (SUP) or kayak is a fun way to get out on the water and see Worthing from a different perspective.
K66 near Coast Cafe rents boards for £20 per hour including a wetsuit and life jacket. You must have experience of sea paddleboarding to rent; if not, book a lesson with them.
Paddleboarding is best on a calm day and within four hours of high tide. See the K66 webcam for current conditions.
K66's opening hours depend on conditions, but they are usually open Wednesdays to Sundays (and Bank Holidays) from 10am to 6pm (8pm on busier days). They close in winter.
Another option in Goring by the Sea is GLO Wellbeing which rents paddleboards on the beach and runs river SUP trips.
If you are even more adventurous, you can learn to kite surf in Goring or Lancing. It's a popular sport in this area where the wind is often up.
8) Compete at Beach Volleyball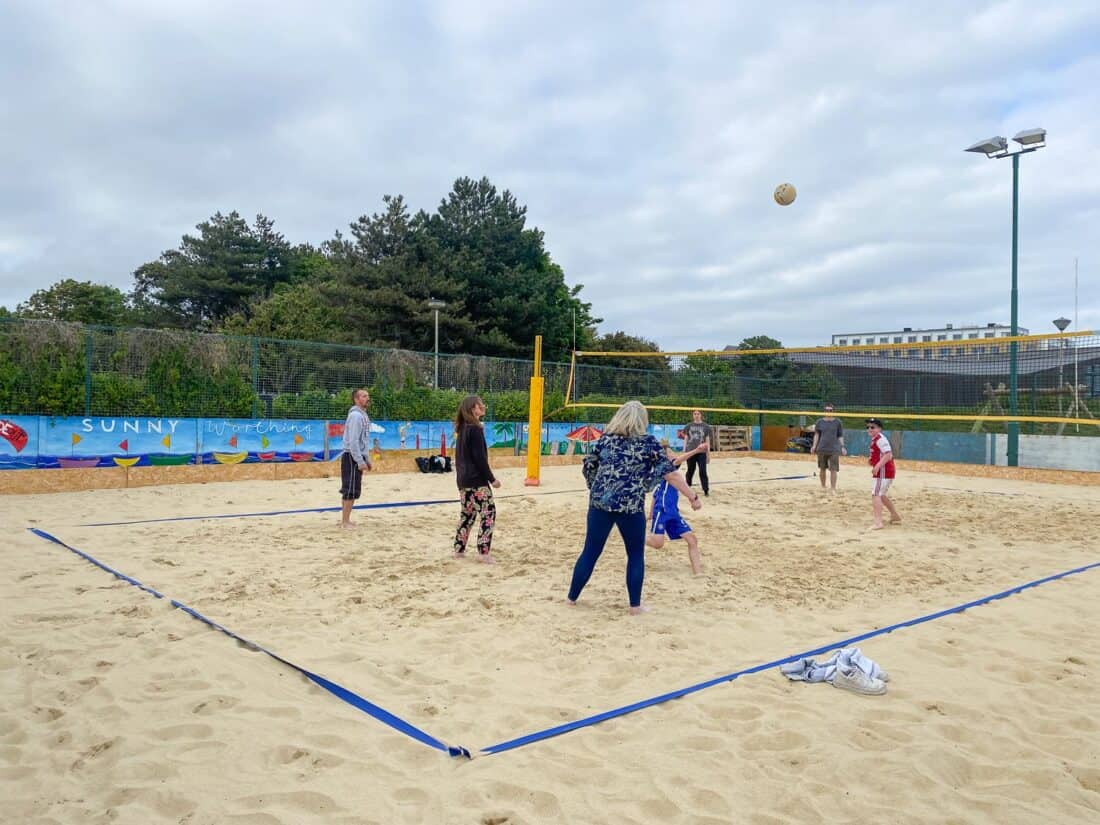 Another fun Worthing activity is to rent one of the sandy beach volleyball courts and challenge your friends or family to a game. It's harder than it looks, though!
Book a court at Sideout, pay by Paypal, and you'll get the code to access the courts. There's usually a ball available to borrow.
9) Visit Worthing Museum and Gallery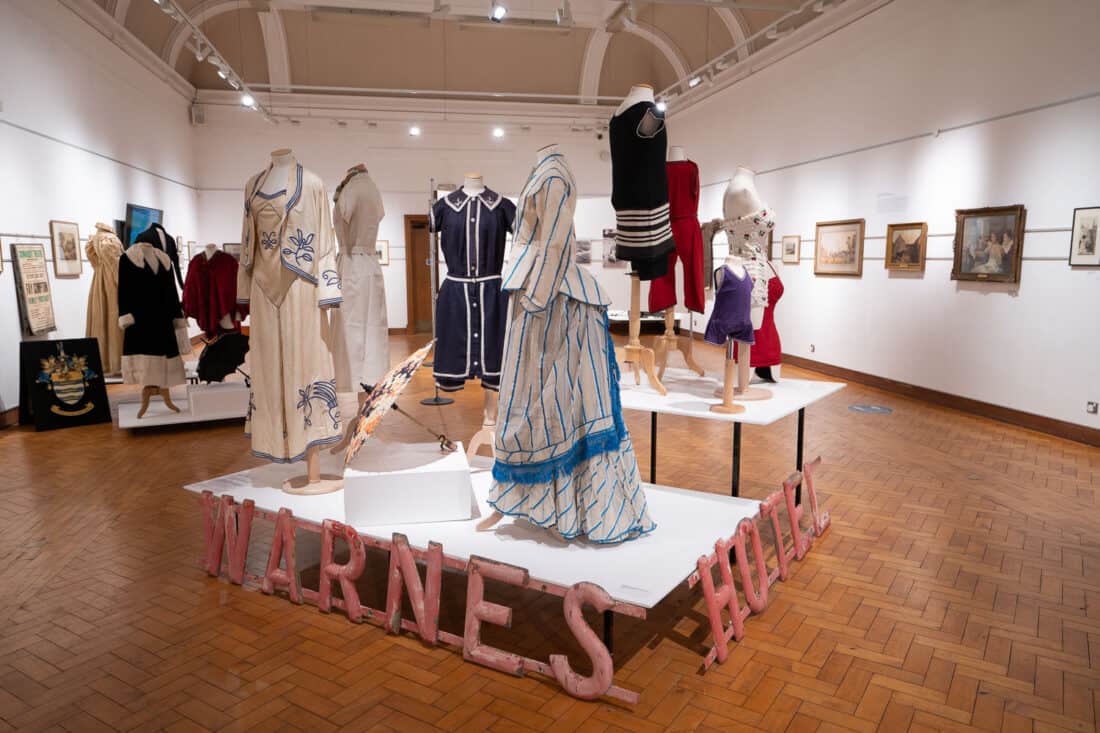 One of the top things to do in Worthing on a rainy day is to visit the excellent and free Worthing Museum.
The museum has one of the largest costume collections in the UK with clothes dating back to the 17th century. You can also learn about the history and geology of the local area and admire many archaeological finds.
Special exhibitions mean it's a museum to return to. When we visited we learnt about the history of Worthing as a seaside resort in A Trip to Worthing—seeing the old bathing suits was fun.
They often have creative workshops here too.
Worthing Museum and Gallery is closed on Mondays and Tuesdays. Check their website for opening hours on the other days.
10) Watch a Film at a Classic Cinema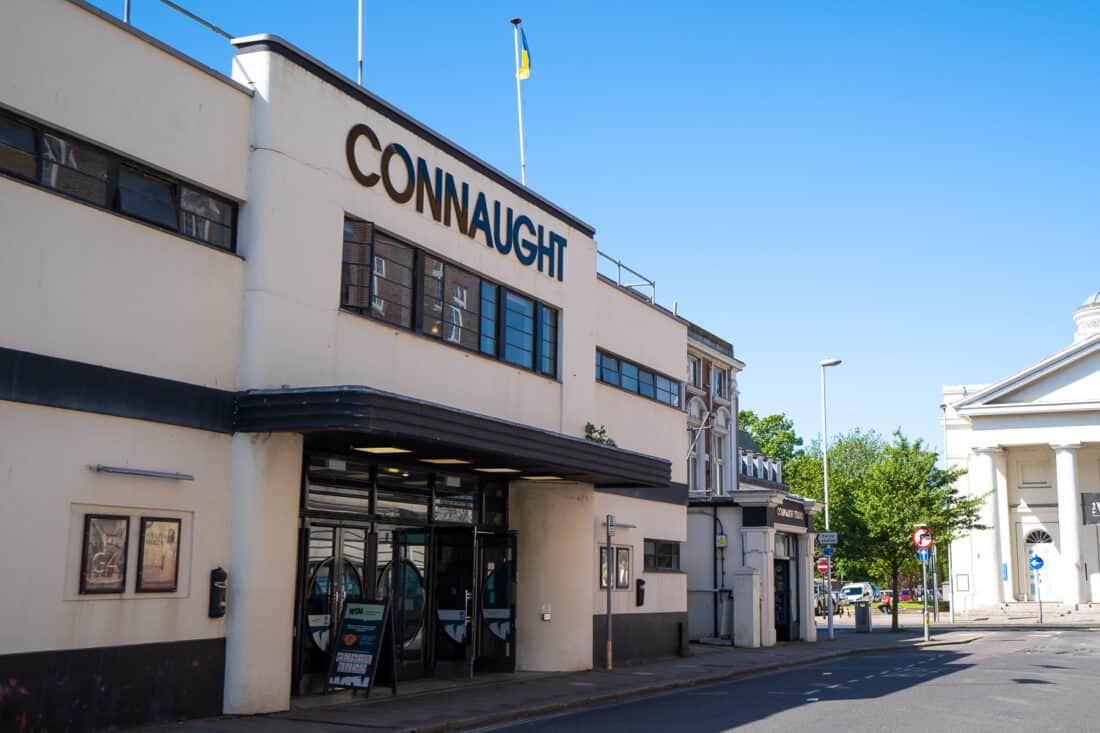 Worthing has two of the oldest cinemas in the UK.
The Edwardian Dome Cinema dates back to 1911 and is an iconic sight on Marine Parade. It feels charmingly old-fashioned inside and you can buy a drink from the bar to take into the film with you.
Prices are very affordable, especially on Mondays.
The 1914 Art Deco Connaught Theatre also shows films and hosts live events.
11) Play Mini Golf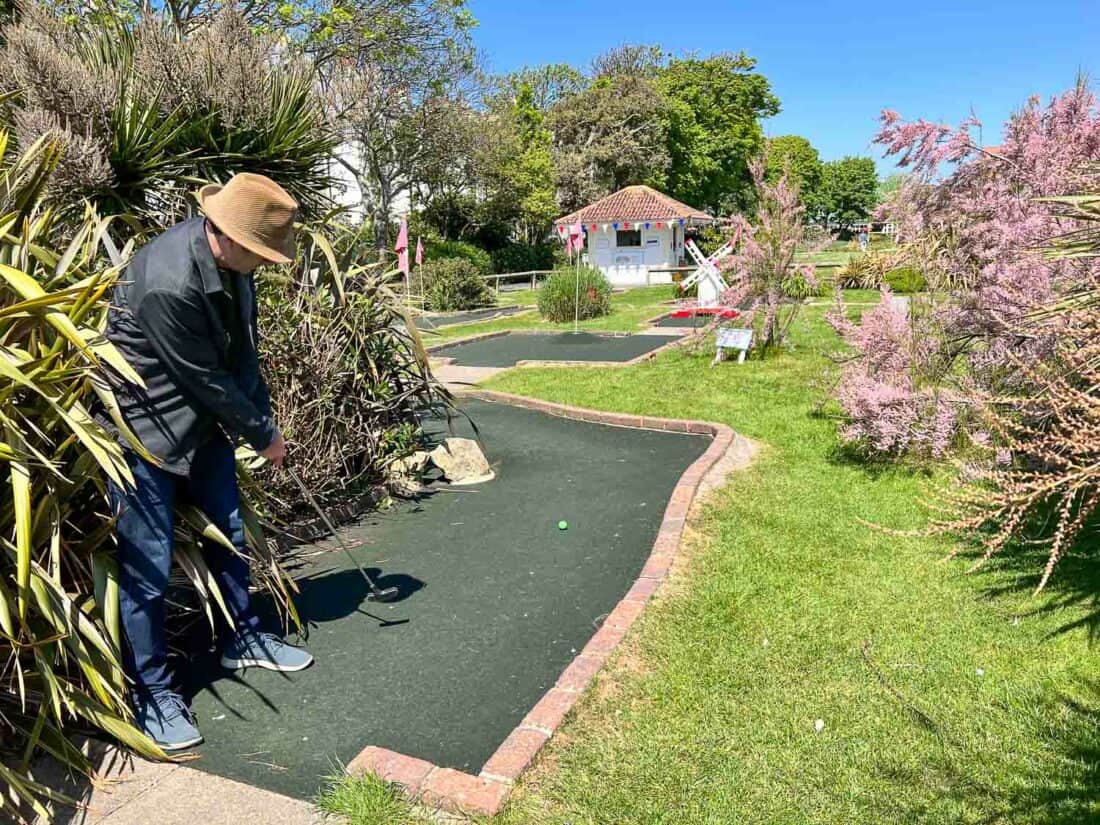 Playing a round at Splash Point Mini Golf just off the promenade is one of the best things to do in Worthing with kids.
There's no fancy American themeing here and it feels old-fashioned in a charming way. The 18 holes appear simple but the bumpy course can be quite challenging.
It's open on weekends and school holidays.
Another option is Marine Gardens which has a putting green.
12) Play a Board Game at Dice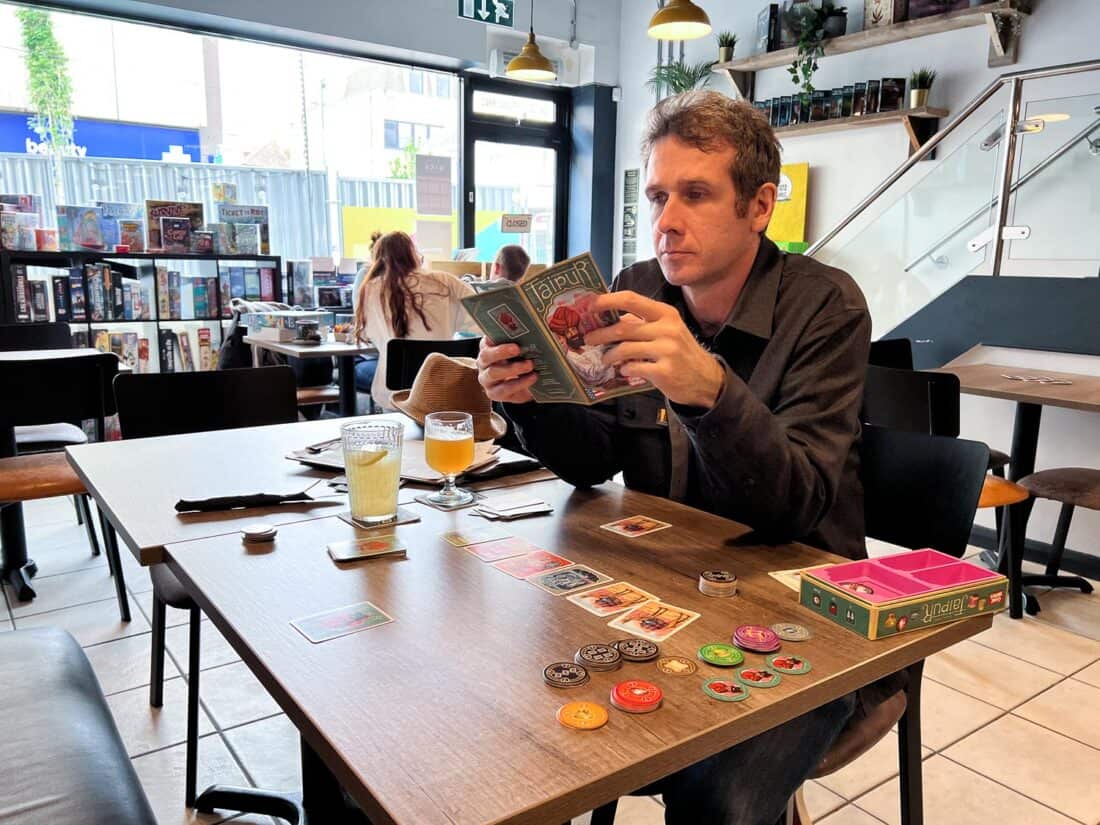 One of the best indoor activities in Worthing is to visit the Dice Board Game Lounge.
For a small fee you can spend as long as you like in this cafe working your way through their array of games. The friendly staff is happy to make recommendations and show you how to play.
Food and drinks are also available.
We had a fun lunch here playing Jaipur and eating vegan sandwiches and quesadillas and would love to return. It's a great activity when the weather is bad or you want to socialise without the focus being alcohol.
Dice is open Tuesdays to Sundays and closed on Mondays.
If you are looking for more rainy day activities in Worthing, you could go bowling at AMF Bowling, paint pottery or make UV slime at Art-Ful Cafe, or test your puzzle-solving abilities at Mindworks Escape Room.
13) Eat and Drink from a Seafront Food Truck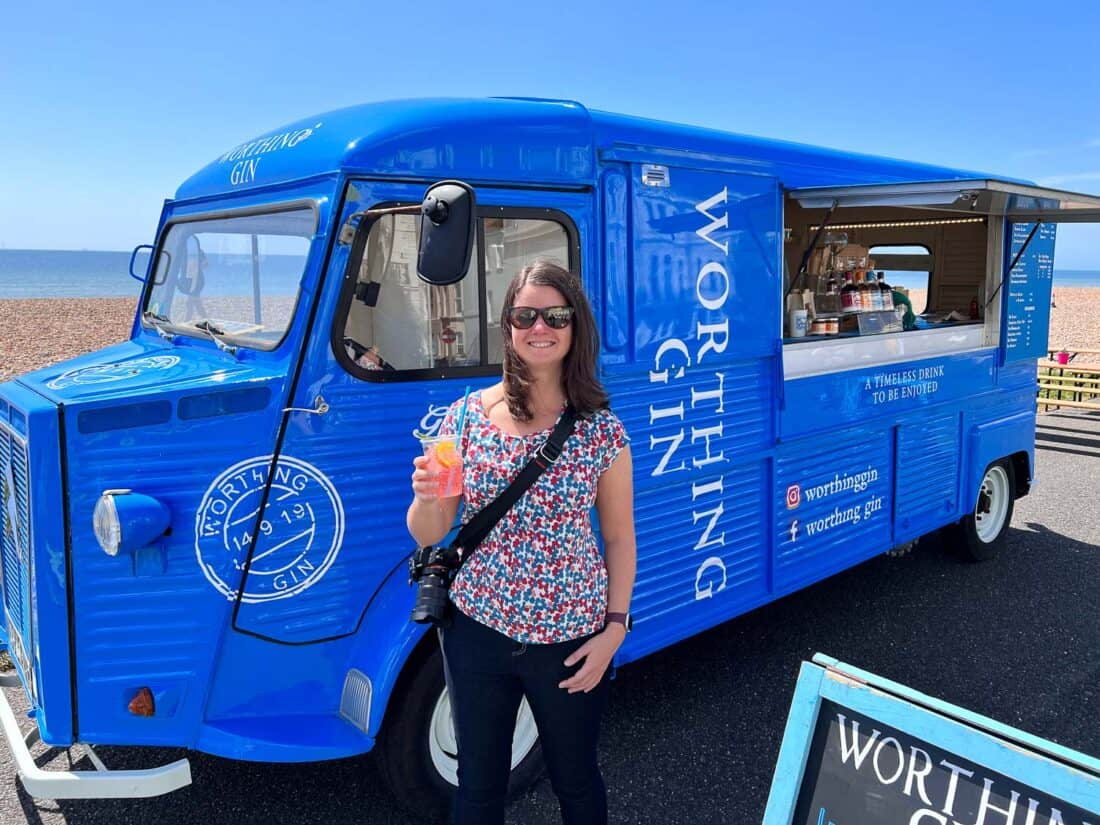 On a sunny weekend, one of my favourite activities in Worthing is to head to the seafront for a moveable feast from the food trucks on the promenade.
You can find seafood, tacos, jacket potatoes, mac and cheese, locally-made gin and more. It's a great way to enjoy a quick and affordable meal in the perfect location.
If you are visiting during the week when the trucks aren't around, grab some fish and chips from Blue Ocean and eat on the beach instead.
See my guide to the best places to eat in Worthing for more details.
14) Enjoy a Meal with a Sea View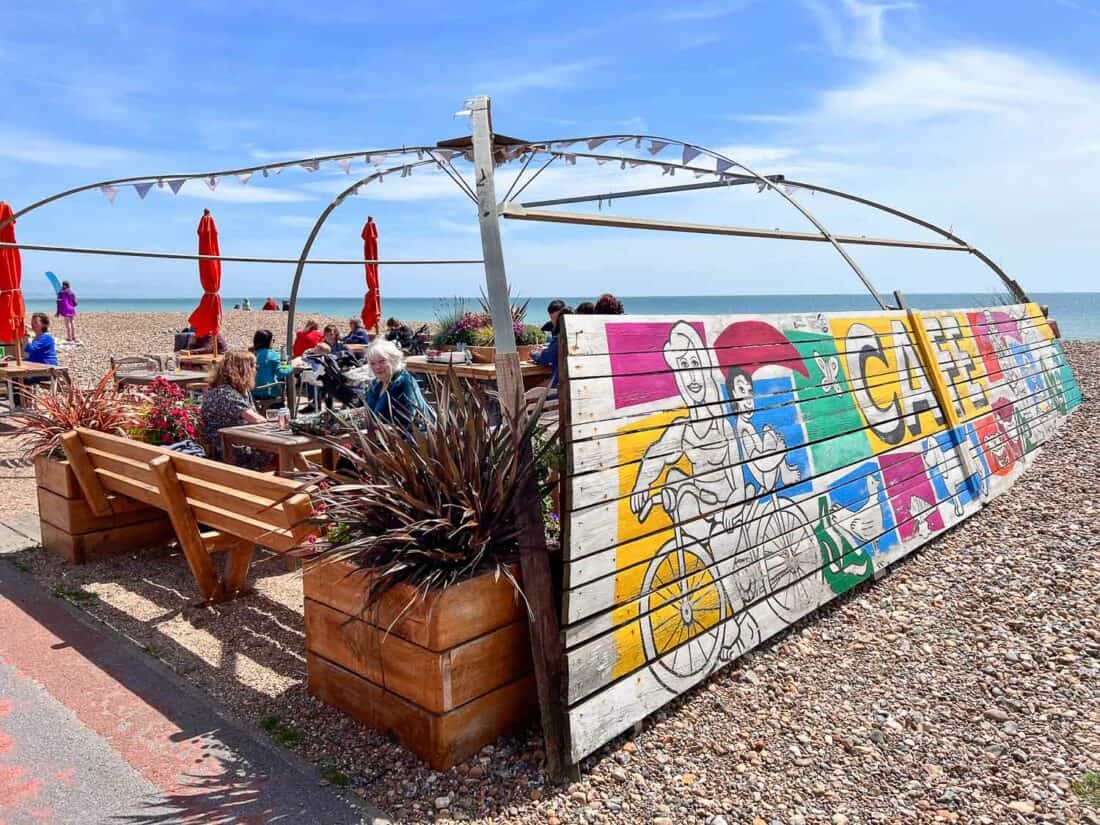 Worthing has some fantastic restaurants with sea views. My favourites are Perch on the Pier (delicious food and stunning views at the end of the pier), Bayside Social (creative tapas on the promenade), and Coast (a casual cafe next to the beach).
My Worthing restaurants guide has more suggestions.
15) Indulge in an Ice Cream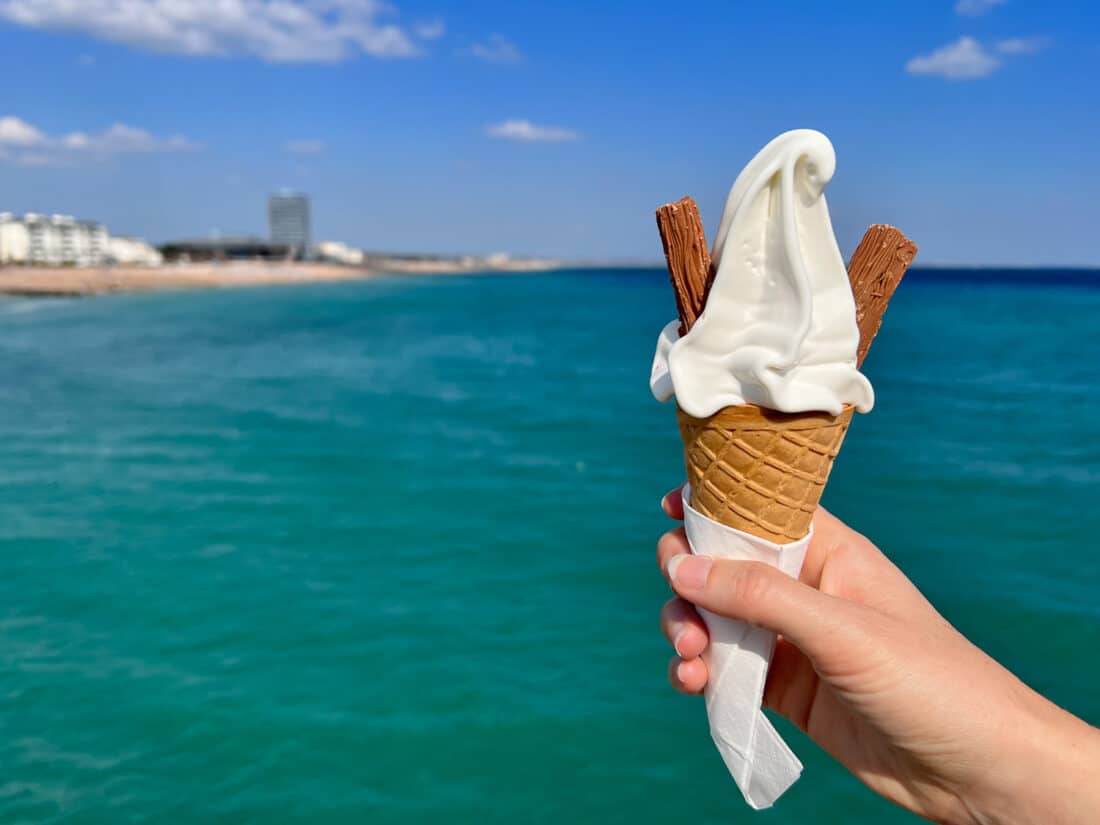 You can't go to the seaside without having an ice cream. For a classic 99, I think Molloys next to Worthing Pavilion is the best spot (I like to upgrade to a waffle cone).
For unique flavours, pick up a cone or cup from Boho Gelato inside Pizzaface restaurant. I still dream of their sour cherry gelato (flavours change regularly so you might not be able to get your favourites when you return).
G-Lite on pedestrian Warwick St is the place to go for classic Italian gelato.
16) Support Local Artists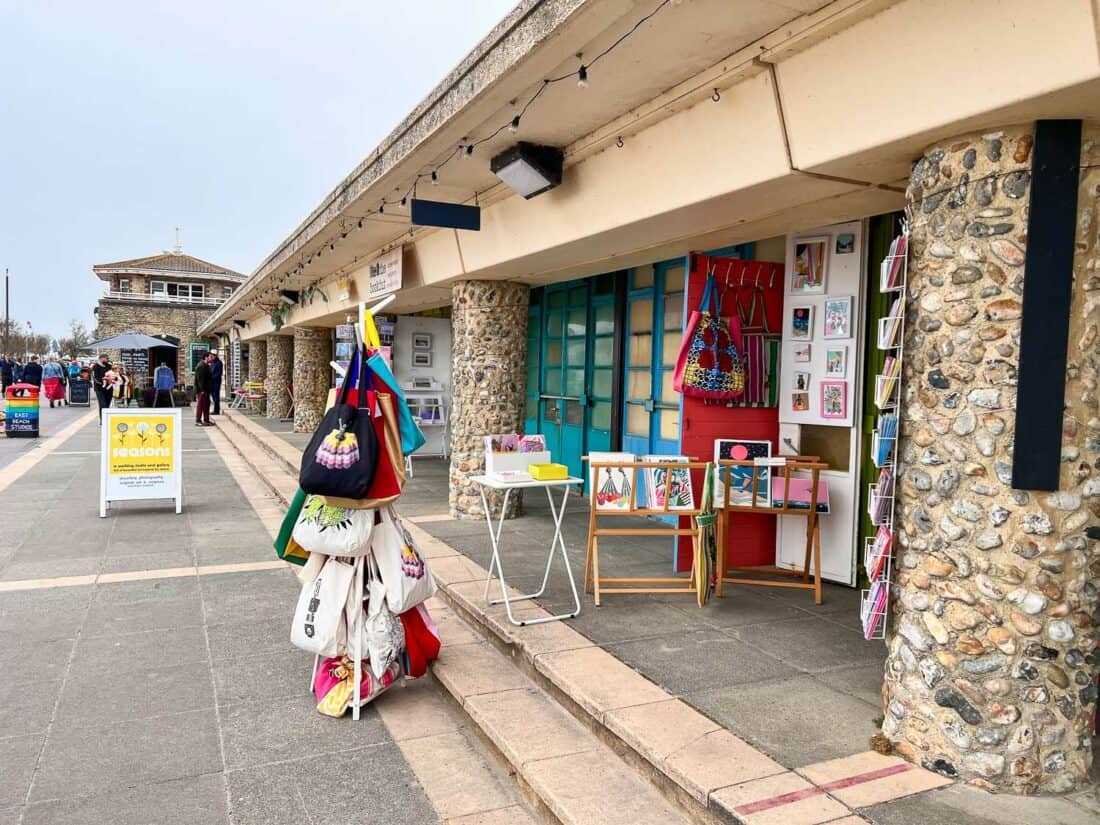 Worthing has a thriving art scene and the local galleries are an excellent place to pick up a souvenir or gift. Some places to check out include:
17) Shop in the Town Centre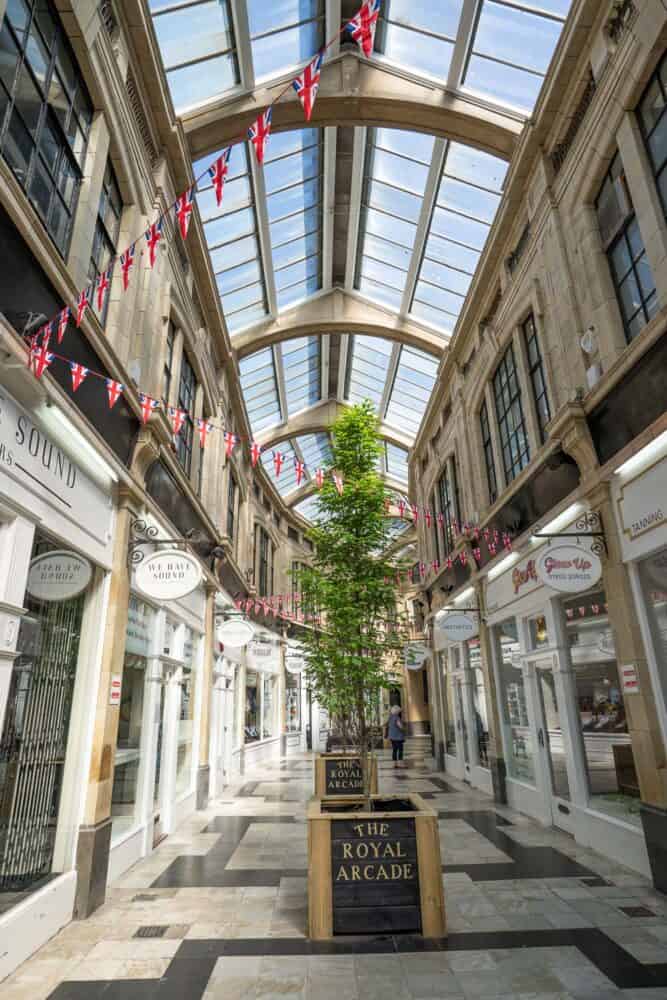 If you want to do some shopping in Worthing, as well as the art shops above, you can find many independent and high street stores.
Head to the Royal Arcade (small but pretty), pedestrianised Warwick Street, and Montague Street (for high street and charity shops).
HISBE is one of the best places for food shopping with many items available plastic-free.
Things to Do Near Worthing
These places to visit near Worthing require a car or bus ride to get to.
18) Walk Up Highdown Hill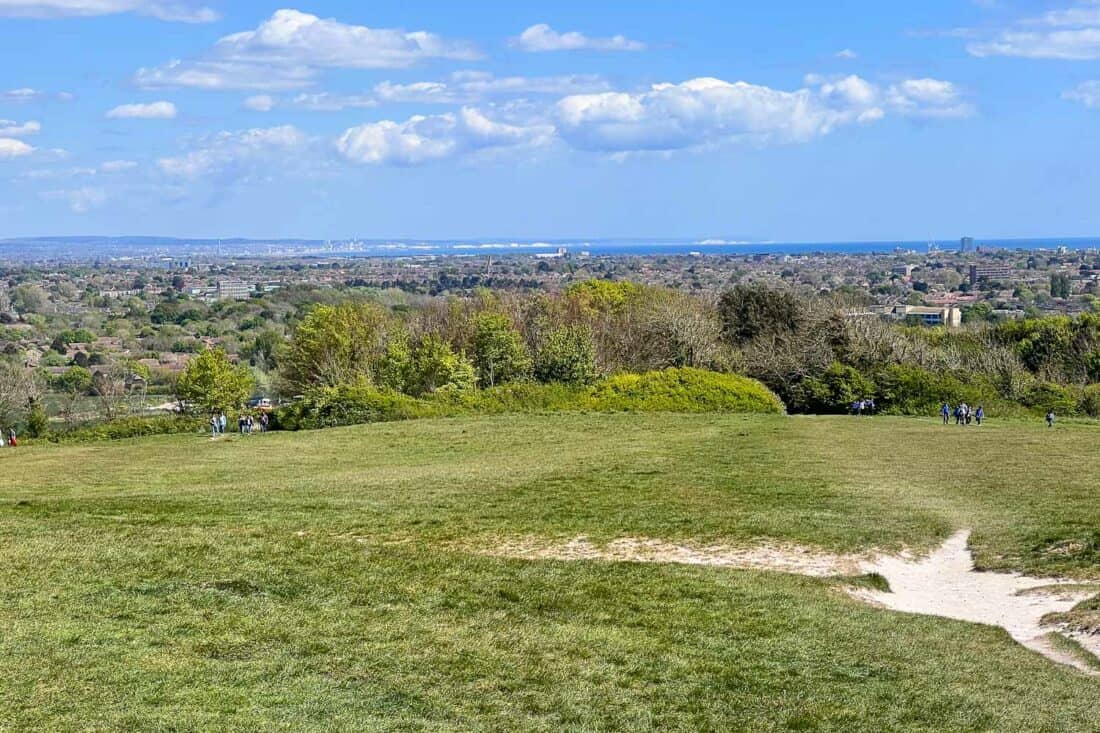 A lovely countryside escape just 20 minutes from Worthing is Highdown Hill in the South Downs.
The grassy hill isn't very steep and you can choose to walk as far as you like. We did the 2.2 mile Highdown and Highdown Hill loop walk which took us 45 minutes.
From the top of the hill there are excellent views of Worthing, Brighton, and the distant white cliffs of Beachy Head. Once you've reached the top it's fairly level and you pass fields of yellow rapeseed fields and an old windmill.
After your walk you can visit Highdown Gardens or get refreshments at The Highdown pub (which has a large beer garden) or tea room.
19) Admire Highdown Gardens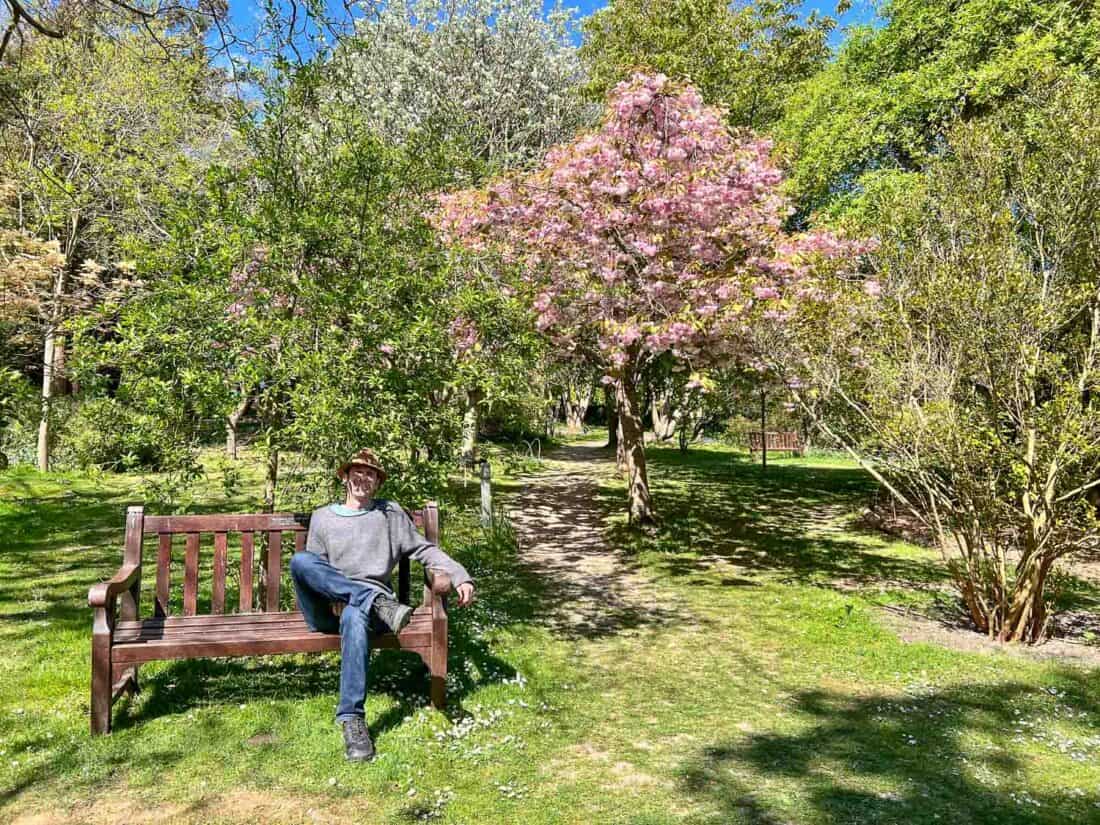 Highdown Gardens are located just before the start of the walk up Highdown Hill.
The flower-filled chalk gardens are a beautiful place to relax. In April the tulips and cherry blossoms were in bloom.
They are open every day from 10am until dusk and are free to visit.
20) Climb Cissbury Ring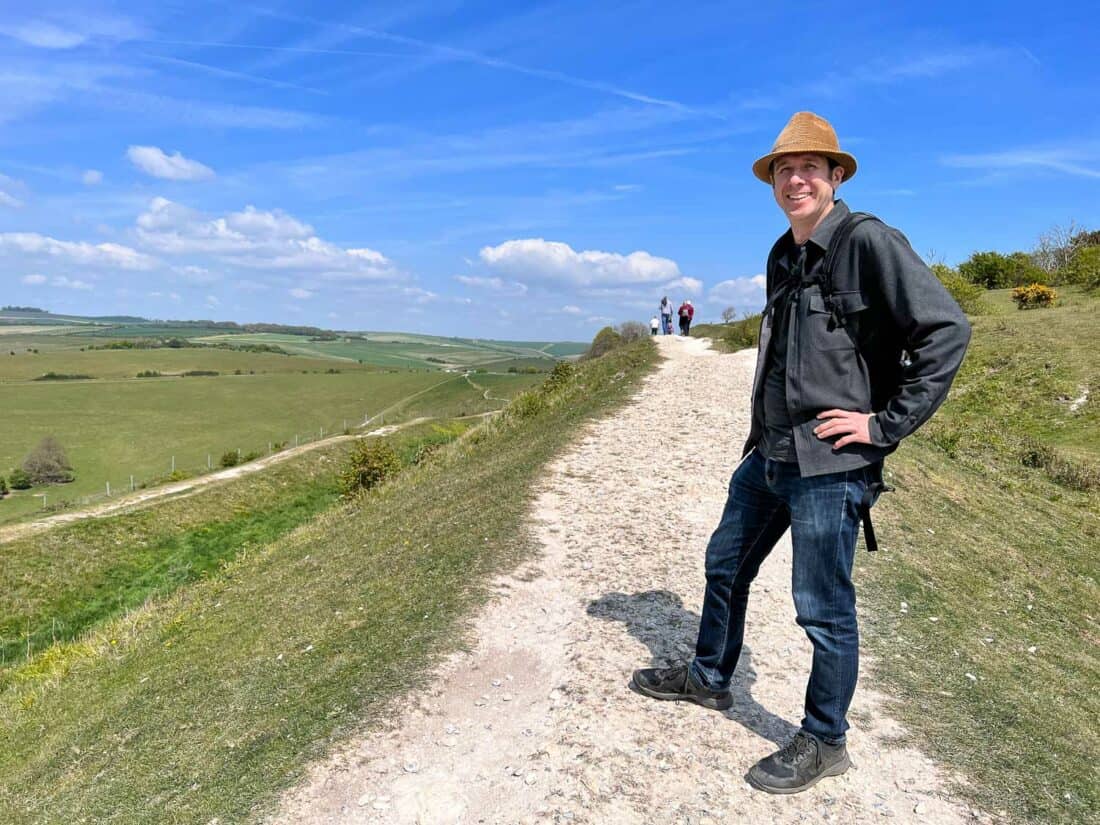 Cissbury Ring is another fascinating place to visit in the South Downs National Park. It's only a 15-minute drive from Worthing and is ideal for history and nature lovers.
It's the second largest hill fort in England dating back to 400BC. For 300 years it was used for defence before the inside was used for agriculture.
There are a variety of walks you can do in the area. We parked at the free Storrington Rise car park and did a 2.2 mile/45-minute loop up the hill and around the top.
We didn't find the walk up the grassy hill difficult and from the top you can enjoy views of Brighton and the south coast beyond. On a sunny day it's a pleasant place to wander with butterflies, flowers, and wild ponies. It would be beautiful at sunrise or sunset.
Map of Worthing Attractions
Is Worthing Worth Visiting?
Worthing is an underrated gem on England's south coast and is well worth a visit if you are looking for a relaxed seaside holiday. It's ideal for a trip that combines the beach, countryside, good food, and fun activities.
More England Posts
Enjoyed this post? Pin for later!