This page contains affiliate links. Please read our disclosure for more info.
The seaside town of Worthing in West Sussex has always been a good place for fish and chips and a 99 ice cream, but in recent years its culinary scene has diversified.
Worthing restaurants now offer delicious vegan and gluten-free meals and you can find everything from fine dining to food trucks.
We spent over a month discovering the best restaurants in Worthing and here we share our top picks including the best places to eat with outdoor seating and sea views and where to find a budget meal. All have good vegetarian options.
These are all within easy walking distance of Worthing Pier and many are right on the seafront, so you can combine a meal out with a walk on the lovely promenade.
At the end of the post, our map will help you track down the best food in Worthing.
Contents
Our Top Picks for Eating Out in Worthing
Special occasion: Tern
Sea view: Perch on the Pier, Coast, Food Trucks, Tern
Outdoor seating: Coast, Level 1, Food Trucks
Budget meal: Food Trucks, Level 1, Blue Ocean Fish & Chips
Vegan food: Yamu Yamu, Wine and Reason, Vegan Street Food Company, Pizzaface
Sweet treat: Boho Gelato, Baked
Open on Monday nights: Wine and Reason, Giuseppes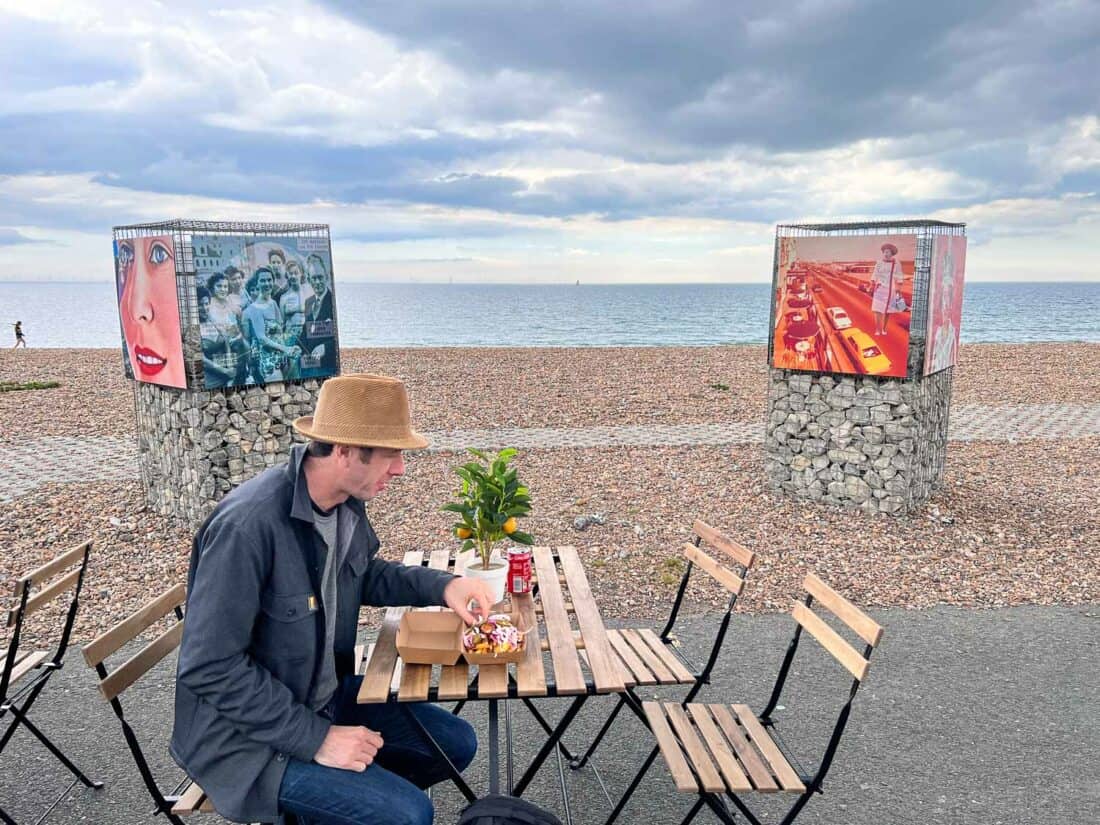 Best Restaurants in Worthing
1) Pitch (Closed)
Update 2023: Sadly, Pitch has now permanently closed. If you are looking for a special occasion restaurant in Worthing, consider newcomer Tern instead, which we look forward to trying soon.
Pitch is the best restaurant in Worthing for special occasions with fine dining in a friendly, unpretentious atmosphere.
It's the first restaurant by 2018 MasterChef Champion Kenny Tutt, a major player in Worthing's culinary renaissance. He opened the restaurant in his hometown and named it in honour of the market stall his family used to run and to pay homage to fresh local produce.
The food is a contemporary mix of modern and classic British food with a small, seasonal menu. There's always a vegetarian option for each course and vegans can be accommodated. It's worth starting with a cocktail from the interesting selection.
We began with Pitch's famous doughnuts, a savoury bite-sized treat with whipped goats cheese and burnt honey, that worked surprisingly well.
Our starter sounded simple—roasted broccoli, lemon, hazelnut, truffle oil—but the satay-like sauce was absolutely delicious and a favourite all round.
Our chickpea fritter mains with roast carrots and mint chutney were also flavourful and satisfying.
Pitch is one of the more expensive meals in town, but it's well worth it. If you are on a budget, check out the set lunch menu during the week.
2) Bayside Social (Closed)
Update 2023: Sadly, Bayside Social has now permanently closed.
In 2021 Kenny Tutt opened his second restaurant on Worthing seafront. Bayside Social is more casual than Pitch but the food is just as good and the view is stunning.
It overlooks the beach with plenty of outside seating and big windows inside so you can enjoy the view even on the chilliest days.
The upmarket brunch is popular, but we went for dinner when they serve small plates designed for sharing—they recommend two or three per person.
Surprisingly, our favourite dish was a simple side of roasted tenderstem broccoli in a delectable miso dressing. We also loved the From the Garden board with baba ganoush, flatbread, and various grilled and marinated vegetables, as well as the grilled Sussex halloumi.
The fish dishes went down well with our family too.
Bayside Social is open every day so it's a good option for lunch or dinner on Mondays and Tuesdays when many Worthing restaurants are closed.
During the day you'll also find the Hatch takeaway next door where you can grab an ice cream or a simple meal to eat on the beach.
Bayside Social has a prime spot on the Worthing promenade—see our guide to the best things to do in Worthing for activities in the area.
3) Yamu Yamu
We loved Yamu Yamu so much that it's one of the few restaurants in Worthing that we returned to.
This small, casual eatery decorated with cherry blossoms serves Japanese-inspired street food with plenty of vegan options. They also have craft beers and unique cocktails—the miso margarita was great.
Everything we tried was delicious but our favourite dish was the crispy fried tofu bao bun. The mushroom gyoza, nasu dengaku (miso-glazed eggplant), and butternut katsu curry were also tasty.
Yamu Yamu is popular so it's best to book or go early.
Details: 134 Montague St. Open Wed-Thurs 5.30-10pm, Fri-Sat lunch 12.30-4pm/ dinner 5.30-10pm. Closed Sunday to Tuesday. Booking is recommended for evenings.
Website: Yamu Yamu
4) Worthing Seafront Food Trucks
On a sunny weekend, my favourite place for lunch in Worthing is the various food trucks on the promenade west of the pier. In fact, it made my list of the best Worthing activities.
The food is quick and reasonably priced, and the location is perfect right next to the beach. Most trucks have a few tables or you can eat on the beach.
Here are the food vans we tried:
Taco Look at Me Now – My favourite. The vegan spicy jackfruit tacos are delicious, full of slaw, pico de gallo, and pickled onions with a crunchy addition of deep-fried leeks.
Potato Box – Choose from jacket potatoes, loaded fries, and potato wedges. We had the perfectly crispy fries topped with Turkish-style salad and garlic sauce with added jalapeños. Yum! Other toppings include vegan chilli, vegan cheese, and classics like baked beans. Sadly, they have now closed.
The Mac Shack – A variety of comforting mac and cheeses with a few vegetarian options (no vegan choices). The cheese and onion was topped with crispy onions and their cheese biscuit topping added even more crunch.
Worthing Gin Genie – Yes, the trucks serve alcohol too. A few do wine and cocktails, or head here to try local gin. The raspberry flavour is best.
If you like seafood you might also want to check out Crab Shack, which has a popular restaurant on Worthing seafront with outdoor seating and a nearby stand on the promenade.
Most food trucks are only open on the weekends and have variable hours. It's best to check their social media pages for the latest opening times. Weekend lunch is the best time to find the most places open.
5) Perch on the Pier
Perch on the Pier opened in 2022 and has the best location in Worthing—in the Southern Pavilion at the very end of the pier.
It's a gorgeous space with high ceilings, huge windows, and sea views on three sides.
Window seats are allocated on a first come first served basis—we managed to get one downstairs and the view was stunning. It was quite noisy, though, so try to get one of the window seats upstairs where it's quieter and the views are even more expansive.
The menu is fairly small but there's a good mix of comfort food (burgers, fish and chips) and healthier options.
I loved the choose your own adventure protein plate—I went with sweet potato falafel, poke (avocado, edamame, quinoa, pickled onions and various raw veg), and sriracha mayo, which was delicious and beautifully presented.
Perch is the hottest new restaurant in Worthing so booking in advance is essential. If you can't reserve a table, try your luck with the outdoor seating or couches in the upstairs bar. These are walk-in only and are the perfect spot for a drink with a view.
Details: Marine Parade. Open daily 9am-9pm, booking recommended.
Website: Perch on the Pier
New in 2023: In July, a new fine dining restaurant opened on the first floor of Perch on the Pier. Tern focuses on seasonal cuisine with 5 and 7-course tasting menus. Vegetarians, vegans, and other dietary requirements can be catered for with at least 48 hours notice. There's also a more casual brunch option on Sundays.
6) Crudo
Another new restaurant in Worthing, Crudo serves excellent Mexican street food. It has a convenient seafront location, but the only outdoor seating is out the back without a view.
There are good vegan choices and the fried plantain taco is the best taco I've had in a long time. It was the perfect balance of flavours with sweet plantains and pineapple salsa, earthy beans, creamy avocado, and spicy jalapeños.
Simon was just as happy with his smokey jackfruit burrito and we enjoyed the selection of salsa with chips. The cocktails are fantastic too and Crudo has a buzzy atmosphere in the evenings.
This is another spot you'll need to book, although it's easier to get in for lunch than dinner.
Another Mexican restaurant in Worthing that we really wanted to try is Salsa Viva Cantina—our friend says the food is even better than Crudo. As it's small and only open for dinner Thursdays to Saturdays, you'll need to book at least two weeks in advance to get in and we sadly missed out.
Details: 29 Marine Parade. Open Wed 5-11pm, Thurs-Sat 12pm-Midnight, Sun 12-5pm. Closed Monday to Tuesday. Booking recommended.
Website: Crudo
7) Wine and Reason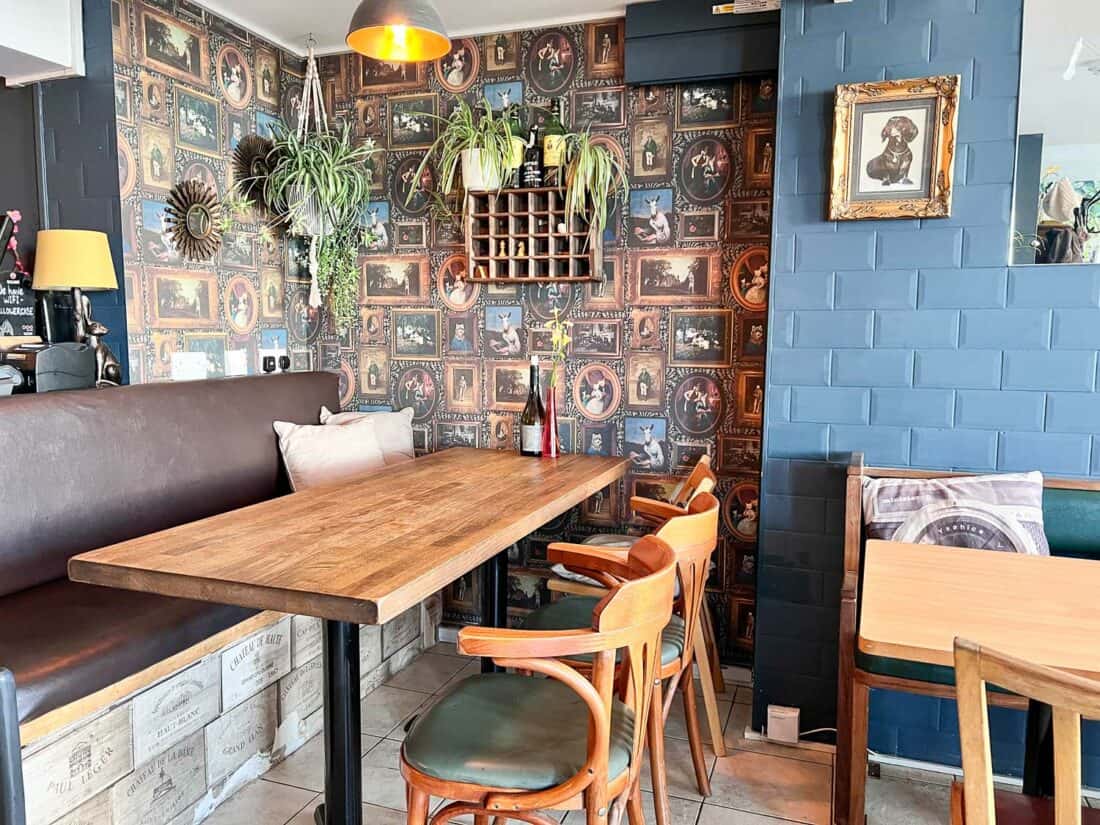 The best vegetarian restaurant in Worthing is Wine and Reason, a stylish wine and tapas bar with an all-veggie, mostly vegan menu.
It's located close to the seafront and pier with outdoor seating.
They have two menus. The main menu is all vegan comfort food like plant-based burgers, wraps, and nachos. These are available for takeaway too if you want to eat on the beach.
We focused on the internationally-inspired tapas menu instead—four vegan tapas with a side of fries between two was plenty.
Our favourite dish was the courgette and coconut arancini in a spicy Thai red curry sauce—fusion cuisine at its best. We also loved the Imam aubergine with quinoa (so flavourful) and the cauliflower pakora.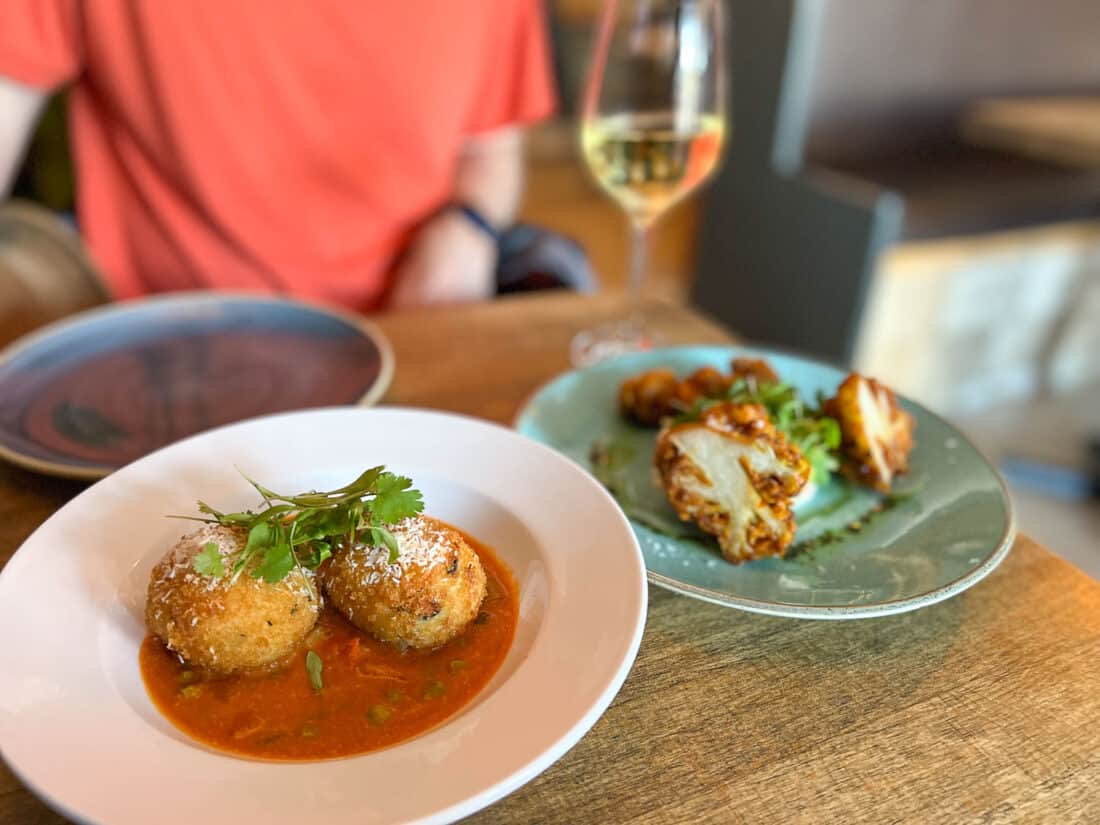 There's lots more we'd love to try so this is definitely a restaurant to return to.
As promised by the name, they also have a large menu of wines by the glass—Simon loved his Miss Molly chardonnay.
Wine and Reason has limited indoor seating so make sure you book for Friday and Saturday evenings when they have two sittings at 6 and 8pm.
Details: 14 Montague Place. Open Mon 12-10pm, Wed-Thurs 12-10pm, Fri-Sat 12-Late, Sun 12-5pm. Closed Tuesdays. Booking recommended for Fri-Sat.
Website: Wine and Reason
8) Coast Cafe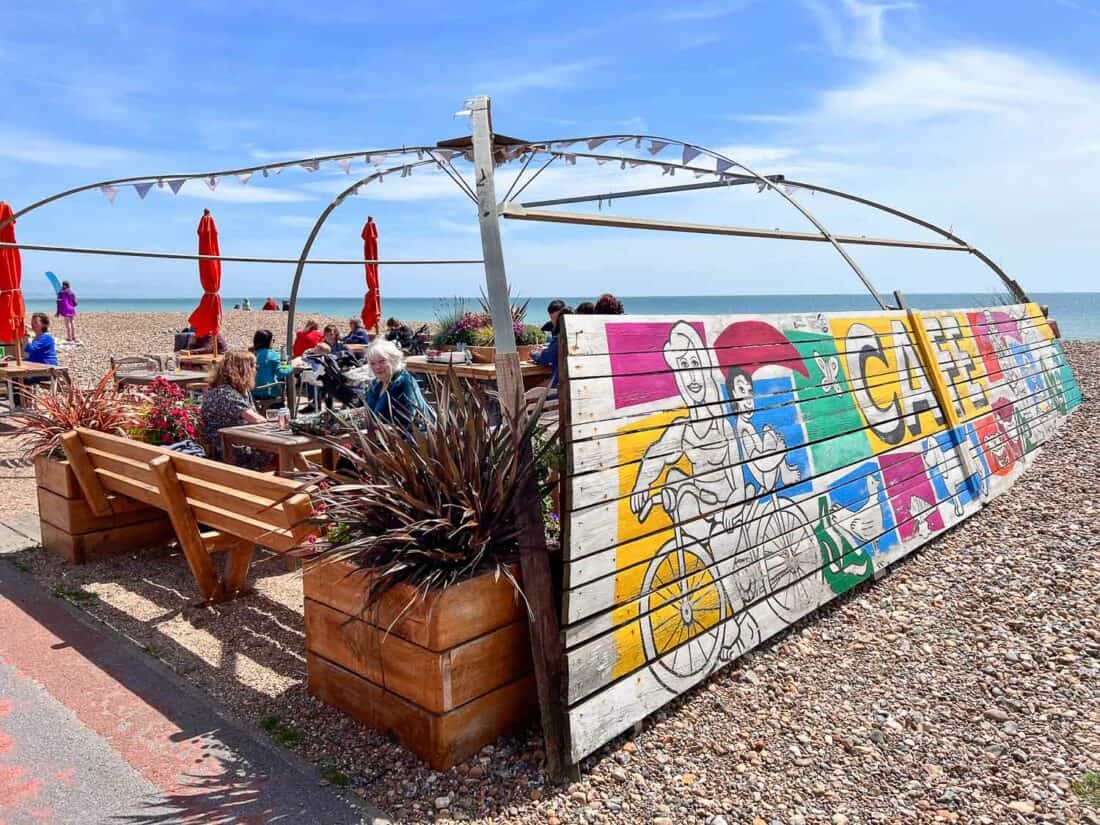 Coast has one of the best restaurants with outdoor seating in Worthing. The location is perfect right next to the beach and it's close to the beach volleyball courts, East Beach Studios for shopping, and K66 for paddleboard hire.
This casual cafe is open for breakfast and lunch every day and has vegan options. I liked the Buddha Bowl and Simon enjoyed his halloumi bap.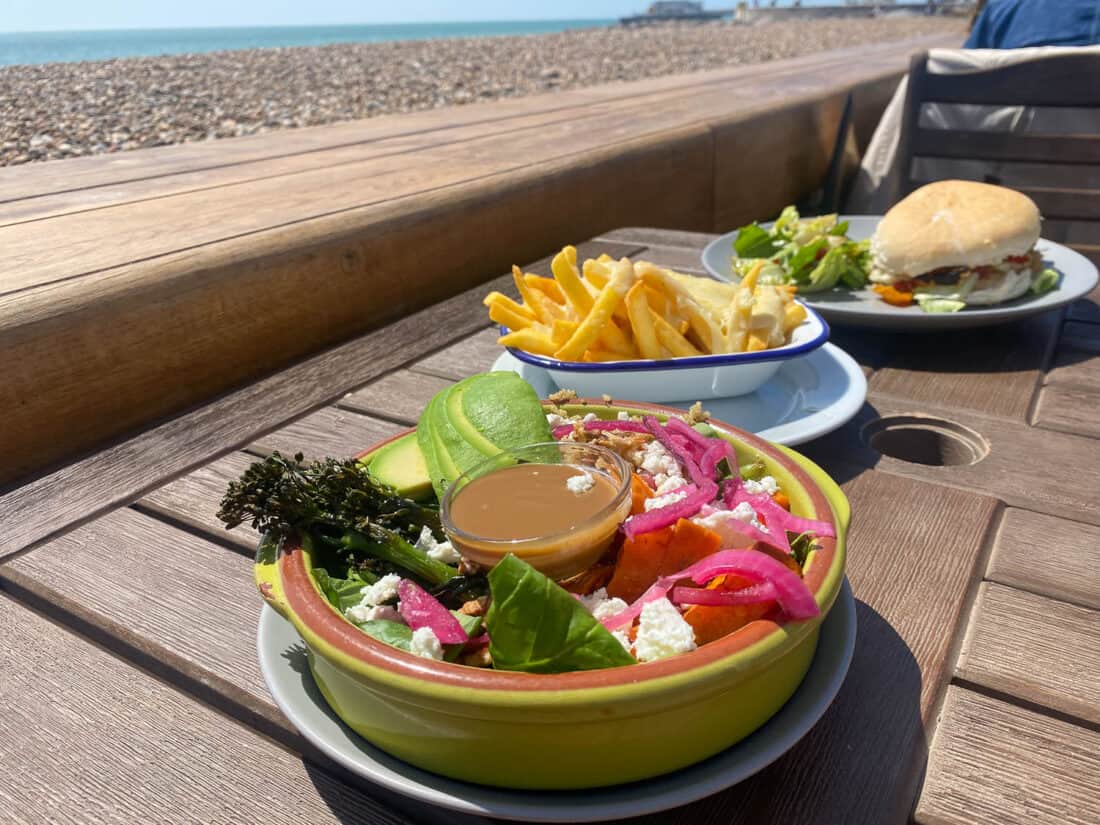 We didn't find the food quite as good as the others above, but with this setting, it's one of the best places to eat in Worthing on a sunny day.
Details: Beach Parade. Open Mon-Sun 9am-5pm, Fri-Sat 7am-1am.
Website: Coast Cafe
9) Level 1
Level 1 is a fantastic addition to the Worthing food scene—an outdoor food court with sea views.
There are five food and drink stalls to choose from so it's ideal if you have a group with different tastes. As well as a bar, food options are pizza from Pizzaface, BBQ from Wood X Coal, fish and chips from Golden Barracuda, and fried egg sandwiches (daytime only) from Fika.
You order from an app (scan the QR code at your table) and the food is brought to you so you don't even have to queue.
We found veggie options a little limited, but Golden Barracuda does offer vegan fish made from battered banana blossom, which is pretty tasty.
Simon had his as a classic fish and chips (although the skinny fries weren't very traditional), while I preferred the banana blossom flatbread where the freshness of the tomato salsa and smoked aubergine puree balanced out the deep-fried blossoms.
Details: Marine Parade. Open Wed-Sat 10am-11pm, Sun 10am-7pm. Closed Monday and Tuesday. Walk-ins only. Stalls may have different hours.
Website: Level 1
10) Chipwick
You can find some of the best fish and chips in Worthing at award-winning Chipwick.
You can dine in or get takeaway from their restaurant just one block back from the seafront.
As well as all the classic fish options, vegetarians can choose from battered or grilled halloumi and veggie burger. We visited with family and everyone enjoyed their meal.
Details: 94 Brighton Rd. Open Tues-Fri lunch 12-3pm/ dinner 5-9pm, Sat 12-9pm, Sun 12-6pm. Closed Mondays.
Website: Chipwick
11) Blue Ocean Fish & Chips
This casual takeaway near the pier became our favourite for picking up a bag of chips to eat on the beach.
It's a classic chip shop and ideal if you are looking for a cheap place to eat in Worthing.
Details: 3 South St. Open Tues-Thurs 11am-8.30pm, Fri-Sat 11am-9pm, Sun 11am-8.30pm. Closed Mondays.
Website: Blue Ocean Fish & Chips
12) Pizzaface
On our hunt to find the best pizza in Worthing, Pizzaface came out top.
You can eat in their restaurant on Montague Street or stall at Level 1 or order delivery.
They have an extensive vegan menu (with options like vegan chorizo and herby sausage) and plenty of creative toppings for all tastes.
Their restaurant also serves delicious Boho Gelato (see below).
We also tried the pizza at Fiordilatte, which has a great location on pedestrianised Warwick Street, but we didn't like it as much. They can do vegan and gluten-free pizzas.
Details: 138 Montague Street. Open Sun-Thurs 4-10pm, Fri-Sat 12-10pm.
Website: Pizzaface
13) Vegan Street Food Company
Vegan Street Food Company is one of the best vegan restaurants in Worthing. It's a small takeaway with an all plant-based, gluten-free, and nut-free menu.
Grab a wrap or salad from the fridge, choose one of their vegan cakes, or order from the hot food menu of burgers, subs, and rice pots.
This is a fantastic option for vegans, but we didn't find the food as flavourful as the other Worthing restaurants we tried. My favourite dish was the dirty fries topped with vegan cheese, guacamole, salsa and jalapeños.
Details: 2 Field Row. Open Sun-Thurs 9am-3pm, Fri-Sat 9am-8pm.
Website: Vegan Street Food Company
14) Giuseppes
Giuseppes is one of the most popular Italian restaurants in Worthing.
The food is southern Italian and we enjoyed our aubergine parmigiana, gnocchi Sorrentina, and pea risotto. The Aperol Spritz was also the best I've had outside Italy (they are often too weak in the UK).
Giuseppes is a solid choice, and it's easier to get in when other restaurants are booked up, but we didn't find it as exciting as some of the other places to eat in Worthing.
Details: 8 Warwick Lane. Open Mon-Thurs 5-10pm, Fri-Sat 12-10.30pm, Sun 12-9pm.
Website: Giuseppes
15) Baked
I must give an honourable mention to Baked. Although it's a cake shop rather than a restaurant, it's our favourite place for a sweet treat in town.
They have a huge selection of brownies and blondies including five or six vegan flavours which are just as good as the non-vegan ones. All are perfectly rich and gooey.
Even better, they are a social enterprise supporting young people with employment, skills, and training.
Baked is a little further from the pier, but it's only a 10-minute walk and well worth the effort. They also deliver their brownies across the UK.
Details: 31 Rowlands Road. Open Tues-Fri 10am-4pm, Sat 10am-3pm. Closed Sunday and Monday.
Website: Baked
Best Ice Cream in Worthing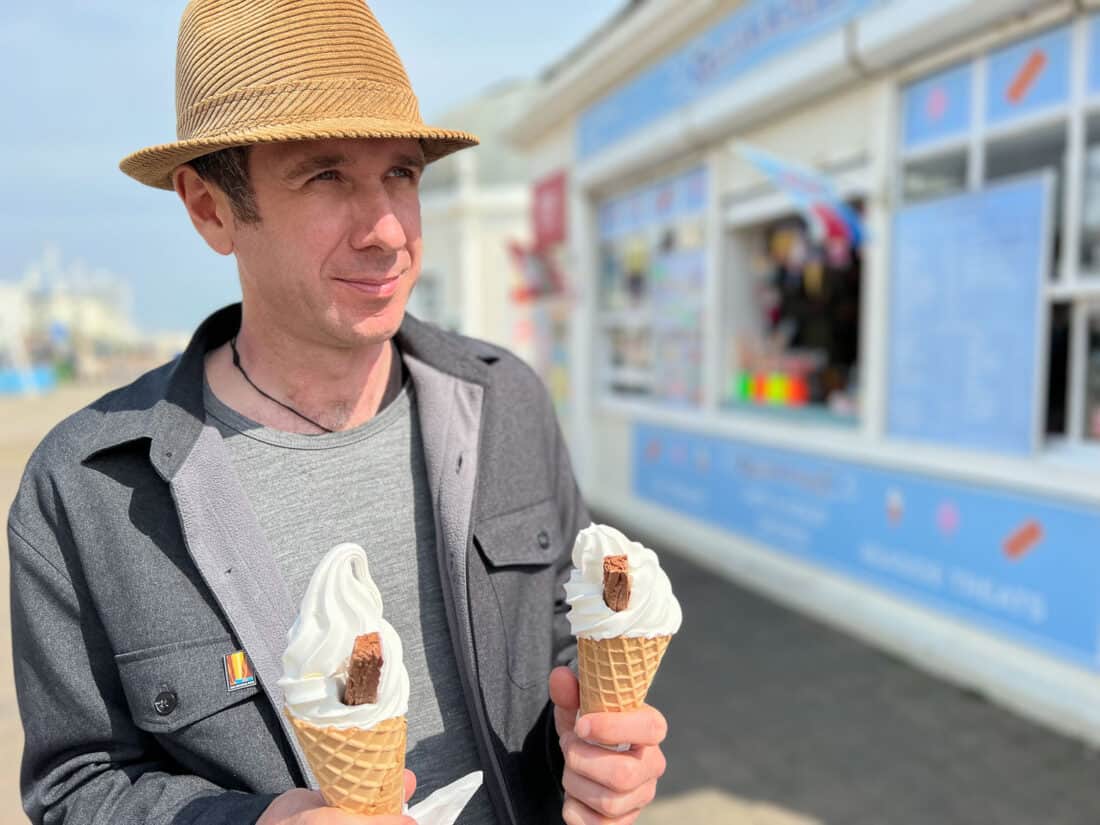 You can't go to the seaside without having an ice cream. Here are our favourites:
Boho Gelato – Located inside Pizzaface, this gelato is incredible. They have a changing menu of creative flavours with vegan options. The strawberry white chocolate and sour cherry were amazing.
G-Lite – Another great option for gelato. They have all the classic Italian flavours and you combine them—pistachio and chocolate is the ultimate combo for me.
Molloys – If you are on the seafront and want a traditional Mr Whippy with 99 flake, this is our top pick. It's worth paying extra for a waffle cone. The stall in the middle of the pier is also good and is the cheapest option.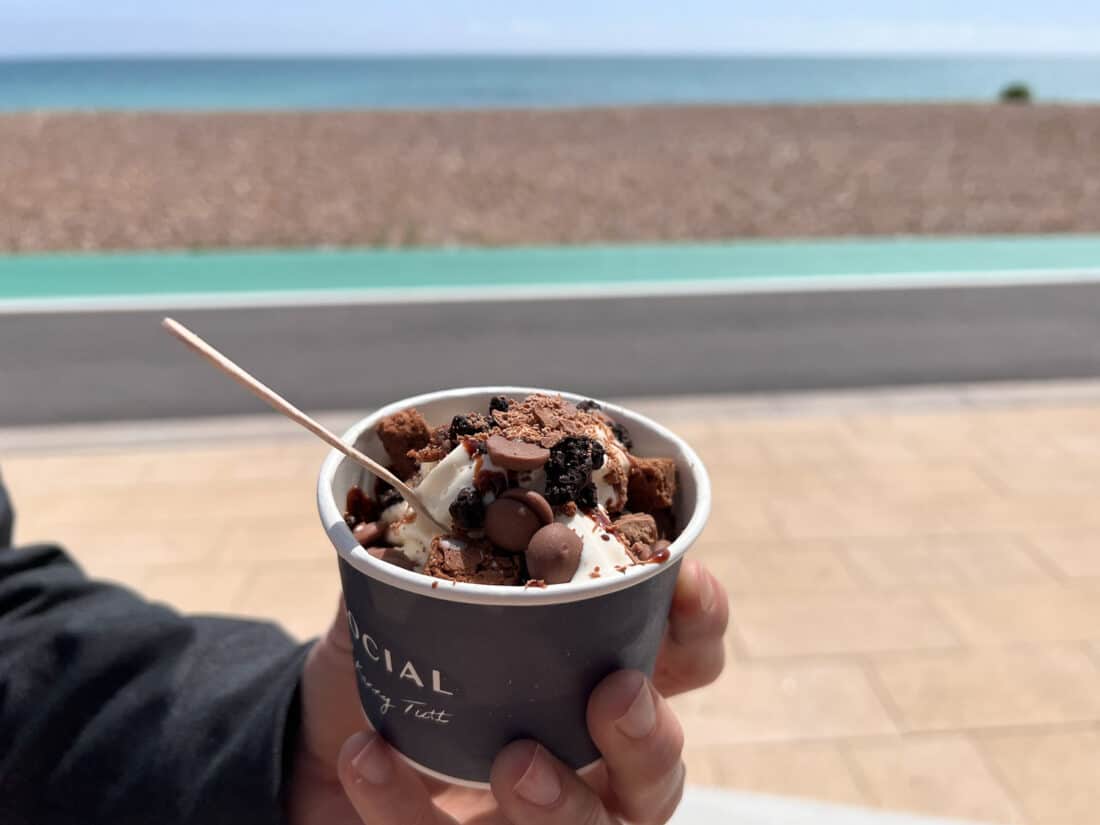 Map of Worthing Restaurants
Summary
Worthing is a fantastic destination for food. I hope we've given you some ideas on where to eat, let us know if we've missed any of your favourites!
See our guide to the best things to do in Worthing West Sussex for many more tips.
Enjoyed this post? Pin it!