This page contains affiliate links. Please read our disclosure for more info.
It was a moment of perfect travel luck that led us into Florence Avenue, Sebastopol, quite possibly the most unique street in the US.
In Sonoma County California, Sebastopol is a hidden gem of a town with a vibrant community a 15-minute drive from Santa Rosa.
While driving the Sonoma cheese trail, we took a wrong turn down a residential street called Florence Avenue and unexpectedly discovered the delightful Sebastopol art street.
Giant colourful junk metal sculptures stood on every front lawn. The artworks depicted various scenes and characters, like figures that had leapt out of a zany comic book.
Not what you'd usually expect in a suburban location.
These are the artworks of Sebastopol metal artist Patrick Amiot and his wife, Brigitte Laurent. He sculpts them out of recycled junk materials, and she paints them with bold, bright colours, giving the scrap objects new life.
Below you will find several photos of what to expect as you stroll down Florence Ave Sebastopol. In addition, there are tips on how to get there, the best time to visit, where to stay and more details about the artists, Sebastopol and Sonoma County.
Contents
Tips on Visiting Florence Avenue Sebastopol
Florence Ave is just off Highway 116 and near the centre of Sebastopol. It is about a 1 hour 15-minute drive north of San Francisco.
The Sebastopol art street is a free popular art trail, so you will often find people strolling along it or cars slowly crawling down the road.
Florence Avenue runs along three blocks, with most people taking around an hour to view all the Sebastopol sculptures on display.
Please remember that it is a residential street, so view the Sebastopol metal sculptures from the pavement.
Park respectfully in nearby streets. Safeway is a good parking choice and only a short walk away. Try visiting during the week when it's quieter.
Artists Patrick Amiot and Brigitte Laurent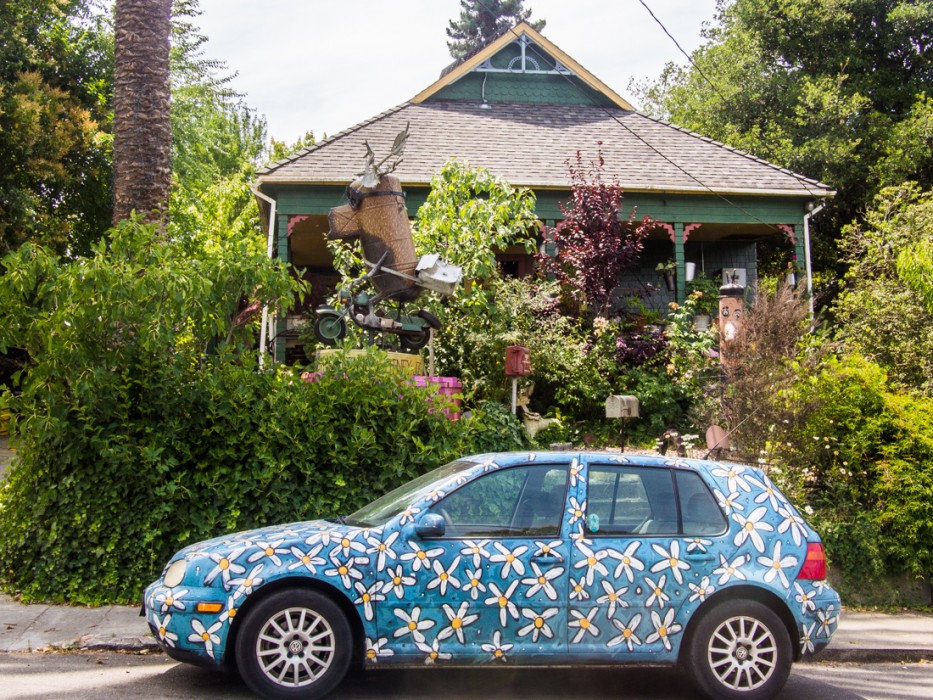 For decades, Patrick Amiot and Brigitte Laurent have collaborated on their eclectic Sebastopol metal sculptures. Self-styled as "urban folk artists", the couple arrived in Sebastopol with their family in 1997, where they live on Florence Avenue to this day.
It is easy to tell which house belongs to them—there are multiple sculptures in their front garden, with a car decorated with painted daisies.
The artists began displaying their work in their front yard to foster a sense of community and interaction.
Their neighbours loved the metal sculptures and invited them to use their front yards on Florence Avenue as effectively an open-air gallery.
Sebastopol has embraced their work so much that you will find their quirky characters scattered throughout the town, with the highest concentration along Florence Ave.
See the Patrick Amiot website to find out more about the inspiration behind their practice.
Some Quirky Characters You May Meet Along Florence Ave Sebastopol
Depending on which works have sold, the Sebastopol sculptures displayed on the front lawns of Florence Avenue change occasionally.
Below are some of the metal sculptures installed when we visited the famous Sebastopol art street.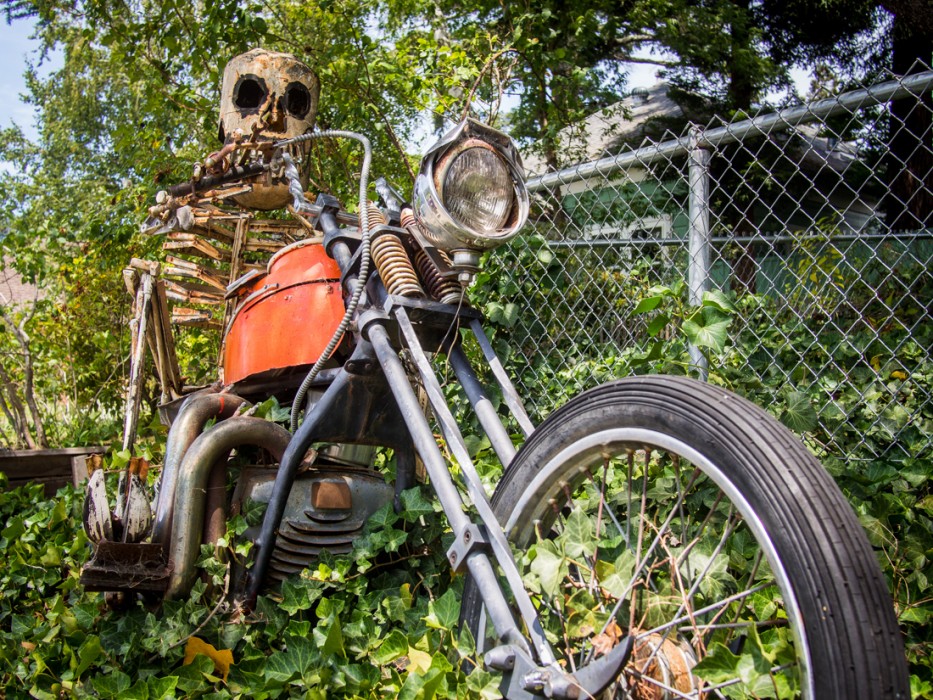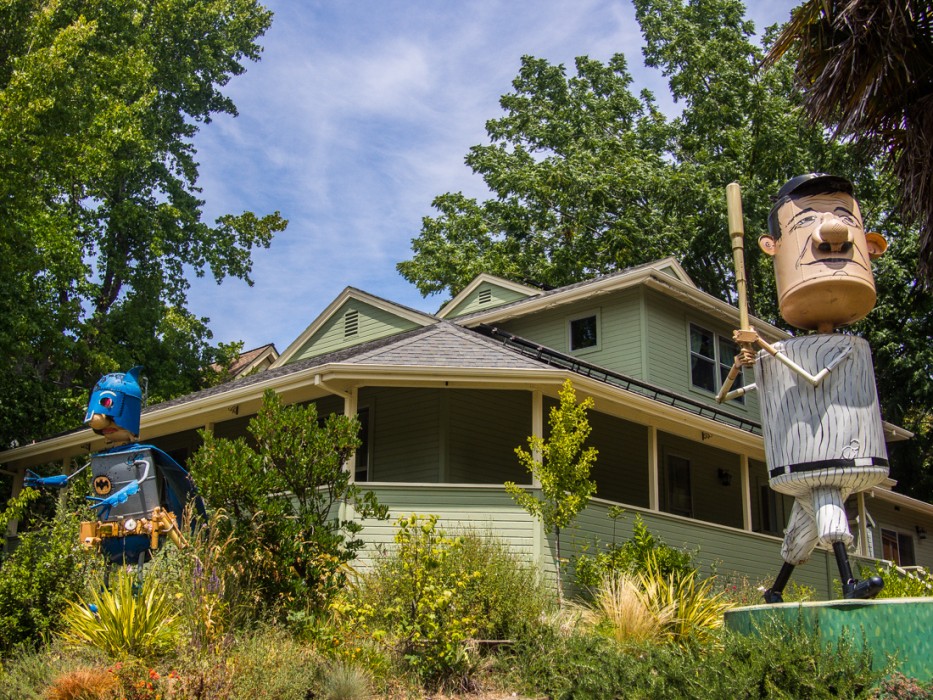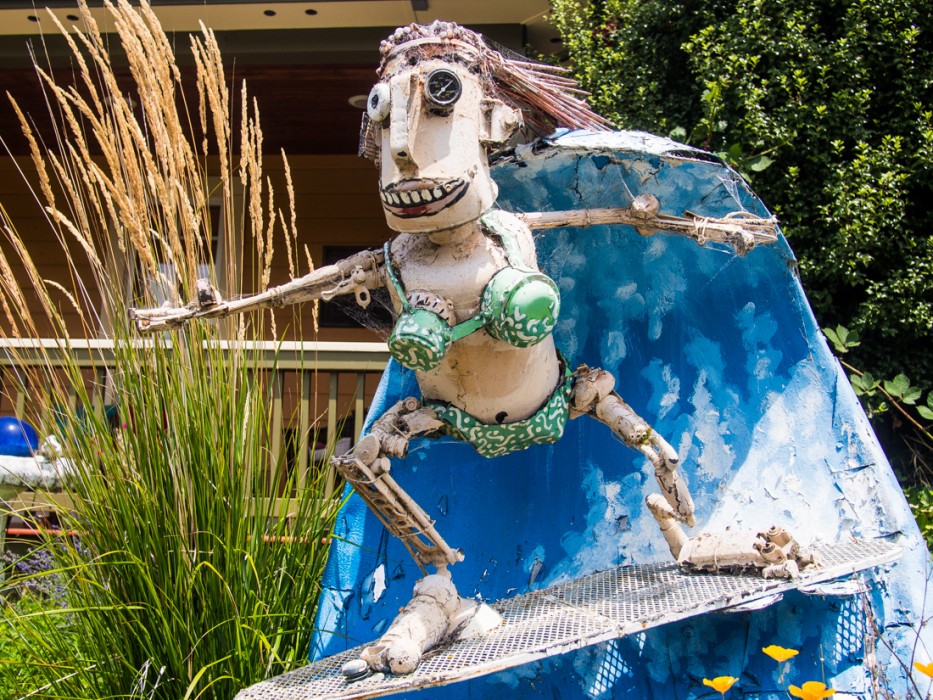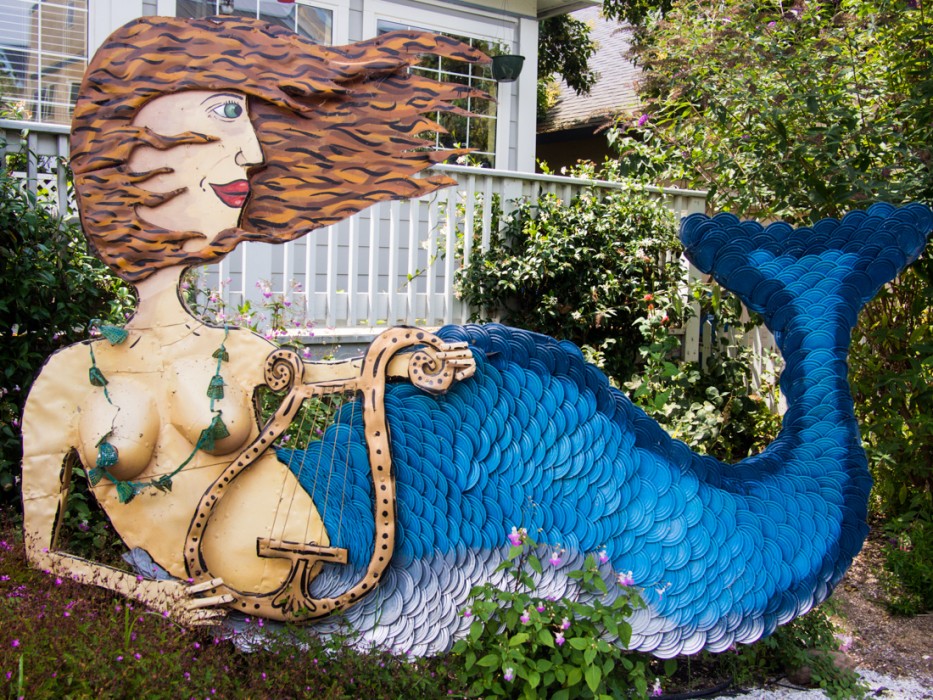 Patrick Amiot's junk art seems to have a running theme with old cars and trucks, which we love.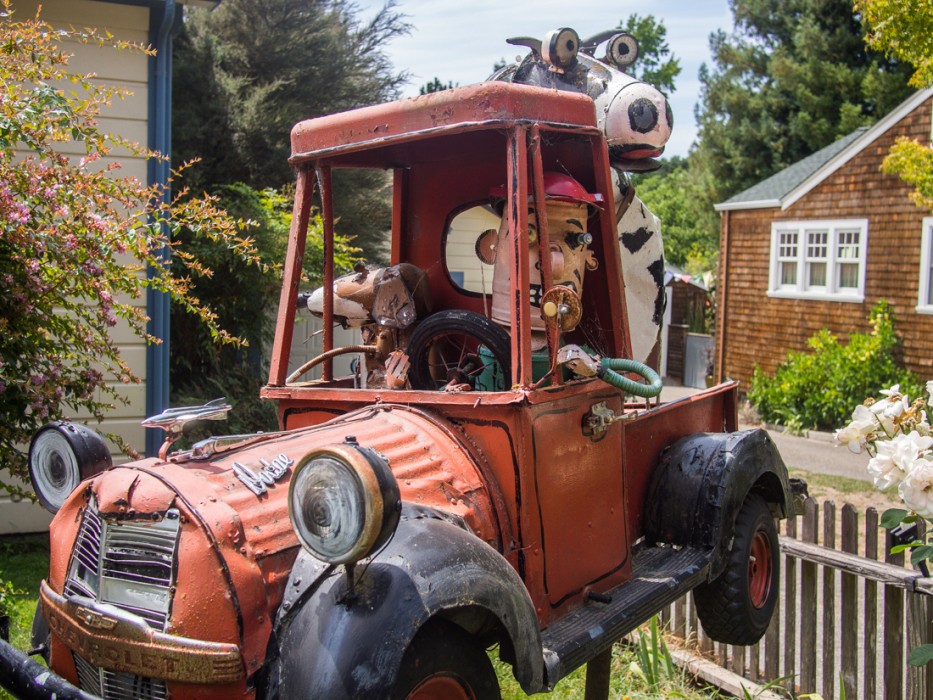 In fact, there are many kinds of transport.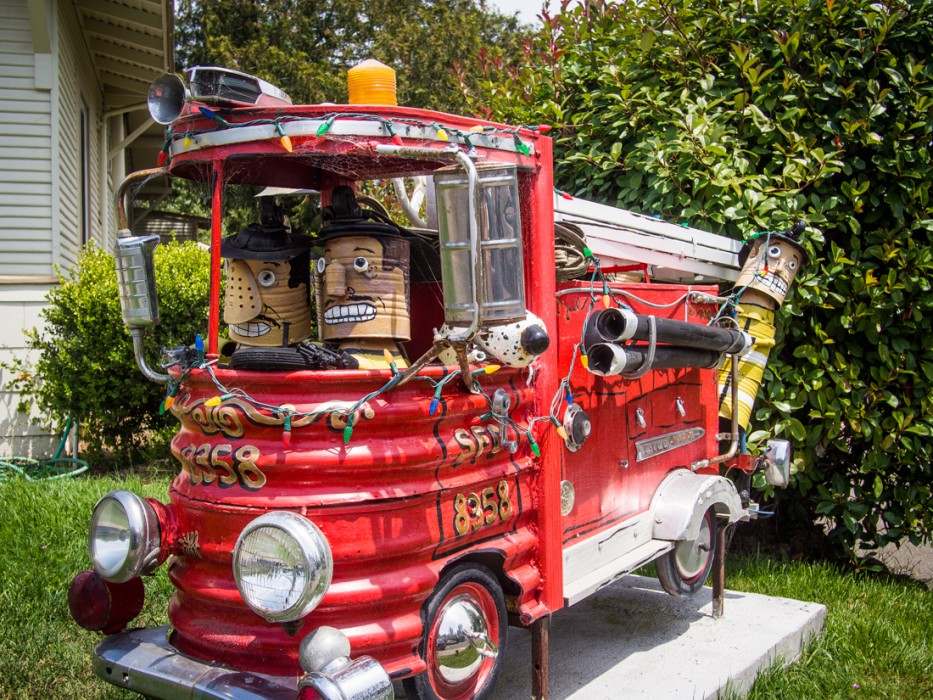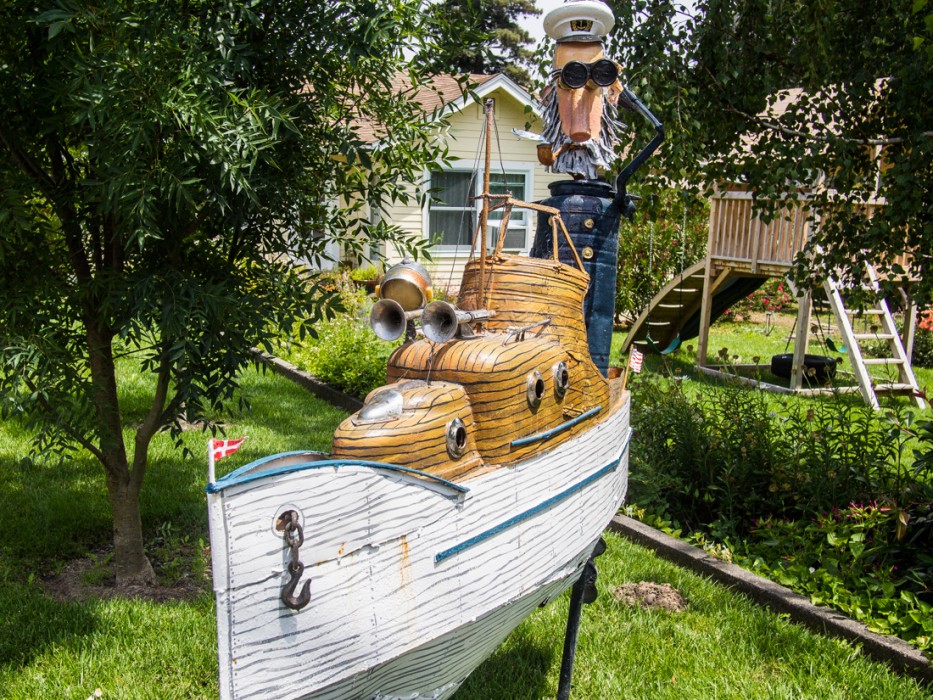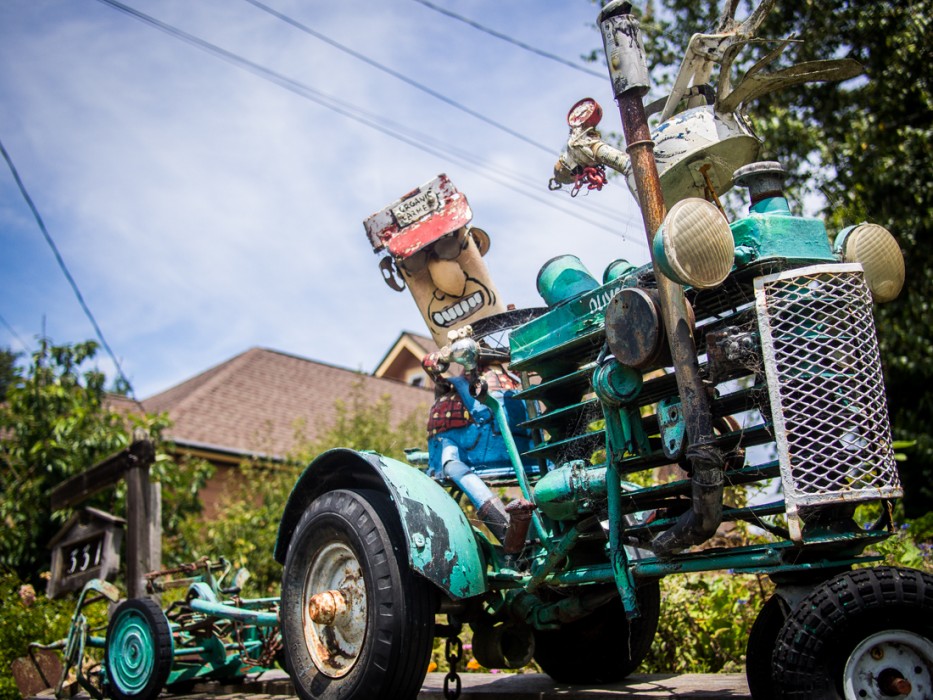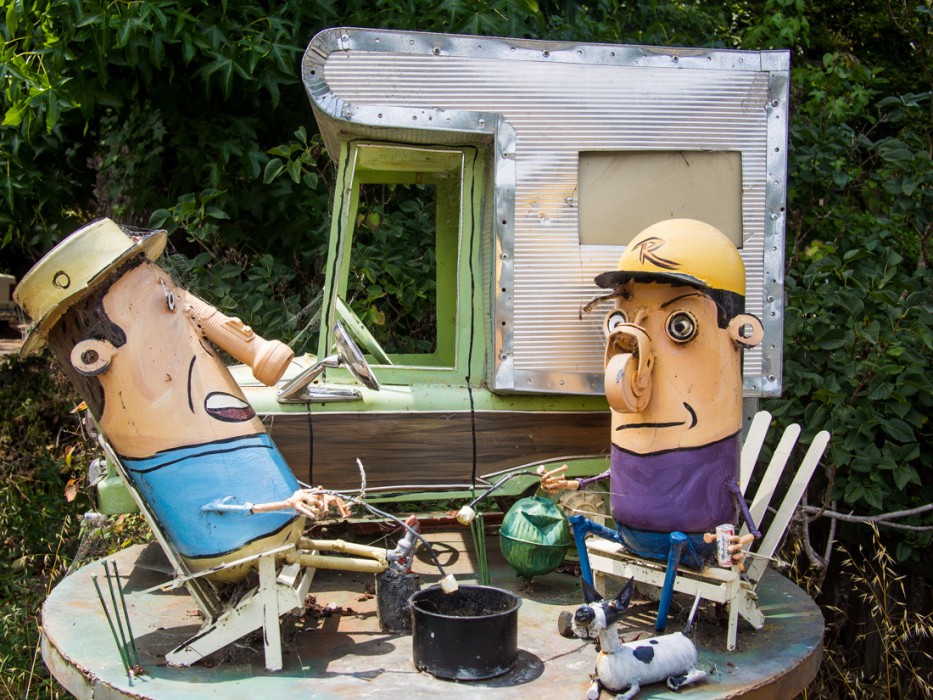 Sebastopol and Sonoma County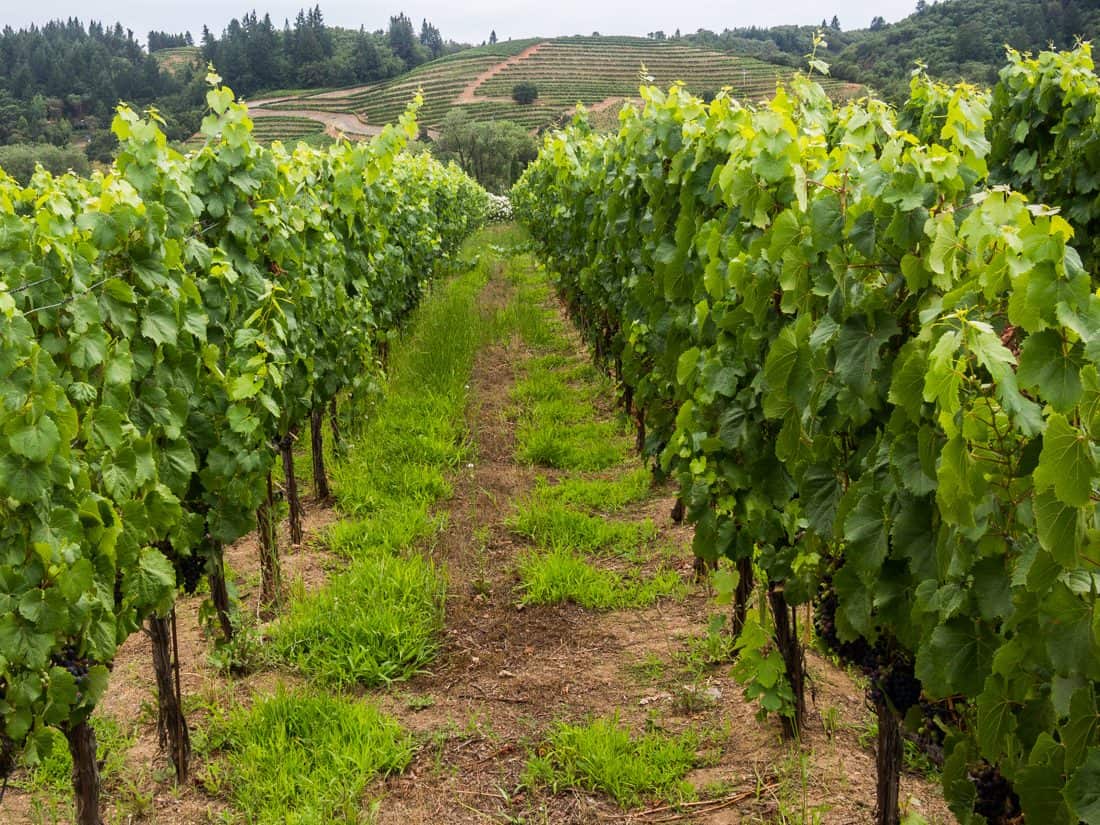 Sebastopol was a hippie hub in the 1960s, and the community declared it a "Nuclear Free Zone". They installed a sign proudly stating so which you can still see downtown.
Historically, apple orchards filled the surrounding area, but now the landscape is dominated by grapevines.
Sonoma County is a quieter wine country than Napa, with various boutique wineries and artisan cheesemakers. You are guaranteed to spend a glorious day exploring all that the county has to offer, with Sebastopol as its dynamic creative heart.
Read our guide to the best things to do in Sonoma County including wineries, hikes, and delicious food.
This Sonoma County Wine Tasting Tour run by Sonoma Wine Rides looks like a great introduction to various small-production wineries in the region. They will even pick you up and return you to your vacation rental or hotel.
See sonomacounty.com for lots of great information to help you plan a trip to the area.
Where to Stay to See the Sebastopol Metal Sculptures
In Sonoma County, we stayed in a gorgeous Airbnb house outside Sebastopol. The tranquil setting surrounded by a large garden of apple trees was perfect.
Another great option is Fairfield Inn and Suites, which is just a five-minute drive from Florence Avenue and has a pool and hot tub.
Our guide to what to do in Sonoma has more recommendations of historic B&Bs and fancy winery resorts in the county.
Are the Sebastopol Sculptures Worth Visiting?
Yes absolutely! It's difficult to imagine how anyone could resist Patrick Amiot and Brigitte Laurent's playful work. The residential setting of Florence Avenue Sebastopol makes it a unique sculpture trail for all the family.
It is also inspiring to find a small town that has embraced its own residential Sebastopol sculpture artist and creativity into its community.
Exploring the sculptures along Florence Avenue and other artworks in Sebastopol is an excellent complement to the wine and cheese trails in Sonoma County.
More California Posts
Explore more of the state with our other California guides:
Northern California
Southern California
Enjoyed this post? Pin for later!