This page contains affiliate links. Please read our disclosure for more info.
This month we celebrated 12 years of full-time travel!
It feels particularly significant that as travel bloggers we were able to make it this far after a turbulent 11th year—the pandemic hit our business hard and disrupted our travel plans.
Year 12 was a year of rebuilding. Our blog traffic and income gradually increased again, and after over two years in New Zealand, we finally left in December for the US.
Here are the highlights of our 12th year as digital nomads.
Spotting Native Birds on Kapiti Island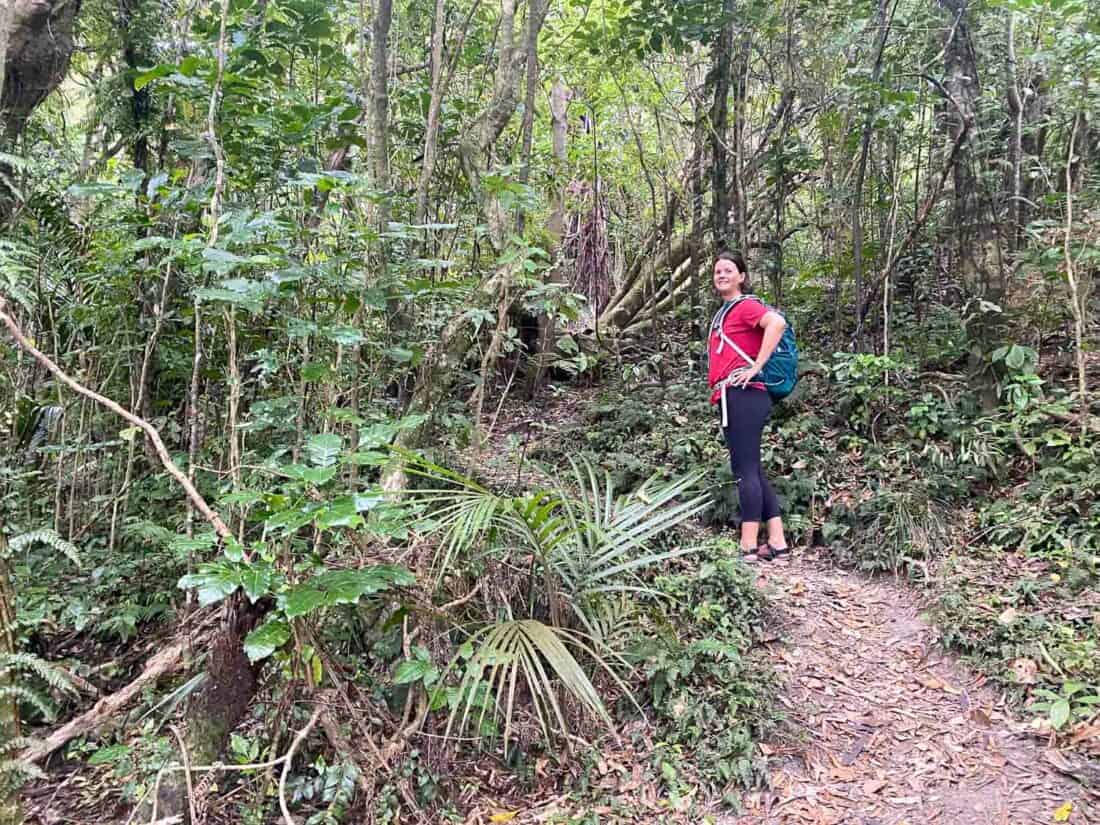 We were due to leave New Zealand last February, but our flight to Australia was cancelled after a Covid outbreak and we managed to get yet another visa extension.
Instead, we returned to the Kapiti Coast outside Wellington where we've spent the most time in New Zealand. The extra time gave us a chance to finally visit Kapiti Island, which we'd spent a lot of time looking at but never visited.
We spent last year's nomadiversary taking a boat trip to the predator-free nature reserve where native birds thrive. The chorus of birdsong was immense as soon as we landed.
We spent the day hiking through the forest to the 521-metre summit and spotting birds like the rare hihi as well as korimako, weka, kaka, and many more.
Our guide to the best Wellington walks has more details.
Road Tripping the East Coast of the South Island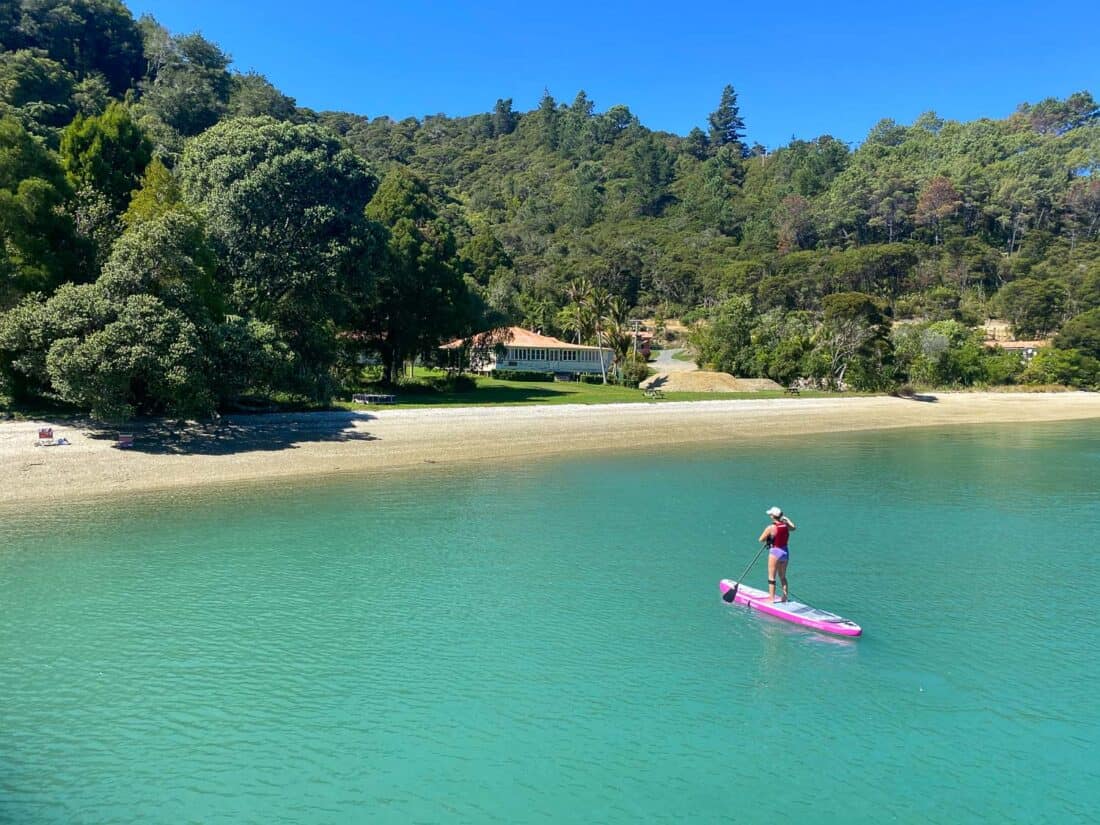 When we realised we were staying in New Zealand, we decided to head back to the South Island to enjoy more of the stunning mountain scenery without the crowds (as borders were still closed).
We've driven the length of the South Island multiple times and this time we took the East Coast route. We loved the wildlife, beaches, and coastal hikes.
Some of our favourite experiences included:
Returning to the remote, off-the grid bach we love in the Marlborough Sounds for a week relaxing, paddleboarding, and jumping off the jetty.
Celebrating my 40th birthday with a kayaking trip on the Banks Peninsula (despite huge waves!). Simon also made me an amazing movie-themed birthday poster featuring family and friends.
Many beautiful hikes on the Banks Peninsula especially the Nikau Palm Gully Walk in pretty Akaroa.
Seeing so much wildlife on the stunning Otago Peninsula including little blue penguins, albatross, sea lions, and seals.
Our East Coast South Island road trip post has many more tips.
Autumn Colours in Queenstown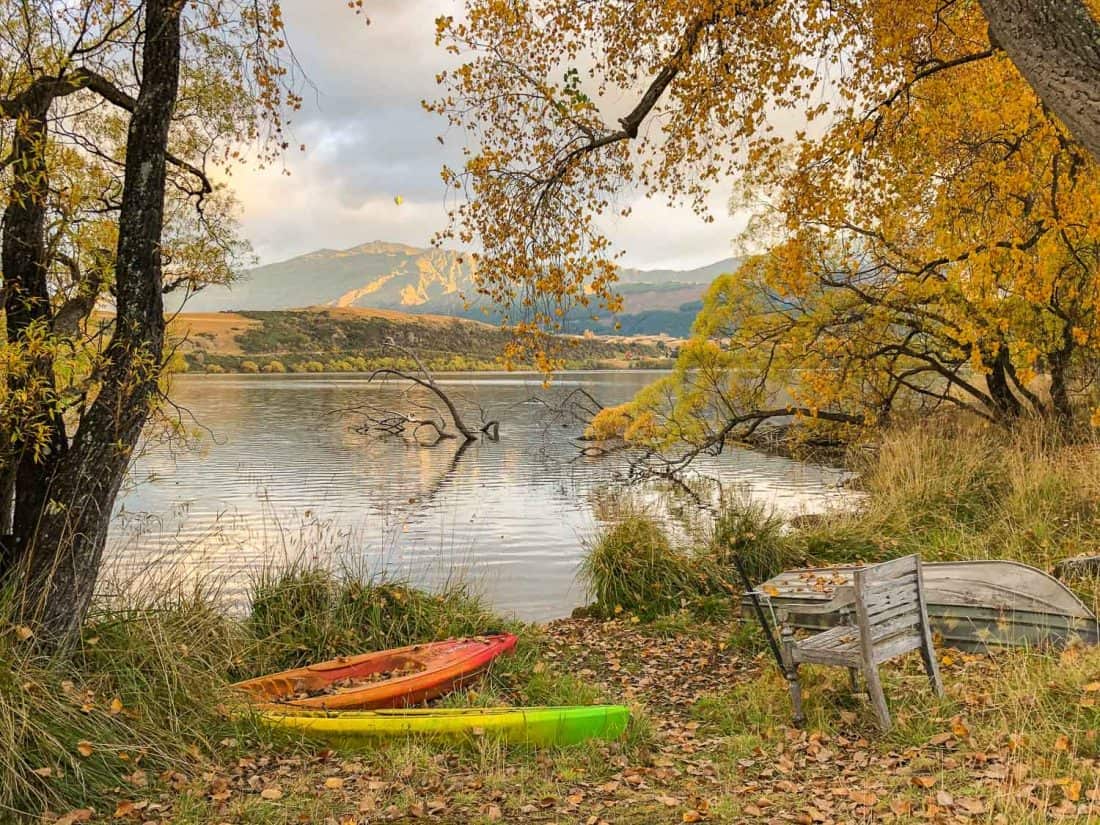 Next up was a month in Queenstown, possibly New Zealand's most popular tourist town, so we thought we'd take advantage of the closed borders.
April turned out to be the perfect time to visit as it's quieter than the summer or winter months and the trees are golden, stunning against the snowy peaks and turquoise rivers and lakes.
Highlights included paddleboarding on my beloved Moke Lake, morning runs around Lake Hayes (especially gorgeous in autumn), chilly swims in the lake, and cycling from Arrowtown to the Gibbston Valley wineries.
See our things to do in Queenstown guide for more details on this beautiful lakeside town.
A Winter Stay at Lake Hawea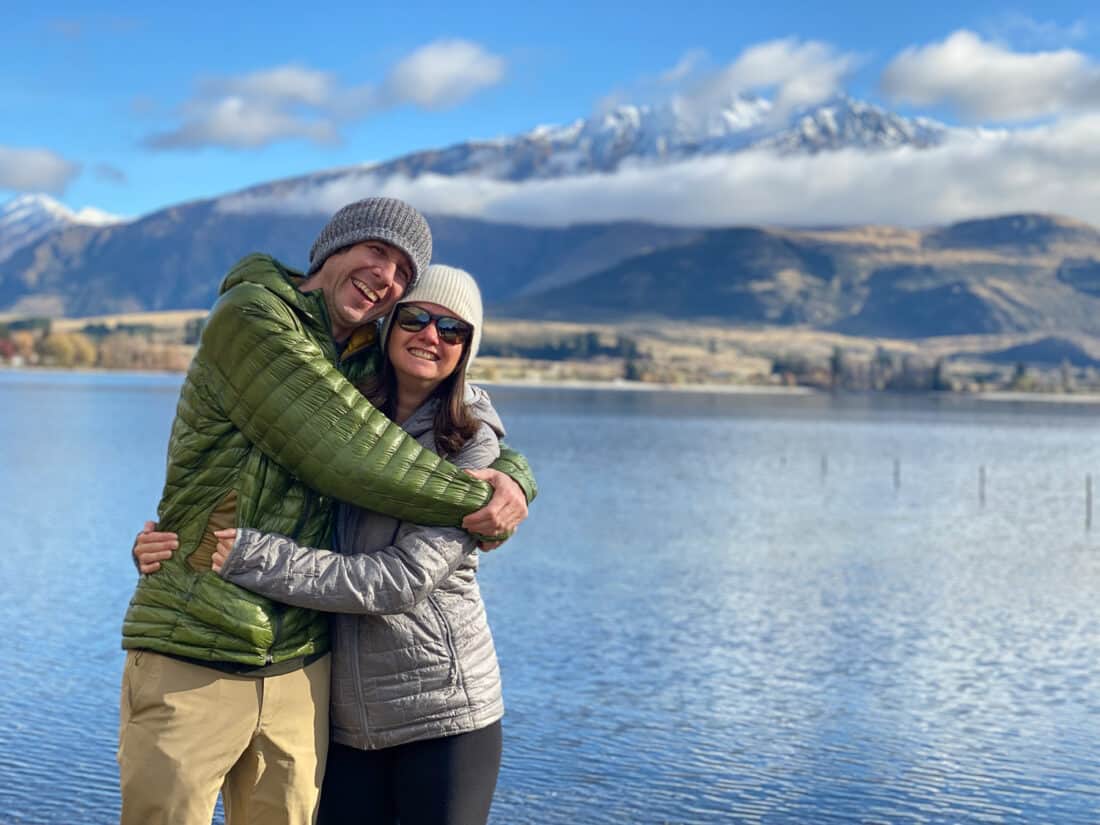 Lake Hawea is another spot we keep returning to. After two extended stays in summer, we returned to this tiny lakeside town near Wanaka for two months in early winter.
We enjoyed it almost as much as in the January heat. I managed to keep swimming in the lake (although it was definitely more challenging) and we loved seeing the snow-capped mountains. Frosty mornings were also a novelty after the previous year's mild winter in Wellington.
We still managed to stay active with some great hikes (especially in Mt Aspiring National Park), a wonderful 42km bike ride on the new Lake Dunstan trail, and when the snow finally arrived, a snowboarding day at Cardrona.
Our friends also visited us for some fun wine drinking, hiking, and pool playing time.
So Many Winery Trips
We are very much into New Zealand wine now and did multiple winery trips in the last year. We love that many of the wine regions are compact enough to explore by bike—cycling through beautiful scenery with breaks for good wine and food is a superb way to spend the day.
The Gibbston Valley near Queenstown is our favourite place for wine tasting. We love the bike ride from Arrowtown to the wineries along the turquoise river so much that we did it twice.
The second time was with friends and we stayed overnight at Kinross Winery. Drinking pinot noir outside by the fire on a cool winter evening was one of our best memories of the year.
We also revisited some Marlborough wineries (excellent sauvignon blanc) for our 22nd anniversary and lovely Martinborough (one of the best side trips from Wellington) for Simon's birthday.
A Snowy Visit to Aoraki Mt Cook
Aoraki Mt Cook is my pick for the most beautiful place in New Zealand. We loved it in summer but it's even more spectacular in winter.
We stayed at the Hermitage Hotel again (the view is magnificent) and it snowed overnight—we woke up to a winter wonderland! Being the first people to walk on the fresh snow on the Tasman Glacier trail was wonderful, and the Hooker Valley Track is even more beautiful when the peaks are snow-capped.
A Winter Hike in Abel Tasman National Park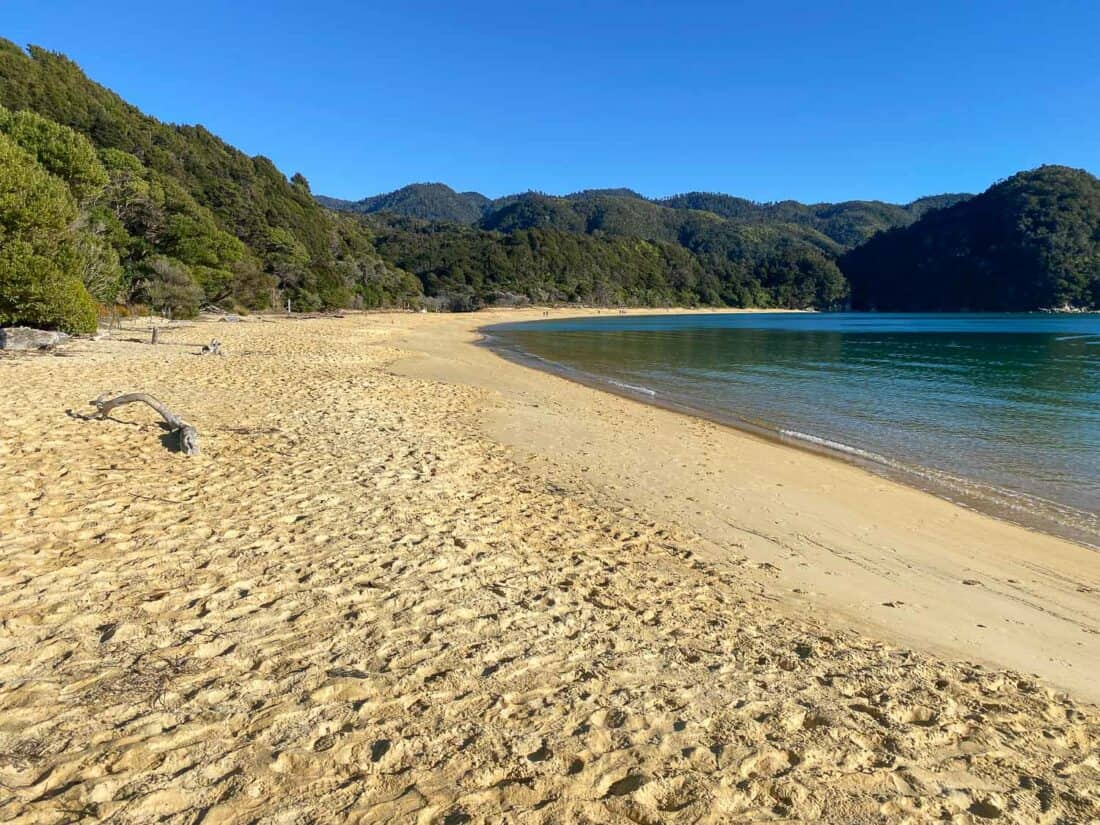 We couldn't resist a sixth visit to Abel Tasman National Park when we passed through in winter. The turquoise bays and golden sands are just as beautiful in cooler weather and it's far less crowded.
This time we stayed at Kimi Ora Eco Resort in Kaiteriteri, which is perfect for a relaxing break with hot tubs and saunas for after hikes and a gorgeous sea view.
We took the water taxi from Marahau to Anchorage and walked back on the only section of the coastal trail we hadn't done yet. It's not the most beautiful section but we still loved it and only saw a few other hikers.
Returning Home to Wellington and the Kapiti Coast
By mid-July we were back on the Kapiti Coast where we spent five months (split between two houses/towns) in winter and spring. By now it feels like home, mostly because of our good friends in Wellington.
In August we had three weeks of strict lockdown (our first since May 2020), but it wasn't much of a hardship in our beach house (sunset yoga on the deck helped) and was certainly less stressful than the first one.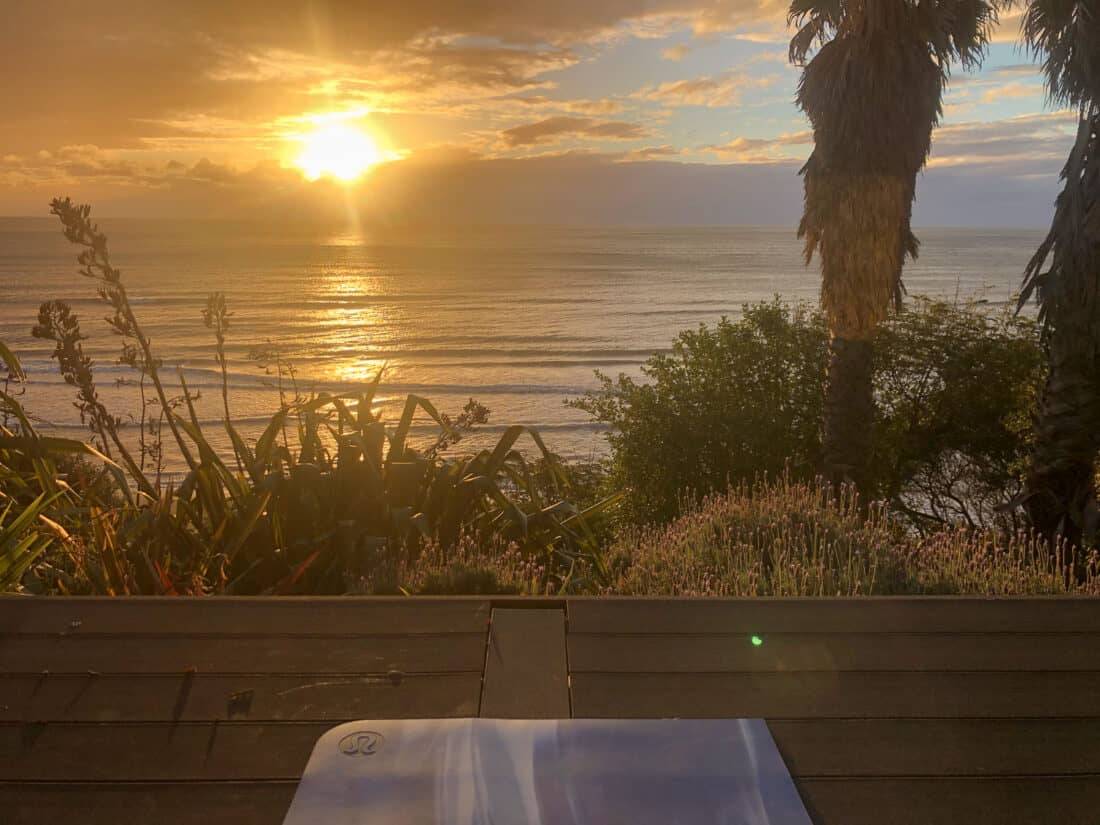 Otherwise, we spent our winter working, swimming (Erin), playing video games on a new gaming laptop (Simon), and hanging out with friends (playing games, escaping rooms, hiking, at-home karaokeing, and competing in an epic 6-hour indoor bowling match).
Simon's band returned to the studio and recorded two more amazing tracks (Old Friend, their first single, will be released on April 22nd! It will be available on Ru Mundy's Bandcamp.).
Other top experiences included a chilly moonlight swim (I'm very impressed Simon joined us), Midwinter Christmas (as fun as the previous year), amazing wine and food at Noble Rot wine bar (three times!), and horse riding on the beach.
And, most importantly, we finally got vaccinated!
See our guide to the best things to do in Wellington for lots more details on the area.
Making it to the USA
By December we had reached the end of the line with our New Zealand visa extensions. If we didn't want to get a job and find a sponsor (we didn't), it was finally time to leave.
As we'd previously been booked onto three flights out of the country, we weren't sure up until the last minute whether it would really happen this time.
It didn't help that Omicron emerged a few weeks before our flight and the US changed the rules from a Covid test being needed three days before travel to one day before.
All the extra paperwork and testing requirements made travel more stressful, and the queues for security in Auckland and immigration in Los Angeles were the worst we've experienced. But we made it!
Hiking in Joshua Tree National Park
Los Angeles was a culture shock (a city of 4 million people whereas the whole of New Zealand is only 5 million!), so we soon headed out to the desert.
Joshua Tree National Park was just what we needed—we got up early to hike empty trails past quirky Joshua trees, tumbling rock piles, gold mine ruins, palm oases, and an array of yucca and cacti. We absolutely loved it!
See our guide to the best Joshua Tree hikes (from easy to moderate) for more details.
San Diego Beach Life
Coming from winter in the Southern Hemisphere to winter in the Northern Hemisphere, our priority in January was some sunshine.
We chose to rent an apartment in the small surfer city of Encinitas, just outside San Diego, and it didn't disappoint with plenty of blue skies and sun. It wasn't very hot but with afternoon temperatures of 18-21ºC, it didn't feel like winter.
Omicron was surging and this was our first time being in a place with high Covid cases (even in March 2020 cases in New Zealand didn't reach over 100 a day).
We struggled with the adjustment, got a bit freaked out in crowded situations, and were fairly cautious. We didn't dine indoors and focused on outdoor activities—easy to do in San Diego.
We spent our time exploring the many beaches, visiting the Botanic Gardens, and doing coastal hikes at beautiful Torrey Pines and Cabrillo National Monument. We cycled around Coronado Island and paddleboarded in Carlsbad. We hunted down the best ice cream in Encinitas (Gelato 101) and pizza in San Diego (TNT Pizza).
I swam at our local beach whenever the waves allowed me (we felt like the only non-surfers in our neighbourhood), and my most magical experience was when a dolphin joined me for a swim!
Read more about the best outdoor activities in San Diego and our favourite things to do in Southern California.
An Epic Southwest USA Road Trip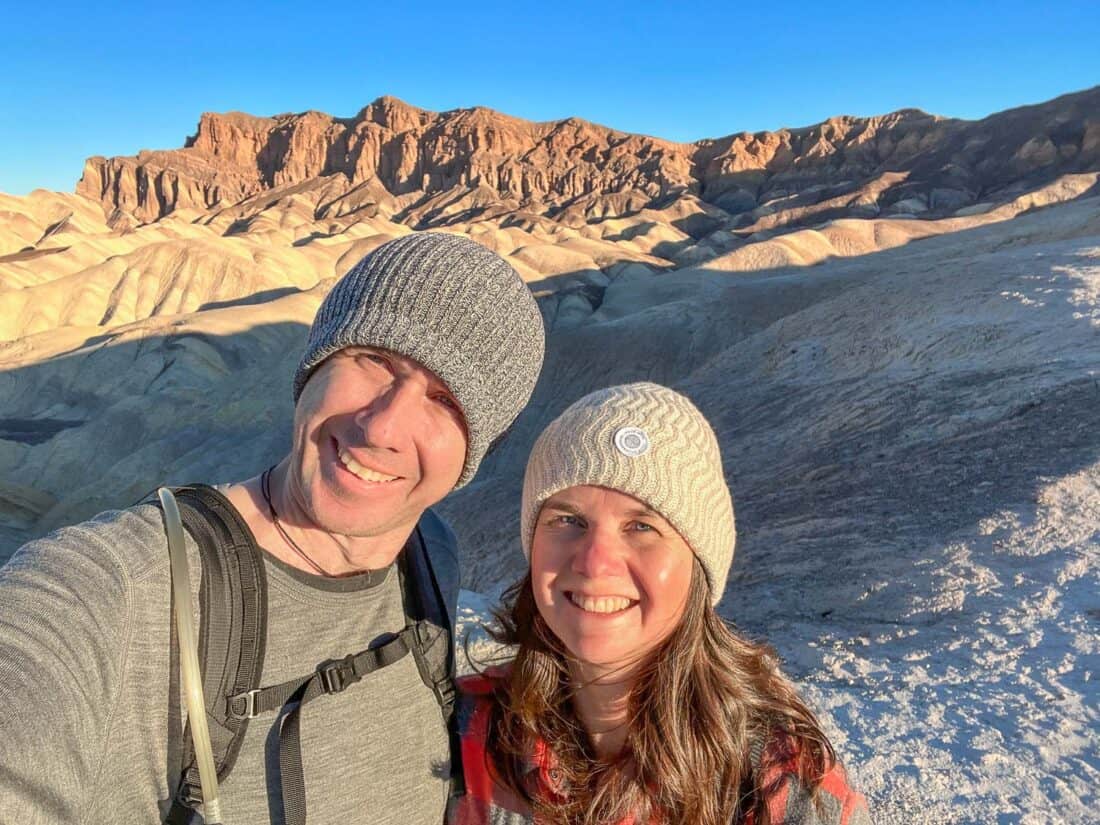 February was a busy month of travel as we road-tripped 1500+ miles to four national parks and four states (California, Nevada, Utah, and Arizona)!
We originally planned to travel to Hawaii but with Omicron and high visitor numbers (and prices) on the islands, we felt more comfortable avoiding flights and travelling by car.
We were happy with our decision as we visited some incredible places and winter was the best time to avoid the crowds at the popular national parks.
Here's where our trip took us:
Borrego Springs – We loved this relaxed desert town two hours from San Diego and spent our time hiking and hunting down most of the 130 amazing metal animal sculptures spread all over town. See our post on the Borrego Springs sculptures.
Palm Springs – We only had a night here to switch rental cars, but I liked the palm tree lined streets, bright blue skies, and a starlit swim in our hotel pool.
Death Valley National Park – This vast park has a stark beauty. We watched sunrises on sand dunes and sunsets across salt flats, hiked through rippled badlands and golden canyons, and admired multicoloured hills. We even spent an afternoon by one of the resort pools in 30ºC heat and reminded ourselves it was winter! Read our guide to the best things to do in Death Valley National Park.
Zion National Park – This was our favourite spot with its soaring red rock mountains but much more greenery than Death Valley. The absolute highlight was hiking the Zion Narrows in winter, which involved walking through a canyon in a river. With the right gear we stayed surprising warm.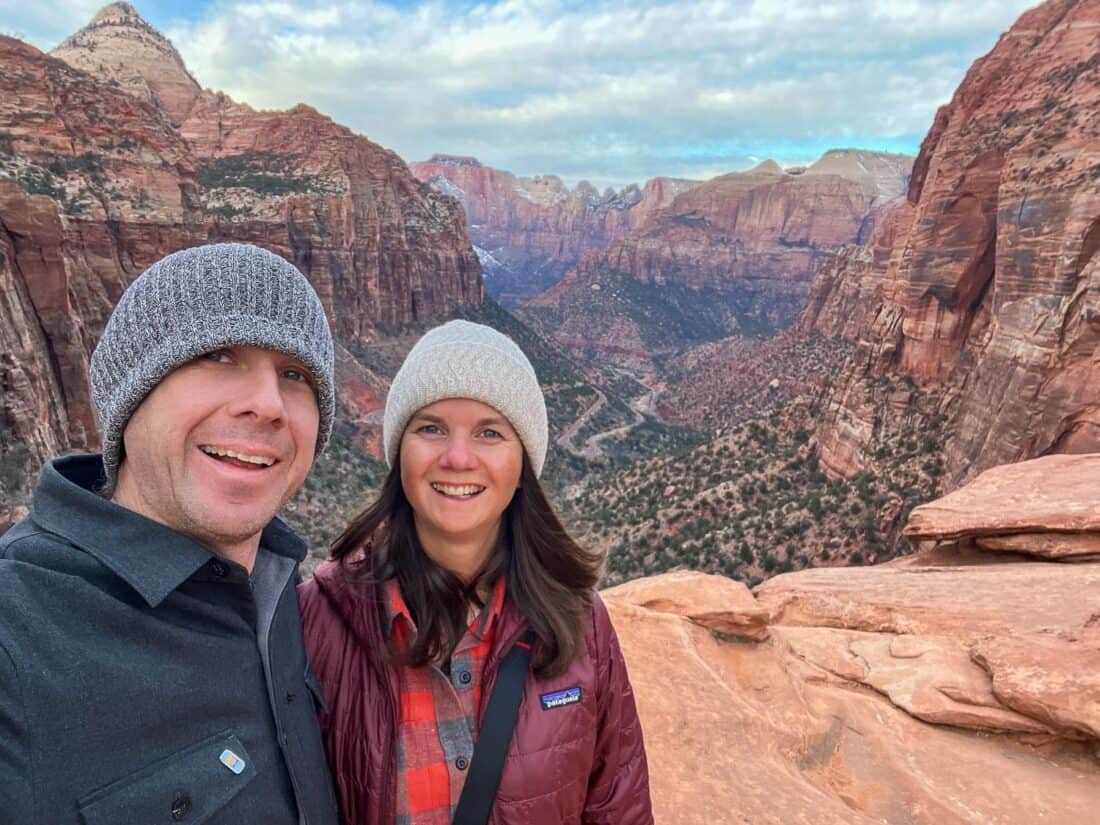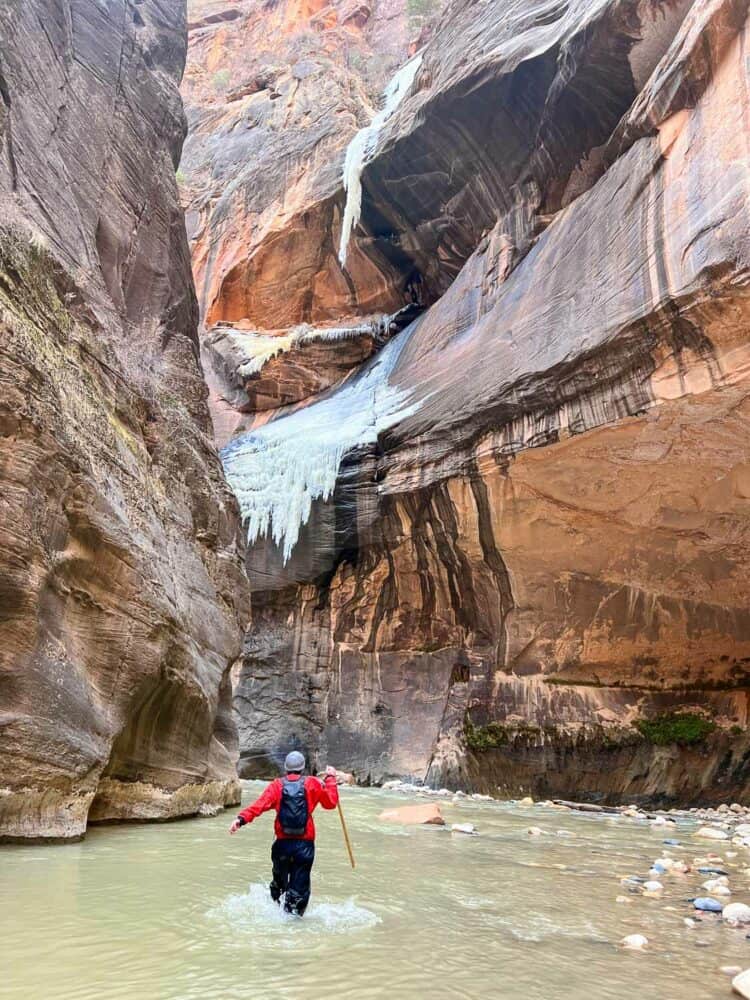 Bryce Canyon National Park – We did a Bryce Canyon day trip from Zion. It was the coldest place on our trip (-10ºC) but we loved hiking through the snow-covered hoodoos.
Page – This Arizona town didn't feel very exciting after Zion, but it's a good base for Horseshoe Bend and the many slot canyons (we visited Antelope Canyon X which was beautiful but busier than we expected).
Grand Canyon National Park South Rim – As absolutely stunning as you'd expect although fairly busy even in winter. Our favourite viewpoint was the less well known Shoshone Point and we enjoyed hiking part the way into the canyon on the South Kaibab Trail.
Sedona – A gorgeous Arizona town surrounded by red rocks with lots of great (if busy) hikes. It snowed on our first day and transformed into a winter wonderland. Swimming in our hotel's pool and soaking in the hot tub while the snow came down was a highlight! See our favourite easy hikes in Sedona.
See our Southwest road trip itinerary for details.
Letting Old Projects Go
One of Simon's most difficult decisions was what to do about Trail Wallet, our travel budget app that he's been working on for 10 years.
Downloads and therefore income dropped dramatically in 2020, and although they improved slightly in 2021, it was still earning very little compared to the before times.
It's been in major need of an update for a while (users expect syncing these days), but as it was created so long ago, adding new features wasn't easy.
Simon was also no longer passionate about working on it, and having it hanging over his head stopped him from being able to focus on new projects (like making a video game).
In the end, on New Year's Eve, we decided it was time to let it go.
While Trail Wallet is still in the Apple App Store and it still works (we use it ourselves), it will no longer be updated.
Thank you to all of you who have bought and shared the app in the last decade. It wasn't an easy decision but it feels like the right one.
And thanks to all our readers for your support over these difficult few years. While the pandemic is not over, the end is in sight, and with the vaccine and relaxed border restrictions, travel is becoming a (safe) possibility again.
Happy travels!
Erin (and Simon)
P.S After over two years of closed borders, it will finally be possible to travel to New Zealand again from 1 May (for visa waiver countries like UK and US). Vaccines and testing will be required but no self-isolation.
We fell in love with the country over the last few years and highly recommend visiting especially if you love the outdoors and wine! See our picks for the most beautiful places to visit in New Zealand.