This page contains affiliate links. Please read our disclosure for more info.
When I first read about Zion National Park's famous hike, The Narrows, I thought there's no way we're doing that in winter.
The hike takes place almost entirely in a river, and winter temperatures at this Utah park can be freezing.
Then I researched some more, and it turns out hiking The Narrows in winter is doable with the right gear, and is even beneficial as you avoid the summer crowds.
So we got over our fears, rented a dry suit, and went for it. The Narrows turned out to be one of our favourite ever travel experiences.
It feels like an adventure but wasn't as scary (or cold) as we expected, the canyon is stunning, and walking through water is surprisingly calming.
I had a lot of questions before the hike, so in this post, I share all our tips for the Zion Narrows hike, including what to wear and bring, how long it takes, and what to expect in the river.
Towards the end, there is a map with everything mentioned.
Contents
What is the Narrows?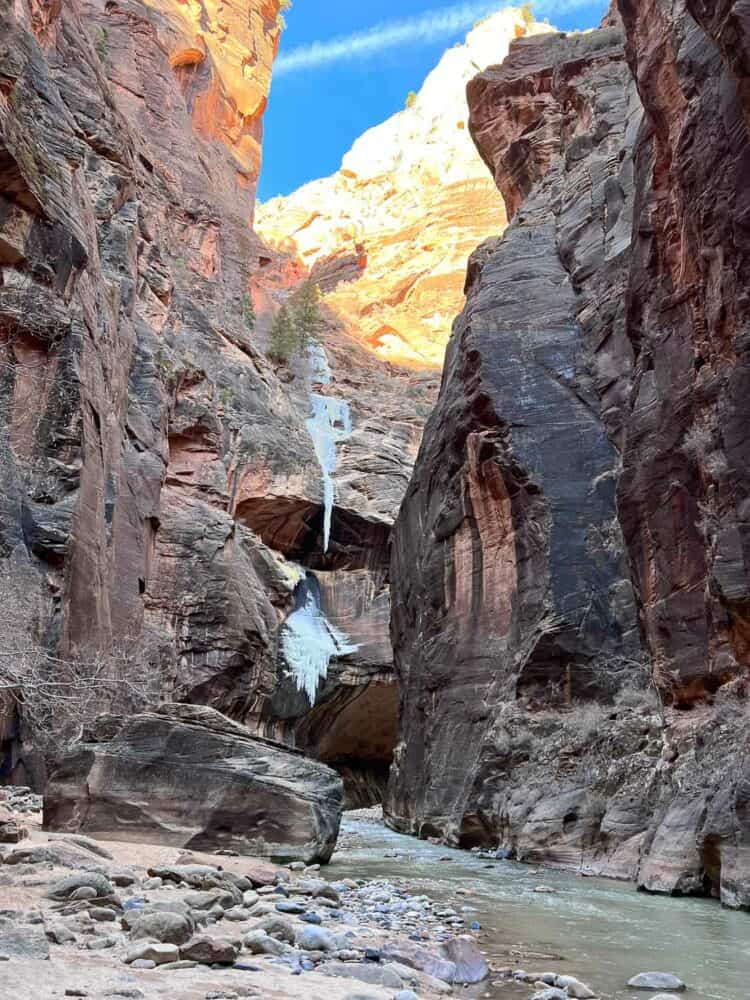 The Narrows is a popular hike at Zion National Park in Utah. It's a walk in the Virgin River in the narrowest section of Zion Canyon.
The gorge has steep Navajo sandstone walls up to 1500 feet tall and the river is just 20-30 feet wide at some points.
The river depth varies throughout the year, but you'll usually be walking in water from ankle to waist deep.
The Narrows: Bottom Up vs Top Down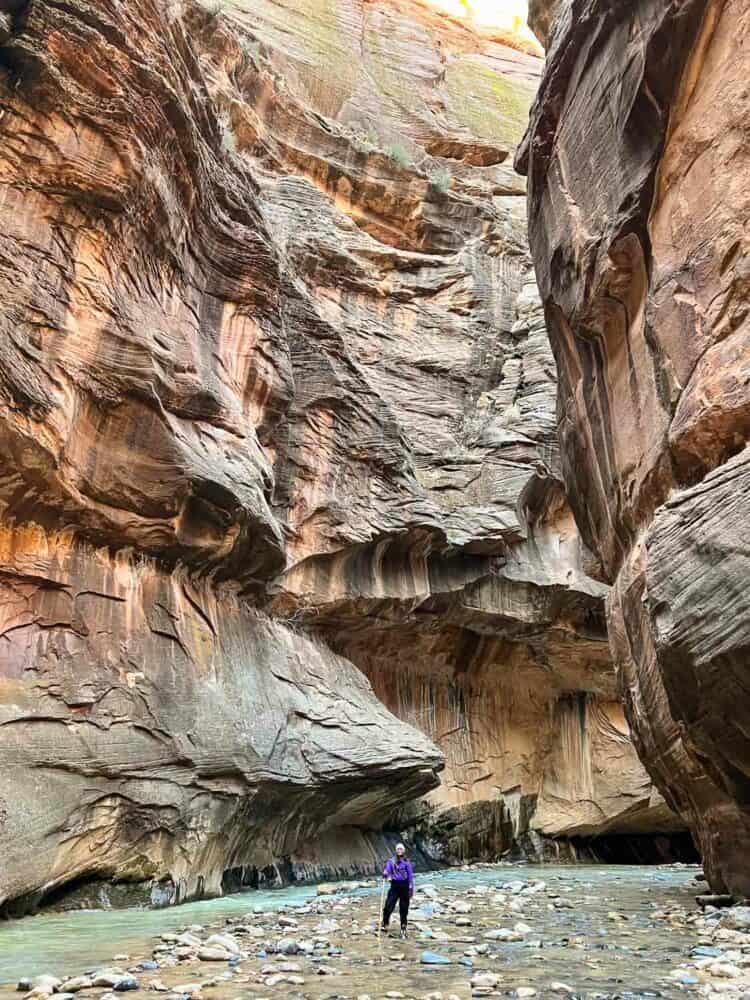 There are two ways to hike The Narrows.
Top Down
The Top Down hike is much more difficult and requires a wilderness permit. The 16-mile one-way route takes 10 to 14 hours and is for serious adventurers only.
Winter conditions make this extra challenging, and you must camp on the way as there's not enough daylight to complete it in one day.
In winter, road closures often prevent you from getting to the trailhead at Chamberlain's Ranch.
Bottom Up
Most visitors do the Bottom Up Narrows hike, which starts from the Temple of Sinawava. This is the hike we cover in this post.
A permit is not required for this Narrows day hike.
The Bottom Up trip is 10 miles return from Temple of Sinawava to Big Springs, where day hikers must turn around.
You don't need to go the whole way to have an amazing experience, as you can turn around at any point. We hiked about 6.5 miles.
How Cold Is The Narrows in Winter?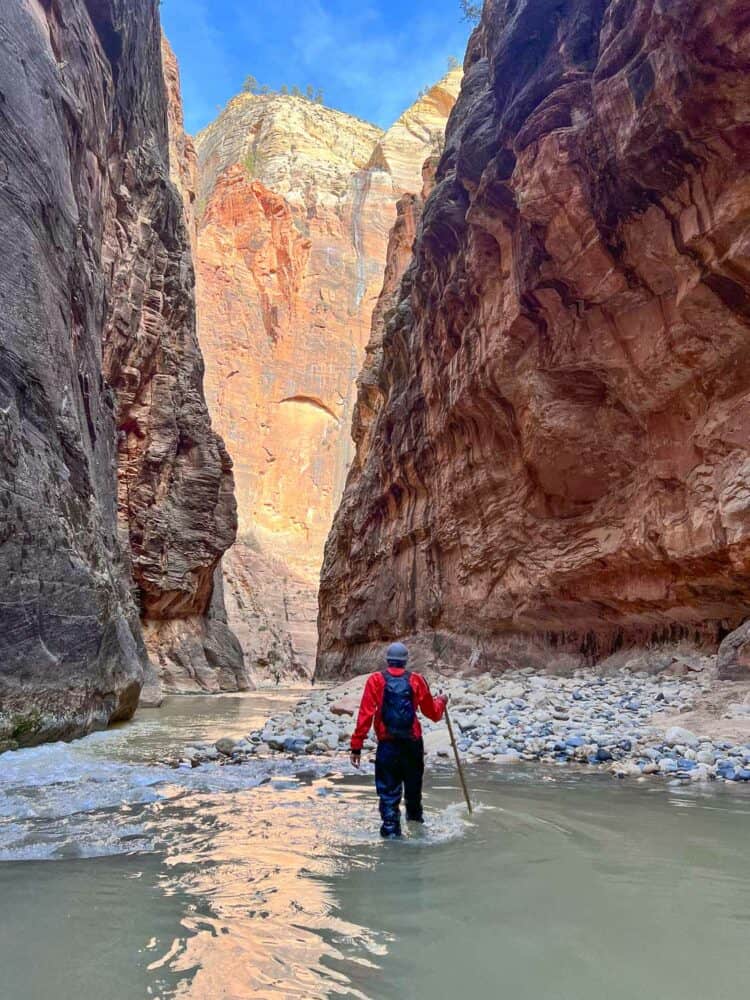 Water temperatures in the Virgin River range from 65ºC (18ºC) in July and August to 40ºF (4ºC) in winter.
The coldest months are December to March. When we hiked the Narrows in February, the water temperature was 42ºF (6ºC).
Yes, the water is certainly frigid, but with the right gear (see below), you don't have to feel cold.
Air temperatures also play a part in how cold you feel. Note that the canyon has very little sun in winter, and temperatures feel 15-20ºF cooler than in the main part of Zion National Park.
When we started our hike in the morning, the temperature at the car park was 36ºF (2ºC). We felt freezing at first but warmed up once we got going. By the time we finished, the temperature was up to 70ºF (21ºC).
We were visiting Zion during a particularly warm spell, though. Morning temperatures can easily drop below freezing in December and January.
See our guide to Zion in winter for more details on what to expect at this time of year as well as our favourite hikes.
What is the Best Time to Hike The Narrows?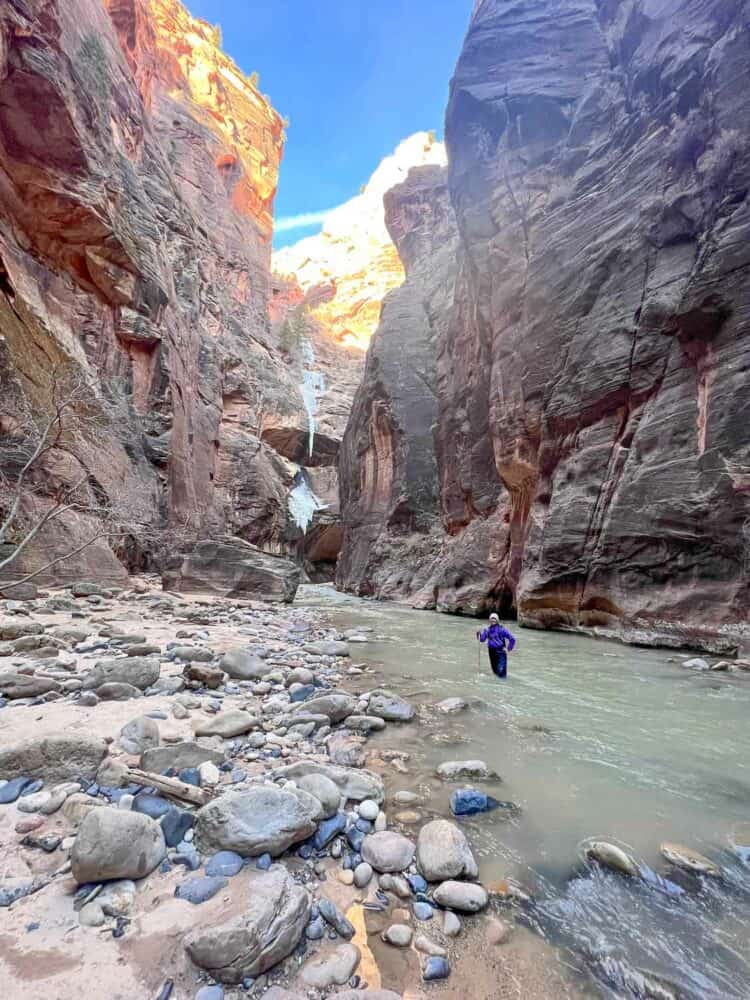 Best Month
Summer is the most popular time to hike The Narrows. The warm weather means you can hike in shorts, but the crowds in July and August can be overwhelming.
We think winter is the best time to experience The Narrows because you can enjoy the beautiful canyon in peace.
January is the least crowded month, followed by February and then December. November and March are also fairly quiet.
High river levels mean the hike is often closed in spring (especially in April).
Best Time of Day
The Narrows is a popular place, so it's always best to start early.
In winter, we didn't want to start when it was too cold, though, so we began at 8.30am (after entering the park at 8am).
This felt like a good time as there were still plenty of parking spaces, and we only saw a few other couples on our way up the river (it was busier on the way back).
The parking lot was full when we finished at 1pm so you really need an early start.
How Long Does It Take to Hike the Narrows?
Hiking The Narrows is very flexible. You can go as far as you want by turning around at any point.
Walking through a river is much slower than on a trail, so don't expect anywhere near your usual hiking pace. A good estimate is to allow one hour per mile.
The maximum distance you can go on a day hike is 4.7 miles each way to Big Springs. This is estimated to take 4 hours 20 minutes each way, so it's a long day hike.
Wall Street is a popular goal to aim for. This is a narrower section of the canyon just 22 feet wide with walls 1500 feet high. If you don't make it there, you'll still have a great walk, but it is a worthy target.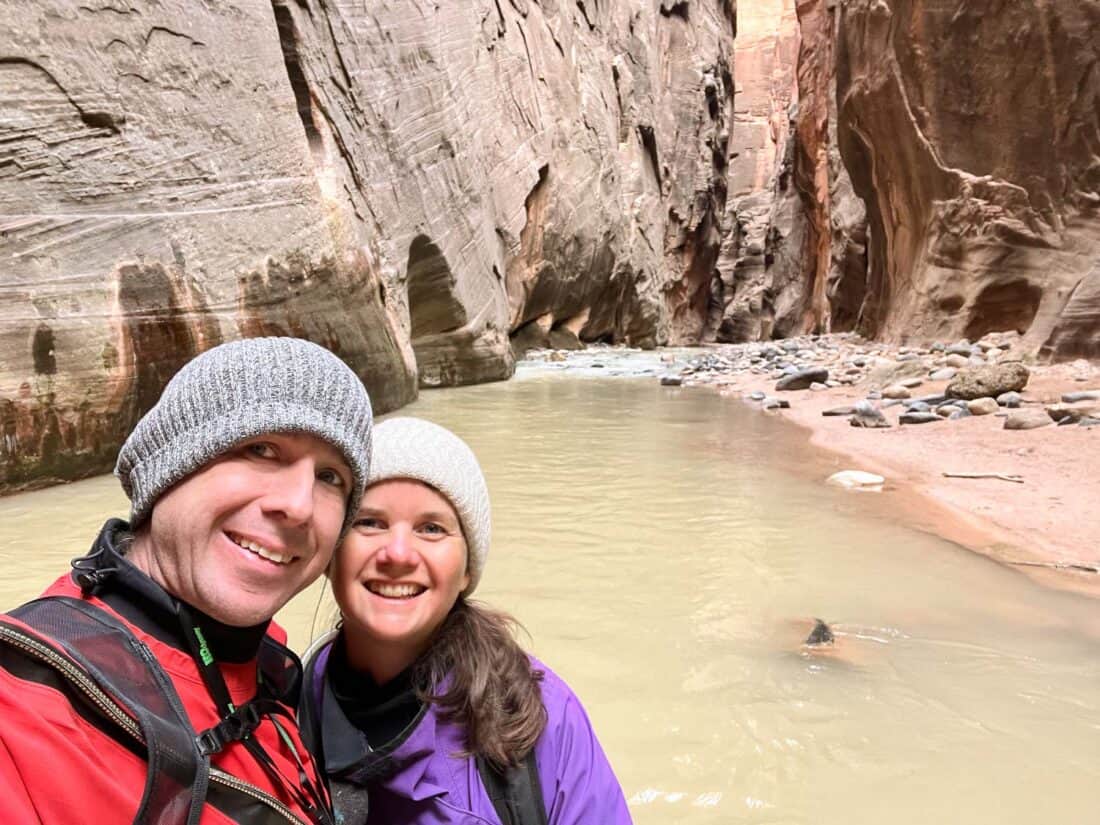 We turned around about halfway down Wall Street, just past the floating rock. Our total distance was around 6.5 miles return, and it took us 4.5 hours, including a few short breaks and lots of photo stops.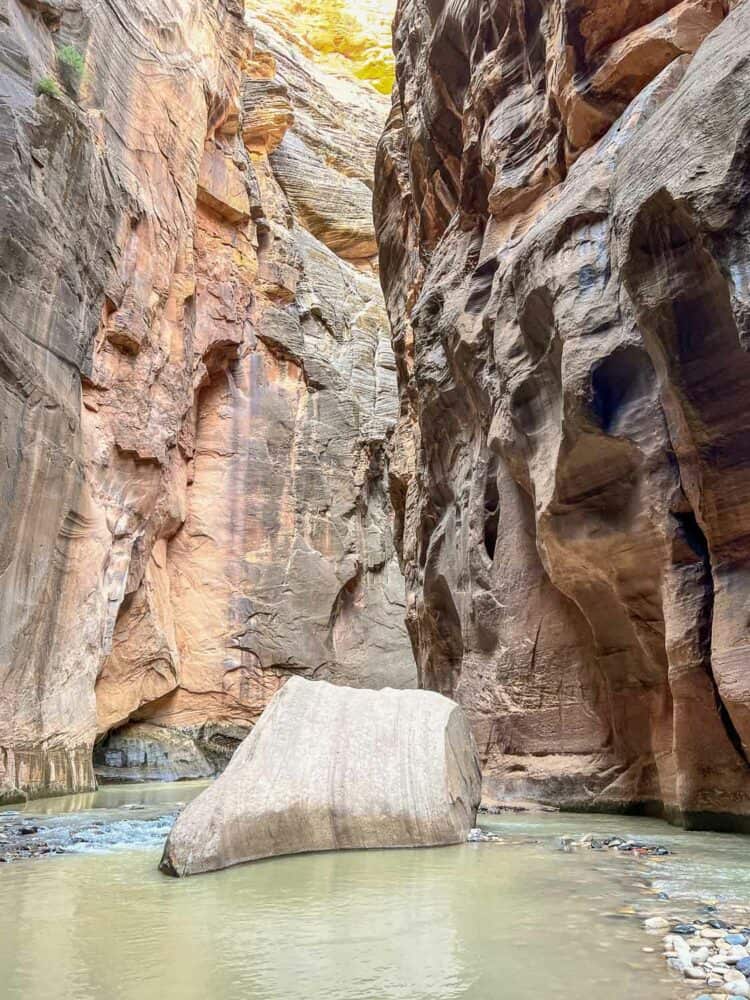 It took us 2 hours 45 minutes on the way out and 1 hour 45 minutes on the way back. The return is quicker as you are going with the current and have developed more confidence walking in the river.
What to Wear to Hike the Narrows in Winter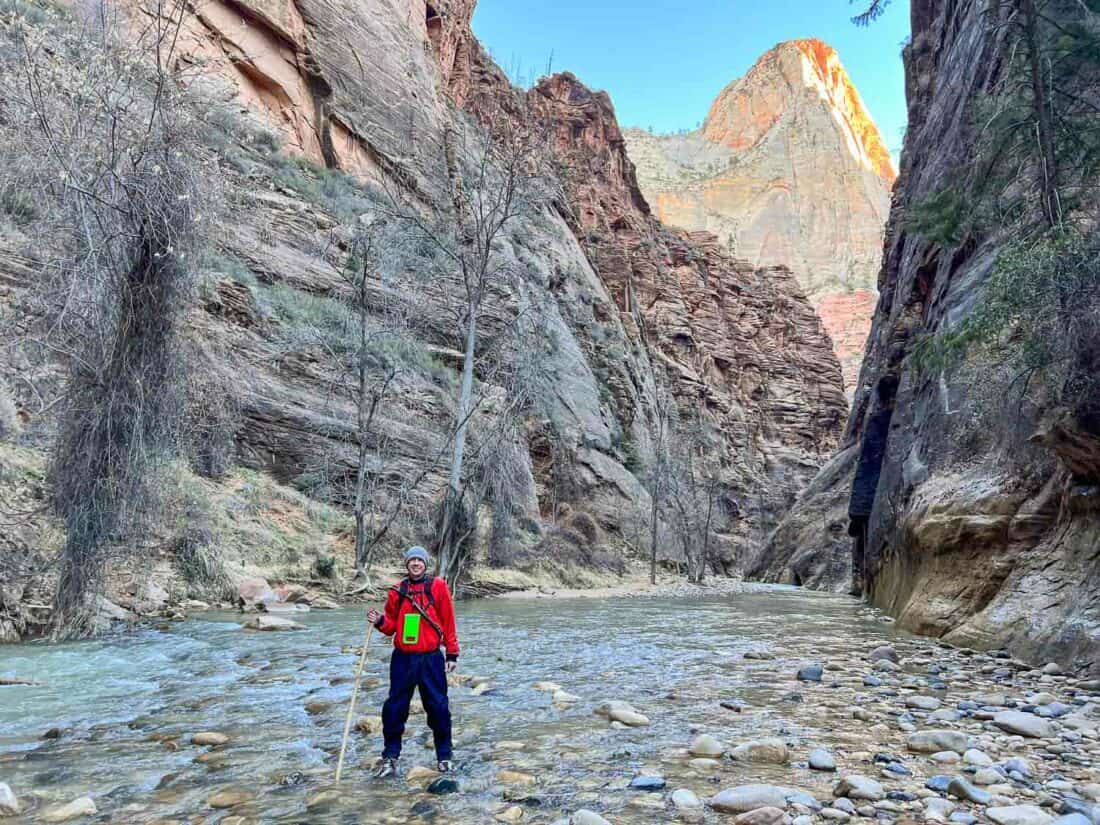 In winter, it's essential to have protective clothing to hike the Narrows. The water temperature is just too cold to turn up in shorts and sneakers like you can in summer.
Dry Suit
We rented a Narrows Dry Suit package from Zion Adventures on the main street in Springdale (just outside the park).
This costs $75 for adults and includes a Gore-Tex dry suit, two pairs of neoprene socks, canyon boots, and a walking stick.
Reservations are recommended in winter. We picked up our gear the afternoon before so we could get an early start the next day. Allow an hour to select and try on the gear.
Putting the suit on is awkward as the neck is narrow and you have to fit it over your head. I recommend tying up long hair and putting your arms in before your head.
You can also rent dry bibs (like a jumpsuit), which are easier to put on (and available from Zion Outfitters at the park entrance).
Around two-thirds of hikers we saw wore bibs and one-third had full dry suits.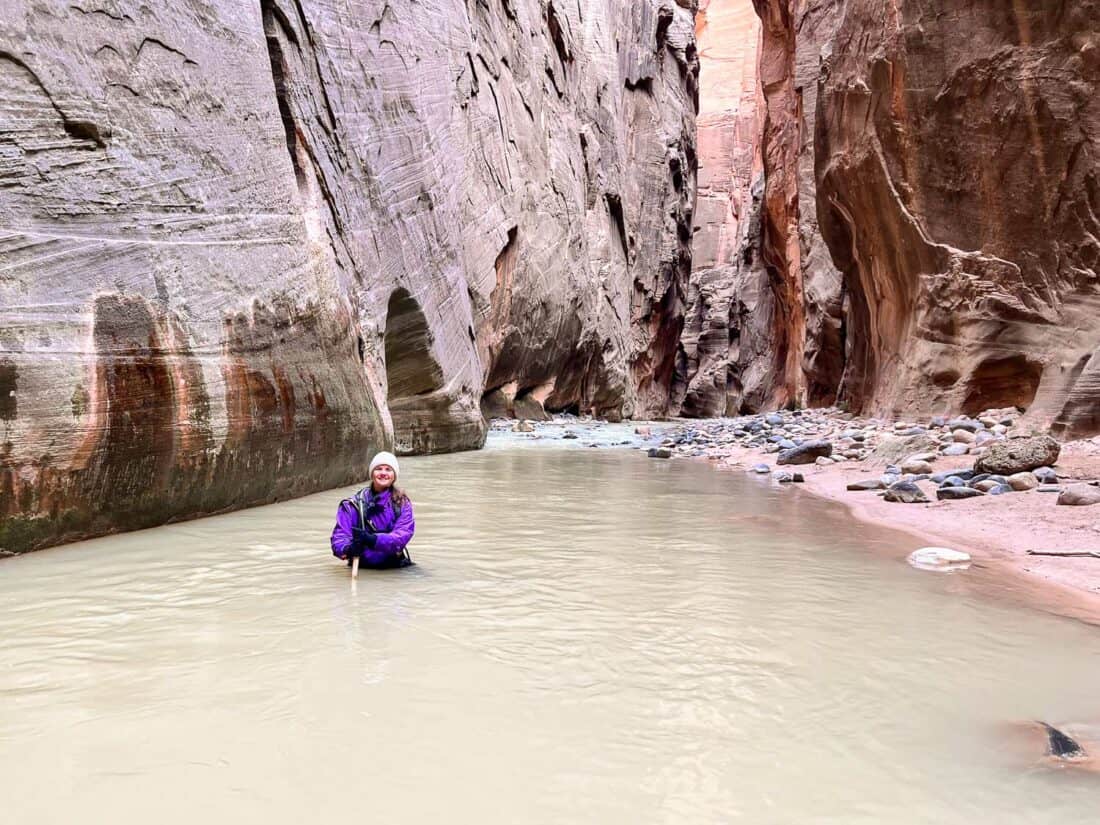 The bibs are fine if the water level is only up to your waist (as it was on our visit), but if you fall over in the water (which I did), your top half will get wet and you'll feel the cold. I felt safer in a full suit.
Warm Layers
The dry suit doesn't add much warmth, so you'll need to wear layers underneath. It's roomy enough to fit a normal outfit below.
Choosing layers is tricky as you don't want to get too warm, as removing the dry suit to take sweaters off is a hassle. You want to start out feeling a little cool as you'll warm up on the move.
It's best to choose moisture-wicking fabrics (not cotton or jeans), as water can seep in from the bottom of the dry suit.
Simon stayed totally dry throughout the hike, but the bottom of my leggings did get wet somehow. Luckily, I didn't feel uncomfortable due to the moisture-wicking.
Here's what to wear for the Zion Narrows in winter:
1-2 bottom layers – We were fine with one layer. Simon wore his Bluffworks pants. I wore my Lululemon Base Pace leggings, which were ideal (similar to these fleece-lined leggings). If the weather is forecast to be close to freezing all day, maybe add some thermal bottoms.
2-3 top layers – We went for three light layers, which was perfect. I wore a merino wool t-shirt, merino long-sleeve t-shirt, and lightweight fleece. Simon also wore a merino t-shirt and long-sleeve t-shirt along with a sweater.
Beanie hat – Keeping your head warm is essential.
1-2 Gloves – We only had one pair of gloves, but a spare would have been a good idea. Mine got wet when I fell in the river and my hands were freezing afterwards. Something more water-resistant than our wool gloves would be ideal.
If you rent gear, you'll be given canyon boots and neoprene socks, so you don't need to worry about footwear.
If you are driving yourself, wear regular shoes and socks into the park and get changed in the parking lot (after you've used the bathroom). You'll appreciate dry footwear after the hike.
Your feet do get wet in the boots, but the water warms up quickly, so we didn't feel cold.
The boots have good traction and, combined with the walking stick, help keep you upright.
We loved the thick wooden walking stick we got in our package. Hiking poles are not a good substitute as the thin point can get stuck in the rocks.
In this outfit, we were never uncomfortable in The Narrows. There were a few moments when we felt chilly, but adding more layers would have made us too hot.
It's difficult in winter to take breaks longer than 10 minutes as there's very little sun and your body temperature drops when you stop walking.
There is one sunny beach just before Wall Street, which is the ideal spot for lunch.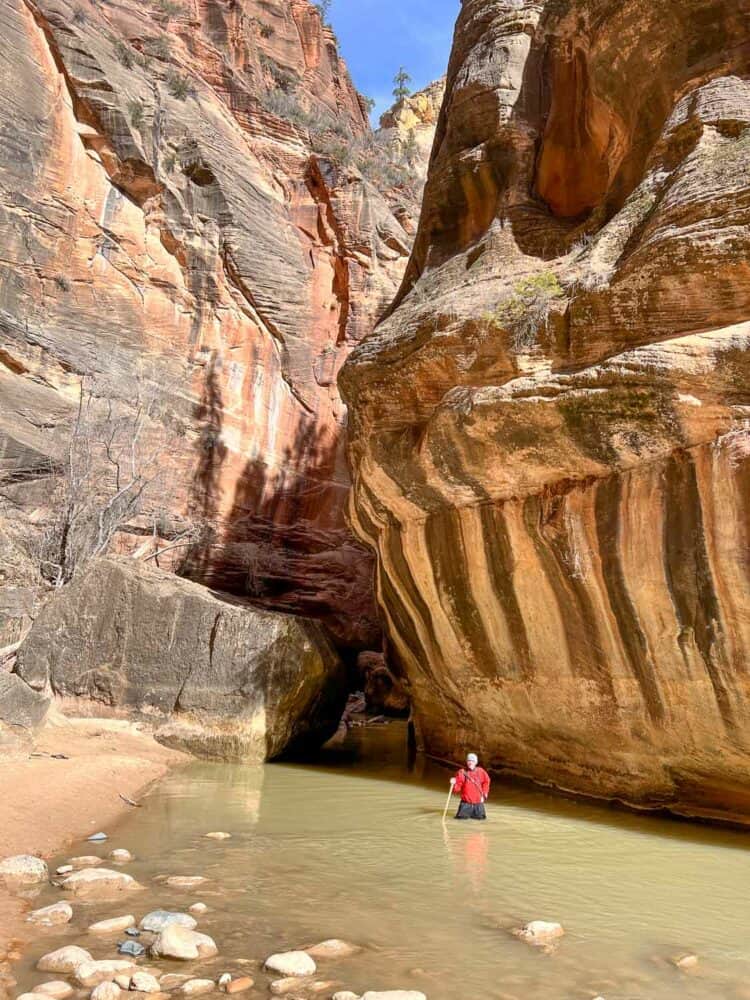 After we finished the hike, I did start feeling cold and very much appreciated a hot shower afterwards. Luckily, we were staying at Cable Mountain Lodge, right outside the park gates.
What to Pack for a Zion Narrows Hike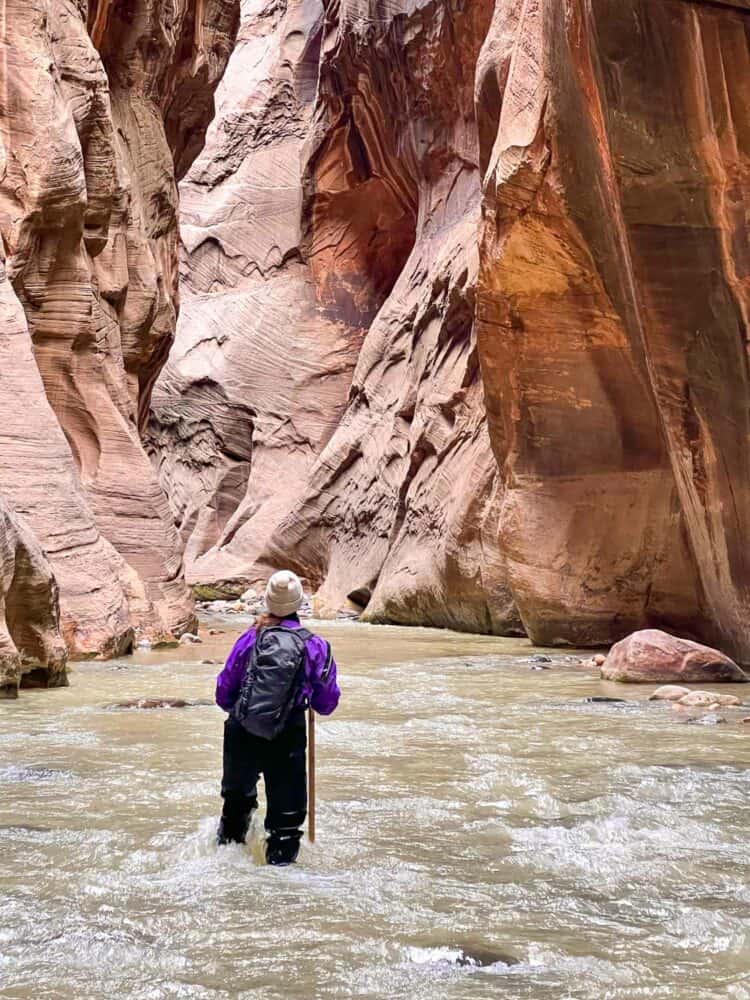 Here's what we brought with us on The Narrows hike:
Daypack – A waterproof backpack like the Matador Freerain22 would be ideal, but it's not essential. Put anything you don't want to get wet in a dry bag or ziplock inside your pack. I used the Matador Beast18, which is water resistant. The bottom of my bag got wet, but the pockets higher up were fine.
Ziplocks – For keeping things dry and packing out any waste.
Phone – I didn't want to worry about my camera getting wet, so I brought my phone for photos.
Waterproof phone case – We bought the H2Odyssey case with a lanyard from Zion Adventures for $20. It was handy having our phone protected but easily accessible around our neck for photos.
Water bladder – Two litres of water per person is recommended, but one litre was fine in winter to Wall Street. A water bladder made it much easier to drink without having to stop and take a bottle out of our pack.
Food – Take more than you think! We were starving after the hike and had a second lunch. We took granola bars, hummus salad wraps, cookies, and apples.
Tissues – My nose runs when it's cold.
Zion entrance ticket and ID – Or credit card to pay if it's your first visit ($35 per vehicle for 7 days). We used our America the Beautiful annual national parks pass.
We didn't need sunglasses, a sun hat, or sunscreen as it was shady in winter, but these would be a good idea in warmer months.
Is There a Toilet on The Narrows?
No, there are no toilets in The Narrows.
The only restroom is at the trailhead by the Temple of Sinawava parking lot. Definitely use it before you start hiking.
Remember you must leave no trace and take everything out with you. This includes human waste and toilet paper. Outdoor shops in Springdale sell waste bags.
You can pee, but there aren't many private spots. And taking off the dry suit adds to the hassle.
We managed to avoid needing the bathroom by being conscious of our water consumption.
Check Conditions Before Hiking The Narrows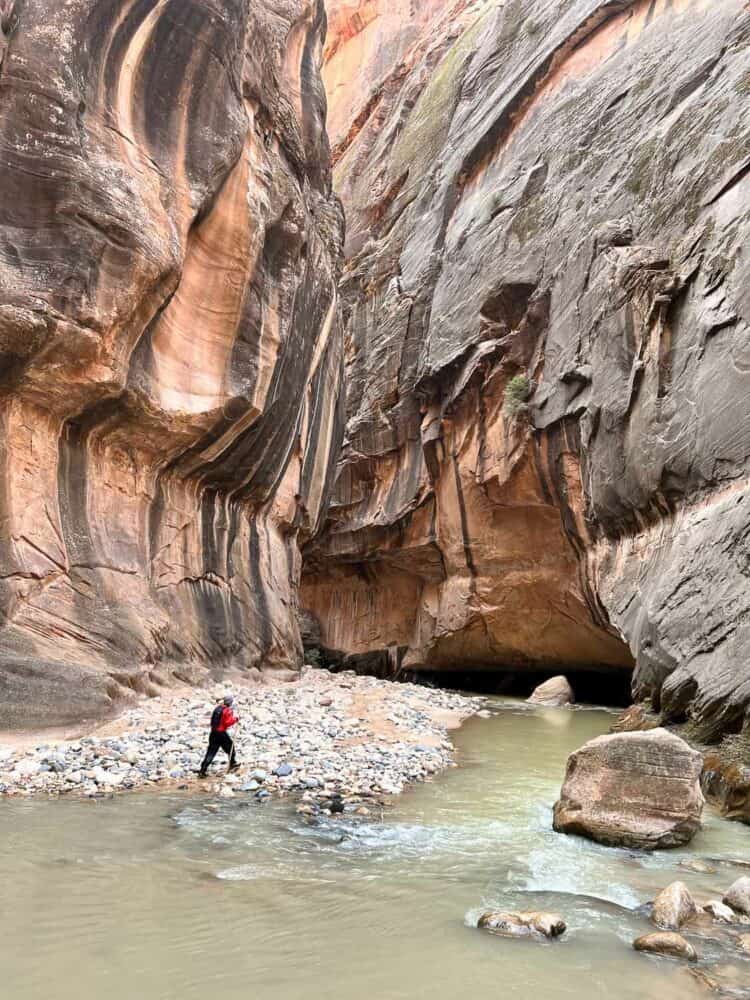 It's important to check the river conditions before you hike The Narrows. The hike is not allowed if the river is too deep or fast or if there's a risk of flash floods.
You can ask the staff at Zion NP Visitor Centre or the equipment rental shop about current conditions. Or check the Zion NP website.
The flow rate of the river is measured in cubic feet per second (CFS). The higher the number, the more difficult the river hike will be.
On our visit, it was 50 CFS, which is easy/mild. Hiking isn't allowed over 150 CFS.
If the CFS is over 70, you'll find the walk more challenging and the water will be deeper.
Water flow is highest in April after the snow melts and the river is often closed to hikers.
Note that there is currently a warning about toxic cyanobacteria in the Virgin River. It is still safe to hike The Narrows but do not drink the water or submerge your head.
Getting to The Narrows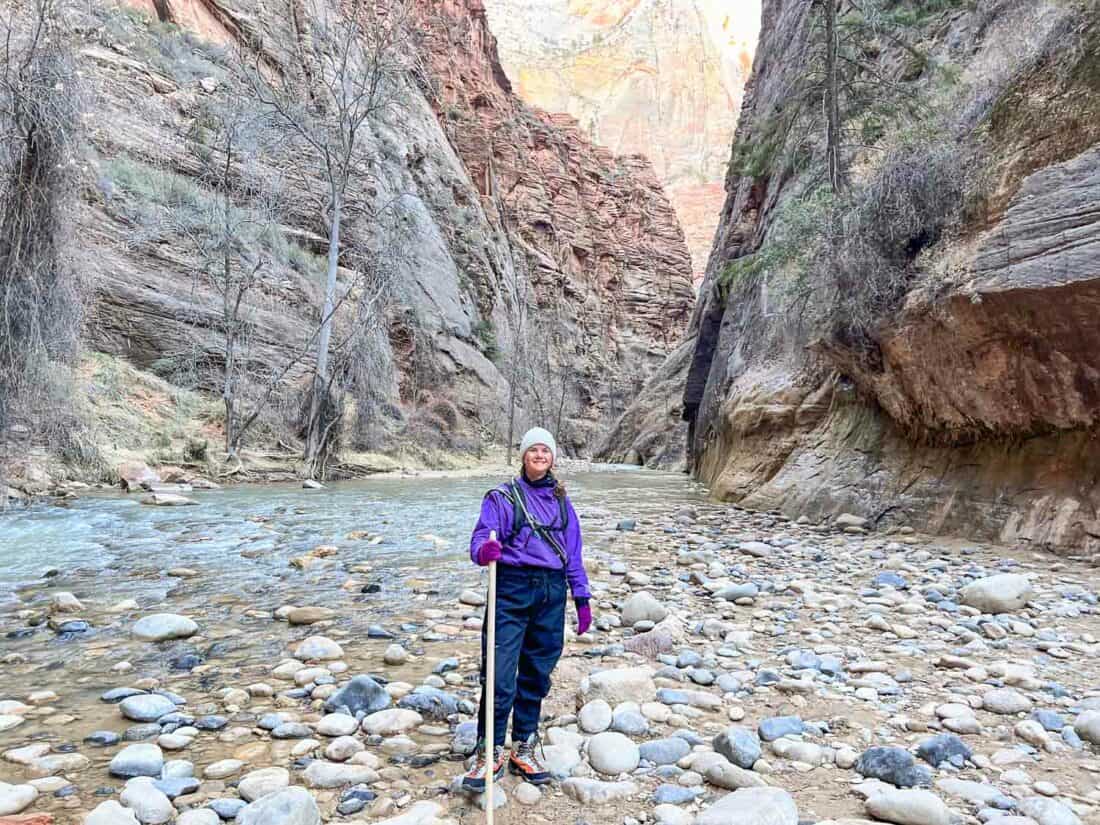 The Narrows hike starts at the far end of Zion Canyon Scenic Drive at the Temple of Sinawava.
For most of the year, private vehicles aren't allowed to drive into the park, so you must take the free shuttle bus (get off at the last stop). There can be long waits for the shuttle.
In winter, usually from December to February (except Christmas/New Year), the shuttle doesn't run so you can drive (as we did).
It takes about 20 minutes to drive from the park entrance in Springdale to the parking lot for The Narrows. Arrive early as it can fill up by midday, and they won't let you drive into the park if parking is unavailable.
From Temple of Sinawava, you start with a one-mile / 20-minute walk on the paved, mostly flat Riverside Walk. It can be icy in winter but it was fine for us.
At the end of the path, you'll see the river. This is when you have to get your feet wet—start walking in it and head right.
You can't get lost in the canyon as you simply follow the river upstream as far as you want. There are no signs, but there are a few landmarks you can look out for on The Narrows map (Zion Adventures provides one).
We also saved the AllTrails Narrows map offline, which helped us see how far along we were. There's no phone signal, so an AllTrails+ subscription is required for offline maps. It's well worth it as we used it throughout the park.
If you'd rather explore with a guide, this Zion Narrows Hike from Springdale includes transport, a guide, lunch, and some gear.
Zion Narrows Map
This map shows the key points for visiting The Narrows.
This Zion Narrows map from Zion Adventure Company shows distances and landmarks to look out for in the river.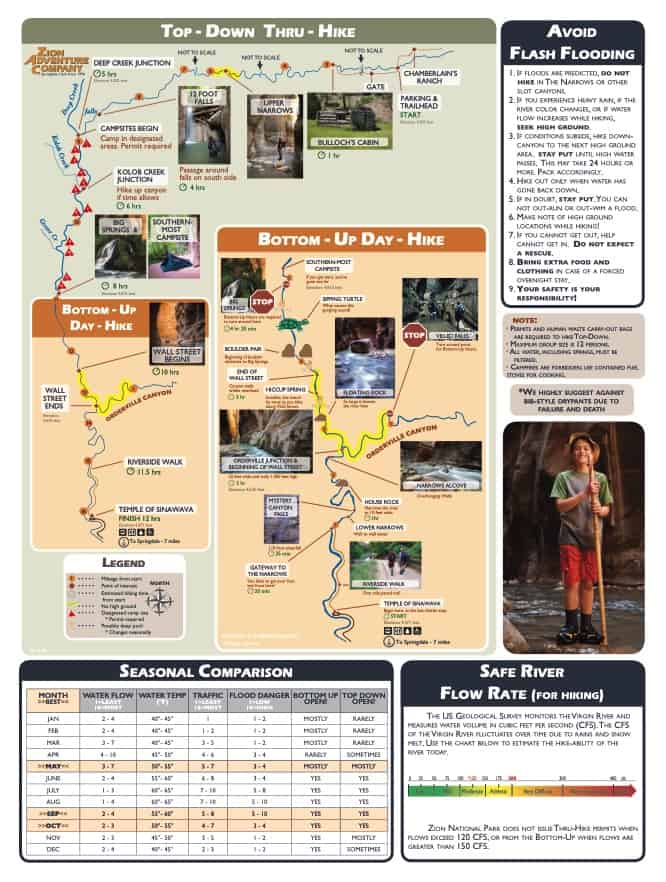 What to Expect on The Narrows Hike in Winter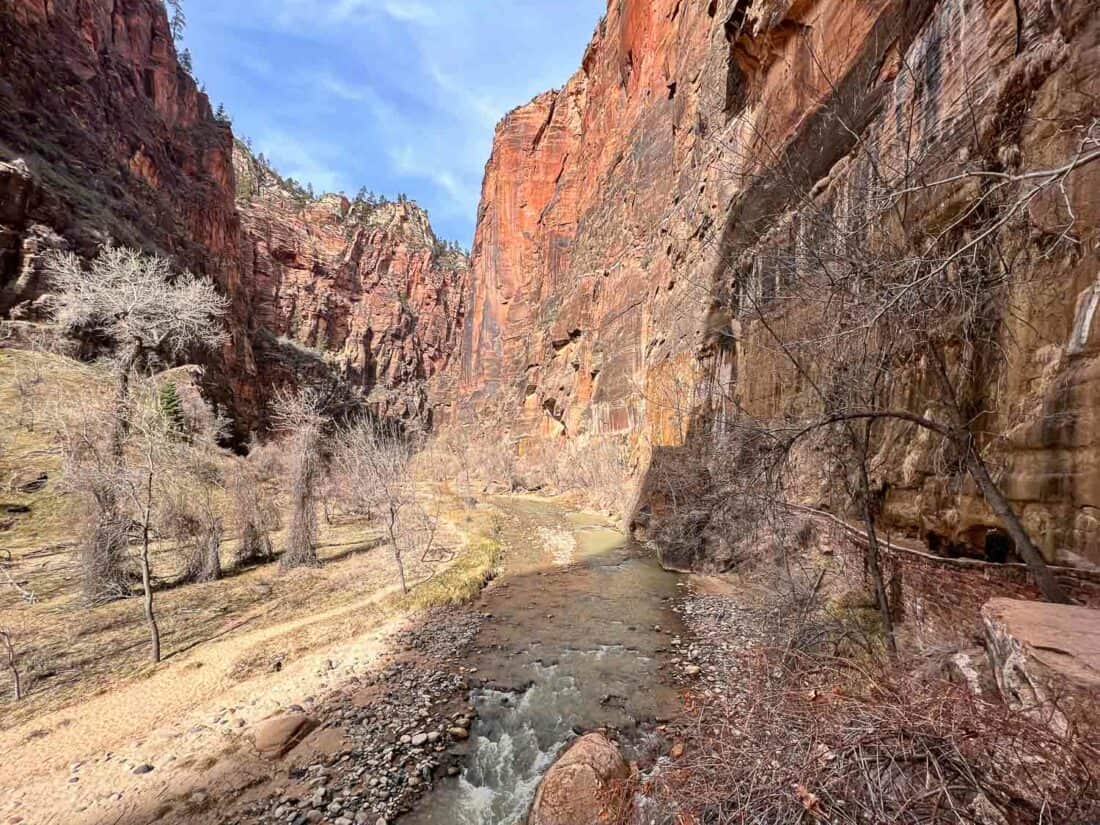 When we entered the river, it felt strange at first with the discomfort of cold water seeping into our boots and the uncertainty of walking on slippery rocks. We soon found our (somewhat slow) stride, though.
On most of the walk you are in the river, but there are a few beaches you can come out onto. We left the river whenever we could to make things easier.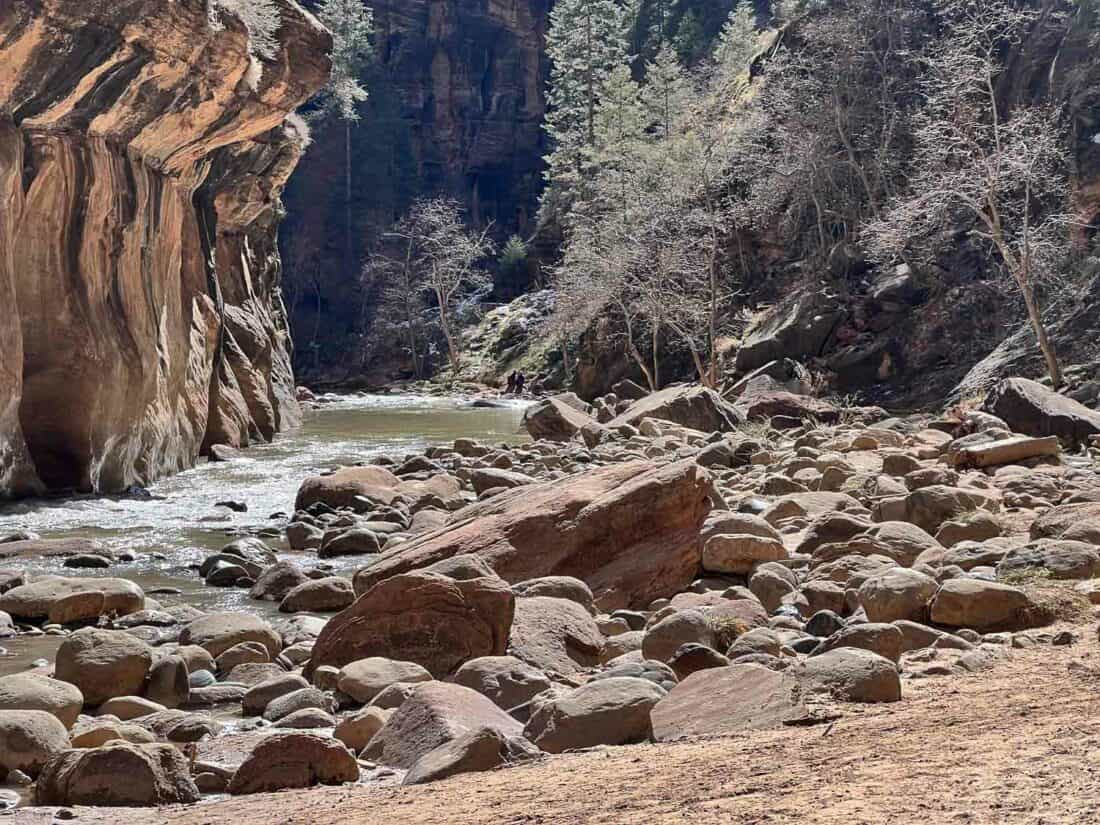 We were mostly knee-deep in the green water, but there were some waist-deep sections. If we had continued all the way to Big Springs, we would have had to swim at some points.
We constantly had to asses the best path to take through the river—trying to avoid the faster rapids and deeper sections. One side of the river can be knee-deep while the other is chest deep.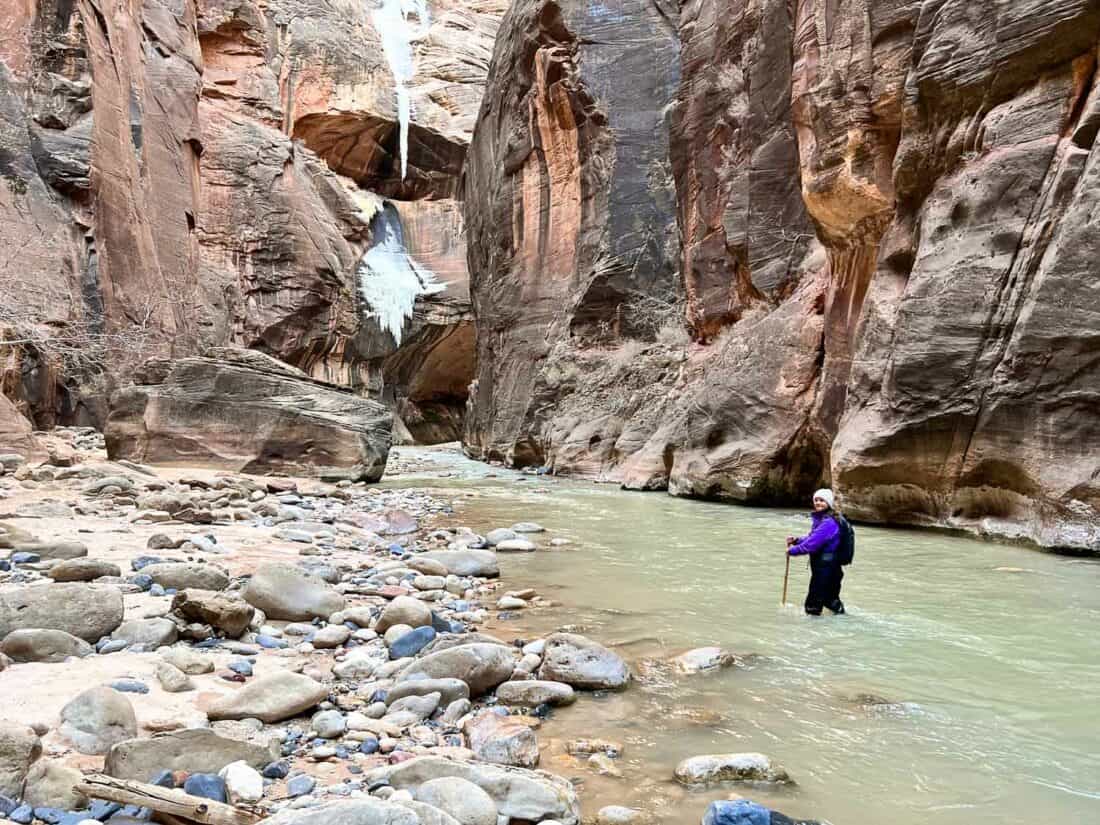 Some calmer sections with sandy bottoms are easy, but mostly the surface underfoot is rocky, uneven, and sometimes slippery. You often can't see the rocks through the water, so it makes it difficult to know where to step.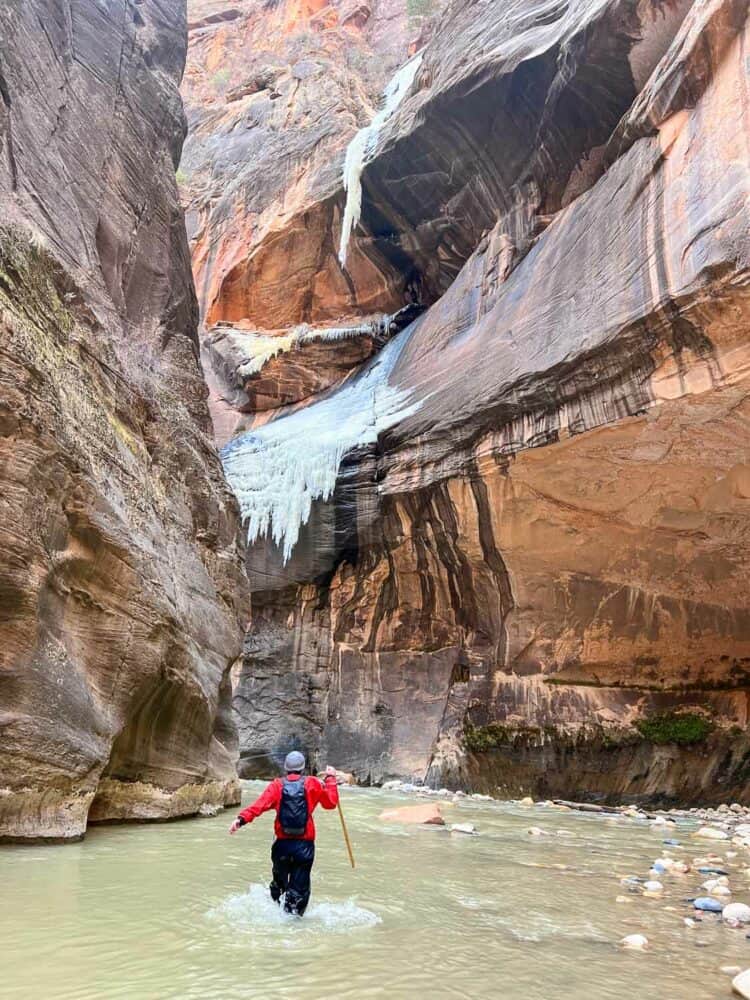 The hardest sections were the rapids, where the current is strong and the rocks slippery. We found it best to wedge our sticks into the riverbed, move a few steps, stop, move the stick and repeat. This way we always had the stick to anchor us.
The walking stick saved us from falling over many times and we wouldn't want to do the hike without it.
My one dip in the river came in a deeper section with a gentle fall forward. Other than wet gloves, I emerged unscathed.
Although it was more challenging than walking on a trail, we found the river hike surprisingly calming. As we had to constantly focus on our next step, there was no room in our minds for other thoughts or worries.
Except to admire the stunning beauty of the surroundings.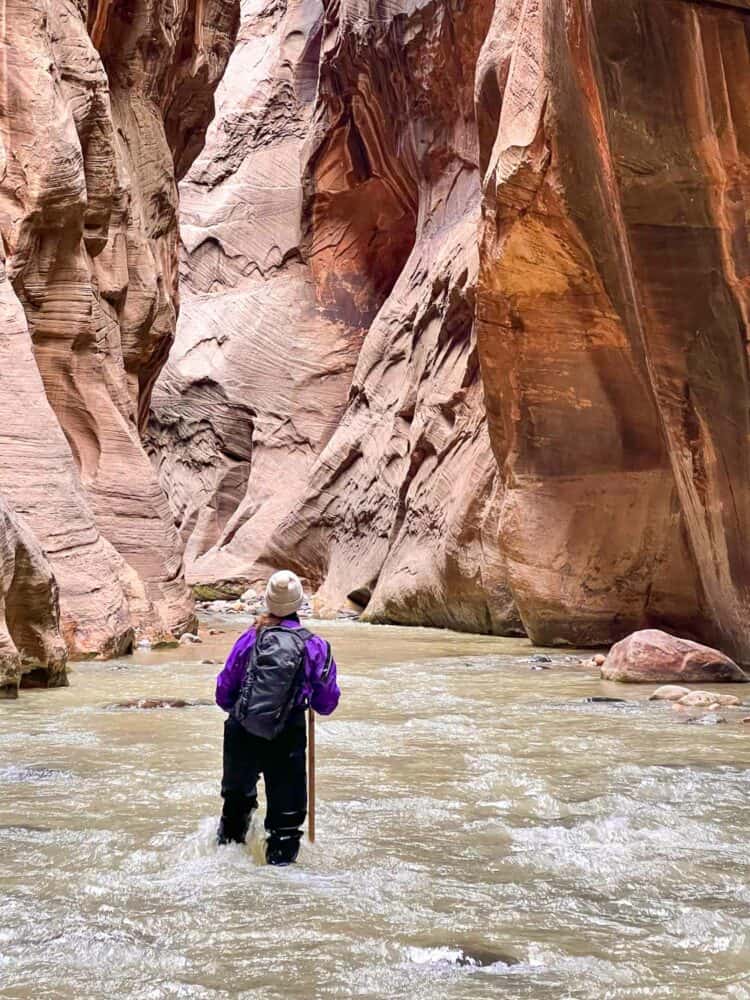 The whole Narrows hike is in a gorge with steep red and black rock walls towering above you.
There's always something new and interesting to admire—jagged peaks, swirly rock patterns, trees growing out of sheer rock faces, frozen waterfalls dangling from cliffs, even deer on the one sunny beach.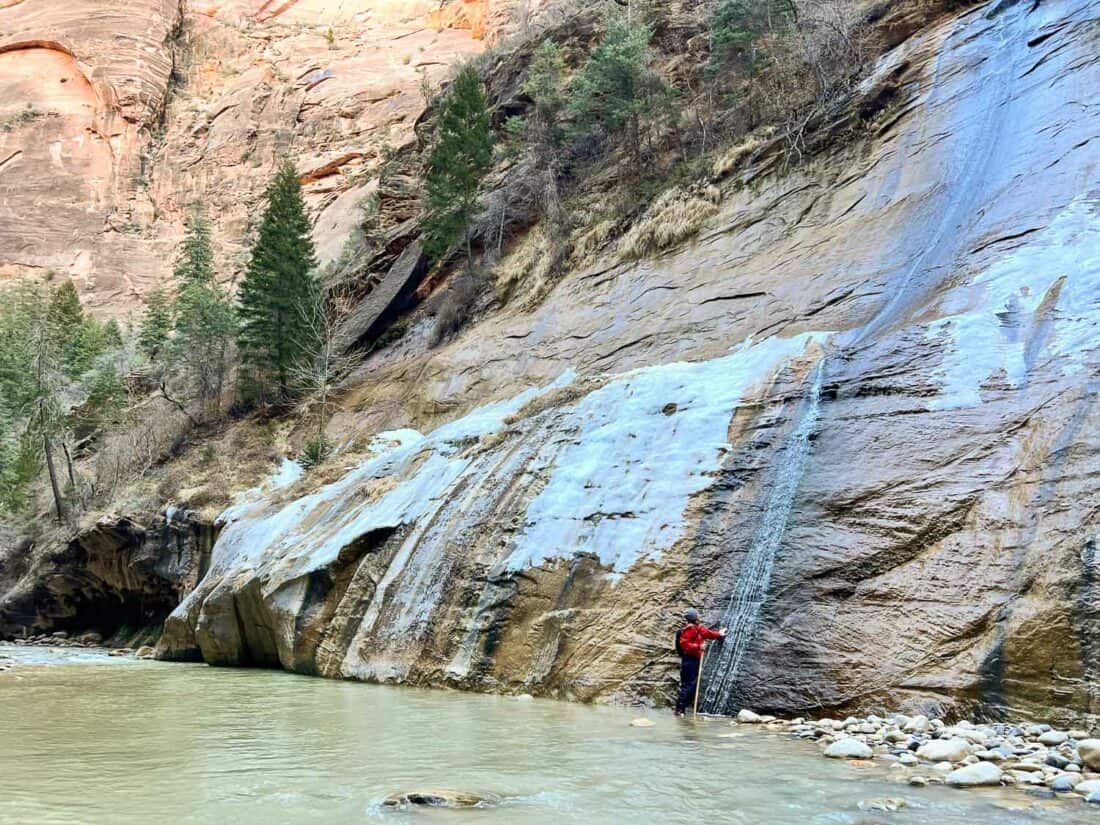 After two hours, we reached the start of the narrow Wall Street section at a junction with Orderville Canyon.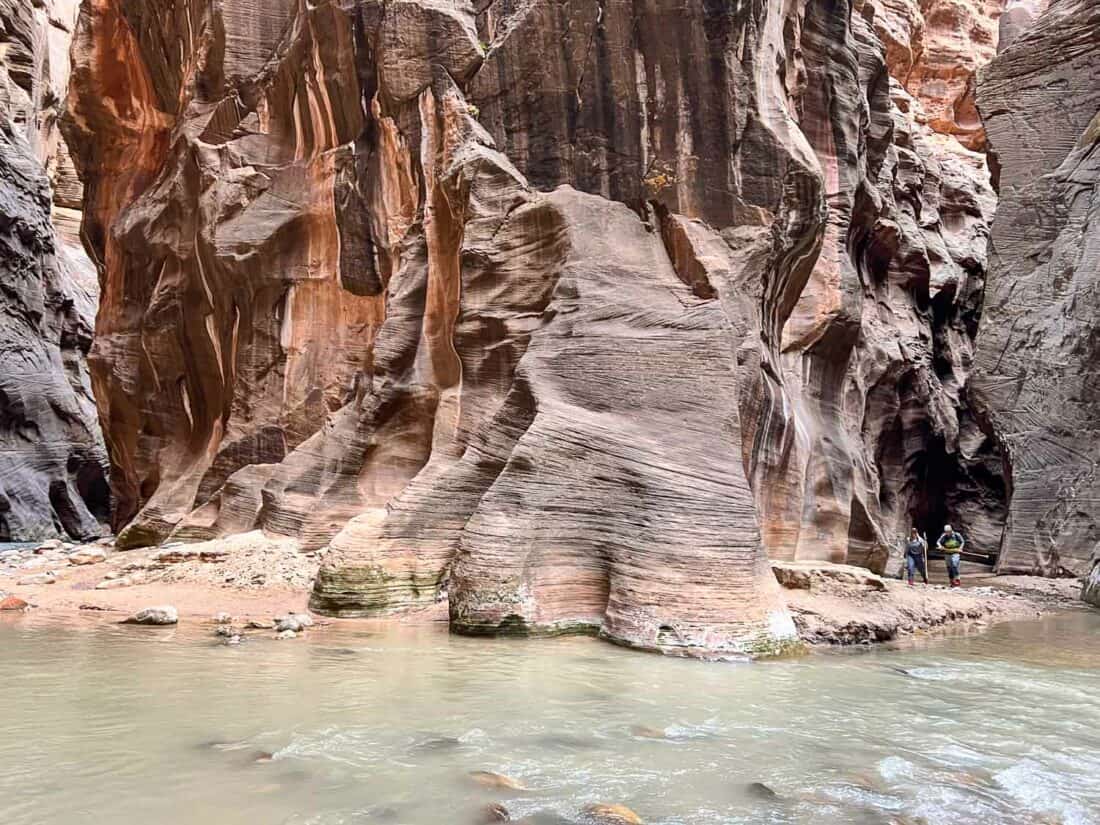 Orderville Canyon is also worth exploring—we walked a short way down it to a tiny waterfall.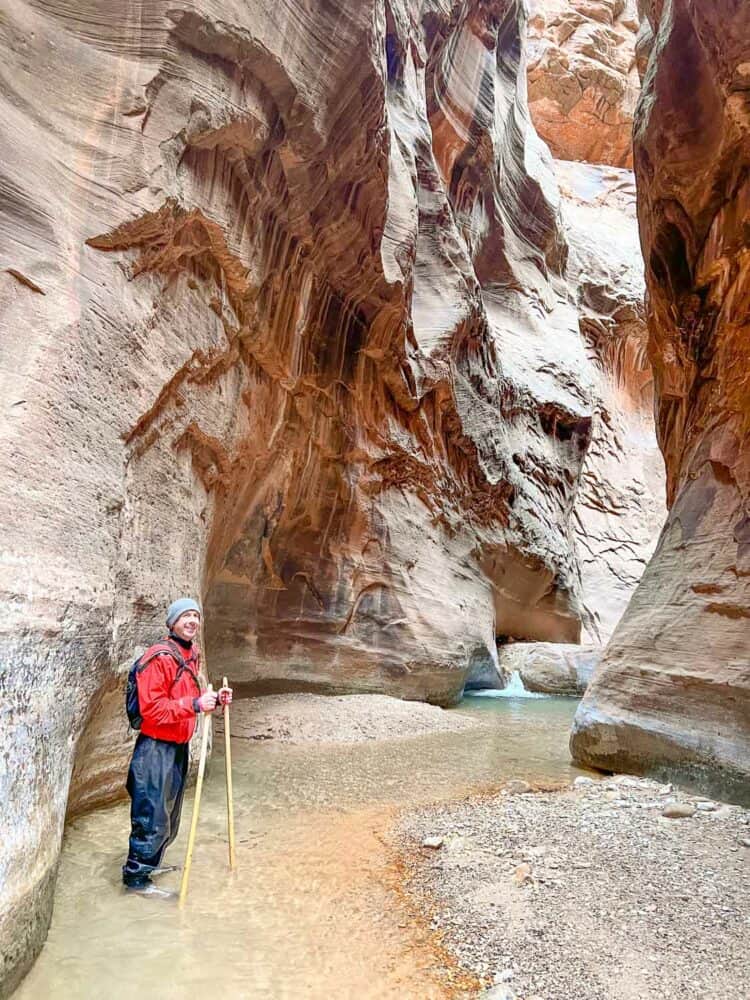 Wall Street is a highlight with its tall walls, fewer beaches, and faster rapids.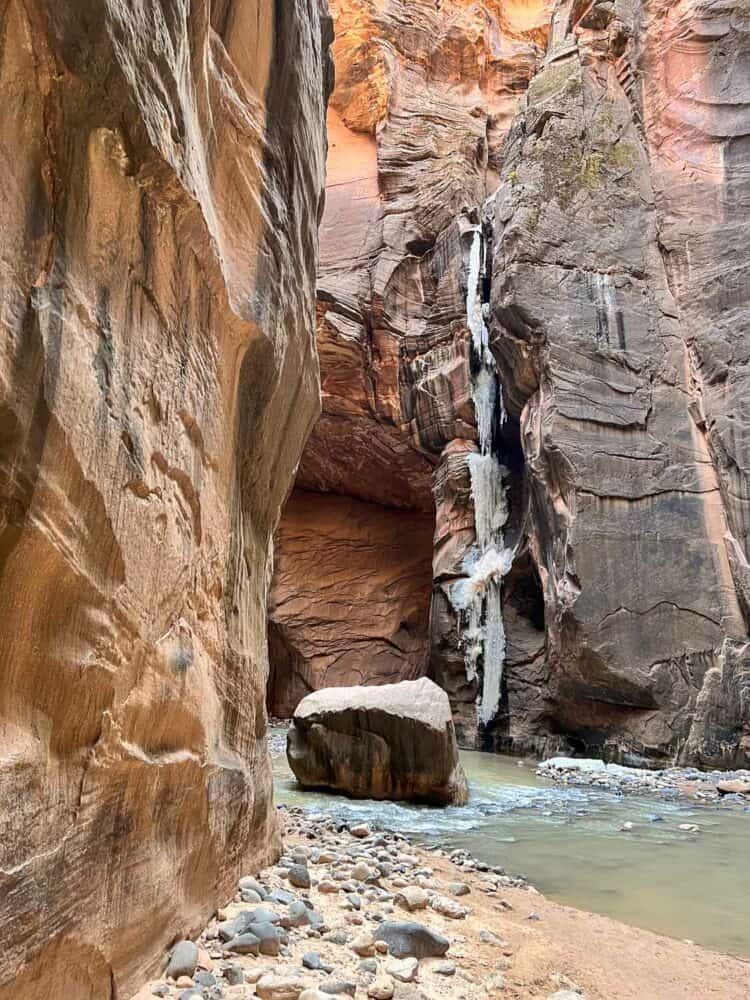 By the time we reached Floating Rock, which bisects the river, we were feeling tired, so we headed back the way we came.
Is The Narrows Worth It In Winter?
Yes, The Narrows is absolutely worth hiking in winter! We are so glad we did it—this unique experience really lives up to the rave reviews.
Despite aching legs at the end, we didn't want to leave the water behind. It was a relaxing, awe-inspiring, and fun hike and easier than we expected.
With the right gear, hiking the Narrows in winter is the best time because you can enjoy it without the crowds.
Don't get too worried about the details—just rent some gear and go for it! I hope you enjoy it as much as we did.
More US National Parks Posts
Utah
California
Hawaii
If you enjoyed this post, pin for later!