This page contains affiliate links. Please read our disclosure for more info.
Can you visit Zion National Park in winter? Yes, you can!
This stunning Utah park stays open year-round, and there are several advantages to visiting in the colder months. Most importantly, there are far fewer people around.
We absolutely loved our trip to Zion in February. We were blown away by the incredible scenery—soaring red rock cliffs, lush hanging gardens, narrow canyons, and expansive vistas.
We hiked through a river, got up close to frozen waterfalls, and admired Zion Canyon from every angle—squeezing through its narrowest sections and admiring it from 1000 feet above.
In this post, we share our top tips for visiting Zion in winter including what to wear, the best winter hikes, and why this is the best time of year to visit.
At the end, you'll find a map with all the places mentioned.
Contents
Why Visit Zion in Winter?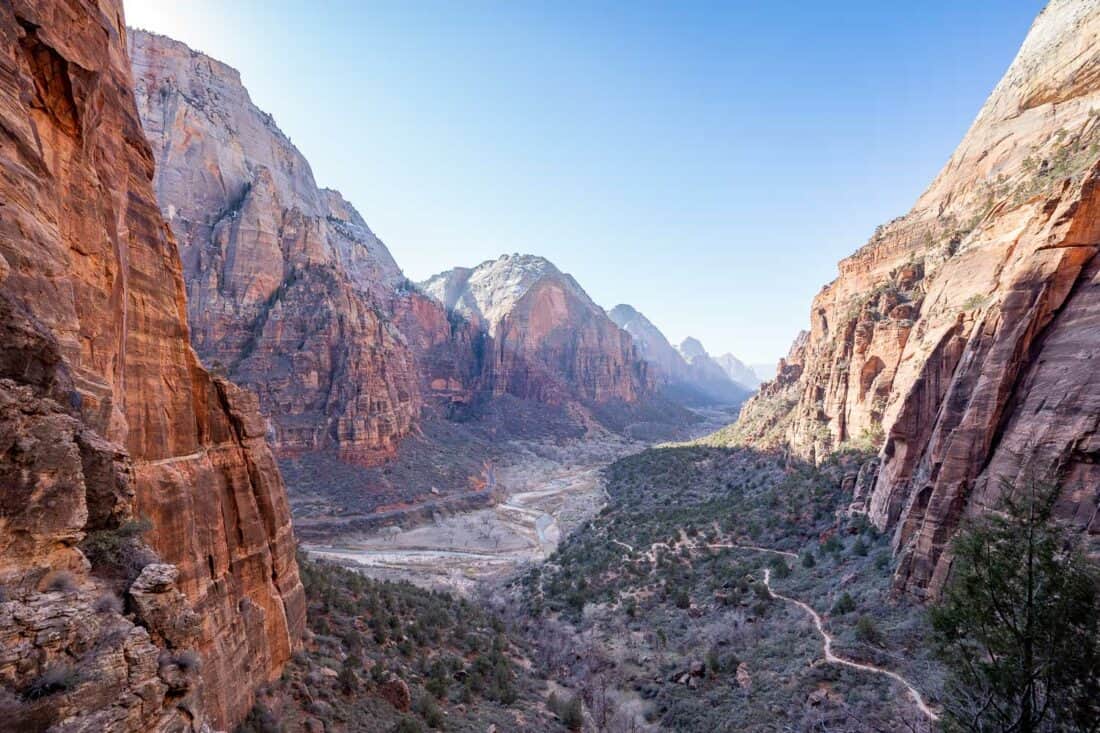 Lower Crowds
Zion National Park has become increasingly popular in recent years. In 2021, it exceeded 5 million annual visitors for the first time (up from 2.8 million a decade before).
Overcrowding has become a serious problem with long waits for shuttles and busy trails.
By visiting Zion National Park in February, we didn't have any of these problems, though.
70% of Zion visitors arrive in the busiest six months (April to September). June to August is especially crowded with around 500,000 visitors per month.
In contrast, January is the quietest month with 91,000 visitors. February is the second quietest month followed by December. By March, visitor numbers are more than triple those of January.
If you want to enjoy quiet trails and have the beauty of Zion to yourself, it's clear that winter is the best time to visit. Just avoid Christmas/New Year week.
No Mandatory Shuttle
For most of the year, you must take Zion's free shuttle bus to access Zion Canyon (the main part of the park). This makes sense to reduce traffic and avoid crowded parking lots.
But, it is inconvenient. You'll spend more time getting to your destination—the drive from Zion Canyon Visitor Center to the last stop, Temple of Sinawava takes 45 minutes on the shuttle vs 20 minutes driving yourself.
Plus, queues for the shuttles can be long, and you'll be limited by the bus schedule.
Winter is the only time you can drive the Zion Canyon Scenic Drive yourself. If you want to avoid the mandatory shuttle, visit in December (except for the holiday week at the end of the month), January, or early February.
From mid-February, shuttles usually start running at weekends and then daily from March.
Lower Accommodation Prices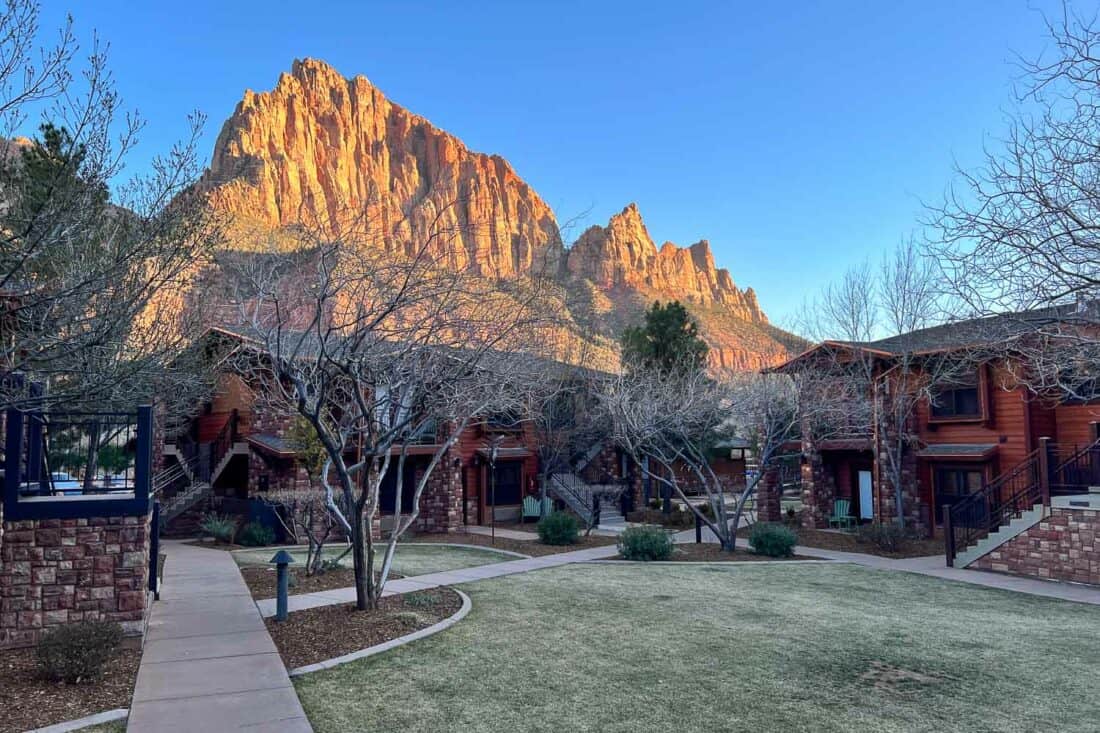 Zion accommodation gets very expensive in summer, and you may be forced to stay further from the park, making it harder to get early starts (and avoid the crowds).
Zion Lodge is the only place to stay inside the park. It's more affordable in winter and much easier to find availability. Rooms start from $220 a night (including tax) in winter and rise to $272 in summer.
But that's if you can even get a room. June was already entirely booked when I looked in January. In the winter months, you can book last minute.
Springdale is another great location for visiting Zion. This small town is right next to the park entrance and has an array of restaurants and outdoor gear stores.
We stayed at Cable Mountain Lodge in Springdale. The location was perfect, right next to the park entrance and we were able to walk to some of the trails.
All rooms have kitchenettes, so they're great for self-catering, and some have separate bedrooms. There's also a pool, hot tub, river beach, and gorgeous Watchman mountain views. We loved it.
But prices vary widely for Cable Mountain Lodge. A King Studio is $183 a night (including tax) in winter and doubles at $367 from April to October. Check the latest prices at Cable Mountain Lodge here.
Easier to Get Angels Landing Permit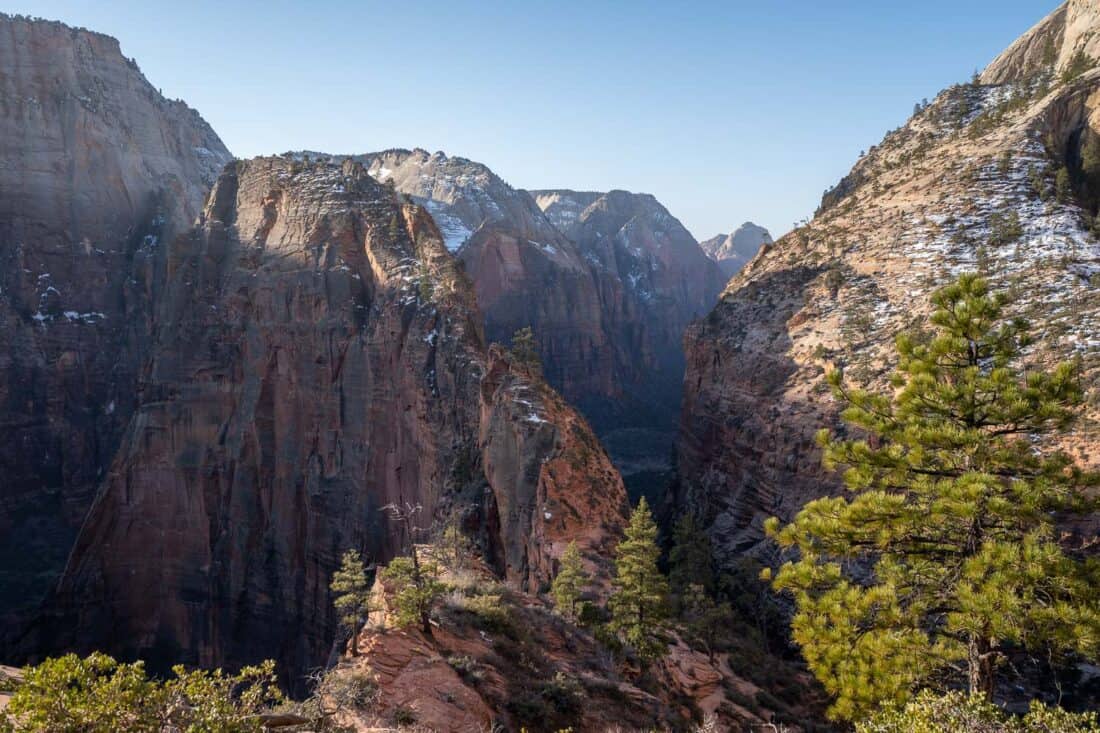 Angels Landing is Zion's most notorious trail. The incredible views high above Zion Canyon draw the crowds, but getting there involves scrambling on a narrow rocky ridge with steep drop-offs.
We didn't do it as it looked terrifying, but if you want to brave it, you'll need to plan in advance.
Zion introduced an Angels Landing permit system in 2022 to reduce crowding. To get a permit, you have to enter a lottery a few months before your visit.
For example, for a visit from December to February, the seasonal lottery is open from 1 October to 20 October, with permits issued on 25 October.
You can also enter a day-before lottery.
You'll have a much better chance of winning the permit lottery during winter in Zion National Park when fewer people are entering.
See Bryce Canyon in Snow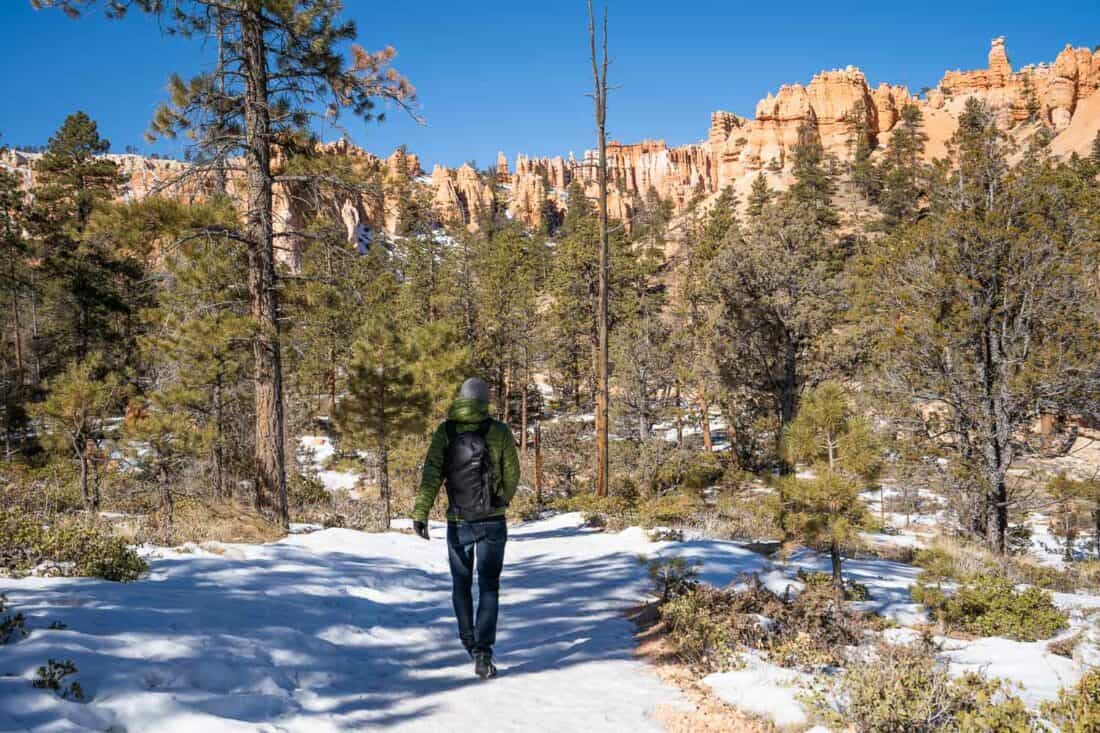 Zion Canyon only sees snow a few times a year, and it doesn't usually last long.
We did see some snow at higher elevations in Zion, but for more of a winter wonderland, I recommend taking a day trip to Bryce Canyon National Park (1 hour 45 minutes from Springdale).
Bryce is at 2000 feet higher elevation than Zion and often sees snow in winter.
On our mid-February visit, Bryce hadn't had snow in weeks, but there was still enough around to make the magical hoodoos (rock spirals) even more scenic than usual.
For more places to visit in the area, see our Southwest road trip itinerary.
Zion Winter Weather: How Cold Is It?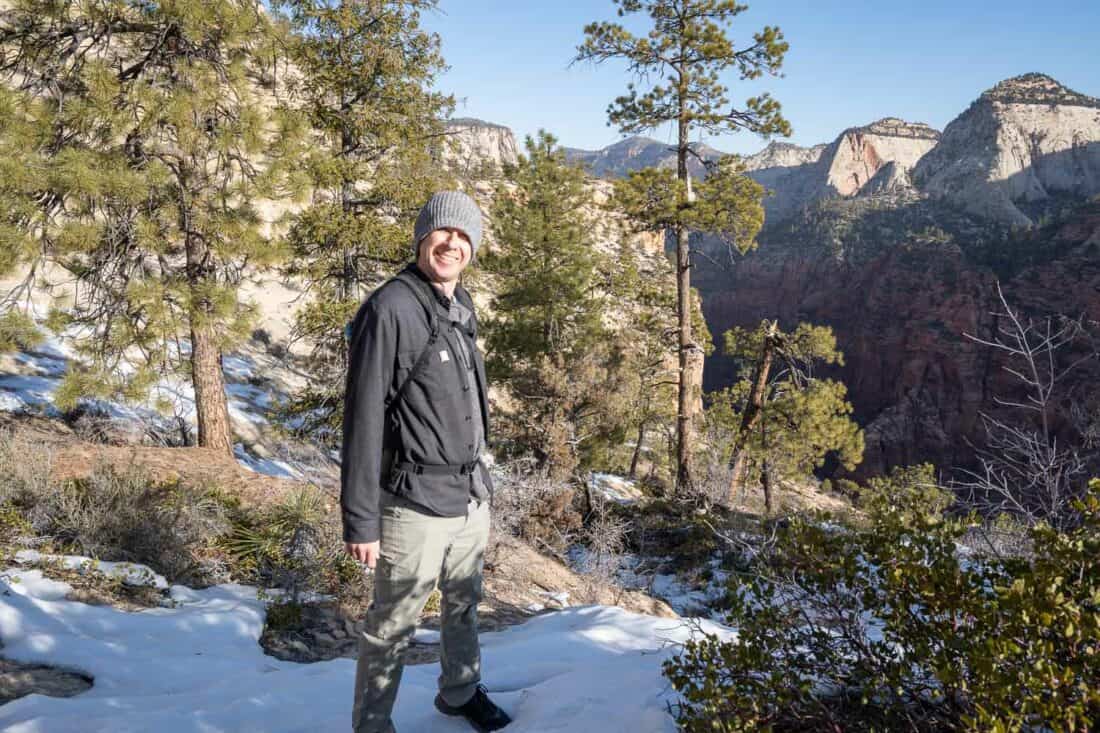 Southern Utah has fairly mild winter weather.
December and January are the coldest months with afternoon highs of around 50ºF to 60ºF (10ºC to 15ºC), while night temperatures can drop below freezing (on average 23ºF or -5ºC).
It can vary, though. As I write this in January, Zion is going through a cold snap with temperatures ranging from 16ºF ( -9ºC) to a maximum of just 36ºF (2ºC).
February is typically warmer, especially by the end of the month. When we visited in mid-February, the weather was surprisingly mild.
While it did get close to freezing on some mornings, it usually warmed up quickly with afternoon temperatures reaching 57ºF (14ºC) and even 72ºF (22ºC) on a few days. We had not expected to be sitting outside in the sun in t-shirts.
Although the winter months are the wettest, Zion's precipitation levels are still fairly low. Be prepared for rain, but we didn't have any during our week in the park.
As Zion's winter temperatures are never too extreme, hiking in the park is fine with the right clothes.
Tips for a Zion Winter Trip
Consider An America the Beautiful Pass
Entrance to Zion National Park costs $35 per vehicle and is valid for seven days.
If you are likely to visit two other national parks (including nearby Bryce) in the next year, it's worth getting the America the Beautiful annual national parks pass for $80. You only need one per family/vehicle.
You can buy the pass from Zion's entrance gate or to save time, buy it in advance from REI.
Some Roads May Close
Driving through Zion Canyon shouldn't be a problem in winter. Even if it does snow (rarely), roads are ploughed quickly afterwards.
The only road that always closes in winter is Lava Point Road, which is usually only accessible from May to September due to its higher elevation.
It's located in the quieter Kolob Terrace area of the park, a good place to find solitude. Kolob Terrace Road and Kolob Canyons Scenic Drive are usually open in winter, but there may be ice. Check the conditions before you drive up there.
Trails Can be Icy
Some Zion hiking trails can be icy in winter, especially at higher elevations or in shady areas.
Occasionally, some (such as Lower Emerald Falls) close due to the danger of falling ice, so check the Zion NP website or with rangers before you head out.
We found the AllTrails app really useful for recent hike reports to see what the current conditions are.
We also downloaded an offline map of every trail we did and never got lost. You need an AllTrails+ subscription for this, but it's well worth it if you are a regular hiker.
As it was fairly mild when we visited, we didn't have any issues with ice. There were patches around, but it was easy to avoid them. A few weeks earlier many trails were icy, though.
If you are a keen hiker, I recommend packing Kahtoola Microspikes in case of ice. You put these on over your hiking shoes for excellent traction. We used them on our hike in Bryce Canyon.
Hiking poles are also a good idea in slippery conditions. I used these inexpensive TrailBuddy collapsible poles.
Days Are Shorter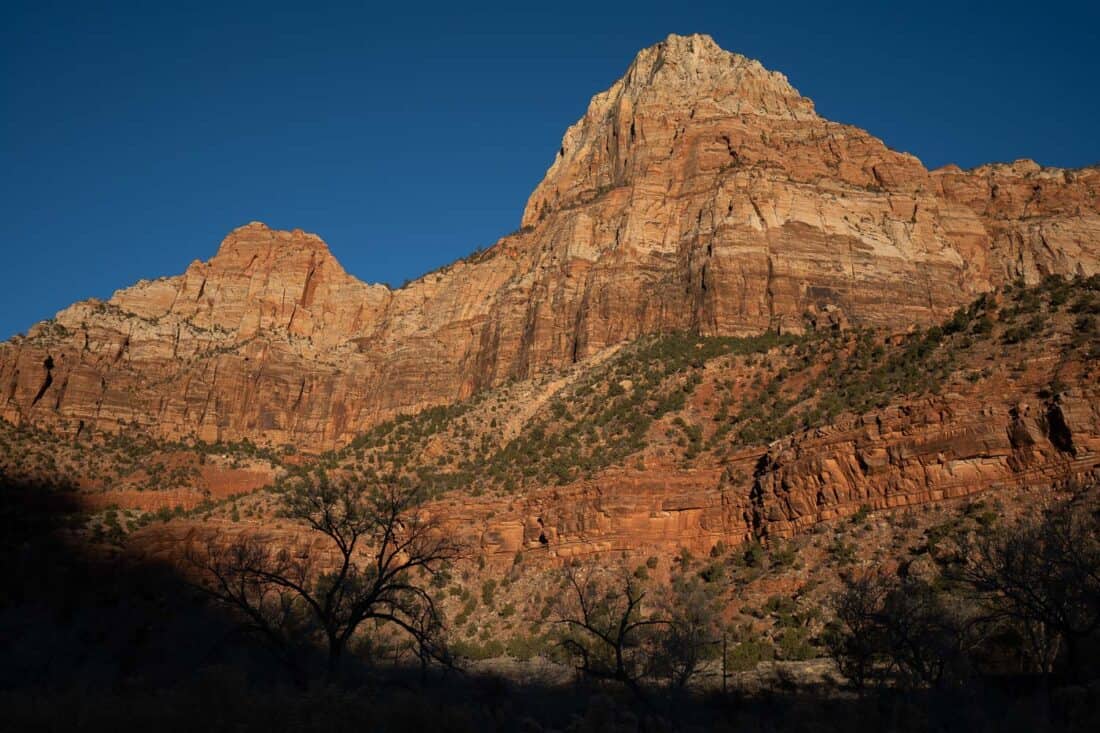 At Zion National Park in January, the sun rises around 7.45am and sets around 5.30pm. By mid-February, this extends to 7.20am and 6pm.
As the days are shorter than in the summer, you'll have less time for your hikes, so it's a good idea to get an early start. Hiking trails are quieter if you start around sunrise too.
I also found that light was limited. We liked to start early to avoid the crowds, but Zion Canyon is in shade for the first few hours of daylight. The light is much better for photography in the late afternoon, but trails are busier.
Parking Can Fill Up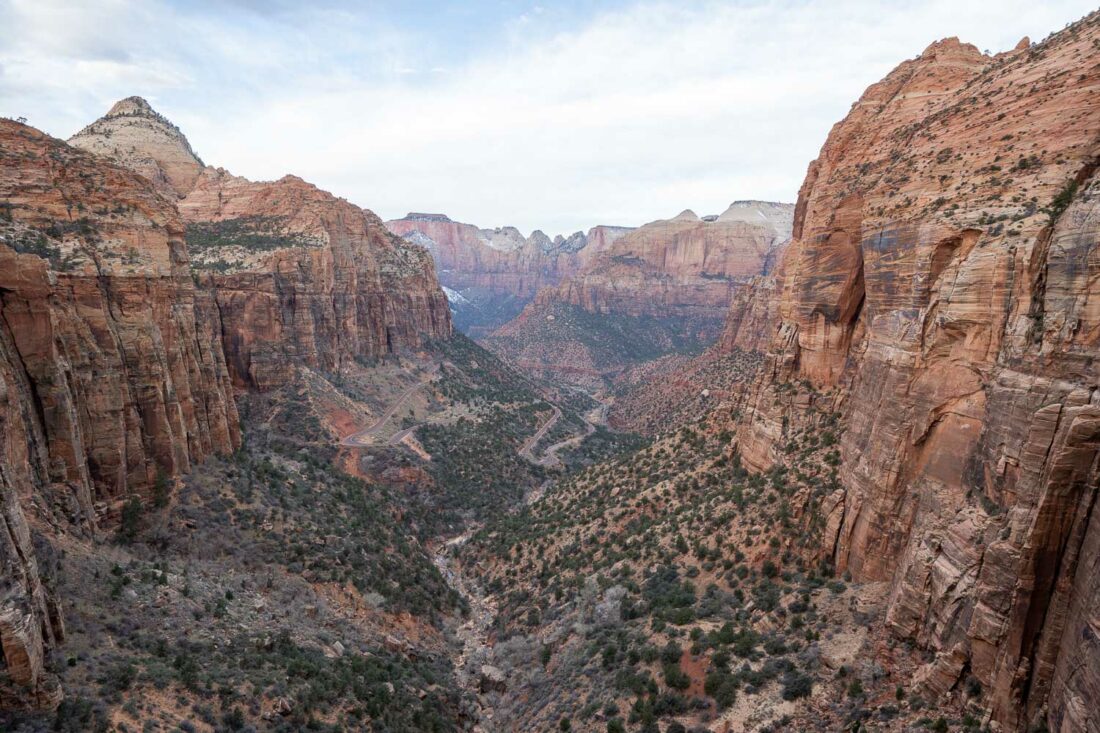 The downside of the shuttle not running in winter is that you have to deal with potentially busy parking lots.
Parking is limited at all the trailheads, especially The Grotto (for Angels Landing) and Temple of Sinawava (for The Narrows).
If the parking fills up, they will stop letting cars drive into the park, so your only option will be to cycle in (e-bikes are recommended).
When we were there the weekend before President's Day weekend, they stopped letting cars into Zion around midday.
This was the first time in two months the park had been that busy, though, and was likely due to the milder weather and proximity to a holiday. This shouldn't be a problem in January or on weekdays.
It's another reason why getting an early start at Zion is so important. I recommend arriving at The Grotto before 7.30am and Temple of Sinawava or Zion Lodge (for Emerald Pools) by 9am.
Water Stations Close
There are water bottle refill stations at most of the parking lots, but these close in winter. If you need a refill, there's one in Zion Lodge (next to the restrooms in the lobby).
Some Campgrounds Close
South Campground and Lava Point Campground close in the winter.
Watchman Campground, next to the South Entrance, is open year-round. We didn't see many tents in winter, but there were some RVs.
What to Wear to Visit Zion National Park in Winter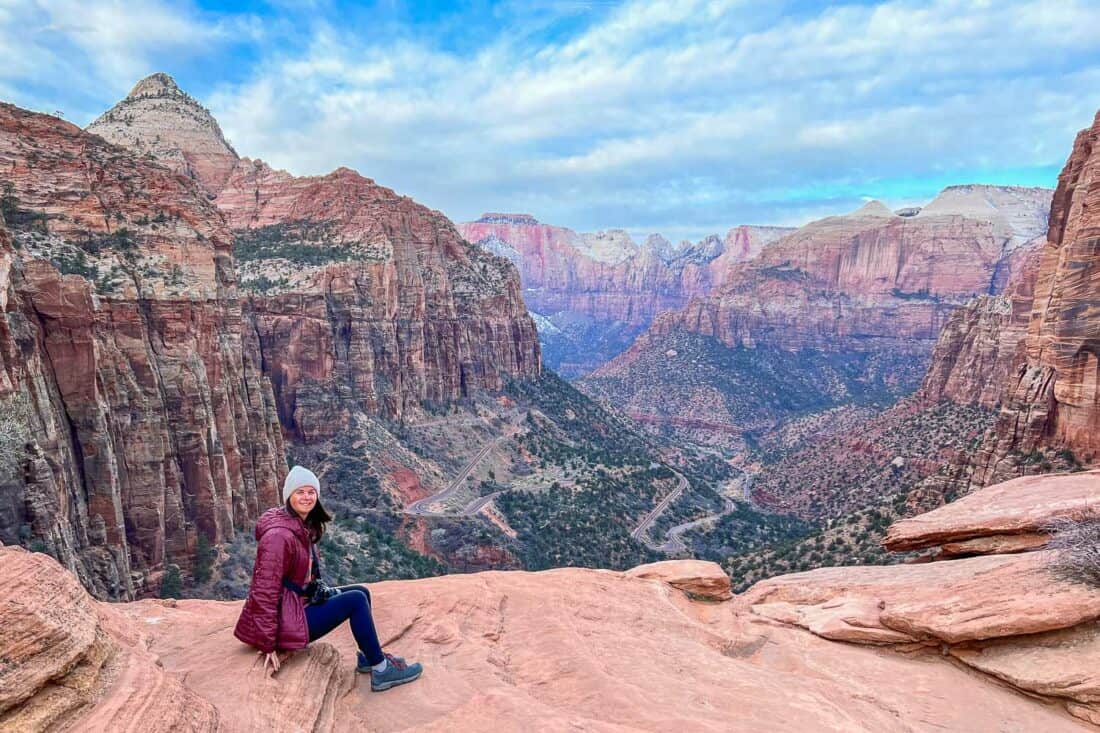 As the weather is so variable with chilly mornings and often mild afternoons, layers are your best bet.
My typical outfit for hiking in Zion was:
Simon usually wore:
He also had a Mountain Hardwear Ghost Whisperer down jacket, but only needed the extra layer for Bryce.
We both had lightweight, packable rain jackets but didn't need them.
See my guide to hiking The Narrows in winter for what we wore on this chilly river hike.
When we visited Bryce Canyon, which is much colder, we both wore four upper layers, and I wore two pairs of leggings.
Best Zion Winter Hikes
We found Zion National Park in winter ideal for hiking. Yes, the mornings were chilly, but we soon warmed up on the trail.
We never got too hot, as we would have in summer, and we were able to comfortably hike in the afternoon (when it became t-shirt weather).
Here are the Zion hikes that we loved.
The Narrows Bottom Up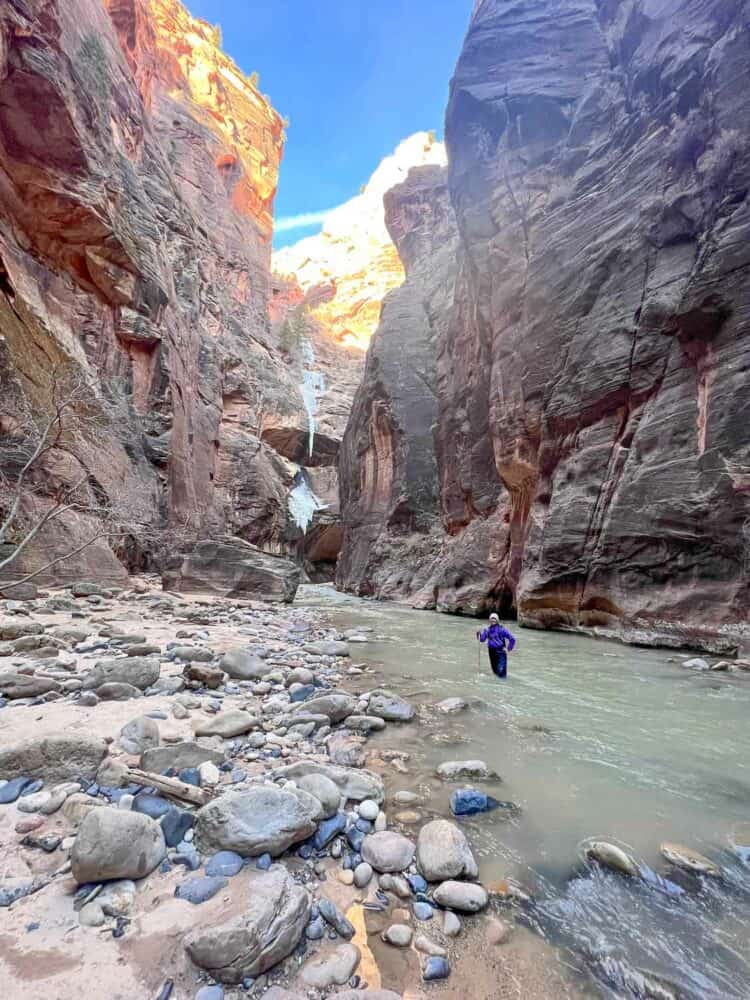 Distance: 6 – 10 miles return (turn around whenever you want)
Time: 4 – 7 hours
The Narrows was our favourite Zion hike and one of our top travel experiences ever.
You walk in the Virgin River through the narrowest section of Zion Canyon beneath towering red rock walls.
You are guaranteed to get wet (at least to waist height in parts) and yes, the water is very cold, but the Narrows is one of the best things to do in Zion in winter.
The right gear is essential in the colder months (we rented dry suits), but you'll avoid the overwhelming summer crowds and enjoy this gorgeous place in peace. We also loved seeing the frozen waterfalls.
Read my guide to hiking The Narrows in winter for everything you need to know.
West Rim Trail (Angels Landing Alternative)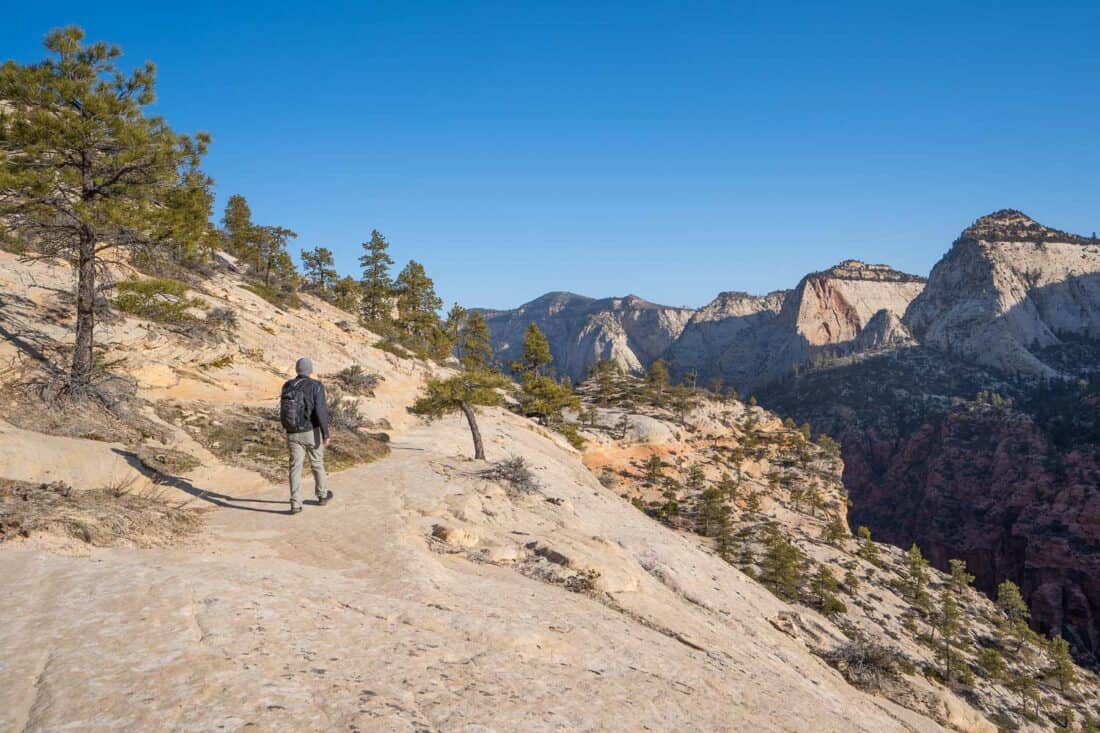 Distance: 3.6 miles+ (5.8km) return
Time: 2 hours+
The Narrows and Angels Landing are the most popular hikes in Zion. So much so that you now need to enter a lottery to hike Angels Landing.
Even if you manage to get a place, Angels Landing is not for everyone. The final section involves scrambling on a narrow ridge 1400 feet above the canyon floor with steep drop-offs. There is no room for error here!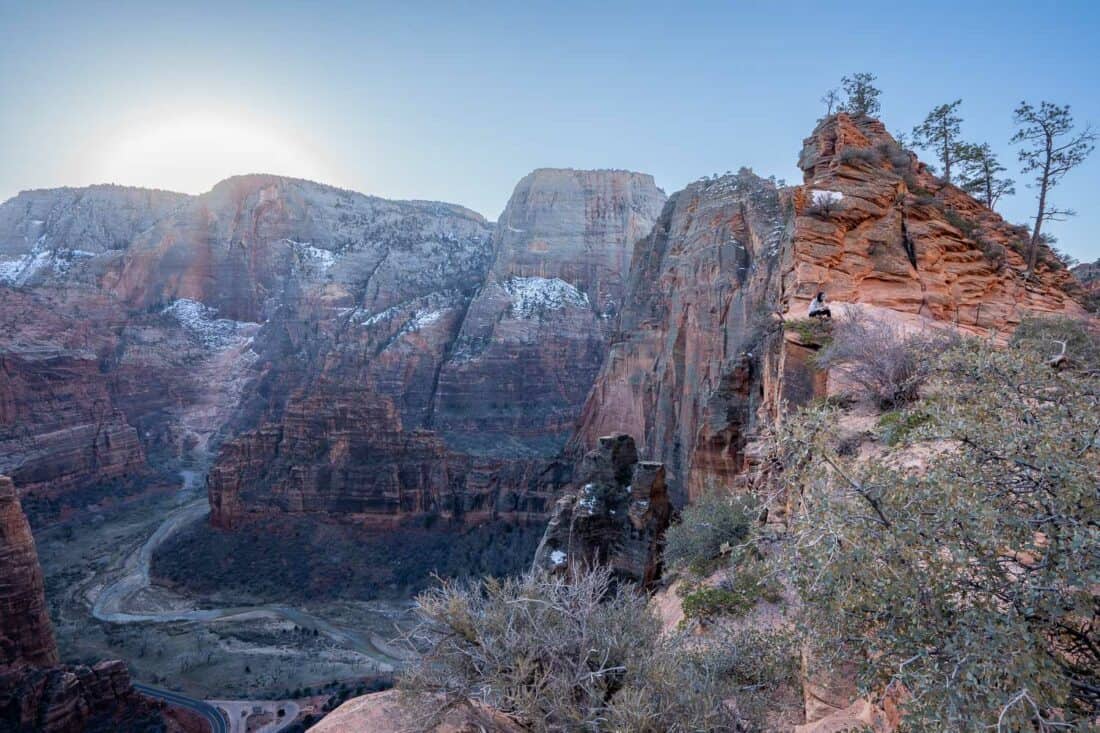 It's definitely not suitable for young children or anyone scared of heights or unsteady on their feet.
Hiking Angels Landing in winter is even scarier as there's often ice on the trail.
It looked too terrifying for us, so we skipped it.
The good news is that you can still experience much of the trail without a permit. The hike starts from The Grotto and follows the West Rim Trail to Scout Lookout.
It's a steep climb up on a mostly paved trail with beautiful views back down to the canyon. As you get higher, the risk of ice increases, especially at Walters Wiggles, a series of short, steep switchbacks.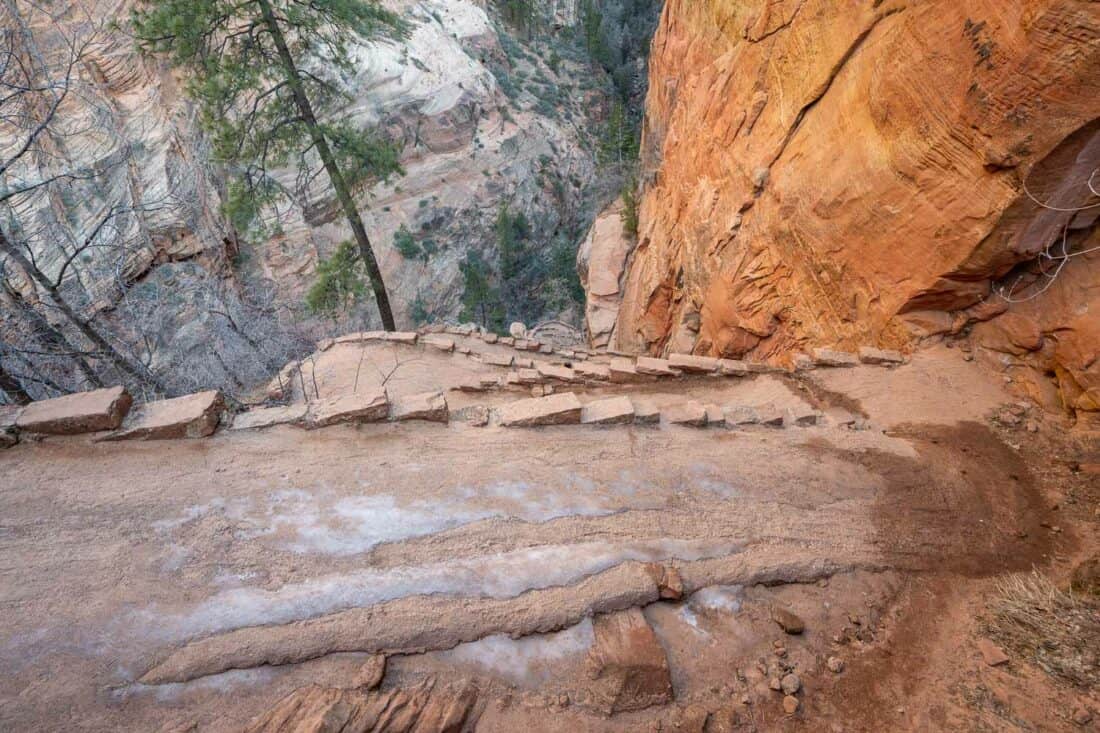 For much of the winter, you'll need traction devices like Microspikes to get up here safely. Check the AllTrails page for the latest conditions.
On our visit, we saw big chunks of ice, but it had melted enough to walk around.
Even without ice, proper hiking shoes rather than sneakers are important as it's steep and slippery in parts.
At Scout Lookout, you can continue up the narrow spine to Angels Landing (with a permit) or watch people make their way up.
While you could turn back here and it'd be a worthwhile hike, I highly recommend continuing up the West Rim Trail. It goes on for miles so go as far as you'd like.
It's very peaceful up here, and after about 10-15 minutes, you'll get a good view of tiny people on the impossibly narrow ridge of Angels Landing.
We walked about a mile past Scout Lookout before turning back (for a total hike of 2 hours 40 minutes). We wished we'd brought lunch for a longer hike as it's gorgeous and feels far away from everything.
Keep in mind it'll be snowier up here so traction devices may be helpful.
Parking at The Grotto fills up quickly (we saw it full at 8am), so I recommend starting at around 7am.
Canyon Overlook Trail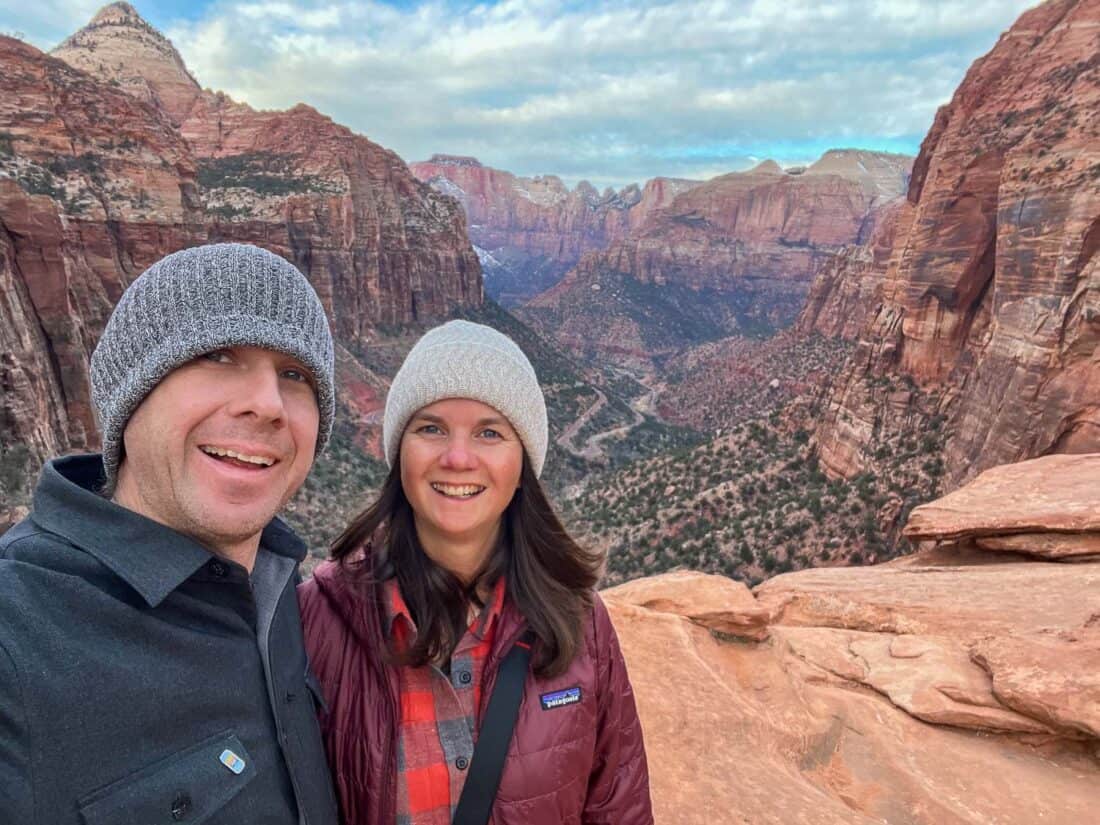 Distance: 1 mile (6.6km) return
Time: 35 minutes
Don't miss this short and fairly easy trail with a panoramic view high above the canyon.
The Canyon Overlook Trail is in East Zion. It's not far from the South Entrance but isn't on the shuttle route so you'll need to drive yourself year-round. Unfortunately, parking is limited so arrive early (before 9am in winter).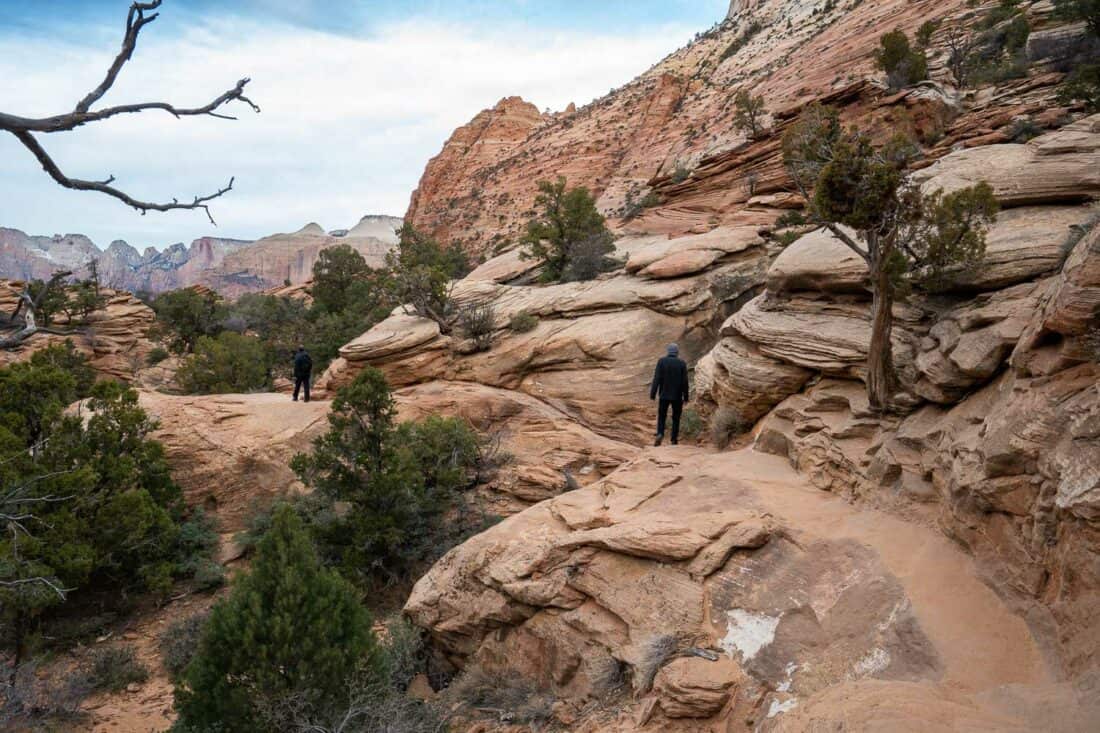 We found the walk up easy, but there are some steep drop-offs and it can be icy (it wasn't for us). Wear shoes with good traction and consider spikes/poles.
The view at the end is incredible!
Emerald Pools Trail Loop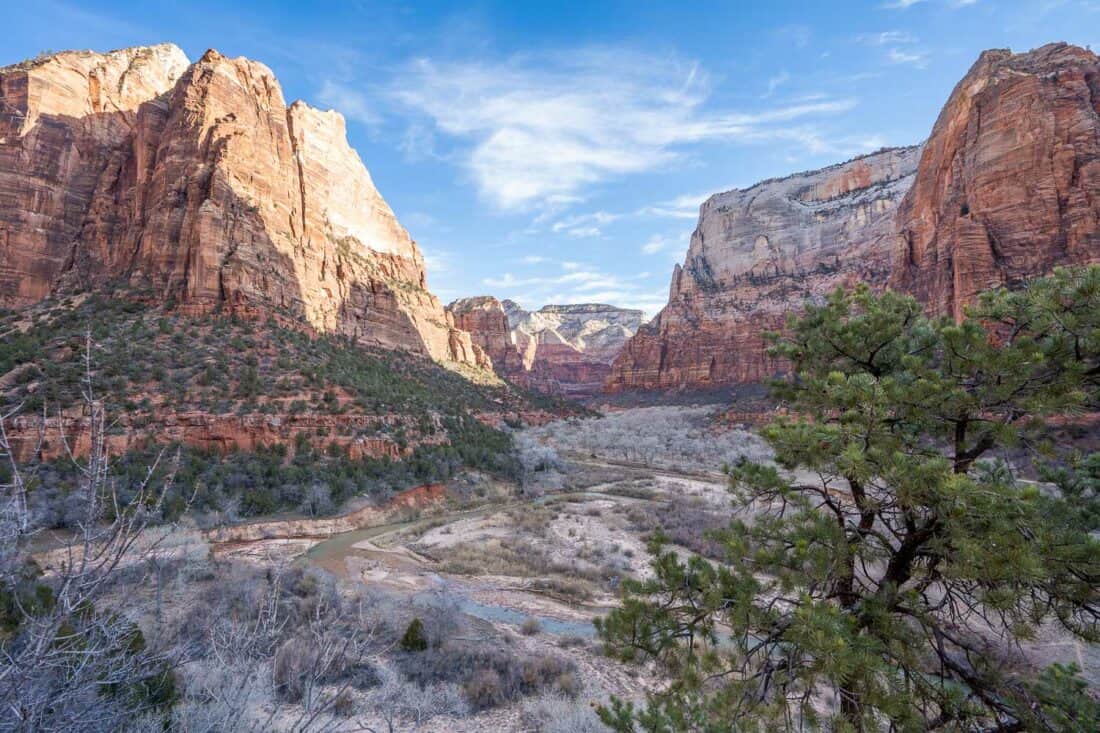 Distance: 2.3 mile (3.8km) loop
Time: 1 hour 10 mins
Some visitors are disappointed in Emerald Pools (they are more brown than green), but we really enjoyed the fairly easy loop hike we did to the Middle, Upper and then Lower Pools.
You can also visit just one of the pools for a shorter walk, but each has its own character and is worth seeing.
Parking is opposite Zion Lodge. We started with the trail up to Middle Emerald Pool, which is steep at first then levels out with gorgeous views down into the canyon and river.
The Middle Pool isn't that exciting, but we enjoyed the journey there. About 10 minutes on, up some steep sandy steps that get the heart going, we reached the Upper Pool.
These are more dramatic with a thin waterfall streaming down a massive rock wall.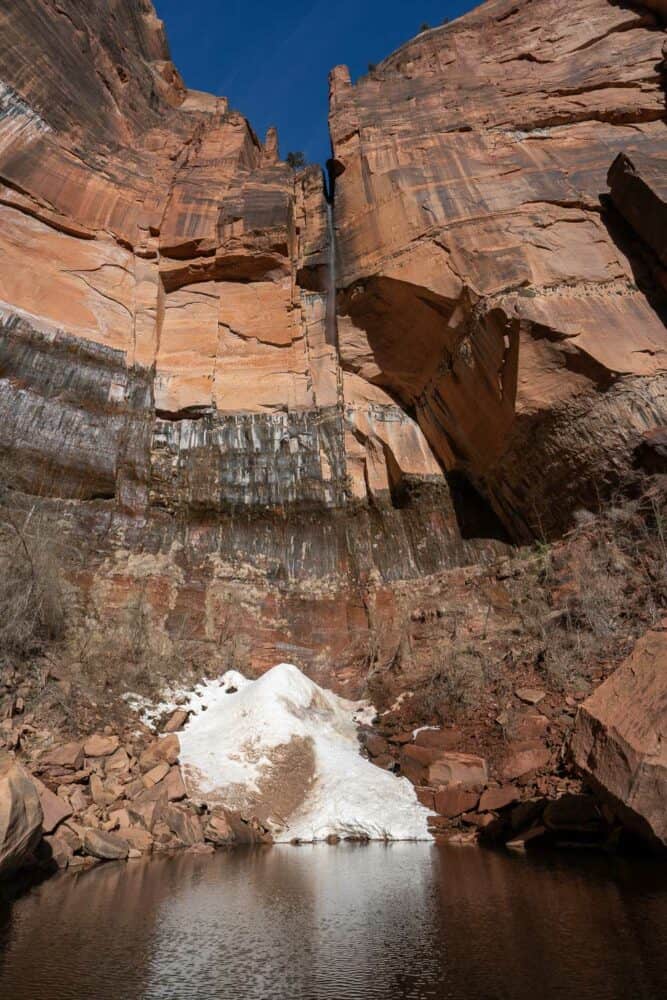 Heading back down the trail we reached the Lower Emerald Pool. This is the busiest pool as it's easily accessible and very dramatic.
The narrow falls run down the cliff face, and you can walk under the overhang behind the water.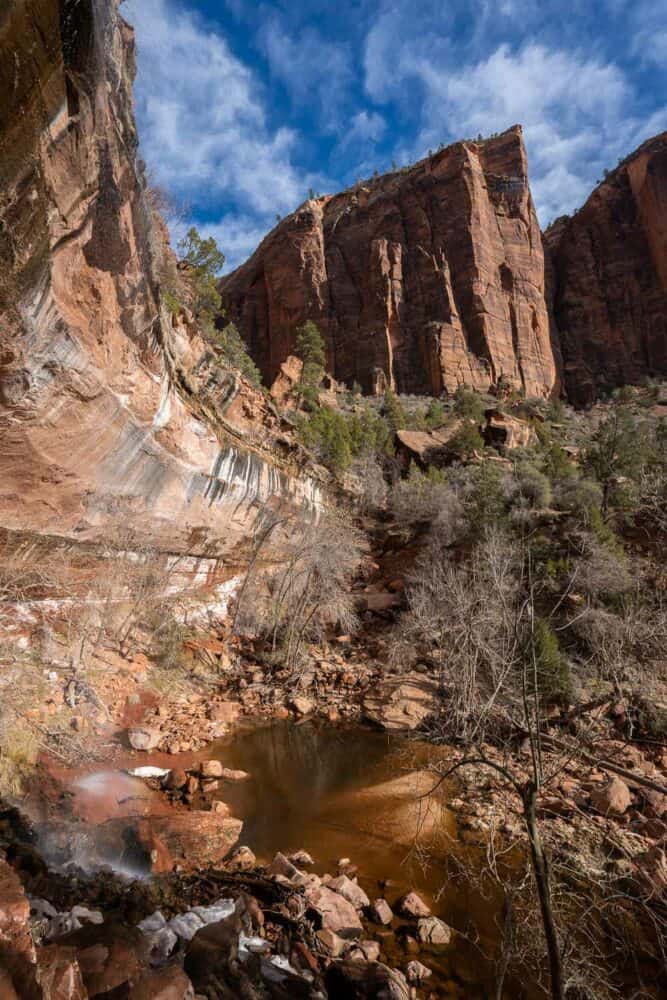 As the path behind the Lower Pool gets wet, it can be icy and the trail may close. In this case, you can still see it from the lookout above.
Watchman Trail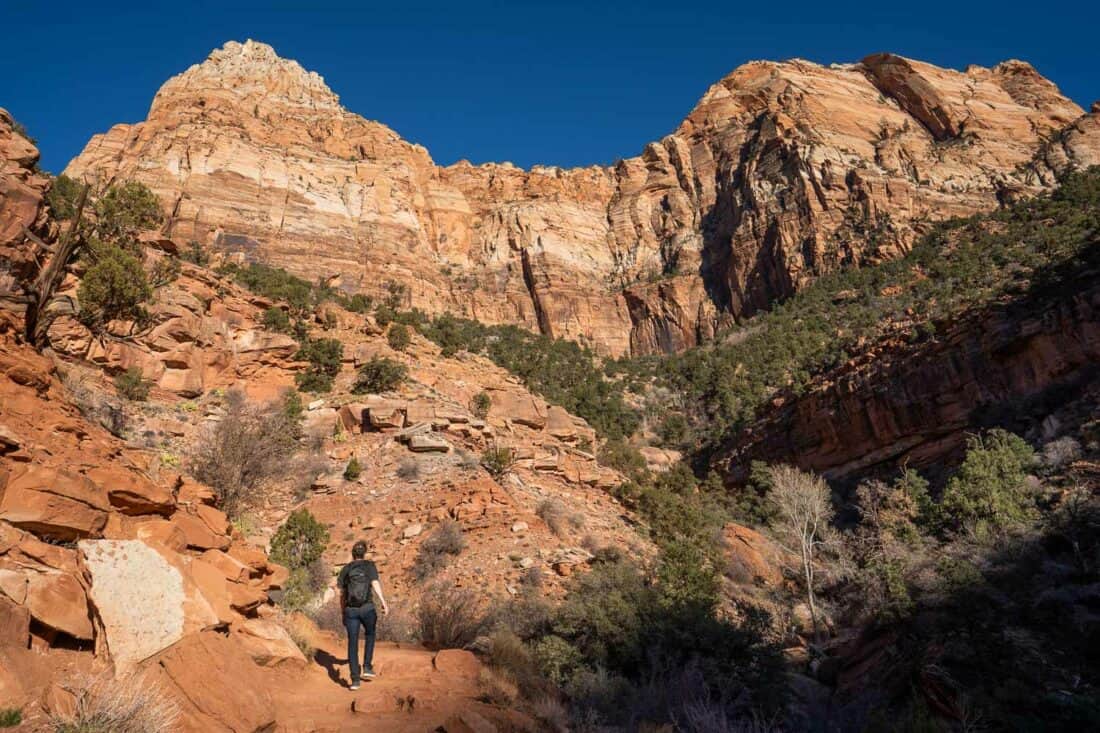 Distance: 3.3 miles (5.3km) return
Time: 1 hour 20 mins
The Watchman Trail is ideal for your first hike in Zion. It starts just a few minutes' walk from the visitor centre, so you can walk here from Springdale. It was just five minutes from our hotel, Cable Mountain Lodge.
We found it harder than we expected as we went at 4pm on a sunny day, and it was a hot climb up without any shade.
The afternoon light is great, though, as the Watchman mountain (a Zion icon) is fully lit up in its colourful glory.
For us, this hike wasn't so much about the vista at the top and more about the stunning views the whole way.
Note that this hike can be very muddy. It was dry for us, but check the conditions before you go and perhaps take hiking poles.
The Watchman is not usually busy, so you can hike it later in the day when parking inside the park is difficult.
Pa'rus Trail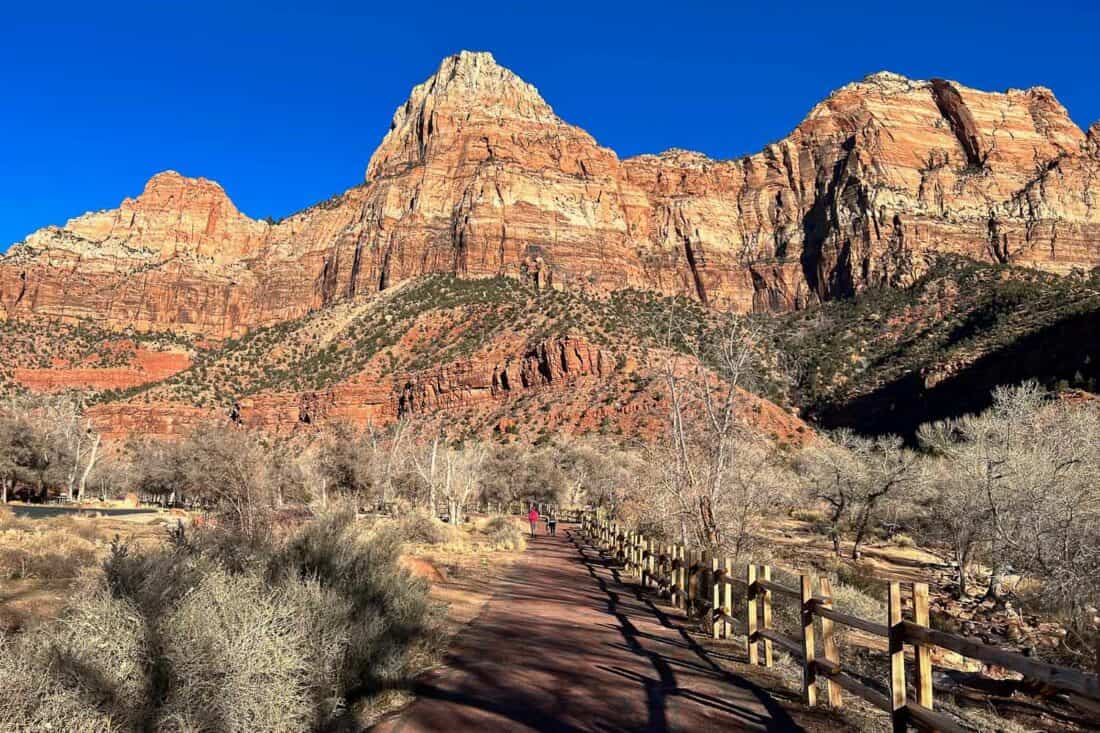 Distance: 3.5 mile (5.6km) return (or less)
Time: 1 hour 20 mins
The Pa'rus Trail is the easiest hike in Zion. It's a flat paved trail along the river that you can walk or bike and go as far as you like.
Like The Watchman, this starts near the visitor centre so it's easily accessible. As we were staying so close, we walked parts of this a few times and I ran the whole thing one morning with hardly anyone around.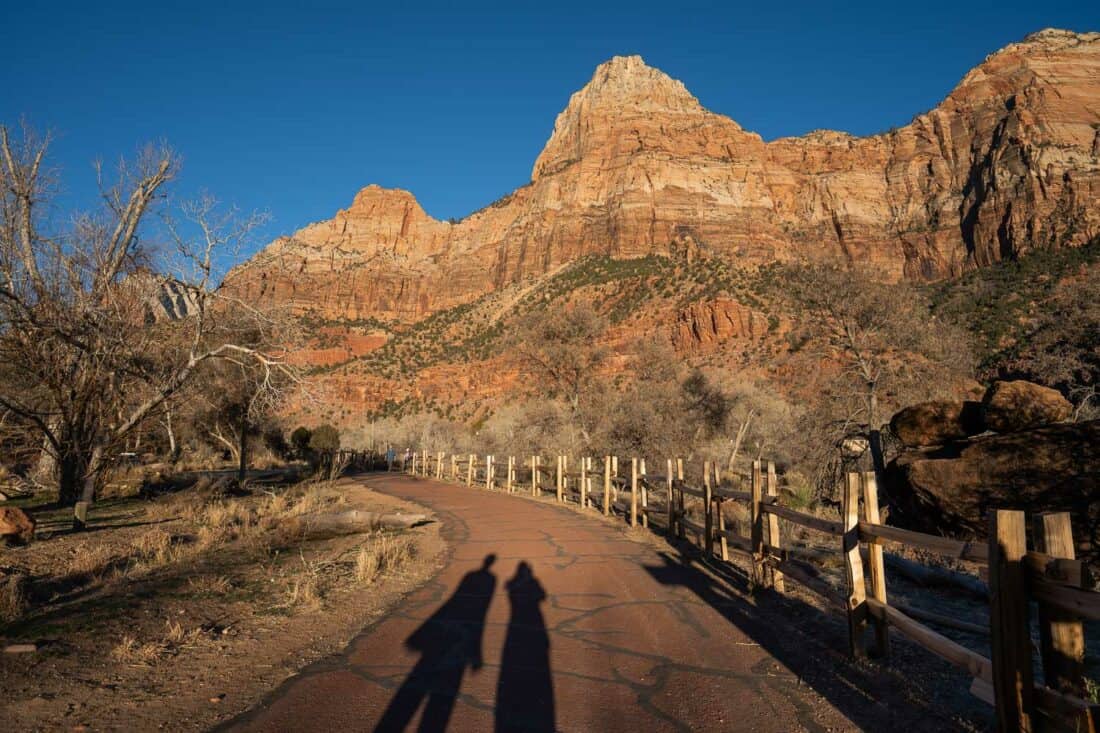 While it's not a must-do, the Pa'rus Trail is a good option to stretch your legs and enjoy the mountain views, especially if you are staying in Springdale. It's especially beautiful in the late afternoon.
Map of Zion National Park
Is It Worth Visiting Zion in Winter?
Yes, Zion National Park is 100% worth visiting in winter! It's by far the best time to avoid the overwhelming crowds you'll find the rest of the year.
Temperatures are fairly mild so hiking is enjoyable (even in The Narrows!) and accommodation is more affordable.
While Zion is spectacular at any time of year, there's something extra special about enjoying this epic beauty in peace.
More USA National Parks Posts
Explore more beautiful US destinations in our other guides:
Utah
Arizona
California
Enjoyed this post? Pin it for later!