This page contains affiliate links. Please read our disclosure for more info.
Bryce Canyon is the smallest national park in Utah and is perfect for a day trip, either from Zion National Park (as we did) or if you're passing through on a longer road trip.
Its compact size makes it easy to visit Bryce Canyon in one day. Even with half a day, you'll be able to admire the magical hoodoos (twisty spires of rock) from various viewpoints above and take a hike among them in Bryce Amphitheatre.
In this post, I share our Bryce Canyon 1 day itinerary plus tips to make the most of your visit and a map with all the places mentioned.
Contents
Getting to Bryce Canyon National Park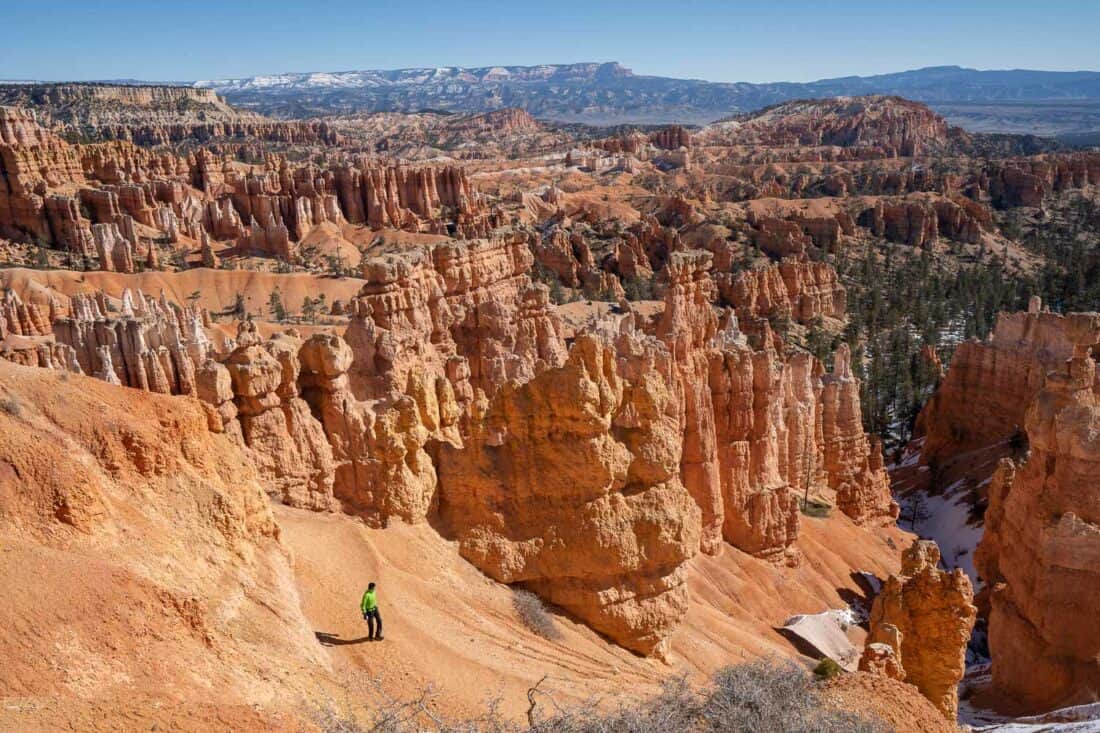 Bryce Canyon National Park is in southwestern Utah and is best reached in your own vehicle.
Or you could take a day tour from Las Vegas.
Here are the distances from nearby destinations to Bryce Canyon Visitor Centre:
Bryce Canyon City – 5 minutes / 2 miles
Springdale (for Zion National Park) – 1 hour 50 minutes / 85 miles
Torrey (for Capitol Reef National Park) – 2 hours / 108 miles
Moab (for Arches National Park) – 4 hours 20 minutes / 249 miles
Las Vegas, Nevada – 4 hours 15 minutes / 272 miles
Salt Lake City – 4 hours 15 minutes / 273 miles
We made our Bryce Canyon day trip from Zion National Park as part of a longer road trip. See our Southwest road trip itinerary for everywhere we went.
We decided not to stay overnight in Bryce to avoid having to change hotels.
We stayed at Cable Mountain Lodge in Springdale, which has the ideal location right next to Zion's park gates. The lodge has incredible mountain views, a pool and hot tub, and rooms have kitchenettes.
If you'd rather stay closer to Bryce (especially to see the sunrise and sunset), check out Bryce Canyon Lodge in the park (closed in winter) or Best Western Plus in the tiny village of Bryce Canyon City just outside the park.
We left Springdale at 6.30am and arrived in Bryce at 8.15am. An early start is always recommended to enjoy the parks before they get too busy.
On our winter visit, we left in the dark and saw the sunrise on the way. The first section of the drive from Zion to Bryce Canyon is on the Mt. Carmel Highway Scenic Drive.
It's a very winding road past soaring rocky peaks. As you pass through Zion's East Entrance, you'll need to show your park pass.
The rest of the drive is less scenic but easy and quiet.
When to Visit Bryce Canyon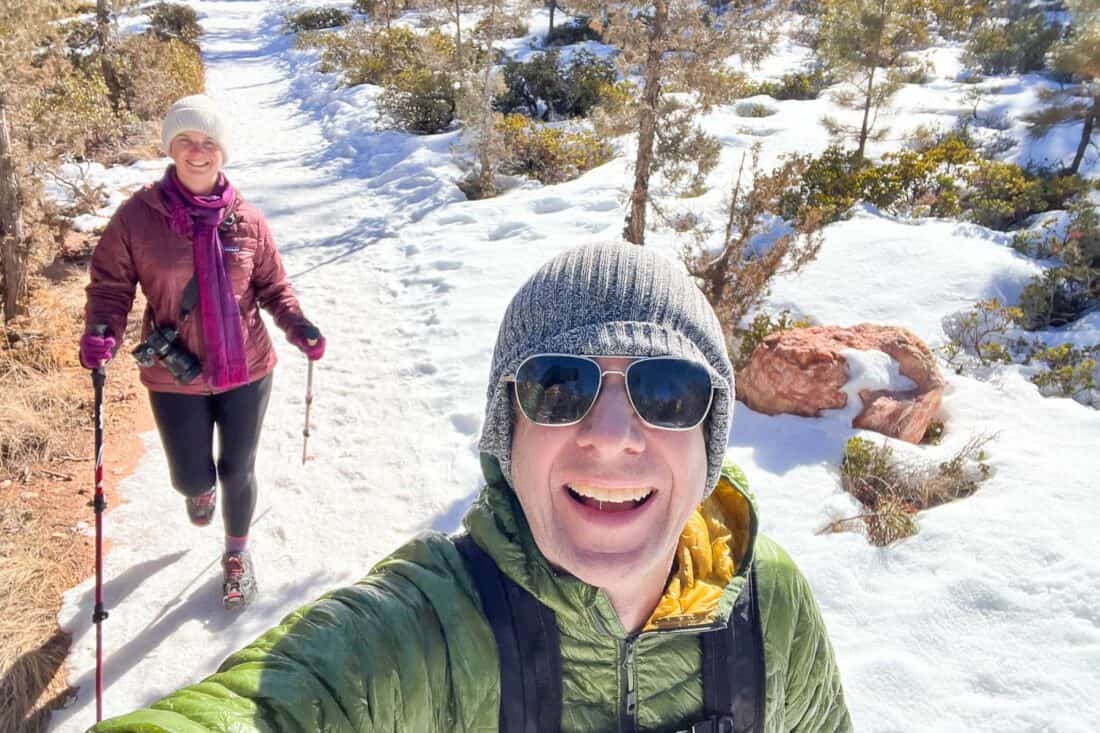 Bryce Canyon is open year-round. Spring and fall are the best times to visit for milder weather without summer crowds, although it doesn't get as busy as Zion.
Winter is the quietest time to visit. We loved our trip in mid-February, despite temperatures of 14ºF (-10ºC). With four layers we were able to stay warm when hiking.
Bryce often sees snow and the hoodoos look especially magical at this time. The park hadn't had snow for a few weeks on our trip, but there was still some left in shadier areas.
Trails are icy in winter so hiking shoes or boots with good traction are essential. I also highly recommend traction devices that attach to your shoes for extra grip (they sell them at the visitor centre).
We used Kahtoola Microspikes, which were fantastic and stopped us from slipping on the steep icy sections of the trail.
Note that some roads, trails, and restrooms close in winter, but there's still plenty to do. Check the Bryce NPS website for updates.
Zion is much milder in winter—see our guide to visiting Zion National Park in winter.
Bryce Canyon 1 Day Itinerary At A Glance
Here's what we did during our one day in Bryce Canyon:
Sunset Point
Walk to Sunrise Point along rim
Hike Queens Garden & Navajo Loop Trail
Bryce Point
Inspiration Point
During our four hours in the park we only visited the first three miles and saw plenty. You don't have to drive far to see the best parts of Bryce.
If you have longer, you could extend your hike on the Peekaboo Trail and drive to Rainbow Point, the most distant viewpoint.
What to Do in Bryce Canyon in One Day
Visitor Centre
You'll pass through the Bryce Canyon National Park entrance gates just before the visitor centre. Here you'll need to pay the entrance fee ($35 for 7 days per vehicle).
I recommend buying an America the Beautiful National Parks annual pass for $80 if you'll be visiting other Utah parks like Zion. You can purchase it in advance from REI to save time or at the gate.
The visitor centre is the obvious first stop to use the restrooms, check current conditions, and get any advice for visiting the park. There's a store (with a few basic snacks) and a water bottle refill station.
In winter, the visitor centre and Sunset Point are the only places with open restrooms on this one day Bryce itinerary. In the warmer months, you'll also find them at Inspiration Point.
Sunset Point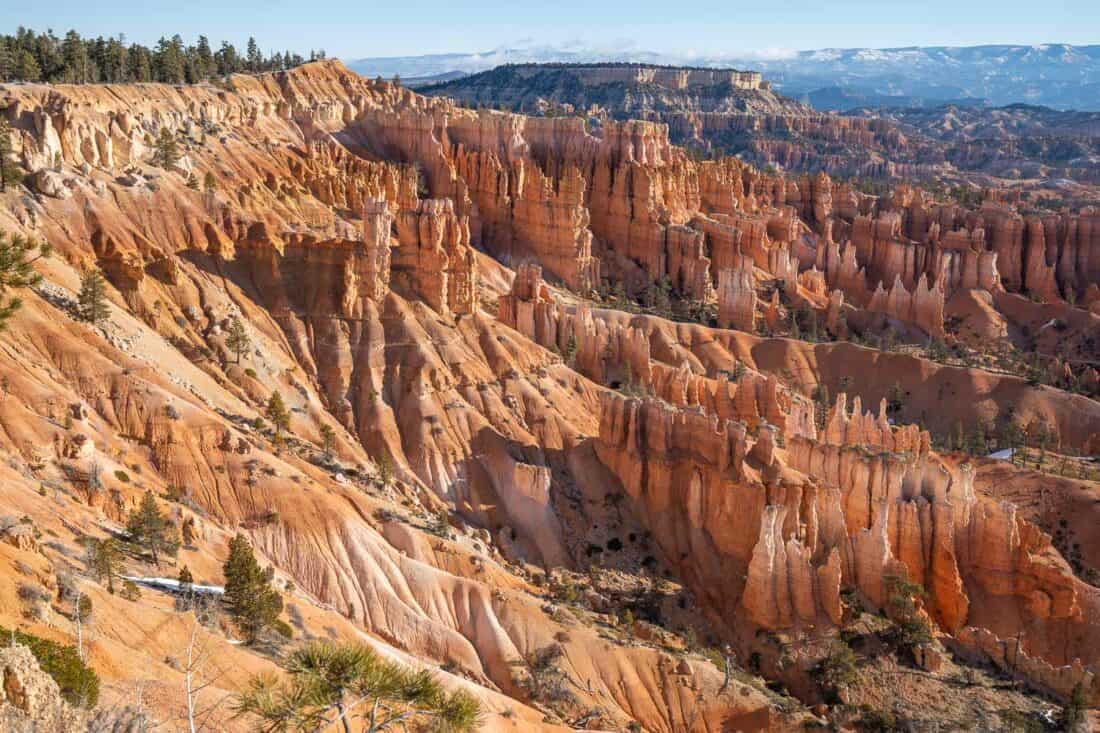 Bryce Canyon has one 18-mile main road, the Bryce Canyon Scenic Drive, that runs through the park.
You can easily drive this during your one day at Bryce Canyon and stop at the many viewpoints to peer into Bryce Amphitheatre.
The first overlook is Sunset Point. You don't need to be here at the end of the day to enjoy the spectacular display of colourful hoodoos, spires of eroded rock that reach up from the sides of the canyon.
Bryce has the greatest concentration of hoodoos in the world, and it really is unlike anywhere we've seen before.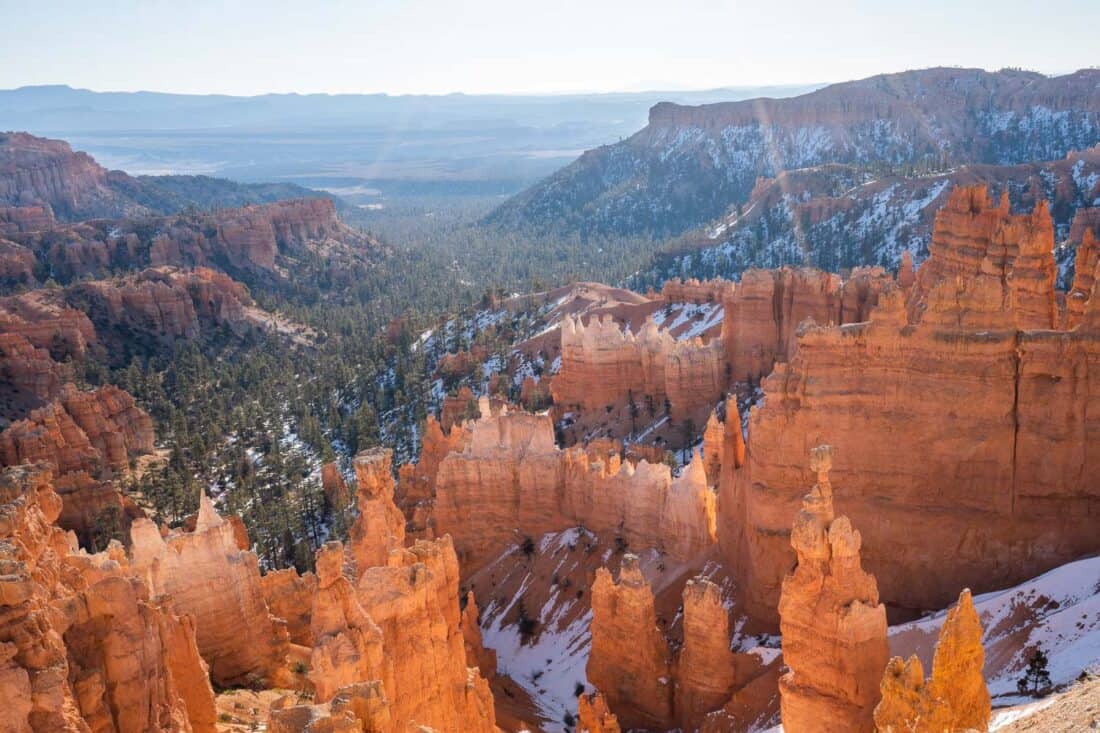 Sunrise Point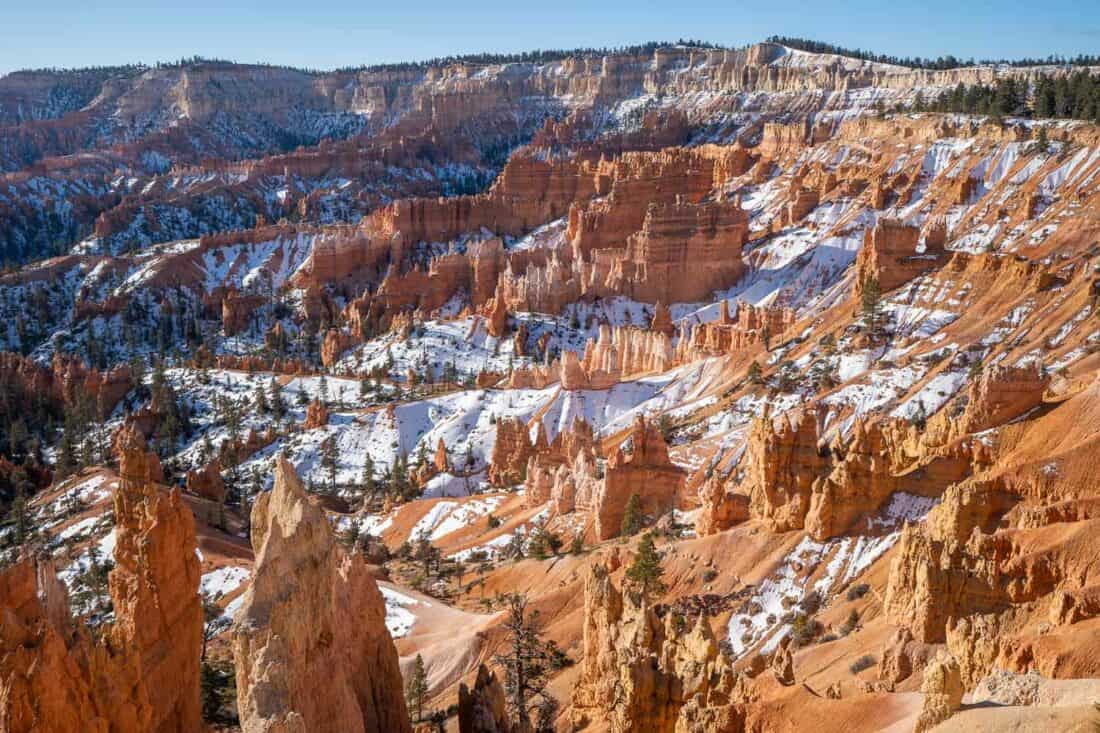 There's no parking lot at Sunrise Point, but it's a flat, easy 0.5-mile walk along the rim from Sunset Point with more great views on the way.
Sunrise Point had an especially good view of the snow-covered portions of the amphitheatre.
Queens Garden and Navajo Loop Hike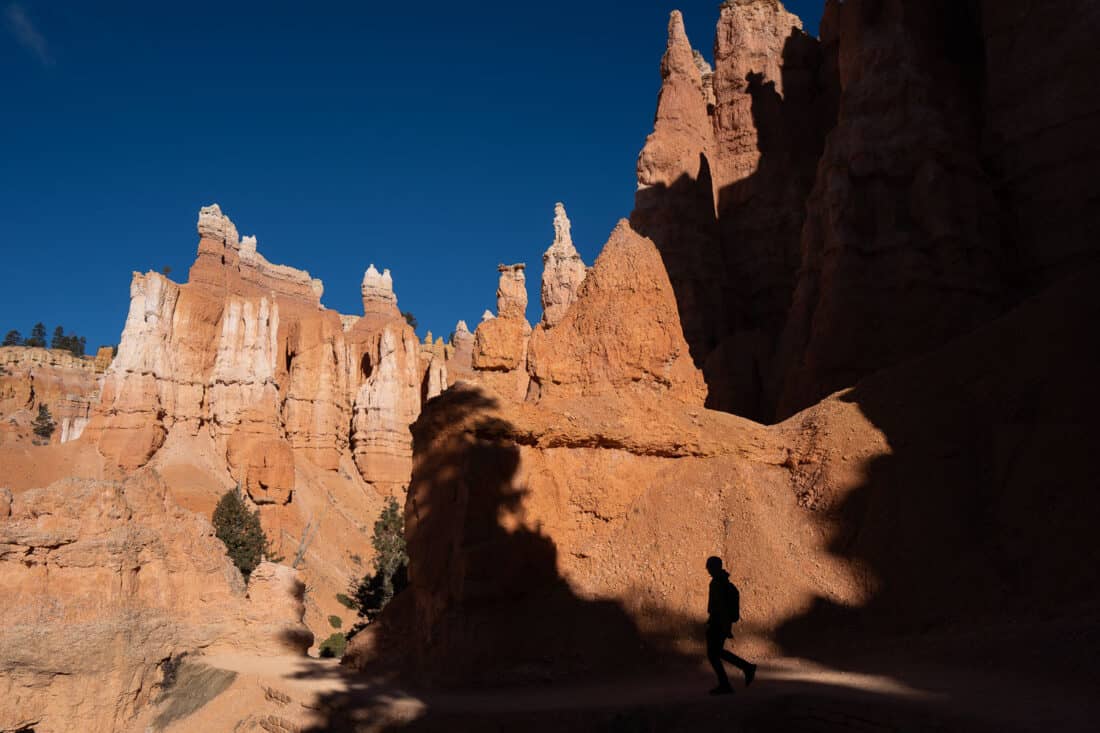 Sunrise Point is the starting point for the best one day hike in Bryce Canyon.
I highly recommend hiking down into the amphitheatre if you are able. Getting up close to the hoodoos is even better than admiring them from above.
The most popular hike is the Queens Garden and Navajo Loop trail, which is 2.9 miles (4.6 km) with 600 feet (183m) of elevation gain. This took us about 1.5 hours.
There are plenty of opportunities to adapt it for a longer walk. We added on an extra hour (30 minutes each way) on part of the Peekaboo Trail, but you could do the whole loop (known as the Figure Eight Trail) for a total hike of 6.3 miles (around 3.5 hours).
It's best to go clockwise starting with the Queens Garden Trail as it's the gentlest trail into the canyon.
We absolutely loved this hike. It feels otherworldly as you get up close to the hoodoos and appreciate all their different shapes and colours from vibrant orange to pale pink.
Walking through arches in the rocks is especially fun.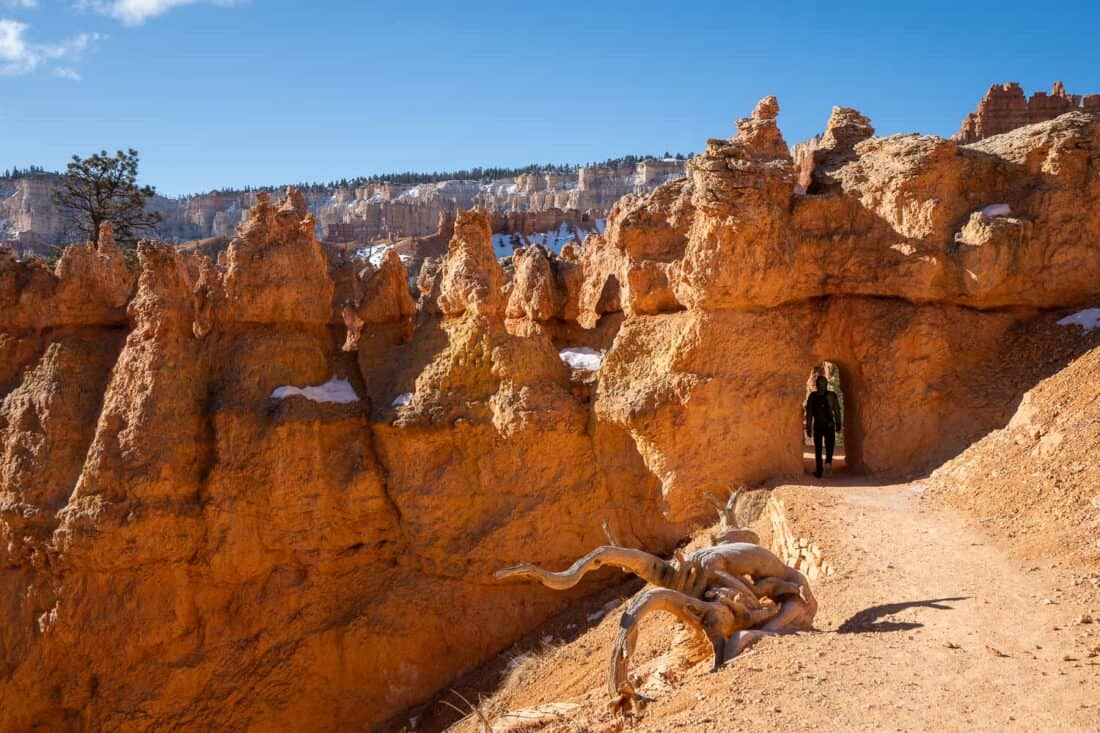 The Queens Garden Trail was easy and well formed. There was no ice on our visit, but it can be very snowy in winter—traction devices are recommended and check AllTrails for the latest conditions.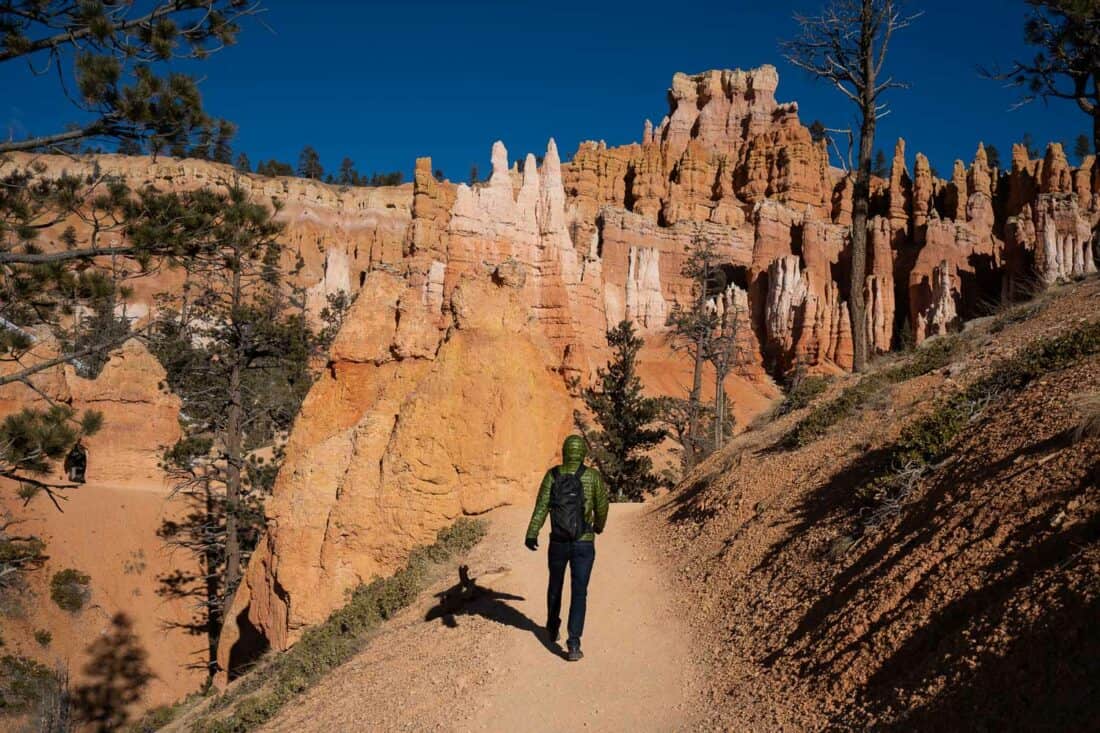 After a flat walk at the bottom of the canyon, the junction to head up Two Bridges came too soon for us, so we wandered down the Peekaboo Trail until the Arch Rock.
Peekaboo involves a climb and is much quieter and snowier (we would not have managed without our microspikes). We loved the tranquillity and views.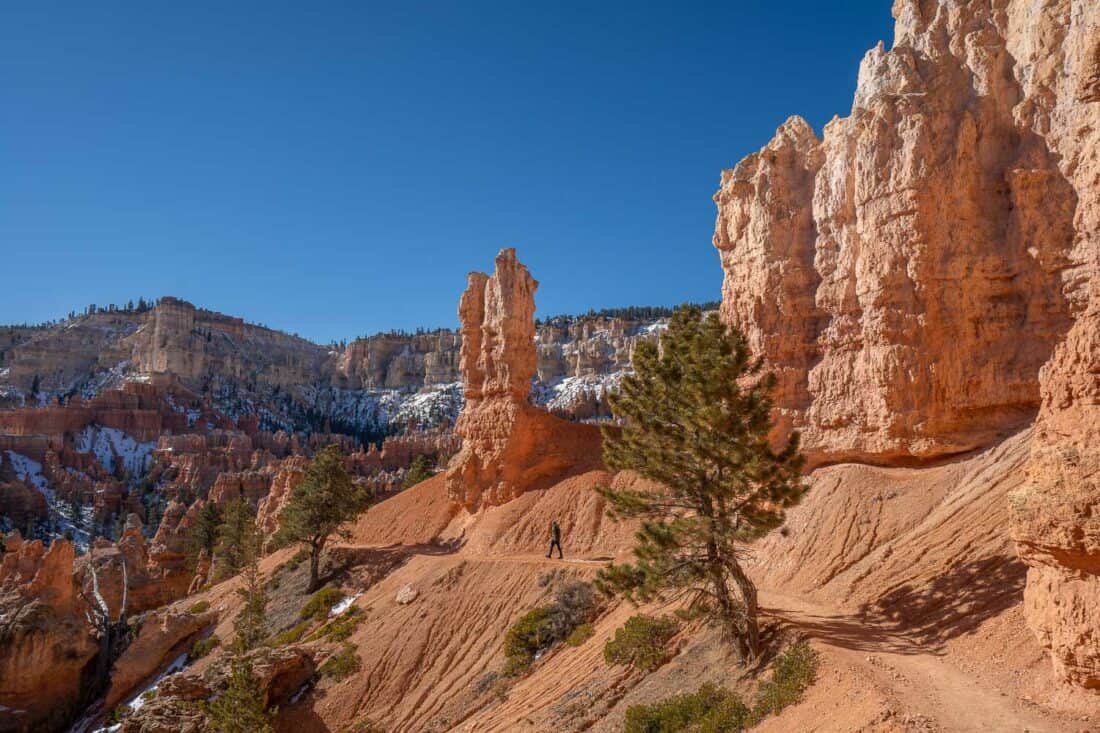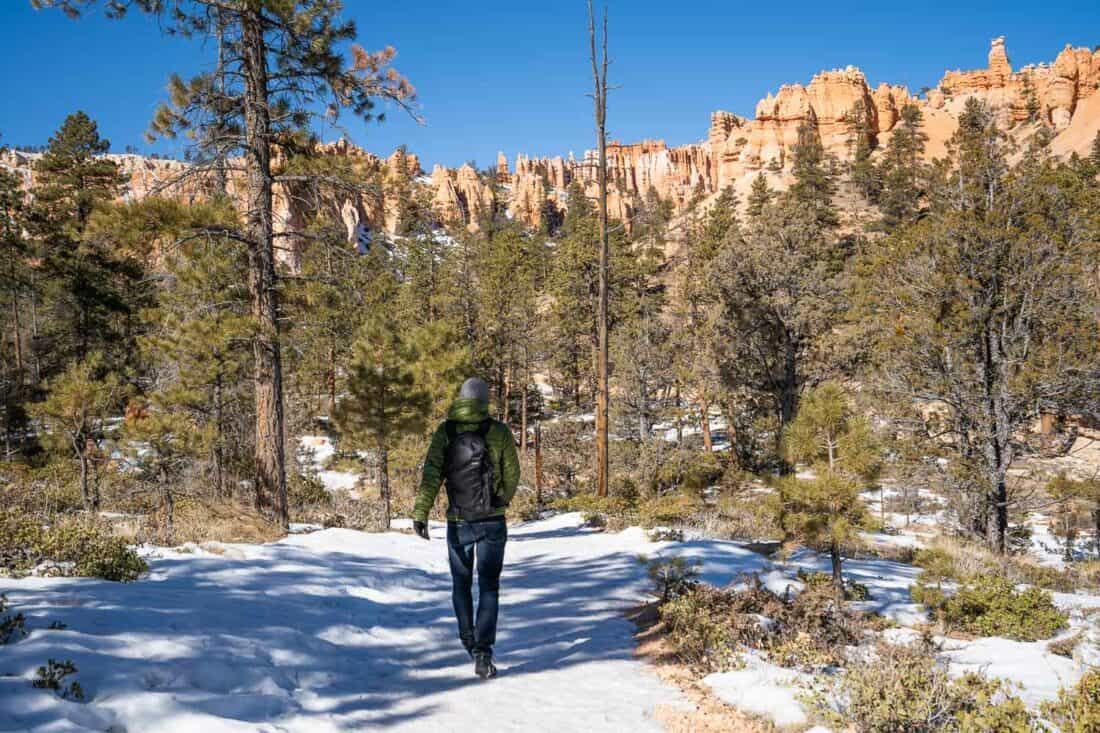 After returning the way we came, we began the hardest part of the hike—the climb up Two Bridges. It took longer than we expected (35 minutes), but the views made it worthwhile.
Look out for the namesake Two Bridges, down a narrow rock passageway, and further up, the distinctive Thor's Hammer hoodoo.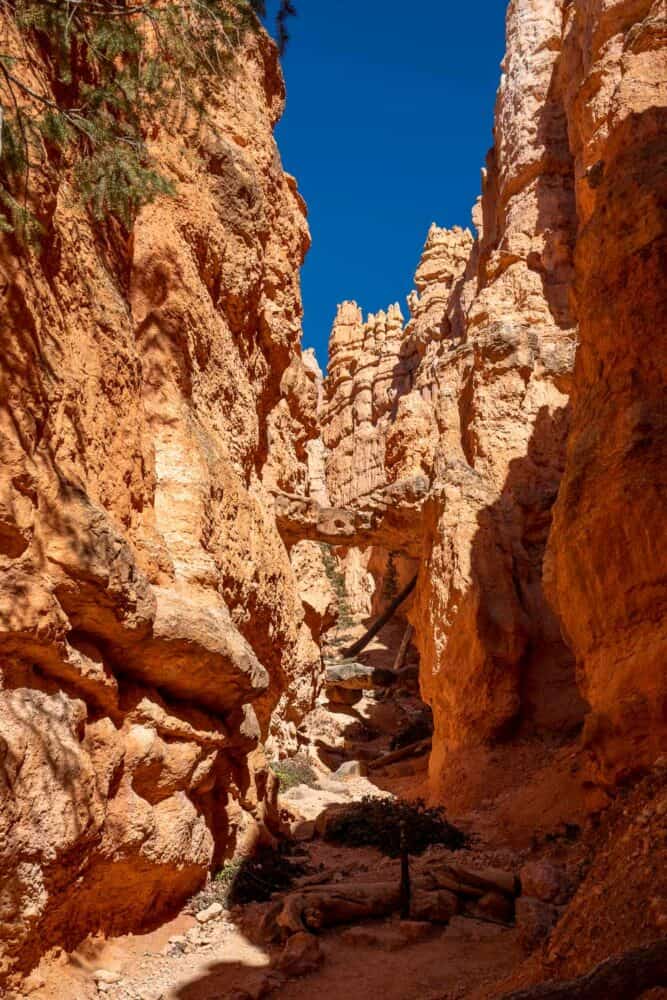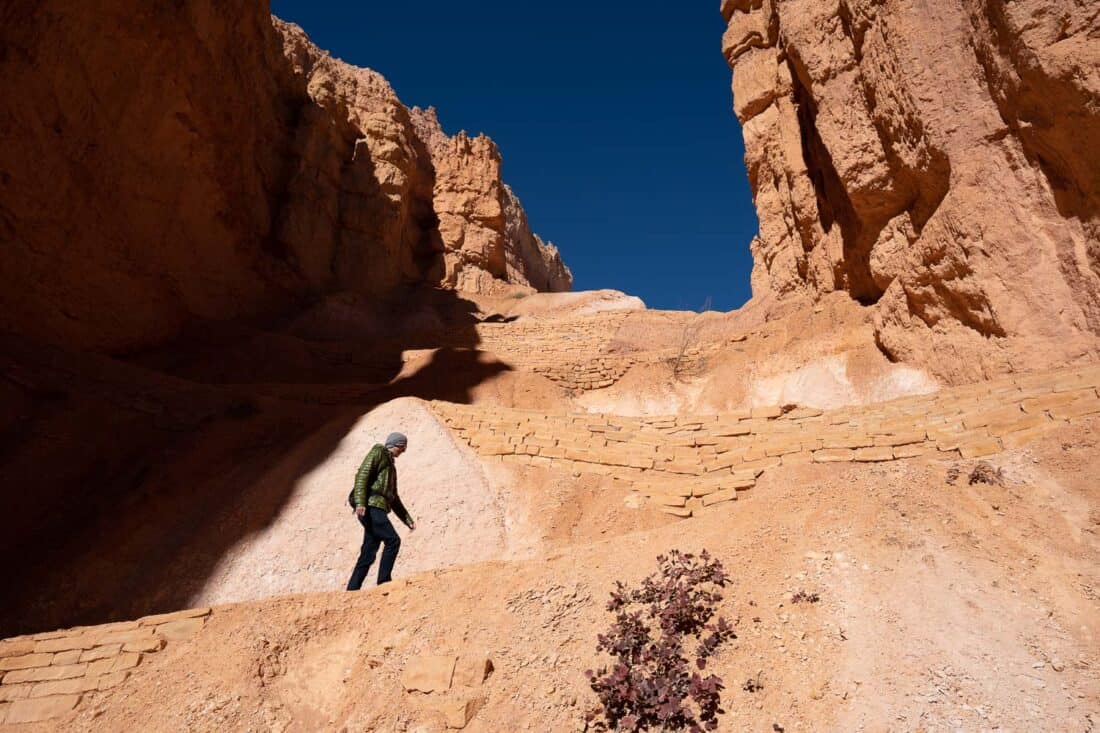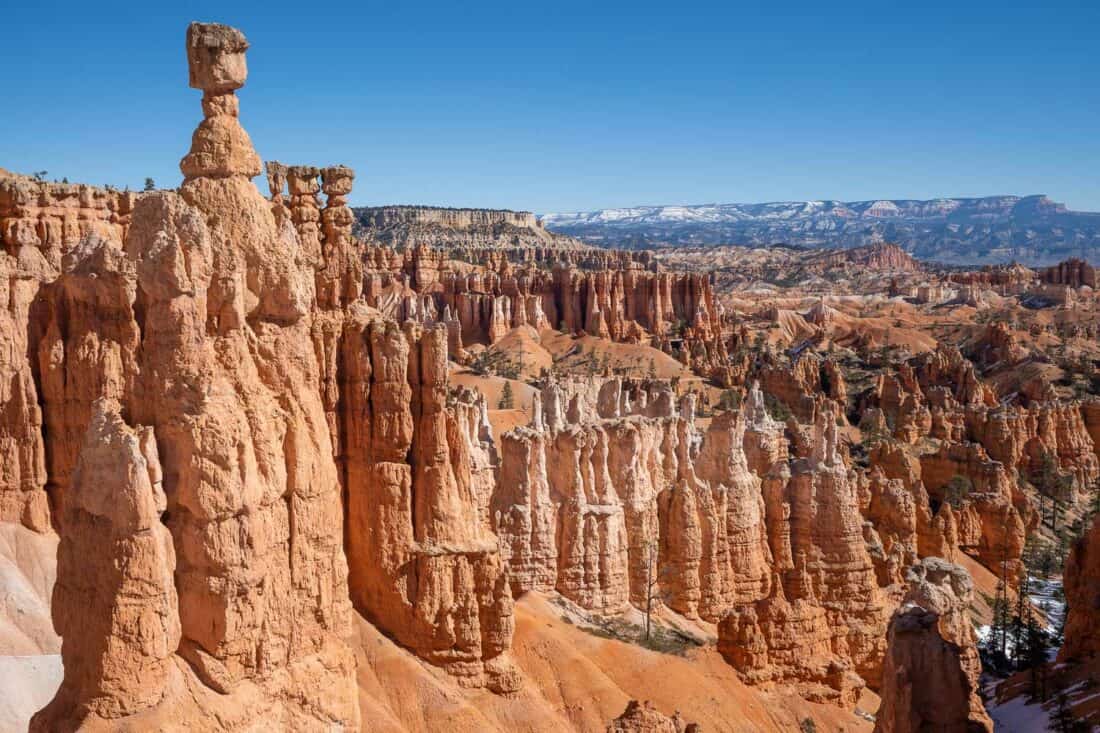 After some steep switchbacks, we finished at Sunset Point where we'd left our car.
An alternative trail to Two Bridges is Wall Street, which is narrower and just as steep, but it's closed in winter. Both end up at Sunset Point.
By the time we finished at 11.15am, the trail and viewpoint were much busier, so an early start is well worth it.
Bryce Point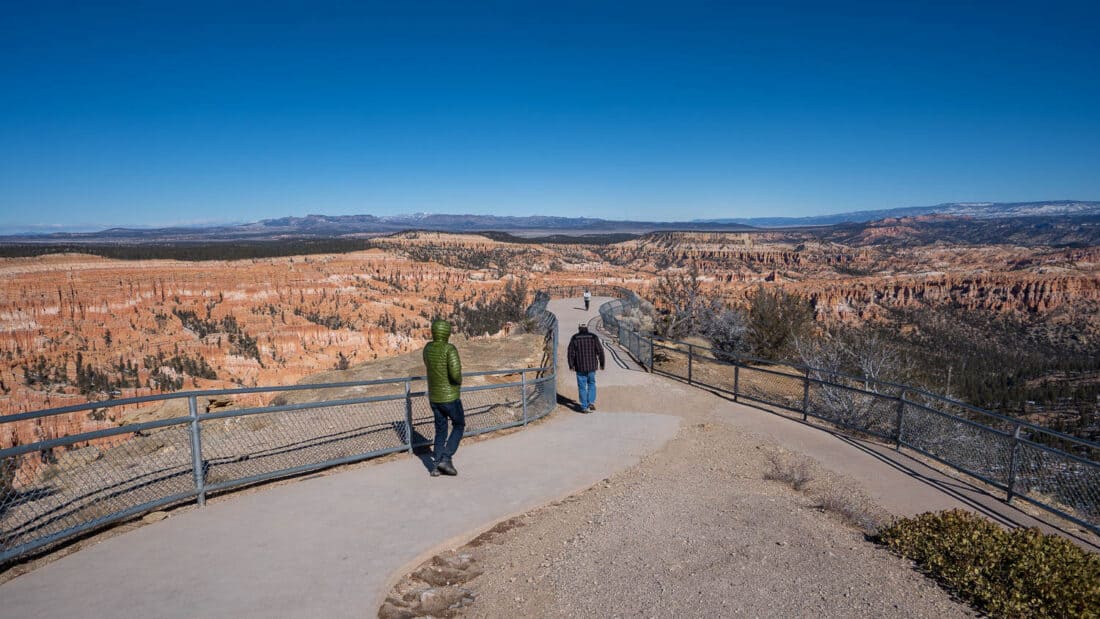 From Sunset Point we drove five minutes to the next two viewpoints, both of which were quieter.
Bryce Point is at a higher elevation than Sunset and Sunrise Points and gives a sweeping overview of the Bryce Amphitheatre. It's just a short walk to the lookout.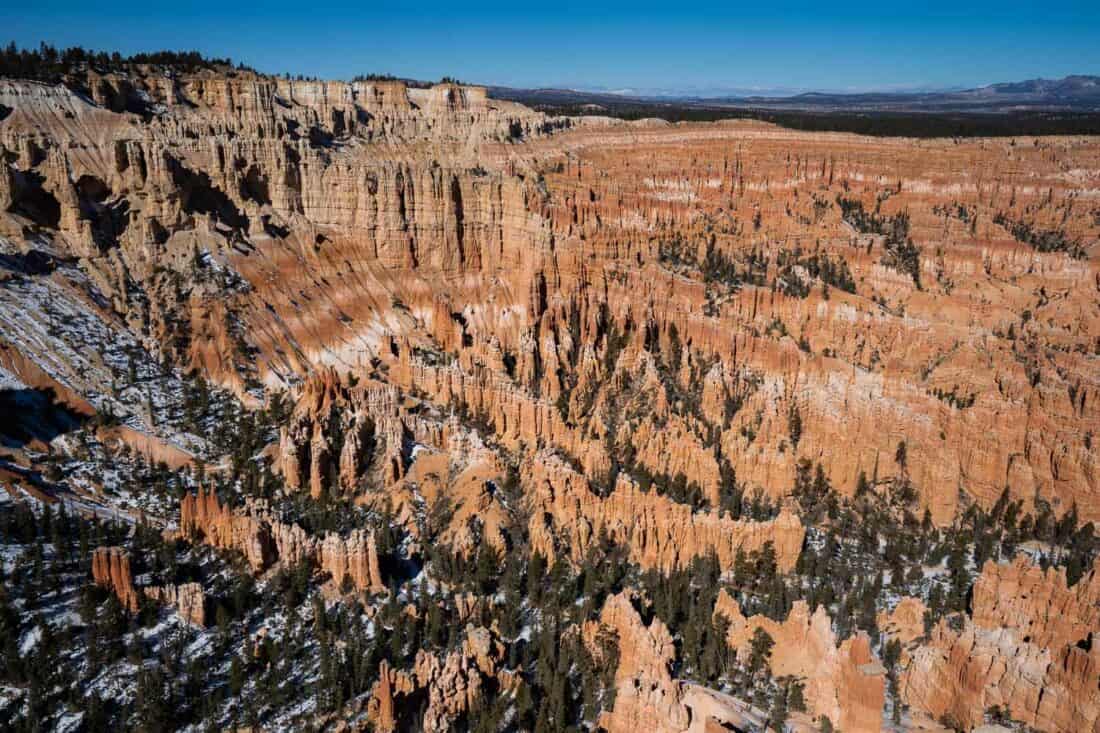 In the warmer months, you can hike the Peekaboo Loop Trail from here (the connecting trail is closed in winter).
Inspiration Point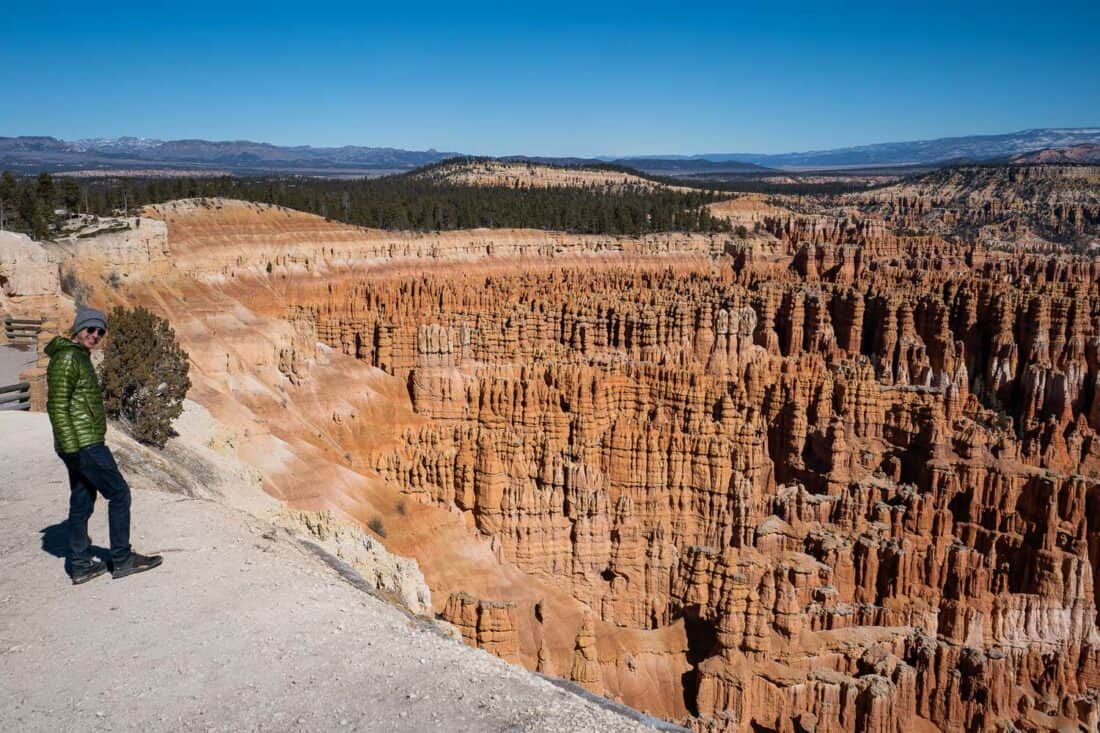 At 8100 feet, Inspiration Point gives another birds-eye view of the colourful hoodoos.
There's a short flat walk to the lower lookout or a steeper (very icy in winter) walk up to two more overlooks.
Inspiration Point is a beautiful spot to see the sunrise and is less crowded than Sunrise Point.
You can also walk to Inspiration Point on a 0.7-mile (each way) portion of the rim trail from Sunset Point or even continue 1.5 miles further to Bryce Point.
Rainbow Point (Optional)
We left the park after Inspiration Point, but if you have a full day, you could drive 30 minutes further into the park to Rainbow Point.
This section of the park past Bryce Amphitheatre is known as the Southern Scenic Drive.
There are several viewpoints on the way including Natural Bridge. Rainbow Point and Yovimpa Point are the highest lookouts in the park at 9115 feet.
Map of Bryce Canyon
Can You Visit Bryce Canyon and Zion in One Day?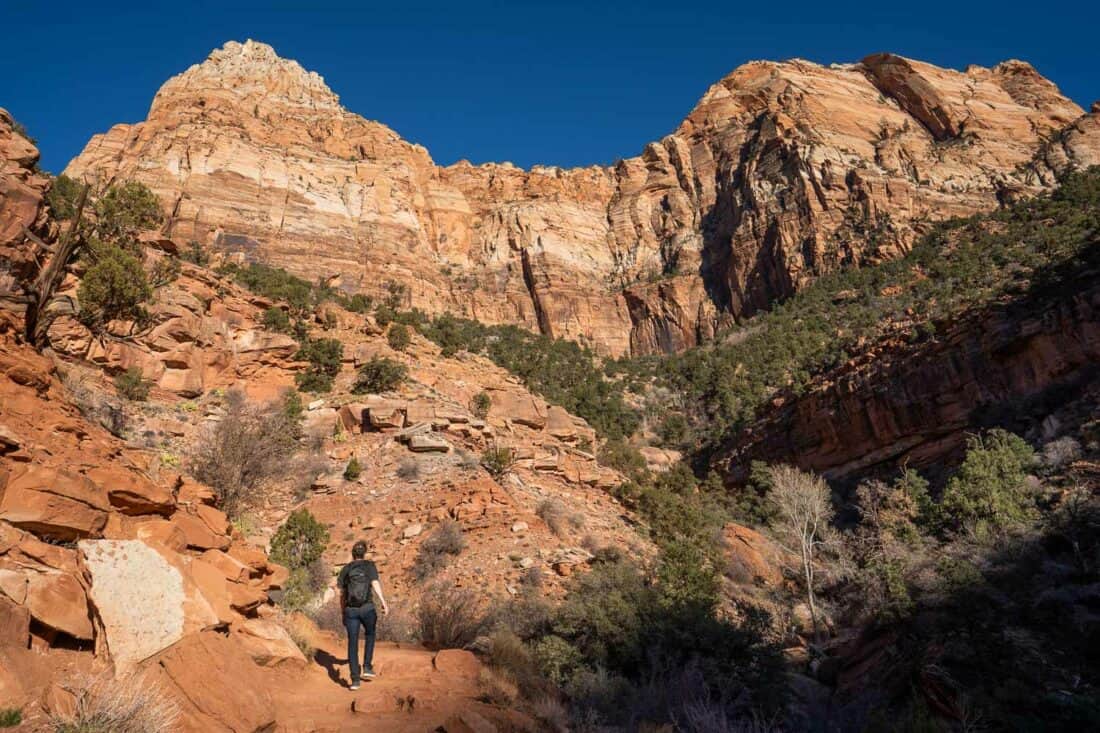 If you have just one day for both Zion National Park and Bryce Canyon, it is possible to see them both, but I highly recommend spending longer in Zion if possible.
It would work best if you spent the night before in Springdale, visit Zion in the morning, drive to Bryce in the afternoon, and spend that night near Bryce.
Alternatively, if you are in Las Vegas, you could take this day tour to Zion and Bryce, which includes an optional hike in Bryce but not in Zion.
With just half a day in Zion, I recommend being on the trail as early as possible and hiking up the West Rim Trail to Scout Lookout (and perhaps continuing to Angels Landing if you get a permit and are brave/fit). The hike should take around 2-3 hours.
Although hiking the Narrows (through the Virgin River) is amazing, I think it's too much to combine with Bryce.
If you want an easier and shorter hike, head up the Watchman Trail instead. This 3.3-mile return trail starts from the visitor centre (so you don't have to worry about getting the shuttle) and takes around 1.5 hours.
After your hike, drive through East Zion and stop at the Canyon Overlook Trail for a stunning view. Allow around 45 minutes for this (including time to enjoy the vista).
Perhaps eat a picnic lunch at the overlook before continuing the drive to Bryce Canyon National Park (1.5 hours away).
In Bryce, you can stop at the overlooks mentioned above, and if you have the energy, hike the Queens Garden/Navajo Loop. If you are staying nearby, enjoy the sunset at one of the viewpoints.
It would be a long, tiring day, but it is possible to see Bryce and Zion in one day.
Our guide to Zion in winter has all our favourite hikes and tips.
Is it Worth Visiting Bryce Canyon in One Day?
Yes, absolutely! One day in Bryce Canyon is ideal for the highlights of the park including several stunning viewpoints and a hike into the canyon to get up close to the hoodoos.
Bryce's rock spires are very different from the landscapes in Zion National Park, and we're so glad we made the day trip to see them.
Two days in Bryce would have allowed more time for hiking and the chance to see the sunrise and sunset, but if you have limited time, one day is enough for this compact but stunning park.
More USA Posts
Explore more beautiful US national parks in our other guides:
Utah
California
Enjoyed this post? Pin it for later!