This page contains affiliate links. Please read our disclosure for more info.
Sedona, Arizona is a wonderful hiking destination. Within minutes of this desert town, you'll find hundreds of trails where you can hike through canyons and pine forests and amongst the iconic red sandstone towers and buttes.
Many of the hikes can be challenging, though, and involve scrambling up the red rocks. If like me, you're not confident with rock climbing, or just want a short stroll, there are some excellent options.
We set out to find the best easy hikes in Sedona and share our favourites below. Most of them take an hour or less and are suitable for beginners, but they still feature stunning views.
We also include helpful tips for your hiking trip, where to stay, and a map with all these easy Sedona hikes.
Contents
Tips for Hiking in Sedona
Sedona has become a popular hiking destination in recent years. Trails can be crowded and parking at the most popular ones is limited. Here are our tips to make hiking in Sedona more enjoyable.
Buy a pass – Many Sedona trail parking lots require you to show a recreation pass in your vehicle. You can buy a Red Rock Pass at required locations ($5 a day/$15 a week) or if you have an America the Beautiful annual national parks pass (as we did), you can use that. Some places have separate fees and I've noted those below.
Visit during the week if possible – Weekends are busier, so choose quieter trails on Saturdays and Sundays.
Start early – Arriving at trailheads by 7am is the best way to avoid the crowds (and heat in the warmer months). After 5pm can also work unless it's a place that is especially known for its sunset views.
Wear hiking shoes – Sedona hiking trails are rocky and muddy, so hiking shoes or boots with good traction are essential. Be prepared to get orange dirt everywhere (we kept our hiking shoes in our car).
Use the AllTrails app – Even short hikes in Sedona aren't always easy to follow as they are often part of a network of multiple trails. We found our AllTrails+ subscription really useful so we could download trail maps on the app for offline use. Read the trail reviews too for tips on current conditions.
Bring plenty of water – This is the desert, after all, and the sun can be intense.
Where to Stay in Sedona
We found West Sedona the ideal base for a hiking trip as it's quieter and more local than Uptown Sedona and is close to many trails.
There are still plenty of restaurants and stores. Whole Foods is useful for hiking snacks.
We loved the Wilde Resort and Spa. It's near a busy road, but the grounds are beautiful. There's a heated pool (I swam in the snow!), two hot tubs (perfect for post-hike), and plenty of comfortable seating around firepits.
Rooms are stylish, spacious, and comfortable—the best ones have mountain views.
Check prices for Wilde Resort here.
The Best Easy Hikes in Sedona, Arizona
These are our favourite easy Sedona hikes from the shortest and easiest to more of a moderate trail that's worth the extra effort.
1) Oak Creek Trail at Crescent Moon Ranch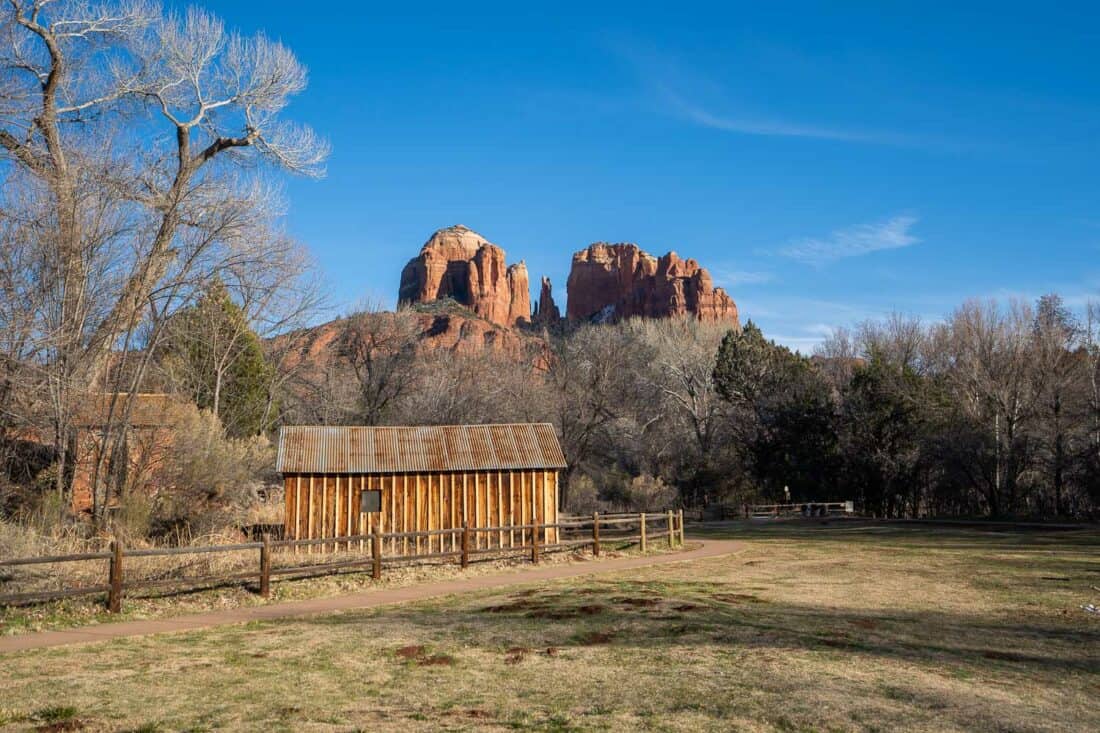 Distance: 1.2 miles (2km) out and back
Time: 30 minutes
Total elevation gain: Flat
Parking fee: $11 (pay cash or card at entrance booth). Red Rock Grand Annual Passes are accepted but not the weekly Red Rock Pass or America the Beautiful.
Facilities: Toilets and picnic tables.
AllTrails page: Oak Creek Trail
Note: this is not the West Fork Oak Creek Trail, which is much harder and 30 minutes outside Sedona.
Oak Creek Trail is one of the easiest hikes in Sedona. This short walk is suitable for the elderly and young children, and the paved sections are wheelchair-friendly.
The riverside path starts in the Crescent Moon Ranch picnic area on the Red Rock Loop Road, which has beautiful views on the way down.
Crescent Moon is popular for picnics, swimming, sunsets, and views of the Sedona icon, Cathedral Rock, reflected in the river.
Parking can be a problem at busy times, but at 5pm in winter, we had no issues. This walk would be best in fall (for colourful leaves) or summer (for swimming), but even with bare trees in winter, it was a pretty and easy stroll.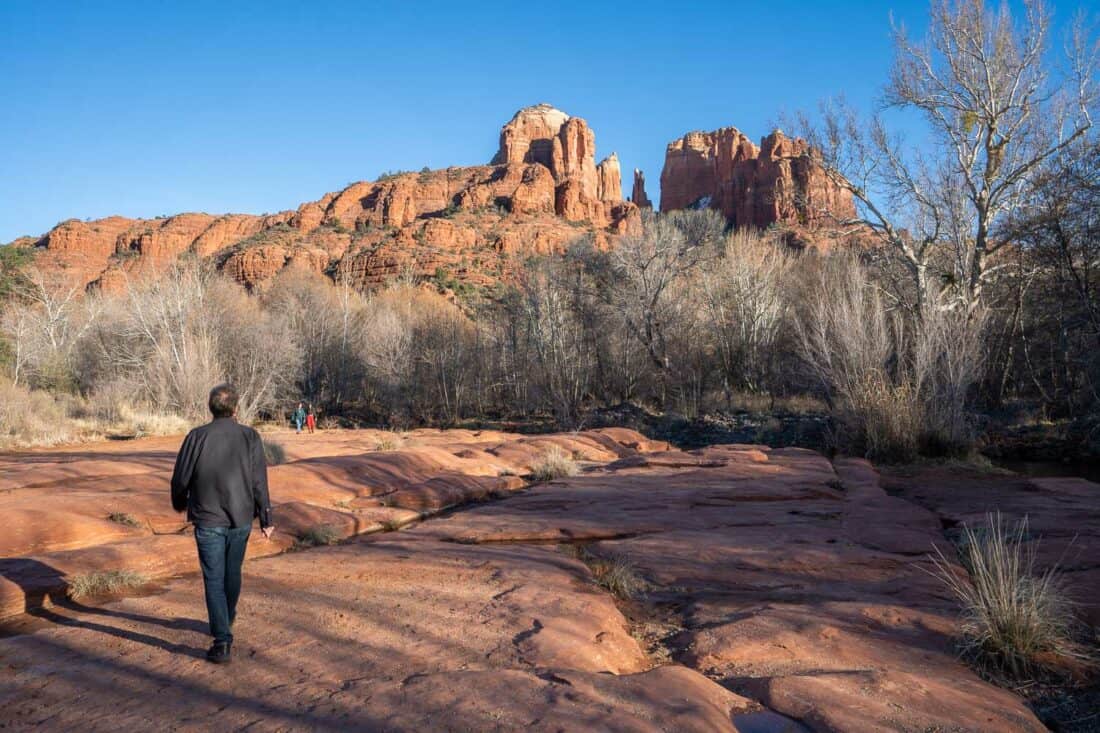 There are good views of Cathedral Rock from various points on the trail and the best is at the rocky area at the end. You can climb on some rocks in the river to see the reflection of the sandstone butte in the water.
This area is known as the Red Rock Crossing Vortex, which is thought to be a place of high spiritual energy.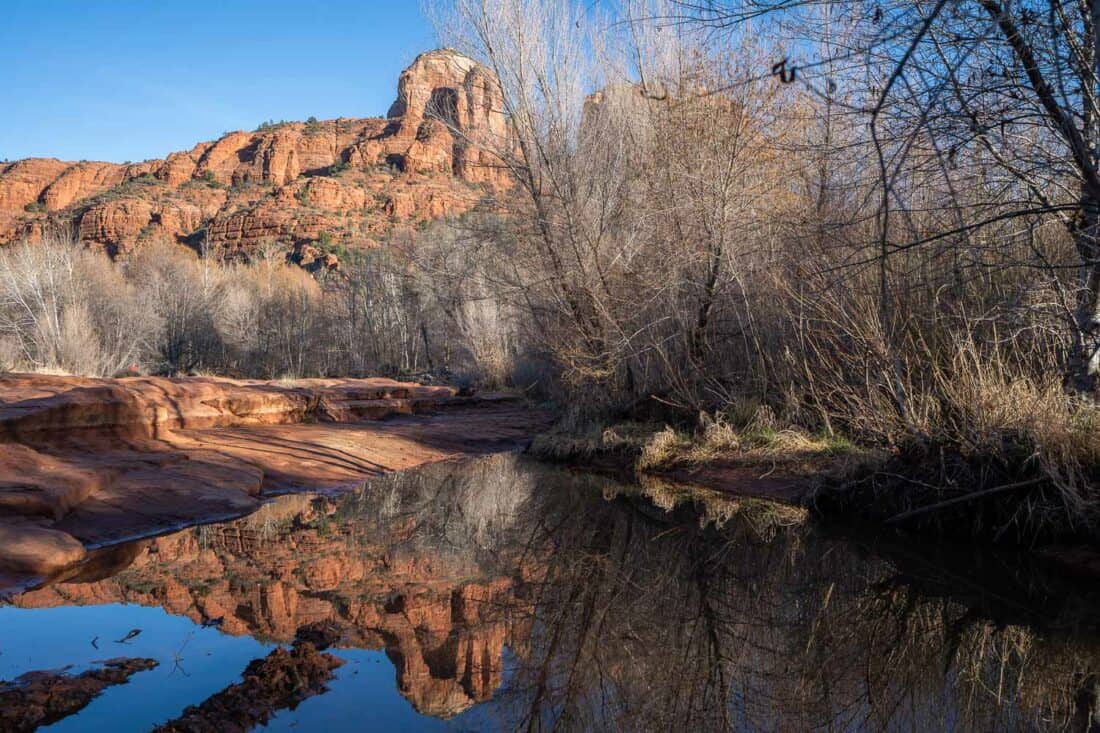 If you walk a little beyond the rocky area, there are even better, unobstructed views from a meadow.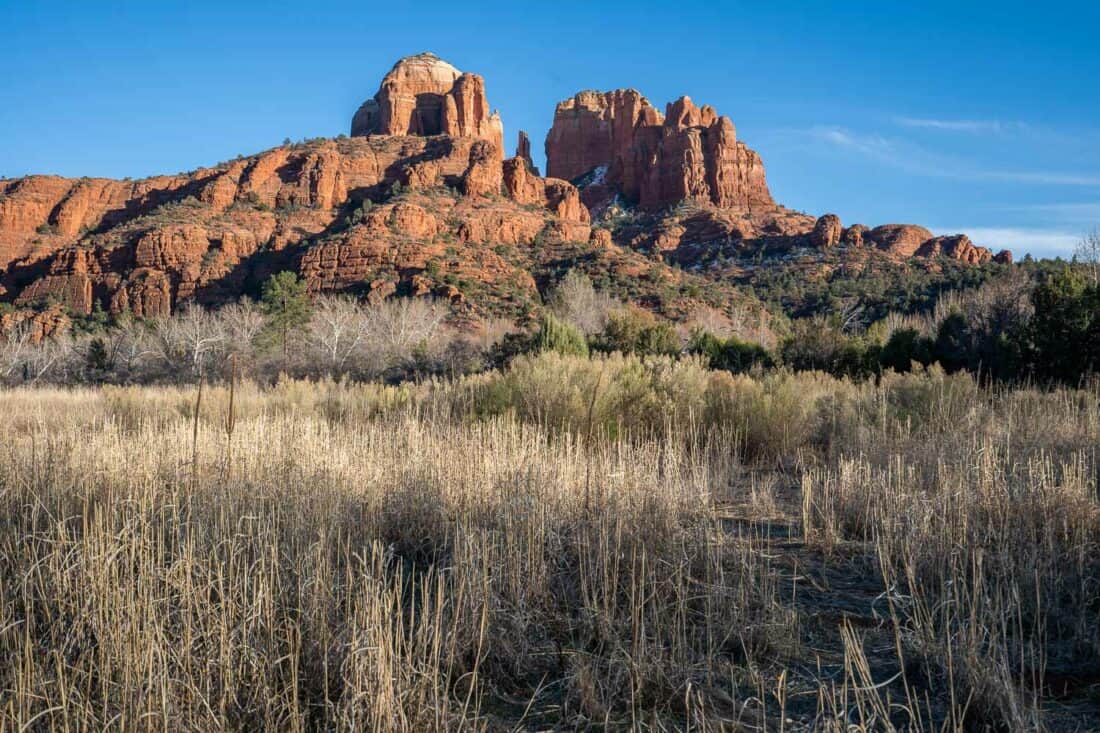 Cathedral Rock looks best in the late afternoon when it is lit up by the sun. Quite a few people had gathered here to wait for sunset.
Red Rock Crossing Trail is a trail on the other side of the river, but there was no way for us to cross it without getting our feet wet (this might be easier in summer).
If you are looking for a short, easy trail in Sedona, Oak Creek Trail is very accessible and has fantastic Cathedral Rock views. The only downside is the entrance fee with most passes not accepted.
2) Lower Chimney Rock Loop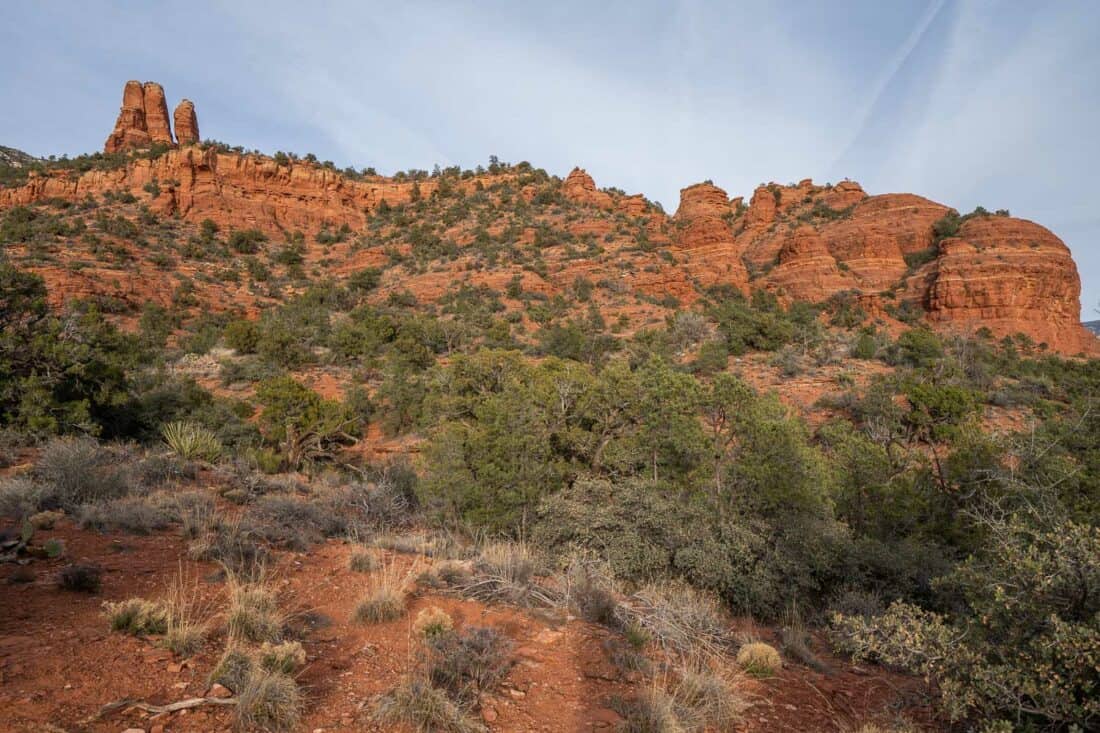 Distance: 1.4 mile (2.3km) loop
Time: 30 minutes
Total elevation gain: 115 feet (35 metres)
Parking fee: None
Facilities: None
AllTrails page: Lower Chimney Rock
Lower Chimney Rock is a short and sweet trail that's easily accessible in West Sedona.
It starts from the Thunder Mountain Trailhead. Parking is limited (as always), but we got a space at 5pm and the trail wasn't busy.
It's not quite as easy as the paved Oak Creek Trail as it's rocky and can be muddy, but elevation gain is minimal.
This is a loop hike around Lower Chimney Rock. We went clockwise and the first half wasn't that exciting, but there are better views of Chimney Rock on the second half.
There's also an optional detour to climb up the summit of the rock in the middle for sweeping views. We didn't do this as it involves some steep scrambling.
There are plenty of opportunities to extend your hike as it links to other trails. In particular, the Chimney Rock Loop (2.3 miles combined with Lower Chimney) looks like a good add-on but requires a bit more elevation gain.
While I don't think Lower Chimney Rock Loop is a Sedona must-do, it's a pleasant walk when you are low on energy or time, especially if you are staying close by.
3) Tea Cup Trail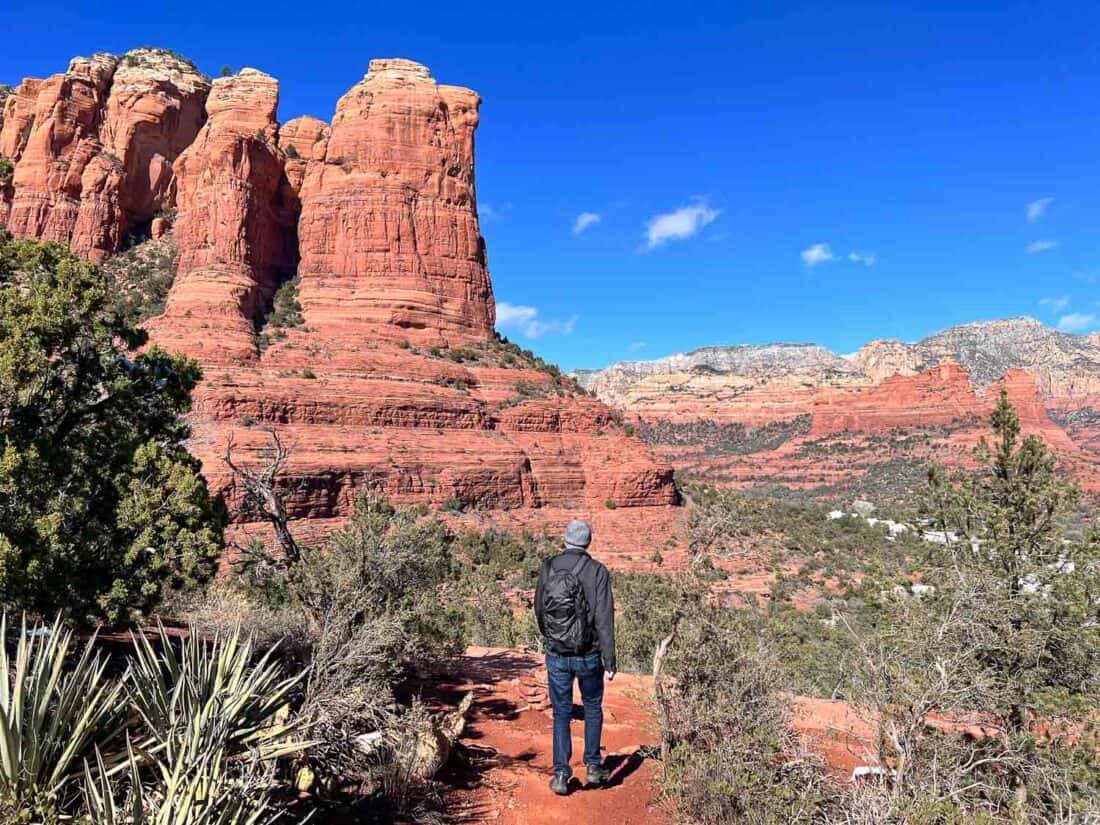 Distance: 2.2 miles (3.6km) out and back
Time: 1 hour
Total elevation gain: 272 feet (83 metres)
Parking fee: None
Facilities: None
AllTrails page: Tea Cup Trail to Coffeepot Rock
The Tea Cup Trail is in the same West Sedona hiking area as Lower Chimney Rock but starts from the Sugarloaf Trailhead.
Perhaps because we started at 3pm, we found it much harder to get parked at the small parking lot here and had to wait 15 minutes for another car to leave. It's in a residential area but street parking isn't allowed.
Warning: I do not recommend hiking the full trail as listed on AllTrails if you are looking for an easy hike. But the views are so good it's worth considering walking part of it.
The first section is easy, although the trail is rocky and muddy as is typical in Sedona.
You start on part of the Sugarloaf Loop, which is fairly flat and busy with other hikers. You can detour up to the Sugarloaf summit, which we didn't do, but it sounds fairly simple (unlike many rock summits), so I wish we'd done it.
Once you reach the Tea Cup Trail, it becomes quieter and after about 20 minutes there's a spectacular view of Coffeepot Rock.
I recommend turning back here and perhaps adding on the Sugarloaf summit. We continued the trail and it took us scrambling on the edge of Coffeepot Rock, which was way out of our comfort zone, so we turned back.
4) Schuerman Mountain Lookout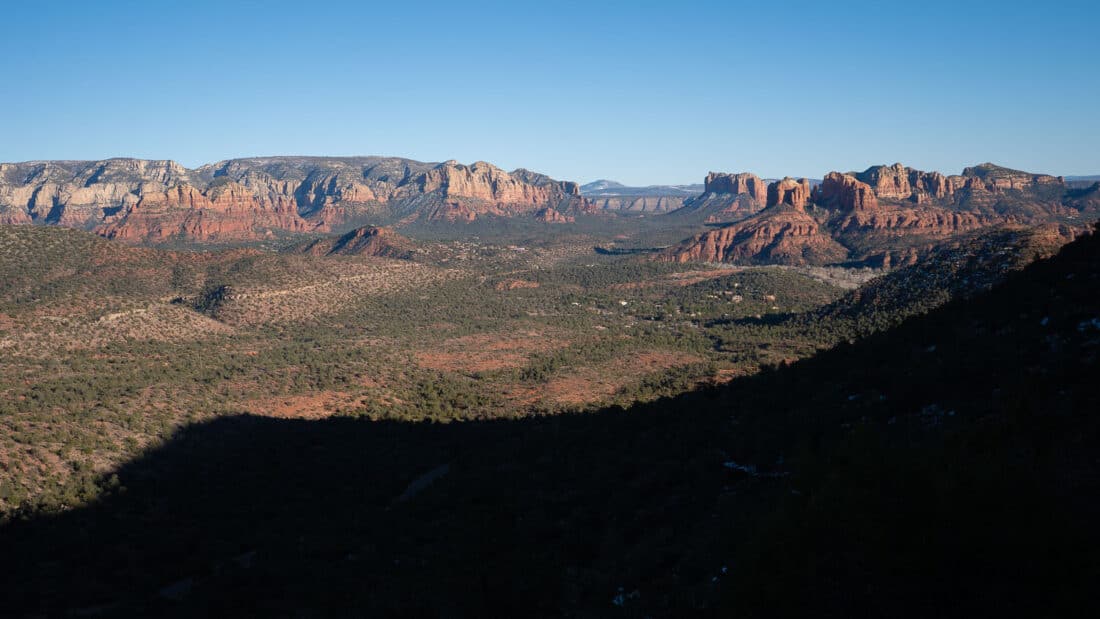 Distance: 1.7 miles (2.7km) out and back
Time: 45 minutes
Total elevation gain: 367 feet (112 metres)
Parking fee: None
Facilities: None
AllTrails page: Schuerman Mountain Lookout
If you are looking for a short Sedona hike without crowds, Schuerman Mountain Lookout is an excellent option, especially in the late afternoon or at sunset.
The trail starts at Schuerman Mountain Trailhead across the road from a school. Unusually for Sedona, it was easy to get parked, and we only saw two other couples on the trail.
You start on the Schuerman Mountain Trail then go left at the sign for the vista.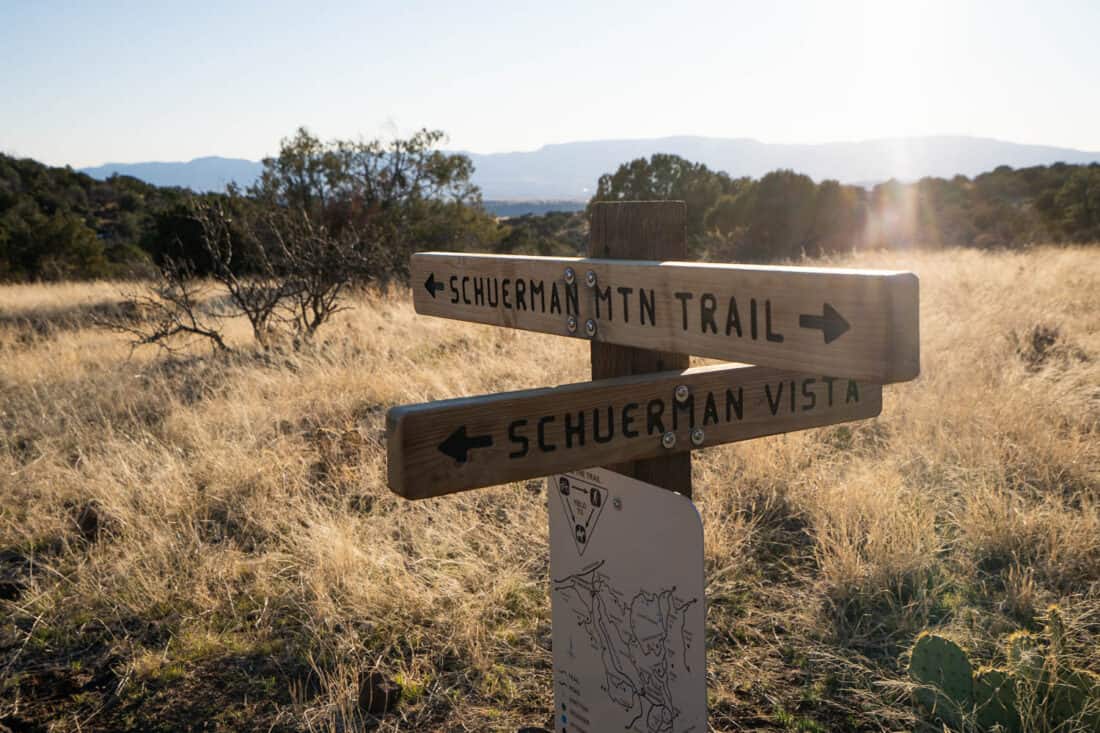 The out-and-back walk up to the viewpoint has more elevation gain than the previous hikes, so it'll get your heart going, but it's not too difficult. As always, expect a rocky trail.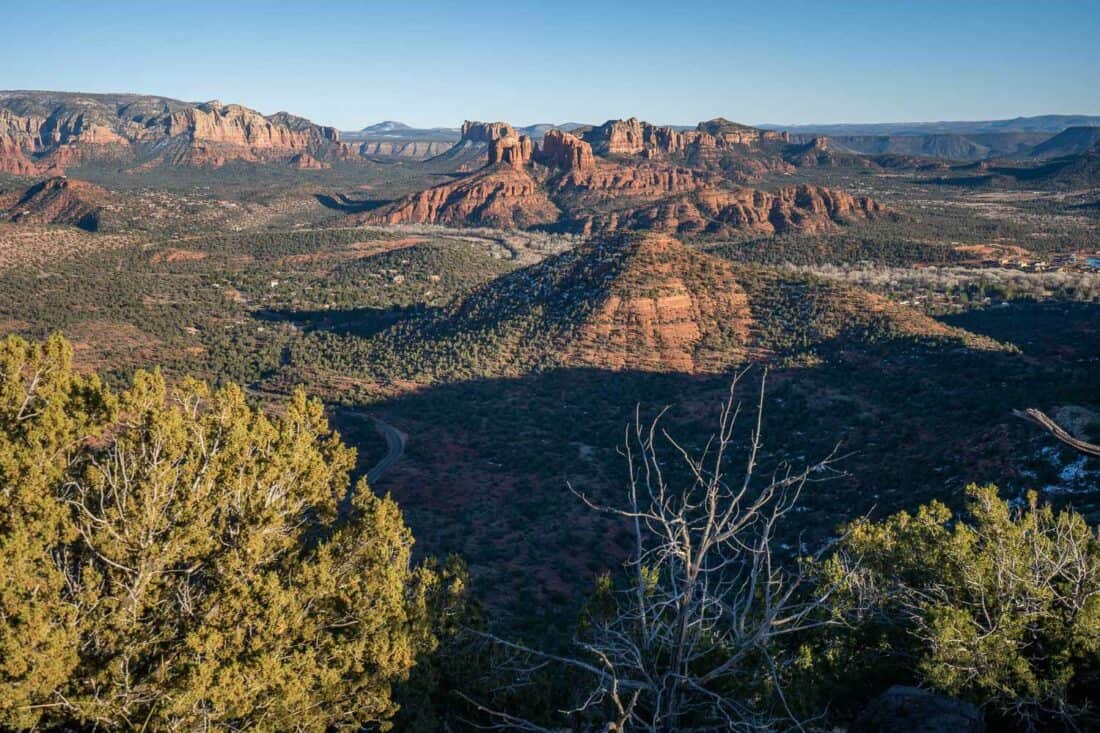 The panoramic views from the top are well worth the climb. You can see much of Sedona including Cathedral Rock.
5) Fay Canyon Trail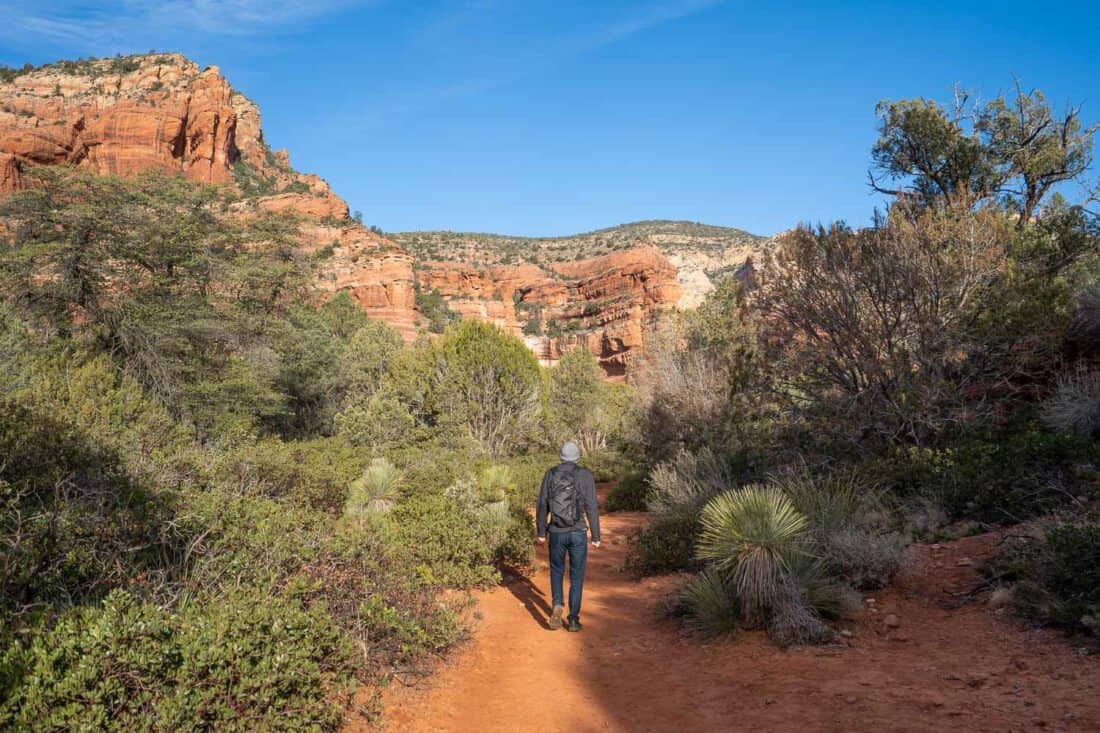 Distance: 2.3 miles (3.7km) out and back
Time: 1 hour
Total elevation gain: 194 feet (59 metres)
Parking fee: None
Facilities: Toilet at parking
AllTrails page: Fay Canyon Trail
Fay Canyon is one of the easiest hikes in Sedona as it's mostly flat and sandy rather than the usual rocky trail.
It's only a 10-minute drive out of town, but it feels more remote than the other hikes on this list without any houses in sight. There's even a warning about bears!
The free parking is across the road from the trailhead and is quite spacious. As this is a popular trail, it can fill up, though—it was much busier when we left at 9.30am than when we arrived at 8.30am.
The trail takes you through a green canyon with steep red cliffs on each side. When you reach the end of the trail sign, you can choose to scramble up the large rocks beyond.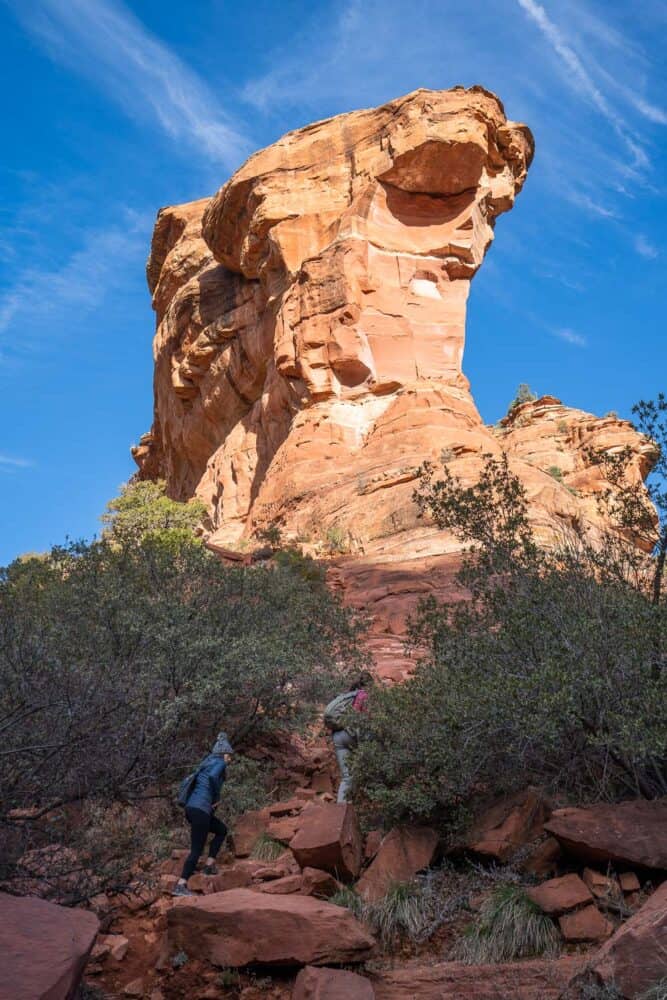 This section is harder but not too bad—it was more like big rocky steps. Even going up a few minutes gives you a stunning view back down into the canyon and beyond to Sedona's red rocks. It was the best part of the hike for us.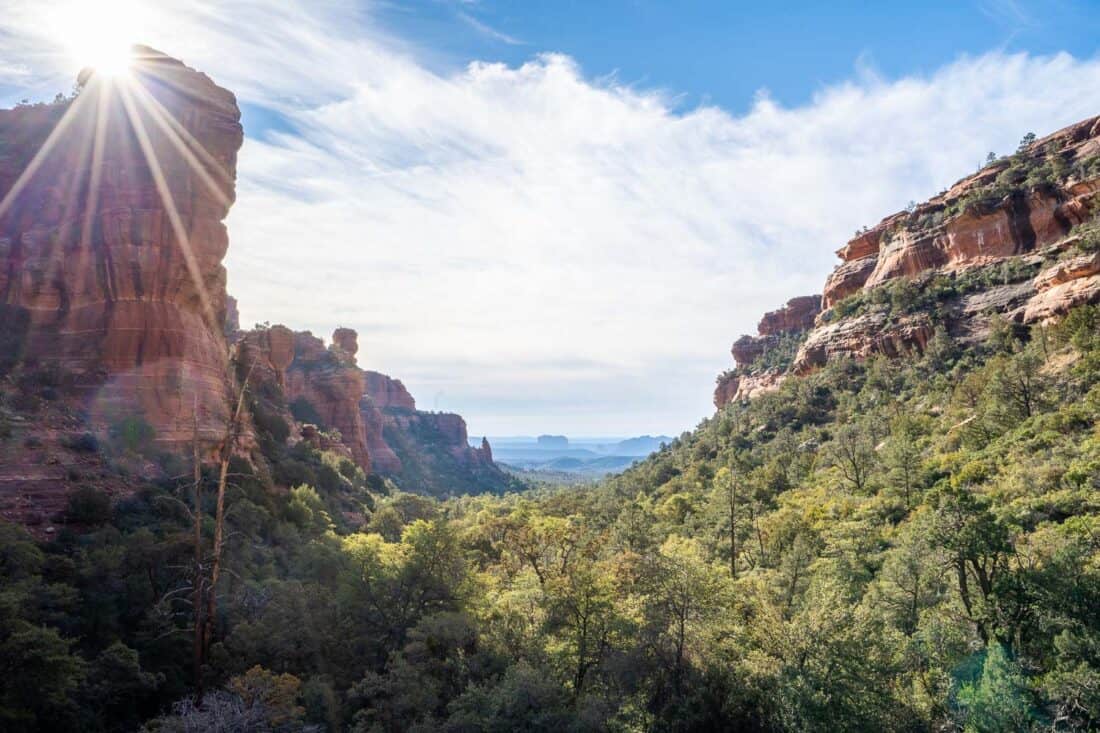 On the way back through the canyon we took the Fay Canyon Arch side trail. This is not marked and is easy to miss, so make sure to download the AllTrails map to find it.
This takes you to a rock arch, but it's not an easy trail. It's quite a steep climb, and it got increasingly scrambly, so we turned back. There is a good view of the canyon up here, but skip this side trail if you want an easy walk.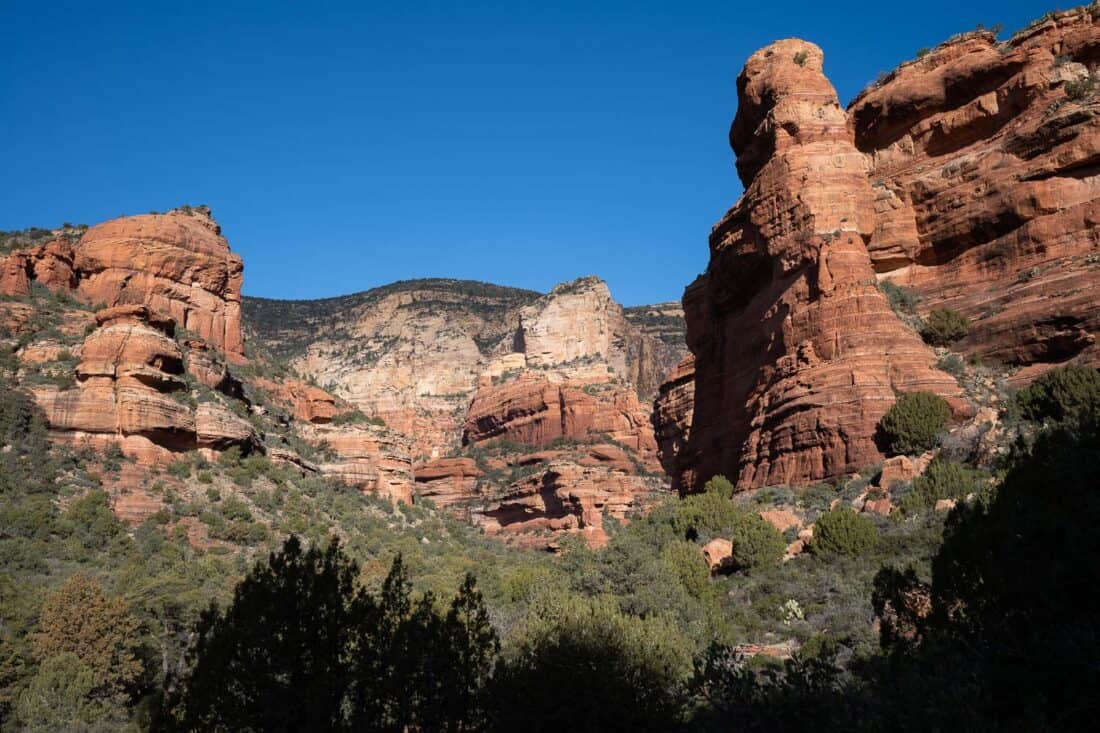 6) Margs Draw Trail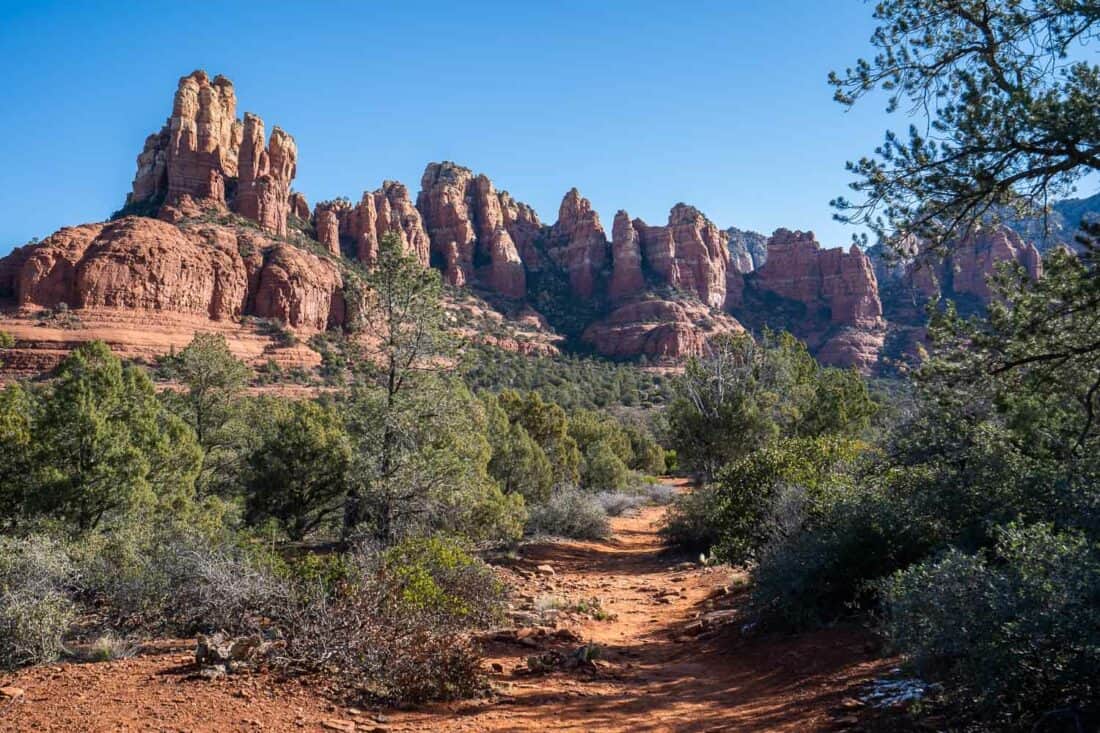 Distance: 3.1 miles (5km) out and back
Time: 1 hour
Total elevation gain: 276 feet (84 metres)
Parking fee: None
Facilities: None
AllTrails page: Margs Draw Trail
Margs Draw is one of the best easy hikes in Sedona to avoid crowds. Even on a Saturday morning, we only saw a few others.
The entire Margs Draw Trail is 4 miles out and back. You can park at either end—Huckaby Trailhead is at the north end (Red Rock Pass required) and Broken Head Trailhead (free) is at the south end—but parking can fill up.
Instead, we started in the middle of the trail at the Margs Draw Trailhead at the end of Sombart Lane, where parking was easy and free.
From here the walk starts uphill, but the ascent doesn't last long. It only takes 10 minutes on the spur trail (Margs Draw Spur A) to reach the main trail. From here you can walk in either direction.
We went left and walked for another 20 minutes until we reached the road and turned back the way we came. You could also add in the south section of the trail.
Margs Draw is easy with only gentle inclines. It's greener than many Sedona trails with lots of juniper, cypress, and pinyon pine trees.
A highlight is Snoopy Rock, which does look impressive, although we struggled to see the Snoopiness of it.
Margs Draw isn't the most scenic trail in Sedona, but it was simple, pleasant, and quiet with some pretty views.
It would be good for a run as it's less rocky than many of the trails and is close to town.
7) Courthouse Butte and Bell Rock Loop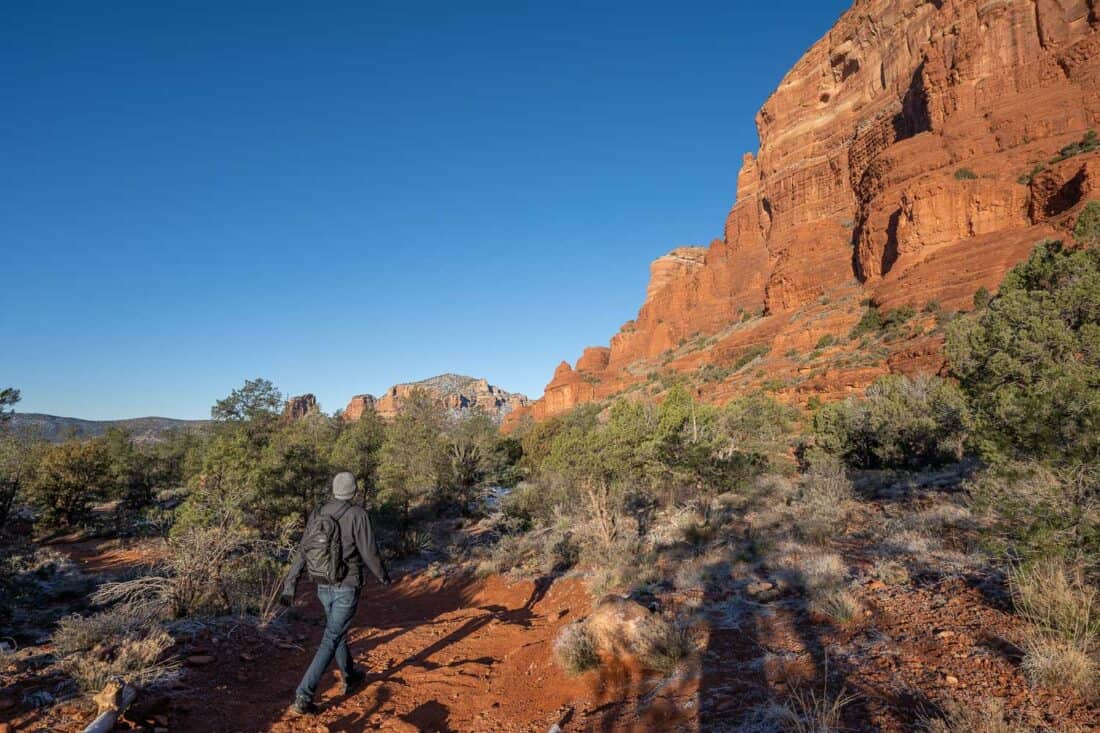 Distance: 3.7 mile (6km) loop
Time: 1 hour 20 minutes
Total elevation gain: 430 feet (131 metres)
Parking fee: Red Rock or America the Beautiful Pass Required
Facilities: Toilet at parking
AllTrails page: Courthouse Butte and Bell Rock Loop
This loop around the two large rock formations, Courthouse Butte and Bell Rock, is my top pick if you are looking for an easy Sedona trail with gorgeous views.
It's a little longer than the hikes above, but it's mostly level with just a few gentle uphills.
The trail is 20 minutes from Sedona on the way to Oak Creek Village, but it's a pretty drive out here.
We parked at Courthouse Vista, which is the starting point for multiple trails. Parking does fill up, so it's worth going early—we started at 7.10am and there were only a few spaces left at 8.30am even on a freezing winter morning.
Yavapai Vista Point Parking is an alternative option, a 10-minute walk from the trailhead.
We started on the Bell Rock Pathway, connected to the Courthouse Butte Loop, and then ended back on Bell Rock Pathway. Although it's fairly easy to follow, there are many different trails, so the AllTrails map is helpful to keep you on track.
By hiking in a clockwise direction, you save the best views for the second half. We loved getting up close to the red rocks and seeing Courthouse Butte sprinkled with snow in the morning light.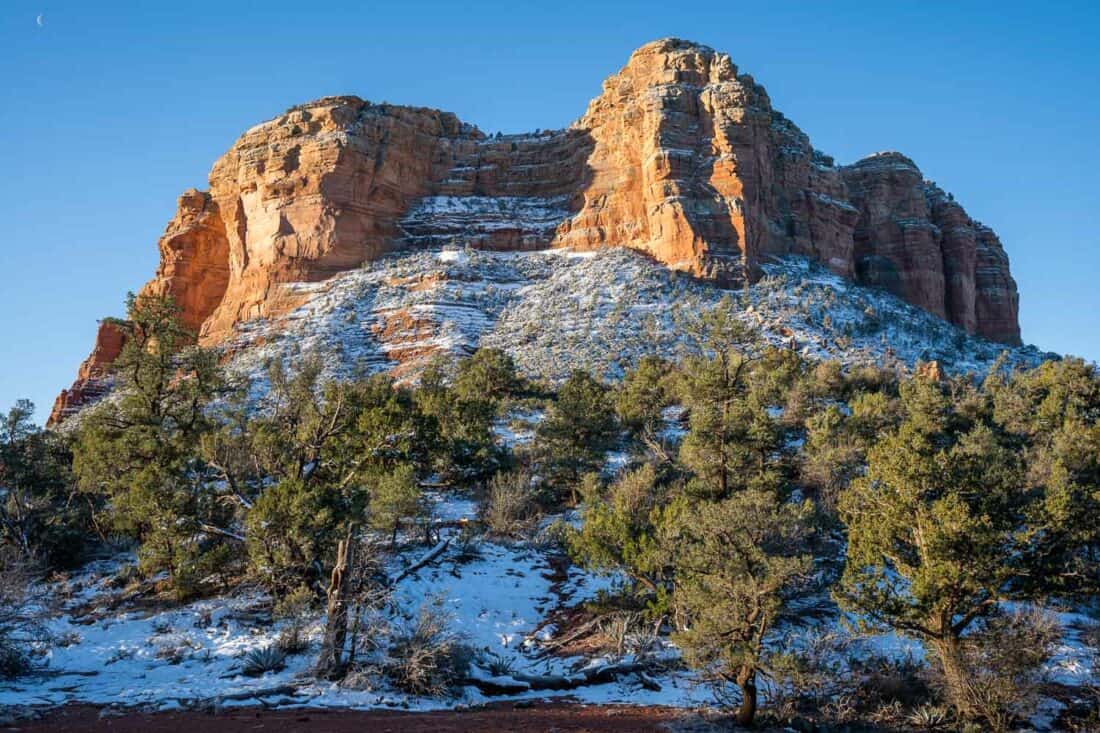 By starting early, it was very peaceful, and we didn't see anyone else until the end.
If you are feeling adventurous, you could climb Bell Rock, but it is a scramble up (we skipped it).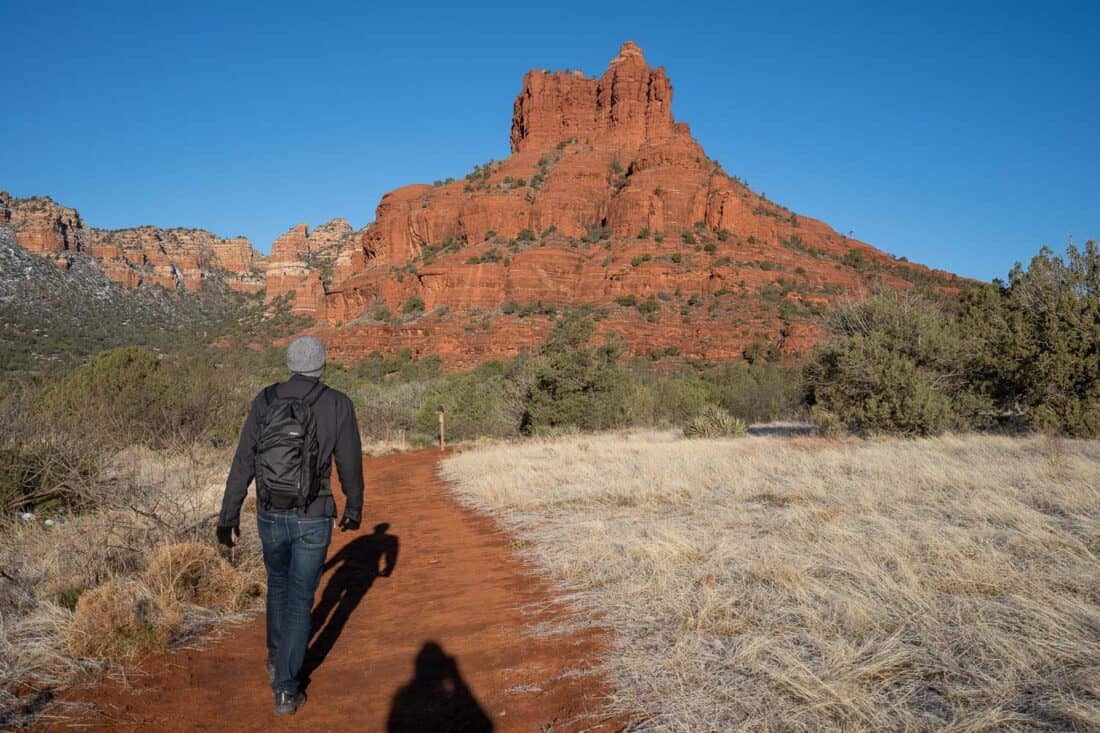 With beautiful views throughout, I highly recommend this easy trail.
8) Soldier Pass and Brins Mesa Loop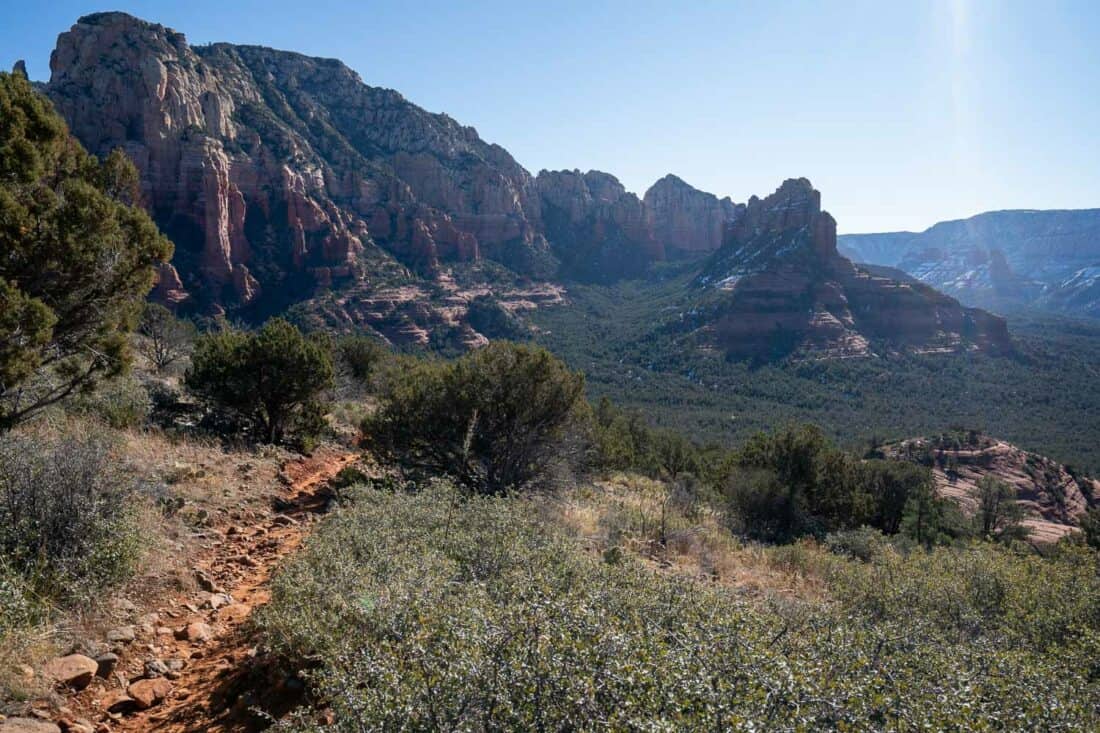 Distance: 5 mile (8km) loop
Time: 2 hours 10 minutes (plus break)
Total elevation gain: 890 feet (271 metres)
Parking fee: Red Rock or America the Beautiful Pass Required
Facilities: Toilet at parking
AllTrails page: Seven Sacred Pools via Soldier Pass to Brins Mesa Loop
The Soldier Pass and Brins Mesa Loop is by far the longest, steepest hike on this list, but it was also our favourite Sedona trail.
While it's more of a moderate than an easy trail, it doesn't require rock scrambling (just good shoes for the usual rocks/mud). We found it just right—a bit of a challenge but not too much, and the stunning scenery was worth it.
If you don't want to do the whole thing, turn it into an easy hike by just walking to Seven Sacred Pools and back (40 minutes each way from Jordan Rd).
This is a popular hiking area with many trails and parking options. The AllTrails map (which is very useful here) starts at Soldier Pass Trailhead, but although the parking is free, it's very limited and doesn't open until 8am. Cars queue before then to get a spot.
It's better to do what we did and park at the Jordan Road Trailhead (also called Jim Thompson Trailhead and Brins Mesa Trailhead). This requires a pass and the road there is rough (doable in a sedan), but there are more spaces, and most importantly, it's open 24/7 so you can get an early start.
I highly recommend starting before 7.30am and hiking in a clockwise direction. This way you reach Soldier Pass Trail before 8am (when cars are allowed in) and will likely have the Seven Sacred Pools to yourself.
We found the first half of the trail very quiet (even on a Saturday morning) and only saw others when coming down Brins Mesa later in the morning.
From Jordan Road Trailhead, start by following signs for Brins Mesa then soon after connect to the Cibola Pass Trail, which becomes the Jordan Trail. The red rocks like The Sphinx looked beautiful in the morning light.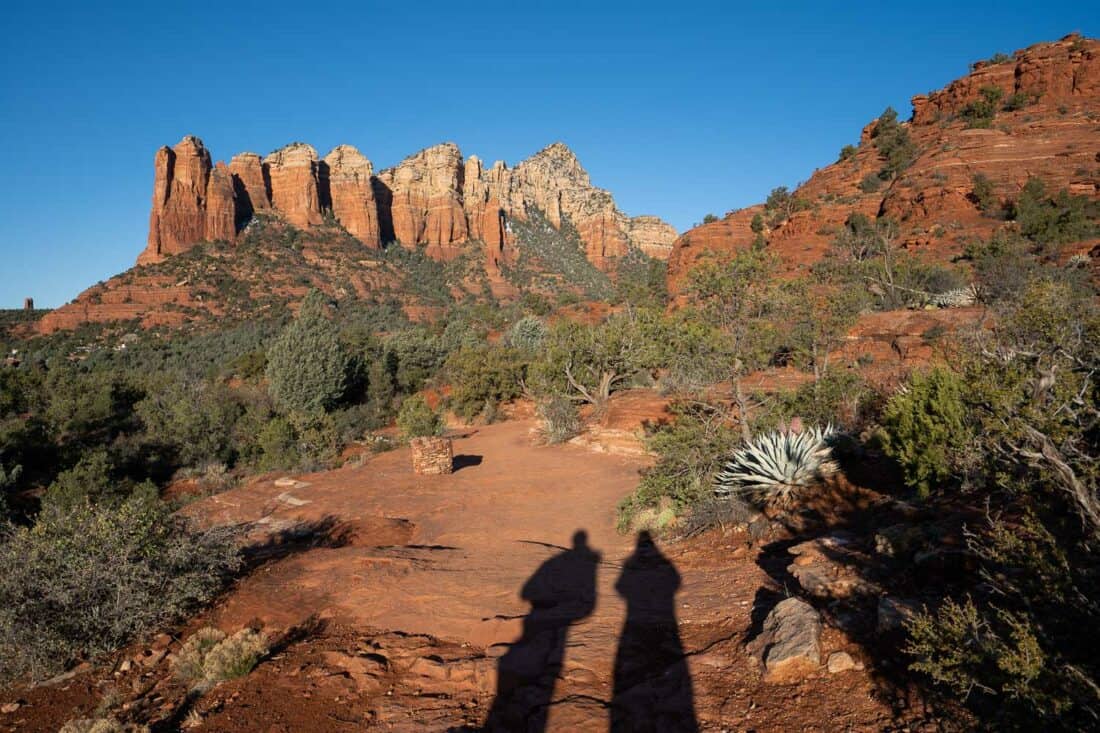 Then you turn right onto the Soldier Pass Trail and pass Devil's Kitchen, a huge sinkhole. It took us about 30 minutes to get here.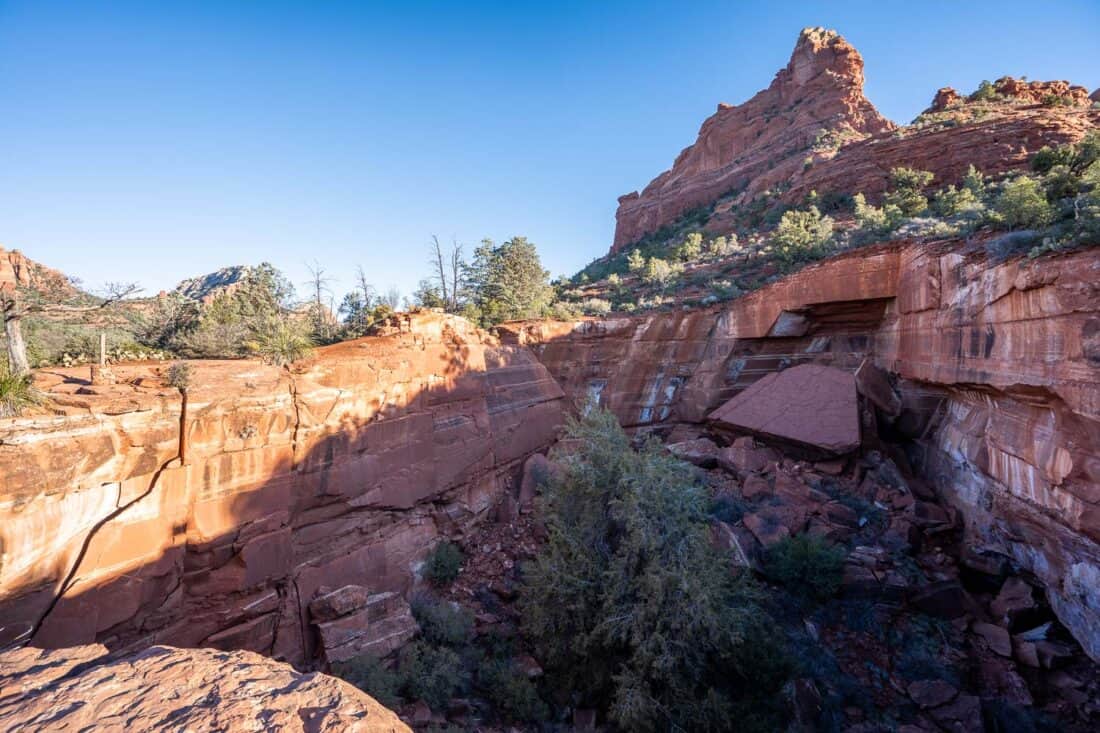 10 minutes further along the easy trail are the Seven Sacred Pools, a series of small pools of water in the sandstone.
The backdrop of Coffeepot Rock makes it especially scenic and early in the morning it was a tranquil spot to pause and listen to the birds.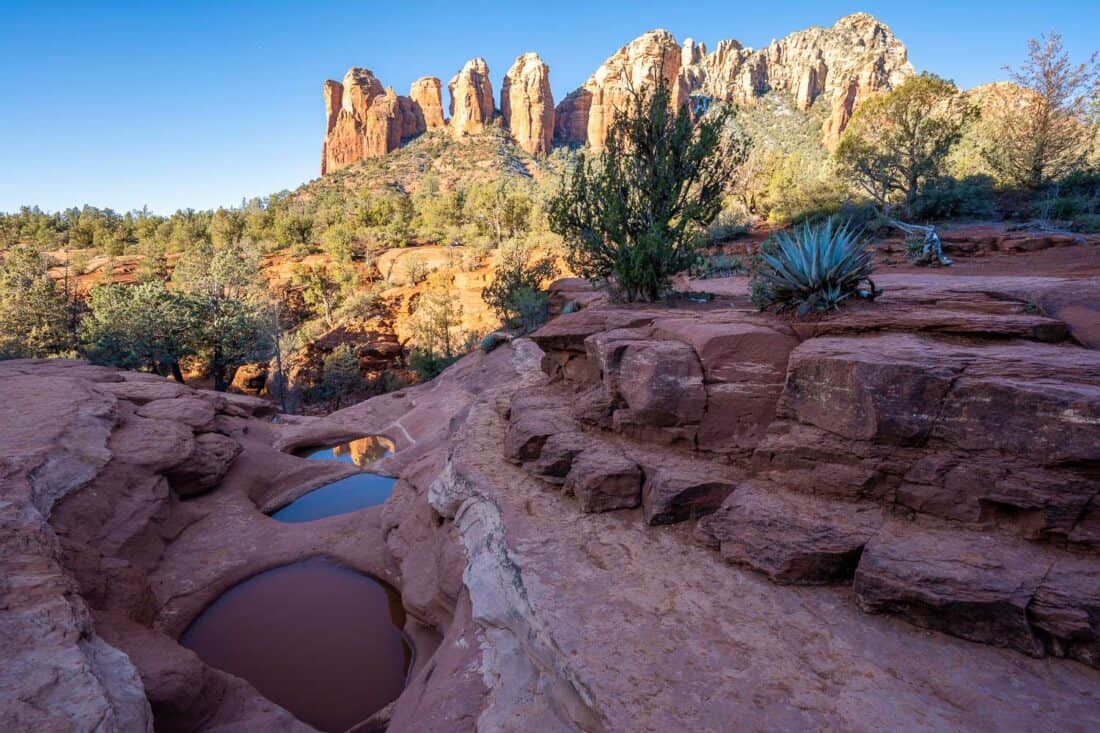 For a shorter hike, you could turn back here. Otherwise, continue on the trail marked Soldier Pass/ Brins Mesa for more beautiful views.
There's an optional 1-mile return unmarked side trail to a cave (use AllTrails to find it), but we skipped it as it involves scrambling.
About halfway into the hike (2.5 miles) we began the uphill climb that's the hardest part. It did get our hearts going but didn't feel too long.
We took a snack break on some sunny rocks near the top then continued on the trail that crosses over to Brins Mesa.
It's wide open up here with expansive views that are especially stunning as we descended the trail into a sea of green and red rocks. We were grateful to be walking down and not up this hill!
If you have the time and energy, I highly recommend Soldier Pass and Brins Mesa. Start early to enjoy the epic views in peace.
Popular Sedona Hikes We Skipped
These are considered some of the best hikes in Sedona, but we chose not to do them. Partly because of crowds and partly because they involve rock scrambling that we weren't confident with.
People love these hikes for a reason, so I'm not saying you shouldn't do them. But there are so many trails in Sedona that there's no need to feel the pressure to hike these, especially if you are scared of heights.
Cathedral Rock Trail – This hike is short but steep and involves scrambling up near vertical rocks with sheer drop-offs. The views at the top look beautiful, but it's not for those with a fear of heights.
Devil's Bridge Trail – This 4-mile hike is famous for its sandstone arch and people queue to take a photo on the narrow rock bridge. The last section is steep and slippy and can be icy in winter.
Airport Mesa Trail – This popular sunset hike doesn't look too difficult (although it's rocky), but it's busy and parking is a major challenge.
Sedona Hiking Map
Which is the Best Easy Hike in Sedona?
My top two picks for short Sedona hikes with the best views are the Courthouse Butte/Bell Rock Loop and Fay Canyon. They are fairly flat and can be completed in under 90 minutes.
If you want the easiest hike in Sedona without a rocky, muddy trail to deal with, Oak Creek Trail is a simple paved stroll with a lovely view.
To avoid the crowds in Sedona, Schuerman Mountain and Margs Draw are excellent options.
My personal favourite hike in Sedona is the Soldier Pass and Brins Mesa Loop. It's longer and steeper but doesn't require rock climbing and the pay-off is worth it.
What are your favourite easy hiking trails in Sedona? Leave a comment below.
More USA Posts
Explore more beautiful US hiking destinations in our other guides:
Utah & Arizona
California
Enjoyed this post? Pin it for later!