This page contains affiliate links. Please read our disclosure for more info.
Bari is a common entry point to the Italian region of Puglia with train, flight, and ferry connections to the rest of the country and beyond.
Visitors used to just pass through Bari on their way to nearby scenic hill towns, but that is changing, and the city is well worth including in your Puglia trip.
Bari's old town features a maze of picturesque lanes, impressive churches, and delicious street food. We love immersing ourselves in the lively atmosphere.
In this Bari Italy travel guide, I share our favourite things to do in Bari including the best food, how to get there, where to stay, and a map with all our recommendations.
Contents
Where is Bari, Italy?
Bari is the capital city of Puglia (also known as Apulia), a region in the far south of Italy (in the heel of its boot).
It's located a five-hour drive southeast of Rome (four hours by train) and three hours from Naples.
Towards the end of this post, I share a map and details on how to get to Bari.
What is Bari Known For?
Bari is known as a major transport hub in southern Italy with an international airport, major train station, and ferry port.
It's also known for its charming old town with a maze of narrow streets where local women make fresh pasta outside.
The Basilica of Saint Nicholas is one of Bari's most famous sights as it houses the remains of St Nicholas. It's an important pilgrimage destination for Roman Catholics and Orthodox Christians.
Best Things to Do in Bari Puglia
1) Get Lost in Bari Vecchia (Old Town)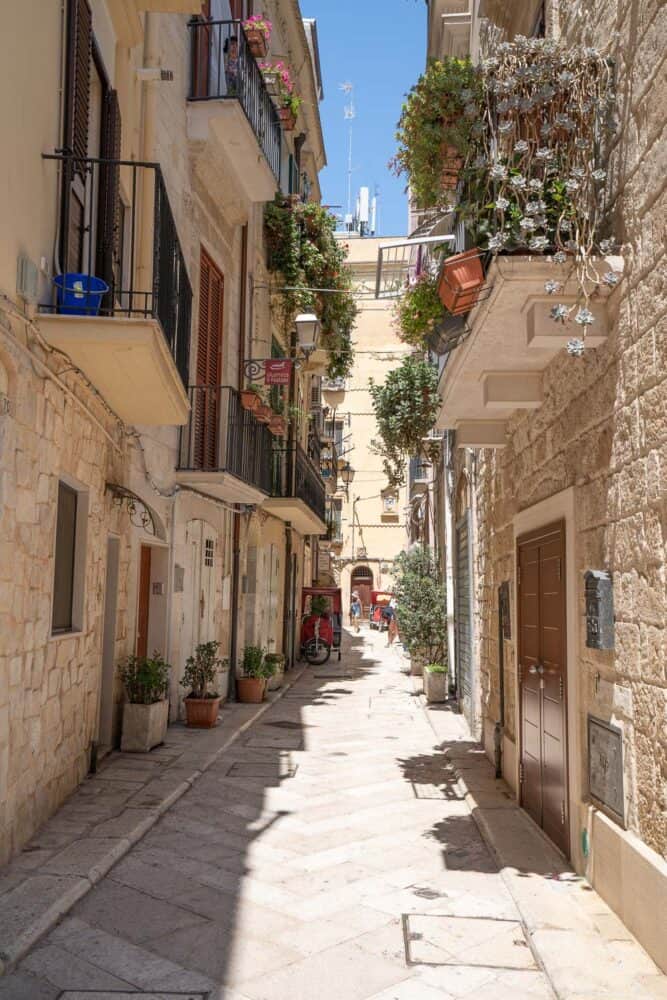 My number one pick of the best things to do in Bari is to wander the streets of Bari Vecchia, the compact old town on a peninsula jutting into the sea.
The labyrinth of narrow lanes is very different from the wide, orderly grid of streets in the newer part of Bari.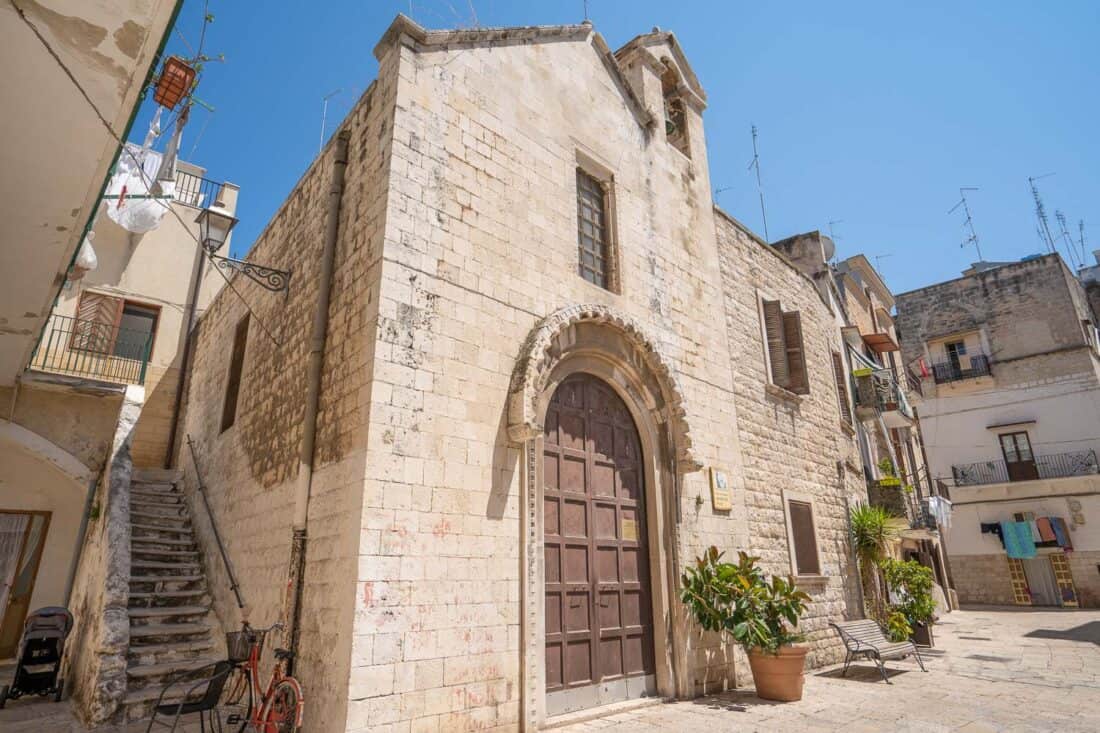 It has a lively, lived-in feel. This isn't just a place for tourists to admire the beauty of the tiny piazzas, churches, and archways. When you duck down a side street you feel like you're walking through someone's living room.
Life is lived on the streets here. Doors are open, elders sit outside, kids play on the street, washing dangles from lines. You can hear families arguing and cooking and laughing.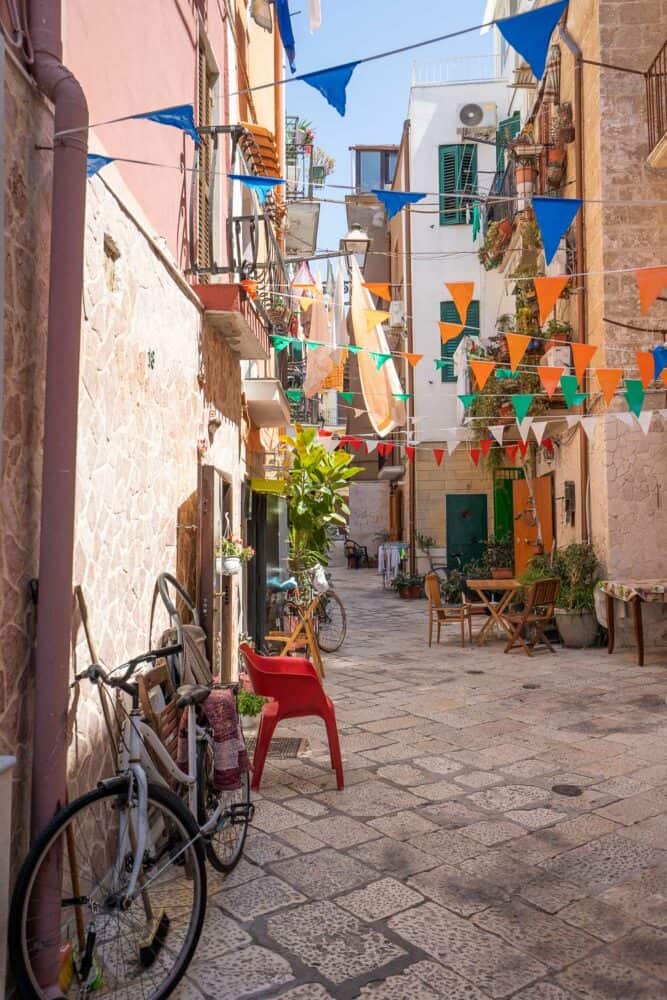 Bari Vecchia has a slightly chaotic vibe, but the energy is fun to immerse yourself in. And as it's mostly pedestrianised, it's a pleasure to wander.
Most of the top Bari attractions detailed below are in Bari Vecchia.
2) Take a Walking Tour with Food Tastings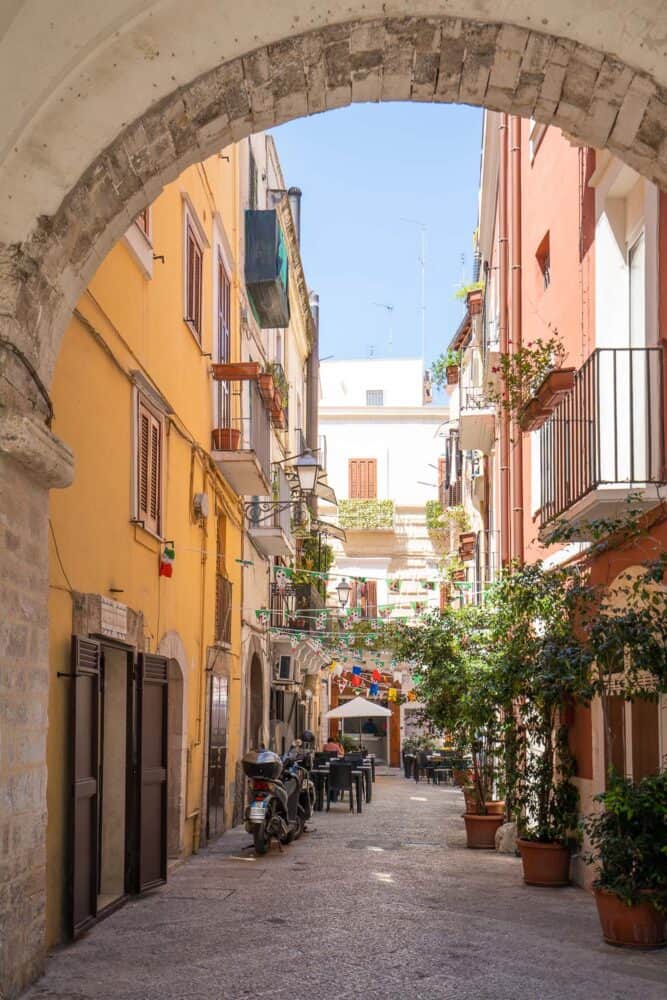 Taking a food tour is one of our favourite ways to explore an Italian city, so we signed up to this Bari Street Food Tour by Velo.
It was the least food-focused of the culinary tours we've taken in Italy, and the only one where we've gone hungry (until the very end).
I do still recommend the tour, but it's best to think of it as a cultural walking tour with a few food tastings.
If you are short on time, the tour takes you to the main Bari sights and teaches you about its history in just three hours. You'll also try some of Bari's most famous foods including focaccia and sgagliozze (more on those below).
Our guide was friendly and knowledgeable and we did learn a lot about the city.
We also got to join in with a local musician playing traditional tarantella music, which is not something we'd have been able to do on our own.
Check availability for the Bari Street Food Tour here.
3) Watch Fresh Pasta Being Made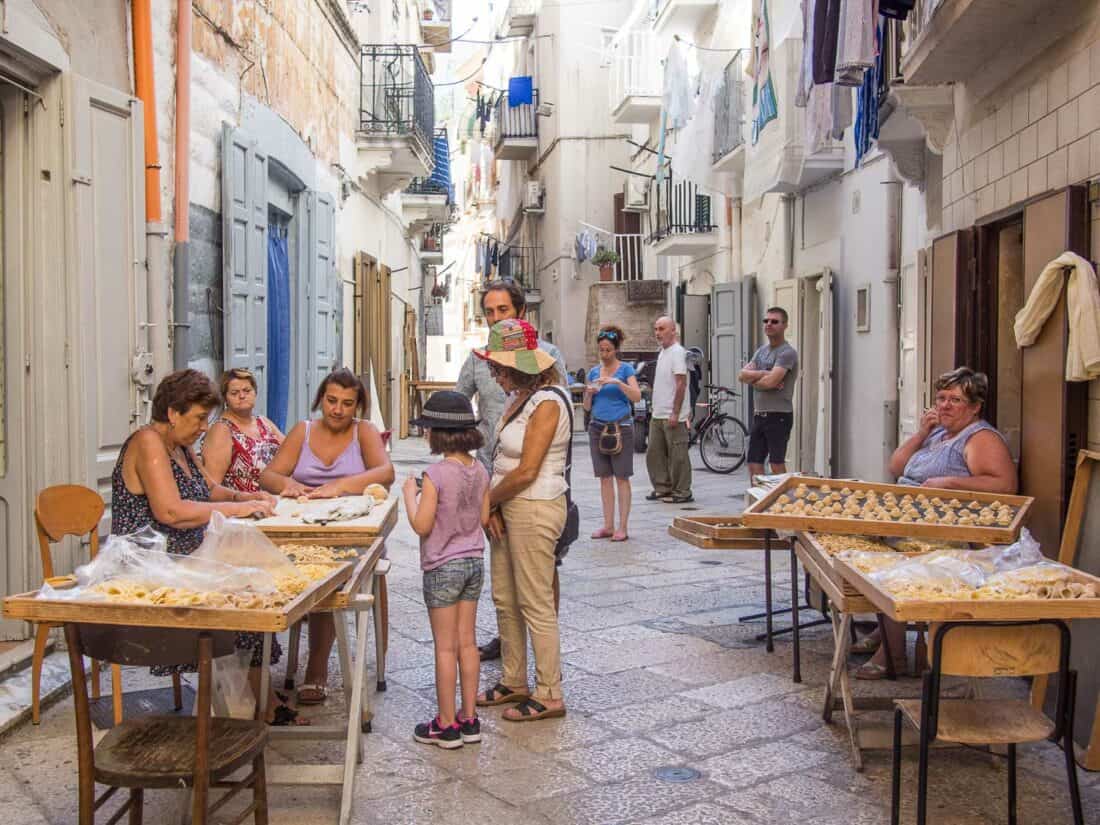 Space is limited in Bari Vecchia, so local women began making and selling fresh pasta on the street outside their homes.
Now nicknamed Strada delle Orecchiette after the regional "little ears" pasta they make, the pasta street is one of the most famous places to visit in Bari.
You'll find the pasta stalls on a tiny street called Arco Basso, named for the archway that leads from Piazza Federico II Di Svevia (where you'll find Bari's Castle).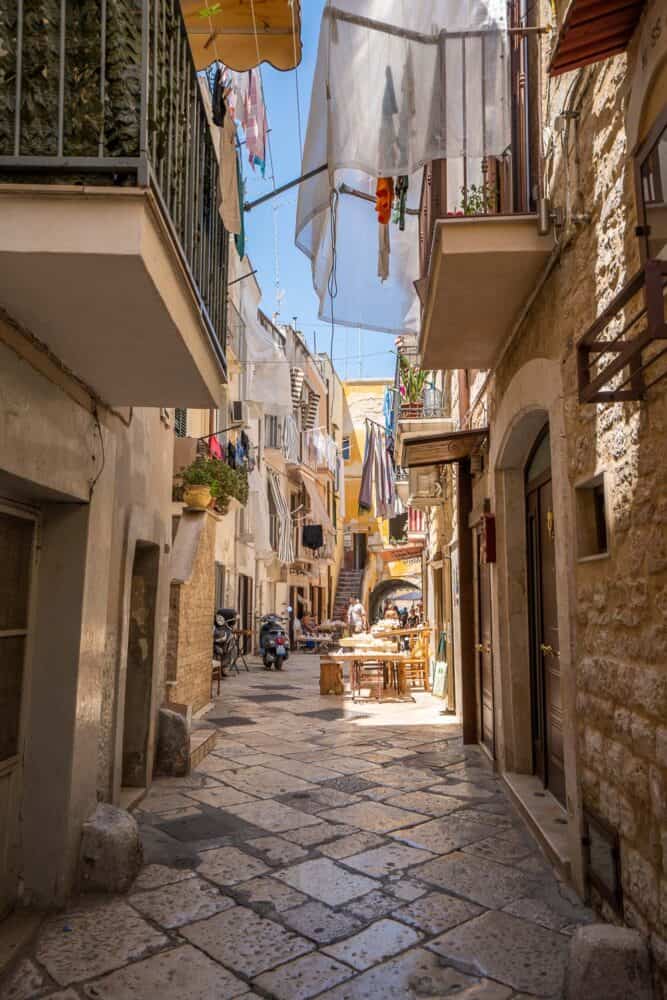 Please be respectful when taking photos of the pasta makers and buy something from the stalls.
The fresh pasta is dried and lasts up to 15 days without refrigeration (orecchiette cost €2.50 for half a kilo on our visit), so you can take some home. They also sell sun-dried tomatoes and taralli (a crunchy local snack).
We stayed at B&B Murex, which is conveniently located right on Arco Basso.
4) Hang Out in the Main Squares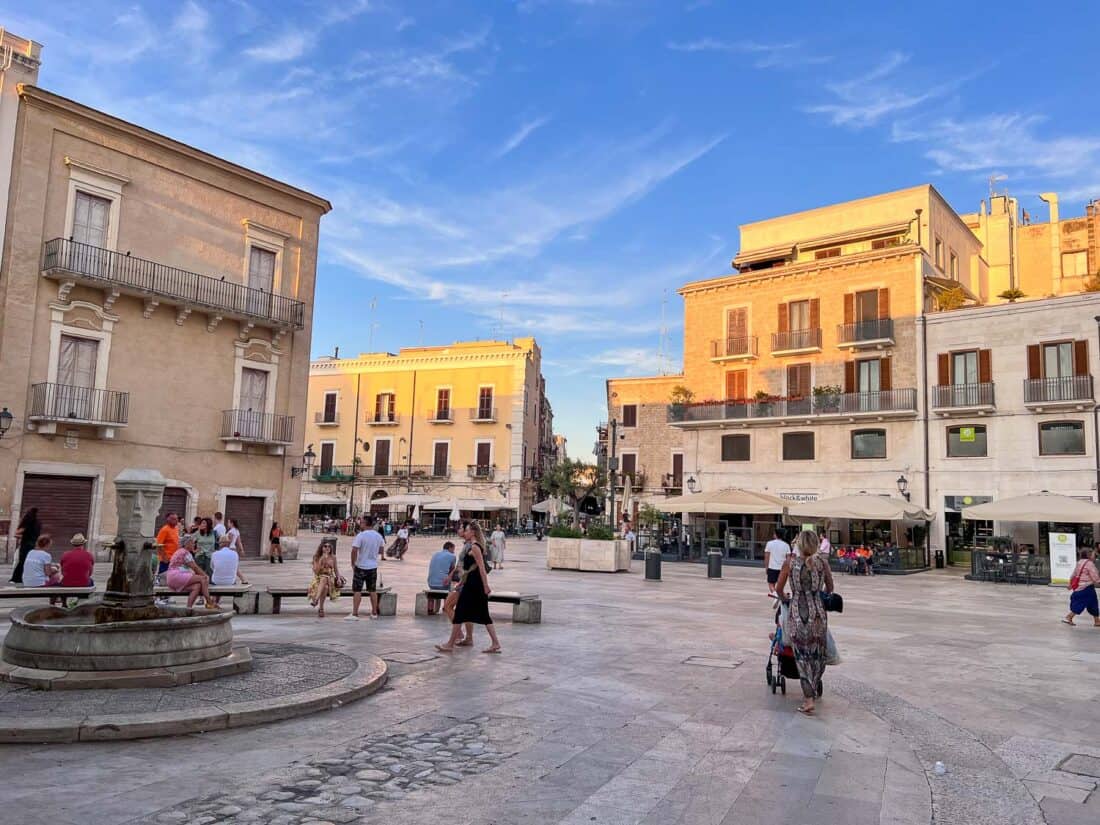 An Italian piazza or square is always a hub for meeting friends and having drinks or dinner.
The two main squares in Bari Vecchia are Piazza Mercantile and Piazza del Ferrarese, which sit side by side.
In Piazza del Ferrarese you can see where the old indoor markets used to be, now the Spazio Murat contemporary art gallery.
Just south is Corso Vittorio Emanuele II, the dividing line between the old and new towns. There was once a gate here to separate the two. You can see where the old walls were and the remains of the first street from the 13th century.
In Piazza Mercantile you can see the disturbing Colonna della Giustizia (Column of Justice). In the 16th century, the column was used to punish debtors by tying them naked to the column for three days. You can still see the marks from the ropes on the stone.
There are plenty of bars and restaurants in the two piazzas. We especially enjoyed sandwiches at Voglia Pane e Vino and antipasti at La Cecchina.
5) Sample Local Focaccia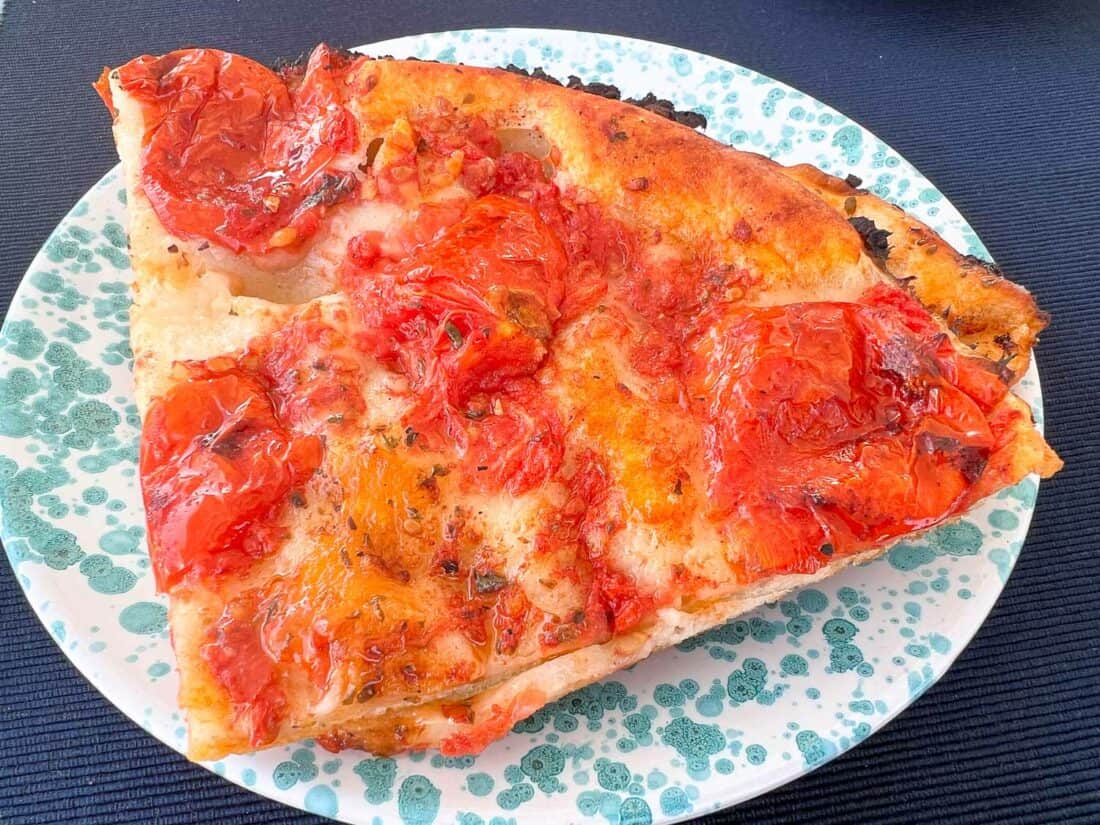 Trying focaccia is a Bari must do as the city has some of the best focaccia in all of Italy (only Liguria rivals it).
The bread is topped with tomatoes and olives and glistens with local olive oil.
The best places to try Focaccia Barese are Panificio Fiore (our walking tour stopped at this bakery that used to be a Byzantine church) and Panificio Santa Rita (our B&B bought it from here every morning).
Both are best in the morning when it's freshly baked and still warm, but expect to queue. It's worth it!
6) Try Bari Street Food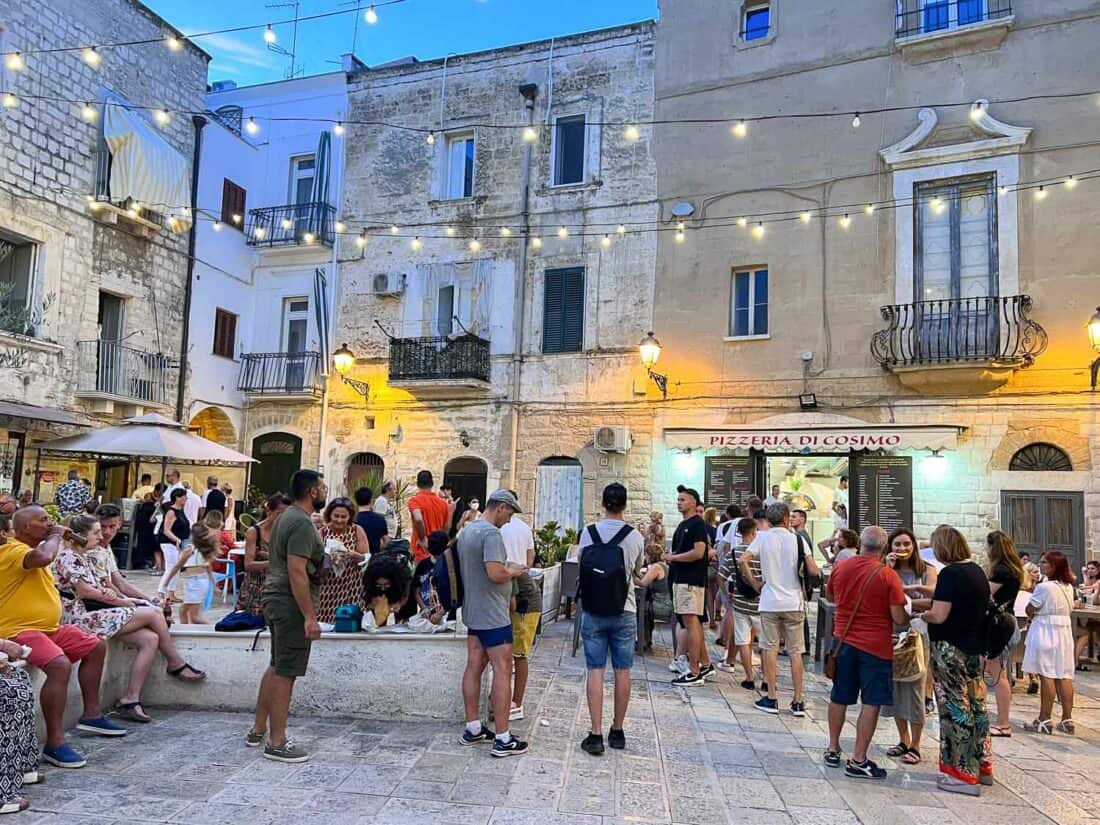 Bari is known for its affordable, tasty street food. As well as focaccia, you can try sgagliozze, squares of fried polenta.
We tried them on our walking tour from Le Sgagliozze di Donna Carmela on Largo Albicocca. You can grab a bag to take away from the stall outside the restaurant. Maria delle Sgagliozze is another popular spot.
Honestly, we found sgagliozze a little boring, but some people love them.
Even tastier (in our opinion) are panzerotti, fried dough stuffed with various fillings such as mozzarella and tomato. It's like a fried version of a calzone (stuffed pizza) or a savoury doughnut.
You can find panzerotti all over Bari. The best we had was at Pizzeria di Cosimo.
7) Feast at Largo Albicocca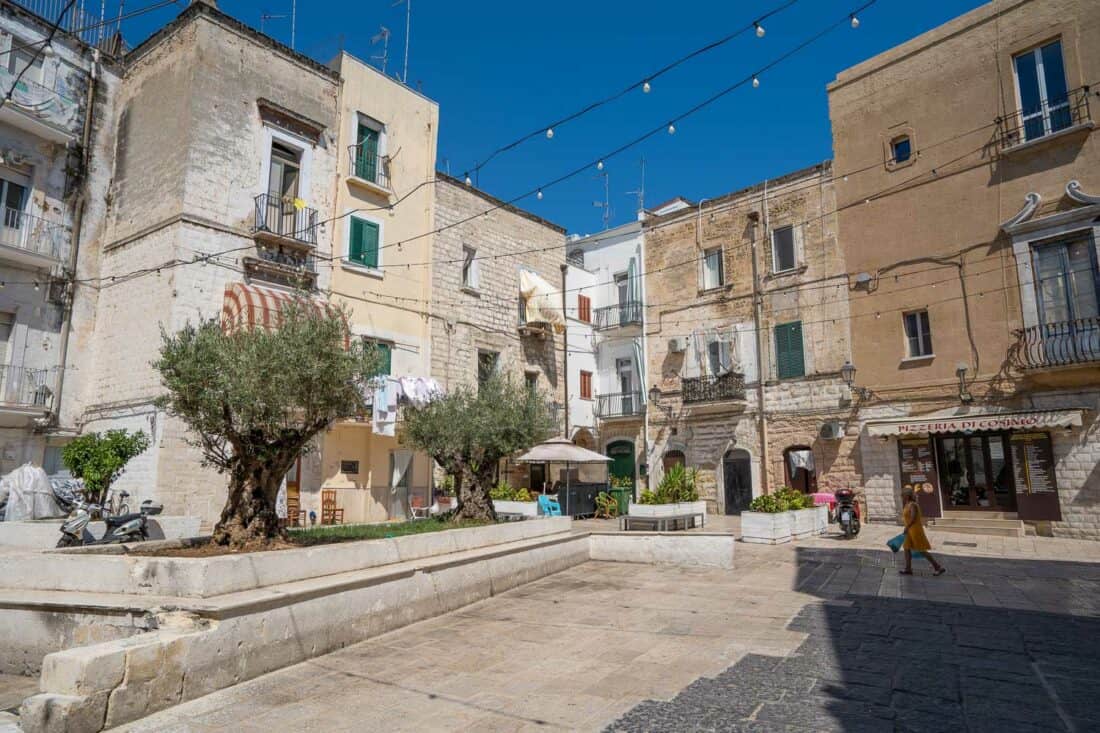 Largo Albicocca is a tiny, picturesque piazza in Bari Vecchia that's known as Piazza degli Innamorati (Square of the Lovers).
It certainly has a romantic vibe with its strings of lights and old-fashioned lanterns.
Quiet by day, it comes alive in the evenings when locals flock here for delicious food.
Pizzeria di Cosimo serves up some of the best pizza we've ever had. It's affordable (€4.50 for a margherita), simple, and perfect.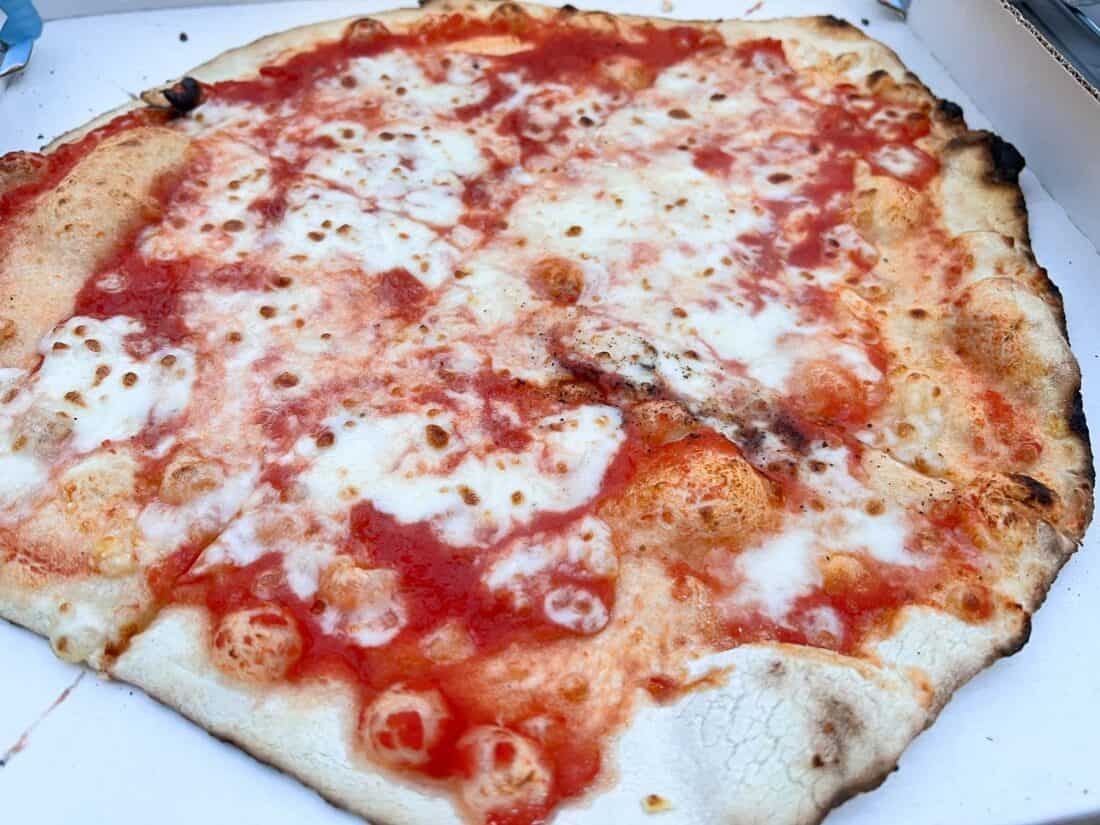 This isn't a fancy place to eat. You queue to place your order at the counter and get given a number, which you need to listen out for (in Italian) or watch for on the screen.
The pizzas come in a box so you can grab a seat at one of the plastic outdoor tables or perch on the steps in the piazza.
On a Sunday night, it was pure chaos, and it took us an hour to get our pizza. Luckily, we'd ordered a panzerotto as well, and these come out more quickly than the pizza. It was worth the wait, and we returned a few days later (much quieter on a Tuesday).
Pizzeria di Cosimo is open from 6.30pm to midnight and is closed on Mondays.
If you get hungry waiting for your pizza, grab some takeaway scagliozze from the stand next door.
8) Visit Basilica di San Nicola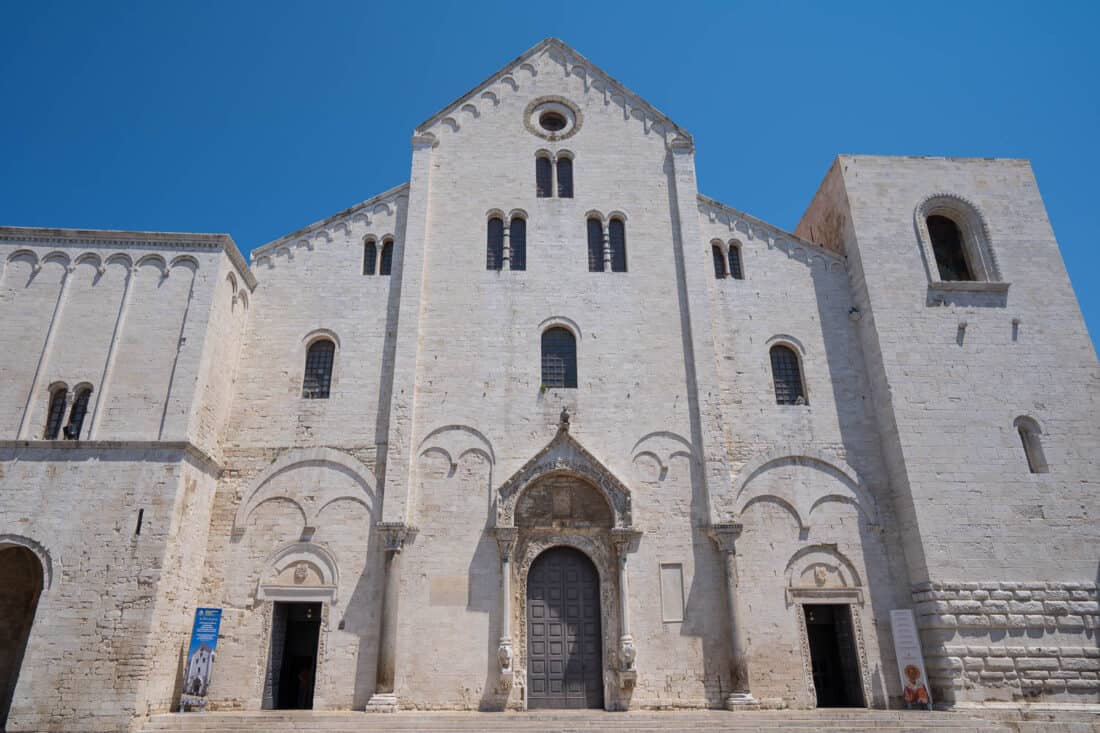 Basilica di San Nicola is the city's most famous church and one of the top things to see in Bari.
The 12th-century church has a simple but imposing Romanesque facade. The soaring interior is crossed with arches, and the austere stone contrasts with the gold frescoed ceiling.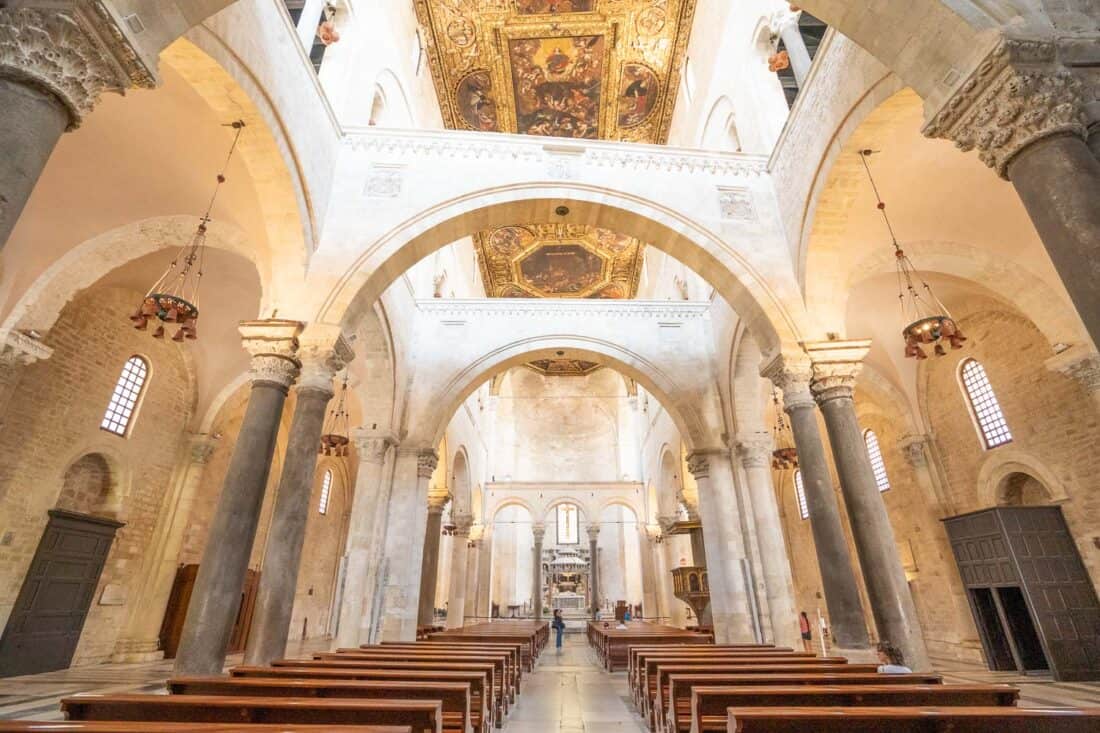 The crypt downstairs houses the bones of St Nicholas (yep, the one known as Father Christmas), which were stolen from Turkey in 1087.
Many Orthodox pilgrims come here, and it's also important to locals, who celebrate St Nicholas with a big festival every May.
Entry to Basilica di San Nicola is free, and it's open from 7am to 8.30pm.
9) See the Duomo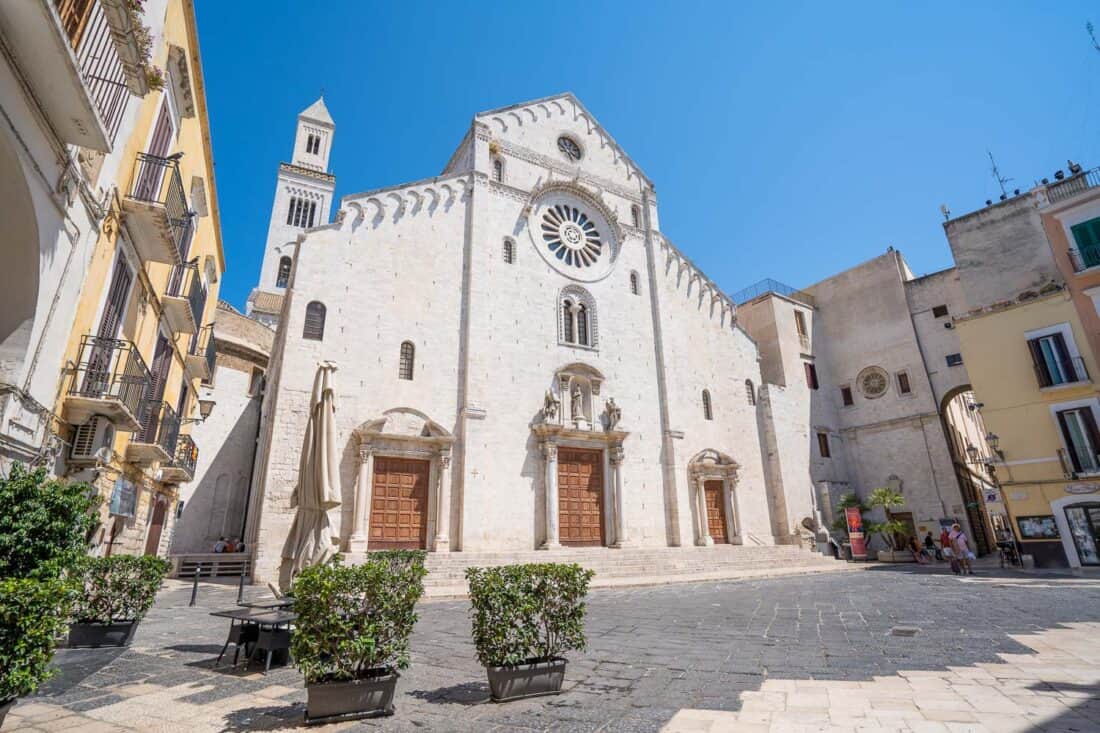 Bari's Cathedral or the Basilica Cattedrale Metropolitana Primaziale San Sabino is commonly referred to as Il Duomo.
It has a similar Romanesque facade to Basilica di San Nicola and is surprisingly plain (if immense) inside.
Entrance is free, but it closes in the afternoons.
The bar on the piazza, Stefy's Cathedral Coffee, is a good spot for a drink and to admire the carvings on the front of the Duomo.
10) Walk on Bari's Old Walls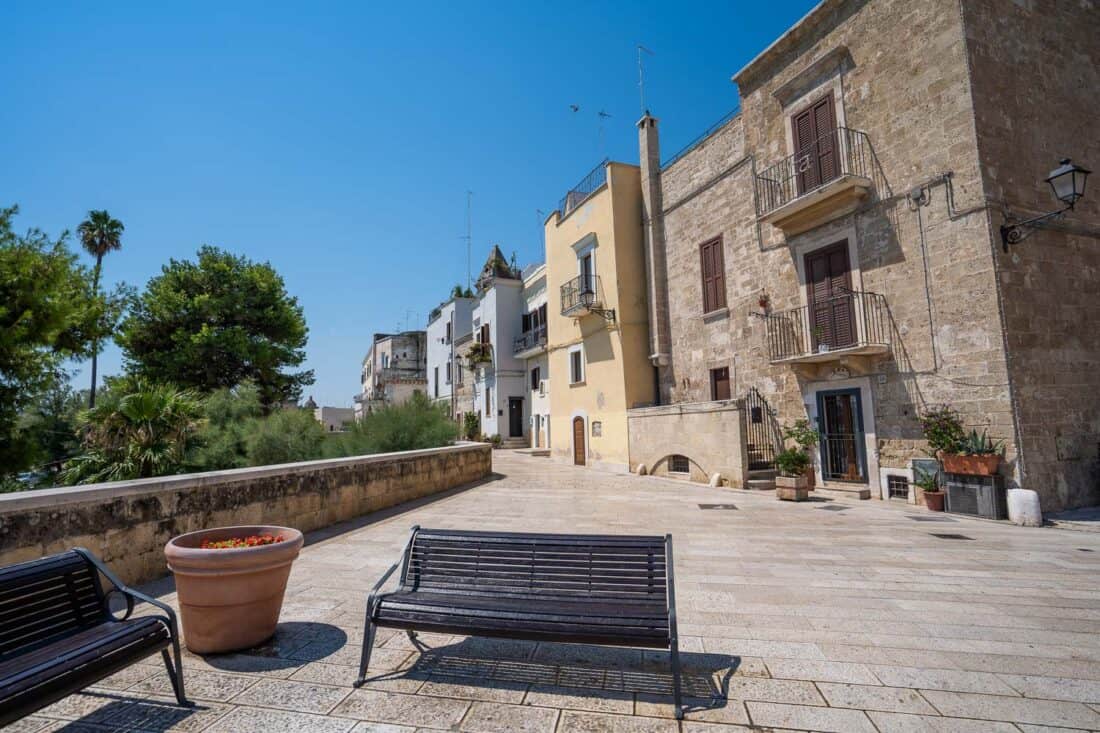 Past Basilica di San Nicola you'll find stairs that take you up to the old city walls, which are a good place for a walk with sea views and a higher perspective of the city.
You can also access the walls from further down at B&B La Muraglia.
A good place for a drink is La Ciclatera Sotto il Mare, a bar with outdoor seating overlooking the marina. Afterwards, if you want to continue walking, head down to the Lungomare.
11) Stroll the Bari Lungomare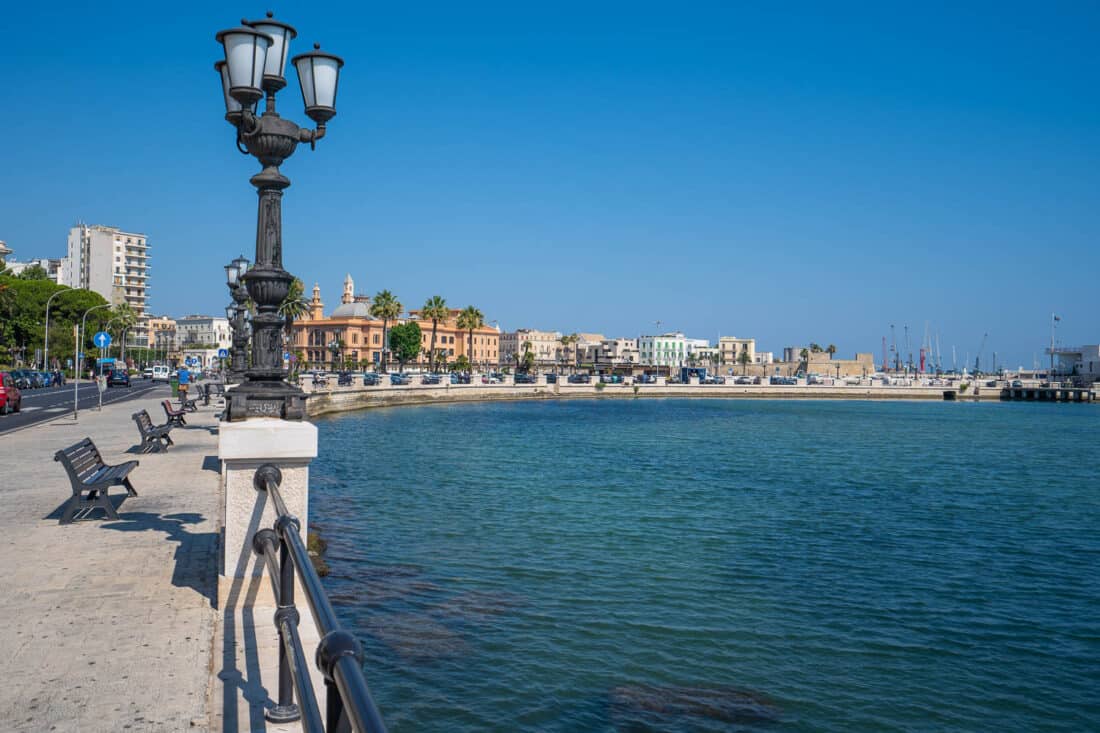 Bari's Lungomare (seafront promenade) is the longest in Europe at 15km (9.3 miles).
The wide walkway is ideal for a stroll, especially around sunset. In the mornings, it's in full sun and a bit intense in the summer heat.
The best section to walk is from near Piazza del Ferrarese and past Teatro Margherita and the old port with colourful fishing boats.
You could continue all the way to the popular Bari beach, Pane e Pomodoro, which is 2km (1.2 miles) and 25 minutes from Teatro Margherita.
12) See Museo Teatro Margherita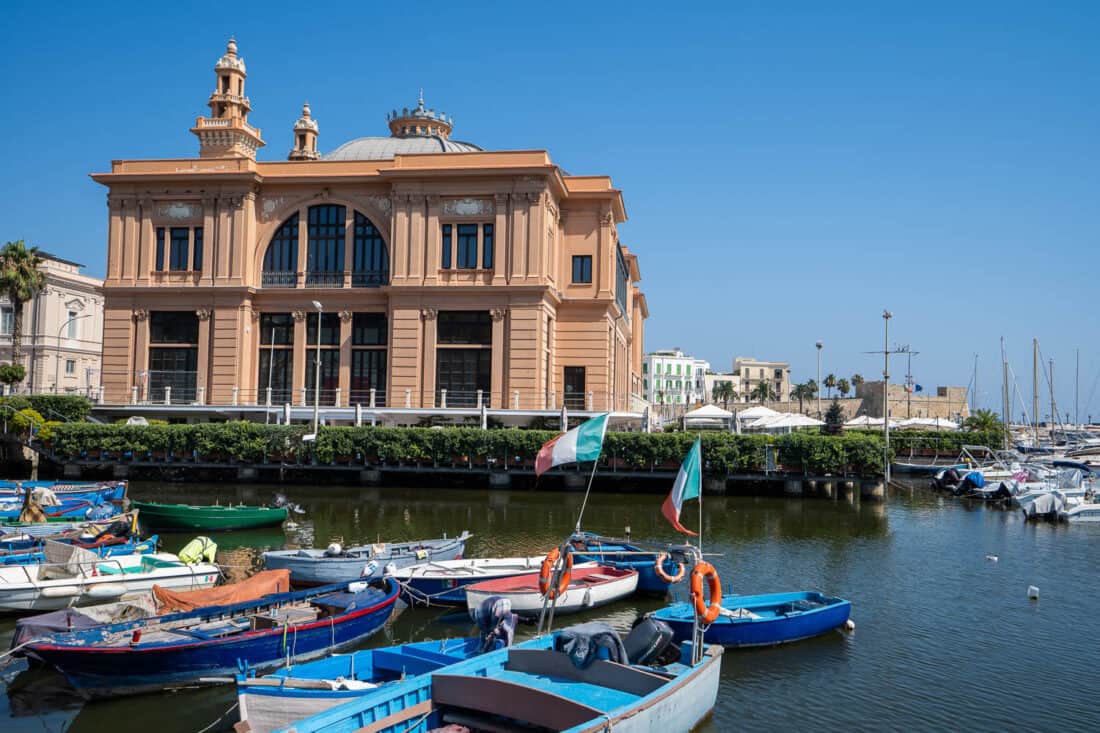 On your walk along Bari's Lungomare you'll come across Teatro Margherita, a distinctive pink building overlooking the fishing harbour.
It was built in 1912 after the original wooden theatre burnt down in a fire just a year after opening.
It's on pillars in the sea as there was already another large theatre in the city and no other theatres were allowed to be built on Bari land.
While it no longer functions as a theatre, there are sometimes contemporary art exhibitions inside (check in the nearby tourist information office).
13) Relax on the Beach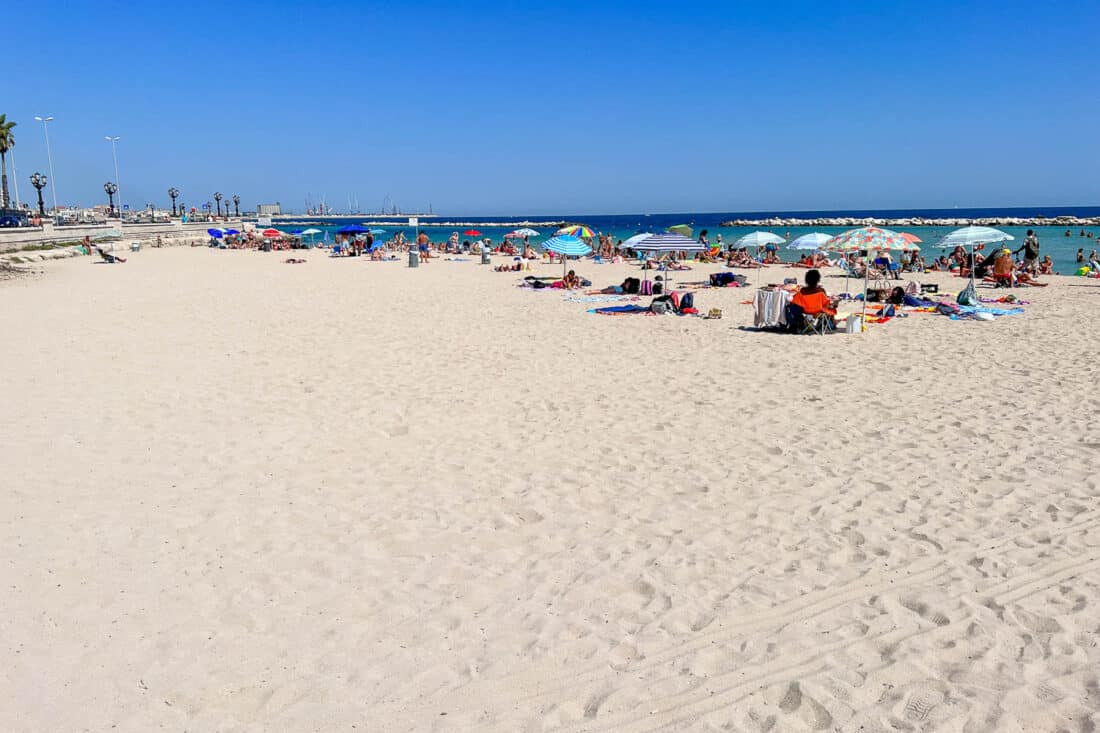 While the best Puglia beaches are further from the city, if you are looking for some relaxation, Spiaggia Pane e Pomodoro (Bread and Tomato Beach) is a decent option.
It has powdery white sand and shallow clear water. We thought it was busy on a weekday morning in July but later realised how Puglia beaches get much busier than this.
Unlike many beaches in Italy, Pane e Pomodoro is free, and you'll need to bring your own chairs and umbrella if needed.
It's a 30-minute walk from Bari Vecchia, or there's paid parking nearby.
14) See Bari Castle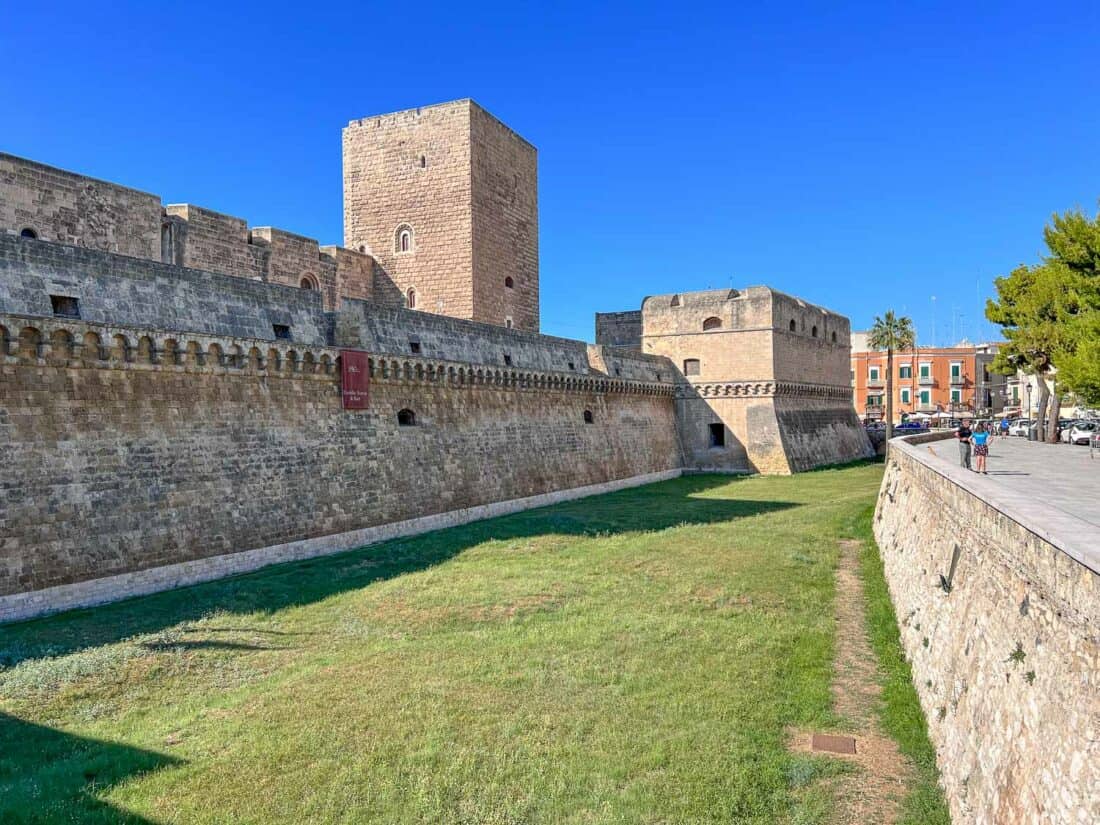 I wouldn't say the castle is a Bari must see, but it's worth walking past this imposing fortress on the edge of Bari Vecchia.
Castello Svevo di Bari was originally built by Norman King Roger II in 1132 and destroyed a few decades later before being rebuilt by Holy Roman Emperor Frederick II in 1233.
It's surrounded by a moat except on the side that borders the sea.
There's a small museum inside with changing exhibitions, but we skipped it. Reviews are mixed and you can't walk on the castle walls.
15) Eat a Gelato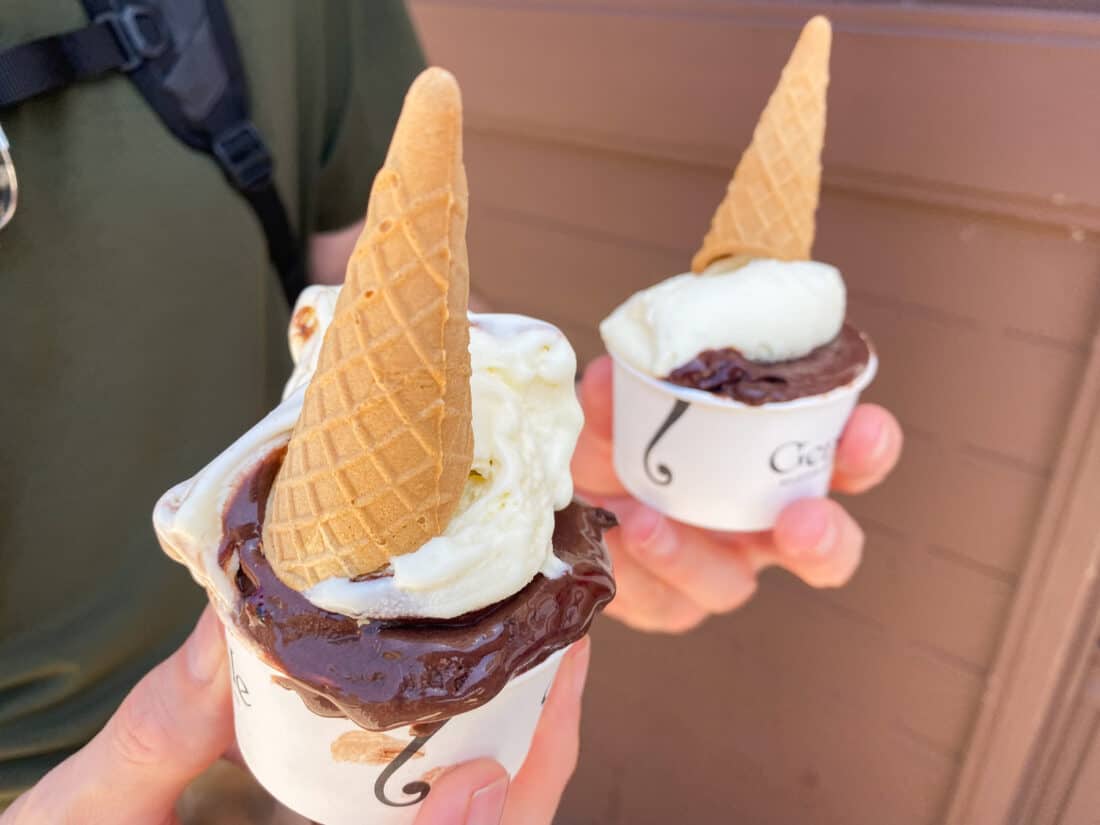 Opposite the castle is the best gelato in Bari at Antica Gelateria Gentile. The Chocolate Africano flavour with chunks of chocolate and cherry was amazing.
This place gets busy so expect to queue, especially on weekend evenings.
When we couldn't get in on a Sunday night, we walked to Gelateria Piccinni in the new part of Bari. It wasn't as good as Gentile, but it was still enjoyable and excellent value (€1 for one flavour).
16) Shop on Via Sparano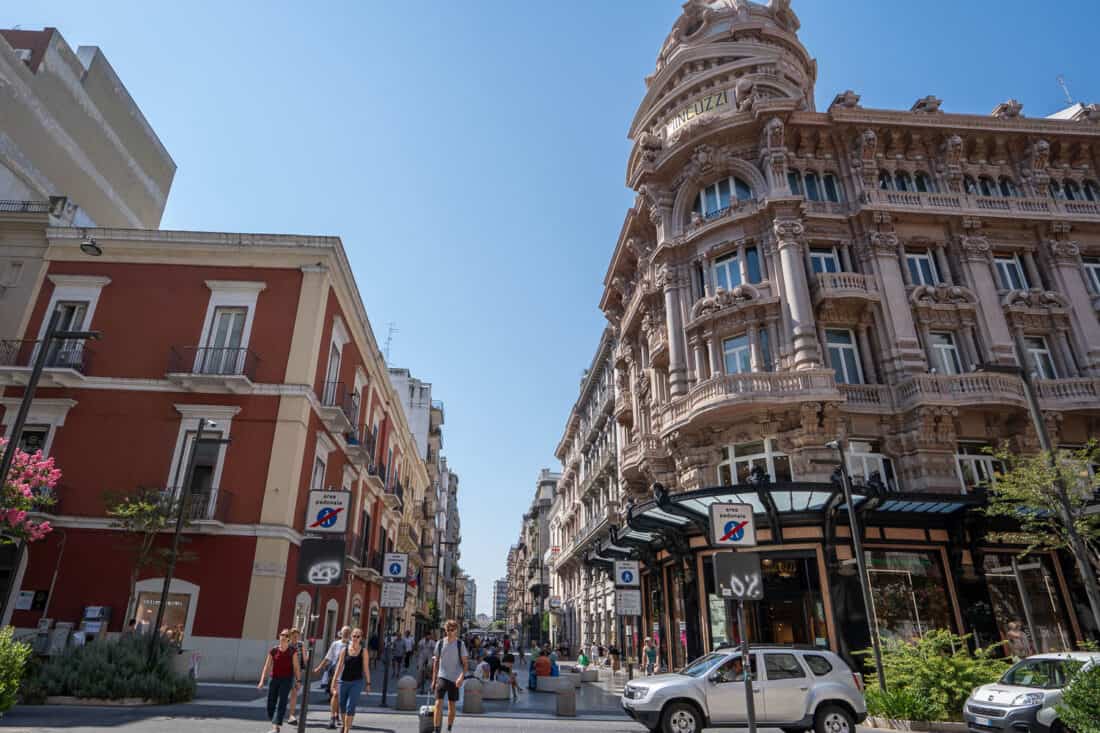 While most of these top things to do in Bari are in the historic centre, if you like shopping, head to Via Sparano in the modern part.
This pedestrianised shopping street features a mix of designer names (Prada, Louis Vuitton) and more affordable brands, as well as pavement cafes spilling out from Art Nouveau palaces.
17) Enjoy an Aperitivo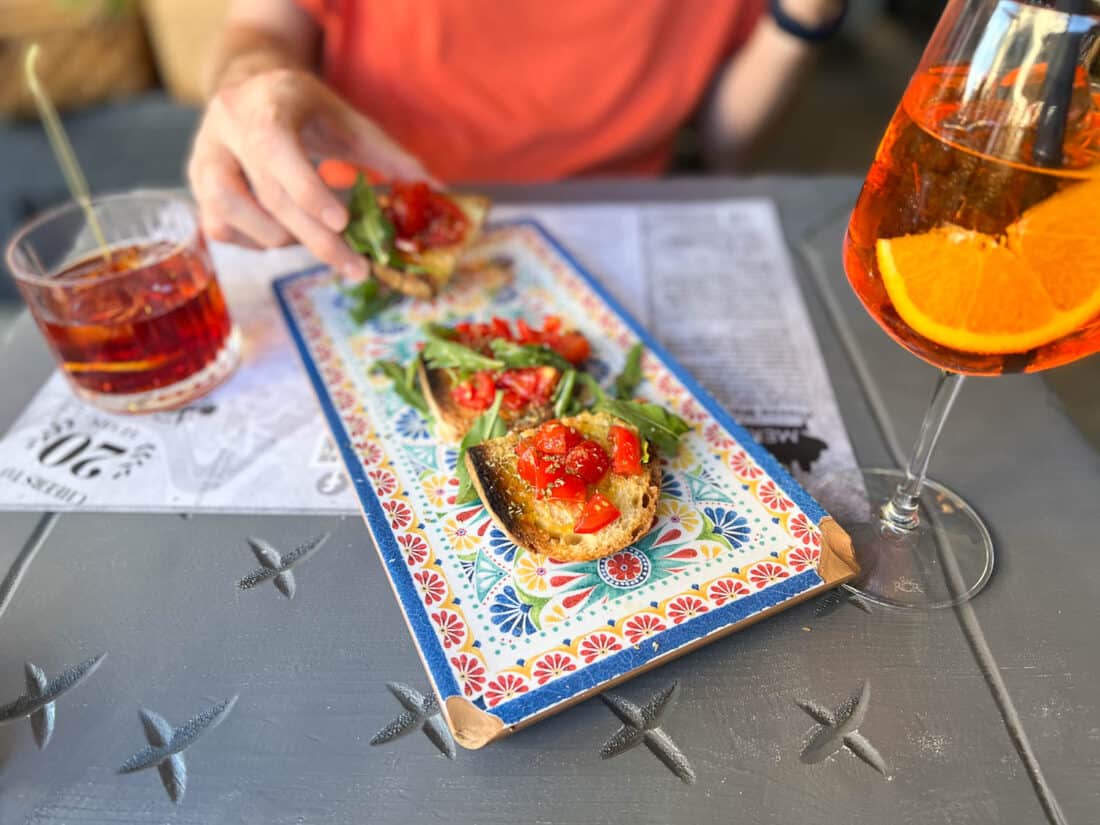 An evening aperitivo is one of our favourite rituals in Italy. Enjoying a pre-dinner drink with snacks is a great way to take a break, watch Bari life unfold, and tide you over until the post 8pm dinner time.
Bari is not short of places to partake in the classic Aperol Spritz. Piazza del Ferrarese is a lively spot to head to with many bars with outdoor seating.
We enjoyed Voglia Pane e Vino (also great for a sandwich lunch) and Mercantile Nove.
For a sea view, head to La Ciclatera Sotto il Mare instead.
Or if you are on a tight budget, El Chiringuito is a very simple bar next to the old port where young Barese hang out.
You'll have to sit on the steps, but you won't find cheaper than the €1.20 bottles of Peroni (it's all about the beer here).
Note that unlike in northern Italy, you'll need to pay extra for your aperitivo snacks.
Day Trips from Bari
Bari can make a great base to explore Puglia, especially if you don't want to hire a car.
Here are some of the best day trips from Bari:
Trani – An elegant seaside town 30 minutes north on the train.
Polignano a Mare – A spectacular small town perched on rocks above the sea. It takes 15 to 45 minutes on the train south from Bari.
Monopoli – A pretty seaside town just south of Polignano.
Matera – This city of caves in neighbouring Basilicata is a must see. It's worth spending a night or two here, but it is possible as a day trip from Bari. It's a one hour drive or 1 hour 45 minute train trip from Bari. Or take this Matera day trip by minivan. See our Matera Italy travel guide for more details.
Alberobello – The picturesque town of trulli is touristy but worth visiting. It's easier by car from Bari (50 minutes), but buses and trains are available (check schedules in advance).
Our guide to the best places to visit in Puglia has many more ideas for exploring the region.
Where to Stay in Bari Italy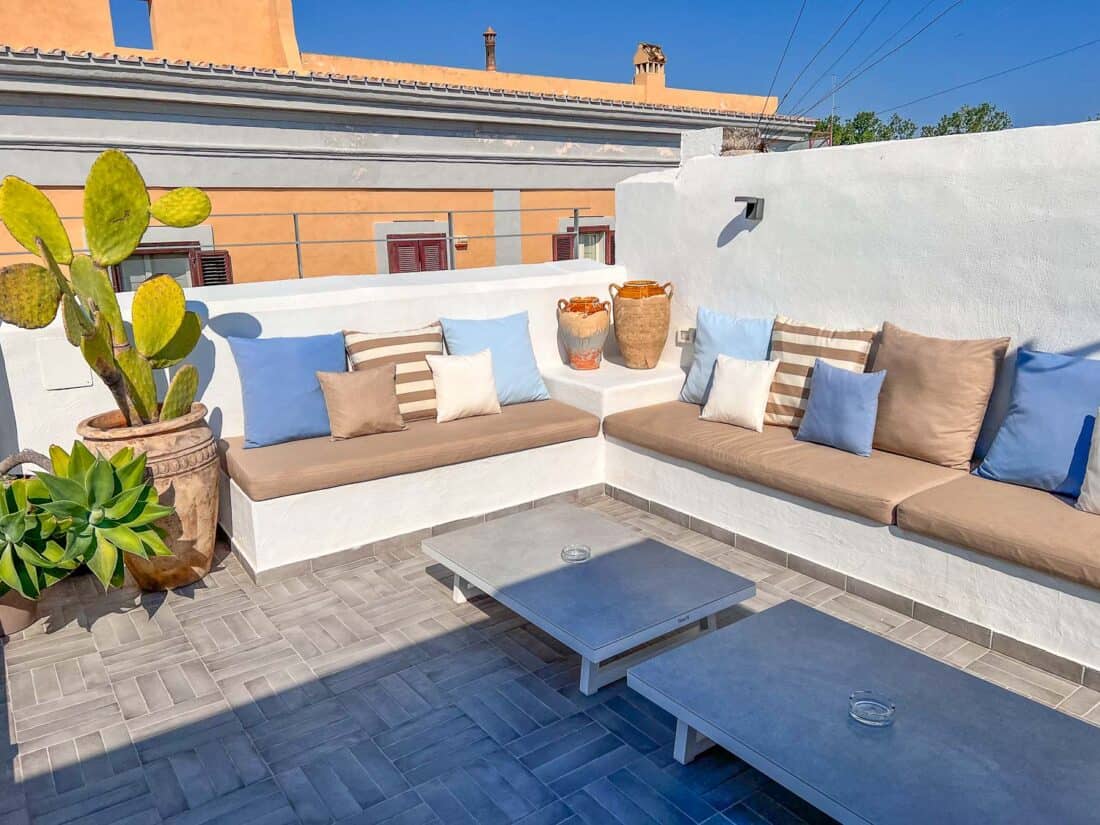 While staying close to Bari train station is convenient if you plan to take day trips, I highly recommend staying in the much more charming Bari Vecchia.
On our latest visit, we stayed at B&B Murex and couldn't have asked for a better location. It's on the pasta street and around the corner from our favourite piazza Largo Albicocca. We could easily walk everywhere and it's only 15 minutes from the station.
It's run by a friendly young couple who gave us lots of tips and food recommendations.
There are four simple but lovely rooms with a clean, fresh feel. There's a shared fridge with free bottled water (unusually in glass, not plastic) and soft drinks.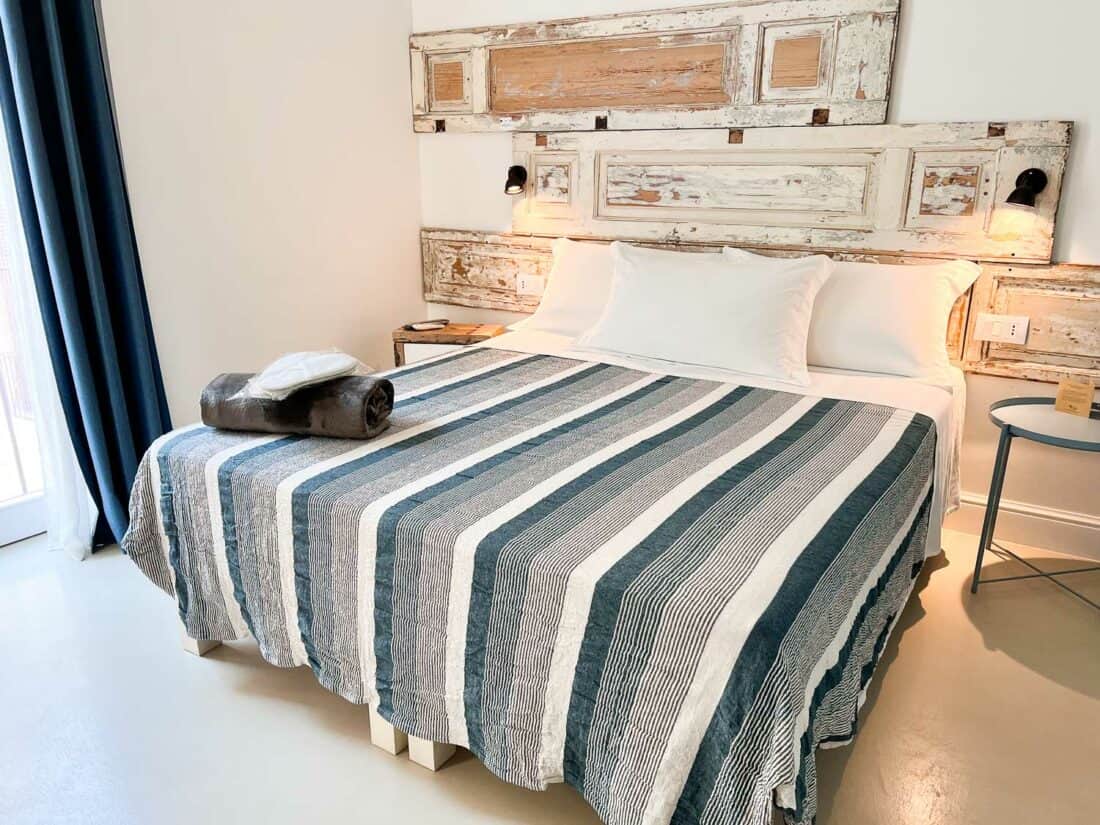 Breakfast on the roof terrace is good and includes freshly baked focaccia from a local bakery.
Another B&B that looks lovely is La Muraglia, which is right on the city walls with sea views.
Check out more accommodation options in Bari here.
How Long to Spend in Bari
Bari Vecchia is compact and you can see the main sights in half a day.
For most visitors who are trying to see as much of Puglia as possible in a week or two, one night will be enough in Bari.
We stayed three nights on our last visit, though, and enjoyed having more time to wander and eat.
If you want to use Bari as a base to explore Puglia, you could easily spend 4-7 nights here.
Getting to Bari
Bari is a great access point to Puglia.
Bari Karol Wojtyla International Airport (BRI) has flights from all over Europe with budget airlines like Easyjet, Ryanair, and Wizzair. It's a 20-minute drive outside the city and taxis, buses, and a train are available.
Bari Centrale station has trains to Lecce (90 minutes), Rome (4 hours), Bologna (6 hours), and Milan (7.5 hours). To get to Naples (4 hours), you'll likely have to change in Caserta or take a bus.
Bari port has ferries to Greece, Albania, Croatia, and Montenegro.
While I recommend hiring a car to explore Puglia, you might want to pick it up when you leave the city as parking can be a challenge.
If you do need to park, Piazzale Cristoforo Colombo Parking on the edge of the old town is one of the best options (paid during the day and free at night and on weekends).
On our latest trip, we flew into Bari, took a private transfer to Matera and back to Bari (after 4 nights in Matera) and only collected our hire car when leaving Bari. The taxi made the journey easy and we didn't have to worry about parking in either city.
We usually use Rental Cars and Kayak to find the best deals on hire cars.
Bari Italy Map
Is Bari Worth Visiting?
Yes, Bari is well worth visiting on your Puglia trip! The old town is a wonderful, chaotic maze to explore, the food is superb, and it's easy to head out on day trips.
I hope this post has given you some ideas on what to do in Bari. While there aren't a ton of major sights, it's an excellent place for wandering and eating.
More Puglia Posts
If you enjoyed this post, pin for later!