This page contains affiliate links. Please read our disclosure for more info.
Our best memories from our trip to southern Italy are of staying in a beautiful masseria in Puglia, traditional farmhouses that offer guest accommodation.
We were welcomed like family members, sampled olive oil, wine, and cheese made on the farms, learnt about Puglian culture and cuisine, and met the owners who often join guests for home-cooked dinners using products from the farms.
There are many Puglia masseria throughout the region and accommodation ranges from simple apartments to luxury suites and even trulli (the iconic circular stone huts).
Most are in peaceful settings in the countryside surrounded by olive groves and vineyards.
You usually need a car to access these farm stays and some can be difficult to find, but it's worth it for such unique accommodation and the opportunity to experience the warm hospitality of Puglian people.
These are the best Puglia masseria we have visited during multiple trips to the region.
Contents
Masseria Puglia Map
Masseria Il Frantoio, Ostuni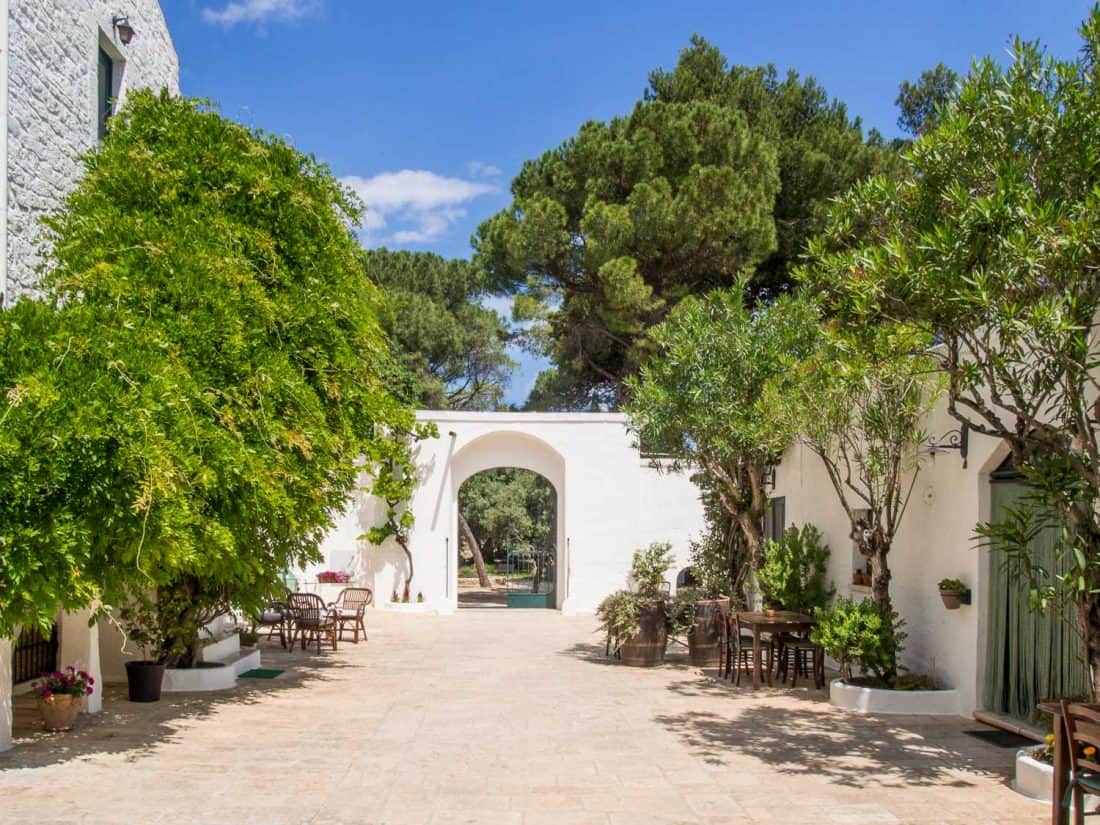 Masseria Il Frantoio is our favourite masseria in Puglia, in fact it's our favourite place to stay in all of Italy.
We visited this Ostuni masseria on our second trip to Puglia to try their olive oil which included a tour of the olive groves, amongst centuries old trees, in a funky 1949 Fiat.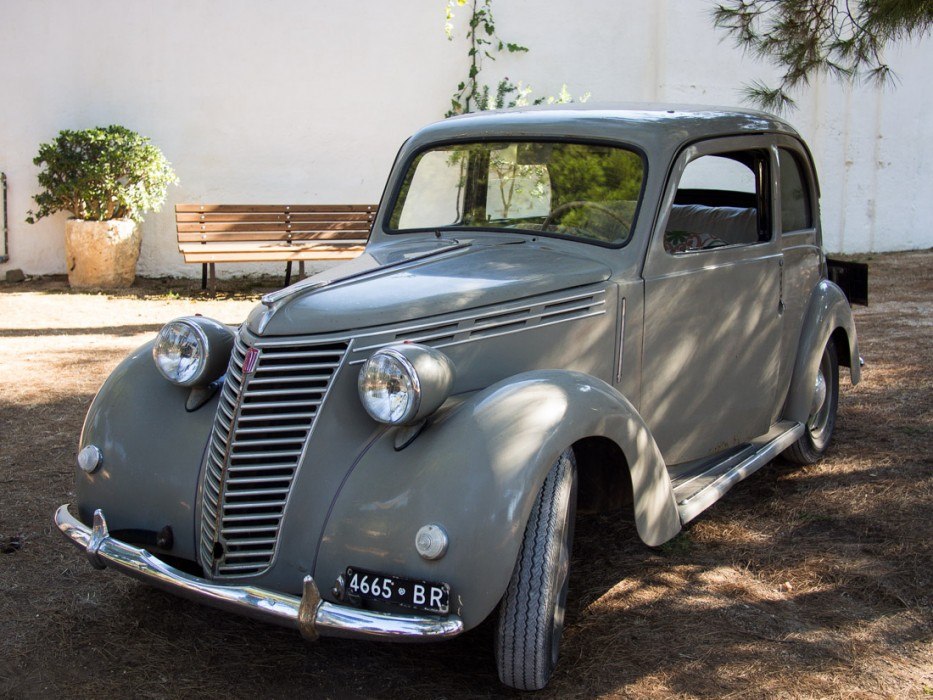 We tasted four of their olive oils, our favourite was the punchy Leccina with a green gold colour made from 100% Leccina olives.
We also tried many of their flavourful homemade jams—quince, bitter orange, lemon and mandarin; and their rosoli, a liqueur drunk after dinner infused with natural ingredients. They make 35 different flavours including mulberry, fennel, olive leaf, and pomegranate.
On our latest visit to Puglia we returned to spend a few nights on the farm. Il Frantoio has been lovingly restored and the 300-year-old stables and grain mill converted to 16 guest rooms.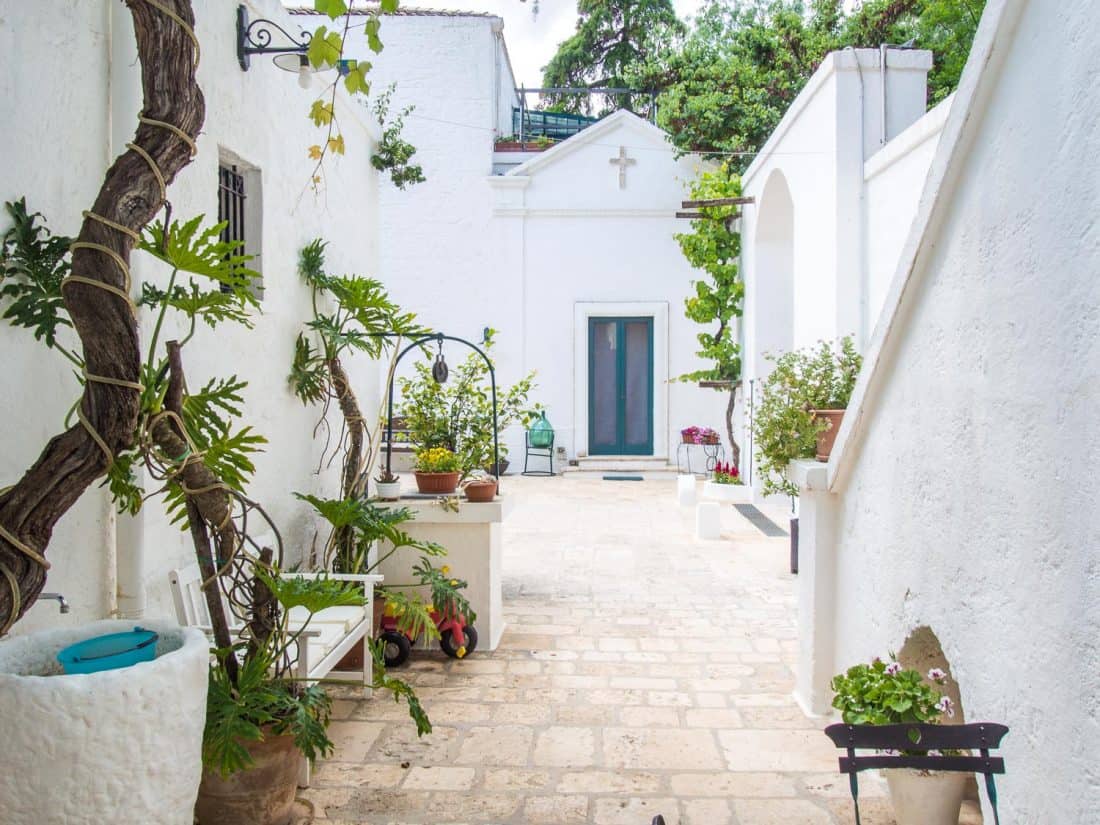 We were struck by the palpable sense of history—the 1000 year old olive trees; the 1949 Fiat; the 17th century chapel that would have been used every day by the workers; the cart house converted to a living room with old tools on display; the old books and love letters from previous inhabitants; the original olive mill in a natural cave.
It was clear that despite the comforts for guests this is a working farm and has been for centuries.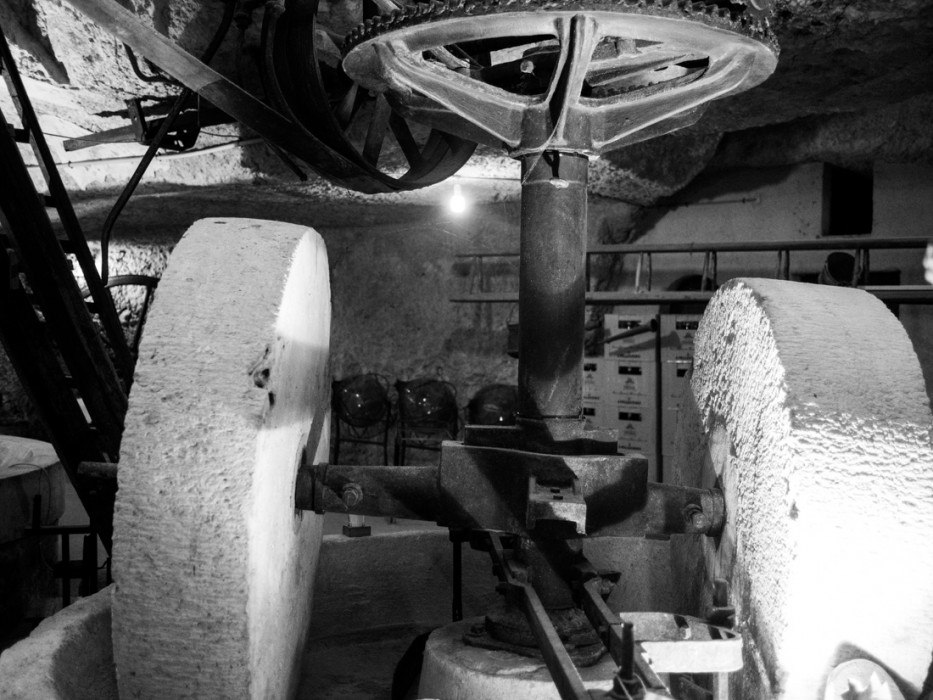 The masseria has many places to relax—the swimming pool, peaceful courtyard, shady garden, walled citrus orchard, and guest living room. It's only 6km from the beach near Ostuni.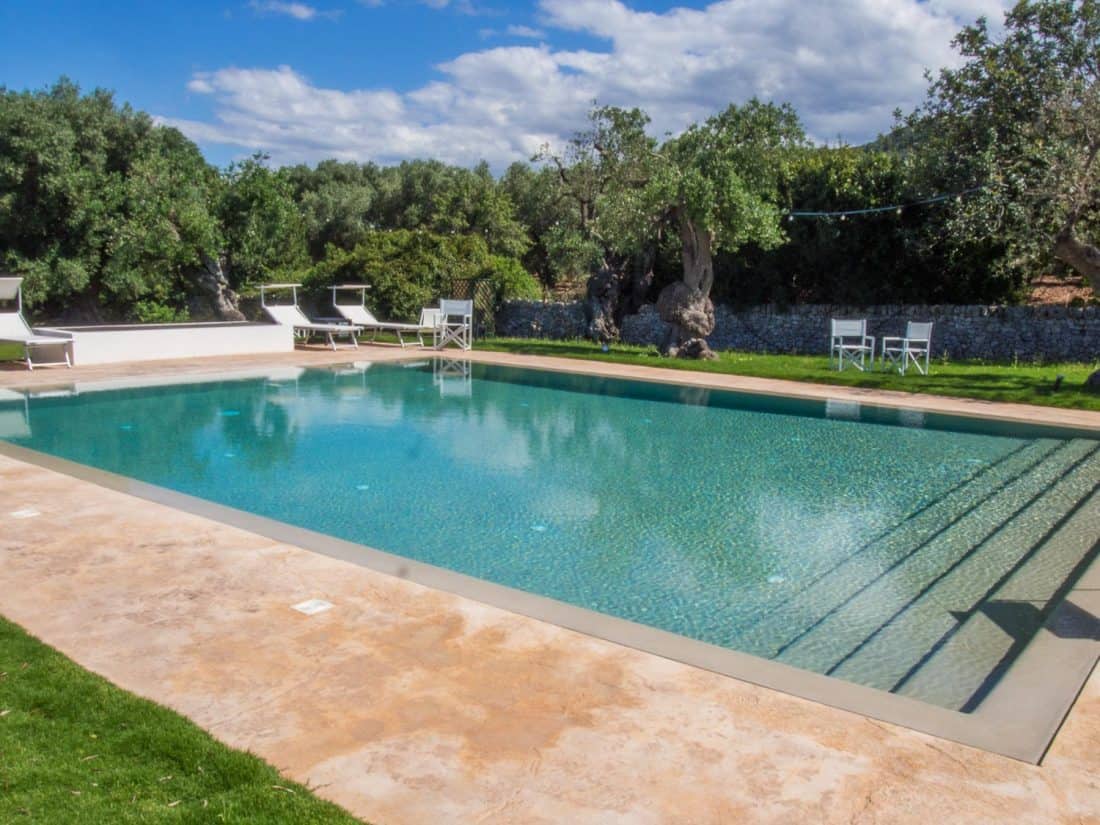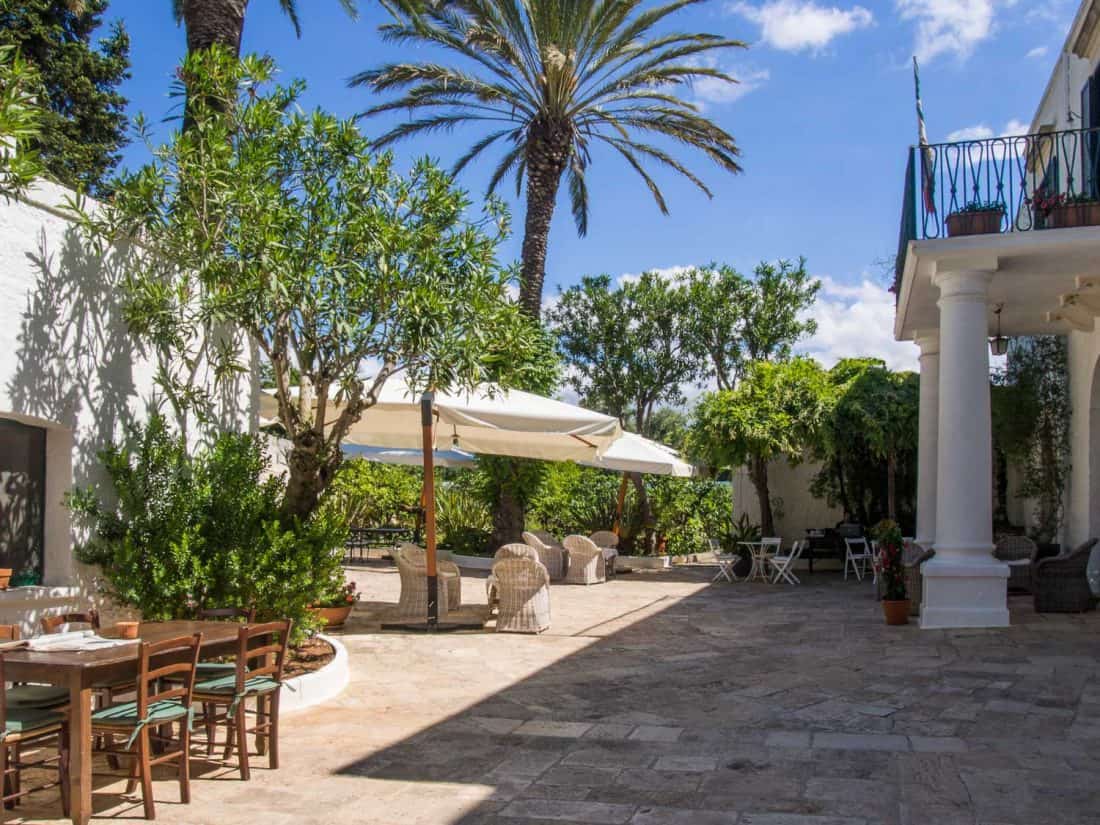 Best of all is the food, which all comes from the farm. The eight course tasting menu with wine pairing was one of the best meals we've had in Italy.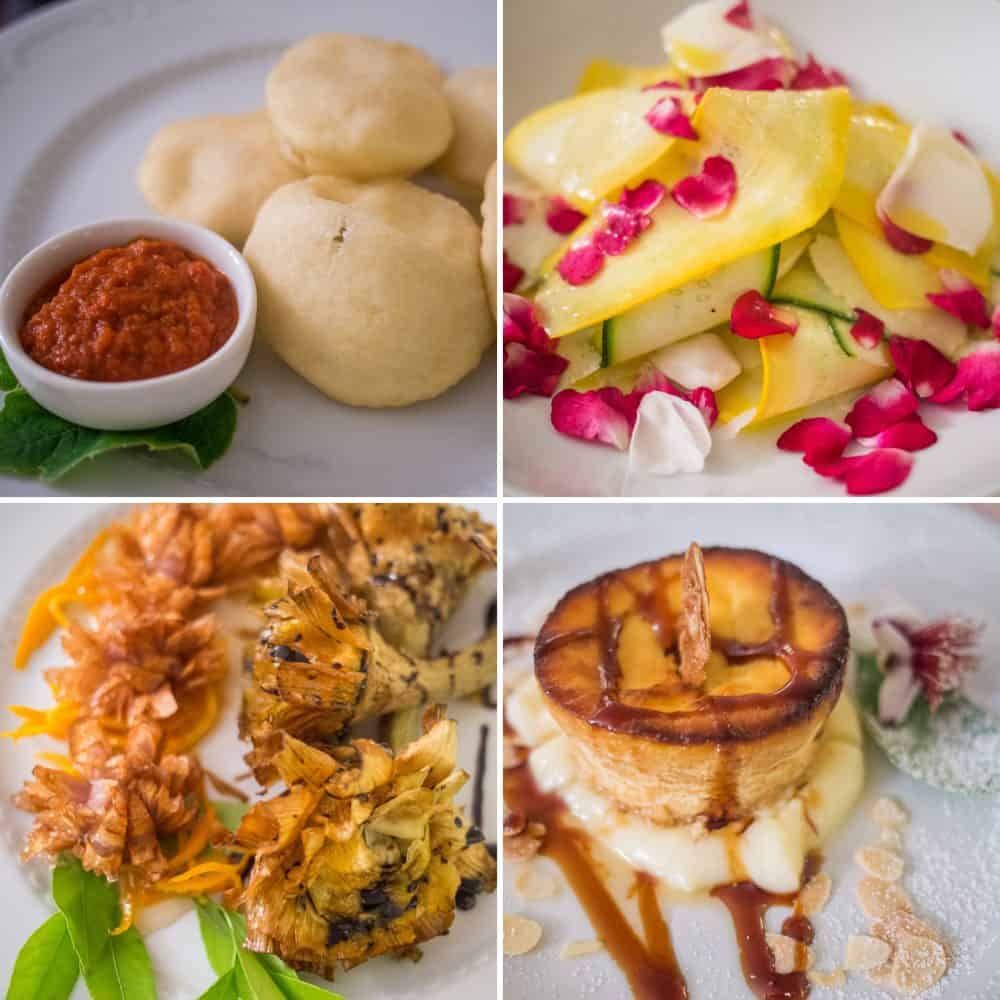 Read our detailed Masseria il Frantoio review for more photos and information.
Click here for the latest prices at Masseria Il Frantoio.
Masseria Spetterata, Cisternino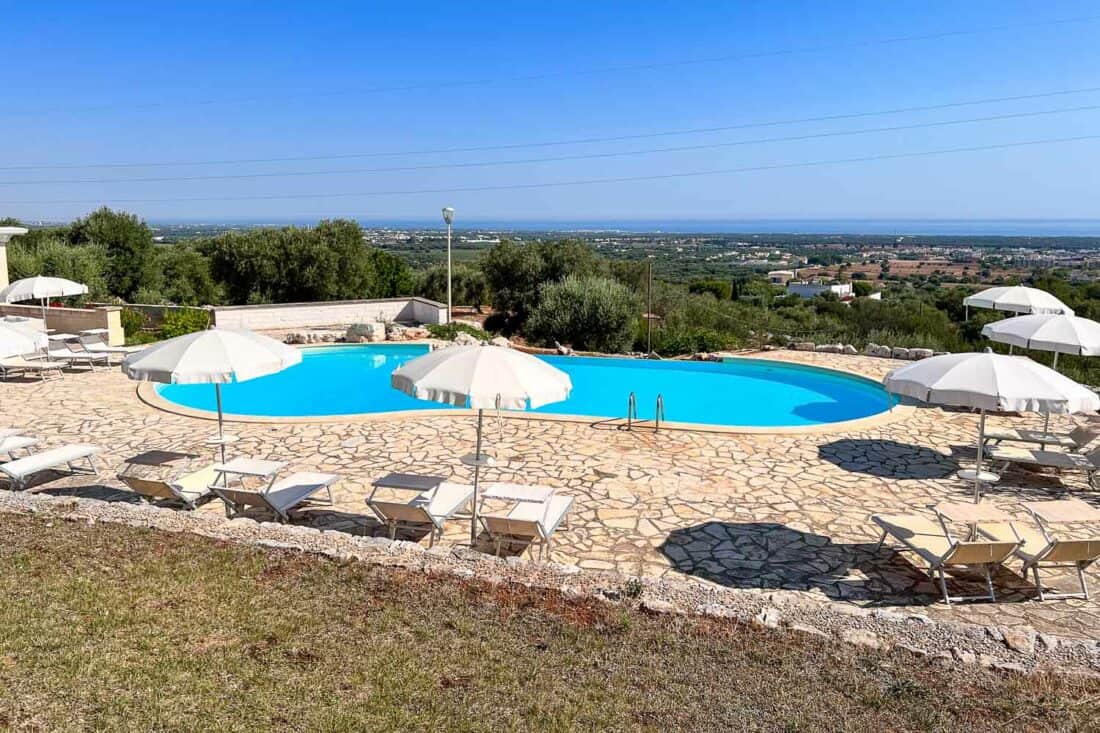 If Masseria Il Frantoio is booked up (as it often is), another masseria in the area is Masseria Spetterata.
It's 15 minutes from Cisternino, 20 minutes from Ostuni, and 25 minutes from Locorotondo, so it's central for exploring the Valle d'Itria.
The masseria is surrounded by olive groves and has a wonderful view of the Adriatic Sea from its pool. Relaxing here was a highlight of our stay.
The owner and staff are extremely friendly and will go out of their way to make your stay enjoyable.
The poolside restaurant doesn't serve dinner, unfortunately, but there's an excellent breakfast buffet (featuring homemade cakes) and a small lunch menu.
We loved the orechiette pasta so much that we had it two days in a row.
Our superior double room was fairly simple with a small bathroom and rather hard bed, but we loved the large terrace with table, chairs, couch, and a sea view.
We really appreciated a comfortable outdoor space on warm summer nights.
Check prices and availability for Masseria Spetterata here.
Bio-Masseria Lama di Luna, Andria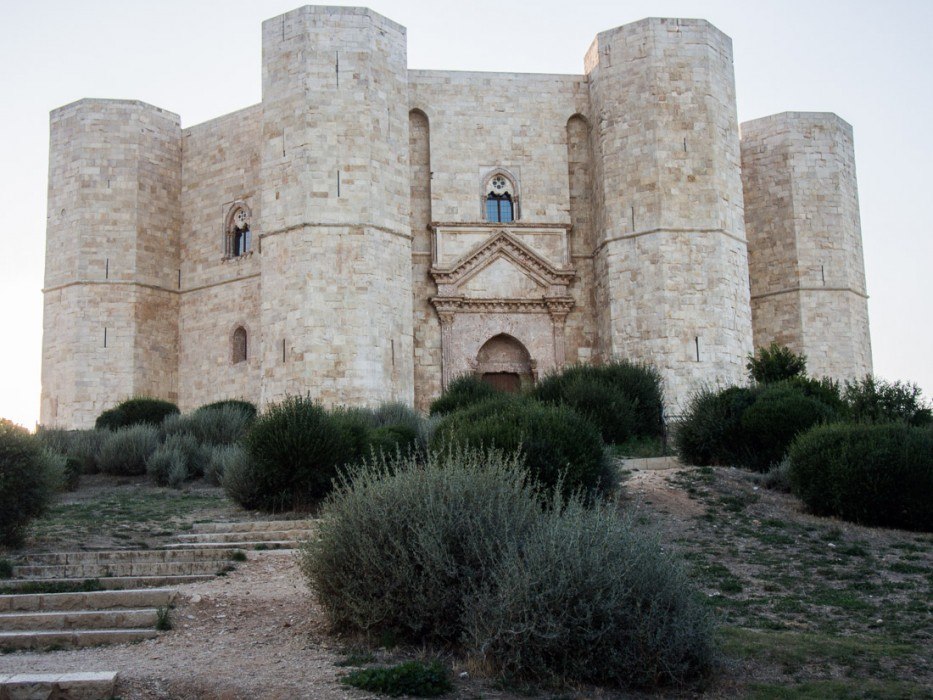 Bio-Masseria Lama di Luna is a huge estate located near the famous octagonal Castel del Monte.
It's the most luxurious Puglia masseria we stayed in with farm buildings beautifully converted to guest rooms with exposed stone walls, terracotta tiled floors, and high ceilings.
We stayed in a spacious suite which had a living room, bedroom, and a massive bathroom featuring a jacuzzi bath, a double trough sink, and rain shower.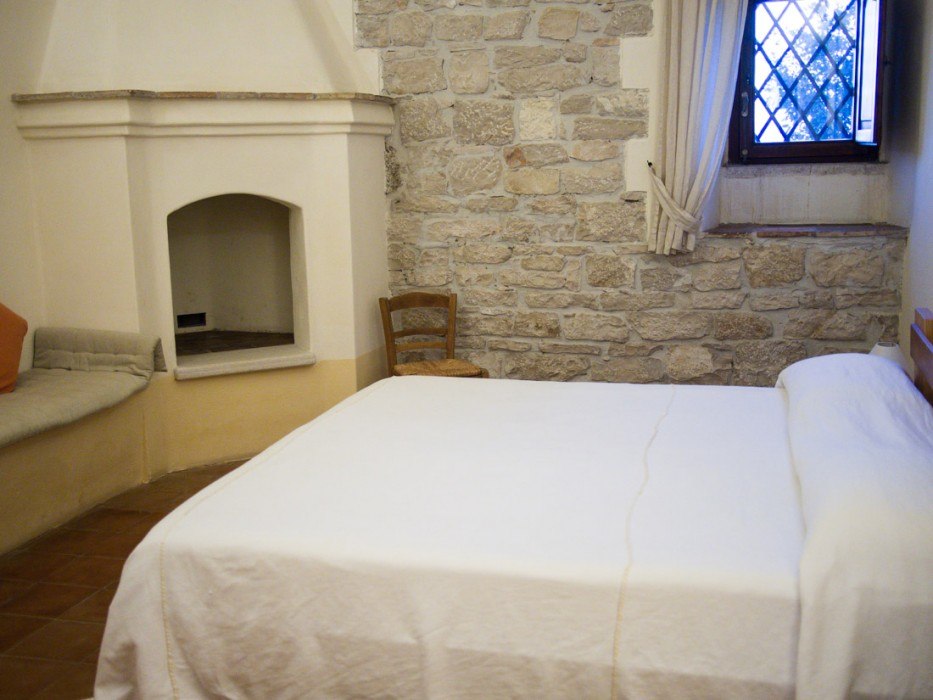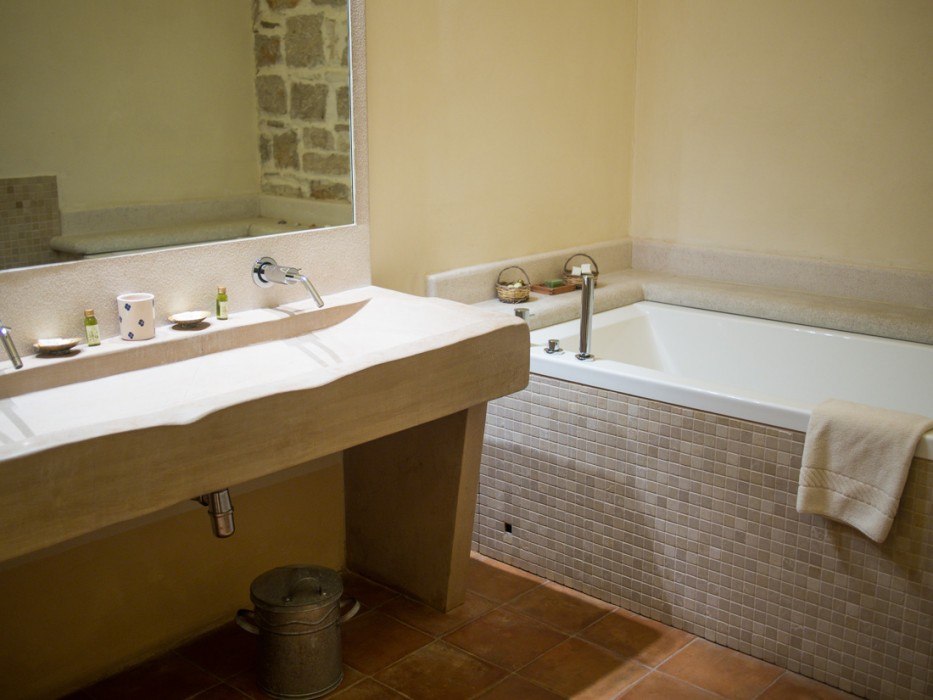 The large infinity pool is a wonderful place to relax and enjoy the views over the vast fields of olive trees.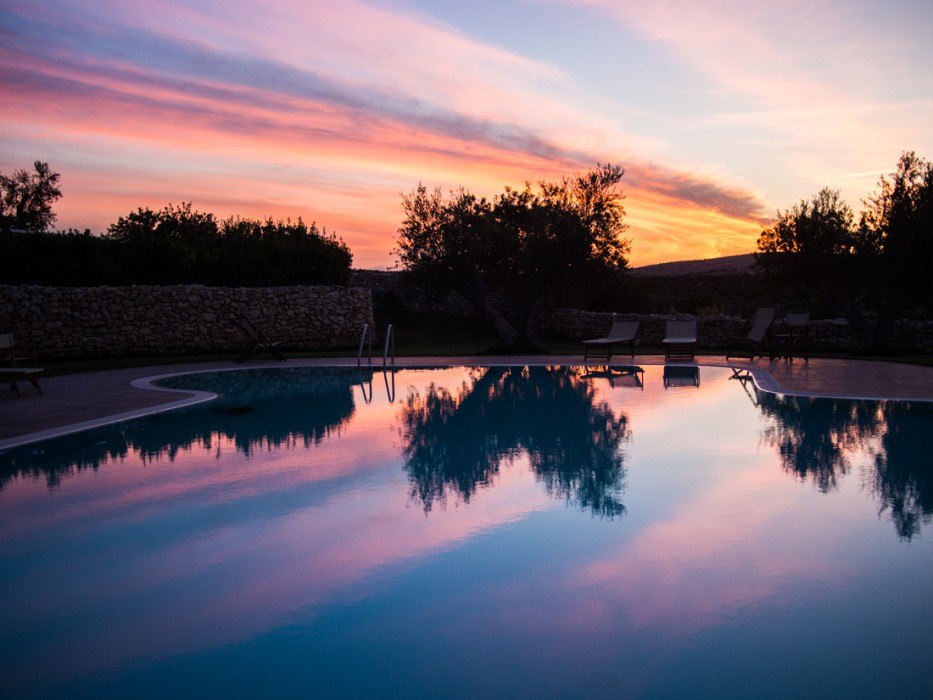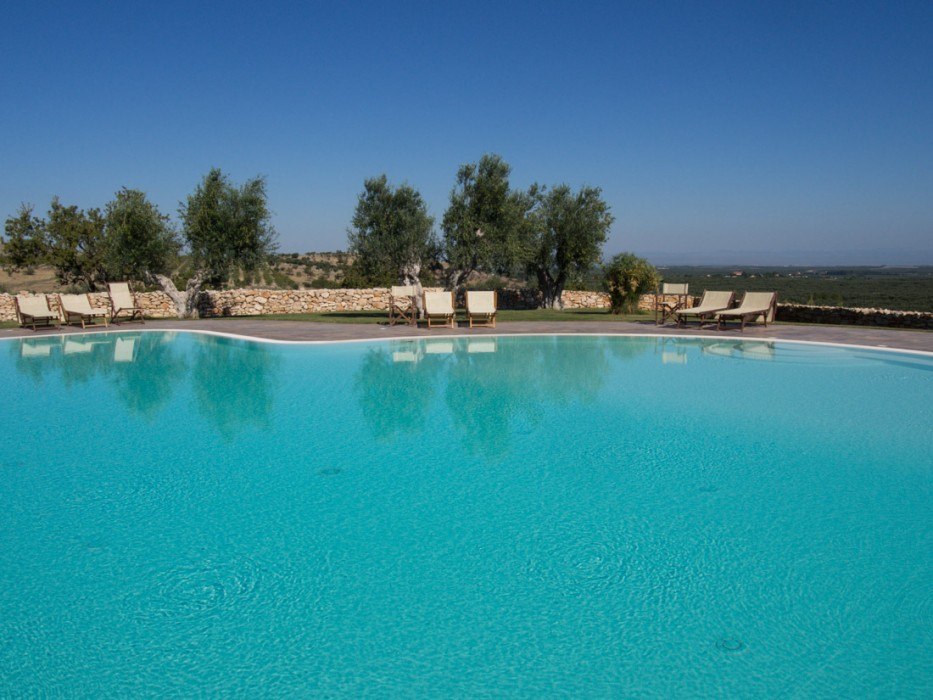 As at all the Puglia masseria, dinner is a highlight. Owners Pietro and Beatrice joined us guests for dinner at a long table for a family-style meal on the terrace.
We ate from the buffet of pasta with vegetables, parmigiana di melanzana, roasted vegetables, rustic pizza, salad, and meatballs for the meat eaters, accompanied by their own good red wine.
As we ate, Pietro explained his philosophy—they are an organic farm that uses no chemicals to grow their olive trees, vines, cherries, almonds, and the vegetables which we ate at dinner.
Click here to see the latest prices at Bio-Masseria Lama di Luna.
Masseria Ferri, Martina Franca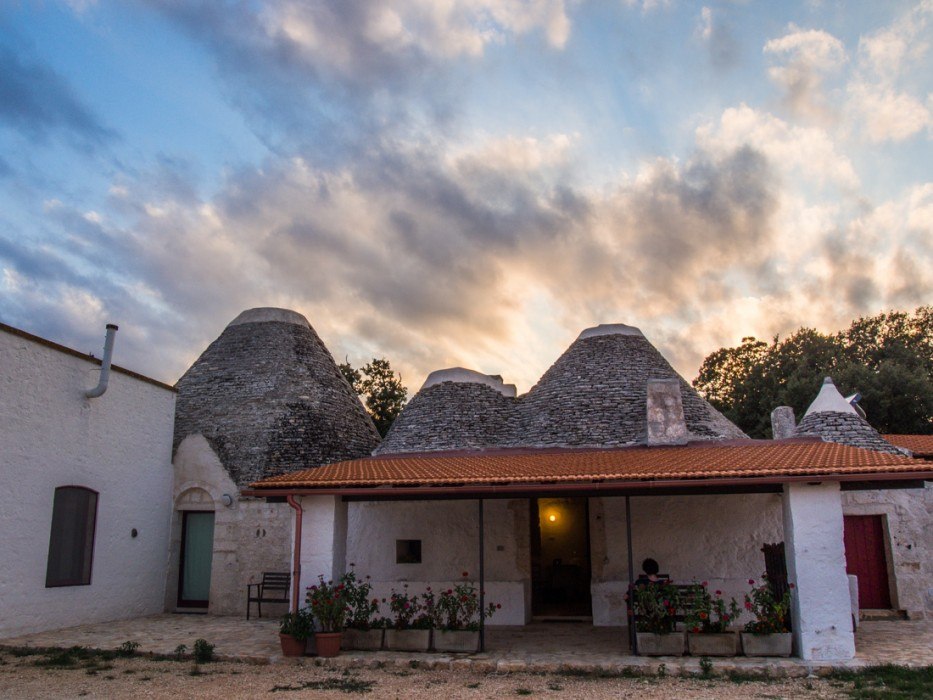 Masseria Ferri is in the Valle d'Itria, one of the most scenic parts of Puglia with orchards, olive groves, white washed hill towns, and the circular stone huts called trulli.
We were excited to experience living in one ourselves as Masseria Ferri offers guest accommodation in converted trulli.
They were surprisingly comfortable and cool in the summer heat, and we enjoyed sitting outside on our flower decorated patio in the very quiet countryside.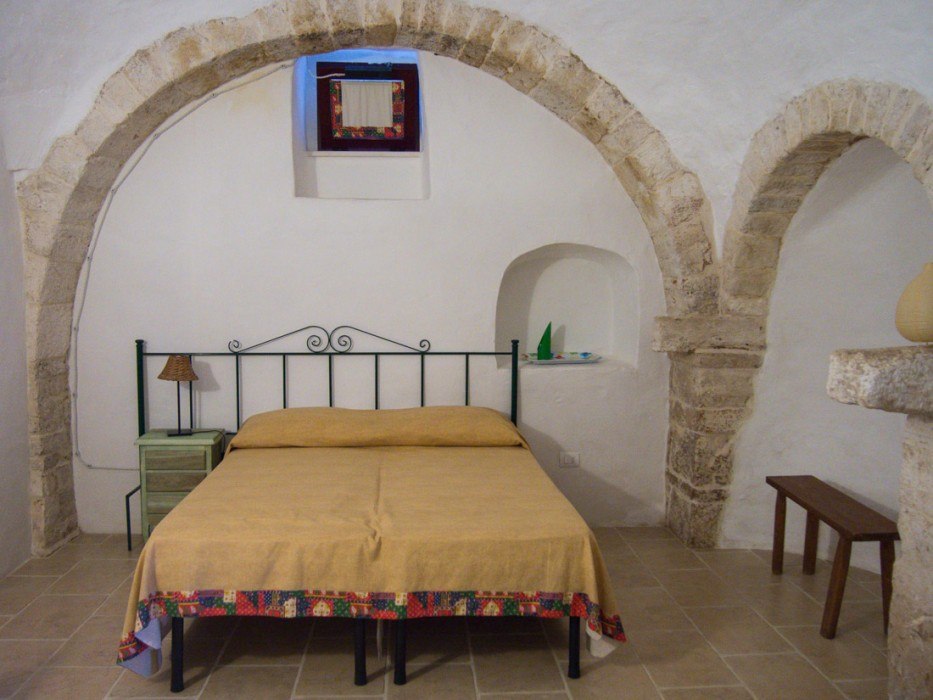 Owner Patricia, her husband, daughter and grandson live in the farmhouse and were very welcoming.
Breakfast and dinner were usually at individual tables on the terrace—the highlight was their homemade caciocavallo cheese.
One night, as we were the only guests, Patricia invited us to join her friends and family for dinner.
It was Simon's first experience of a real Italian family meal, and it didn't disappoint—excellent simple food and animated conversation (often revolving around food) with everyone talking over each other in Italian.
It's experiences like these that you just don't get staying in a hotel.
Since our stay they have added a swimming pool.
Masseria Ferri is in a great location for visiting beautiful Puglia towns like Ostuni, Martina Franca, and Cisternino.
Click here to see the latest prices at Masseria Ferri.
Masseria Sant'Angelo, Corigliano d'Otranto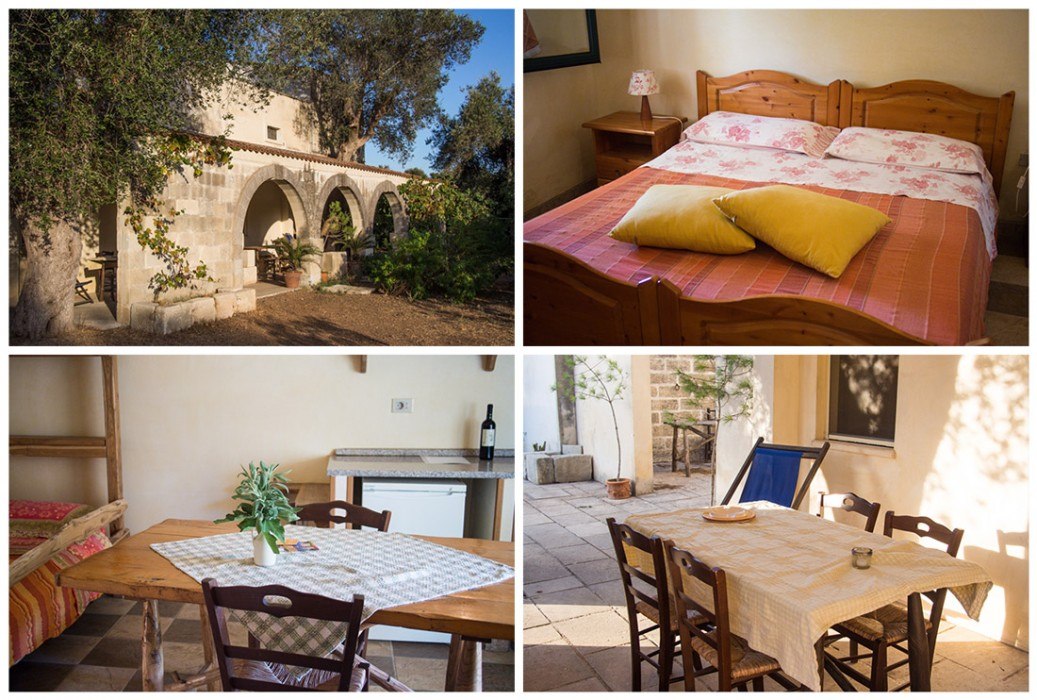 Masseria Sant'Angelo may not have had the most luxurious rooms or scenic countryside surroundings, but it was our most authentic Puglia masseria experience.
As soon as we arrived the first thing owners Rocco and Ursula did was give us some tiny apples and super sweet figs from the trees outside our room, and we were encouraged to help ourselves to any of the fruit around the farm.
Later as I sat on our terrace Rocco cycled past with a tub of goats cheese ricotta that he had just made, still warm, creamy and more flavourful than any ricotta I've eaten before.
We stayed in one of the little houses around the farm that they've converted to basic but comfortable apartments.
The masseria is more rustic and less historic than other farms we stayed on but the experience is made by Rocco and Ursula who go out of their way to make every guest feel at home.
Ursula is German, speaks good English, and practices natural horsemanship techniques (you can learn about it and ride the horses on the farm).
Rocco is a local (it's his father's farm) and is passionate about preserving the Greek traditions of this area of Puglia, the Grecìa Salentina.
He speaks the Greko language and is a talented tambourinist of pizzica, the frenetic folk dance that is shrouded in myth and was thought to be the only cure for a tarantula bite.
Every evening pizzica music accompanied our meal and one night Rocco even invited friends over to perform for us. We'd love to return for their Gricanti festival of pizzica.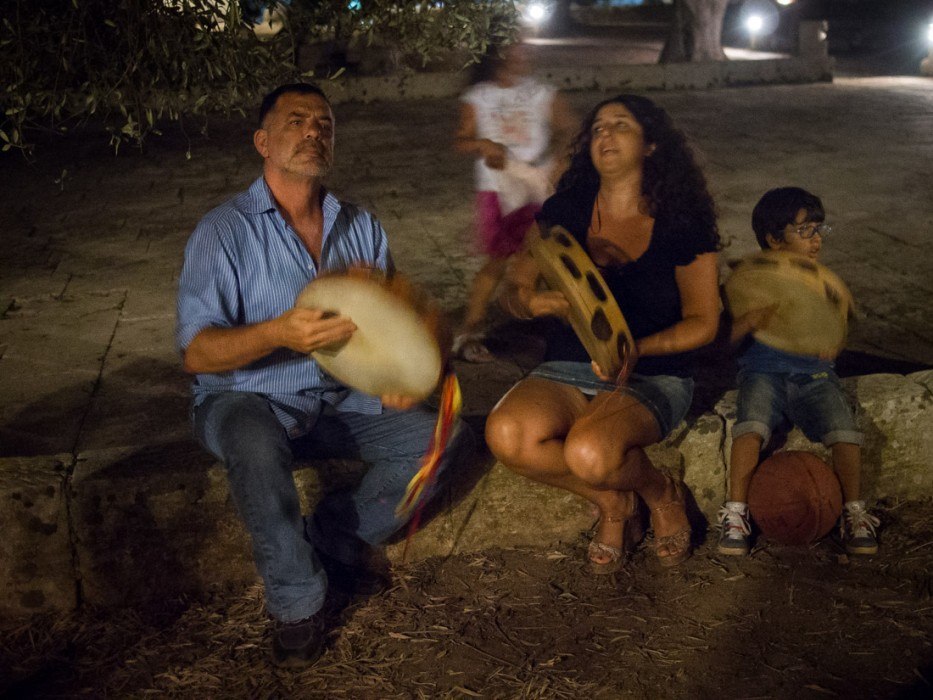 Rocco is also enthusiastic about teaching guests, especially children, about organic farming, the environment, and encouraging them to become comfortable around animals.
It's a place where you can get involved as much as you'd like. We milked the goats, watched cacioricotta cheese being made, and toured the farm where Rocco showed us the old tools that were used on the farm and the outdoor stone museum he has constructed to show how people used to live.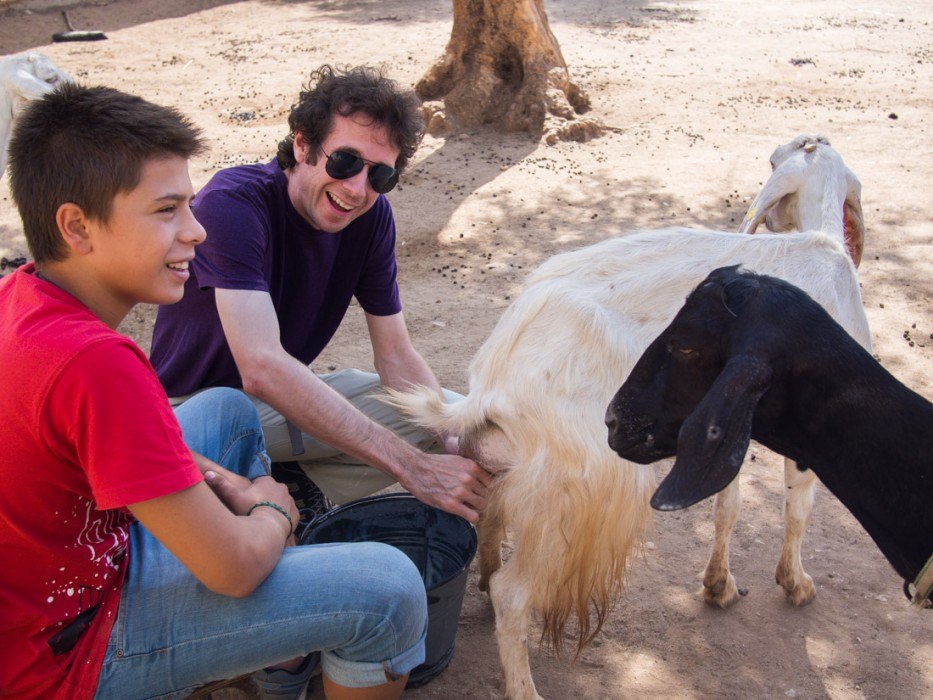 Dinners are a highlight. Rocco and Ursula eat with guests at the long table on the terrace and an endless stream of dishes are brought out—perhaps eight antipasti, pasta, cheese, fruit, dessert.
The ingredients are mostly from their garden and it's all fresh and flavourful including many local specialities.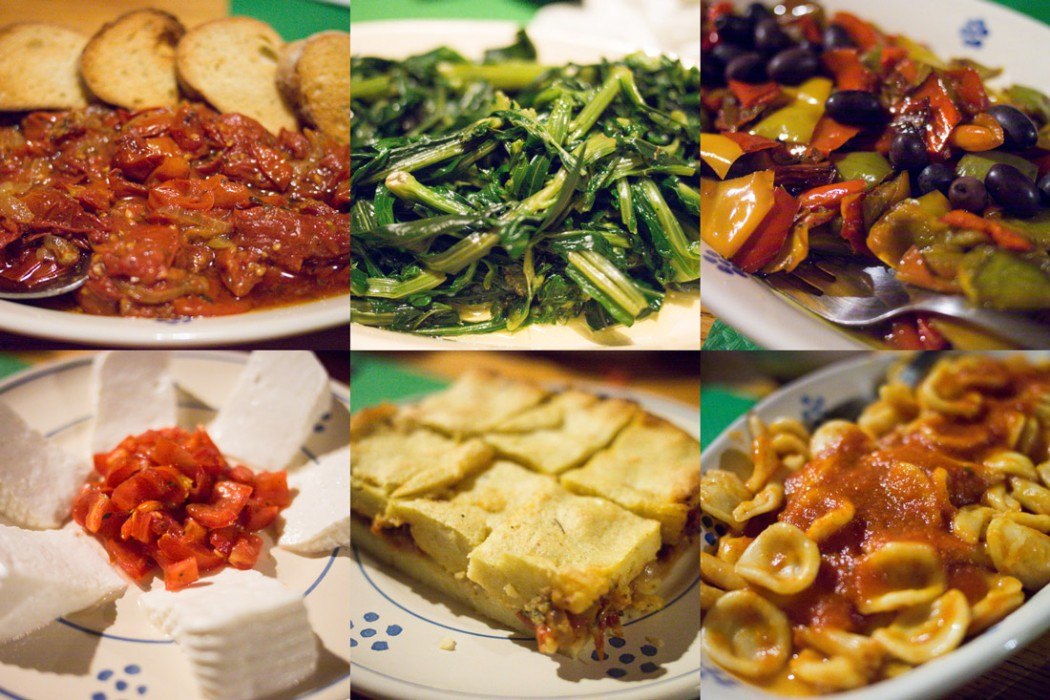 Masseria Sant'Angelo is the one masseria in Puglia we visited that you could manage without a car as it's walkable to a train station. A car is recommended for exploring Salento, though.
It's located just outside Corigliano d'Otranto, an untouristy town with an impressive castle that you'll likely have to yourself.
Although Sant'Angelo doesn't have the remote rural location of other farms it felt like our most authentic, off the beaten track experience.
Rocco is a passionate and warm host and we learnt so much from him about this unique area of Puglia.
If you are looking for a unique Salento masseria, we highly recommend Masseria Sant'Angelo.
Puglia Masserie Summary
If you are travelling to the region we really recommend staying in a Puglia masseria for at least part of your stay.
It's a unique experience and the ideal way to enjoy the landscapes, food, and people of Puglia and will leave you with the warmest memories of your trip.
You can find more Puglia masserie by searching on Booking.com and ticking "Farm stays" as the property type in the filter list—click here to see the current options.
More Puglia Posts
Read our other posts to help you plan your trip to the region:
General Puglia Tips
Central and Northern Puglia
Salento Peninsula