This page contains affiliate links. Please read our disclosure for more info.
Puglia, the region in the heel of Italy's boot, is dotted with beautiful small towns in shades of white and gold, with unique architecture like the conical trulli of Alberobello and the extravagant baroque of Lecce.
Rich in churches and palaces, hidden piazzas and winding alleyways, markets and slow food trattorias, Puglia's towns are a highlight of a visit to the region and reason to entice you away from the endless coastline.
In some towns you can even combine visits to cathedrals and castles with dips in the sea just steps from the historic centre.
In this post I share my recommendations of the best Puglia destinations divided by the different areas of the region. I also answer common questions about where to stay in Puglia and how to get around.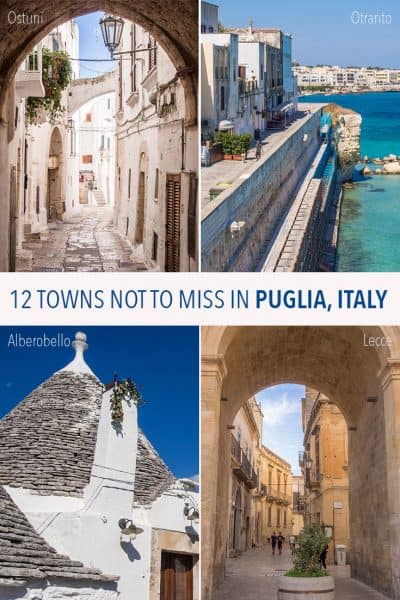 Contents
Italy Travel Restrictions in 2022
As of 1 May 2022, a Green Pass (showing proof of vaccination or a negative test) is no longer required in Italy.
Masks are also not required.
I still highly recommend purchasing travel insurance that covers COVID-19 medical expenses. SafetyWing Insurance is an excellent budget option, especially for travellers on longer trips and families (as children under 10 are free). It's available worldwide.
Or if you need cancellation cover, Heymondo travel insurance is another great option that we've used for our Italy trip.
Video: The Best Places to Visit in Puglia
Puglia Tips
Where to Stay in Puglia
The four main areas of interest to tourists are the Valle d'Itria, the coastline around Bari, the Salento in the far south, and the Gargano Peninsula in the north.
A good strategy when deciding where to stay in Puglia is to choose a base for each of these areas and visit nearby towns on day trips.
I don't think you need to worry about the exact town you stay in as you'll be day tripping to other places and can't really go wrong.
I let accommodation availability and pricing help make my decision. Less well known Puglia towns will be cheaper and likely just as charming.
For example, on our last trip, I searched on Booking.com for self-catering accommodation in the whole Valle D'Itria area that met my criteria (WiFi, kitchen, pool, price etc.).
I ended up finding a gorgeous little house at Trullo dei Messapi in the countryside near Ceglie Messapica, a town I previously knew nothing about.
It was great to get off the beaten track, and it was easy to visit more popular towns like Ostuni.
Less Than a Week in Puglia
If you only have time for one area, I recommend the Valle d'Itria as it showcases the best of Puglia with the most classic countryside and towns.
Although if beaches are your primary focus, you might prefer the Salento.
Anywhere in the Valle d'Itria would be fantastic, but our absolute favourite place to stay is Masseria Il Frantoio, an olive farm near Ostuni with incredible food.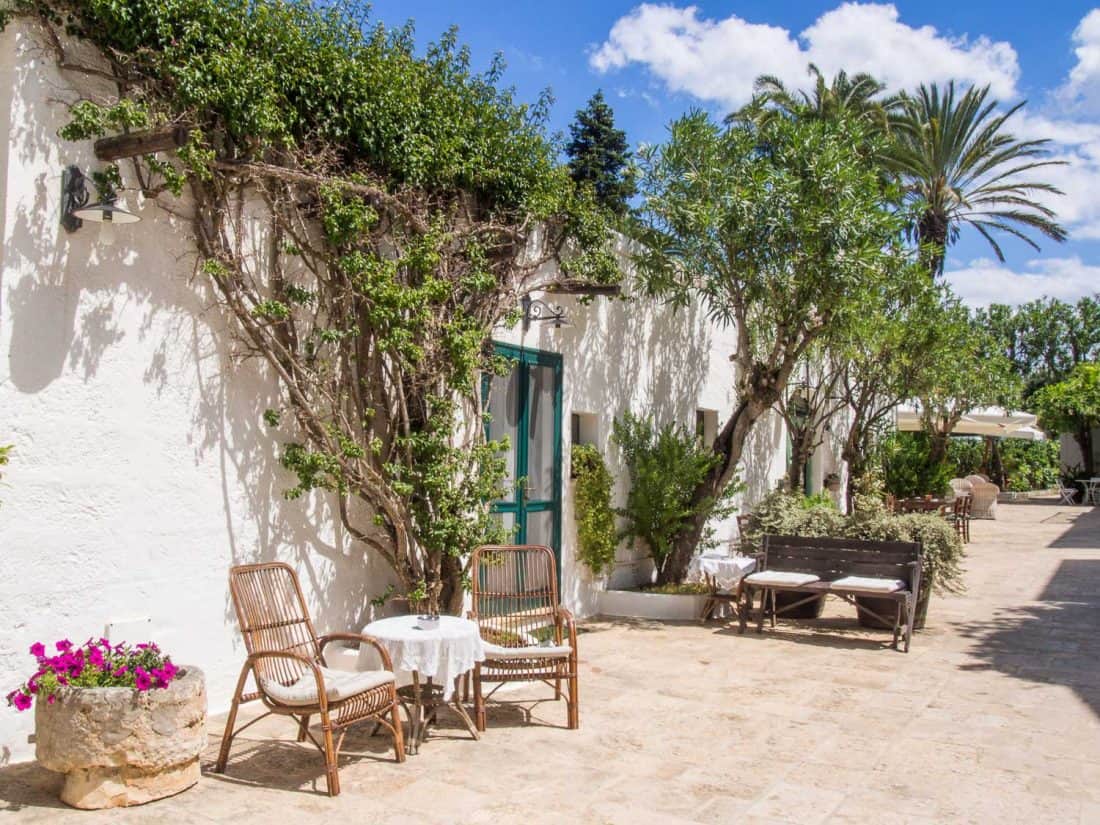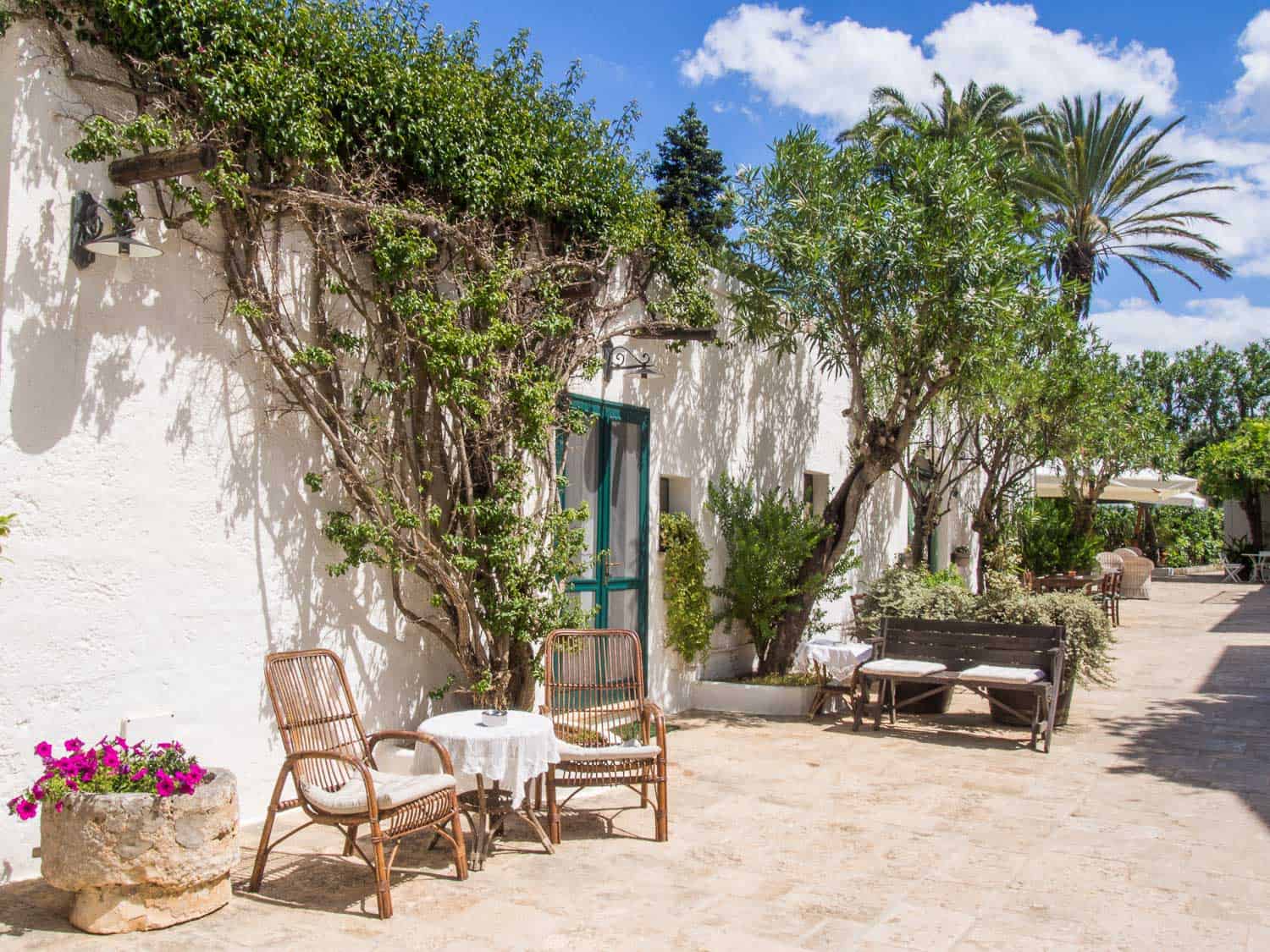 7 to 10 Days in Puglia
If you have a week or 10 days in Puglia, I recommend dividing your time between the Valle d'Itria and the Salento.
You can easily visit Bari and the coastal towns from the Valle d'Itria, or if you'd prefer to stay on the coast, you can visit the Valle d'Itria from Polignano or Monopoli.
My ideal trip is a countryside stay in the Valle D'Itria (somewhere near any of the places listed below) with mornings spent day tripping to other towns and afternoons relaxing by the pool or the beach near Ostuni.
Lecce old town is my favourite base on the Salento peninsula as it's gorgeous, central for both coasts, and you can walk to lots of fantastic restaurants and wine bars.
If you'd rather be by the sea in the Salento, consider Otranto or Gallipoli. Or again, pick somewhere at random based on accommodation—on our first trip we stayed in a nondescript beach town near Gallipoli because we found a cheap house there and it worked out great.
If you prefer just one base for your whole trip, you could take a day trip to the other area, but you'll spend more time driving. From Ostuni it's an hour to Lecce and 1.5 hours to Otranto.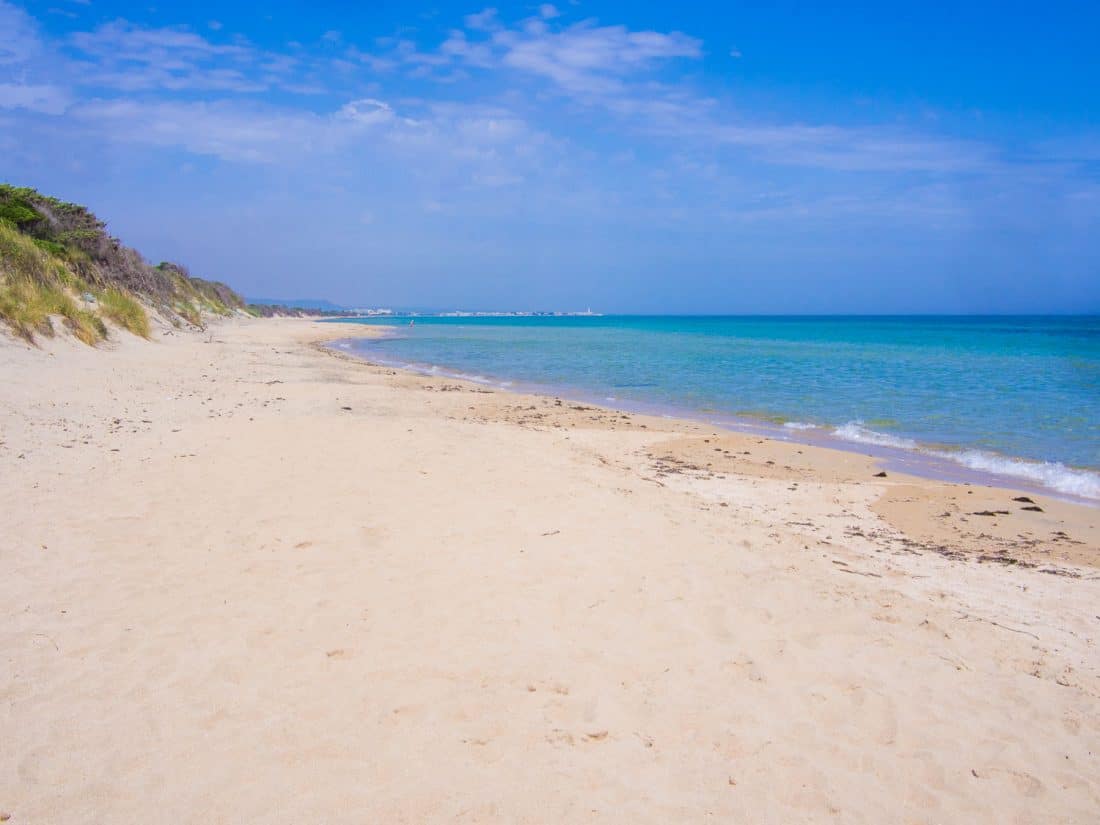 10 Days or More in Puglia
With a longer stay in Puglia, you have the option of adding on a trip to the Gargano Peninsula in the north or spectacular Matera in neighbouring Basilicata.
Puglia Accommodation
There's a wide range of characterful accommodation in Puglia, mainly B&Bs and self-catering apartments or houses.
Masserie are fortified farmhouses that offer guest accommodation and often delicious meals—read our guide to Puglia masseria for our favourites.
For short stays, I use Booking.com to find accommodation. I use the filters to select my criteria (including review scores of 8+) and narrow down the options. You can choose "Farm Stays" under Property Type to find masserie.
For longer stays you can get great deals for rental houses and apartments on Vrbo.
Unless you are staying in the countryside, I recommend looking for accommodation in the old town or historic centre.
All these Puglian towns have modern outskirts which are less attractive, although if you are on a budget it'll be cheaper (and parking easier).
Puglia Transport
How to Get to Puglia by Plane
You can fly into Bari or Brindisi airports in Puglia—I use Kiwi to find the best flight deals. Bari is usually cheaper.
Either airport works for the Valle d'Itria while Bari is closest to the Gargano and Brindisi is nearest to the Salento.
How to Get to Puglia by Train
If you are visiting somewhere else in Italy you can also arrive by train—Bari and Lecce are the main hubs. Rome to Bari takes 4 hours and Rome to Lecce is 5.5 hours.
You can search Trenitalia for timetables and to book in advance for the cheapest tickets. It can be a bit tricky to use, though, as you need to use Italian place names (i.e Torino not Turin).
An easier option for English speakers is ItaliaRail. They charge a small booking fee, but the site is much simpler to use.
The train prices are the same as on the Trenitalia site and most trains are ticketless (you just show a PNR number on the train).
On a longer trip you could consider travelling from London to Italy by train or get an Interrail or Eurail pass to visit multiple destinations in Europe.
Renting a Car
Renting a car is by far the best way to get around Puglia. It is possible by train or bus, but public transport is slow and limited.
We use Rental Cars and Kayak to find the best car rental deals. One way fees can be reasonable, so on our last trip rented a car in Lecce (after arriving by train), road tripped north via the Valle d'Itria, dropped it off in Foggia after visiting the Gargano, and took the train to Rome.
We also buy a separate car hire insurance policy to cover the excess as it's much cheaper than getting full insurance with the rental company.
Driving in Puglia is fairly easy, but the narrow streets of the historic centres can be a challenge. I recommend renting a small car, parking in the modern outskirts of towns (often free), and walking into the old town.
Public Transport
It is possible to explore Puglia by public transport, but you'll need to research routes and check timetables in advance and have a lot of patience.
I recommend avoiding travelling on Sundays when services are even more limited.
Trenitalia is the national railway in Italy and their trains in Puglia will be faster and more reliable than the regional line FSE (Ferrovie Sud-Est).
You can find Trenitalia stations (from north to south) in Trani, Bari, Polignano a Mare, Monopoli, Cisternino, Ostuni, Brindisi, and Lecce. Note that some stations are quite far from the historic centre (Ostuni's is a 30-minute walk).
The local FSE line connects Martina Franca to Locorotondo, Alberobello, Cisternino, Ceglie Messapica, and Lecce.
From Lecce there are direct trains to Gallipoli and Galatina, but you have to make two changes to get to Otranto and one change for Corigliano d'Otranto.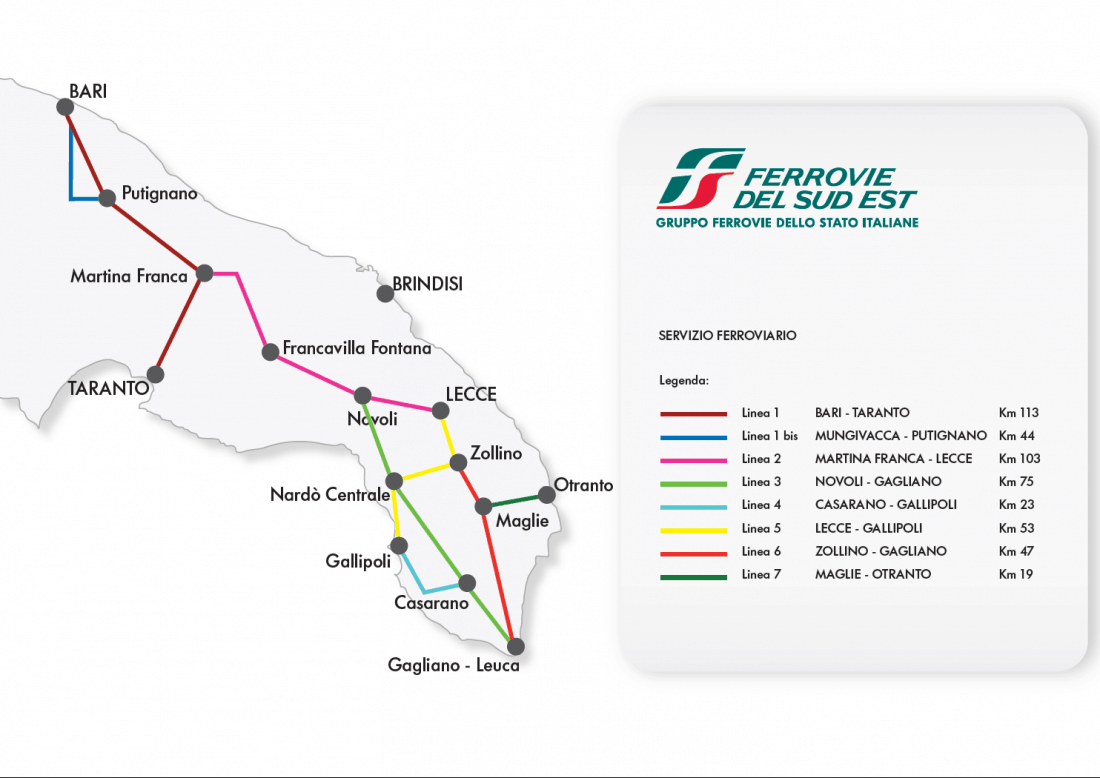 I recommend choosing a few potential bases (such as Polignano or Martina Franca and Lecce) and looking at train times and frequency to the places you'd like to visit.
You can see timetables on the Trenitalia website which also shows the "Regionale FSE" trains, or you can check the FSE website directly (no English option though).
There are also buses, but it's not easy to find out the routes and timetables. There are more services in the summer.
Here's a trip report on travelling Puglia by train to give you some ideas.
When to Visit Puglia
June and September are the best months to visit Puglia for hot weather and smaller crowds.
July and August are by far the busiest months—it will be hot, sunny and lively but crowded (especially the beaches) and accommodation more expensive.
It can be warm enough for swimming in May and October too. On our two-week road trip in May we had two days of rain, a few cloudy afternoons, and the rest was hot and sunny in the mid-20s Celsius and we were swimming and sunbathing.
We found April and May a great time for sightseeing as it wasn't too hot.
If you aren't bothered about lazing on beaches, then winter is a quiet and inexpensive time to explore Puglia's towns.
Puglia Italy Map
This Puglia map shows our favourite Puglia destinations divided by the four main areas. The blue pins are for Bari and the coast, red for the Valle d'Itria, green for the Salento, and purple for the Gargano.
I've also added Matera (in orange) even though it's in the neighbouring region of Basilicata as it's worth adding to a Puglia itinerary.
Bari & The Coast
Bari is the main gateway to Puglia (the other airport is in Brindisi further south). It's worth spending a day in the city, so you could either spend your first night there or day trip in from one of the nearby pretty coastal towns.
1) Bari
Although we flew into Bari on our first trip to Puglia, we heard that it wasn't worth visiting, so we drove straight from the airport up the coast to the elegant small town Trani.
On our second visit we spent a night here, and although the newer part of town is fairly nondescript, the atmospheric, maze-like old town is definitely worth a visit.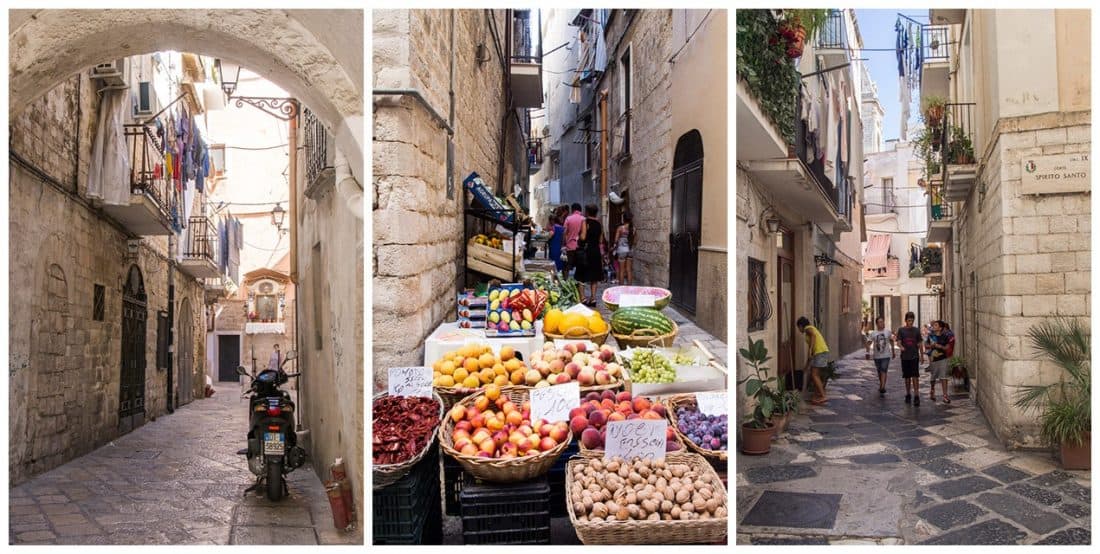 Bari Vecchia is a walled city crowded on a peninsula jutting into the sea. There was no room for expansion and the resulting overcrowding has meant that life is lived on the streets.
As we wandered down the narrow alleyways on our first evening, we felt like we were walking through someone's living room, or well, everyone's living room.
Entire families from grandparents to babies sat outside their homes chatting, playing, napping, while washing dangled from balconies and scooters whizzed past.
It's not just relaxing and socialising that takes place in the streets. In the mornings they become a pasta factory as women sit at tables outside their homes making the typical Puglian pasta orecchiette.
These "little ears" are made by rolling the dough into thin logs, cutting off a chunk with a knife and shaping it by hand—all at an impressively rapid pace.
Later in our trip we tried making them ourselves (a cooking class is one of the best things to do in Puglia), and it's not easy.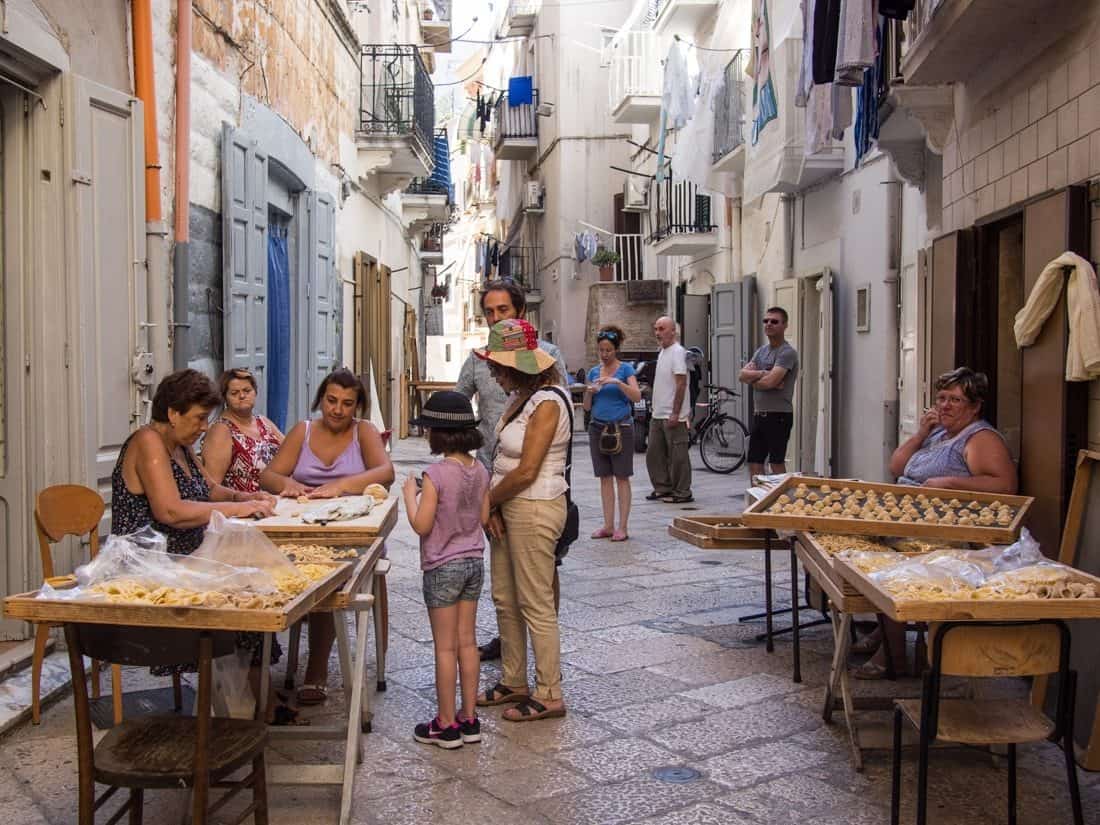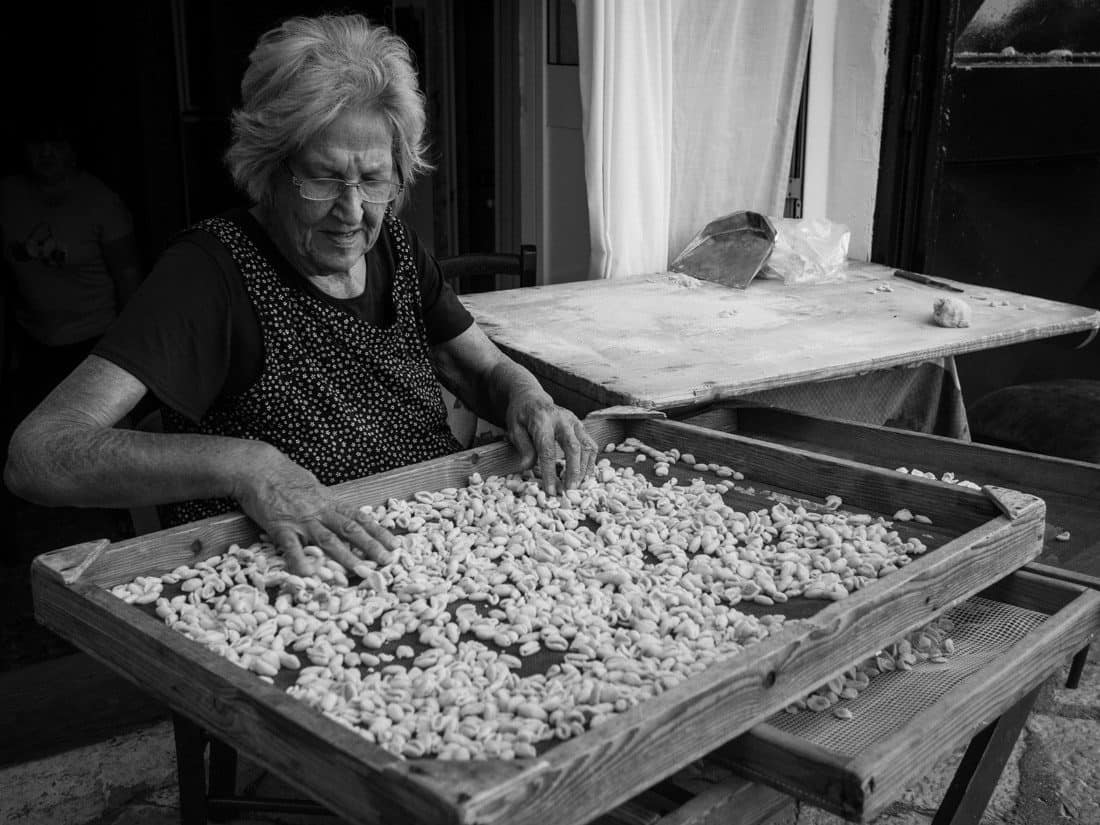 If you get lost in Bari Vecchia, look down. The black stone pavement was laid to help visiting merchants navigate their way out after market day; the white limestone paving will take you deeper into the maze.
If the characterful tourist-free old town wasn't enough reason to visit, the focaccia is really really good here, smeared with roasted cherry tomatoes, olives and glistening with local olive oil.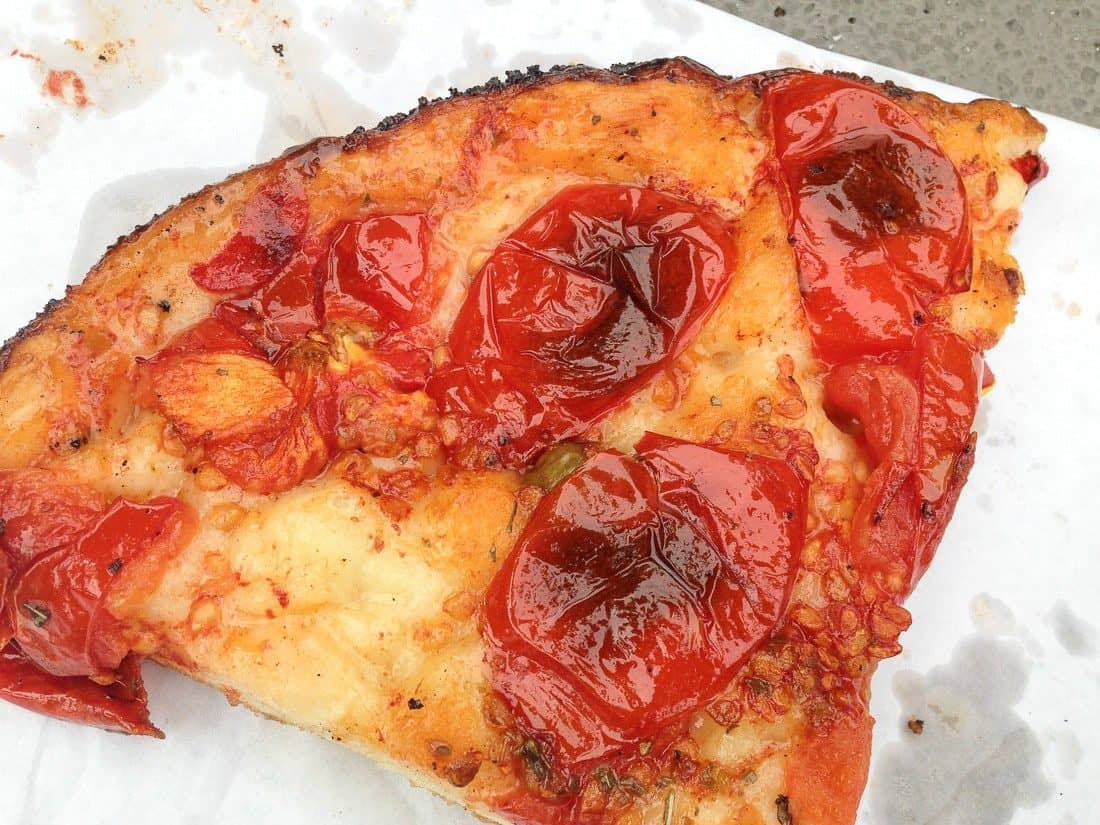 Where to Stay in Bari
We stayed in a rather characterless hotel in the new town. Next time I would choose one of the many B&Bs such as La Muraglia, which has lovely apartments with sea views in the old town.
You can find more hotels, B&Bs and apartments in Bari here.
Where to Eat in Bari
The amazing focaccia at Panificio Fiore in the old town is perfect for a quick snack or light lunch.
Our meal at La Cecchina was delicious, especially the fried caciocavallo cheese and the carrot and zucchini salad.
2) Polignano a Mare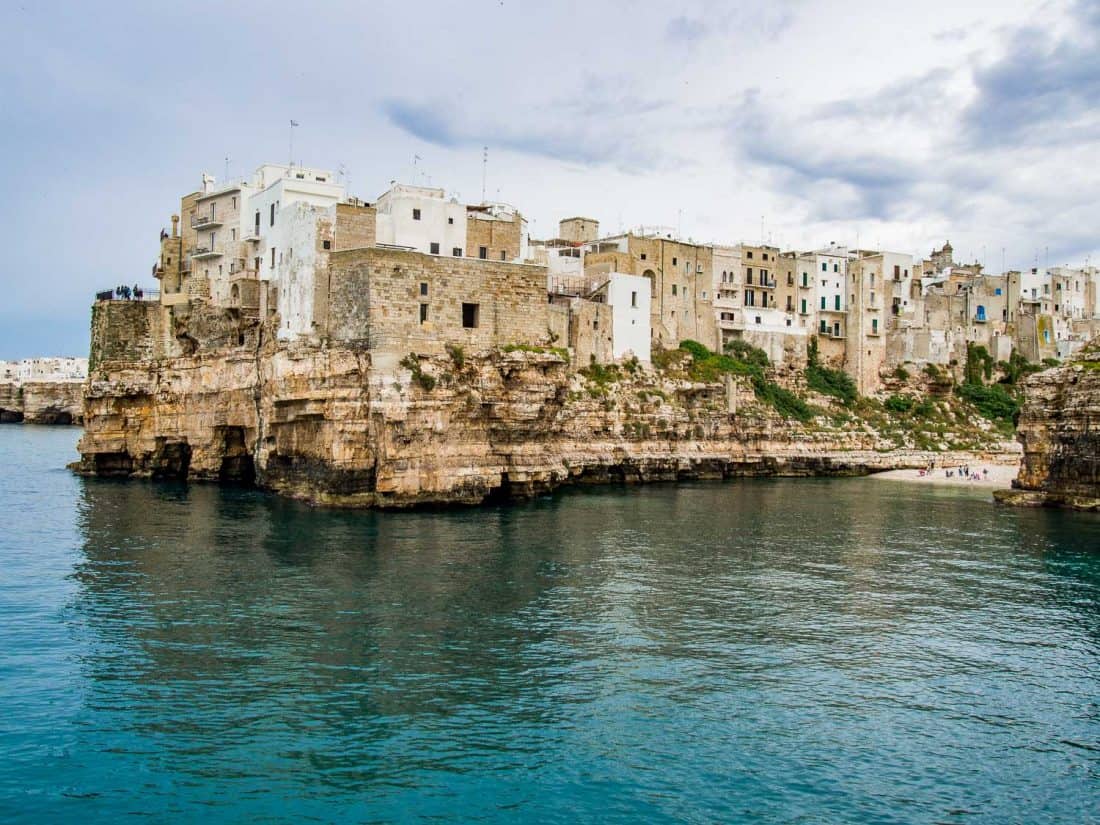 Polignano a Mare is a spectacularly positioned small town of white and golden buildings perched on a craggy rock overlooking the sea.
The pretty historic centre is a lovely place for a wander or an aperitivo on one of the small piazzas.
Beneath the old town is Cala Porto, a small white pebble beach surrounded by cliffs with clear emerald water. It's very photogenic but gets crowded in high season. It's also known as Lama Monachile for the bridge that you must walk over to reach it.
I enjoyed runs and walks along the coast with many viewpoints on the way to Piazzale Marco Polo.
Polignano is near enough to the Valle d'Itria (30 minutes from Alberobello) to be a good base for exploring the area if you'd prefer to stay by the sea.
Where to Stay in Polignano a Mare
Malu B&B is the perfect place to stay in Polignano a Mare. It's a friendly, family-run B&B with bright, modern rooms and an ideal location just outside the old town with fantastic views from the breakfast terrace and some rooms.
We splurged on the sea view suite and it was worth it.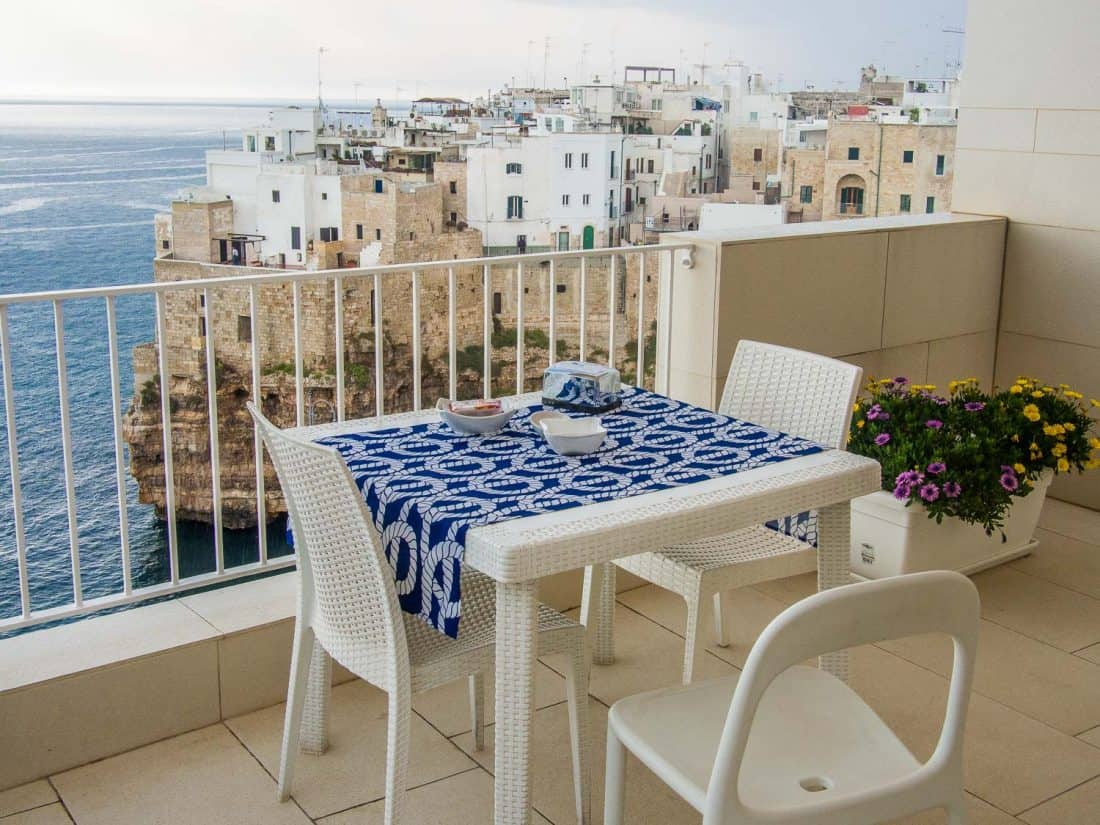 The statue of Domenico Modugno, the famous singer who was born in Polignano, is just outside the hotel and we were amused to hear people singing Volare below.
You can find other places to stay in Polignano here.
Where to Eat in Polignano a Mare
The most famous restaurant in Polignano is Ristorante Grotta Palazzese which is located inside a cave. You'll need to book in advance and be prepared to pay a lot—more for the location than the quality of the food.
Most restaurants focus on seafood so vegetarian options are limited. We ended up taking a break from Italian at Mint Cucina Fresca, a five-table restaurant in a cave-like room with vaulted stone ceiling and quirky decor.
Their focus is on creative, healthy dishes using local produce. My Detox Plate featuring raw vegetables, lentils, carrot hummus, and quinoa was delicious.
For a takeaway lunch on the beach, La Rotellina sells the Puglian snack panzerotti, fried dough stuffed with a variety of fillings.
Don't miss a scoop of gelato at Gusto Caruso—they make excellent classics like pistachio as well as more unusual flavours like a tasty ricotta toffee.
Super Mago del Gelo is famous for its Caffè Speciale, an espresso shot with cream, amaretto and lemon peel. It was delicious even for a non-coffee drinker.
More Coastal Towns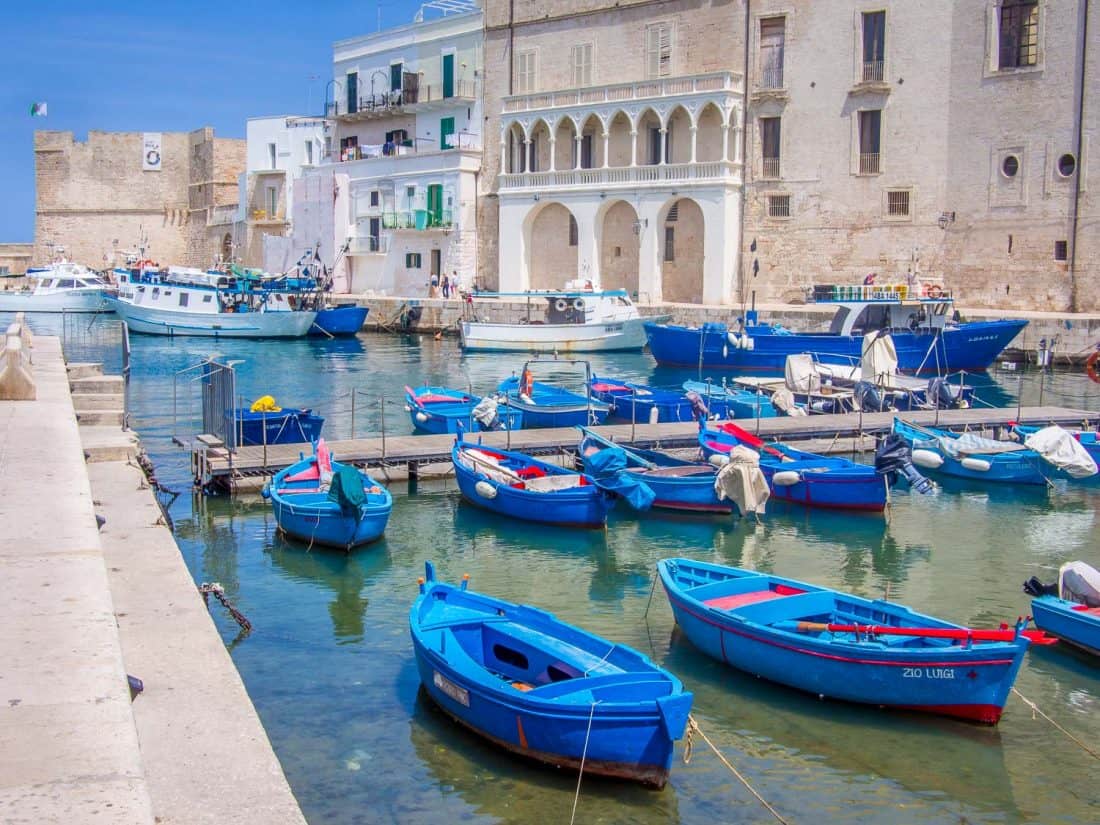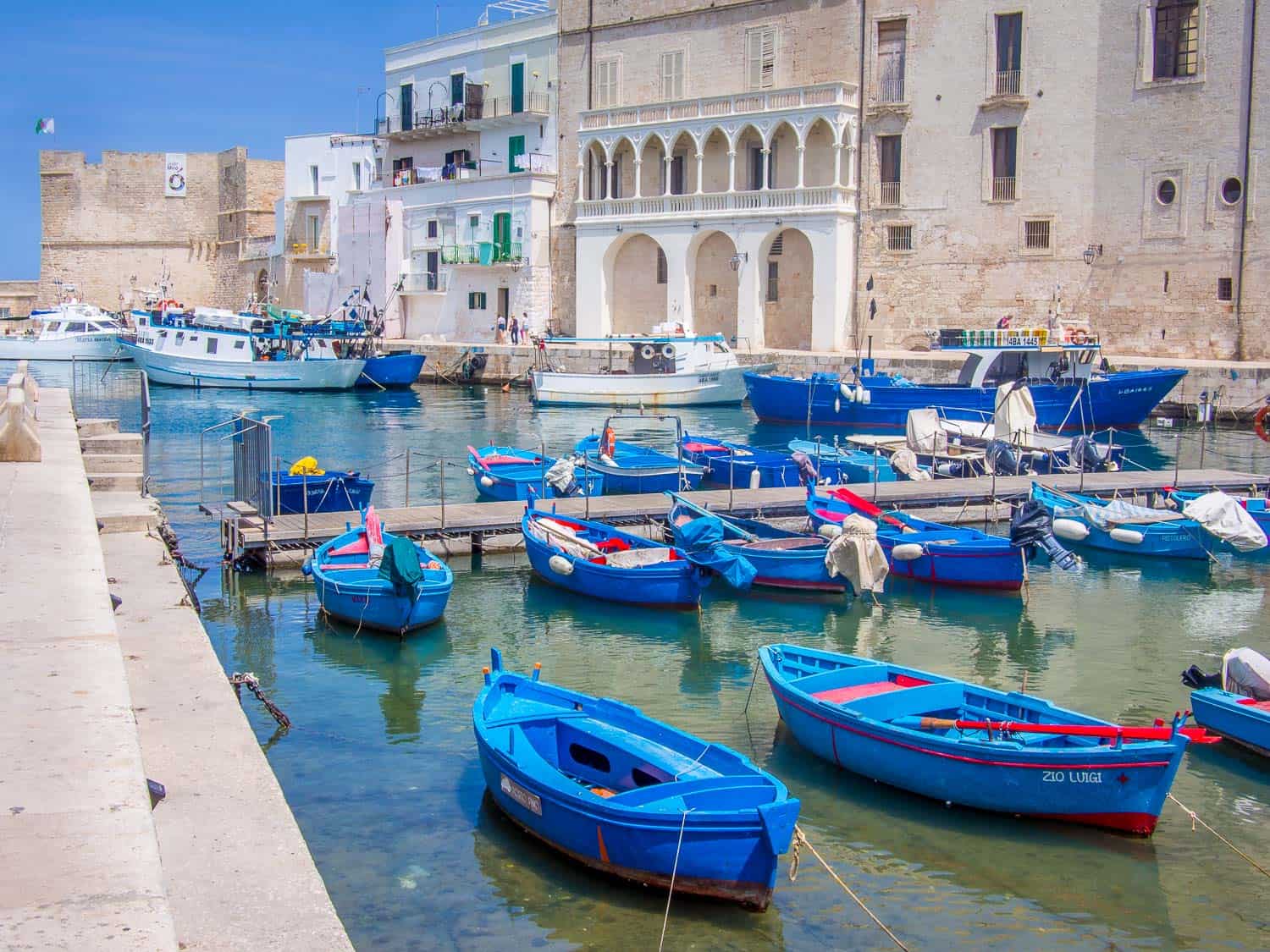 If you have more time, I recommend these other lovely seaside towns along the coast near Bari.
Monopoli – Just 15 minutes from Polignano, this pretty town is worth a visit and could make a good base (it's more affordable than Polignano).
Trani – North of Bari, Trani has a beautiful harbour and cathedral and is a good place to break up a journey between the Valle d'Itria and the Gargano or to visit the Castel del Monte (40 minutes inland).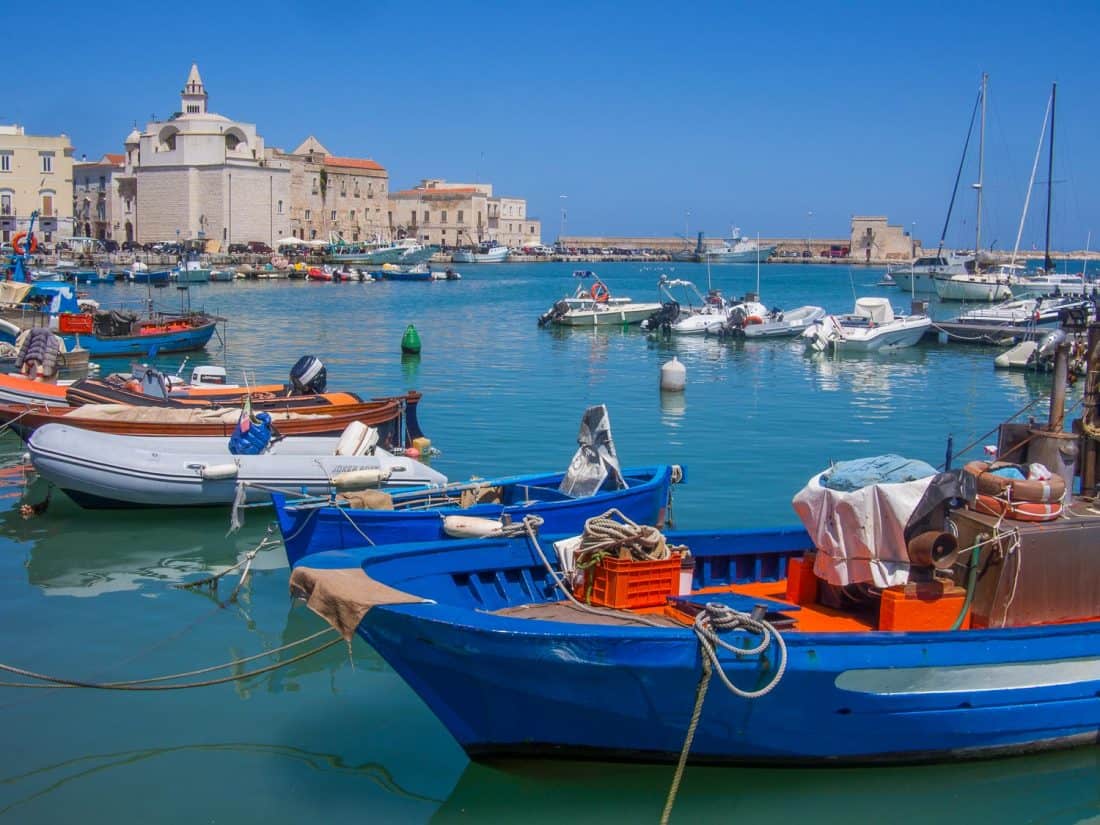 Valle d'Itria
The Valle d'Itria is a rustic valley of olive trees, vineyards, and hill towns. It's one of the most popular destinations in the region and is known for its iconic trulli, circular stone huts found dotted around the countryside.
If you only have time for one area in Puglia this is the one I recommend.
It can easily be reached from Bari or Brindisi airports. Most of the towns here are tiny and the distances between them aren't long.
Choose one base (I like staying in the countryside) and take day trips to the other towns. You could manage two or three in one day if time is limited.
3) Ostuni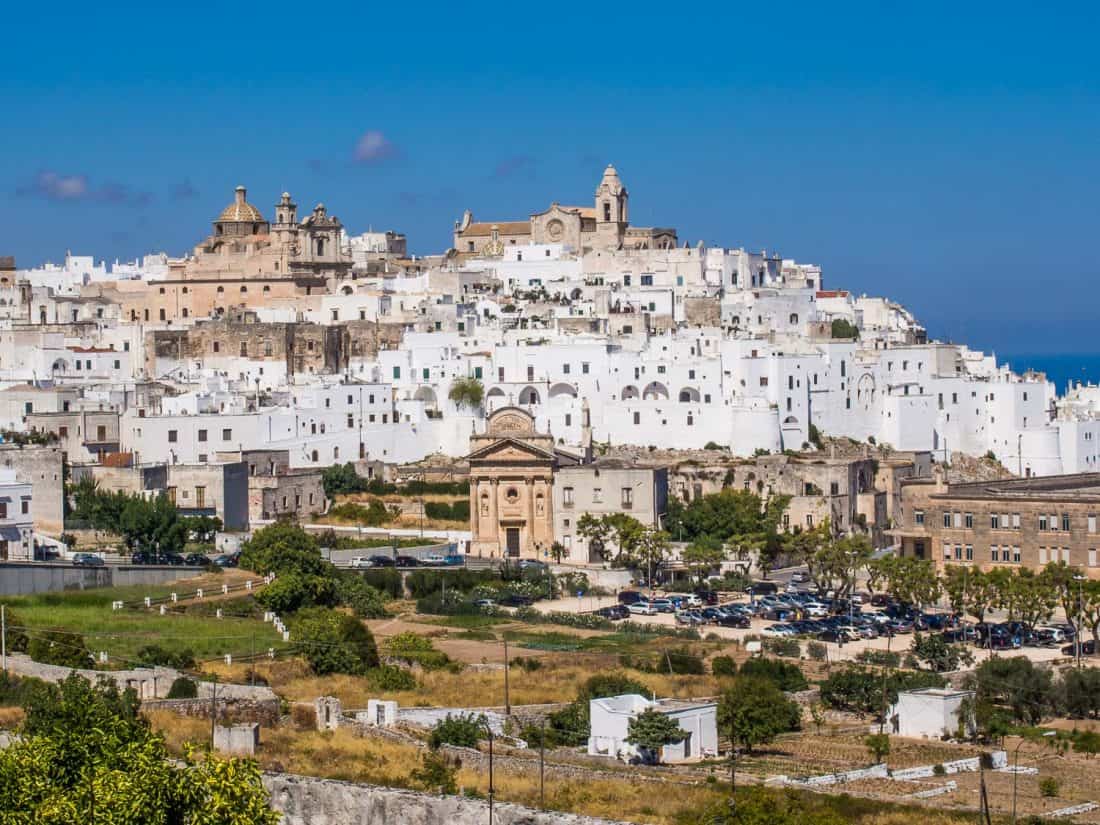 Ostuni is a maze-like white city on a hilltop 8km from the Adriatic Sea where you'll find some of Puglia's most exclusive resorts and long sandy beaches.
It's one of the best towns in Puglia to get lost wandering the alleys, climbing staircases, and dipping under archways. I also love browsing the stalls of local fruit and vegetables at the Saturday market.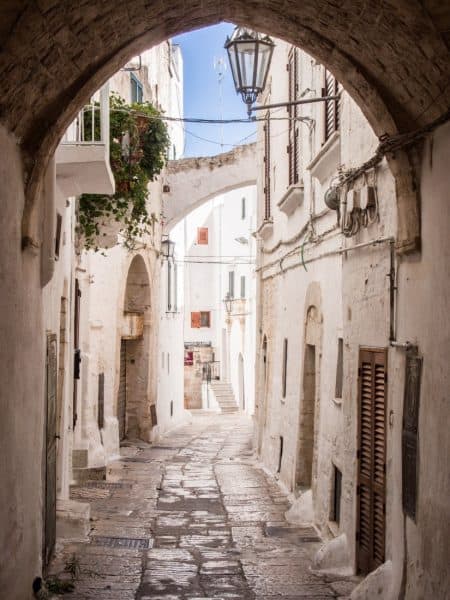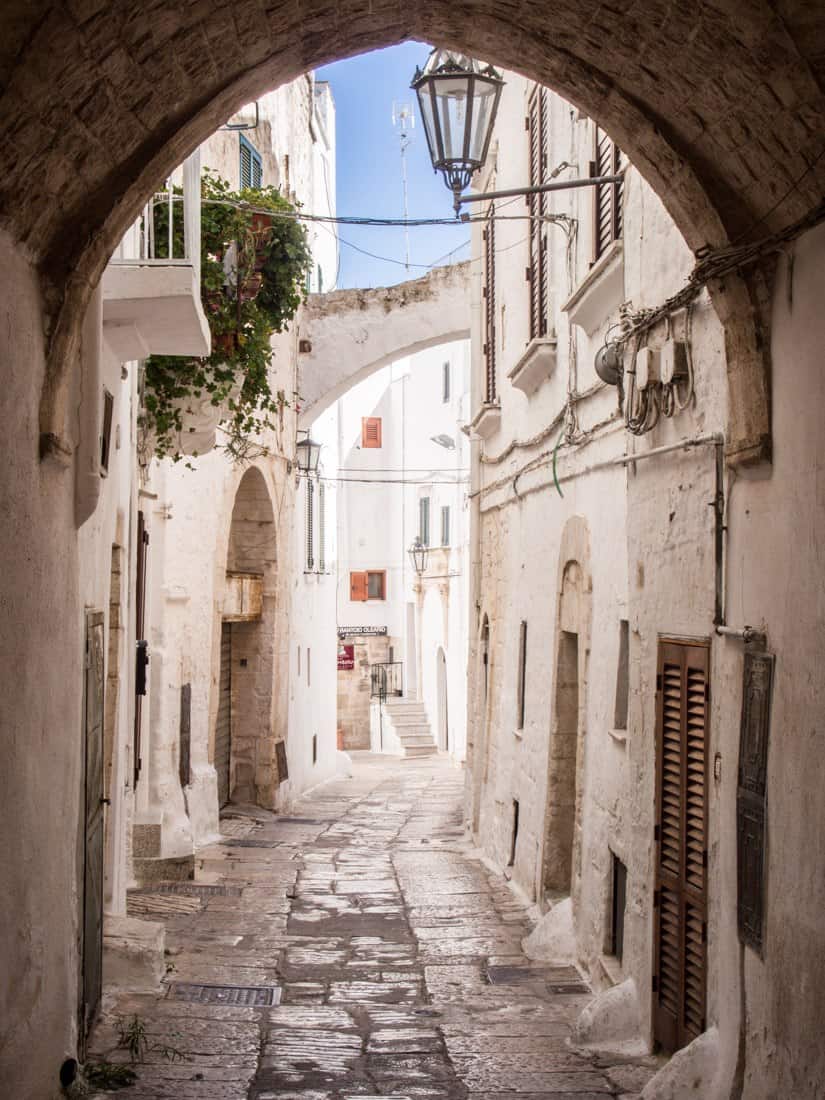 Ostuni is one of the most touristy towns in Puglia, but you won't want to miss it—just head down a side street to avoid the crowds and souvenir shops.
See our Ostuni post for more photos.
Where to Stay in Ostuni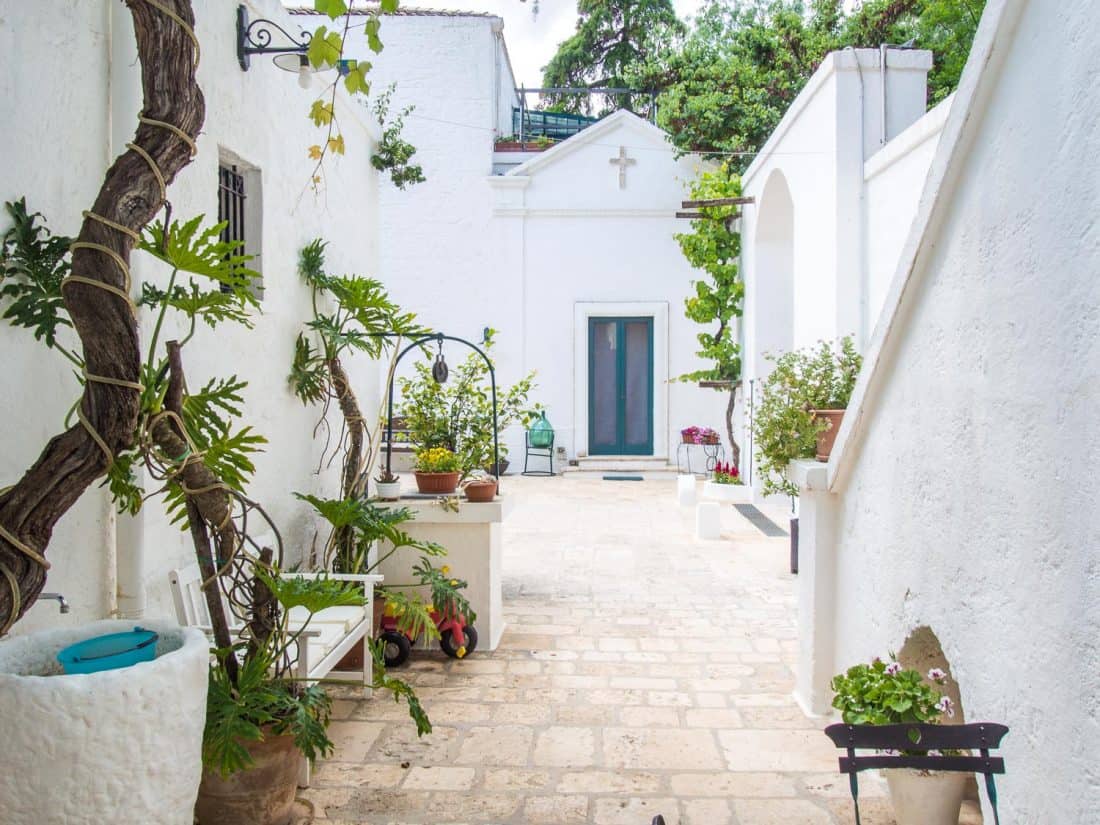 We absolutely love Masseria Il Frantoio, which is our favourite place to stay not only in Puglia but all of Italy!
It's a magical place on an organic olive farm in the countryside a 10-minute drive from Ostuni and 15 minutes from the beach.
The 300-year-old stables and grain mill have been lovingly restored and converted to 16 comfortable guest rooms, and the beautiful grounds and pool are perfect for relaxing.
Best of all is the food (which all comes from the farm)—the eight-course tasting menu is incredible.
See our Masseria Il Frantoio review for more details or check the latest prices here.
If you want to stay in the centre of Ostuni, Biancadamari is a stylish B&B with stunning views of the old town and sea.
You can find more places to stay in Ostuni here.
Where to Eat in Ostuni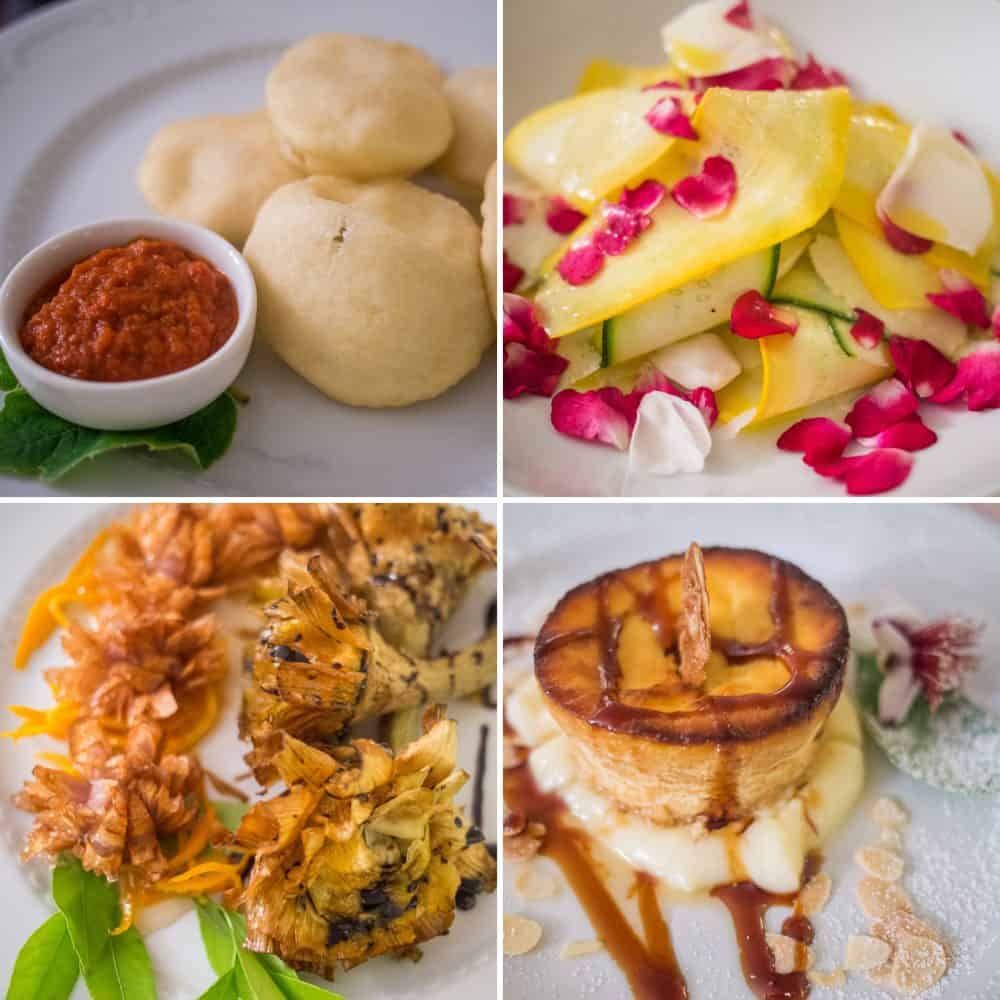 Masseria Il Frantoio is open to non-guests for their epic tasting menus, but you'll want to take a taxi there to enjoy the wine pairing.
The elegant Ristorante Porta Nova has wonderful views of the old town and sea and an excellent version of Puglian fava bean puree.
Here are some more Ostuni restaurants to try.
4) Alberobello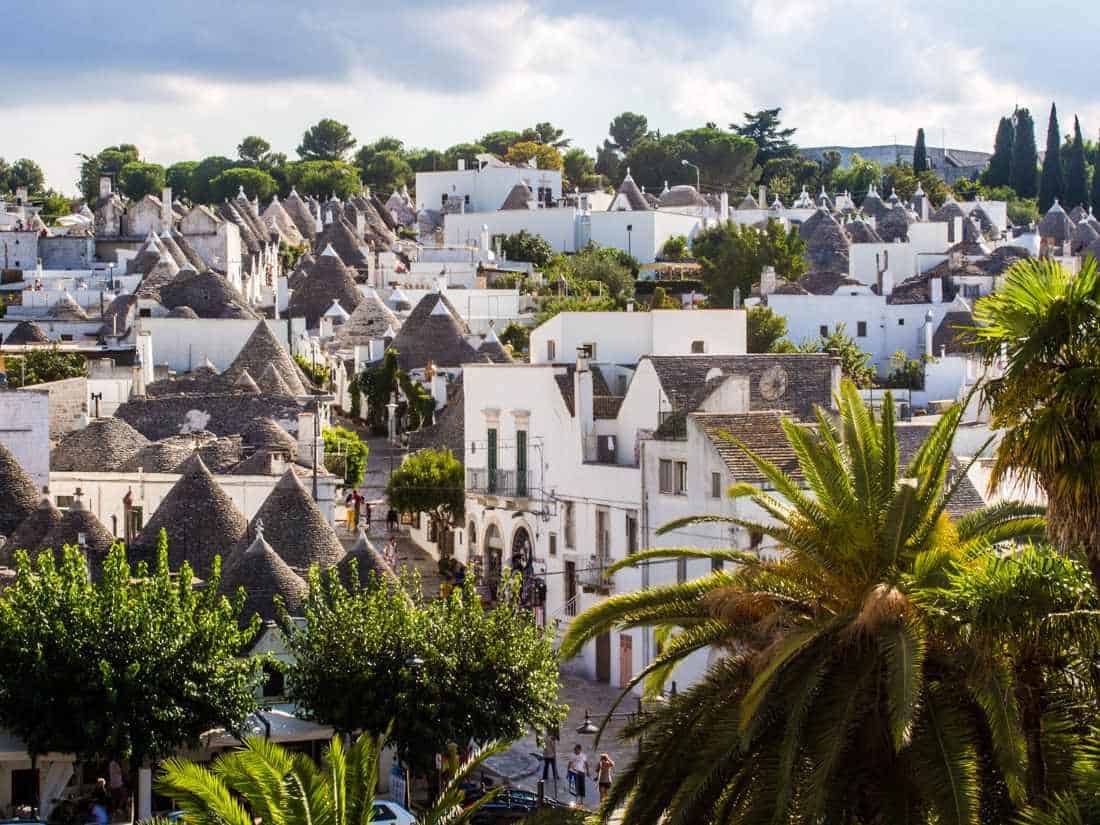 Alberobello is another town we skipped on our first trip as we heard it was too touristy. And it is, but it's such a unique and enchanting place (it's not a UNESCO World Heritage site for nothing) that it's worth a few hours.
It's one of the best places in Puglia to see trulli. Trulli are conical stone huts found amongst the olive trees all over the Valle d'Itria. Alberobello is the only entire town of trulli—1500 of them.
You half expect to see a hobbit emerge from these stubby homes of whitewashed walls and pointy roofs stacked with grey limestone.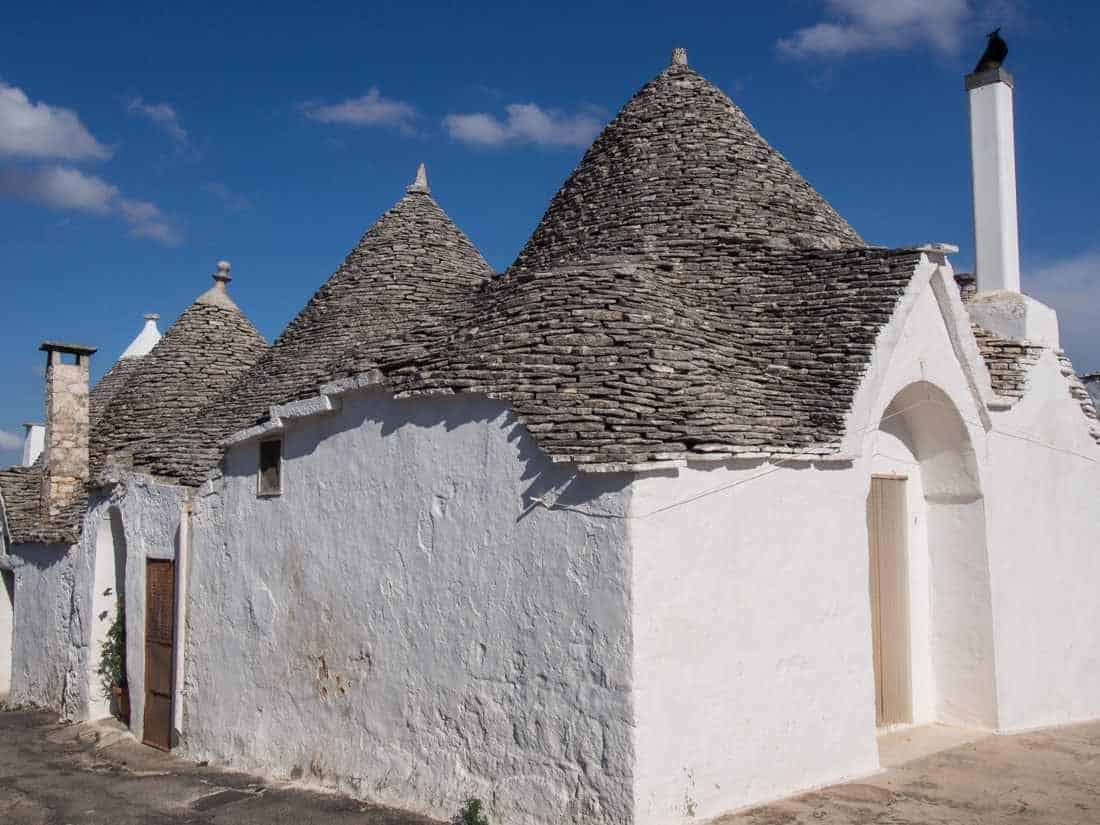 One side of town is full of tourists and souvenir shop trulli, but head across the road to Aia Piccola and you'll find trulli that are real homes without the crowds.
See our trulli photo essay for more information and photos of these unusual dwellings.
Where to Stay in Alberobello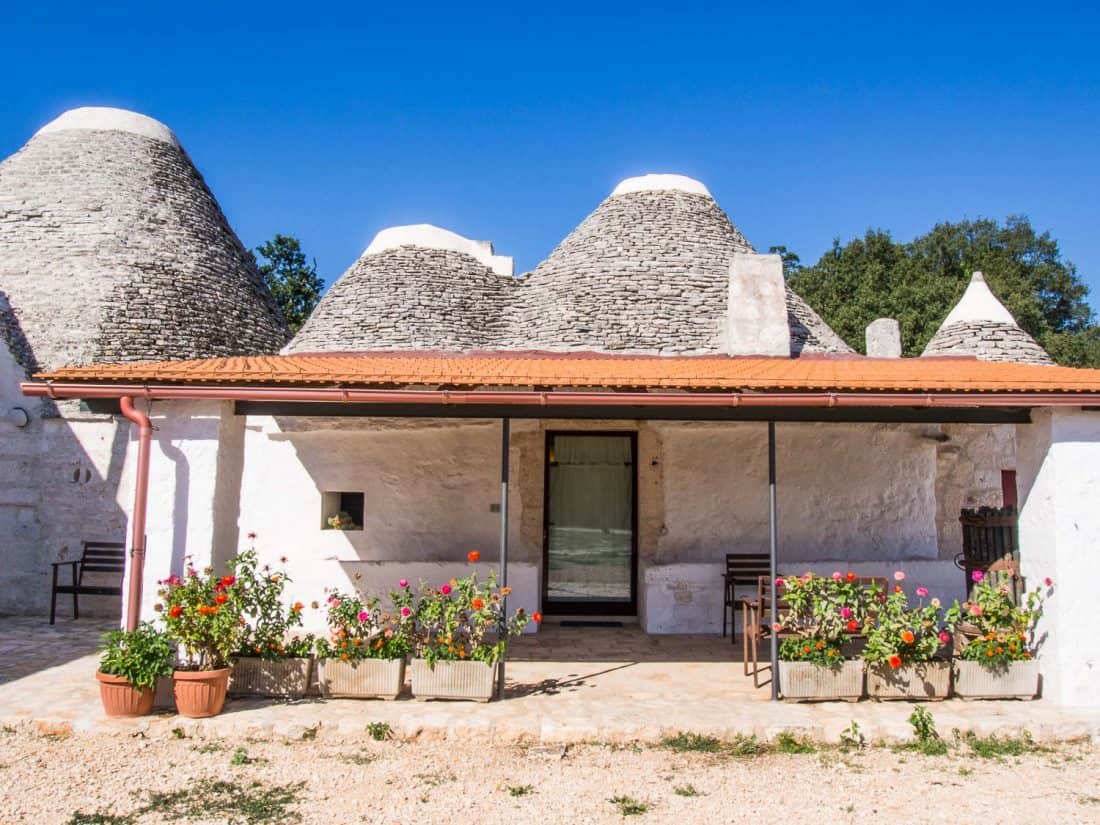 Staying in a trullo is a highlight of the Valle d'Itria. We stayed in one at Masseria Ferri near Martina Franca about 25 minutes drive from Alberobello.
Our cute trullo stayed wonderfully cool in the summer heat, the family that runs the place is very welcoming, and the food was superb.
We preferred staying in the countryside rather than in Alberobello itself, but you can find hotels in Alberobello here such as the highly rated trulli of Tipico Resort.
Where to Eat in Alberobello
The antipasti at atmospheric cave restaurant Casa Nova were delicious.
5) Locorotondo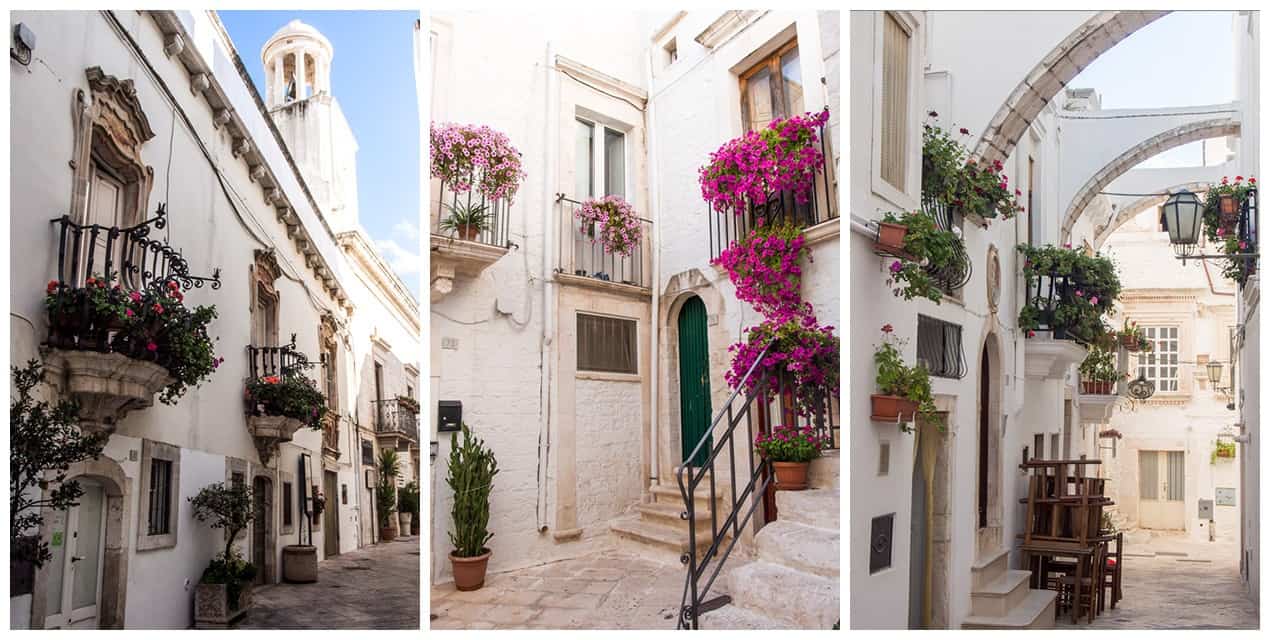 Locorotondo is a labyrinth of whitewashed buildings; its quiet streets kept pristine by residents who decorate their balconies and staircases with pink geraniums.
There are no major sights, but this means it doesn't get many visitors, so it's a delightful place to enjoy a leisurely lunch and stroll the streets.
Where to Stay in Locorotondo
We stayed 20 minutes away in a trullo at Masseria Ferri. Locorotondo is a lovely area to stay, and you can find trulli and holiday homes in the area here.
Where to Eat in Locorotondo
La Taverna del Duca serves simple but delicious local Slow Food.
6) Martina Franca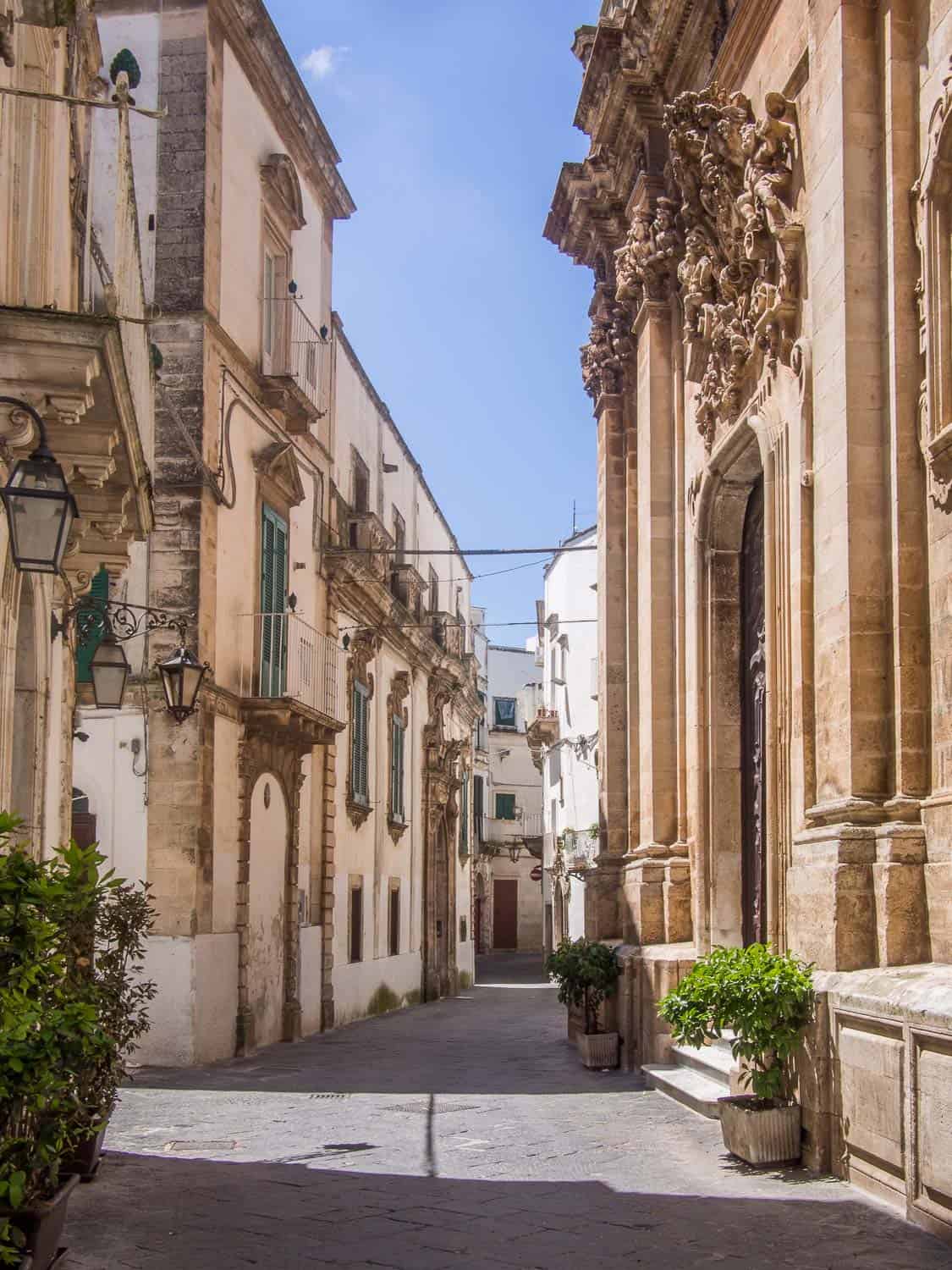 Lovely Martina Franca is the largest town in the valley. It's often overlooked and is refreshingly free of tourist shops.
The old town is an interesting mix of golden baroque and Greek-like white architecture with many grand palazzi and churches.
The Basilica di San Martino was built in the 18th century in elaborate but graceful Rococo style.
Nearby Piazza Maria Immacolata is a gorgeous, semi-circular piazza lined with curved baroque buildings with wrought iron balconies and portici (archways) leading down side streets.
The maze of narrow side streets is perfect for aimless wandering. Many of the streets are stark white with just the odd splash of colour—washing dancing in the breeze, vibrant pots of geraniums, a vivid blue door.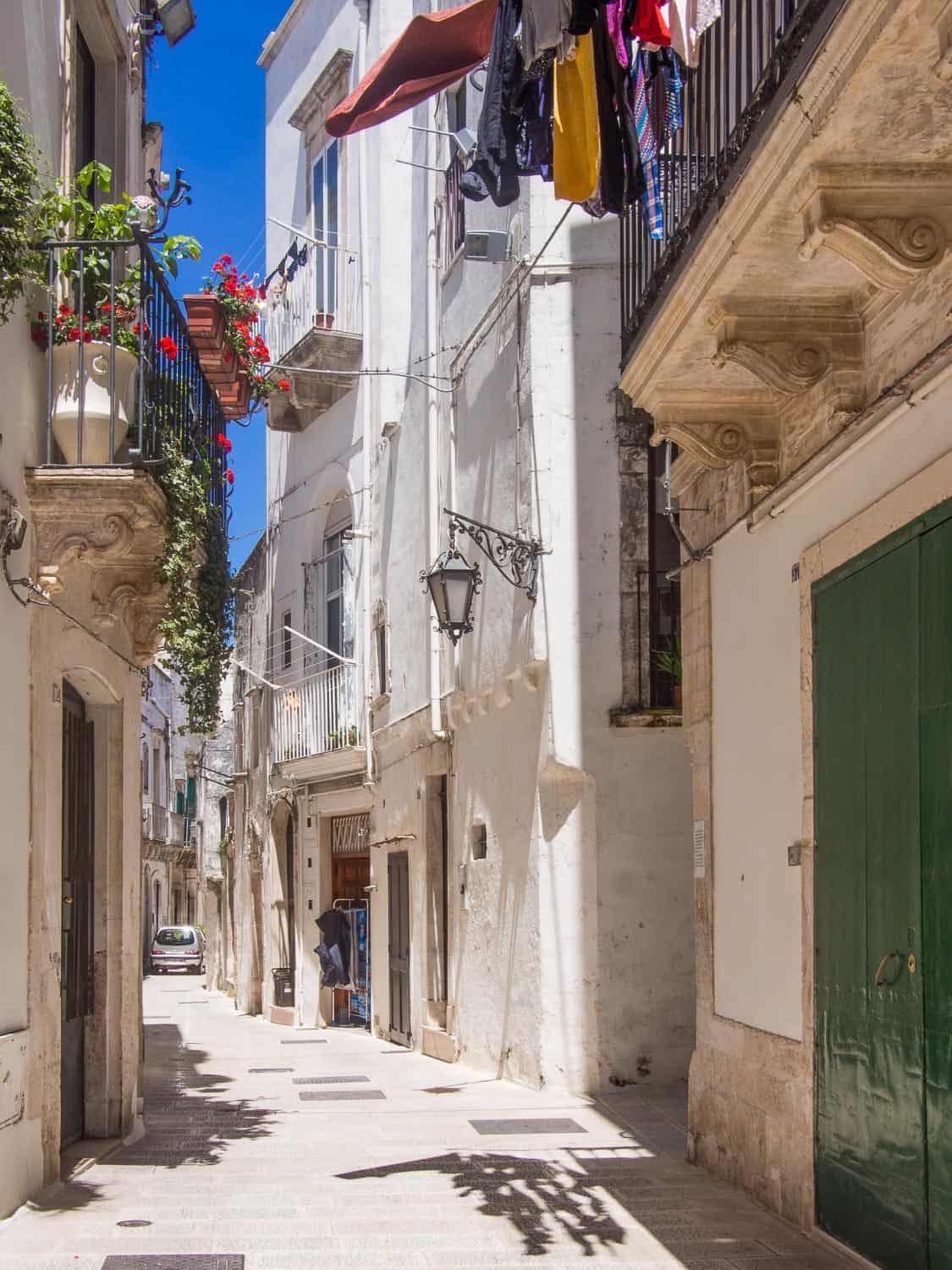 We visited on a day trip but would love to go back for a longer stay. It would make a great base for exploring the area if you don't want to stay in the countryside or don't have a car (there is a train station).
Where to Stay in Martina Franca
We visited from our holiday rental, the gorgeous Trullo Dei Messapi, 20 minutes away just outside Ceglie Messapica.
If you'd prefer to be in the centre of Martina Franca, you could stay in a B&B such as Relais Santa Maria or holiday home such as L'Angelica Casa Vacanze.
You can search for more accommodation in Martina Franca here.
Where to Eat in Martina Franca
We ate at Ristorante I Templari on the edge of town with a terrace overlooking the countryside.
It's rather pricey but the food was excellent including an absurdly large antipasti selection (do not get one per person as they tried to convince us to do) and some interesting vegetarian pasta dishes. Skip the €4 coffee and go to a local bar.
7) Ceglie Messapica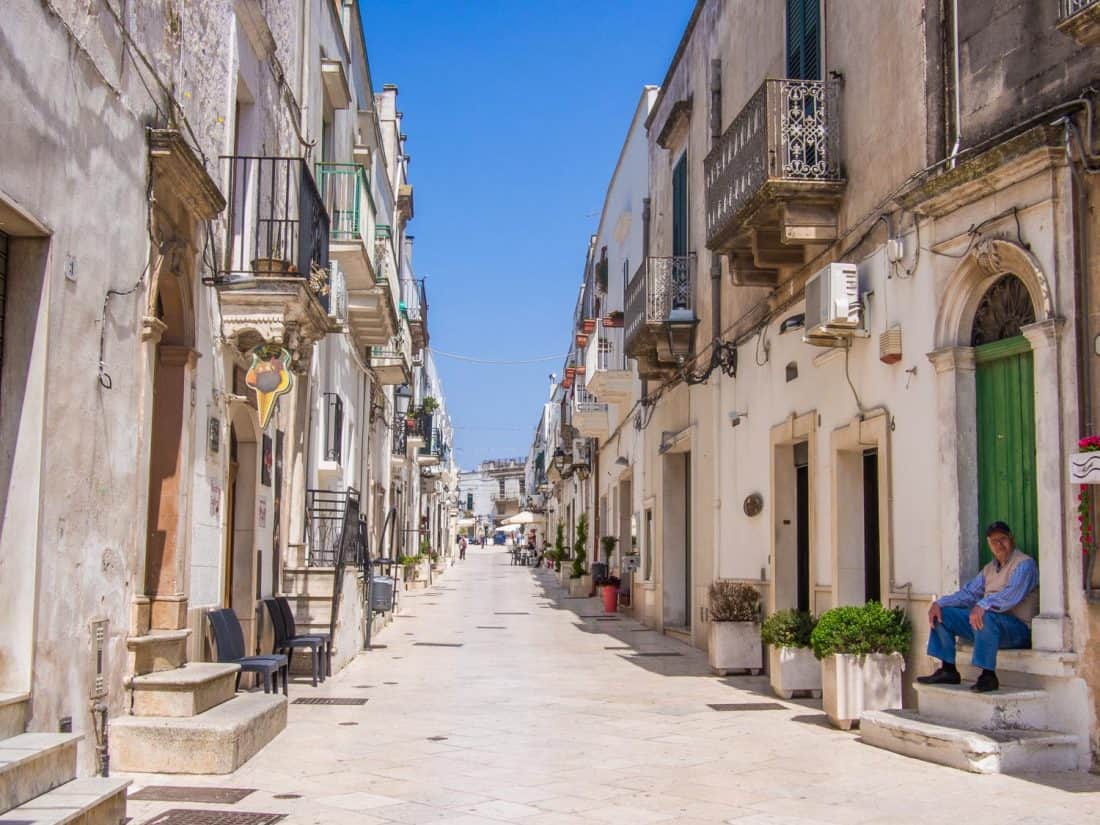 Ceglie Messapica is an off the beaten track town that makes an ideal base for exploring the Valle d'Itria.
The historic centre is a little grittier than the other towns on this list, but it has a very local feel that we enjoyed.
Surprisingly, it's one of the best places to visit in Puglia for food—the restaurants are excellent and affordable.
It's worth having a look inside the castle—it's free and is home to a library and small art gallery. Beyond the castle you can explore the atmospheric Moorish style narrow lanes.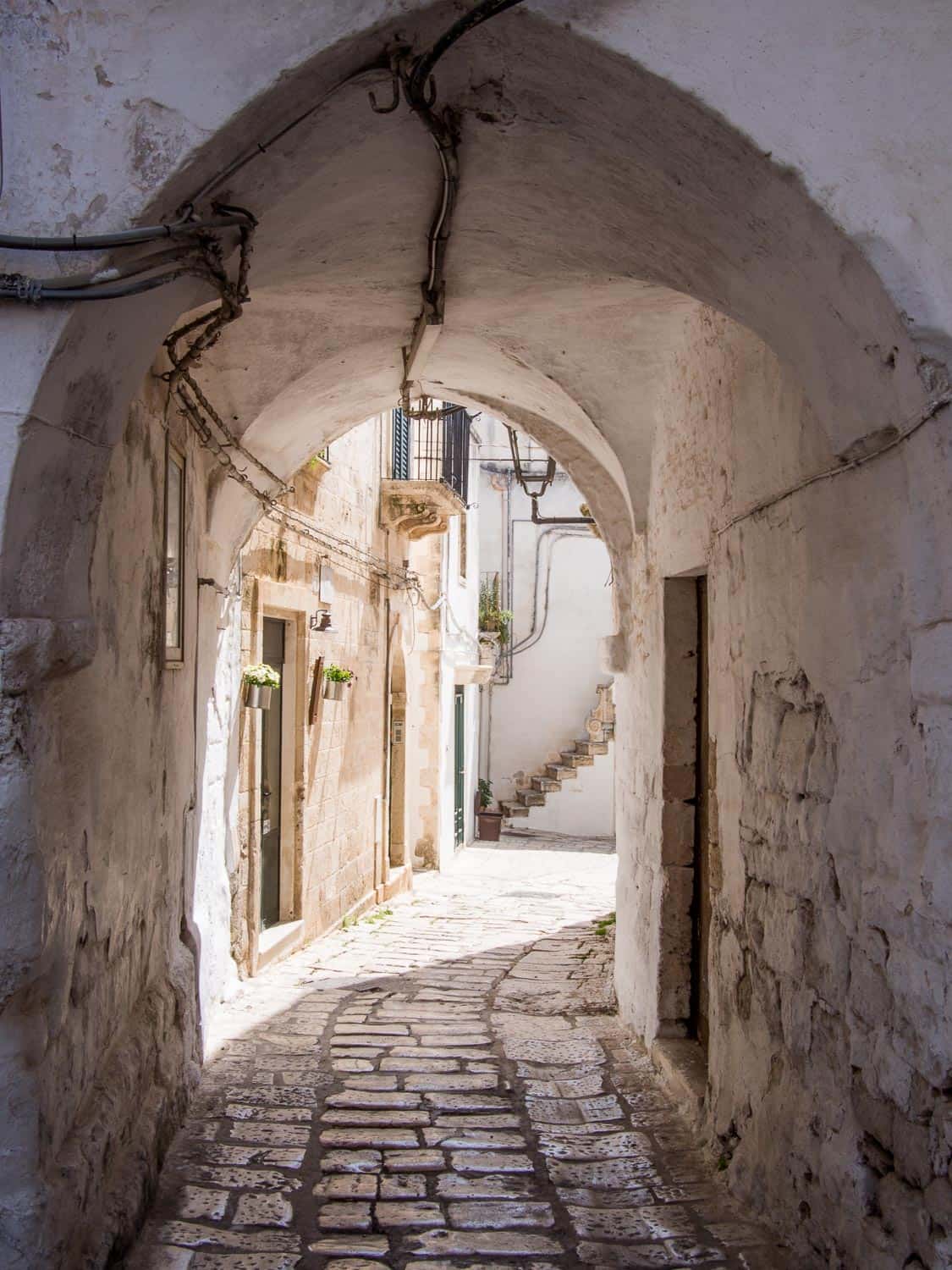 Where to Stay in Ceglie Messapica
We loved our stay at Trullo Dei Messapi, a short drive from the town in a peaceful area of olive trees and trulli.
The beautiful grounds feature a large pool with comfortable sun loungers, a (non-heated) jacuzzi, and lots of flowers and pine, olive and fruit trees.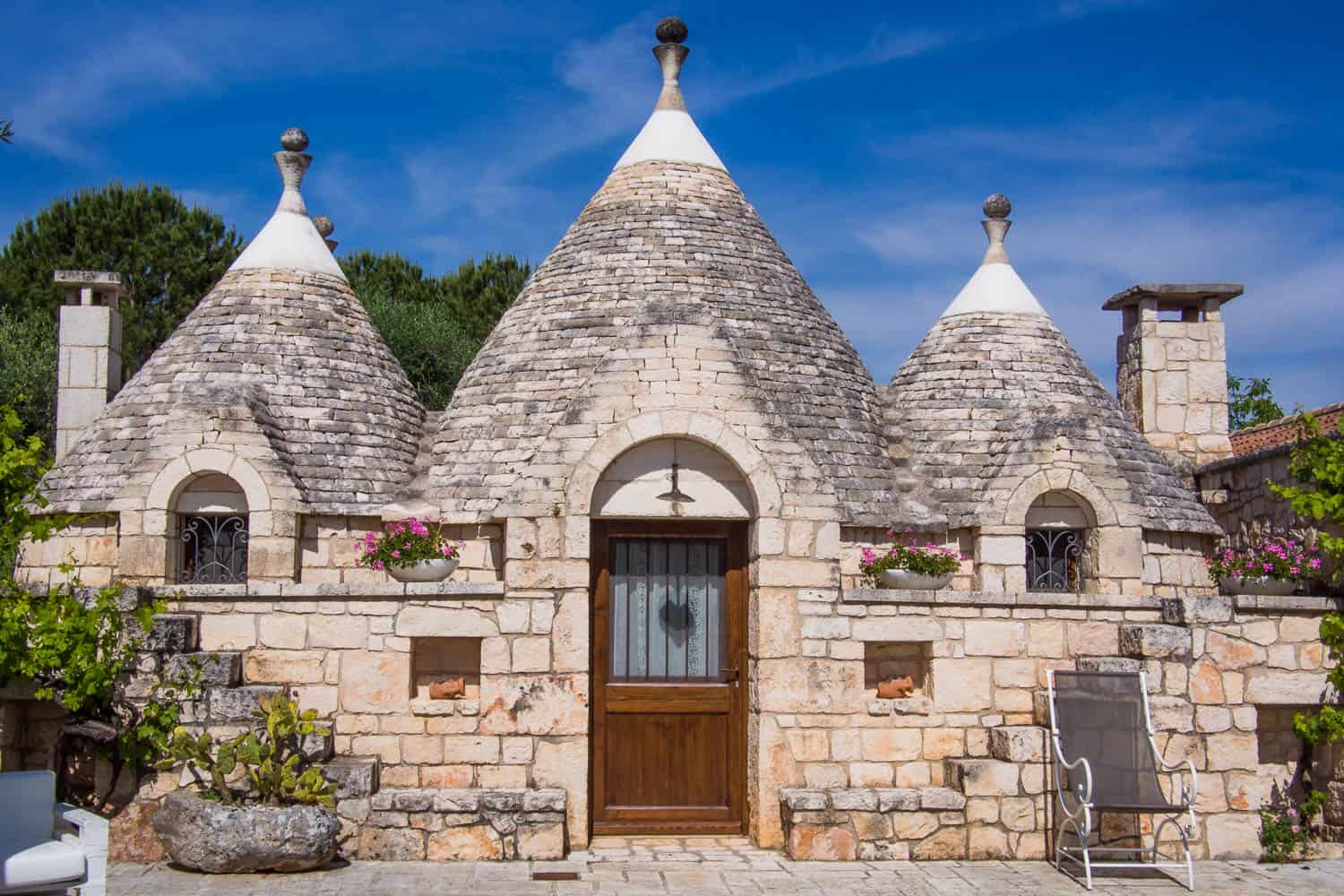 There are three houses—a two-bedroomed trulli and two one-bedroomed stone cottages.
Our one-bedroomed house was very cute and decorated in a rustic country style. The kitchen was stocked with DIY breakfast ingredients including homemade cake and fresh fruit which we ate on our private terrace.
The owner is very friendly and brought us fresh bread each morning.
I highly recommend it and it would be especially wonderful for large groups.
Check the latest prices at Trullo dei Messapi here.
You can search for more accommodation in Ceglie here.
Where to Eat in Ceglie Messapica
You are spoilt for choice in this small town. Osteria Pugliese is a simple, rustic place that's extremely good value and the antipasti selection is huge and delicious.
Cibus is more upmarket and expensive with some creative vegetarian options.
Da Gino is on the edge of town in a modern building and specialises in foraged vegetables. We didn't use their menu—Gino just asked if we wanted antipasti, and of course, we did, and they brought us 13 delicious dishes.
We ordered our pasta after we'd finished and they were happy to split one portion between two bowls—we tried spaghetti with a local flower picked from nearby.
Don't miss the local speciality, Biscotti di Ceglie, almond cookies stuffed with jam that are Slow Food certified. Forno San Lorenzo is a good local bakery.
More Valle D'Itria Towns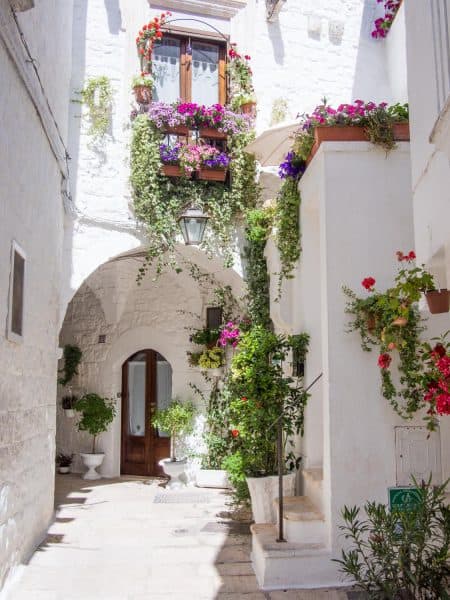 Cisternino is worth a visit if you have time. It's similar to Locorotondo with a tiny and charming historic centre of whitewashed houses and views of the surrounding countryside.
Salento
The Salento is a hot, dry peninsula at the southern tip of Puglia. Its geographical isolation has meant that it has developed a strong identity with its own cuisine, traditions and music, influenced by its Greek past.
Along with some of Italy's best beaches, there are many fascinating towns to explore.
8) Lecce
Lecce is known for its exuberant baroque architecture in the golden Leccese stone of the area, its churches lavishly decorated with cherubs, gargoyles and griffins, and delicately carved columns and cornices.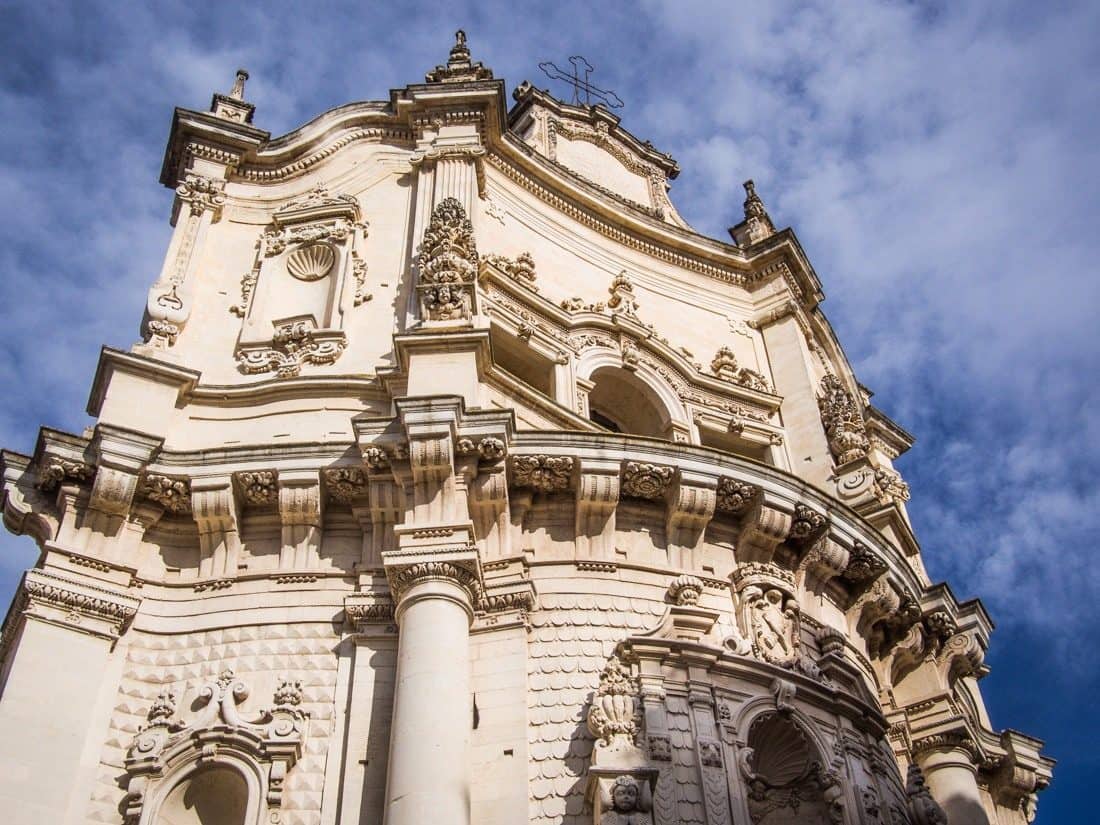 Lecce is one of Puglia's larger cities, but it's still a walkable size, and it manages to be both lively and relaxed. It's one of Puglia's highlights and the town we've spent the most time in.
One of my strongest memories is from after a cooking class with Cooking Experience when we had a long leisurely meal that lasted until nearly midnight.
As we walked back to our B&B, the streets were alive with young people drinking in pavement cafes but also families out for a stroll, groups of friends licking cones of gelato or eating crepes from one of the street stands.
The atmosphere was festive and friendly, such a contrast to the negative energy in a British town at pub kicking out time, and we found ourselves thinking, we could live here.
Well, five years later we did! For a month at least.
Read our detailed guide to things to do in Lecce for tips on sights, restaurants, transport, day trips and more.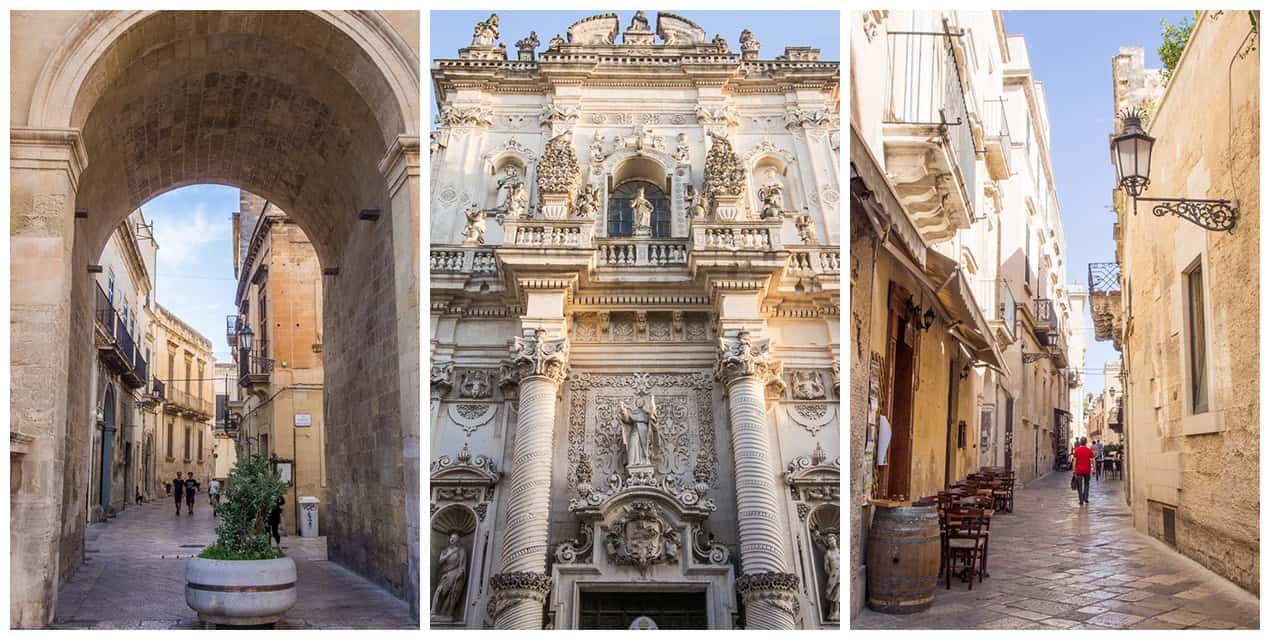 Where to Stay in Lecce
There are many gorgeous places to stay in historic buildings such as Dimora Storica Torre Del Parco 1419, a luxurious hotel in a medieval fortress and Palazzo Bignami, a stylish B&B very close to the centre.
You can find more hotels and B&Bs in Lecce here.
Where to Eat in Lecce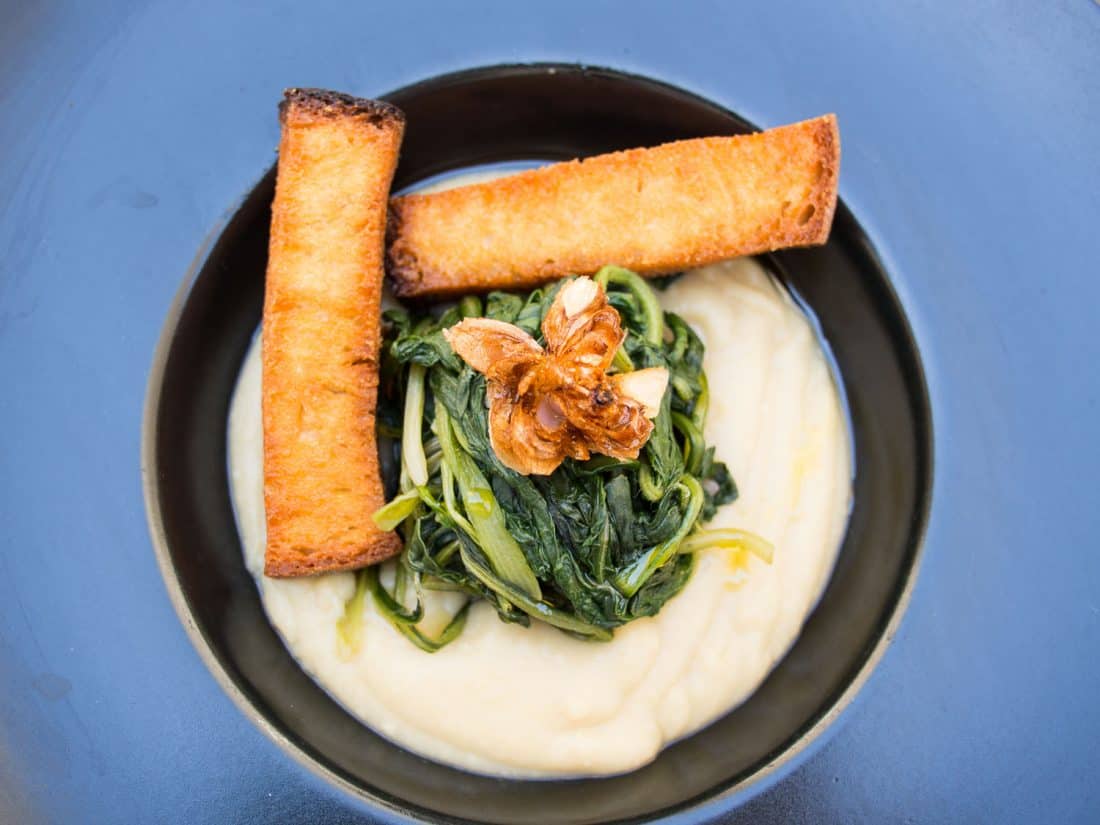 See our detailed guide to the best Lecce restaurants from gelato and cheap eats to traditional trattorias.
9) Otranto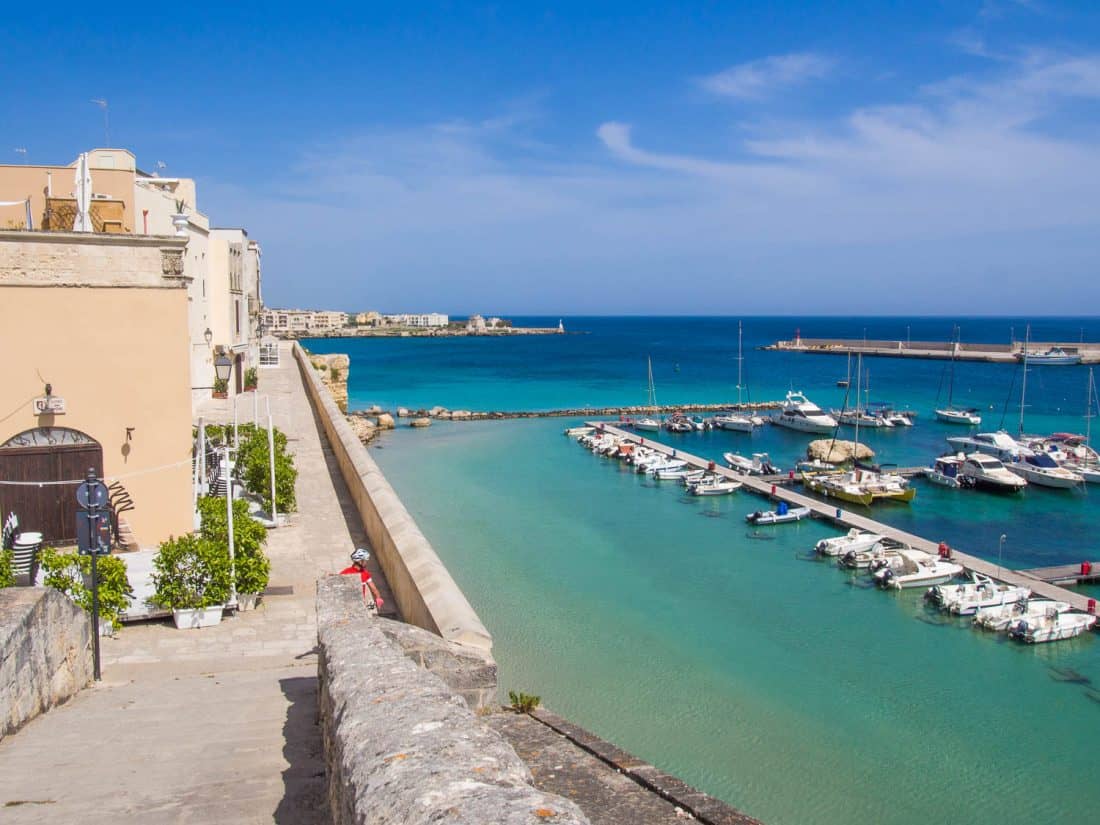 Otranto has a stunning coastal location where you can combine morning visits to churches with an afternoon swimming in the clean, impossibly turquoise sea.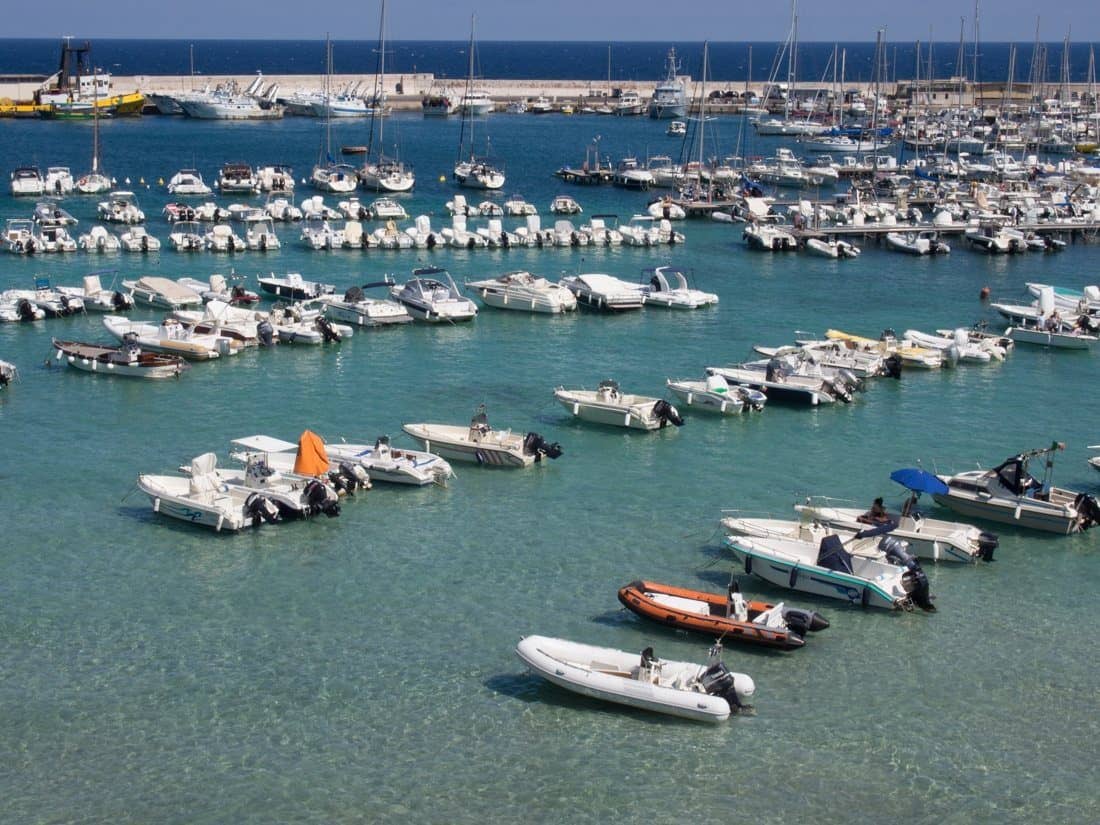 Otranto is just 72 km from Albania and its location has resulted in many invasions, the worst of which was the Turkish siege in 1480 when they destroyed much of the city and tortured and killed its people.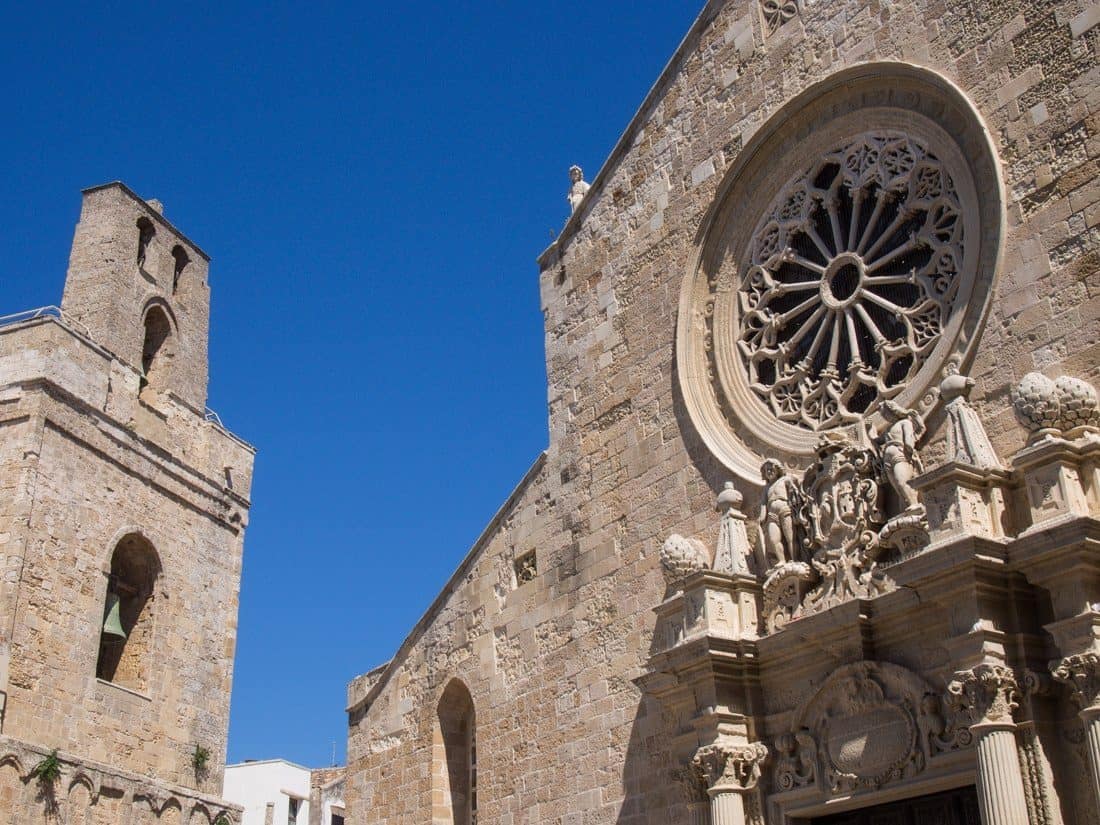 Otranto's principal attraction is the Cathedral with its mosaic floor built in 1163-1165—it survived the Turkish invasion although parts of the Cathedral were destroyed. It's one of the largest mosaics in Europe and covers the entire floor.
Its central motif is the Tree of Life, supported at the base by elephants, a symbol of purity, with branches telling pagan and biblical stories. Another tree near the front of the church depicts heaven on one side and grizzly scenes from hell on the other.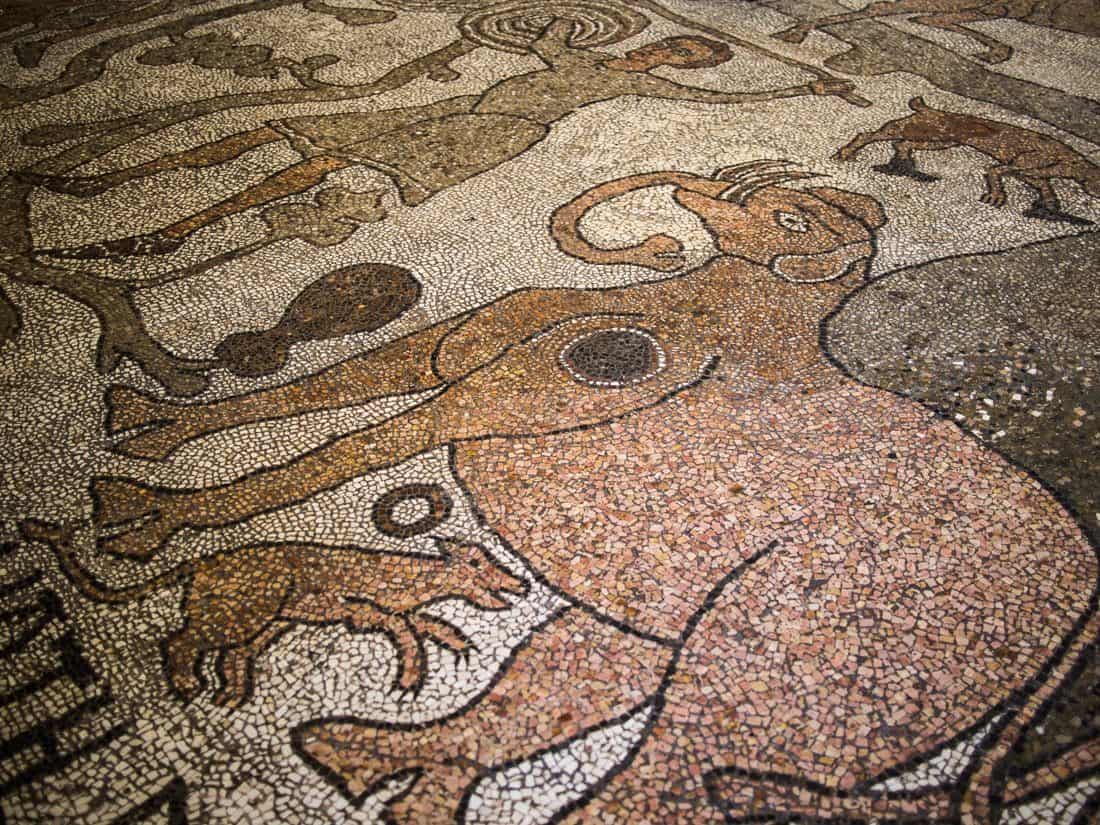 In the chapel you can see the human remains of the 800 martyrs who resisted the Turkish invasion and refused to convert to Islam. The empty sockets of hundreds of skulls stare down at you in stark contrast to the beauty of the mosaic floor.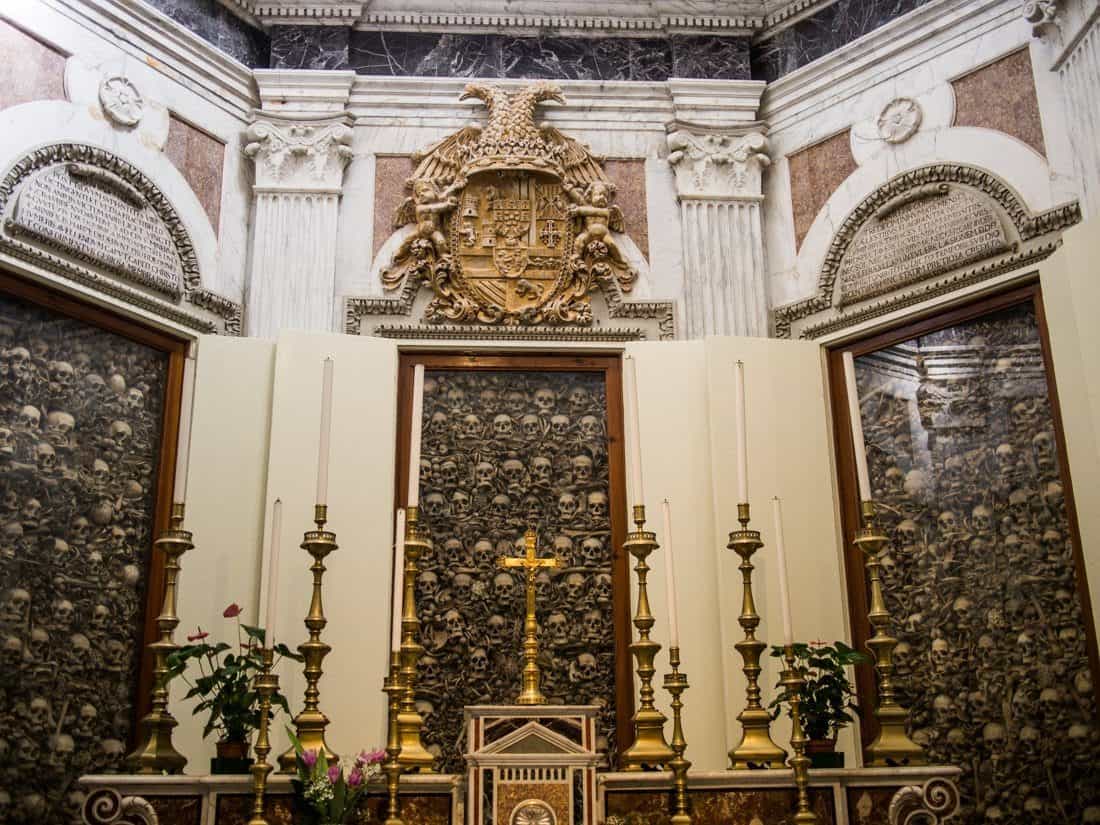 Where to Stay in Otranto
We visited Otranto on day trips from other parts of the peninsula. Otranto makes a good base in the Salento, though, with a range of accommodation from boutique hotels like Hotel Palazzo Papaleo with its stunning view to affordable B&Bs such as Mediterraneo Camere.
You could also stay on a farm in the nearby countryside—Masseria Panareo looks stunning.
You can find more hotels in Otranto here.
Where to Eat in Otranto
Postofisso makes amazing Puglian sandwiches called pucce including vegetarian and vegan options.
L'Altro Baffo is the place to go if you like seafood, although they did make us some tasty vegetarian dishes (off the menu). Primo is a better option for vegetarians/vegans.
10) Gallipoli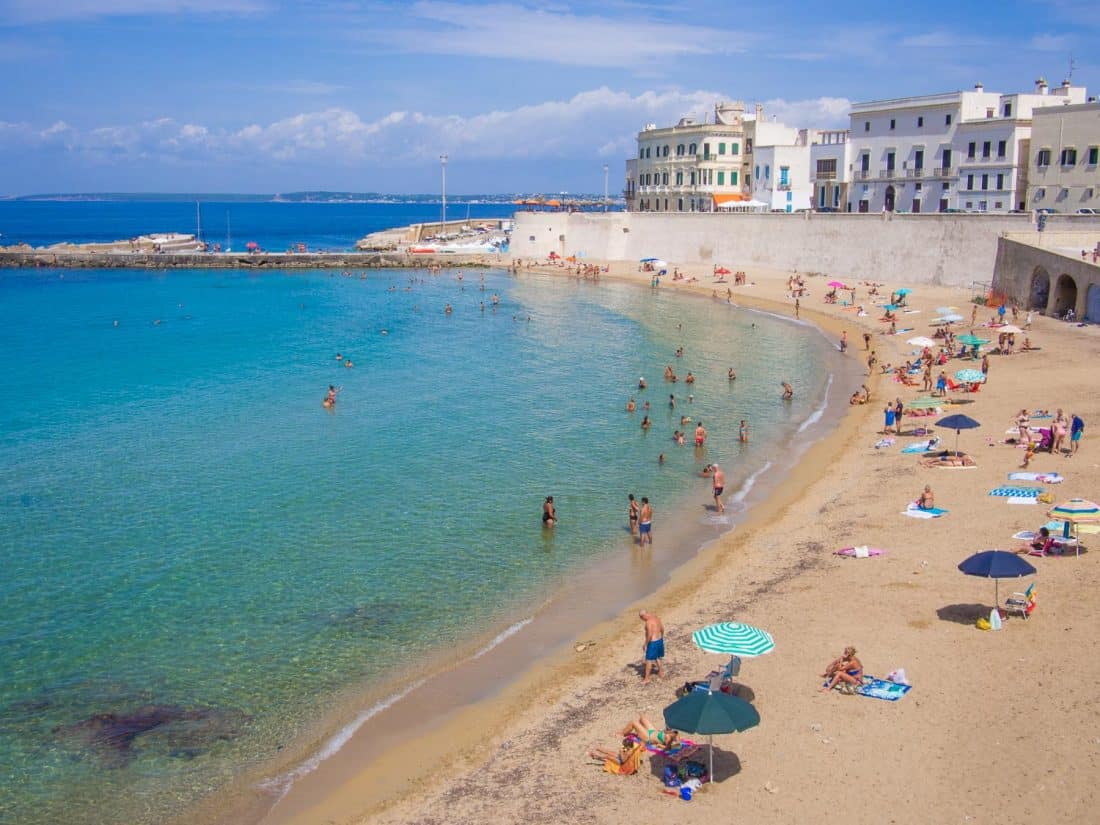 Gallipoli's old town is on an island connected by a causeway to the mainland.
It has a relaxed, elegant vibe, stunning churches, and a golden curve of sand right in the centre of town, plus many more along the surrounding coast.
It was ruled by the Greeks for five centuries between 7th and 2nd century BC, but all signs of their existence were destroyed by the Romans, and most of the architecture seen now is from the Middle Ages.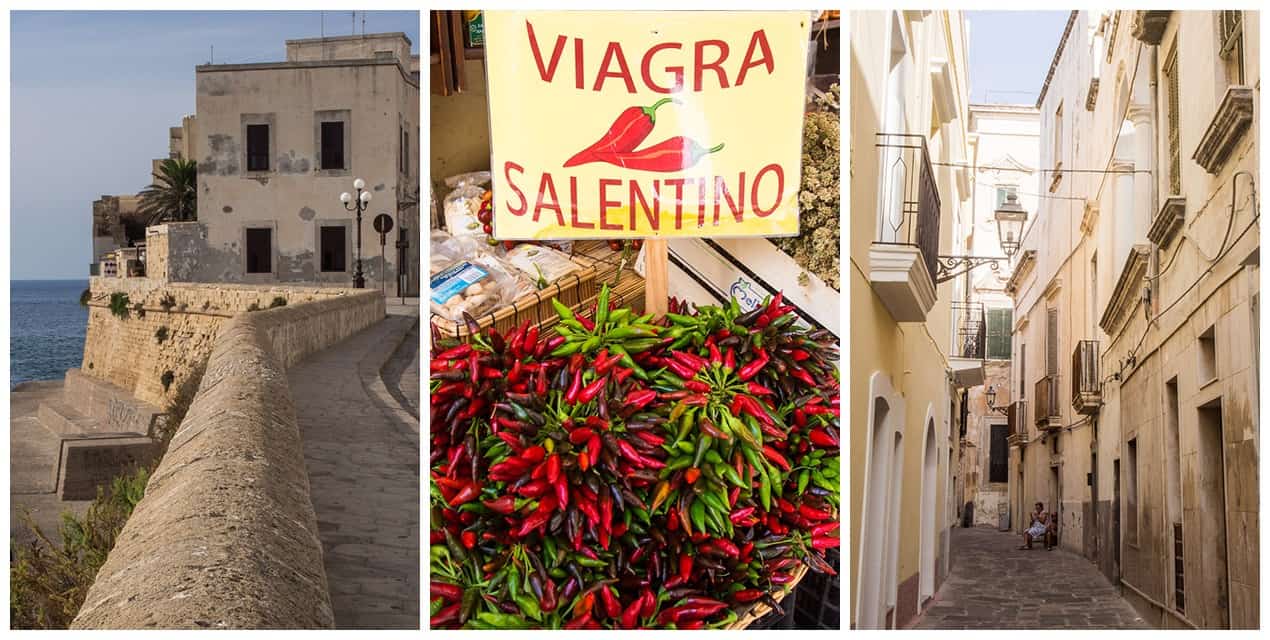 Other than leisurely walks along the city's seafront walls, the most interesting thing to do in Gallipoli is visit Frantoio Ipogeo in Granafei Palace, one of the 35 underground olive presses.
It was first used in 1600, excavated by hand out of the soft rock, to make olive oil for lamps which was exported around the world.
You can see the original equipment used for grinding and pressing the olives and get a sense of what it was like to work in this dark, damp cave.
Blindfolded donkeys were used to work the olive mill and they lived down here with the workers who smoked weeds and carved little sculptures to distract themselves from the miserable conditions.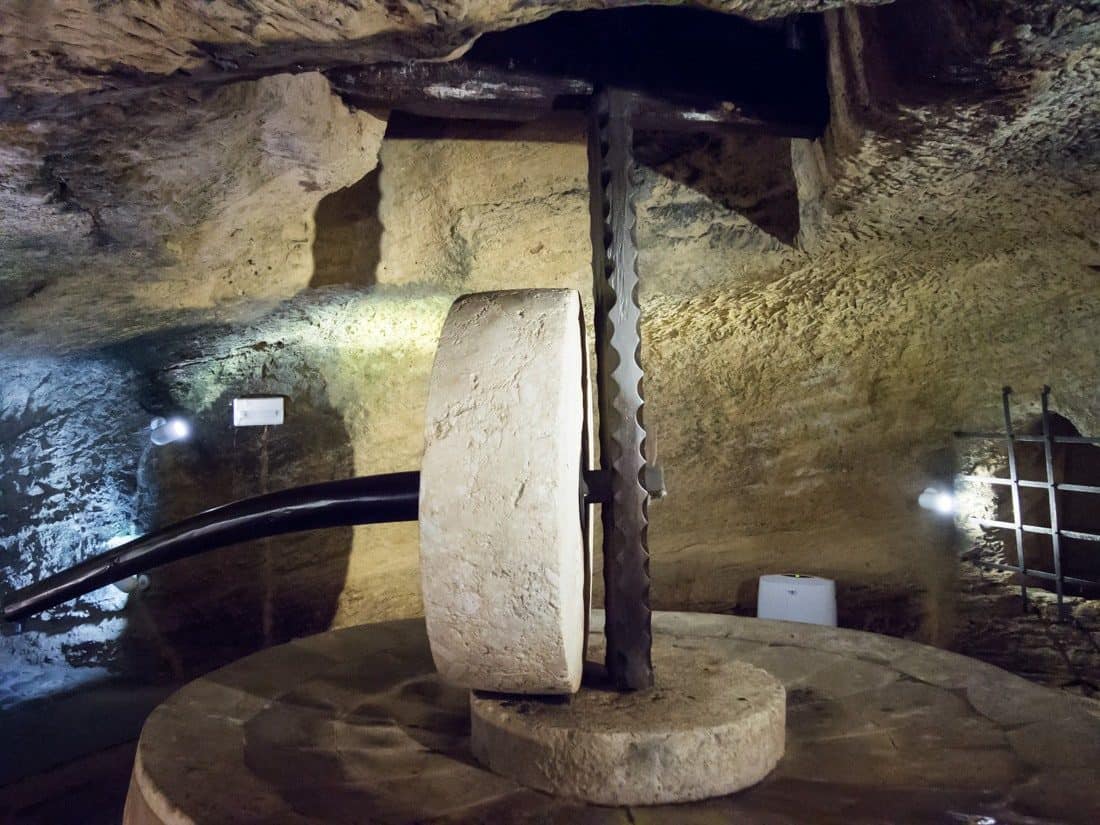 Where to Stay in Gallipoli
We visited Gallipoli from Masseria Sant'Angelo about 35 minutes away. The town has some good value B&Bs like Salento Palace B&B and Corte Moline.
Where to Eat in Gallipoli
Il Bastione has fantastic sea views, but it's a seafood restaurant, so it's not the best option for vegetarians.
11) Corigliano d'Otranto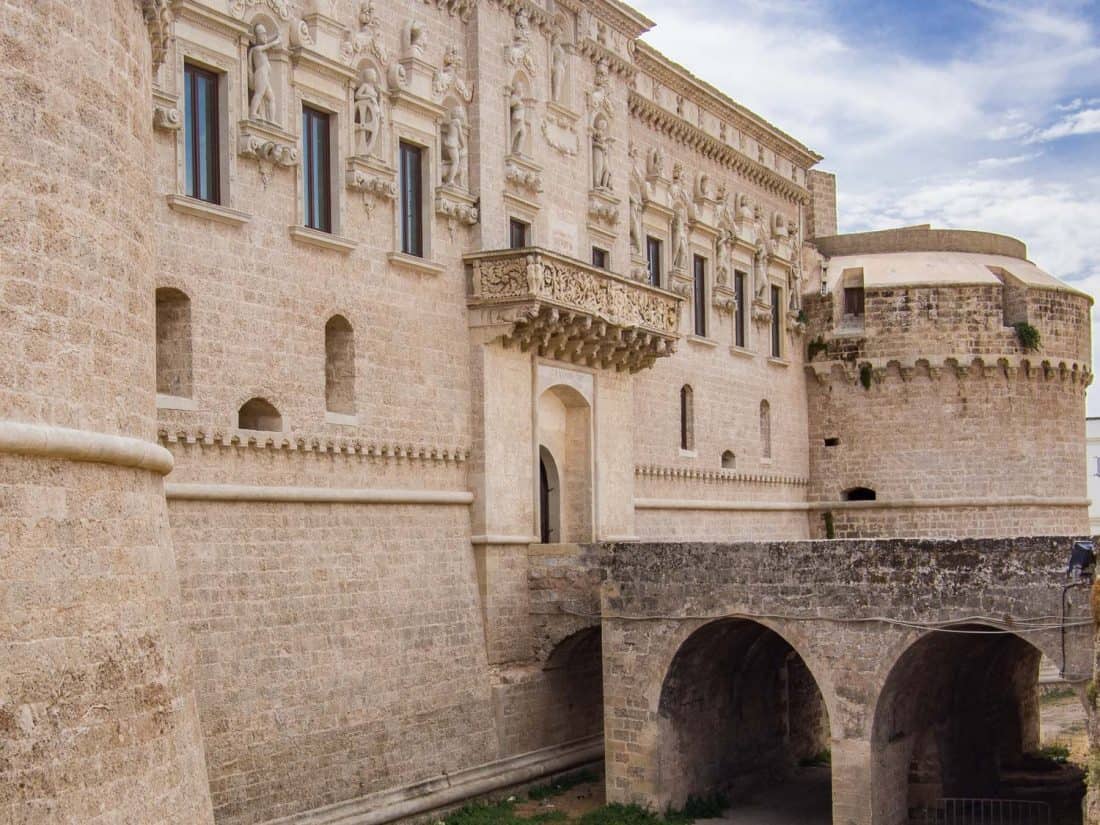 Corigliano d'Otranto is one of the 11 towns of the Grecia Salentina that have retained their Greek heritage from the Byzantine period including the Griko dialect.
It's a small untouristy town with an interesting medieval castle that you'll likely have to yourself.
De'Monti Castle actually consists of two castles. The medieval castle was built in 1465 with four rectangular towers and was strong enough to resist the Turkish invasion when they came here after destroying Otranto.
The castle was fortified further in the 17th century with four round towers and a moat that encircles the inner castle.
Later a rich family transformed it from a fortress into a luxurious Ducal palace and added baroque details to the facade.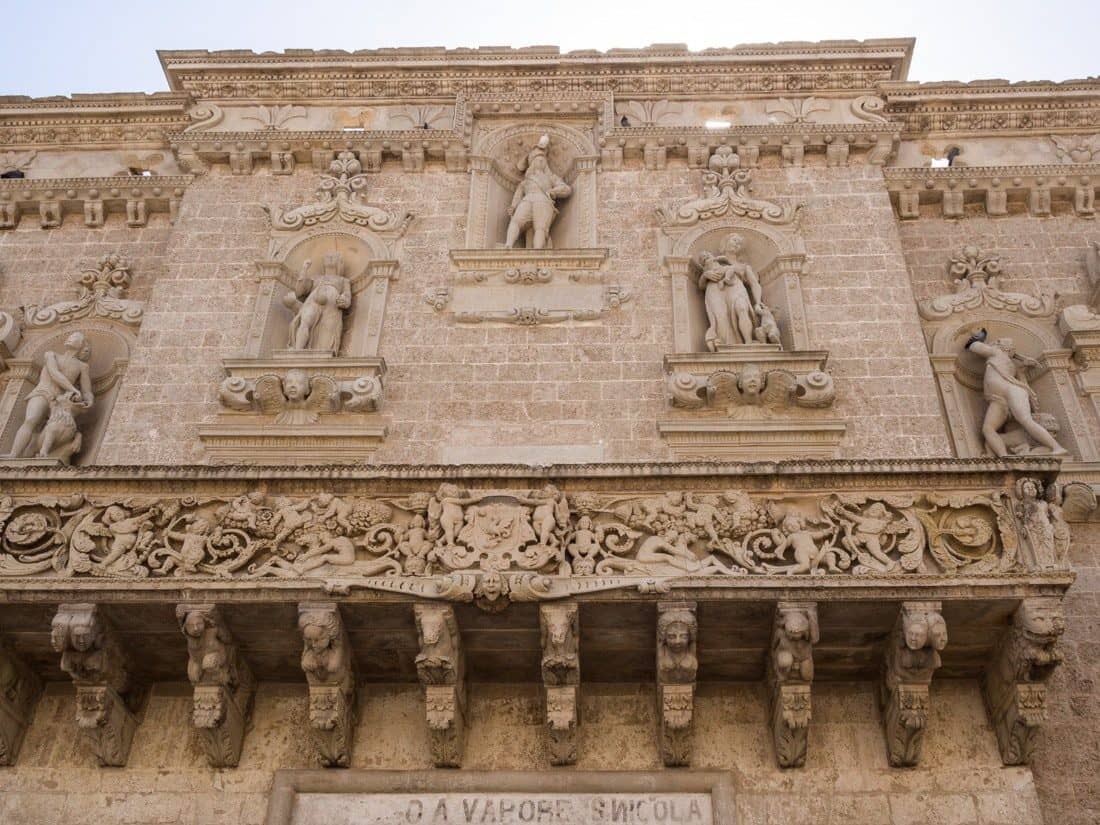 Where to Stay in Corigliano d'Otranto
Our main reason for visiting Corigliano was to stay at nearby Masseria Sant'Angelo, a working farm where you can learn about the traditions of the area from warm-hearted host Rocco who is a passionate musician of the local pizzica folk music.
We ate fruit from their trees, milked a goat, learned how cheese was made and enjoyed nightly feasts with the family. It's a special, authentic place that will take you way off the beaten track.
Where to Eat in Corigliano d'Otranto
There was an excellent restaurant on the castle terrace but it closed—there is now a bar there instead, but I'm not sure if they do food.
Estia Ristorante sounds wonderful. The evening feasts at Masseria Sant'Angelo were some of our most memorable meals in Puglia.
More Salento Towns
If you have more time, Galatina is not far from Corigliano d'Otranto and is an untouristy town with a preserved historic centre of baroque buildings.
The Basilica di Santa Caterina d'Alessandria has stunning 15th century frescoed walls and ceiling. Try a famous pasticotto pastry (unless you don't eat lard) at Pasticceria Andrea Ascalone.
Gargano
The Gargano Promontory juts out into the Adriatic Sea in northern Puglia and is called the spur in the heel of Italy's boot.
It feels very different from the rest of Puglia—greener and more mountainous with lush pine forests and a spectacular coastline of white limestone cliffs, colourful sea caves, and long sandy beaches.
It's harder to get to than the Valle d'Itria and Salento, and we didn't find the towns quite as pretty, so I only recommend coming here if you are in Puglia for more than 10 days or are a return visitor.
12) Vieste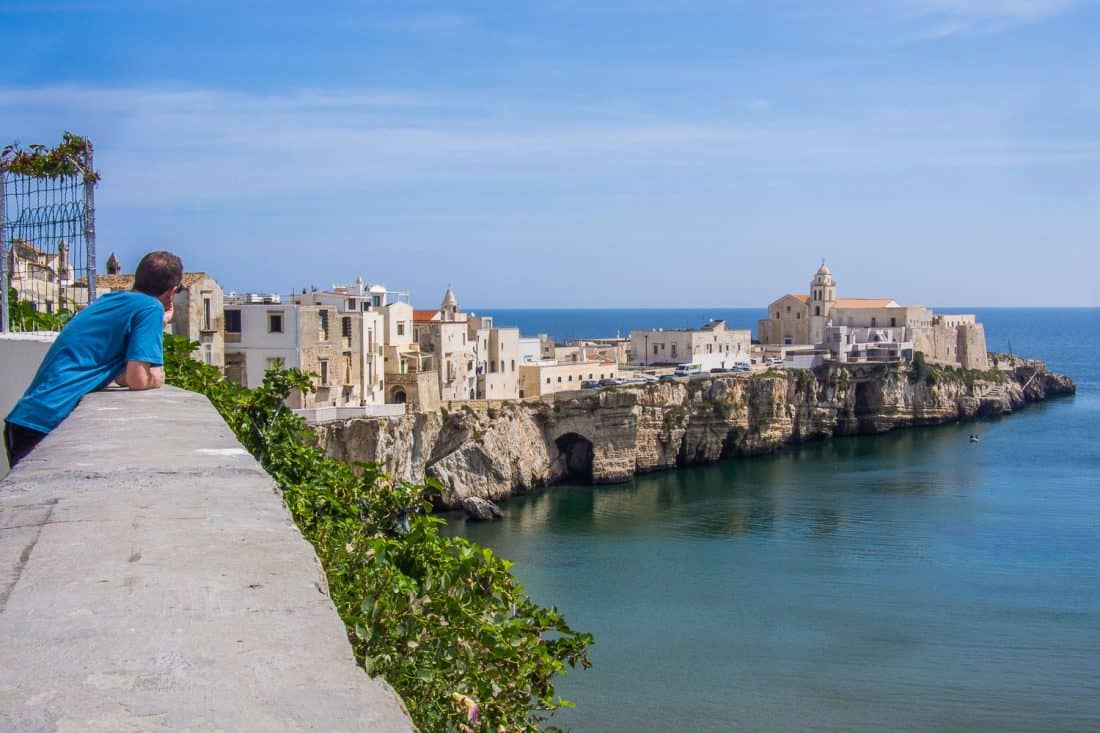 Vieste sits on a white cliffed peninsula jutting into the sea. The old town is an atmospheric maze of steep staircases with washing dangling from the simple white houses.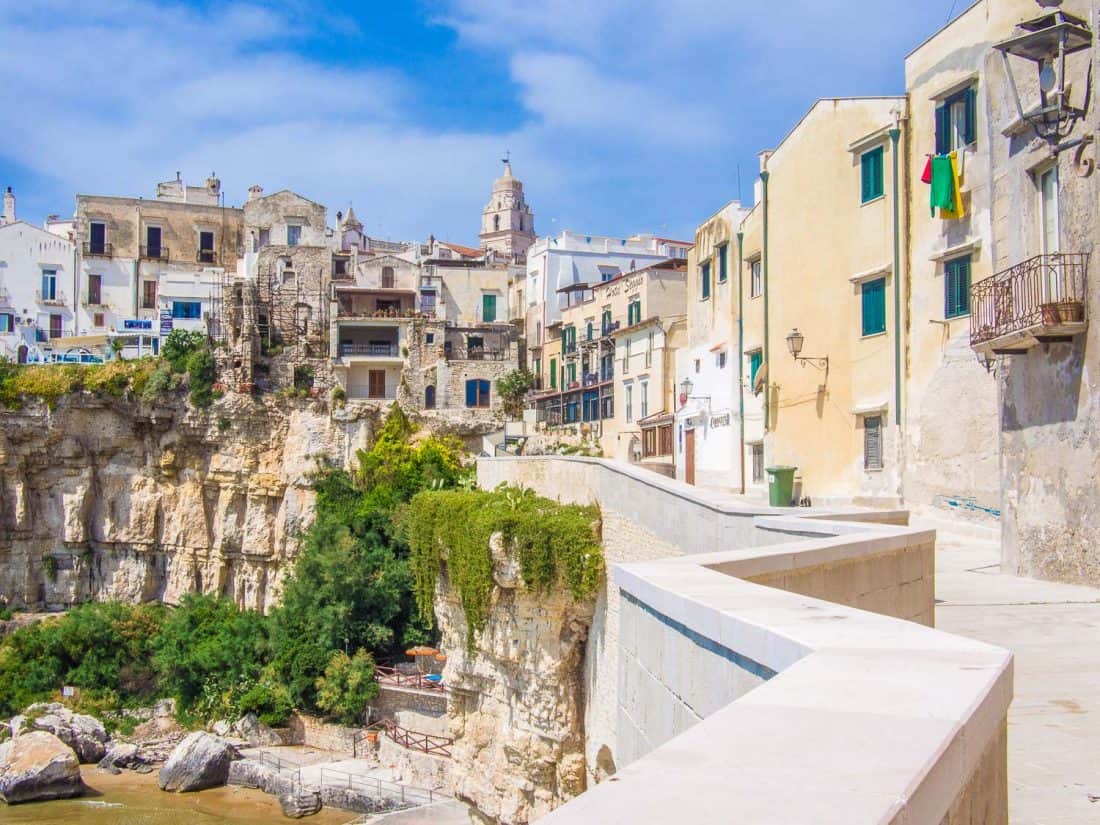 To each side of the town are long sandy beaches that can be accessed on foot. You can take a beautiful boat trip down the coast to see dramatic sea stacks and grottos.
It's the ideal base for exploring the Gargano. See our post on things to do in Vieste for more information.
Where to Stay in Vieste
We stayed outside town at the wonderful Residence Maresol up a steep hill above Castello beach.
We loved the tranquil location amongst pine trees, sea views, modern apartments, and super friendly owners.
You can find more B&Bs and holiday rentals in Vieste here.
Where to Eat in Vieste
Our favourite places were in the countryside outside town—Country House Tavernola and Agriturismo Chalet degli Ulivi. See our Vieste guide for details.
More Gargano Towns
I think Vieste is the best base in Gargano, but there are many more towns to visit on day trips including:
Mont Sant'Angelo – Picturesque mountain town with a famous cave church.
Peschici – Pretty seaside town close to lovely beaches.
Vico del Gargano – An off the beaten track hill town.
See our Gargano travel guide for more details on places to visit in the area.
More Puglia Posts
Read our other Puglia blog posts to help you plan your trip to the region:
I also recommend the Lonely Planet Southern Italy guidebook to help plan your trip.
I hope I've inspired you to head south and explore the towns of Puglia. These are just some of the possibilities—pick a town at random and you'll likely find fascinating history, beautiful architecture, friendly people, and delicious food.
If you enjoyed this post, pin it!