This page contains affiliate links. Please read our disclosure for more info.
The cave city of Matera is a fantastic foodie destination. From traditional Basilicata cuisine in beautiful cave restaurants to casual pizza places, there's a lot to enjoy.
It's a compact city that's easy to explore on foot (as long as you don't mind staircases), so you don't have to worry about driving after sampling the local wine.
On our three trips to this spectacular Italian city, we set out to discover the best Matera restaurants. In this guide, you'll find our picks for the best places to sample local dishes, where to eat and drink with a sassi view, tasty cheap eats, and more.
At the end of the post, you'll find a map with all the best places to eat in Matera.
Contents
Matera Food Specialities to Try
Matera is located in the region of Basilicata in southern Italy. Basilicata food shares some similarities to its neighbour Puglia (one of our favourite places to eat in Italy) as well as having its own unique specialities.
The cuisine uses lots of fresh seasonal vegetables, so it's very easy to eat here as a vegetarian and even vegan. There isn't much fish, but lamb and mutton are common.
The bread and pasta made using ancient Basilicatan wheat are excellent.
Here are some dishes to look out for:
Senise peppers – These long peppers look like chillies but are sweet. They are usually dried and then fried and crushed to make peperoni cruschi. They are sweet, smoky, and crunchy and top many dishes (or are eaten alone as a snack). Our biggest regret was that we didn't buy some to take with us.
Orecchiette – Pasta shaped like ears that's also found in Puglia. Often served with a simple tomato sauce or cime di rapa (a leafy green).
Strascinate – Pasta similar to orecchiette but larger.
Lagane e ceci – Long thick pasta with chickpeas.
Fave e cicoria – Creamy pureed fava beans with bitter chicory (a green).
Cialledda – A salad of cucumbers, tomatoes, onions, and stale bread (better than it sounds!).
Antipasti della casa – If a restaurant has "starters of the house" on the menu, don't miss it. You'll get a selection (often huge) of delicious local treats. They are usually veggie heavy but check if you are vegetarian (restaurants have always been able to adapt them for us).
Aglianico wine – This was my favourite of the local red wines.
Bear in mind that restaurants in Italy have set meal times and in the south eating times are a little later. Italians rarely turn up for dinner before 9pm.
Matera restaurants are usually open for lunch from 12.30pm or 1pm until 2–3pm and for dinner from 7.30pm until 10 or 11pm. I've listed opening hours below.
If you want to eat outside the usual meal times, see the bars and cheap meals sections below as they usually have longer opening hours.
Check out my guide to eating in Italy for all the food etiquette and tips you need to know so that you won't be surprised by things like cover charges.
Where to Eat in Matera: Our Top Picks
Traditional cuisine: Trattoria del Caveoso
Special occasion restaurant with a view: Regiacorte
Favourite pasta dish: Ferricelli at La Lopa
Cheap eats: 5 Lire Pizza
Gelato: I Vizi degli Angeli
Aperitivo (drinks with snacks): Terrazza Cavaliere
Don't miss our guide to the best things to do in Matera Italy for many more tips on exploring this stunning city.
Best Restaurants in Matera Italy
1) Trattoria del Caveoso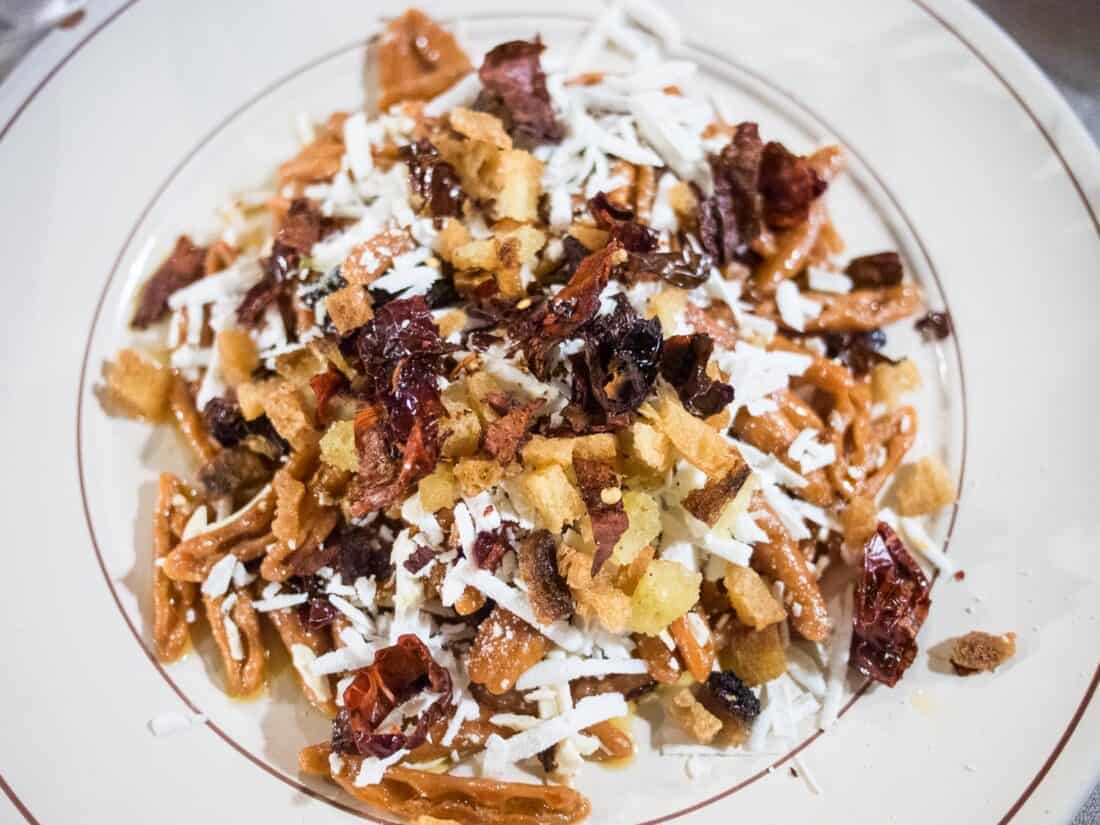 Trattoria del Caveoso is located in the heart of the sassi (the ancient neighbourhoods of cave dwellings) and is one of the best restaurants in Matera to try traditional Basilicatan cuisine.
You can sit outside on an atmospheric street or inside in the cave restaurant. The food is simple but excellent and good value.
I highly recommend starting with the Antipasti del Caveoso, a delicious selection of vegetarian dishes (one between two is plenty).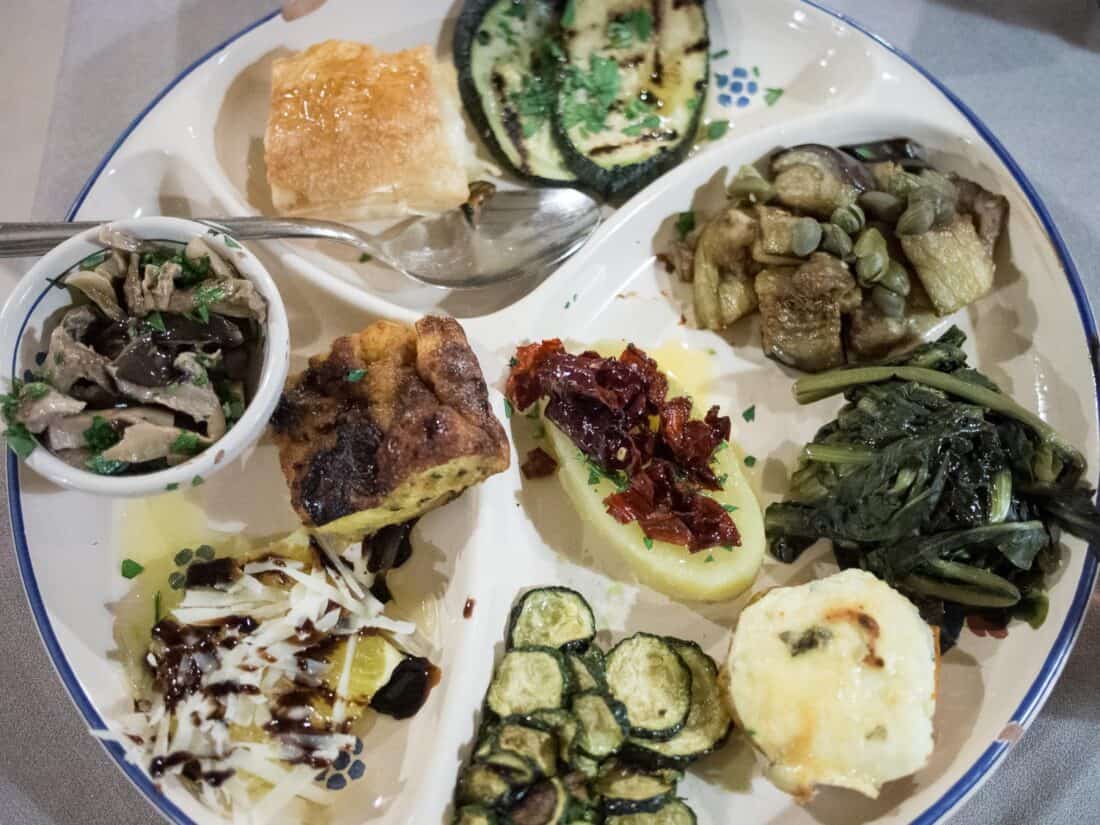 For the primo (pasta course), the cavatelli with peperoni cruschi is a tasty and typical dish with local dried red peppers, cacioricotta cheese, and fried breadcrumbs.
There are plenty of other vegetarian dishes too including the classic fave e cicoria.
We even got a complimentary limoncello after our meal.
Trattoria del Caveoso is popular (we couldn't get in on our last visit), so it's best to book a table, or you could try turning up at opening.
Details: Via Bruno Buozzi. Open for lunch 12.30pm-3pm/ dinner 7.30pm-11pm. Closed Wednesdays. Bookings recommended.
Website: Trattoria del Caveoso
2) La Lopa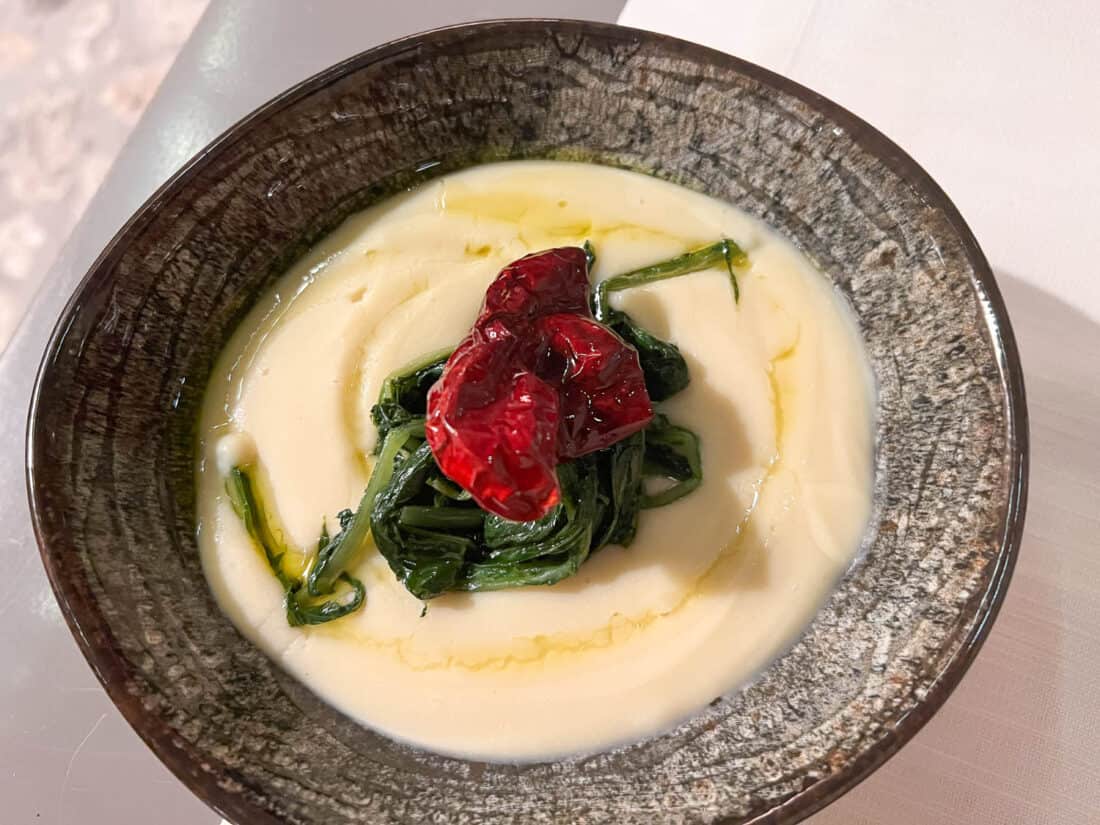 When we first looked at the menu of La Lopa we decided against it as €16 for a pasta dish seemed too much. But when we couldn't get into Trattoria del Caveoso next door, we got lucky with one of the last tables at La Lopa.
We're so glad we gave it a try.
It has an atmospheric cave interior like all the Matera sassi restaurants, but on a hot summer's evening, we sat outside in the cute courtyard.
Unusually for Italy, vegetarian and vegan dishes are marked on the menu, which focuses on local dishes. There's not a huge choice, but it was enough for us.
We started with Il Riposo della Polpetta, fried bread balls in a tomato sauce. They were a little eggy for me, but Simon loved them, and the sauce was perfect.
We then shared Fave e Cicoria, an excellent example of this typical dish enlivened with peperoni cruschi, and Ferricelli, short twisty pasta with a pesto-like sauce made with the local peppers and topped with creamy stracciatella cheese and breadcrumbs.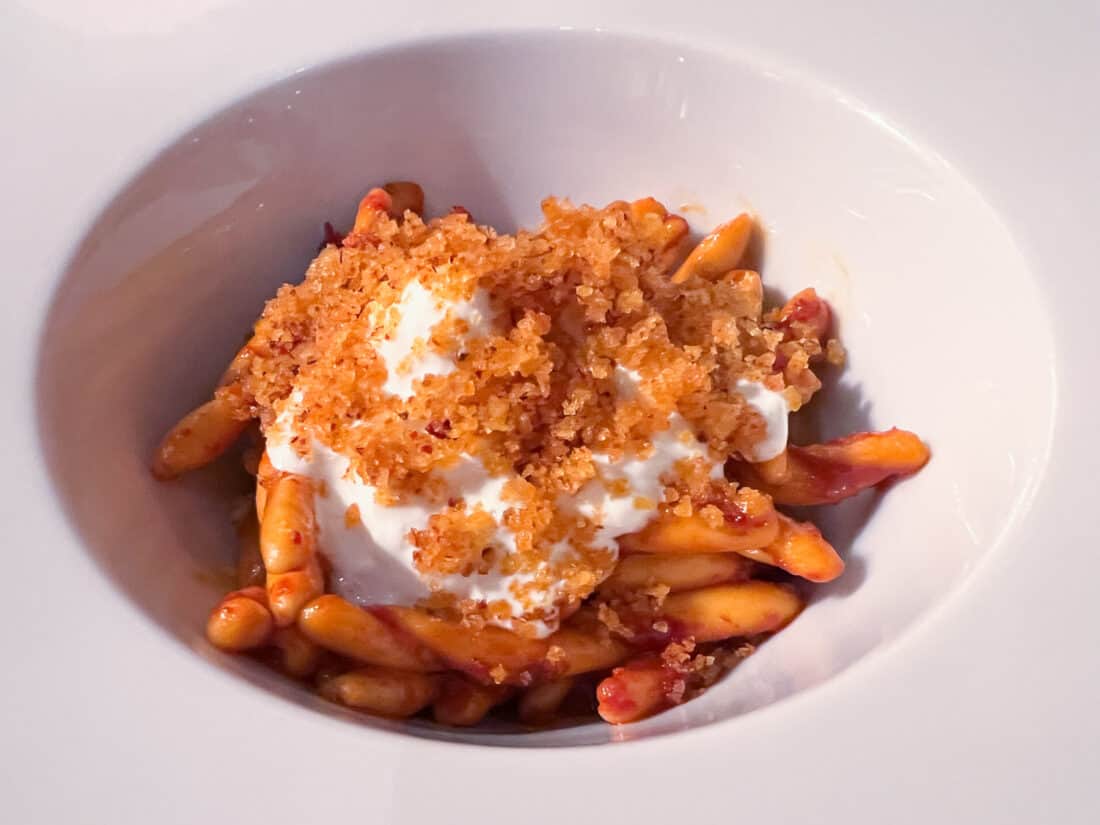 This was our favourite pasta in Matera, and we later regretted not buying some peppers so we could try to work out how to make the wonderfully sweet and smoky sauce ourselves.
Portions aren't huge so unusually we had space for dessert. We shared the dried fig gelato, but it was a bit of a disappointment (despite good reviews)—you are better off going to a gelateria.
One unique feature of La Lopa is the film room downstairs. After your meal, you can head down to watch the 20-minute film with clips of the many movies that have been filmed in Matera up to the most recent James Bond, No Time to Die.
While this was one of our most expensive meals in Matera at €75, we really enjoyed the experience.
Details: 13 Via Bruno Buozzi. Open Mon-Fri dinner only 7.30pm-10.30pm, Sat-Sun lunch 12.30pm-2.30pm/ dinner 7.30pm-10.30pm. Bookings recommended.
Website: La Lopa
3) Dimitria Il Ristorante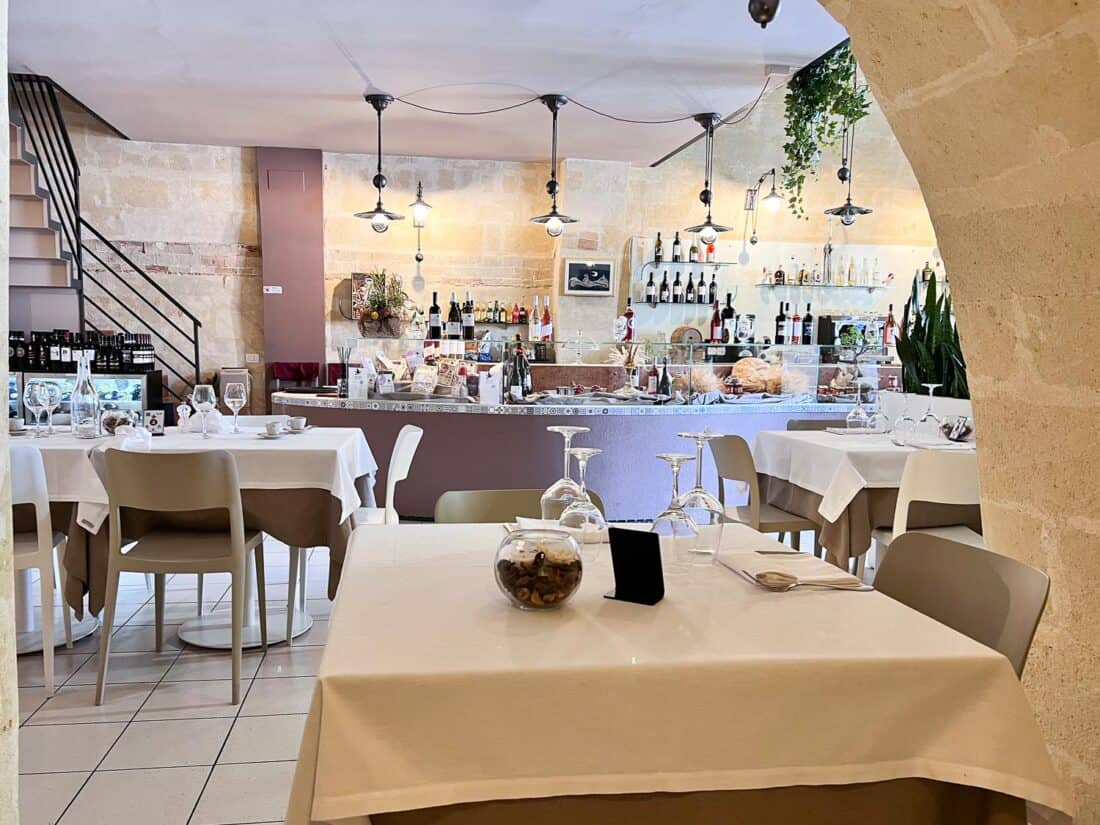 Stylish Dimitria is a little off the beaten track but only a few minutes' walk from Sasso Caveoso.
There are a few tables outside, but they are next to a road, so the beautiful interior is a better choice (and ideal on a hot day). Our table in a little stone arch alcove felt private.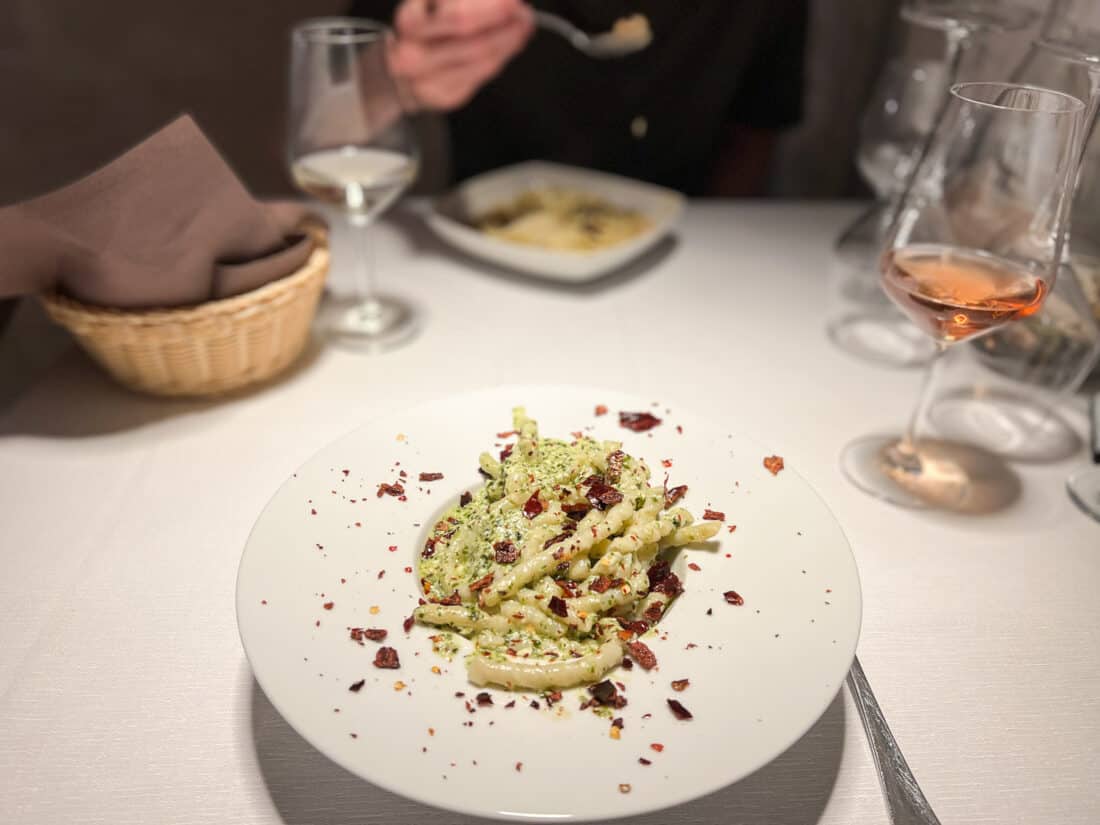 The menu focuses on local Lucanian dishes made with organic ingredients. There were a few good vegetarian dishes, and there are gluten-free options too.
After the free bruschetta introduction, we shared the delicious Parmigiana Lucana, which unlike a typical parmigiana has pasta along with aubergine, cheese, and tomato.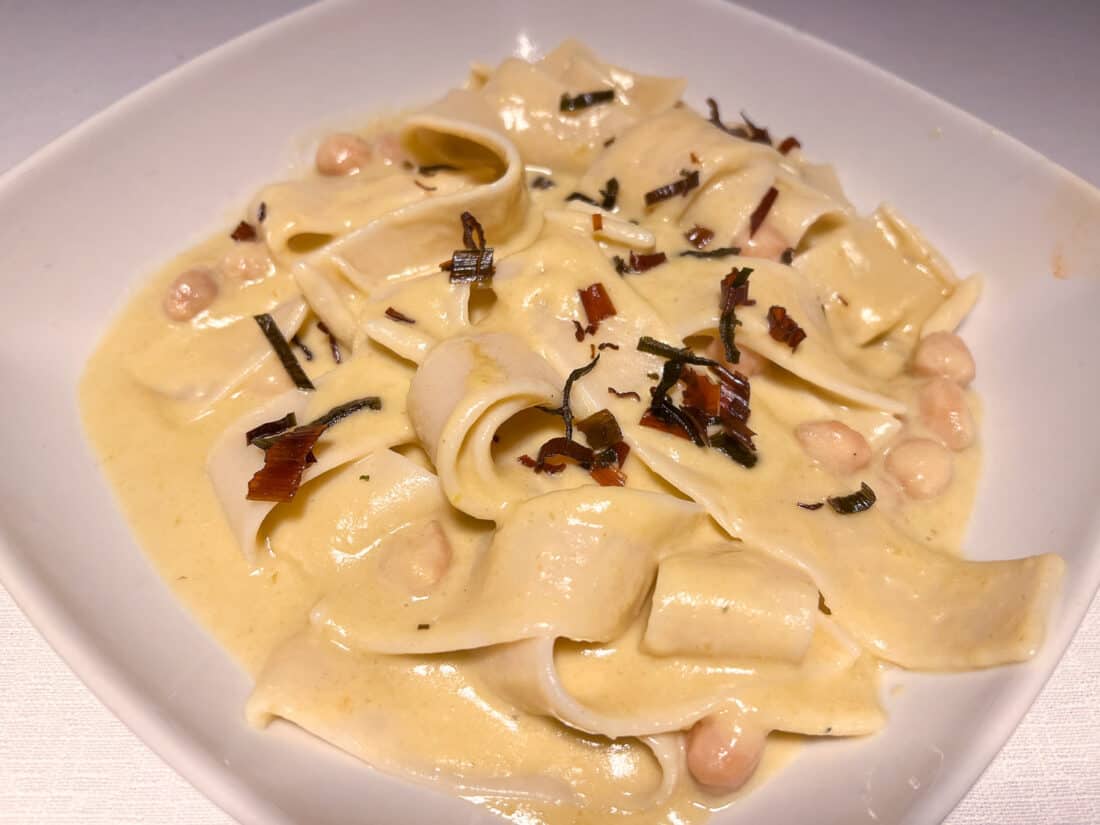 Our two pasta dishes were also excellent. My favourite was the Antico Fusillo, twisty fusilli with a basil and ricotta pesto topped with peperoni cruschi. Simon preferred the simpler Lagane di Orazio, long thick pasta with a creamy chickpea sauce.
Unusually, you can book a table for Dimitria online (see The Fork or Tripadvisor listing). It wasn't busy on a weekday lunchtime, though.
Details: 222 Via Lucana. Open Wed – Mon lunch 12pm-3pm/ dinner 7.30pm-9.30pm. Closed Tuesdays.
Website: Dimitria Il Ristorante
4) Ristorante Francesca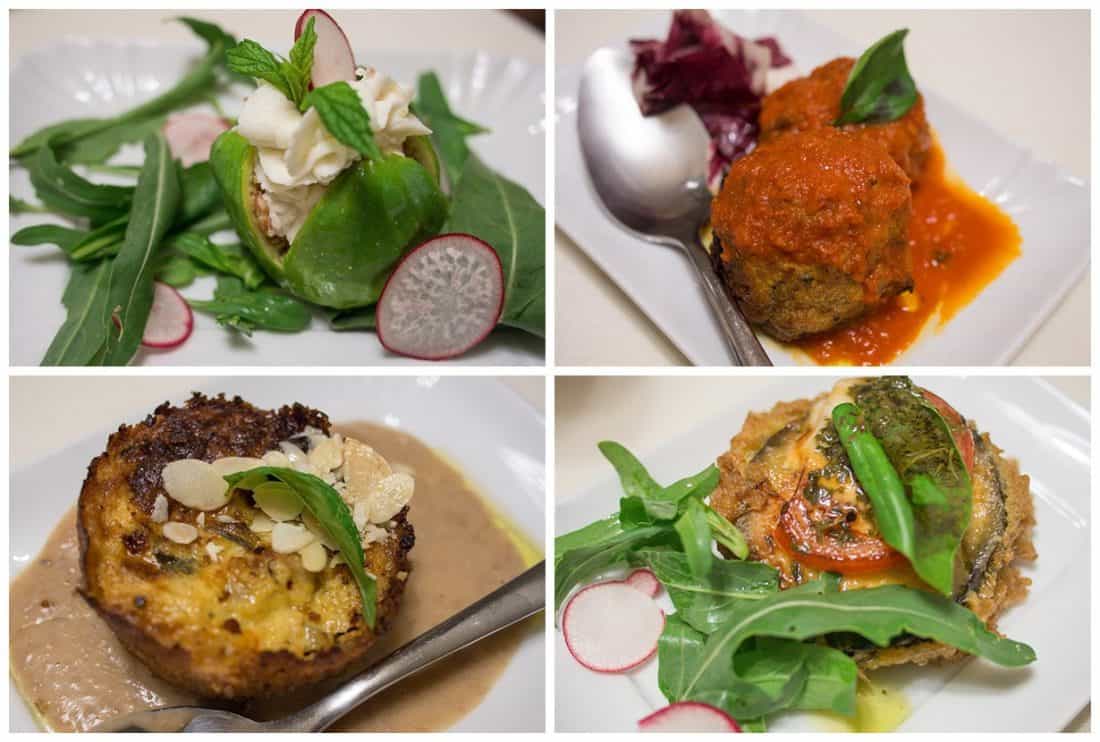 Another Matera cave restaurant in Sasso Caveoso, Ristorante Francesca adds a contemporary twist with modern lampshades and a refined menu.
As always, the Antipasti della Casa is an excellent choice for trying a few different dishes. They are especially creative here and ours included a zucchini flower tortino, melanzana parmigiana, fava bean puree with chicory, bread balls in a tomato sauce, and figs stuffed with orange ricotta and mint.
We followed that with orecchiette with fave bean puree and mushrooms.
Indoor and outdoor seating is available.
Details: 9 Vico Bruno Buozzi. Open Mon-Tues & Thurs-Sat dinner only 7.30pm-10.00pm, Sun lunch 12.30pm-3pm/ dinner 7.30pm-10pm. Closed Wednesdays.
Website: Tripadvisor
5) Regiacorte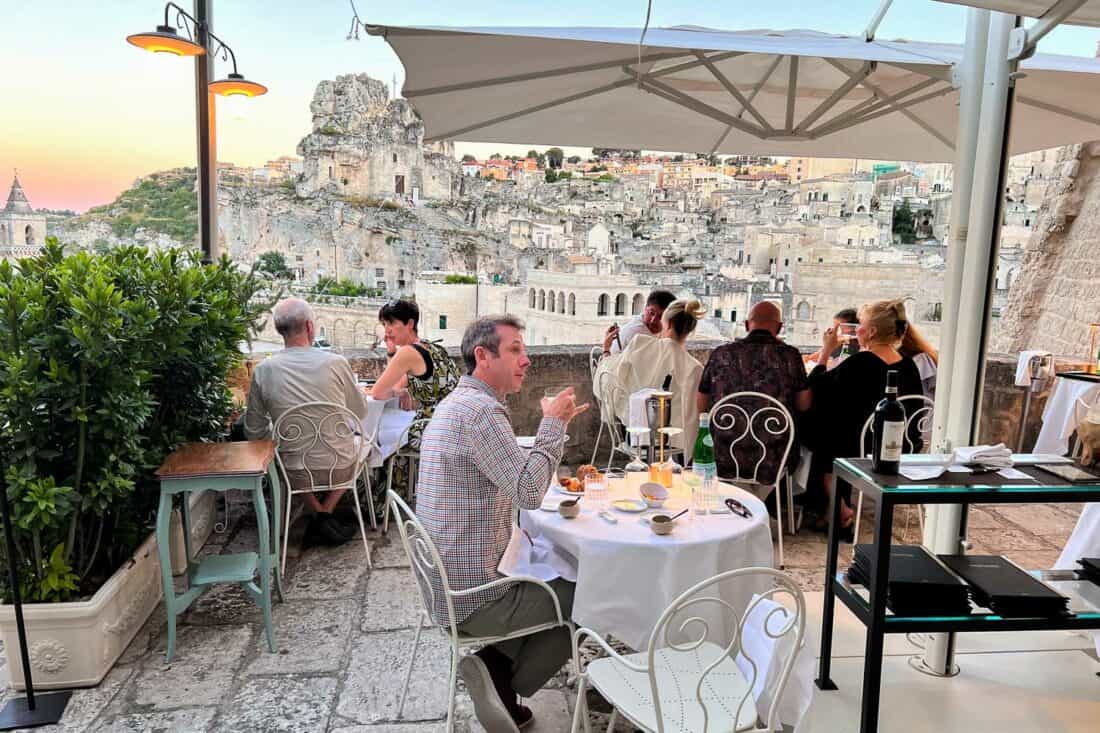 If you are looking for Matera restaurants with a view, Regiacorte is one of the best, especially for special occasions.
It was by far our most expensive Matera meal (over €200 for a tasting menu for two with a bottle of wine), but the food and setting are superb.
It's located in a hotel with tables on a series of small terraces overlooking Sasso Caveoso—you can see the unique cave church Santa Maria di Idris and down into the ravine.
Sunset is the perfect time to dine—while you don't see the sun go down, it's lovely to admire the view in daylight and once it's lit up after dark.
You can order individual dishes, but the tasting menu is worth the splurge for this upmarket experience. We chose the four-course vegetarian menu, La Richiezza Contadina (€75).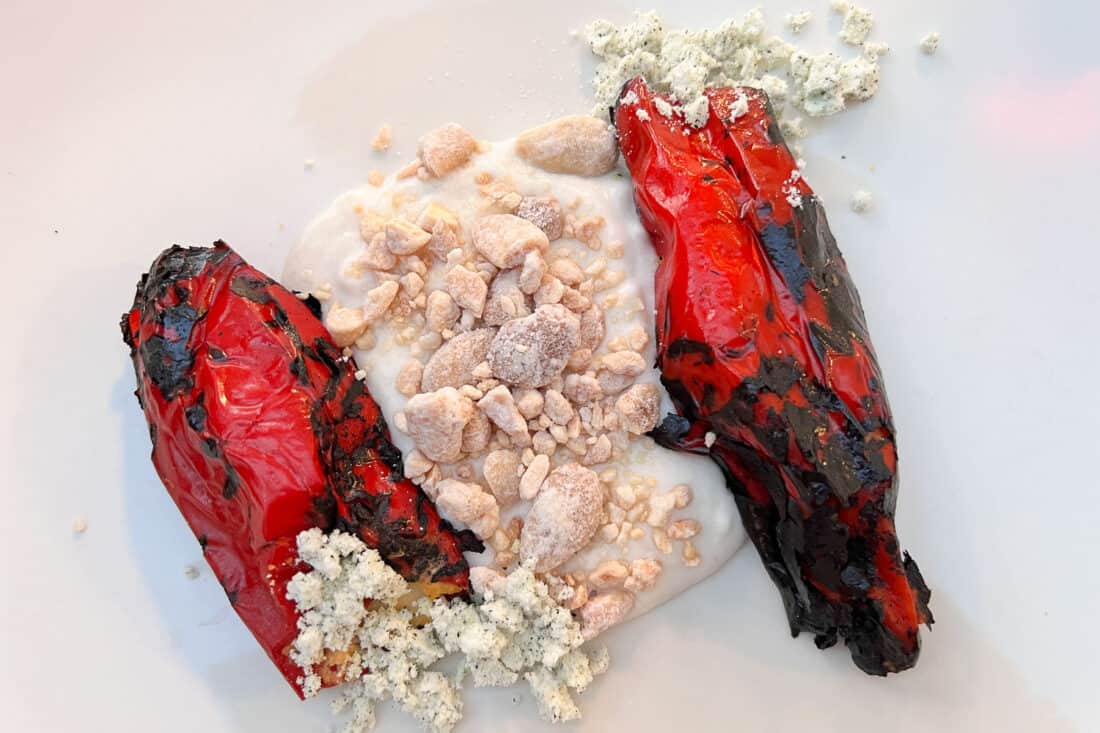 The meal included plenty of extras—dried fava beans, focaccia and bread with olive oil, a tequila and cucumber cocktail, a pre-dessert refresher, and three little extra desserts.
We were very full by the end, especially as the service was almost too efficient, and we moved through courses more quickly than usual in these kinds of meals (we were finished in under two hours).
Our four courses were peppers stuffed with smoked provola cheese and bread, a stuffed pasta with ricotta and cinnamon (which worked surprisingly well), barbecued onion, and a white chocolate mousse. Everything was wonderful.
Bookings are essential (by email worked but was a little slow), and I recommend doing so as far in advance as possible and requesting a table at the front of the upper terrace. We were one table back by the server station, and it felt a bit busy with the staff coming and going.
Details: Piazza S. Pietro Caveoso. Open Wed-Mon for dinner 7pm-10.30pm. Closed Tuesdays. Bookings highly recommended.
Website: Regiacorte
6) Agriristories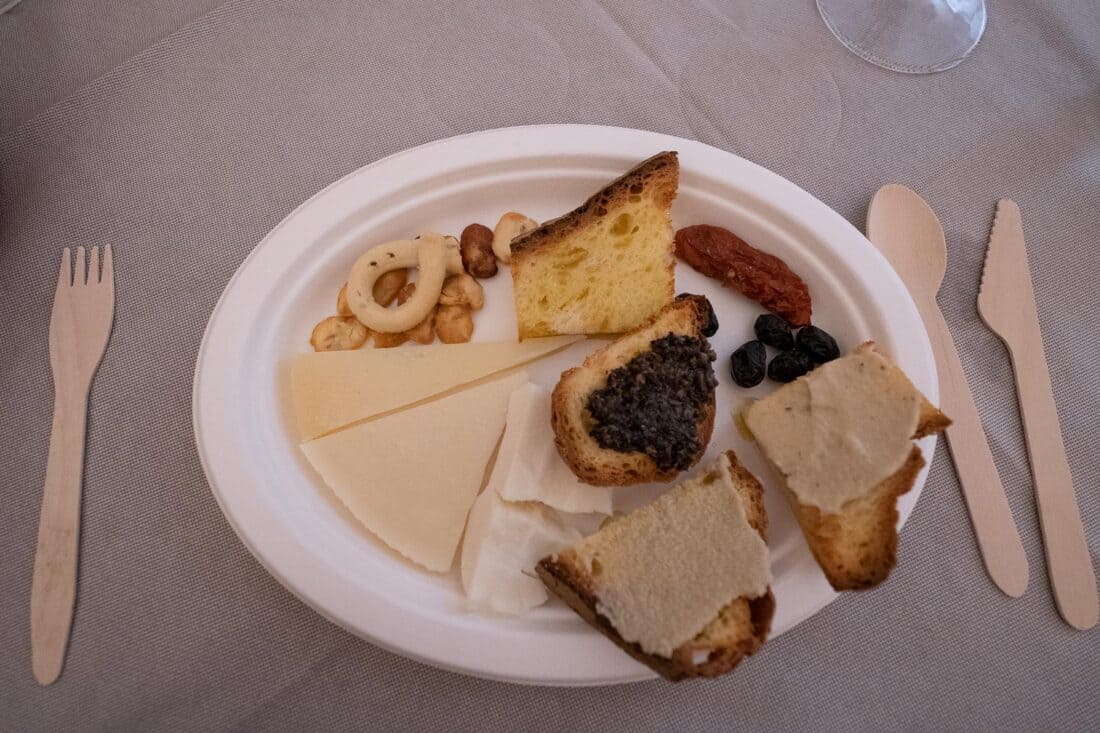 I loved the concept of this restaurant which showcases local artisanal products. Nothing is commercially produced from the wide range of beer and wine to the vegetables, cheese, bread, pasta, beans, and more. You can also buy the products in their store.
Agriristories is one of the most atmospheric cave restaurants in Matera, hidden down a staircase in the heart of the sassi, with lots of alcoves carved into the tufa to dine in.
Many reviewers recommend the tasting menu, so that's what we did. At €12 it's good value, but it's more a series of small bites than a substantial meal (although we were just full enough at lunch).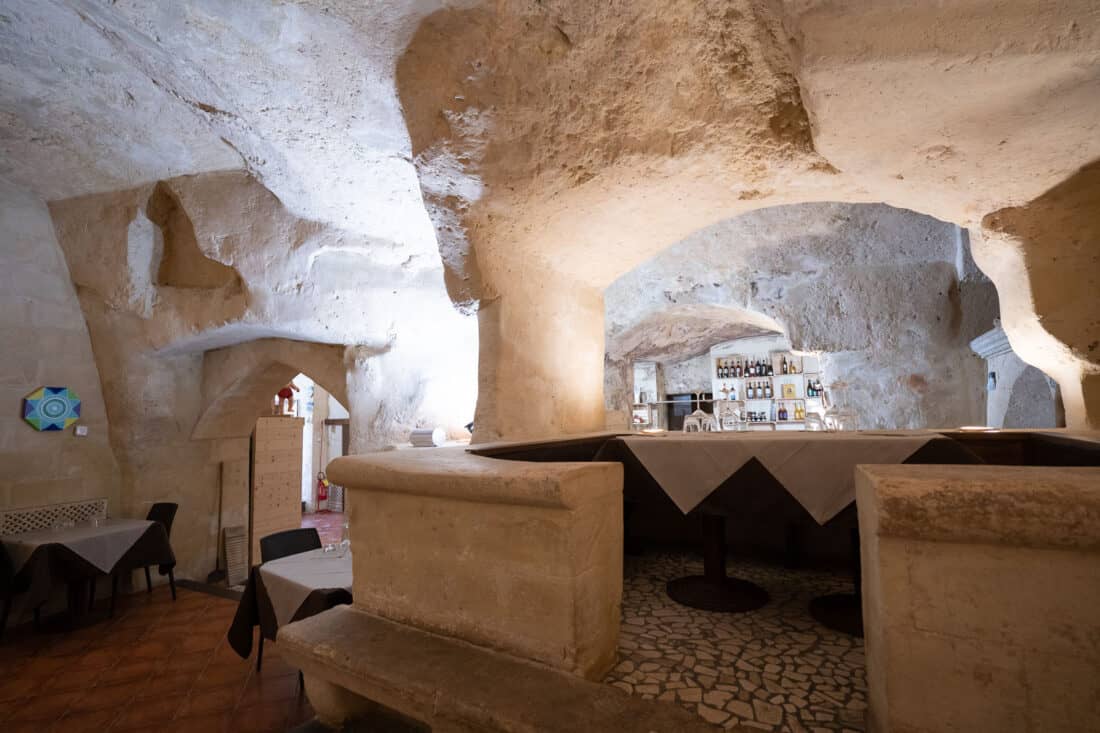 Strangely for a restaurant that highlights its eco credentials, the tasting menu is served on a paper plate with wooden cutlery. They said it was compostable so "returned to the earth", but we could not understand this choice in a rather stylish restaurant. I only assume dishes from the rest of the menu come on proper plates!
The first course of the tasting menu was the best. They skipped the salami for us vegetarians, and we tried some tasty local cheeses, olives, and trio of bruschetta (truffle, artichoke, and aubergine).
The second round was less successful— the small portion of simple orecchiette pasta with chickpeas was nice, but the bean soup was very plain. Dessert was just a few (tasty) blobs on the end of a spoon of pistachio cream, strawberry jam, and honey.
While everything tasted good, and we appreciated that the origin of the food was explained to us, we didn't find it a particularly satisfying meal. Of course, you can't expect much for this price.
I would love to give Agriristories another try, but next time I would order from the main menu.
Their wine list is excellent, though. My glass of Aglianico (Stupor Mundi DOC 2012) was by far the best wine I sampled on this trip.
Details: 62 Via Sette Dolori. Open Sun-Tues & Thurs-Sat lunch 11.30am-3.30pm/ dinner 7.30pm-11pm. Closed Wednesdays.
Website: Agriristories
Cheap and Casual Meals in Matera
Sometimes in Italy you just want a quick, inexpensive meal. There are some good casual options in Matera for pizza, sandwiches, and pasta.
Also see the bar section below for snacks outside the usual meal times.
7) 5 Lire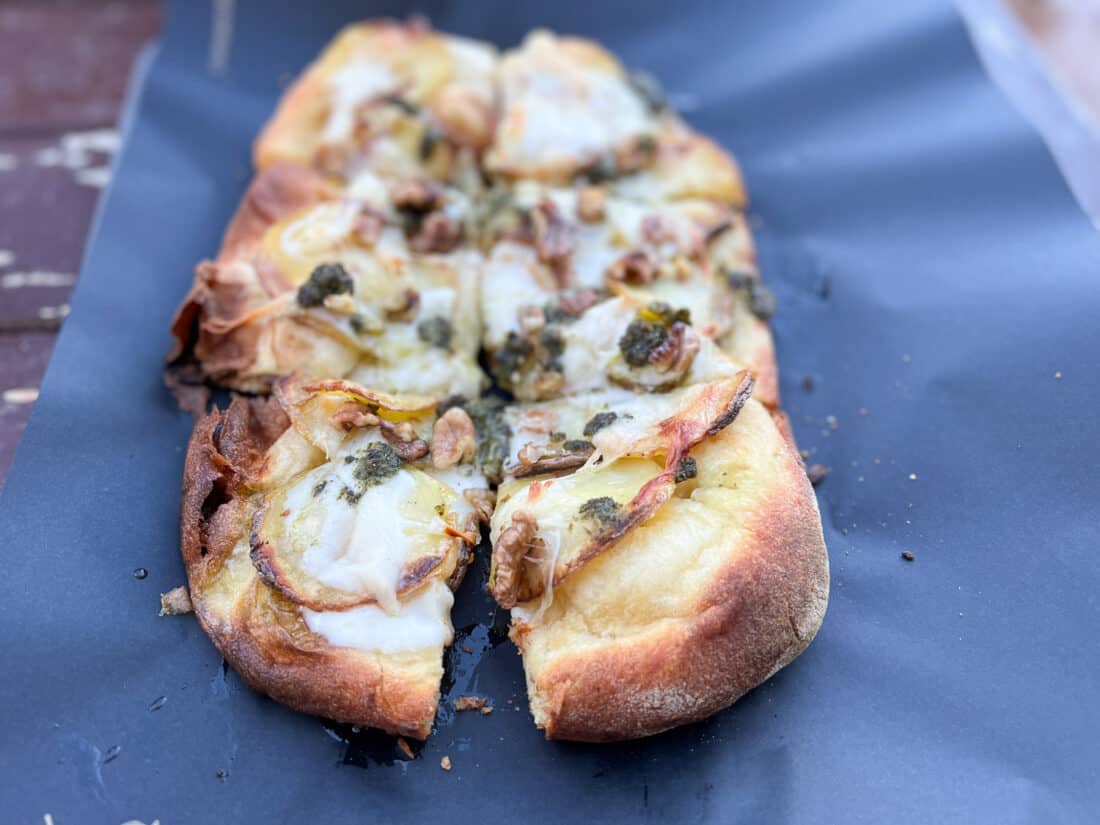 At 5 Lire on the main street you can find some of the best pizza in Matera—order at the counter by the slice or choose a whole oval-shaped pinsa to be freshly baked. Our mozzarella, potato, pesto, and walnut thick crust pinsa (€8) was excellent.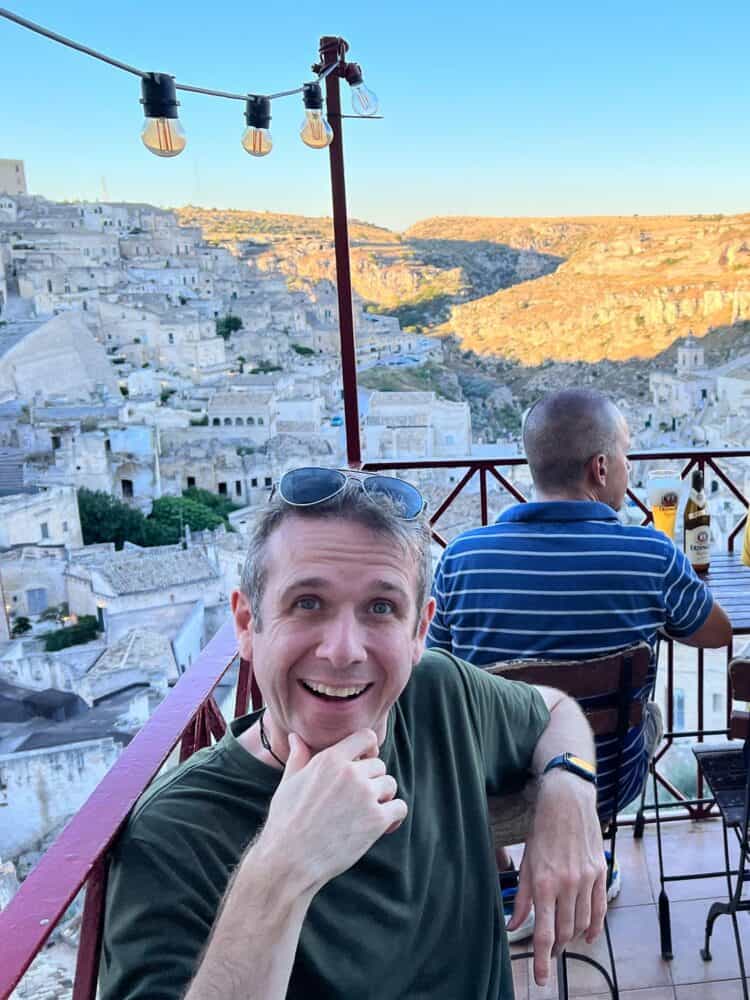 Best of all, head out the back to a tiny terrace with three tables and an incredible view down into the sassi. There's a €1 cover charge for eating in.
Local beers and Spritzs are available, so it's good for an aperitivo too.
Details: 37 Via Domenico Ridola. Open Tues-Fri 12pm-midnight & Sat-Sun 12pm-12.30am. Closed Mondays.
Website: Facebook
8) Il Rusticone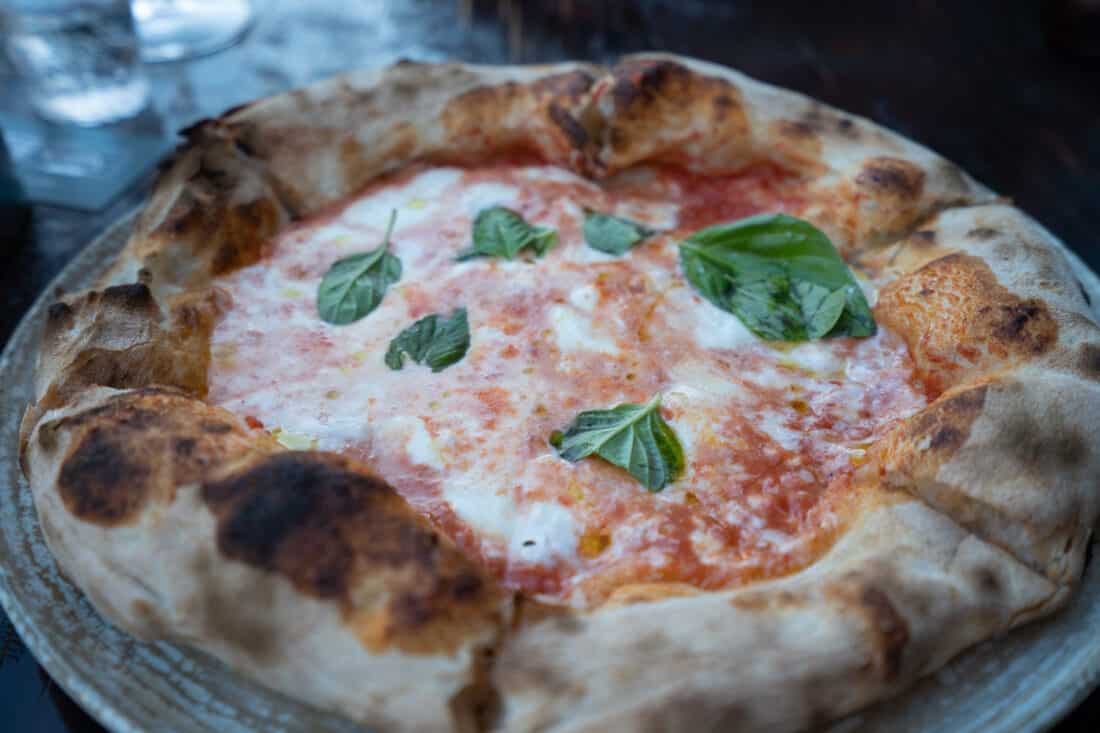 While Il Rusticone was our cheapest meal in Matera, our Margherita pizza (€5.50) was delicious, and we ate outside on the lively street.
You can also get pucce (sandwiches), tagliere (boards of meat and cheeses), and there's a good selection of local beers.
Details: 5 Via San Biagio. Open Tues-Sun 12pm-3pm/ 7.30pm-11.30pm. Closed Mondays.
Website: Il Rusticone
9) Kapunto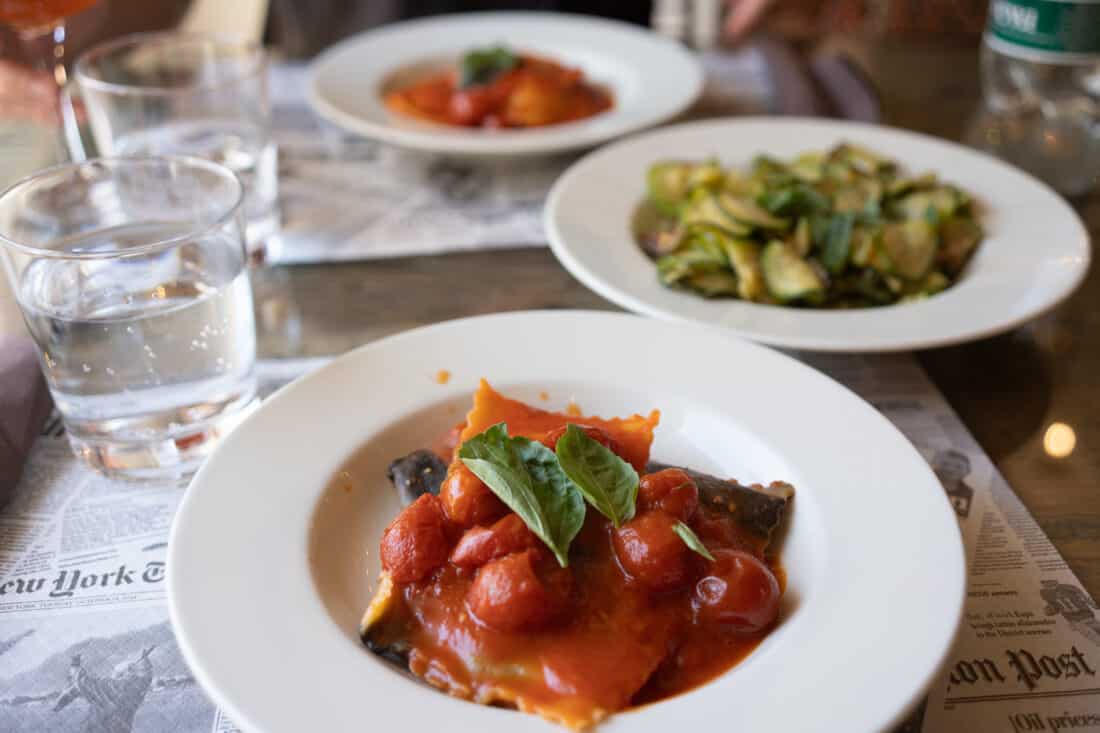 Kapunto is a pasta lab near the castle in the "new" part of Matera.
You order at the counter and choose from the array of fresh pasta on display, select your sauce, and add any vegetable side dishes. You can take it away (great if you are self-catering) or dine inside the simple but stylish space.
We shared two stuffed pastas—mozzarella with sun-dried tomato, and aubergine with smoked provola—in a perfect tomato and basil sauce, with a side of courgette with mint.
It was all delicious and made us wish we were staying in Matera long term to become regulars here.
While Kapunto is casual and fairly fast, it's not a cheap meal—our three dishes with drinks were over €40. It's worth it for some of the best pasta in Matera.
Details: 178 Via Lucana. Open Mon, Wed-Sat 10am-3.30pm/ 6pm-8.30pm, Sun 10am-3.30pm. Closed Tuesdays.
Website: Kapunto
Best Bars in Matera: Aperitivo with a View
Italy's tradition of aperitivo—pre-dinner drinks with snacks ranging from olives and crisps to more substantial spreads—is one we fully support.
Not only does it keep us going until the late dinner hours, but the food can also be delicious, and we love a good Aperol Spritz.
We made it our mission to find the best Matera aperitivo with a view, because why not enjoy your drink while admiring the gorgeous sassi.
In addition to these Matera bars with sassi views, other areas popular with locals for a drink are the cute Piazza San Giovanni and the busy main square Piazza Vittorio Veneto as well as the streets leading off it including Via Ridola.
10) Terrazza Cavaliere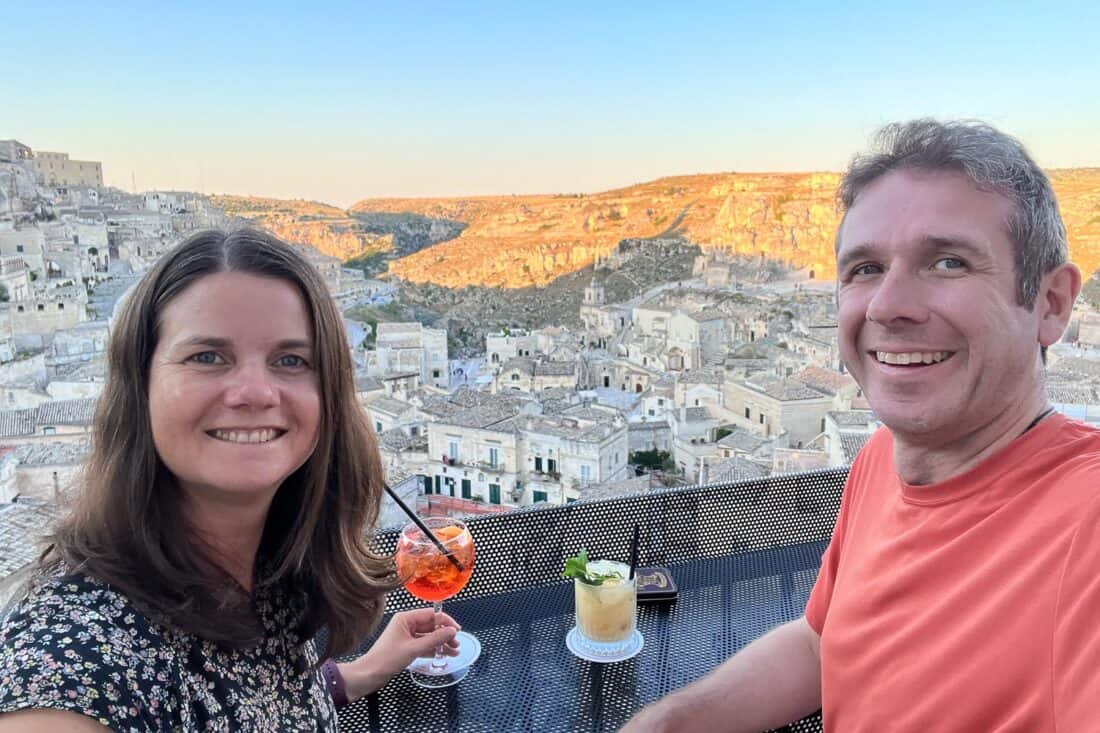 Our favourite place for a drink with a view in Matera is Terrazza Cavaliere.
It's on buzzy Via Ridola next to 5 Lire (a combo of the two would make for a wonderful casual dinner). While there are tables on the main street, you want to head out the back to the terrace which teeters on the edge of the sassi.
They make the most of the epic view with stools along the counter so you can look directly down to the sassi with unobscured views of the cave church and ravine beyond.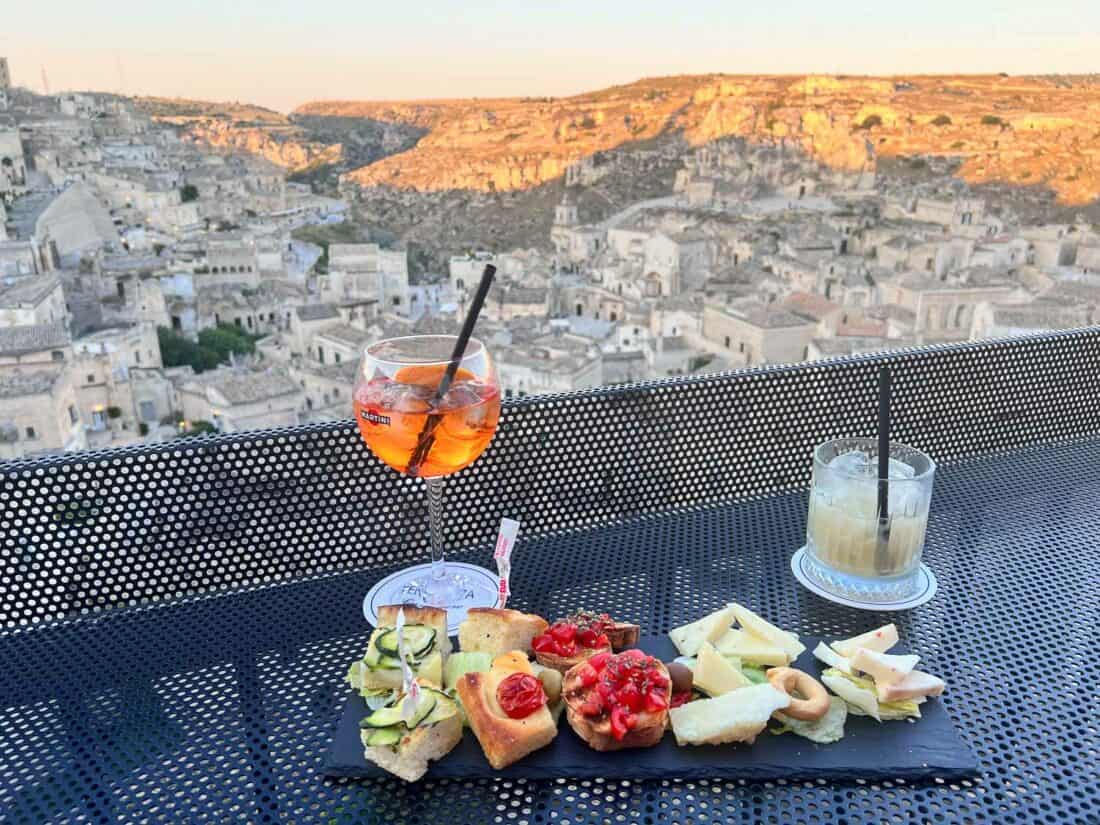 It's one of the best views in Matera yet somewhat under the radar (we managed to get a spot at 7.30pm). It has more of a local vibe than some of the other bars with views.
The Spritz was good and reasonably priced at €6. They made us an excellent vegetarian aperitivo plate (€8) with cheese, focaccia, bruschetta, and olives. The €3 cover charge to sit on the terrace is well worth it.
Details: 33 Via Domenico Ridola. Open Mon-Thurs 11am-10pm & Fri-Sun 11am-1am
Website: Facebook
11) Crialoss Café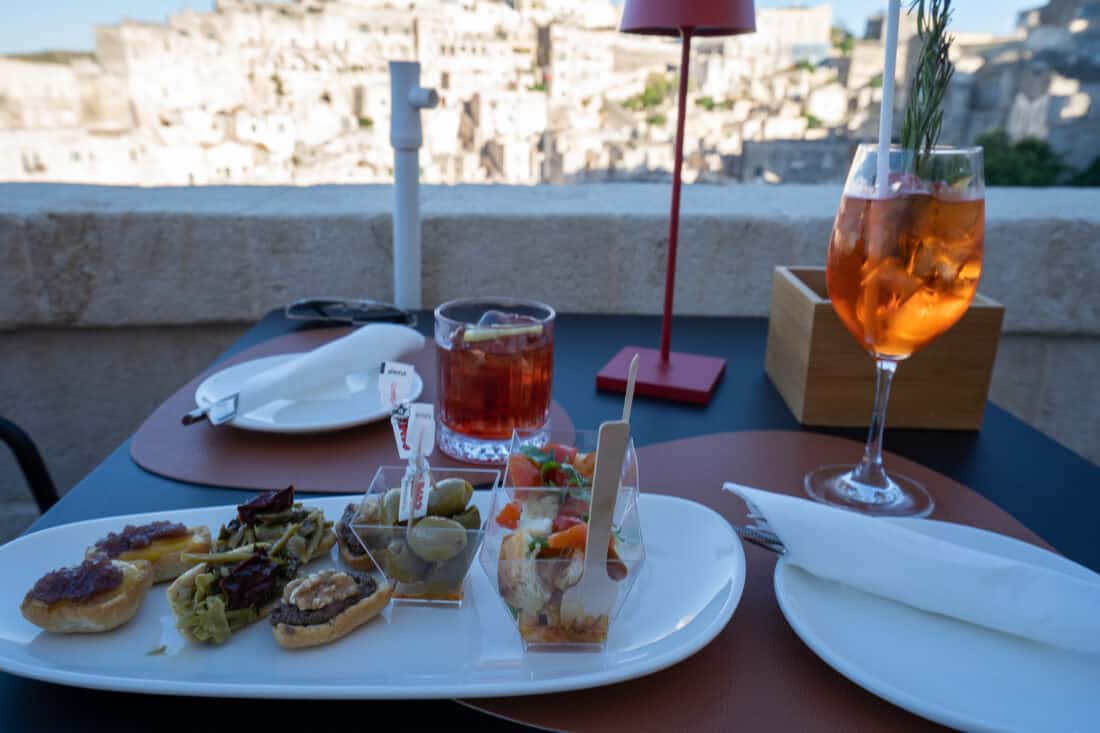 Crialoss is another wonderful spot for aperitivo in Matera with a view. It's on the other side of town in Sasso Barisano so offers a different perspective looking back towards Sasso Caveoso and the Duomo.
The tables are perfectly located on the edge of the terrace for unobscured views and the light is ideal in the early evening.
It's located in the Palazzo degli Abati hotel directly above the cave church San Pietro Barisano—you drink next to its bell tower! It's a little hard to find—look for the sign to the right of the church and head up.
Cocktails and snacks were very tasty—we got the €10 selection of bruschetta, bread salad, and olives.
They have quite an extensive menu (accessed with a QR code) of bruschetta, platters, and salads, so it's a good option if you are hungry in the afternoon when restaurants are closed.
Details: 49 Vico Santa Cesarea. Open Thurs-Tues 1pm-10pm. Closed Wednesdays.
Website: Crialoss
12) Zipa Café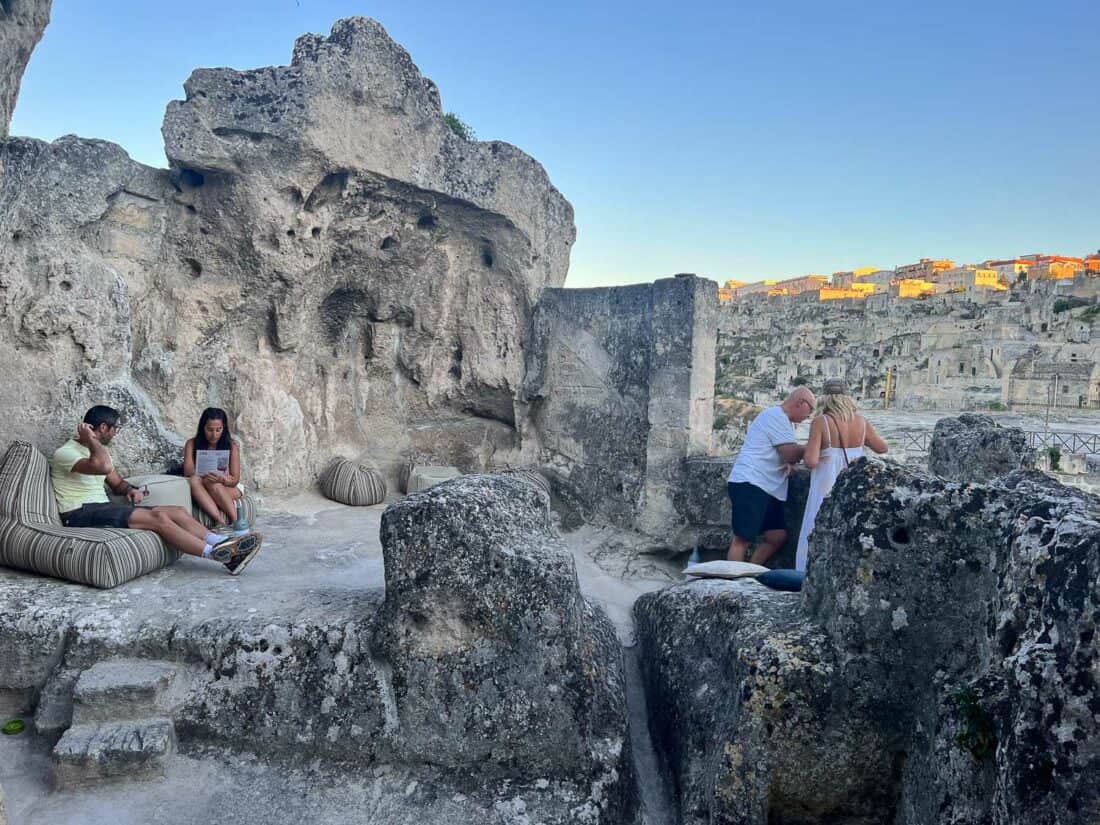 Zipa is one of the most unique bars in Matera. This trendy spot overlooks the ravine with bean bag chairs scattered amongst the rocky alcoves.
The main section was full when we went at 7pm on a Saturday, so they fitted us in on a little piazza next door.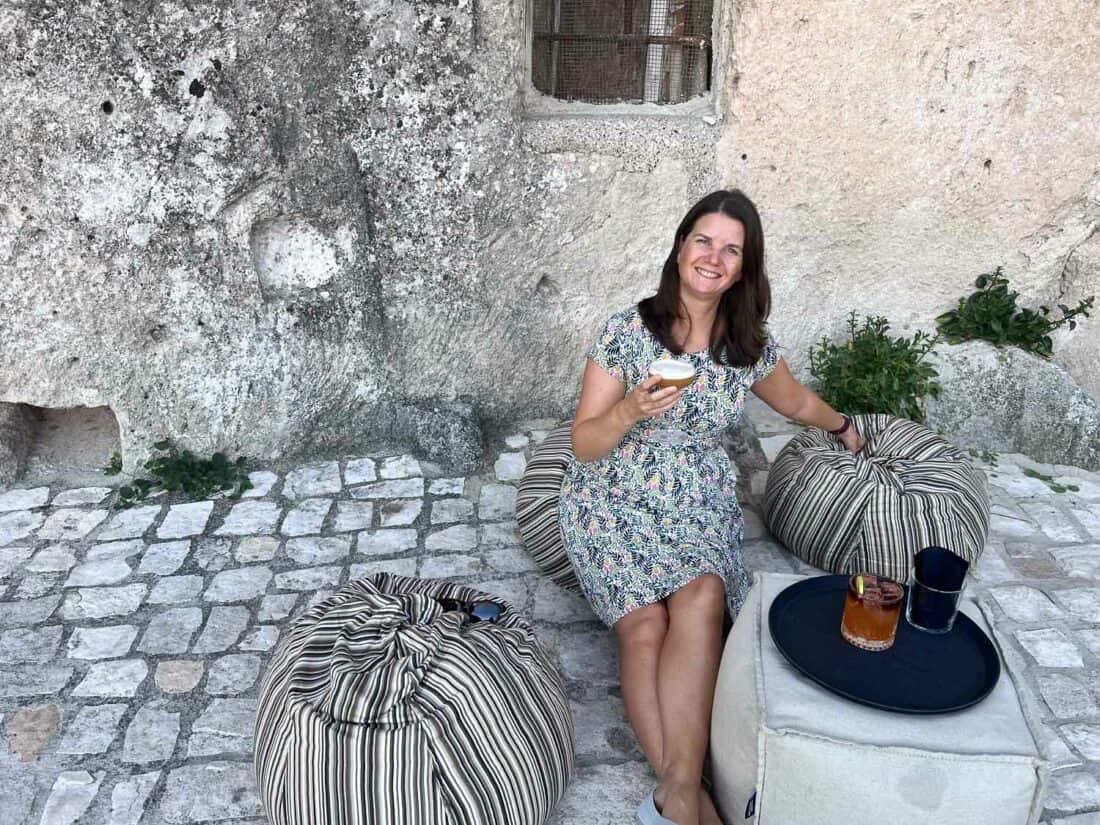 This isn't the place to go for a Spritz—they have a small menu of seven unique cocktails. I enjoyed their version of a whiskey sour, Peccato Originale (original sin) with apple juice.
There isn't much of a food menu, but you can pay individually for snacks like taralli, capers, and crisps.
While the view isn't as good as the two bars above, it's worth visiting for the unusual setting and cool vibe.
Details: 15 Via Madonna dell'Idris. Open Tues-Sat 12pm-8pm & Sun 5pm-12.30am. Closed Mondays.
Website: Zipa Café
13) Quarry Lounge Terrace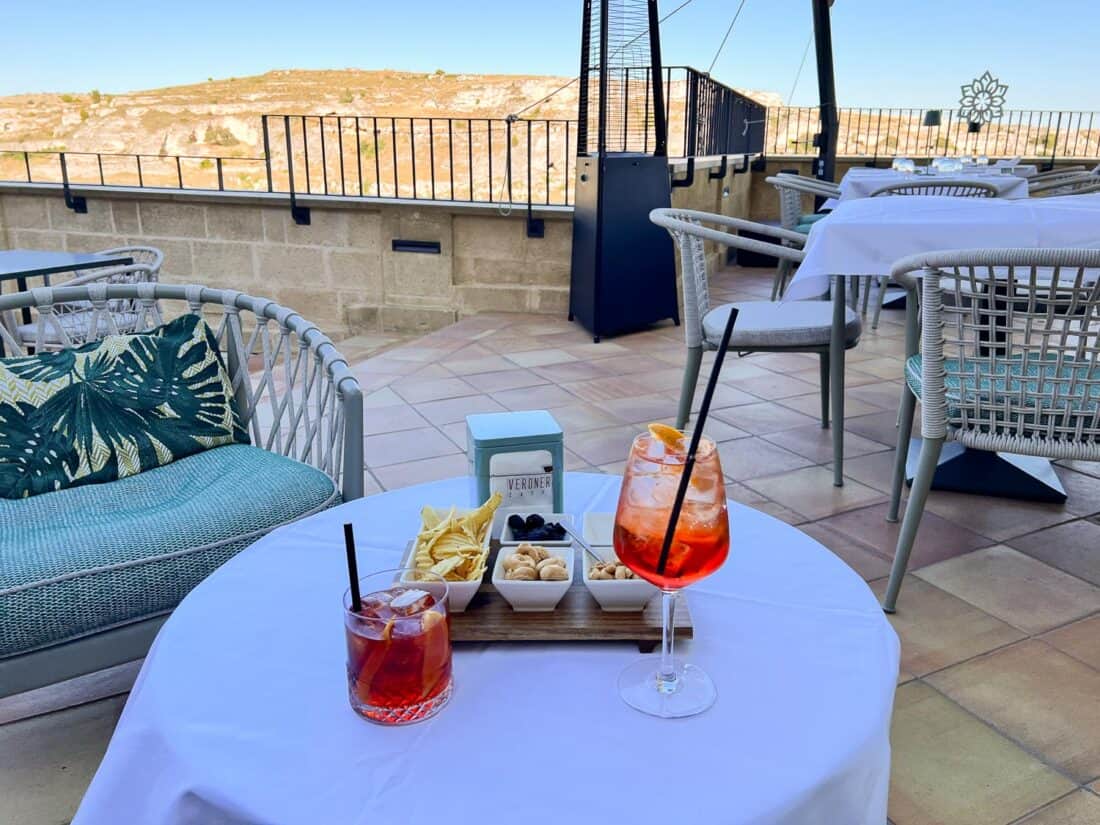 Quarry Lounge is located in a hotel and felt more touristy than the other bars on this list.
The terrace has a good view of the ravine, but you can't see it well unless you stand up.
One reason to visit is the comfy sofas. They are unusual to find so if you are craving a soft place to sit, head here.
Best Gelato in Matera
14) I Vizi degli Angeli Gelateria
I Vizi degli Angeli on Via Ridola has exceptional artisanal gelato. My favourite flavours, dark chocolate and pistachio, are both excellent, and they have plenty of vegan options.
One complaint—the skinny cones are too small for the scoops, so it's easier to get a cup.
We also came here for a refreshing lemon granita on an excessively hot afternoon.
Details: 36 Via Domenico Ridola. Open Thurs-Tues 11am–midnight. Closed Wednesdays.
Website: I Vizi degli Angeli Gelateria
Breakfast with a View in Matera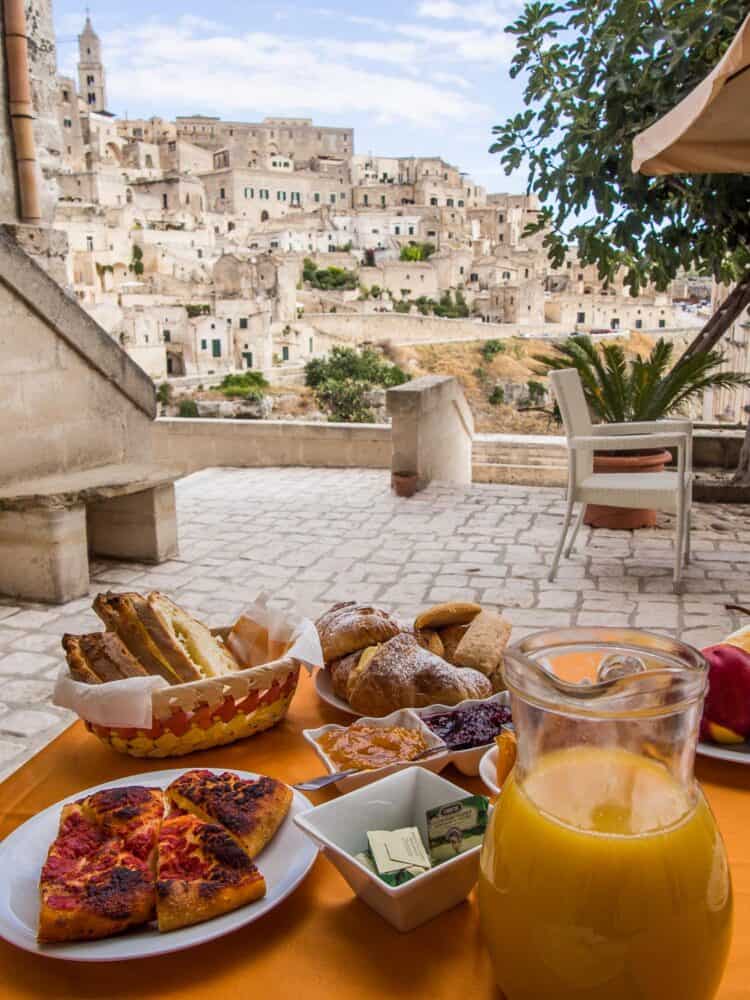 Almost every B&B and hotel in Matera includes breakfast. It's usually a delicious spread of sweet and savoury treats—focaccia, cakes, fruit tarts, croissants, fresh fruit, cheese, and meats.
Breakfast with a view of the sassi is a Matera highlight, so choose a hotel with a panoramic terrace if you can.
Two places we've stayed with tasty breakfasts and incredible views are Hotel Il Belvedere and B&B La Corte Dei Pastori.
Il Belvedere also does a wonderful tagliere ("cutting board" spread) for lunch or aperitivo on its gorgeous terrace.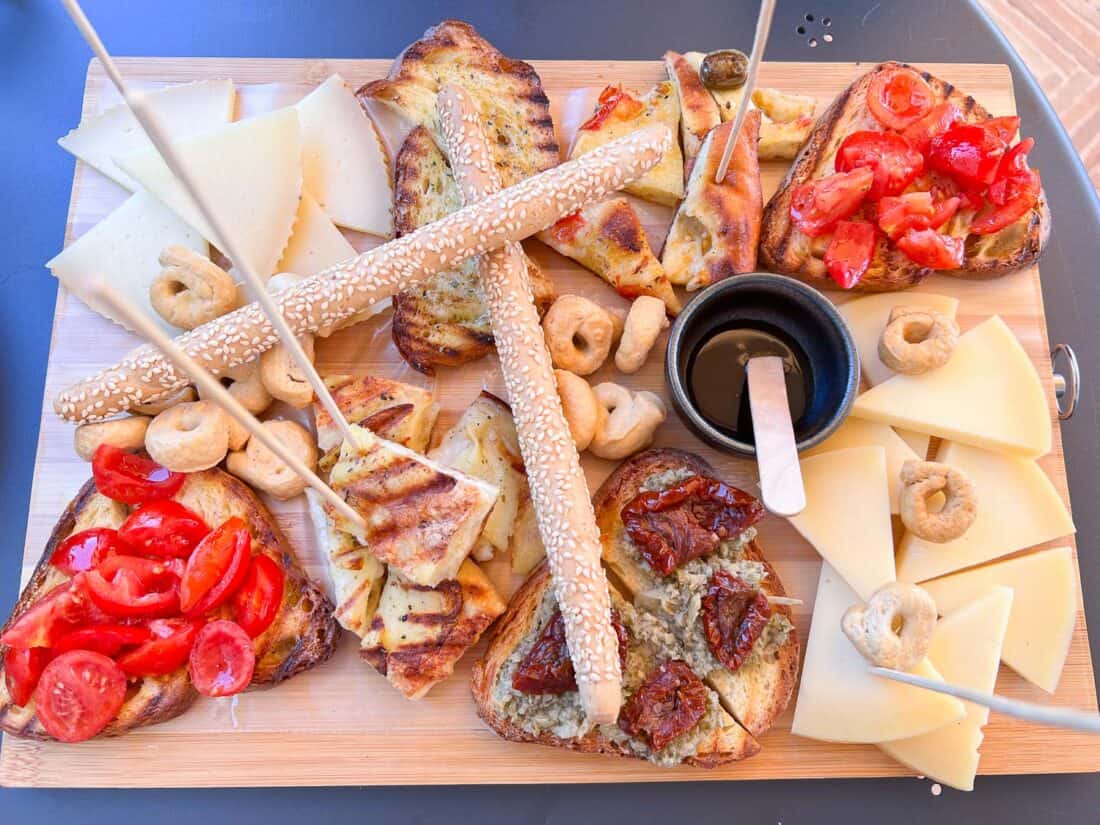 Matera Restaurants Map
Summary
I hope this post has made you hungry and given you some ideas of where to eat in Matera. This is just a small selection of the delicious food on offer in this beautiful, unique city.
Make sure you try local specialities like the tasty peperoni cruschi and don't miss having a drink with a sassi view—it was one of our top Matera experiences.
Of course, sometimes the best way to indulge in local cuisine is through a cooking class. Why not try this Matera Cooking Class in a farmhouse just outside the city?
Let us know in the comments if we missed any of your favourite Matera restaurants.
More Matera and Italy Posts
If you enjoyed this post, pin it!