This page contains affiliate links. Please read our disclosure for more info.
Admit it—you came to Italy to eat. It's certainly the reason we've visited the country a dozen times and can't stay away for long.
Eating in Italy is a serious business and the locals have strict food rules. You can find some of the best food in the world in Italy, but it's also possible to pay over the odds for a disappointing meal.

Visitors (especially Americans as the food culture is vastly different from the US) are often confused by aspects of dining in Italy and end up starving at 6pm or feeling ripped off.
By following these tips you'll be able to avoid tourist traps, eat the best food in Italy, and avoid shocking any Italians along the way.
If you are wondering what to eat in Italy, I also share my favourite Italian dishes to try while you are there.
Buon appetito!
Contents
Video: Tips for Eating in Italy
Watch our video of Italian food rules and top tips to make the most of your foodie trip to Italy.
Eating in Italy Key Facts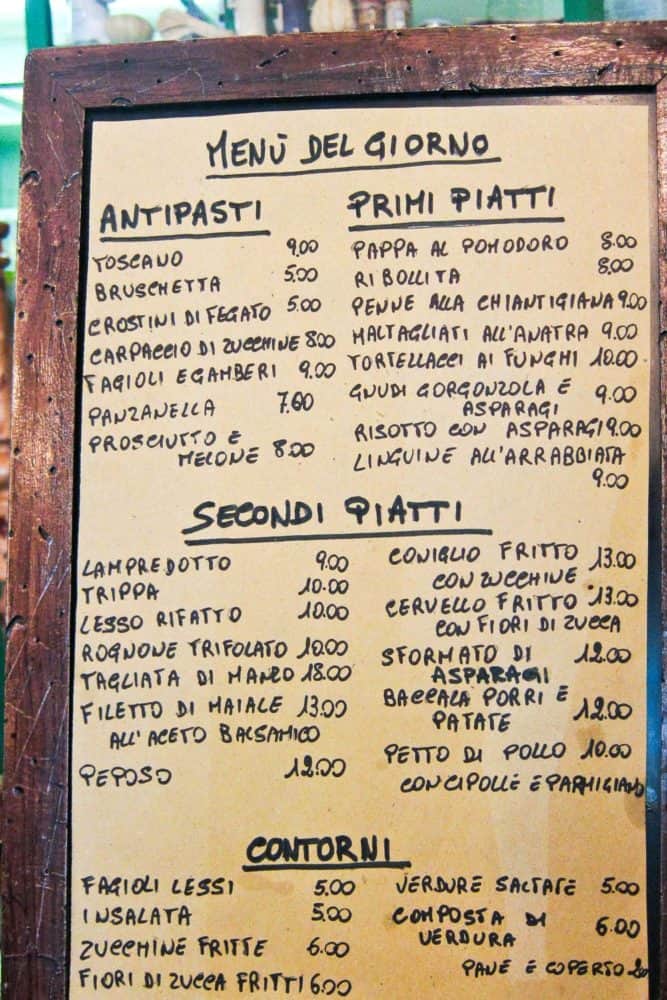 Here are the most important things you need to know when dining in Italy.
Italian menus are divided into the following courses:
Antipasti
Appetisers such as bruschetta (toast with toppings), grilled and marinated vegetables, and meat and cheese platters.
They can be quite filling (or absolutely humungous in Puglia and Basilicata) so we always share. Antipasti are often our favourite part of the meal as they are so diverse, feature regional specialities, and are often vegetable-heavy (less so in the north).
Primi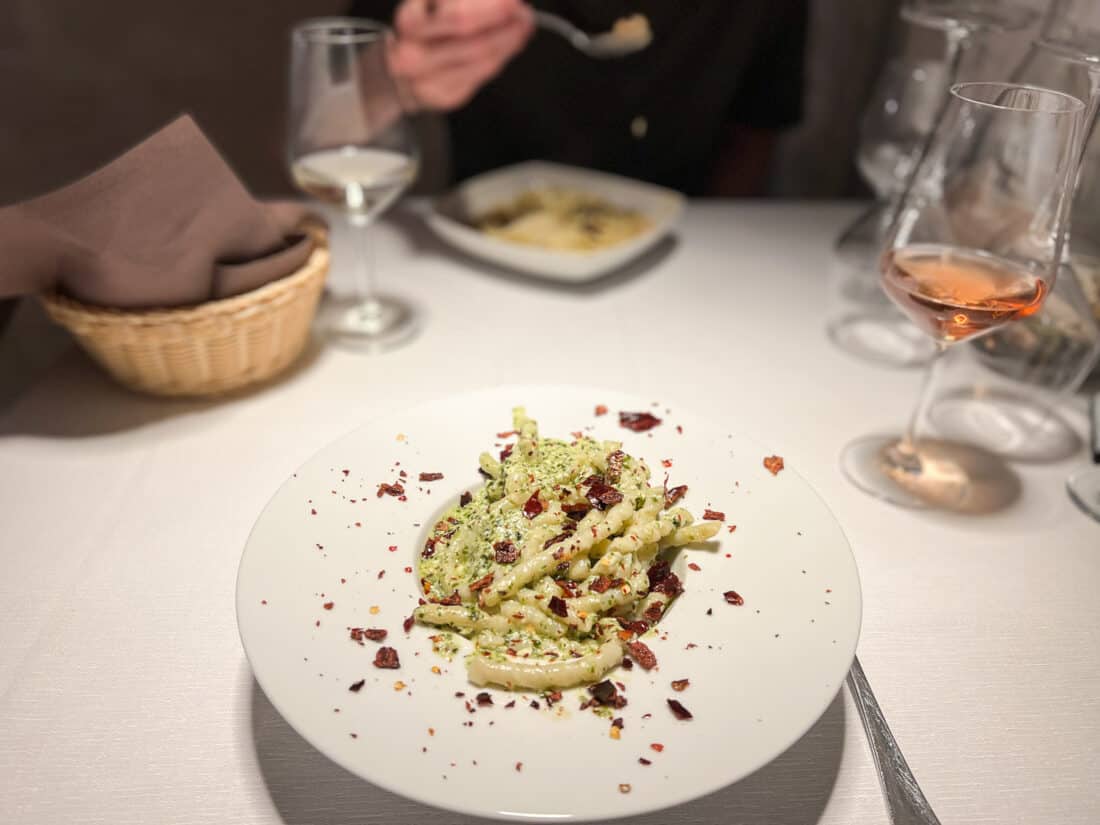 The first course consists of pasta, gnocchi, risotto, or a hearty soup (such as minestrone).
Portions aren't huge (usually), but it can be enough for a full meal (we usually get an antipasto as well).
There are hundreds of pasta shapes in Italy so learn the regional specialities for your destination. Otherwise, you might not recognise pasta on the menu as it will be called something like trofie (in Liguria) or orecchiette (in Puglia).
Secondi
The second course is meat or fish. It is just that—a slab of meat with nothing on the side.
Very occasionally a restaurant will list a vegetarian secondo like an omelette or platter of grilled vegetables, but you're better off sticking to the antipasti and primi.
Contorni
Side dishes such as potatoes, french fries, grilled or fried vegetables, salad, and beans.
If you want your meat or fish to have anything with it, you must order it separately.
Note that salad will arrive after you've eaten your meat, but hot vegetables will come with it.
Vegetarians can also make a meal from sides. Sometimes we order a side of grilled vegetables as an antipasto if there's nothing else on the menu we want (or feel free to have some veg after pasta).
Dolci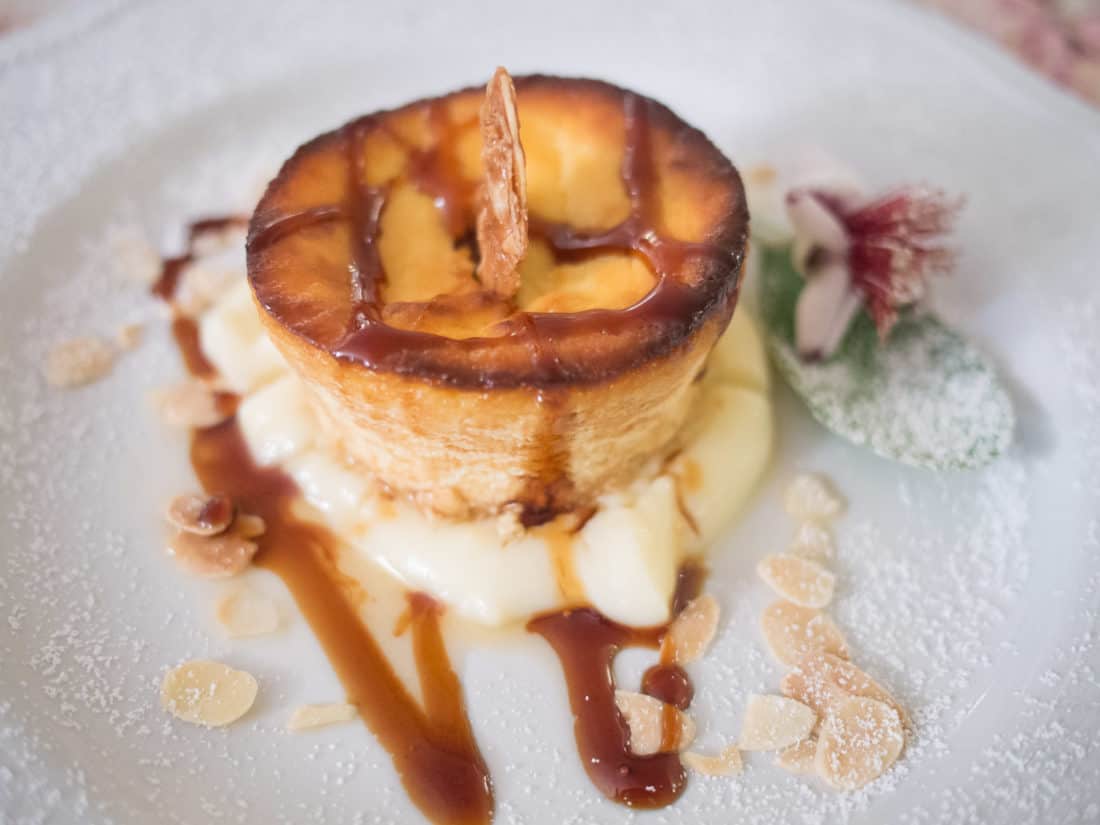 Dolci or desserts. The menu is usually quite simple and will include fruit, gelato, a cake or tart, and a regional speciality.
The creamy coffee flavoured dessert tiramisù is one of the most common desserts all over the country.
A cheaper alternative to dessert in a restaurant is heading to a gelateria and enjoying a cone on an evening stroll.
Caffè
It's very common to finish your meal with un caffè (espresso). It comes after dessert, not with it.
Italian dishes vary widely depending on the region. You can get pizza and pasta with tomato sauce everywhere, but don't expect to find spaghetti carbonara in Puglia—stick to local dishes instead. I share some of my favourites at the end of this post.
What Time Do Italians Eat Dinner?
Most Italians eat dinner around 8pm or 9pm. They may eat later in the summer, especially in the south of the country when dinner could be at 10pm or even later.
Visitors should be aware that opening hours at Italian restaurants are limited.
They open for lunch between 12pm and 1pm and close between 2pm and 3pm. Italians don't eat lunch later than 2pm.
Restaurants are then closed for an afternoon/early evening break.
They open again for dinner at 7.30pm or 8pm. Pizzerias might open a bit earlier at 7pm.
Make sure you plan for this when eating out in Italy. Grocery stores (except for major supermarkets) also close in the afternoon.
Below I've included tips on what to do if you get hungry in the afternoon or early evening (it's a common problem for us!).
When Eating in Italy
Do
Eat gelato every day. It's that good.
Look for the signs produzione propria and artigianale in gelaterias, which means that the gelato is made on-site and in the old-fashioned way with natural ingredients.
Order more than one flavour of gelato. Even if you order a small size (which is usually plenty), you can choose two flavours. My personal favourite combination is pistachio and chocolate.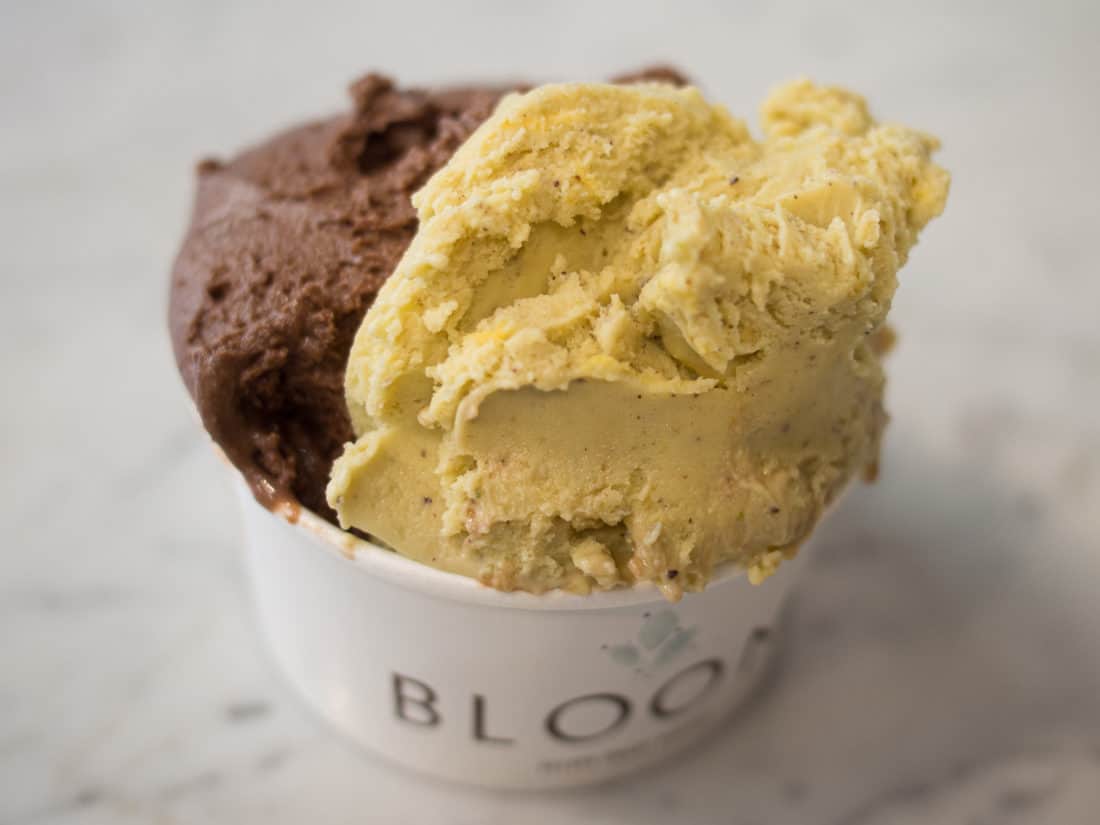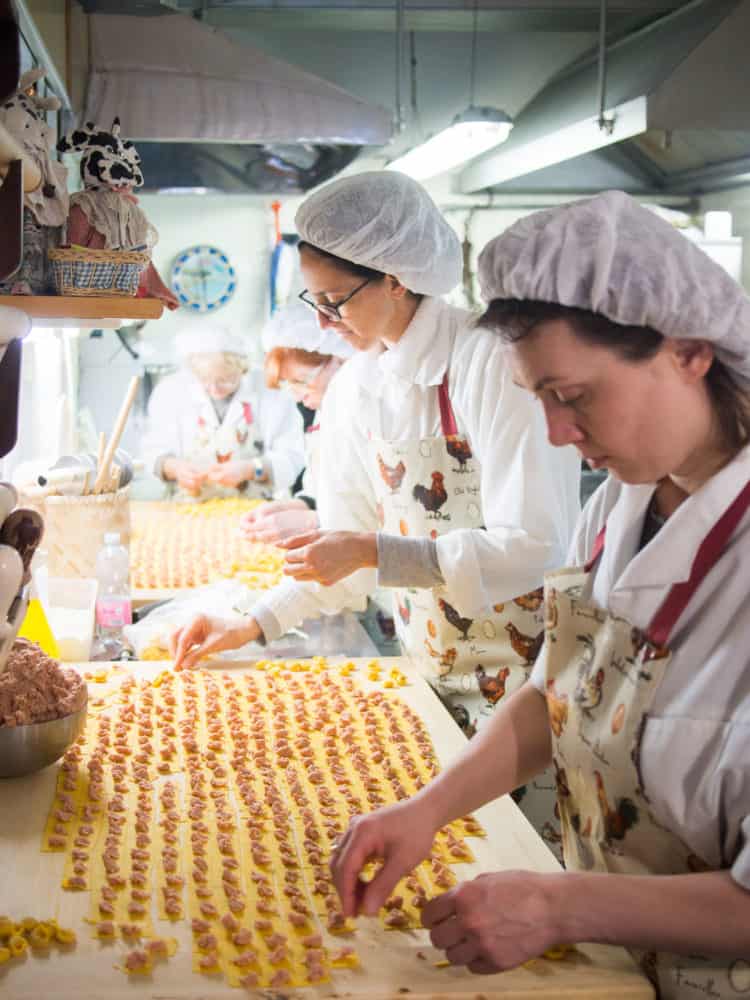 Read Eating My Way Through Italy by Elizabeth Minchelli which explores the differences between regional cuisines. It includes personal stories as well as practical tips and restaurant recommendations. I want to do her DIY pizza tour of Naples!
Avoid restaurants near major tourist attractions. If you do choose to eat on a popular piazza like Piazza Navona in Rome, accept that you are paying for the view and not for quality food. Perhaps just have a drink instead.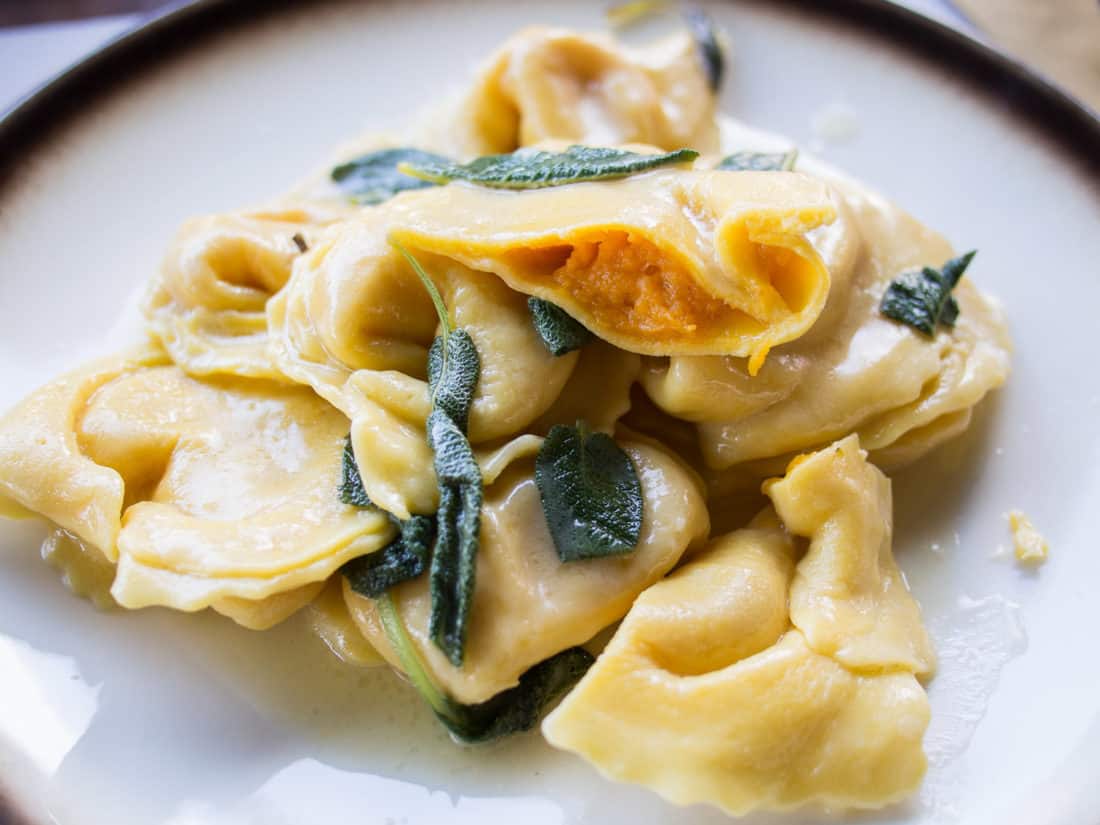 Order un caffè (espresso) after dessert, not during the meal.
Visit bars at any time of day. They are more like cafes and are family-friendly. Stop by for a coffee, snack, soft drink, or alcoholic beverage from breakfast until late at night. They can be a good place for a sandwich if you get hungry mid-afternoon, although quality varies and some bars close in the afternoon (especially in small towns).
Drink coffee standing at the bar (al banco) to avoid paying extra to sit down—up to four times more in touristy areas.
Check the bar menu if you really want to sit down. It's usually on the wall and you can see the prices for banco (standing) and tavolo (sitting).
Eat pizza with your hands. In a pizzeria you'll cut the pizza into slices yourself then feel free to use your hands.
Buy slices of takeaway pizza or focaccia with different toppings for a cheap snack. This is your best option if you get hungry outside the usual meal times. You usually choose how much you want and pay by weight.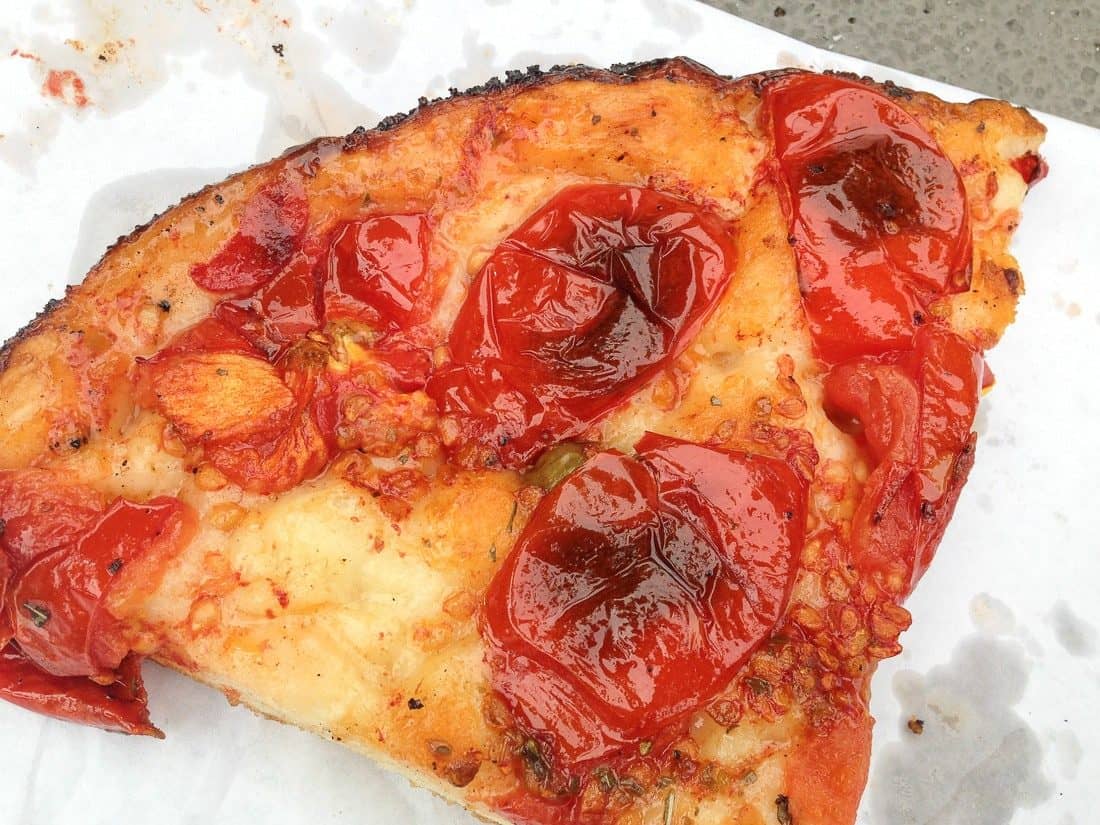 Stick with a primo (first course, usually pasta, risotto or soup) if you are vegetarian—a secondo (second course) is almost always meat and a primo is tasty and filling enough (and cheaper).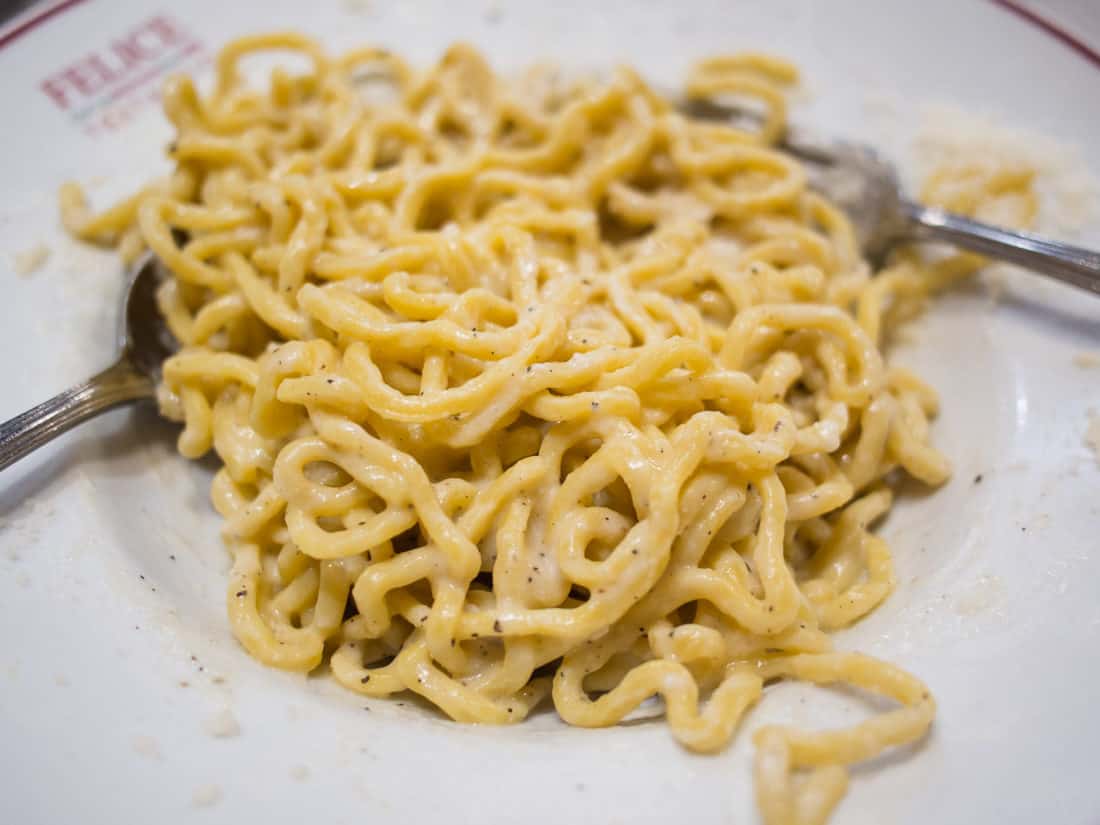 Order wine (or just water) with a meal—Italians only drink beer and soft drinks with pizza.
Ask for a glass of wine even if only bottles are listed on the menu. There is always the option of un bicchiere (glass) or un quarto (quarter litre) or mezzo litro (half litre) jug of house wine. The house wine is very affordable and often the same price as water—we've had a half litre for as low as 2 euros!
Choose your mineral water naturale (normal) or frizzante (fizzy). You'll usually be asked this as soon as you sit down as a litre bottle is served with every meal. Unfortunately, Italians don't drink tap water at restaurants (although it is safe to drink).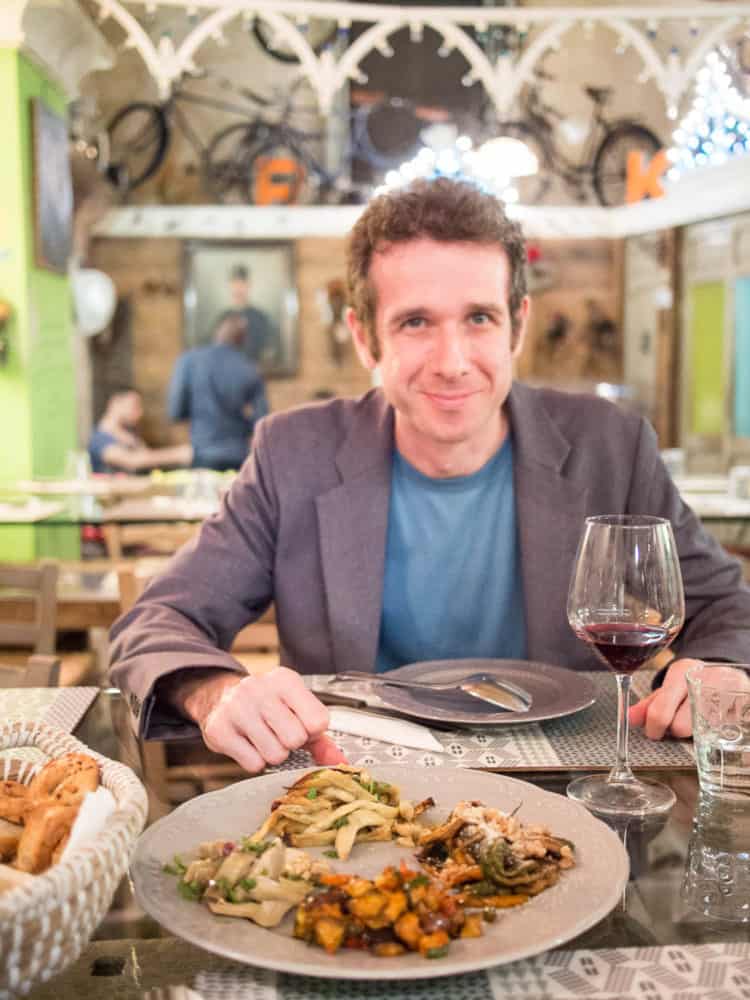 Enjoy a pre-dinner drink or aperitivo at a bar. This is usually a glass of wine or cocktail. My favourite is a Spritz made with Aperol (or Campari), prosecco, and soda water. Bars always provide a snack with your drink such as potato chips, olives, nuts, and/or focaccia. This helps keep us going until restaurants open.
Fill up on the aperitivo buffets that some bars offer for free when you buy a drink in the early evenings (usually from around 6-8pm). If you are on a tight budget, it could even be enough for dinner, which is why it's known as apericena. Although it's frowned upon if you eat too much—in general it's best to stick with one plate of food per drink. The best place for apericena is northern Italy, especially Milan and Turin.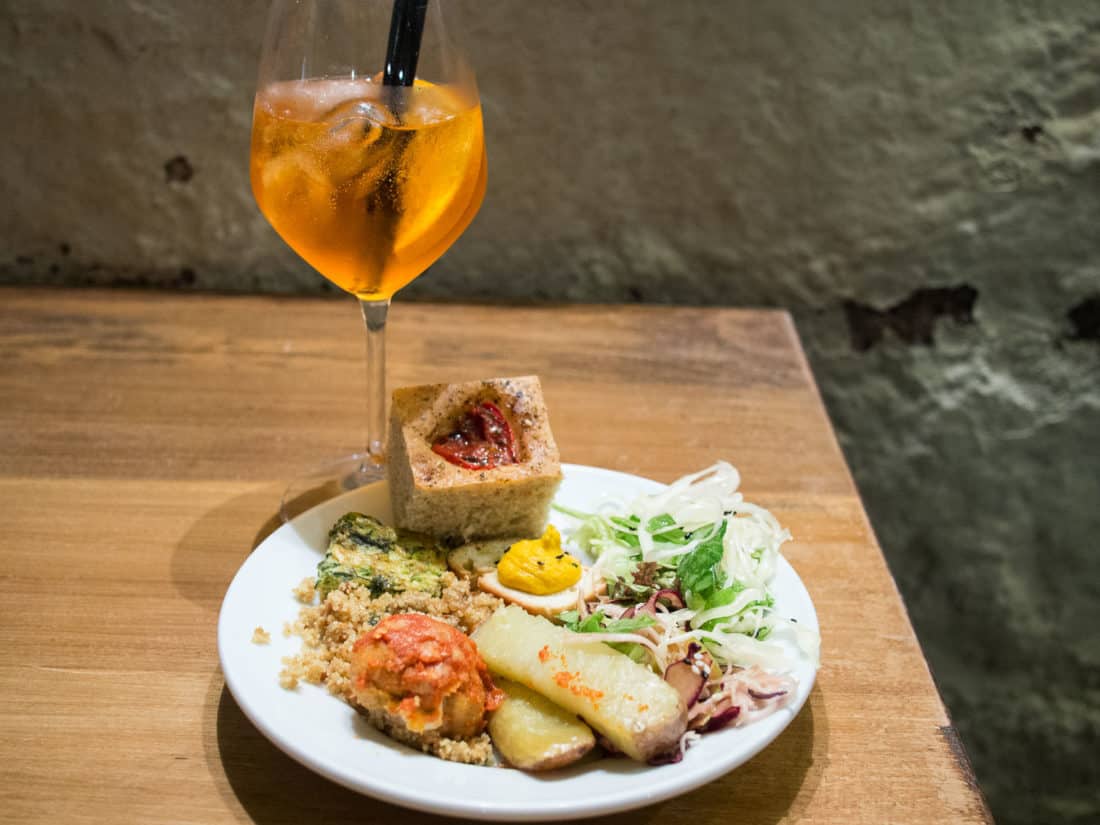 Buy olive oil from a farm (vineyards often make olive oil too). You'll never go back to the supermarket stuff. To learn more about this liquid gold take an olive oil tour or stay on an olive farm—we love Masseria Il Frantoio in Puglia (read our review here).
Visit a vineyard for a wine tour and tasting. We did a fantastic wine tour in Umbria and have also enjoyed winery visits in Tuscany, Puglia, and the Barolo area of Piemonte.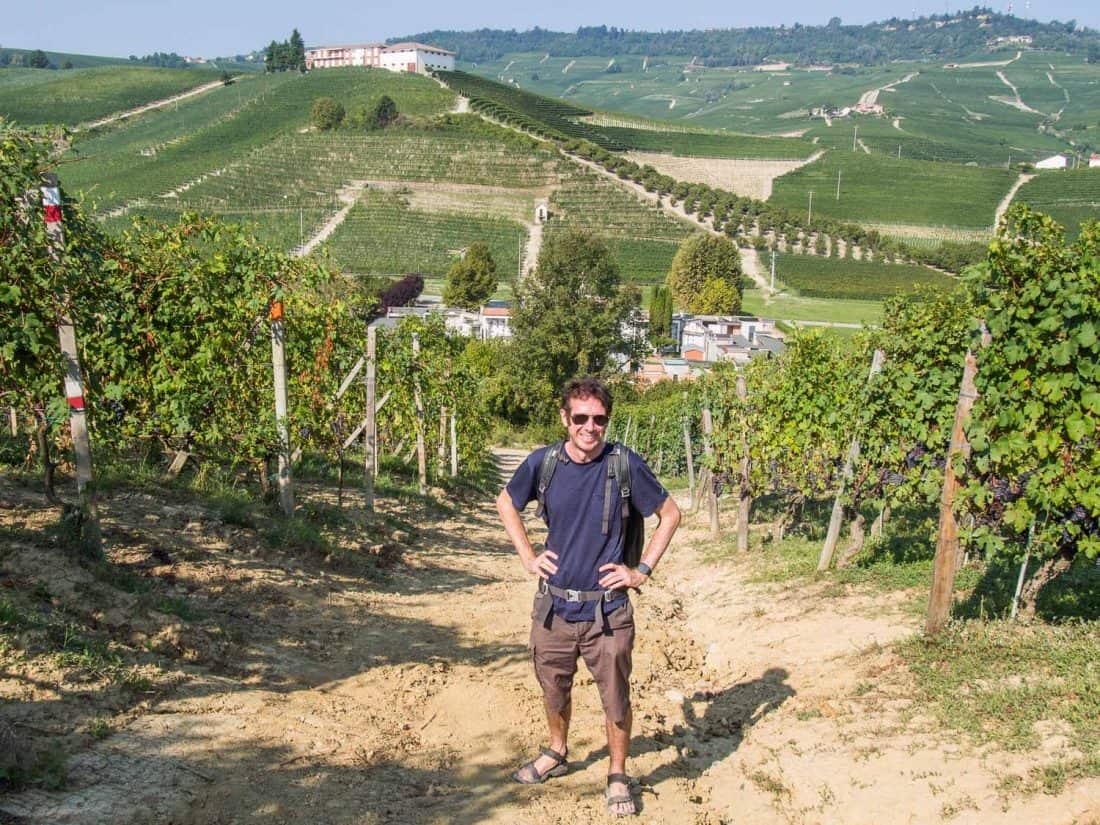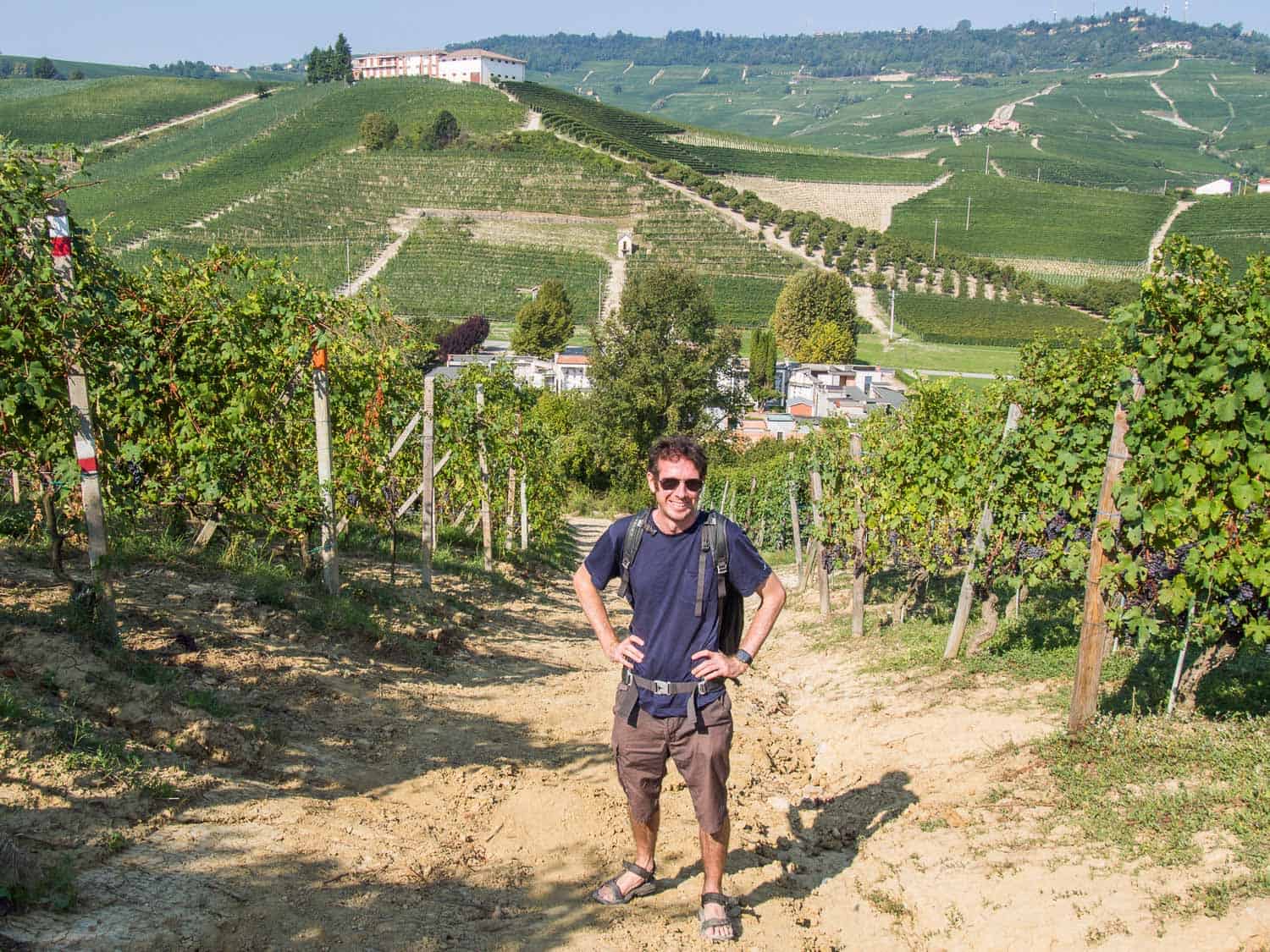 Try real aged balsamic vinegar. The 25-year-old stuff is like nothing you've tasted before. We visited a family-run acetaia in Modena on a day trip from Bologna.
Picnic. Even the simplest things taste amazing in Italy so buy some bread, cheese, olives, and fruit from an alimentari (small grocery store), market or supermarket and find a park to enjoy them in. Testaccio market in Rome is our favourite place for this.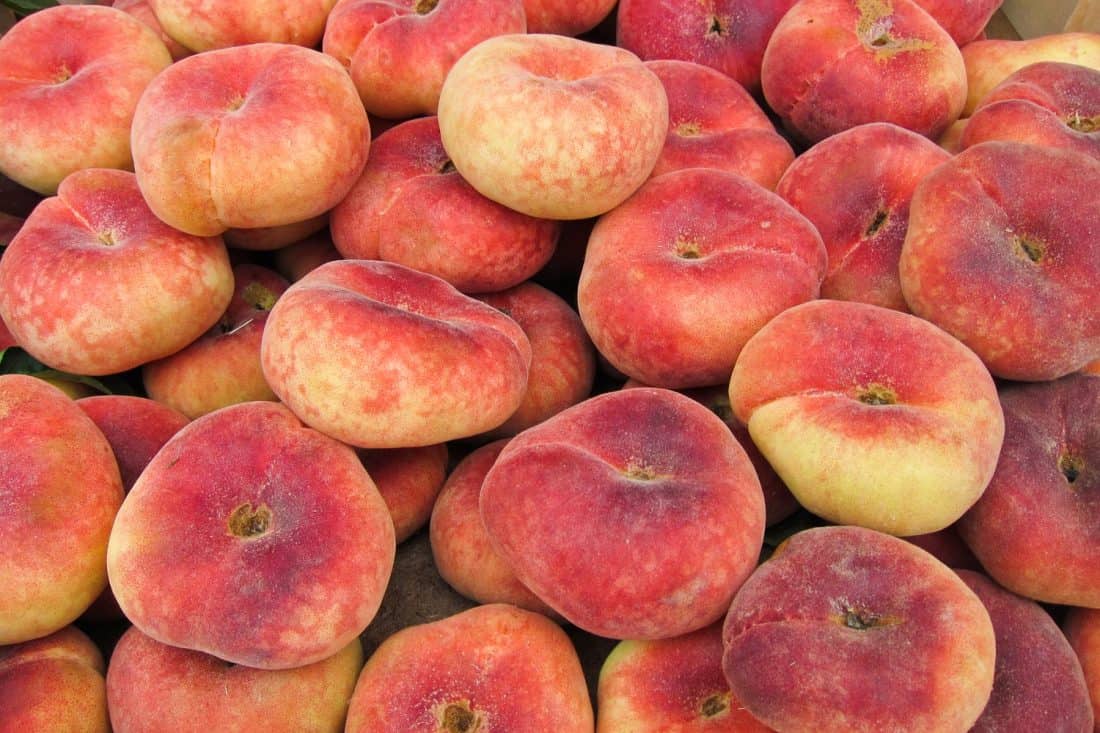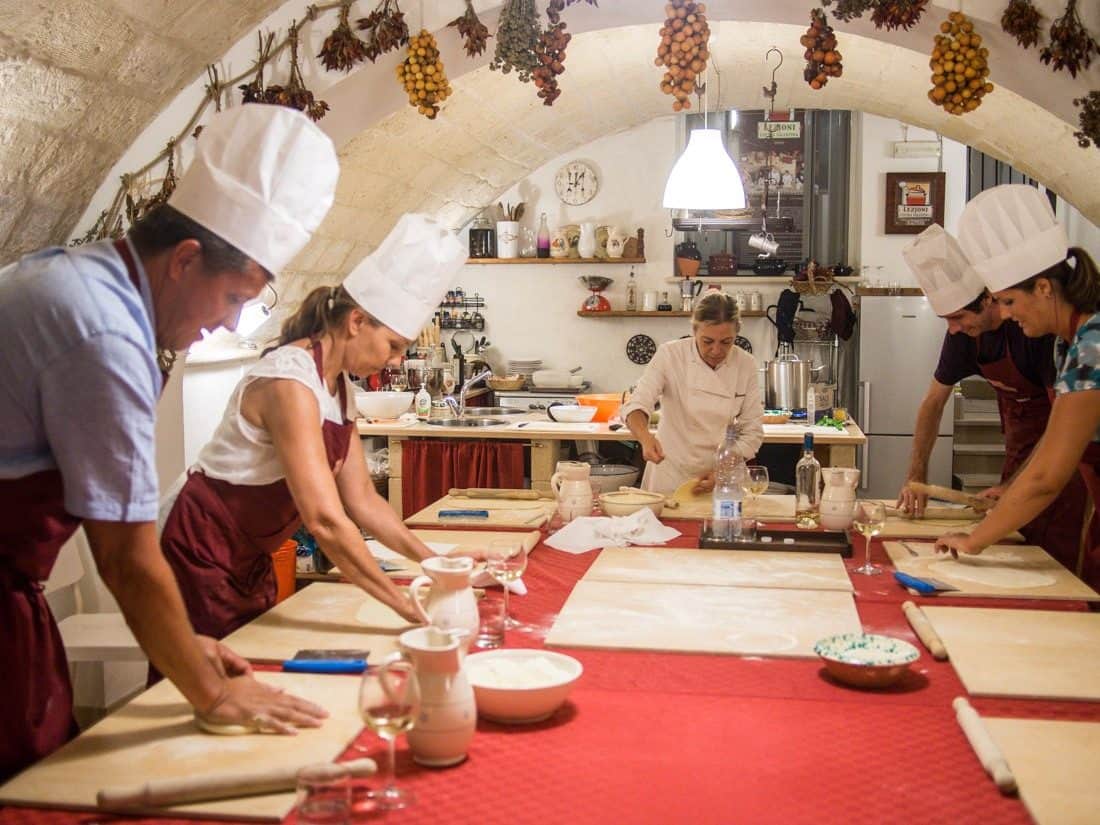 Ask for the bill/check (il conto). Restaurant staff will not automatically bring it as they don't want to rush you. It can take a while as they assume you're not in a hurry.
Enjoy a digestivo (after-dinner liquor) after your meal. The best ones are homemade and they can be bitter like an amaro, sweet like limoncello, or strong like grappa. If your server offers you a digestivo after you've received your bill, it's on the house.
Don't
Expect restaurants to be open for cena (dinner) until 7.30pm or 8pm. Typically Italians eat dinner at restaurants around 9pm (earlier in the north, later in the south). Pizzerias often open earlier at 7pm.
Feel obliged to order every course—an antipasto (starter), primo (first course), secondo (second course) with contorno (side dish), and dolce (dessert) is a lot of food. Pick and choose as you please. You could also order an antipasto or primo and then decide afterwards if you'd like to order another course.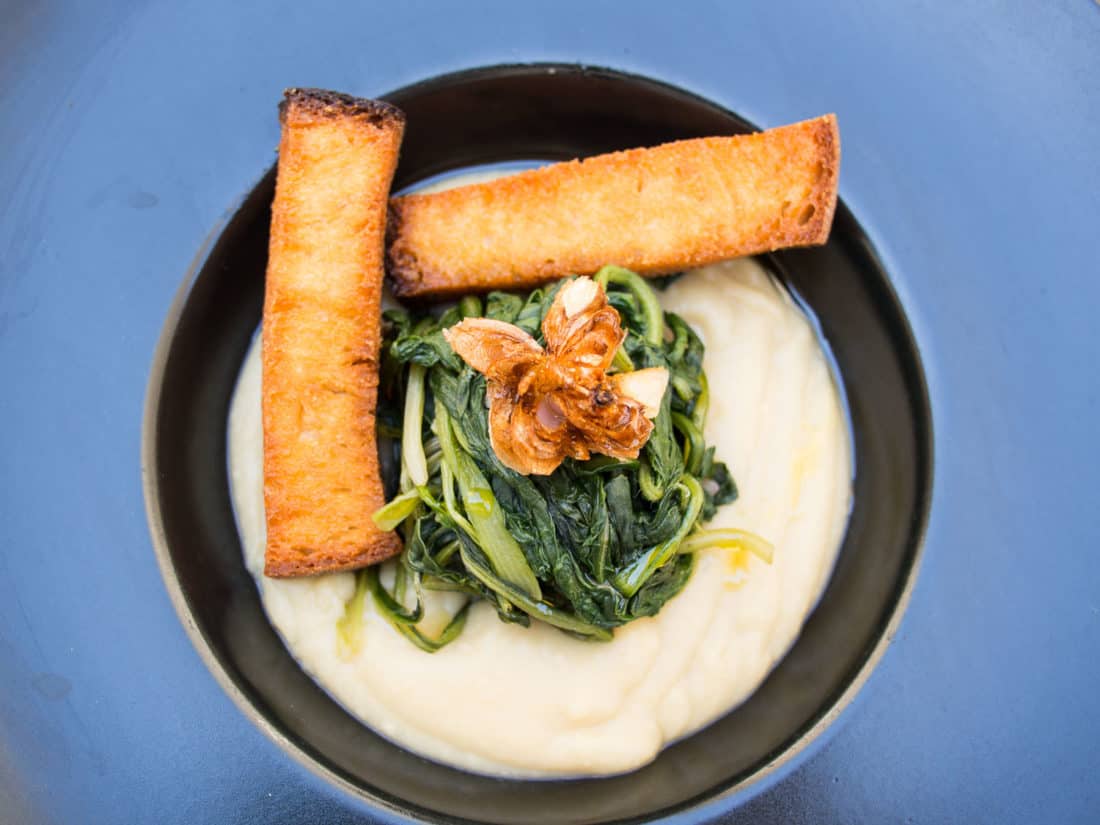 Order cappuccino after 10am. Later in the day, and especially after meals, stick with an espresso (ask for un caffè).
Ask for a latte – It means milk in Italian. Make sure to order un caffè latte if you want a coffee with milk. It will be served in a tall glass with more liquid and less foam than a cappuccino.
Expect much for breakfast. A coffee and cornetto (croissant, called brioche in northern Italy) standing at a bar is the norm. The best breakfasts we've had have been at family-run B&Bs like La Corte dei Pastori in stunning Matera where we were treated to a spread of bread, cakes, pastries, and fruit. You won't find eggs or other hot breakfast dishes.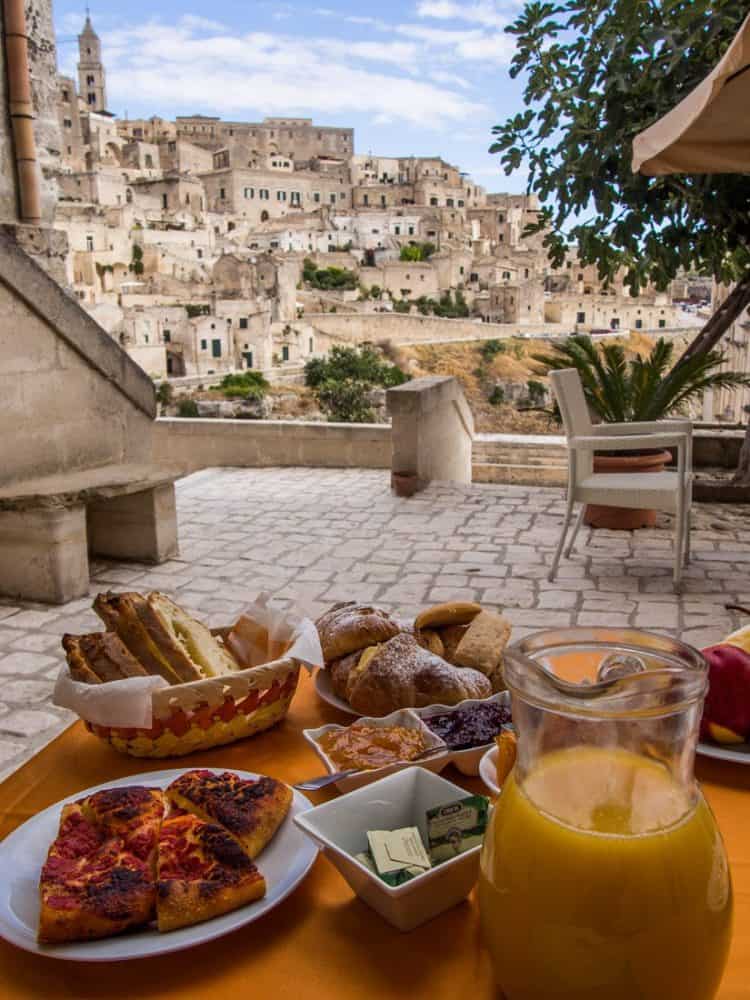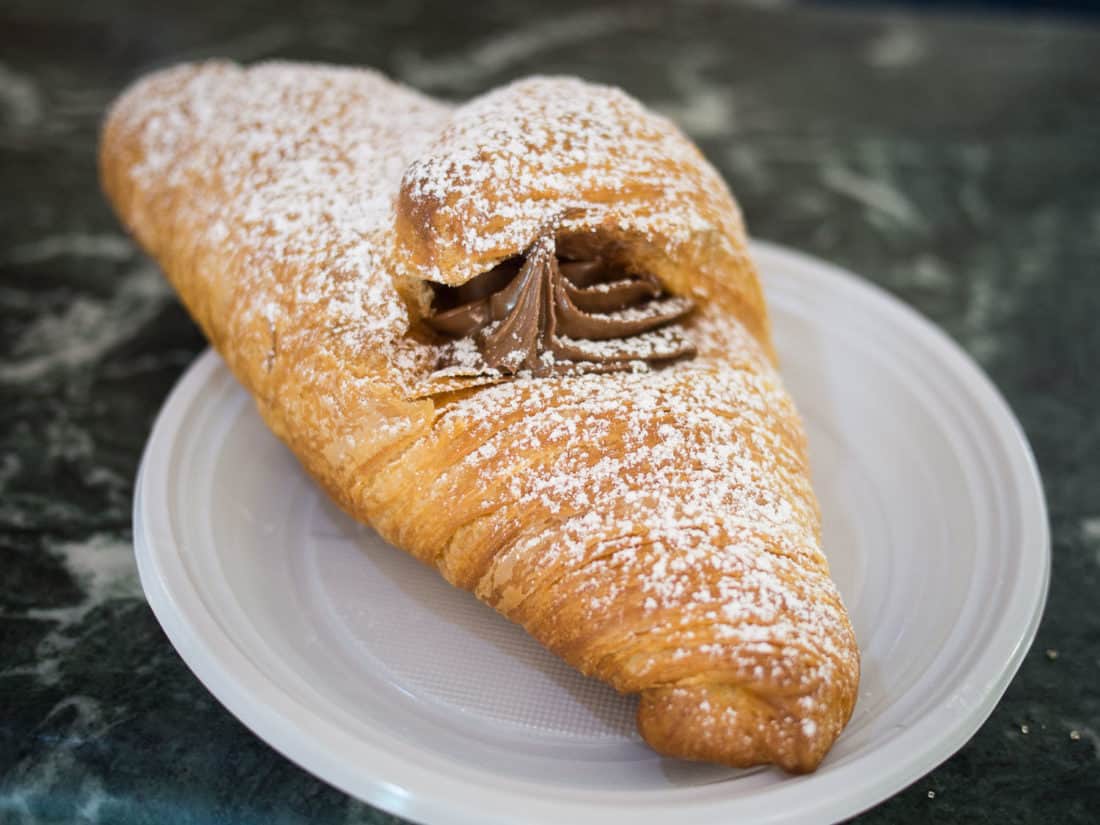 Eat in a gelateria that has bright green mint or pistachio gelato—the ingredients won't be natural. Towering puffy mounds are another sign that they use chemicals. If the gelato is hidden away in metal tins, it's a good sign it will be high quality.
Go to a restaurant with a tourist menu or with someone outside encouraging you to come in.
Eat in a pizzeria for lunch. The best places only open in the evenings as the wood-burning pizza oven takes a long time to reach the right temperature. During the day stick with pizza by the slice (pizza al taglio) served from takeout places.
Order peperoni pizza unless you want it topped with bell peppers. Order a salami pizza if you want it with meat.
Ask for chicken or pineapple on your pizza. Italians consider this a travesty.
Share a pizza—even kids have one to themselves.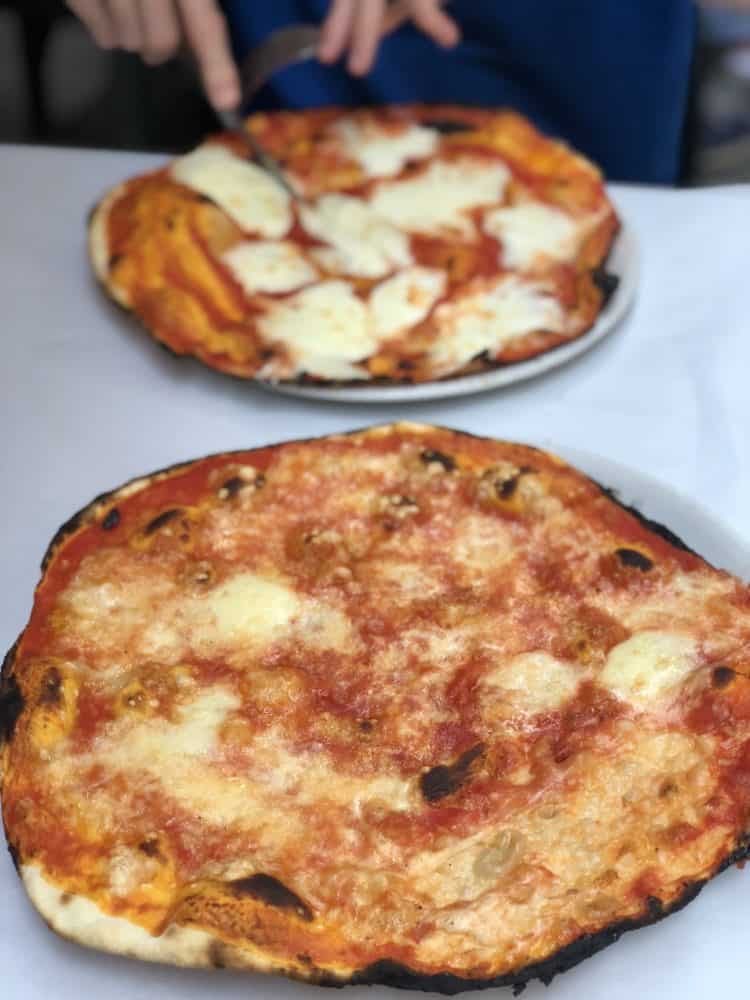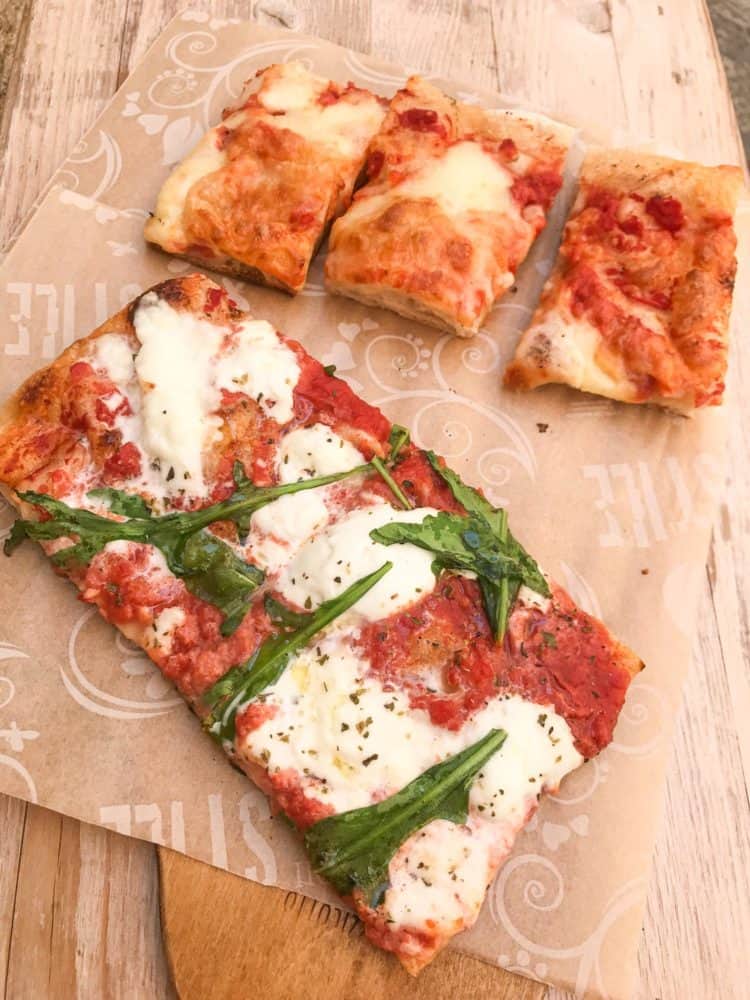 Ask for oil and vinegar to dip your bread in. That's not a real Italian thing. Bread is not served with butter either.
Eat bread with your pasta. Instead, use it to fare la scarpetta (literally "make a little shoe") and mop up the leftover sauce on your plate.
Order spaghetti bolognese. It doesn't exist in Italy. Instead, ask for tagliatelle al ragù in its hometown Bologna if you want meat pasta.
Ask for parmesan on your pasta. Italians are strict about what is supposed to have cheese on it and what's not. You'll be offered parmesan if it's appropriate.
Eat spaghetti with a spoon. Don't cut it with a knife either. A fork is the only acceptable utensil to use.
Expect fancy salad dressings. Italian dressing doesn't exist in Italy. Instead, you are provided with olive oil, vinegar, and salt to dress your own salad at the table. When the ingredients are this good, you don't need anything more.
Expect complicated salads. If the menu says tomato salad, it will just be a plate of sliced tomatoes (maybe with basil). Again, you can get away with simplicity when the produce is fresh and flavourful.
Be surprised if your salad turns up after your main. It's not eaten as a side dish in Italy.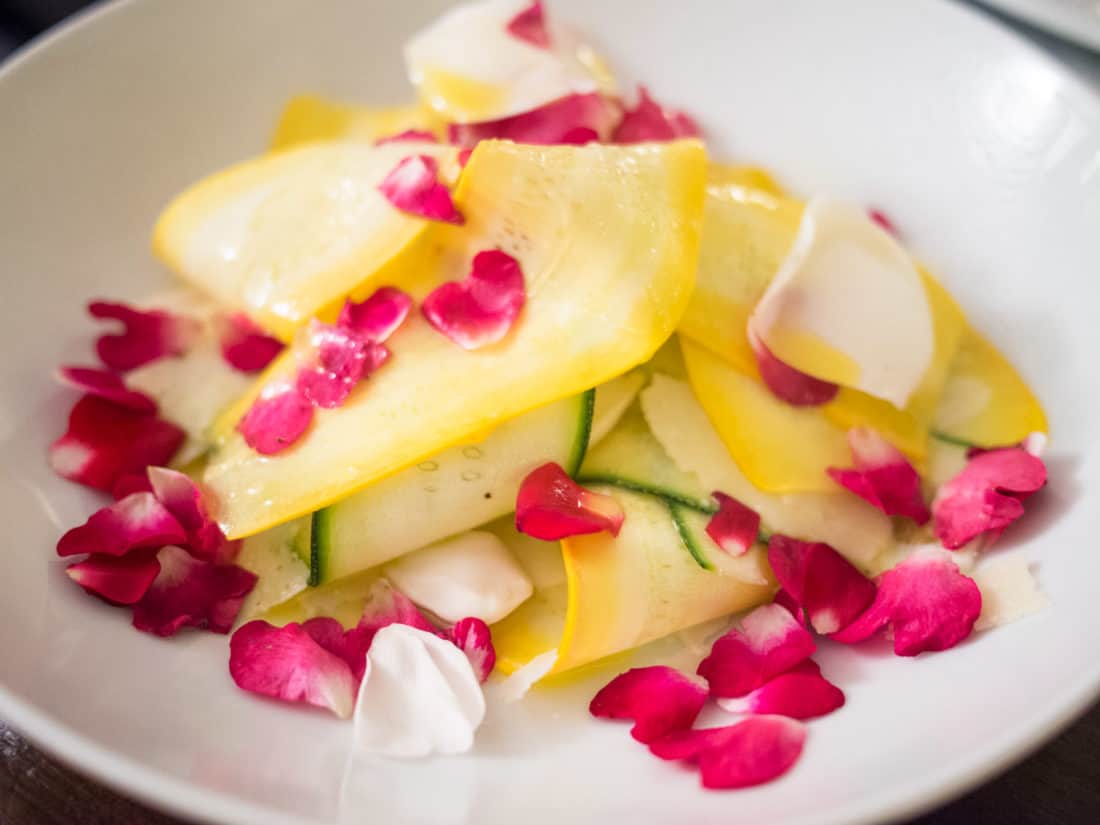 Be surprised by extra charges on your bill. Restaurants usually charge from €1-2.50 per person for pane e coperto (bread and cover charge) even if you don't want the bread. It should be written on the menu.
Feel like you have to tip. It's optional.
Assume everywhere takes credit cards. Some restaurants in rural areas are cash only, although this is much less common these days.
Expect American-style service. Restaurant staff can be a little brusque, especially in the big cities. Don't take it personally.
Be offended if you are turned away from an empty restaurant. They will have bookings for later in the evening, and in Italy you have the table for the whole night.
Touch produce at market stalls. Tell the vendor what you want (or point) and they will select items for you.
Ask for food to go at restaurants. It's not customary to get a doggy bag with leftovers. Take out isn't common either except at pizzerias. Even coffee isn't ordered to go.
Rush. Meals can last hours in Italy—savour them.
Best Food in Italy: Regional Dishes to Try
If you are wondering what to eat in Italy, here are some of our favourite dishes. Remember that food in Italy is strictly local, so you won't find most of these dishes all over the country.
Dishes found everywhere
Pizza Margherita – Found all over the country, pizza is, of course, a must eat in Italy. It's best in Naples but we also like the Roman style with an ultra-thin and crispy base. There are other varieties, but the Margherita is a classic for a reason.
Parmigiana di Melanzana – One of my favourite things to eat in Italy is found mainly in the south—Puglia, Campania, and Sicily. Layers of fried eggplant are baked with cheese and tomato sauce. It's usually in the antipasti section of the menu but sometimes it's listed as a primo.
Pasta al Pomodoro – Pasta served with tomato sauce is simple but so delicious when it's done well. It won't be listed like this on the menu; instead of pasta, it will say the local variety such as orecchiette al pomodoro in Puglia (a pasta shape which resembles little ears).
Penne all'Arrabbiata – Short tubes of pasta with a spicy tomato sauce. It originates from Rome but is found in many places.
Bruschetta al Pomodoro – One of our favourite starters is a simple garlic-rubbed toast topped with fresh tomato, basil and olive oil. It also comes with other toppings.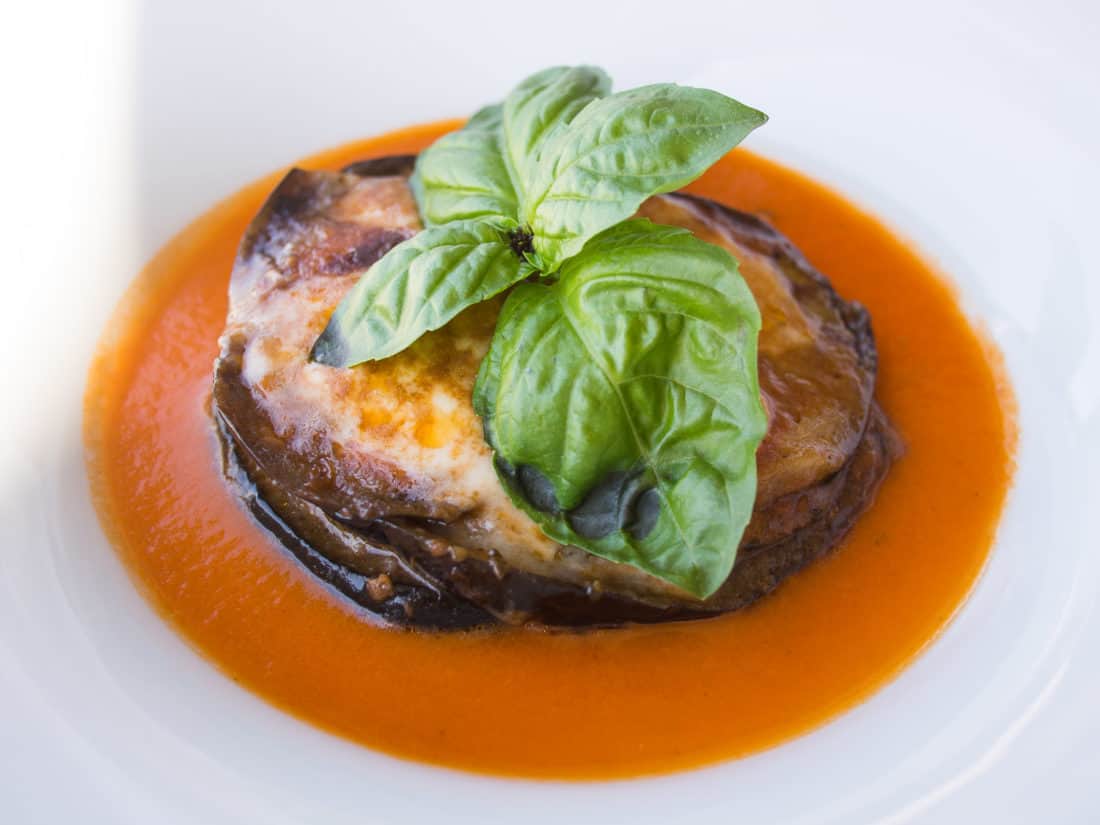 Lazio (Rome)
Tonnarelli Cacio e Pepe – Thick spaghetti-like pasta with pecorino romano cheese and black pepper. Oh so good! My favourite place for it is Flavio al Velavevodetto in the Testaccio neighbourhood of Rome.
Pizza Bianca – This is the type of pizza you get in squares from a bakery or takeaway place not at a sit-down pizzeria. It's plain dough (almost like focaccia) drizzled with olive oil and sprinkled with sea salt and rosemary. Fresh out of the oven it's divine. My favourite place for it is Antico Forno Roscioli

in Rome's historic centre.

Pizza di Patate – Another type of delicious takeaway pizza slice features thinly sliced potatoes and no tomato sauce. Sometimes it comes with cheese.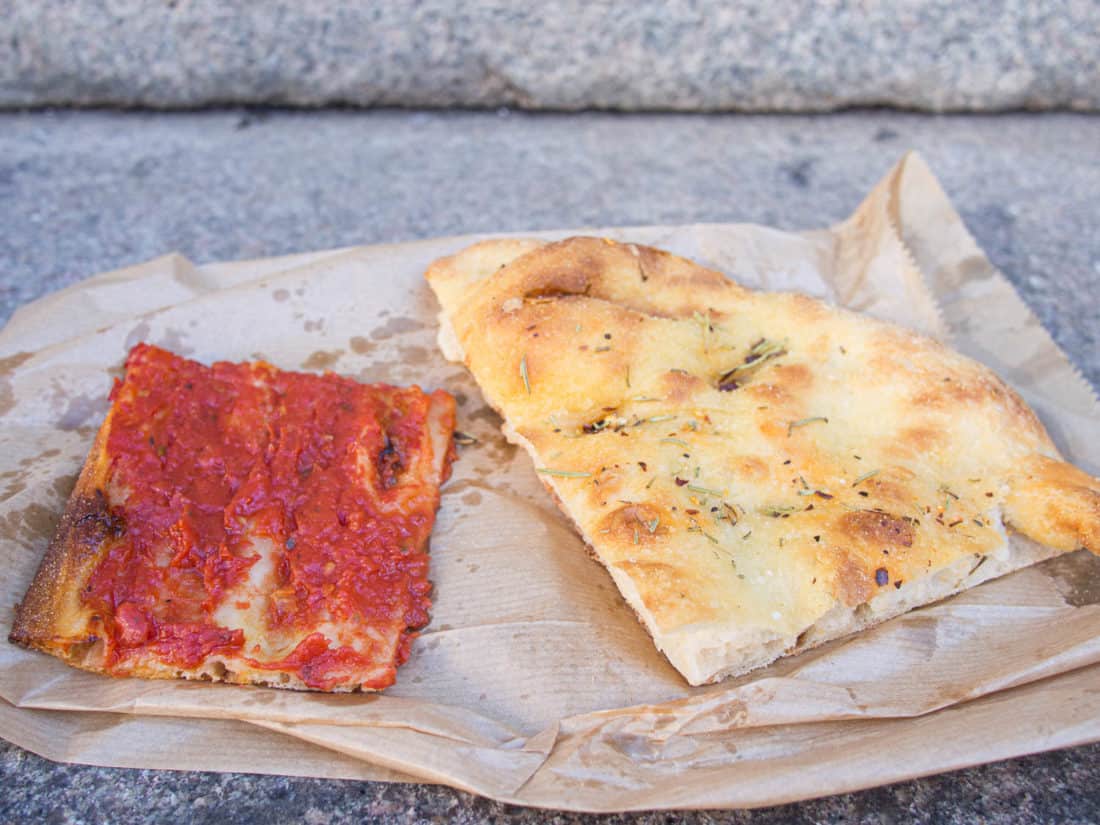 Liguria (Genoa, Portofino, Cinque Terre)
Trofie al Pesto – You can find pesto (a basil sauce) outside Liguria but it's best in its home region. Trofie are little twists of pasta and potatoes and green beans are sometimes added to the dish.
Pansotti alla salsa di noci – Cheese and spinach stuffed ravioli with walnut sauce.
Antipasti misto – The mixed antipasti (appetiser) plates are superb in Liguria and can be adapted for vegetarians. They usually include torta di verdura, a local vegetable pie filled with cheese and greens or vegetables.
Focaccia – Liguria makes the best focaccia we've had in Italy. This olive oil bread is eaten plain or topped with olives, tomatoes, onions or other ingredients. It's sold in bakeries and you usually pay by weight.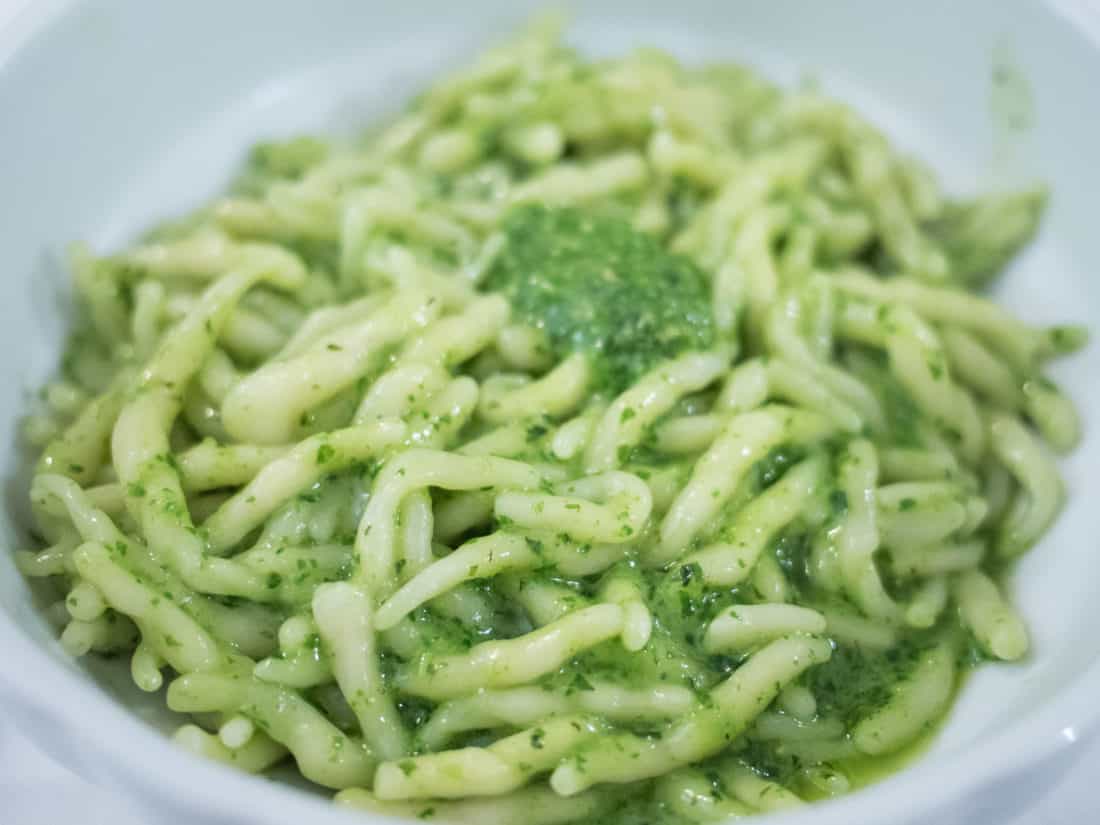 Tuscany (Florence, Siena)
Panzanella – A salad of stale bread, tomatoes, onions, basil, and sometimes cucumbers. It tastes better than it sounds!
Pappa al Pomodoro – Another use for stale bread is this tasty tomato soup.
Ribollita – A hearty winter bean and vegetable soup (yep, there's some stale bread in here too!).
Puglia
Orecchiette con Cime di Rapa – Little ears pasta with turnip tops (a type of leafy green vegetable).
Purea di Fave con Cicoria – Fava bean puree with bitter greens.
Antipasti della Casa – The house antipasti is our favourite part of the meal in Puglia. It can be an extraordinarily large array of vegetables, cheese, fried things and much more (mostly vegetarian). Only get one between two people and sometimes even then you won't have space for a main course.
See our detailed guide to Puglia food for many more recommendations as well as our post on the Salento Peninsula of Puglia, as this subregion has even more local specialities.
Campania (Naples, Amalfi Coast)
Don't miss pizza in Naples!
Gnocchi alla Sorrentina – Simon's favourite Italian dish (besides pizza). Gnocchi (potato dumplings) baked with tomato sauce, mozzarella and basil.
Insalata Caprese – The simple salad of tomato, mozzarella and basil originates from the island of Capri.
Sicily
Pasta alla Norma – Penne pasta in a tomato and aubergine sauce topped with ricotta salata cheese.
Busiate alla Trapanese – Long twisty pasta with a type of pesto made from tomatoes, almonds, garlic and basil.
Pane con Panelle – Chickpea fritters in a roll is a popular street food in Palermo.
Our Sicilian food guide has lots more ideas to try including the many sweets the island is famous for.
Emilia-Romagna (Bologna, Modena)
Emilia-Romagna has some of the best food to eat in Italy. Aside from parmesan cheese and aged balsamic vinegar, you should also try:
Tortelloni– Pasta parcels stuffed with ricotta and herbs. Vegetarians should get the sage and butter sauce rather than the ragù. Tortellini are similar but smaller and filled with meat.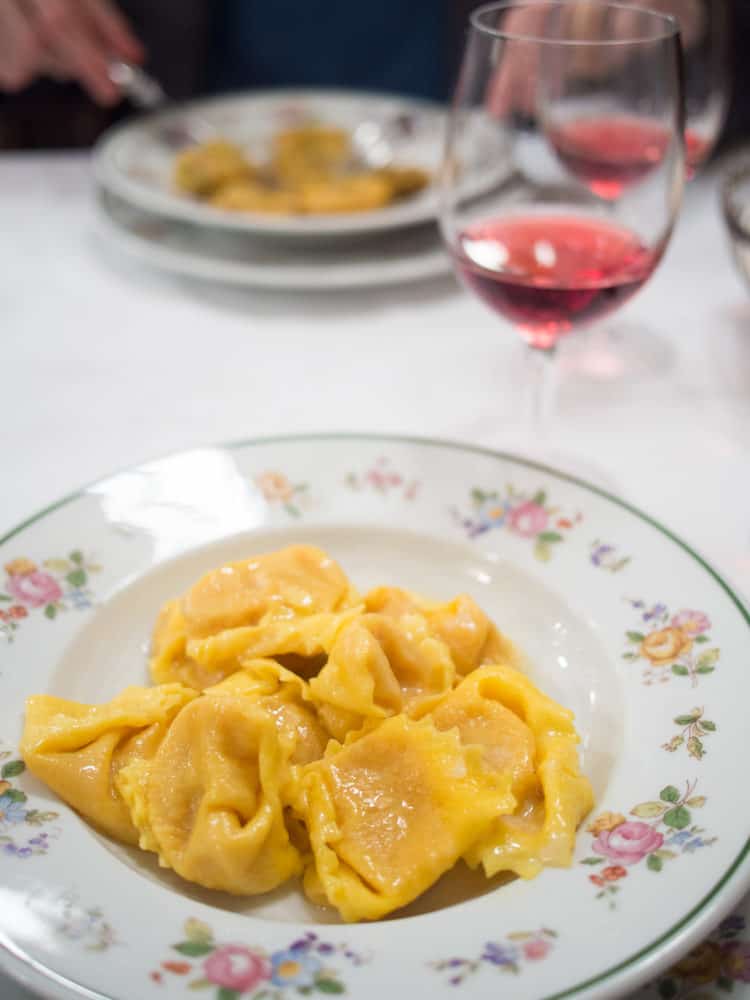 Best Places to Eat in Italy
Our favourite place to eat in Italy is Masseria Il Frantoio, an olive farm with accommodation in Puglia where we indulged in an eight-course tasting menu using produce and olive oil from the farm. It's also our favourite place to stay in all of Italy.
Otherwise, we've eaten in so many amazing restaurants that it's hard to choose favourites. When choosing where to eat in Italy you can see our restaurant recommendations by destination in these posts:
If you enjoyed this post, pin it!