This page contains affiliate links. Please read our disclosure for more info.
Varenna is one of the prettiest towns on Lake Como in Italy. Its colourful houses tumble down the mountainside and the streets are narrow cobbled staircases that lead to the lake.
We had heard that Varenna was a quieter alternative to popular Bellagio across the lake, but on the first weekend in September, tiny Varenna was crowded with visitors during the day (the mornings and evenings are quieter).
Varenna is a good base for ferry hopping around the lake, there are two 19th century villas with beautiful gardens (Villa Cipressi and Villa Monastero), and you can hike up to Castello di Vezio or through the hills to nearby villages.
Our favourite activity, though, was eating! Varenna felt so touristy that I didn't expect the restaurants to be any good, but we ate some of the best meals of our entire Italy trip.
Here's our recommended itinerary for a day of eating at the best Varenna restaurants.
You could fit some sightseeing in between meals or just take your time, enjoy the views, or have a nap before the next round of eating begins. Either way, you are sure to have a wonderful day.
Contents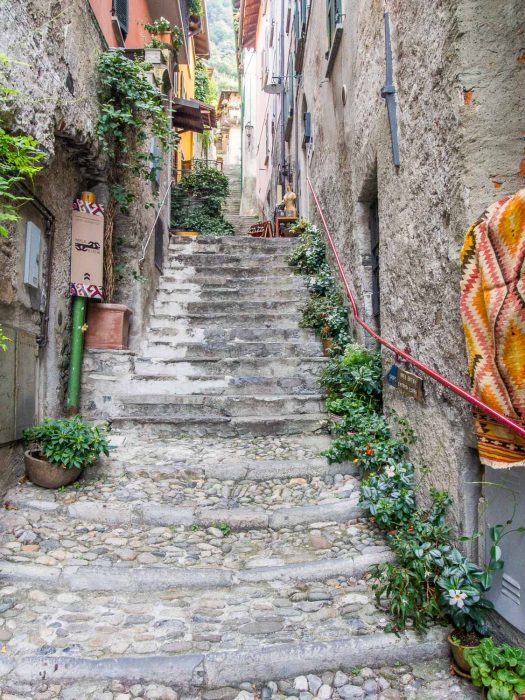 Breakfast – Cafe Ill Binario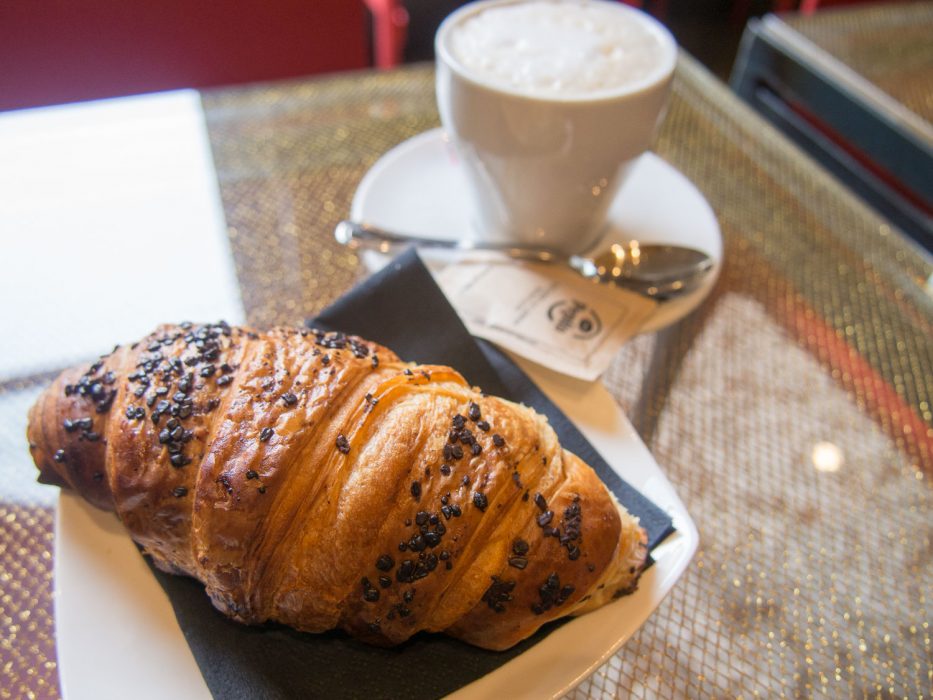 Italians aren't big on breakfast so don't expect anything substantial—coffee and a croissant in a bar is the classic way to start your day.
Surprisingly the best option in Varenna is at the train station. Cafe Ill Binario is a short walk from the centre (walk along the lakefront then go uphill from the ferry terminal) and has excellent freshly baked croissants (called brioche in Northern Italy)—choose plain or stuffed with a variety of jams, honey, or chocolate (Simon's favourite).
Cost: A cappuccino and brioche is €3.
Lunch – Waterfront Cafe (Take Your Pick)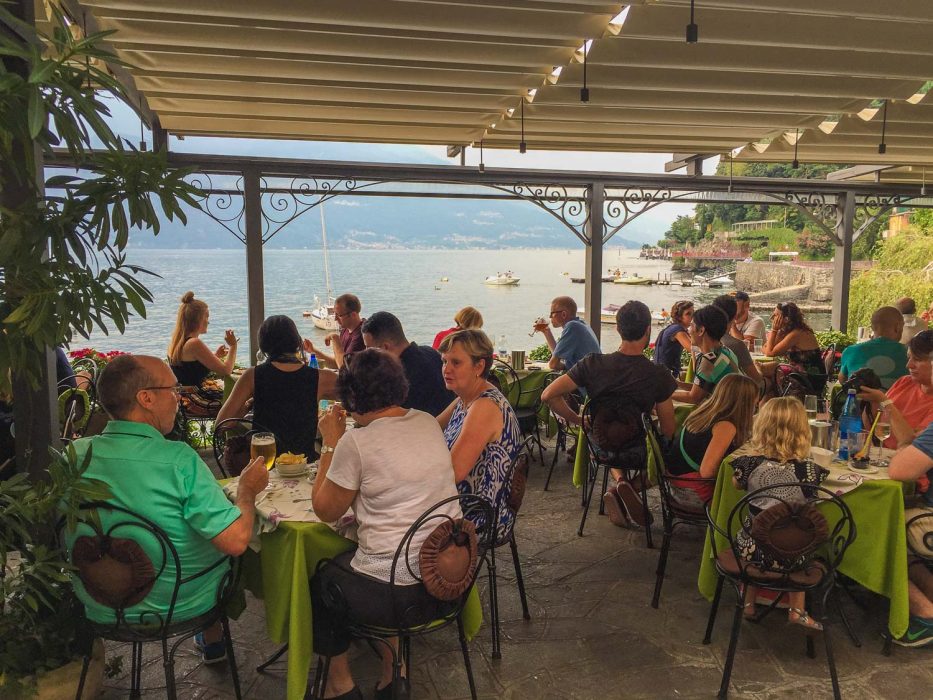 Varenna's waterfront is lined with cafes. They all have similar long touristy menus, but we decided to try one anyway so that we could enjoy the lake views.
We chose a cafe at random and the food wasn't bad. Simon's caprese panini was pretty standard, but I really enjoyed my salad with grilled aubergine and Grana Padano cheese.
One good thing about these tourist restaurants is that you don't have to respect strict Italian eating times—we arrived just before 12pm and got a table right next to the lake. It filled up quickly after that.
The restaurants all look similar so choose your lunch spot based on the availability of tables with a view and what takes your fancy on the menu.
One well-reviewed spot is Caffe Varenna—we didn't eat there, but it was our favourite place for aperitivo (see below).
Cost: €21 for two dishes and drinks.
Gelato – La Passarella
Gelato is a must, of course. Eat yours after lunch or wait until you get peckish in the afternoon.
The best gelato in Varenna is at La Passarella on the waterfront. Their dark chocolate sorbet is outstanding, and despite being made without dairy, is amazingly creamy. Their pistachio is also excellent.
Cost: €2.50 for a small cone.
Aperitivo – Caffe Varenna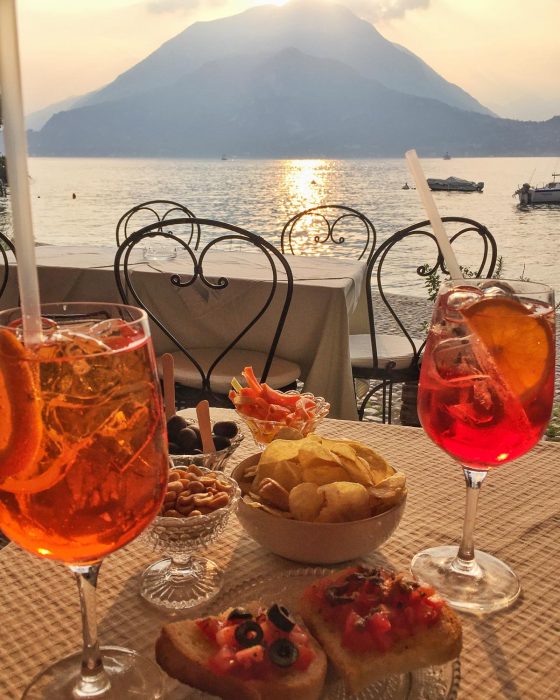 As dinner in Italy doesn't begin until 8pm or later, a pre-dinner snack is essential for us.
Luckily Italians have the art of aperitivo down. Alcoholic drinks (and sometimes soft drinks) always come with free snacks—at least a bowl of peanuts or crisps and sometimes much more.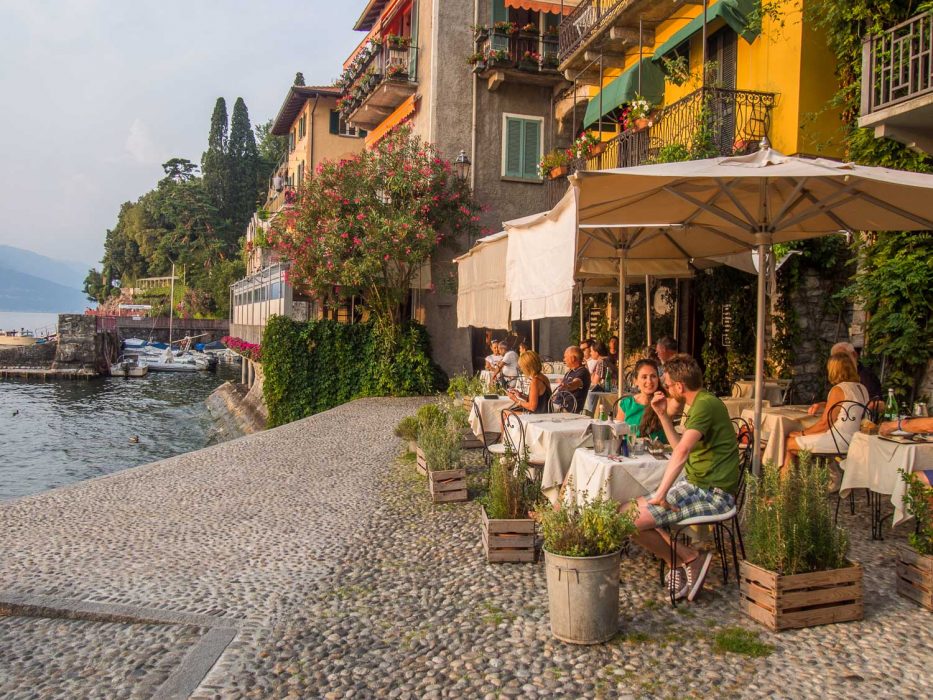 Our favourite aperitivo spot in Varenna is Caffe Varenna. It's on the waterfront so has great sunset views and their snacks are very generous—crisps, taralli, peanuts, raw vegetable sticks, tomato bruschetta, and olives.
Our aperitivo drink of choice is an Aperol Spritz (citrusy, slightly bitter Aperol with prosecco and soda), which is large, strong and tasty here.
You could also get a glass of prosecco, wine, beer or any cocktail. But definitely try the classic Aperol Spritz at least once.
Cost: €6.50 for an Aperol Spritz.
Dinner – Il Cavatappi
Saving the best for last! For dinner in Varenna we recommend Il Cavatappi. We used to also recommend Il Caminetto but sadly it has closed.
Il Cavatappi
Il Cavatappi is on a narrow lane half way down the hillside in the centre of the village.
There are only a few tables so booking in advance is essential.
The food is superb and it's vegetarian-friendly—they can make all the primi (pasta/risotto dishes) without meat or fish.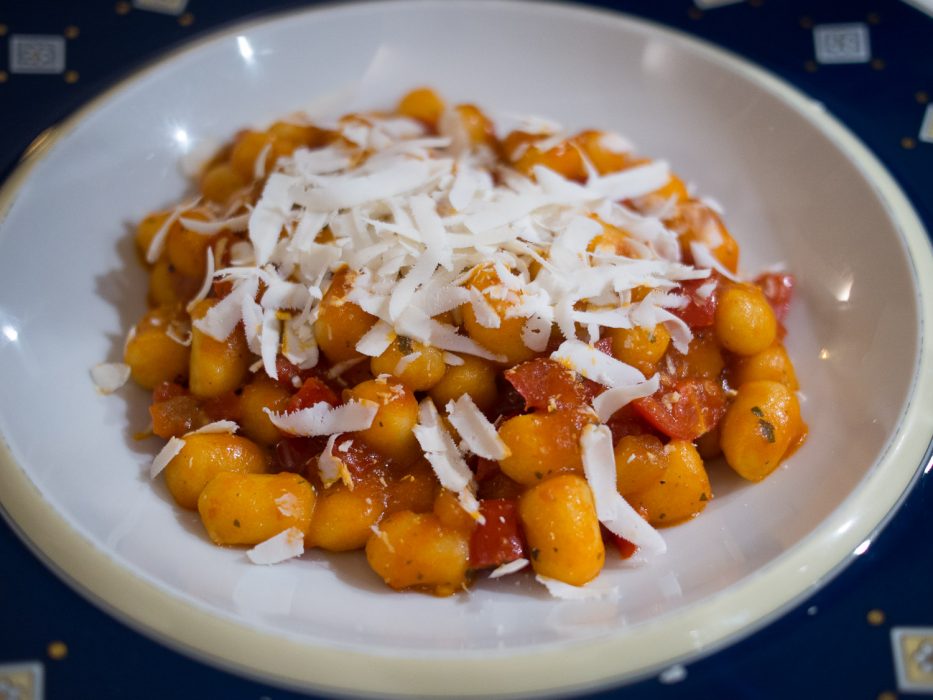 We started with the beautifully presented vegetable plate with goats cheese and pistachio, a lovely light way to begin.
Then we shared the melt-in-the-mouth tomato gnocchi and melanzana alla parmigiana (aubergine, tomato and cheese), which was baked rather than fried and was the perfect example of my favourite Italian dish.
I'm not usually an Italian dessert fan (except for gelato), but the creme caramel Simon insisted on was excellent.
Il Cavatappi is a bit pricey but it's worth it for the fantastic food.
Cost: €70 for four dishes, three glasses of wine, water, and coffee.
Il Caminetto (CLOSED)
Update: Sadly, Il Caminetto has closed after the death of the owner in 2023.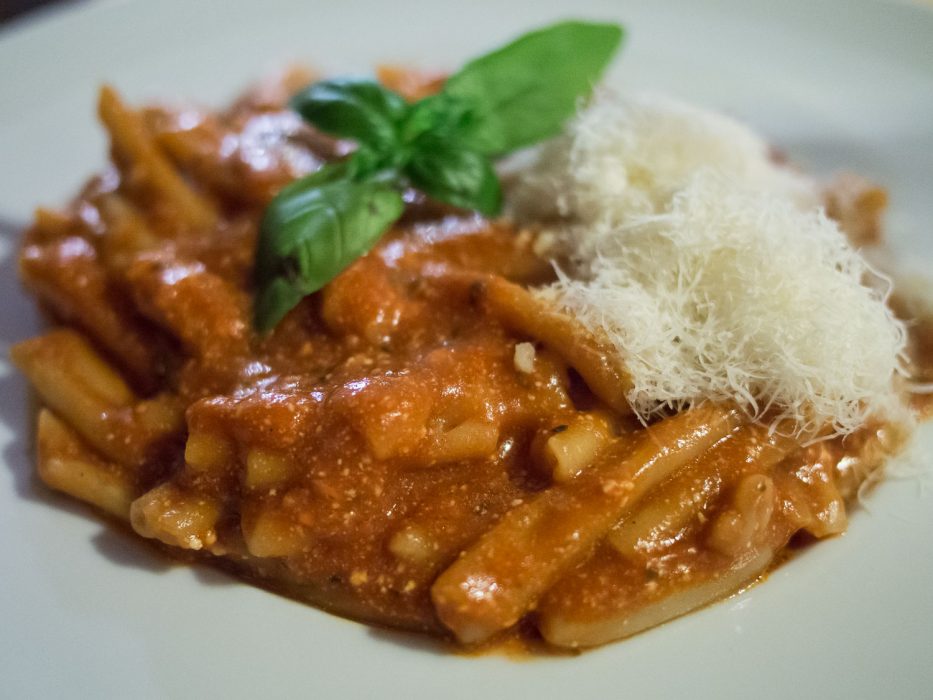 A cheaper alternative, but just as wonderful, is Il Caminetto.
It's in the village of Gittana high above the lake, but if you book in advance they'll give you a free lift from Varenna.
Il Caminetto is family-run and a bit more rustic than Il Cavatappi with delicious homely food. Settle in for a leisurely meal and try as many courses as you can.
We started with sott'olio (oil preserved) vegetables, then chose the two vegetarian primi (which change every day)—pasta with the perfect tomato sauce and ricotta salata and a superb mushroom and apple risotto.
For dessert the white chocolate souffle was divine with a slightly crispy edge and warm, gooey, chocolatey middle.
The meal didn't finish there—Simon's espresso came with a plate of delicious cookies and they left a complimentary bottle of limoncello for us to help ourselves too.
This is the kind of Italian restaurant that keeps bringing us back to Italy.
Il Caminetto also runs highly-rated cooking classes.
Work It Off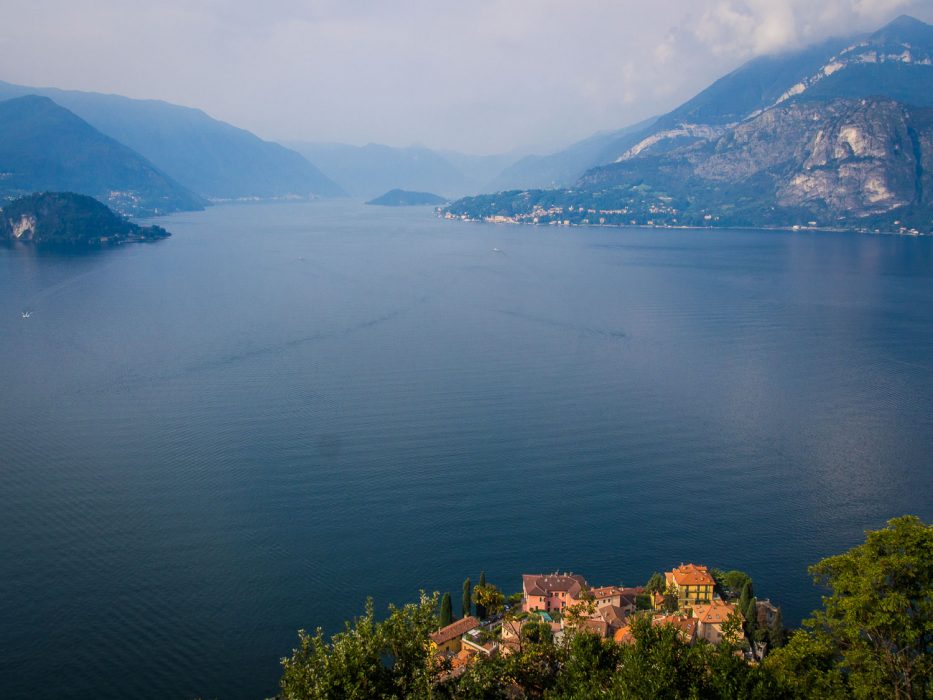 If you need some exercise after your day of eating, we recommend the hike up to Castello di Vezio.
It took us 20 minutes up a steep path to get there, but it's worth it for the lake views (make sure you climb the tower). Arrive at opening time like we did and have the castle to yourself.
Castello di Vezio is open from 10am until 5-8pm (depending on the month) and entrance is €5.
If you are feeling enthusiastic, from the castle you can continue following the orange signs or painted dots for the Sentiero del Viandante.
It took us 2.5 hours to walk to Bellano (including the castle visit) and from there we took the train back.
The trail is above the lake and takes you through chestnut woods and cute villages, past vegetable gardens and olive groves. Occasionally you have to walk on the road.
Every now and then you are treated to stunning lake views—especially from the church in Perledo.
The first half of the hike has quite a lot of uphill sections, but it wasn't too difficult. Decent shoes are needed on the rocky trail—we were fine in hiking sandals.
The Varenna tourist office has a (not particularly helpful) map of the hike and train schedule back from Bellano.
Varenna Restaurants Map
Varenna Practicalities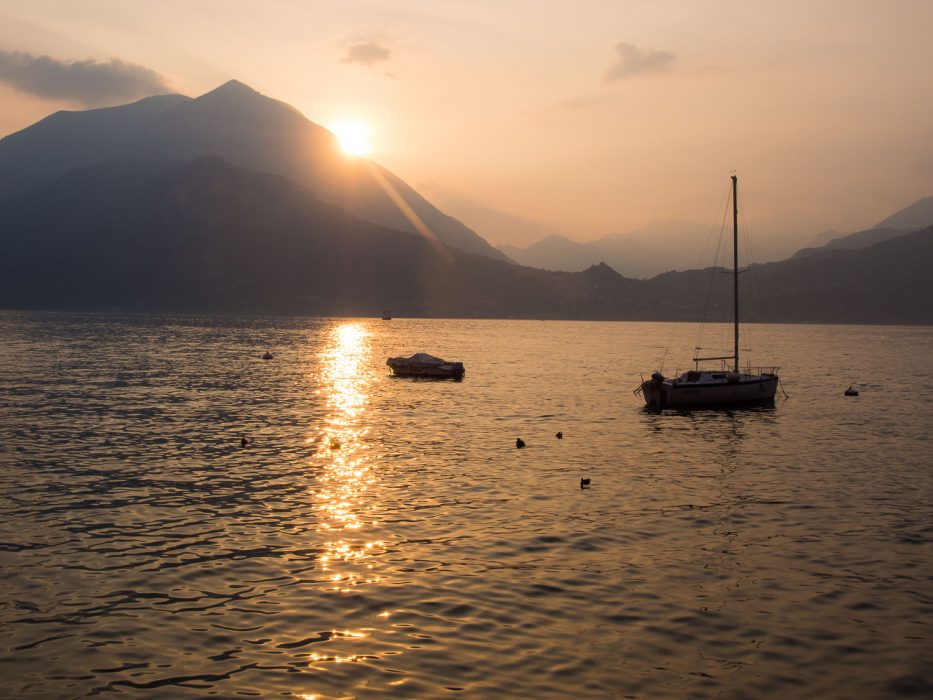 Varenna is about an hour on the train from Milan. The station is called Varenna-Esino and you can find times on Trenitalia. It's a regional train so there's no need to book in advance.
You can travel to other lake towns (Bellagio, Menaggio etc) by ferry.
Varenna itself is tiny so you can walk everywhere.
Visit in the spring or autumn to avoid the summer crowds if possible.
Accommodation is expensive. Hotels are limited but there are quite a few apartments to rent. Look on Booking.com or Vrbo see what's available. If you have a car you can find cheaper options outside Varenna.
We stayed at a rather old-fashioned Airbnb near the train station, but we wished we had splurged on a hotel with a view of the lake such as Hotel Olivedo, Albergo Milano, or best of all, Hotel Royal Victoria.
I hope this post has helped you decide where to eat in Varenna. Let us know if you have any other recommendations!
More Italy Posts
If you enjoyed this post, pin it!