This page contains affiliate links. Please read our disclosure for more info.
I was a bit worried before we arrived in Rapallo. I liked that it was more popular with Italians than foreign visitors, and it was cheaper than elsewhere along the Italian Riviera, but I'd also heard mixed reviews with some people describing it as "gritty".
I needn't have worried. I loved Rapallo as soon as I took my first walk along the palm-tree-lined promenade.
It's so colourful—the blue sea, the green mountain backdrop, the elegant hotels and villas painted terracotta and mustard and pink. The marina at one end is home to fancy new yachts while at the other a tiny 16th-century castle juts out of the sea.
In this post, I share the best things to do in Rapallo, Italy including day trips along the Italian Riviera (including Cinque Terre), why I think it's the perfect base for the Ligurian coast, where to stay and eat, and a map of all the attractions.
Contents
This post was originally published in December 2016 and last updated in 2021.
Introducing Rapallo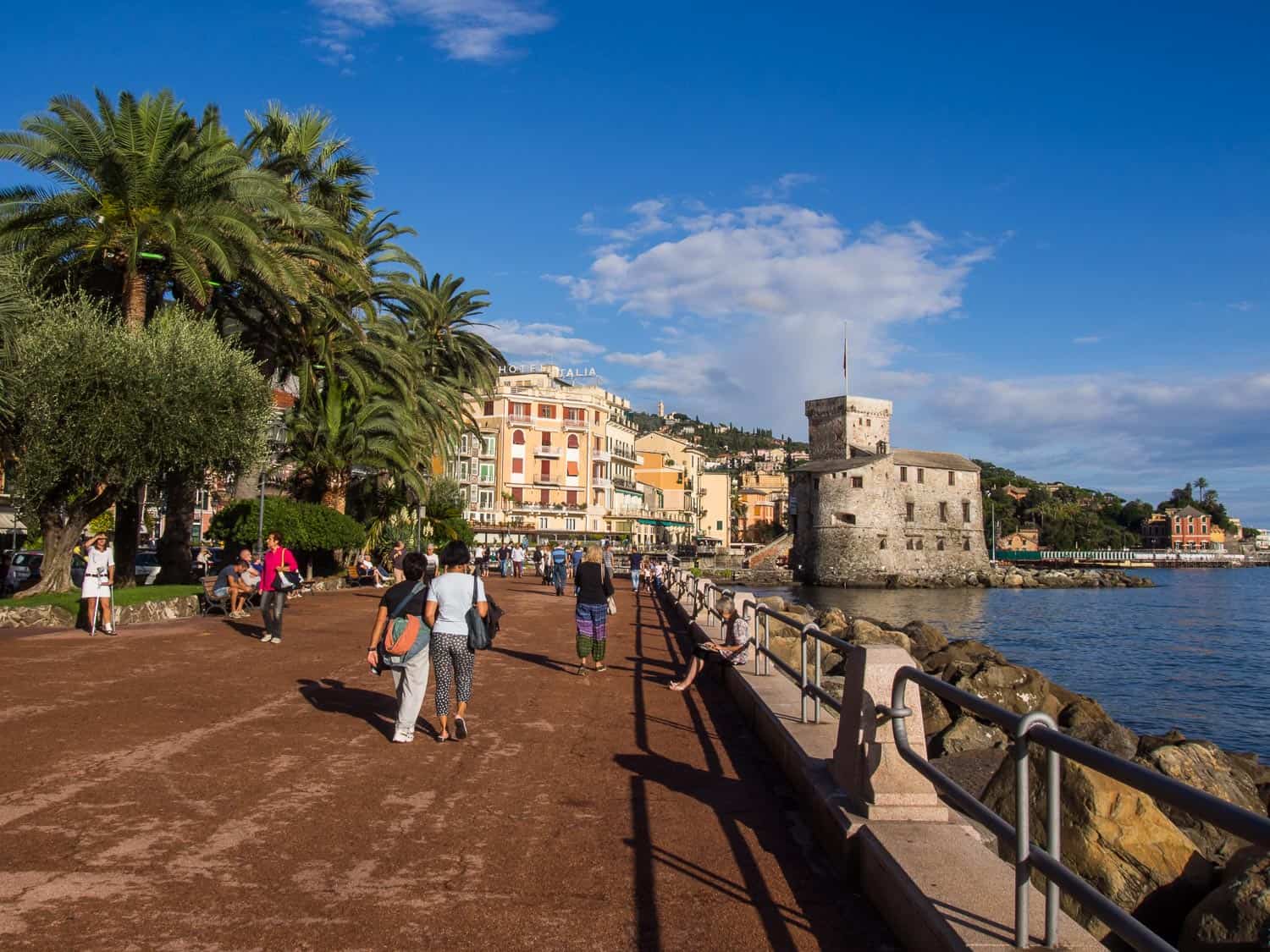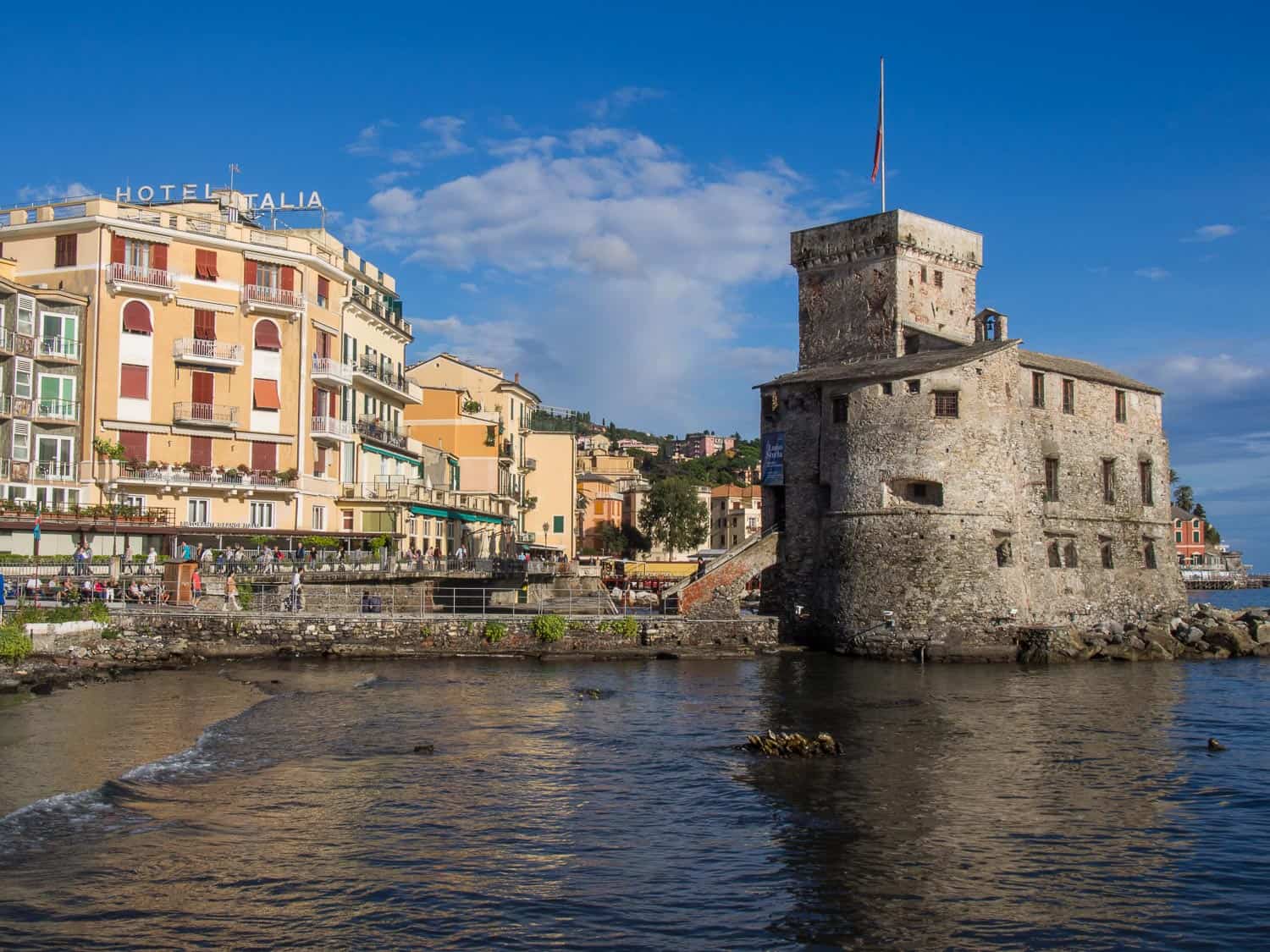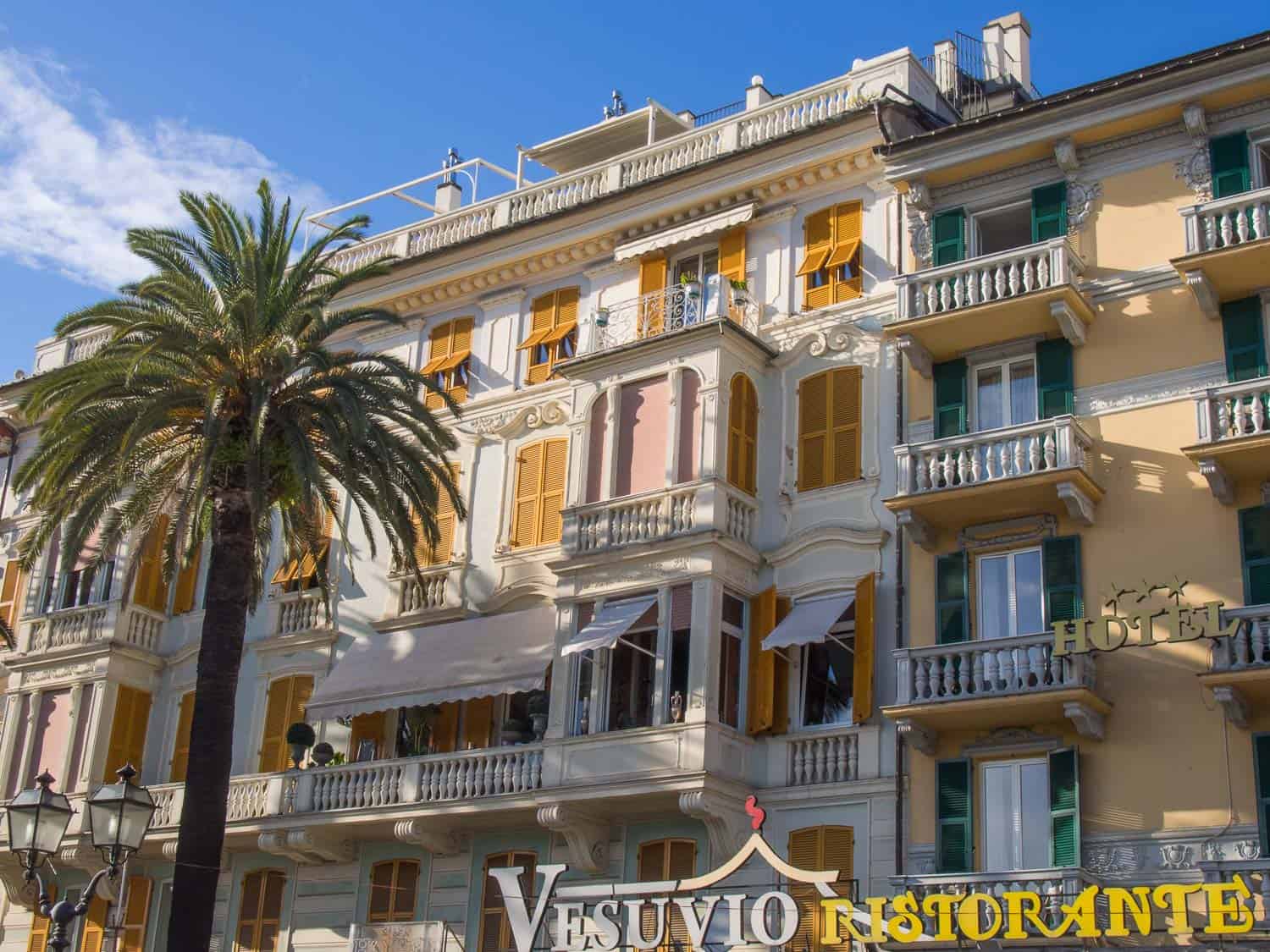 Rapallo has a relaxed seaside holiday vibe with elderly Italians and families strolling along the promenade or sitting on a bench with a gelato and enjoying the view.
Maybe this is the secret to the long life expectancy of Italians—rather than being in old people's homes, the elders are brought out into the sunshine with the family, even if they need a wheelchair to get around.
I could see why writers W.B. Yeats and Ezra Pound found the town so inspiring when they lived here in the 1920s. I'd only just arrived but I didn't want to leave.
We hadn't planned to do much on our first afternoon, but we were caught up in the summer vibe and hurried back to our apartment for our swimwear.
The coast is lined with lidos, private beaches where you pay to rent a sunbed and umbrella. We just wanted a quick swim so we walked further out of town until we found a public beach—a small pebbly cove down some stairs.
The water is lovely and clear once you leave the Rapallo bay behind and a refreshing swim was just what we needed after a morning on trains.
We didn't have the beach to ourselves. Italian beaches are social occasions, not opportunities to escape it all. Friends and families chatted, played music, and smoked while they worked on their tans. You just have to embrace it.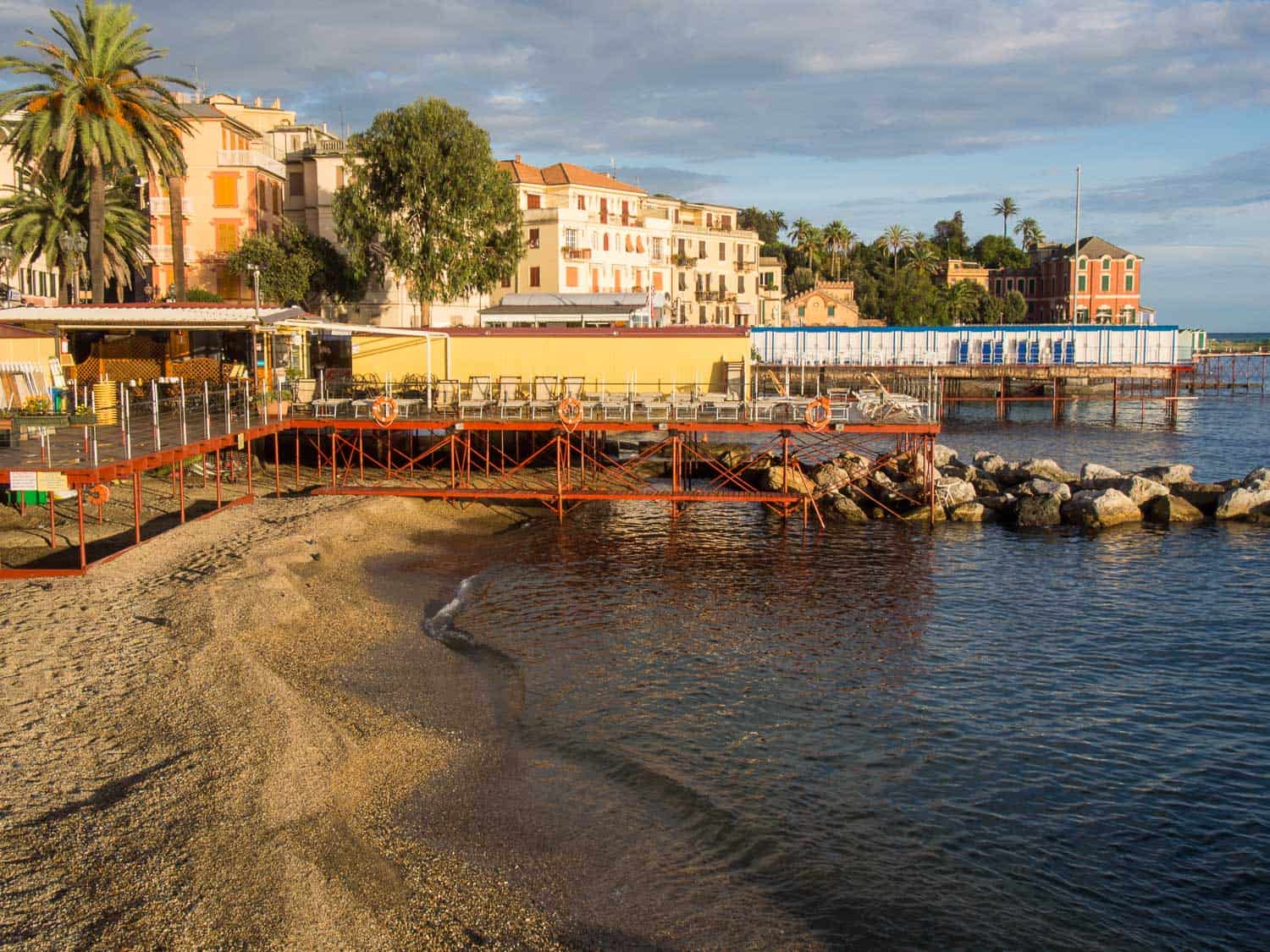 My love for Rapallo grew the more we explored. One of the distinctive features of the Italian Riviera is the trompe-l'oeil or painted decorative details on buildings that trick the eye into thinking they're real. Arches, portals, balustrades, and brickwork are all fake.
Some buildings even have artificial windows painted on the upper storeys. Apparently this was to avoid a building tax in the 18th century that was based on the number of windows.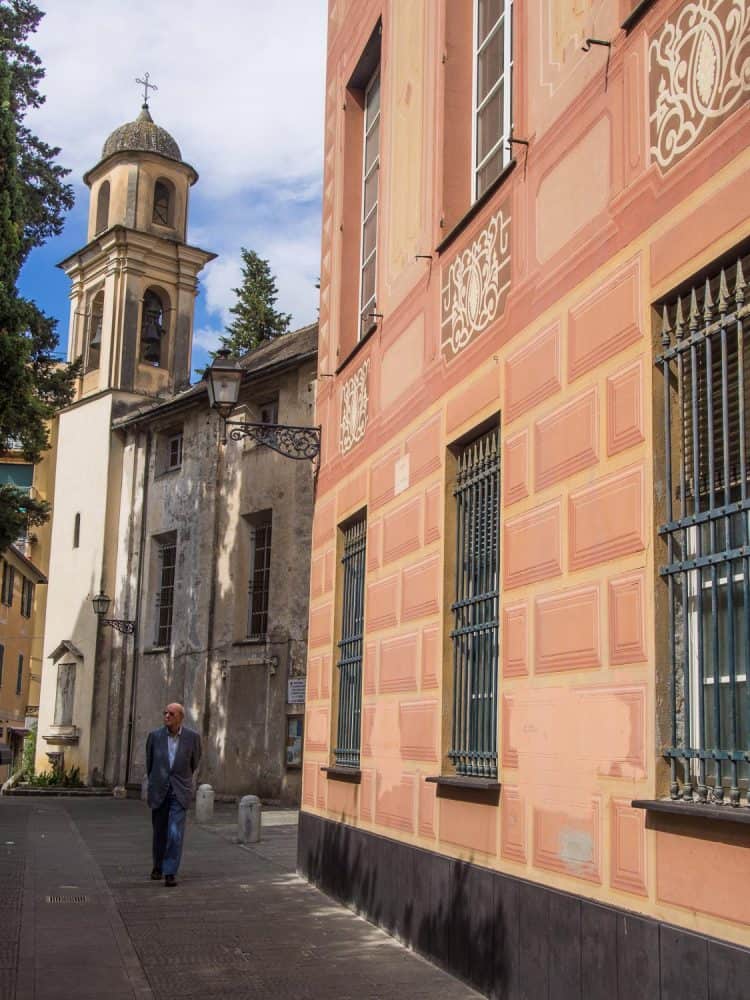 Our cosy apartment was in the perfect location in the pedestrianised historic centre, a minute's walk from the sea in one direction and the train station in the other.
I loved being in the heart of the action with locals crowded into the narrow lanes chatting, shopping for fresh pasta, eating gelato, drinking an aperitivo in a pavement cafe, or just strolling on the evening passeggiata. Space is limited but it feels cosy rather than claustrophobic.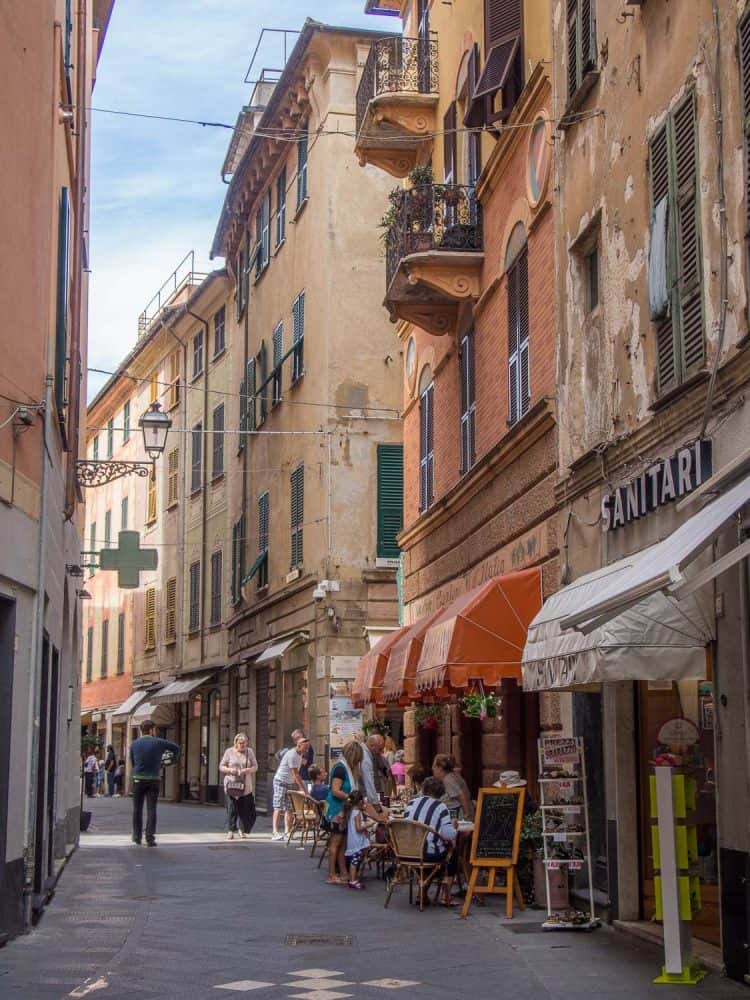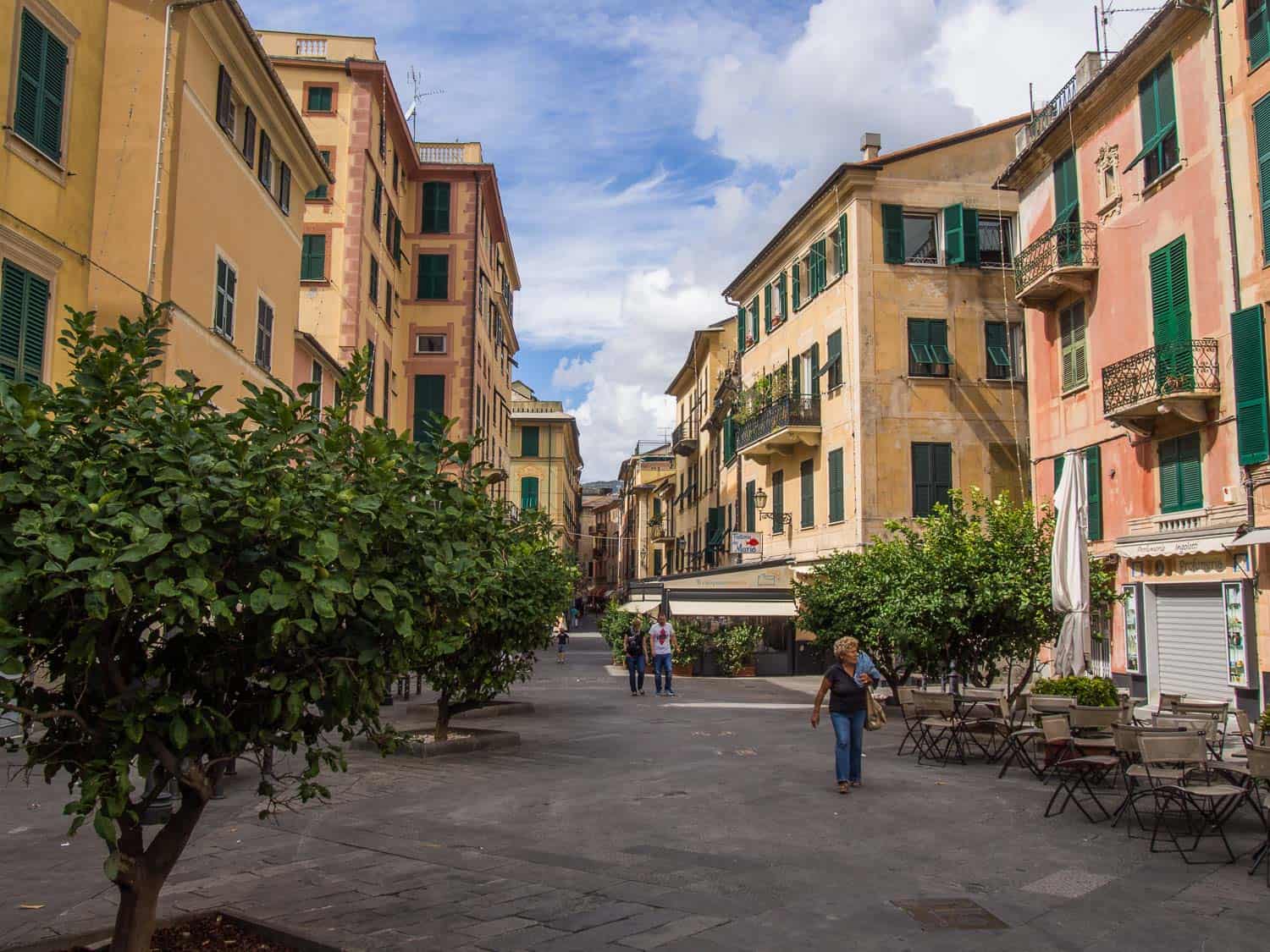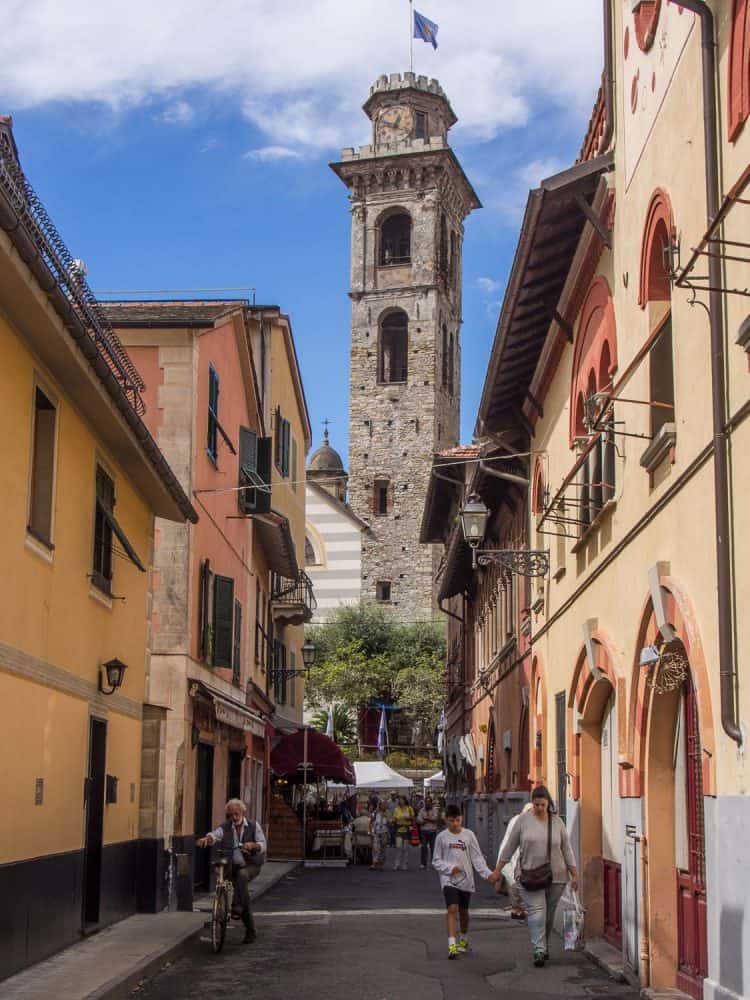 The food shopping alone made me want to return for a longer stay. Right around the corner was a vegetable market with pristine piles of tomatoes, melons, and porcini mushrooms.
In the other direction, a shop sold fresh pasta and homemade pesto—perfect for a quick and tasty meal. Focaccia is a local speciality and every day the bakery tempted us in for another slice. Then there's the gelato. So much deliciousness…
Day Trips from Rapallo
Rapallo was the perfect base for exploring the Italian Riviera.
During our week's stay we walked to elegant Santa Margherita Ligure and glitzy Portofino, and we took the train all along the coast—to Cinque Terre where we hiked between the villages and Genova to visit the Aquarium and ancient centre.
Best of all, we took the train to Camogli, where we hiked to the gorgeous monastery and beach of San Fruttuoso and took the scenic ferry ride back to Rapallo.
Read our guide to the Italian Riviera for more details.
As much as we loved the other towns we visited, Rapallo felt like a much less touristy place to come home to.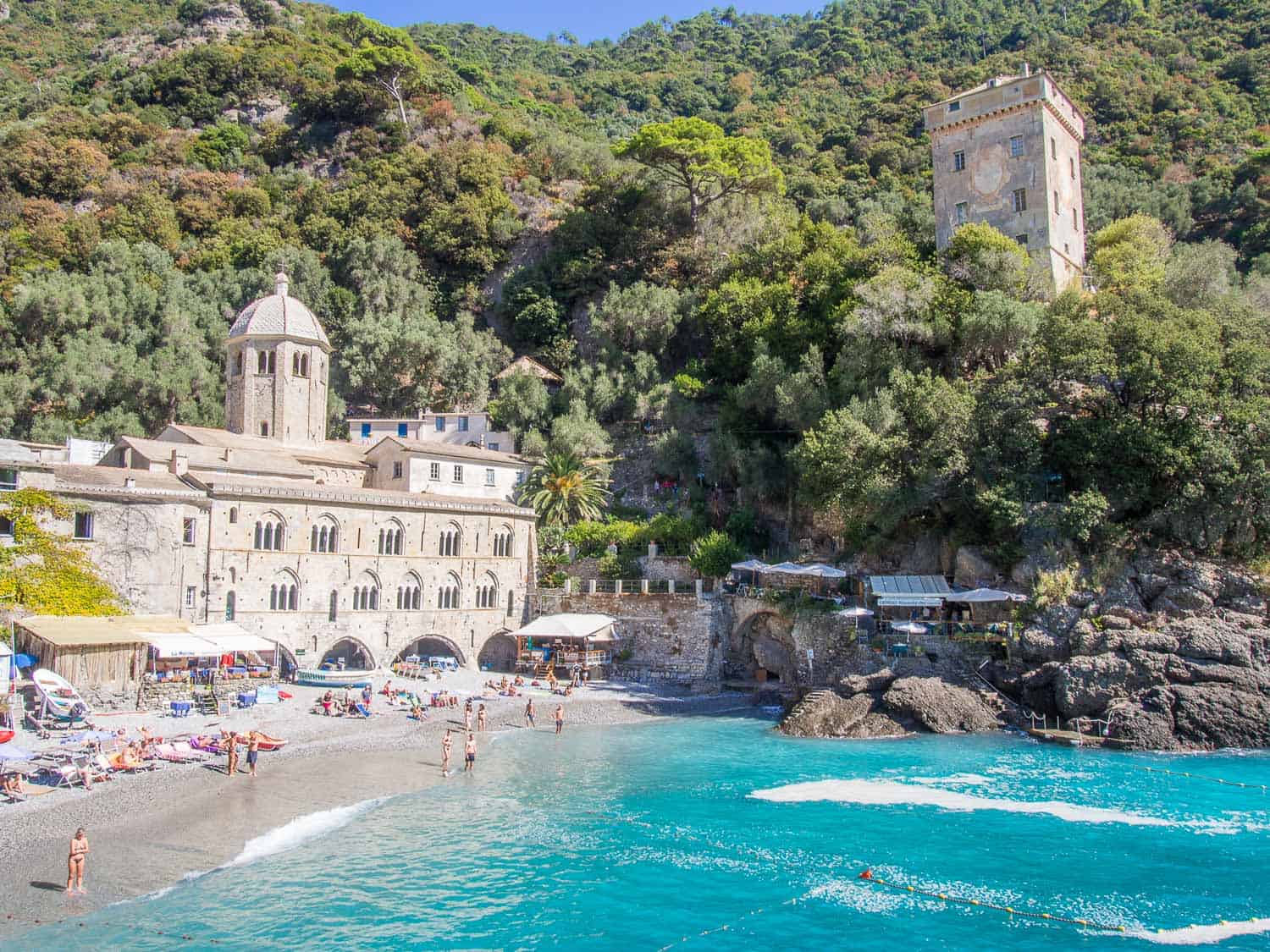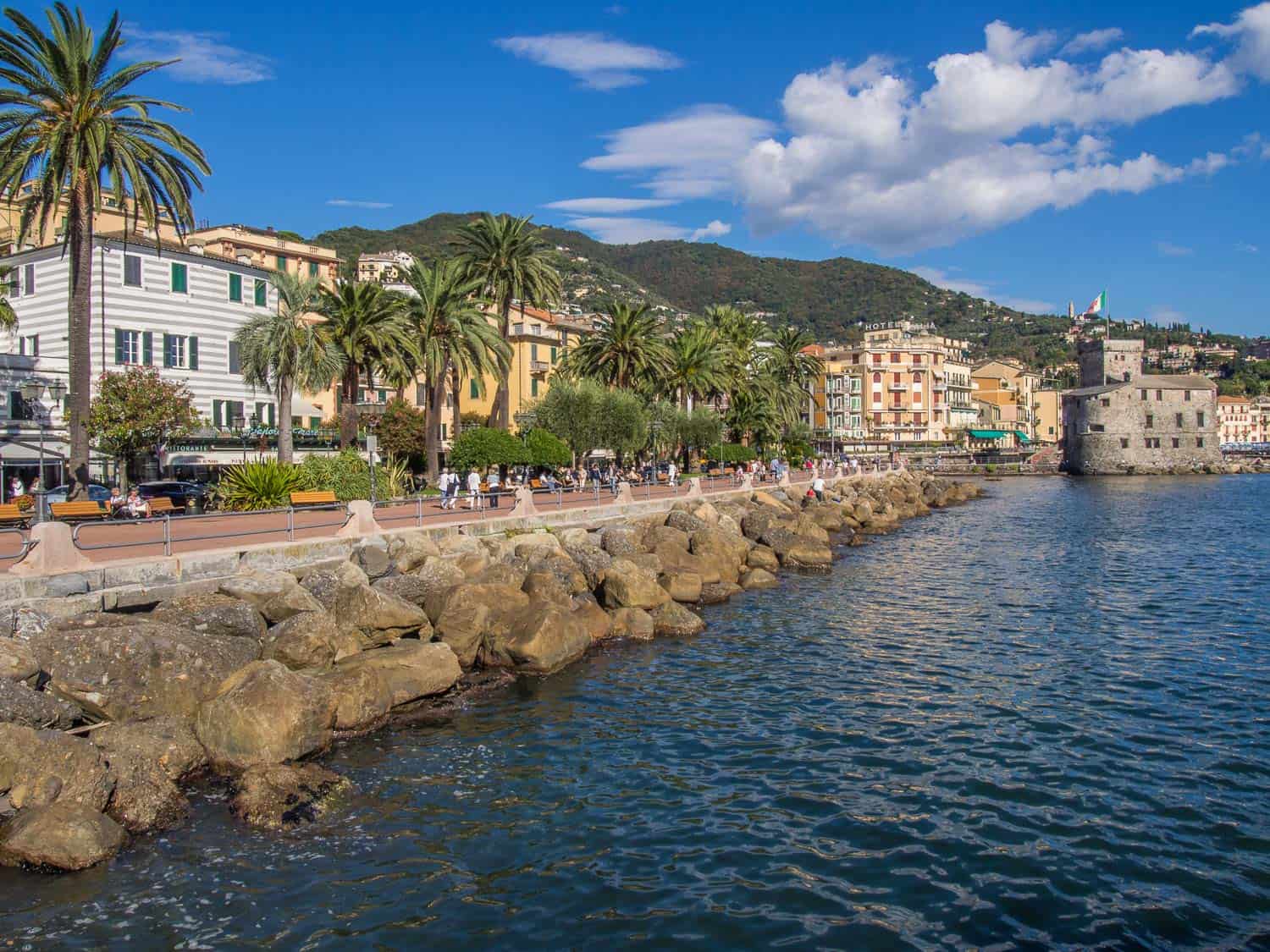 A week wasn't enough. There was still so much we wanted to do—take the cable car to Santuario Basilico di Montallegro for the views, visit the beach at Sestri Levante (one of the rare sandy beaches), do more hikes along the coast.
And there's always more focaccia and pesto to be eaten.
Where to Stay in Rapallo
Renting a holiday home or apartment in Rapallo is one of the most affordable ways to experience the Italian Riviera. That said, this area isn't cheap.
Our Rapallo Apartment
In mid-September, we paid £70 (€80) a night for this one-bedroom apartment in the perfect location in the historic centre. It was very comfortable, cosy, and well equipped with a fancy TV, fast WiFi, washing machine, and everything you need in the kitchen.
The downside is the cramped shower—you have to sit down in the bath if you are tall. The owner was really helpful and even sent his mum to meet us at the station (which is very close).
We paid more because we wanted to be close to the sea and train station. If you don't mind walking 10-20 minutes there are cheaper options on the outskirts. It's not a big town so nowhere is very far.
Search for more holiday rentals in Rapallo here.
Rapallo Hotels
If you are looking for a splurge, check out the 5-star Excelsior Palace Hotel. It has two infinity pools overlooking the sea that we gazed at longingly when we walked past.
You can also pay to use their Beach Club for the day, but prices start from €28 for an afternoon. We regret not doing it.
Search here for more Rapallo hotels.
The Best Rapallo Restaurants
Eating was a highlight of our stay. The region of Liguria has a number of delicious, vegetarian-friendly specialities including trofie al pesto, a short twisted pasta with basil sauce, pansoti alla salsa di noci, cheese and spinach stuffed ravioli with a walnut sauce, and lasagne al pesto, thin sheets of pasta with basil sauce (not like a thick typical lasagna).
See our Dos and Don'ts of Eating in Italy for what to expect from courses, cover charges, etc.
Here are the Rapallo restaurants we recommend:
This bakery chain from the nearby village of Recco specialises in focaccia col formaggio, flatbread stuffed with oozing stracchino cheese. It's best eaten hot so look out for a fresh pan coming out of the oven. We loved all their focaccia varieties and pizza slices. It's very popular so take a ticket and join the queue.
An excellent gelateria near the castle. I loved the chocolate, pistachio, and melon flavours. It's just a shame you have to pay extra for a decent cone.
Enoteca il Castello and Sole Bar
These two side by side bars are the perfect spots for a sunset aperitivo as they are right on the water away from the road and have a view of the castle. The free snacks with drinks are generous.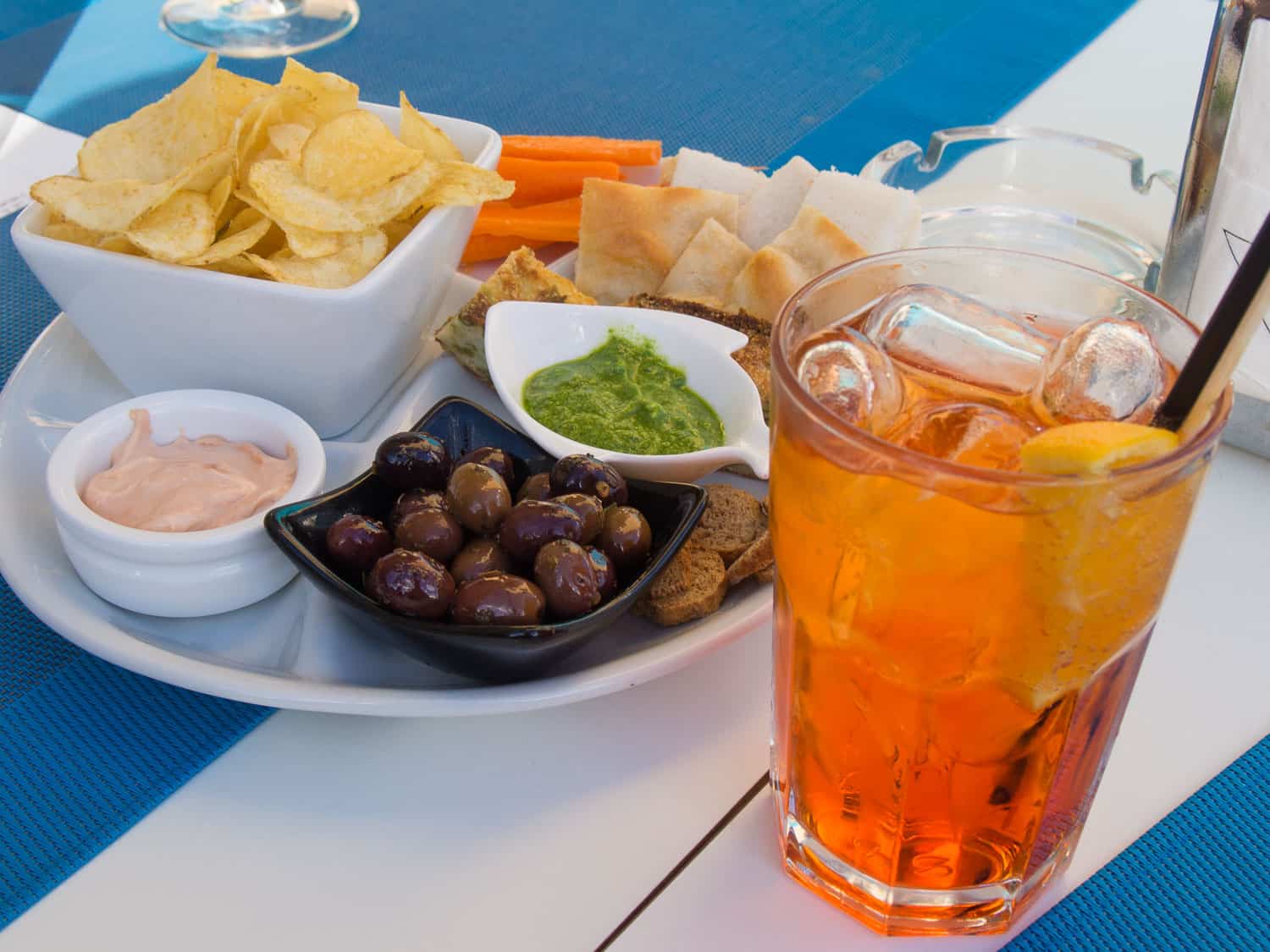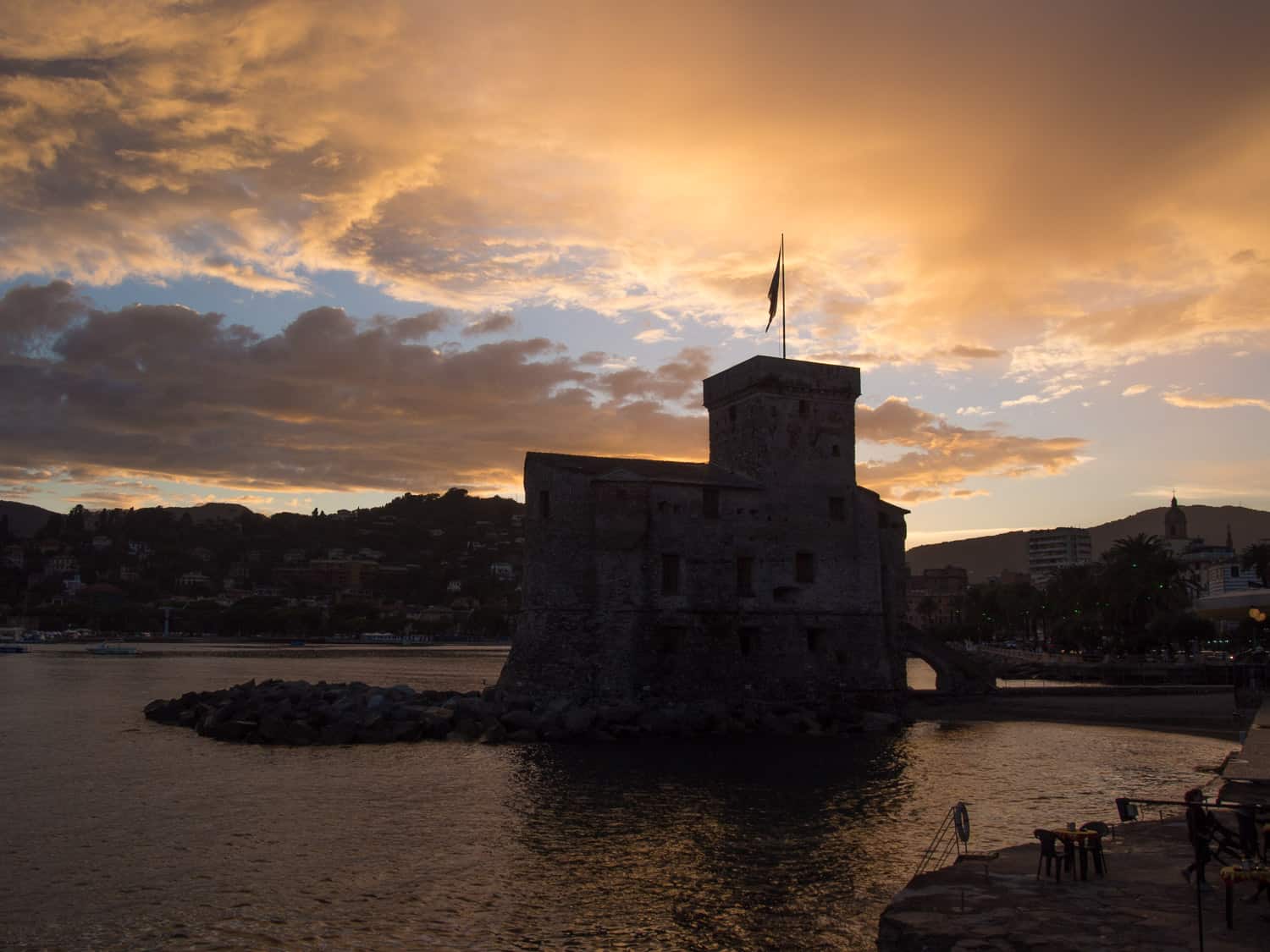 Our favourite restaurant in Rapallo. The food is fancier than at the other restaurants we ate in and we liked the cave-like old school atmosphere.
There are a number of vegetarian options and we especially like the spinach and zucchini torta with truffle carpaccio and the pear ravioli with cheese sauce and balsamic cream—the slight sweetness worked really well with the rich cheese.
A simpler and cheaper option. The breadsticks and olive oil in packets didn't inspire us with confidence, but the pansoti was my favourite in Rapallo. Our trofie al pesto and melanzana parmigiana were also good.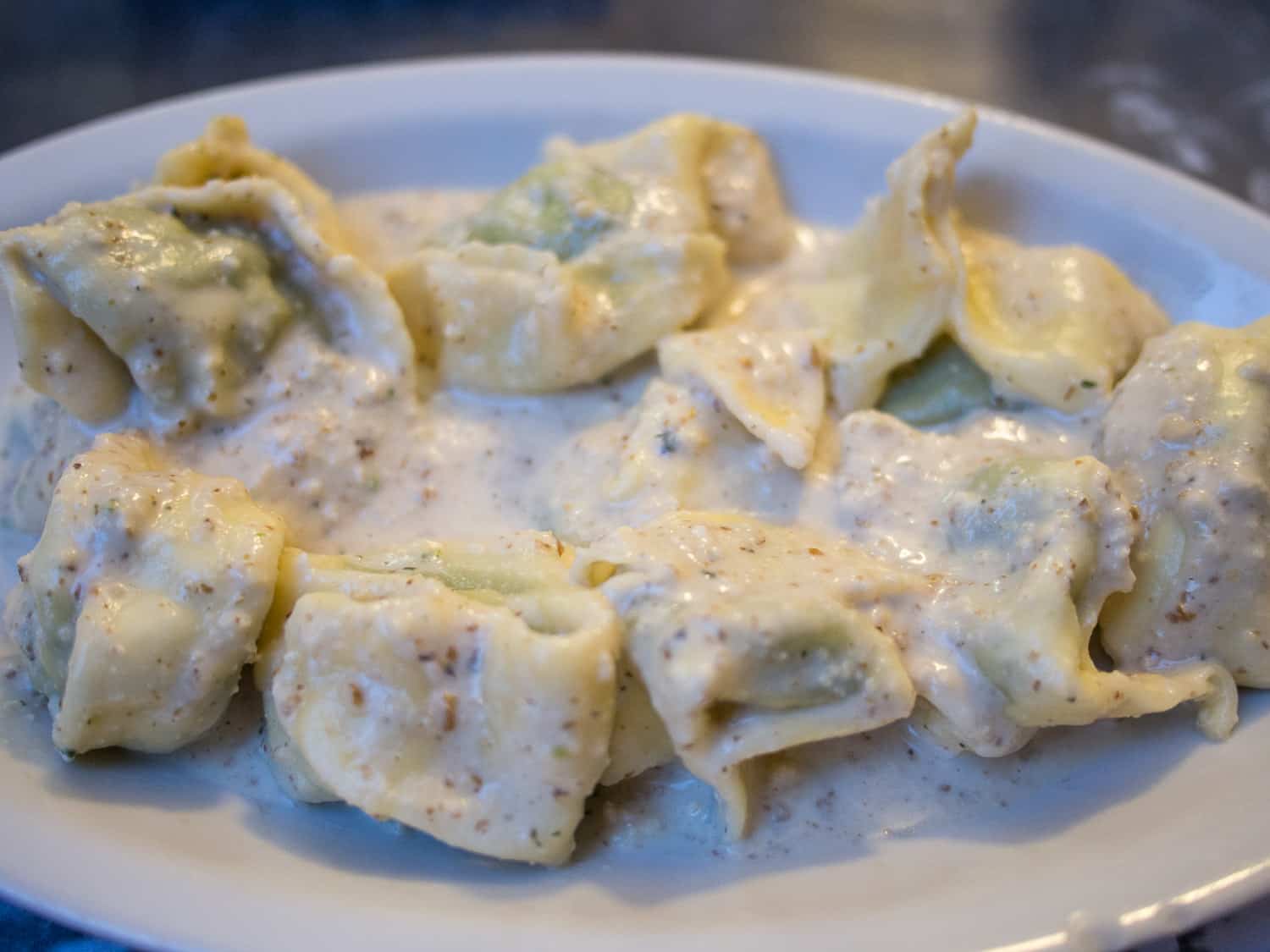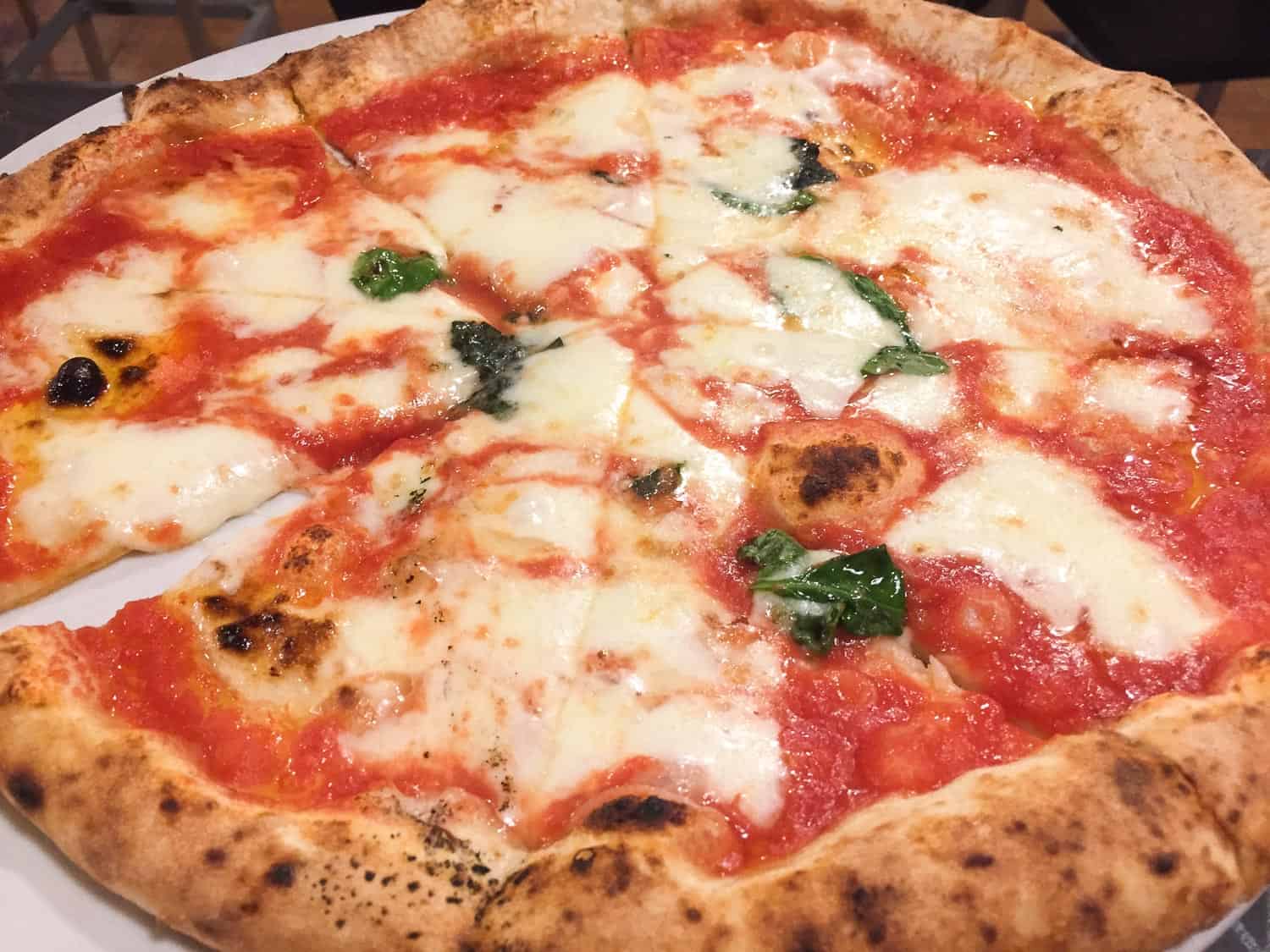 For a really cheap meal, you can't beat Pomodoro E Basilico's margherita pizza for €4.50 (and no cover charge). It's a basic takeout place with a few tables a 10-minute walk outside the centre. The pizza is Neapolitan style and is tasty.
I think they also have a more formal restaurant on Passo Tigullio that's closer to the centre.
Rapallo Transport
Rapallo is located in the region of Liguria on the Italian Riviera between Genova and the Cinque Terre.
It's about an hour from Genova on the train. You can find train times on TrenItalia (use Italian place names) or ItaliaRail (easier for English speakers).
Regional trains are cheapest and don't need to be booked in advance. We used these as they were included in our Interrail pass.
Santa Margherita Ligure (3 minutes away) and Camogli (8 minutes) can be reached quickly by train.
To get from Rapallo to Cinque Terre, you can take the train to any of the five villages, but some sections can be closed for hiking. When we visited only the Monterosso-Vernazza-Corniglia section was open.
We took the early train to Corniglia with a change at Sestri Levante (1hr 20 minutes total), walked to Monterosso via Vernazza and took the train back (40 minutes direct from Monterosso).
It took us 40 minutes to walk from Rapallo to Santa Margherita Ligure along the coast and from there it's just over an hour to Portofino. You can also get a bus to Portofino, but they are always packed.
The ferry is also a scenic (if more expensive) way to get to Santa Margherita, Portofino, San Fruttuoso, and Cinque Terre. I recommend doing at least one ferry journey. Check the ferry times here.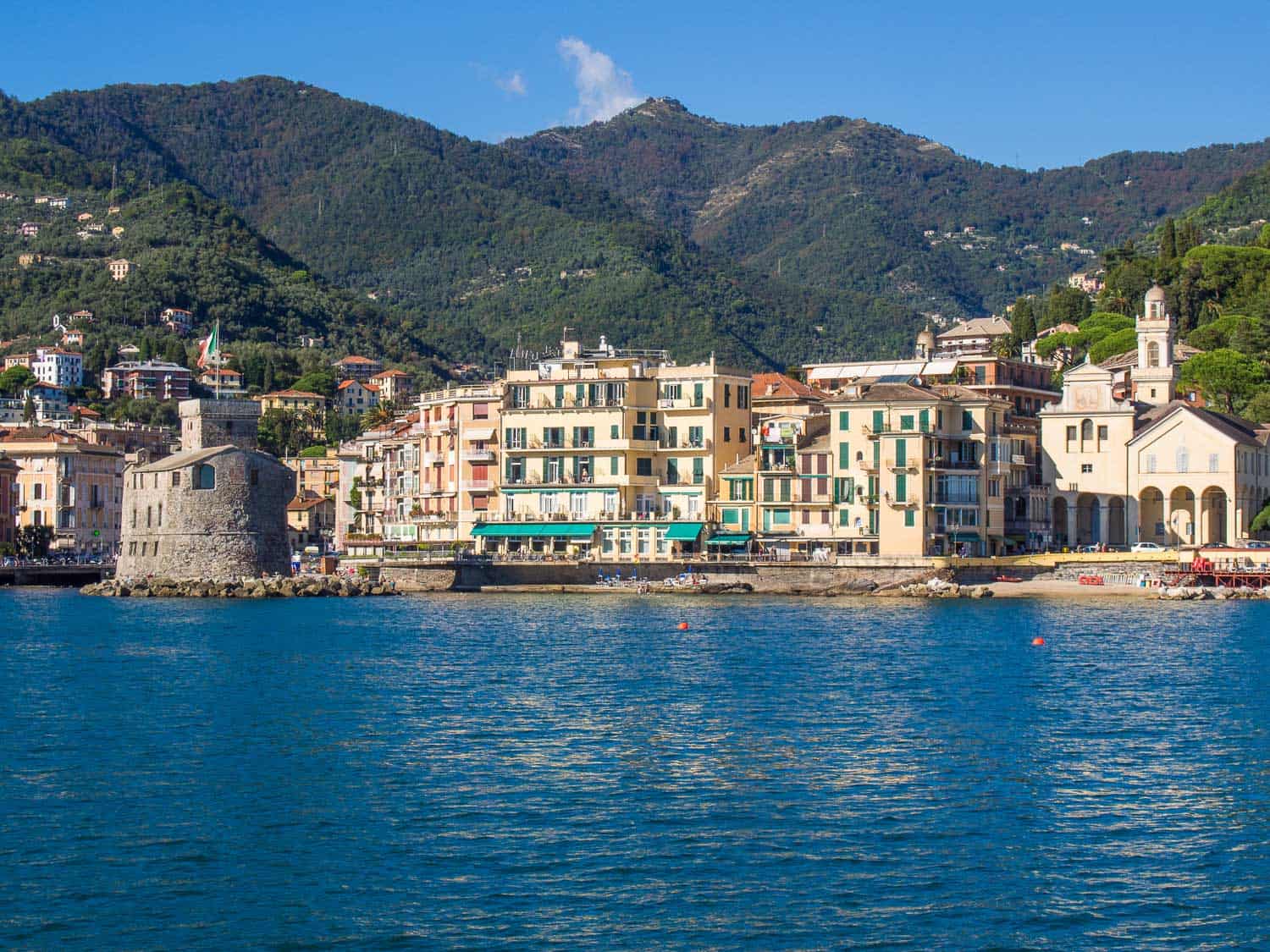 Rapallo, Italy Map
Of everywhere we visited on our Interrail train trip, Rapallo is the place I'd most like to return for a month or two. It's beautiful, walkable, has excellent food shops and restaurants, a bustling historic centre, and it's easy to explore the many towns, beaches, and hikes along the coast by train. I definitely recommend it as your Italian Riviera base.
If you enjoyed this post, pin it!