This page contains affiliate links. Please read our disclosure for more info.
Our favourite day trip on the Italian Riviera is the Camogli to San Fruttuoso hike in the Portofino Regional Park.
The day includes pretty seaside villages, a forest hike, good food, a swim in the turquoise sea of an isolated bay, an ancient abbey, and a ferry ride along the beautiful Ligurian coastline.
There is no road to the abbey and beach at San Fruttuoso so you can only visit on foot or by ferry. If you have the time and energy, I highly recommend hiking in and taking the ferry out.
In this post, I share all the practical details of the hike from Camogli to San Fruttuoso including transport links at each end plus what to expect on the trail and at the spectacular San Fruttuoso bay.
Contents
Camogli to San Fruttuoso Hike Details
Location: Camogli in Liguria, Italy – 40km/25 miles from Genoa
Length: 5.3 km/ 3.3 miles one way
Time: 2 – 3 hours
Elevation Gain: 528 metres (1732 feet)
Difficulty Rating: Intermediate
Highlights: Forest, Coastal Views, San Fruttuoso Abbey
These are the stats for the easier walk to San Frutttuoso that we did. There's also a longer, harder coastal route (details below).
We visited Camogli and San Fruttuoso from Rapallo, which we think is the perfect base for the Italian Riviera.
See our Rapallo Italy travel guide for more details as well as our post on the best things to do in the Italian Riviera.
Camogli: The Start of the Hike
Our day began with the train ride from Rapallo to the fishing village Camogli, just nine minutes away.
We got the 8.18am train so we could start before it got too hot (our hike was in mid-September when it was still warm) and have plenty of time in San Fruttuoso before the last ferry out.
It's an easy walk from the Camogli train station down to the waterfront where we ate slices of focaccia in the warm morning light overlooking the harbour of pastel coloured villas and fishing boats.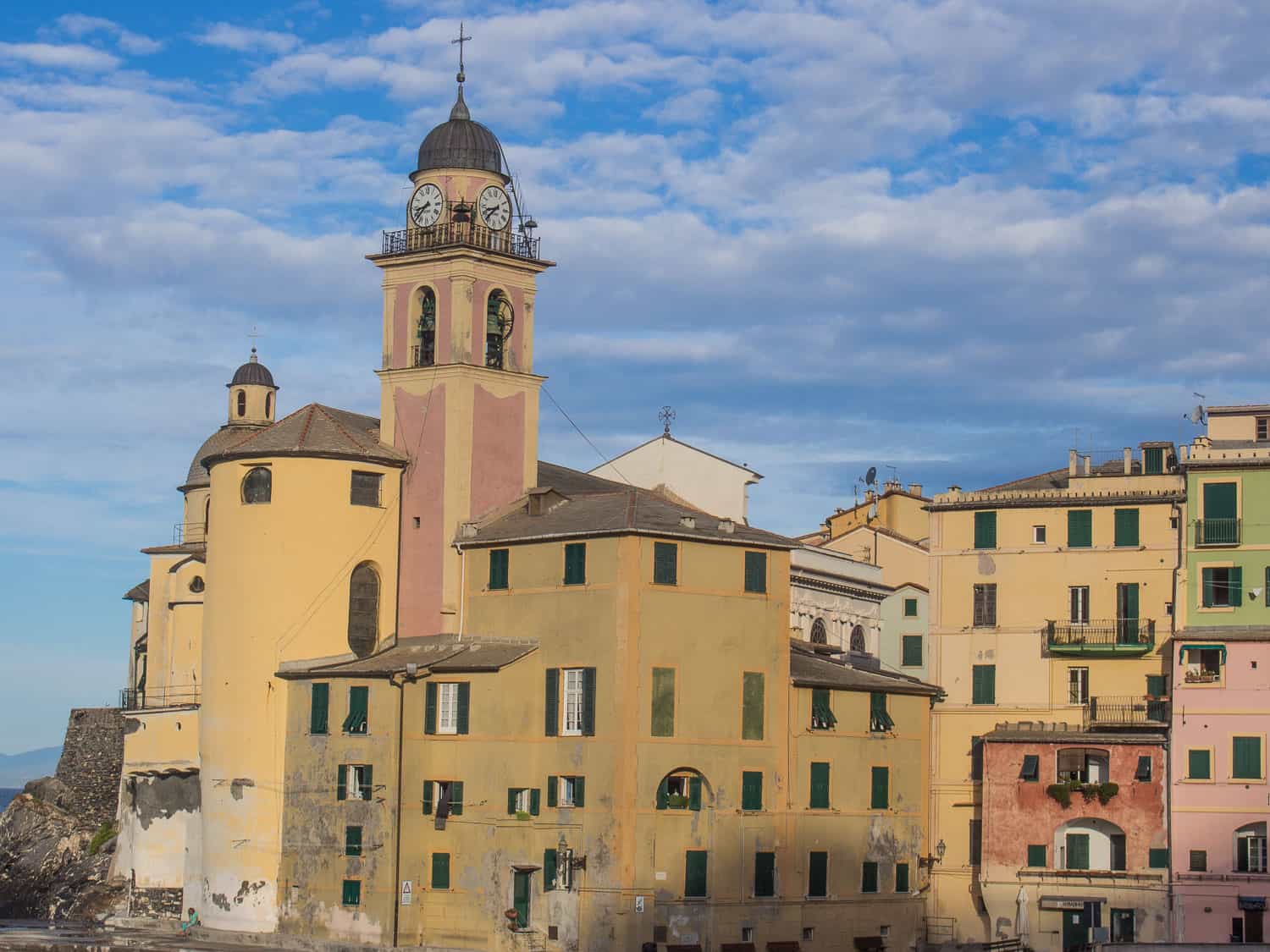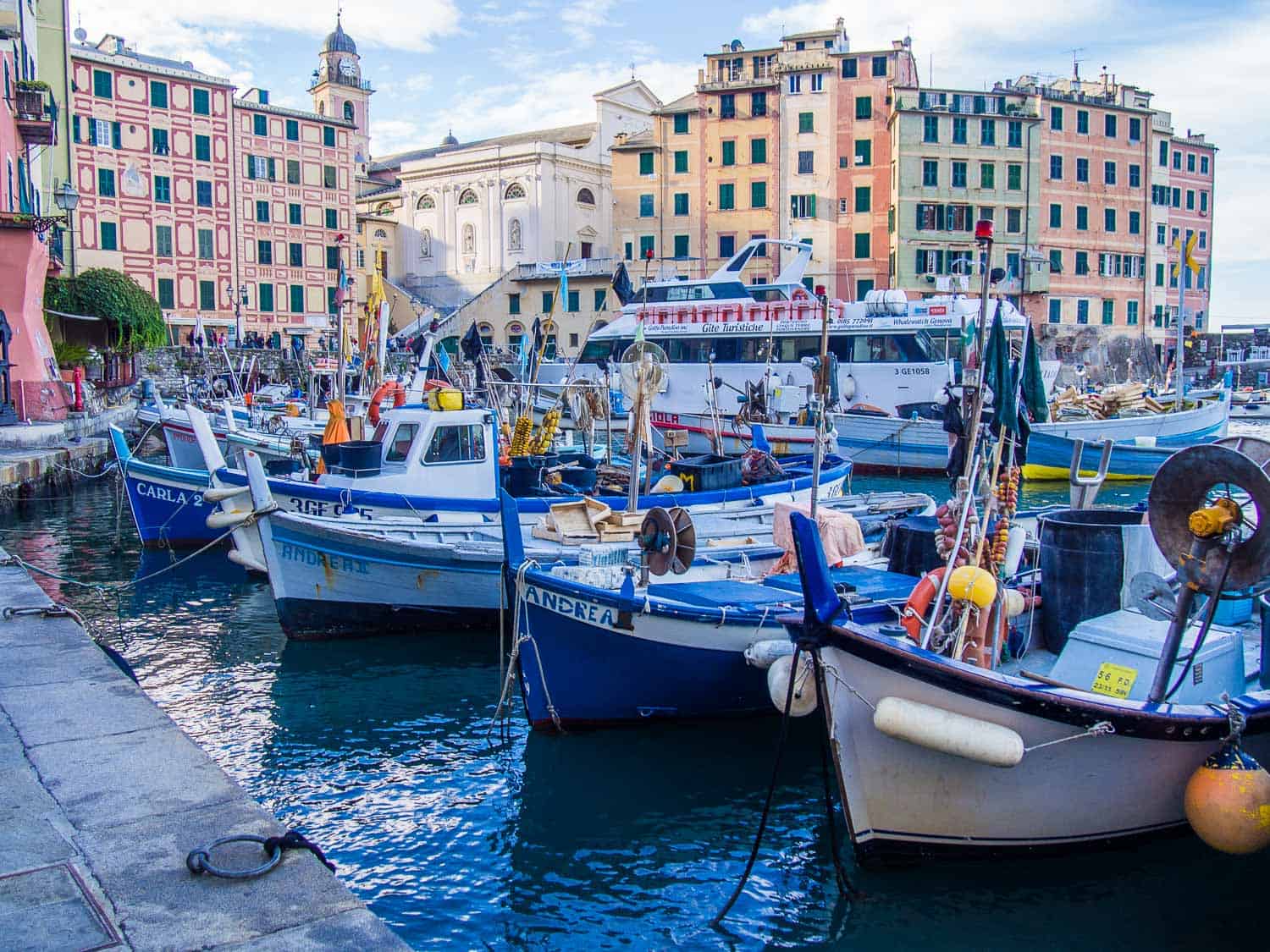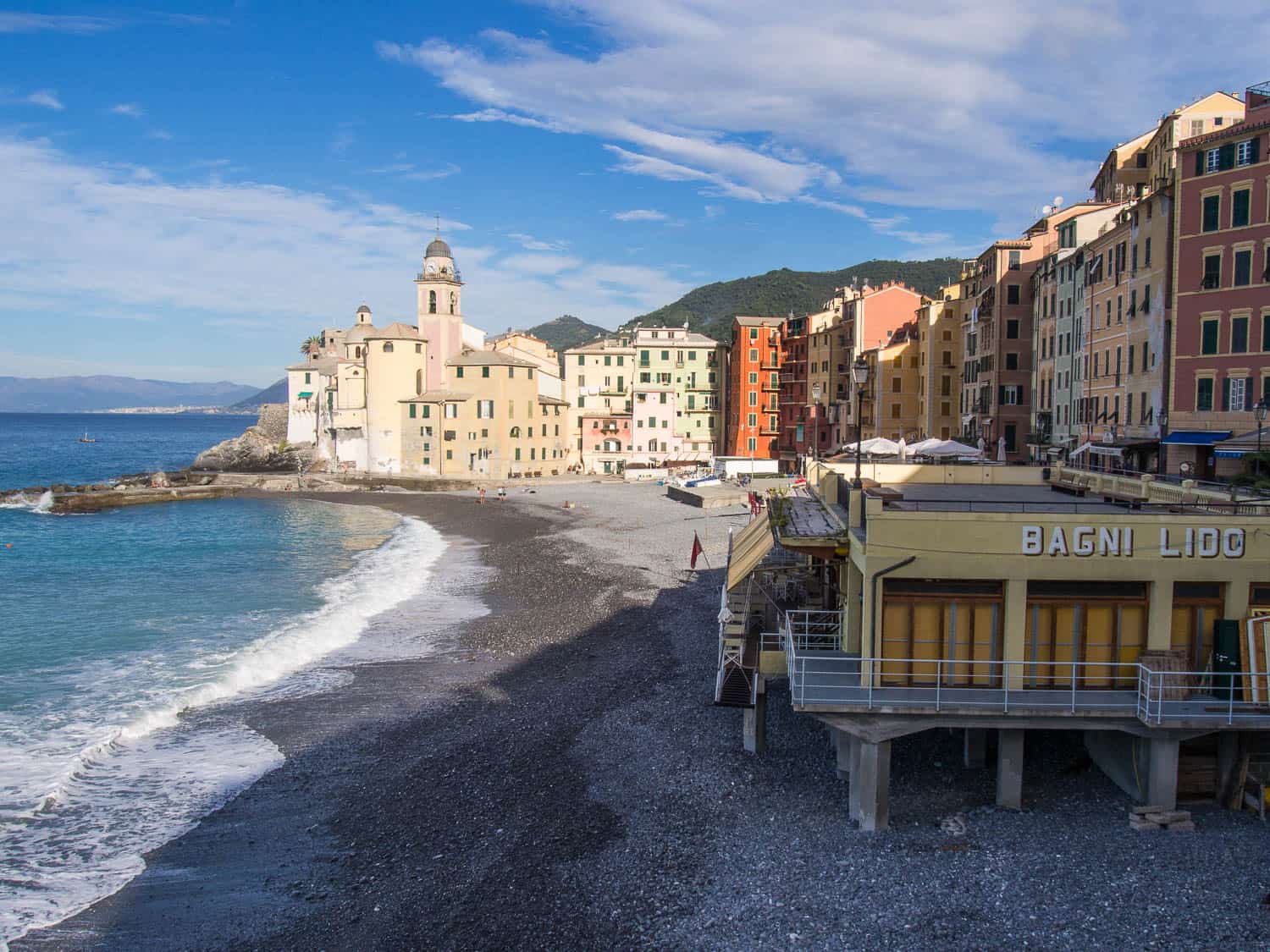 Camogli is much smaller than Rapallo and Santa Margherita with a quieter, laid-back vibe.
The pebbly beach is a more pleasant place to relax as there's no busy road running along the seafront like there is in the larger towns.
We'd like to have had more time to explore this cute village, but we wanted to get started on the hike to San Fruttuoso.
San Rocco Church
From the seafront, we could see our next destination—the church of San Rocco perched disturbingly high above the cliffs on the wooded peninsula.
At least we knew which direction to head, so we followed the harbour road until we reached a parking lot and police station where there are signs for the trail to San Rocco.
Look for the "Via San Rocco" trail marker on Google Maps to find the start of the trail. The trailhead is only 500 metres (a 6-minute walk) from Camogli San Fruttuoso train station.
The trail marker is two red dots and a red ring—at San Rocco, those two trails will divide for alternative routes to San Fruttuoso.
We walked for 30 minutes up many steps to San Rocco Church. This was probably the hardest part of the San Fruttuoso hike.
At the top we found views back down to Camogli, a cafe for an espresso boost, toilets, and a water tap at the start of the trails to refill your bottle.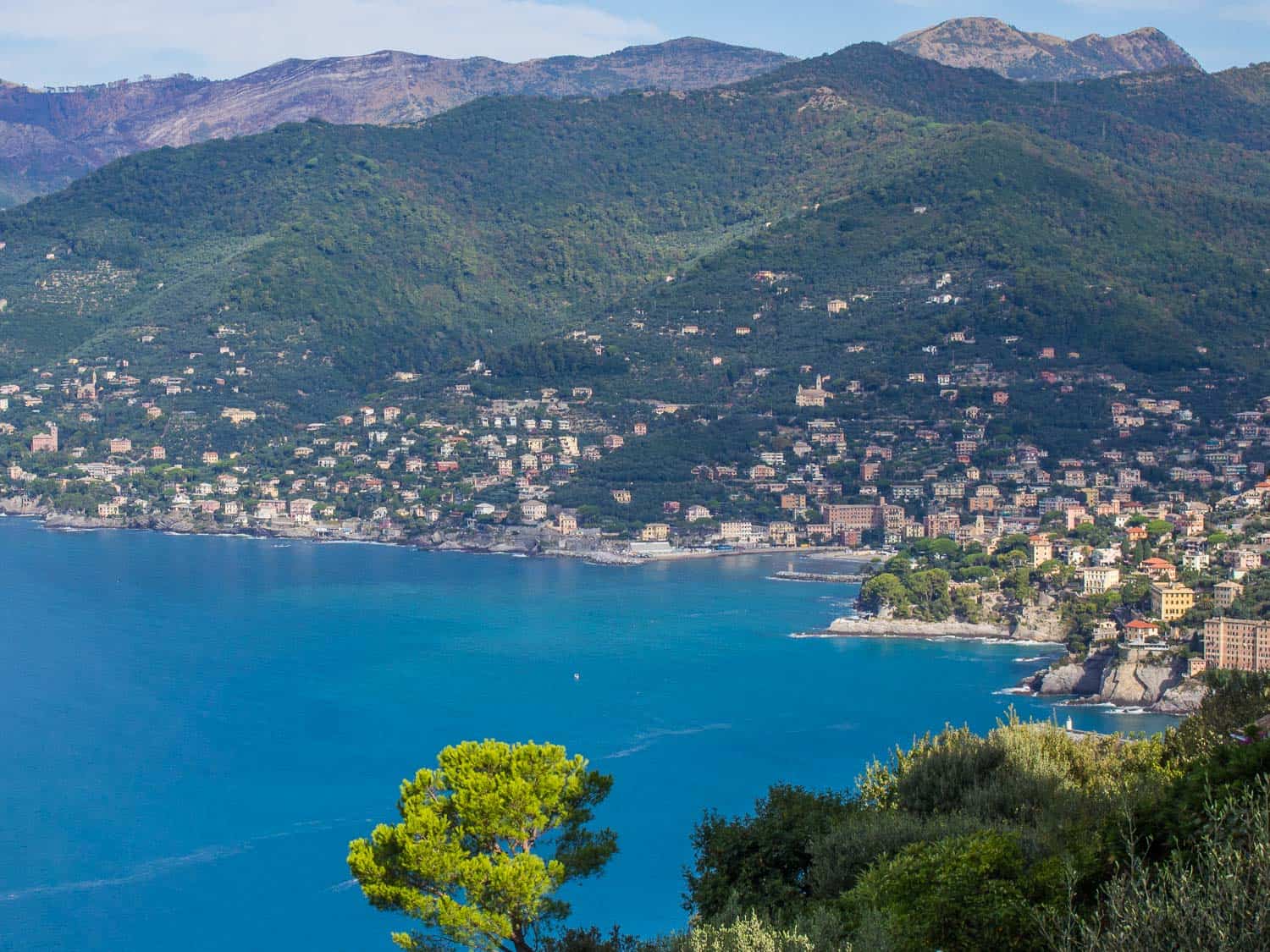 The Trail to San Fruttuoso
From San Rocco, the trail divides and there are two options to get to San Fruttuoso.
The Coastal Trail to San Fruttuoso
The coastal trail via the Batterie with its World War II bunkers has the best views, but it is harder and only recommended for expert hikers.
It includes a section where you have to use chains to navigate the slippery rocks above steep drop-offs. Many describe it as terrifying. Shoes with good traction are essential.
This trail is supposed to take 2.5 hours from San Rocco (although some people report longer) and the trail marker is two red dots.
From Camogli the coastal route is about 7.5km (4.7 miles) one way and takes at least 3 hours.
The Inland Trail to San Fruttuoso
We were scared off by the horror stories of the coastal trail and took the easier inland trail through Pietre Strette.
The 5.3km (3.3 mile) trail is marked by a red ring and is well-marked and easy to follow.
It's supposed to take two hours from San Rocco, but the entire hike from Camogli to San Fruttuoso (including a break at San Rocco) took us two hours.
We found it quite easy—the steepest bit is up to San Rocco.
The trail took us through chestnut and olive groves and pine forest. It was a mix of ups and downs until we reached the middle of the peninsula and cut down towards San Fruttuoso.
From there it's 50 minutes downhill all the way along many switchbacks.
The trail is rocky, so decent shoes are needed. We were fine in hiking sandals.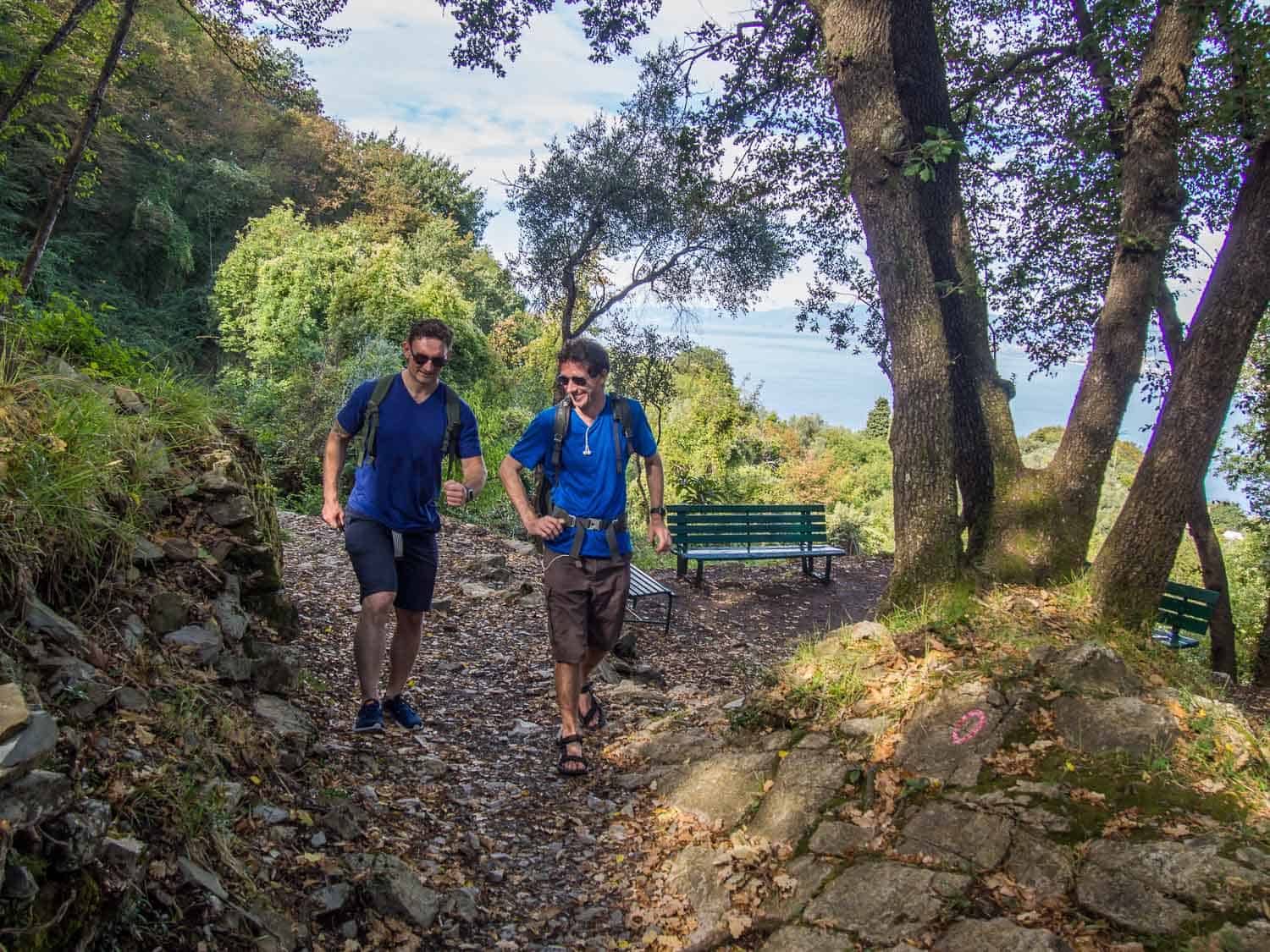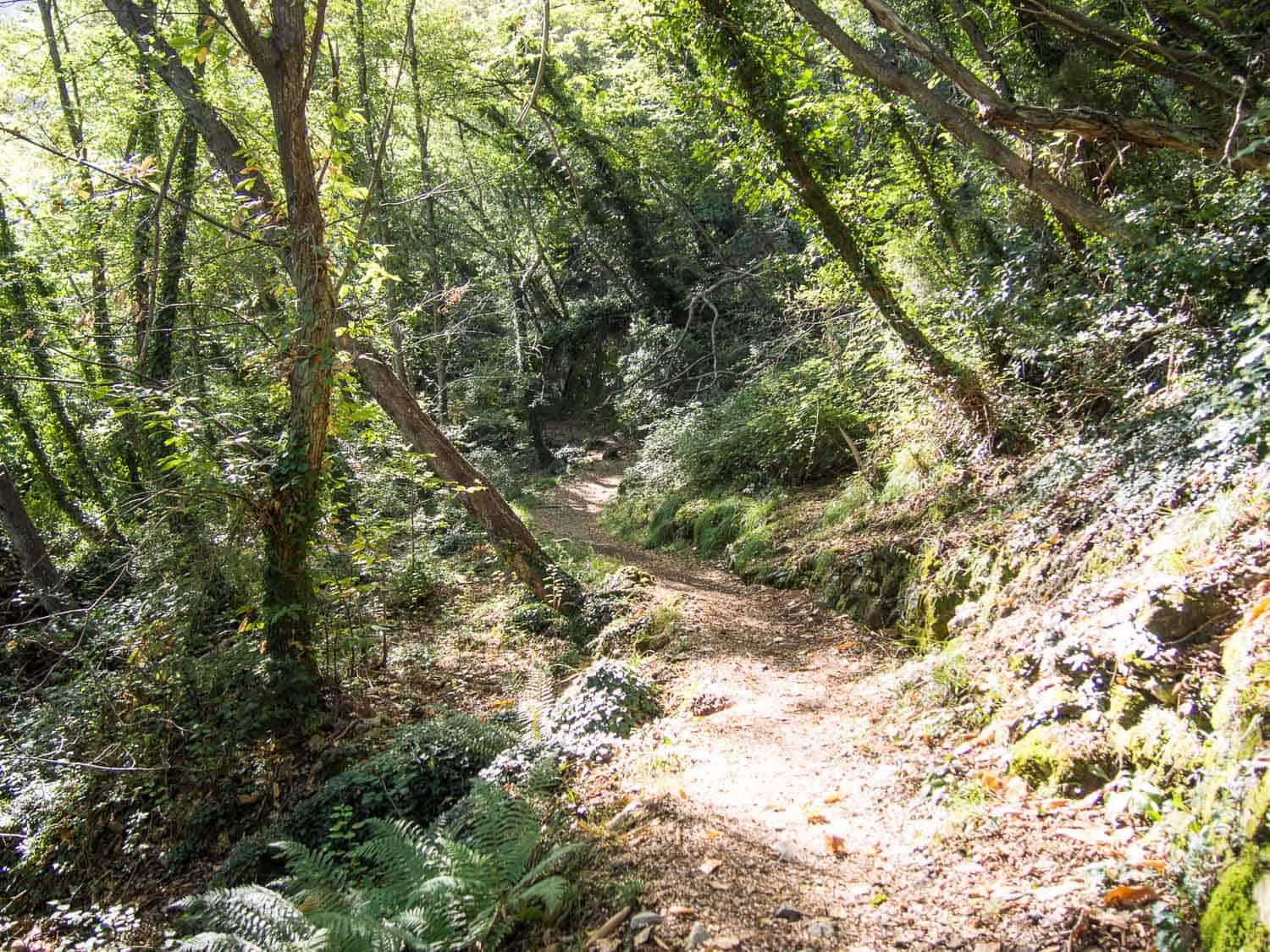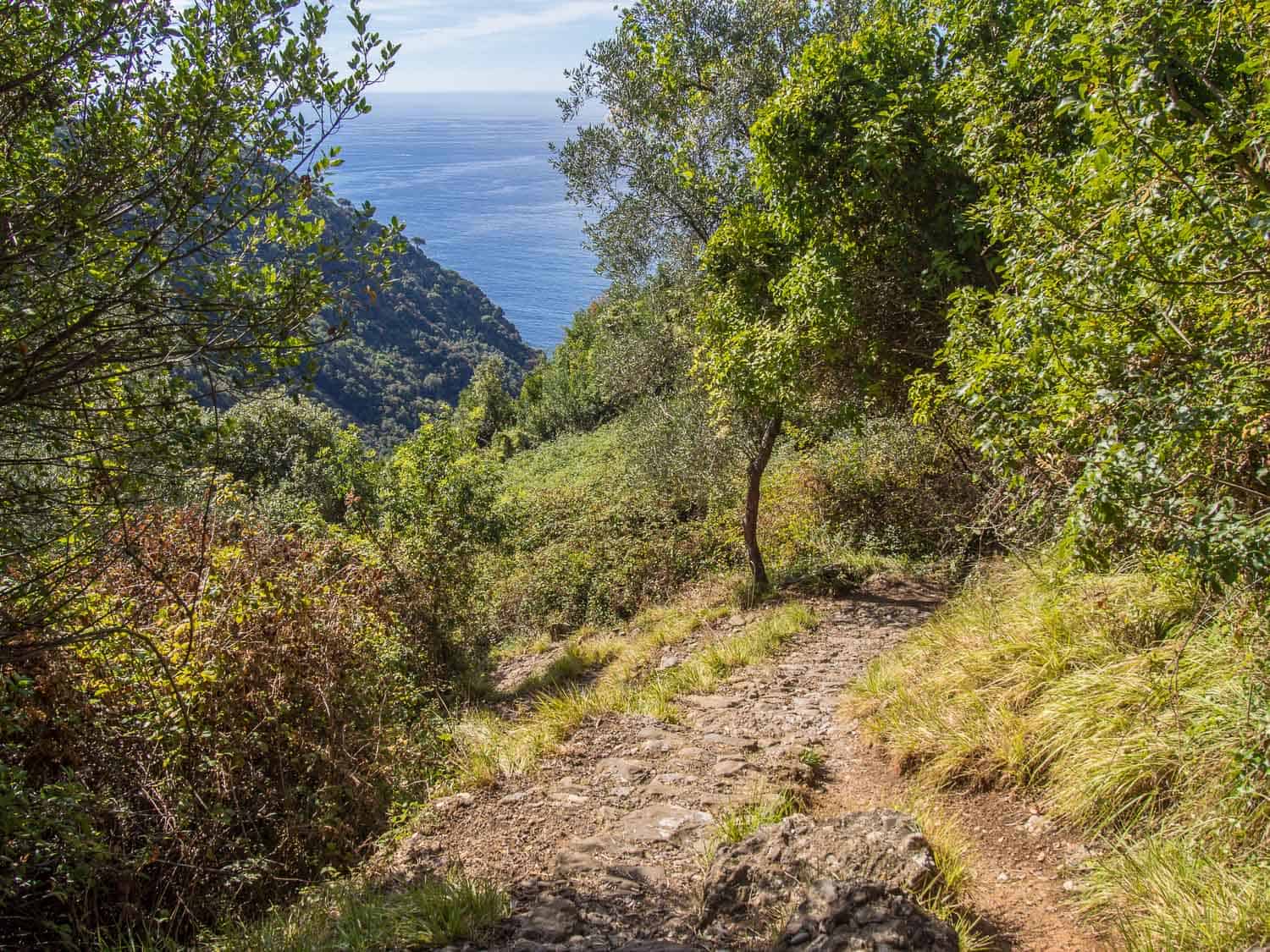 San Fruttuoso Beach and Abbey
Arriving in San Fruttuoso is such a treat.
The hamlet consists of a few restaurants, a 10th-century Benedictine monastery of golden stone, and a 16th-century watchtower that overlook the small pebble beach and vibrant turquoise sea.
With the dramatic mountain backdrop, it feels secluded and far from the real world, despite the crowds on the beach.
We enjoyed the view as we ate a tasty pesto lasagne lunch with local white wine at Da Giovanni.
There are a few other restaurants in San Fruttuoso, but they close in winter so check ahead or bring your own snacks (there's no shop).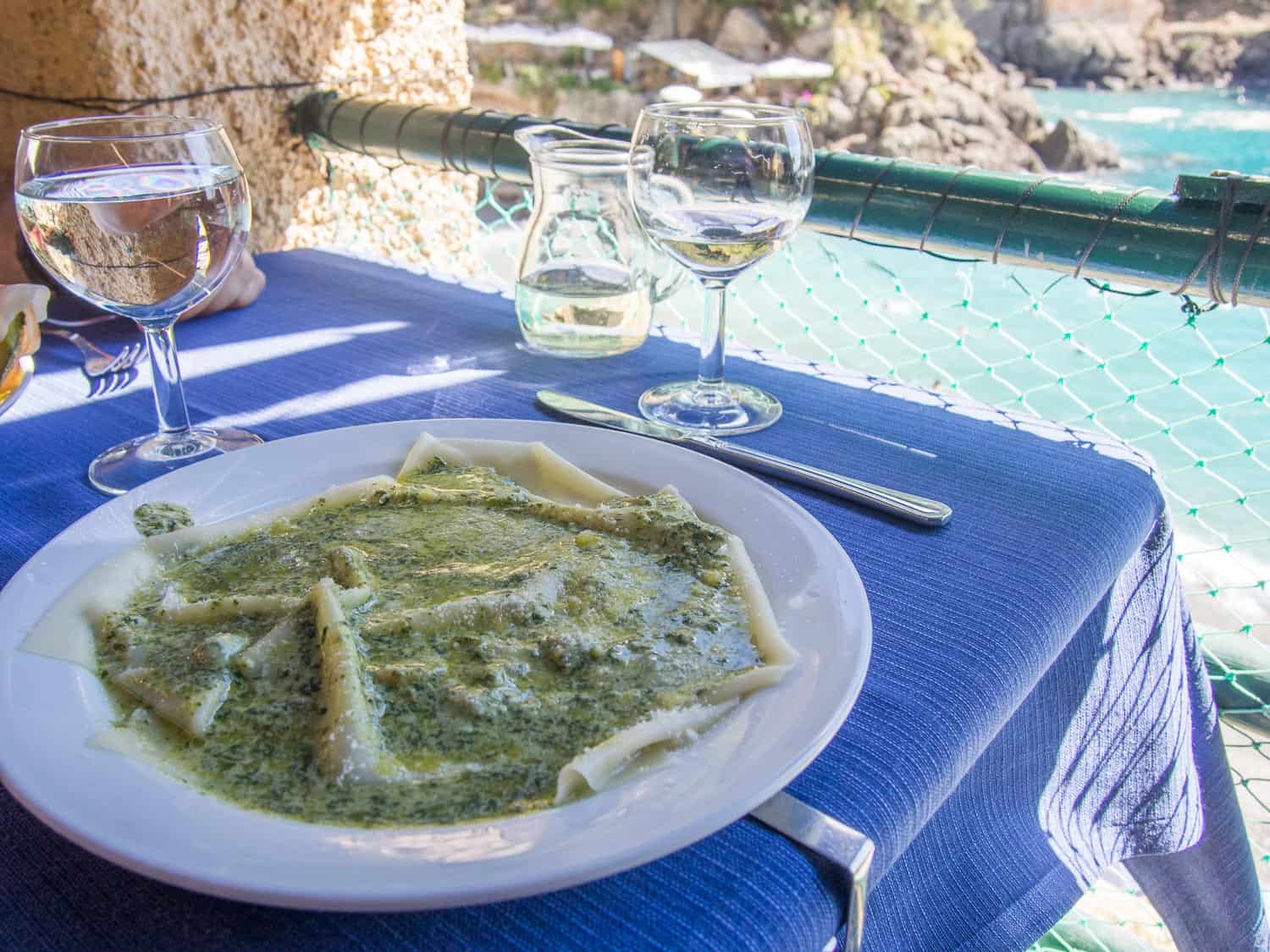 After lunch we relaxed on the beach. You can rent sunbeds and umbrellas or half the beach is free.
Floating in the clear water looking back at the abbey and the mountain we'd descended was a special experience.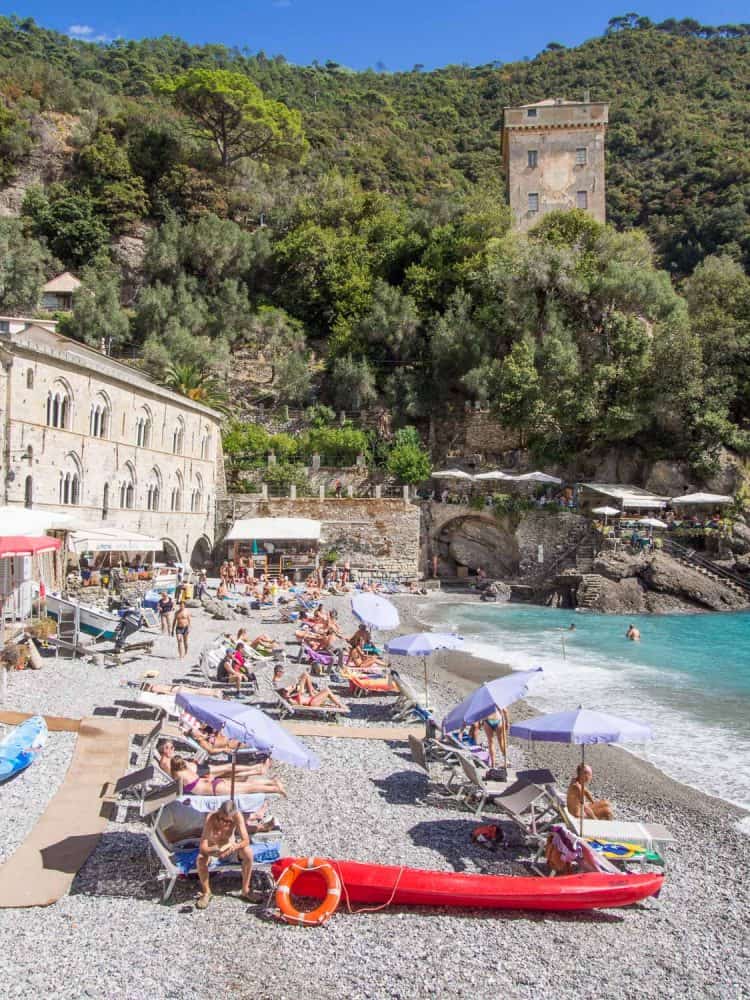 You can also visit the 10th century monastery, the Abbazia di Fruttuoso. It's open every day from 10am – 5.45pm from June to mid-September with slightly shorter hours in the shoulder season months. In winter it closes at 3.45pm and on Mondays.
Entrance is €8.50 for adults and €5 for children.
The Abbey closes if weather conditions cancel the ferry to San Fruttuoso.
San Fruttuoso Ferry
The only way to leave San Fruttuoso is on foot—back to Camogli or on to Portofino—or by ferry.
When we were there in mid-September, the last ferry was at 3.30pm, even though the online schedule said 5.30pm, so it's best to get an early start.
More ferries are scheduled on weekends and in peak season (June to August). Be sure to check the timetable in advance.
Bear in mind that the ferries do get cancelled if the sea is rough. We called them before our hike to check they were running so we wouldn't be forced to hike out as well.
To get from San Fruttuoso to Portofino, Santa Margherita Ligure, and Rapallo, take the Line 1 ferry with Servizio Marittimo del Tigullio.
In the summer they leave San Fruttuoso once an hour from 11.30am until 5.30pm. The journey to Rapallo (which we did) costs €15 one way and takes one hour.
You might want to stop in Portofino (15 minutes from San Fruttuoso) if you haven't visited yet. Or do as we did and walk there another day from Santa Margherita on the easy coastal walk—our Italian Riviera travel guide has more details.
We really enjoyed the ferry trip. The coastline is spectacular, and we were able to get the best views of Portofino, Santa Margherita Ligure, and Rapallo from the sea.
You could also take the ferry back to Camogli. Check the Golfo Paradiso schedule for the Blue Line.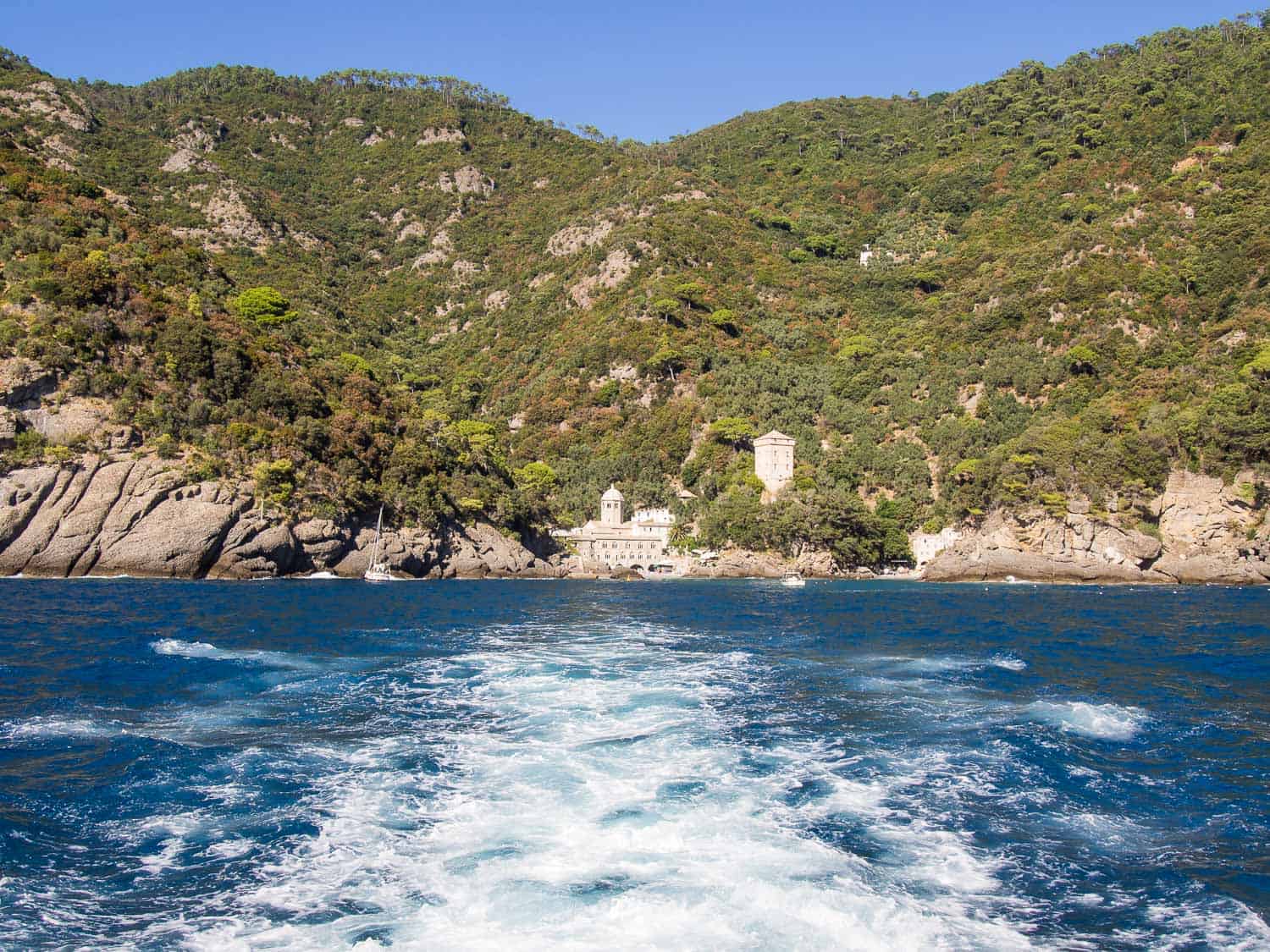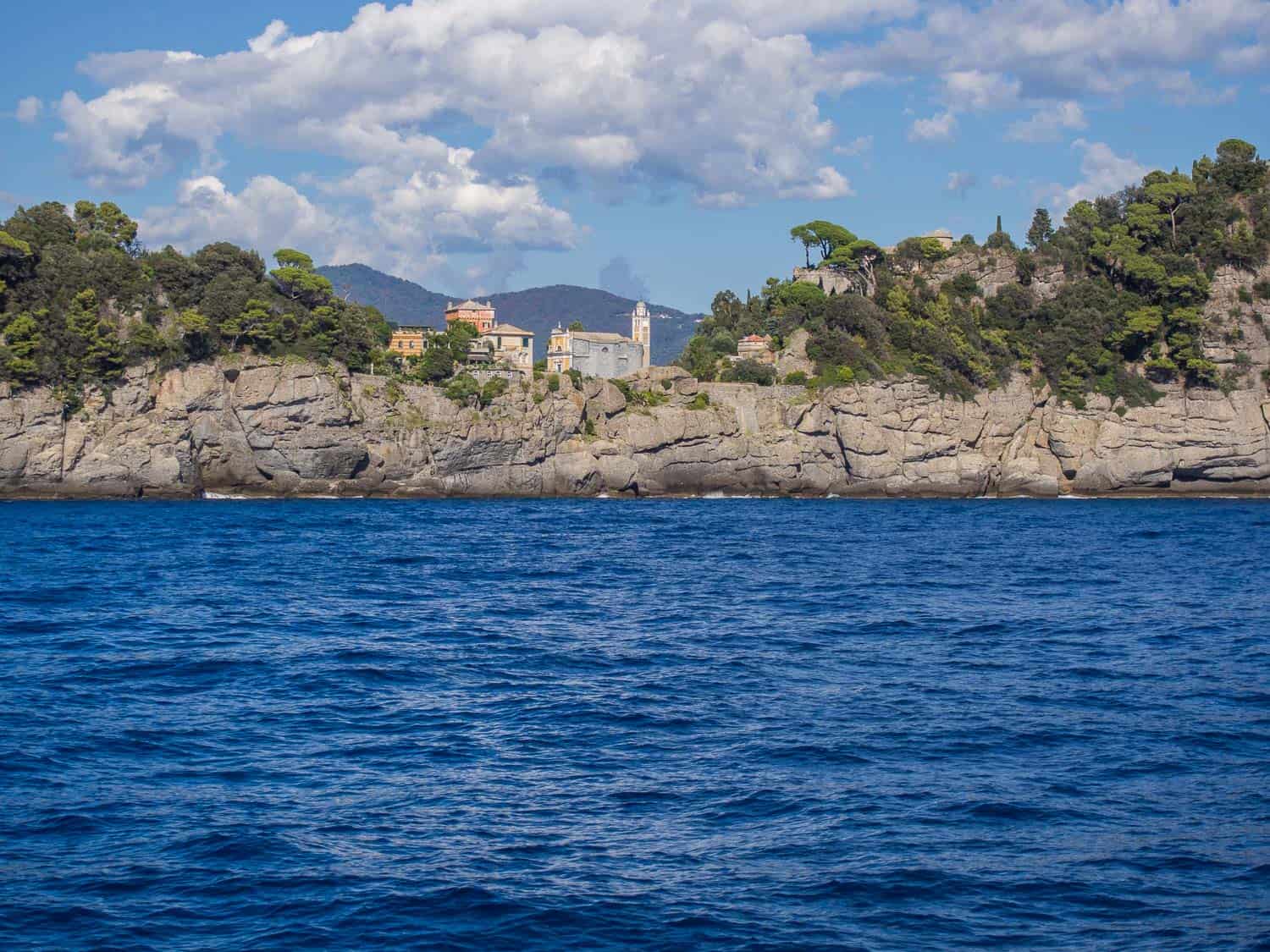 Camogli to San Fruttuoso Hike Map
Portofino to San Fruttuoso Hike
Another way to access San Fruttuoso is to hike there from Portofino (or vice versa).
The one way trip is about 4.5km (2.8 miles) and takes around 1.5 hours with some steep climbs at either end.
See the AllTrails San Fruttuoso to Portofino trail page (note the distance given is for the return journey).
If you are feeling very energetic, you could even skip the ferry and do a Camogli to Portofino hike with a break in San Fruttuoso. Allow at least 3.5 hours (not including breaks) for this 10km walk.
Is Hiking to San Fruttuoso Worth It?
San Fruttuoso is one of the most special places on the Italian Riviera, and I highly recommend you visit, even if you take the ferry rather than hiking in.
Nothing beats the feeling of having earned your lunch and swim after a hike, though, so if you can hike it's well worth it.
It really was the perfect day.
More Italy Posts
Liguria
Elsewhere in Italy
If you enjoyed this post, pin it!