This page contains affiliate links. Please read our disclosure for more info.
The Italian Riviera is one of the most beautiful parts of Italy. The dramatic coastline is home to colourful seaside towns, excellent hikes with panoramic sea views, and delicious regional cuisine.
It's most known for the glitzy harbour at Portofino and the pretty cliffside villages of the Cinque Terre, but there are many quieter coastal towns to explore as well.
In this post, I share the best things to do in the Italian Riviera plus where to stay and useful tips on exploring the area.
At the end you'll find an Italian Riviera map with all the best places to visit.
Contents
Where is the Italian Riviera?
The Italian Riviera is in the northwest of Italy. It runs from the French border all the way along the Ligurian coast to the Tuscan border.
This Italian Riviera travel guide focuses on the most popular side of the Riviera, the Riviera di Levante ("the coast of the rising sun"), from Genoa (Genova) to La Spezia in Liguria.
I also recommend you check out the less-visited Riviera di Ponente ("the coast of the setting sun"), which is further north—see our Finale Ligure guide for details.
The Italian Riviera is easily reached by train. The nearest major city is Genoa and it's only a few hours from Turin, Milan, and Pisa (in Tuscany).
While you could do an Italian Riviera road trip, which would allow you to explore less-visited inland villages, having a car is more hassle than it's worth on the coast. Portofino and Cinque Terre have restricted access by car and parking is limited.
Where to Stay in Italian Riviera
Rapallo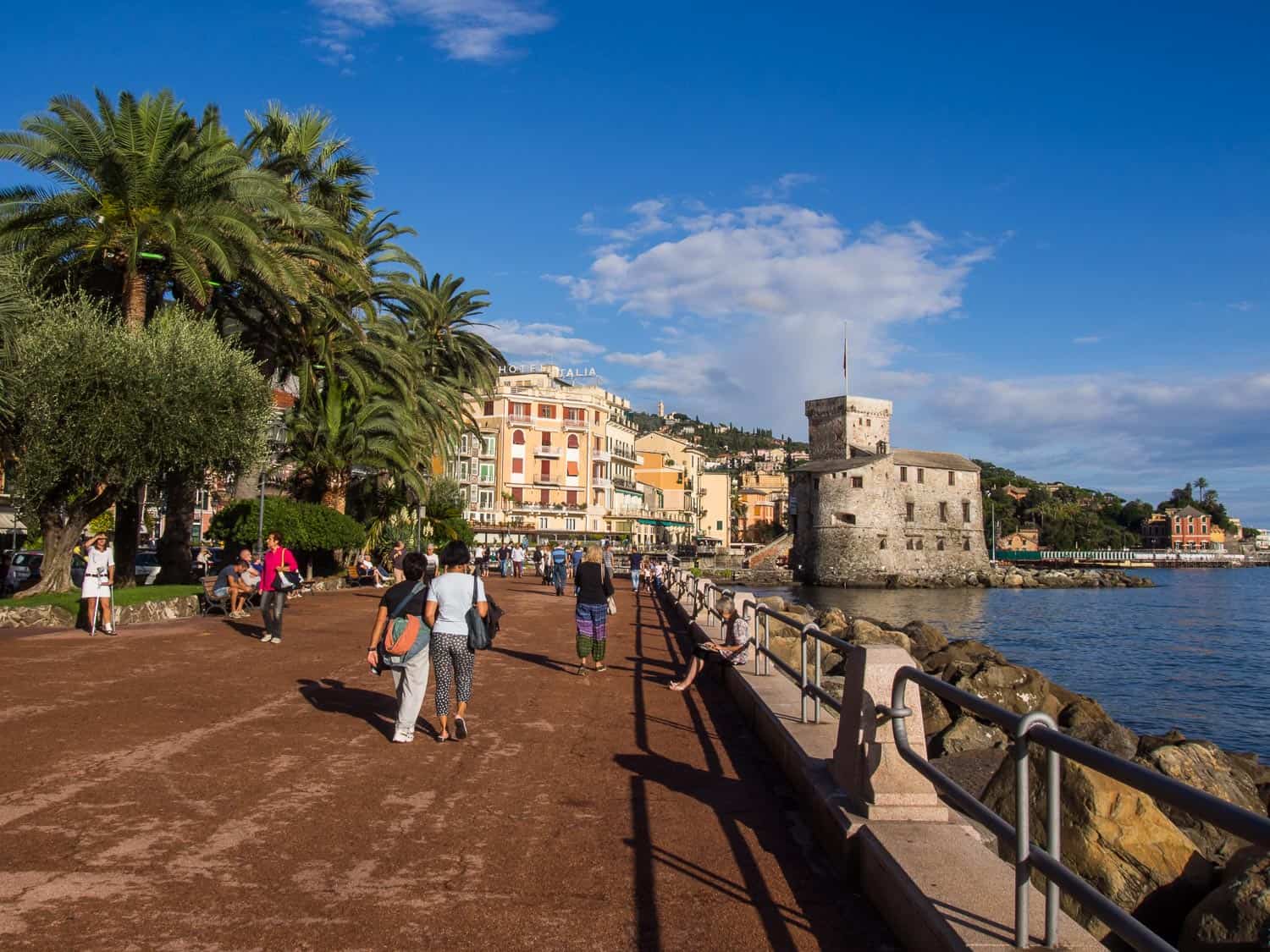 We spent a week visiting various towns along the coast, and on a previous trip we stayed in Cinque Terre, and it only confirmed that Rapallo is the best base to explore the Italian Riviera.
It's roughly half way between Genoa and Cinque Terre and all the coast's highlights are no more than an hour away.
Rapallo has colourful buildings and a lovely seafront promenade, but it feels less touristy than many of the popular places to stay.
Portofino is busy and very expensive and the Cinque Terre villages are so tiny they get rammed with visitors (and it's also pricey), and even Santa Margherita Ligure, which would be a good place to stay, attracts tour buses.
Rapallo feels like a real Italian town with locals shopping at the produce market and fresh pasta shops or strolling down the narrow backstreets on their evening passeggiata.
It's also cheaper than the rest of the coast with many affordable apartments to rent. We stayed in this cosy one bedroom apartment which has the perfect location right in the centre, one minute from both the sea and train station.
If you'd prefer a hotel, Excelsior Palace Hotel and Hotel Vesuvio both have prime spots in Rapallo with sea views.
Read our Rapallo travel guide for more details on the town including where to eat.
Camogli
I would also consider staying in the fishing village of Camogli. It's such a pretty place that doesn't get too crowded and there are hiking trails nearby.
The downsides are less choice of accommodation and restaurants and the transport links aren't quite as good as in Rapallo.
For our next trip, I'm very tempted by the incredible sea views at Sublimis in Camogli, a boutique adults-only hotel.
Santa Margherita Ligure
Although Santa Margherita Ligure is busier than Rapallo, it's still a great base for the Italian Riviera and is closer to Portofino if that's a priority.
Our friends at Bridges and Balloons stayed at Hotel Blue di Te and loved the stylish design and huge shared lounge.
Best Things to Do in Italian Riviera
1) Travel by Train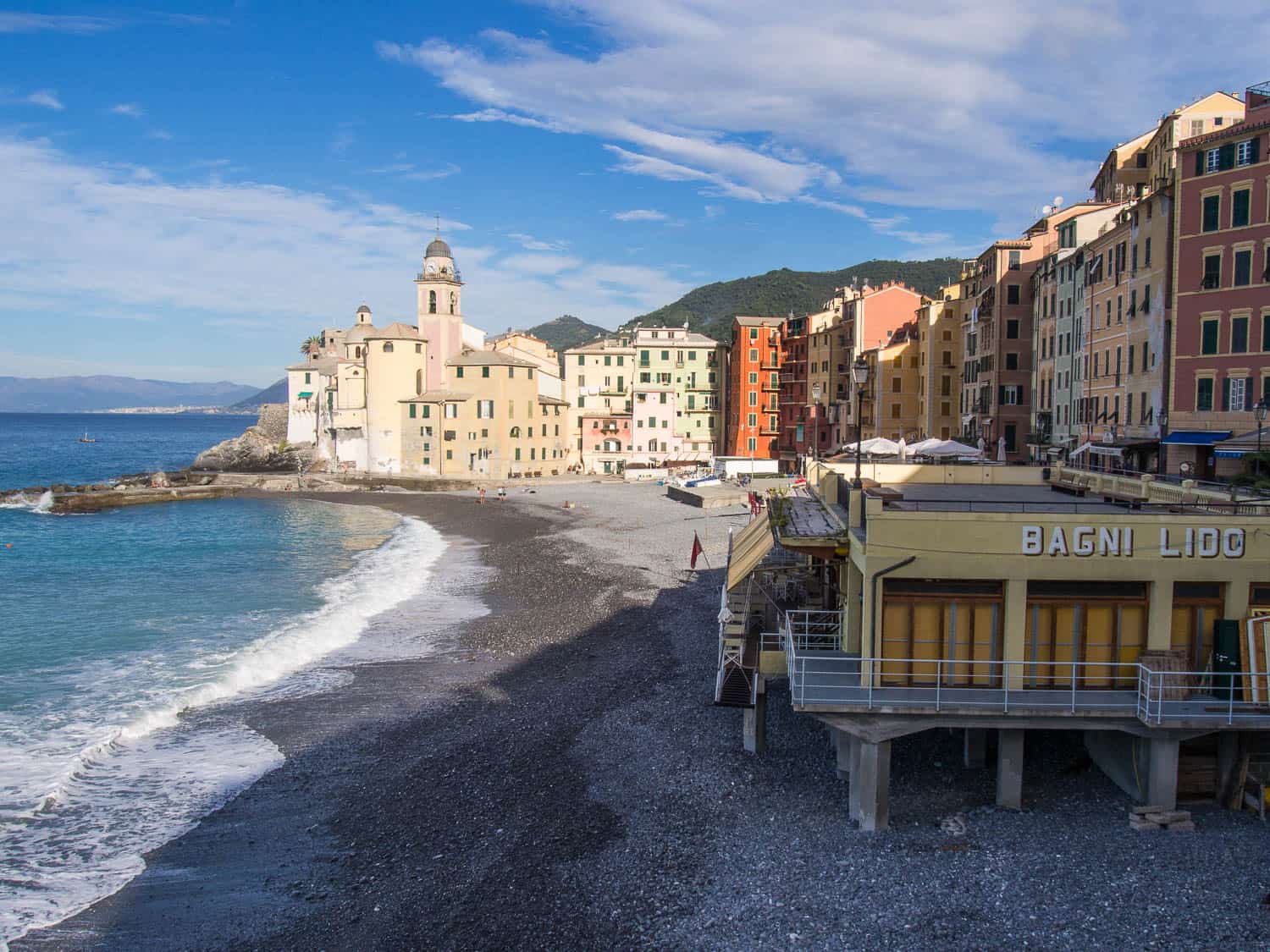 The Italian Riviera is very accessible as trains stop at most towns along the coast (unlike the Amalfi Coast where you have to take slow nausea-inducing buses).
From Rapallo, it is a three-minute train ride to Santa Margherita Ligure, eight minutes to Camogli, 40 minutes to Monterosso al Mare (the first Cinque Terre village), and an hour to Genoa. And you can enjoy sea views along the way.
You can check train times and prices (which are low) on TrenItalia. For regional trains, you don't need to book in advance—you can buy at the station machines or counter.
Just remember to validate your ticket in the machines on the platform before you board the train.
2) Try Ligurian Cuisine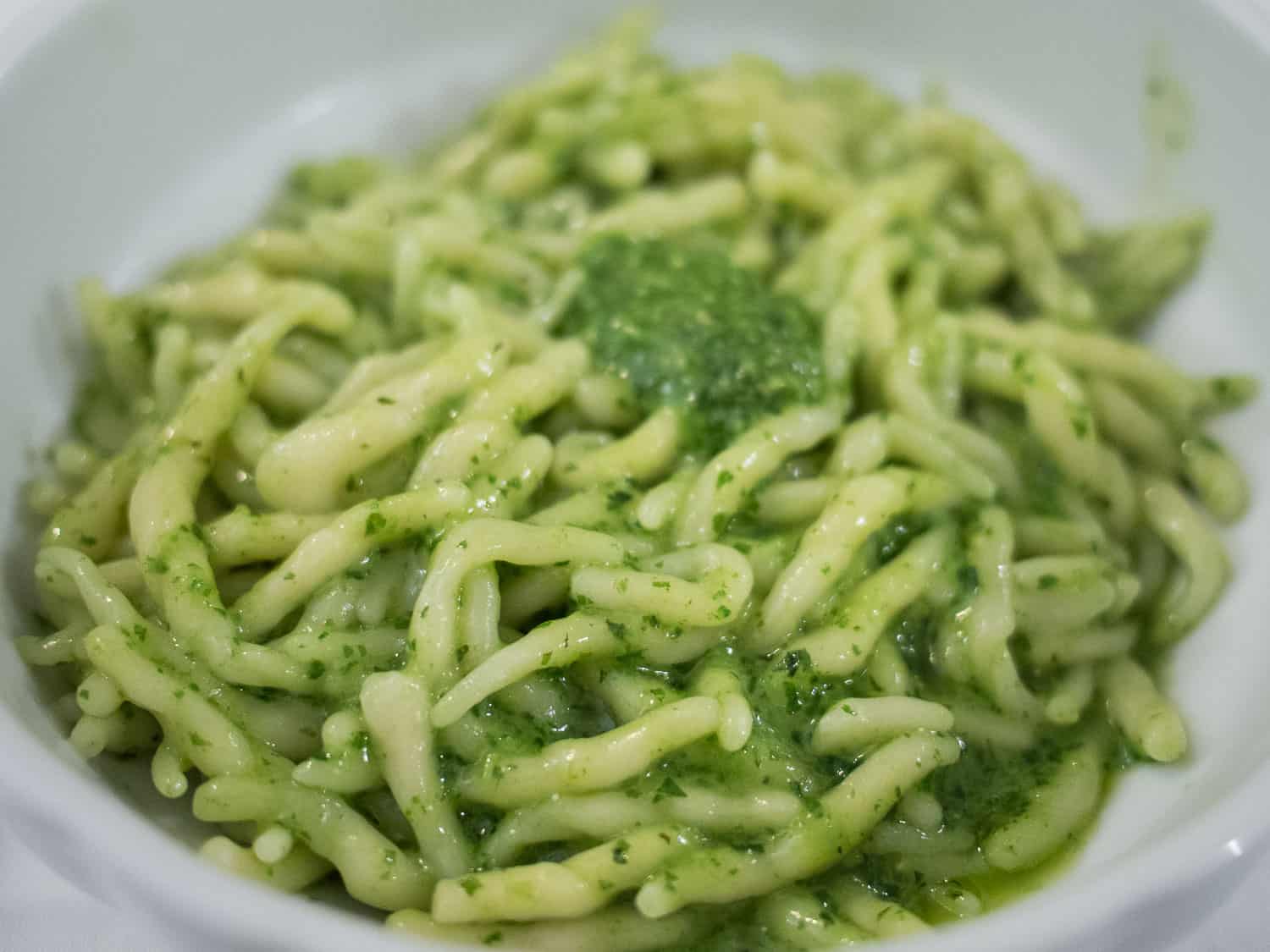 One of the reasons I love Liguria so much is the wonderful food. Of course, seafood is a speciality but there are also many vegetarian dishes.
Pesto originates in Genoa (pesto alla genovese) and this basil sauce is superb here—try it with trofie (small twists of pasta) with potatoes and green beans.
Pesto is also used in lasagne al pesto, thin sheets of pasta with sauce, not at all like a typical thick meaty lasagne.
Pansotti alla salsa di noci, cheese and spinach stuffed ravioli with walnut sauce, is another delicious dish found on most restaurant menus.
Don't miss focaccia which originates from Liguria and is the tastiest we've eaten in Italy. This olive oil bread can be eaten plain or topped with olives, tomatoes, onions or other ingredients.
It's sold in bakeries and you usually pay by weight. A slice makes a great breakfast, snack, or light lunch.
The town of Recco near Camogli is known for its focaccia al formaggio. This bread is much thinner than typical focaccia, more like paper-thin pastry, and is stuffed with stracchino cheese and baked into warm, oozy deliciousness. Try to get it fresh out of the oven.
Another tasty snack is farinata, a thin chickpea flour pancake served in slices that's crispy on the outside and creamy inside.
Many antipasti (starter) plates in Liguria are vegetarian or can be easily adapted to avoid fish and meat.
They usually include torta di verdura, a local vegetable pie filled with cheese and greens or vegetables.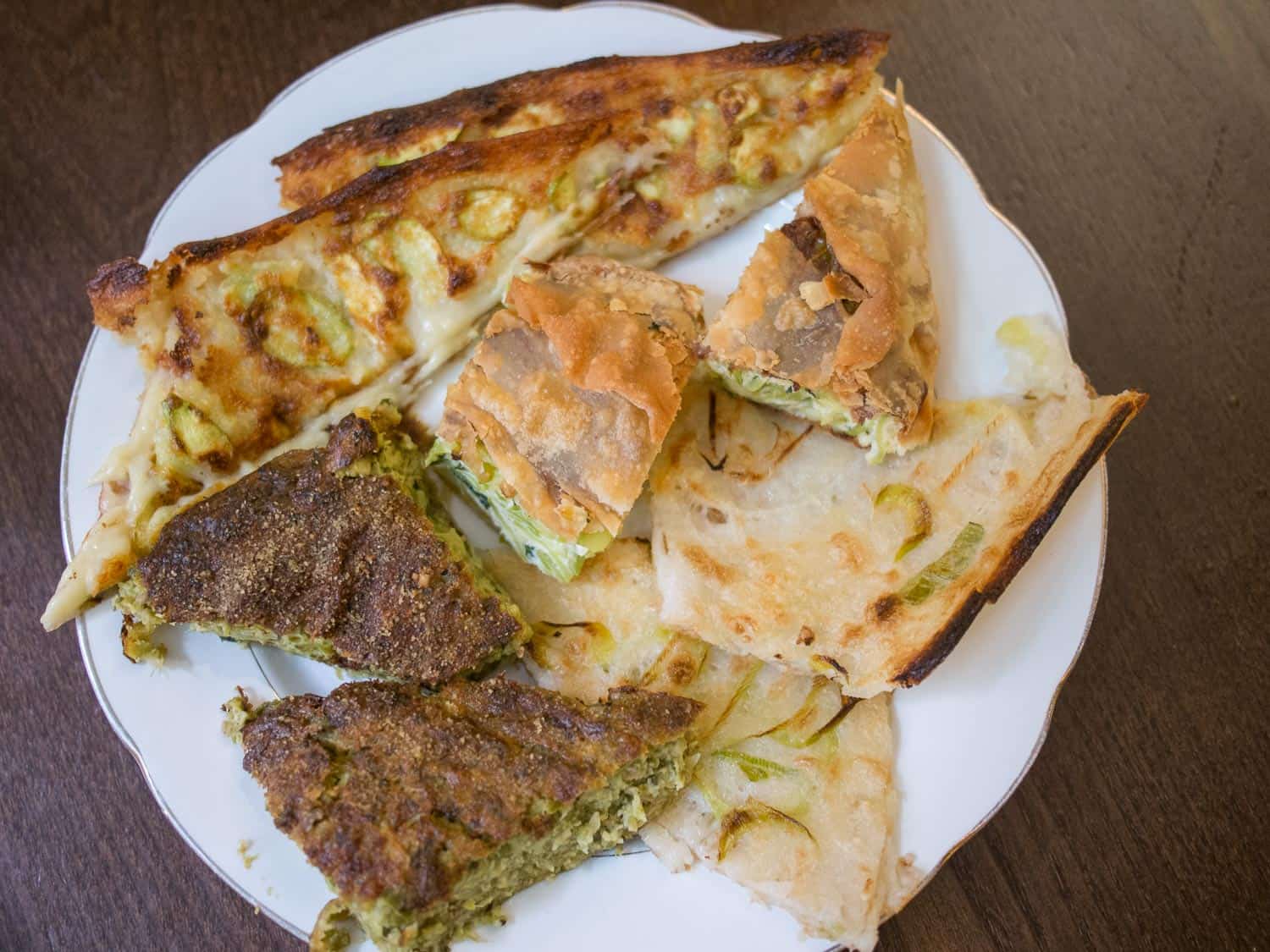 Liguria is known for its Vermentino white wine which is refreshing on a hot day. We usually got the house wine—a half-litre jug only costs a few euros.
See my guide to eating in Italy for tips on food etiquette.
3) Spot Trompe-L'oeil in Santa Margherita Ligure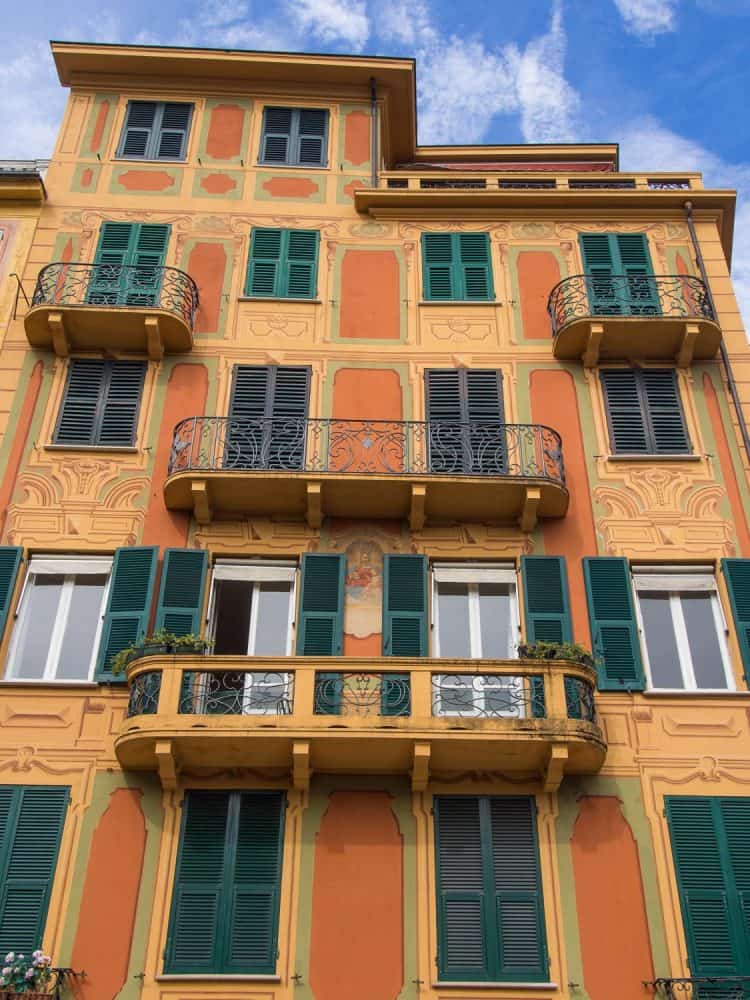 All over the Italian Riviera you'll notice the trompe-l'oeil or painted decorative details on buildings that trick the eye into thinking they're real.
The elegant seaside resort of Santa Margherita Ligure is one of the best places to look for it on the colourful buildings that line the promenade or further back in the historic centre.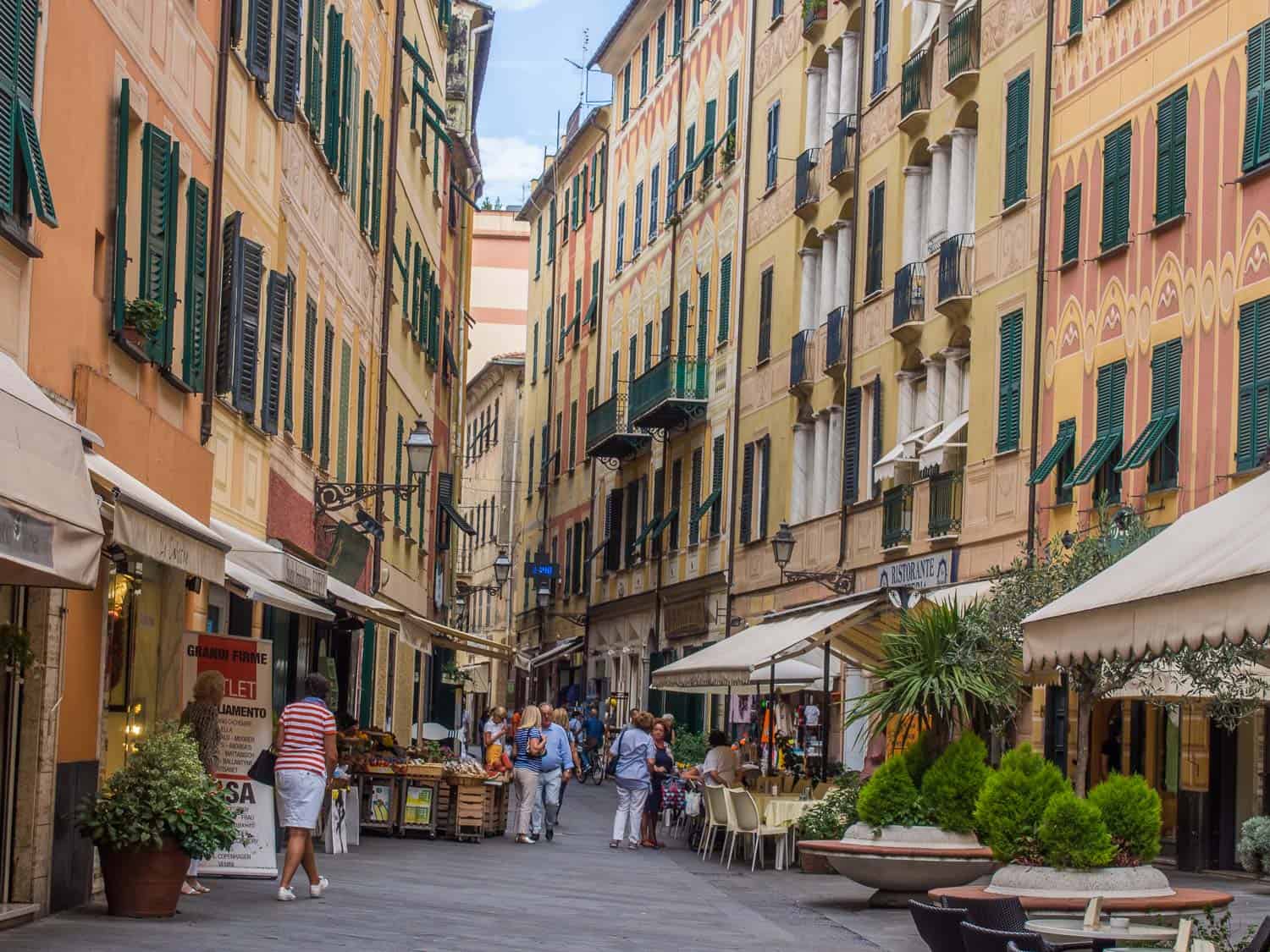 Santa Margherita is a lovely town to wander. I especially like the pedestrianised area in the centre around Piazza Caprera with its curved street of decorated houses.
4) Walk to Glitzy Portofino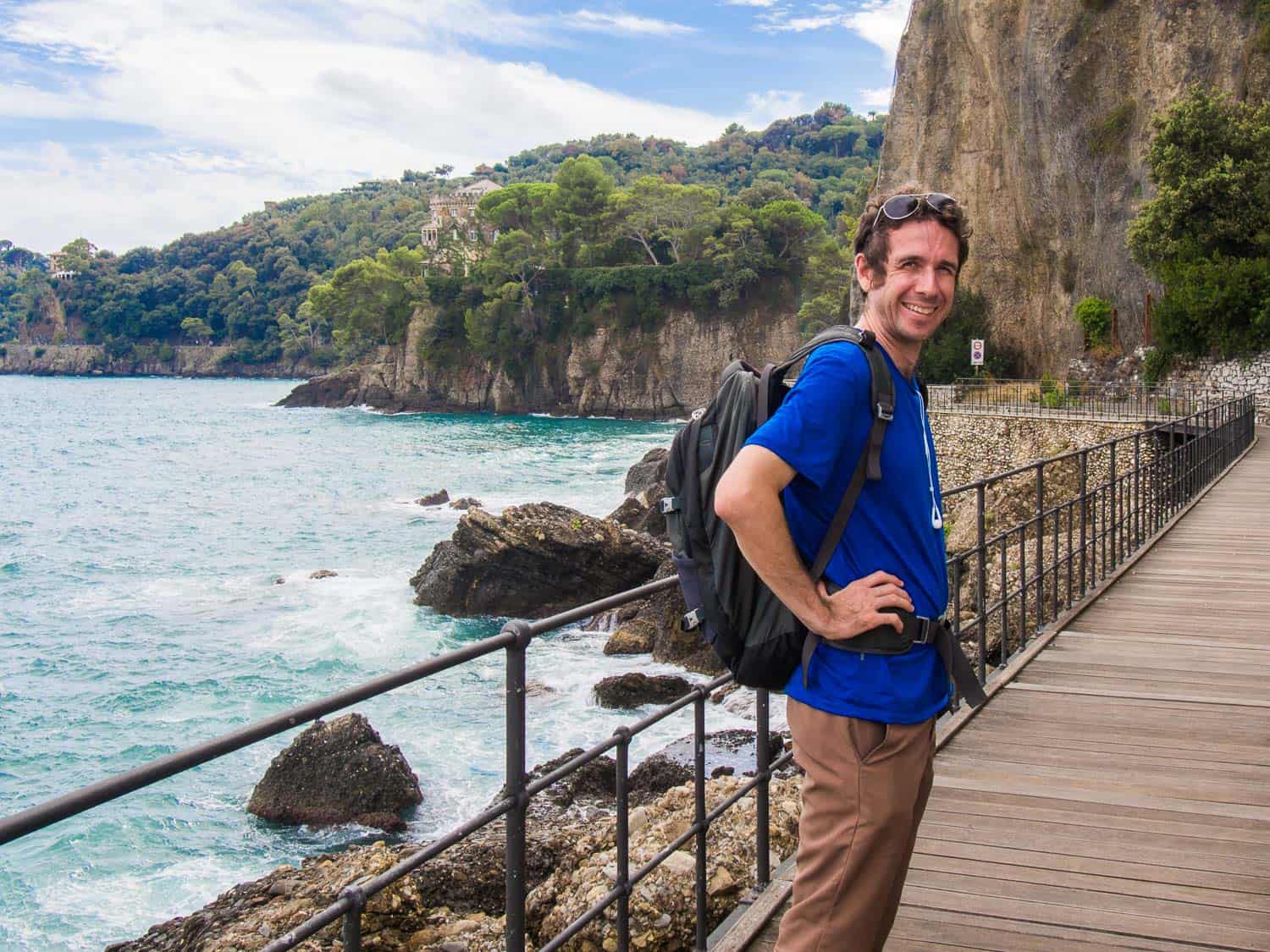 Portofino is the most famous and glitzy town along the coast, attracting the ultra-rich in yachts as well as the average tourist who enjoys the picturesque harbour.
The best way to reach Portofino is on foot. Cars are banned from the centre, there's no train station, and the buses are always crammed full.
From Santa Margherita Ligure it takes just over an hour. Most of the walk is flat along a pedestrian walkway that follows the coastline with fantastic views of fancy villas clinging to the cliffs.
At the cute little cove of Paraggi the walk talks you up into the woods for another 15 minutes.
We walked from Rapallo which adds an extra 40 minutes (a total of 9km/ 1 hour 45 minutes one way from Rapallo to Portofino), but you can also get the train to Santa Margherita Ligure and walk from there.
If you are feeling energetic, there's also a longer hike from Santa Margherita Ligure to Portofino (about two hours one way) that goes up in the hills with great views. You could return on the coastal walk for a total 12km/3.5 hour loop.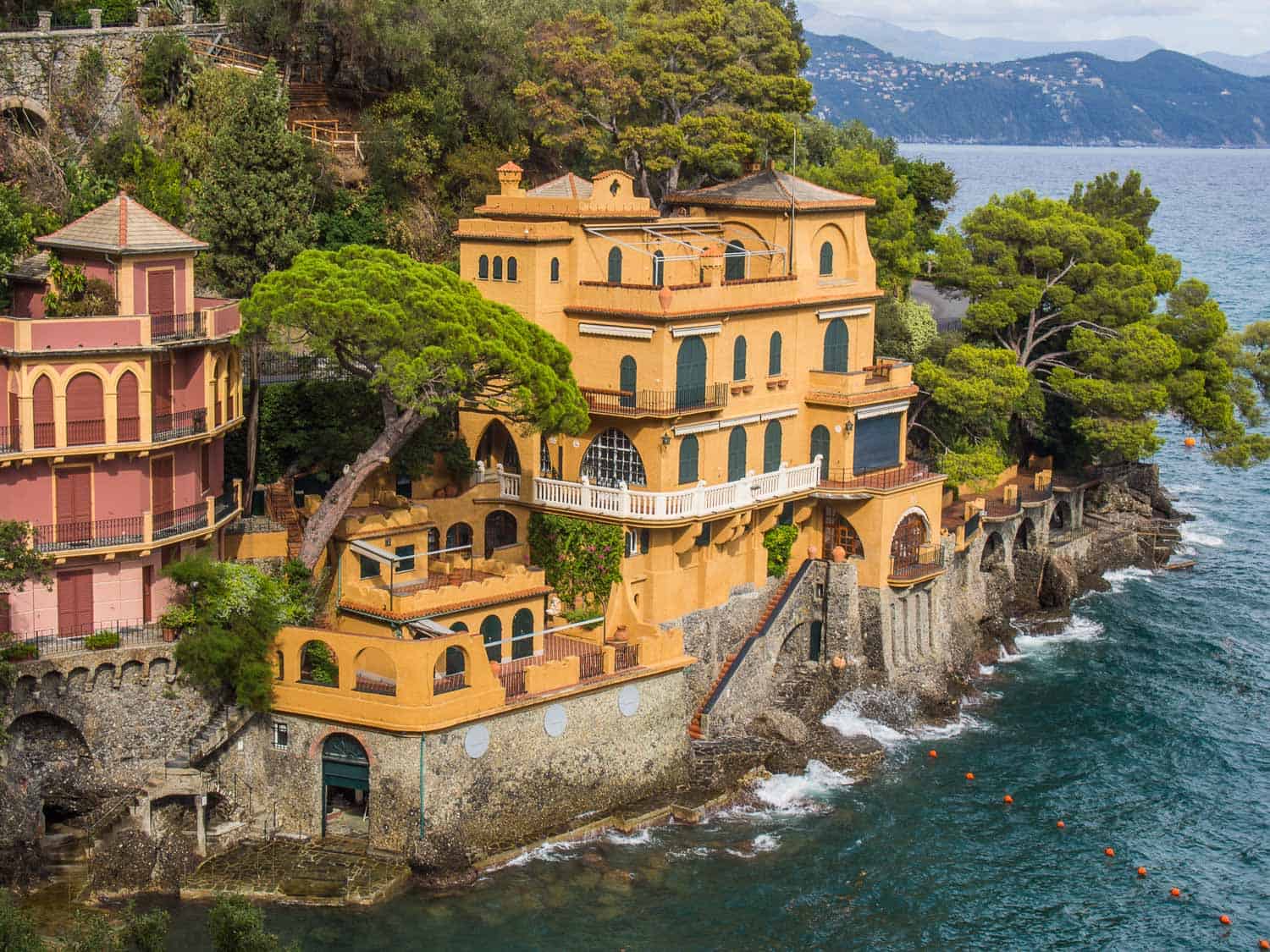 The ferry is another good way to arrive in Portofino—you could walk there and take the ferry back. As we discovered, they don't run if the sea is rough, though.
Portofino is very touristy and expensive but utterly gorgeous. The focal point is the cobbled piazza overlooking the small harbour where you can admire the colourful houses and fancy yachts.
It's worth splurging on a drink in one of the outdoor cafes to enjoy the view—we treated ourselves to an Aperol Spritz. I would eat elsewhere, though.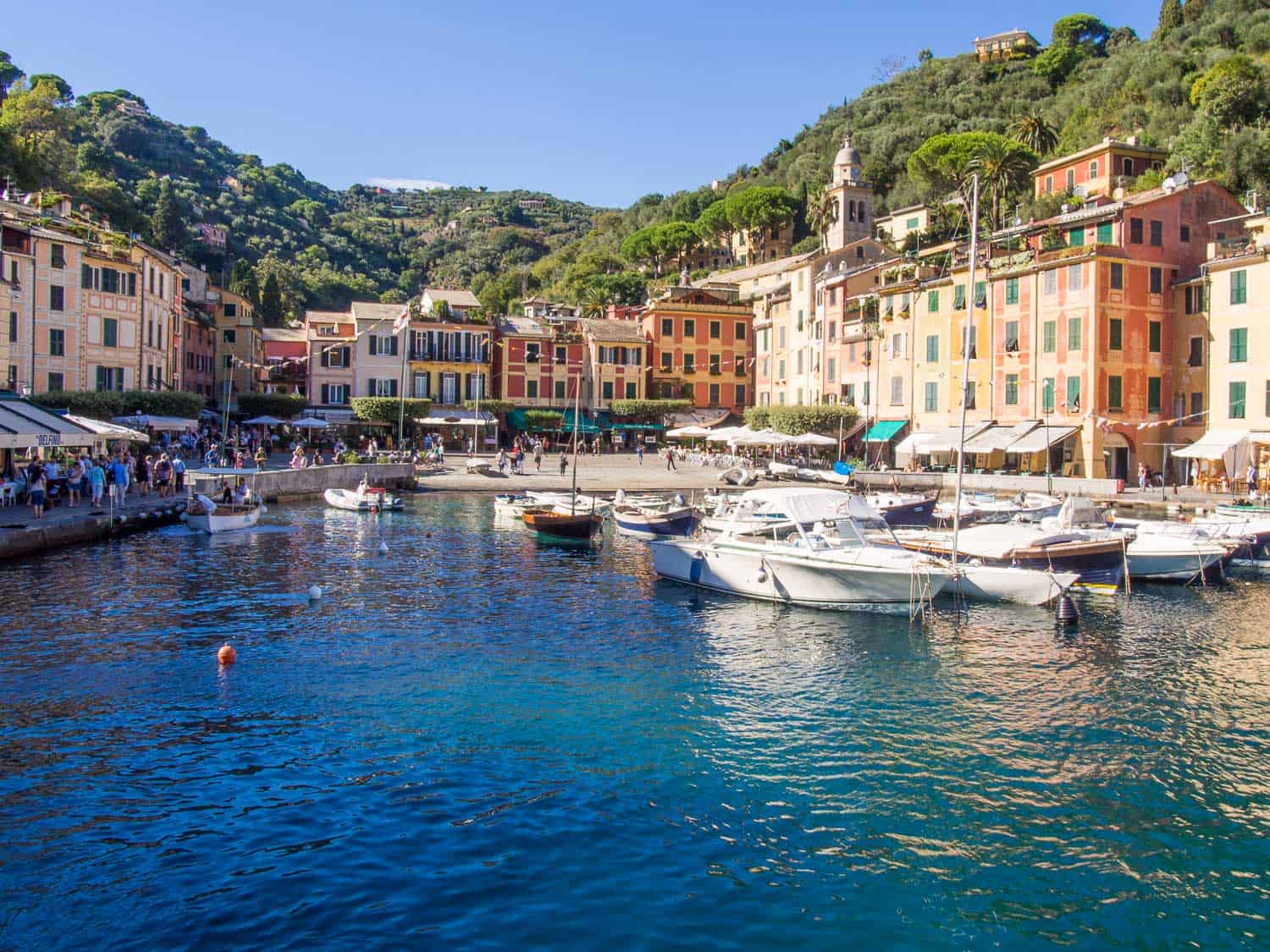 It's worth walking up to the bright yellow San Giorgio Church for the view, and if you have more energy than us, continue up to Castello Brown.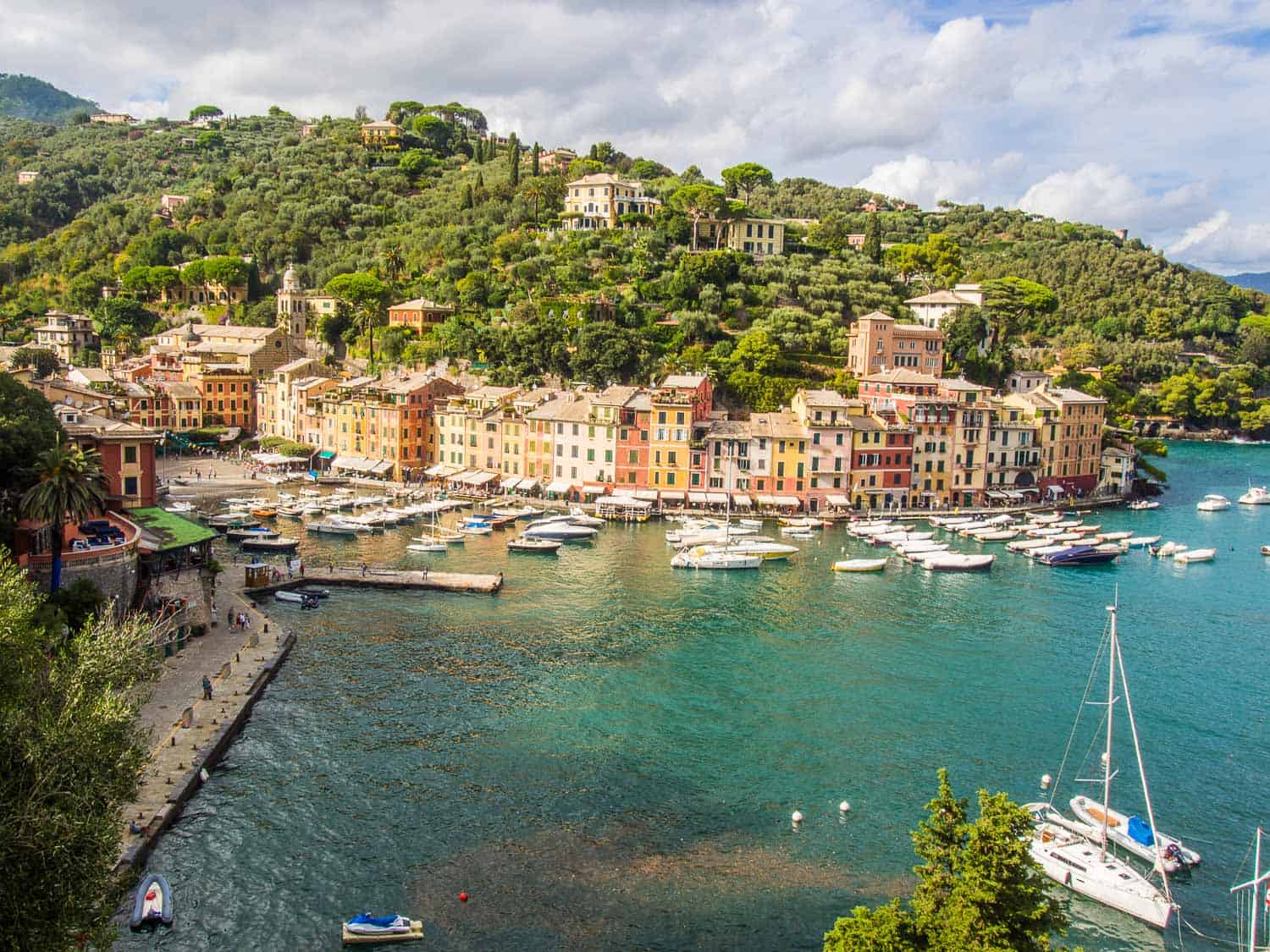 The quirky Museo del Parco sculpture garden is an overlooked thing to do on the hill leading to the church. Enjoy modern sculptures with a view.
Entrance is €5 and it's open from June to September (10am to 1pm and 3-7pm, closed on Tuesdays).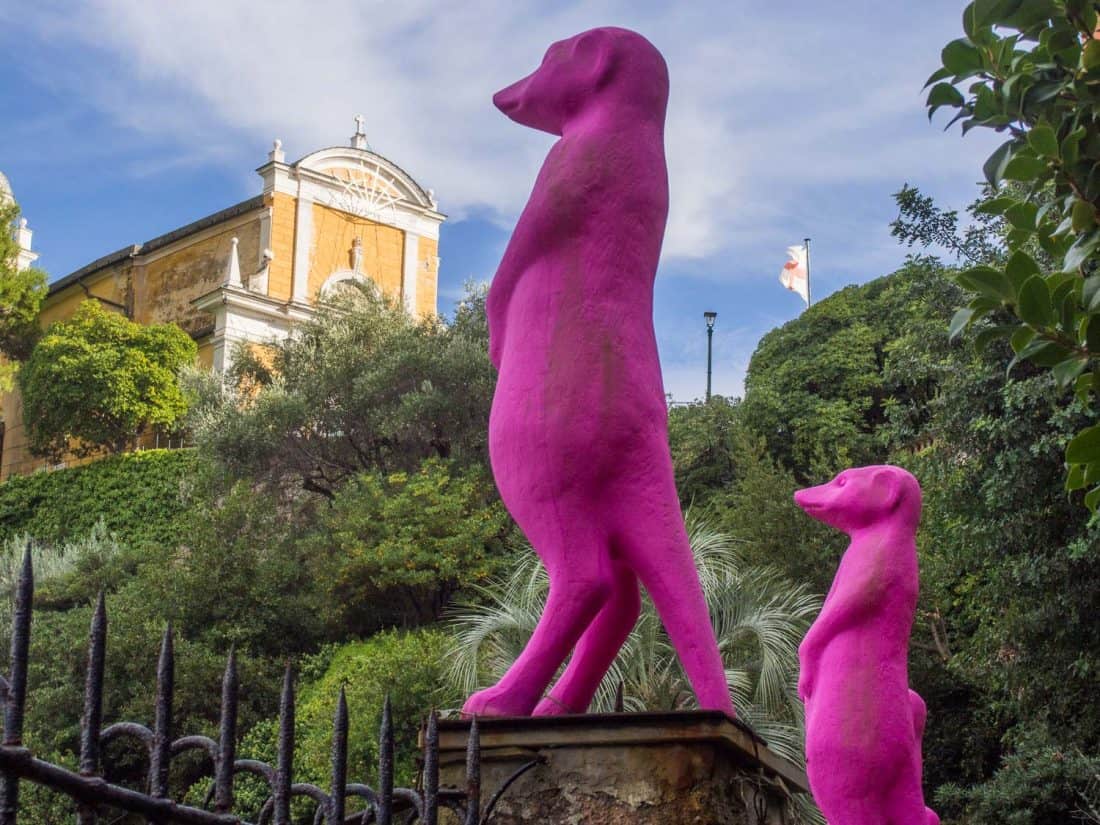 5) Hike the Cinque Terre Villages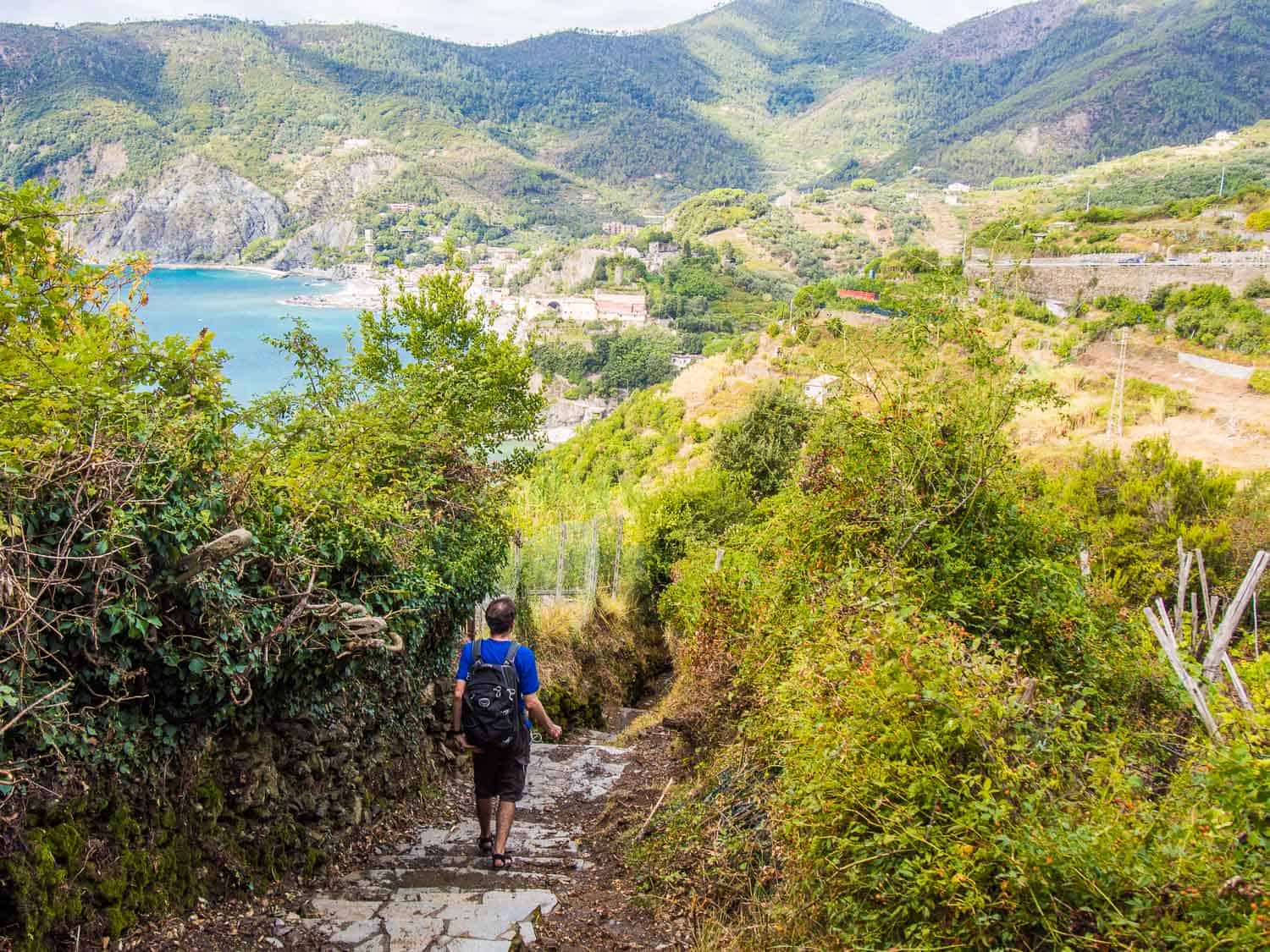 The five Cinque Terre villages are the most visited destinations along the coast.
These colourful villages are dramatically located along the cliffs and are connected by hiking paths, trains, and ferries.
Hiking is highly recommended as the trail takes you past steeply terraced vineyards and has wonderful views of the sea and picturesque villages.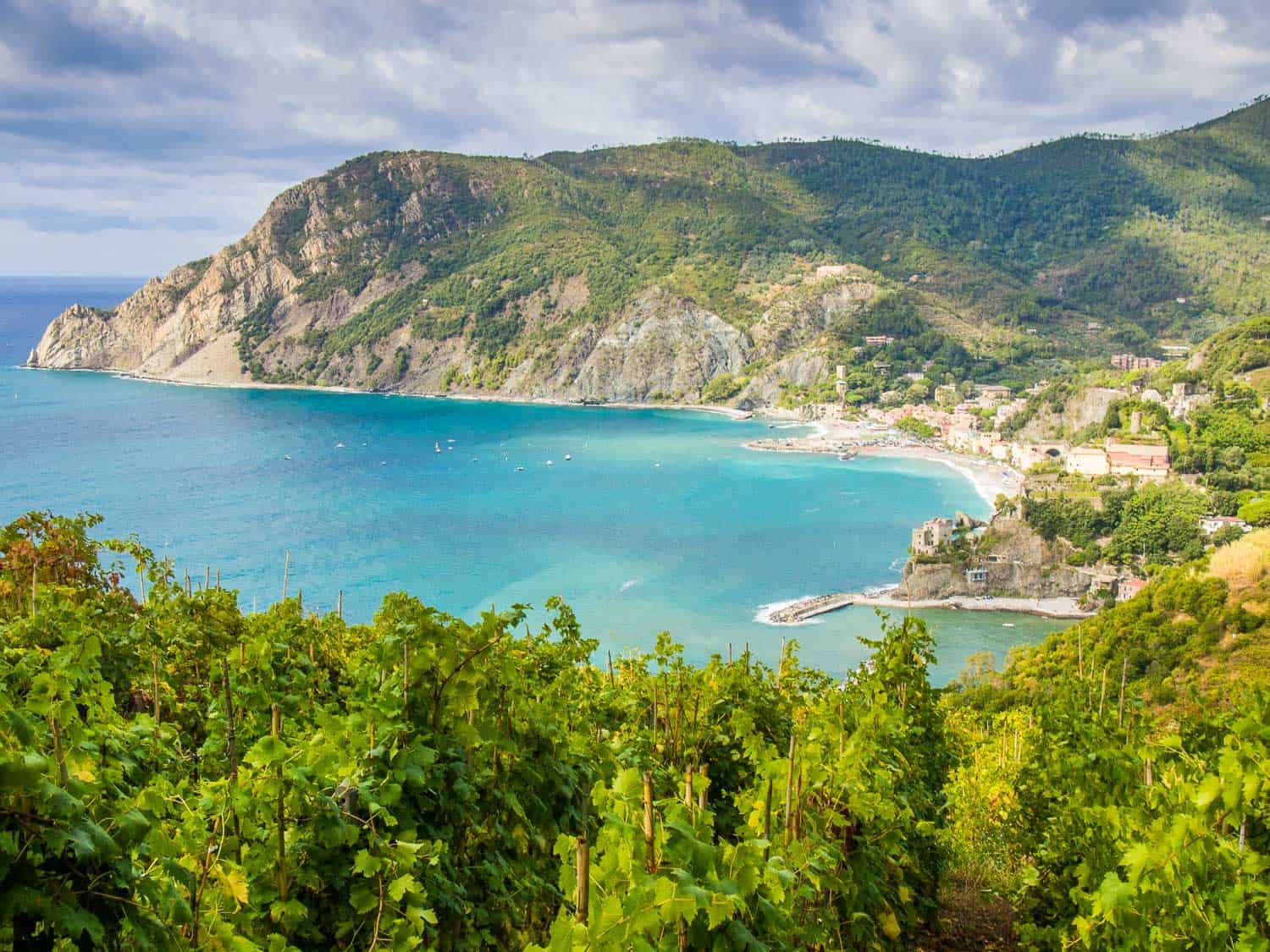 The most popular trail is the Sentiero Azzurro (Blue Trail or SVA #2) which usually connects all five villages, but since devastating floods in 2011, the sections from Riomaggiore-Manarola-Corniglia have been closed (check the current status on this Cinque Terre website).
We took the early morning train to Corniglia and hiked from there to Vernazza (1hr 15 mins) and on to Monterosso (1hr 30 mins) where we took the train back to Rapallo.
You can see details of the Corniglia – Vernazza- Monterosso section on AllTrails. It's 6.8km (4.2 miles) with 364 metres (1194 feet) of elevation gain.
Starting early meant it was cooler and we had the sun behind us, but we were shooting into the sun for the classic photo of Vernazza from above.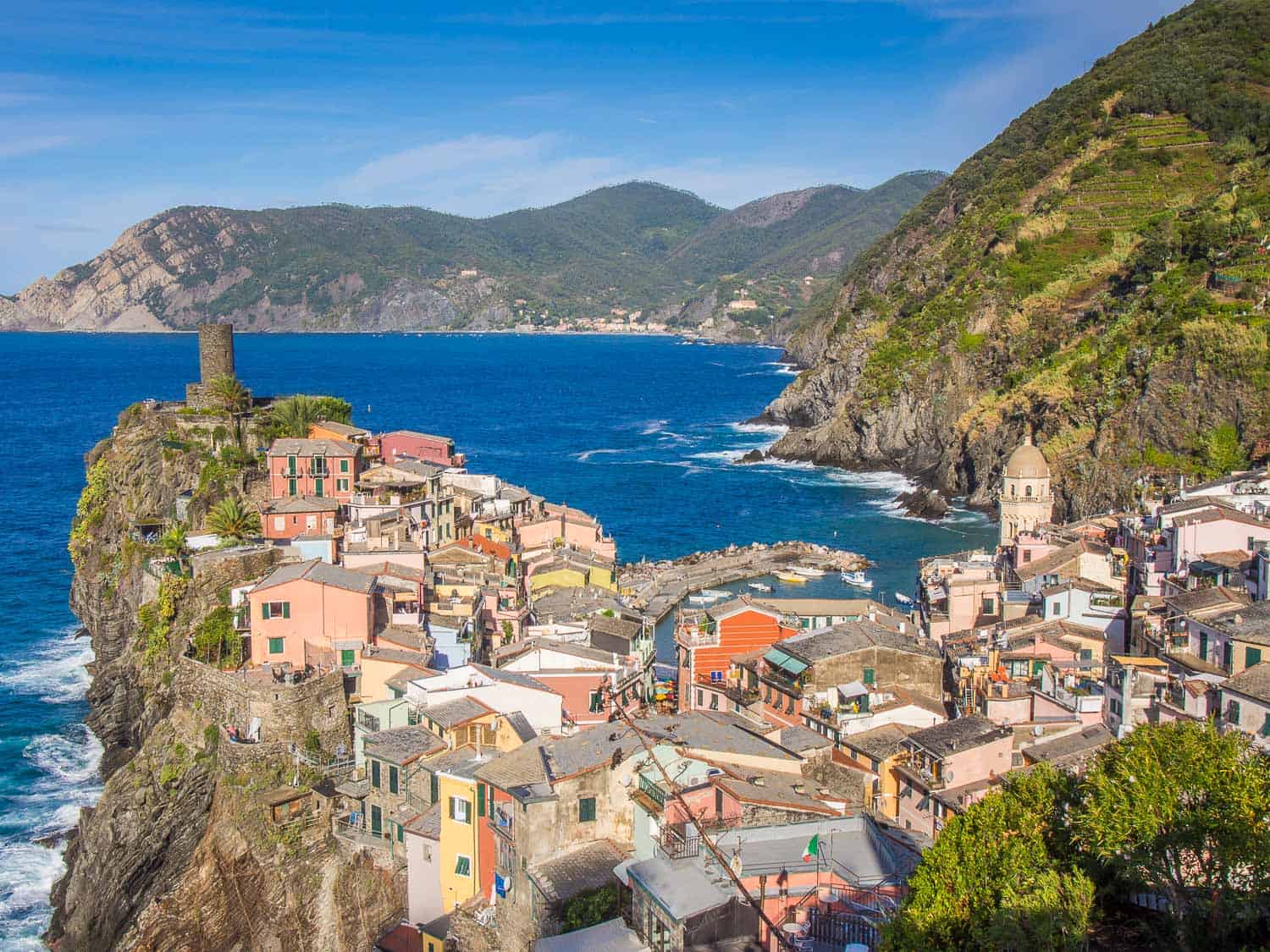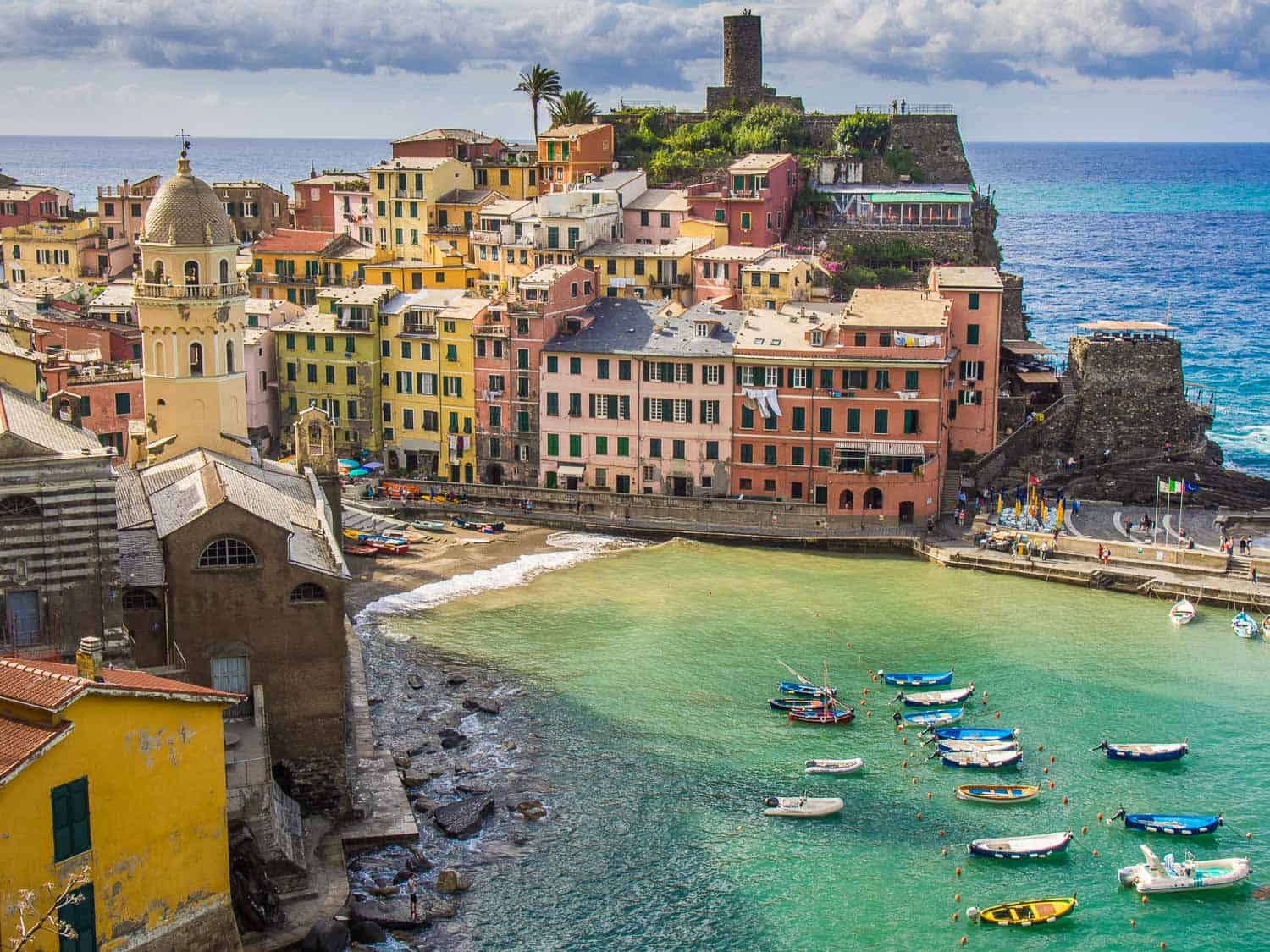 The trail is rocky so wear decent shoes (we were fine in hiking sandals), and you need to be reasonably fit as there are steep sections. We didn't find it difficult.
All the villages are very cute, but in mid-September they were still packed with tour groups, and as they are so tiny, it felt a bit claustrophobic.
Despite the crowds, hiking the Cinque Terre is still one of the best things to do in the Italian Riviera and you won't want to miss it.
Cinque Terre Hiking Fee: There is now a fee to hike the Corniglia – Vernazza- Monterosso coastal trail from mid-March to early November. It's free in winter off-season.

A one-day Cinque Terre Trekking card costs €7.50 per adult or if you are planning multiple train trips between the Cinque Terre towns, there's a card that includes unlimited train travel.

You can purchase the cards at train stations or online at the Cinque Terre National Park website.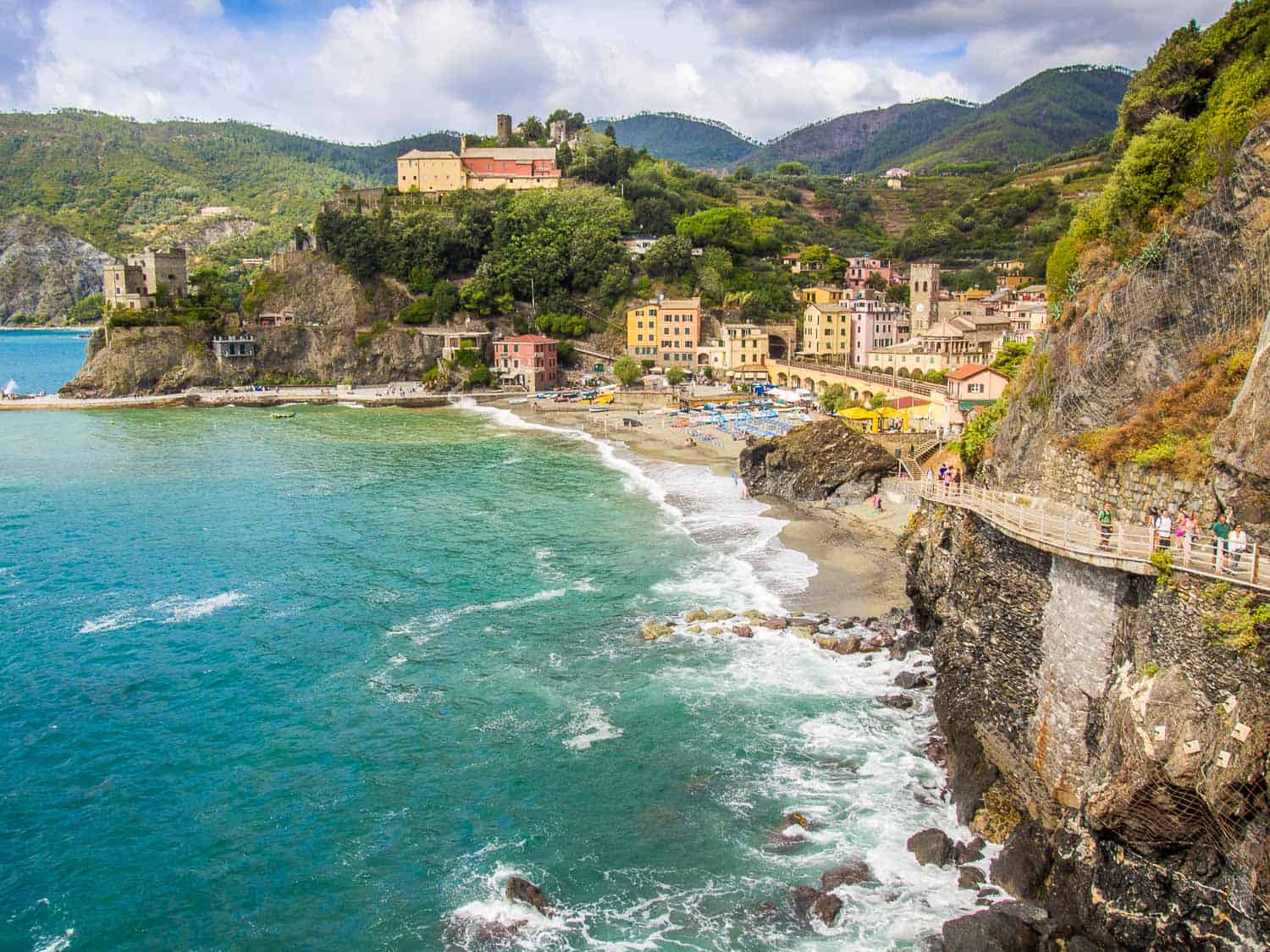 6) Visit Camogli and San Fruttuoso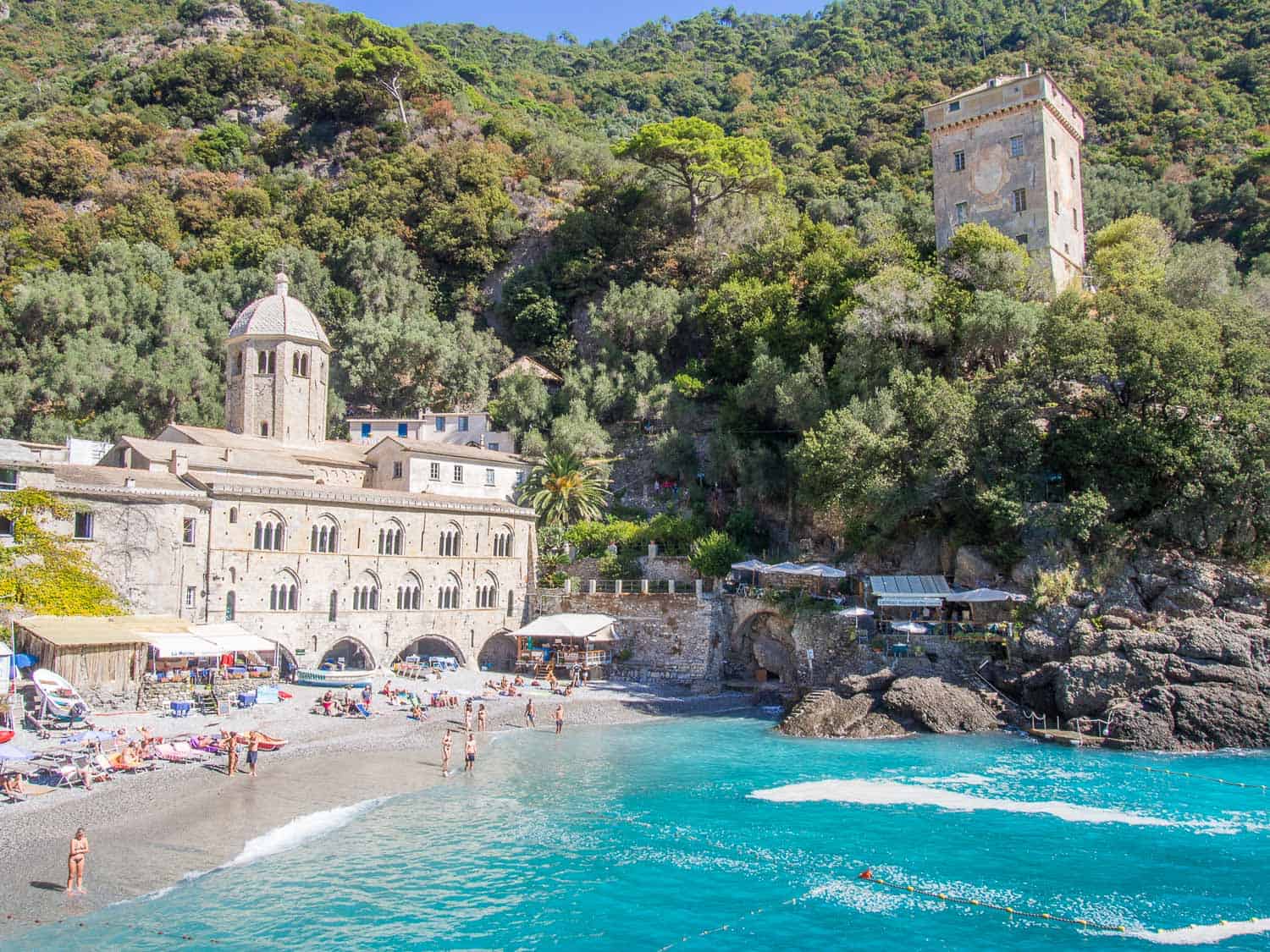 Our favourite day trip on the Italian Riviera is the hike from Camogli to San Fruttuoso in the Portofino Regional Park.
We had a focaccia breakfast in the cute seaside village of Camogli and then hiked through the park to San Fruttuoso where an ancient abbey is the backdrop to a gorgeous bay.
We ate pesto lasagne for lunch, lazed on the beach, and then took the ferry back to Rapallo past the beautiful towns of Portofino and Santa Margherita. It was the perfect day.
San Fruttuoso can only be reached on foot or by ferry. Even if you don't want to hike, I highly recommend taking the ferry to this stunning place.
I've written more about our perfect day in San Fruttuoso.
7) Take the Ferry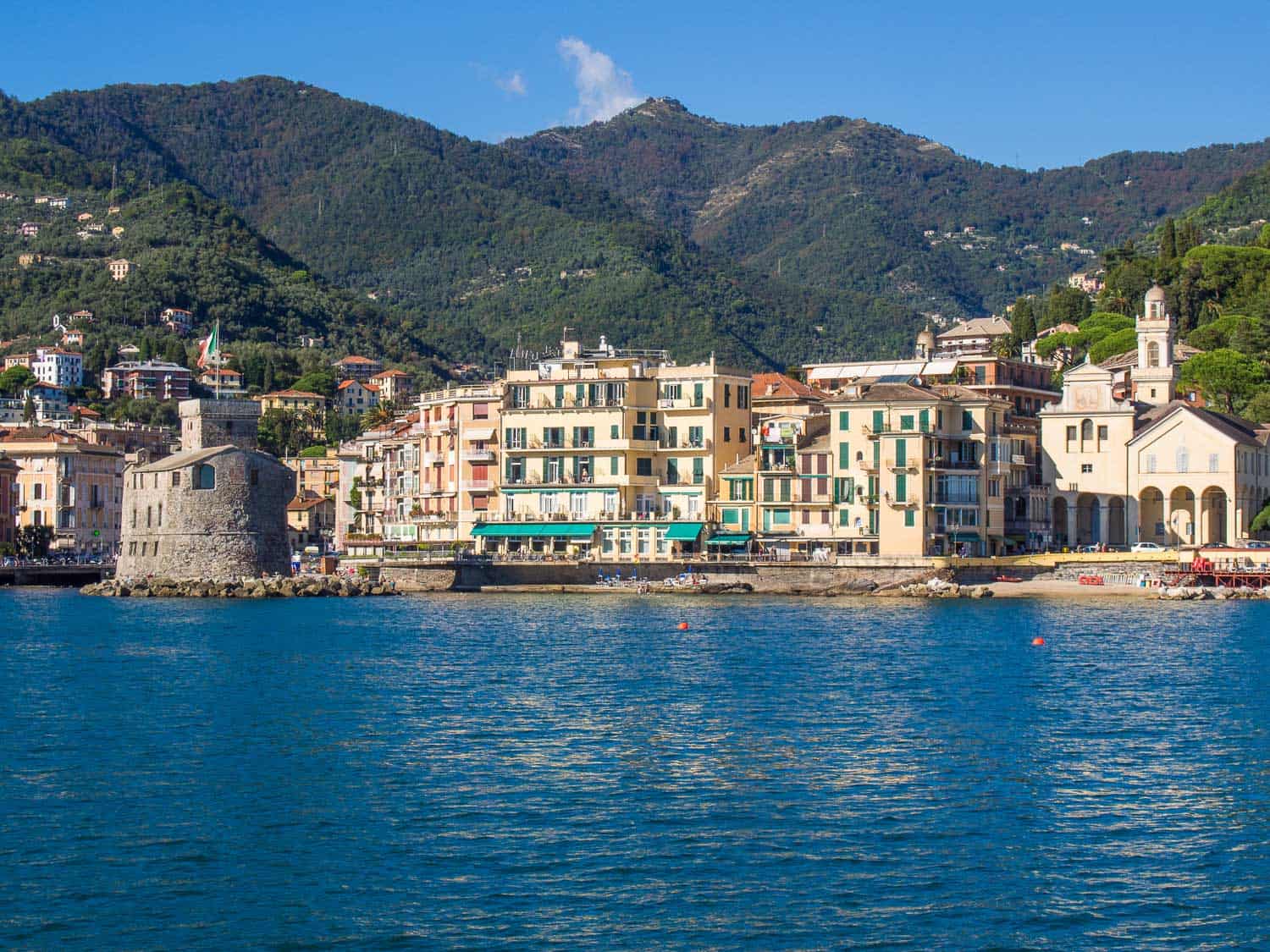 Although we mostly got around by foot and on the trains, which are cheaper and quicker, I recommend taking the ferry at least once.
The one-hour journey from San Fruttuoso to Rapallo was ideal as it passed through the picturesque towns of Portofino and Santa Margherita, which we'd already visited, but it was great to see them from the sea.
Portofino is another destination that's best visited by ferry (30 minutes from Rapallo) or walk there and take the ferry back.
Ferries usually run from March to October with the most services from May to September.
Check ferry times and prices here.
8) Relax on the Beach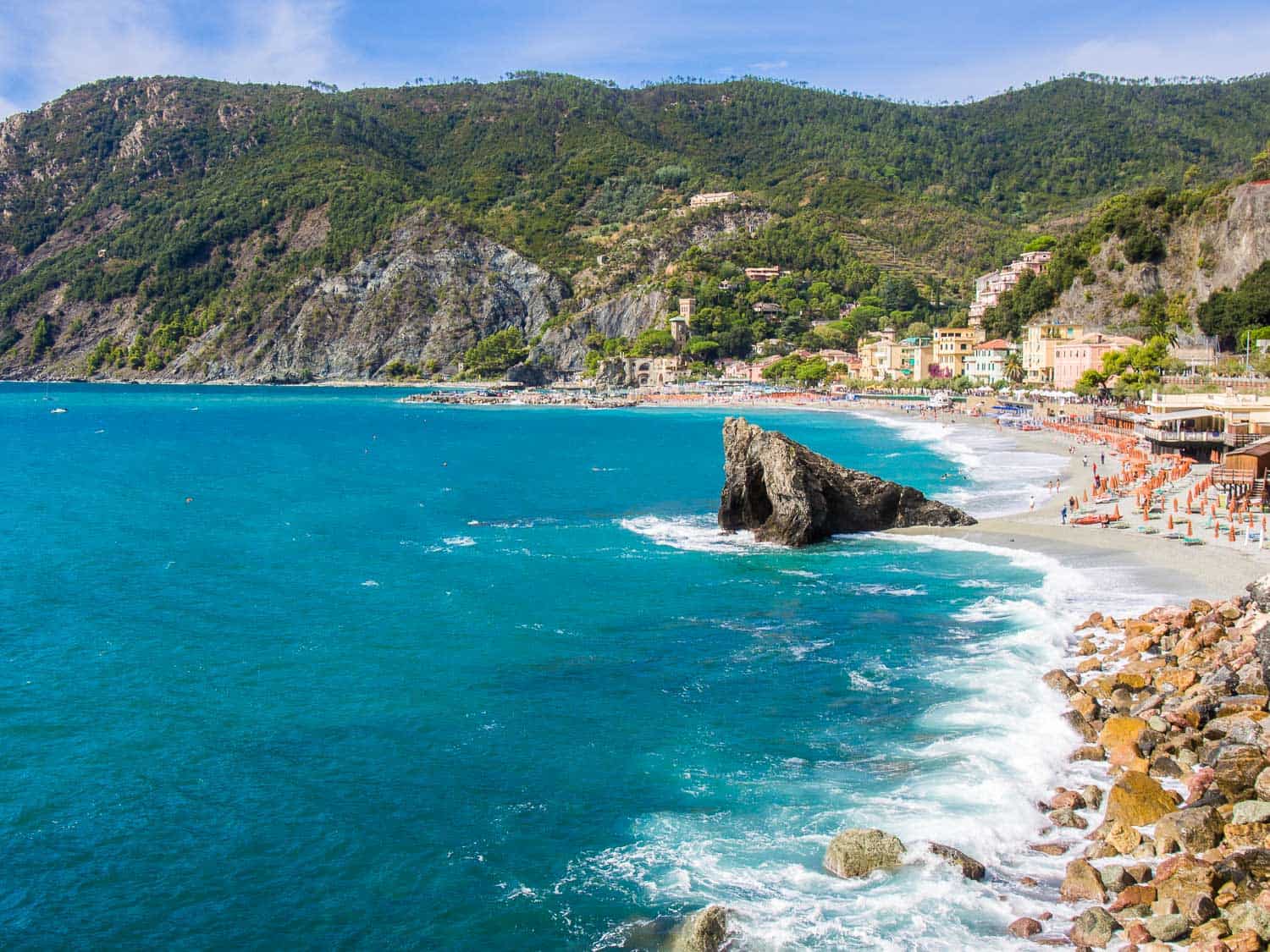 The Italian Riviera beaches aren't the best in Italy (we prefer these Puglia beaches) as most of them are pebbly and crowded with the umbrellas of the quintessential Italian beach clubs.
Sometimes you need a beach day, though, and there are plenty to choose from, even if you don't want to pay to hire a sunbed.
As the water in the Rapallo harbour is quite murky, we walked ten minutes out of town until we discovered a small bay with clear water—perfect for a refreshing swim.
The best beach in the area is supposed to be at Sestri Levante, which has a long sandy beach.
We also loved our time at San Fruttuoso—the water colour is gorgeous.
The Cinque Terre villages don't have much of a beach except Monterosso where it's fairly long and sandy.
The other side of the Italian Riviera north of Genoa has longer, sandier beaches like those in Finale Ligure.
9) Visit Genoa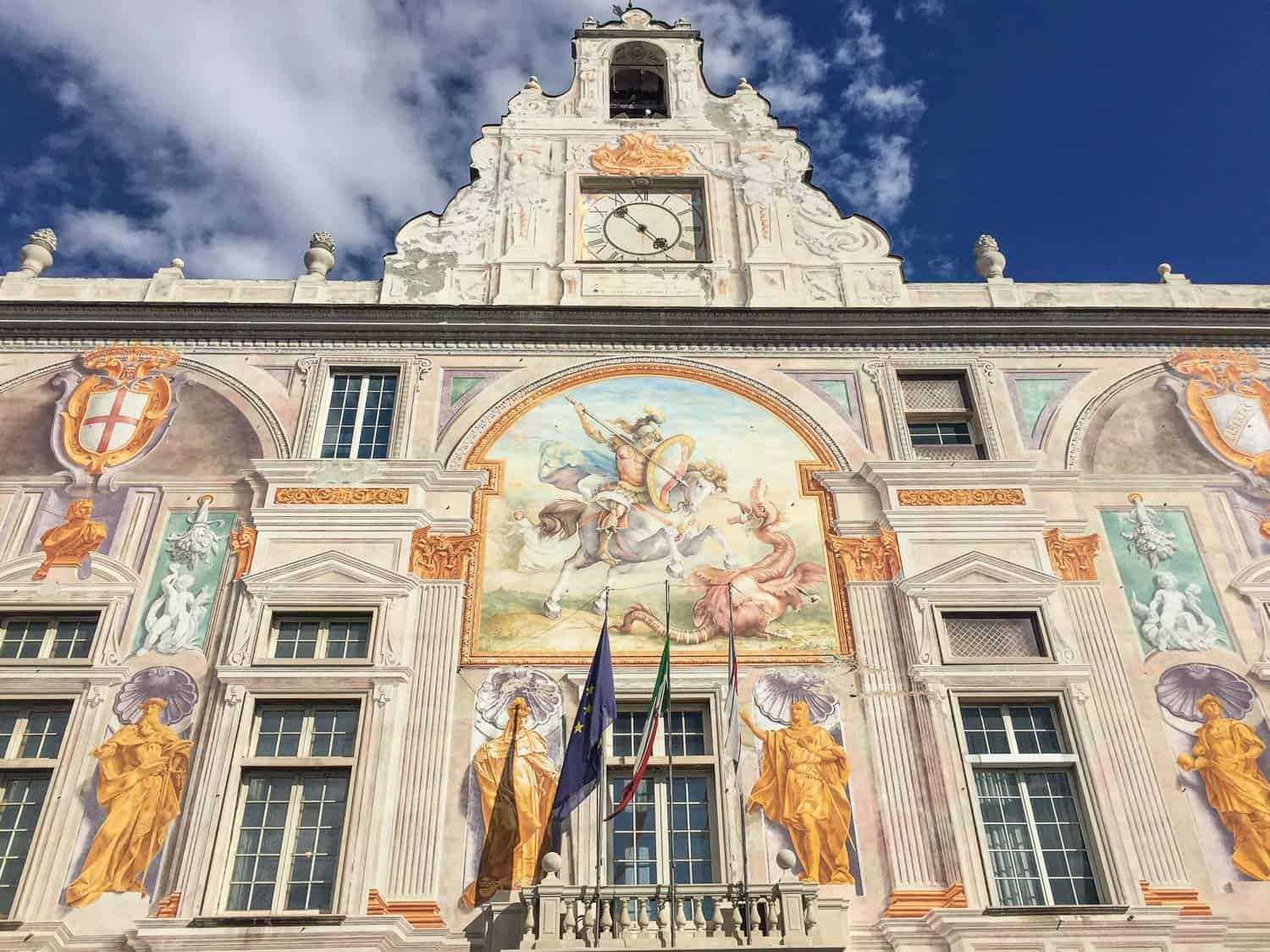 The port city of Genoa is usually overlooked by Ligurian visitors, but it's worth visiting for at least a day.
It's another world from the glitzy Riviera, much grittier and more chaotic.
It's a cheaper and less touristy destination than elsewhere along the coast with lots of restaurants, museums, palaces, and charming backstreets to explore.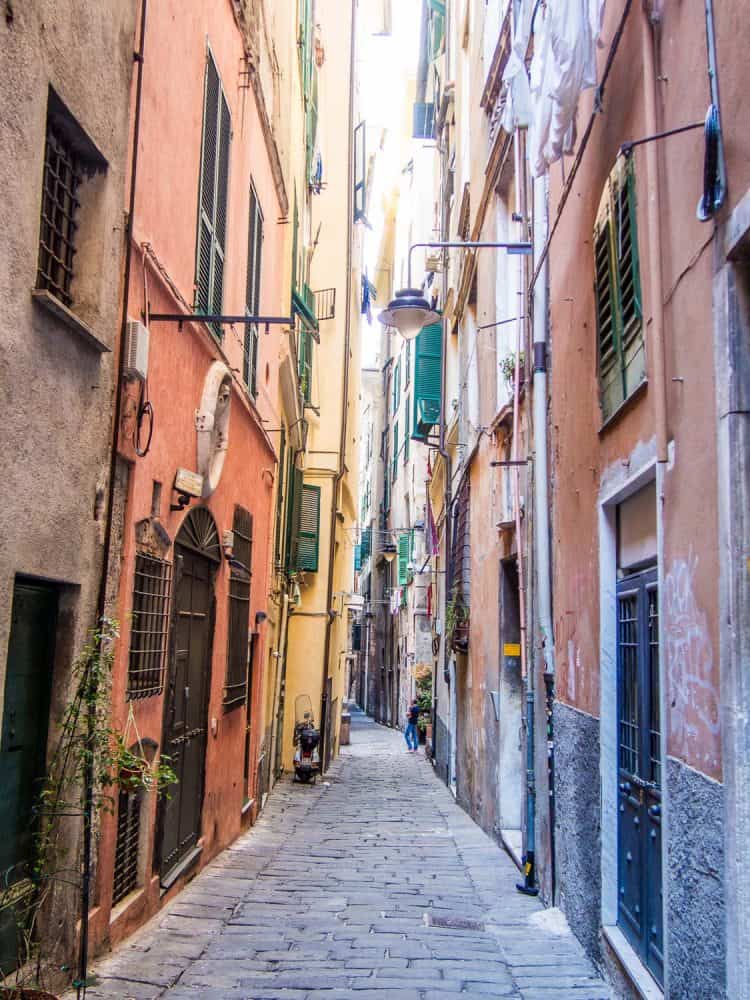 The historic centre is a maze of narrow lanes with washing lines dangling from crumbling buildings.
Some parts feel African, others are typically Italian with wine bars serving glasses for €1 each (we're not in Portofino anymore!) and bakeries serving up slices of focaccia and farinata.
Other parts of the city are more elegant with grand palaces and a beautiful black and white striped cathedral.
Genoa would be an interesting place to explore with a guide to learn more about its history and culture. I'm tempted by this Genoa food tour for our next visit.
10) Learn to Cook Ligurian Food
I was excited to discover that our favourite restaurant in Rapallo, Hostaria Vecchia Rapallo, now offers cooking classes. We definitely want to try this next time.
On the 3-hour cooking class you learn to make dishes like pesto, lasagne, and stuffed vegetables, and then enjoy a delicious meal of everything you created.
The small group classes have a maximum of six attendees and they can cater for vegetarians.
Check availability for the Rapallo cooking class here.
11) Kayak in Cinque Terre
Another fun Italian Riviera activity that is on my list for next time is kayaking in Cinque Terre.
As the villages get crowded, exploring the coast by water is ideal to enjoy the views away from the crowds. You can also get up close to the caves and cliffs of the rugged coastline.
Outdoor Portofino offers two kayaking tours from Monterosso al Mare—a three hour morning trip and a two hour sunset trip (including wine—only in Italy!).
Check availability for kayaking in Cinque Terre here.
Italian Riviera Itinerary
Here's the one week Italian Riviera itinerary we followed on our trip in mid-September using Rapallo as a base.
Day 1: Arrived by train in Rapallo. Strolled the town and went for a swim.
Day 2: Walked to Portofino.
Day 3: Santa Margherita Ligure.
Day 4: Cinque Terre hike.
Day 5: Relaxing day in Rapallo.
Day 6: Train to Camogli, hike to San Fruttuoso, ferry back.
Day 7: Genoa.
We then took the train up the coast for a few days in Finale Ligure, a much quieter part of the Italian Riviera, before continuing on to France.
If you only have 3 days in the Italian Riviera, I recommend this itinerary:
Day 1: Explore Rapallo and Santa Margherita Ligure.
Day 2: Camogli, San Fruttuoso and Portofino (stop off on the ferry).
Day 3: Cinque Terre hike.
Italian Riviera Map
Is The Italian Riviera Worth Visiting?
Yes, the Italian Riviera is absolutely worth visiting! If you like colourful villages, dramatic coastal hikes, and delicious food, don't miss it!
While popular spots like Portofino and Cinque Terre are stunning and well worth seeing, I also highly recommend visiting some of the less well known coastal towns like Rapallo and Camogli.
They are just as beautiful, less crowded, and you'll find more authentic and affordable Ligurian cuisine.
This was my third visit to Liguria and it won't be my last.
I hope this guide has given you some ideas on what to do in the Italian Riviera. If you have any suggestions or questions, leave a comment below.
More Italy Posts
Liguria
Elsewhere in Italy
If you enjoyed this post, pin for later!