This page contains affiliate links. Please read our disclosure for more info.
We bumped along the red dirt track through low scrubby bushes, green from the summer rains that has transformed the drought-stricken bush almost overnight. We ducked low hanging branches and clung on as we headed off road, tilting precariously down a steep bank onto a sandy dry riverbed. And then we saw them—the family of elephants munching in the bushes, foraging in the undergrowth with their trunks. Two babies, just one and three years old, adorably cute, hid between the four adults.
Our drive had started slowly. We saw a herd of impala, the delicate antelope that are everywhere in Kruger, a distant giraffe, and a couple of zebras, who are surprisingly more brown and black than black and white.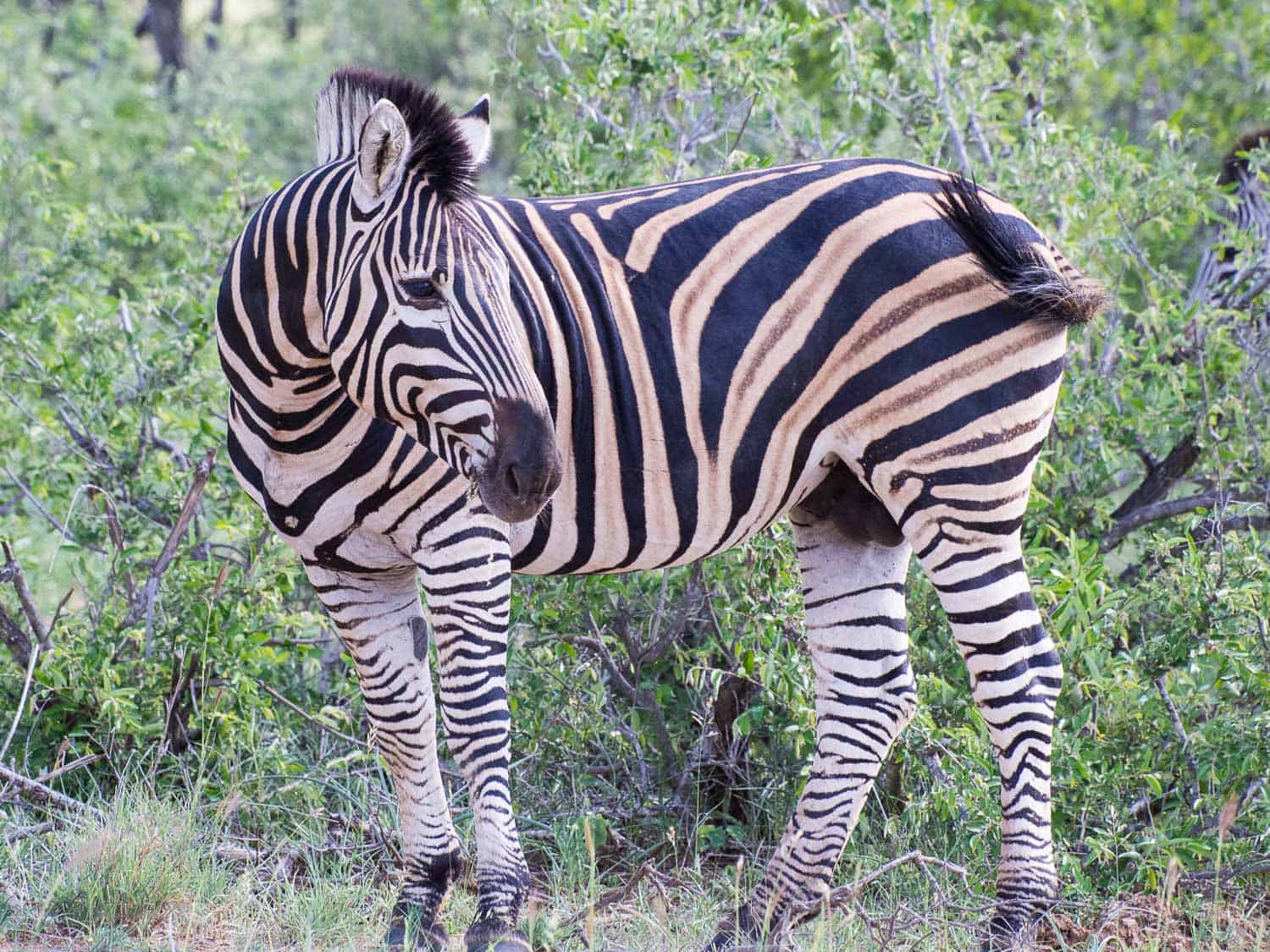 Mostly we drove through the bush in our open top 4X4 enjoying the view and the fact that finally, we were in Africa, on our first ever safari. It was our first game drive at Umlani Bush Camp in the Timbavati Private Reserve on the edge of Kruger National Park. We didn't know what to expect—we are notoriously unlucky when it comes to wildlife viewing, and we were here in January, the rainy season, when animals are much harder to find. But here were the elephants…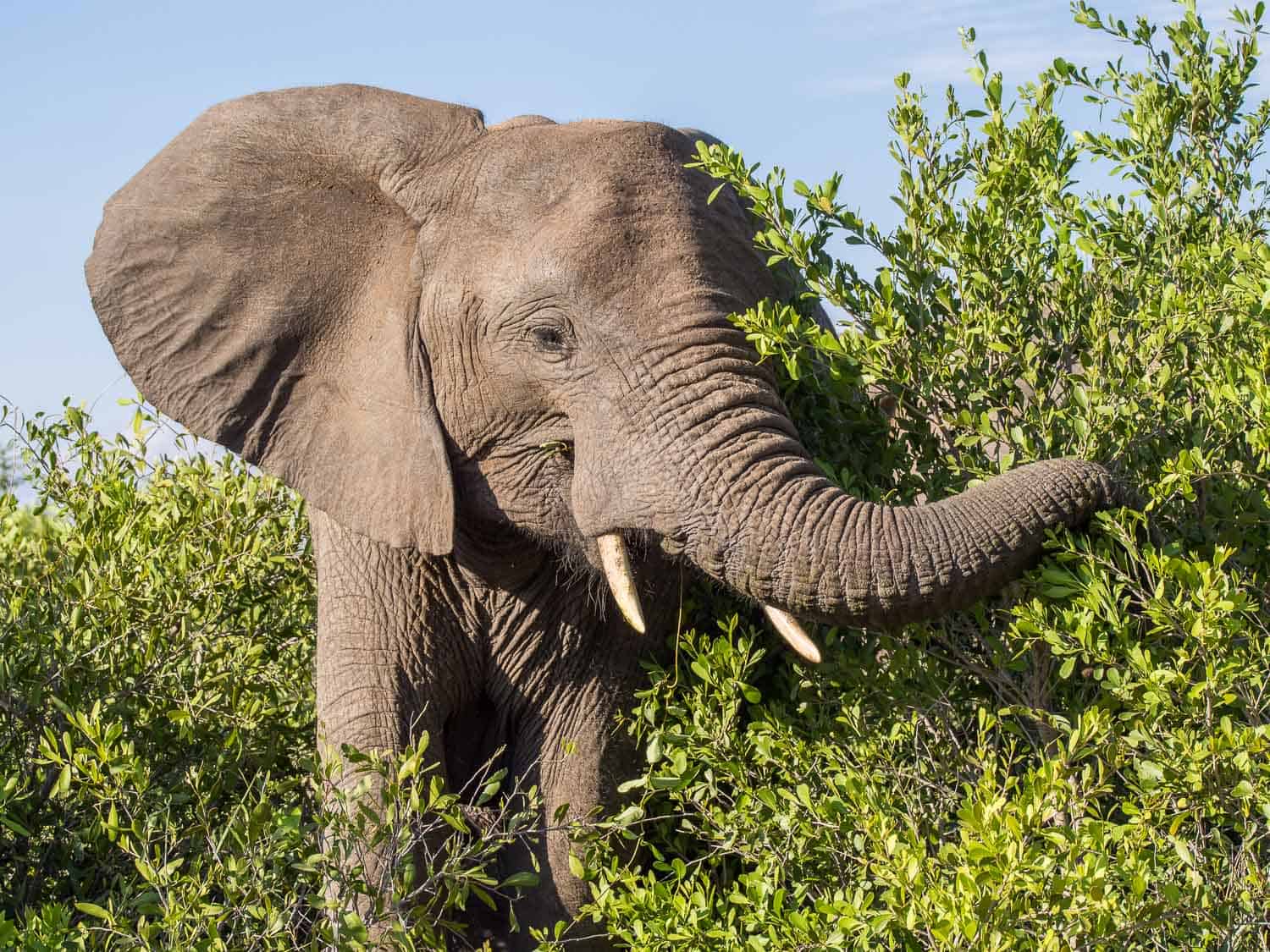 We watched them chomping on bushes, flapping their giant ears to keep cool, and sucking up dirt with their trunks to throw over themselves as sunscreen.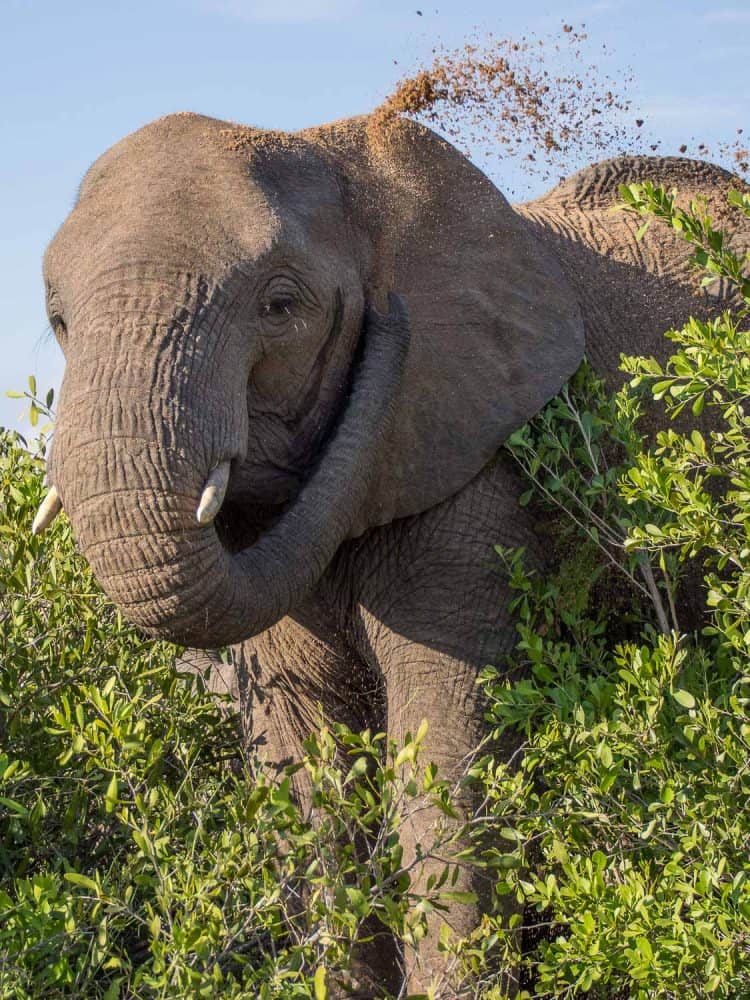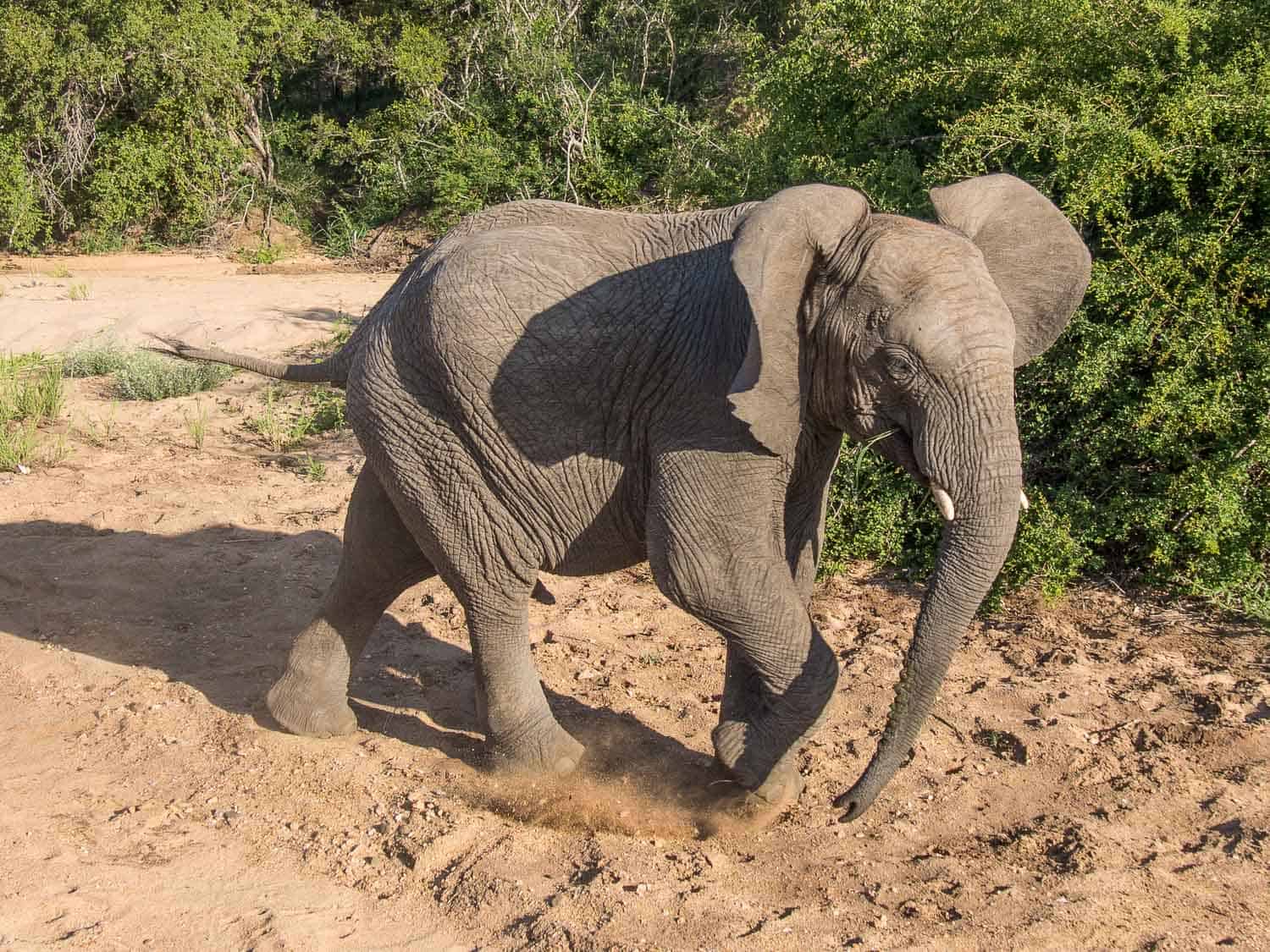 Slowly they emerged from the bushes, getting closer and closer to us. My telephoto lens was suddenly too long and Simon had to take over photo duties with his iPhone. Most of the elephants didn't seem at all bothered by our presence, ignoring us completely. The animals are used to the safari vehicles and see them as another animal, as long as we don't stand up or make too much noise. One juvenile felt the need to assert his presence, though, and came charging towards us, ears flapping and trumpeting loudly. We were intimidated for a moment, but he soon backed down and followed the rest of the herd as they crossed the riverbed in front of us.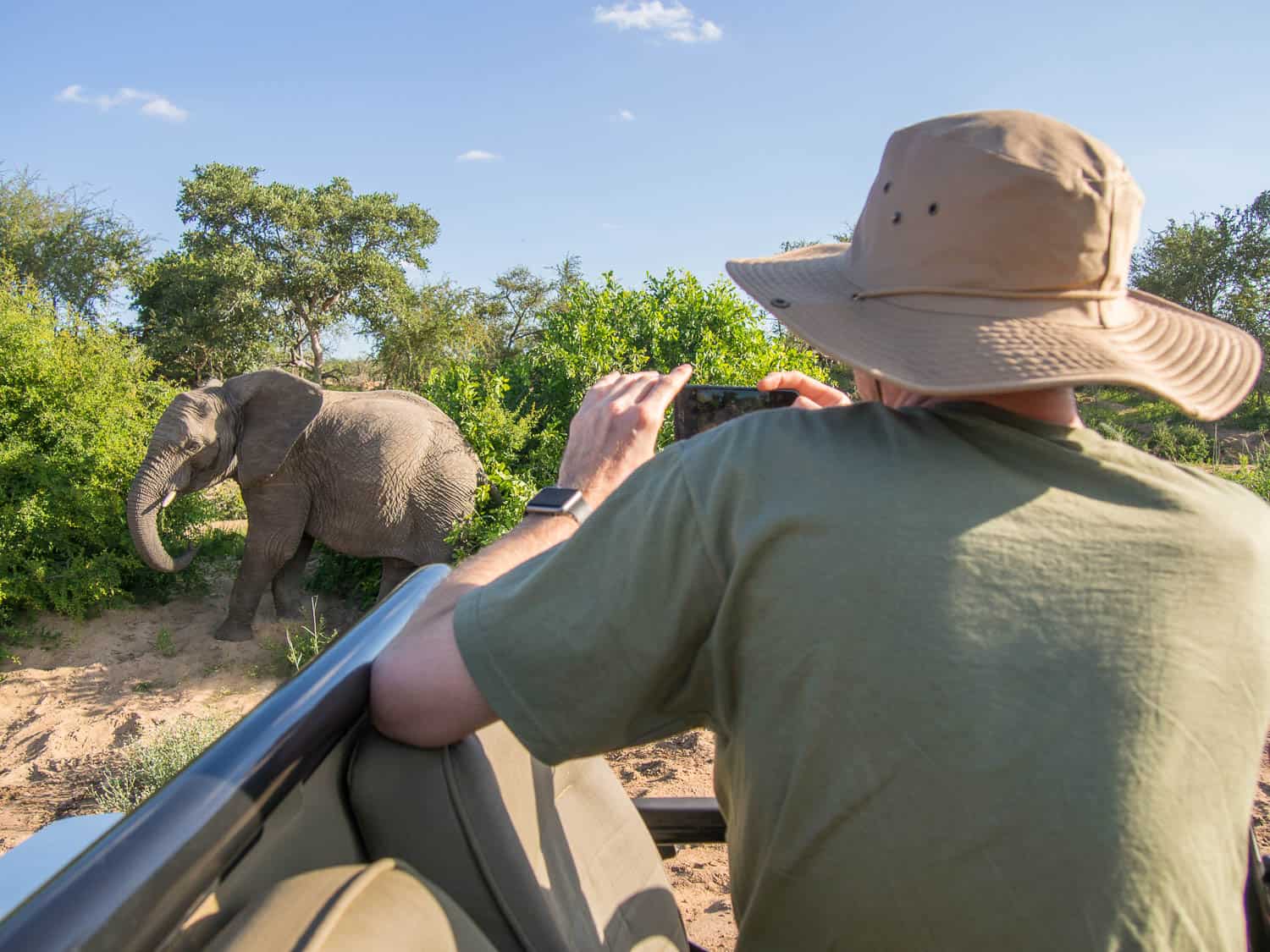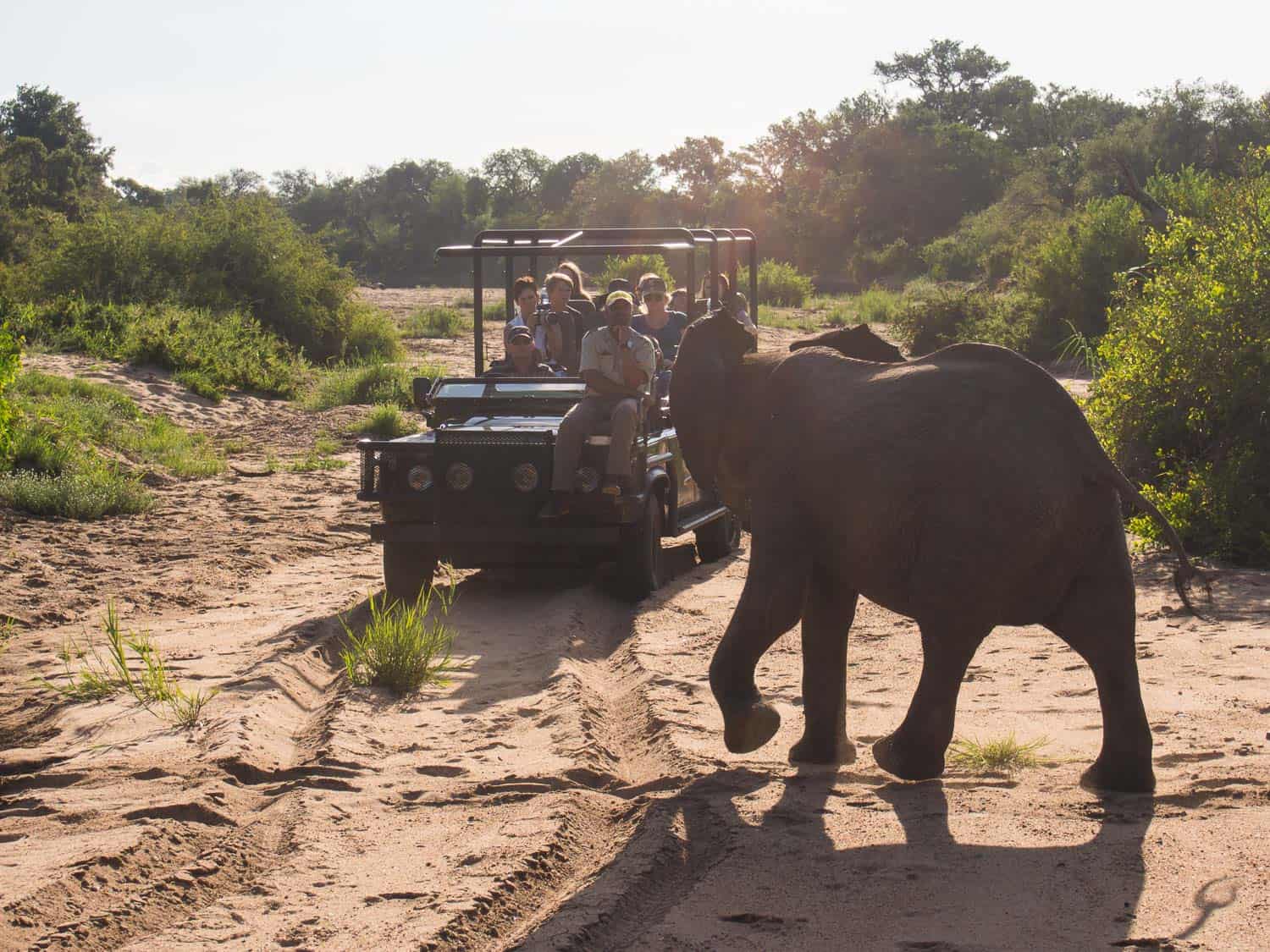 It was a privilege to observe such beautiful creatures in the wild so close. Over the next few days we'd be amazed by how close we got to the wildlife, how the vehicle camouflaged us and made us part of the bush.
When the elephants moved away we continued on. If they were all that we saw on our first game drive we would have been happy, but there was more to come. We discovered eight African wild dogs sleeping in a shady dry riverbed. Again we were able to drive right next to them and they didn't stir from their slumber.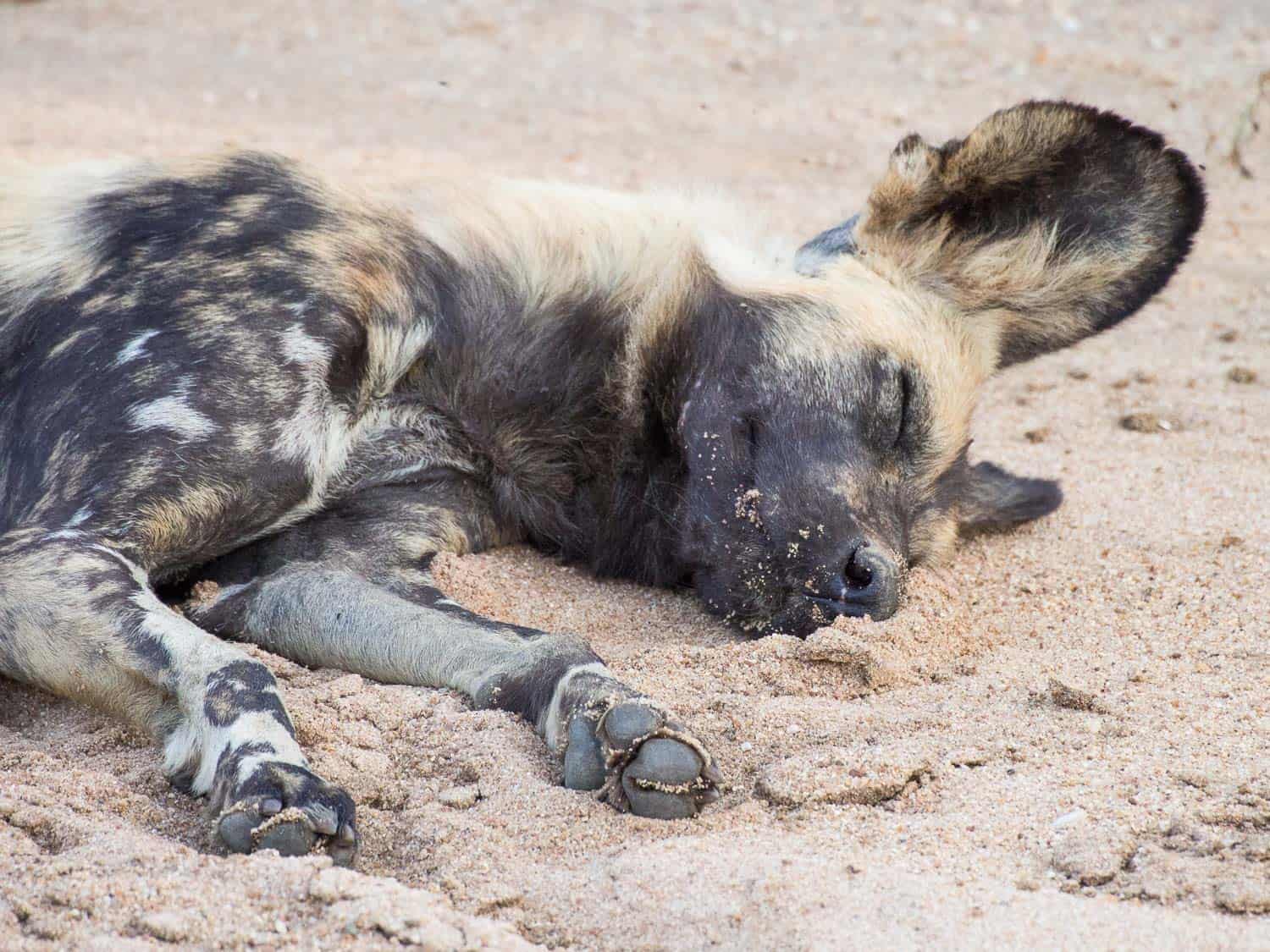 At first we didn't realise the significance of what we were seeing, but our ranger and one of the other guests, an experienced South African tour guide, were very excited and explained how rare it is to see these endangered dogs. They became the focus of the rest of our evening as we spent a few hours following the wild dogs on their evening routine.
While the sun was still high there wasn't much action. The dogs are most active at sunrise and sunset when they hunt together and share their kill. During the day they sleep off their meal, lying flat to aid digestion. We watched as they slept, occasionally flicking away flies, rolling over into a more comfortable position, or getting up to stretch or poop before snuggling back into the sand.
Their fur is black and tan in a mottled pattern and their ears are comically oversized. They reminded me of teenage delinquents—a bit intimidating, potentially dangerous, but also cute and childlike as we observed their relaxed moments.
As the sun began to set the dogs became more active. A few of them got up to chase off a hooded vulture that was trying to eat their excrement. The vulture wouldn't give up—as soon as they lay back down it would creep closer until the dogs got up again and the vulture would comically trundle off, wings half outstretched, with a Charlie Chaplin waddle. This entertaining to-and-fro continued for many minutes.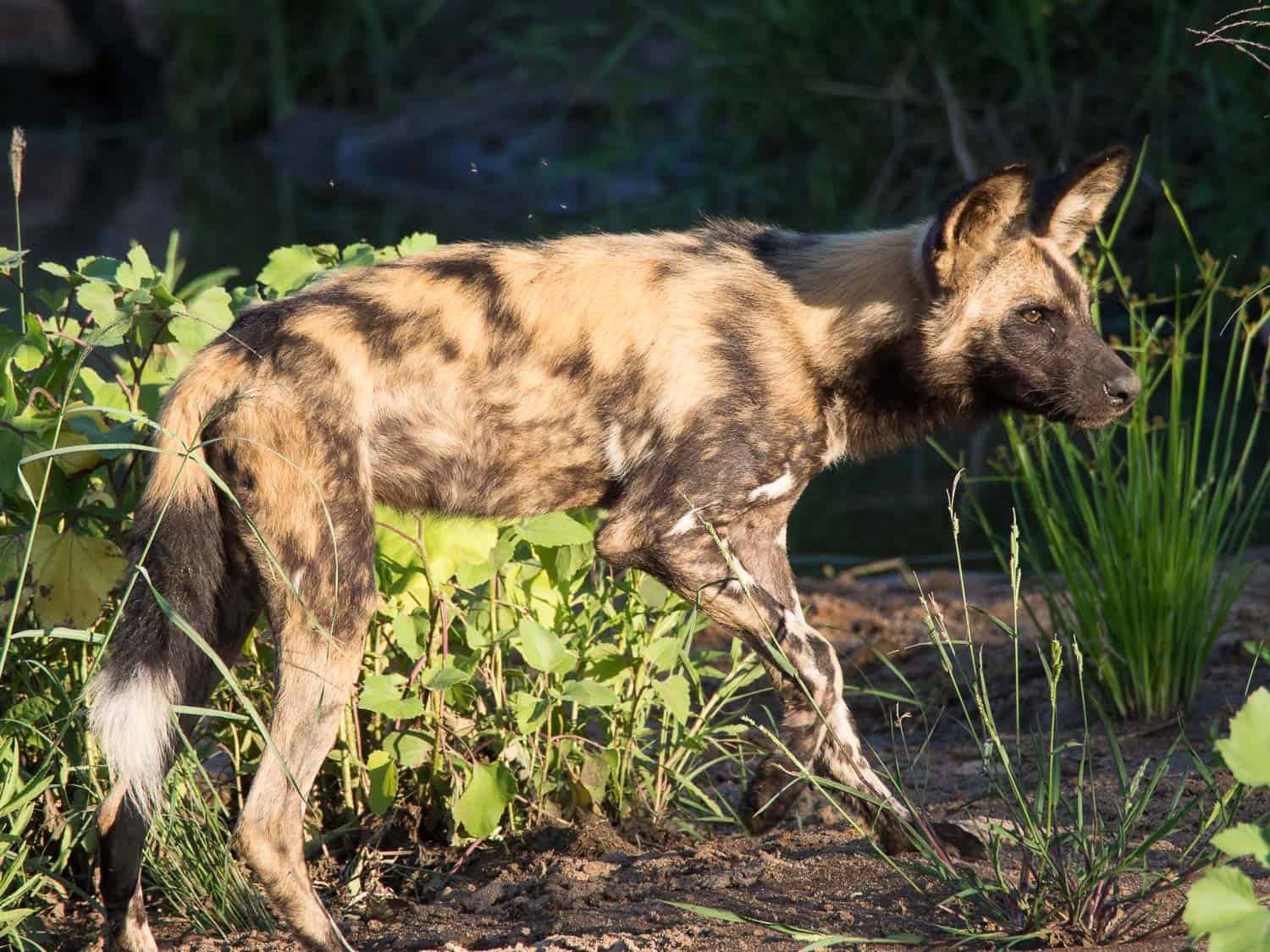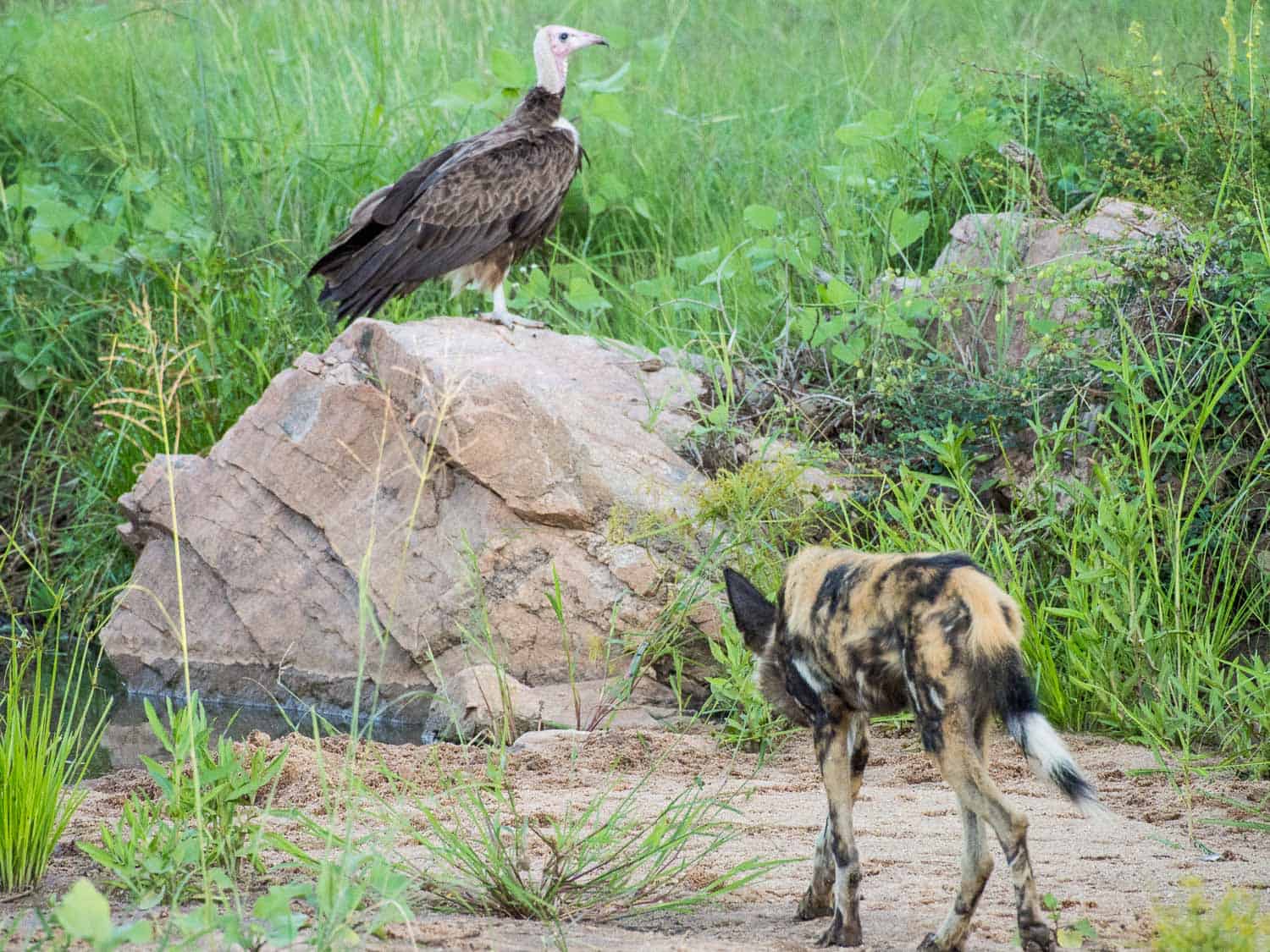 Then suddenly all the dogs sprung into action, jumping to their feet, bundling together, sniffing, licking and play fighting each other while making strange high-pitched squeaking noises. This greeting ceremony gears them up for the hunt, making sure they are all alert and ready for the chase.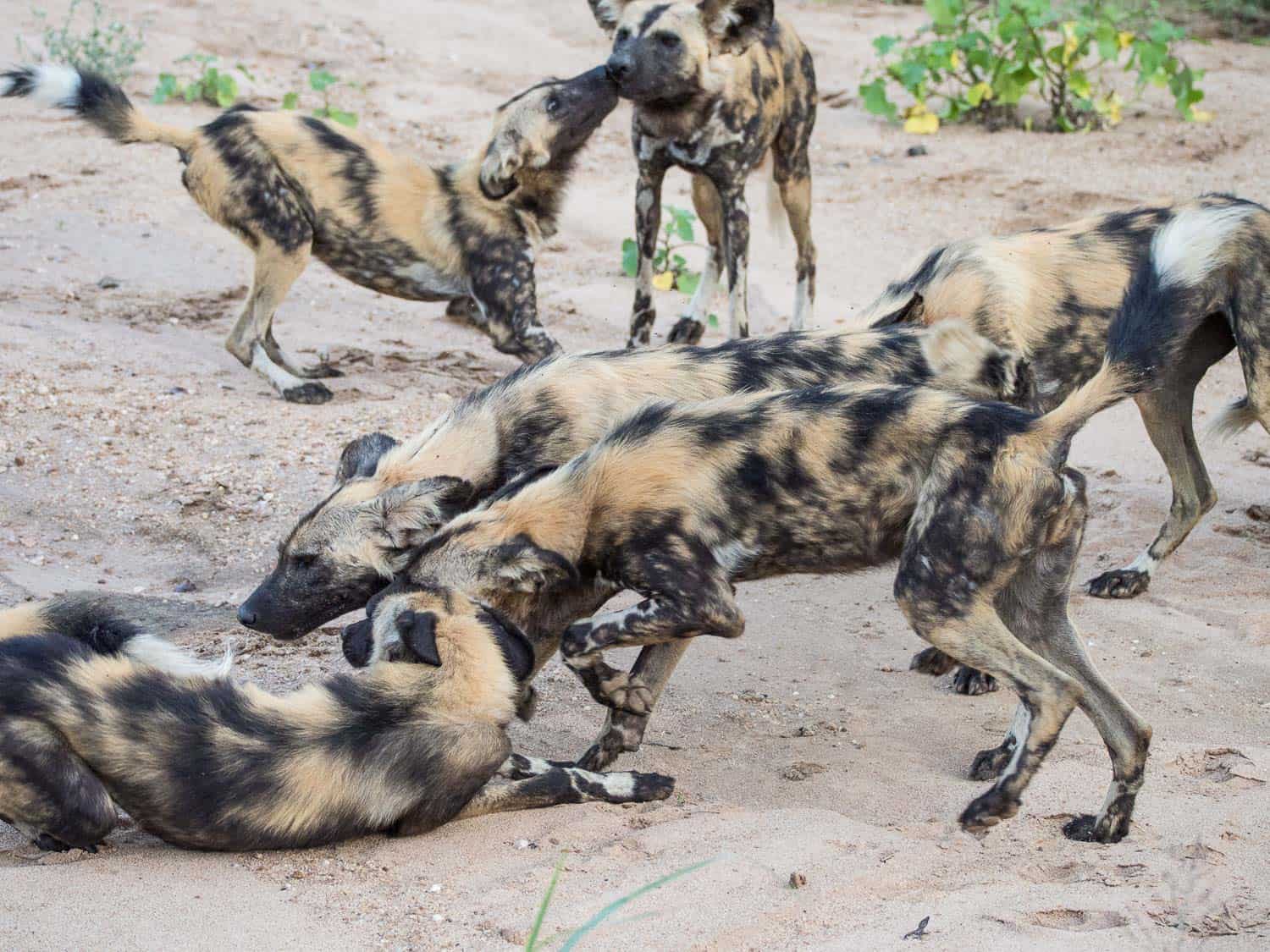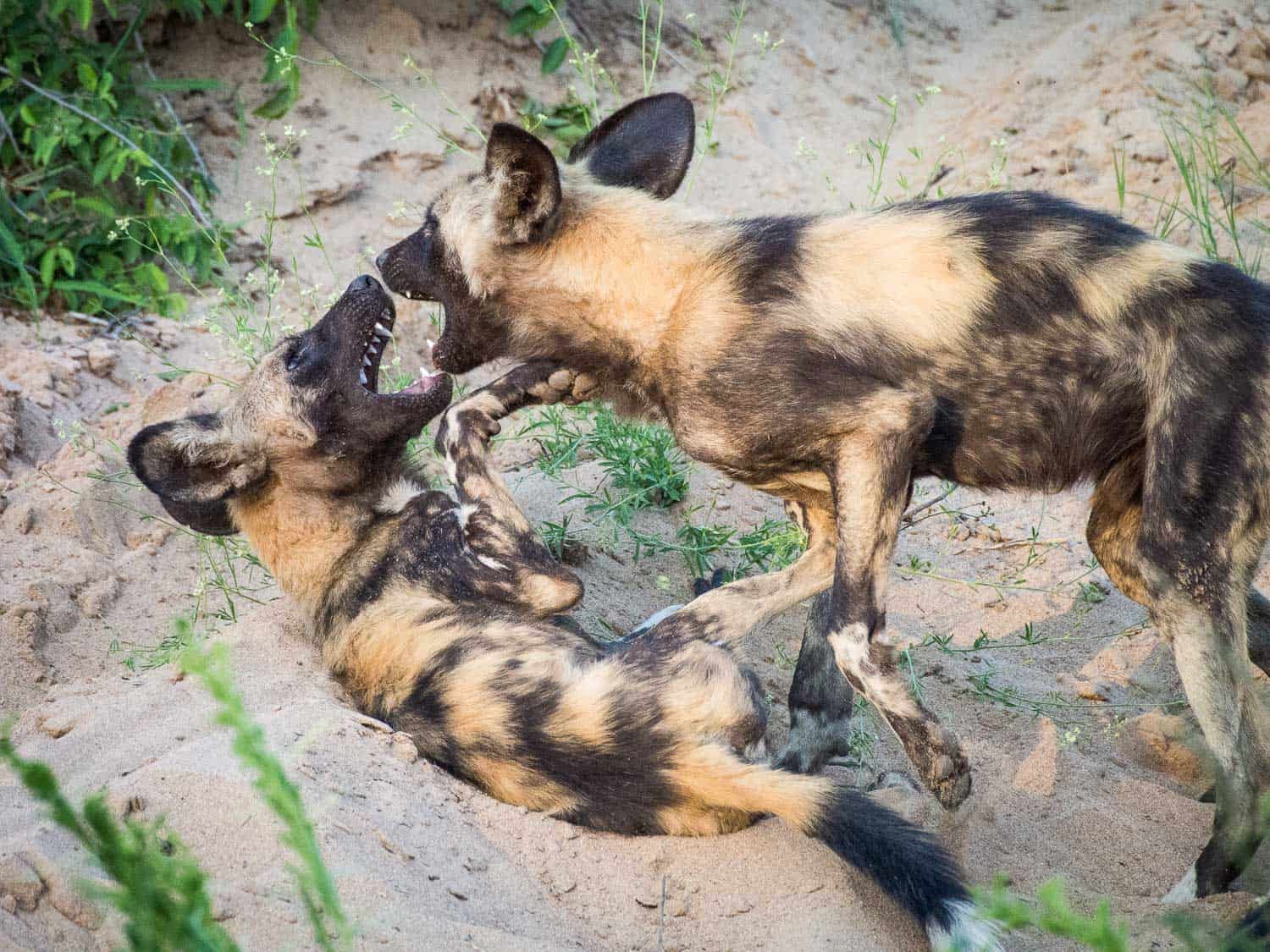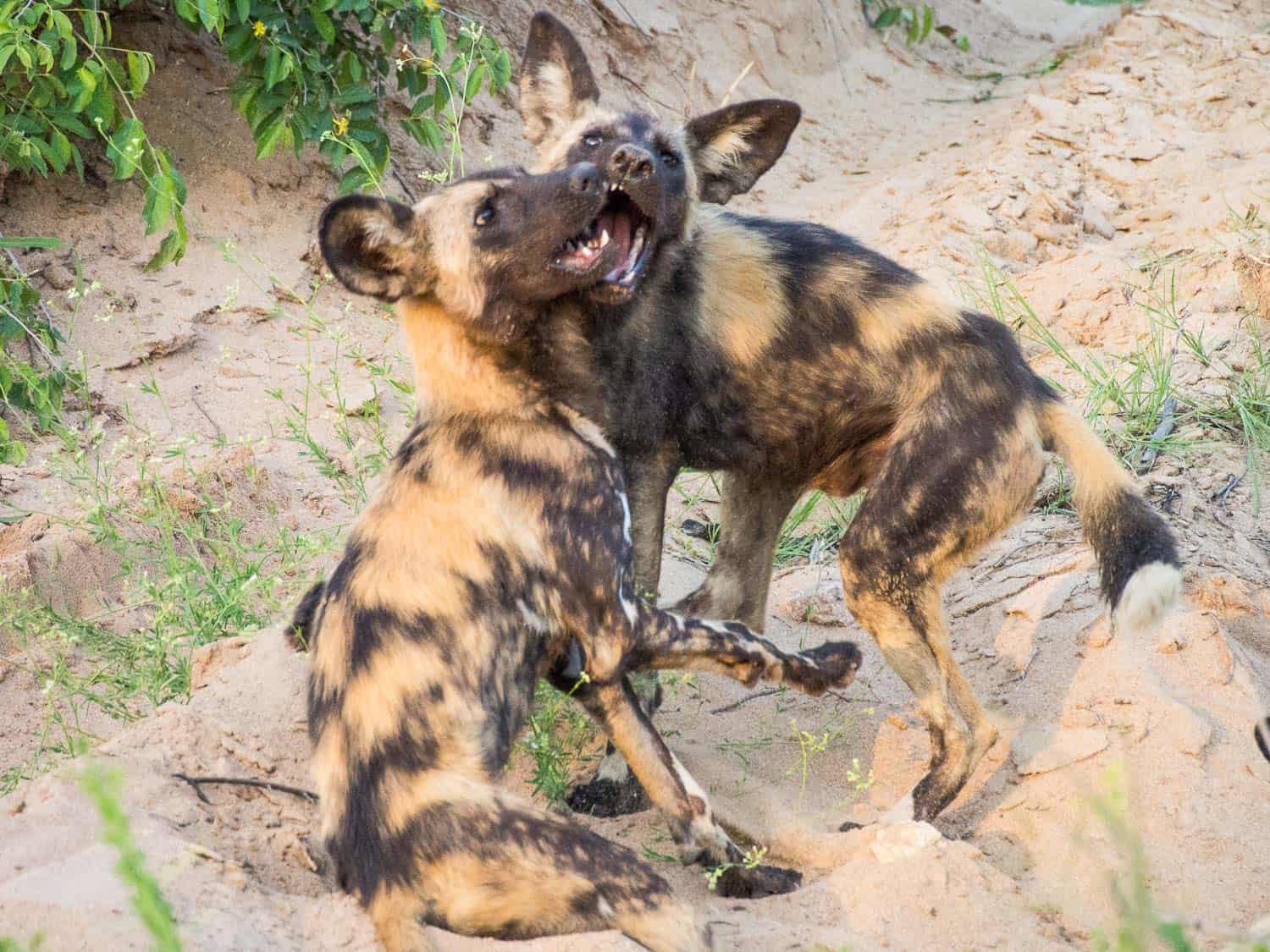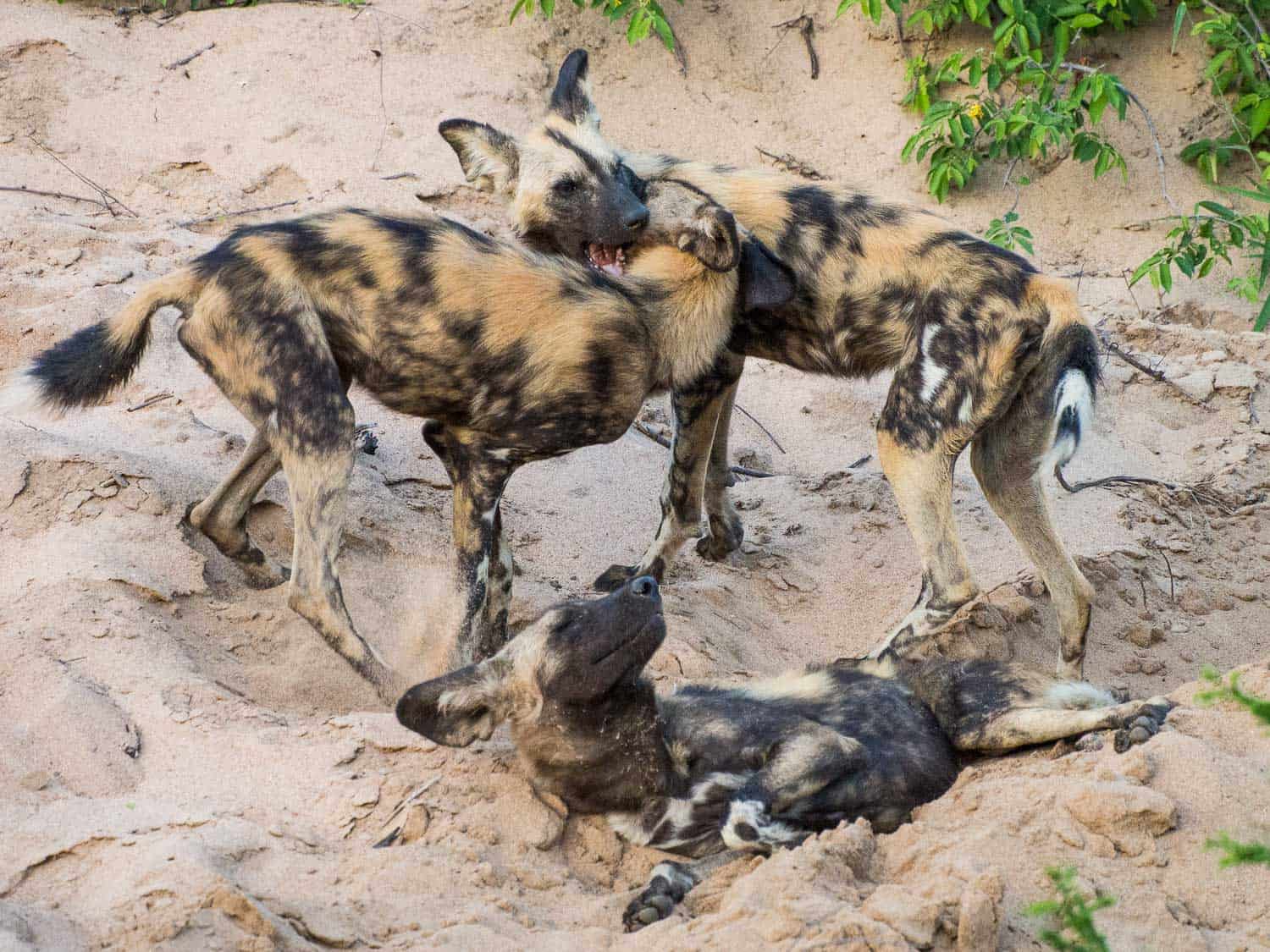 The dogs moved to the other side of the river bank, but obviously they weren't quite ready to head out yet as they settled down into the sand again. The alpha female kept walking away, trying to encourage the alpha male to get going. It took a while but she eventually got her way and they headed off on the hunt.
It didn't take long until they caught sight of an impala and set off running after it. We raced through the bush after them at an exhilarating speed, clinging on and ducking branches as we bounced along off road. We weren't sure if we wanted the impala or the dogs to win, but witnessing nature in action was a special experience.
The dogs didn't manage to catch the impala, unusually as they are excellent hunters who can pursue their prey for long distances. With a success rate of 80% (for lions it's only 10%) they are the most efficient predators in Africa. They took a break at a waterhole before heading off at a trot down the road with the sky turning pink above them and the full moon rising.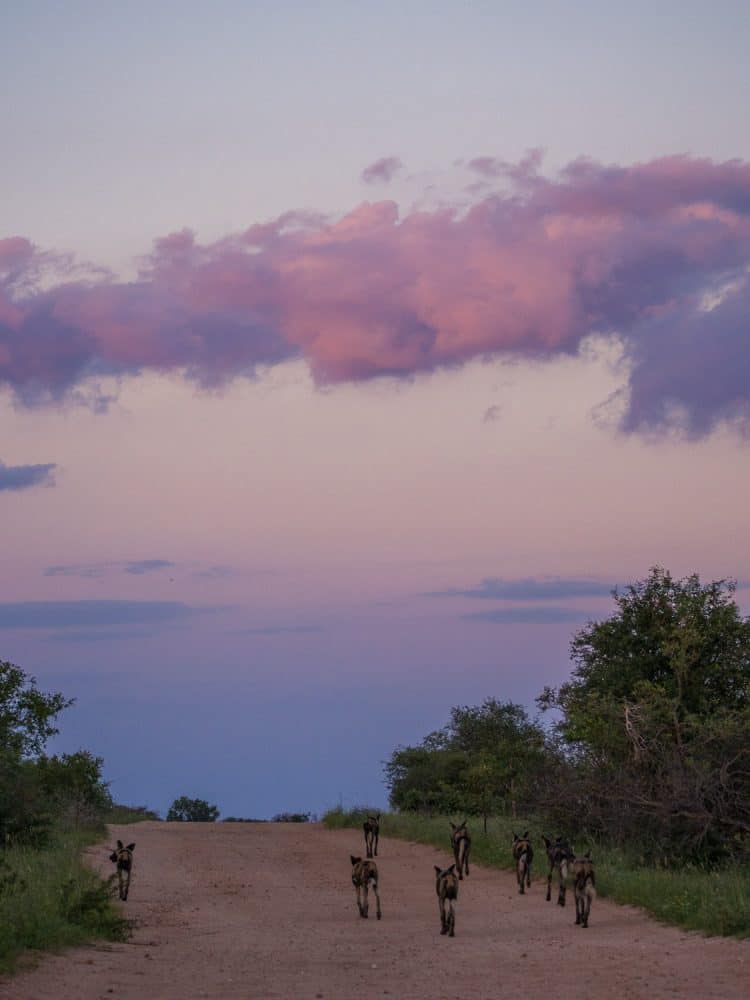 Further down the road the dogs encountered a herd of zebras.The zebras were obviously much too big to be wild dog prey, but that didn't stop them threatening. The zebras chased them off but their pride didn't allow the dogs to give up entirely and they only moved back a few paces. The stand off continued, neither side making a real move, but the back and forth was entertaining to watch.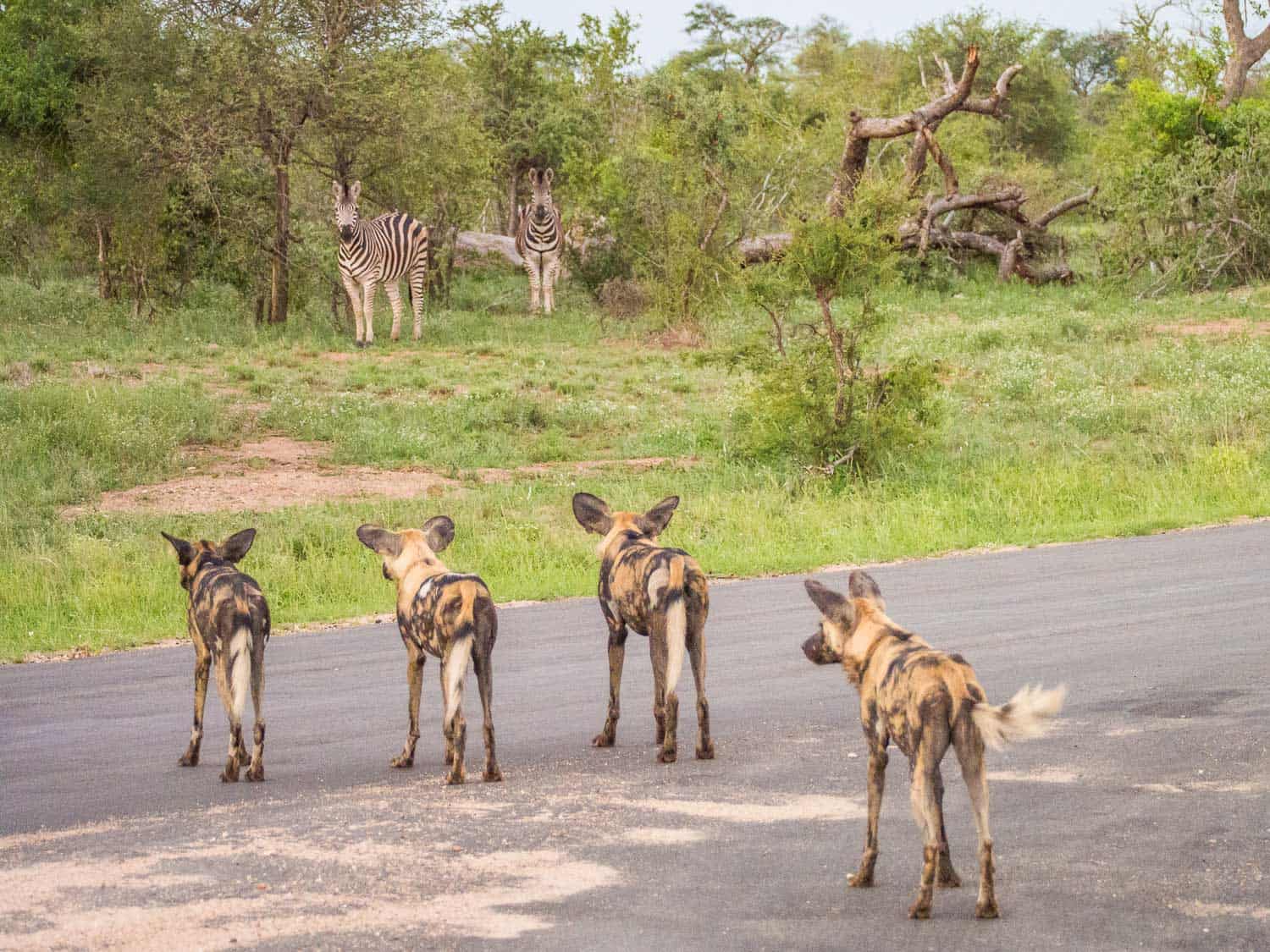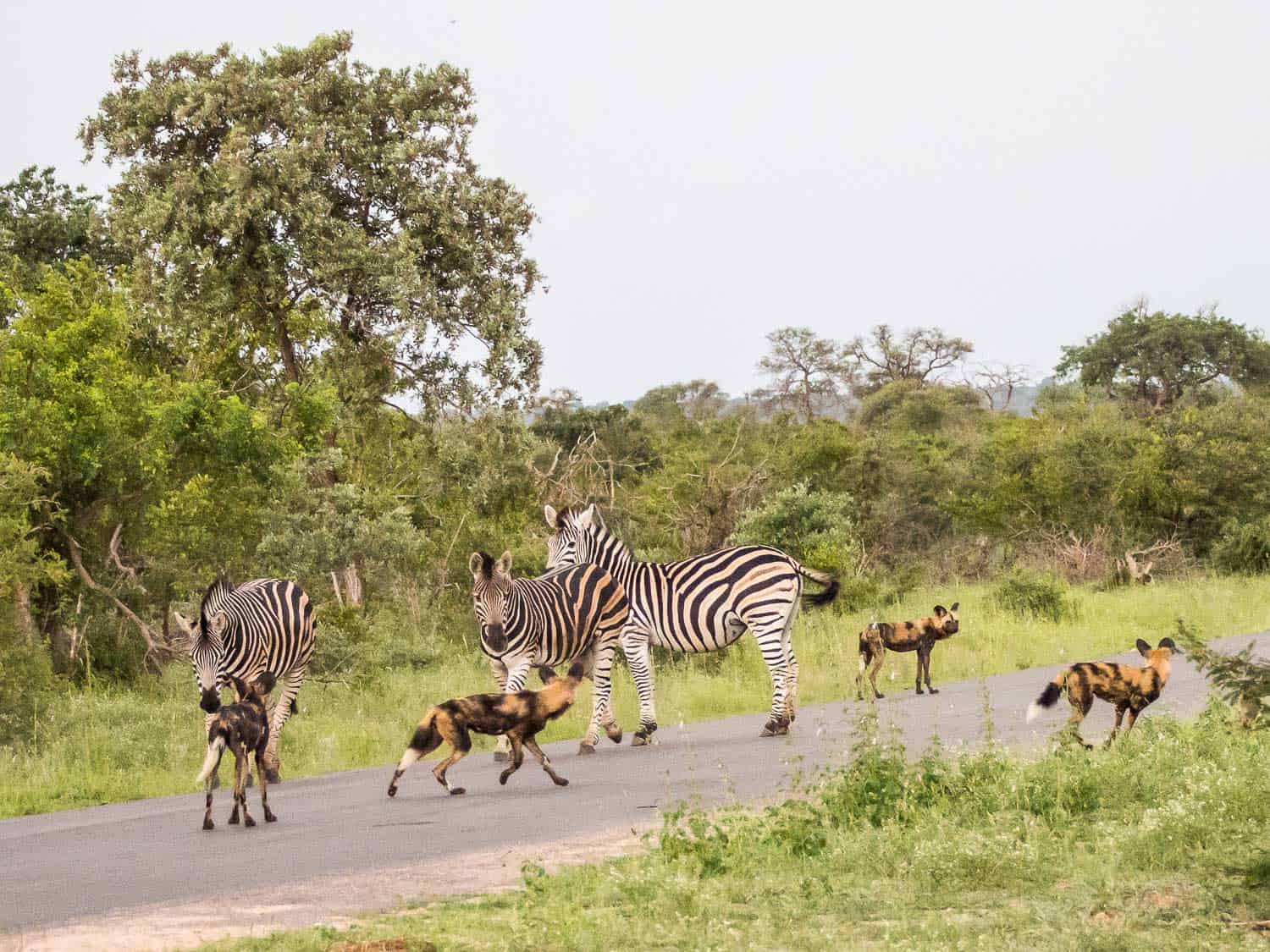 The dogs finally gave up on the zebras and headed down the road before giving chase to another impala. We were in pursuit again into the bush, gripping onto the armrest as we flew over the dirt tracks, the sky turning orange. We lost sight of them in the twilight as they sped ahead, but we could hear the hooting cries the wild dogs use to communicate with each other. Darkness fell and we lost them, never discovering if their hunt was successful.
When I researched South African safaris I heard about the Big Five over and over again. I deliberately avoided learning exactly which animals they are as I didn't want to have any expectations for our wildlife viewing. Seeing any animal in the wild is special and I wanted to take delight in everything we saw rather than feeling disappointed if we didn't tick off a list of major sightings.
Our first game drive turned out to be the anti-Big Five. Rather than rushing around trying to see as much as possible, we had the luxury of spending hours with one group of animals, observing their behaviour, watching their interactions with other wildlife, even being part of their exhilarating hunt. This is why we came on safari.
Where To Stay in Timbavati
We stayed at the Umlani Bush Camp in the Timbavati Private Nature Reserve. It's a rustic, off-the-grid, eco-lodge with simple but comfortable thatched huts and a friendly atmosphere. It's one of the most affordable safari lodges in the Greater Kruger area with prices from 3050 ZAR (US$232) per person per night including two game drives a day, a bush walk, all meals and drinks. There's also the option to spend a night under the stars in a treehouse by a waterhole. The game viewing was superb and the next day we did indeed spot the Big Five in one drive!
Read our Umlani Bushcamp review here. We highly recommend it if you are looking for a simple, affordable but comfortable safari lodge.
All the photos in this post were taken with my mirrorless camera, the Olympus OMD-EM5 and the Olympus 75–300mm lens. It is a much smaller, lighter combo than an SLR with telephoto lens and I was really happy with the results.
If you enjoyed this post, pin it!
Many thanks to Umlani who hosted us and to our ranger Shadreck and tracker Sean who made this fantastic drive possible.