This page contains affiliate links. Please read our disclosure for more info.
Our South Africa road trip was one of the best trips we've ever taken.
We drove from Johannesburg to Cape Town in just over a month stopping to see the Big 5 on safari in Kruger, hike lush green mountains in the Drakensberg, walk along the dramatic Wild Coast, and explore the beaches and parks of the Garden Route.
We learnt about South Africa's turbulent history, met its diverse people, sampled the country's excellent wine, and ended in one of our new favourite cities, Cape Town.
South Africa is a stunning and diverse country and a road trip is the best way to explore it.
Contents
South Africa Road Trip Itinerary
Our road trip was a total of 33 nights or 36 nights including Johannesburg, where we spent three nights at the start without a car. This doesn't include Cape Town, where we spent two months at the end of our trip. We drove 4638km (2882 miles) in January-February, which is South Africa's summer and the rainy season in the north and dry season along the Garden Route and Cape Town.
Greater Kruger
Graskop – 2 nights
Timbavati Private Game Reserve – 2 nights
Klaserie Private Nature Reserve – 3 nights
Olifants, Kruger National Park – 1 night
Lower Sabie, Kruger National Park – 2 nights
Drakensberg Mountains (KwaZulu Natal)
Wakkerstroom (stop on way) – 1 night
Champagne Valley (Central Drakensberg) – 3 nights
Underberg (Southern Drakensberg) – 2 nights
Wild Coast (Eastern Cape)
Coffee Bay – 1 night
Chintsa – 3 nights
Hogsback – 3 nights
Garden Route (Western Cape)
Storms River Mouth – 1 night
Plettenberg Bay – 4 nights
Wilderness – 2 nights
Oudtshoorn – 2 nights
Robertson – 1 night
Cape Town – 2 months
You could do this trip in three weeks by skipping a few places or moving faster or even two if you cut out Kruger (but it was our favourite part). If you only have a week then drive the Garden Route from Cape Town.
South Africa Road Trip Map
The blue line on the map is only an approximate route.
Note: The distances of each leg of our journey below are taken from Google Maps (which we used for navigation) and the times are the actual time it took us, usually including a petrol/toilet break. I've noted if we stopped for a longer break.
Days 1–3 Johannesburg (3 nights)
International flights to South Africa are usually cheaper to Johannesburg than to Cape Town so it makes sense to start your trip here. Many people skip the city but I think it's worth a few days to learn about the country's recent history.
We visited the Soweto township on a tour with Curiocity Hostel and the Apartheid Museum. Both are worth visiting for an understanding of the horrors of apartheid and the path to peace. I also recommend reading these South African books before your trip.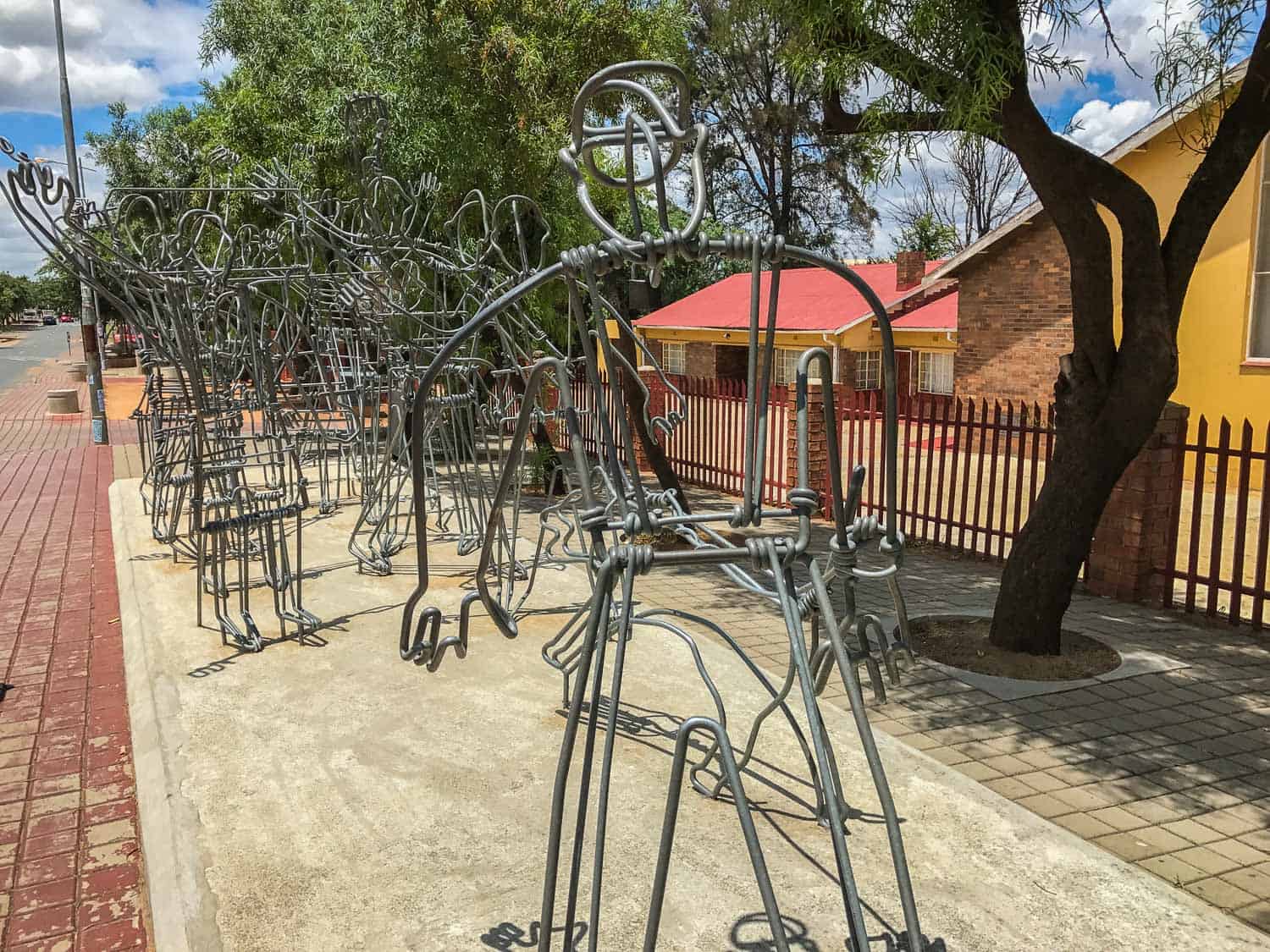 Johannesburg has a reputation for being dangerous but it has improved in recent years and we had no problems. That said, you do need to be cautious and it's best to get around by Uber rather than walking.
We stayed in the Maboneng Precinct which is safe to walk around even at night (but don't stray too far). We loved this newly regenerated area full of art galleries, street art, cool restaurants, and an independent cinema and theatre. It was the most integrated area we visited in South Africa with a mix of black and white locals and visitors (so many places we visited later in the trip were all white).
Where to Stay in Johannesburg
In Maboneng you can either stay at the Curiocity Hostel or in one of the many Airbnbs, which is what we did. Our studio apartment was in the perfect location and was large and bright with a comfortable bed and the fastest WiFi we had in South Africa (10 Mbps up and down). If internet is important to you, make sure your apartment has free, unlimited WiFi as most don't.
You can find more hotels in Johannesburg here.
Where to Eat in Johannesburg
Maboneng has loads of great restaurants but many of them were closed for the summer holidays when we visited in early January. Our favourite place was Thali, which serves the best Indian food we had in South Africa. It is simple, inexpensive, tasty and has quite a few vegetarian options. Try to time you visit for a Sunday so you can visit Market on Main for food and art stalls. Find more places to eat in Maboneng here.
Day 4 Johannesburg – Graskop (2 nights)
Distance: 382km
Time: 4 hours 15 minutes
We took an Uber back to Johannesburg Airport to pick up our rental car. We chose to stop in Graskop rather than head straight to Kruger National Park so that we could drive the Panorama Route and be able to arrive at our first safari lodge in time for lunch.
Graskop is a small town with single storey buildings and wide roads that reminded us of Outback Australia. It's the ideal base for driving the Panorama Route (hotels can provide a map). We spent four hours driving along Blyde River Canyon with stops at God's Window (the viewpoint was obscured by fog), Bourke's Luck Potholes (impressive rock formations), Three Rondavels (the best viewpoint with dramatic views of the canyon, river and massive rock formations), and the huge Lisbon Falls. Despite bad weather it was a beautiful drive.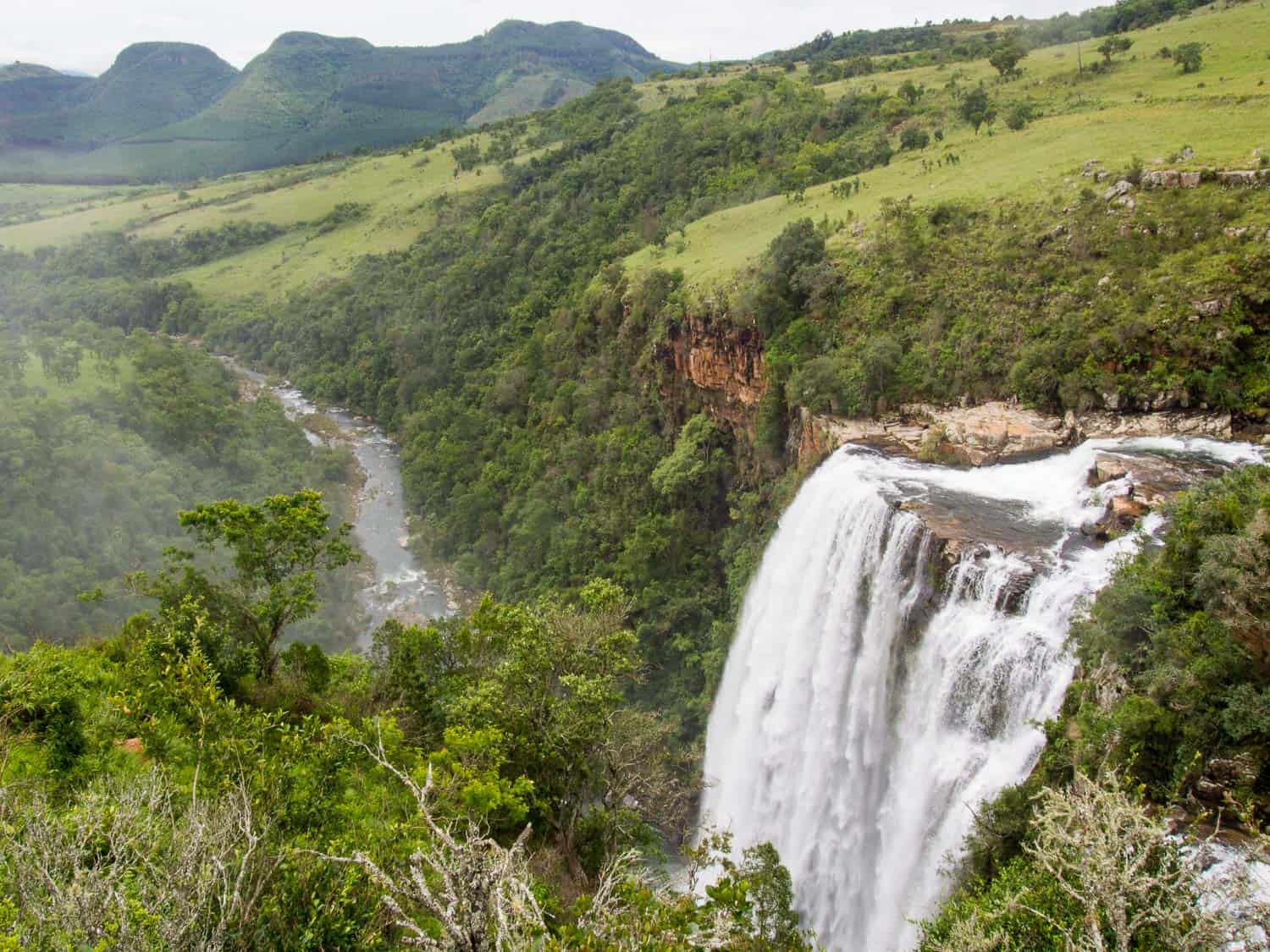 Where to Stay in Graskop
We loved Havana Nights where we stayed in a three-bedroom self-catering bungalow. It was very comfortable with lots of homely touches and a very friendly owner. It's in a quiet garden but only a short walk to town. The heater was handy as nights get chilly here even in summer. The WiFi was slow but that's the norm in South Africa.
Find more places to stay in Graskop here.
Where to Eat in Graskop
Harrie's Pancakes is the most famous spot and has tasty sweet and savoury pancakes. Canimambo is a Portuguese/Mozambique restaurant with three vegetarian mains including a good burger and a simple bean stew. There's a SPAR supermarket for self-catering but it doesn't have a huge amount of choice.
Day 6 Graskop – Timbavati Private Game Reserve (2 nights)
Distance: 133km
Time: 2 hours 15 minutes
We spent eight nights on safari in the Greater Kruger area starting in two lodges in private reserves bordering Kruger National Park and moving on to government-run camps in the park—read my comparison of Kruger lodges vs self-drive.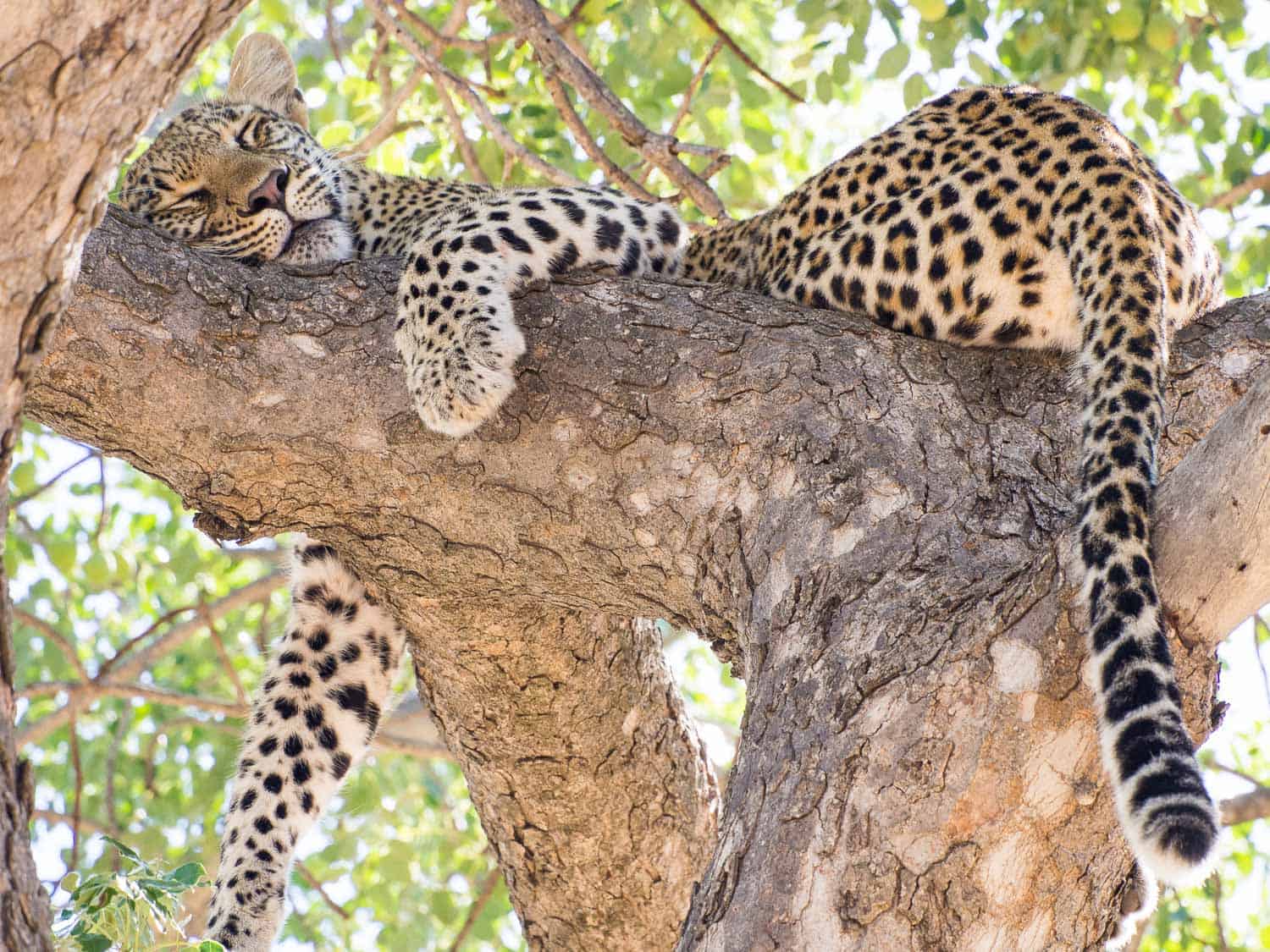 We stayed at Umlani Bushcamp in Timbavati Reserve, a rustic off-the-grid camp that's one of the most affordable in Kruger. In safari lodges all meals and two game drives a day are included. Our game drives were amazing and included an exciting wild dog chase and seeing the Big 5 in one drive—leopard, lion, elephant, rhino and buffalo. Read my Umlani Bushcamp review for more details.
Day 8 Timbavati – Klaserie Private Nature Reserve (3 nights)
Distance: 21km
Time: 45 minutes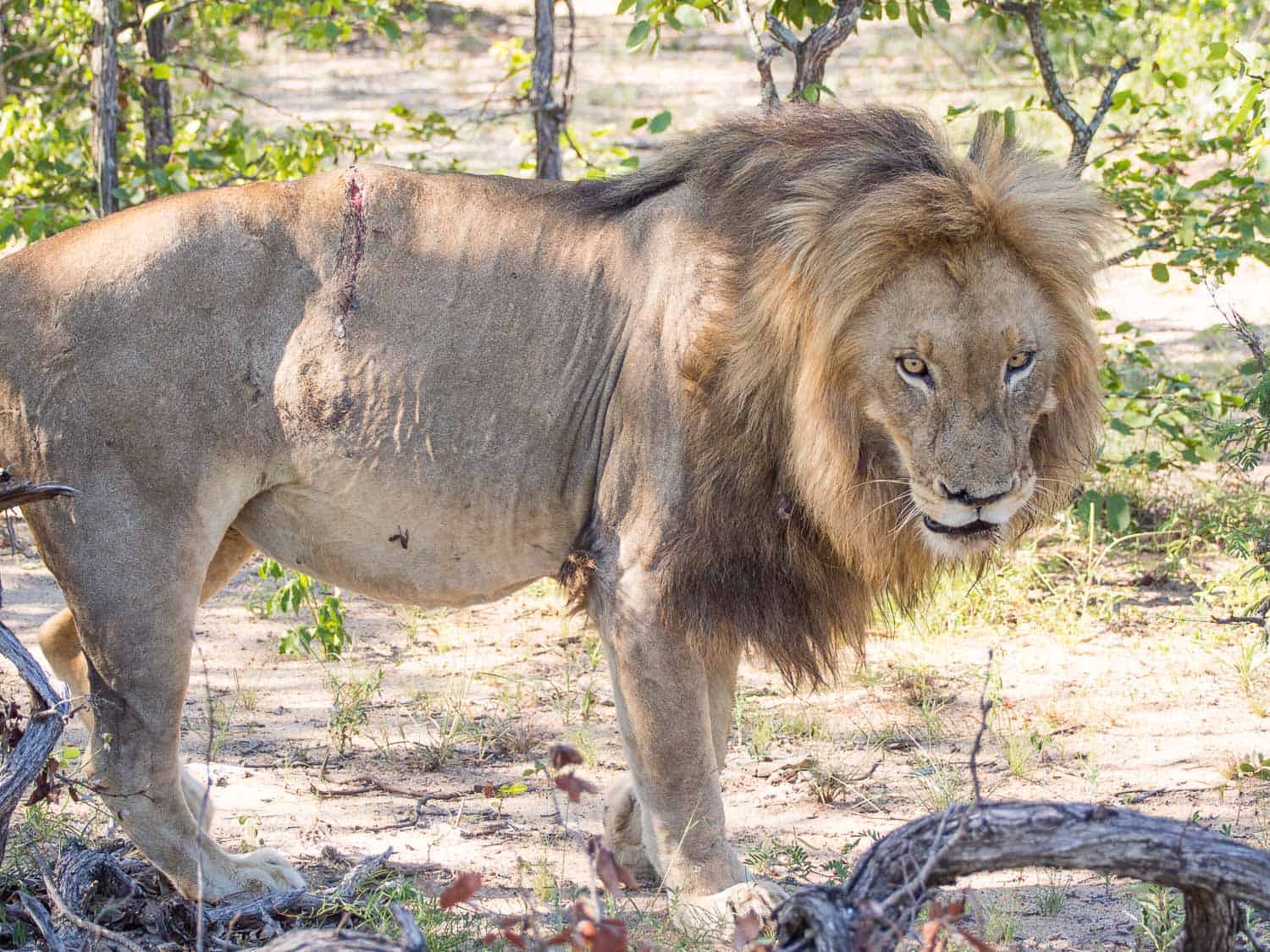 We were sad to leave Umlani when we moved to the neighbouring Klaserie reserve, but Klaserie Sands River Camp was even better (although very different). This luxurious yet relaxed and intimate lodge with just four rooms is the best place we've ever stayed. We loved the stunning design, the friendly team who made us feel at home, and the excellent game drives including getting up close to male lions for the first time. Read our detailed Klaserie Sands review.
Day 11 Klaserie – Olifants, Kruger National Park (1 night)
Distance: 212km via Orpen Gate
Time: 6 hours including lunch break at Satara and game viewing
We left our safari lodge behind for the next adventure—self-driving in Kruger National Park. It was a long drive from Klaserie Sands to Olifants Rest Camp but along the way we saw wildebeest, four elephants, large herds of zebra and giraffe, kudu, and hippos.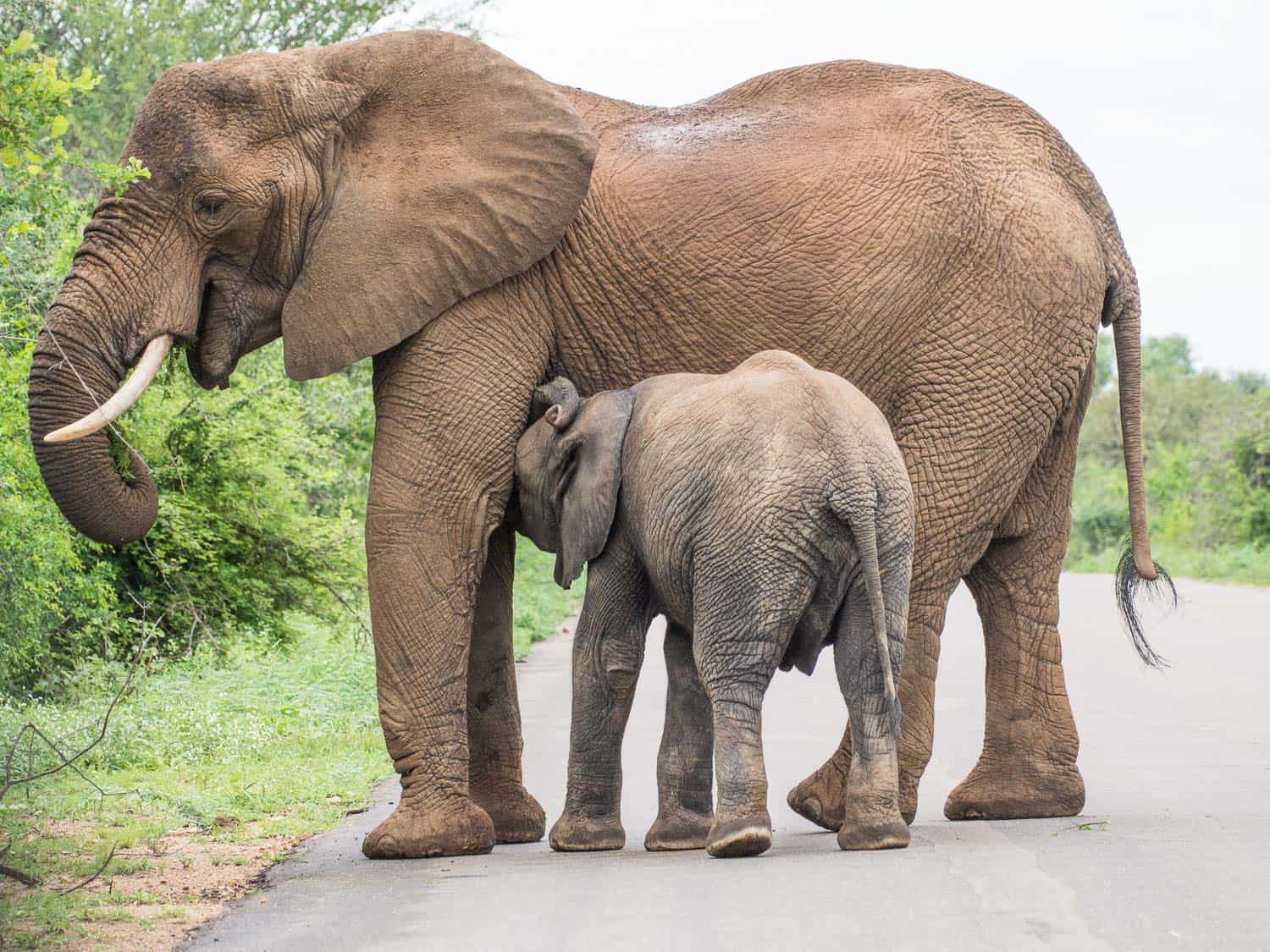 Self-driving is a very different experience to taking guided game drives from a lodge. We found it more difficult to get close to the animals, but it's pretty exciting when an elephant walks across the road in front of you. Self-driving is also a lot more affordable than staying in a lodge—see our Kruger self-drive costs.
Read our detailed Kruger self-drive guide for everything you need to plan your own trip.
Day 12 Olifants – Lower Sabie, Kruger National Park (2 nights)
Distance: 153km
Time: 6.5 hours with lunch break at Satara, game viewing, and detour due to road closure.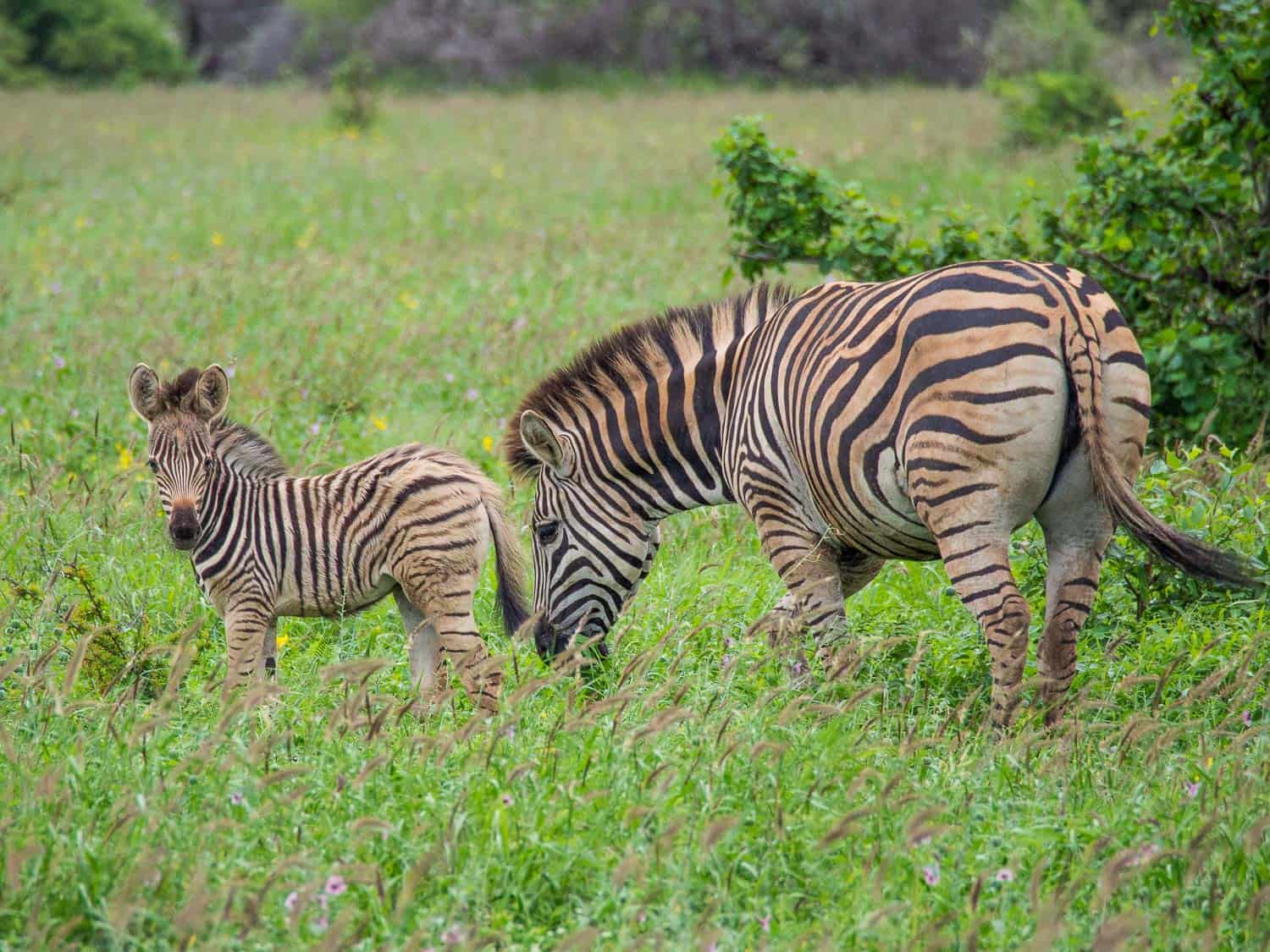 Kruger National Park is huge so it's best to stay in a few different rest camps. From Olifants we moved to Lower Sabie Rest Camp in the south of the park. Usually this is the busiest but most wildlife-rich area, but in the rainy season we didn't see as much as we expected. See our Kruger self-drive guide for our itinerary and accommodation reviews.
Day 14 Lower Sabie – Wakkerstroom (1 night)
Distance: 460km
Time: 6 hours 45 minutes
Wakkerstroom is rather off the beaten track and I chose it purely as a stopover between Kruger and the Drakensberg, but it turned out to be a lovely destination. The drive here was scenic through beautiful green mountains and farmland.
Wakkerstroom is a tiny town surrounded by meadows of long grass and wetlands that attract rare birds. Most visitors come for the birding but it's a beautiful spot for relaxing and hiking—we could easily have spent more than a night here.
Where to Stay in Wakkerstroom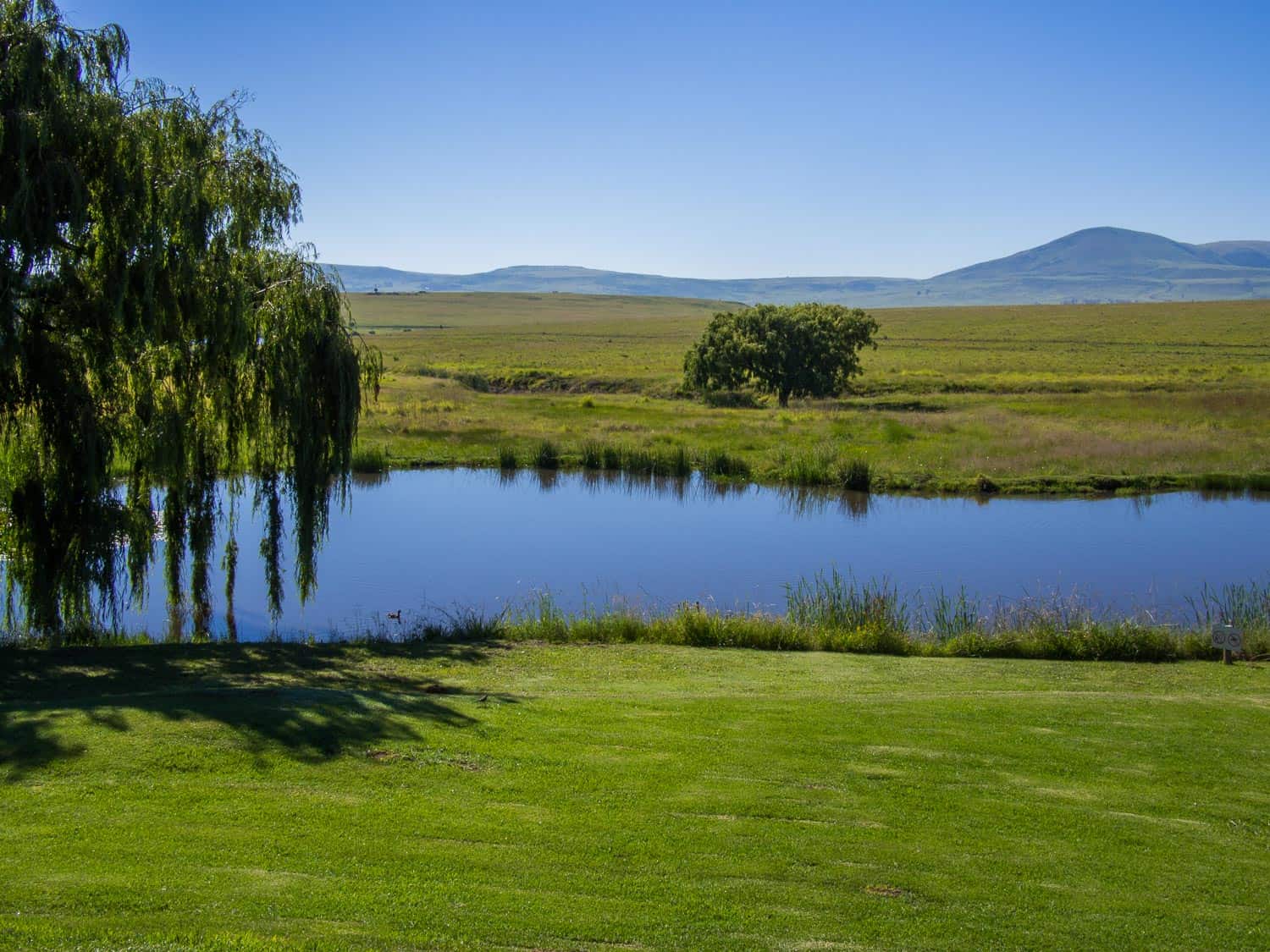 Forellenhof Guest Farm is gorgeous. It's a little out of town down a bumpy dirt track, but the setting is worth the extra drive. We stayed in Pretty Pig, a two-bedroom cottage with a comfortable living room and well-equipped kitchen but no WiFi. From all the rooms and terrace are views of a small dam full of birds with lush meadows and mountains in the background. It was very private and quiet except for the chattering of birds.
You can find more places to stay in Wakkerstroom here.
Where to Eat in Wakkerstroom
The Bistro is in a pleasant garden and has a few good vegetarian options including a Caprese salad, lentil curry, and feta and spinach pancakes. The grocery shop in town is very limited but there is a bakery and farm cheese shop.
Day 15 Wakkerstroom – Champagne Valley (3 nights)
Distance: 249km
Time: 4 hours including stops at Superspar in Winterton for supplies and Valley Bakery for lunch.
The Drakensberg mountain range is the highest in South Africa and stretches for more than 1000km. Getting around is slow going so it's best to focus your stay on one area rather than try to see it all. We started in the Champagne Valley near the Monks Cowl entrance to the uKhahlamba Drakensberg Park.
On our first day we began at 7.30am for the hike to Nandi Falls, which is the easiest hike in the area and took us 2.5 hours. We walked through meadows and forests with stunning views of the lush green mountains and jagged peaks—South Africa is astonishingly green at this time of year—and stops at Nandi and Sterkspruit Falls. It was a beautiful, relatively easy, and quiet hike that was a great introduction to the Drakensberg.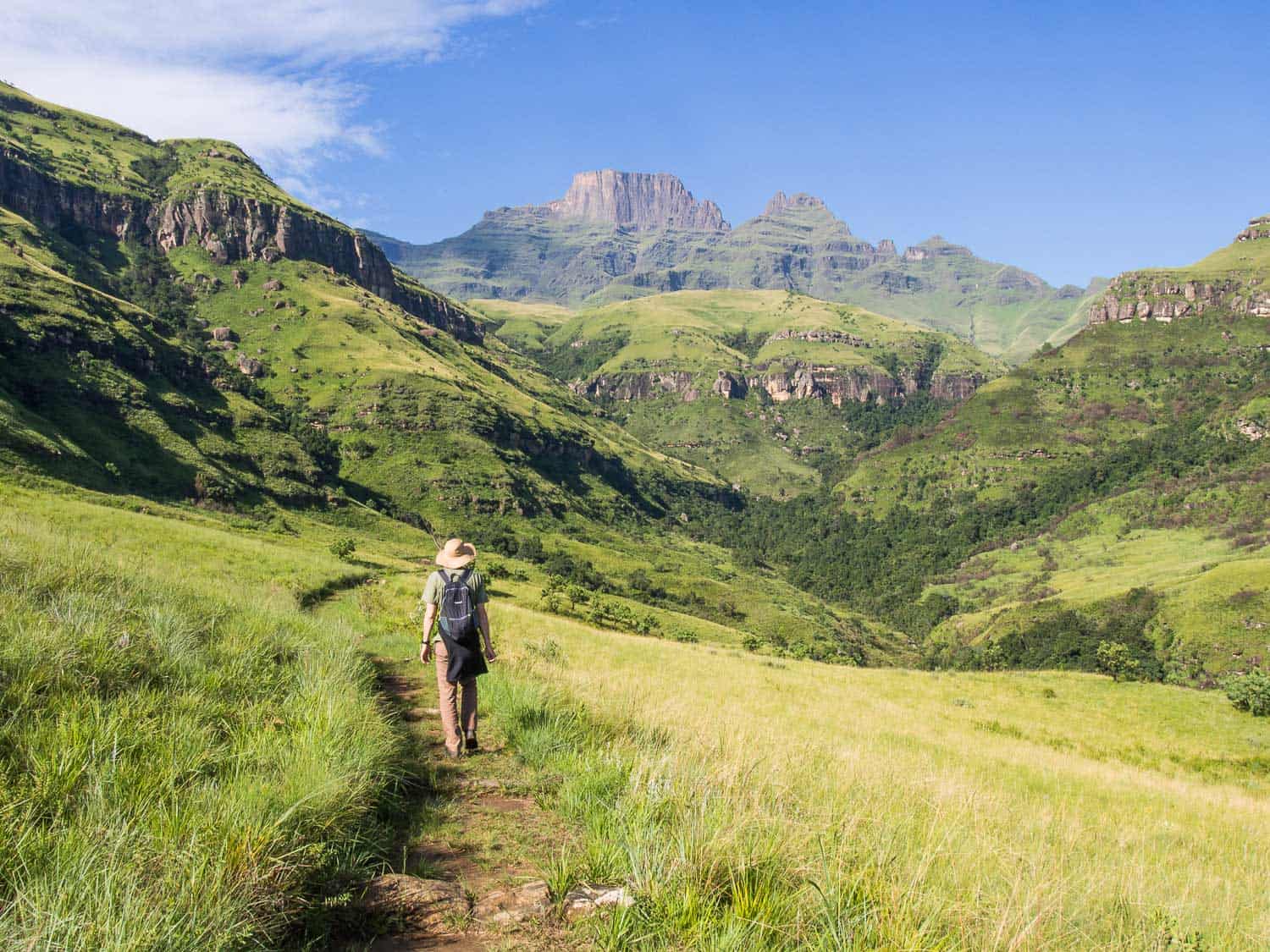 The next day we planned to hike to Blind Man's Corner but it rained all day. There are lots of other hikes in the area but most are quite long and challenging.
Where to Stay in Champagne Valley
We stayed at Inkosana Lodge, a hostel in a gorgeous setting of lush gardens with a natural swimming pool and mountain views. Our rondavel hut was more basic than we were used to on this trip, a little small and dark, but the bed was comfy and we had an ensuite and access to a clean shared kitchen. WiFi is only available in the common areas and costs 40R per person. The location was ideal just 7km from the Monks Cowl entrance.
You can find more hotels in the Central Drakensberg here.
Where to Eat in Champagne Valley
Meals are available at Inkosana and there are a few restaurants in the area, but we self-catered. We also had lunch at the nearby Valley Bakery, which has decent sandwiches, salads and homemade products on sale.
Day 18 Champagne Valley – Underberg (2 nights)
Distance: 235km
Time: 3 hours
Underberg is in the southern Drakensberg and is known as the start of the drive up the Sani Pass to Lesotho, which can be done as a day trip in a 4WD or on a tour. The area isn't as convenient for hikes as Inkosana as the mountains are further away.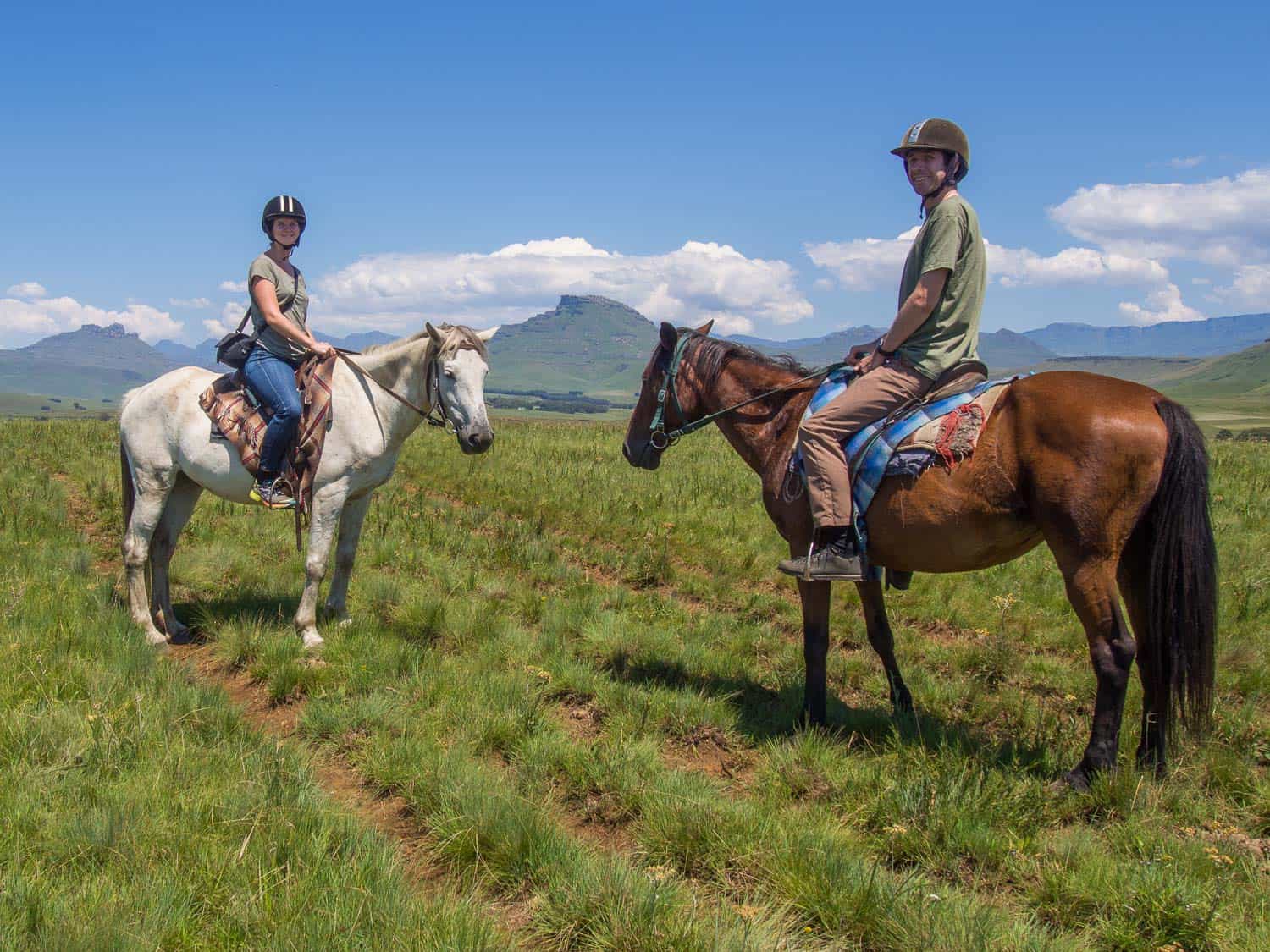 We went horse riding with Khotso Backpackers, 15 minutes outside Underberg. The saddles were a little uncomfortable but it was a stunning ride on impressive horses who manage to scramble up the steep rocky hills. The views from the top were stunning with green rolling hills and farmland in one direction and the dramatic craggy mountains of Lesotho in the other.

Where to Stay in Underberg
Khotso Backpackers has budget rooms and cottages in a lovely quiet setting, but we went for more comfort at Bergview Log Cabin closer to town. It's a large, three-bedroom house with a garden, plunge pool, and terrace with mountain views. It felt like a real home and was very comfortable and well-equipped. There's no WiFi but we had 3G most of the time. The only strange thing (for us at least) was that a uniformed housekeeper lives in a room under the house and comes to clean twice a day.
You can find more hotels in Underberg here.
Where to Eat in Underberg
Pukkety Tea Garden is a cute, cosy cafe with eclectic decor. Next door is their self-service farm shop where you can buy homemade jams, chutneys, cakes, cookies, bread and more. The SPAR supermarket has a good selection for self-catering. (Update October 2019: Pukkety Tea Garden has now closed permanently.)
Day 20 Underberg – Coffee Bay (1 night)
Distance: 383km
Time: 5.5 hours
It's a beautiful drive through the mountains down to the Wild Coast. We felt the difference as we drove into the Eastern Cape—Nelson Mandela's homeland—as it's more traditional with colourful rondavels (traditional huts) dotted on the hills. On the road down to Coffee Bay horses, cows, sheep, and goats wandered freely into the road.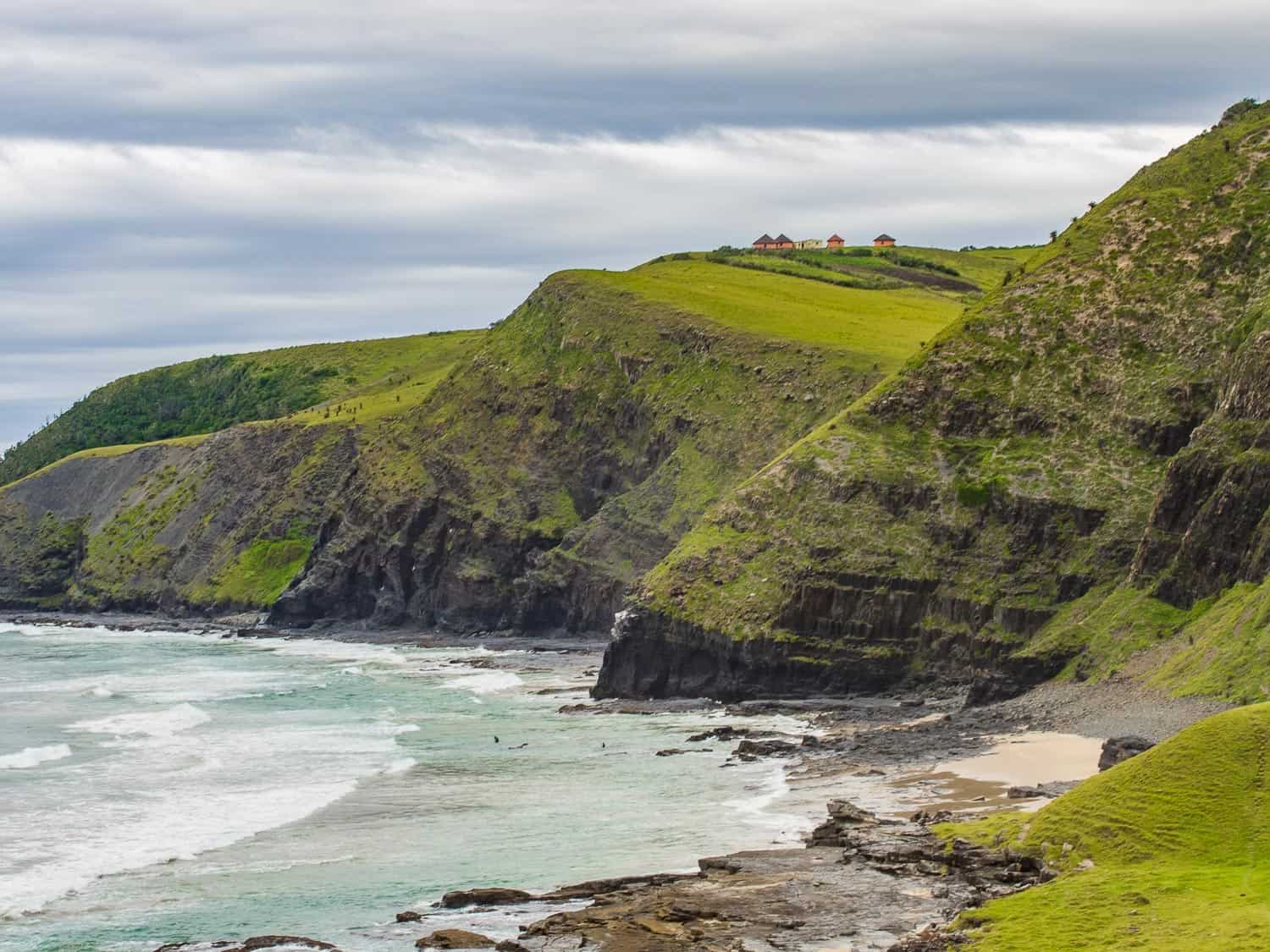 Coffee Bay is a small surf town with a wild beach and a rough around the edges vibe. We didn't get the best first impression—read more about our experience in Coffee Bay here—and as we hated our hostel, we left after one night despite paying for two. In retrospect, I wish we had given it more of a chance (and stayed somewhere else) as it was so different from anywhere else we visited in South Africa and was an interesting insight into rural African life. The hike along the dramatic coastline to Hole in the Wall is worth doing.
Where to Stay in Coffee Bay
There isn't a lot of accommodation in Coffee Bay and it's mostly backpacker hostels. I recommend staying at the Geckos B&B, which looks like the nicest option and I think we would have had a much better experience if we had stayed there (it was closed during our stay). If you are looking for a hostel, Coffee Shack is the most popular one. I do NOT recommend staying at Friends Backpackers, which was awful.
You can find more places to stay in Coffee Bay here.
Where to Eat in Coffee Bay
There isn't a lot of choice. Friends Wild Coast Cafe has a sea view, good cake and a few vegetarian options. Most backpackers also have restaurants.
Day 21 Coffee Bay – Chintsa (3 nights)
Distance: 263km
Time: 4 hours
Chintsa (formerly Cintsa) is further along the Wild Coast and feels less traditional than Coffee Bay. We stayed at Buccaneers Backpackers, which has an isolated location and a beautiful view of the lagoon, beach and sea. It's more of a hostel resort with a huge range of accommodation, pool, restaurant, bar, volleyball, and activities such as surf lessons, horse riding, and visits to community projects.
I did take one of the yoga classes but otherwise we just relaxed and took walks on the 18km long beach—wild and empty with pounding waves. We both came down with a stomach upset—it could have been something we ate at Buccaneers but I'm more inclined to blame the last hostel—so didn't do much.
Where to Stay in Chintsa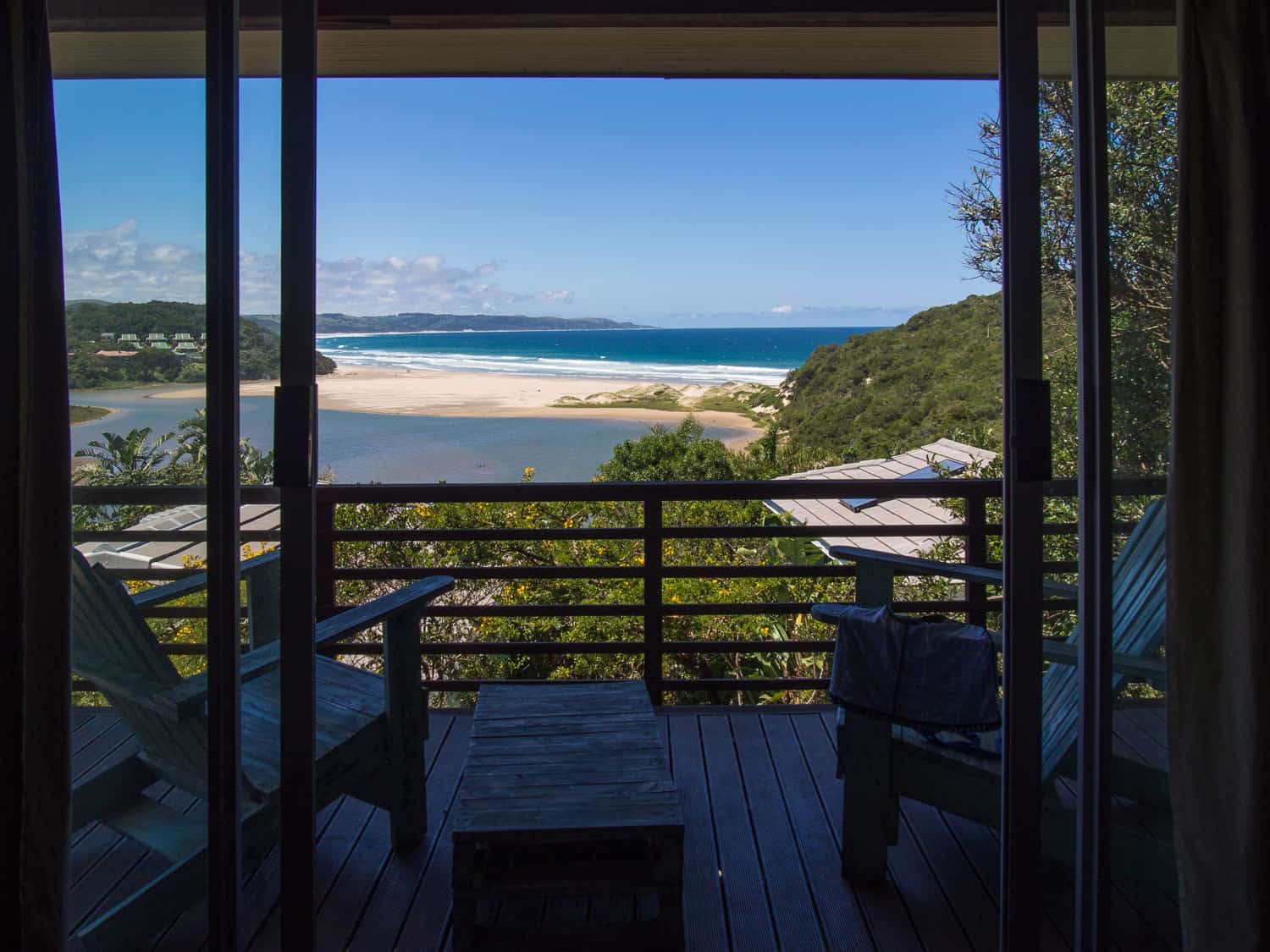 We loved the bright, modern suite at Buccaneers with a big comfy bed, two armchairs, fridge, ensuite and, best of all, sliding glass doors onto the terrace with an amazing sea view, which we could even enjoy from bed. It did not feel like a hostel room at all. Make sure you book in advance for the suite.
The suite was booked up for our last night so we moved to a two-bedroom cottage, which was fine but much more rustic.
Annoyingly Buccaneers charges for WiFi—25R per 500mb or 40R per GB and it only works in the bar/reception/restaurant area. We used our 3G instead.
You can find more places to stay in Chintsa here.
Where to Eat in Chintsa
We mostly self-catered (stock up in advance) but Buccaneers does serve breakfast and lunch. Dinners are communal with a different theme every night—Mexican night was pretty good with help yourself burritos. There's always a vegetarian option.
Day 24 Chintsa – Hogsback (3 nights)
Distance: 175km
Time: 2 hours 45 minutes with a supermarket shopping trip
Despite still being sick we struggled on to Hogsback up in the Amatola Mountains of the Eastern Cape. Hogsback is known as a mystical place where you can visit fairy gardens or get a fairy reading, walk through magical forests to waterfalls, meditate around a labyrinth, or heal yourself with crystals. It's often obscured by fog adding to its mysterious vibe.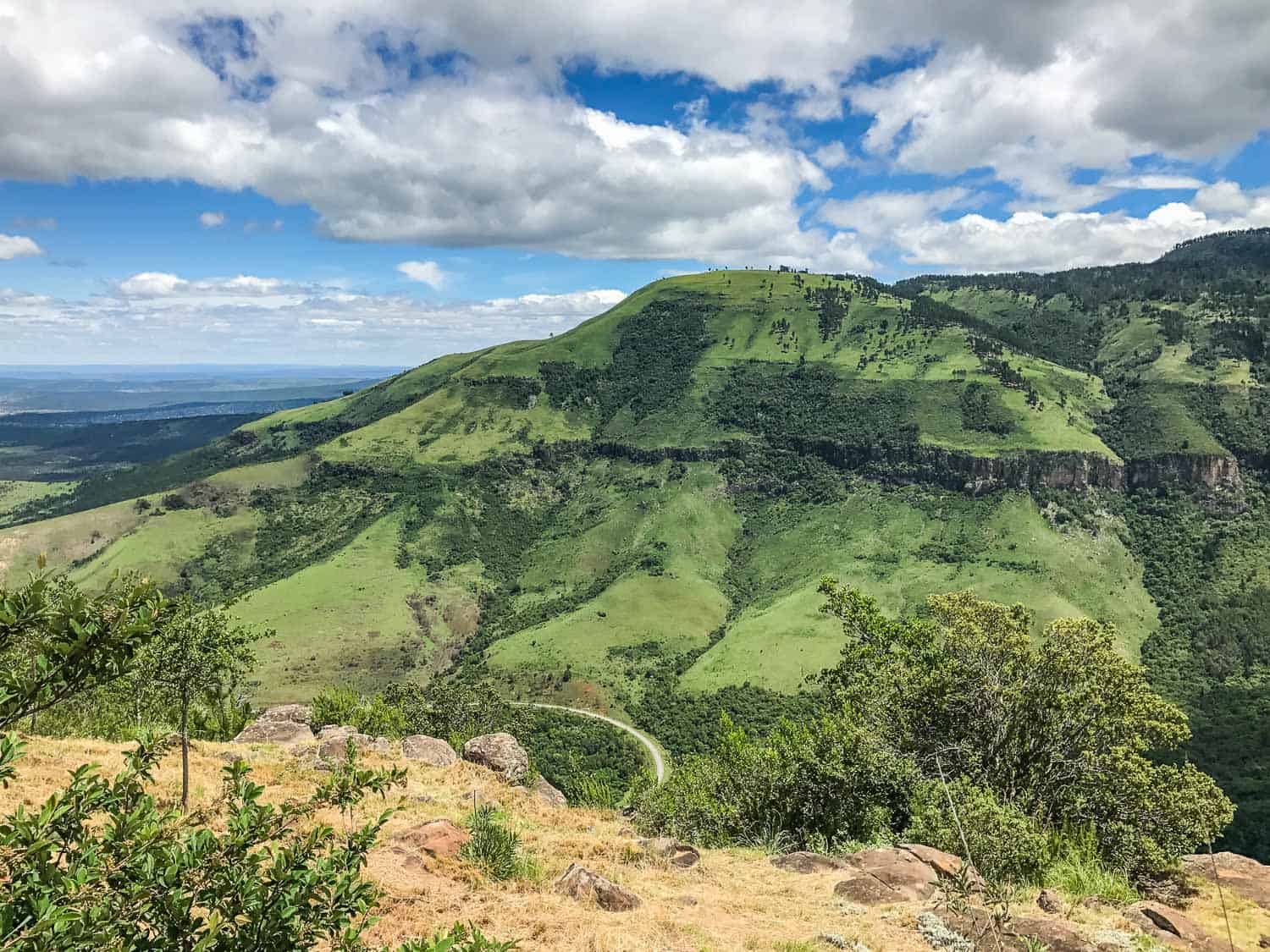 Unfortunately, we were too ill to do any of this. Luckily, our rondavel at The Edge had gorgeous views of the mountains so at least we could enjoy the scenery from our sick bed.
From what we saw of it, Hogsback looked beautiful.
Where to Stay in Hogsback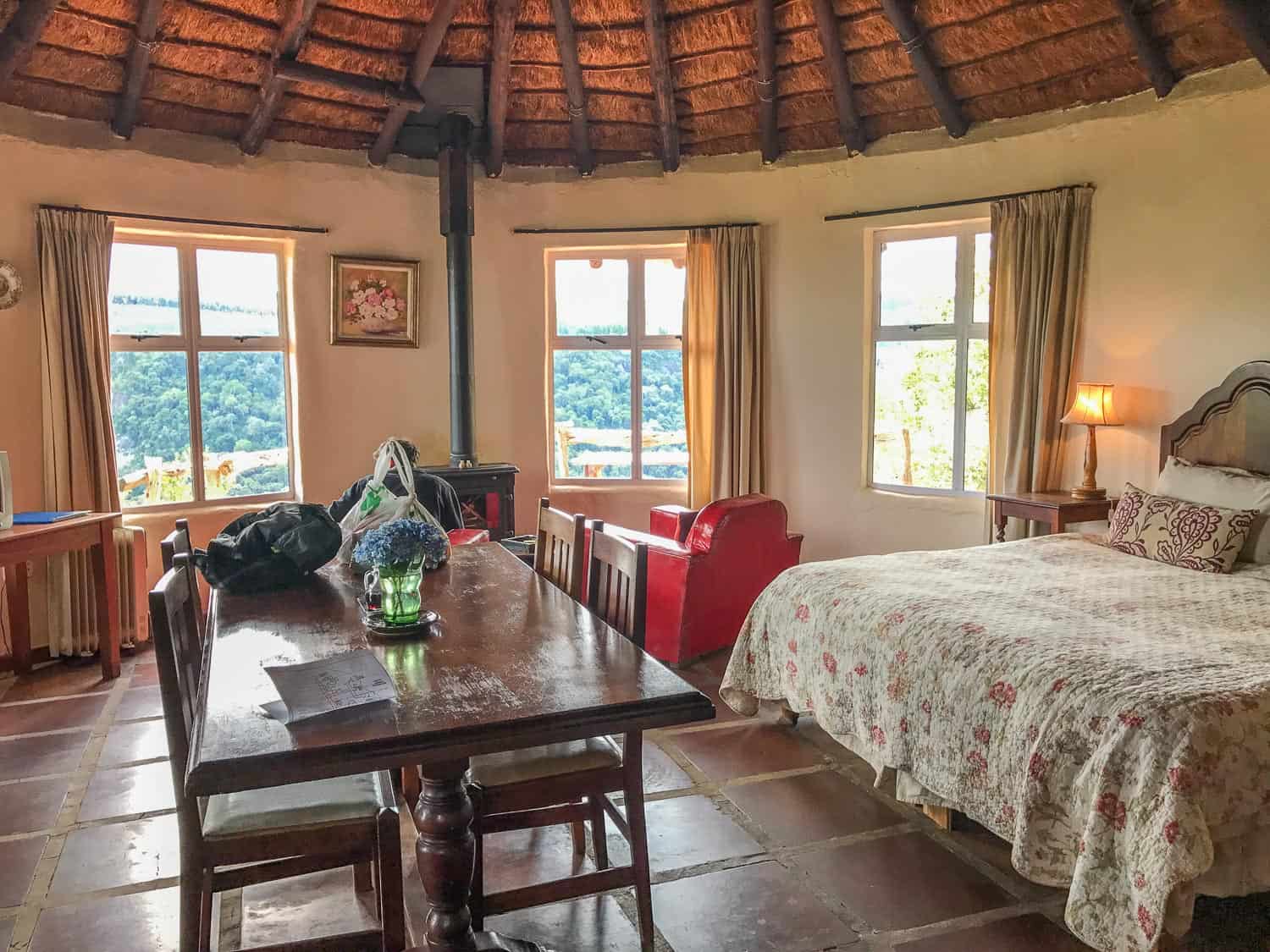 We stayed at The Edge Mountain Retreat, which is a short drive outside the village down a very bumpy dirt track. There are a number of bungalows spread out along the edge of a cliff, most with great views. Our Over the Edge rondavel was spacious with a comfortable bed, two armchairs by the fireplace, a big dining table, small kitchen, and lovely views. There's decent free WiFi in the restaurant but only Edge cell signal.
If you are on a budget, Terra-Khaya Eco Farm and Away with the Fairies are backpackers with good reviews.
You can find more accommodation in Hogsback here.
Where to Eat in Hogsback
We were too sick to eat, but the restaurant at The Edge is supposed to be good.
Day 27 Hogsback – Storms River Mouth (1 night)
Distance: 446km
Time: 7 hours including road works and lunch break
It was a long drive from Hogsback but we took a break for lunch at the excellent InFood in surfer town Jeffrey's Bay. With its bakery and fancy deli, it felt very different from the Wild Coast. We drove past Addo Elephant Park on the way, so this would have been a good place to break up the journey, but we decided to skip it after having seen many elephants in Kruger.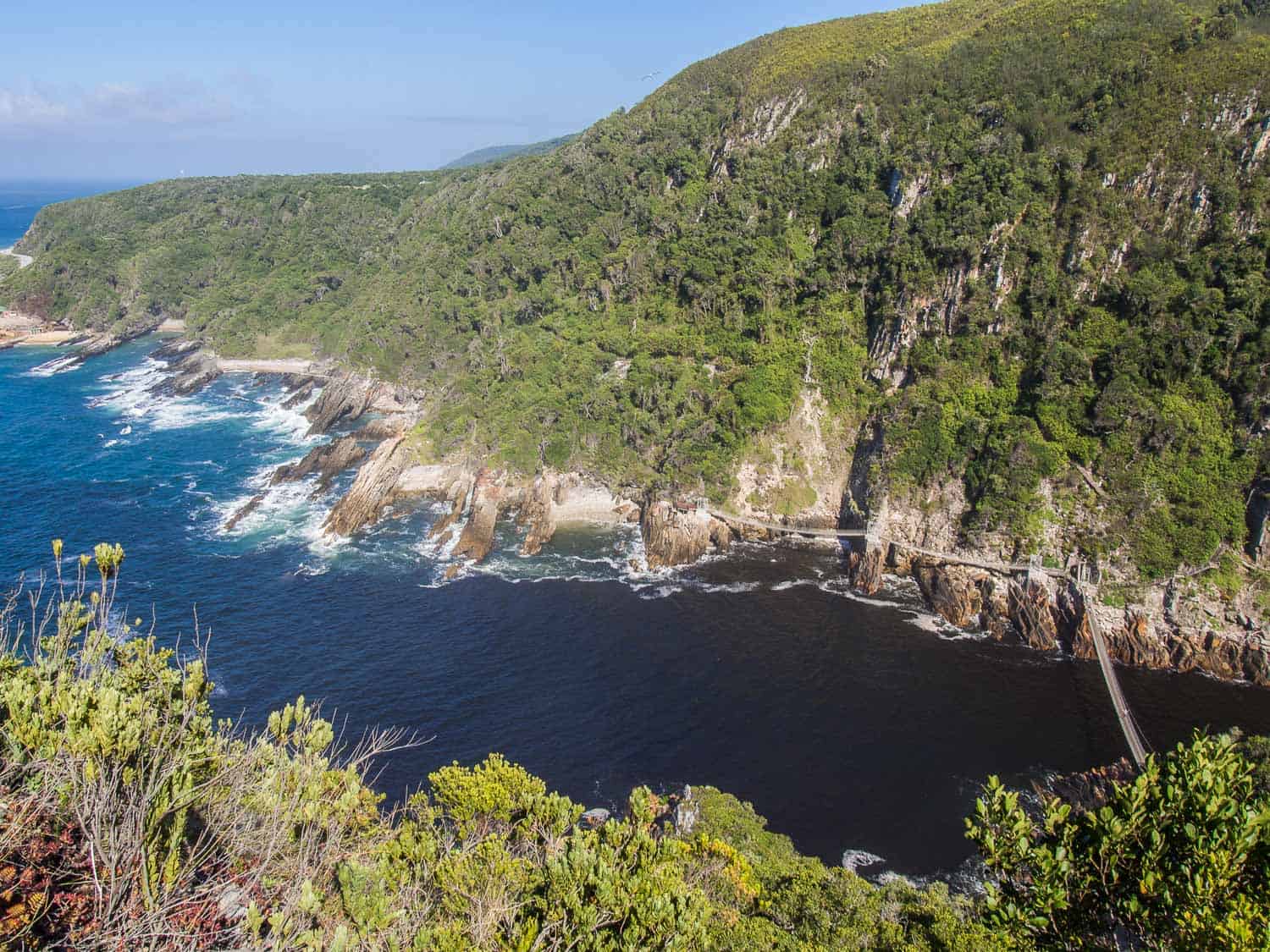 Storms River Mouth is a rest camp in the Tsitsikamma National Park at the start of the Garden Route in the Western Cape. In the morning we walked along the Mouth Trail to a suspension bridge swinging over the sea. Most visitors stop here but we carried on up a steep rocky path to a viewpoint where you can enjoy the bridge from above and the whole dramatic coastline. The total hike took us 1.5 hours. There are other hikes to do including the Waterfall Trail if you have more time.
Where to Stay in Storms River Mouth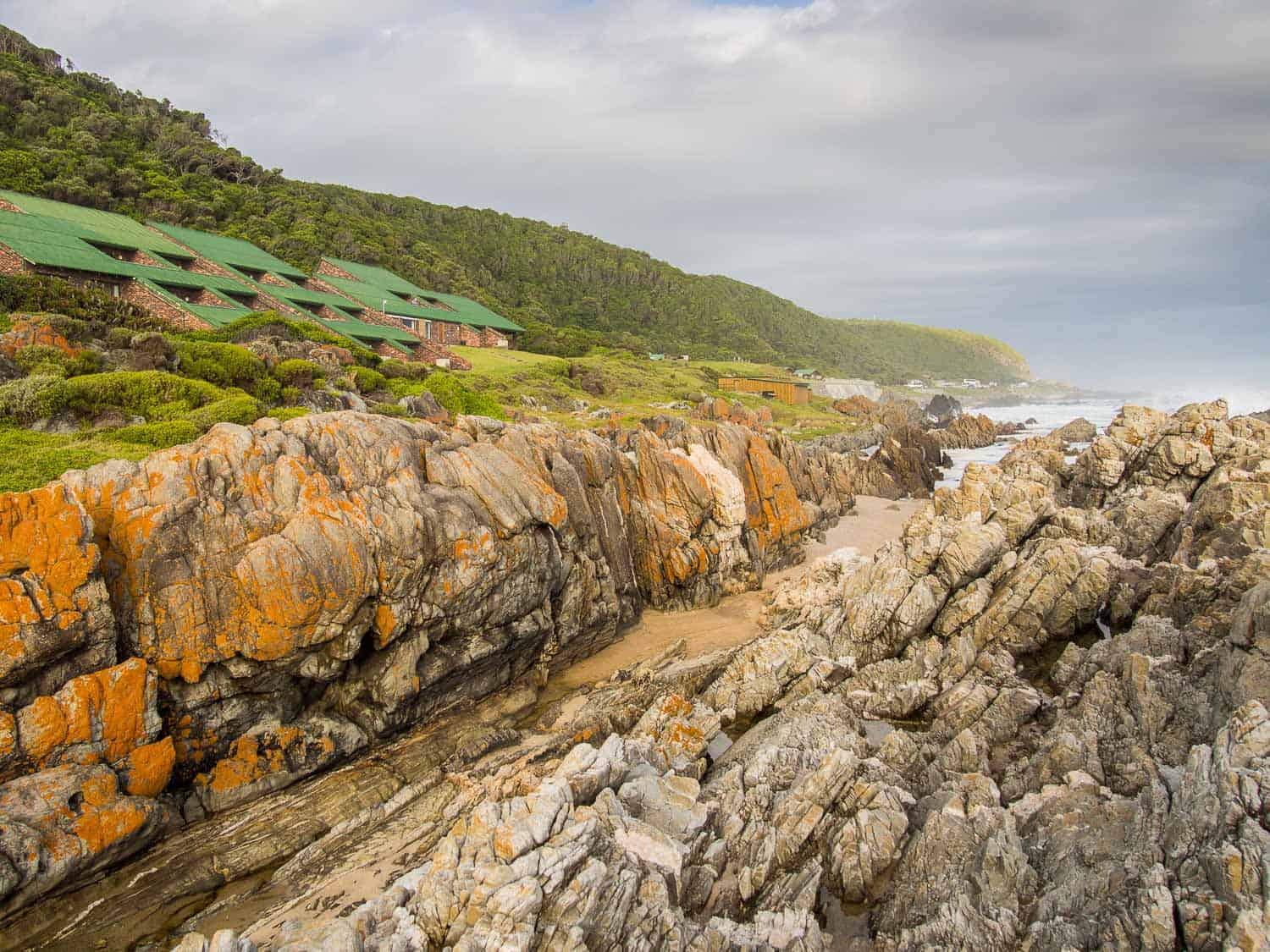 The Storms River Mouth SAN Parks camp is spread out along the coast so most places have sea views. Our Oceanette was a basic studio apartment with sliding doors onto a terrace and the sea just beyond with massive waves crashing onto the rocks. Sometimes you can see dolphins (we didn't). There's no WiFi and we only had Edge cell signal.
Where to Eat in Storms River Mouth
There's a restaurant and basic shop at the camp but it's best to bring your own supplies.
Day 28 Storms River Mouth – Plettenberg Bay (4 nights)
Distance: 66km
Time: 1 hour
We needed to slow down so spent four nights at Plettenberg Bay, one of the most popular beach towns on the Garden Route. There are plenty of beaches to explore and the water was just warm enough in February for a quick (chilly) dip. Lookout Beach was our favourite in walking distance of town.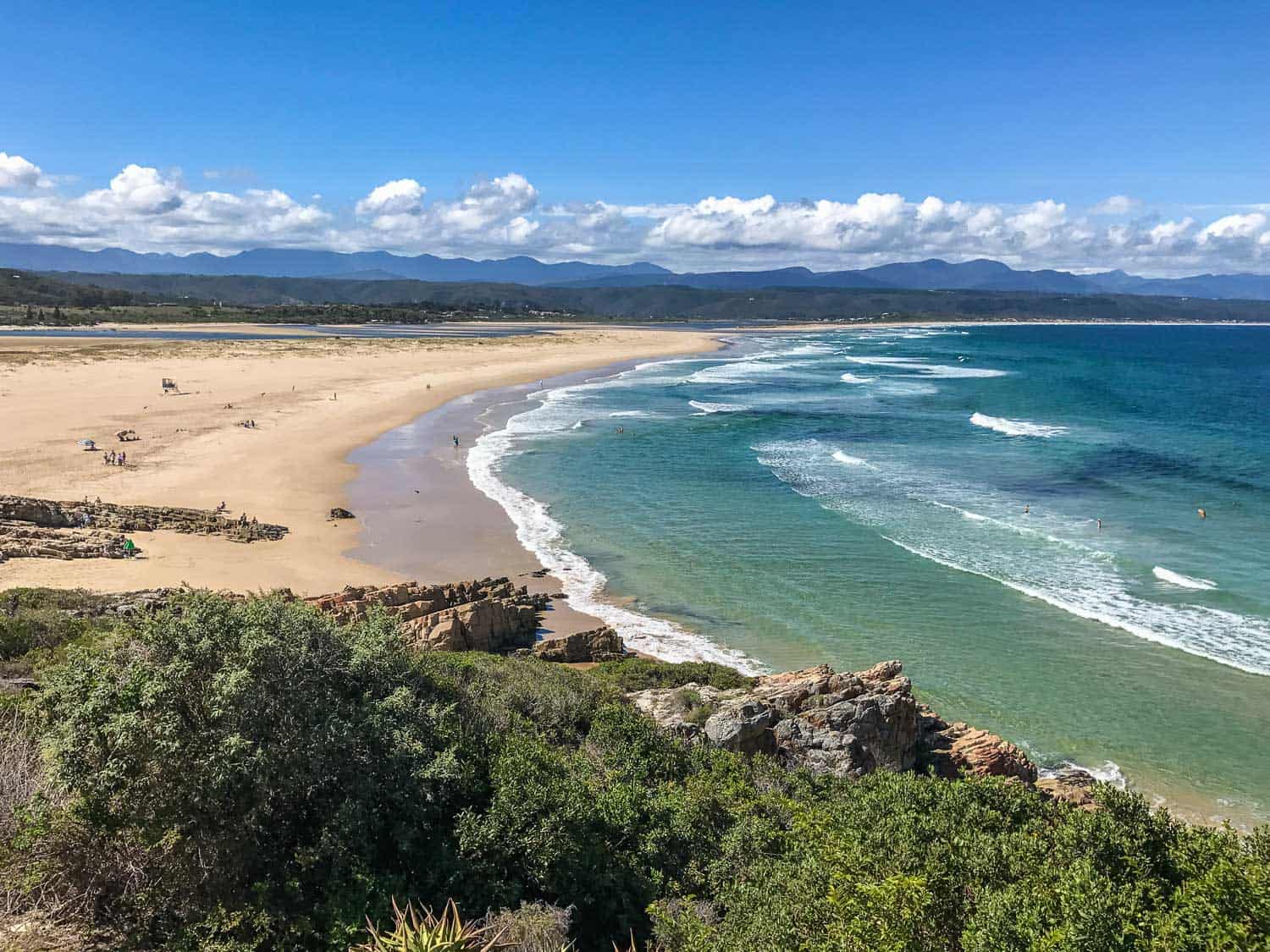 The best thing we did was hike in the nearby Robberg Nature Reserve. The full hike around the peninsula takes about four hours but we did the medium hike, which took us 1 hour 45 minutes. It was a beautiful walk along the edge of cliffs with views of beaches and a seal colony. Our hike cut across the peninsula and we walked down a giant sand dune to reach a stunning, deserted beach.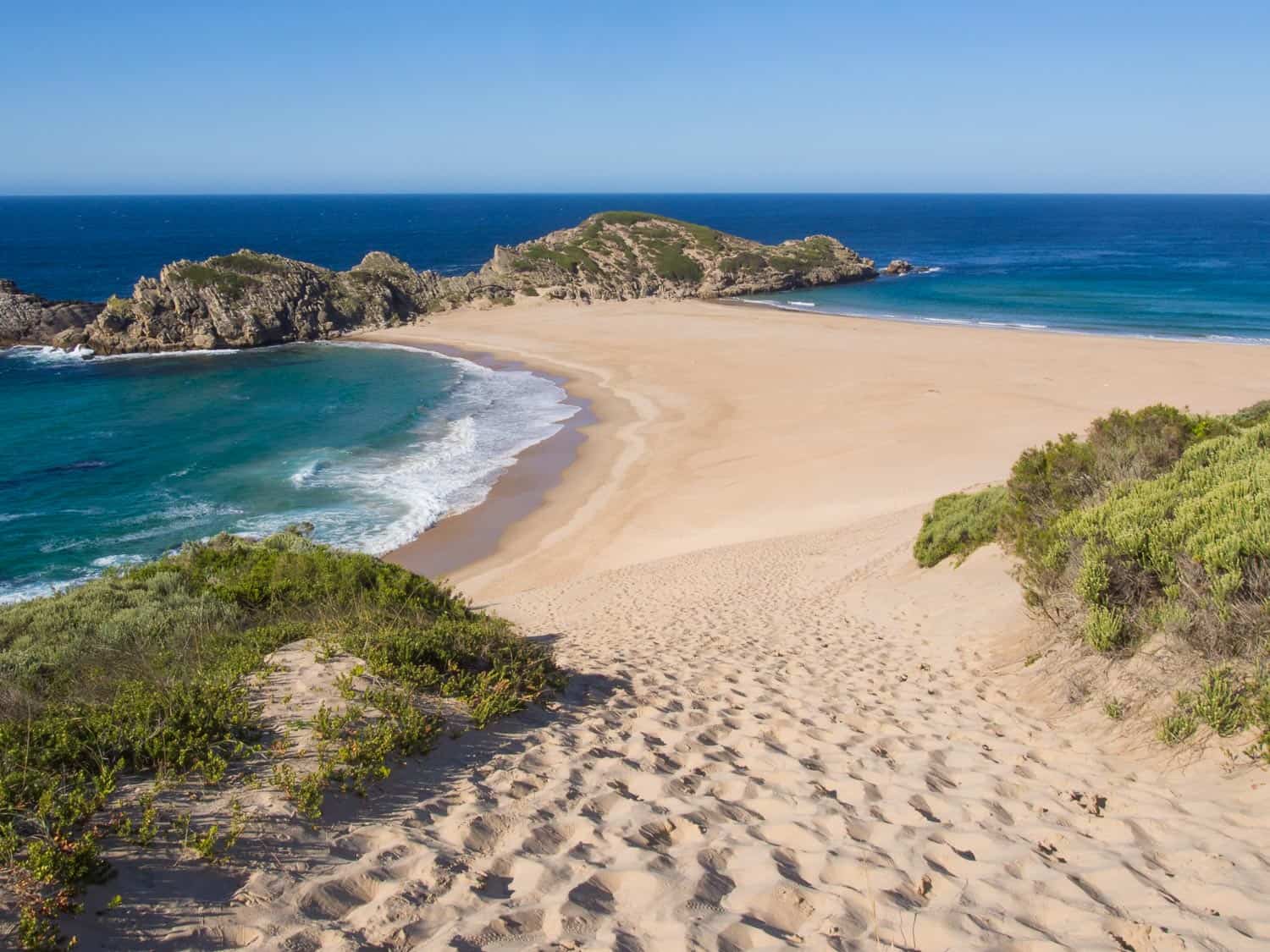 There are plenty of other things to do in Plettenberg Bay including boat trips, swimming with seals, and canoeing and hiking at nearby Nature's Valley.
Where to Stay in Plettenberg Bay
We rented this two-storey, three-bedroom Airbnb apartment. It was very central, just off the main road and a 10-minute walk down a steep hill to the beach. The master bedroom has a terrace with a sea view and the kitchen was well equipped. The WiFi was rather slow.
You can find more hotels in Plettenberg Bay here.
Where to Eat in Plettenberg Bay
Le Fournil bakery has good bread and pastries. We liked the cupcakes at Clare's Cakes and Deli. Pizzas at The Table were OK. The Lookout Deck has great views of the beach and is a good place for a drink, but the vegetarian options were limited.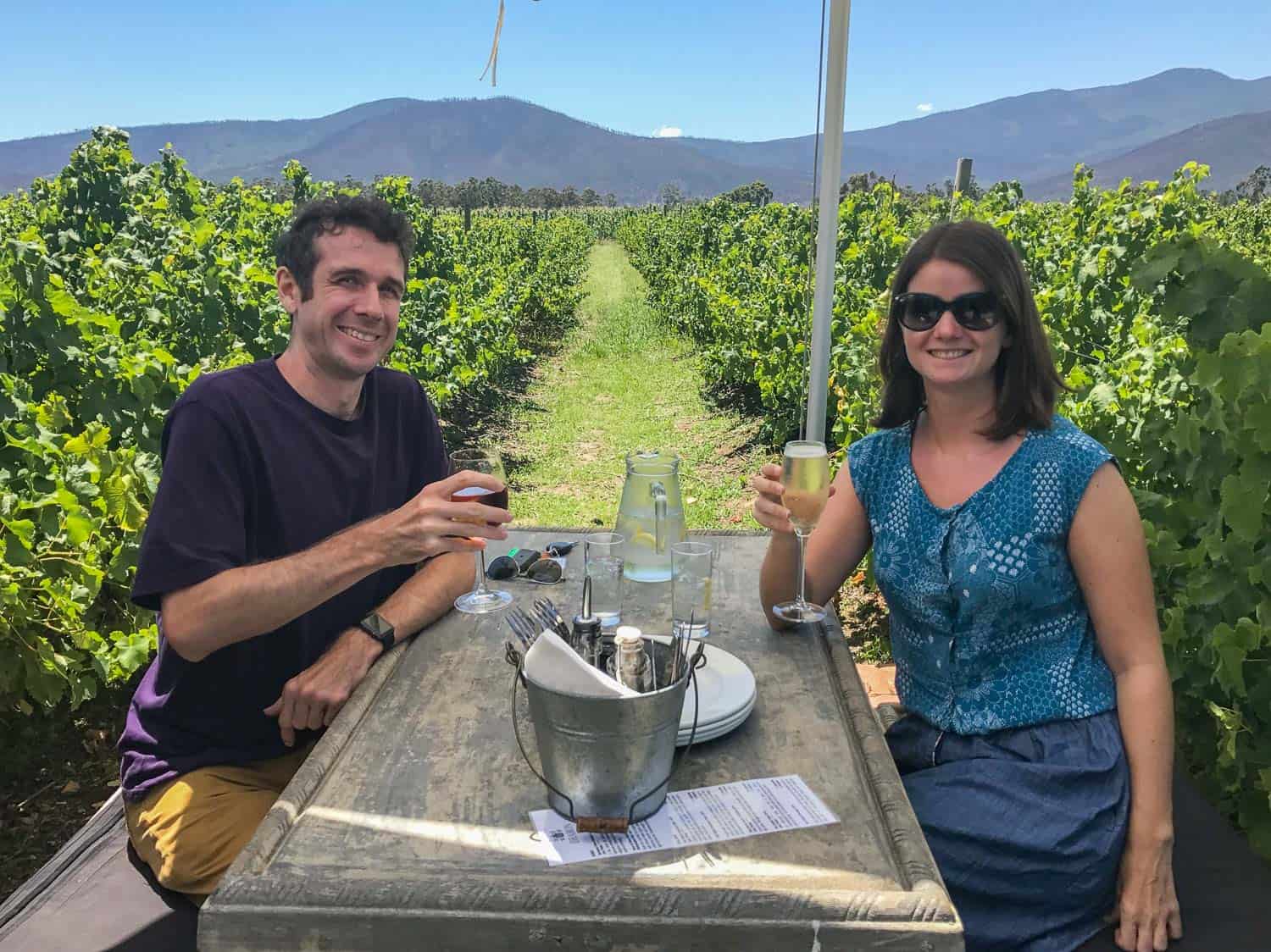 Our best meal was a 20-minute drive from Plett at the Bramon Wine Estate. We booked an outside table in advance and are so glad we did. Our picturesque table was like a private booth tucked in a row of vines with mountains at the end. The tapas style menu has plenty for vegetarians including salads, cheeses, pastries, olives, and the most delicious homemade bread, all accompanied by their wines.
Day 32 Plettenberg Bay – Wilderness (2 nights)
Distance: 76km
Time: 1.5 hours with stop at Knysna Heads
On our way to Wilderness we stopped at Knysna Heads (get directions to Viewpoint Eastern Knysna Head on Google Maps) where there's a short walk along a boardwalk to various viewpoints with stunning views down the cliffs to rock formations and crashing waves.
Wilderness is a quiet beach town with a long wild beach backed by cliffs. The sea is too rough for swimming but the beach is perfect for long walks.
You can canoe and hike at Wilderness National Park just inland. We hired canoes from Eden Adventures, paddled for 40 minutes along a calm river and walked for 35 minutes through lovely forest to the Touw River Rockpools where there are two small waterfalls, rocks to sunbathe and picnic on, and chilly pools to swim in. It's an easy and beautiful trip, but I recommend starting early as it gets busy later in the day.
We loved Wilderness and could easily have spent longer here and gone hiking, horse riding and paragliding.
Where to Stay in Wilderness
Wilderness Beach Resort is more of a guesthouse than a resort but it is lovely. The owners are very friendly and the setting is spectacular on the cliffs above the quieter end of Wilderness Beach with 100+ steps down to the sand.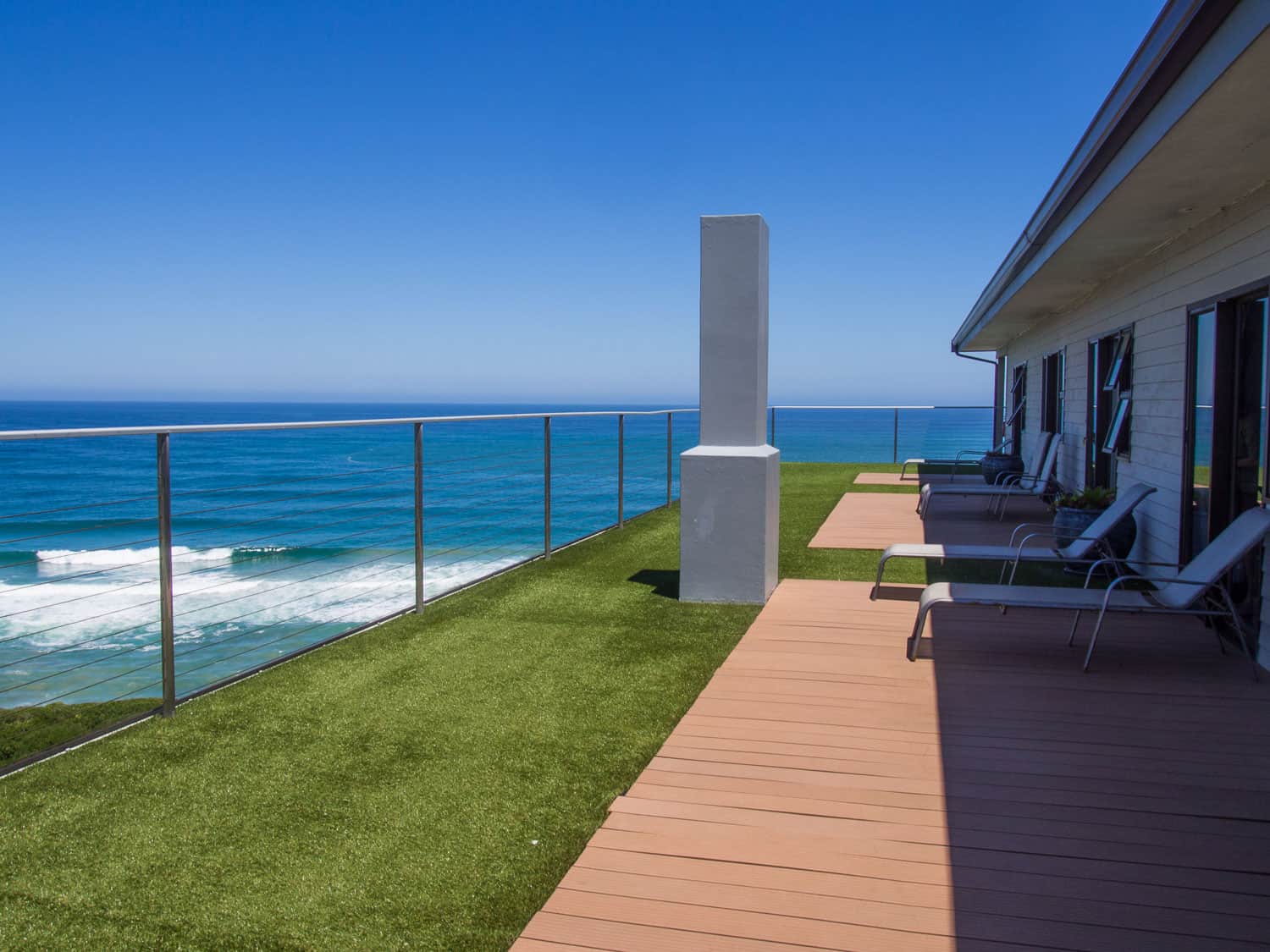 Our one-bedroom suite was bright, modern and comfortable with a bedroom, bathroom, living room with basic kitchenette, and sliding glass doors with sea views. There are loungers on the terrace to enjoy the view, but it's not super private as people walk past on the way to their room. There is slow WiFi in the rooms and an indoor pool. It's great value and definitely recommended.
You can find more places to stay in Wilderness here.
Where to Eat in Wilderness
Flava Cafe has more vegetarian options than most places including a good veggie burger and curry.
Day 34 Wilderness – Oudtshoorn (2 nights)
Distance: 77km
Time: 1 hour 20 minutes
Oudtshoorn is inland in the Klein Karoo semi-desert but it's often included on the Garden Route. It's a short but stunning drive from Wilderness and the landscape changed dramatically as we drove up into the mountains. It's a much drier, hotter landscape, starkly beautiful with plains dotted with thorny bushes and backed by orange, red and chocolate mountains. It was unlike anywhere else we visited in South Africa.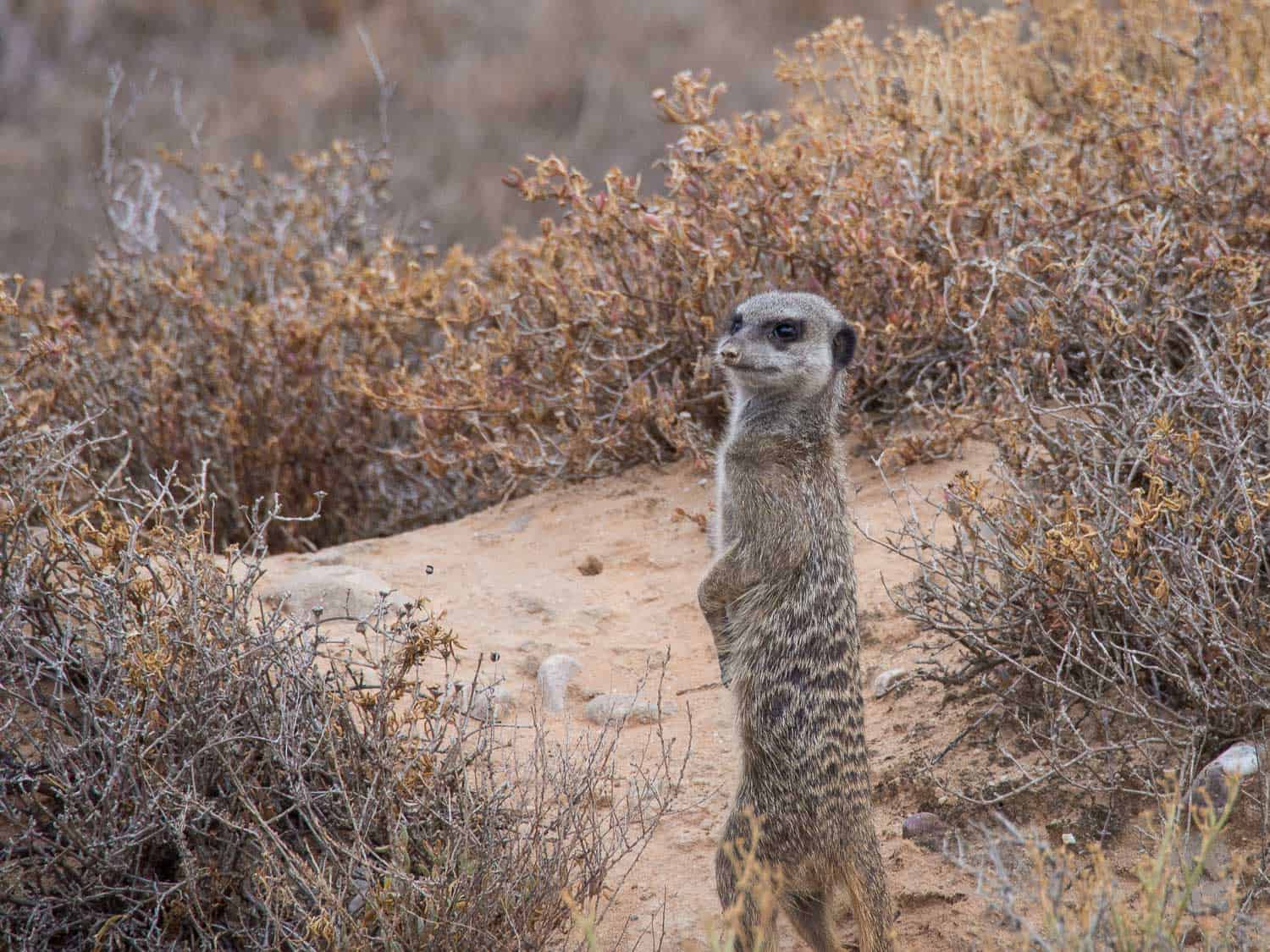 Oudtshoorn is known for its ostrich farms, but as vegetarians, we decided to skip those and instead visited the impressive Cango Caves, did an early morning meerkat safari (a highlight of our trip), and drove over the dramatic Swartberg Pass to Prince Albert. Read about things to do in Oudtshoorn here.
Where to Stay in Oudtshoorn
We chose to stay out of town at De Oulde Meul Country Lodge, a large farm on the road towards the caves. Our room was a little dated but it had a fridge and air conditioning and was good value. There are two pools which we appreciated in the desert heat.
You can find more places to stay in Oudtshoorn here.
Where to Eat in Oudtshoorn
Signature Divine is a good lunch spot on the way to Cango Caves (and De Oulde Meul). The veggie options at Buffelsdrift Game Lodge aren't very exciting but the setting makes up for it—we watched hippos, antelope, and giraffe at the waterhole while we ate. (Update October 2019: Unfortunately, Signature Divine is now permanently closed.)
Day 36 Oudtshoorn – Robertson (1 night)
Distance: 298km
Time: 4 hours
We originally planned to drive straight from Oudtshoorn to Cape Town but at the last minute we added a stopover in the Robertson Wine Valley and we're so glad we did. The drive there was one of the most scenic of our trip through stunning desert mountains on Route 62, the longest wine route in the world.
Robertson is less well known than the wine towns closer to Cape Town and is quieter and cheaper, but the wineries are spread out and you'll need a car. A highlight is wine tasting at Graham Beck who specialise in Methode Cap Classique, South Africa's bubbly that's made with the same method as champagne. Tastings are free and we bought a bottle of their rosé (which became our favourite South African bubbly) to toast the final night of our road trip.
Where to Stay in Robertson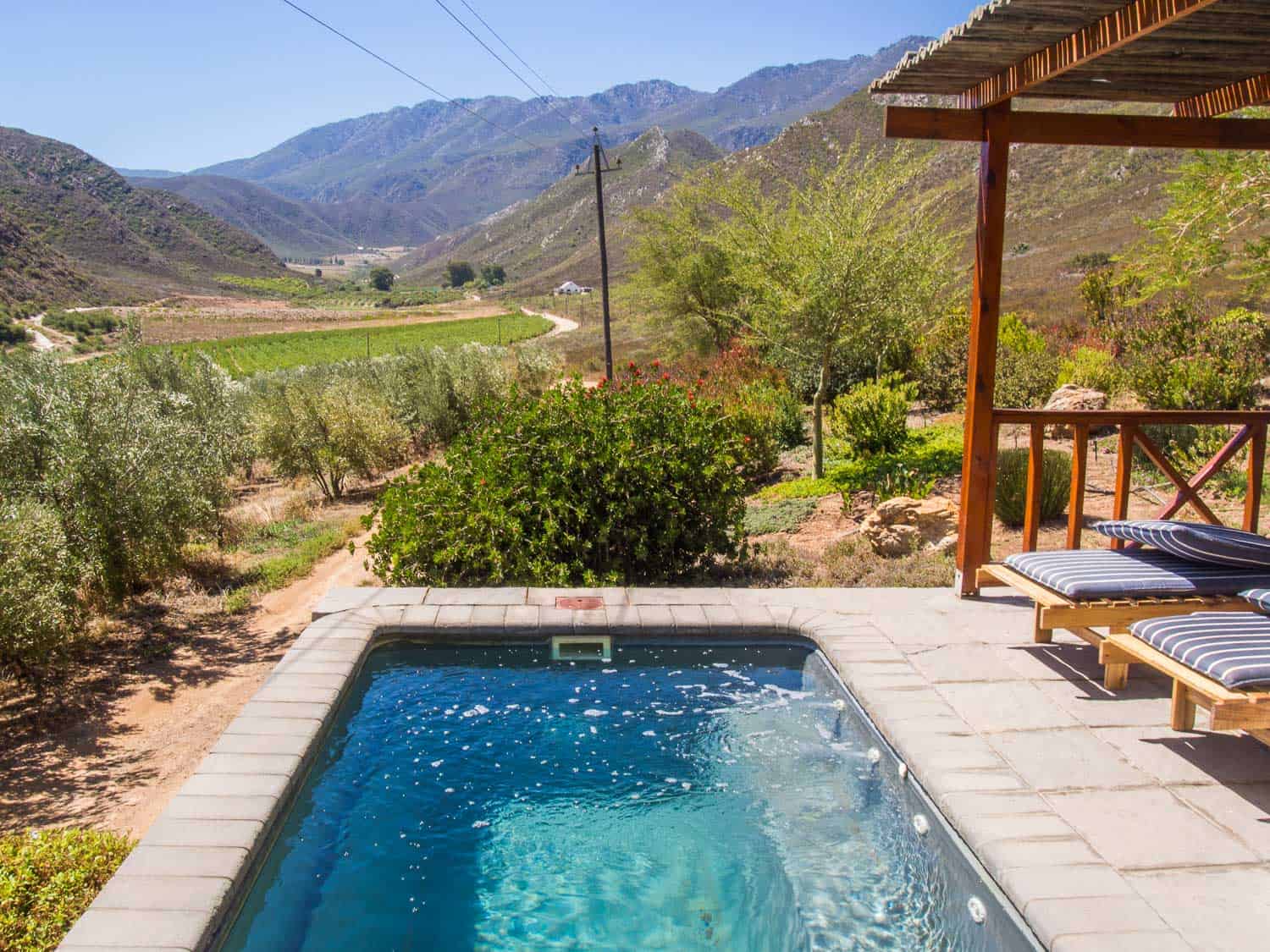 The main reason we loved Robertson so much was the wonderful Orange Grove Farm. The farm has an isolated setting at the foot of craggy mountains amongst vineyards and olive groves. All the cottages are spread out for privacy, so it's a real get away from it all experience.
We stayed in Mosesberg Cottage which has a spacious main room with a high ceiling, double bed, big comfy couch, armchairs, and fireplace. The WiFi is surprisingly good, the kitchen is well-equipped, and there's a braai (barbecue). The terrace has a plunge pool and loungers to enjoy the view.
It was the perfect place for our last night and we desperately wished we didn't have to leave the next day. I highly recommend splurging on a stay at Orange Grove as it's excellent value for the quality and setting. We will return!
You can find more hotels in Robertson here.
Where to Eat in Robertson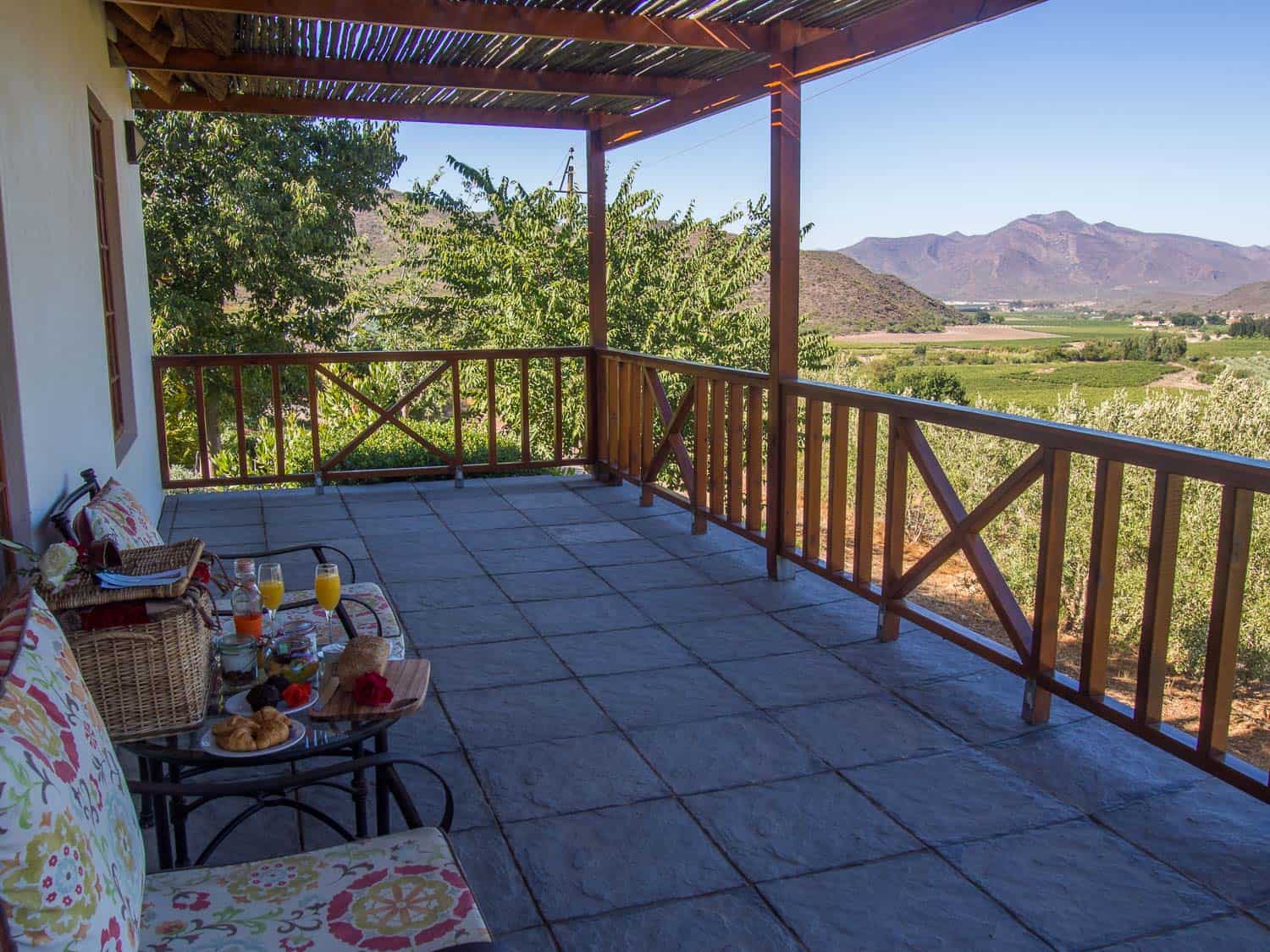 Orange Grove Farm can deliver braai, picnic, and breakfasts baskets, and although they are a bit expensive, they are worth it (ask for a discount if you are vegetarian). Our braai basket made barbecuing easy. We had olives and hummus to keep us going while we cooked the butternut squash stuffed with peppers and feta, garlic bread, and garlicky potatoes and served it all with salad.
Our breakfast basket was another delicious feast and we loved eating on the terrace with that gorgeous view. You can choose from a range of options and we had croissants, chocolate muffins, seed bread, fruit salad, granola, yoghurt, and orange juice.
Day 37 Robertson – Cape Town
Distance: 151km
Time: 2 hours
I definitely recommend spending more than one night in the Cape Winelands. Franschhoek would be the ideal next stop from Robertson (1 hr 20 mins away), but we visited as a side trip from Cape Town the following month. Franschhoek is more touristy and expensive than Robertson, but it's even more beautiful with a cute village and stunning setting surrounded by mountains. It's also easier to go wine tasting without a car on the fun wine tram. The food in the area is exceptional.
There's gorgeous mountain and vineyard scenery most of the way from Robertson to Cape Town and then arriving in the city we had the breathtaking moment of seeing Table Mountain for the first time.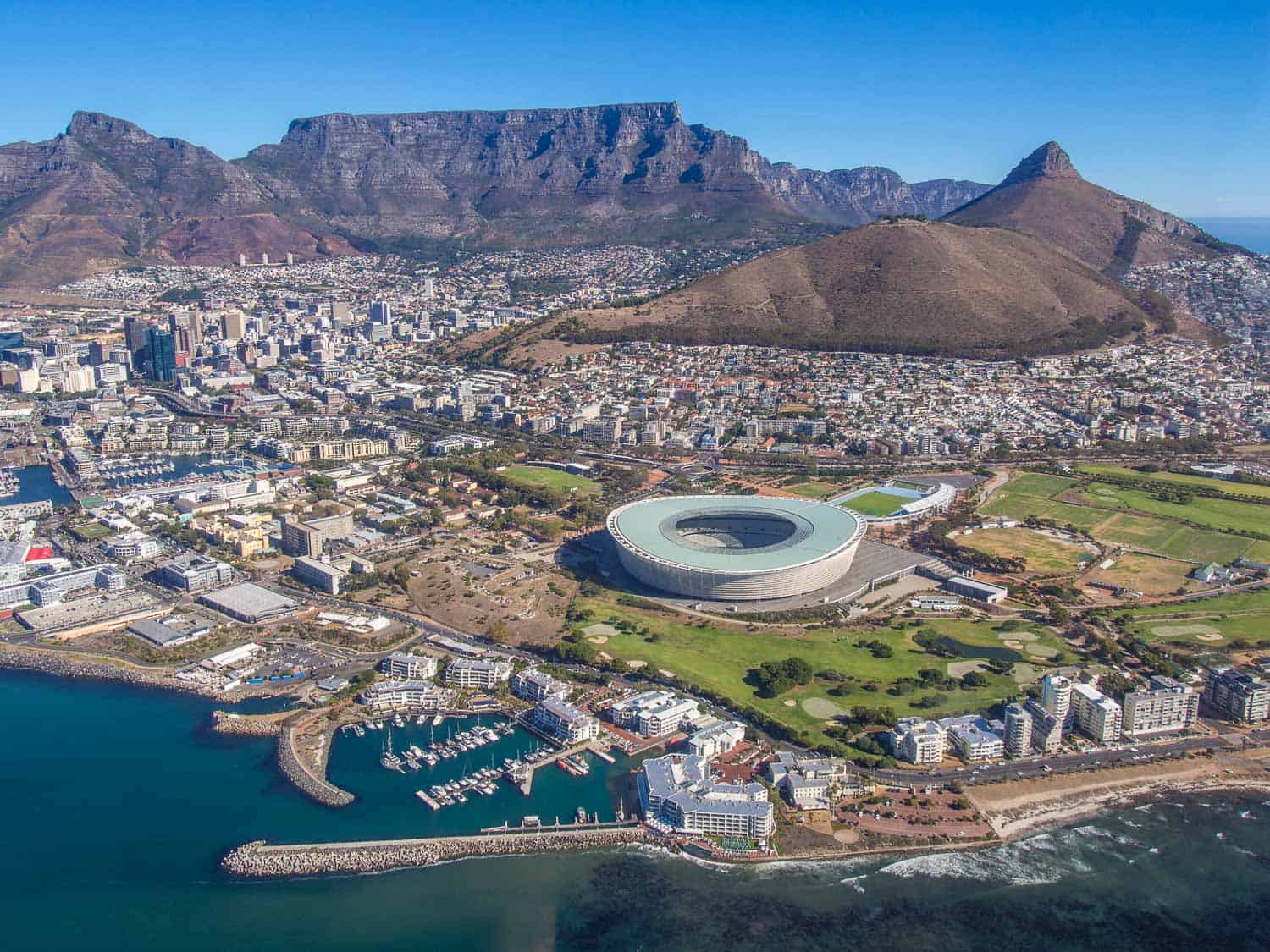 Cape Town is a truly amazing city with so much to do—beaches, hikes, markets, gardens, museums, helicopter rides, superb restaurants, and the stunning Cape Peninsula drive to Cape Point. Spend as long as you can here—you could easily spend 10 days in Cape Town and the Cape Winelands. We were there for two months and it wasn't enough.
Where to Stay in Cape Town
Airbnb is a great option in Cape Town, especially if you are staying for more than a few days (get $39 off your first stay here). We rented this modern one-bedroom apartment in Sea Point just one block from the sea and a 10-minute Uber ride downtown. Sea Point feels very safe and I loved being able to run along the promenade.
Some parts of downtown Cape Town are sketchy and you have to be on your guard and not walk around at night. Gardens is a good central neighbourhood with great restaurants.
You can find hotels in Cape Town here.
Where to Eat in Cape Town
There are so many incredible restaurants in Cape Town. You can read our detailed guide to the best vegetarian-friendly restaurants in Cape Town but some of our favourites include La Colombe (one of the best restaurants in the world, worth the splurge), Asoka (go for Tuesday Jazz Night), Addis in Cape (Ethiopian), Blacksheep (seasonal daily menu), Kloof St House (eclectic cuisine and decor in a Victorian house), Cousins Trattoria (homemade pasta), Jarryds (amazing breakfasts), Pot Luck Club (creative tapas), V&A Waterfront food market and any of the weekend markets.
South Africa Road Trip Resources
Accommodation – Use Booking.com to find self-catering accommodation, backpackers and hotels. We got some great last-minute deals. Airbnb is also good in the larger towns and cities.
Car hire – Search Rental Cars for the best deals.
SIM card + Google Maps – These made directions easy. We bought a Vodacom SIM card and 10GB data plan from Johannesburg airport.
Travel insurance – Essential in case anything goes wrong. We used True Traveller as always—they are the best deal we've found for UK/EU residents. For other nationalities, Heymondo is a well-respected company who we've used in the past.
You can also see our South Africa road trip costs and our guide to planning the perfect South Africa road trip.
A road trip is a fantastic way to explore everything South Africa has to offer from safaris to mountains to beaches. It's an easy, affordable place to travel and we never felt unsafe.
If you enjoyed this post, pin it!