This page contains affiliate links. Please read our disclosure for more info.
Franschhoek is one of South Africa's oldest settlements, founded in 1688 by French Huguenots, and is surrounded by vineyards and craggy mountains. It's only an hour from Cape Town and is the perfect escape from the city, a place to winery-hop, eat at gourmet restaurants, and relax by the pool enjoying the stunning scenery. Stellenbosch is the more well-known base for exploring the Cape Winelands (South Africa's premier wine growing area), but locals recommend smaller Franschhoek and we loved its charm and scenic backdrop.
Franschhoek isn't undiscovered—it gets busy in the summer, but it doesn't feel overwhelming, especially if you stay just outside the village, amongst the tranquil vines. The pretty village consists of one main road of whitewashed Cape Dutch homesteads where you can browse restaurants, boutiques, and gourmet shops. Restaurants take advantage of locally grown produce and you'll eat (and drink) very well.
Accommodation is mainly upscale B&Bs and small boutique hotels. They aren't cheap, but we found them good value for the level of luxury, personal service, and delicious breakfasts. Franschhoek is the ideal place to splurge and enjoy a decadent few days. It was one of our favourite and most relaxing destinations in South Africa.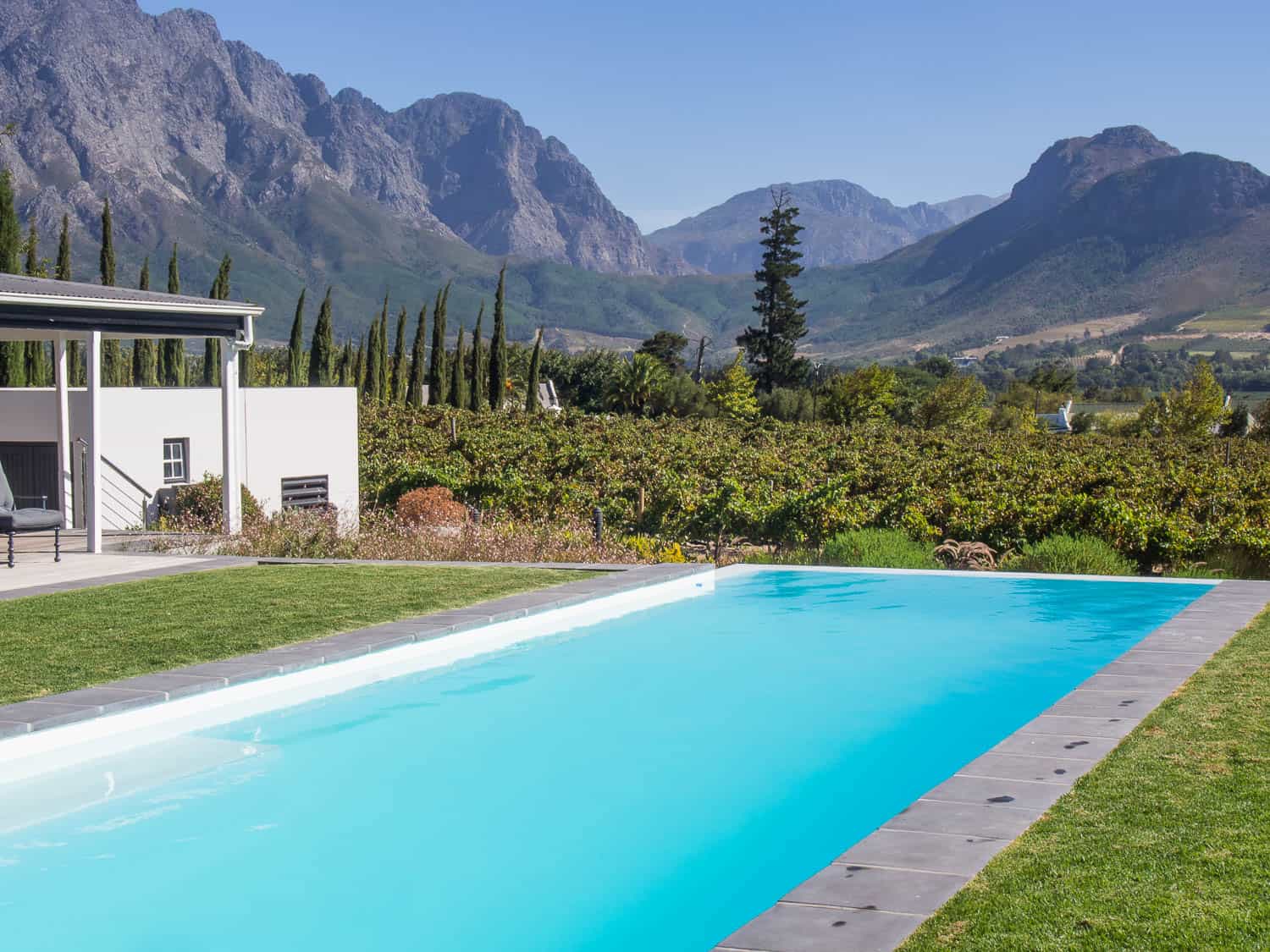 Franschhoek Travel Guide Contents
Things to Do in Franschhoek
Where to Eat in Franschhoek
Where to Stay in Franschhoek
Franschhoek Transport
When to Visit Franschhoek
Franschhoek vs Stellenbosch
Franschhoek Map
Things to Do in Franschhoek
Hop on the Franschhoek Wine Tram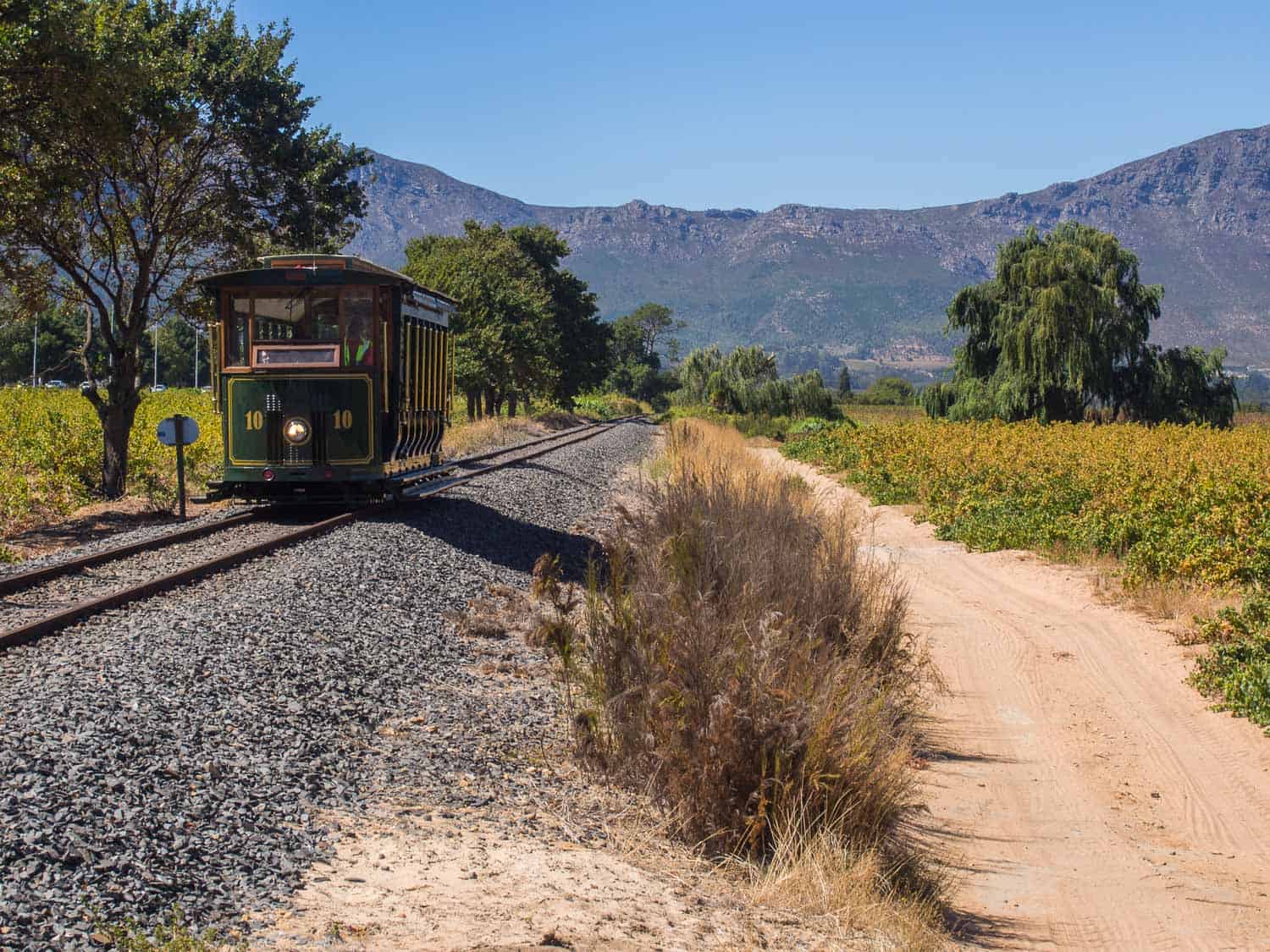 One of the unique things about Franschhoek is how easy and affordable it is to explore the nearby wineries without driving. Just hop aboard the Wine Tram and hop off at the wineries you'd like to visit. The wineries are well set up for visitors with a range of inexpensive tasting options, many including food pairings, as well as restaurants and gourmet picnics. We visited five wineries and it was an incredibly fun way to spend the day. Read more in our Franschhoek Wine Tram review.
Visit Babylonstoren Farm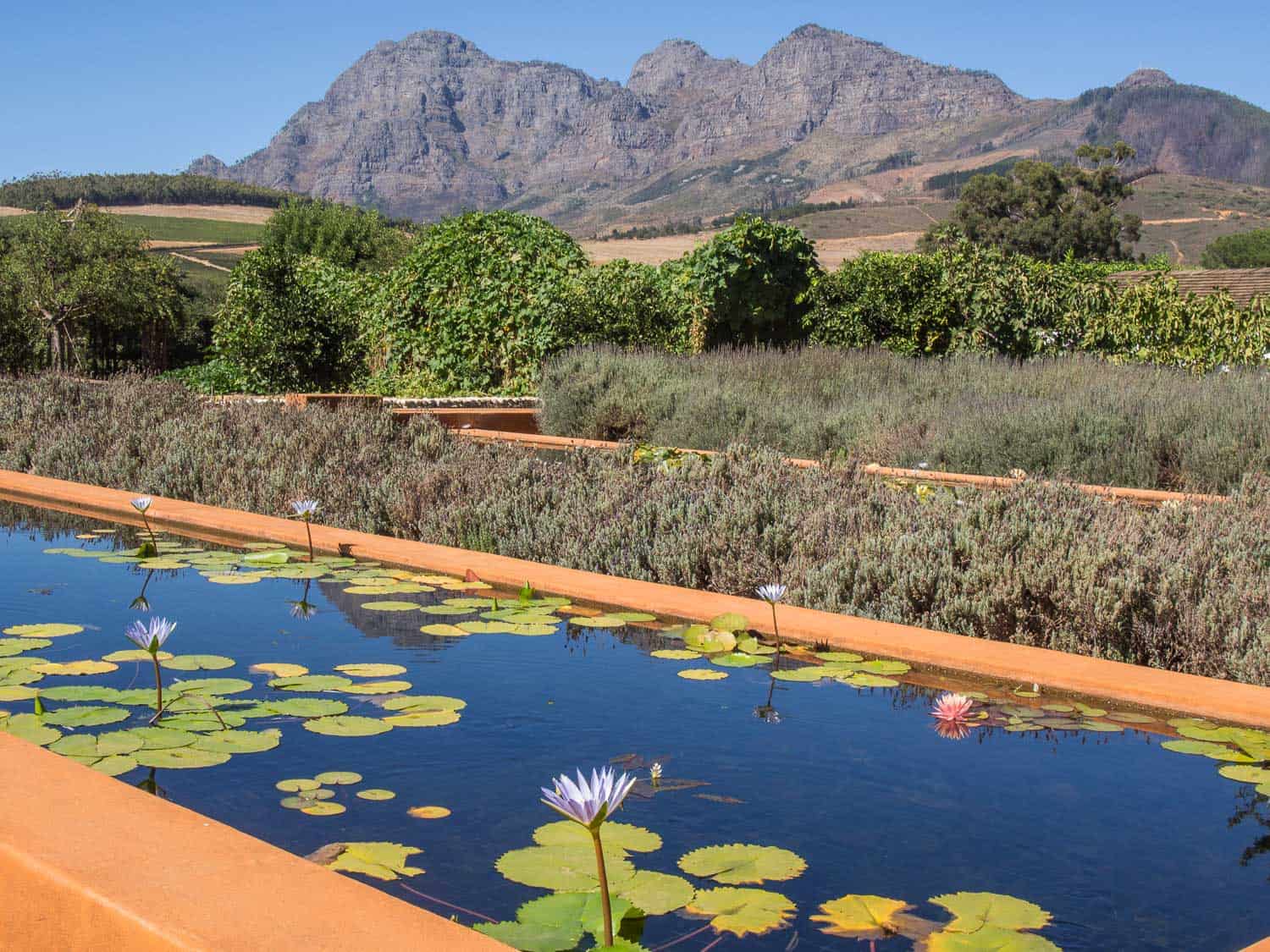 Oh, you have to visit Babylonstoren! It was our favourite winery, but it's so much more than that. Dating back to 1692, Babylonstoren is a historic Cape Dutch farm, one of the first in the area that was created to grow produce for the ships that stopped in Cape Town on their way from Europe to India. It's a truly special place.
If you can afford to stay here, don't hesitate (read Bridge and Balloons' review from their honeymoon stay), but sadly we had to stick with a day visit. Babylonstoren is a 20-minute drive from the centre of Franschhoek and is accessible on the purple line of the Wine Tram, but there is so much to do that I recommend driving or taking a taxi and spending the whole day here.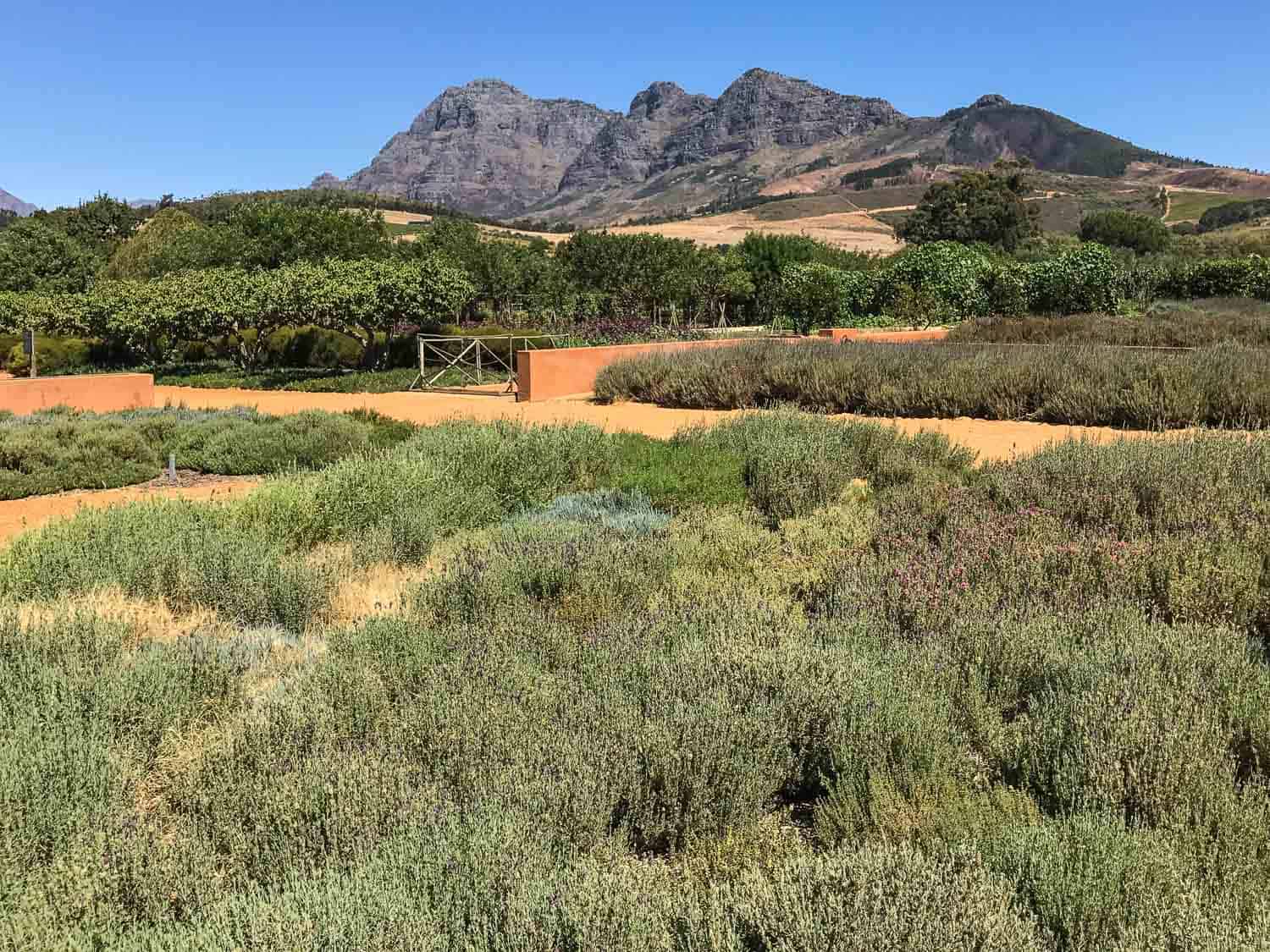 We started with the free 1.5-hour garden tour at 10 am (booking essential). It was fascinating to explore the 3.5 hectares (8 acres) of beautifully designed gardens where everything is edible or has medicinal value. We sniffed and sampled as we strolled and our guide explained the organic methods they use.
The diverse gardens feature everything from cacti to citrus trees and include quirky corners like a human-sized bird's nest hidden in a bamboo grove, a fragrant chamomile lawn where we were encouraged to remove our shoes, and a tunnel ("The Snail") with massive overhanging gourds. Every morning the gardeners pick the produce to use in the restaurants and rooms. Even the toilets featured gorgeous smelling bouquets of herbs.
We ended our tour in the Greenhouse, Babylonstoren's casual eatery, with a glass of delicious grape iced tea and a freshly picked yellow plum.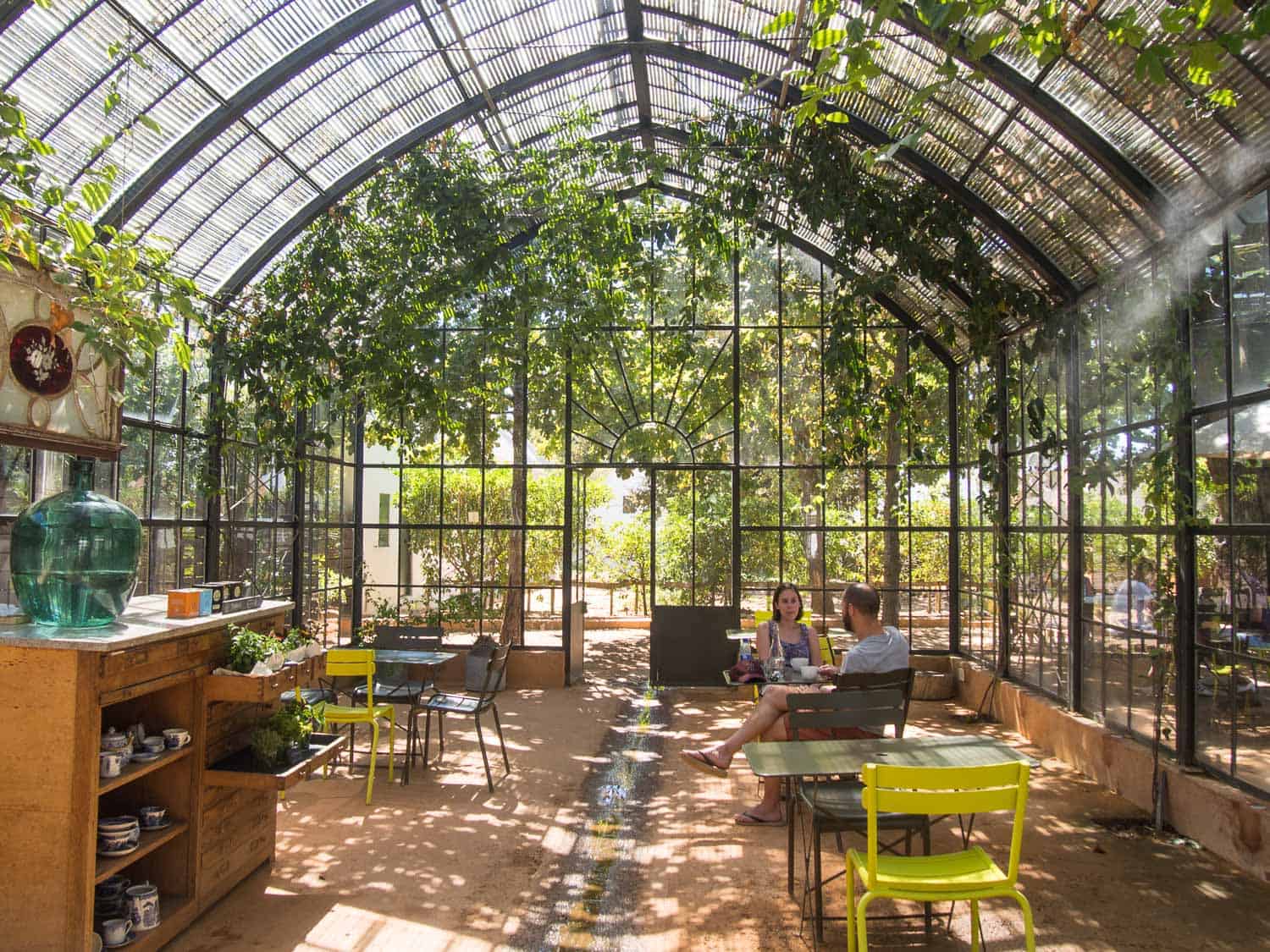 Next it was time for a superb lunch at Babel, the farm's fine dining restaurant (read our Franschhoek restaurants post for details). Bookings are essential and open two months in advance. If you haven't booked, you could eat at the Greenhouse or have a tasting platter in the wine tasting room.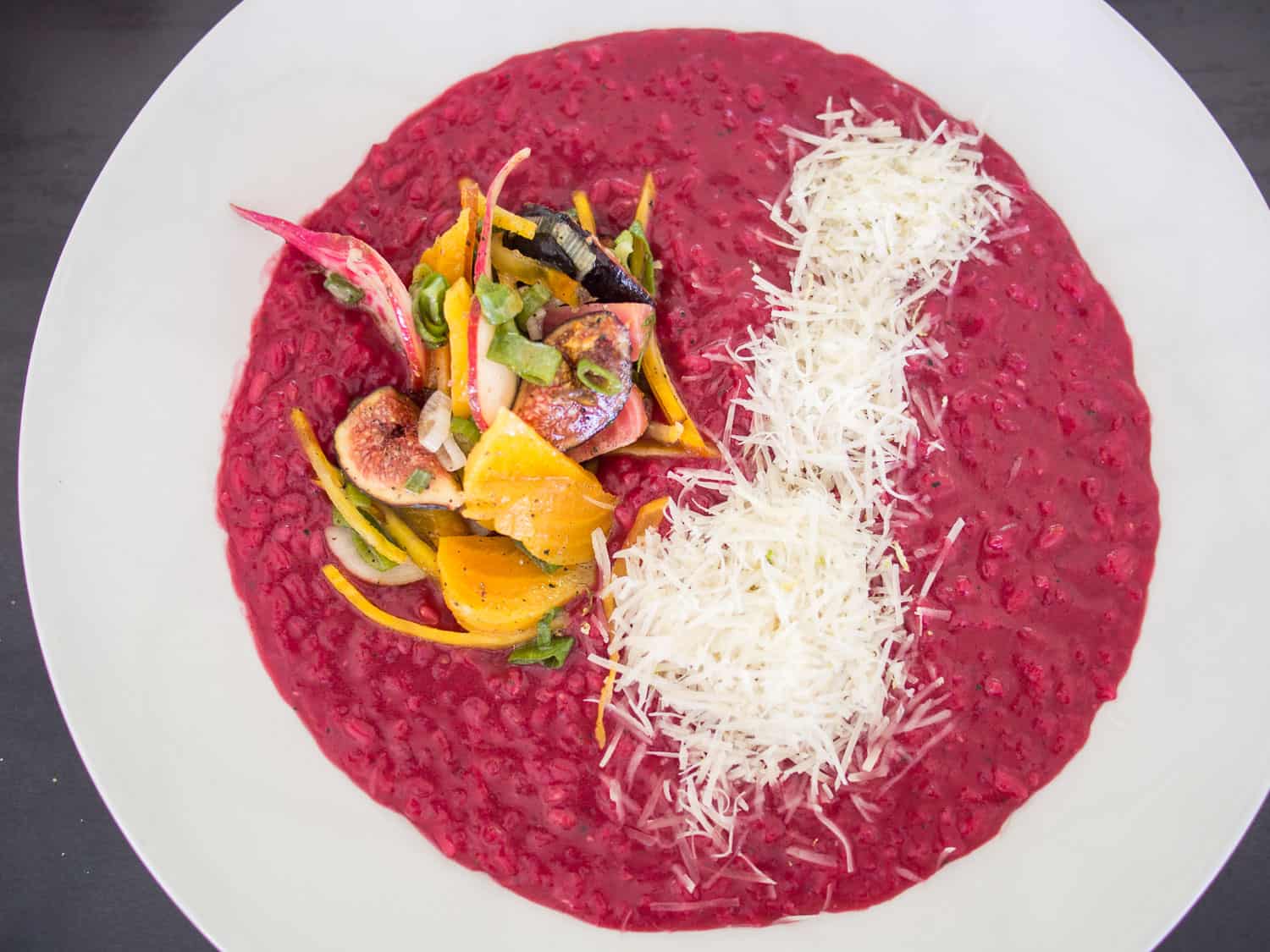 After lunch we headed over to the stunning wine tasting room, thankfully air-conditioned but with walls of glass with views of the vineyards and mountains. We shared the five wine tasting for 30R ($2.25/£1.70) and loved all the wines, especially the Viognier that we'd had with lunch—we picked up a bottle for 115R ($8.75/£6.75). You can also join one of the cellar tours (50R including a tasting of five wines).
We finished our day in the farm shop buying plums, eggs and bread from the farm. There's also a Scented Shop selling heavenly-smelling beauty products that would make fantastic gifts.
We were very much tempted to enquire about a room for the night as we didn't want to leave, but we reluctantly dragged ourselves away. We fell in love with Babylonstoren and will definitely be staying overnight on our next visit to South Africa. Don't miss it!
Entrance to Babylonstoren costs 10R ($0.75/£0.60) or 20R ($1.50/£1.20) on weekends and the proceeds go to a local children's charity.
Picnic on a Wine Estate
South Africans are crazy for picnics. We had more during our two months in Cape Town than we've had in the last five years. Usually we picked up some tasty treats from a deli, but in the Winelands we wanted to try one of the catered picnics that many wineries offer.
We chose the Boschendal Estate which has two picnic areas—the informal Werf and the more expensive Rhone, which has tables. We went for Werf and the setting was lovely on lush lawns by a pavilion and pond with mountain views and lots of trees for shade. There's a playground so it's ideal for kids, but there's plenty of space for privacy. Beanbags, blankets and low chairs are provided which made lounging on the grass ultra comfortable. There is a busy road alongside the estate though, so the traffic noise detracts from the tranquillity a little.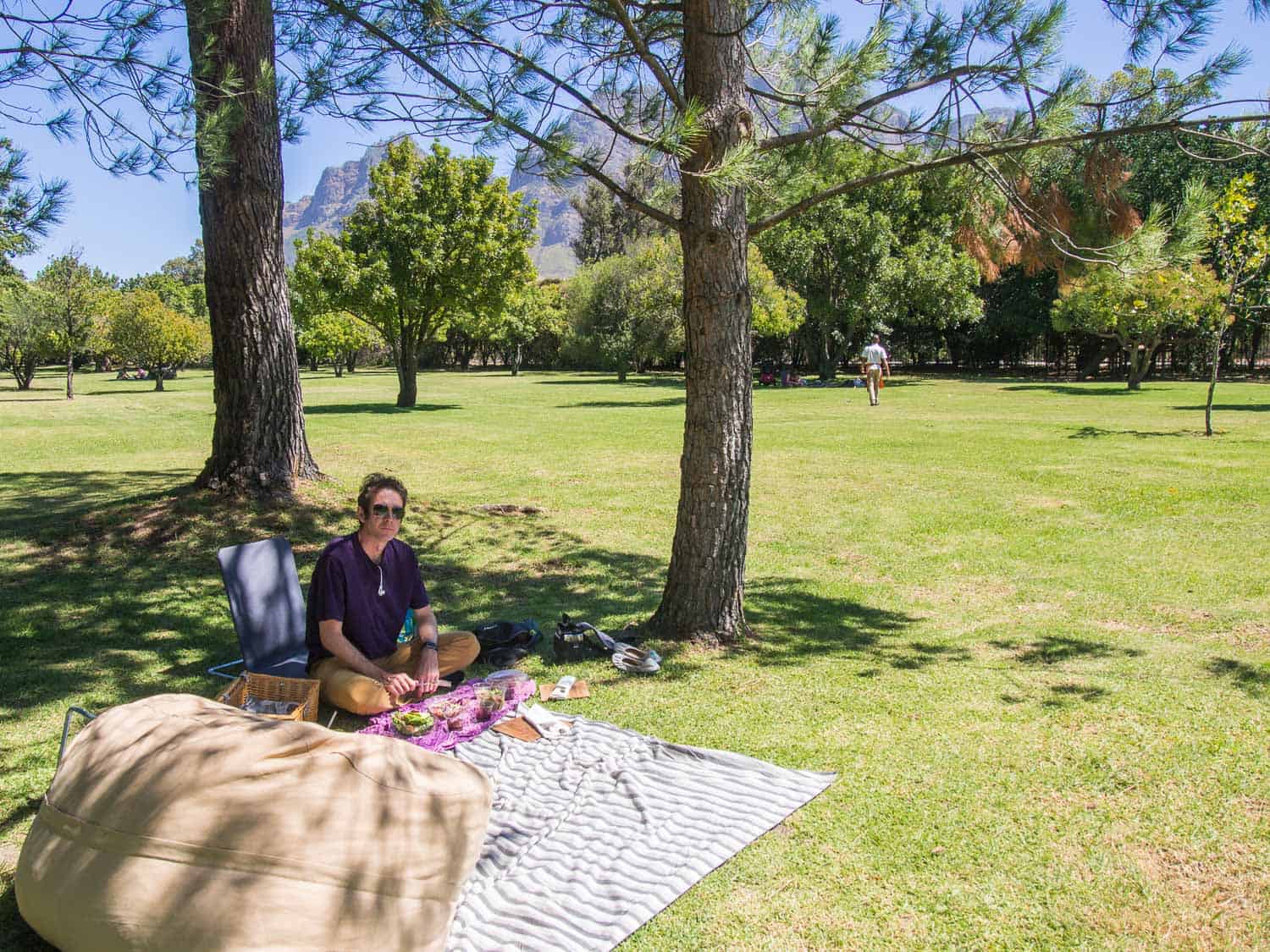 The Werf area is semi-serviced, so you order your drinks at the bar before you sit down, but the staff brings over the beanbags and picnic.
Sadly, the food was disappointing, at least for us vegetarians. We were excited that Boschendal uses produce from their gardens, but the food lacked flavour. We had four types of salad, none of them dressed, and the one pot of salad dressing was dull. We initially weren't given any cheese (which is on the vegetarian menu) and I had to request it. The baguette, hummus, beetroot dip, and olives were good, but overall it wasn't an exciting meal and we much preferred the salads and dips we picked up from Giovanni's Deli for our picnics in Cape Town. The final disappointment was being given a fruit salad for dessert while everyone else had ice-cream (and the vegetarian menu on their website said we would too).
It wasn't a terrible meal, and the food could well be better for meat-eaters, but we had expected more from an upmarket wine estate that grows its own vegetables.
I do still recommend having a picnic on a wine estate. It's a relaxing way to spend an afternoon, eating and enjoying the sun and views. Next time I would try a picnic at Mont Rochelle where we had a delicious cheese plate on the Wine Tram. Getaway has more picnic ideas in the Cape Winelands.
Stop in Stellenbosch for a Cupcake and Wine Pairing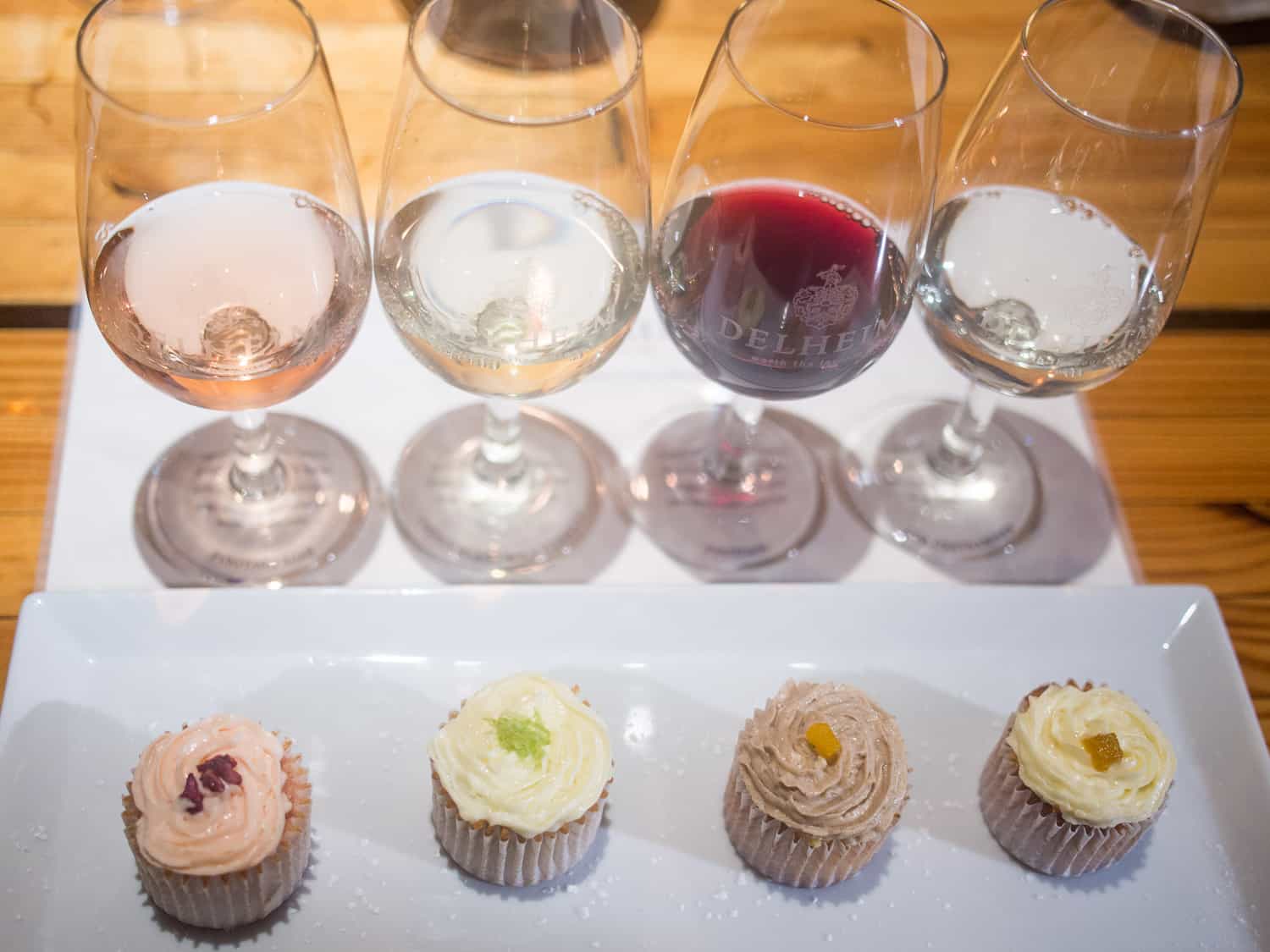 On our way from Cape Town to Franschhoek we decided to stop at one of the wineries in Stellenbosch. We chose Delheim because they offer a unique cupcake and wine pairing. Advance bookings are essential and it costs 75R ($5.65/£4.35). We shared a tasting as Simon was driving.
We paired four wines with cupcakes, and while the wines weren't spectacular, we loved the cupcakes with unusual flavours like pomegranate, rooibos, pumpkin and cinnamon, and makataan (a local melon), and it was interesting to see how they improved the wine. We left with a bottle of their very drinkable pinotage rosé for 100R ($7.50/£5.80).
If you have more time for Stellenbosch wineries, the Thelema and Tokara wineries at the top of the Helshoogte Pass were recommended to us, and Travis from Extra Pack of Peanuts loved the small, rustic Annandale winery.
Wine Taste on Horseback
We didn't get to do this, but it's on the list for next time as I love the idea of wine tasting on horseback. Paradise Stables offers four-hour rides on purebred Arabian horses with stops for wine tasting at Rickety Bridge and Mont Rochelle. Non-winery rides are also available.
Where to Eat in Franschhoek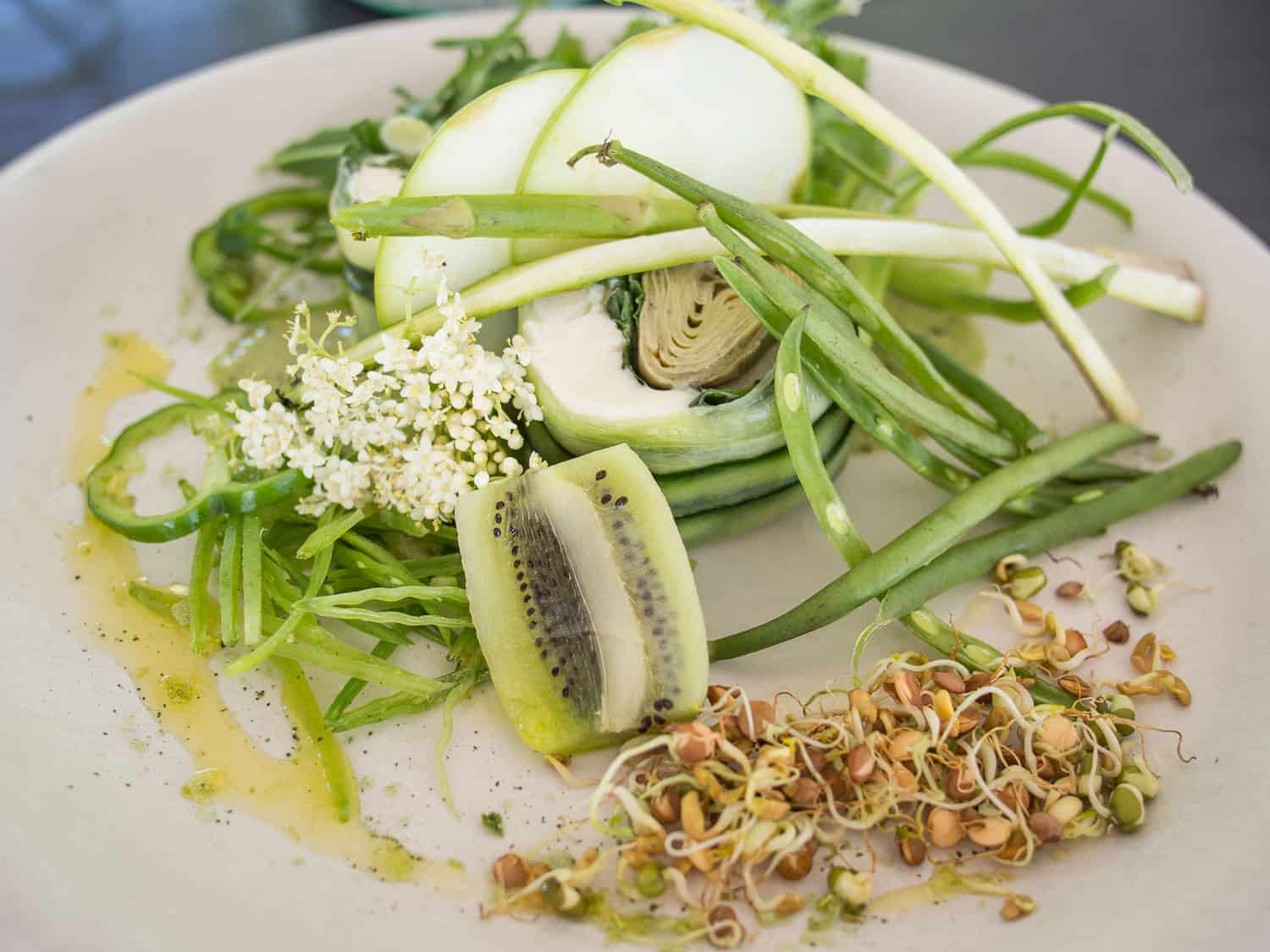 Franschhoek is often described as the gourmet capital of South Africa. There are a remarkable number of fine dining restaurants to choose from in the village and on the surrounding wine estates. Eating will be a highlight of your stay, so make sure you plan in advance and book a table for popular restaurants (sometimes months ahead).
These were our favourite restaurants in Franschhoek:
Babel – By far our favourite restaurant. Book two months in advance for Babylonstoren's farm-to-fork restaurant that uses produce from their gardens.
Foliage – Beautiful, creative dishes using foraged ingredients.
La Petite Ferme – Vineyard and mountain views and good food.
Marigold – Good Indian with plenty of vegetarian options.
The Country Kitchen – Enjoy tapas and cheese/meat platters while wine tasting on Richard Branson's Mont Rochelle estate.
Le Lude – Delicious canapé and MCC (sparkling wine) pairing with a vegetarian option available. Perfect for a snack on the Franschhoek Wine Tram.
For more details, see my guide to the best restaurants in Franschhoek for vegetarians (all great for meat eaters too).
If you are not vegetarian, Ryan's Kitchen is supposed to be fantastic, but I didn't find their one veggie option very appealing.
Sadly, The Tasting Room, one of the best restaurants in the world, closed in April 2017. The good news is that it will reopen in August as La Petite Colombe, a new restaurant headed by the team from La Colombe. The vegetarian tasting menu at La Colombe in Constantia was one of the best meals of our lives, so this is well worth looking out for.
Where to Stay in Franschhoek
La Providence guesthouse
There are many wonderful places to stay in Franschhoek and we decided to splurge on somewhere special. La Providence is a small boutique guesthouse on a wine farm ideally located just a 15-minute walk to the village but in stunning, tranquil countryside. It only opened in 2014 and is run by the welcoming Gary and Ellen who are happy to provide advice on the local area.
La Providence makes an impact as soon as you arrive and make your way through the gates along the long driveway lined with cypress trees towards the grand Cape Dutch manor house where the owners live. The immaculate grounds feature cabernet sauvignon vines, dozens of rose varieties, lush lawns, and a fountain in a duck pond that creates a rainbow in the mornings. All around are rugged mountains.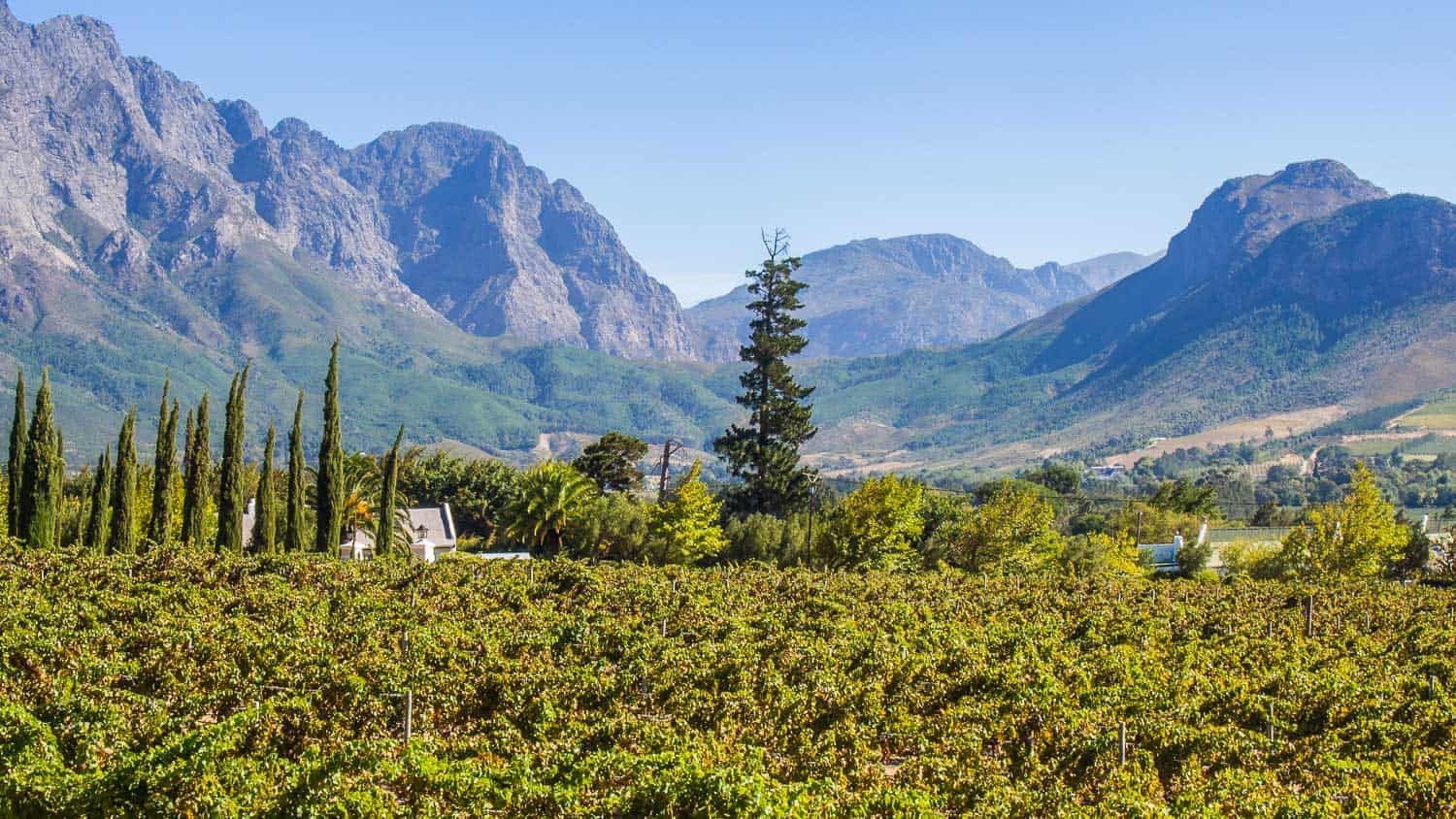 The pool house is the focal point for guests with a breakfast area, well-stocked self-service bar (try their own wines), and comfortable lounge. The infinity pool is what sold me on this place—the sparkling blue water leads to a spectacular view of the vines and craggy mountains. There are plentiful ultra comfortable sun loungers (with big pool towels available) and a circular seating area surrounding the fire pit for cool nights.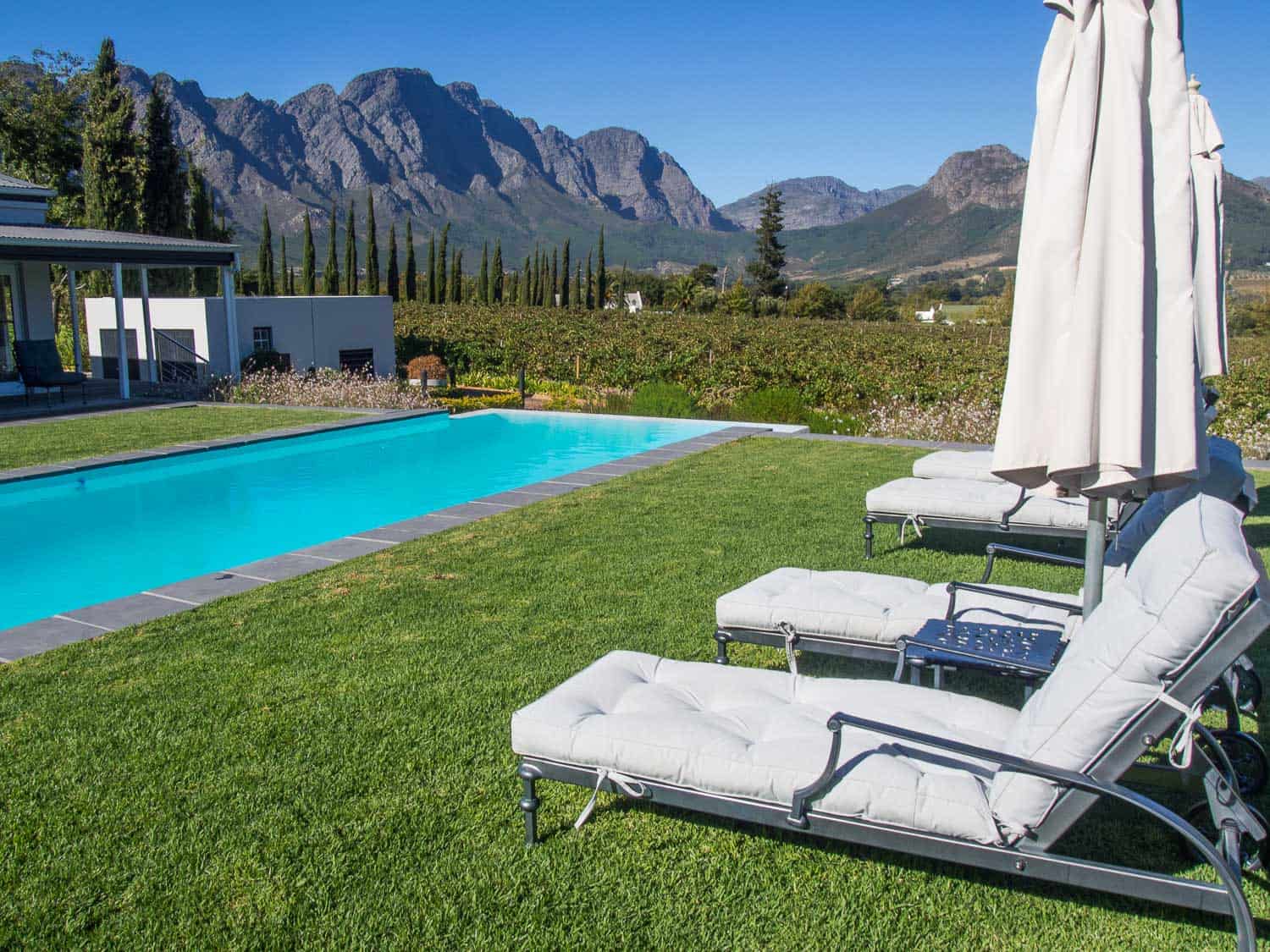 La Providence has seven luxurious rooms. We opted for one of the more expensive Terrace rooms (3700R/$280/£214 in high season) at the front of the four-room guesthouse with a terrace overlooking the duck pond and mountains under a pergola of vines turning red in the late summer. The two Garden Pool rooms at the back of the guesthouse share a small private pool. Cheaper rooms are over the garage without a terrace but still look lovely.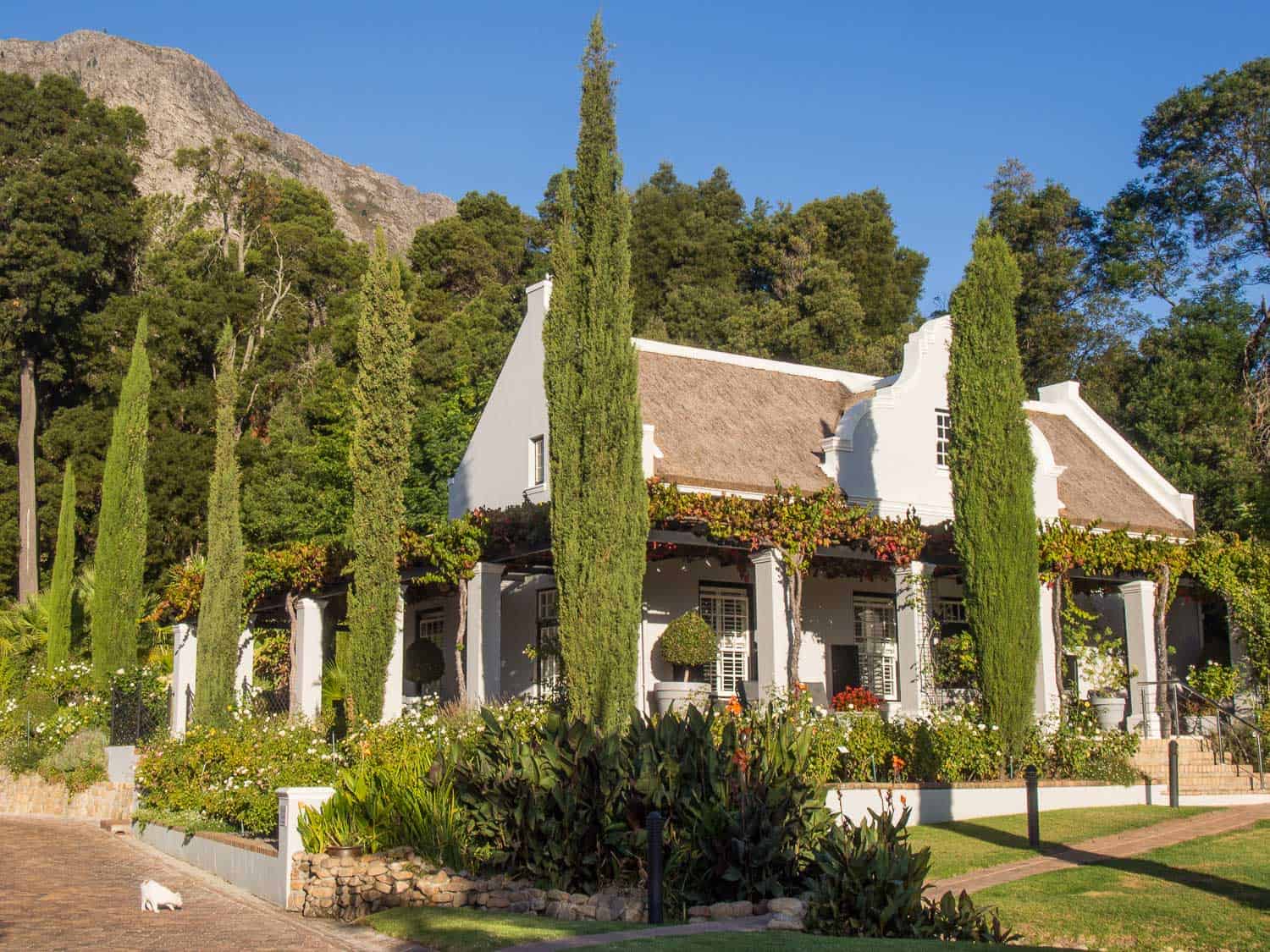 Our room (Room 1) was spacious with an enormous comfy bed and plentiful pillows. The modern design is mostly simple with pale grey walls but there are extravagant touches like the silver ball chandelier, metal suitcase bedside tables, bold artwork, and bright pink cushions. There are a couple of big windows so you can enjoy the view from bed (although people do walk by occasionally).
The room is well-equipped with air conditioning, a Nespresso machine, a minibar stocked with water, beer and their own wine, and fairly good WiFi (3.5 Mbps down, 0.3 Mbps up, which is better than we got in Cape Town). The bathroom features a huge shower and quality toiletries. The only thing I missed was a bathrobe (I later found out that they usually offer them at check-in).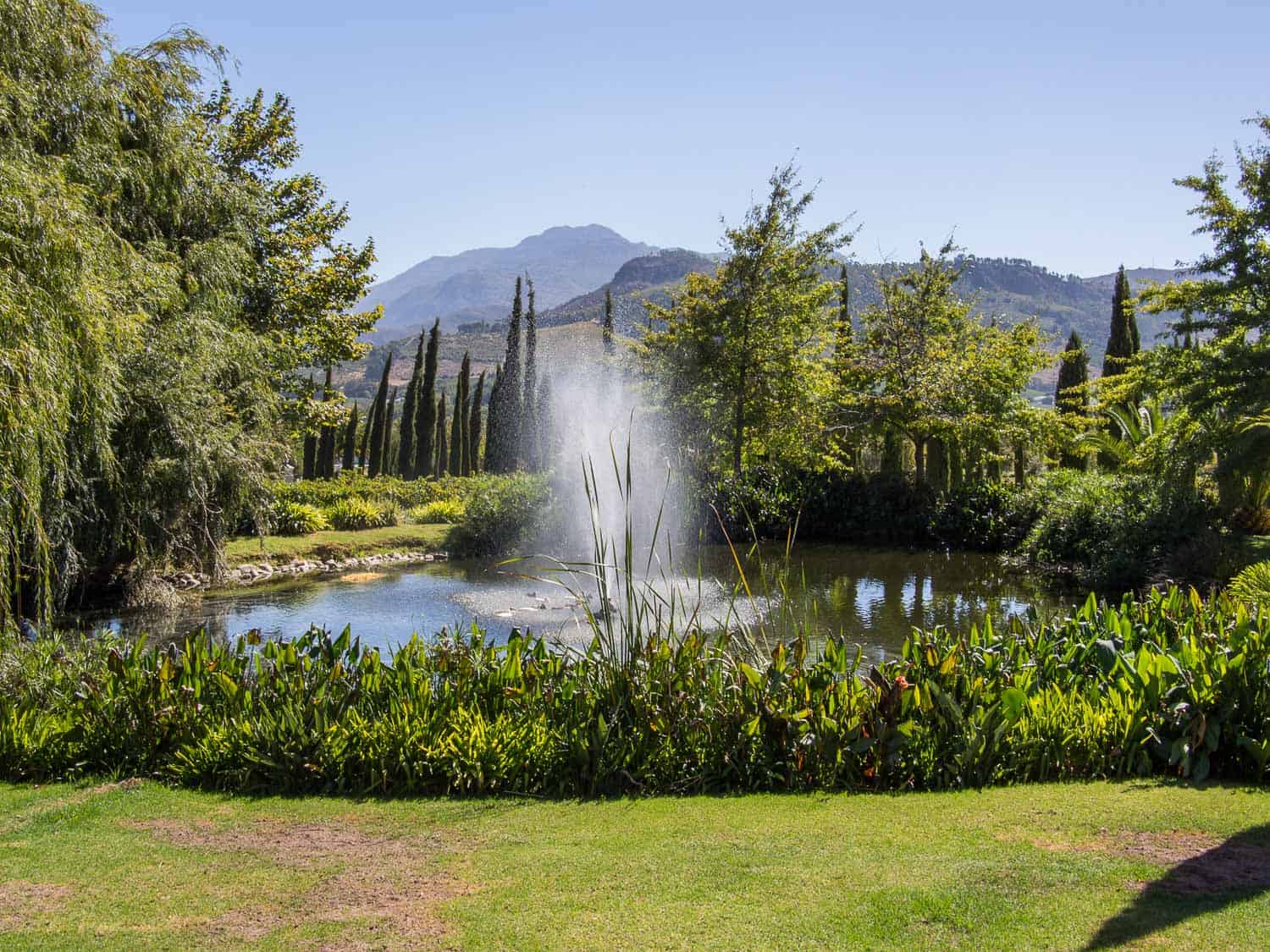 Breakfast is eaten overlooking the pool and includes an excellent buffet with delicious cheeses, meat, bread, granola, yoghurt and the perfect fruit salad full of berries, pomegranate and coconut. Every day there are a couple of specials—a savoury dish like sweetcorn fritters or cheese stuffed mushrooms and a sweet treat like pancakes, muffins or the decadently divine croissant bread pudding with berries and chocolate. If you still have space you can order eggs and bacon as well.
The only downside to La Providence is that walking back from the village after dark isn't recommended as there's no street lighting and taxis are expensive at 100R ($7.50/£5.80) for the short ride. We walked in during the day with no problems.
We adored La Providence—the tranquil location, stunning pool, vineyard and mountain views, comfortable room, delicious breakfast, and the warm and friendly staff. It's the perfect place to stay in Franschhoek.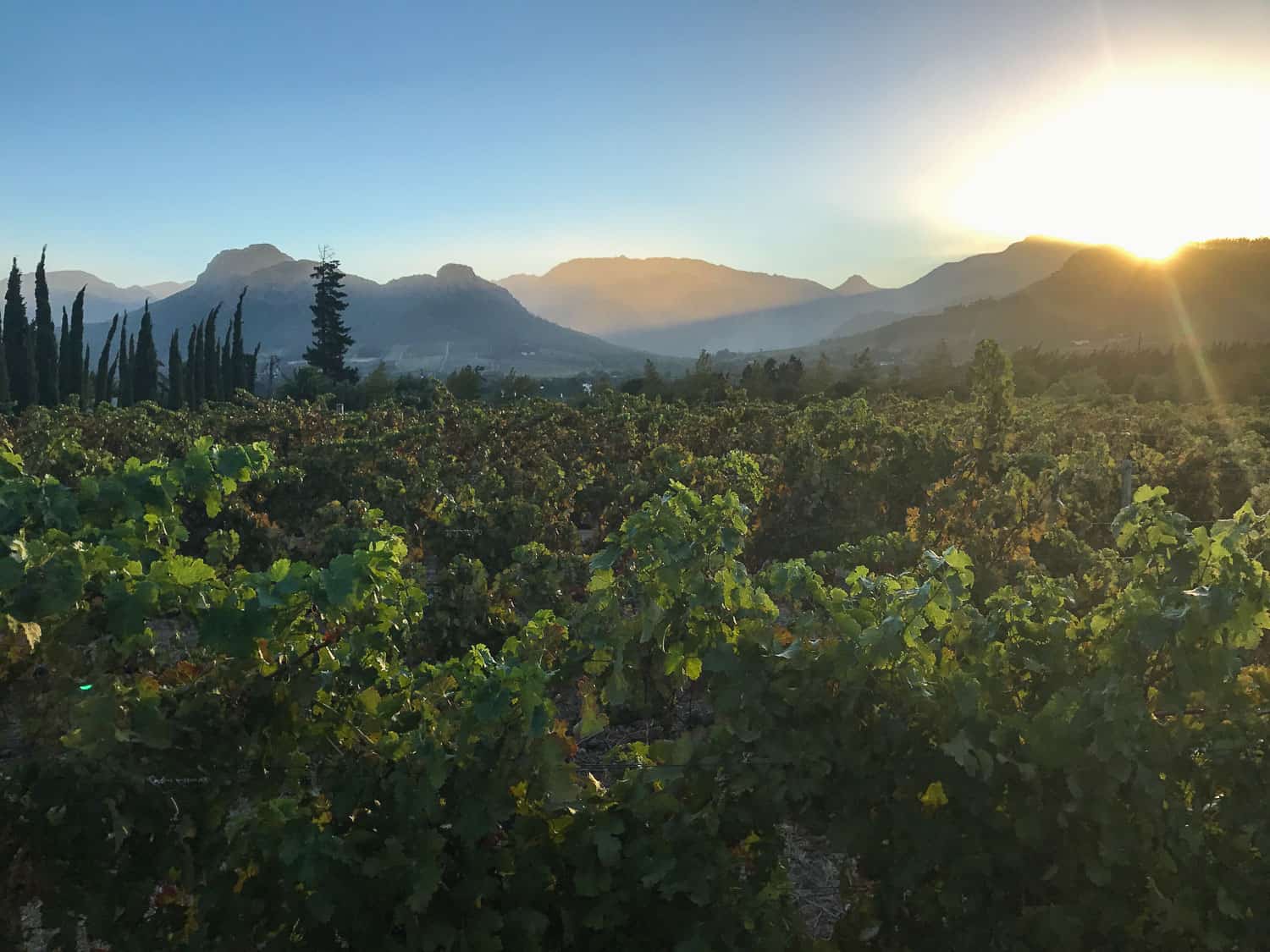 Budget Options
We visited during the busy summer season when prices are higher. You'll get much better deals in the winter months from May to September.
Accommodation in Franschhoek tends to be upmarket, but you can find cheaper options on Booking.com and Airbnb from $60 a night such as Auberge Alouette Guesthouse. Book well in advance in high season.
If you want to take advantage of the local wines, I recommend choosing somewhere in walking distance of the village to save money on taxis.
Franschhoek Transport
Getting There
Renting a car will give you the most flexibility in Franschhoek and rentals are inexpensive in South Africa. I used the comparison sites Rental Cars and Kayak to find the best deal, and a nine-day rental with Hertz in Cape Town cost us 1950R ($147/£113).
If you don't want to drive, you could get an Uber or taxi from Cape Town, but this is expensive at around 600R ($45/£35) each way when I looked on Uber.
Franschhoek is only an hour from Cape Town so can be a side trip from the city or part of a South Africa road trip. You could visit on a day trip, but it's such a beautiful, relaxing place with so much to see, drink and eat that it's worth at least two or three days. We could have stayed longer than our three nights.
Getting Around
If you want to limit the amount you drive (this is wine country after all!), stay in or close to the village. The Wine Tram allows you to visit wineries without driving. You can even walk or cycle to many of the wineries. Another option is to hire a tuktuk to take you on a tour of the wineries—Tuktuk Franschhoek offers half day tours (tastings not included) for 180R ($13.70/£10.60) per person.
You'll occasionally find an Uber dropping someone off in Franschhoek, but you can't rely on them. We managed to get one to lunch, which cost us 28R ($2.10/£1.60), but we had to call a local taxi back for 100R ($7.50/£5.80). This was the standard price that we paid for the short trip from the village back to our hotel (we walked during the day and got a taxi after dark).
When to Visit Franschhoek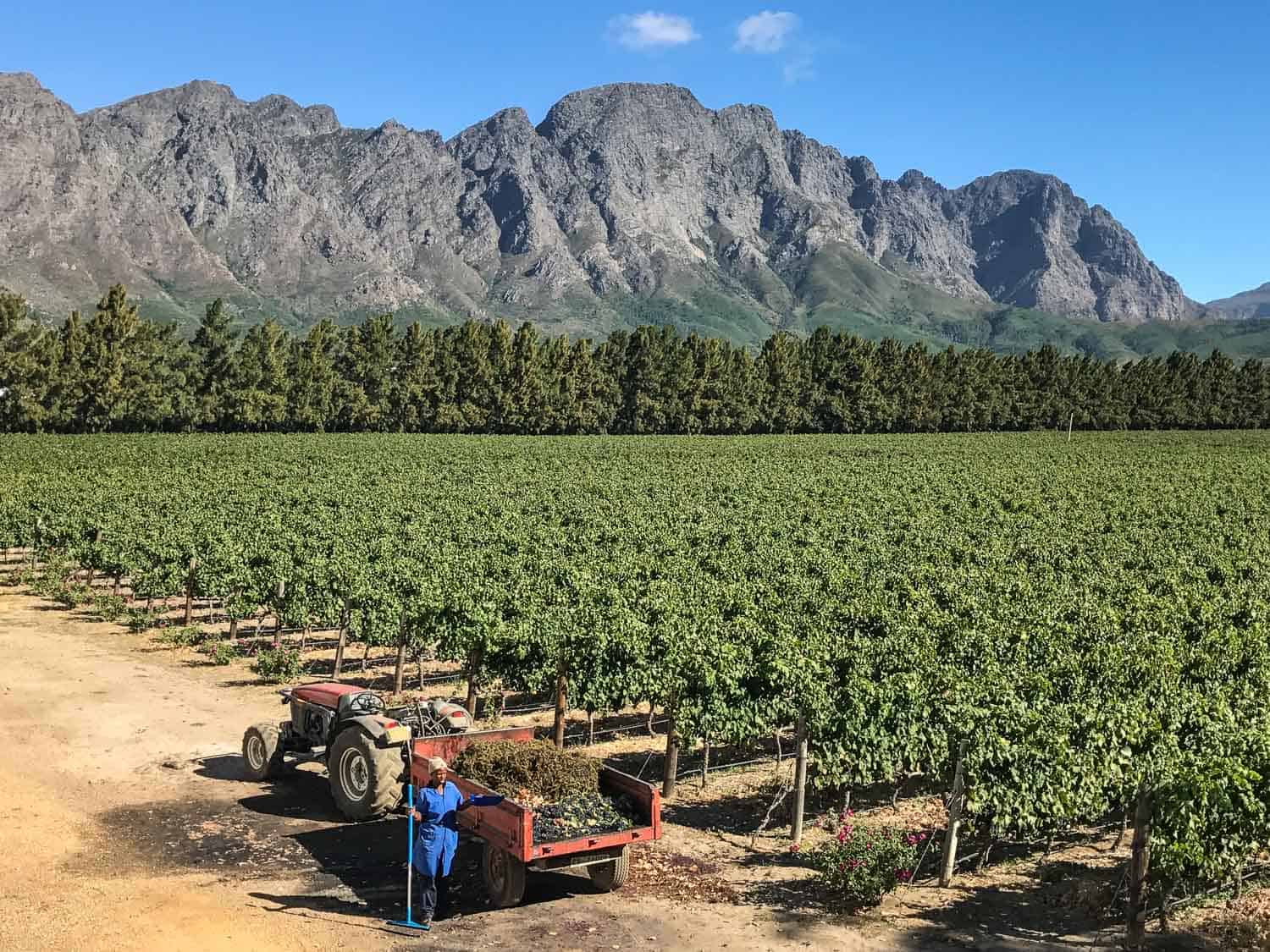 We visited Franschhoek in early March which is the end of the summer and the grape harvest was underway. The weather was perfect—glorious clear blue skies and 30ºC temperatures during the day and cooler nights (I rarely needed a cardigan). The summer high season runs from October to April when the area is busier and more expensive.
It's still worth visiting in the winter from May to September. You probably won't be swimming and you'll need a jacket, but the area never gets too cold and many of the hotels and wineries have cosy fireplaces. It will also be quieter and you can get some fantastic hotel deals.
Franschhoek vs Stellenbosch
Before we visited South Africa, Stellenbosch was the Cape Winelands town that I heard about the most. But as I started planning many people said they preferred Franschhoek as it's smaller, prettier, quieter, surrounded by mountains, and many restaurants and wine estates are accessible on foot or on the Wine Tram.
We didn't spend much time in Stellenbosch (just Delheim winery and a coffee shop) so I can't compare the two extensively, but the reasons above were enough to sell me on Franschhoek. The advantages of Stellenbosch are that it's a bigger University town with more going on and prices are a bit lower as it's not as tourist-orientated.
If you want more buzz and non-wine things to do, then you might prefer Stellenbosch, but for a relaxing foodie break, you can't go wrong with charming Franschhoek.
Franschhoek Map
Franschhoek was one of our favourite places in South Africa and is the ideal place to treat yourself to a few decadent days of relaxing and enjoying the delicious food, wine and stunning scenery.
If you enjoyed this post, pin it!