This page contains affiliate links. Please read our disclosure for more info.
The biggest problem when exploring wine regions is avoiding drinking and driving. Private or small group wine tours are expensive and being the designated driver sucks (who really enjoys spitting?). The Franschhoek wine region near Cape Town has come up with a novel solution—a hop-on-hop-off wine tram. It's affordable, fairly flexible, and allows you to visit up to six wineries in one day without driving.
There are five Franschhoek wine tram routes. The Blue and Green lines visit smaller wineries closer to the mountains (the same wineries but in reverse order). The Red and Yellow lines visit more international wineries in the valley. The Purple line uses the bus, not the tram, and visits further afield wineries like the excellent Babylonstoren (which we visited by car).
We chose the Green line because we wanted to have lunch at Mont Rochelle. If you start on the earliest trip around 10am you can visit up to six wineries (from eight options) with a stop of one hour at each winery. We ended up visiting the first five on the Green line.


To avoid disappointment you should be aware that the wine tram is really more of a wine bus. The tram section is very limited and only connects Rickety Bridge and Grand Provence. The tram-bus is cute, though, and has open windows to enjoy the fabulous mountain and vineyard views.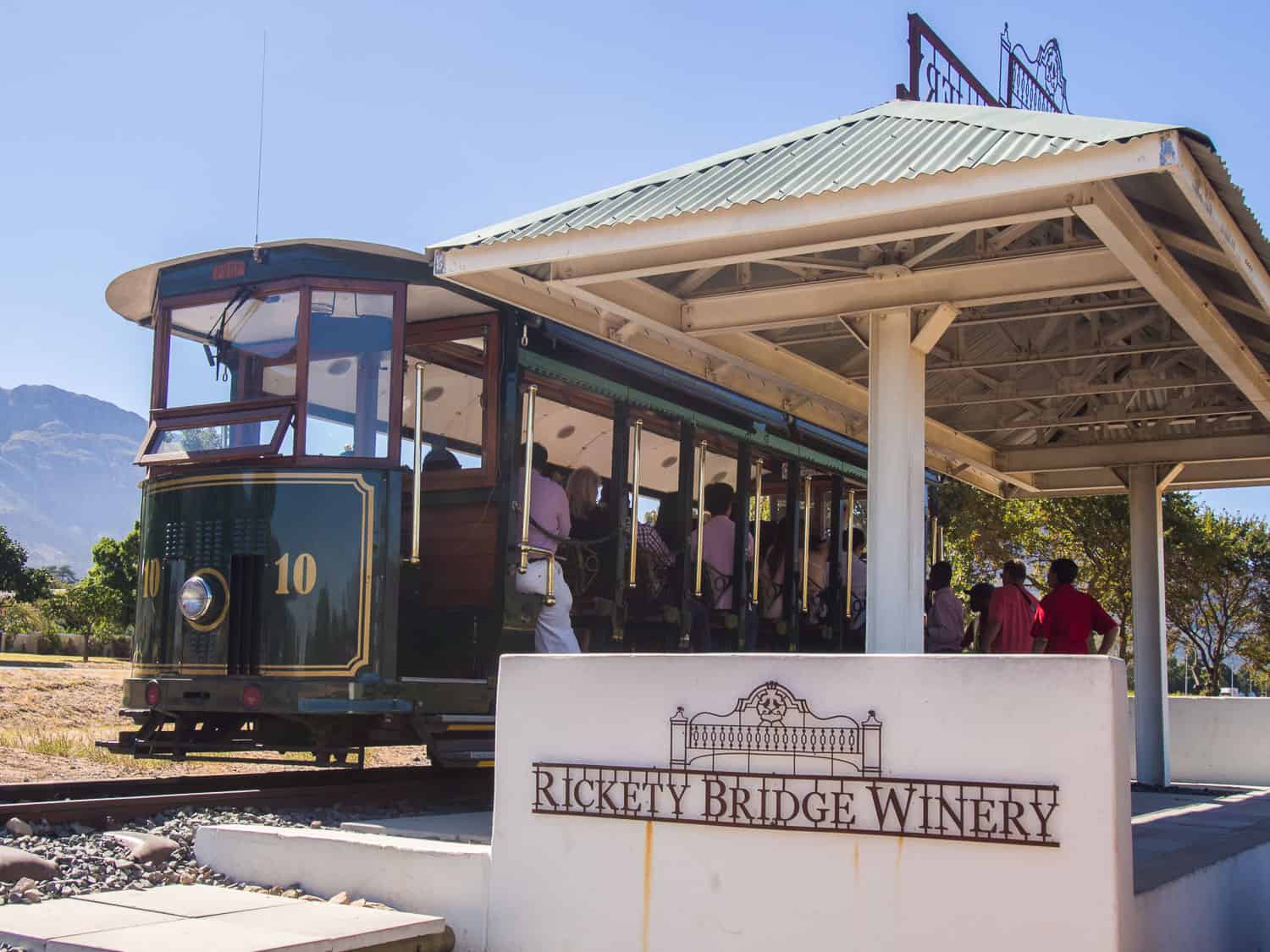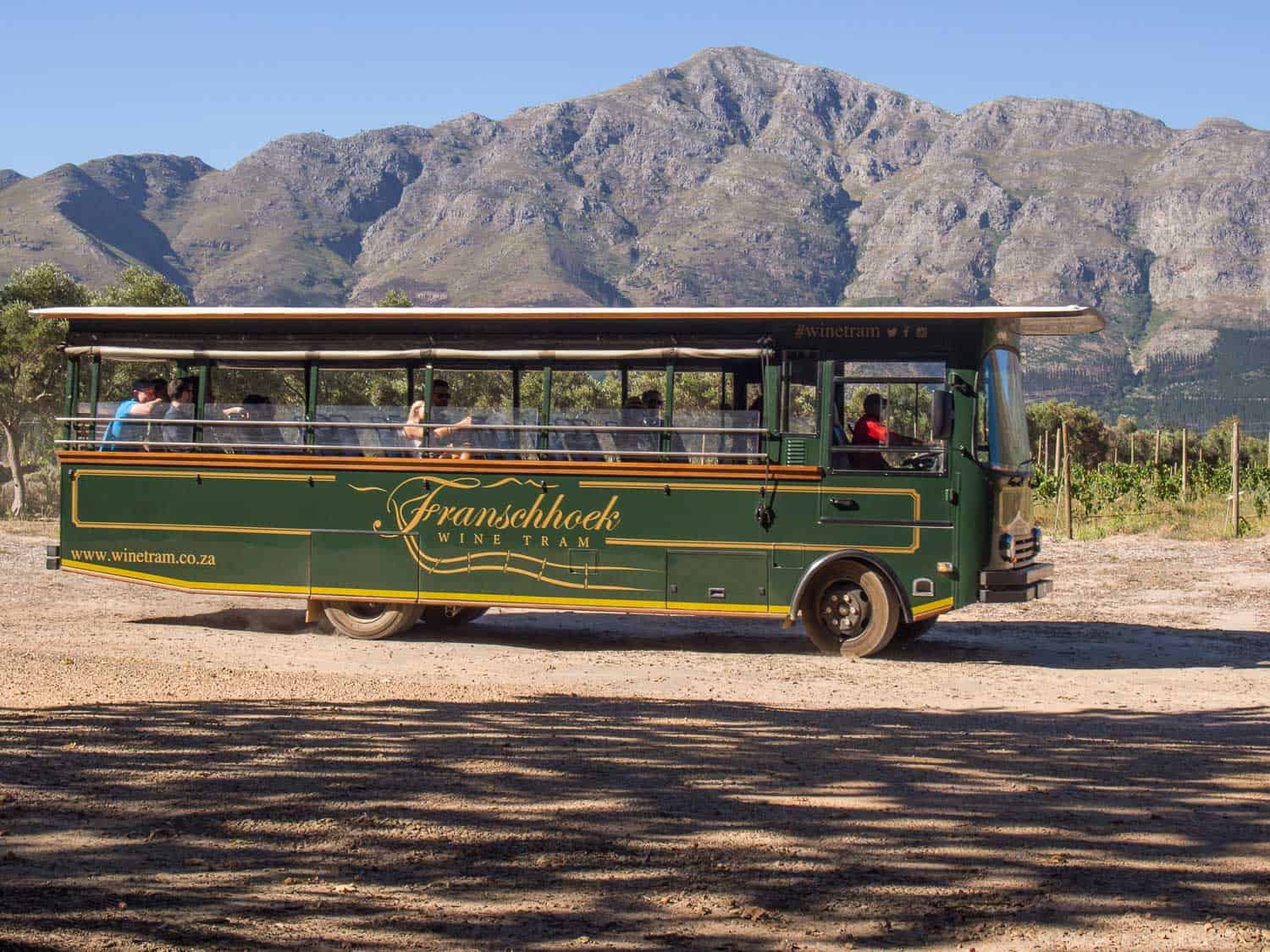 Tickets cost R220 ($16/£12.50) and don't include wine tastings except at one winery on our tour (La Bourgogne). Tastings cost from R25 ($1.80/£1.40) and food is also available at most wineries (book in advance for a formal meal or just snack as we did).
Winery 1: Rickety Bridge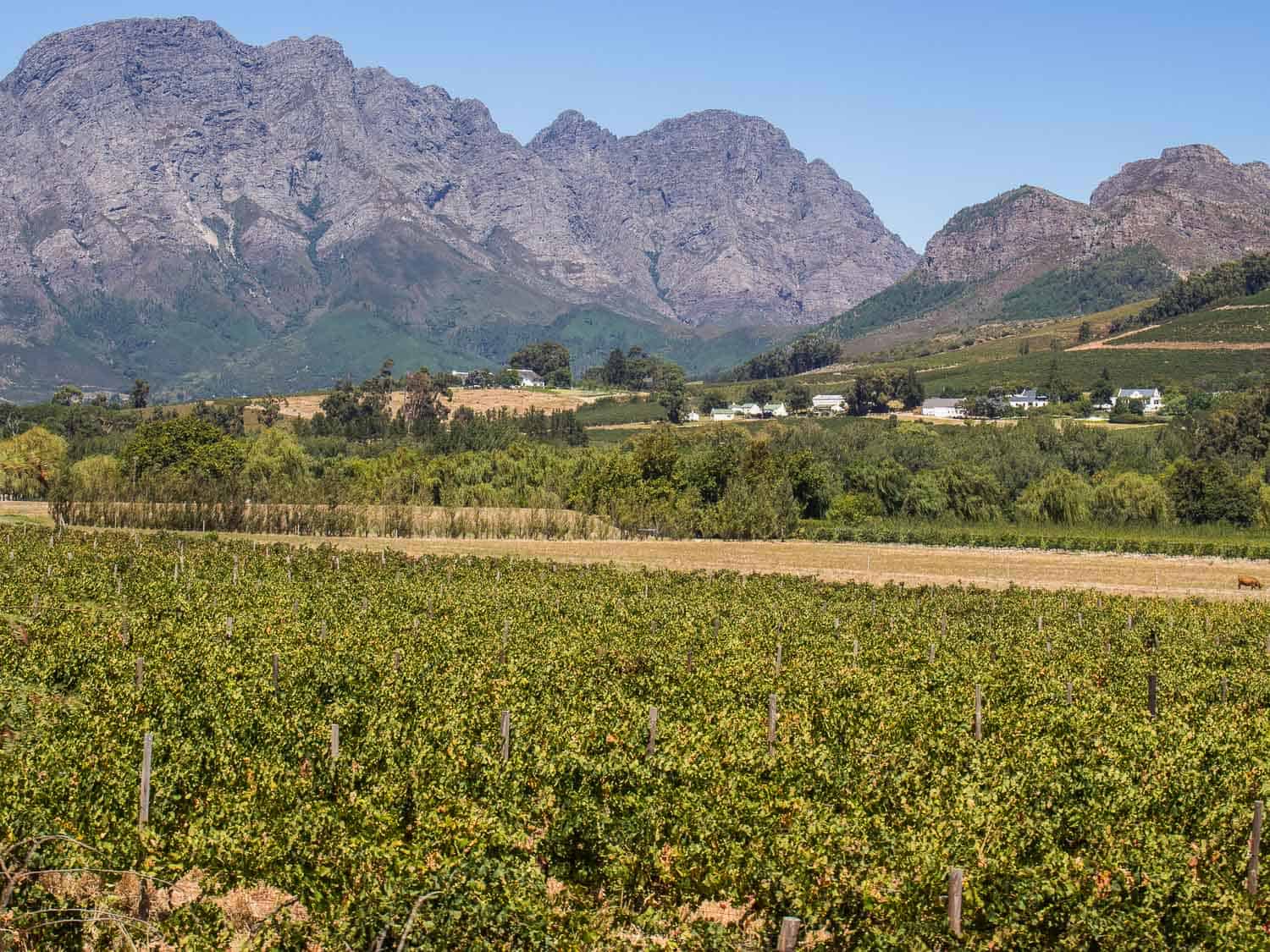 Our trip began on the bus with a bubbly host who explained how the day worked. At the edge of town we switched to the shiny green tram, which runs on railway lines dating back to 1904 and is modelled on 19th-century trams. The tram's open sides meant we had gorgeous views of the vineyards and craggy mountains on this hot sunny day in late summer without a cloud in the sky. A recording of a plummy English guy gave us the background to the area including how the Huguenots brought their wine knowledge here in the 1600s after fleeing from France via the Netherlands due to the persecution of Protestants by the ruling Catholics.
We disembarked at the Rickety Bridge platform and switched to a trailer pulled by a tractor to take us down the bumpy, dusty dirt track through the vineyard to the winery. My stomach was glad we did this at the beginning of the day and not after a day of tasting!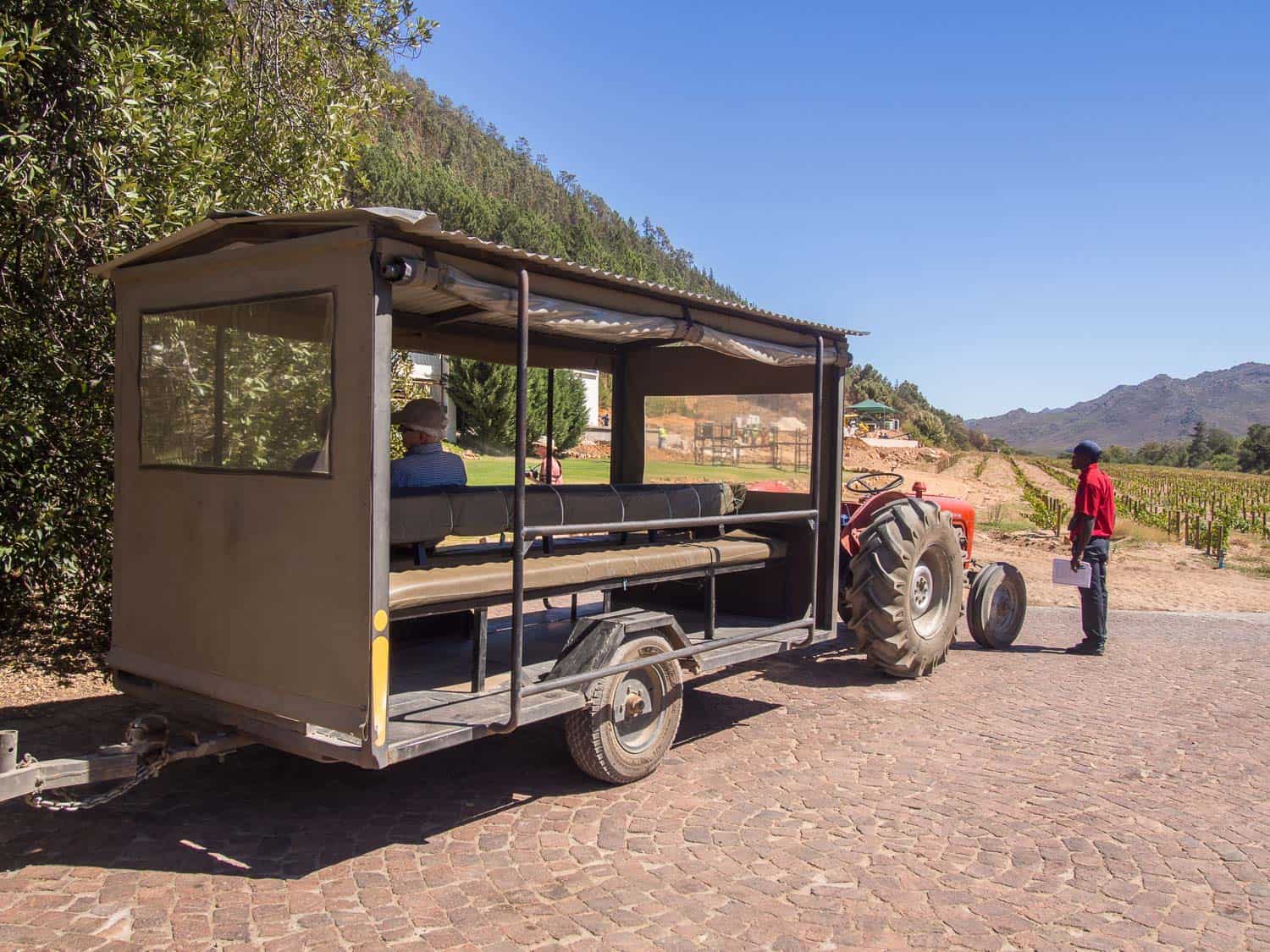 Rickety Bridge was packed even before our group of 25 arrived. We missed out on the prime tables on the terrace and took a seat inside where a member of staff explained we could only use the table for 30 minutes. As we only had 40 minutes before the tractor was due to pick us up this wasn't too much of a problem. We chose the four wine tasting for R25 ($1.80/£1.40) and tried a Sauvignon Blanc, Chardonnay, Pinotage, and Cabernet Sauvignon. I don't know if it was just too early in the day, but these were our least favourite wines of the day and we didn't finish any of our pours.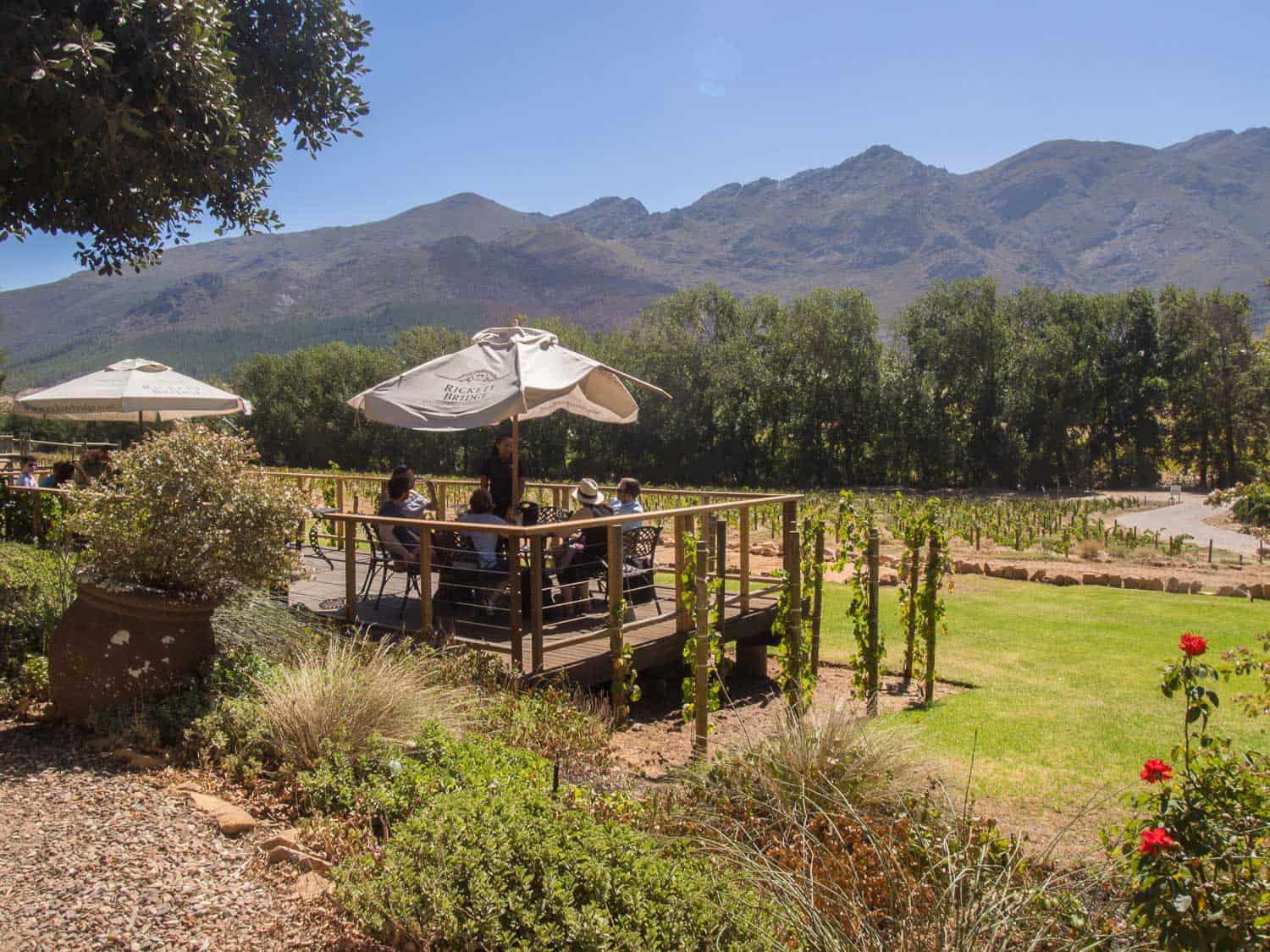 We just had time to finish our tasting before we had to head off. The experience had felt rushed and impersonal and we were a little dubious about the day ahead.
In hindsight we would have skipped Rickety Bridge and gone straight to the second stop, Grand Provence. We didn't enjoy the wines or the experience at Rickety Bridge and this would have enabled us to be ahead of the crowd (only one couple skipped it). Of course, if you are interested in the social aspect of the tram then you might want to stick with the group.
Winery 2: Grand Provence
Another tram and tractor ride brought us to Grand Provence, where we had a much more welcoming experience with a staff member greeting us and explaining the four tasting options and providing water and crackers. We sat at communal tables in the beautiful gardens of this grand estate surrounded by sculptures, fragrant beds of lavender, a fountain, and ancient trees.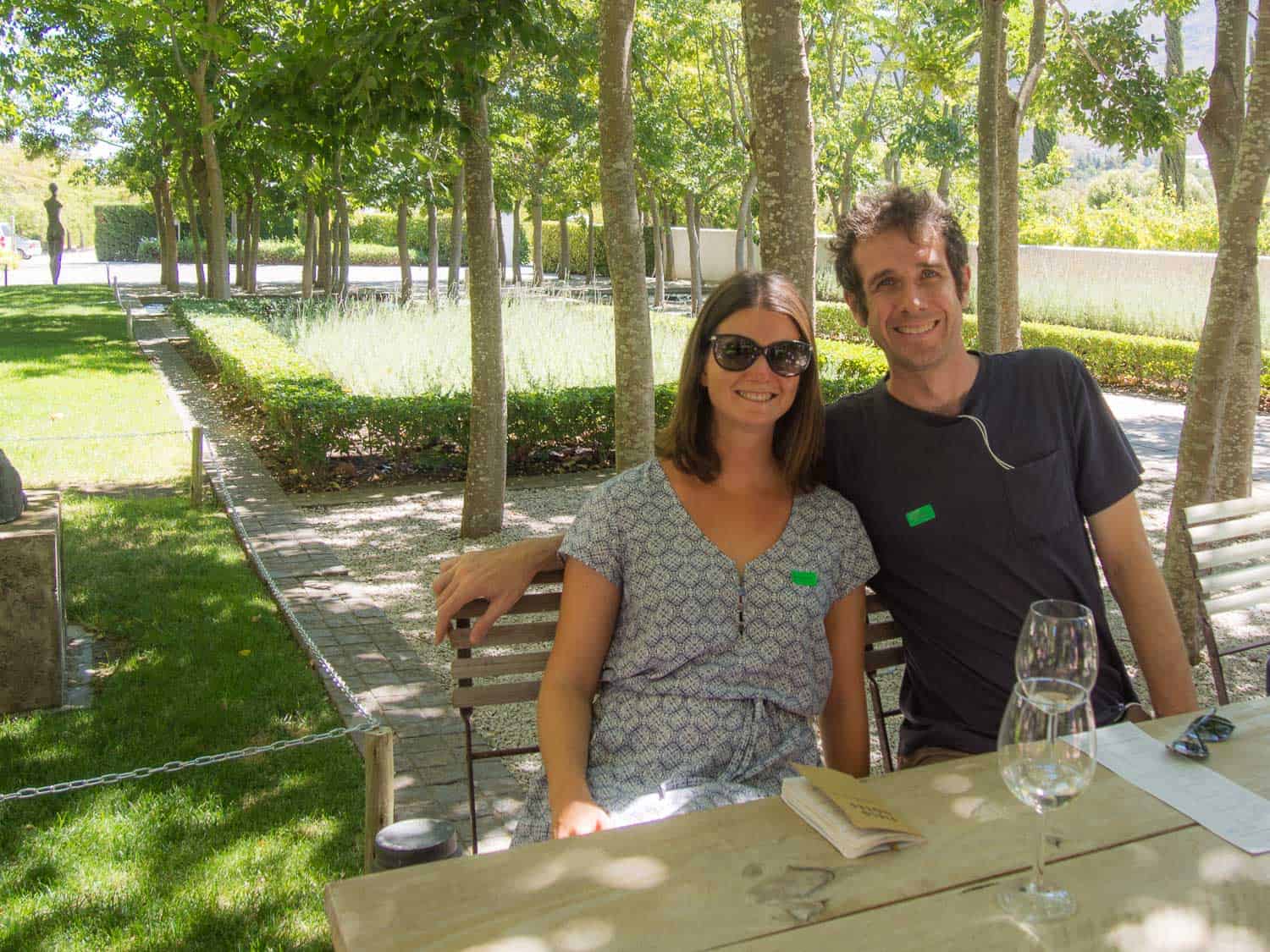 Wine tastings started from R30. We chose to share a premium tasting for R50 ($3.70/£2.90) for four wines and enjoyed them all much more than Rickety Bridge's. The staff also took more time to explain the wines to us. The Chenin Blanc was crisp and fruity, the Rosé was delicious, and the Zinfandel (an unusual grape in South Africa) was also excellent.
We quickly ran out of time. There was one waiter serving two large tables and as everyone had different tastings it took a while for him to get around with each pour. We would have bought some wine but we had to rush off.
The tram section of the day is fun but you end up losing 20 minutes of the hour stop on the tractor (the bus later in the day goes right to the winery door so you get a full hour). We would have enjoyed the experience more if we skipped Rickety Bridge and spent an extra hour at Grand Provence to look around the grounds and art gallery.
Winery 3: Mont Rochelle
Spirits on the tram were definitely higher after a couple of wine tastings! We switched from the tram to the bus that would take us around for the rest of the day starting with Richard Branson's hotel and winery Mont Rochelle. The tastings take place in the Country Kitchen, their informal restaurant, but if you want a full lunch you'll need to stay for two hours and it's best to book.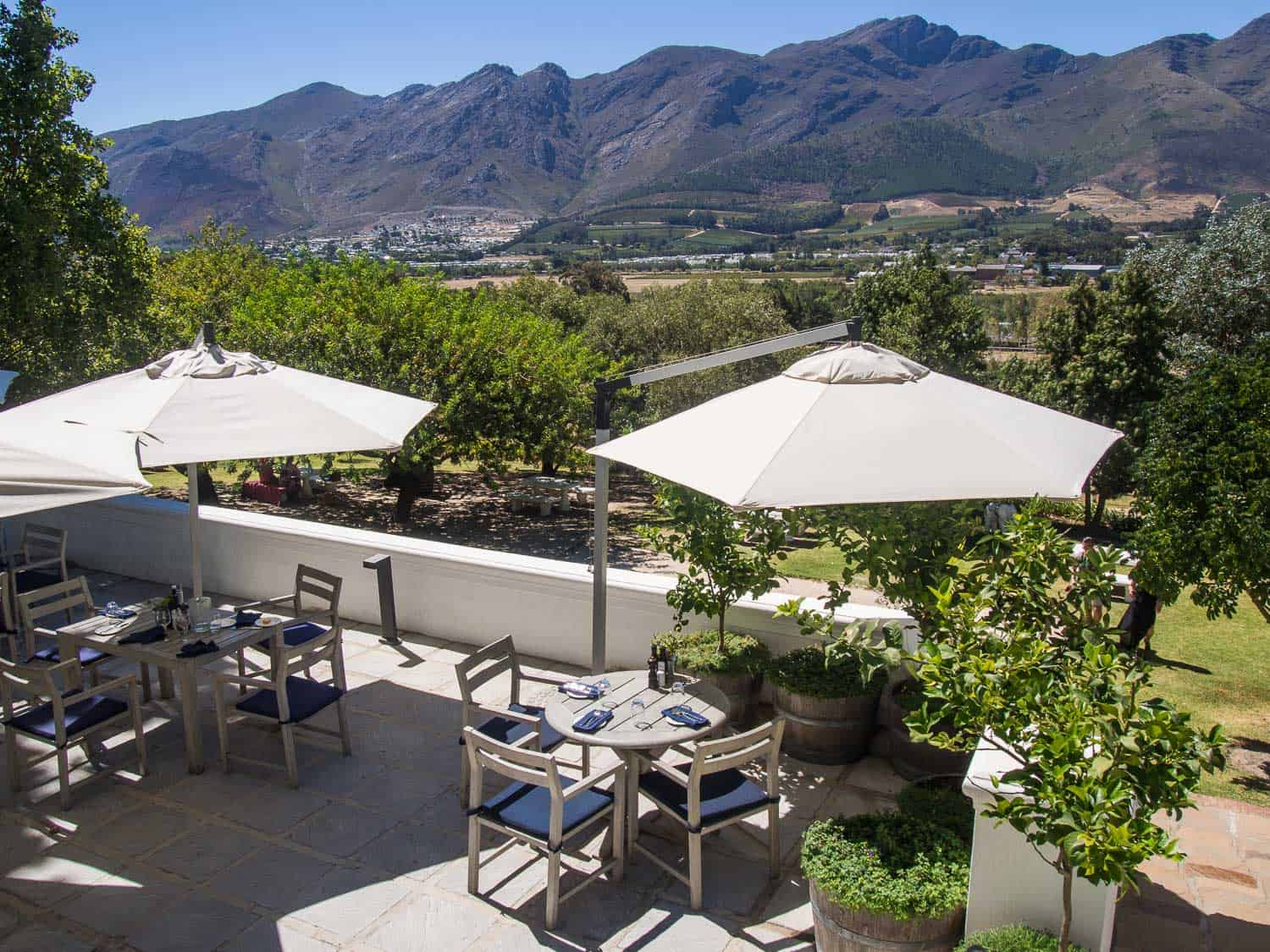 We decided to snack in the wine tasting area instead as there are meat and cheese platters and tapas available. We were very aware of time so didn't hesitate in grabbing a table on the terrace (with mountain views but no vines) and putting in our order. We each had a three wine tasting (you can choose from a list of wines) for R35 ($2.60/£2) and shared a cheese platter (R125/$9.40/£7.30) and potato skins (R40/$3/£2.30).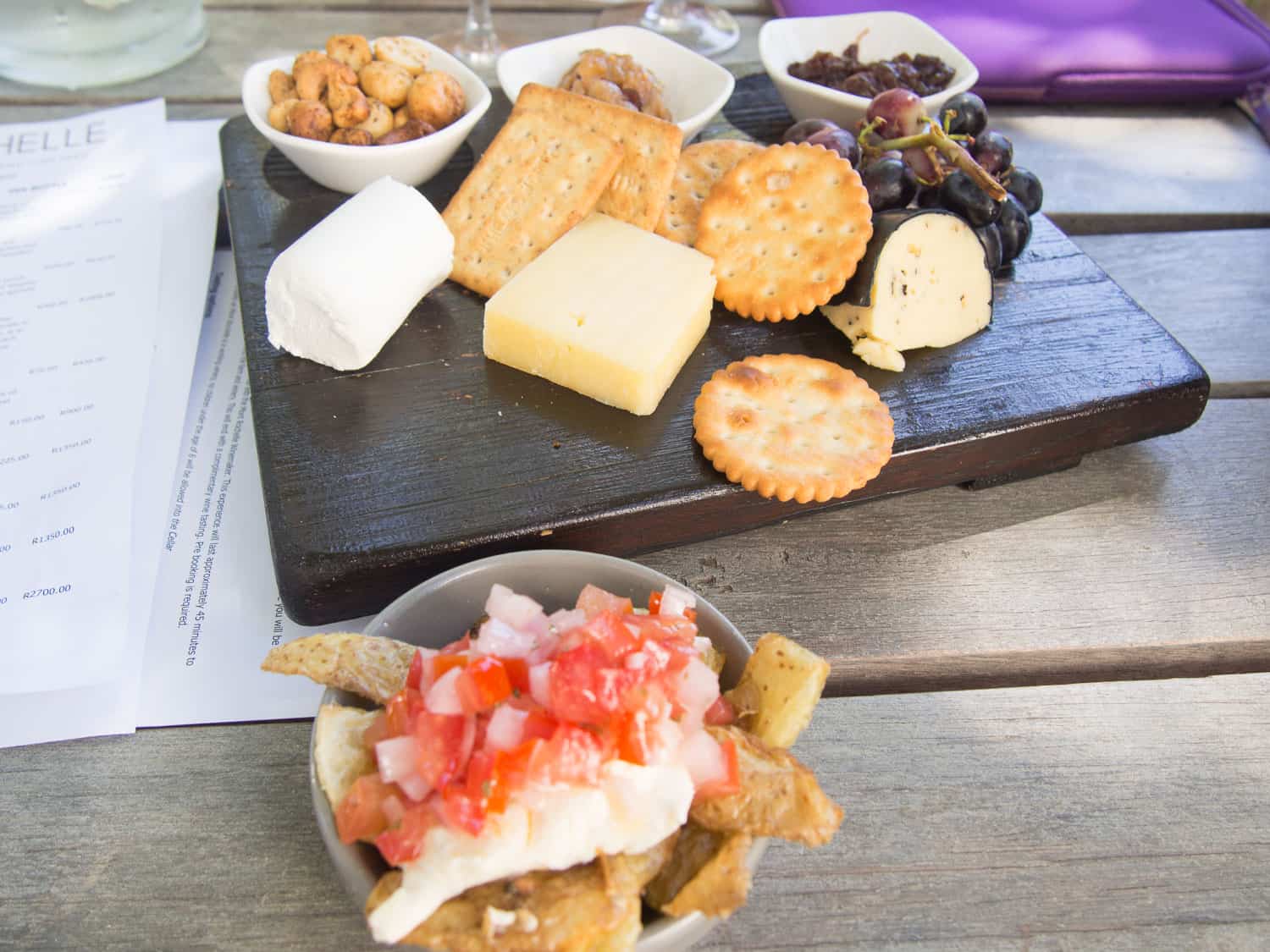 The food came a little slower than we liked but we managed to fit it all in and even bought some wine this time (an excellent Chardonnay). We were a little suspicious that the wines seemed to be getting better at each stop! The cheese platter was also delicious and came with apple chutney, red onion and wine marmalade, spicy nuts, and grapes. It was the perfect light lunch and we're glad we didn't have a larger meal so that we could snack at various wineries instead.
We had time for a quick game of giant Jenga (croquet and boules are also available) before the bus turned up. Most people had opted for a two-hour stay at Mont Rochelle (you can order a picnic as well as eat in the restaurant), so there were only a few of us on the next bus ride.
Winery 4: Le Lude
Le Lude was a very different experience. We sat inside the plush tasting room on comfortable couches under elegant chandeliers. Although it was a shame not to have a view, the air conditioning was welcome in the midday heat. Le Lude only makes Methode Cap Classique (MCC), the South African equivalent of champagne which is made using the same method as the French version.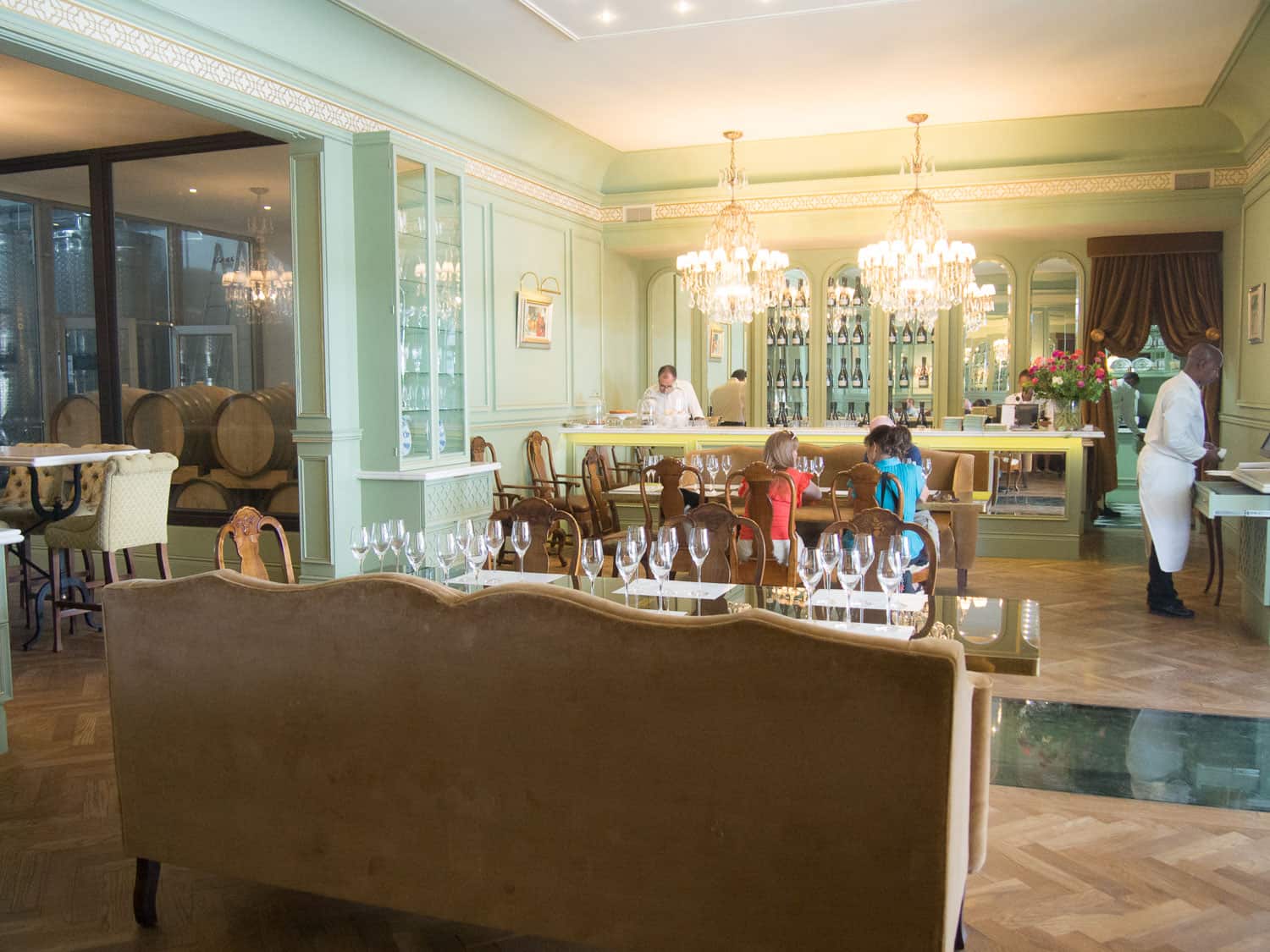 The tastings allow you to try their two MCCs (one white, one rosé) plus an optional French champagne to compare. I chose the two wine tasting, Simon went with three, and we both added a vegetarian canapé pairing as round two of our lunch—R140 ($10.50/£8.10) with two wines and R200 ($15/£11.60) with the extra champagne. The generously poured bubbly was excellent and the canapés delicious, especially the tempura French beans with roasted garlic aioli.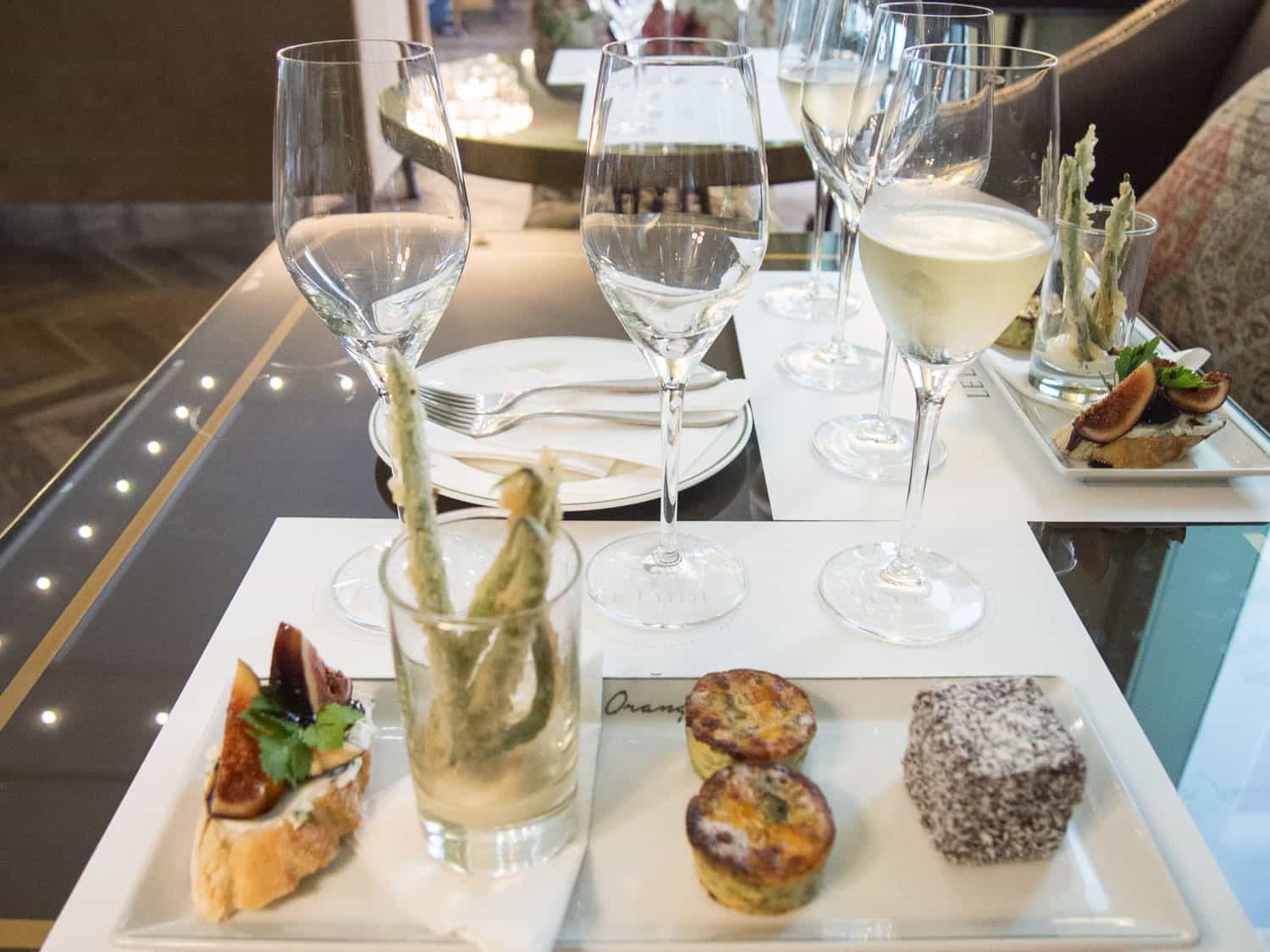 In a blind (but not really as the champagne came last so was colder) tasting Simon chose the champagne over the MCC, but we didn't think it was worth the 3x price tag. We were tempted to buy a bottle of Le Lude's MCC, but it's significantly more expensive and no better than Graham Beck, our favourite South African bubbly that we tasted in Robertson.
Le Lude was quieter so we didn't feel rushed, although some more time to enjoy the rose garden and relax on the deck chairs would have been nice.
Winery 5: La Bri
At this point we were definitely feeling tipsy and questioned whether it was sensible to continue, but the promised chocolate pairing at La Bri sounded too good to resist. The bus was fuller again as many people who had stayed longer at Mont Rochelle had skipped Le Lude and caught up with us. Everyone was feeling jolly, but it hadn't descended into obnoxious rowdiness as I feared it might.
La Bri is a smaller, more casual winery than the others. It's one of the original Huguenot wine farms dating back to 1694. There's a small terrace with three tables, but there wasn't space when we arrived so we sat inside on the long wooden table. Most people opted for one of the wine/food pairings—chocolate, Turkish delight, or biltong (dried meat that's very popular in South Africa). The chocolate pairing (R65/$4.90/£3.80) was delicious with each chocolate hand crafted to compliment the flavour of the wine (all reds). The Merlot with dark chocolate and cranberry and the Syrah with mint chocolate were particularly good combinations. The Syrah was one of the best red wines we tried in South Africa and we bought a bottle to take away.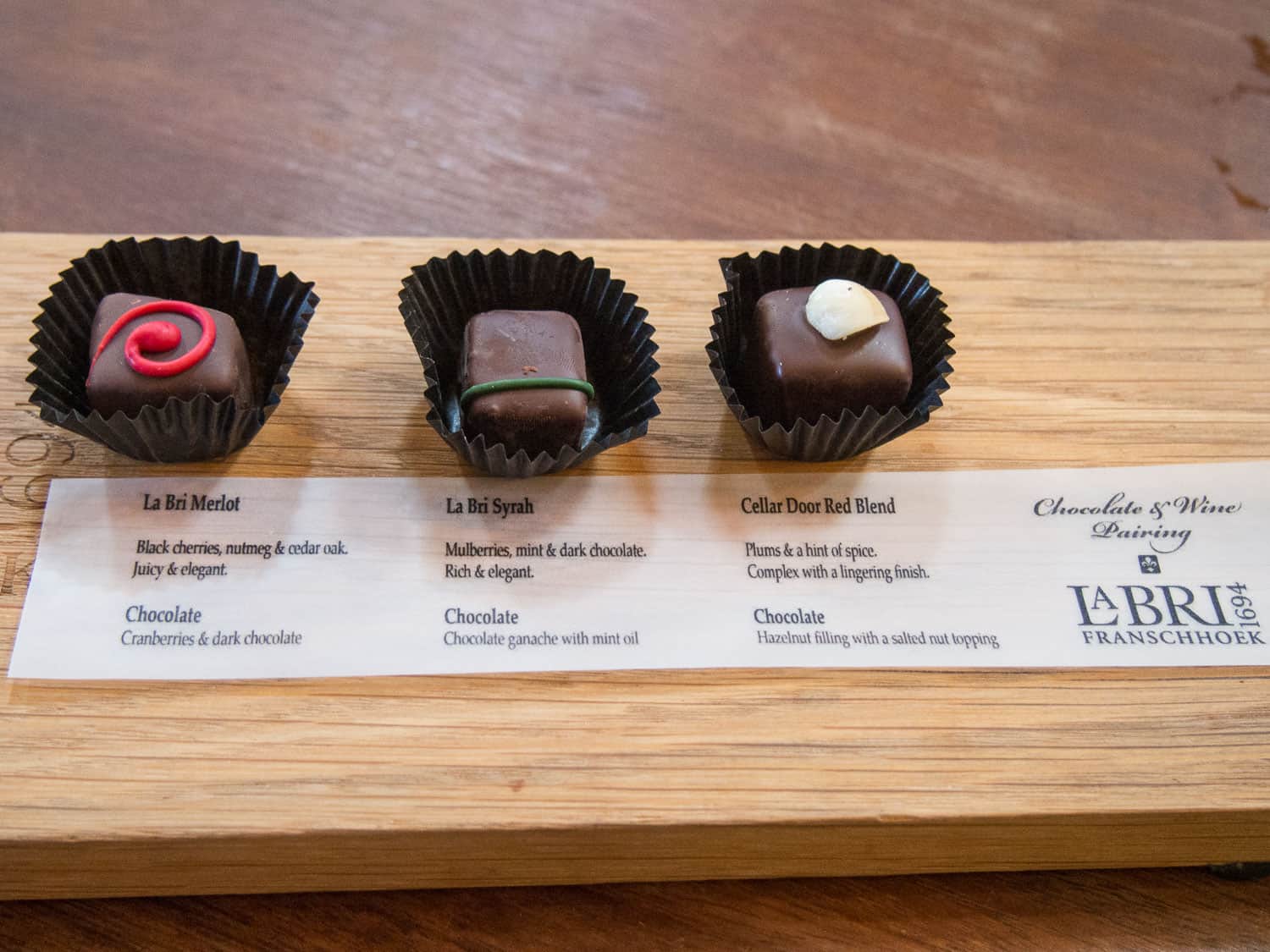 La Bri was the only place where we finished our wine tasting in plenty of time and were able to relax on a couch on the terrace with a view of the harvest below.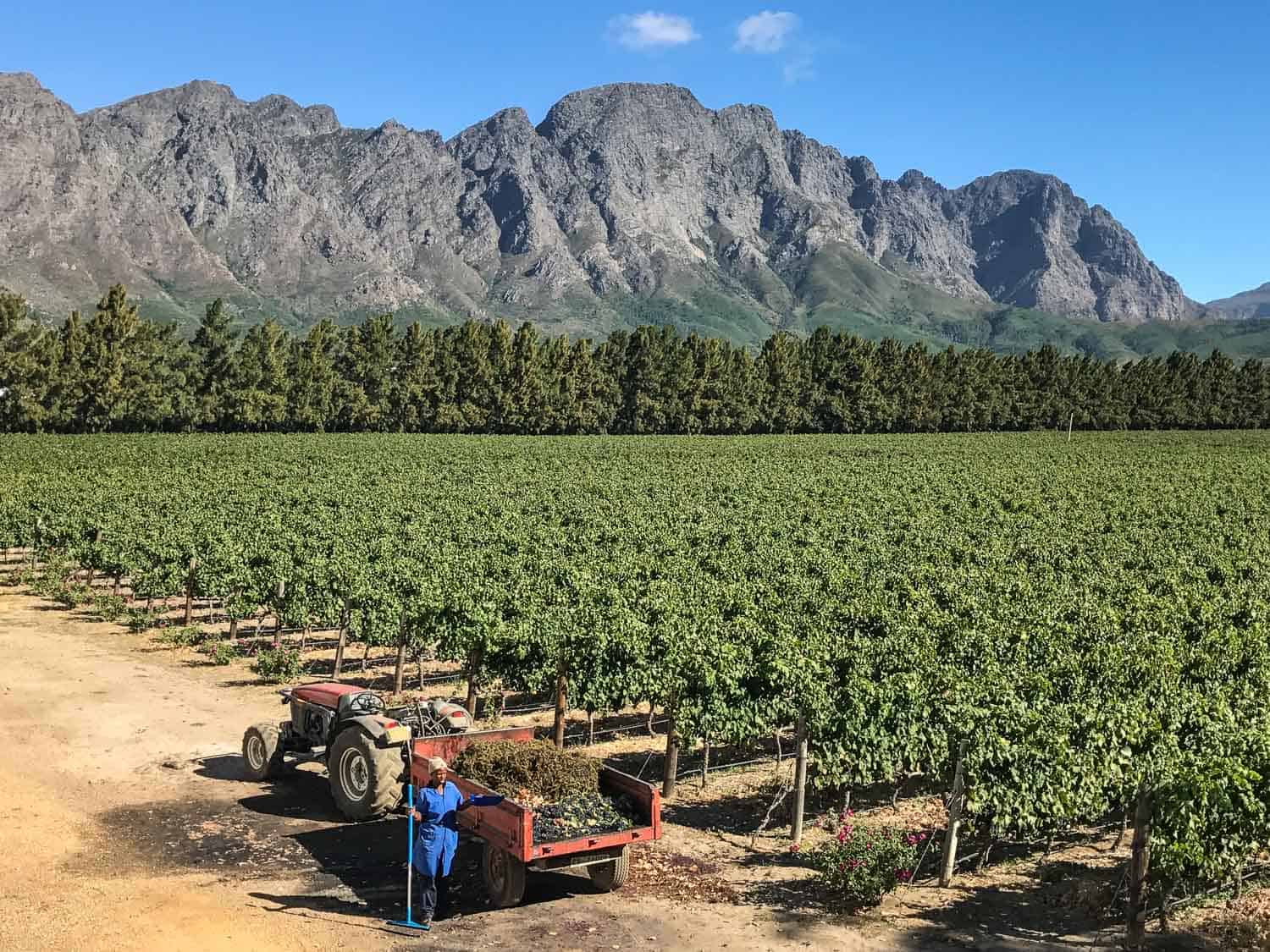 Heading Home
We did have time to fit in a sixth winery, although La Bourgogne, which would have been my choice, was disappointingly already closed. But it was 4.30pm by the time we left La Bri and we'd been drinking for six hours, so we decided to head back. It took about 20 minutes to return to the village as we picked up/dropped off people at La Bourgogne (which also does olive oil tastings), Holden Manz (which looked like it had a fantastic view) and La Couronne (where you can pair pizza with wine).
By the time we walked back to our hotel, we were feeling fairly sober (certainly more so than the glassy-eyed couple who missed the bus), but it didn't take long for the hangover to hit. I recommend not making dinner plans for the night of the wine tram. You certainly won't feel like more wine, although Simon managed a glass of beer at our casual nachos dinner at the TukTuk Microbrewery. An early night was appreciated!
Franschhoek Wine Tram Summary
The Franschhoek Wine Tram was a fun way to spend the day. We were able to visit more wineries than we would have by ourselves and not having to worry about driving was a huge bonus. All the wineries were very different, so it's hard to choose a favourite, and we're glad we got to experience the wine, food and views at so many beautiful wineries. (Rickety Bridge is the only one we would have skipped.)
That said, the wine tram isn't an intimate experience, and the group felt a bit big, especially at the beginning of the day. We also felt rushed at some of the wineries. Of course, you could spend an extra hour at any of the wineries but we didn't feel like we needed that much extra time.
If you are a wine expert, you would probably prefer hiring a taxi for the day for the freedom to choose the wineries and a more personal experience. This is obviously a lot more expensive, so for the average traveller I recommend hopping aboard the wine tram for a fun and affordable way to sample the delicious wines of stunning Franschhoek.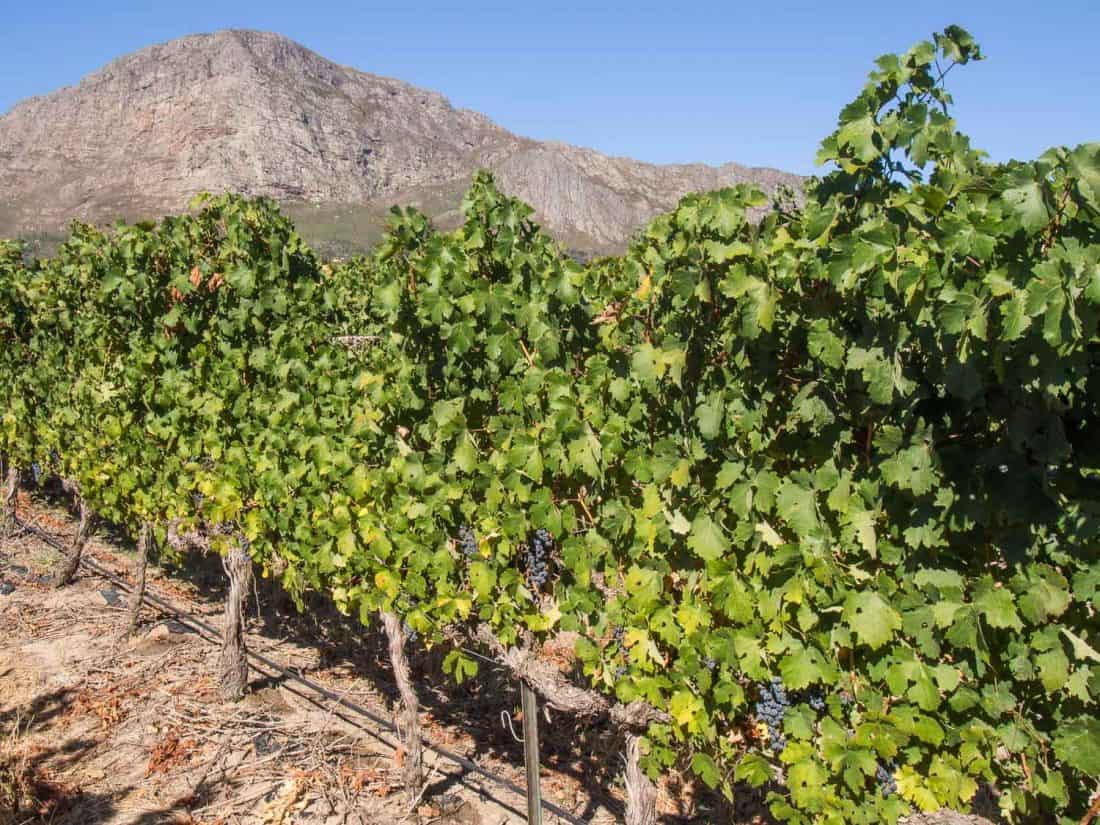 Franschhoek Wine Tram Tips
The Franschhoek wine tram is popular so I recommend booking your tickets in advance online on the Franschhoek Wine Tram website for R220 ($16/£12.50) per person.
You can collect your tickets at least 15 minutes before the tour starts from the office in the centre of Franschhoek at 32 Huguenot Rd.
If you buy any wine you can leave it with the driver (they use a sticker system) and pick it up at the ticket office at the end of the tour.
Franschhoek is only an hour from Cape Town so you could technically visit on a day trip (the wine tram can arrange transfers), but I highly recommend spending at least a few nights in this gorgeous village.
We absolutely loved our three-night stay at La Providence, a stylish B&B in a quiet location with stunning views yet walkable to the village. Read a detailed review in our Franschhoek travel guide.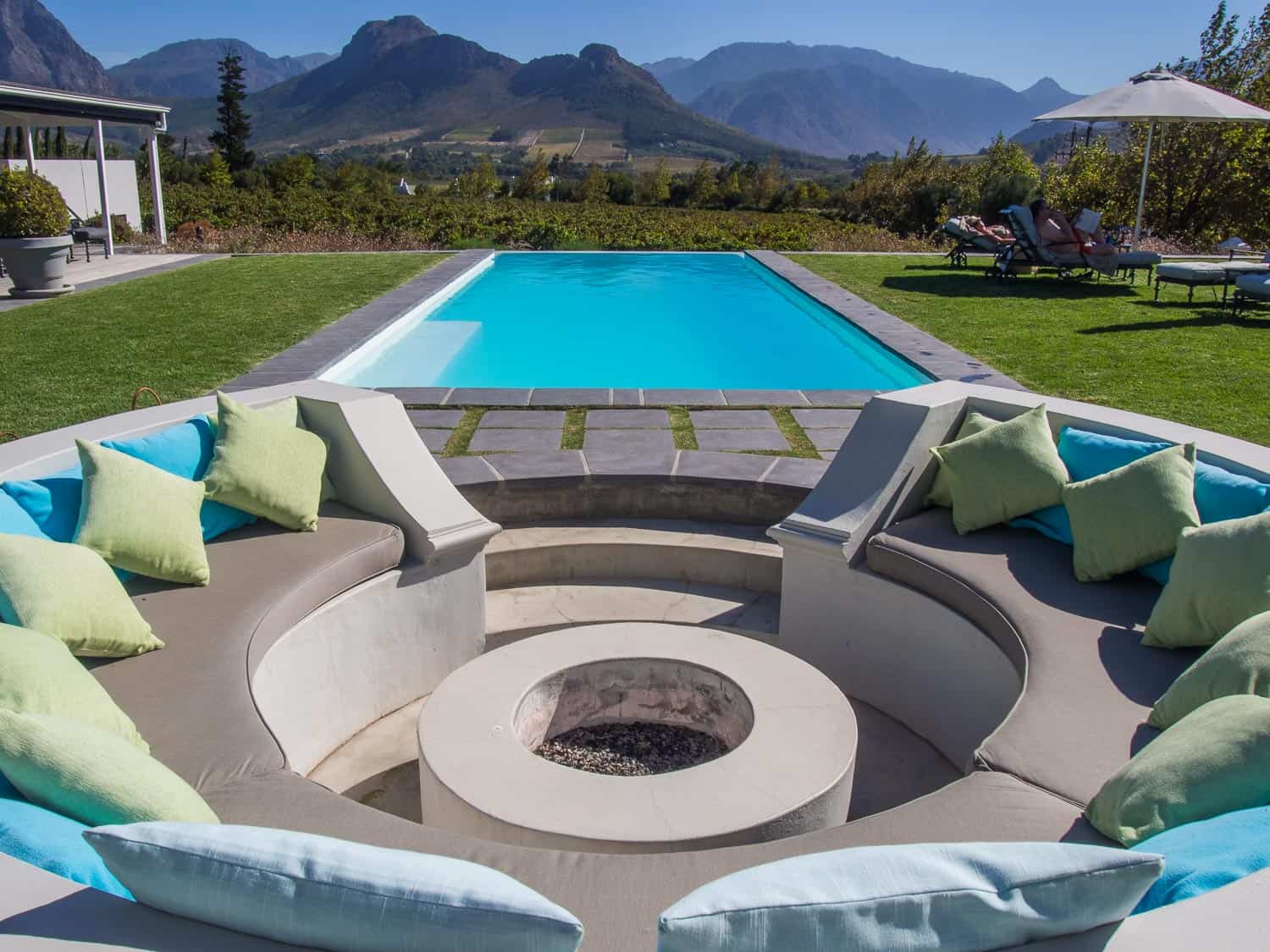 Eat a big breakfast before the wine tram and drink lots of water all day.
In early March when we visited it was very hot (30ºC) so take suncream. In the winter you'll need a jacket as the tram and bus are open-sided.
If you are travelling with a partner, consider sharing some of the tastings (especially in the morning) as the pours are quite generous.
Look at the wine tram timetables in advance and plan your route as you won't be able to visit all eight wineries on each line.
To help you decide which tram line, choose where you want to have lunch (most wineries have menus online) and pick the line that fits. Having lunch on the 3rd or 4th stop is a good idea. We really enjoyed the Green line and having a light lunch at both Mont Rochelle and Le Lude worked perfectly for us.
Start at 10am to visit the maximum of six wineries.
Be flexible with your plan, though, and consider staying longer at any wineries you love. Take your time and enjoy!
Don't miss our post on the best Franschhoek restaurants and our detailed guide to things to do in Franschhoek.
If you enjoyed this post, pin it!