This page contains affiliate links. Please read our disclosure for more info.
Franschhoek is a gorgeous village in South Africa's Cape Winelands, just an hour from Cape Town. Despite its tiny size, it's a foodie town with a remarkable number of fine dining restaurants in the village and on nearby wine estates. Most Franschhoek restaurants take advantage of the bountiful local produce with creative, seasonal menus.
Like most of rural South Africa, Franschhoek is a meat-heavy area and there are no pure vegetarian restaurants. All restaurants cater for vegetarians but there is often only one vegetarian choice and it can sometimes feel like an afterthought. I spent a lot of time researching restaurants and looking at menus to find the places that had the best reviews and good options for veggies. We ate very well during our four days in wine country.
Booking in advance is essential for popular places in Franschhoek, especially in the summer. I recommend to start planning your meals when you book your accommodation (we loved the stunning La Providence boutique guesthouse on a wine farm just outside the village). The only night we didn't book dinner in advance was on the day we did the Franschhoek Wine Tram as we knew we wouldn't feel like a formal meal out after a day drinking. There are a few casual eateries that don't require booking.
Here are our picks for the best restaurants in Franschhoek for vegetarians (they are all great for meat eaters too):
1) Babel at Babylonstoren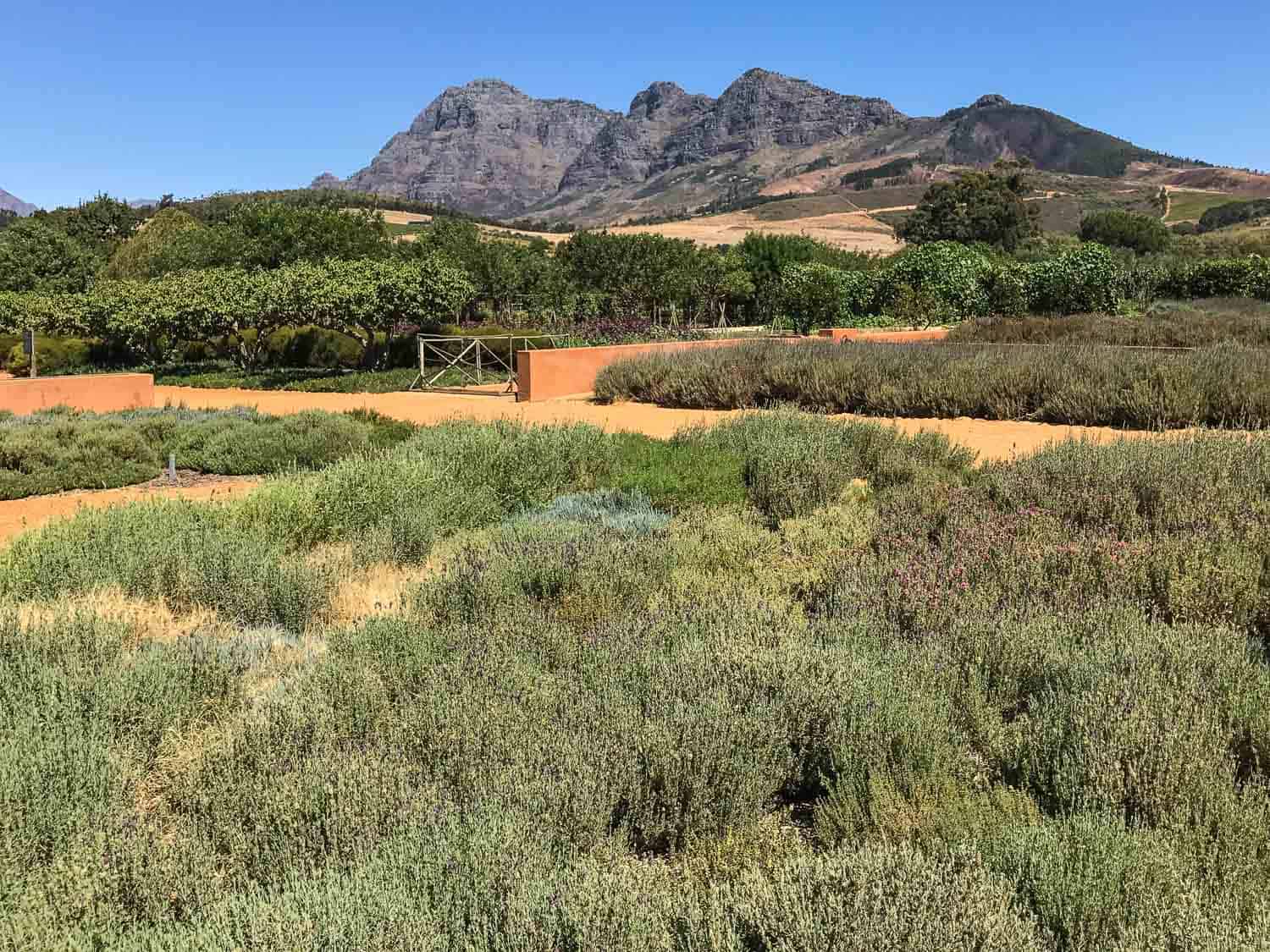 Our absolute favourite meal was at Babel, a fine dining restaurant at Babylonstoren, one of the oldest farms in the area. It's a 20-minute drive from Franschhoek village, but totally worth the trip. We recommend going for lunch and combining it with a day exploring the incredible gardens and wine tasting room as we did (more details in our Franschhoek guide coming soon). You should book two months in advance to be sure of a table.
The old cowshed has been converted into a bright, modern restaurant. There is outside seating with views of the gardens and mountains, but we were grateful for the air conditioning on a hot March day.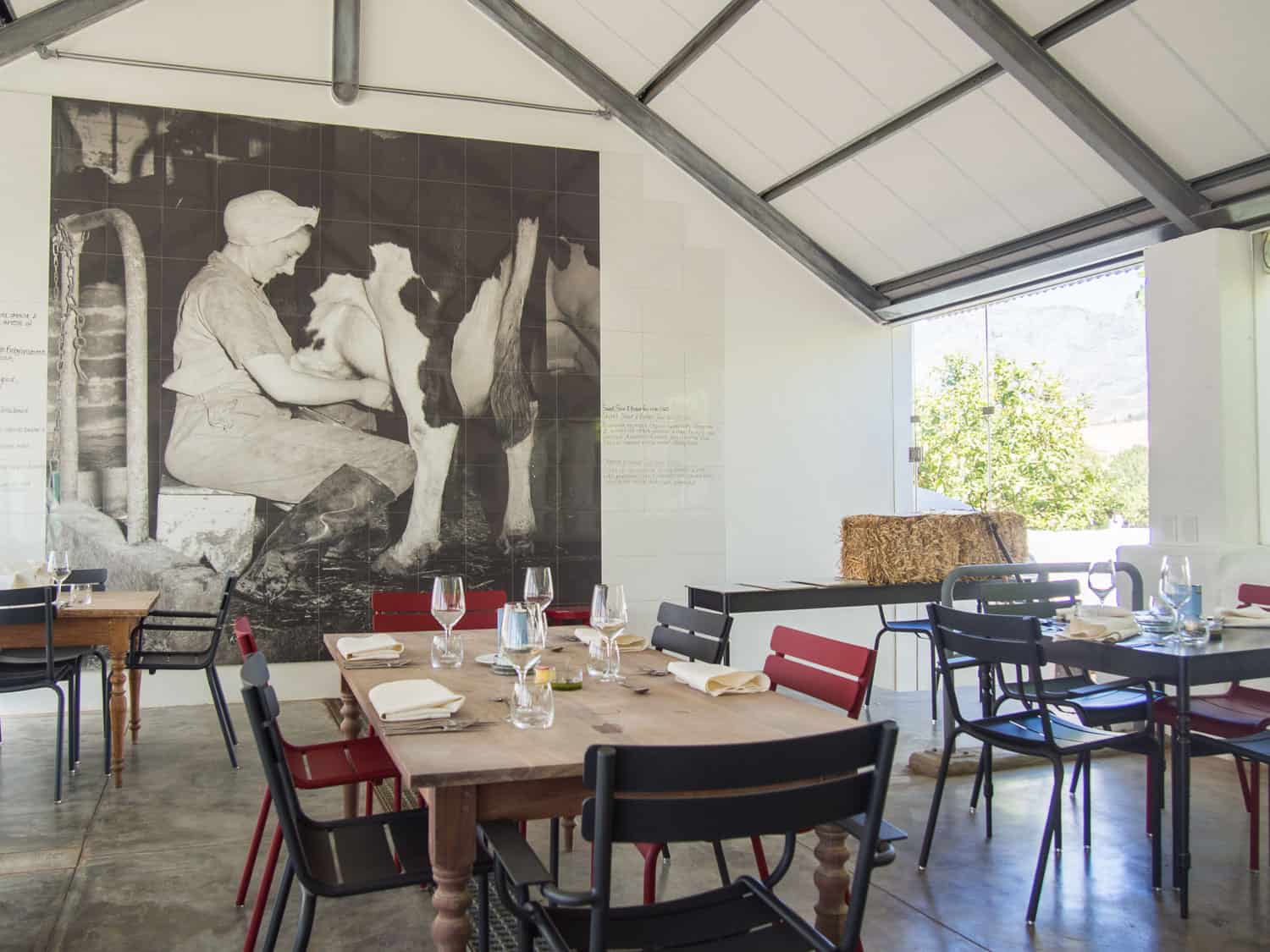 Babel has a small seasonal menu using freshly picked fruit, vegetables and herbs from the farm. There was only one vegetarian option per course (and the starter had to be adapted by removing the caviar), but the food was so good that we didn't mind. The menu includes suggested wine pairings by the glass (all from their own estate) and our Viognier white worked perfectly.
First we were brought their delicious homemade bread—three types along with a wonderful herby olive oil, so good it was difficult not to devour it. Then our waiter appeared with a beautiful collection of red and orange prickly pear lollipops straight from the garden.
Starters were simply named Green, Red, and Yellow. As vegetarians, we went for Green (top photo) and it was, as promised, a plate of green. But quite possibly the most delicious greens we've ever eaten. Artichokes and gorgonzola (thankfully mild) were wrapped in cucumber and adorned with asparagus, green beans, peppers, kiwi, herbs, flowers and pesto. Beautiful and so full of flavour.
Our main, a beetroot risotto, was also superb. It came, rather strangely, with a side of potato wedges that everyone gets. They were so good that we couldn't stop eating them despite having a huge plate of risotto to get through. Portions were surprisingly large—we definitely could have shared a starter and we had to get our leftover risotto to take away (with enough left for another meal at home!).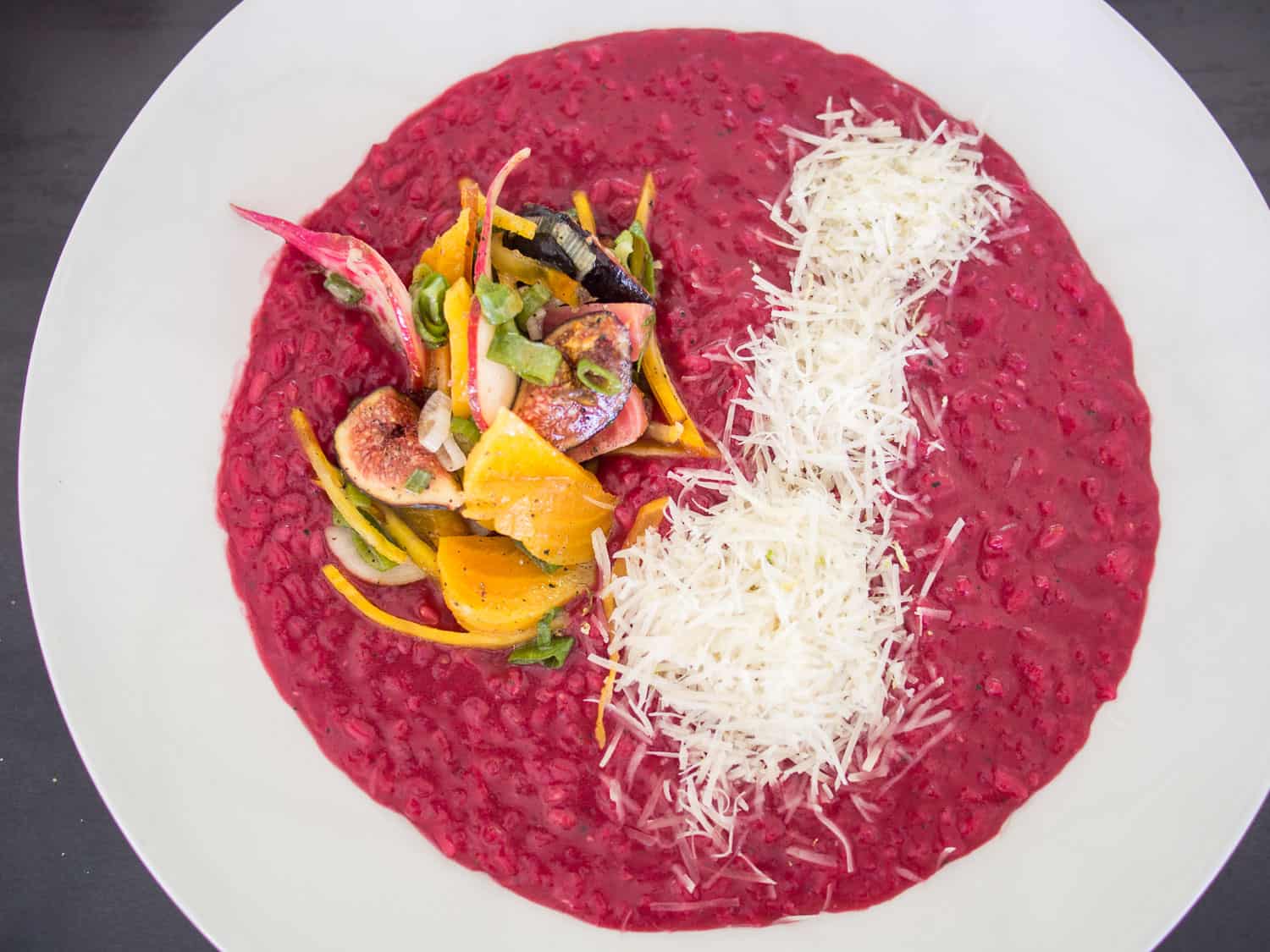 Despite being unable to finish our risotto, we couldn't resist dessert as it sounded so intriguing. Described as Sweet, Sour and Bitter it consisted of summer fruits with coconut and lavender ice-cream, fennel sorbet, rosewater meringue shards, and rosewater candy floss. It was light, fruity, summery and sweet, and the perfect end to an incredible meal.
Babel is remarkably reasonably priced for such a quality restaurant—our meal for two cost 600R ($45/£35). Don't miss it and if you can afford to stay at Babylonstoren, don't hesitate.
2) Foliage (Closed)
Foliage is a unique restaurant in Franschhoek village that uses seasonal ingredients and foraged foods like wild mushrooms, herbs and flowers. It's more vegetarian-friendly than most restaurants in the area with two or three vegetarian starters and mains marked on the menu (there's even a vegan option). Make sure you book well in advance.
Dishes are creative and beautiful. We had the smoked cheesecake and bean ragout to start followed by the wild mushroom risotto with dandelion pesto. The cute Valrhona chocolate pot plant came with herbs growing out of the top, but it wasn't as tasty as we expected. The buchu ice-cream was delicious, though.
A special shout out to the music—we felt like someone had stolen our music collection when we heard the 90s rock (Bush, Everlast, Weezer) coming softly from the open kitchen—we just wished they had turned it up.
Our meal for two cost 730R ($55/£42).
Sadly, Foliage is now permanently closed.
3) La Petite Ferme
La Petite Ferme is a wine estate about five minutes drive outside Franschhoek. You must book in advance and request a table with a view—we sat next to a large open window overlooking the gardens, vineyard, and mountains.
Like most places in this area, there's not a huge choice for vegetarians—just two starters and mains. We shared an excellent starter of crumbed goats cheese with fig salad. For mains we both had the crumbed aubergine with herbed cottage cheese and arrabbiata sauce. It was tasty, but slightly repetitive after the goats cheese and I felt they were trying to create a meat replacement. It also needed a salad as alone it was too much fried food (Simon may disagree).
The best part was dessert—we had spotted the fruits of the forest chocolate cake on the way in (it's not on the menu) and it was superb. A huge slice of rich, moist chocolate lightened by the berries.
Although the vegetarian options at La Petite Ferme aren't the most exciting, the food is good and the view is lovely.
Our meal for two cost 600R ($45/£35).
4) Marigold
Marigold is a new addition to Franschhoek and a relief for vegetarians who want more than one or two options. It's a modern North Indian restaurant with tasty curries including plenty for vegetarians with all the classics you'd expect like dahl, aloo gobi, and much more. If you like things spicy definitely ask for it hot—hot wasn't that hot.
Despite the stylish decor it's reasonably priced—our meal cost 350R ($26/£20). We did book in advance, but it wasn't that busy so you could probably get in without a booking.
5) The Country Kitchen at Mont Rochelle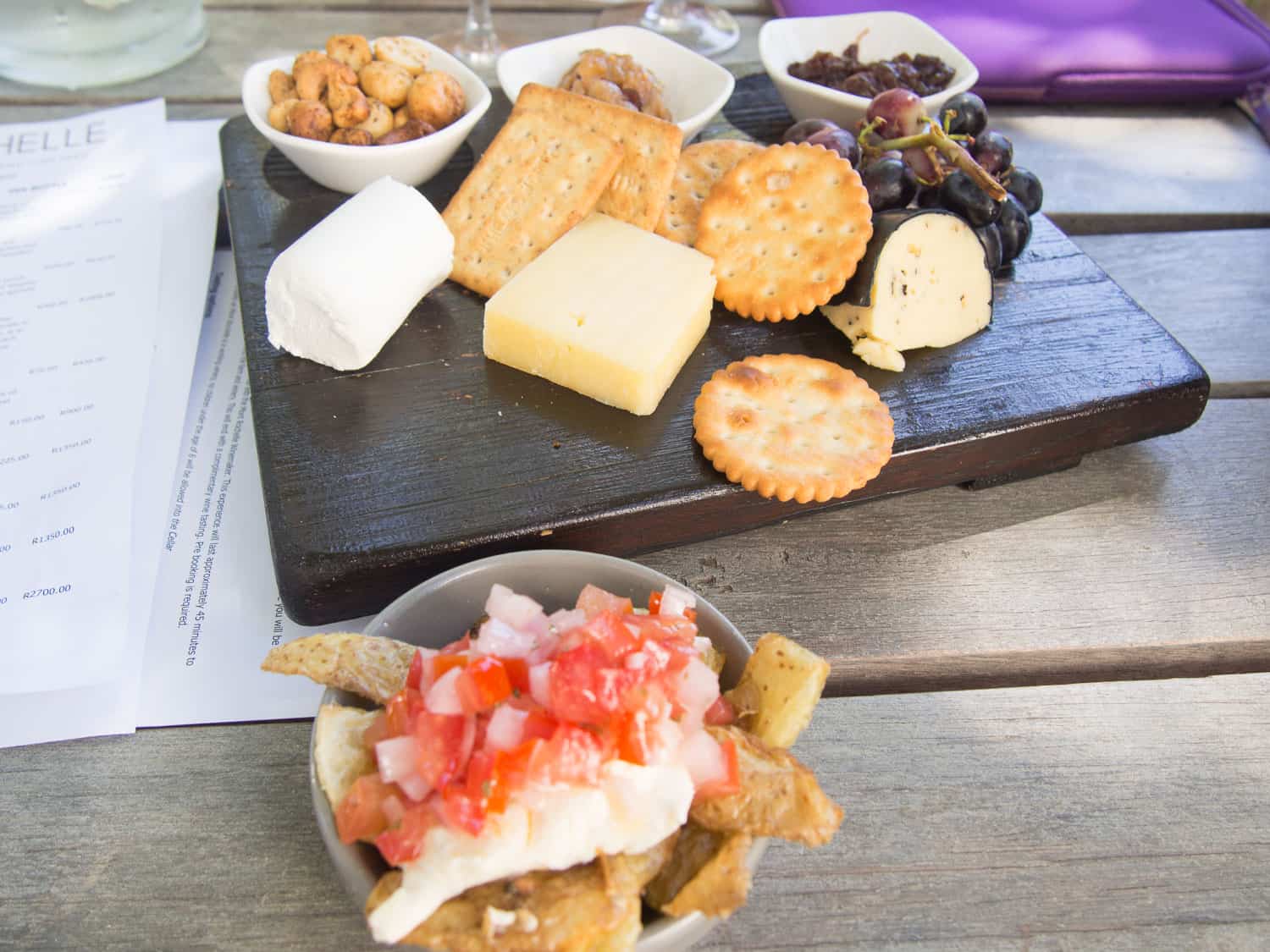 We visited Richard Branson's wine estate Mont Rochelle on the Wine Tram. We didn't have a full meal at The Country Kitchen, but we did an excellent wine tasting and added a delicious cheese plate (complete with apple chutney, red onion and wine marmalade, spicy nuts, and grapes) and potato skins. They have a number of vegetarian tapas in the tasting room and the restaurant has a choice of salads. Perfect for a light lunch.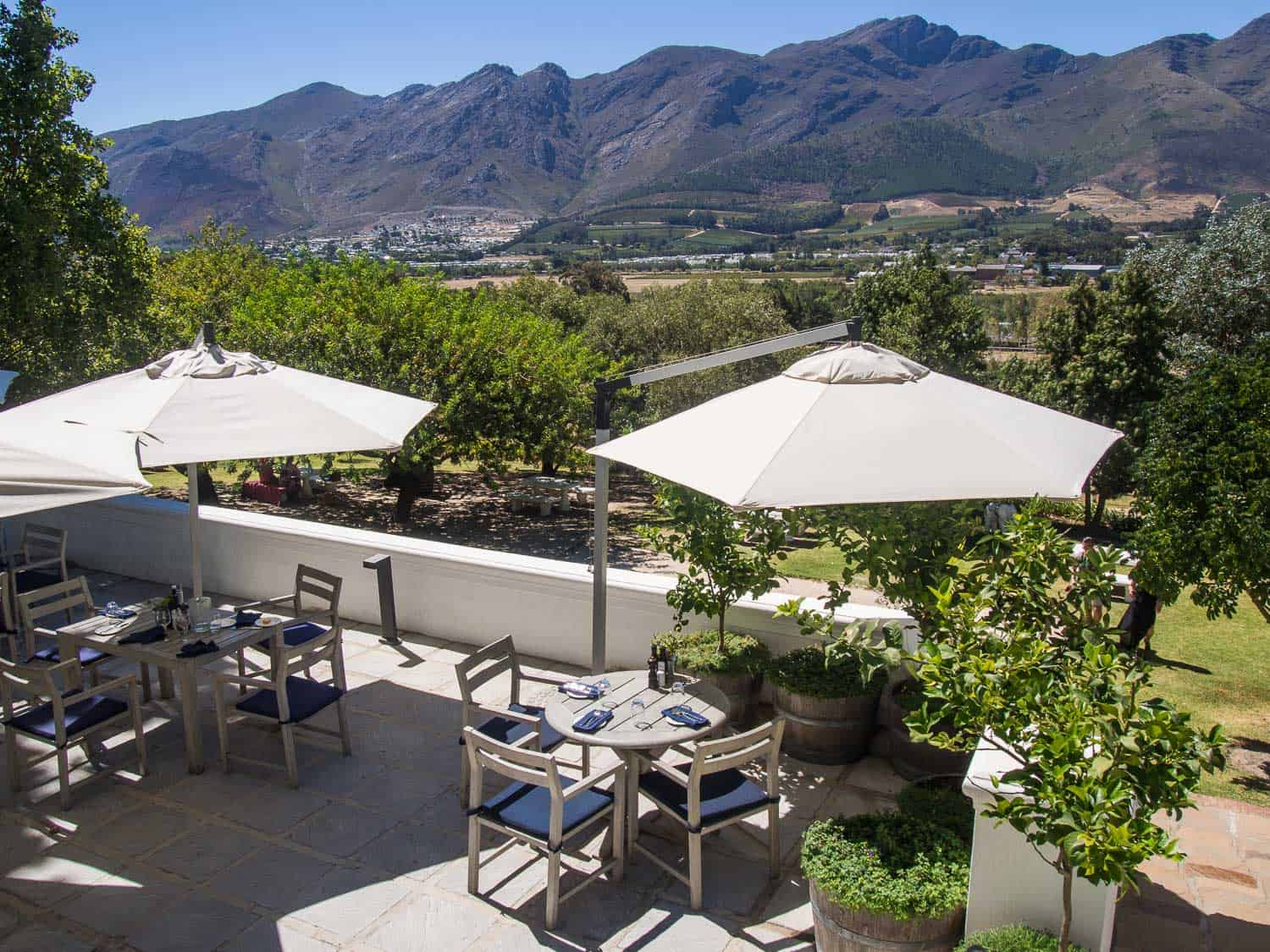 6) Le Lude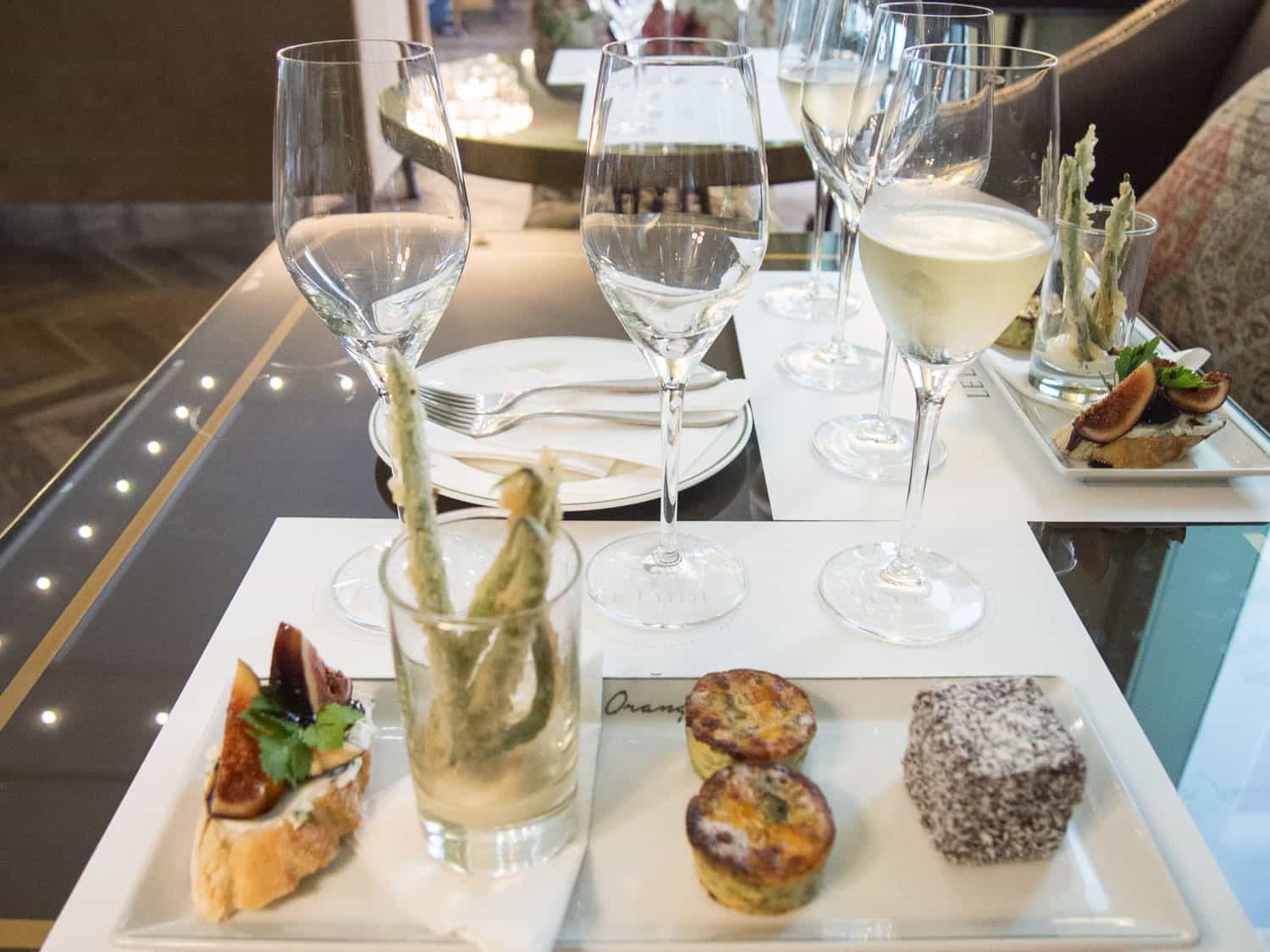 Again, we didn't have a full meal at Le Lude but snacked on their canapé and sparkling wine pairing on the Wine Tram. They offer a vegetarian pairing (140R/$11/£8) which included roasted grape and goats cheese baguette, tempura french beans with roasted garlic aioli, baby spinach gruyere frittata, and a double chocolate lamington. We loved the food, bubbly, classy French-style tasting room, and beautiful rose garden.
7) Tuk Tuk Microbrewery
If you want a quick, casual meal without needing to book, Tuk Tuk Microbrewery is a good option. Their speciality is craft beer and Mexican food. Vegetarian options are limited, but we enjoyed an unhealthy comfort meal of nachos, sweetcorn fritters, and an ultra cheesy quesadilla (we requested a vegetarian quesadilla and they replaced the meat with extra cheese!). At 340R ($26/20) it was our cheapest meal in Franschhoek.
Other Restaurants in Franschhoek
There are plenty of other restaurants in Franschhoek, and all will have at least one vegetarian option, but we ran out of time and didn't get to try these.
Casual restaurants in the centre of Franschhoek with vegetarian options include Col'Cacchio (pizza and pasta).
For something different, Cosecha restaurant on the Nobel Hill wine estate serves Mexican food with a few tasty sounding veggie options. It's located near Babylonstoren and is one of the stops on the purple line of the Wine Tram.
I also recommend looking out for La Petite Colombe, which will open in August 2017. It is replacing The Tasting Room and is run by the team from La Colombe in Constantia, where we had an incredible vegetarian tasting menu—one of the best meals of our lives.
Franschhoek Restaurants Map
The delicious seasonal food was one of the reasons we loved Franschhoek so much (along with the wine and stunning scenery). Make sure you do some advance planning, splurge on some special meals and enjoy this foodie heaven.
Read our guide to things to do in Franschhoek for more information about this beautiful town.