This page contains affiliate links. Please read our disclosure for more info.
Cape Town is one of the most beautiful cities in the world with a stunning setting between mountains and sea. It's even more spectacular from above and I highly recommend splurging on a helicopter trip over the city to make the most of those breathtaking views. It was even better than I expected and one of our top two favourite things we did in the city (the other was driving a Harley Davidson to Cape Point).
We did our helicopter trip towards the end of our two-month stay in Cape Town and we loved seeing all of the places we'd visited from above. It was a fitting farewell tour of the city.
Our trip with Cape Town Helicopters began at the V&A Waterfront. After watching a safety video our pilot Fraser took us over to our helicopter. There was space for four passengers but as no-one else had booked on we had it to ourselves. I sat next to Fraser while Simon sat in the back. Before we even had a chance to contemplate what we were doing the staff had strapped us in, we put on our headsets (which reduce the noise and allow us to talk to each other) and were up in the air. It was a quick and smooth ascent straight up, which feels strange after so many plane trips down runways.
Wow! The incredible views started instantly as we looked down to the V&A Waterfront, which is both a working dock and tourist destination with shops and restaurants. The high-rises of the downtown area were further back with the always stunning backdrop of Table Mountain. We knew the views were going to be good, but seeing the city from this unique perspective was truly remarkable and we were in awe the whole flight.
Usually you can see Robben Island, the island prison where Nelson Mandela spent 18 years, but it was hidden in clouds. We didn't mind as there was so much more to see on the mainland. The Cape Town Stadium is next to Green Point Park and behind that is Signal Hill (where we had a sunset picnic) and Lion's Head.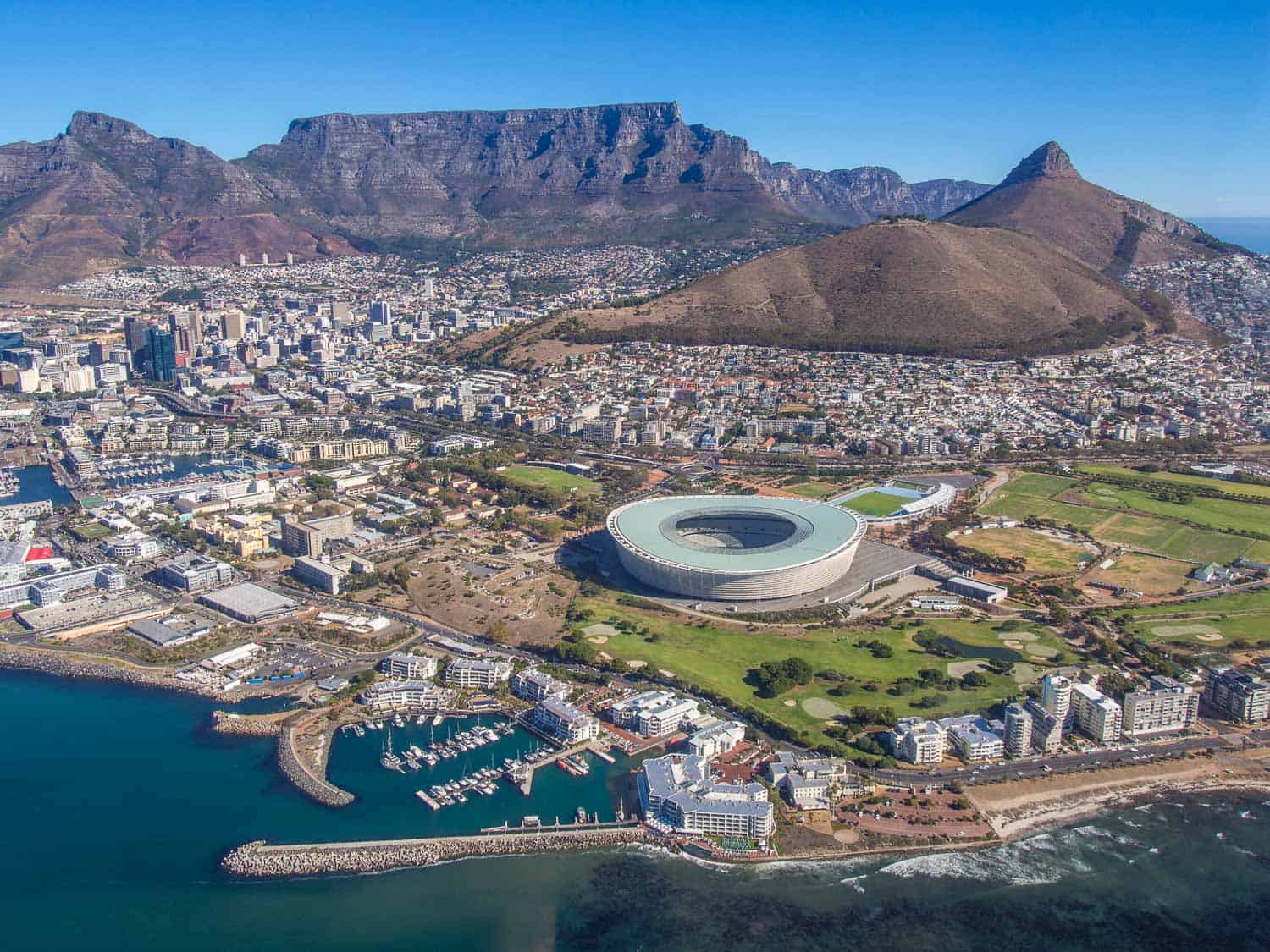 The next suburb as we flew along the Atlantic Coast is Sea Point, where we've been living for the last two months. We could even see our apartment building (or the lush garden where it is hidden at least). The Sea Point Promenade runs next to the sea and has been a great place for morning runs and sunset strolls.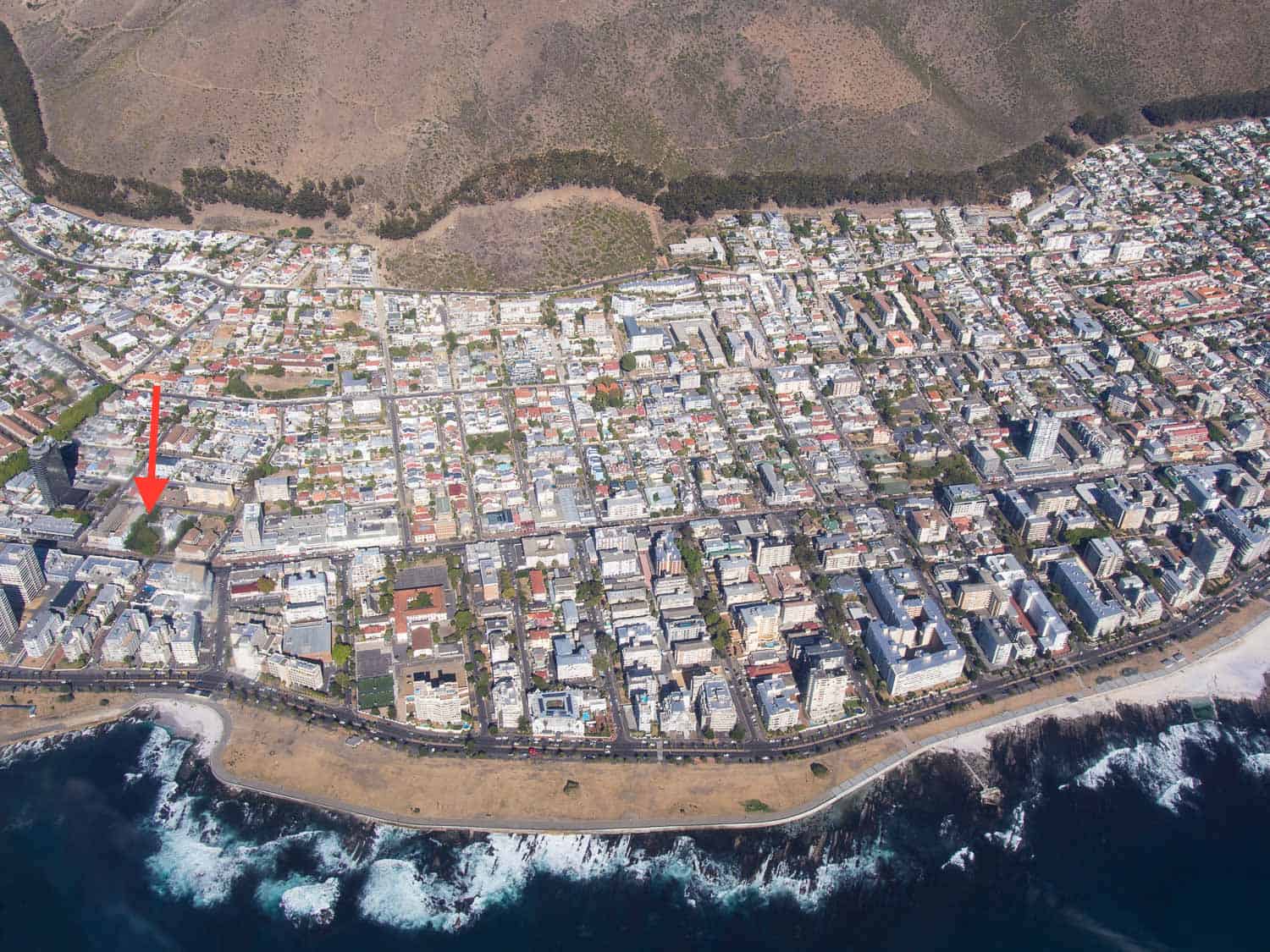 The other end of Sea Point features the swimming pools and Lion's Head mountain, which is worth the hike for the views, although it's not as easy as everyone says.
Further along the coast there's the beautiful Clifton and Camp's Bay beaches with Lion's Head, Table Mountain and the 12 Apostles behind.
The gorgeous mountain scenery continues all along the coast. Victoria Road leads from Camp's Bay to Llandudno beach.
Victoria Road is a beautiful drive that we did a number of times.
Llandudno beach is beneath Little Lion's Head and Hout Bay is on the other side of the mountain. On a clear day you can see all the way down the peninsula to Cape Point.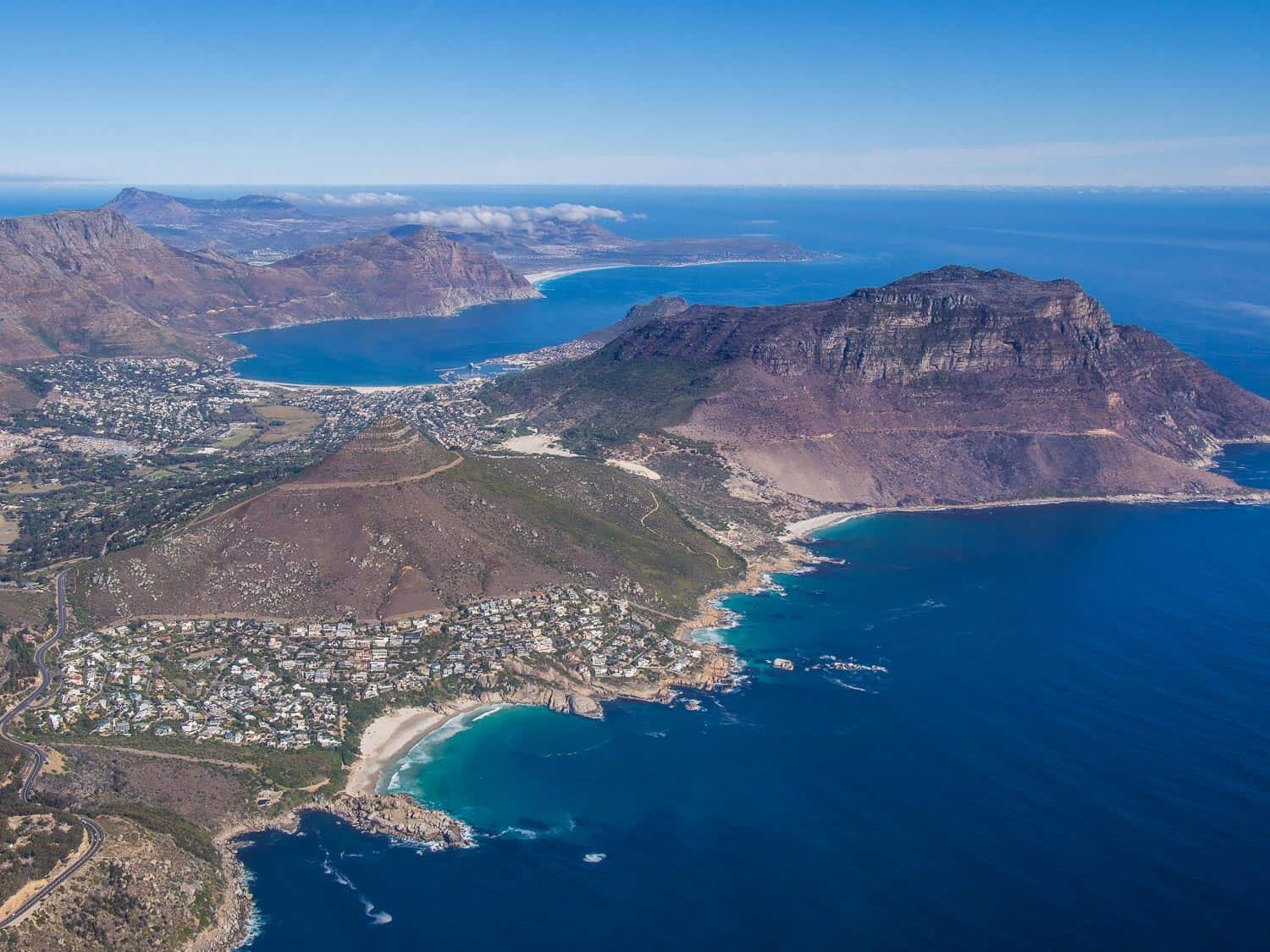 Llandudno beach was where we spent our first day in Cape Town, combined with a trip to Bay Harbour Market in Hout Bay.
Hout Bay is the start of Chapman's Peak Drive, a gorgeous windy road along the coast where we drove a Harley Davidson on the way back from Cape Point.
At this point we flew over the mountain (getting incredibly close!) and turned back towards the city. We flew over the terraced vineyards of Constantia where we enjoyed a decadent 12-course meal at La Colombe last week.
We followed Table Mountain along the opposite side then flew low over Devil's Peak, hitting a bit of turbulence, which was the only bump in an otherwise smooth ride. The city bowl and the other side of Lion's Head and Signal Hill were below us.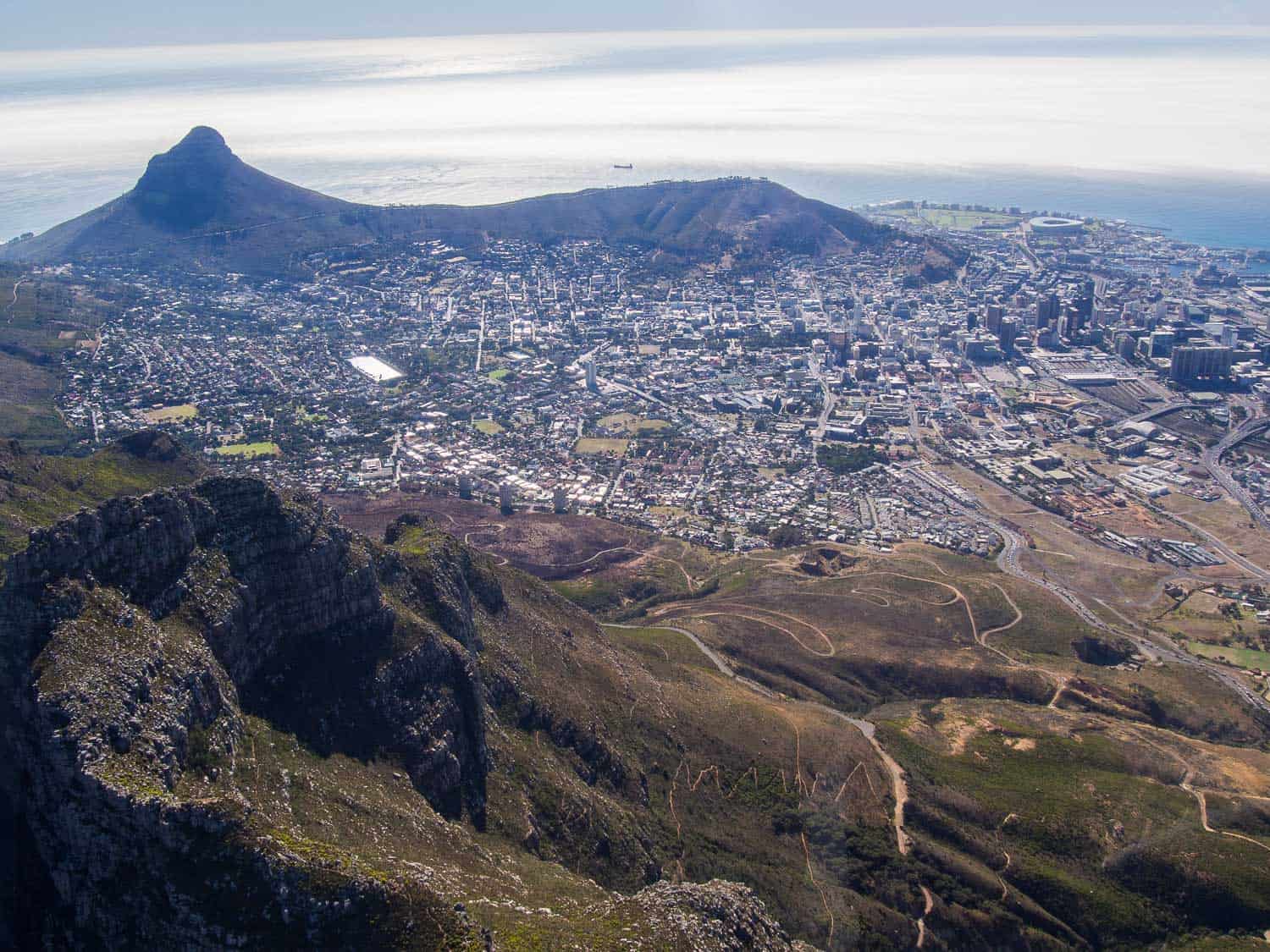 And we returned to the waterfront where we began. It was all over too quickly and as soon as we landed I wanted to go again.
Cape Town Helicopter Trip Details
There are a number of helicopter companies in Cape Town based at the V&A Waterfront. We chose Cape Town Helicopters, who are the highest rated helicopter company on TripAdvisor (with an average of 5 stars with 661 reviews!). They were efficient and professional and we felt very safe. The pilots act as tour guides pointing out landmarks along the way.
We did the 20-minute Atlantico trip which costs 1650 ZAR (US $123/ £98) per person, but if you can afford it I recommend the longer Two Oceans flight (25 minutes, 2250 ZAR/$168 /£134) or even the Full Peninsula flight (50 minutes, 4400 ZAR/$328/£261). Try to book a flight near the beginning of your trip as they can be cancelled due to high winds.
If you want to take photos, wear dark clothes to minimise reflections and try getting a seat next to the pilot. I think late afternoon is the best time for photography. We went up at 4 pm (2 hours 40 minutes before sunset) and had good light on the first part of the trip (when the views are best) but were shooting into the sun on the return leg.
I highly recommend setting aside money in your budget for a helicopter trip over Cape Town. The photos don't do it justice—it's a truly remarkable experience and the best way to see this beautiful city.
Update: We've since got hooked on helicopter trips and our latest was in Hawaii—see our doors off helicopter Kauai review for more details.
If you enjoyed this post, pin it!
Many thanks to Cape Town Helicopters who hosted us on our Atlantico scenic flight.