This page contains affiliate links. Please read our disclosure for more info.
Update October 2021: Since we visited, Klaserie Sands has been renamed Tulela and is under new management.
Klaserie Sands makes an impression as soon as you arrive. After bumping along dirt tracks through the African bush we emerged in an oasis of lush, manicured lawns leading to the grand entrance to the lodge, grizzled tree trunks holding the porch aloft. As we entered the main space with its high ceilings and dramatic chandelier, owner Lee-Ann welcomed us with a smile, cool towel and fruity drink and ushered us onto the terrace. Wow! (We said this a lot that first afternoon.)
The stunningly designed terrace feels like a fancy treehouse with trees growing up through the wooden floor. We lounged on the sofas and took in the view of the infinity pool, dry riverbed, and waterhole beyond (where animals can often be spotted). We knew we'd found somewhere special.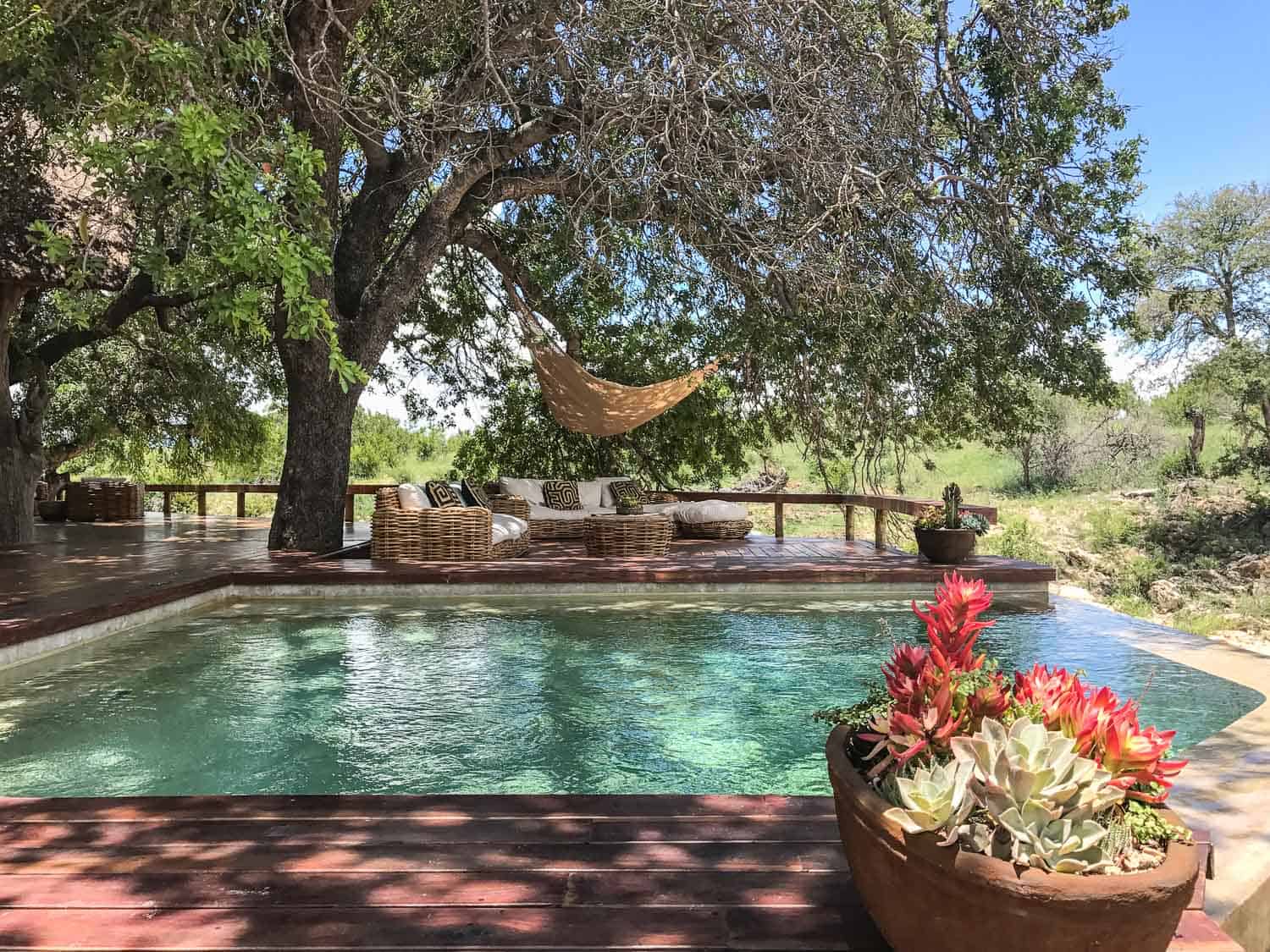 Klaserie Sands River Camp (now Tulela) is one of the newer safari lodges in the Greater Kruger area, open for only 18 months. Owners Lee-Ann and Louis were initially hired to refurbish the property after a massive flood destroyed it, but they fell in love with the beauty and wildness of the Klaserie Reserve and stayed to open the lodge. They've created a unique place—a luxurious yet intimate safari lodge with just four rooms and up to eight guests that feels like you're staying with friends in their very stylish villa.
The camp is deep in the bush and the wildlife viewing is superb—both from camp and out on game drives with the knowledgeable guides. Our very first viewing on our first evening drive was watching two male lions from a few metres away—an experience we'll always remember.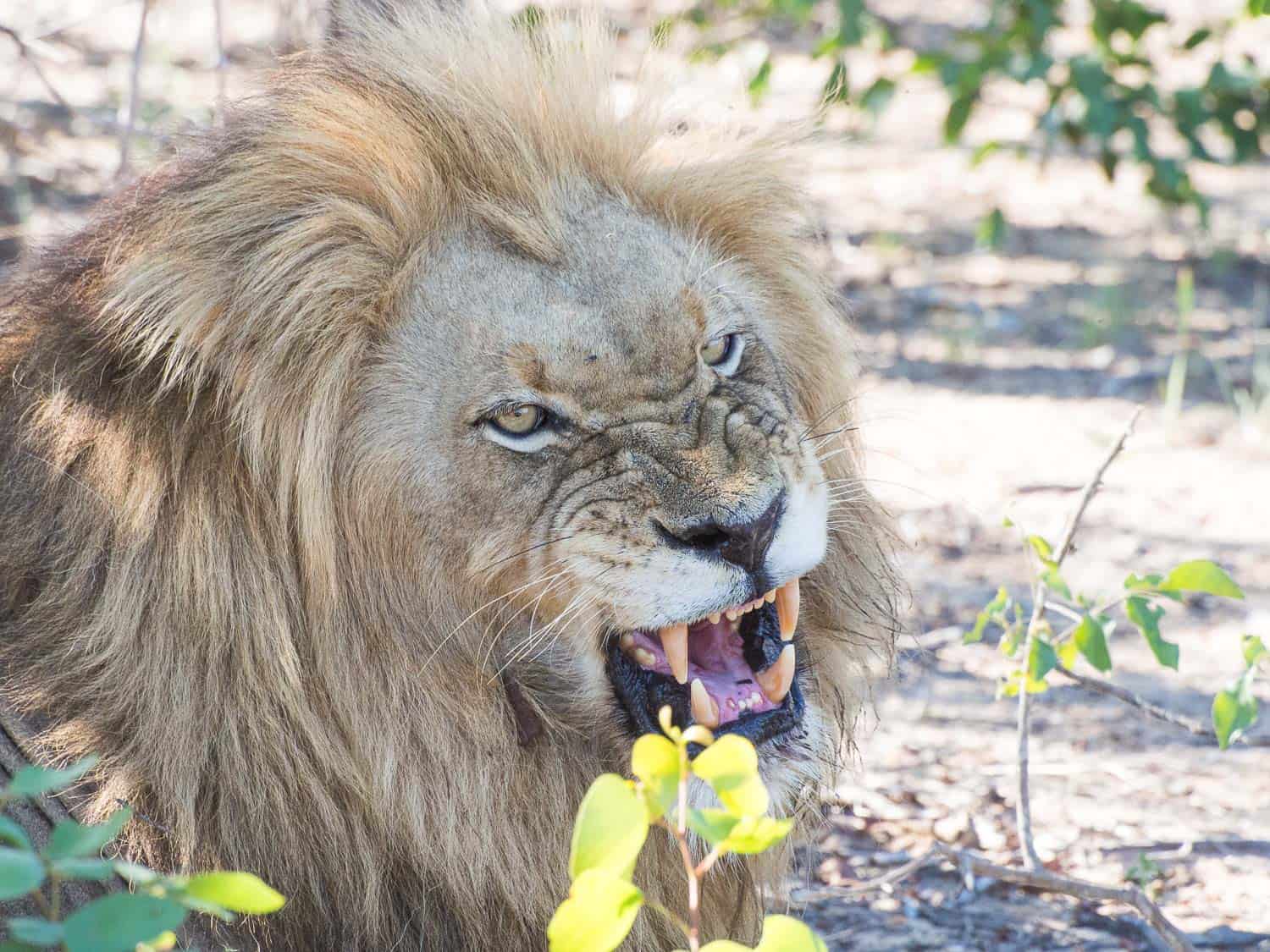 Like most safari lodges, Klaserie Sands is all-inclusive of game drives, food and most drinks, which helps to make it ultra-relaxing. There's no need to carry a wallet or make decisions about what to eat or do. It's a wonderful escape from the real world.
Klaserie Sands River Camp Review Contents
Rooms
Facilities
Food
Game Drives
Other Activities
What to Bring
Highs & Lows
Location
Costs
Summary
Rooms
Klaserie Sands has just four rooms, all with terraces overlooking the dry riverbed where animals can often be seen strolling by. Rooms are spacious and luxurious with huge, comfy four-poster beds with mosquito nets that conveniently go on the outside of the bedside tables.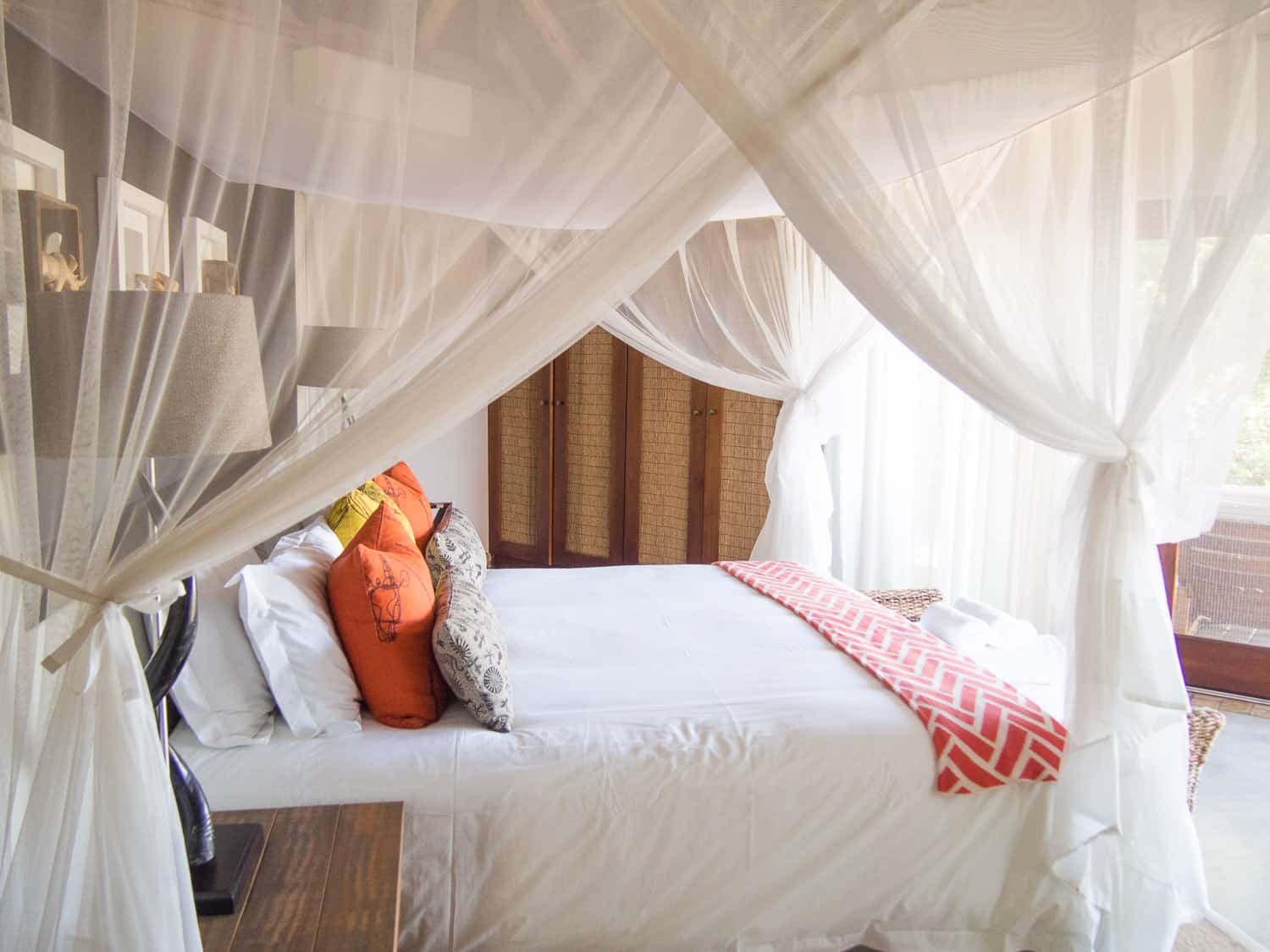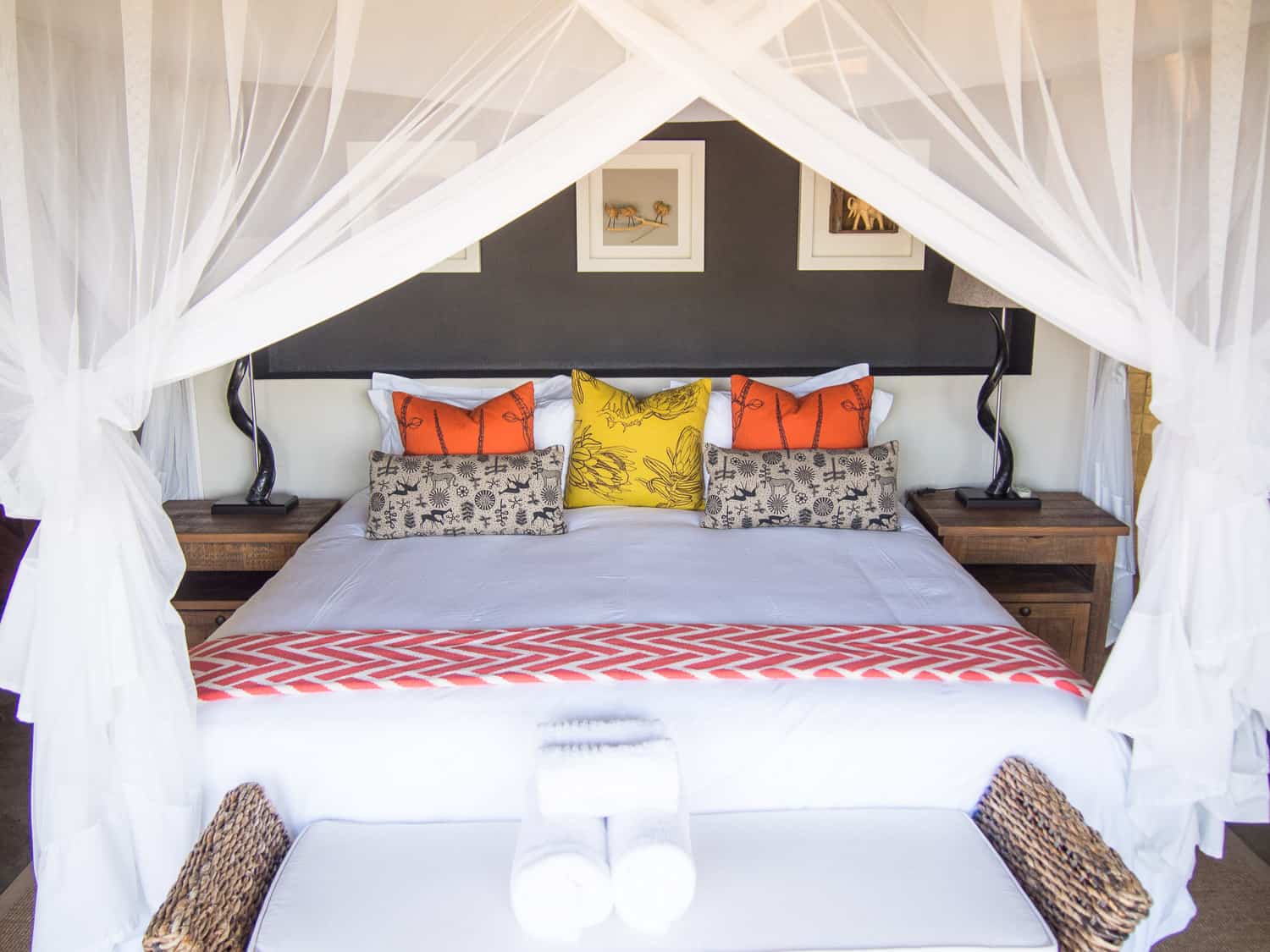 The high thatched ceiling and large glass doors add to the feeling of space and light. I loved being able to lie in bed and enjoy the view outside—there's complete privacy except perhaps from a passing elephant. The doors are screened so you can enjoy the breeze without worrying about bugs.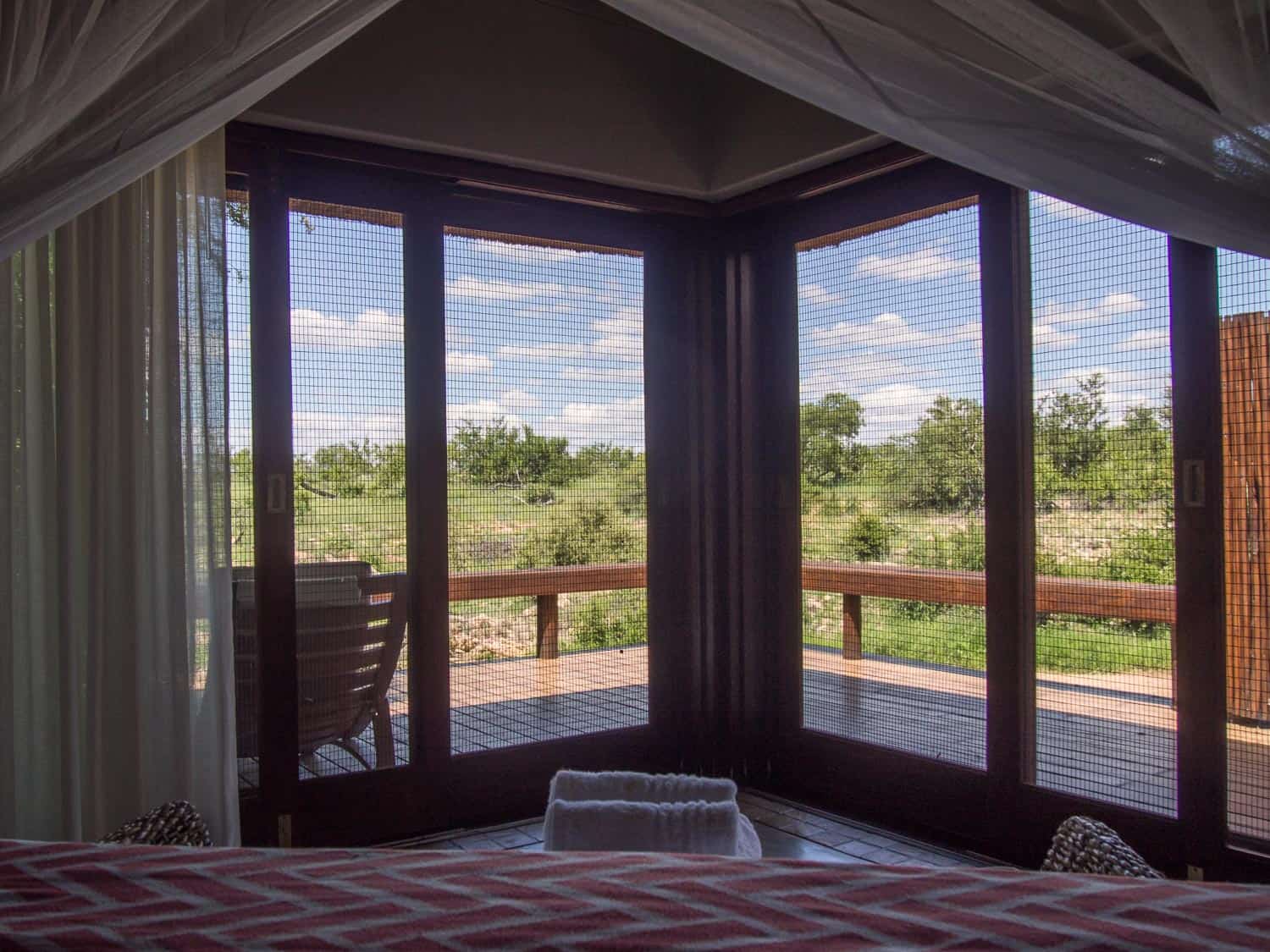 The rooms have fans and air conditioning, which we appreciated in the summer heat, and there's a desk and plenty of storage space. The USB power points alongside the usual ones were handy for those of us with far too many electronics.
The bathroom is huge and open plan with a bath, separate shower (with a glass wall to enjoy the view), private toilet cubicle, and quality toiletries.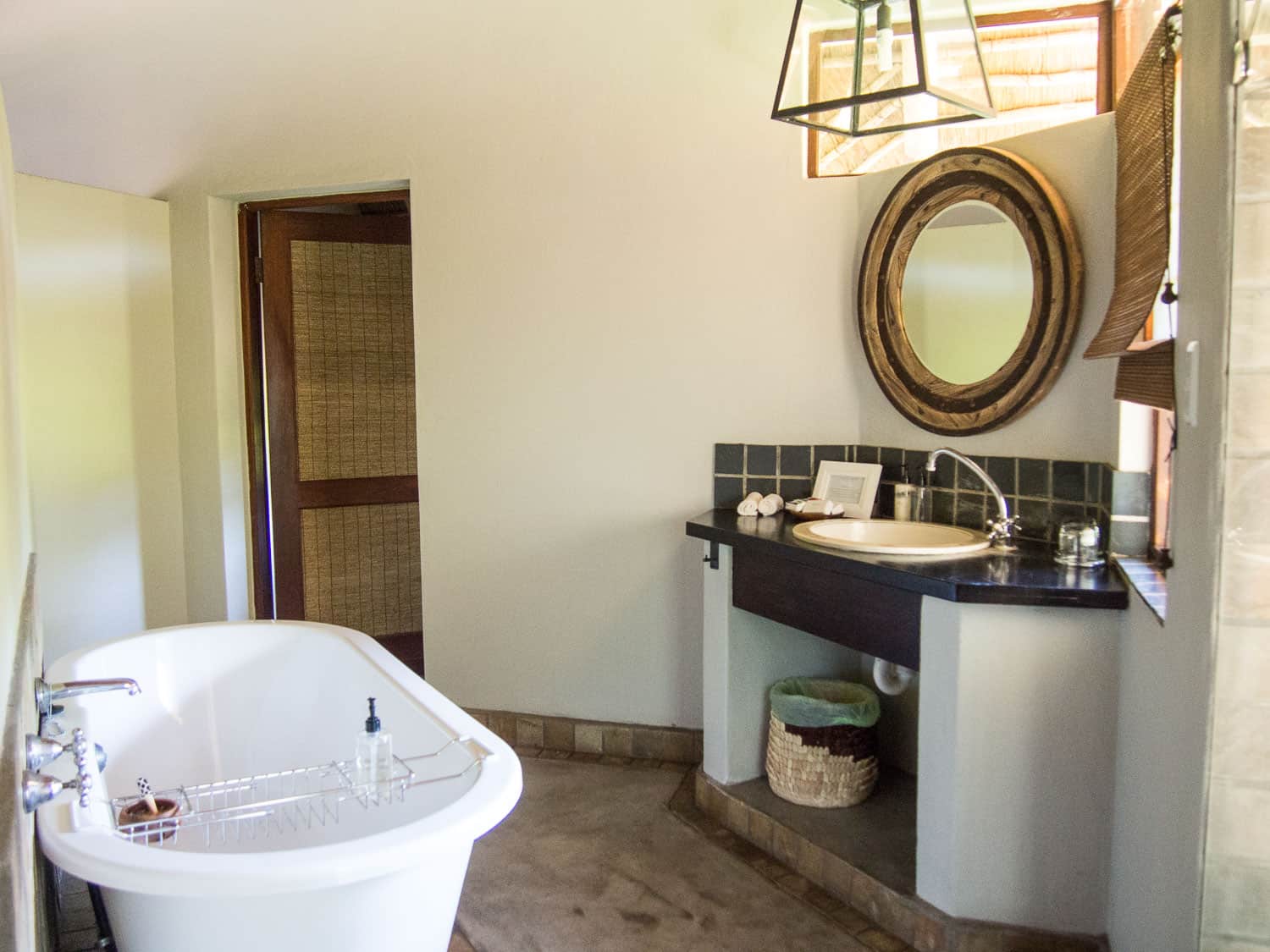 The large terrace has a couple of sun loungers for enjoying the view. We stayed in the honeymoon suite, which has an additional outdoor shower in a tree overlooking the riverbed reached by a short walkway from the terrace. It's liberating to shower with a view!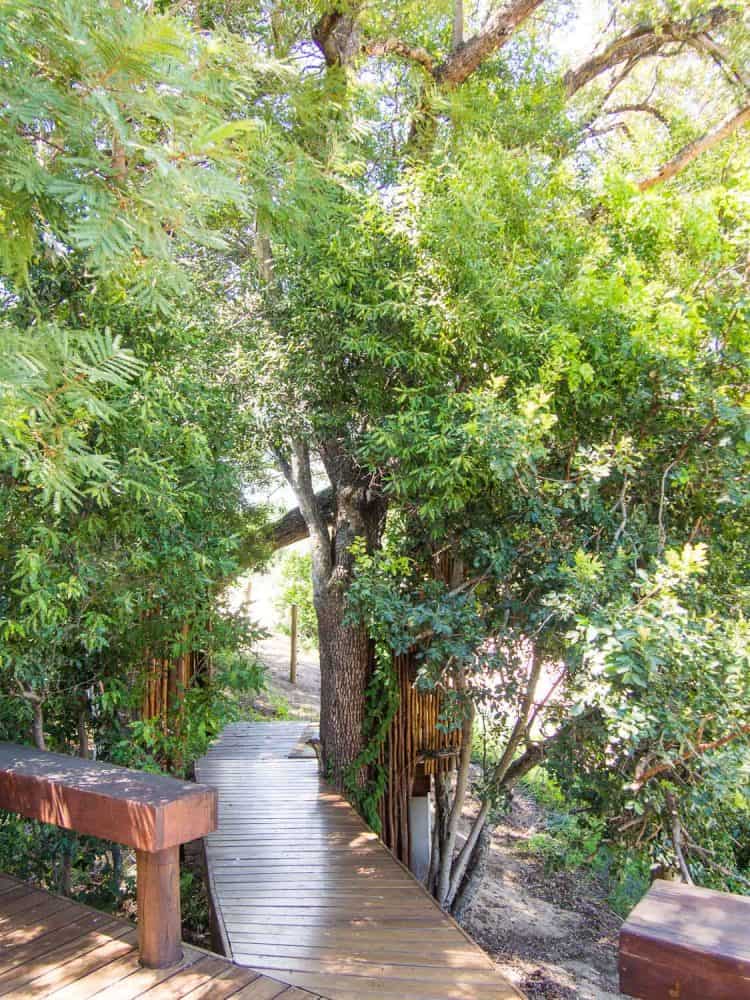 Stainless steel water bottles are provided and you can fill them up from the water machine in the bar.
The rooms are cleaned during the morning game drive and the beds are turned down and mosquito nets put in place during the evening drive.
Facilities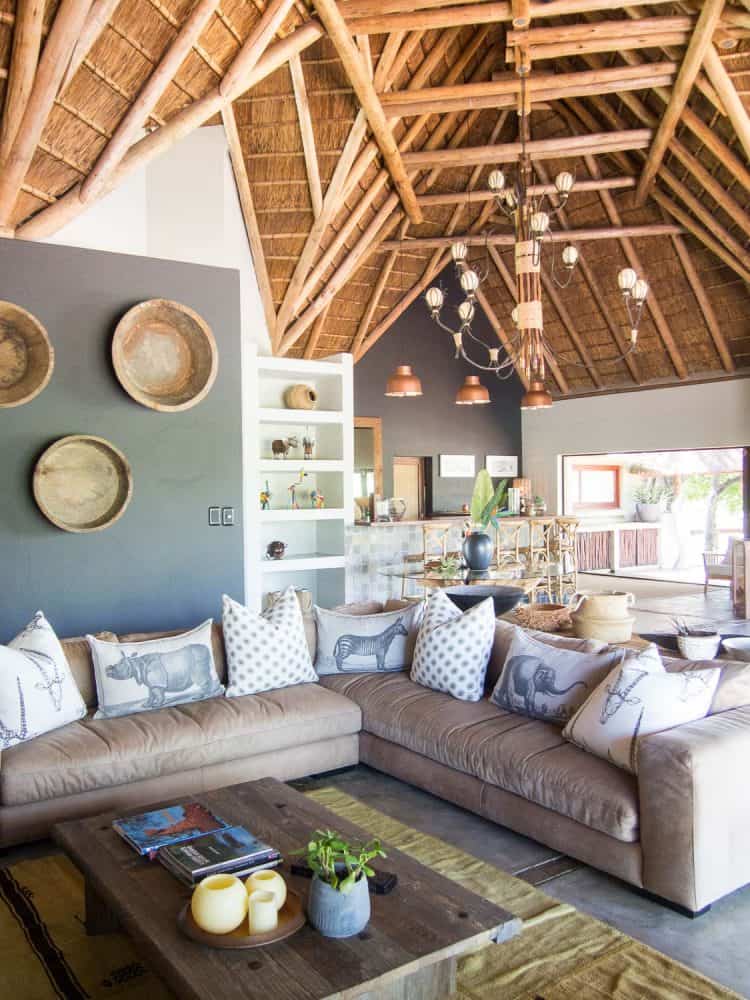 The common areas at Klaserie Sands are gorgeous and it's easy to find a quiet spot to relax between game drives. The lounge/ bar area has dramatic high ceilings, glass doors onto the terrace (open most of the time), comfy couches, a fireplace, books, and artwork. It manages to feel both homely and super-stylish. The staff at the bar can make you a drink at anytime and most drinks are included.
The lounge leads seamlessly onto the stunning terrace, a grown-up treehouse with giant jackalberry and leadwood trees emerging from the floor and providing shade for the many couches and armchairs. I don't think we've stayed anywhere that has so many different comfortable places to relax. As there are only up to eight guests at a time there's always plenty of space.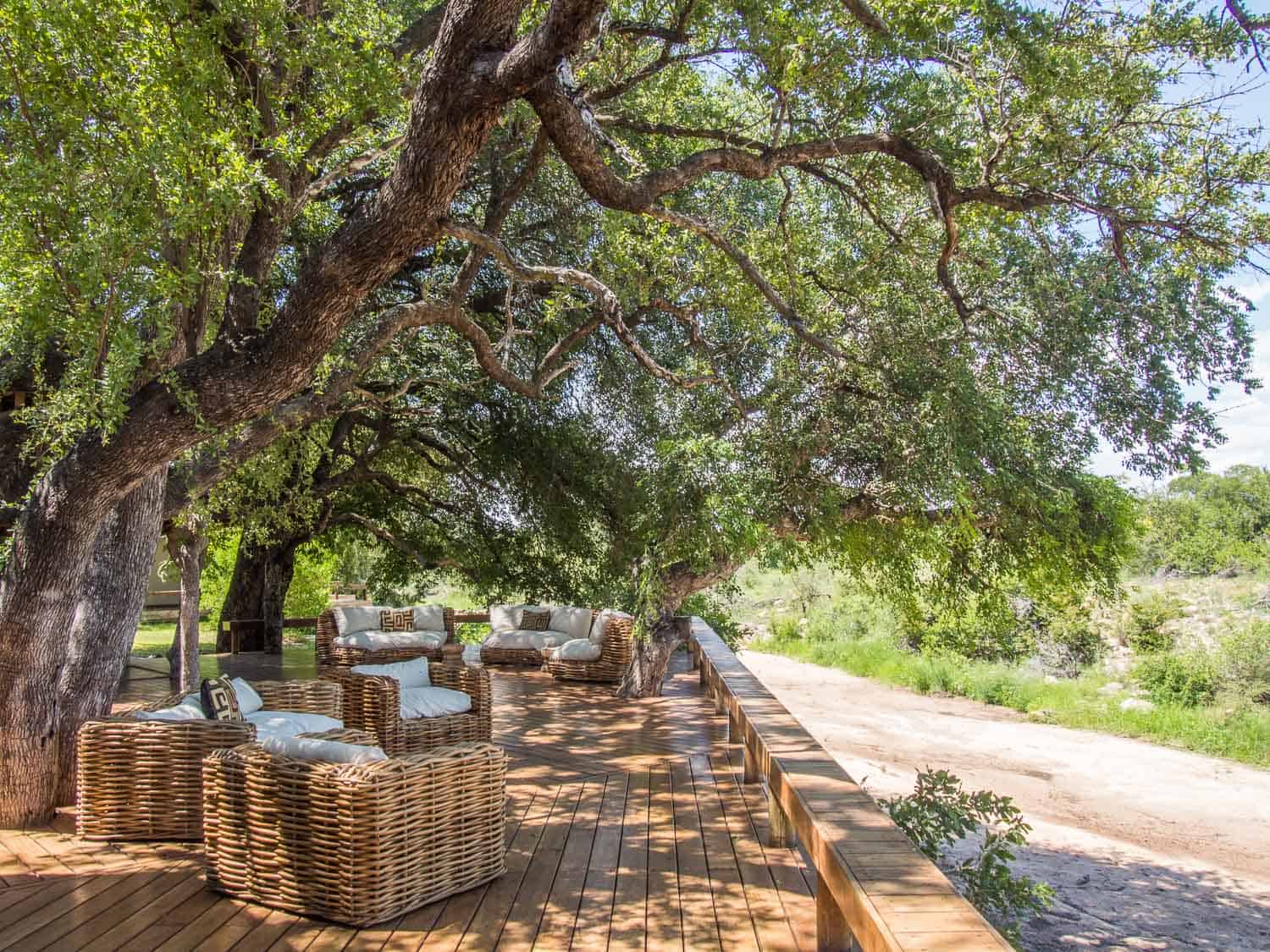 The small infinity pool isn't big enough for laps (although I tried!), but it's perfect for cooling off and enjoying the view of the waterhole opposite—I saw a family of warthogs one day. There are plenty of sun loungers for working on your tan.
The terrace is great for animal viewing as it has views of the riverbed and waterhole. We saw elephants, hyenas and warthogs and in the dry winter months you can expect to see a lot more.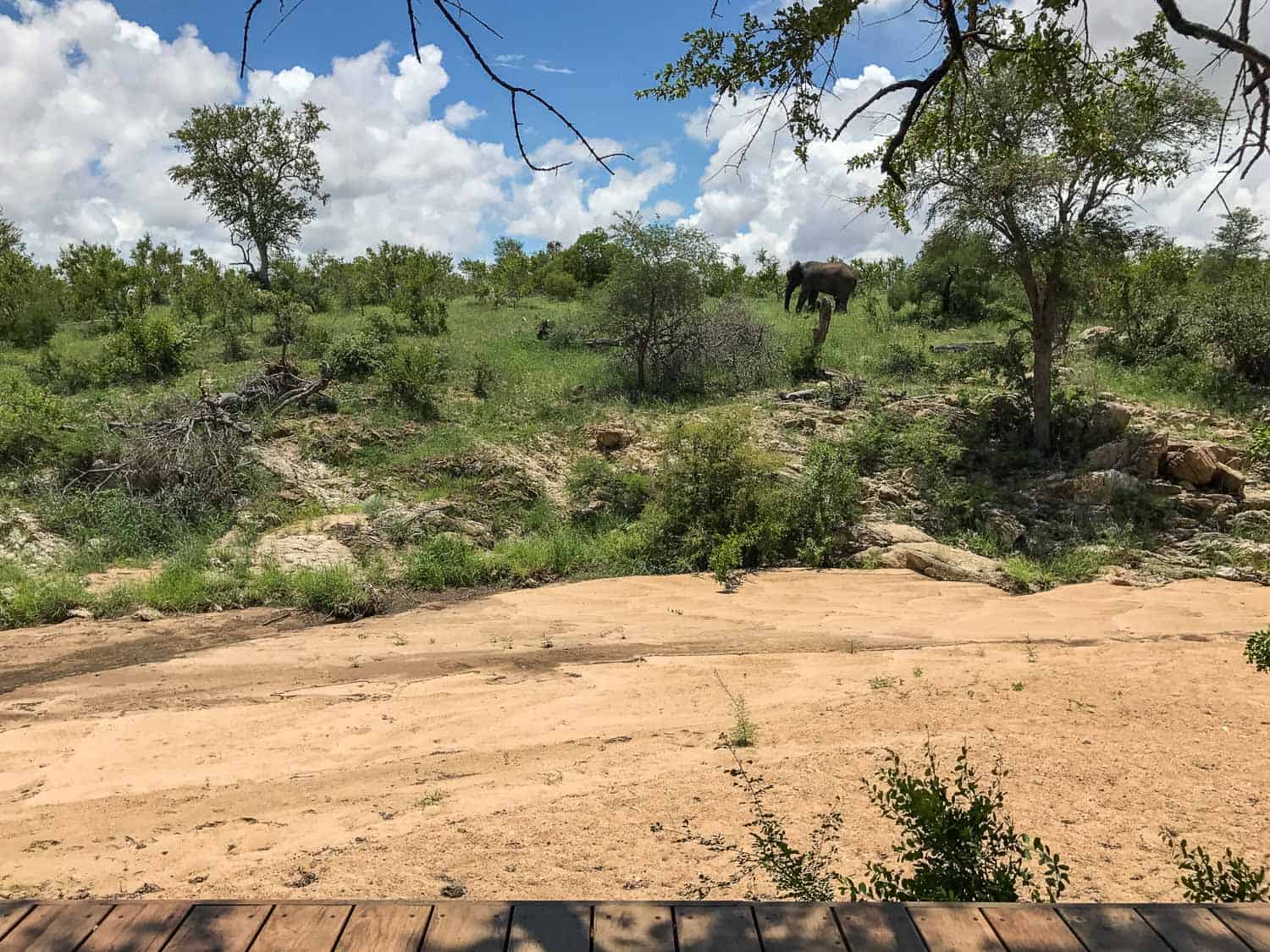 The WiFi works best in the lounge, but it also works on the terrace and even in our room sometimes. As you'd expect being so far out in the bush, it's not super fast but it works well enough. There's no phone signal out here.
Klaserie Sands used to have a gym but as it wasn't being used they were in the process of converting it to a gift shop during our stay. Weights and yoga mats are available to borrow.
Klaserie Sands is fenced in so you don't have to worry about animals wandering in.
Food
Meals are Klaserie Sands are delicious and plentiful and they catered well for us vegetarians. As at all lodges, you don't get a choice of food but we loved having a break from decision making and enjoyed all our meals. Breakfast and lunch are served at private tables on the terrace and dinner is eaten communally at a big table with the other guests and the owners or ranger either inside or on the terrace. As the lodge is so small it's a very friendly and relaxed atmosphere and there was always plenty to discuss.
Three meals a day are included in the price plus coffee/tea and rusks first thing and during the morning drive and a sundowner drink and nibbles on the afternoon drive. Plus drinks are available at the bar whenever you like and soft drinks, hot drinks, craft beer and local wine are included.
Breakfast is served around 9.30 am, after the morning drive. There's a buffet of cheese, fruit, cereal, and croissants and a hot breakfast is made to order (eggs, meat, hash browns, toast).
Lunch is at 2.30 pm and is brought to your private table. There is always plenty of food and it typically includes a few different salads plus a main such as pasta or lentil bake (for us vegetarians).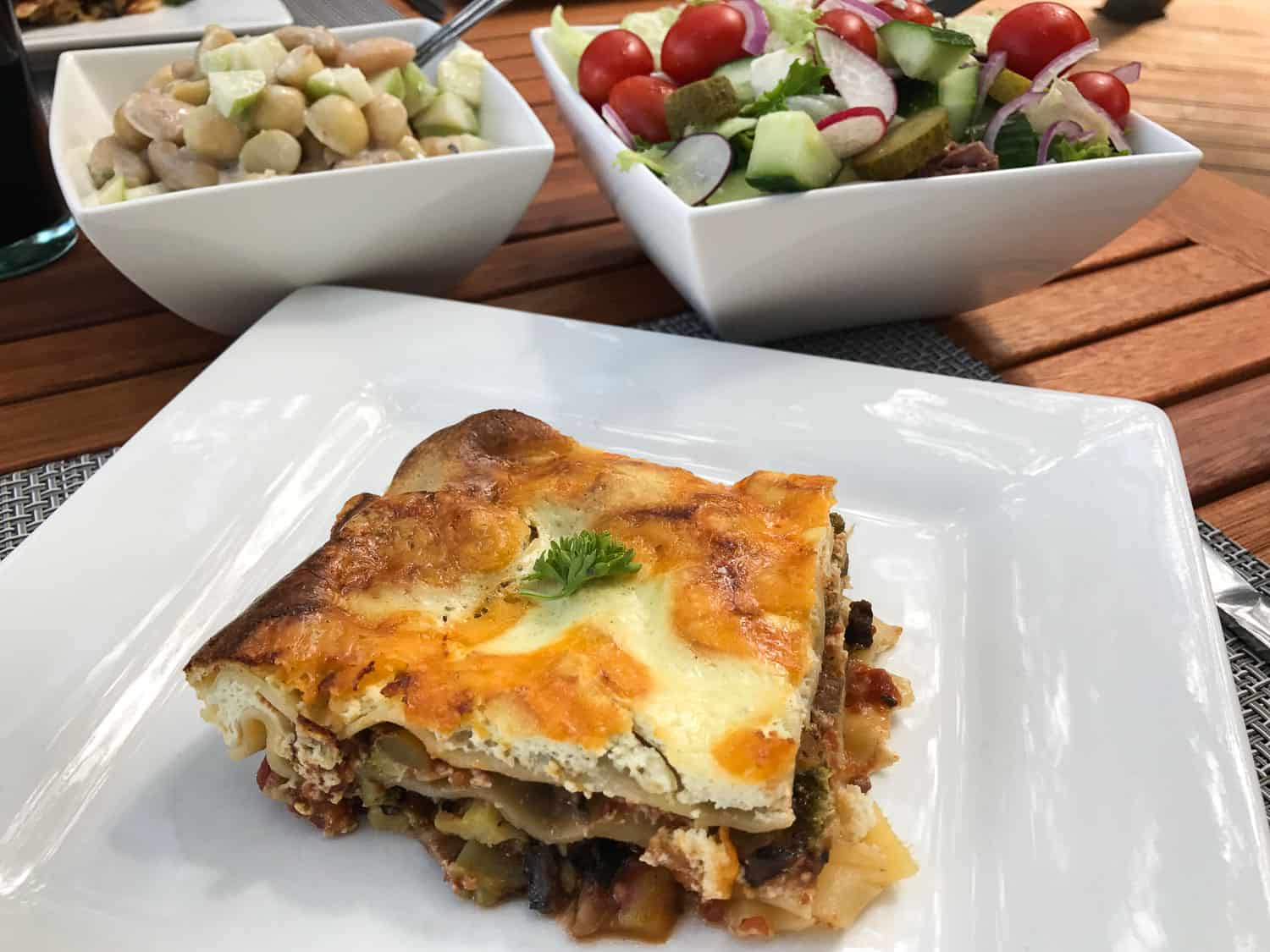 Dinner is a more formal three-course meal served around 9 pm when everyone is ready after the evening drive—there are pre-dinner drinks while you wait. A typical meal for us vegetarians was tomato and mozzarella bruschetta, chickpea and pumpkin curry with mashed potato and broccoli, and banana baked in pastry with a chocolate sauce, all with excellent South African wine.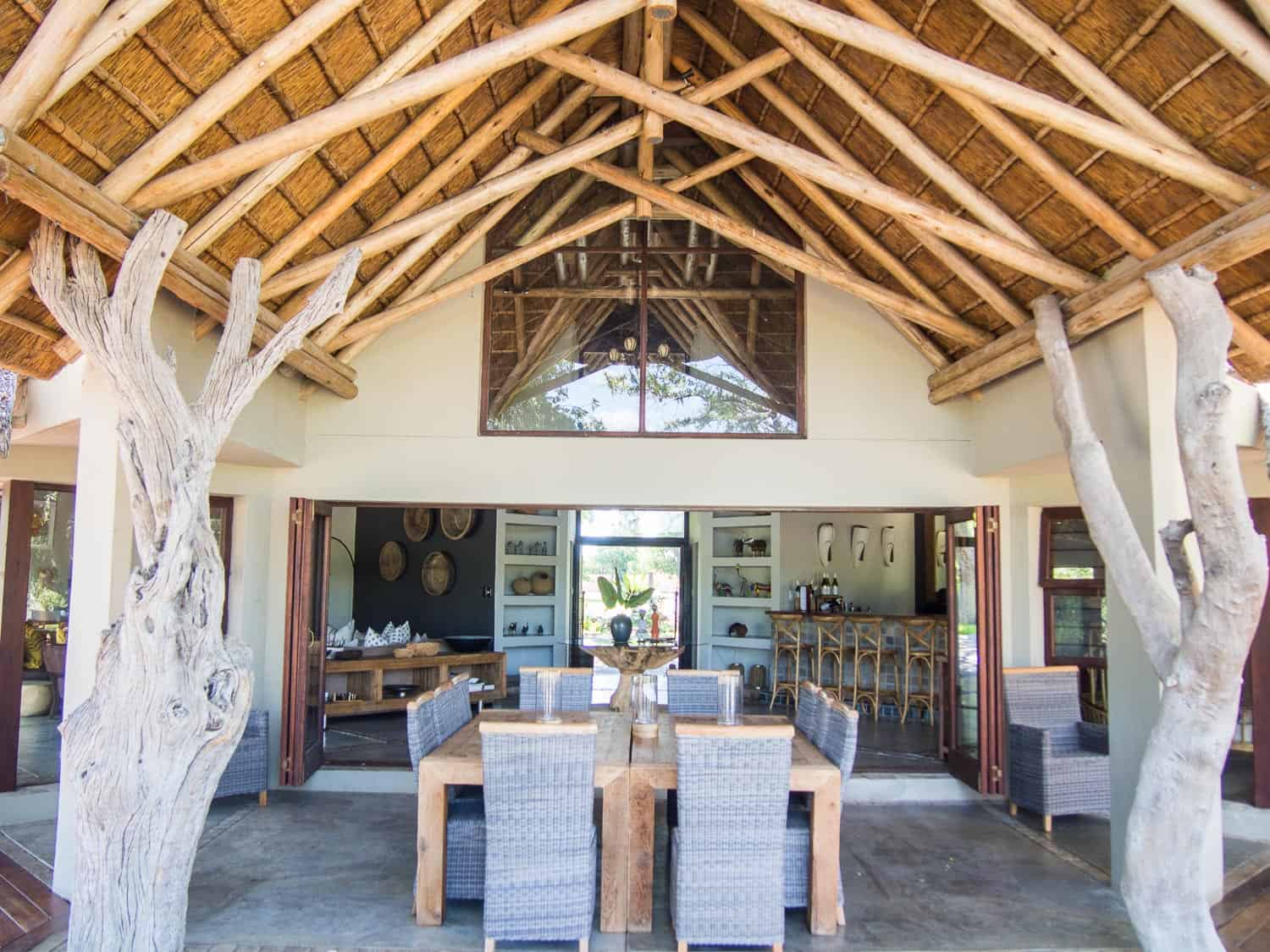 Game Drives
The main activity at Klaserie Sands is heading out in open-roofed safari vehicles on game drives. There are two game drives a day—early morning and late afternoon. During the summer months these left at 5.30 am and 4.30 pm and lasted around 3.5 hours, although if the viewings are good you can stay out longer. On each drive you are accompanied by an experienced ranger and tracker. Our ranger Gordon was everything we could want from a guide—friendly, easy to get on with, and extremely knowledgeable about the animals and birds we saw (ask him about termite mounds).
As Klaserie Sands is such a small camp, the safari vehicle isn't overcrowded and on all our drives we had a three-seater row to ourselves. On our first day there were only two other guests. This makes it more comfortable, spacious and easier to take photos on both sides. The padded seats are comfortable and as there's no roof the views are excellent. Blankets and ponchos are provided.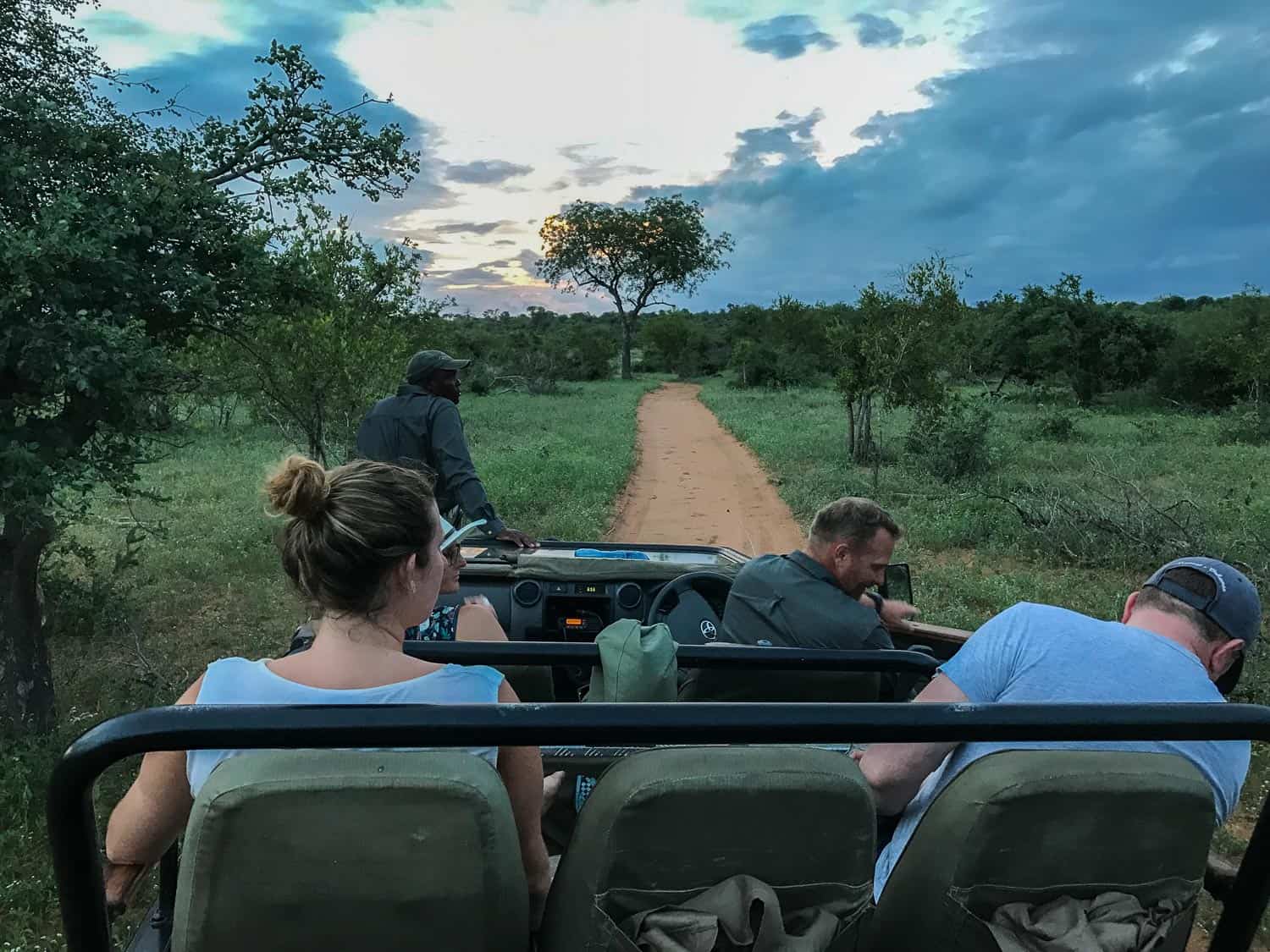 We were there in the January summer rainy season, which is the worst time to visit as animals don't need to gather around waterholes and they are more hidden by vegetation. Despite that we saw a huge amount on our six drives including lions, rhinos, elephants, giraffe, zebra, hyena, buffalo, wildebeest, mongoose, honey badger, impala, kudu, steenbok, warthog, and a hippo.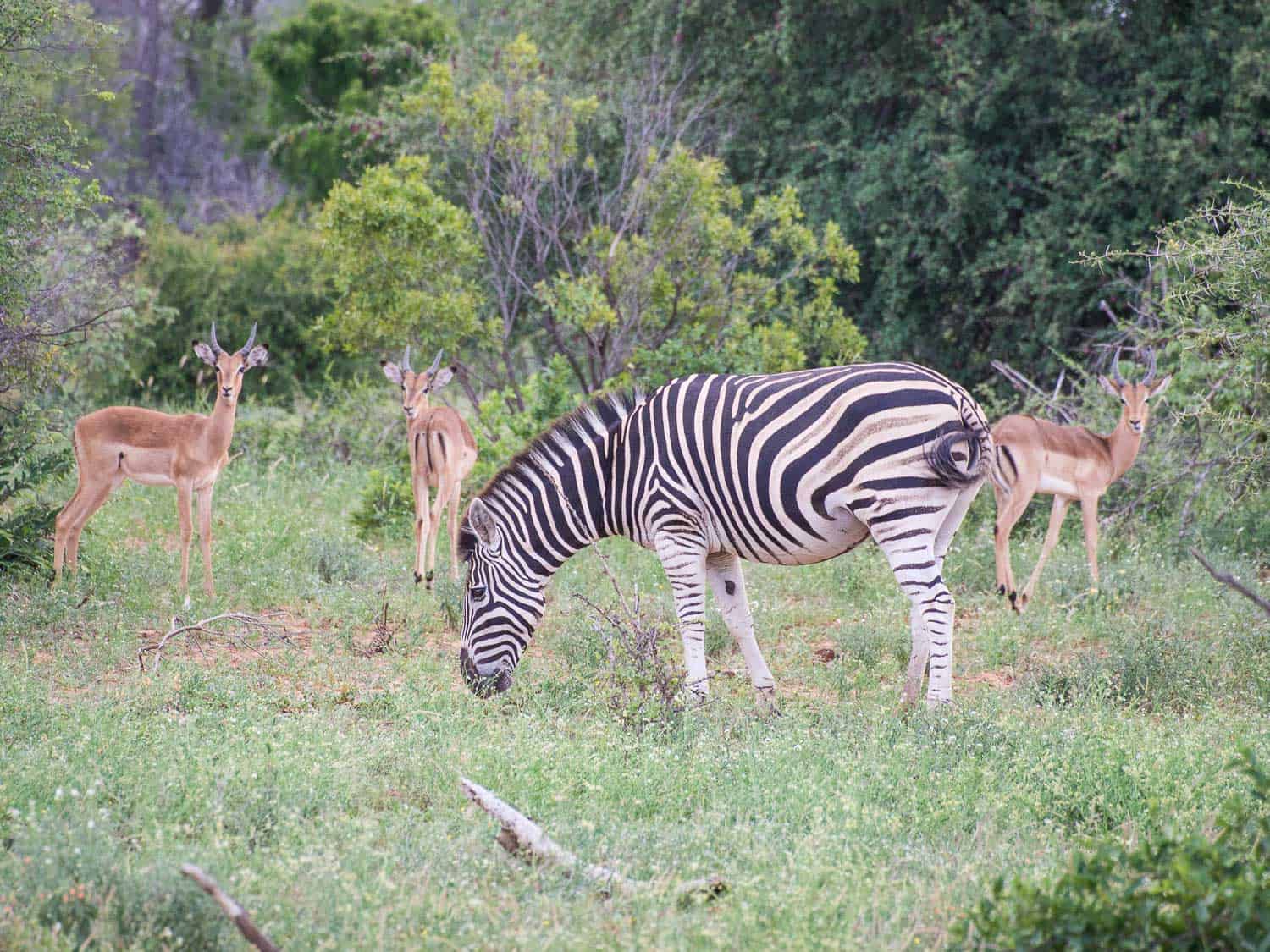 The animals are used to the vehicles so you can get really close without disturbing them. We loved that we could drive off road to get close to the animals (which you can't do in the Kruger National Park).
Birdlife was plentiful and included the red-crested suicide bird (or korhaan), African hawk-eagle, Wahlberg's eagle, European roller, Southern yellow-billed hornbill and many more.
We had a couple of drives that were cloudy and windy with a little rain (the ponchos came in handy). The animals were in hiding so we didn't see as much as usual, although even on the quietest drive we saw an elephant, herd of impala, three giraffes and a buzzard. Even when we didn't see much we always enjoyed our drives. Gordon is skilled at making everything we saw interesting—even termite mounds—and there's always something going on in the bush.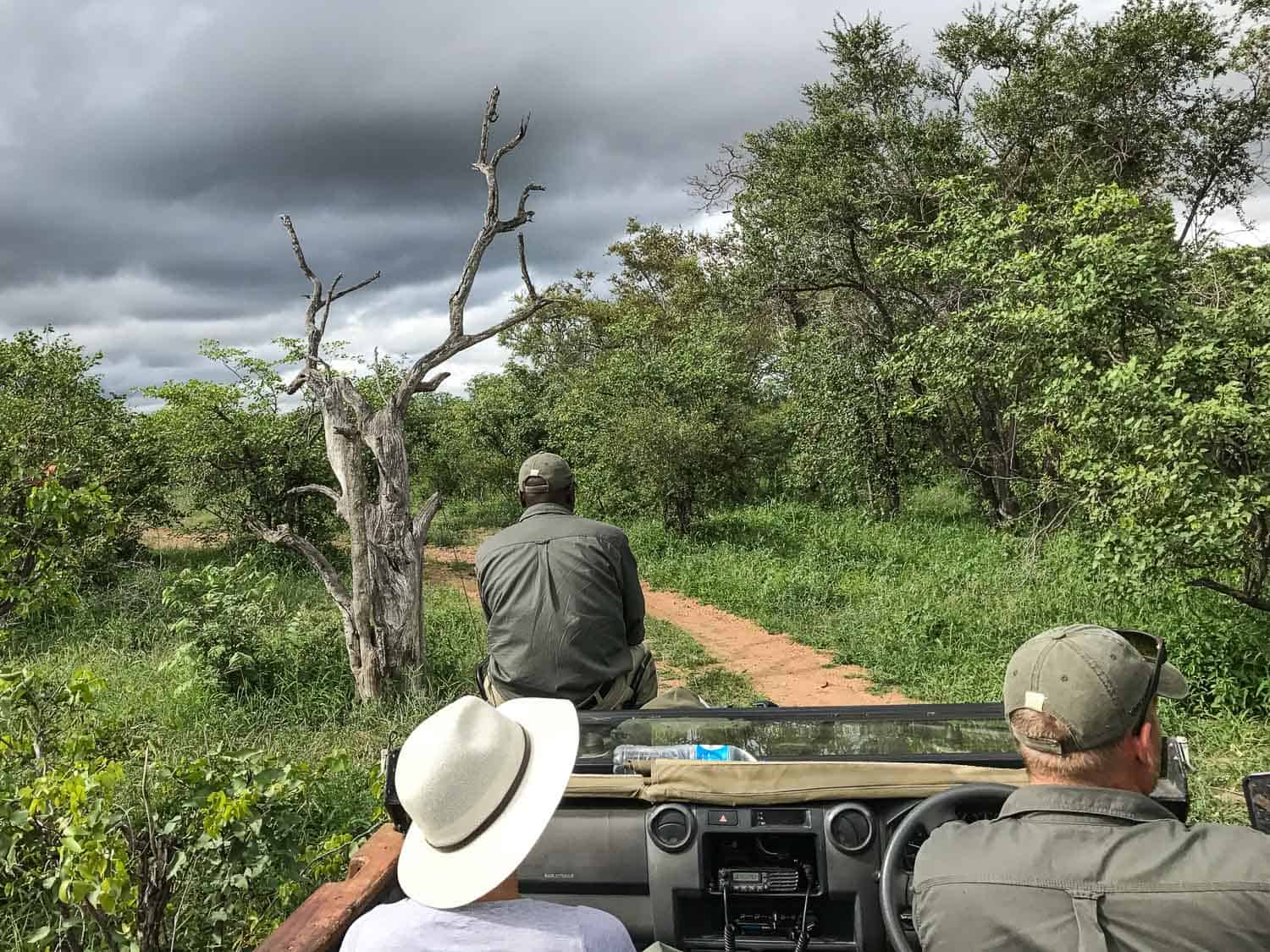 Klaserie Private Nature Reserve is one of the larger and wilder private reserves in the Greater Kruger area. Klaserie Sands has one of only four jeeps in the concession, so we rarely came across other vehicles unlike in much more crowded reserves like Sabi Sands. The downside of this is that it makes it harder to find the animals as there are fewer people tracking them (the lodges share information with each other). We enjoyed the wilder experience and still saw plenty.
Read our post about a day in the life at Klaserie Sands for what to expect of the day's schedule and our safari highlights for our favourite wildlife viewings.
Other Activities
Bush walks can be arranged (at no extra cost), although we didn't do one.
Gordon also said he's happy to take you out on another game drive whenever you want—even at midnight. We found the two drives plenty though.
They can also arrange massages and beauty treatments for an extra charge.
Between game drives we were happy to relax, nap, swim and read.
What to Bring
Warm layers for the game drives as it can get chilly early in the morning and after sunset. I wore a t-shirt, jeans or linen trousers, and sandals on drives and added a fleece in the mornings. In the winter you might also need a hat, scarf, gloves, and warm jacket.
A sunhat, sunglasses, and suncream as the vehicle isn't covered and it gets hot.
Long trousers and a top in a neutral colour (not white) plus covered shoes for the bush walk. Clothing colour on game drives doesn't seem to matter.
Insect repellent is provided but you may want to bring your own. We applied it throughout the day and weren't bitten.
Kruger is a malarial area so consider taking malaria pills. We chose not to as the risk seemed low, but do get medical advice before your trip.
A long lens. Some people just took photos with their phones but for the best photos you need a telephoto lens. I used my mirrorless camera, the Olympus OMD-EM5 and the Olympus 75–300mm lens. It is a much smaller, lighter combo than an SLR with telephoto lens and I was really happy with the results. Our iPhone 7 was also useful for wider angle shots—sometimes the animals were too close for my lens!
Spare batteries for your camera.
Hand sanitiser is useful on game drives after using the bush toilet.
Don't forget travel insurance as this is a very remote location. We use TrueTraveller insurance, which is the best deal we've found for UK and EU citizens. For everyone else, Heymondo is a reliable option.
You really don't need to bring much as the camp is informal—as usual we travelled with just carry-on luggage.
Klaserie Sands Highs
Intimate lodge with just four rooms
Get away from it all feel
Excellent wildlife viewing including lions, rhinos and elephants
Uncrowded safari vehicles
Very friendly owners, ranger and staff who make you feel at home
Stunning lounge and bar
Beautiful treehouse-style terrace with infinity pool overlooking the riverbed
Waterhole view for wildlife spotting from camp (we saw warthogs, hyenas, and elephants—go during the dry season and you're likely to see a lot more)
Very comfortable rooms with air conditioning and views
The outdoor shower in the honeymoon suite!
Delicious, plentiful food and fun, family-style dinners
Many comfortable and quiet places to relax
Klaserie Sands Lows
I can't think of anything. Seriously, this is a first. I can always think of something even if I'm just being picky. We could say the price, but it's actually very reasonable compared to safari lodges of a similar standard. Klaserie Sands is perfection and we'd go back in a heartbeat.
Recommended For
Couples and friends looking for a luxurious but friendly and intimate safari lodge off the beaten track.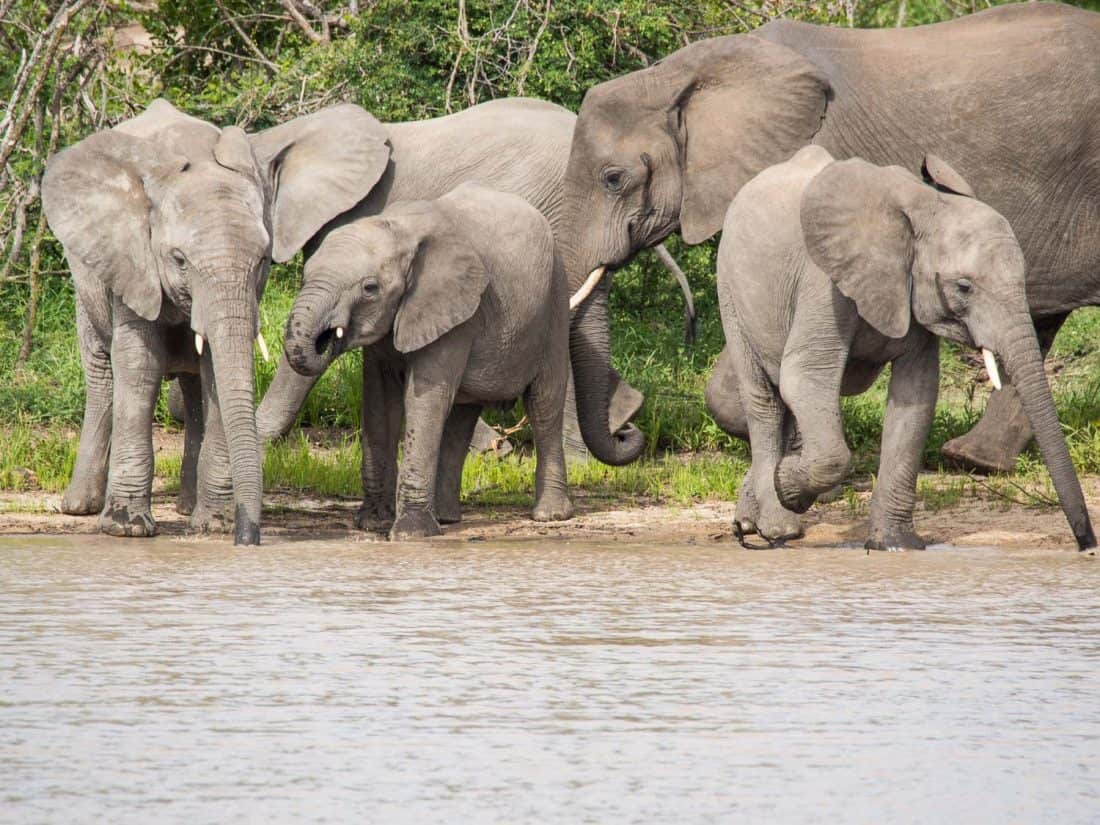 Location
Klaserie Sands (now Tulela) is in the Klaserie Private Nature Reserve on the border of Kruger National Park in northeastern South Africa. The reserve is unfenced so animals can wander in freely from the National Park and neighbouring reserves.
As we were doing a road trip across South Africa, we hired a car and drove to Klaserie Sands, which is about six hours from Johannesburg airport. We first stopped at Graskop (to drive the Panorama Route) then Umlani Bushcamp in Timbavati Private Nature Reserve, which borders the Klaserie Reserve and shares the same gate and 140R entrance fee. It took us about 45 minutes to drive from Umlani. The last 10km or so is on a bumpy dirt track but we managed in our small car. The directions they gave us made it easy to find (GPS is pretty useless here).
After Klaserie we drove into Kruger National Park for a self-drive safari. Annoyingly you have to leave back through the Timbavati/Klaserie gate and drive around to the Orpen gate to enter the National Park, which took us two hours. It took us six hours from Klaserie Sands to Olifants Rest Camp including a stop at Satara for lunch (in hindsight Satara would have been a more convenient place to spend the first night).
If you are only visiting Klaserie, you could fly to Hoedspruit from Johannesburg or Cape Town and the lodge can arrange transfers.
Ideally you should arrive by 2 pm so you can have lunch and go on the afternoon game drive. You'll also go on a drive the morning you leave, so for a three-night stay you can do six drives.
Costs
We visited Klaserie Sands in low season when it costs 4100 ZAR (US $317/ £255) per person per night (for two people sharing) including two game drives a day, all meals and most drinks. In high season it's 5100 ZAR (US$394/ £317) per person per night all-inclusive. I think it's excellent value compared to other safari lodges and for the level of comfort, service and privacy you get.
I recommend staying for at least two nights, ideally three. We could have stayed even longer. Klaserie Sands currently has an offer where from January to June you can book for four nights and only pay for three nights.
You can book your stay on the Tulela (formerly Klaserie Sands) website.
Summary
Klaserie Sands River Camp is the best place we've ever stayed (and that's quite a statement!). It's a luxurious but relaxed and intimate lodge run by a friendly team who make you feel at home. The wildlife viewing is excellent and the beautifully designed terrace and rooms are perfect for relaxing between drives. It's a truly special place that we still dream about.
To read more about Klaserie Sands see our posts on a day in the life on safari and our safari highlights.
If you enjoyed this post, pin it!

Many thanks to Klaserie Sands who hosted us and many our stay so special.