This page contains affiliate links. Please read our disclosure for more info.
Update October 2021: Since we visited, Klaserie Sands has been renamed Tulela and is under new management.
Going on safari in South Africa exceeded all our expectations and is one of our favourite travel experiences ever. We saw a huge variety of wildlife, despite visiting during the rainy off-season, and got remarkably close to lions, elephants, rhinos, giraffe, zebra, hyenas, and more.
Klaserie Sands River Camp is the second safari lodge we stayed in and it jumped to the top of our list of the best places we've ever stayed.
It's a luxurious but relaxed and intimate lodge with a maximum of eight guests in the Klaserie Private Reserve which shares an unfenced border with Kruger National Park. It's beautifully designed with a terrace overlooking the river that's like a grown-up treehouse complete with infinity pool.
Our ranger Gordon took us out on game drives twice a day and shared his passion and knowledge of the many beautiful African animals we saw.
1) Two Male Lions As Our First Sighting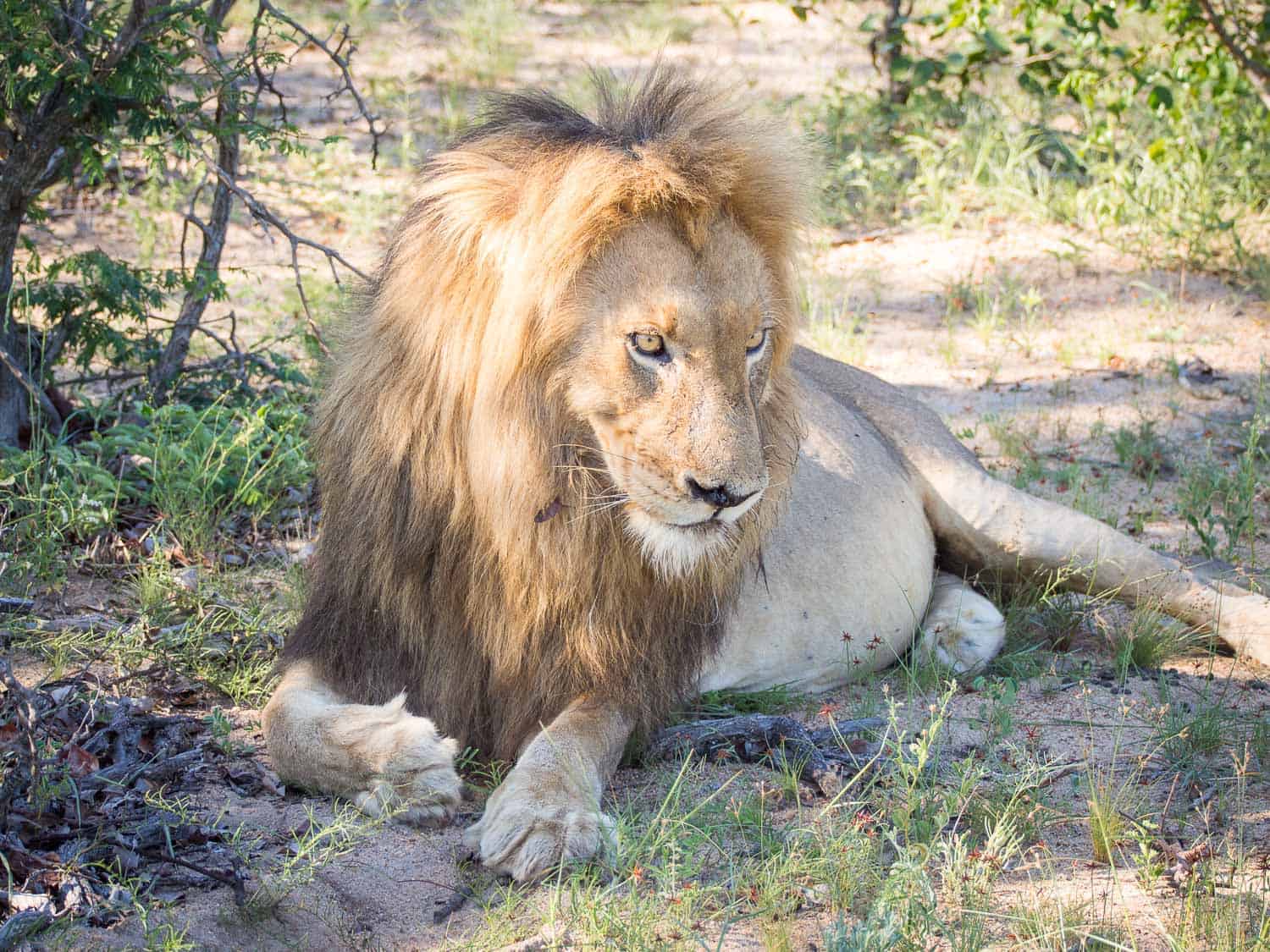 We started strong with two male lions as our first sighting on our first drive! Gordon had seen the lions the day before after they'd killed a buffalo, so he knew they'd be sleeping off their huge meal for the next four or five days. They hadn't ventured far and we found them sleeping in the shade of a tree.
Driving up to within a few metres of lions was incredible. We watched them sleep for a while before the youngest one got up and walked towards us.
We felt safe in our vehicle (despite the lack of a roof!) but were so aware of his power and strength, as well as the beauty of his bushy mane and yellow eyes.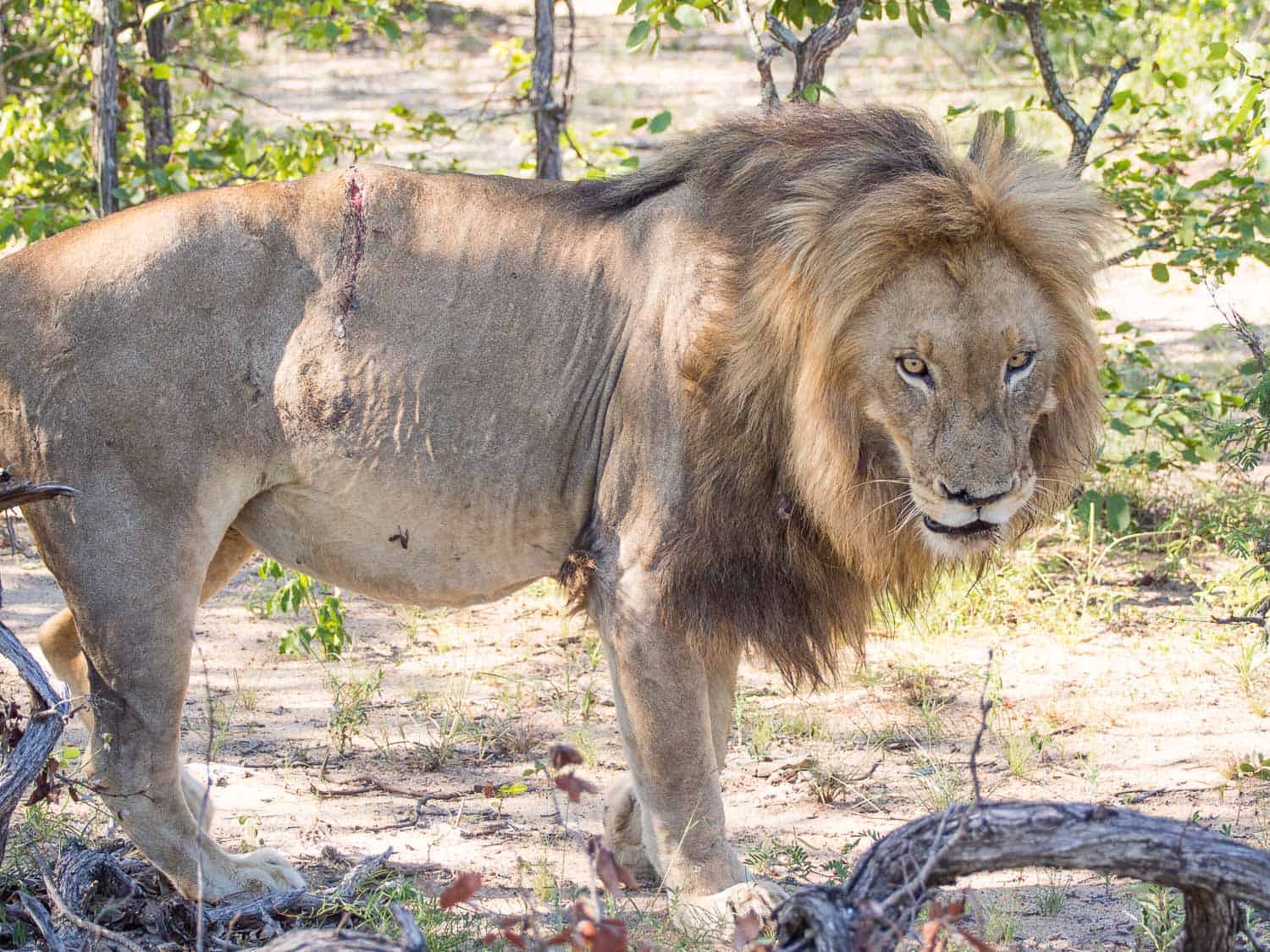 Gordon assured us that Duma is one of the regulars in the reserve and is chilled and non-aggressive. In fact, this has caused him problems as he has been unable to get his own pride, despite being in his prime (aged six or seven)—the females keep rejecting him as he's not enough of a fighter.
He doesn't have a scratch on his face, although maybe the nasty cut on his side that he obtained from the scuffle with the buffalo will help his credentials.
Duma is also unusual because he shares his kill with his companion, a much older lion (11 or 12 years old) who is unable to hunt for himself anymore. It's rare for a male lion to team up with another one who doesn't contribute.
The next morning we returned and found the lions in the same area. This time Duma was more restful and lay on his back in an endearing way that reminded us that he is, after all, just a big cat.
It was a real privilege to get so close to such magnificent creatures and be able to spend an extended period just watching them.
2) The Bull Elephant Bachelor Pad
The theme of our first drive was lone males as our next major sighting was this enormous bull elephant who lives alone in the area Gordon has dubbed the bachelor pad.
When male elephants are around 10–12 years old they become too boisterous and are pushed out by the herd to live alone or with other males. They can be aggressive when they are in must and have 100% more testosterone than usual. When the females are in heat the males smell it and come into the herd and fight for the right to mate.
The bull we saw only has one tusk—the other broke off when it was ripping bark off a tree—and we watched him grazing on grass and tree leaves with his trunk.
3) The Rhino Stand Off
On our first morning drive we came across three white rhinos by a waterhole, a male, female, and their calf.
The female was very protective of the calf, keeping him behind her whenever the bull got close. Gordon explained that the male was trying to push the calf, his son, out of the herd as the female will only mate again once the calf leaves.
It's a slow process, though. The bull grazed nonchalantly, acting liking he wasn't interested in the other two, but gradually getting closer. When he got too close the mother and son would back away.
We watched the back and forth but didn't get to see what happened next—it could take days for the bull to get rid of the calf. Bulls have even been known to kill their calves, although the mother will fight to protect it.
4) Spotting a Mongoose
Although we loved seeing the big animals, we were just as excited to see this dwarf mongoose. It's the only one we saw in over a week on safari and I was impressed that Gordon was able to spot the little creature in the bushes.
5) Sundowners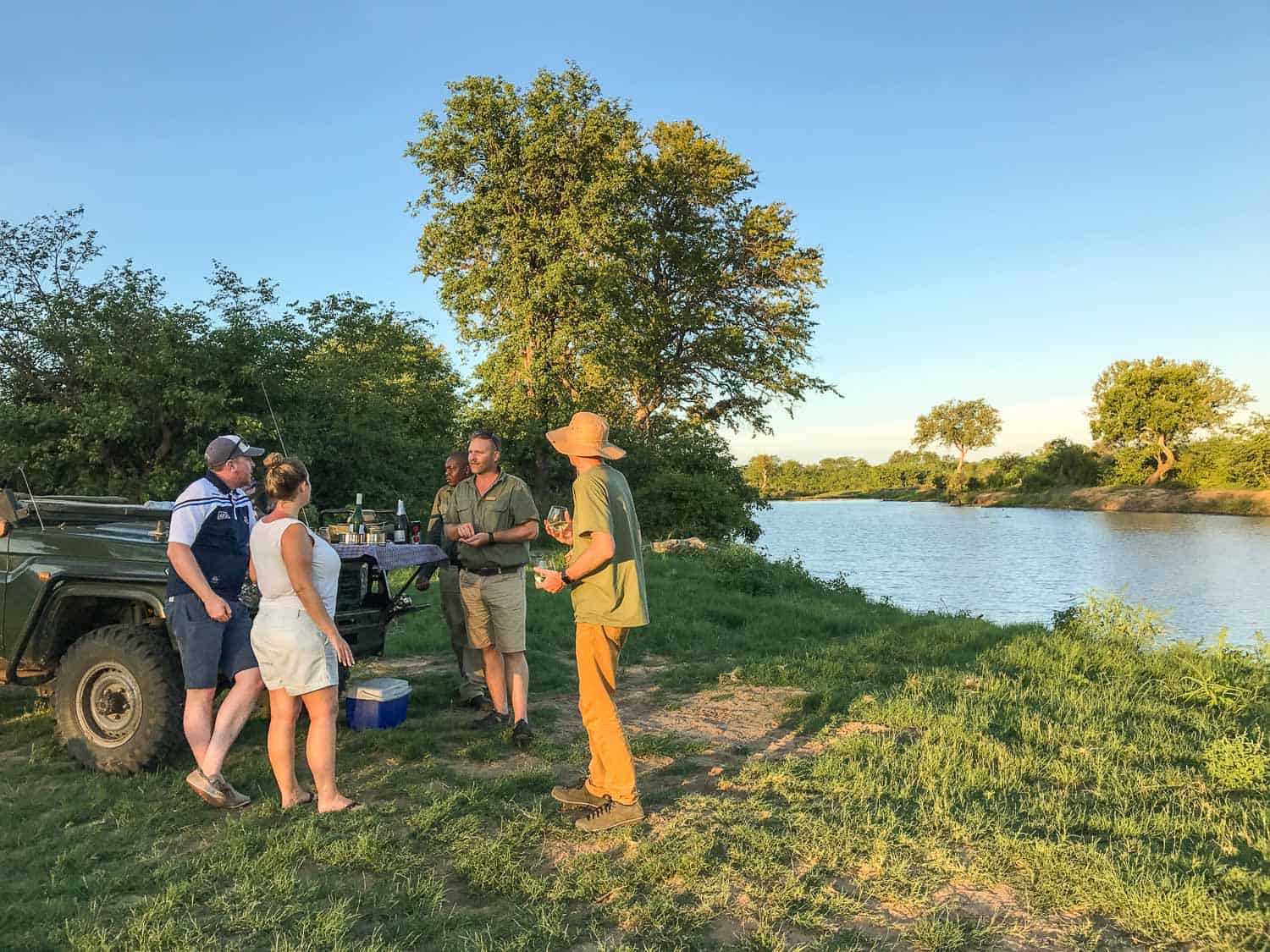 On every drive we'd stop for a morning coffee or evening sundowner glass of wine. It was a ritual we came to love, taking a break from the vehicle and stepping into the very bush where we'd been spotting so many wild animals!
You can't help thinking about all those wild and dangerous animals when you need to venture away from the jeep into the bushes to use the loo…
Luckily, we all managed to pee without incident and returned to enjoy the magical African sunset.
6) Driving into the Night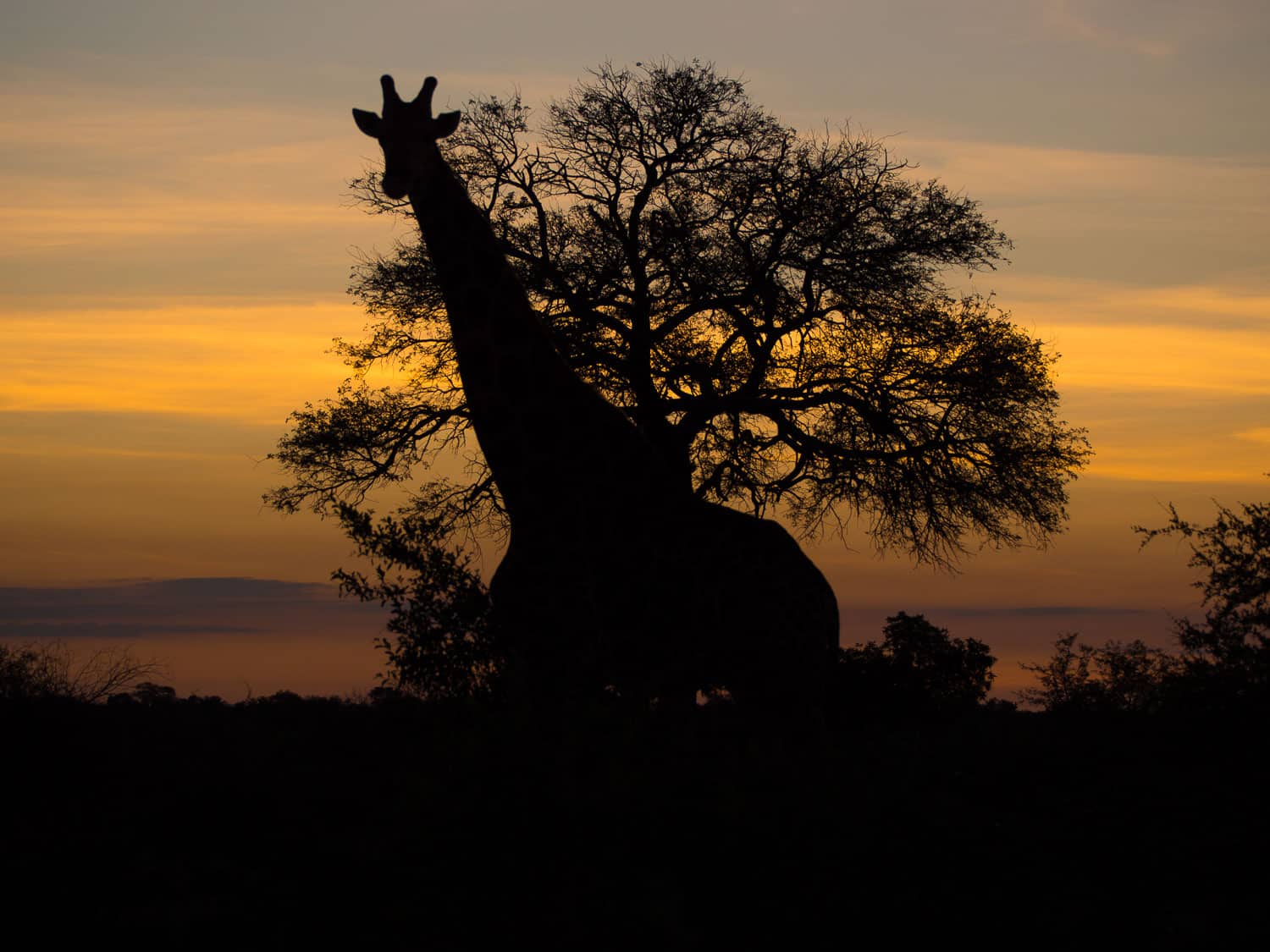 After our sundowner, we'd head back on the road as the sky turned orange and pink and purple. Being in the bush as darkness fell was always special, even if we didn't see much wildlife. The night the full moon broke through the clouds was particularly stunning.
7) The Cutest Baby Giraffe
We saw many giraffes during our stay at Klaserie and learnt that, rather wonderfully, a group of giraffes is known as a journey of giraffes or a tower of giraffes. We always enjoyed their appearance, their strange but elegant tallness and their beautifully patterned coats.
Our favourite giraffe was this adorable six month year old, whose ossicones (horn-like protuberances on its head) were topped with afro-like tufts of hair. So cute!
8) Elephants Joining Us for Coffee
On our final morning, we were given this last gift during our morning coffee break. On the other side of the dam a herd of elephants appeared, walking single file along the shore, seven of them including three young ones.
It initially made Gordon a little nervous, and he ran off to check that none of the herd were coming around on our side of the dam as we were out of the jeep and vulnerable.
None were and we watched as they stopped to drink, slurping water through their trunks, having their refreshment on one side of the dam, while we had ours on the other.
9) Wildlife Viewing from Camp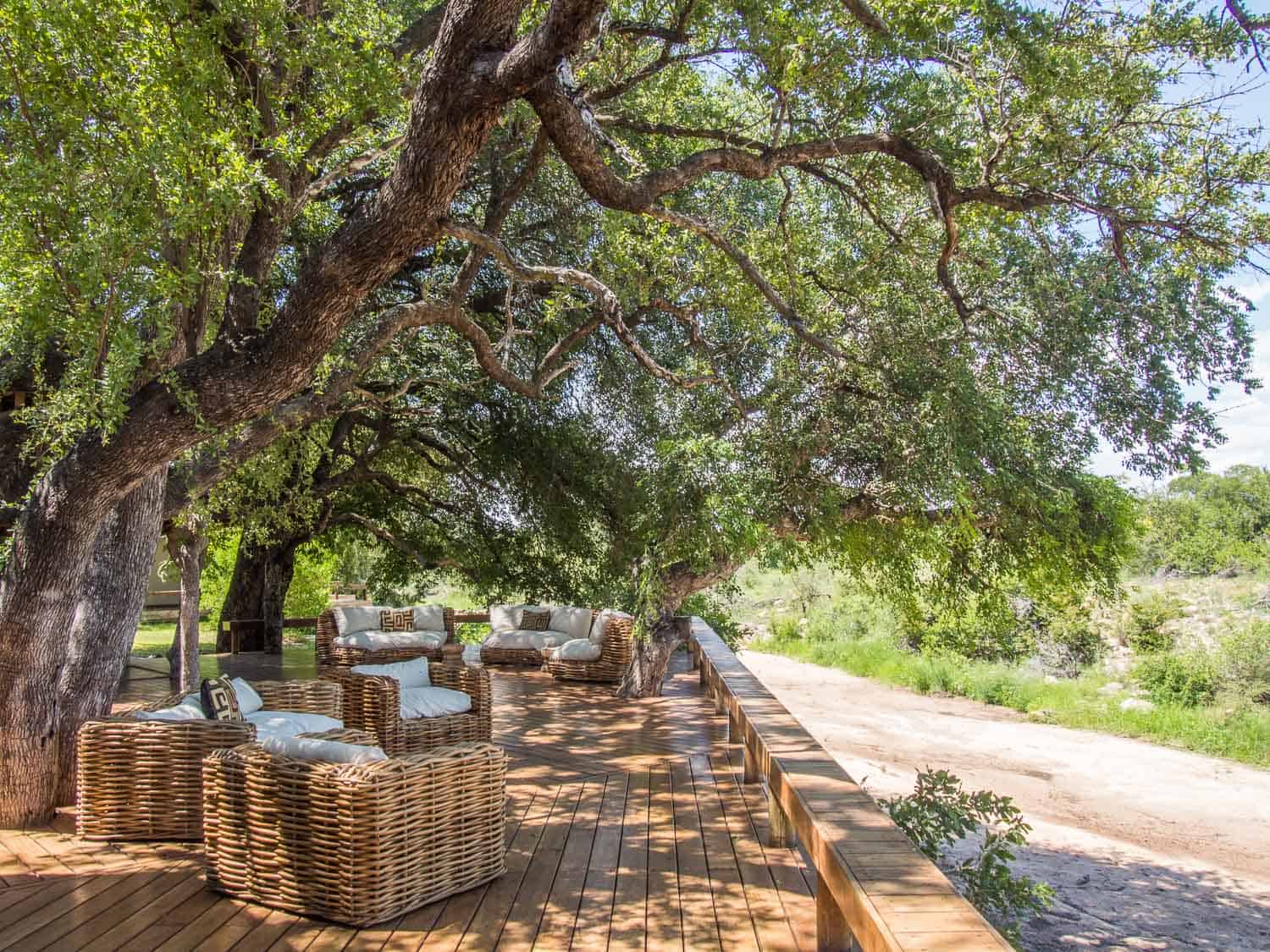 The Klaserie Sands River Camp itself was definitely a highlight. The terrace overlooking the river is stunning and feels like a grownup treehouse with jackalberry and leadwood trees incorporated into the deck, plentiful comfy seating, and even an infinity pool.
It is a wonderful place to relax and we even spotted wildlife at the waterhole opposite—a hyena and elephant—while enjoying a pre-dinner drink one night.
Then there was another elephant one afternoon, and a family of warthogs while I was swimming.
I was particularly excited about the warthogs as, although we'd seen these strange looking wild pigs on drives a number of times, they always ran away before I could get a good look.
Here, from the comfort of the pool, I could watch them at leisure as they rooted in the undergrowth and drank from the waterhole.
10) Family Dinners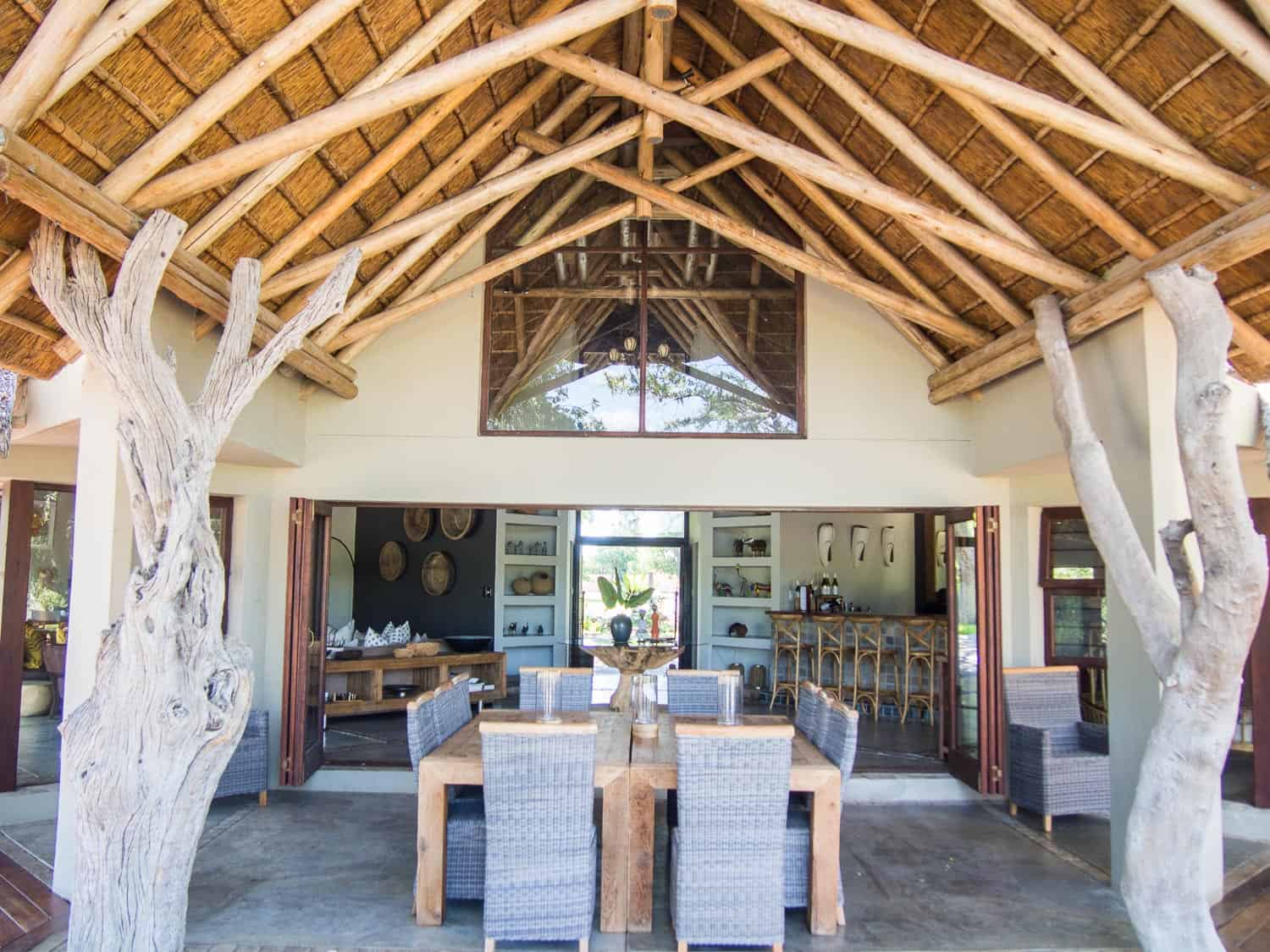 We'll always remember Klaserie Sands for its beautiful design and superb wildlife viewing, but what really set it apart from other lodges is its family feel.
There is a maximum of eight guests (and there were only four of us one night) and the delicious dinners are eaten communally with either Gordon or Lee-Ann and Louis, the lovely owners. Everyone was so welcoming and we felt truly at home.
Klaserie Sands River Camp Details
Klaserie Sands River Camp (now called Tulela) is a luxurious, four-room lodge in the Klaserie Private Nature Reserve, which shares an unfenced border with Kruger National Park in northeastern South Africa.
In the low season (when we visited in January) it costs 4100 ZAR (US $317/ £255) per person per night (for two people sharing) including two game drives a day, all meals and most drinks.
Read more about the daily schedule at the lodge and our detailed Klaserie Sands River Camp review. It is a magical place and we hope to return one day.
You can also read about our stay at Umlani Bushcamp, a budget safari lodge, and our self-drive trip in Kruger National Park.
If you enjoyed this post, pin it!
Many thanks to Lee-Ann and Louis who hosted us at Klaserie Sands and to Gordon who made all these amazing moments possible.