This page contains affiliate links. Please read our disclosure for more info.
Kruger National Park is the easiest and most affordable safari destination in Africa. This South African park is one of the largest game reserves on the continent with nearly 2 million hectares of diverse wildlife including elephants, rhinos, lions, leopards, hippos, giraffe, zebra, wild dogs and much more.
In my last post I compared staying in a lodge on a neighbouring private game reserve with self-driving in Kruger National Park. I recommend doing both (we loved our stays at Umlani and Klaserie Sands lodges), but if you are on a budget, a self-drive safari is the cheapest option.
It's easy to do, although it's best to plan in advance as the park is popular with South Africans as well as tourists. This post will tell you everything you need to know to plan your Kruger self-drive safari.
Contents
When to Visit Kruger National Park
How Long to Visit
Renting a Car for a Kruger Self-Drive Safari
Kruger Self-Drive Safari Costs
Tips for Driving in Kruger National Park
Accommodation Options in Kruger National Park
Kruger National Park Facilities
Which Kruger National Park Rest Camp?
How to Book a Kruger National Park Rest Camp
Kruger National Park Self-Drive Itineraries
What to Pack for a Self-Drive Safari
When to Visit Kruger National Park
You can visit Kruger National Park at any time of year. The most popular time to visit is during the dry, winter months from April to September with warm days (25ºC) and cold nights (9ºC or less). This is the best time for game viewing as the vegetation becomes sparse and animals are forced to the waterholes to drink. It's the busiest time in the park.
The rainy, summer season is from October until March when temperatures are 30ºC or higher during the day and in the low 20s at night. The vegetation becomes lush and green with the rains and waterholes and rivers swell.
It's more difficult to see wildlife as animals can be hidden in the long grasses and have no need to go to waterholes. This is the best time of the year for birds and newborn animals (we saw lots of cute baby zebras).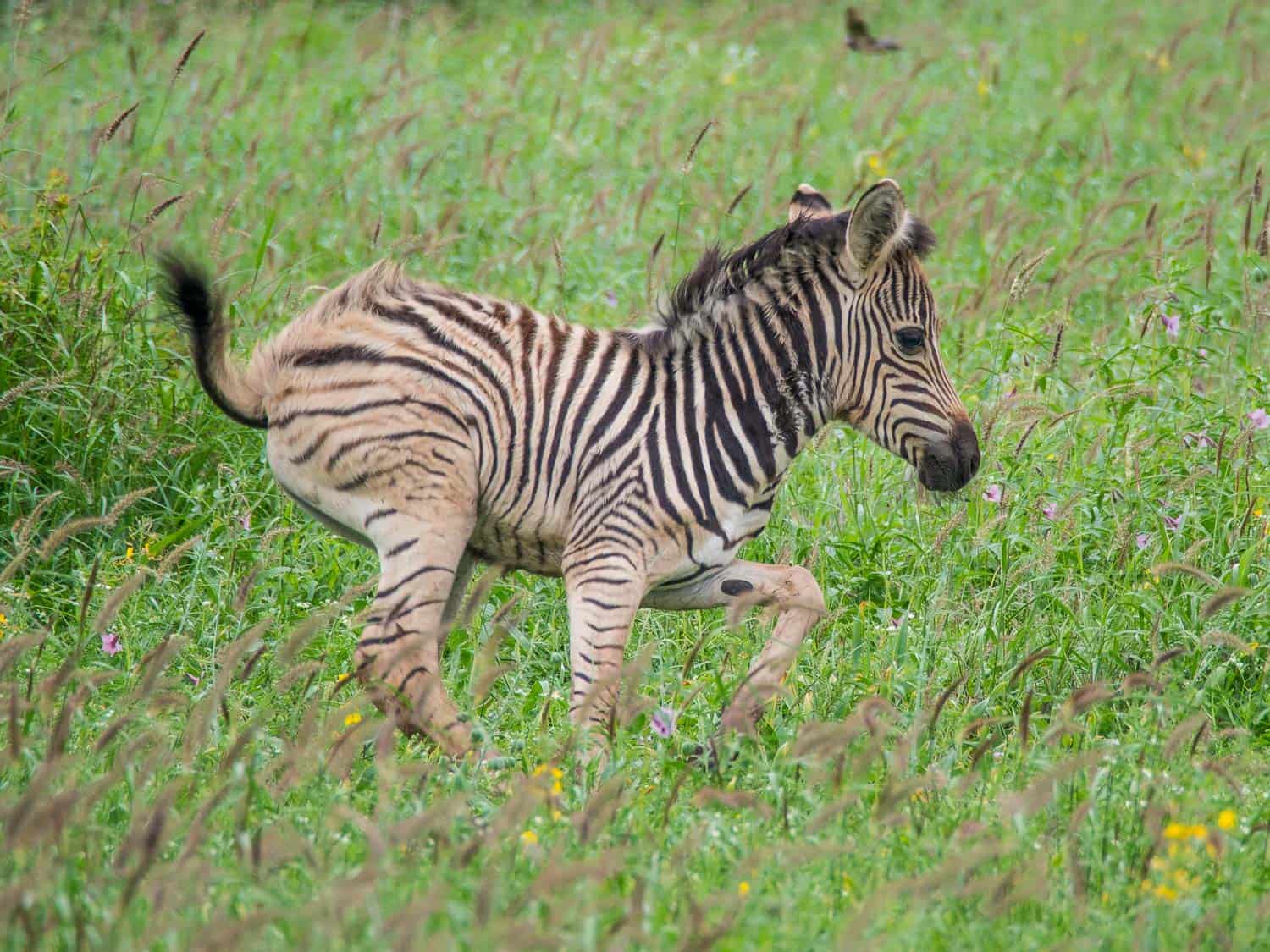 We visited in mid-January because we wanted to combine our trip with two months in Cape Town during the summer (it's dry on the other side of the country). It didn't rain all the time, but it was overcast and windy on three of our four days until the sun came out as we were leaving.
We had much better weather a few days previously while staying in private game reserves, so it's a matter of luck at this time of year. It was hot but our car and the bungalows we stayed in had air conditioning so it wasn't a problem.
Although we saw many animals, it was challenging at this time of year. On one windy morning drive we saw very little. We had more luck in the private reserves as we were guided by experts, were in a higher safari vehicle and could go off road and get closer to the animals.
I would avoid visiting during South African school holidays as the park gets very busy and accommodation will be booked up.
See this SAN Parks average temperature chart for the temperatures to expect for each month of the year.
How Long to Visit
If you are only doing a self-drive safari, 3–5 nights is a good amount of time for first timers. Many locals and experienced visitors stay for a week or two. Kruger is huge with over 20 camps to choose from, so there's plenty to explore.
If you are also staying in a lodge on a neighbouring game reserve, you could add on a self-drive trip from 2–5 nights. Our self-drive trip was three nights after five nights divided between two lodges and this felt ideal.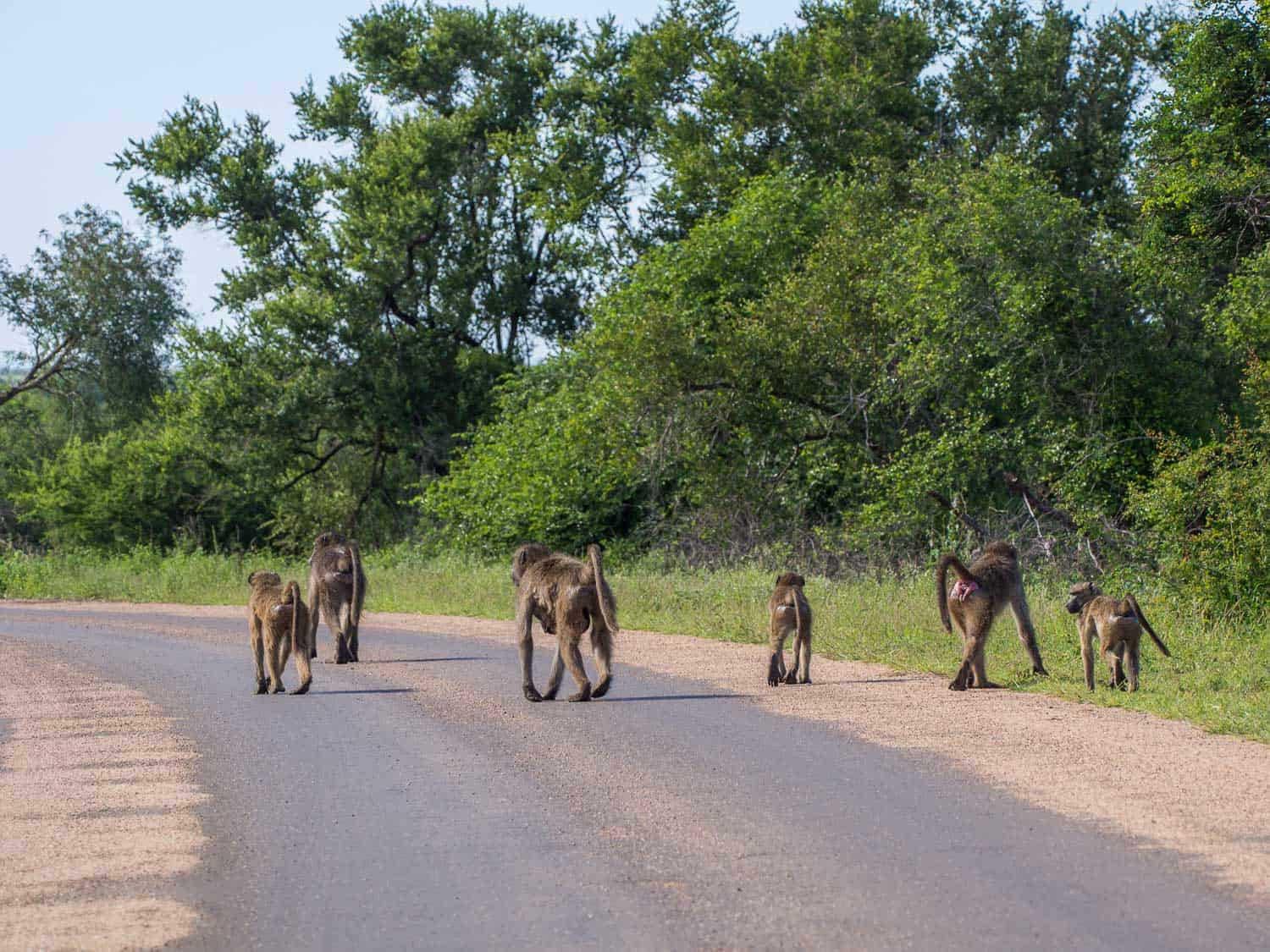 Renting a Car for a Kruger Self-Drive Safari
Most international flights to South Africa arrive in Johannesburg, which is where we started. After a few days in the city, we returned to the airport to pick up a rental car for our road trip across South Africa.
We booked with Around About Cars who use Tempest in Johannesburg and paid R5508 ($430/£334) for a 36-day rental (we drove all the way to Cape Town).
You can search on Rental Cars or Kayak for the best deals. You'll need a credit card in the driver's name for a deposit (ours was R6500). A UK driving licence was fine—an international one wasn't necessary.
You don't need a 4WD for Kruger as most of the roads are tarmac. We rented the cheapest compact car.
It's a 4–5 hour easy drive from Johannesburg OR Tambo Airport to Kruger National Park—the closest gate is Malelane in the south.
We chose to spend two nights at the lovely Hotel Havana Nights in Graskop first (four hours from Johannesburg airport) to explore the beautiful Panorama Route. We then spent five nights in the Timbavati and Klaserie private game reserves before entering Kruger at the Orpen Gate in the centre of the park.
I recommend spending at least one night outside the park so that you can get an early start on your first day in Kruger—Hazyview is another option.
You could also fly to Skukuza Airport, Phalaborwa Airport, Hoedspruit Airport or the Kruger Mpumalanga International Airport near Nelspruit (usually the cheapest option) and rent a car locally.
Use Skyscanner to find the best flight deals.
Kruger Self-Drive Safari Costs
Our three-night self-drive safari in Kruger National Park cost US$102/ £80 per person per day. This includes car hire, petrol, accommodation, park fees and food.
We travelled as a couple, stayed in the most expensive bungalows, and ate in restaurants for lunch and dinner.
You could reduce costs to $60 or $70 a day by camping or staying in huts with shared bathrooms and self-catering.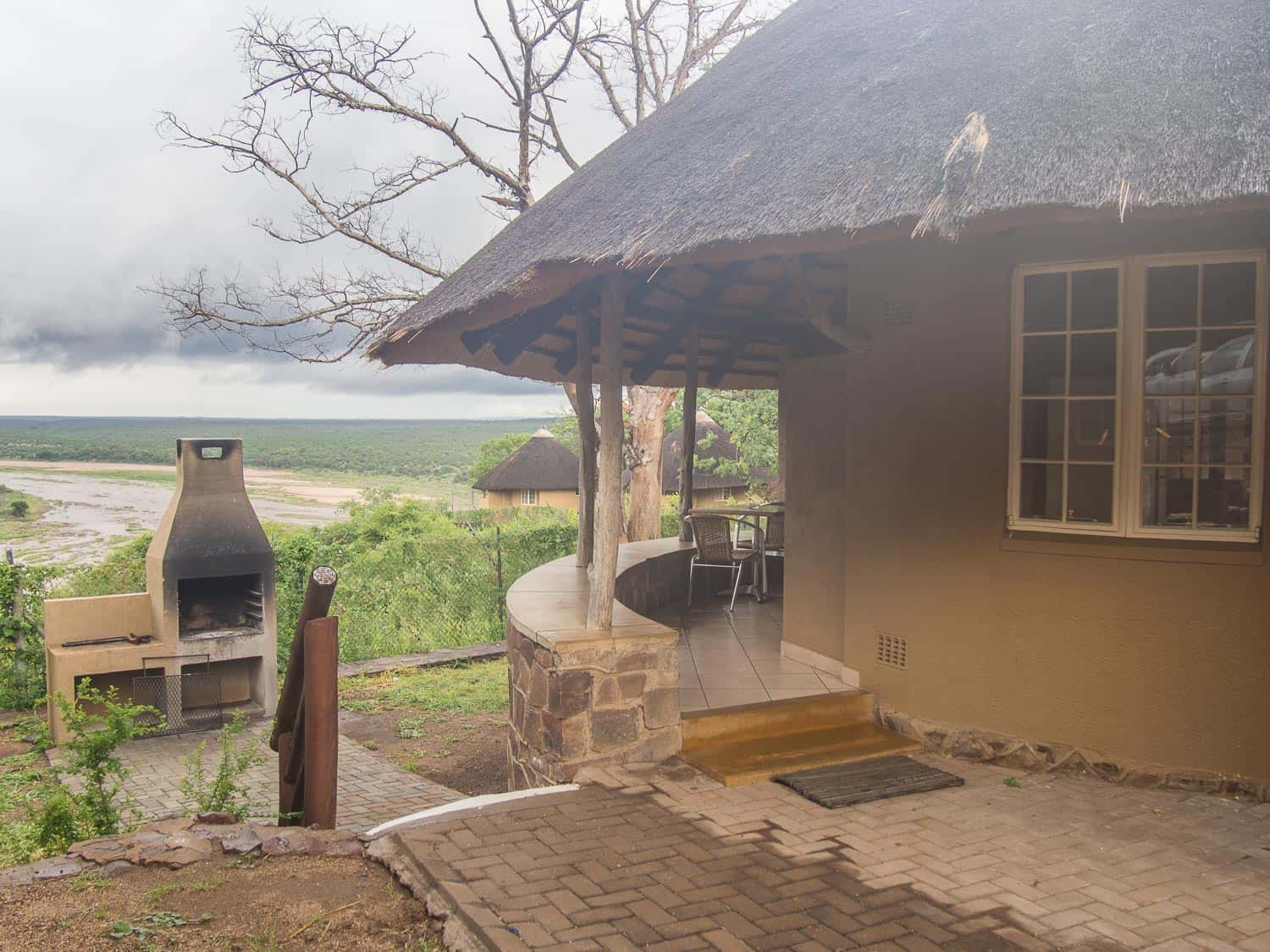 Considering the cheapest lodge I found in a private game reserve (Shindezla) cost R1950 ($152 /£118) per person per night and most cost far more ($250-2000 a night), self-driving is definitely the cheapest way to go on safari in Kruger.
Our biggest expense after accommodation was the Kruger National Park entrance fee of R304 ($24/£18) each per day for international visitors.
I think we would have been better off buying a South African National Parks Wild Card for R3455 per couple which gives you access to all South African parks for a year. As we visited quite a few parks during our three months in the country this would have been good value. You can buy a Wild Card membership online or from some gates.
See my detailed breakdown of our Kruger self-drive costs.
Tips for Driving in Kruger National Park
Have your passport number and accommodation reservation number ready at the gate to fill in the registration form. We didn't need to show our passport or printed booking as we expected.
The camps are well-signposted but I highly recommend buying a map. Andy and Lorrain Tinker's Kruger National Park Guide and Map is available from the rest camp shops (we bought ours at Orpen when we entered). It was really helpful with maps, suggested drives, and pictures of animals and birds where you can mark off what you've seen.
Driving is on the left in South Africa.
The speed limit in the National Park is 50km/h, but if you are looking for animals it's best to drive even slower.
No driving after dark is allowed.
Gate and camp opening times vary based on sunrise and sunset. See the times here and make sure you allow plenty of time to get to your camp or gate before sunset.
Wildlife viewing is best early in the morning and just before sunset so try to head out when the gates open.
Stay in your car at all times unless you are at a designated area where you are allowed to get out.
Look out for cars by the side of the road—there may well be animals to see.
Take cash as there are only a few ATMs. We could use our credit card at most restaurants and shops and for the entrance fee.
There are nine gates to Kruger National Park and they don't all appear on Google Maps. Check the directions before you arrive.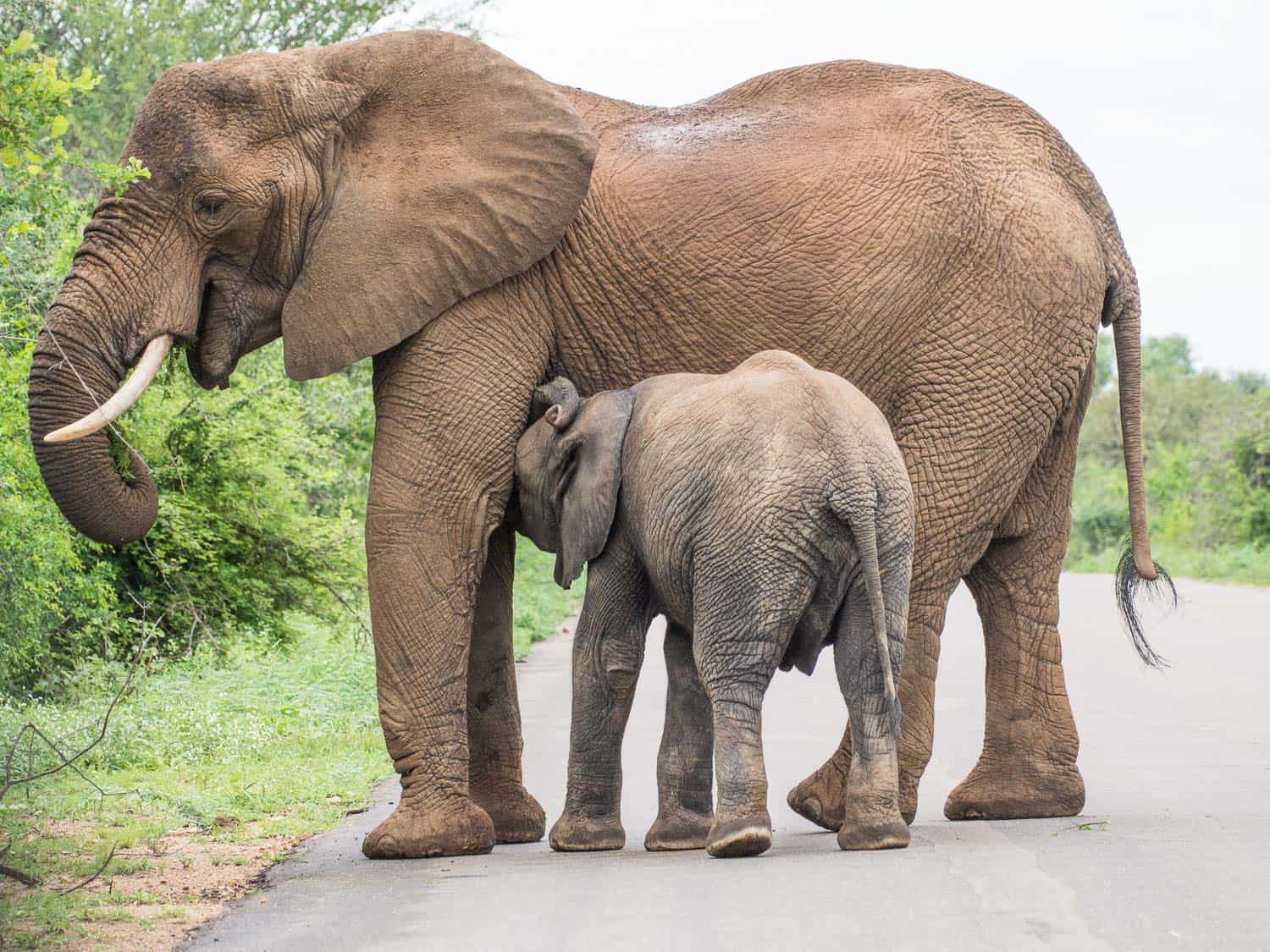 Accommodation Options in Kruger National Park
You could stay in a town outside the park and do day trips, but the travelling wastes time so I recommend staying in one of the SAN Parks rest camps inside the park which have a number of accommodation options. Prices depend on the camp, season and individual unit (you'll pay more for a view, for example). This is the cost for two people.
Camping — You'll need your own tent. Most sites have power. From R285 ($22/£17).
Huts – Single bedroom with shared kitchen and bathroom. From R520 ($41/£32).
Safari tent – Permanent tent, some share a bathroom and kitchen, others are more luxurious. From R580 ($45/£35).
Bungalow – Single ensuite bedroom, most with a kitchen. Some have perimeter or river views. From R1120 ($87/£68).
Cottage – A bigger family unit with living room, some with multiple bedrooms. From R2100 ($164/£127) for four people.
We stayed in bungalows, all with air-conditioning, bathroom, kitchen and view. Towels are provided and rooms are cleaned daily. The accommodation is functional and clean but basic and it was quite a step down after the lodges we stayed in.
There are also some privately-run luxury lodges in Kruger National Park, but if you are looking for luxury I recommend staying in a lodge on a neighbouring private reserve instead where you'll be able to drive off road and get closer to the animals.
Kruger National Park Facilities
Kruger National Park has a good range of facilities and we were impressed by the choice in the shops and restaurants, especially compared to what was on offer in Etosha National Park in Namibia. This may be the only place you can go on safari and stop for a cappuccino or pizza. Although this detracts from the wilderness experience, it was also very convenient.
The main rest camps have a restaurant, shop and petrol station. The most common restaurant is the Mugg & Bean chain which has a range of decent options (vegetarian meals are marked and include salads, soup, toasted sandwiches, wraps, nachos and breakfasts).
Some camps have a handy Mugg & Bean On the Move where you can pick up a coffee, smoothie, sandwich, pastry or one of their giant cakes to take away. Satara has a Debonairs Pizza as well as Mugg & Bean.
You can see a list of restaurants and menus here.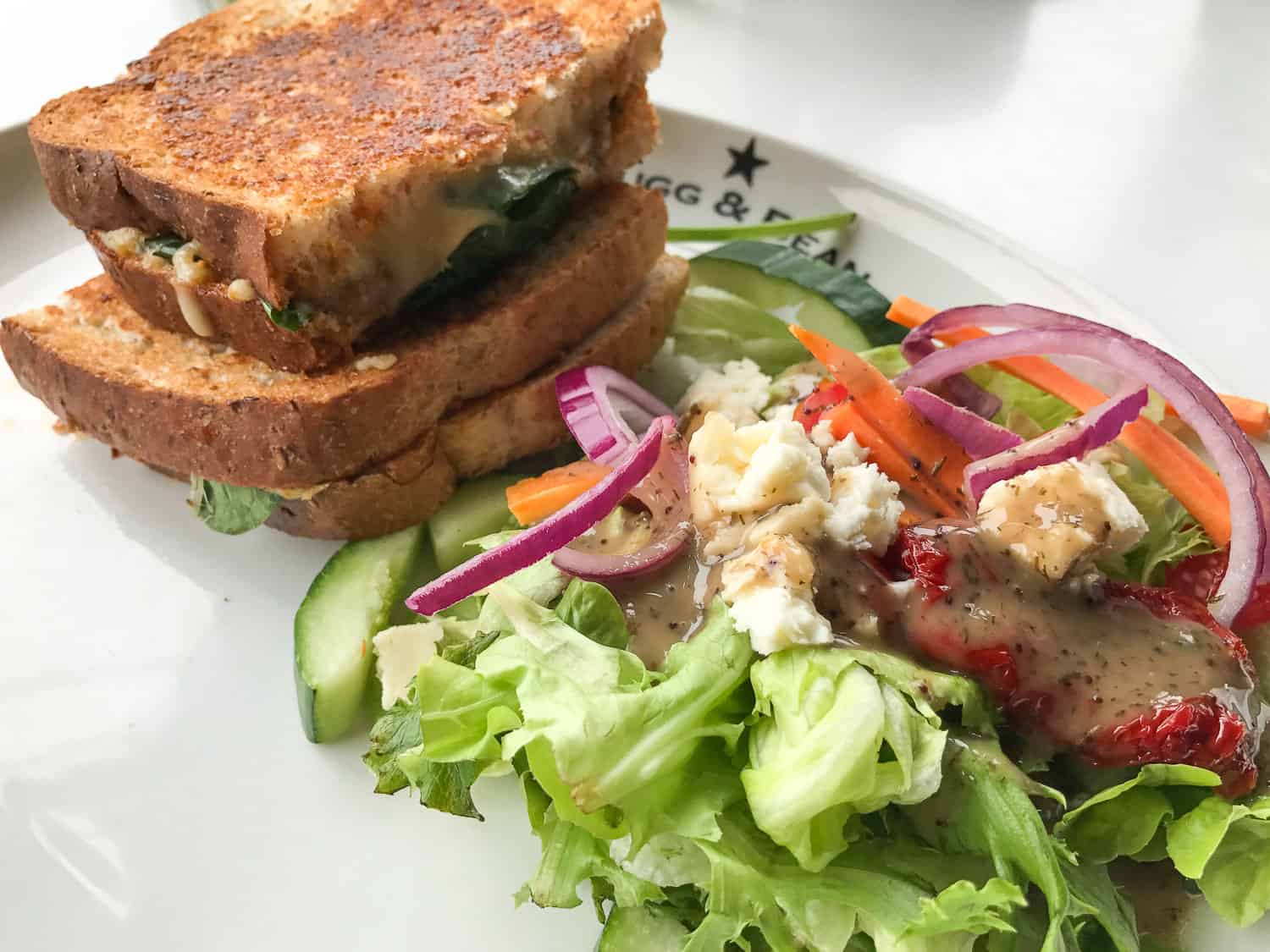 The shops are better equipped than we expected with some fresh produce, basic supplies, souvenirs and most things you might need. It's still a good idea to stock up before you enter the park if you are self-catering. All campsites and accommodation units have braais (barbeques). We were too lazy to cook for ourselves so ate snacks for breakfast and at restaurants for every lunch and dinner.
Many camps have swimming pools.
There are only ATMs at Skukuza and Letaba.
WiFi areas are only available at Skukuza and Berg en Dal. All rest camps have good 3G signal, but there's no coverage between camps.
The smaller bushveld and satellite camps do not have a restaurant or shop.
There are a number of picnic areas between camps with toilets and barbeque facilities and sometimes a shop/cafe.
The main camps offer guided safaris and walks, which you might want to consider if you aren't also staying in a lodge. The drives are in large vehicles, though, and I didn't hear particularly good reviews of them.
Which Kruger National Park Rest Camp?

Most visitors stay at a few rest camps to explore different areas of the park. Ideally you'd spend two nights at each camp so that you are not constantly on the move. See the park map above or download a larger map from the SAN Parks website.
The lower third of the park has the most game but is more crowded with visitors (although that was not a problem for us in low season). The most popular camps here are Lower Sabie and Skukuza.
The middle section of the park includes the Satara camp (known for lions), and Olifants and Letaba, which are known for elephants.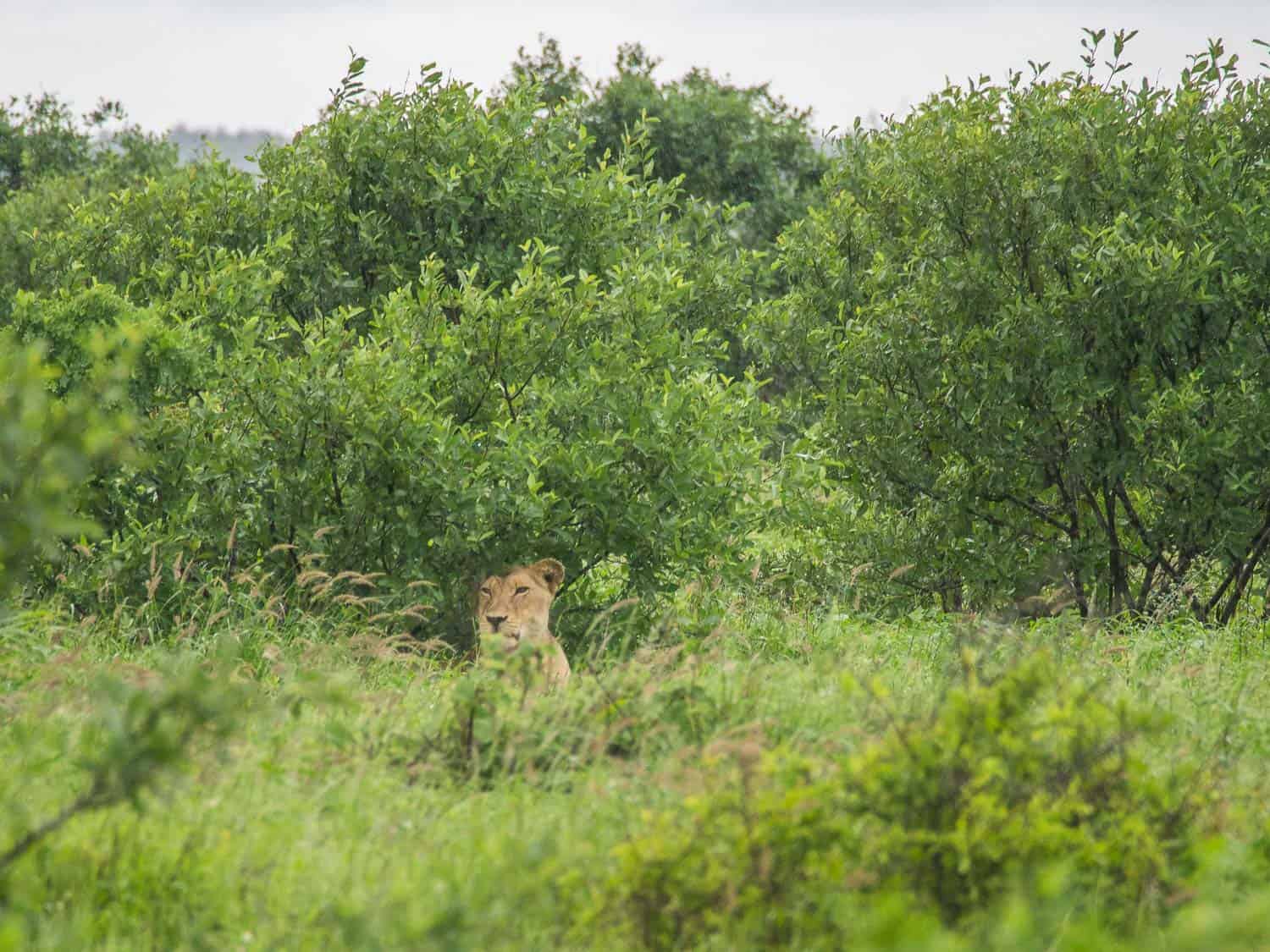 Most visitors don't make it to the far north of the park. There's less game here, but it's good for birding, it's much quieter, wilder and has more beautiful scenery. Locals we met recommended this area, but it's not the best place for first-time visitors with limited time who want to see the Big 5. Camps include Shingwedzi and Punda Maria.
In addition to the main rest camps, there are a number of smaller satellite and bush camps that offer more of a wilderness experience. They don't have a shop or restaurant so you'll need to cook for yourself.
Our friends at The Road Forks spent a week in various Kruger rest camps driving from north to south and they said:
"If we had to do it over again, I would start at the Phalaborwa gate, spend 1 night at Mopani, 2 nights at Letaba (D32/33), 2 nights at Olifants, and 2 nights at Skukuza. We visited almost all the other rest camps in the park and we liked those four the best. In particular, Letaba and Olifants have amazing views of huge watering holes where all the animals come in, meaning that even after the gates shut in the evening, we could watch the animals at the watering hole."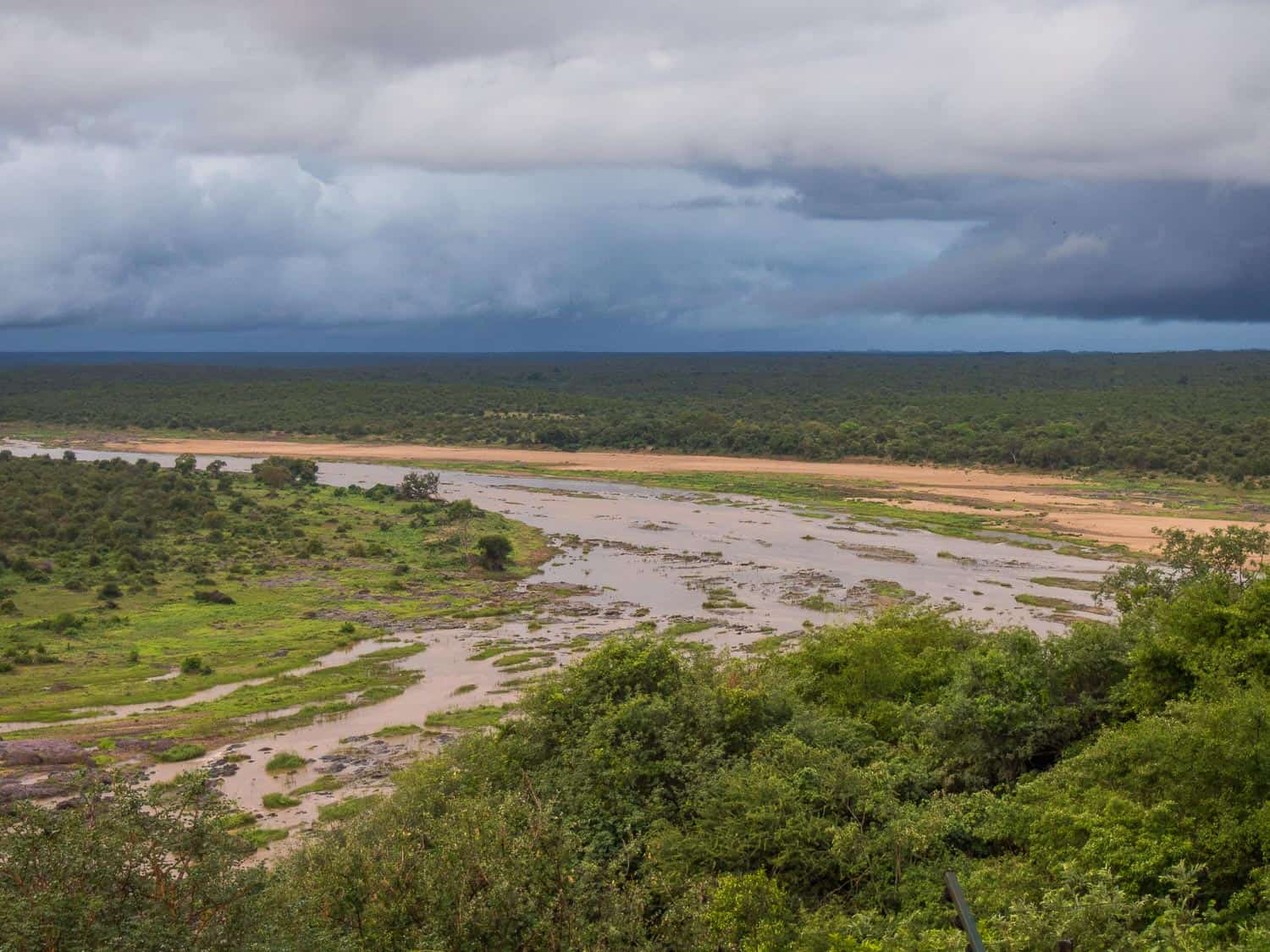 The camps you choose will depend on how long you have, your interests, and availability as many get booked up a year in advance.
We spent one night at Olifants and two nights at Lower Sabie.
Olifants Rest Camp Review
Olifants is located high above a river and we chose a perimeter bungalow with a view. We could see hippos and elephants in the river from our outdoor kitchen/ terrace and from the Mugg & Bean restaurant.
Otherwise our bungalow was disappointing—it had two twin beds and was rather gloomy and outdated. We had an ensuite, air conditioning, and a fridge. Olifants has a pool and fairly well-equipped shop.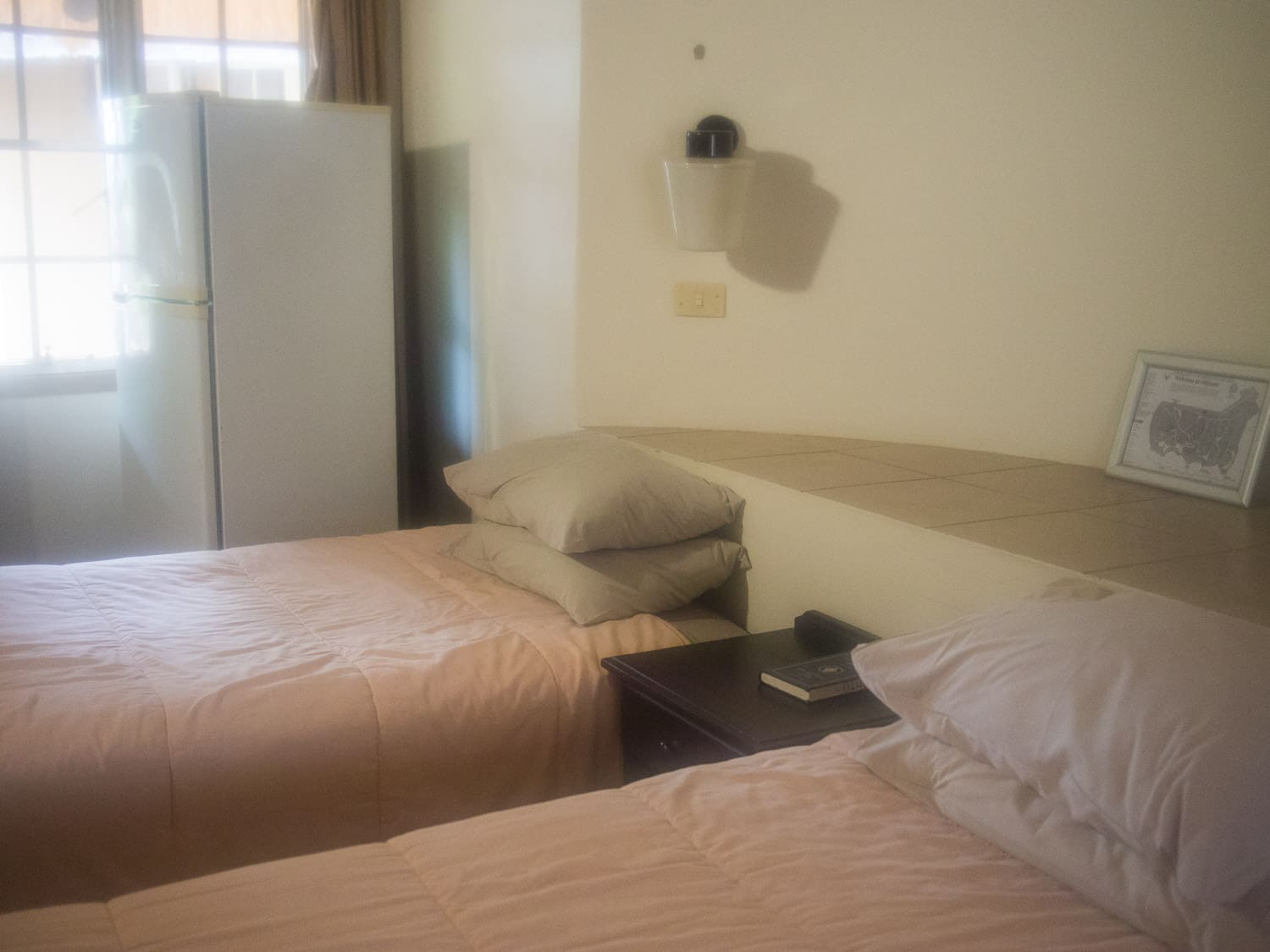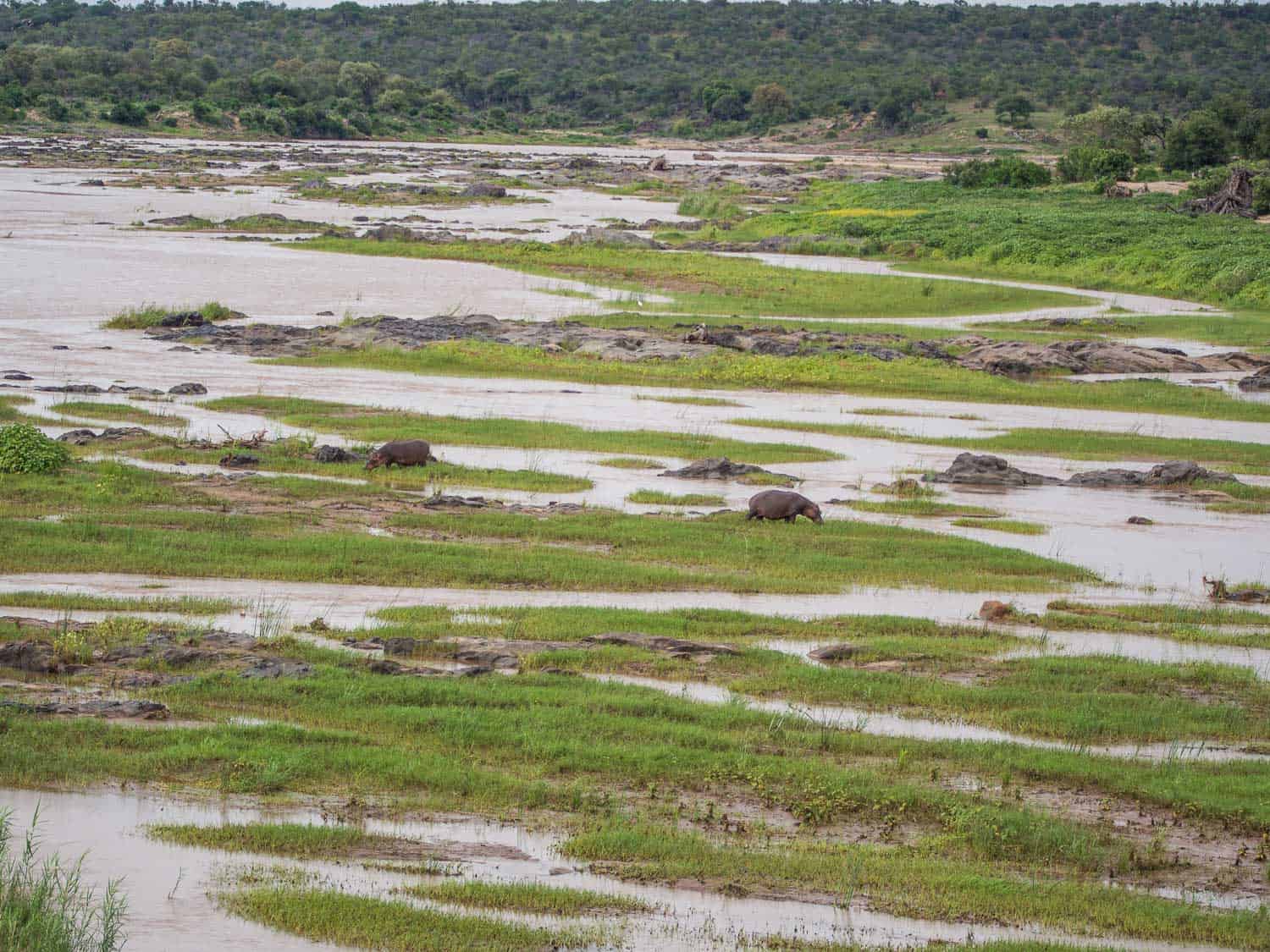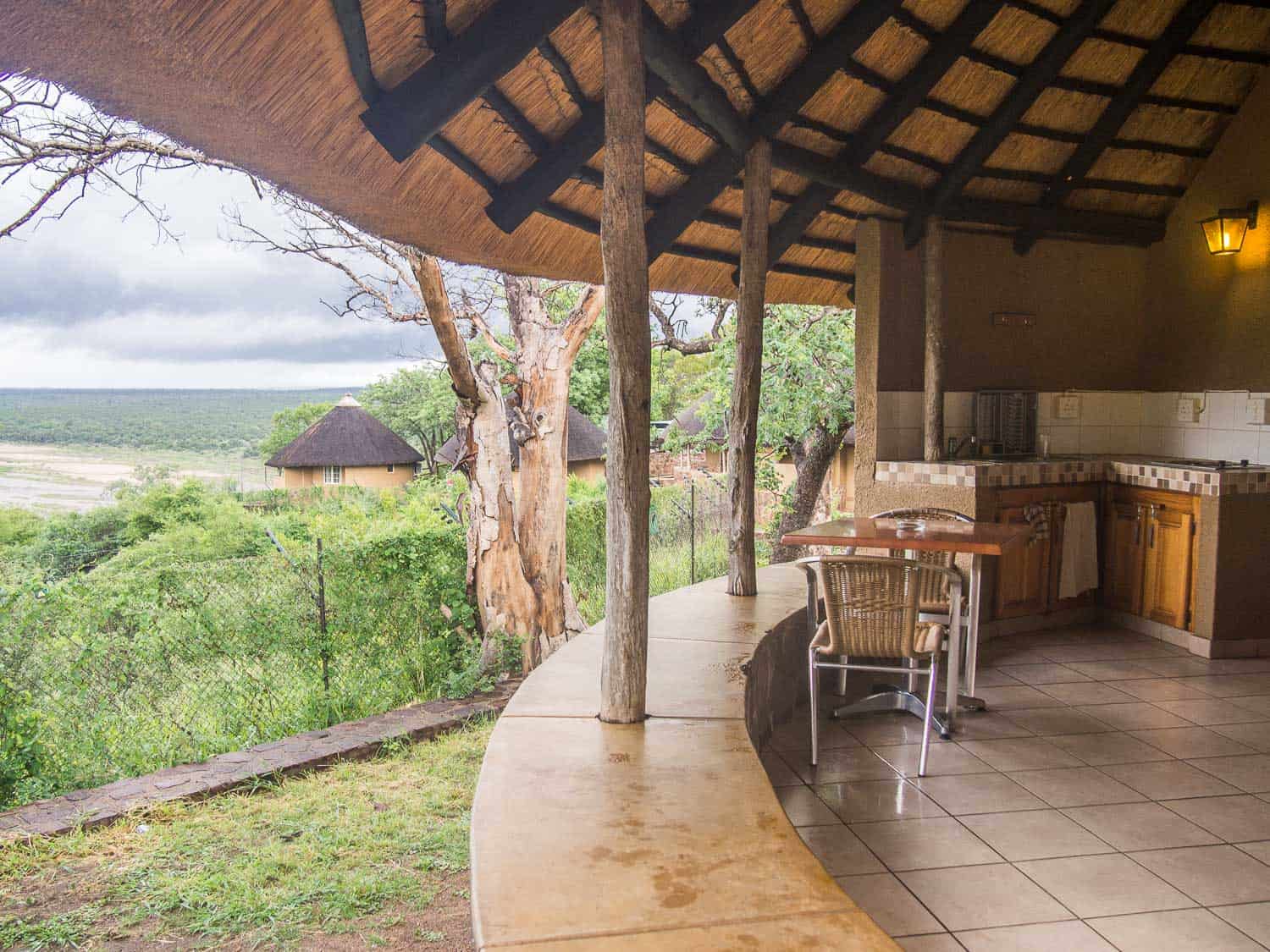 On the drive from Satara to Olifants we saw lots of elephants, hippos, big herds of zebra and giraffe, and even a distant lion. We actually saw more in the central area of the park than the south, perhaps because the open savannah areas are better for game viewing during the rainy season.
Lower Sabie Rest Camp Review
Lower Sabie is one of the most popular camps in the park. We chose a perimeter bungalow with ensuite, air conditioning and outdoor kitchen. Although it was similar to our Olifants room, we preferred it as it had a big window where we could enjoy the river view from bed.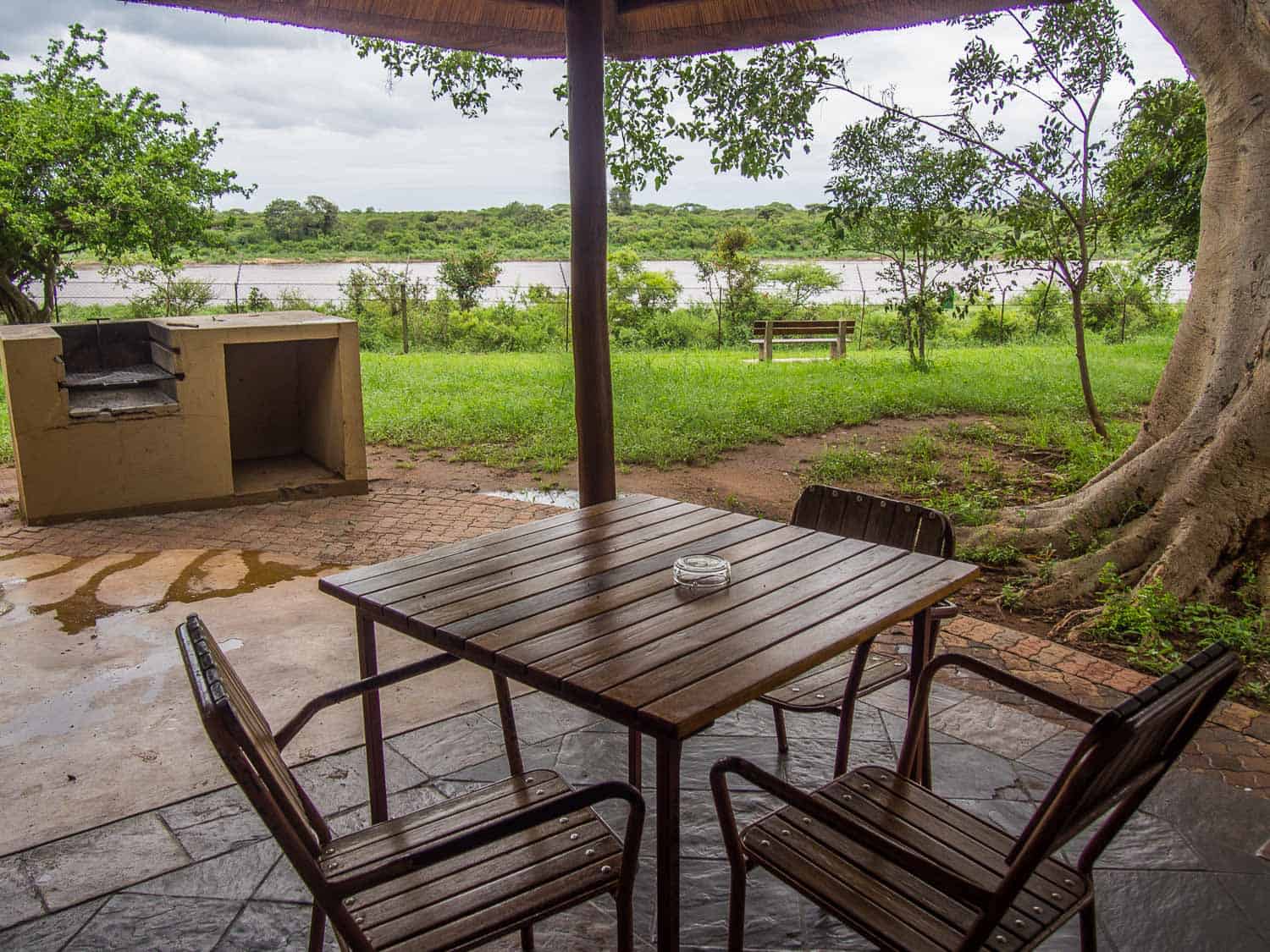 We also preferred the Mugg & Bean restaurant at Lower Sabie as it is more open, spacious and all tables have river views—again we saw hippos while we were eating. The shop is similar to the ones at Satara and Olifants, there's a pool, and we took advantage of the laundry facilities.
Lower Sabie is supposed to be one of the best areas for game viewing, but we didn't have much luck on our morning drive to Skukuza. This could be because we were there in the rainy season and there were high winds during our drive.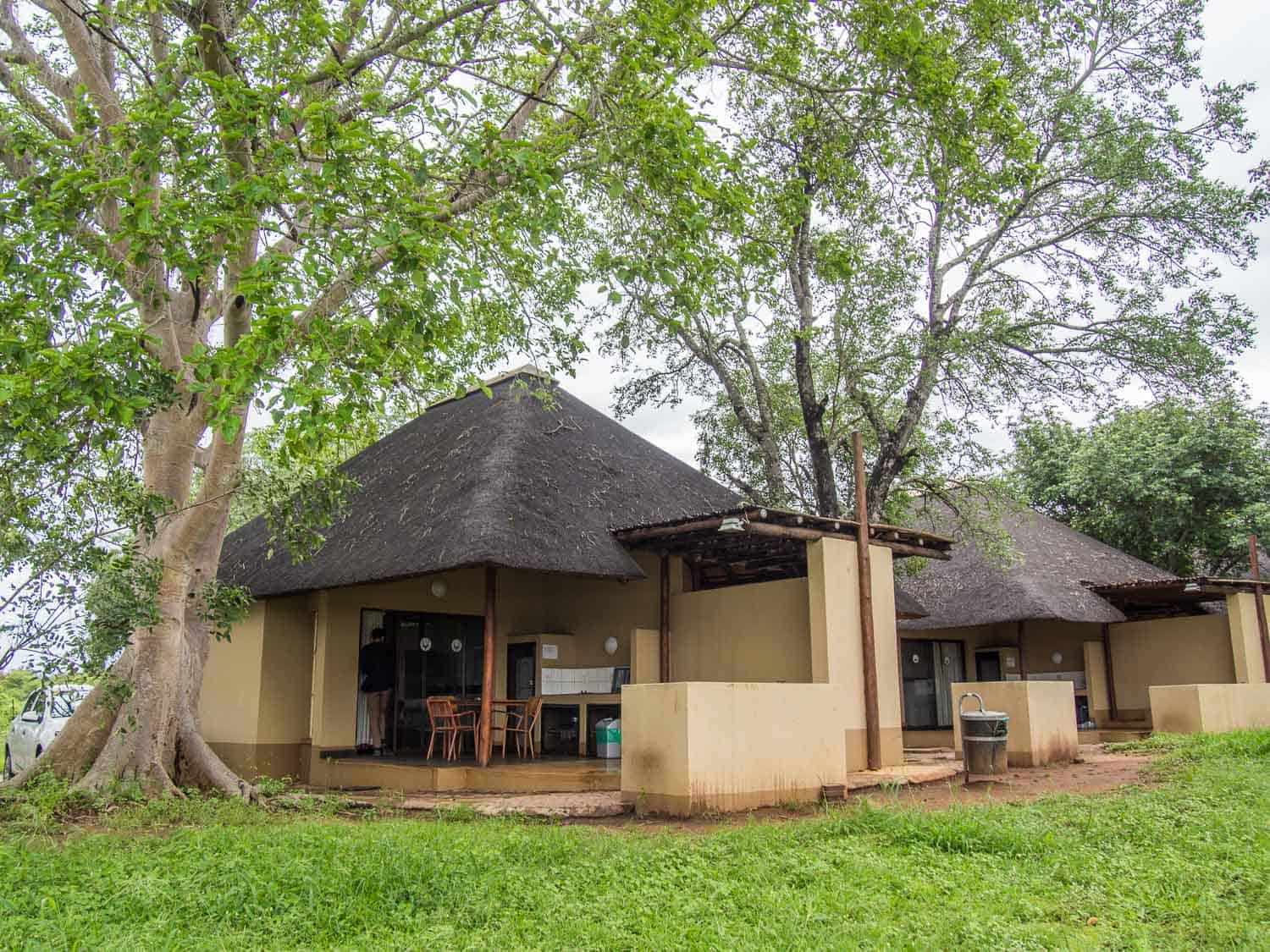 How to Book a Kruger National Park Rest Camp
My biggest advice is to book as far in advance as possible. If you are camping you won't have as much of a problem, but if you want a bungalow with a view they get booked up quickly.
We booked our accommodation three months ahead and when I checked back a week later all the bungalows in Lower Sabie were gone and only huts and campsites were left.
Here's how to book your Kruger accommodation:
1) Choose the camps you are interested in
See the section above. Don't overthink this too much as you can't go really wrong. Be flexible as your first choice might not be available.
2) Look on the SAN Parks site for availability
Go to the SAN Parks Kruger availability page and either select the camp you are interested in or choose your date and check availability in all camps (a good option if you are booking last minute).
If you select a camp (such as Lower Sabie) you'll be taken to a page where you can browse by accommodation type, calendar month, or date.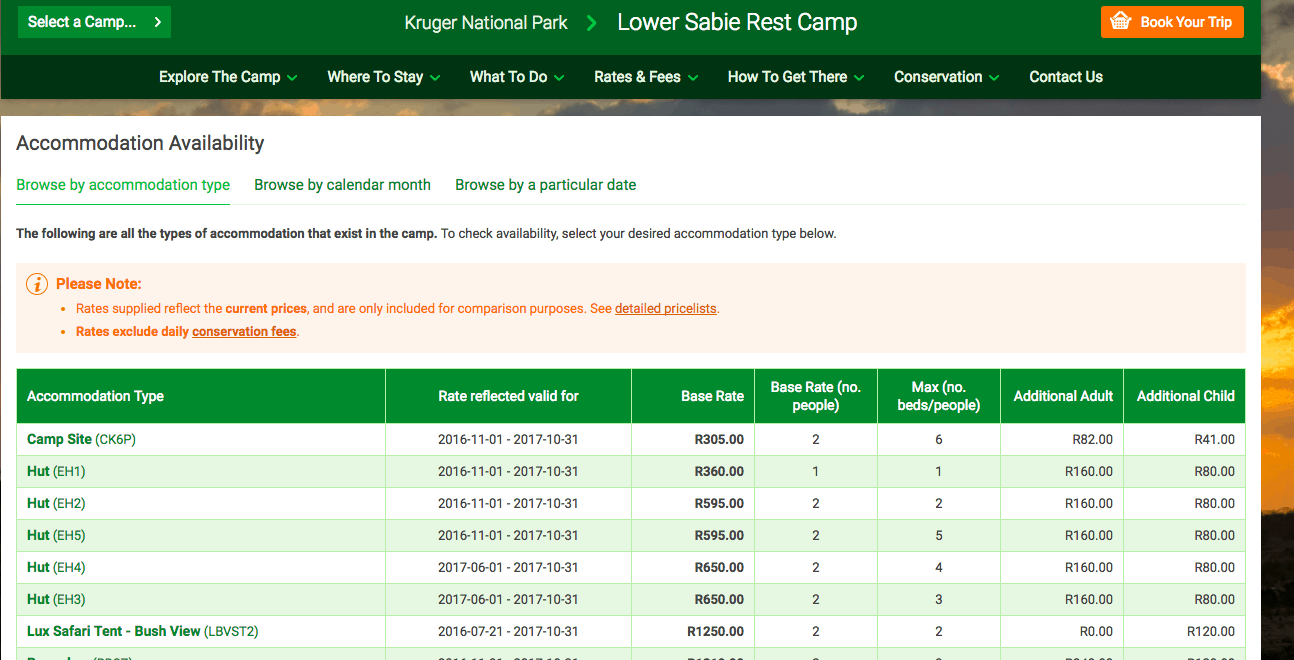 I found the "Browse by calendar month" option most useful. Click on the accommodation type to see prices, facilities and photos.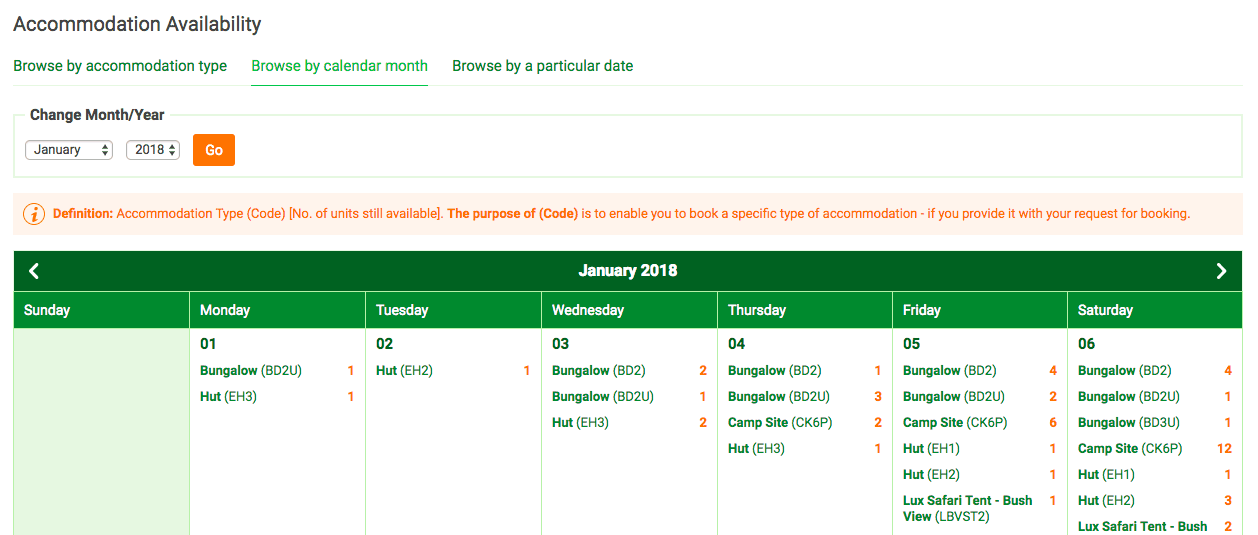 The accommodation types are described by codes (BD2, BD3U etc) which can be a little confusing. The number refers to the number of people the room is for (a BD3U can sleep three people), a U means it's on the perimeter of the camp (more private and may have a view), and V is for the best views. We had a BD2V bungalow at Olifants and a BD2U bungalow at Lower Sabie.
If you click the Accommodation drop down in "Where to Stay" in the toolbar you'll get an overview of the accommodation options at the camp.
The SAN Parks forum has a useful list of camp maps so you can see where the different rooms are located.
They also have a list of the best units for each camp. Apparently, you can request particular unit numbers after you have booked but we didn't do this.
3) Register and book
When you have chosen your accommodation and found an available date, click the "Book & Pay Directly Online" button at the bottom and agree to the terms and conditions. You'll then need to create an account and continue to the Online Bookings page.
Annoyingly you have to start over again once you are signed in. Choose New Reservation—Accommodation from the menu, select Kruger National Park from the list, and choose your camp and dates. You can then either check out or add more accommodation in a different camp. You'll need a credit card to make the payment.
I had lots of problems with the website and had to keep trying. You know your booking has gone through when you have a reservation number—you should be sent an email with your reservation letter or you can see it under "Existing Reservations".
4) Keep checking if you didn't get the accommodation you wanted
SAN Parks allows you to change your reservation (date or camp) for free, which means that cancellations often come up. If you didn't get the unit or camp that you wanted, keep checking back. I originally booked a BD2 bungalow at Lower Sabie in the middle of the camp and checked the site every few days for two and a half weeks before a BD2U perimeter bungalow came up.
It was easy to change to a different room—login to the site and select your booking from "Existing Reservations", then select the new accommodation type from the drop down menu. After it is confirmed you can go back in to pay any extra fees—I had to pay a little extra but it was worth it to us for the view.
Kruger National Park Self-Drive Itineraries
Useful resources for planning your Kruger self-drive itinerary
Each camp or picnic stop is spaced about one hour apart or two hours if you stop for sightings on the way. I don't recommend driving more than three sections in one day (for example Olifants-Satara-Tshokwane-Lower Sabie).
Driving is slow going in the park—you may stop often for sightings, have the road blocked by elephants, or need to detour because of a road closure. You don't want to risk being on the road after dark (you will be fined and you endanger the wildlife).
You can either drive between gates and camps or if you are staying two nights in one camp, take day drives (early morning and late afternoon are best) from there. Check the sighting maps at the camps to see what has been seen recently.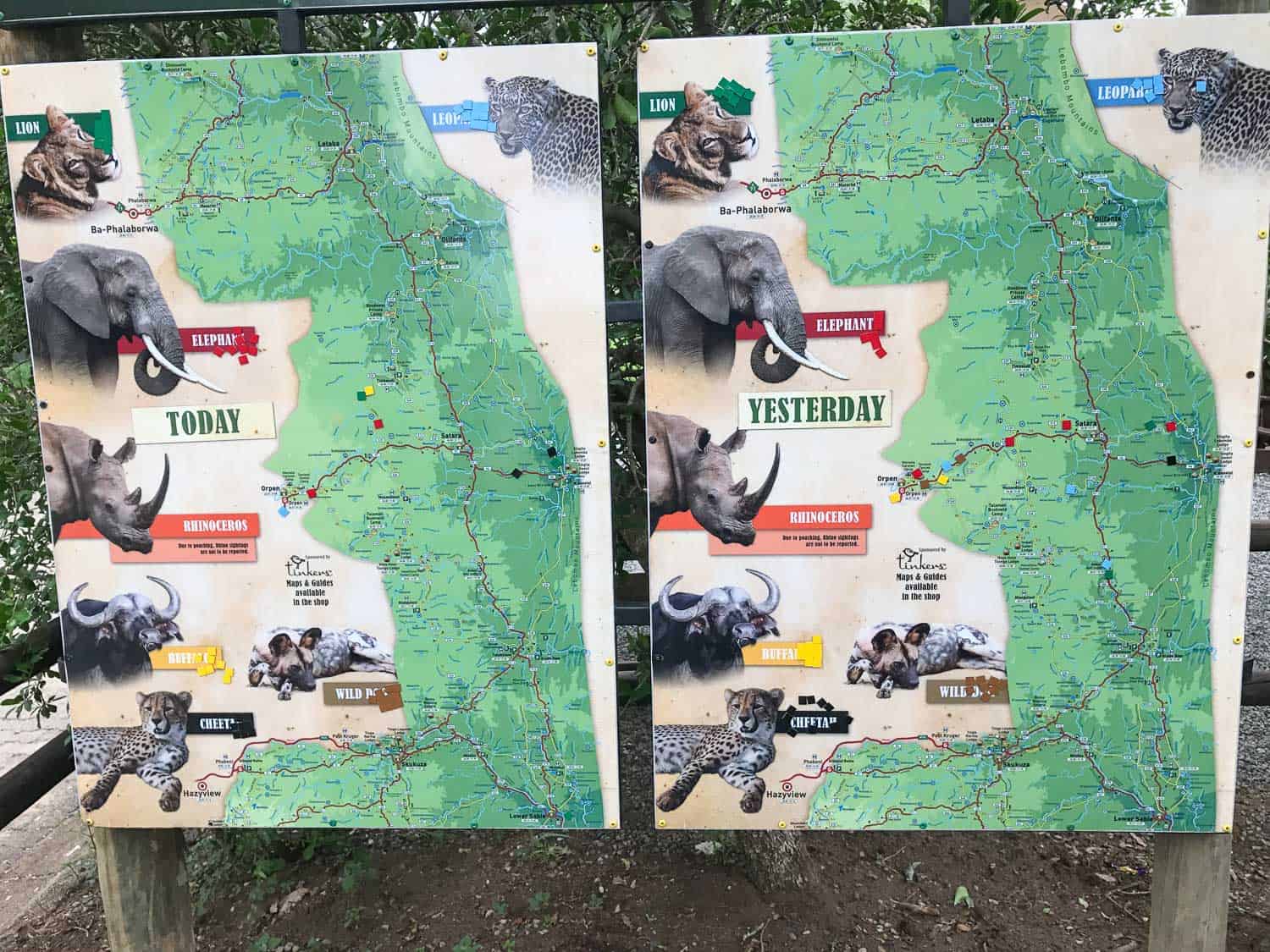 Our Tinker guide said that if you only have a day or two in Kruger and want to see the Big 5, drive this route: Skukuza-Berg-en-Dal-Crocodile Bridge-Lower-Sabie-Skukuza.
This was our route:
Day 1: Orpen Gate-Satara-Olifants – 4 hours in the afternoon with a lunch stop at Satara. We saw wildebeest, four elephants, large herds of zebra and giraffe, kudu, and hippos. North of Satara you can see for miles in the wide open plains and meadows of wildflowers and long grasses (in the rainy season). It was pouring with rain by the end of our drive.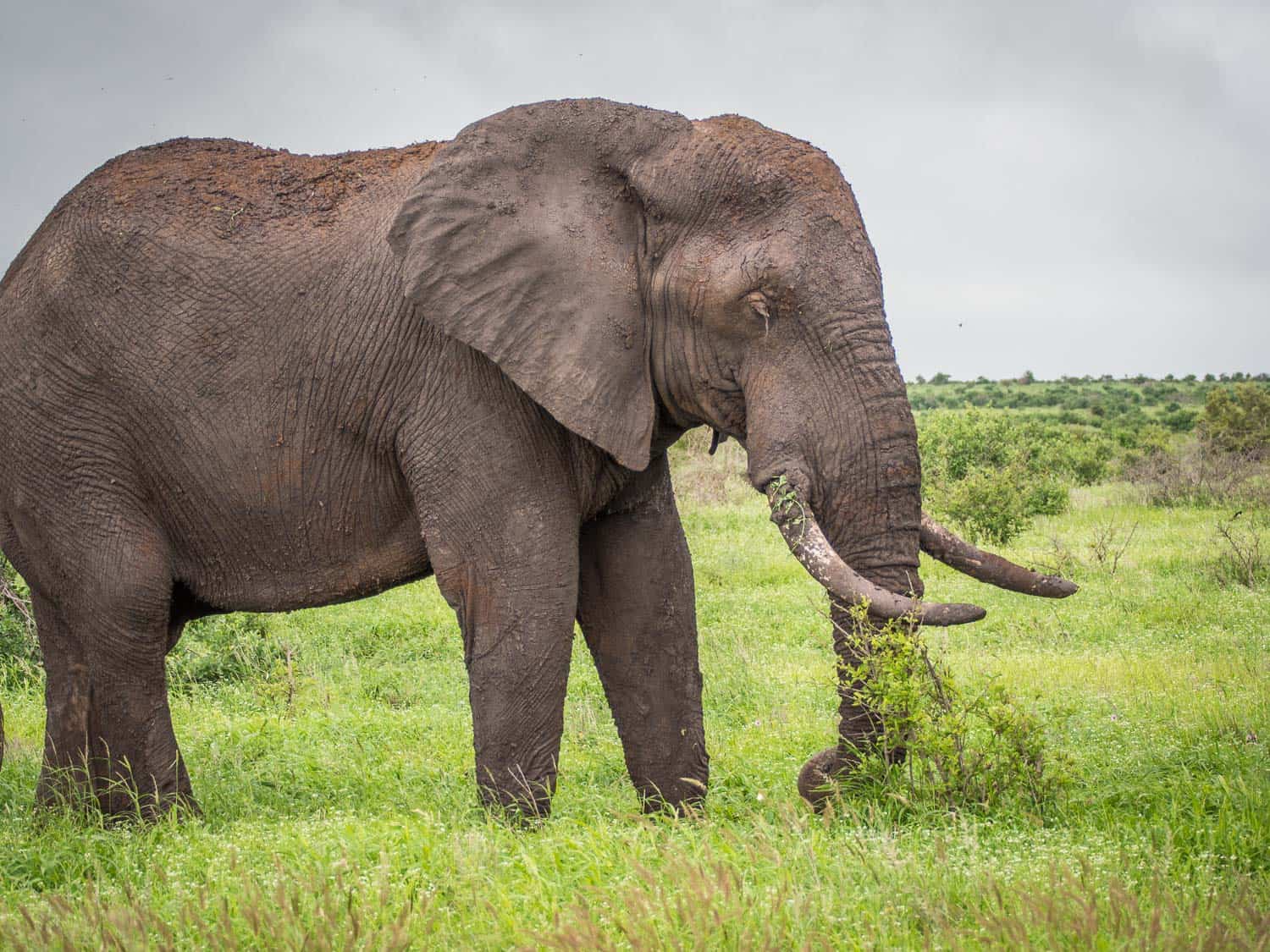 Day 2: Olifants-Satara-Tshokwane-Lower Sabie – 6.5 hours with a lunch stop at Satara, toilet break at Tshokwane picnic area and a road closure. It was another rainy day and we didn't get started until 9.30 am as we were exhausted after all the 5 am starts at lodges. On the road back down to Satara we saw a distant lion peeking its head out of the grass, a hippo, two elephants, and lots of impala, giraffe, wildebeest and zebra.
We got a toasted sandwich to take away at Satara and continued to the Tshokwane picnic area (which has a shop and a decent looking restaurant serving local BBQ food including vegetarian options). Sightings included lots of baboons and the usual zebras, giraffe etc. There were plenty of vervet monkeys on the tables (don't feed them!).
The direct route to Lower Sabie was closed due to a bridge being down (rainy season problems) so we had to detour towards Skukuza.
A highlight was coming across at least 17 rare wild dogs sleeping by the side of the road. Other sightings included an elephant family, plenty of birds (vultures, bateleur eagle, southern ground hornbill), baboons, hippos, and warthogs.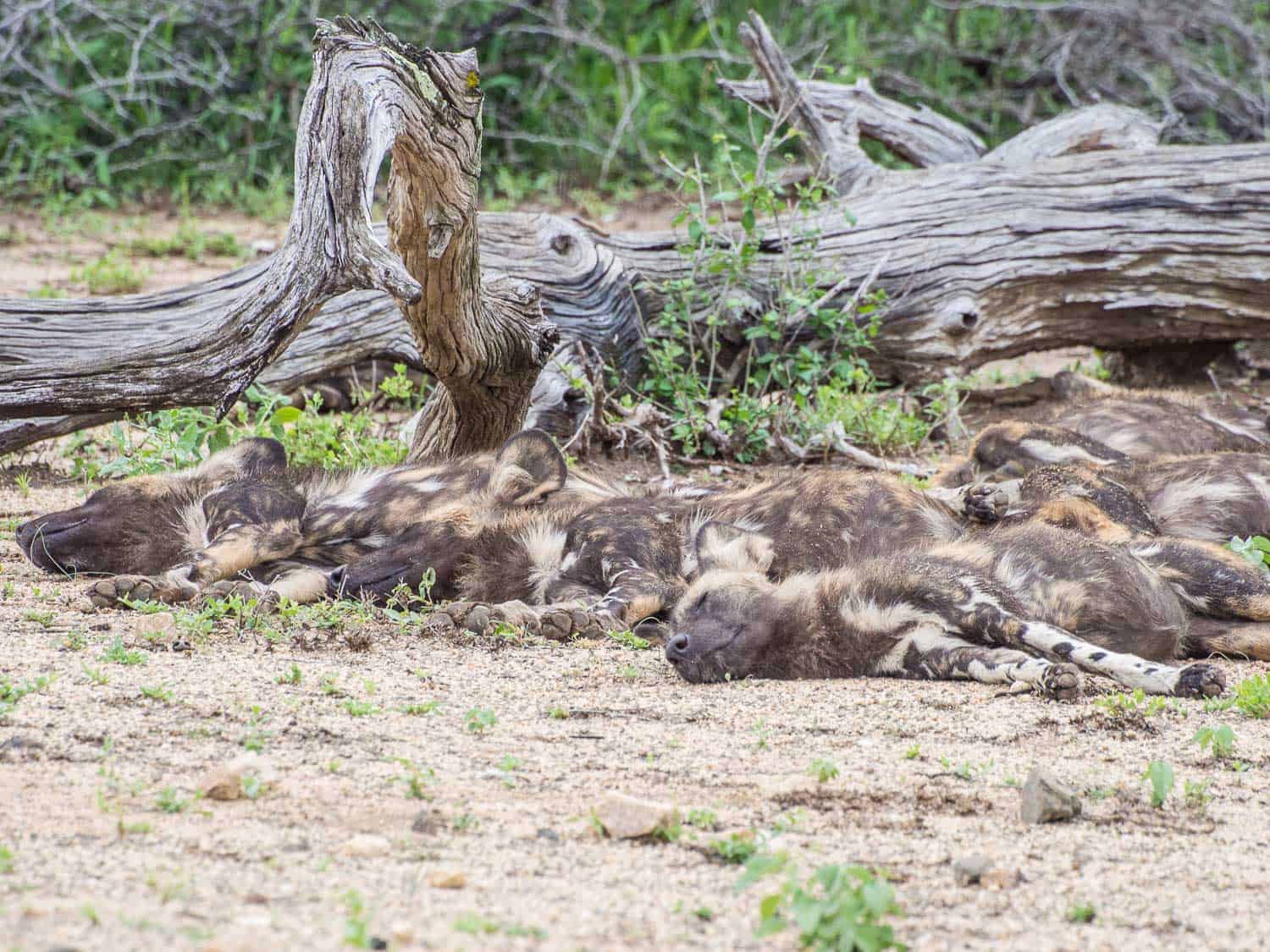 Day 3: Lower Sabie-Skukuza-Lower Sabie – 4 hours including a toilet break at Skukuza. We left at 5.15am on a very windy morning and disappointingly didn't see much—baboons, impala, two hippos, a few giraffe (no big herds like around Satara), and one elephant.
This is supposed to be the prime game viewing route in the park but we had more luck in the Satara/Olifants area—probably due to the weather at this time of year and because it's easier to see animals in the savannah areas.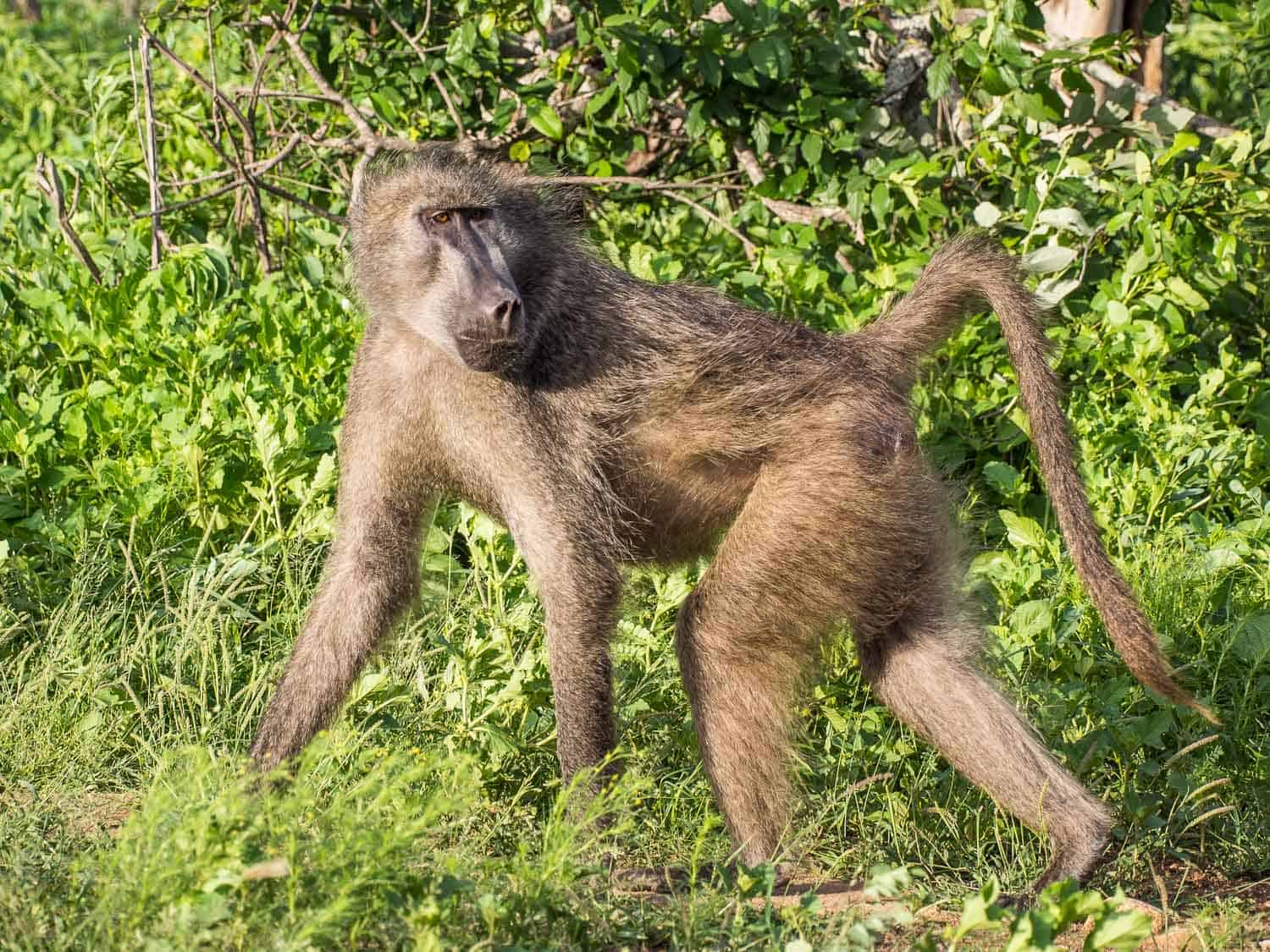 We could also have done an afternoon drive from Lower Sabie, but we were tired and our morning drive hadn't been very productive, so we just relaxed and did laundry instead.
Day 4: Lower Sabie-Crocodile Gate – 1.5 hours. We left just after 7 am and the sun finally came out! The landscape becomes more open towards the gate and we saw big herds of impala, giraffe, zebra, and wildebeest. Other sightings included a spotted hyena, vervet monkeys, two elephants, and a hippo.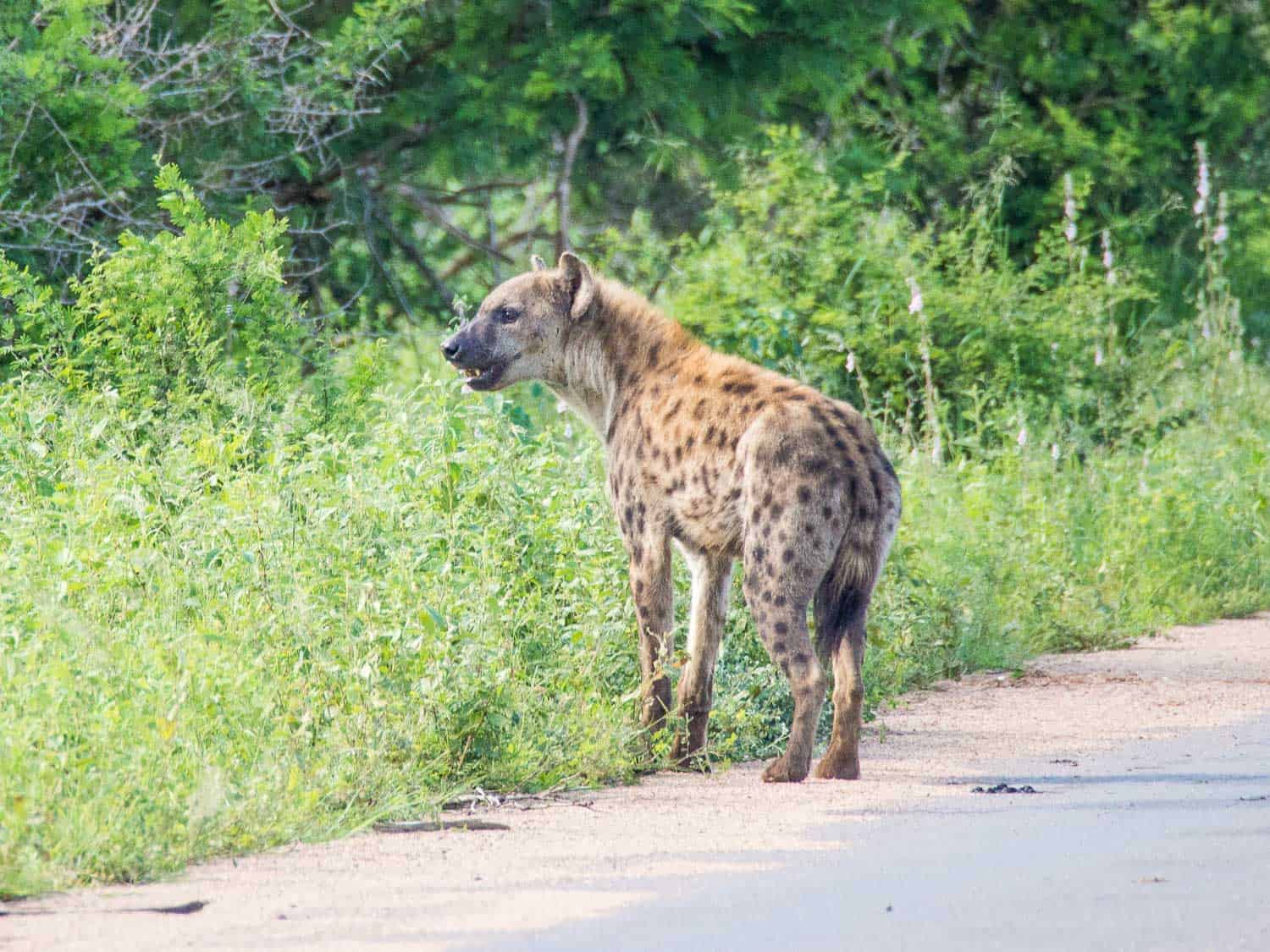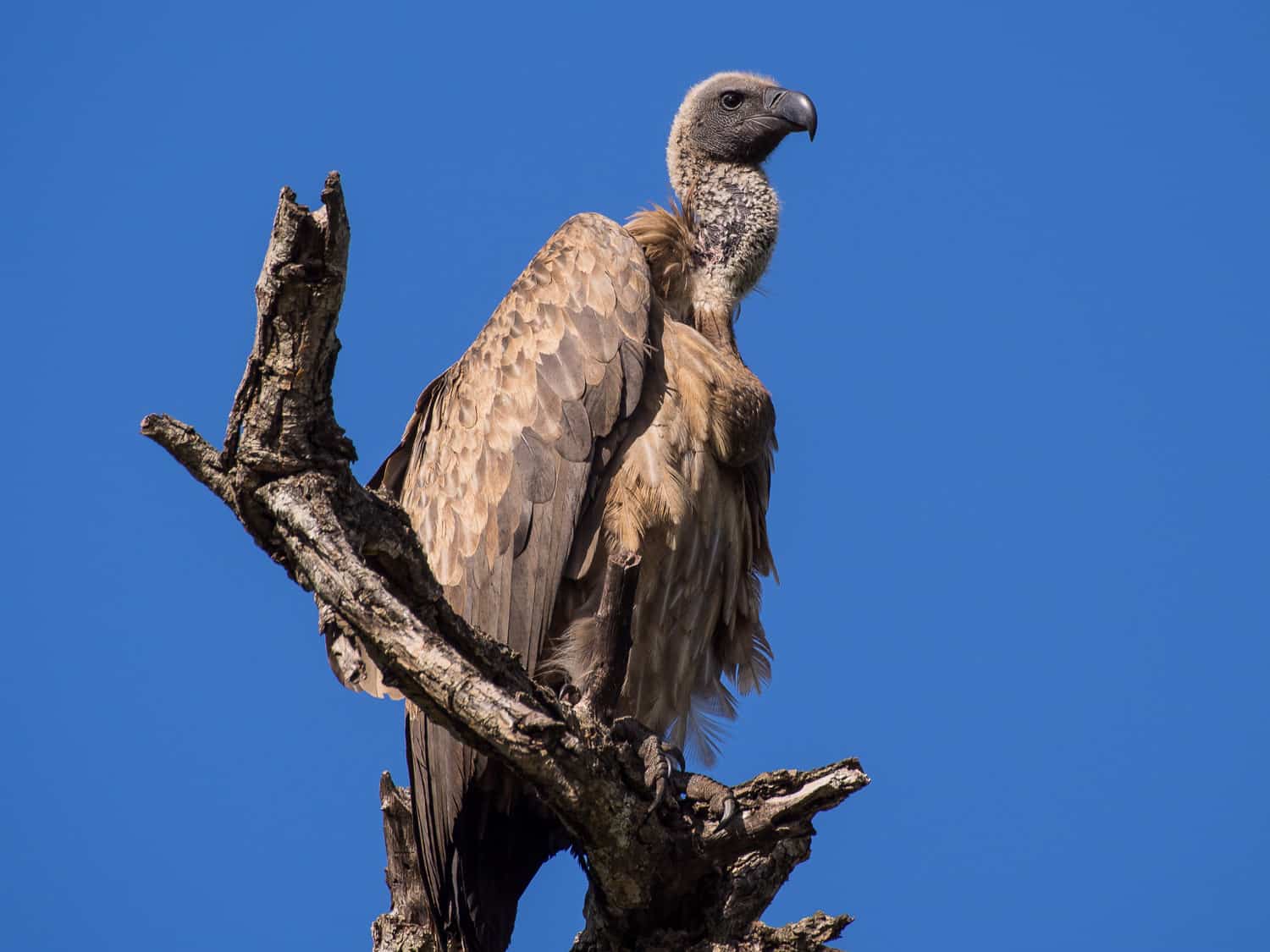 Our itinerary gave us a good overview of the park and we would have had more luck with viewings in the dry season. If we had had more time we would have started further north and worked our way down.
What to Pack for a Self-Drive Safari
Comfortable clothes – There's no need for safari wear as you'll be inside your car. You'll need light layers in the summer and a jacket in the winter. As usual, we travelled carry-on only.
Long trousers and a top in neutral colours plus covered shoes if you plan to do a guided bush walk.
Insect repellent – We applied deet repellent throughout the day and weren't bitten.
Kruger is a malarial area so consider taking malaria pills. We chose not to as the risk seemed low, but do get medical advice before your trip.
Long lens – I used my mirrorless camera, the Olympus OMD-EM5 and the Olympus 75–300mm lens. It is a much smaller, lighter combo than an SLR with a telephoto lens and I was happy with the results. An even longer lens would have been useful in Kruger as the animals were further away than in the private game reserves.
Spare camera batteries and memory cards.
Binoculars – We didn't have any but often wished we did.
Head torch/flashlight – It can be dark walking around the camps at night.
South African power adapter – They use a three-pronged plug that isn't included in universal adapters.
Flask – To fill up with coffee for your drives. Especially useful for early morning starts. We bought ours in a supermarket in Graskop outside the park, but the camp shops also sell them.
Cool box – We didn't have one but it would be useful for cold drinks and essential if you are self-catering to keep your food cool on long drives between camps. You can buy them in camp shops or in supermarkets outside the park.
Snacks – The park shops have a decent range but you might want to stock up before you enter the park. If you are self-catering it'll be cheaper and you'll have more choice (especially of fresh produce) in a supermarket outside the park.
Don't forget travel insurance! We've used True Traveller for the last six years as they are the best deal we've found for UK/EU residents. For everyone else, Heymondo are a well-respected option.
Kruger National Park was a highlight of our South Africa road trip. Self-drive safaris are easy, affordable and give you the opportunity to see a huge variety of wildlife from the comfort of your own car. Hopefully this guide will help you plan your own Kruger self-drive trip—let me know if you have any questions.
See my comparison of Kruger self-drive vs lodges in private game reserves to choose the safari that's right for you, my breakdown of our Kruger self-drive costs to see exactly what we spent, and our South Africa road trip itinerary to explore more of the country.
If you enjoyed this post, pin it!