This page contains affiliate links. Please read our disclosure for more info.
Going on safari has been a dream of ours for a long time and Umlani Bushcamp was the perfect first safari destination. It's a rustic, off-the-grid, eco-lodge in the Timbavati Private Nature Reserve, which shares an unfenced border with Kruger National Park. The camp is small and friendly with a relaxed vibe and it blends into the bush by using natural materials in a traditional African style.
Despite the lack of electricity, our thatched roof hut was comfortable and the candlelit dinners added to the bush atmosphere. Most importantly, the wildlife viewing was superb and we saw the Big Five in one drive and spent another evening following a pack of rare wild dogs on the hunt. We were amazed by how much we saw and how close we got to leopards, lions, elephants, giraffe, zebra and much more.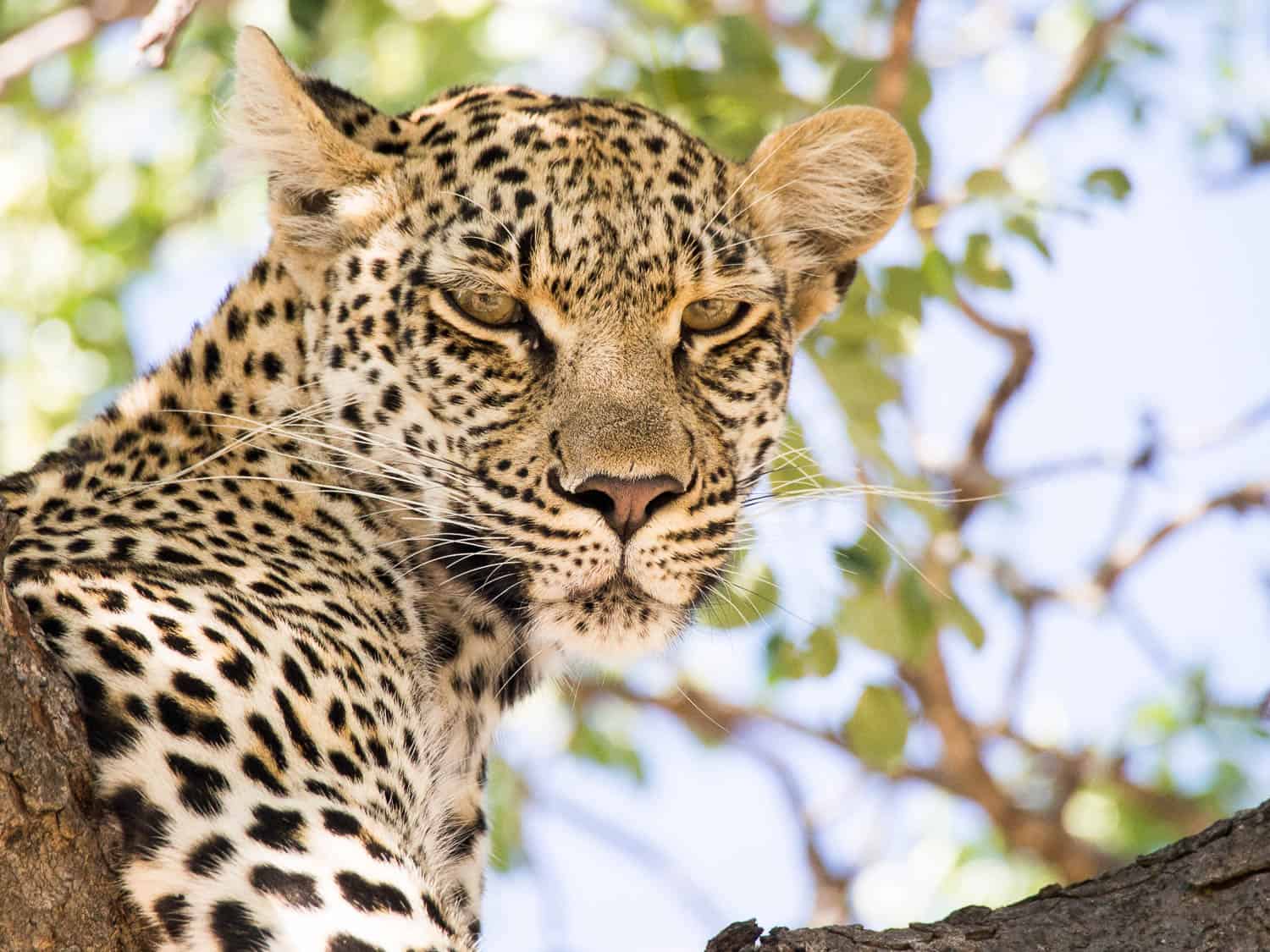 Like most safari lodges in the area, Umlani is all-inclusive including game drives and all meals and drinks, even our sundowner gin and tonics. It makes the experience ultra relaxing not having to worry about cash or decide what to do each day or what to eat for dinner. It was a blissful escape from reality.
Umlani Bushcamp Review Contents
Rooms
Facilities
Food
Eco-Friendly & Fair Trade Policies
Game Drives
Other Activities
What to Bring
Highs & Lows
Location
Costs
Summary
Rooms
Rooms at Umlani are rondavels, traditional circular huts with thatched roofs. Our room was simple but comfortable with a large double bed, draped in a mosquito net and extravagantly decorated when we arrived with leaves and stones in a welcome message. We stayed in a family room that also had two single beds, a chest of drawers, a wardrobe, a chair, bedside tables, and just enough decorative touches that it didn't feel bare.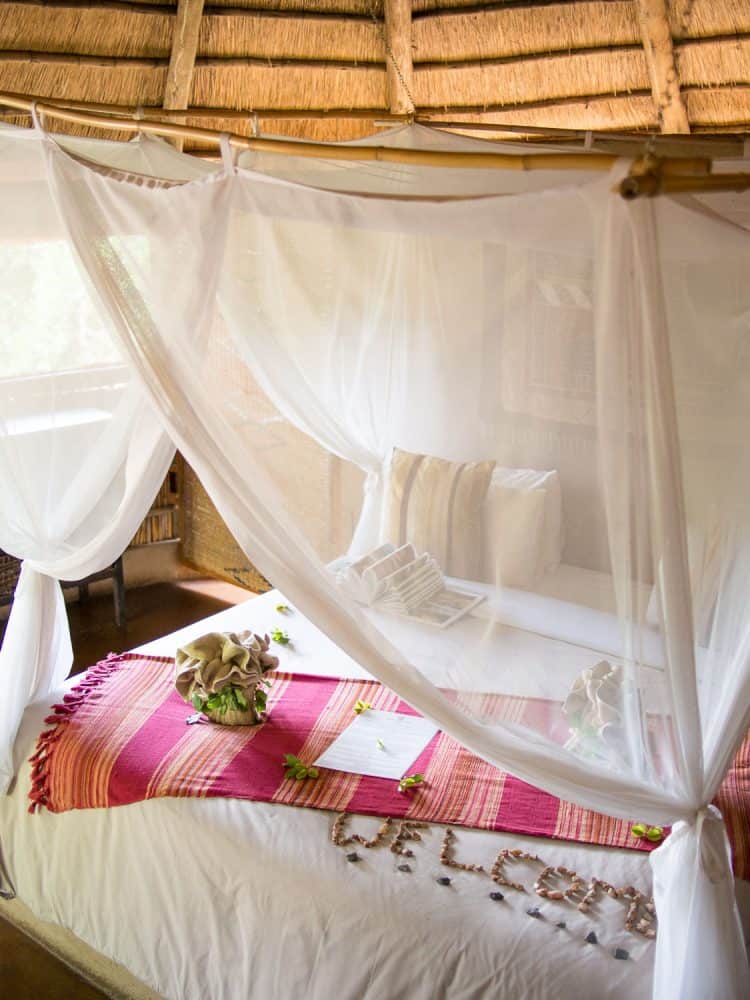 The traditional design means it's quite dark inside, but this keeps it fairly cool without a fan or air conditioning even in the summer months. The breeze that comes through the open screened window overlooking the bush also helps. I loved waking up and seeing the sunrise through the window and hearing the strange sounds of birds and animals. One day we even saw baboons in the riverbed.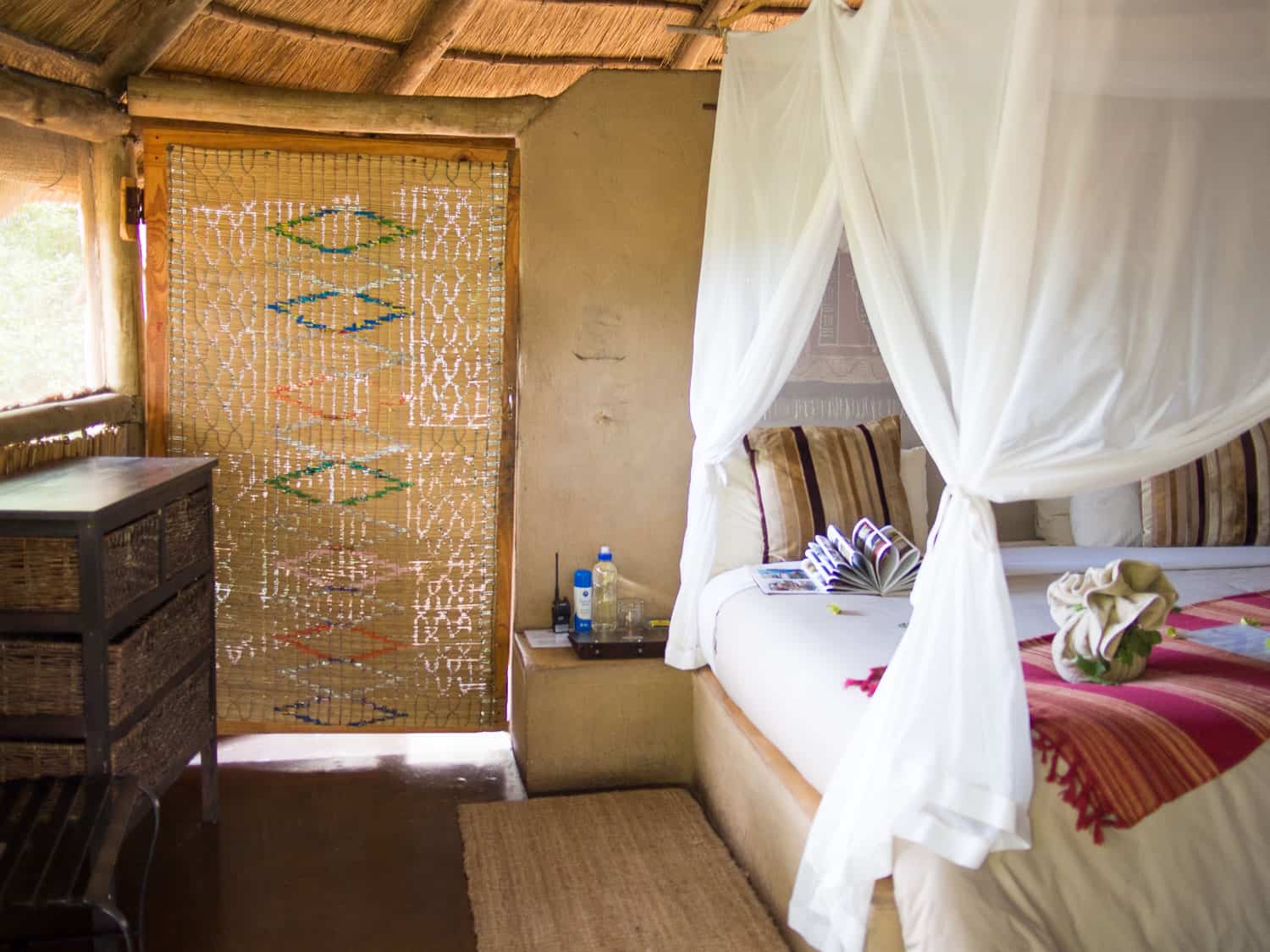 The attached outdoor bathroom is large and decorated with plants. You can shower under the sun or stars, and the water is surprisingly hot and powerful (it's gas powered).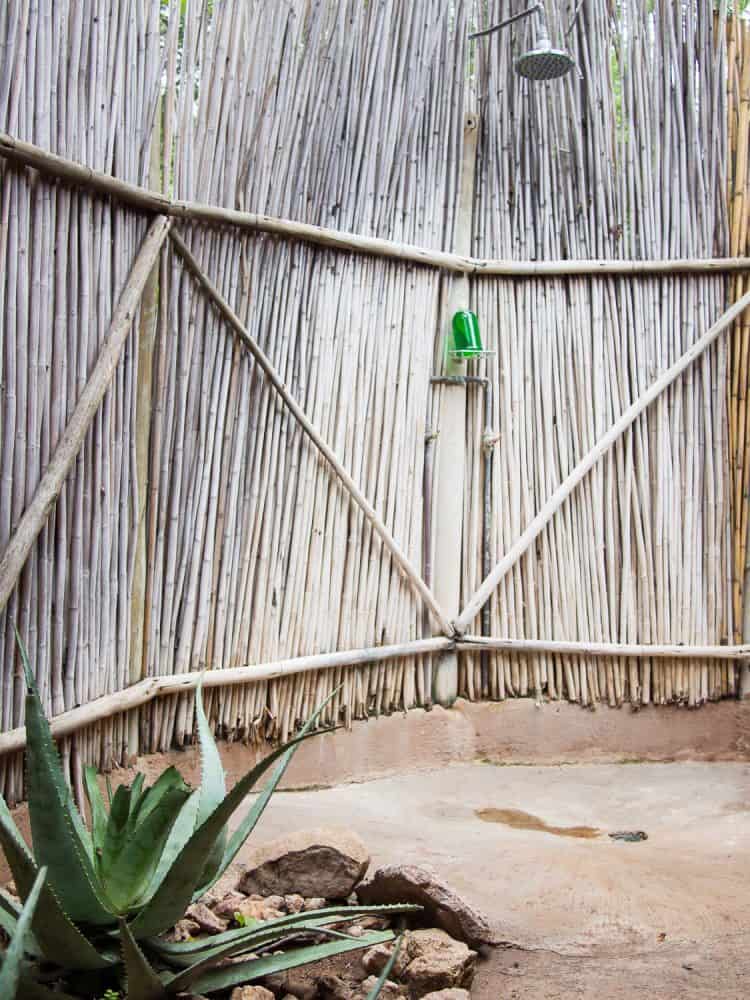 Of course, the camp is off-the-grid, so there's no electricity in the room. This concerned us at first, but it really wasn't a problem. Solar lamps are provided for light, and we kept our head torches with us at night. We didn't spend much time in the room after dark as when we returned from the evening game drive we went straight to dinner and then bed, exhausted from the early morning starts. The nights were cool so we didn't need air conditioning. There are plenty of solar power points in the shop for charging phones and camera batteries. We also brought a portable battery pack with us so Simon could charge his devices overnight in the room, and I had three spare camera batteries.
There are only eight rooms at Umlani and they are spaced out for peace and privacy. On our terrace we had chairs for enjoying the view of the bush and river.
Umlani is unfenced, so animals can wander through at any time, although we didn't have any encounters. Because of this and as lighting is very limited at night, a staff member has to accompany you to your room after dark. There's also a walkie talkie in your room for emergencies.
The rooms are cleaned during the morning game drive, and the beds are turned down and mosquito nets put in place during the evening drive.
Facilities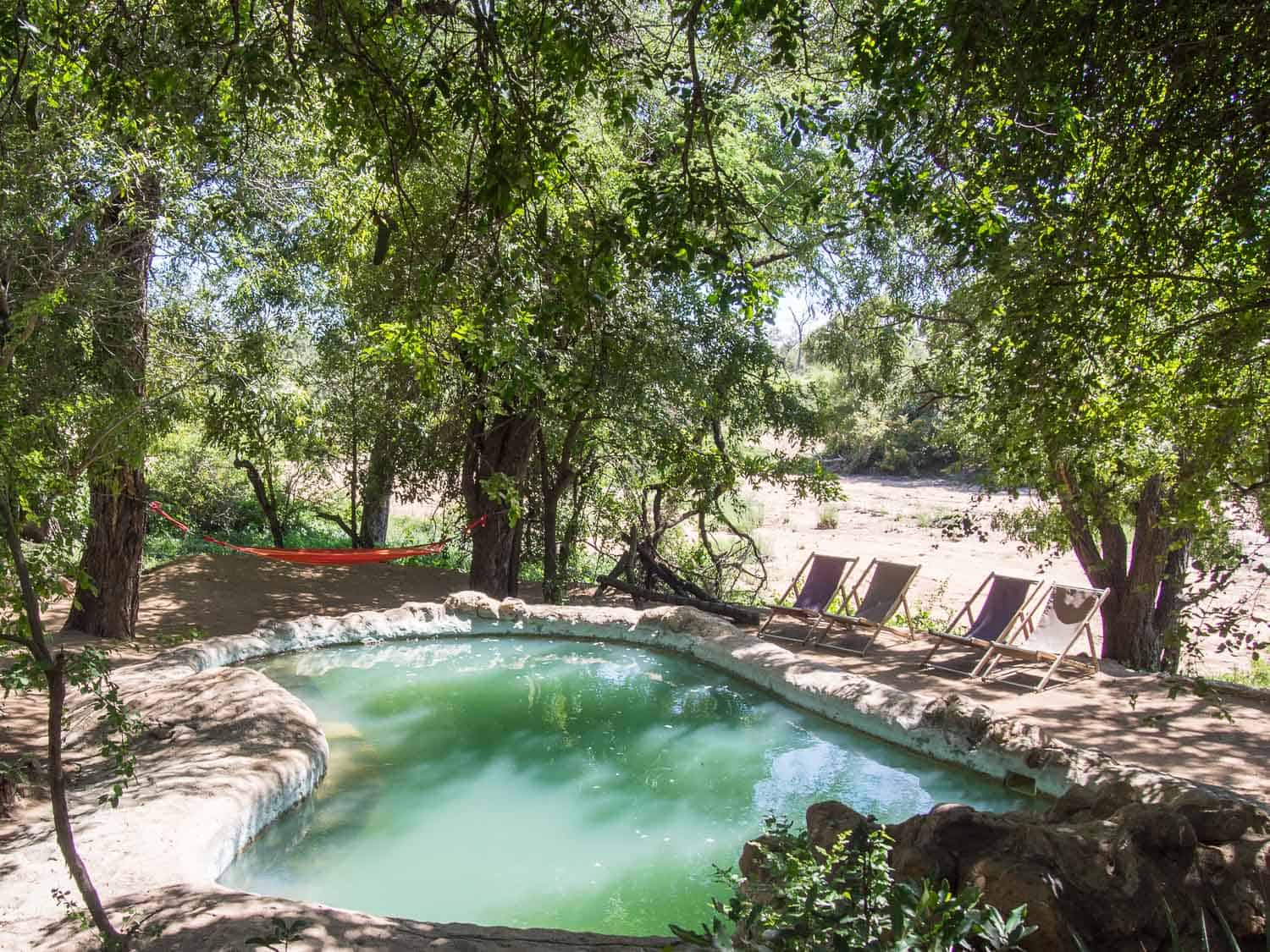 There's a small pool overlooking the riverbed with deck chairs and one hammock.
WiFi is available in the reception area (from 7.30 am until 4 pm) and is slow but usable. Our Room 4 was closest to reception so we could usually pick up the connection in our room. There's no 3G in the area.
The shop sells souvenirs and has plenty of power points for charging.
There's a small restaurant where breakfast, high tea, and dinner is served.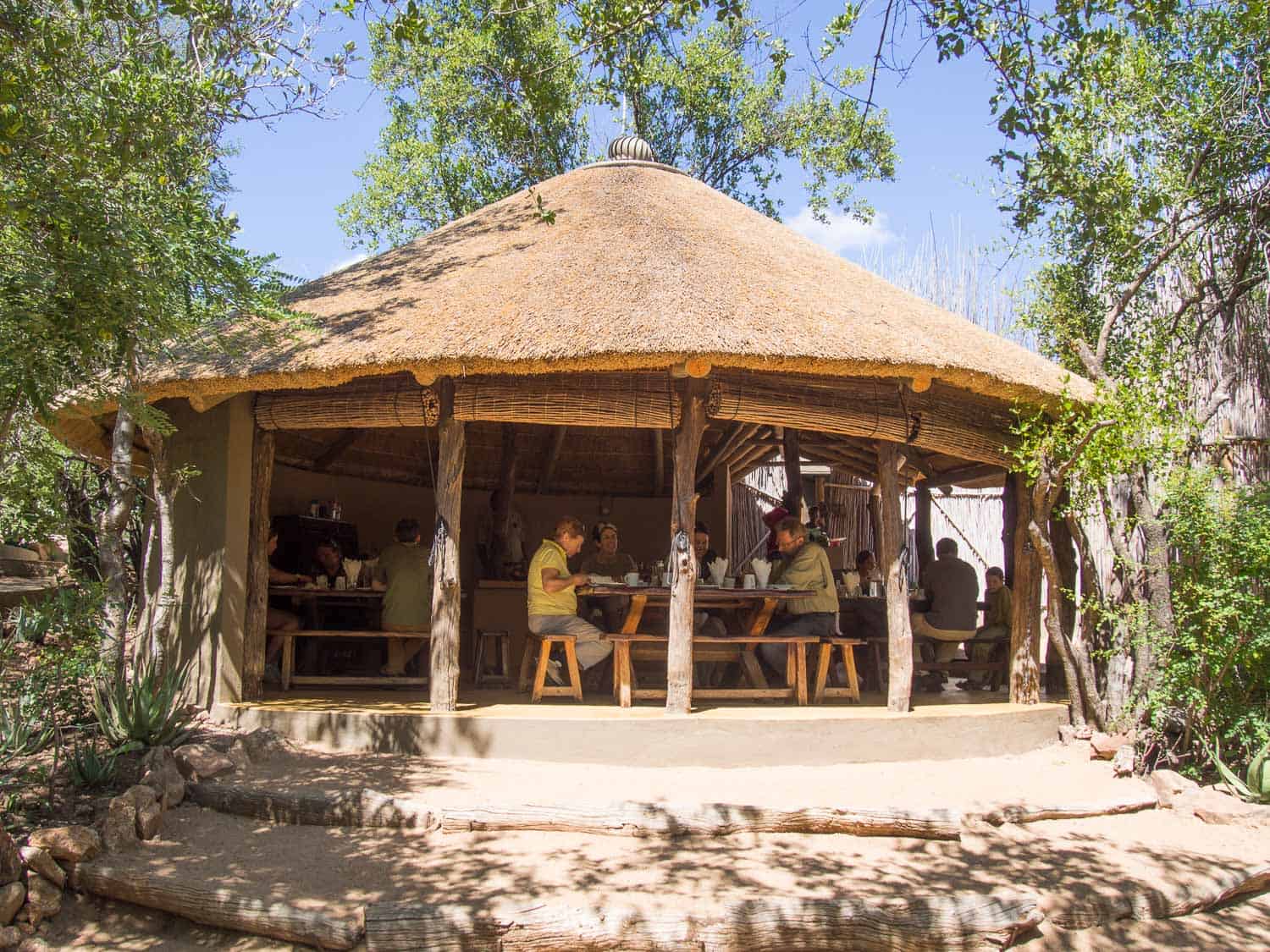 The bar has a large deck overlooking the riverbed and is used for morning tea and lunch. Wildlife can often be viewed from here—we saw some baboons and other guests saw rhinos and elephants. The atmosphere is very relaxed and you can help yourself to free soft drinks, beer, and house wine from the fridge.
The beautiful lounge area in the bar is decorated with African artwork and has a high thatched ceiling. There are books and games for guests to borrow.
Food
You won't go hungry at Umlani! The food is tasty and they catered well for us vegetarians. You don't get a choice of food, but we liked having a break from decision making. Tables are shared so you get to know the other guests. Honestly, we were a little concerned about this as we're not always very sociable, but the wildlife viewings provide an easy topic of conversation and we met some lovely people.
Three meals a day are included in the price plus coffee/tea and a muffin or pancakes before the morning game drive, coffee/tea and rusks during the morning drive, high tea before the afternoon drive with hot or cool drinks, sweets and biscuits, and a sundowner drink and snack on the afternoon drive. Plus you can help yourself to drinks whenever you like in the bar.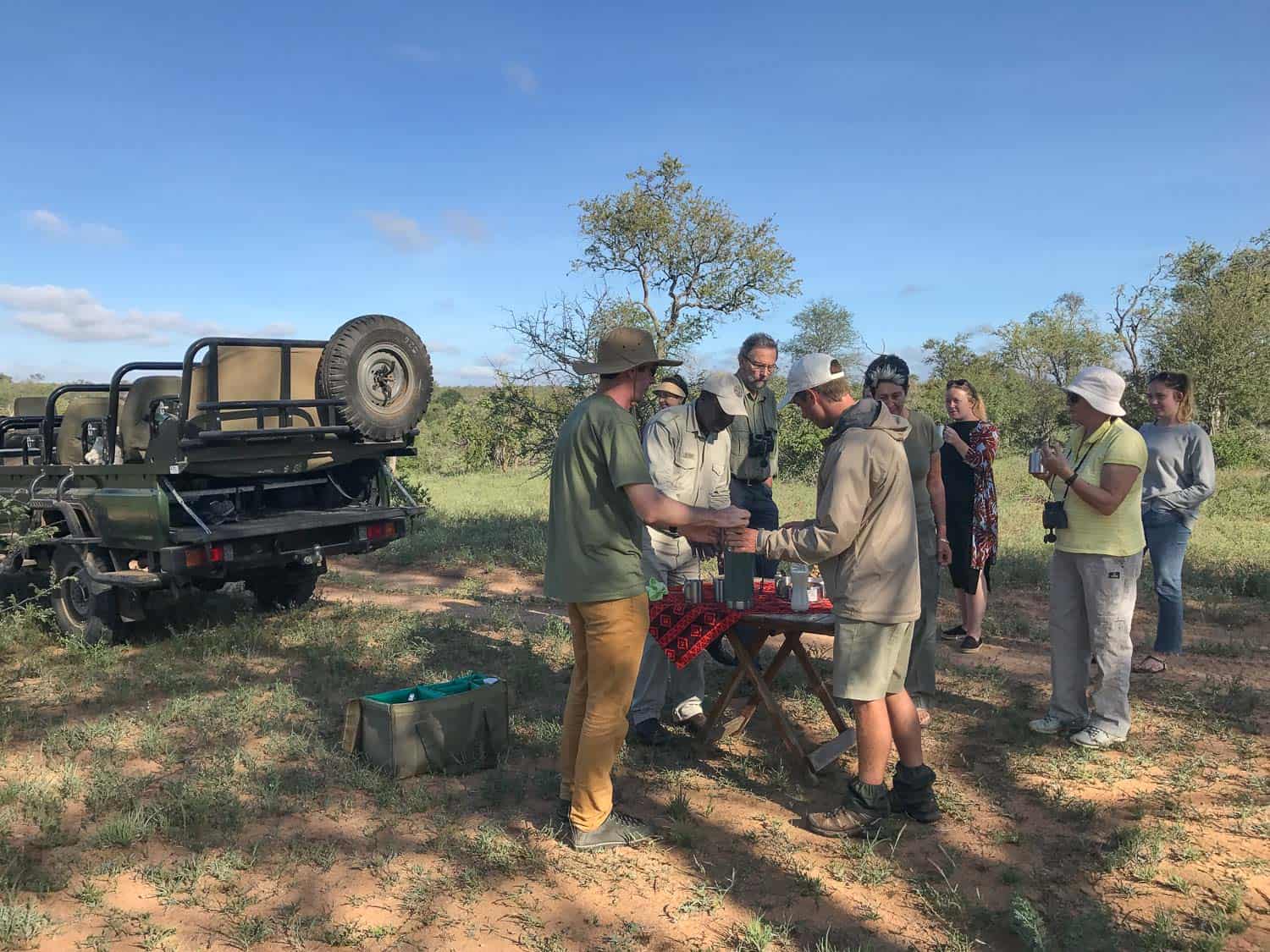 Breakfast is served around 9.30 am after the morning drive and includes self-service fruit and cereal plus a cooked dish to order—typically eggs, toast, meat, tomatoes, and hash browns or sweetcorn fritters.
Lunch is self-service at 1.30 pm on the deck overlooking the riverbed—an African drum announces when it's ready. On our first day it was build your own wraps with salad, cheese, and spicy pumpkin (or chicken) plus fruit. Our second lunch was zucchini fritters with potato salad, mixed salad, red pepper bread, and fruit.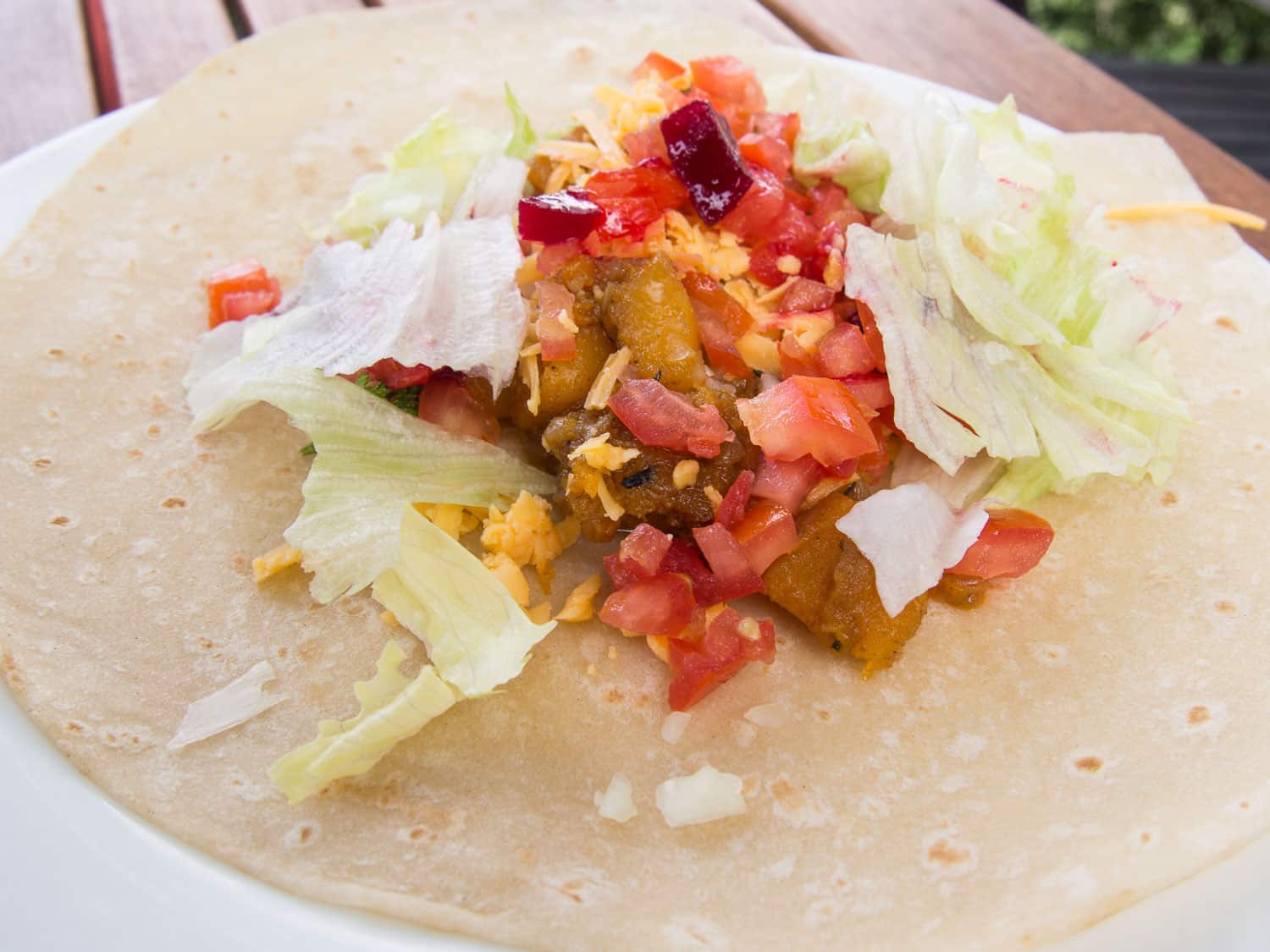 When you get back from the afternoon drive, pre-dinner drinks are served while you wait for everyone to arrive around 8 pm. Three courses are served by candlelight with the starter and dessert plated and the main self-service. The food is hearty home-cooking rather than gourmet cuisine but we always enjoyed it. One night we had broccoli soup, lentil stew with sweet potato mash and salad, and South African milk tart. On another it was mushroom soup, pasta with chickpeas and pumpkin, and chocolate cake.
Eco-Friendly & Fair Trade Policies
Umlani takes responsible tourism seriously. They operate entirely on solar power, don't change your towels and sheets every day, plant an indigenous garden with drought-resistant plants to minimise water use, and recycle or compost all waste. They also provide a reusable water bottle to each guest that can be filled up in the bar and restaurant.
Umlani is Fair Trade Tourism certified which means they "operate in accordance with Fair Trade criteria such as fair wages and working conditions; fair distribution of benefits; and respect for human rights, culture and the environment." At least 80% of the staff are from the local community and they provide training opportunities such as their in-house Ranger and Tracker Apprentice programme.
Game Drives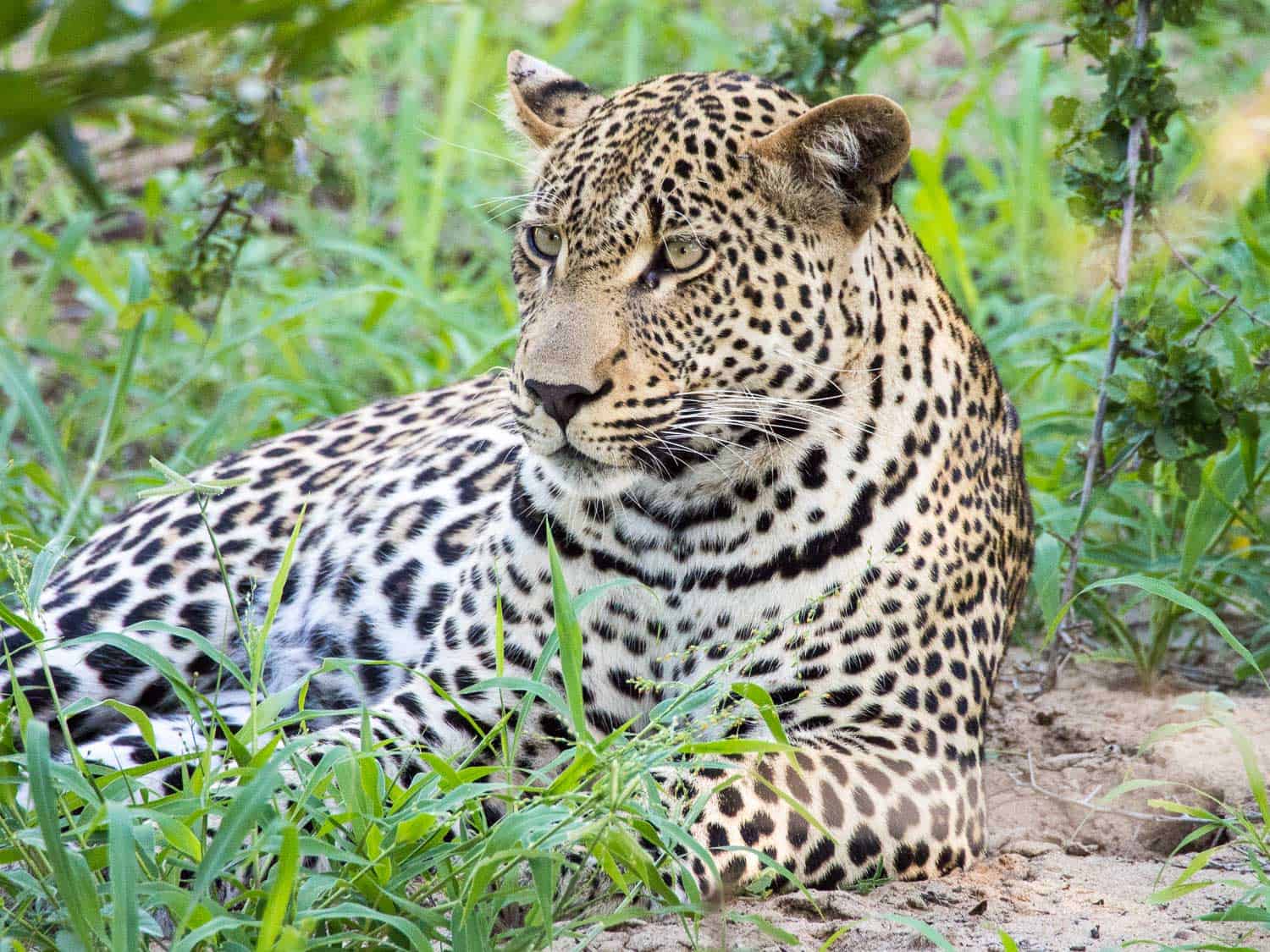 The main activity at Umlani is heading out in open-roofed safari vehicles on game drives. There are two game drives a day—early morning and late afternoon. During the summer months these left at 5.30 am and 4 pm and lasted around 3.5 hours, although if the viewings are good you can stay out longer. On each drive you are accompanied by an experienced ranger and tracker. Our ranger Shadreck was fantastic and explained a lot about the animals and birds we were seeing—although if we sat in the back of the truck it was difficult to hear him.
We were there in the January summer rainy season (although it didn't actually rain during our stay at Umlani), which is the worst time to visit as animals don't need to gather around waterholes and they are more hidden by vegetation. Despite that we had amazing wildlife sightings on our four drives including following a pack of rare wild dogs on a hunt, three leopard viewings, a number of elephant families, and seeing the Big Five (lion, leopard, elephant, rhino, and buffalo) in one drive. We also saw plenty of giraffe, zebra, wildebeest, kudu and impala.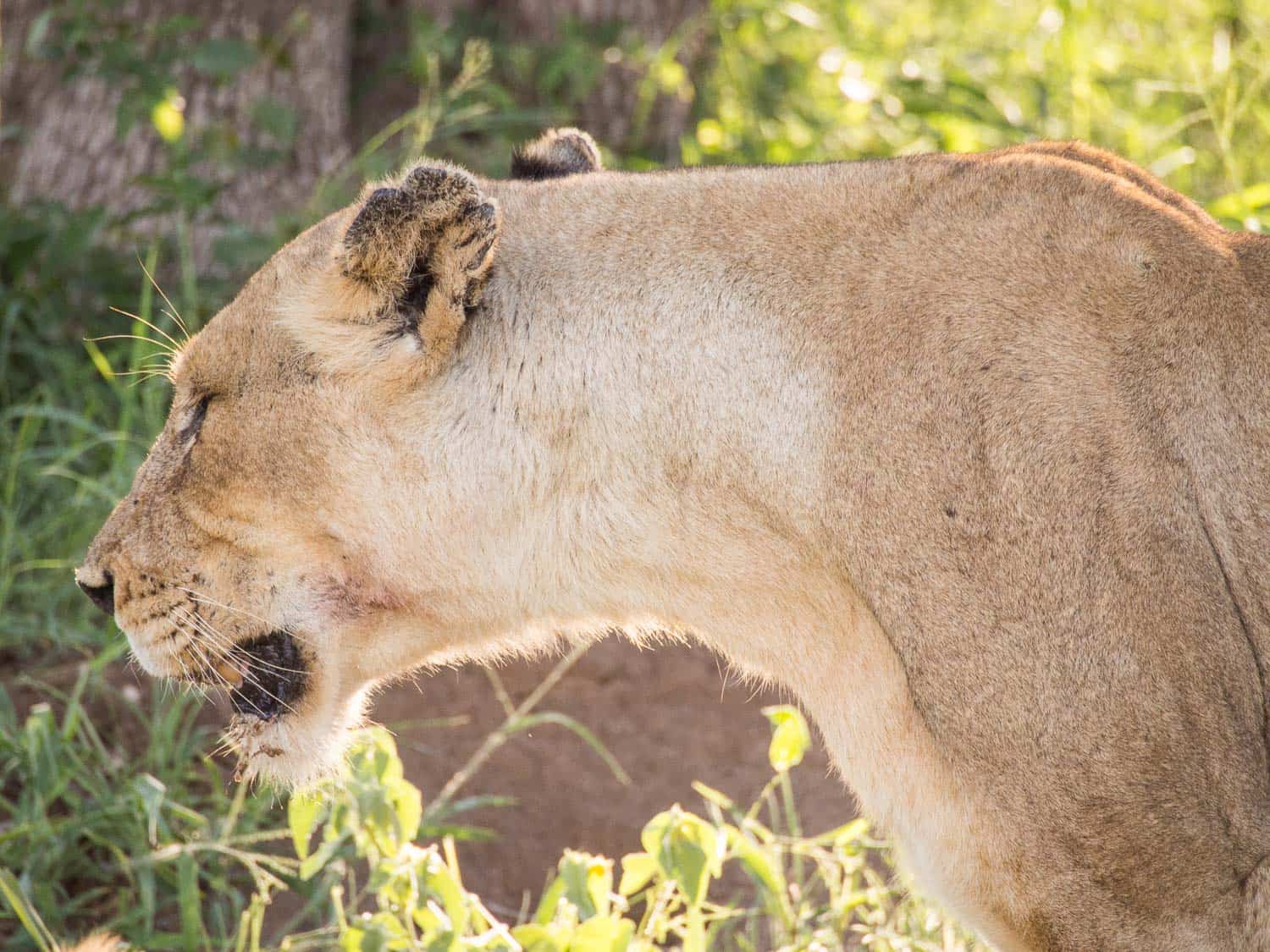 The animals are used to the vehicles so you can get really close without disturbing them. Unlike the neighbouring reserve of Sabi Sands, there aren't many other vehicles around. We didn't usually see more than three other vehicles on drives and only two vehicles at a time are allowed at sightings—most of the time it was just us. We loved that we could drive off road to get close to the animals (which you can't do in the Kruger National Park).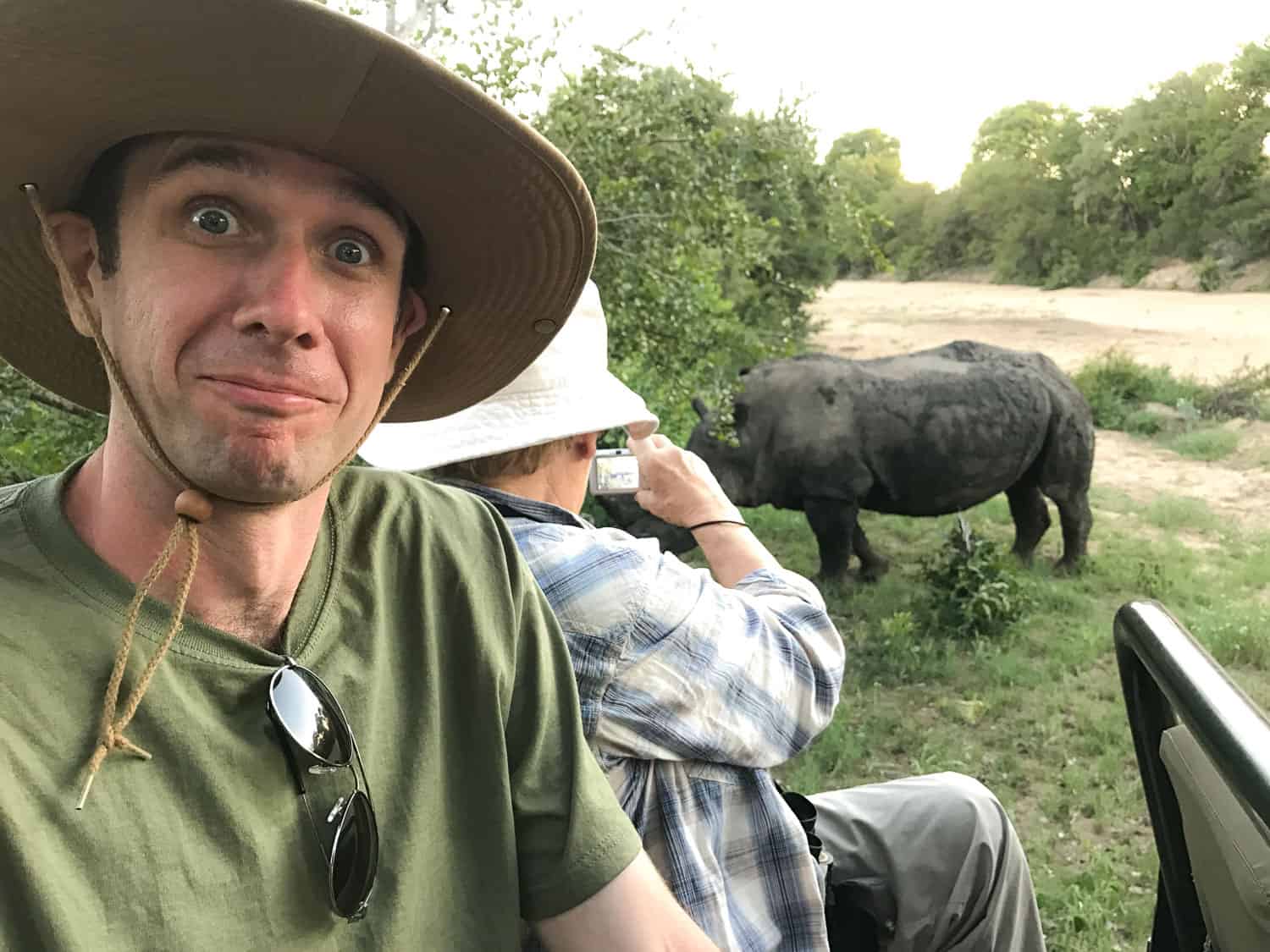 Timbavati is particularly good for leopard viewings and it was an amazing experience to see these rare, beautiful creatures. One was lying in the grass hiding from the heat of the day, and the other was a young female up a tree, her kudu antelope kill dangling from another branch, half eaten, with blood smeared up the tree where she'd dragged it. The kudu's family stood beneath the tree as if in mourning, while a hyena skulked around waiting for any leftovers to be dropped.
The 4x4s have comfortable padded seats and are open-roofed so you have excellent views. They seat nine people in three rows of three (plus an extra seat next to the guide) and Umlani does fill them up (more expensive lodges limit the numbers to six). This isn't a real problem as you can still see animals on both sides, but it is preferable to keep the middle seat free. On one of our game drives we had the row to ourselves and it gave us more space to spread out and I could slide over to Simon's side to take photos.
Other Activities
Bush Walk
Every morning after breakfast you have the option of doing a 1.5 hour bush walk with an armed ranger. It's much harder to see animals on foot and we only saw one impala at a distance, but it was interesting to learn about reading tracks and the use of bush plants. In the summer it was a bit too hot in late morning and I was tired after the early morning start, but the walk is worth doing once.
Treehouse Stay
Umlani offers guests the chance to spend an afternoon or whole night in their treehouse overlooking a dam 1.5km away from the main camp. We opted to spend a night in the treehouse and it was a magical experience sleeping under the stars and waking to the sunrise. We spotted a couple of giraffe and dozens of impala, but even without any wildlife viewings, it's a special place to spend the night up in the branches of a tree listening to the whooping, screeching, and chirping of the bush. And only slightly concerning that a leopard might decide to join us!
The treehouse is quite comfortable with beds and mosquito nets and a chemical flush toilet in a little cubicle. The staff left us with a radio for emergencies or if we got too freaked out and wanted to be picked up. We were rather nervous at first but we ended up sleeping soundly. I loved waking up to the orange sky and grazing animals nearby. I only wished we'd had longer to enjoy it as we didn't arrive until nearly 10 pm after dinner and were picked up by the morning game drive before 6 am.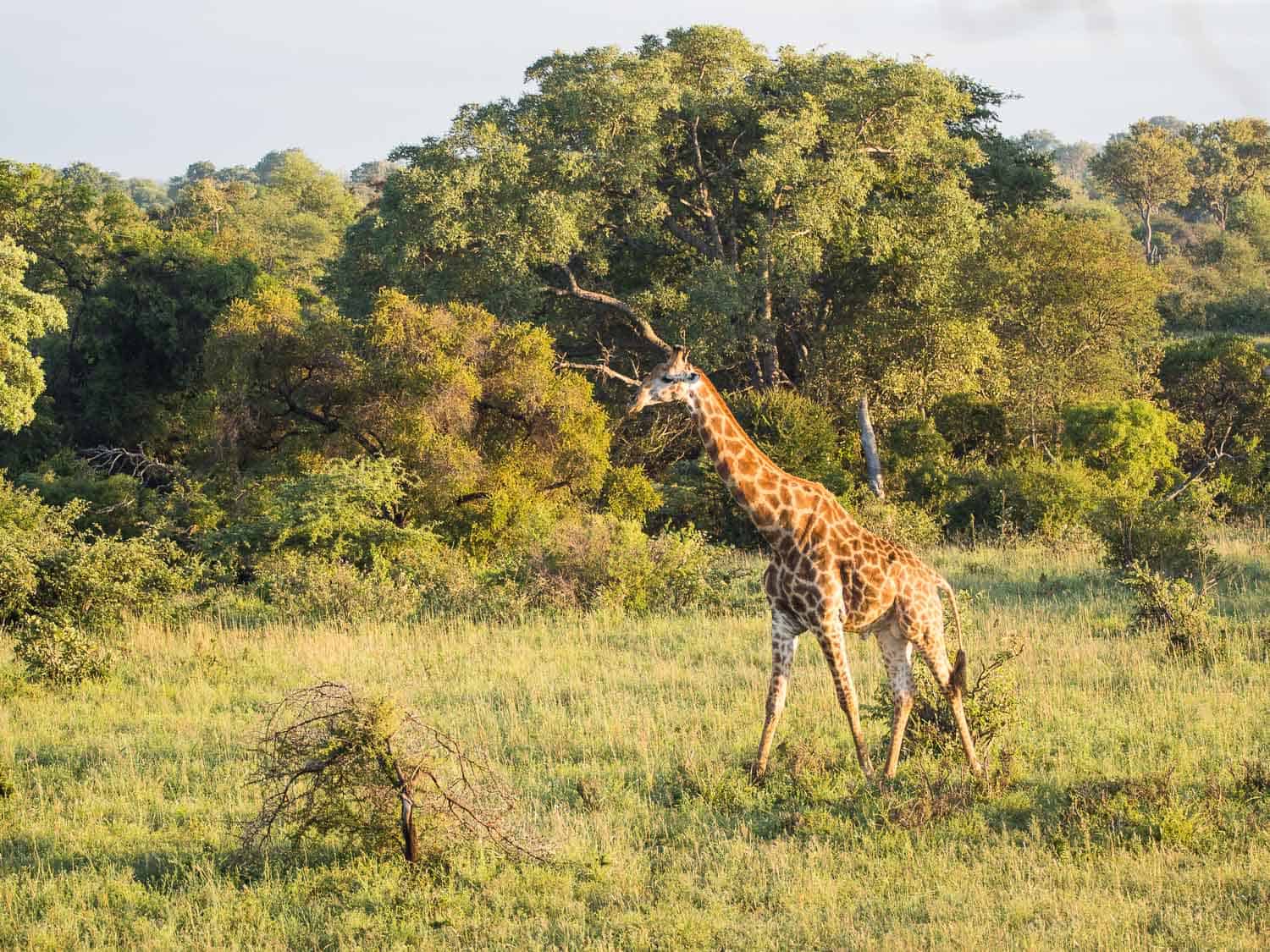 It's a unique experience that most lodges don't offer and is available at no extra cost, but do book in advance to be sure of availability (weather permitting).
Relax
Between the morning and afternoon drives you have plenty of time to nap (much needed!), swim, read, or just enjoy the view.
What to Bring
Warm layers for the game drives as it does get chilly early in the morning and after sunset. I wore a t-shirt, jeans and sandals on drives and added a cardigan, fleece and windbreaker when it got cool. In the winter I would also add a hat, scarf, gloves, and a warm jacket.
A sunhat, sunglasses, and suncream as the vehicle isn't covered and it gets hot.
Long trousers and a top in a neutral colour (not white) plus covered shoes for the bush walk. Clothing colour on game drives doesn't seem to matter.
Insect repellent is provided but you may want to bring your own. We applied it throughout the day and weren't bitten.
Kruger is a malarial area so consider taking malaria pills. We chose not to as the risk seemed low, but do get medical advice before your trip.
A long lens. Some people just took photos with their phones, but for the best photos, you need a telephoto lens. I used my mirrorless camera, the Olympus OMD-EM5 and the Olympus 75–300mm lens. It is a much smaller, lighter combo than an SLR with telephoto lens and I was really happy with the results. We used our iPhone 7 for wide angle shots.
Hand sanitiser is useful on game drives after using the bush toilet and in the treehouse.
A head torch for dark nights.
Spare batteries for your camera.
A portable battery charger is useful to charge your phone on drives or in your room. We took a tiny one which gives about one phone charge (useful for on drives) and a larger RAVPower one which gives six phone charges (we used it overnight).
Cash for tipping. This is optional but Umlani recommends tipping 10–20% of the cost of your stay divided three ways between the hosts, rangers, and general staff. Envelopes are provided.
Don't forget travel insurance as this is a very remote location. We use TrueTraveller insurance, which is the best deal we've found for UK and EU citizens. For everyone else, Heymondo is a reliable option.
Umlani has a suggested packing list. You really don't need to bring much as the camp is informal. As usual we travelled with just carry-on luggage.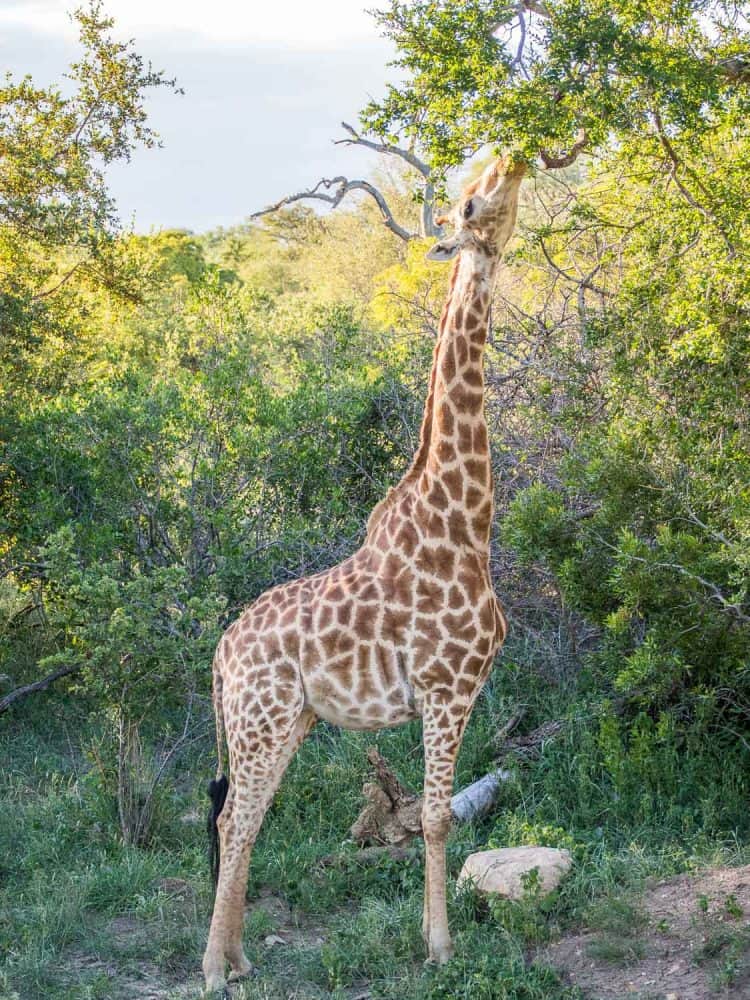 Umlani Bushcamp Highs
Rustic but comfortable bush camp in the wilderness.
Get away from it all feel.
Superb wildlife viewing including the Big Five (which we saw in one drive).
Three leopard viewings in four drives!
Experienced, knowledgeable rangers and trackers.
Friendly staff and relaxed atmosphere.
Eco-friendly and fair trade policies.
Tasty and plentiful meals and drinks included in the price.
Beautiful views from the restaurant deck.
Spending a night under the stars in the treehouse.
Open air bathroom.
Fairly small camp with up to 16 guests.
Excellent value compared to other safari lodges.
Umlani Bushcamp Lows
Safari vehicles are filled up, so you could end up with a middle seat.
No air conditioning or power points in the rooms.
We didn't spot any wildlife from the camp except baboons, but this is the luck of the draw.
Recommended For
Anyone looking for an affordable safari lodge who doesn't need luxury but doesn't want to give up all comforts. Great for couples, friends, and families.
Location
Umlani Bushcamp is in the Timbavati Private Nature Reserve on the border of Kruger National Park in northeastern South Africa. The camp and the reserve are unfenced so the animals can wander in freely from the National Park.
We hired a car and drove to Umlani as we also did a self-drive safari in Kruger National Park. It's about six hours from Johannesburg airport. We stayed in Graskop (2 hours 15 mins from Umlani) to explore the Panorama Route before our safari. The directions on the Umlani website are easy to follow. The route was paved until the last 5km when the dirt track became very bumpy, but we managed in our small car.
If you are only visiting Umlani, you could fly to Hoedspruit (35 minutes away) from Johannesburg or Cape Town.
Umlani can also arrange a minibus shuttle from Johannesburg airport. If you stay for three nights the shuttle is included in your rate. Two guests we met said it was cheaper for them to stay an extra night and get the free shuttle than to pay for flights.
Ideally, you should arrive by 1.30pm so you can have lunch and go on the afternoon game drive. You'll also go on a drive the morning you leave, so for a two-night stay you can do four drives.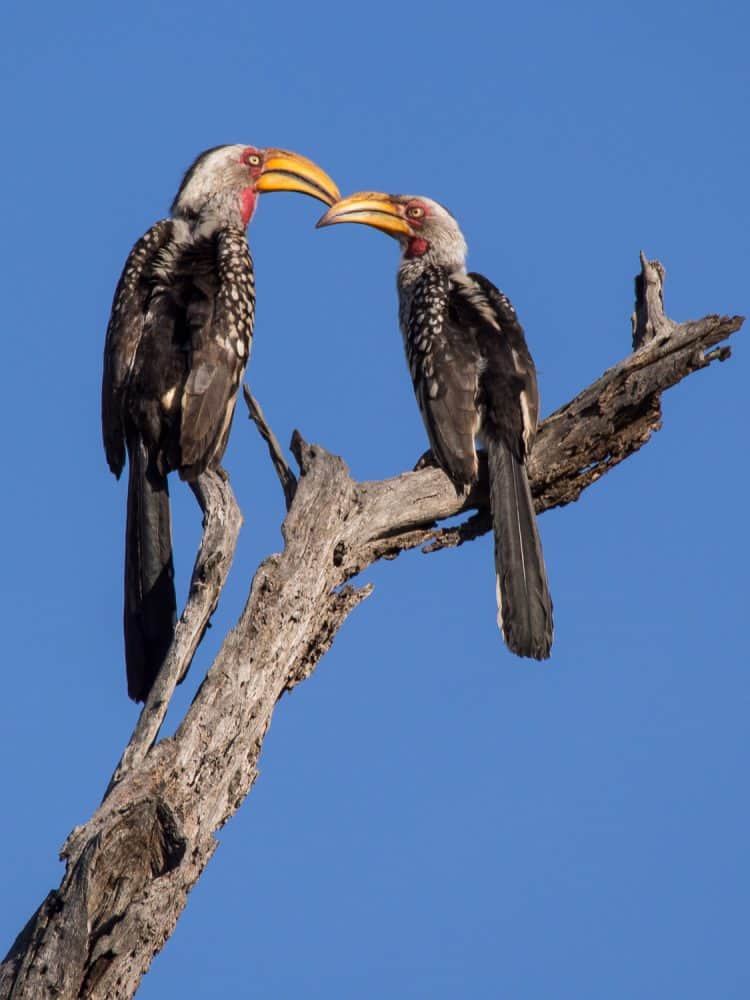 Costs
We visited Umlani in low season when it costs 3050 ZAR (US$233/ £187) per person per night including two game drives a day, a bush walk, all meals and local drinks. In high season it's 3780 ZAR (US$288/ £231) per person per night all-inclusive.
Umlani was one of the most affordable safari lodges I found as many of the others cost $500–1000 per person per night. I think it's excellent value for everything that it includes.
I recommend staying for at least two nights or ideally three. We felt like we were just settled in after two nights and would have liked to stay another. Umlani also has a special deal for three-night stays including transport.
You can book your stay on the Umlani Bushcamp website.
Summary
Umlani Bushcamp was the perfect first safari lodge. We loved the rustic charm and bush experience but without having to give up a comfortable bed and hot shower. The wildlife viewing was superb and we saw so many animals, including the Big Five, at remarkably close distances. We highly recommend it if you are looking for an affordable safari lodge near Kruger where you can get away from it all.
If you enjoyed this post, pin it!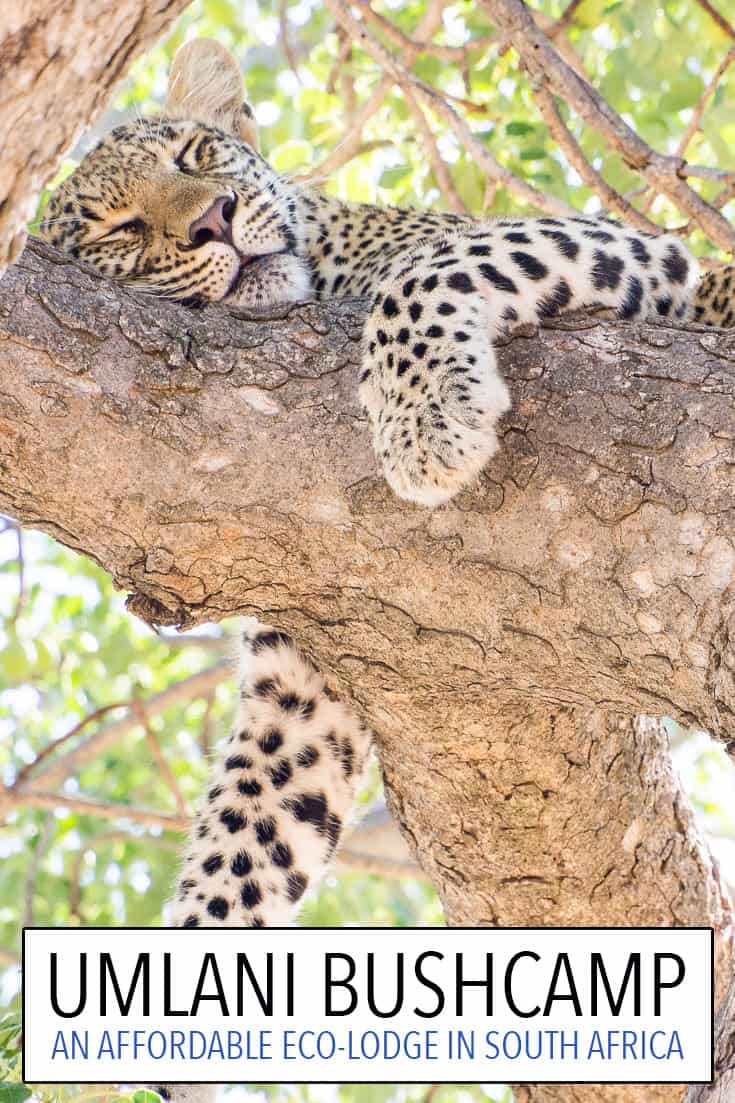 Many thanks to Umlani who hosted us and to all the wonderful staff who made our stay so special.