This page contains affiliate links. Please read our disclosure for more info.
Our safari in Kruger, South Africa was one of our favourite travel experiences ever. Our expectations were high for our first African safari, but they were far exceeded as we got up close to lions, leopards, elephants, rhinos, hippos, giraffe, zebra, wild dogs and much more.
South Africa is the easiest and most affordable place to go on safari in Africa. Kruger National Park is the most popular safari destination as the huge park contains a high density of diverse wildlife and accommodation for all budgets. There are two main ways to visit Kruger—you can drive yourself and stay in government-run rest camps in Kruger National Park or you can stay in lodges in the neighbouring private game reserves of Greater Kruger and take guided game drives.
We decided to do both so that we could compare the experiences. We visited in January, which is the rainy season and the most difficult time to see animals, as they don't need to go to waterholes and can be hidden in long grasses. We still saw plenty of wildlife, but the experience would be different in the dry season from May to September.
Self-Drive in Kruger National Park
Affordable
Most flexibility
Simple accommodation
No off-road driving
Crowded in high season
If you are on a budget, self-driving in Kruger National Park is the cheapest safari option. You can stay in one or more of the rest camps run by SAN Parks, either camping, staying in simple huts with shared bathrooms and communal kitchen, or in more comfortable bungalows with air conditioning, private bathroom and kitchen (which is what we did). The accommodation is definitely not luxurious but it's fine as a place to sleep. Camping costs from R285 (US$22) and bungalows from R1120 ($87). Kruger National Park entrance fees are R304 ($24) a day.
We stayed in the most expensive bungalows and spent $102 per person per day on our three-day self-drive safari. Read our breakdown of exactly how much our Kruger self-drive cost.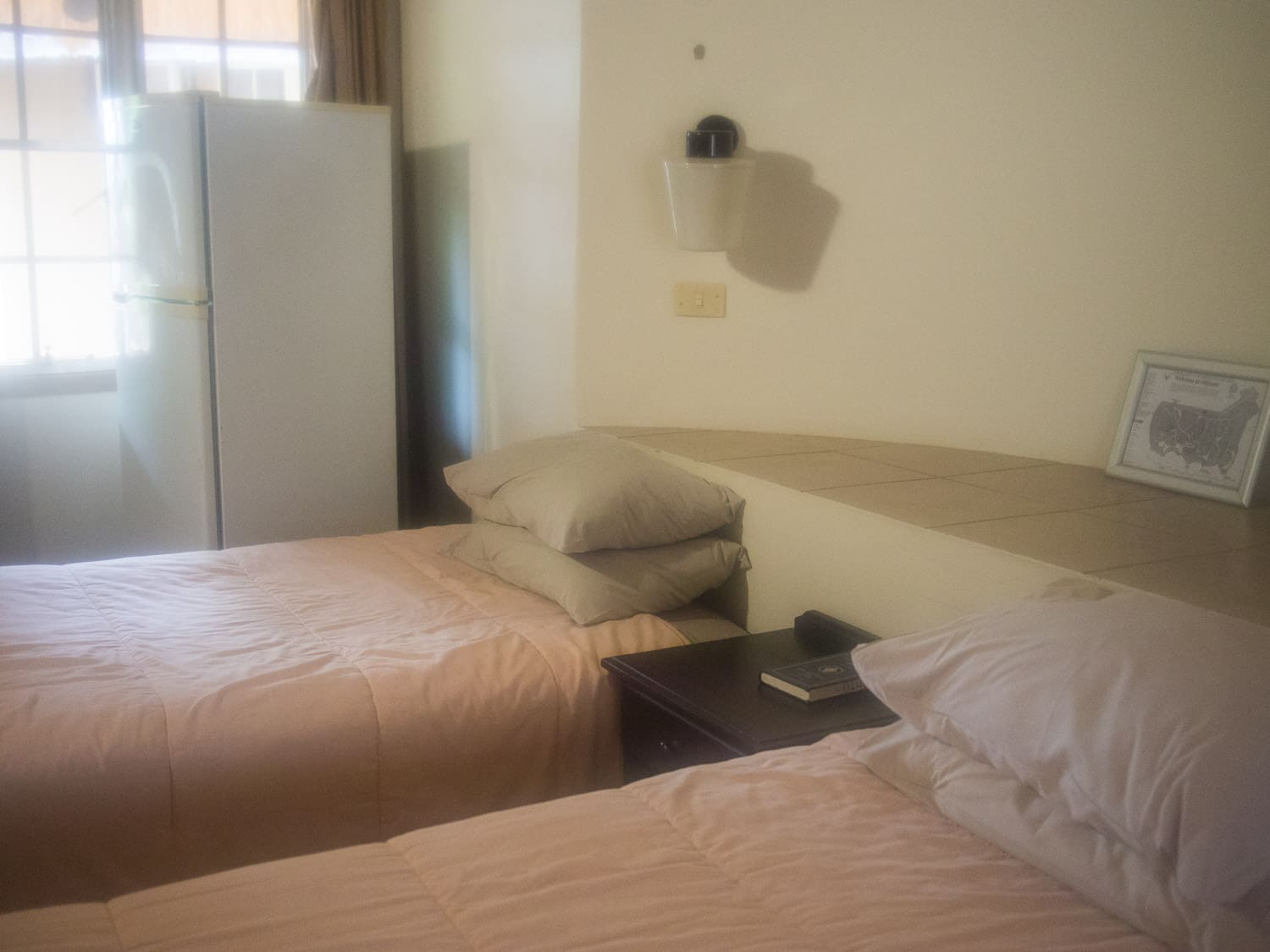 The main Kruger camps have a shop, restaurant and petrol station. They also offer organised game drives, but these are in big groups and we didn't hear good reviews of them.
You'll need to rent a car, but that's very affordable in South Africa. Most of the roads in the park are tarmac so even the smallest, cheapest car will be fine. The unpaved roads will be a bit bumpy, but they are still accessible and you can avoid most of them if you wish. It's easy to drive around Kruger and the rest camps are well signposted.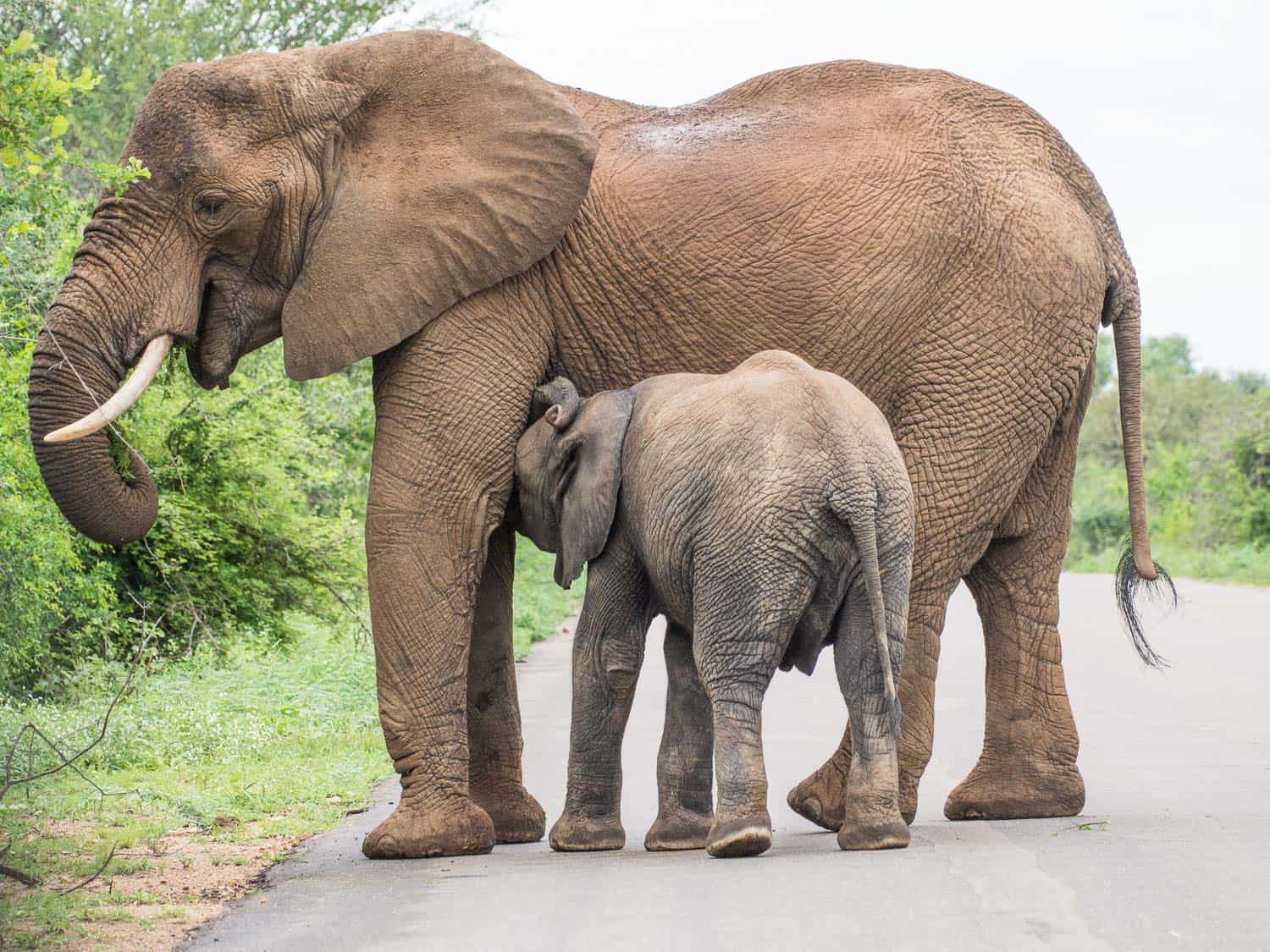 Self-driving will give you the most flexibility on your safari. You can choose your own itinerary, what time to go out on drives, how long for, and how long to watch the animals at sightings. You can also choose what to eat—either self-cater or eat in the camp restaurants.
Kruger National Park is huge so most visitors divide their time between a few camps to explore different areas of the park. The park felt larger and the scenery more diverse than in the private reserves, with big waterholes and rivers (with hippos!) and some savannah areas of wide open plains. We saw bigger herds of zebra and giraffe.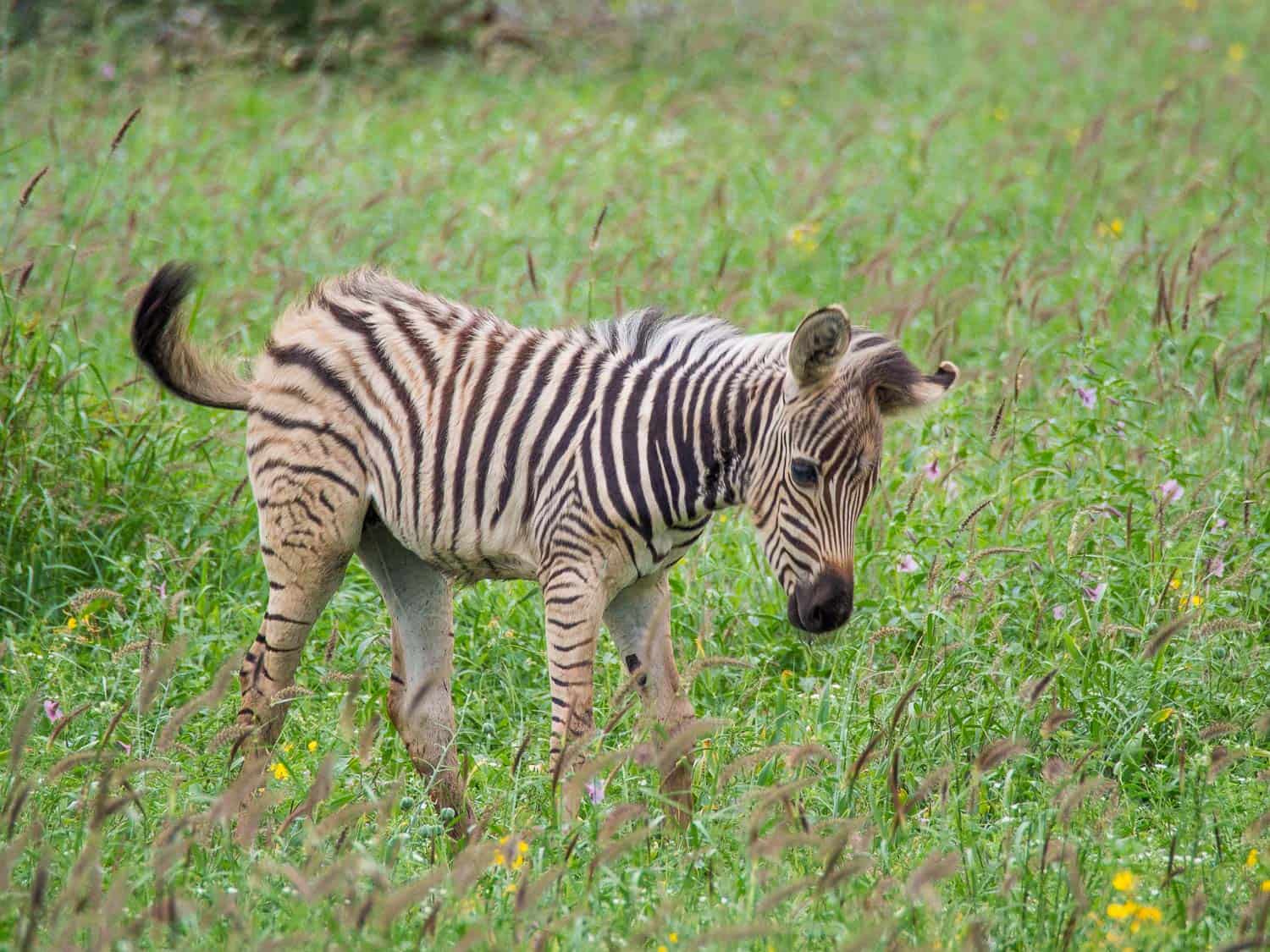 We saw quite a lot of wildlife, but generally we found it much more difficult than in the private reserves. In the National Park you can't drive off-road like you can in the reserves, so you can't get as close to the animals. Sometimes you'll get lucky and find animals by the side of the road—we saw a pack of 17 sleeping wild dogs—but other times it's frustrating when a lion's head peeks out of the grass in the distance but you're unable to go any closer. We felt like the animals accidentally came into our space, rather than us going into theirs like on a reserve. I also found it much more difficult to take good photos in a car than in an open safari vehicle.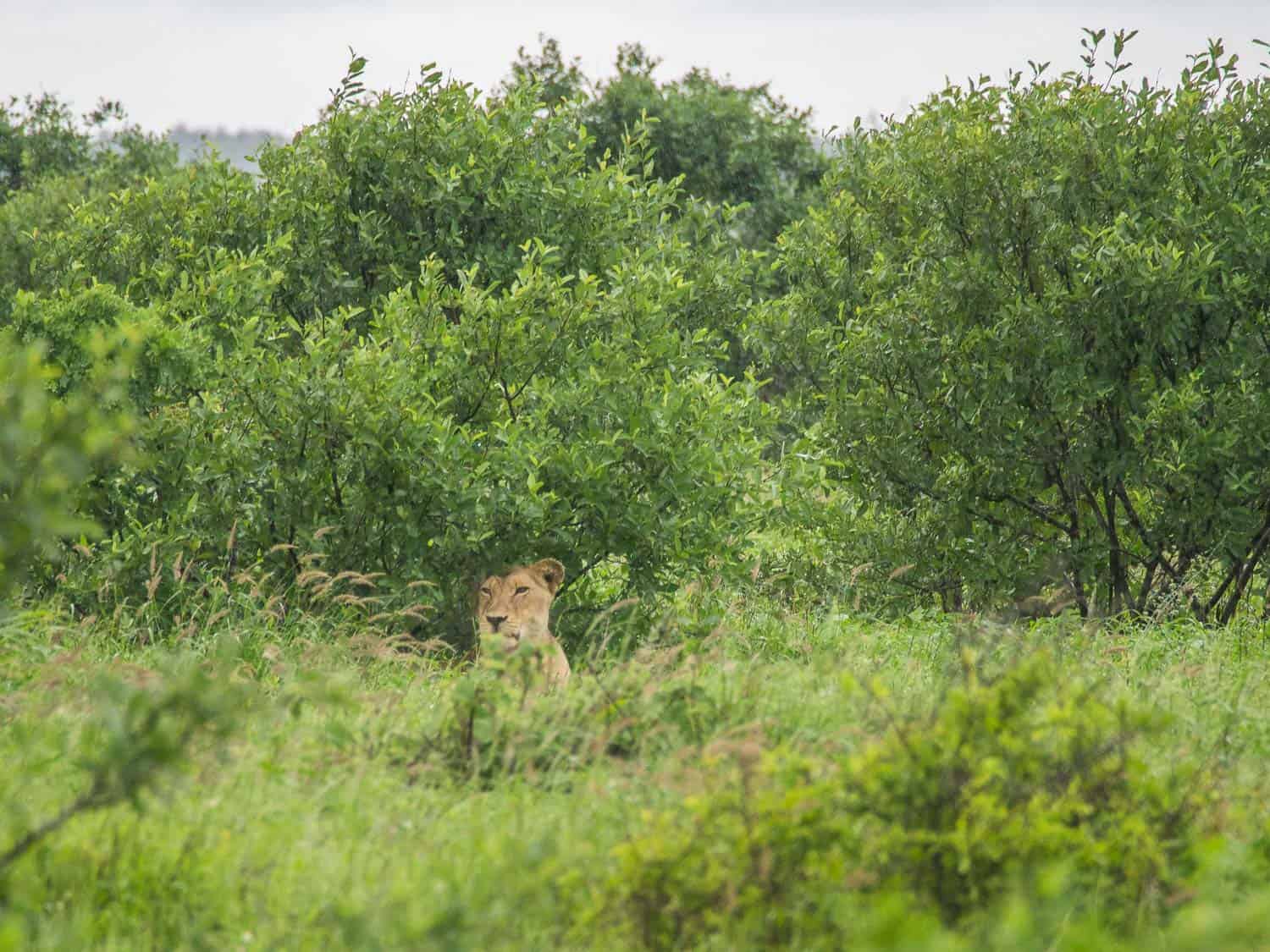 There is a satisfaction to finding animals on your own, though, and it's pretty exciting when the road is blocked by a giant male elephant or a family of baboons. But overall driving on tarmac felt less adventurous than the off-roading we did on the reserve.
The park felt more touristy due to the big camps and commercial restaurants. In the reserves it felt like more of a wilderness experience, which you don't really get when you're stopping for a slice of pizza at a fast-food restaurant. In high season the roads can get very busy in Kruger and many cars gather around a sighting, but in off-season we didn't find this a problem.
We enjoyed our self-drive safari, but it was more difficult to see wildlife. This could be different in the dry season, but then you'll have the crowds to contend with. We also weren't fans of the SAN Parks accommodation.
If you can't afford a lodge, self-driving is a fantastic option. Many people prefer it to lodges and spend a few weeks exploring the park.
Read my detailed guide on how to plan a Kruger self-drive safari for everything you need to know.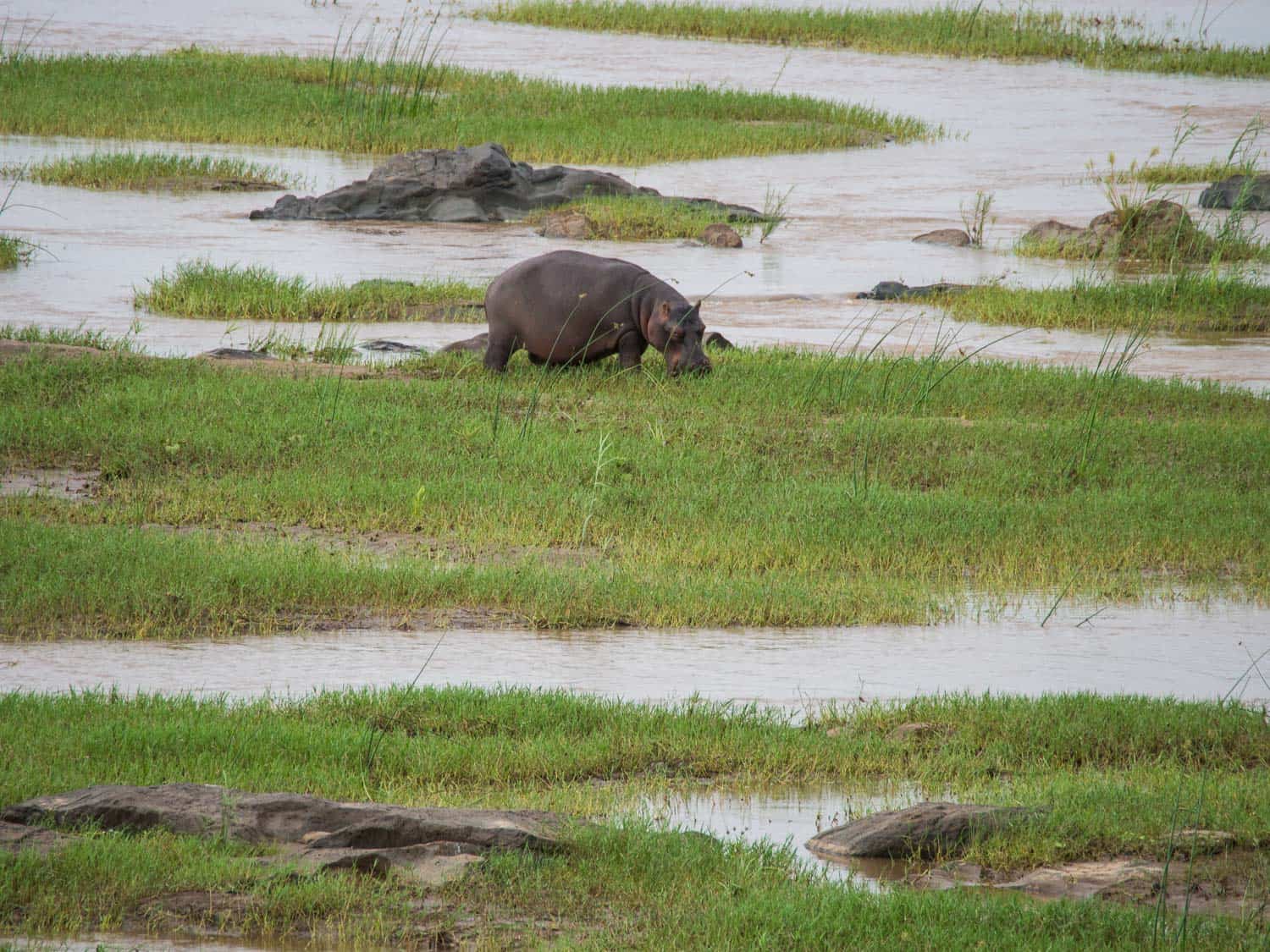 Lodge in Greater Kruger Private Game Reserve
Expensive
Organised game drives with expert guides
Meals and activities included
Luxury accommodation
Drive off road close to animals
Easier to take good photos
Better food
The Kruger National Park is surrounded by privately-owned game reserves where you can stay in lodges that range from comfortable to ultra-luxurious. I recommend choosing an unfenced private reserve that borders the National Park where animals can roam freely between them. We stayed at Umlani Bushcamp in Timbavati Game Reserve and Klaserie Sands River Camp in Klaserie Private Nature Reserve. Other unfenced reserves include Sabi Sands (the most well-known and busiest), Manyeleti, Balule, and Mala Mala. See this map to get a better idea of the layout.
Lodges are more expensive than self-driving, but prices usually include all meals (plentiful and delicious), two game drives and a bush walk each day, and sometimes soft and alcoholic drinks. In low season Umlani cost 3050 ZAR ($237) per person per night and the more luxurious Klaserie Sands cost 4100 ZAR ($318). There are a few cheaper options and many much more expensive lodges.
Even the budget lodge we stayed at, Umlani Bushcamp, had much nicer accommodation than the SAN Parks camps, and we loved the luxury of Klaserie Sands. We enjoyed having a comfortable place to relax between game drives.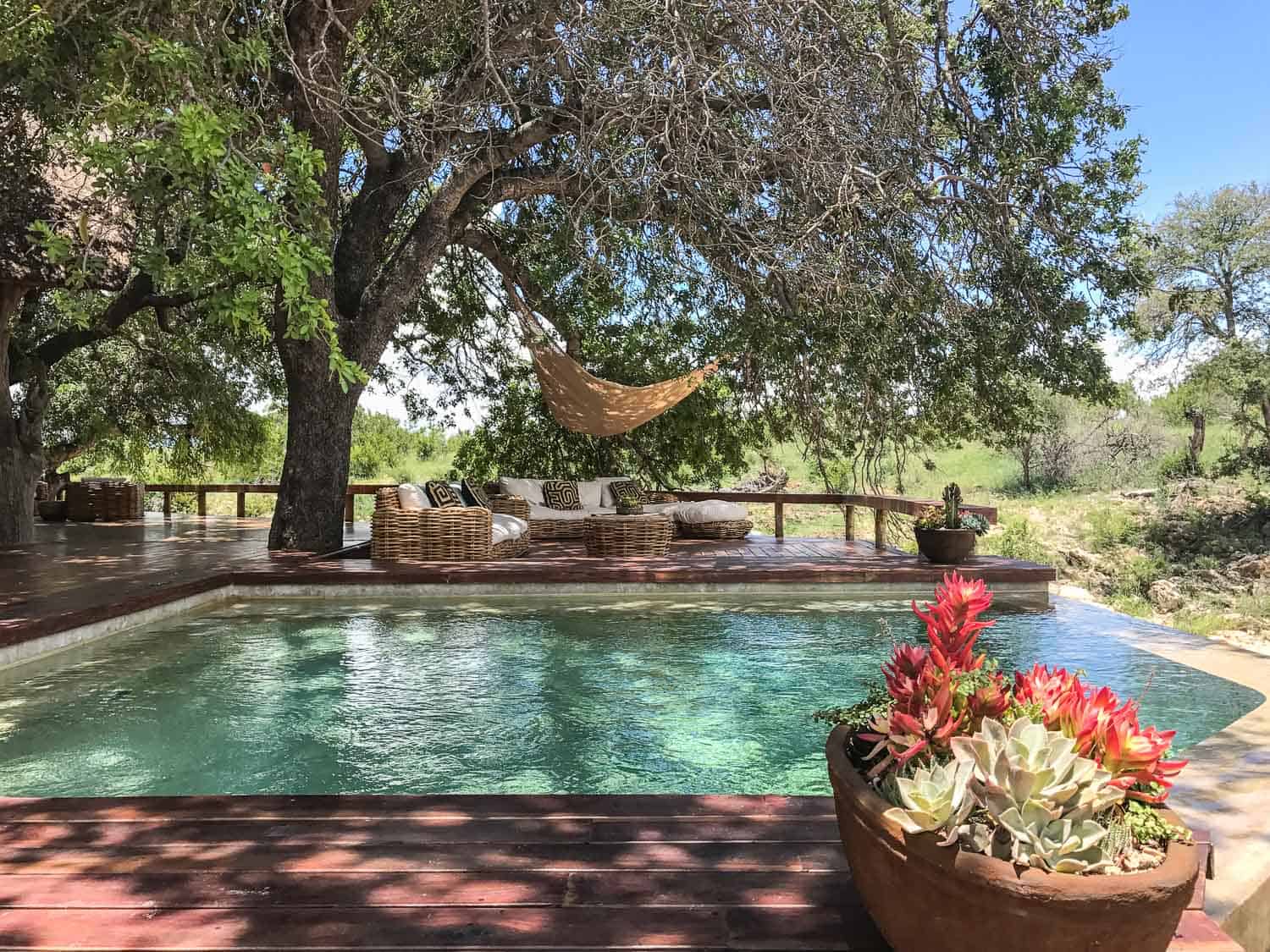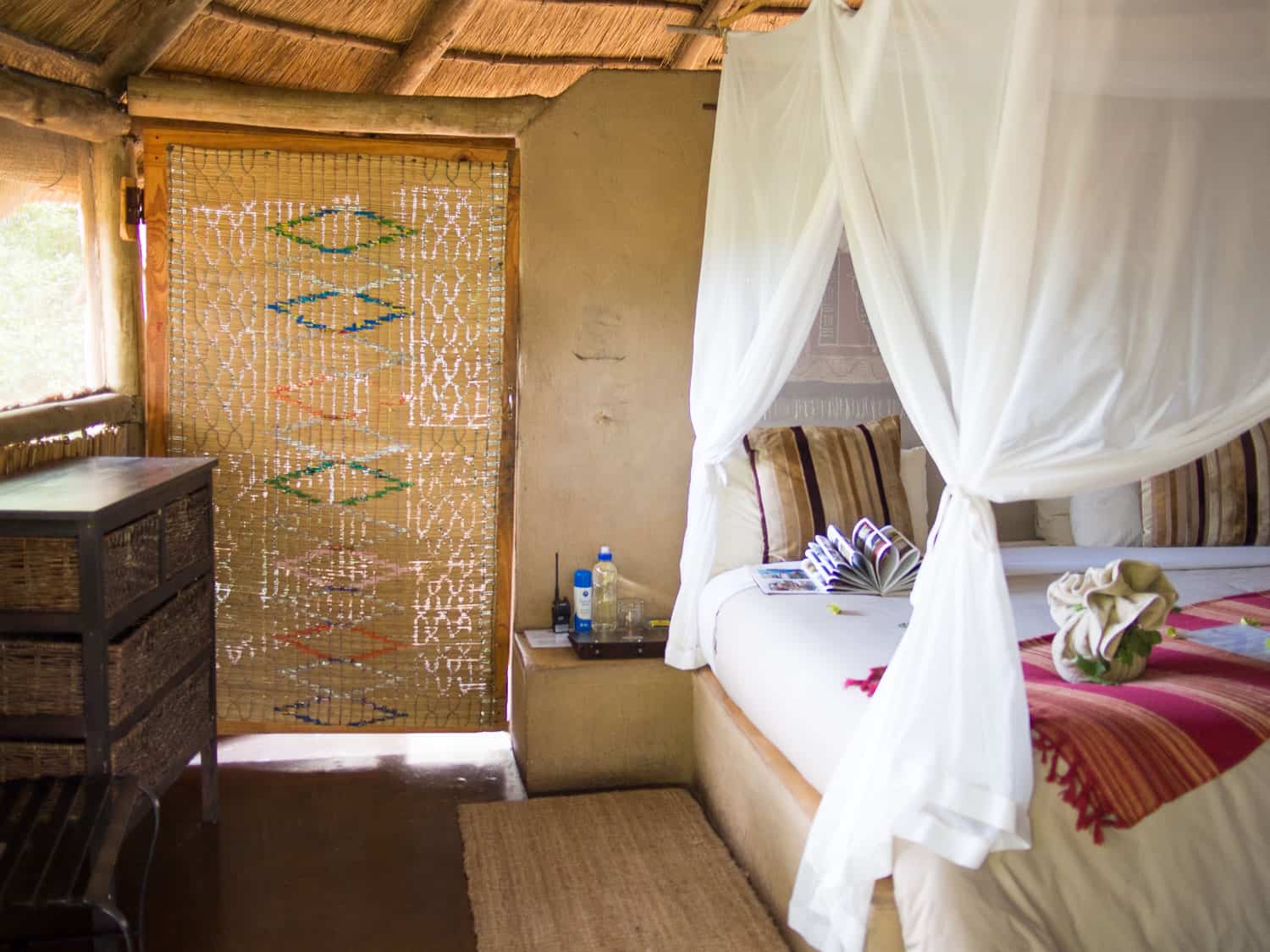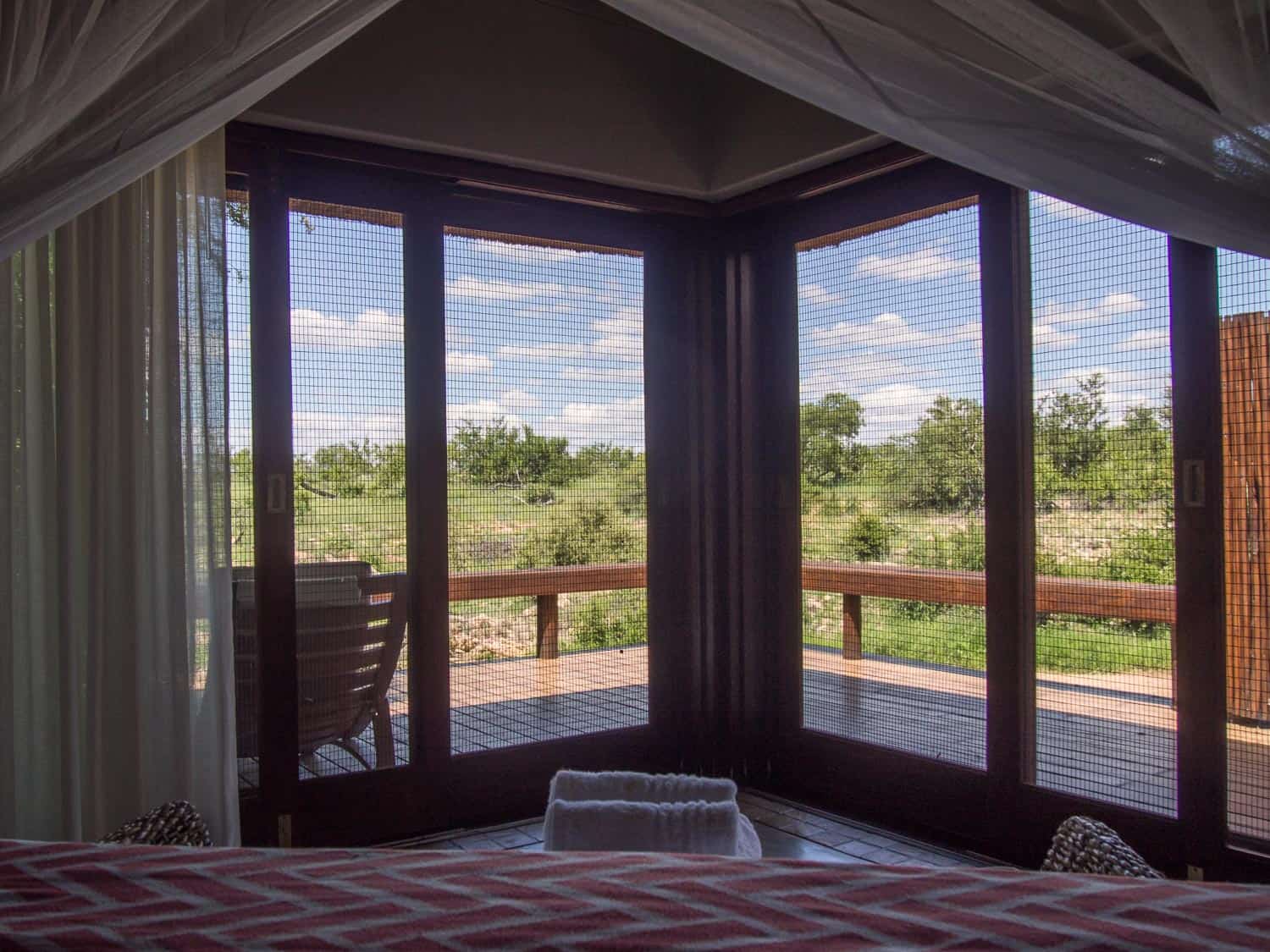 Lodges run on fixed schedules with an early morning and late afternoon game drive to take advantage of when the animals are most active. There's often a late morning bush walk too. We don't usually like tours, but the schedule worked perfectly for us and we had plenty of downtime between drives.
We found the lodge experience very relaxing as we didn't have to worry about anything, carry money, or make any decisions. Everything was taken care of for us.
The biggest advantage for us of the private reserves was the quality of the game drives. Drives are in open safari vehicles that seat up to 10 people, but the more expensive lodges limit the number of people to six so that everyone has a window seat. The open vehicles are much better for photography than a normal car as they are higher up and you can take photos on all sides.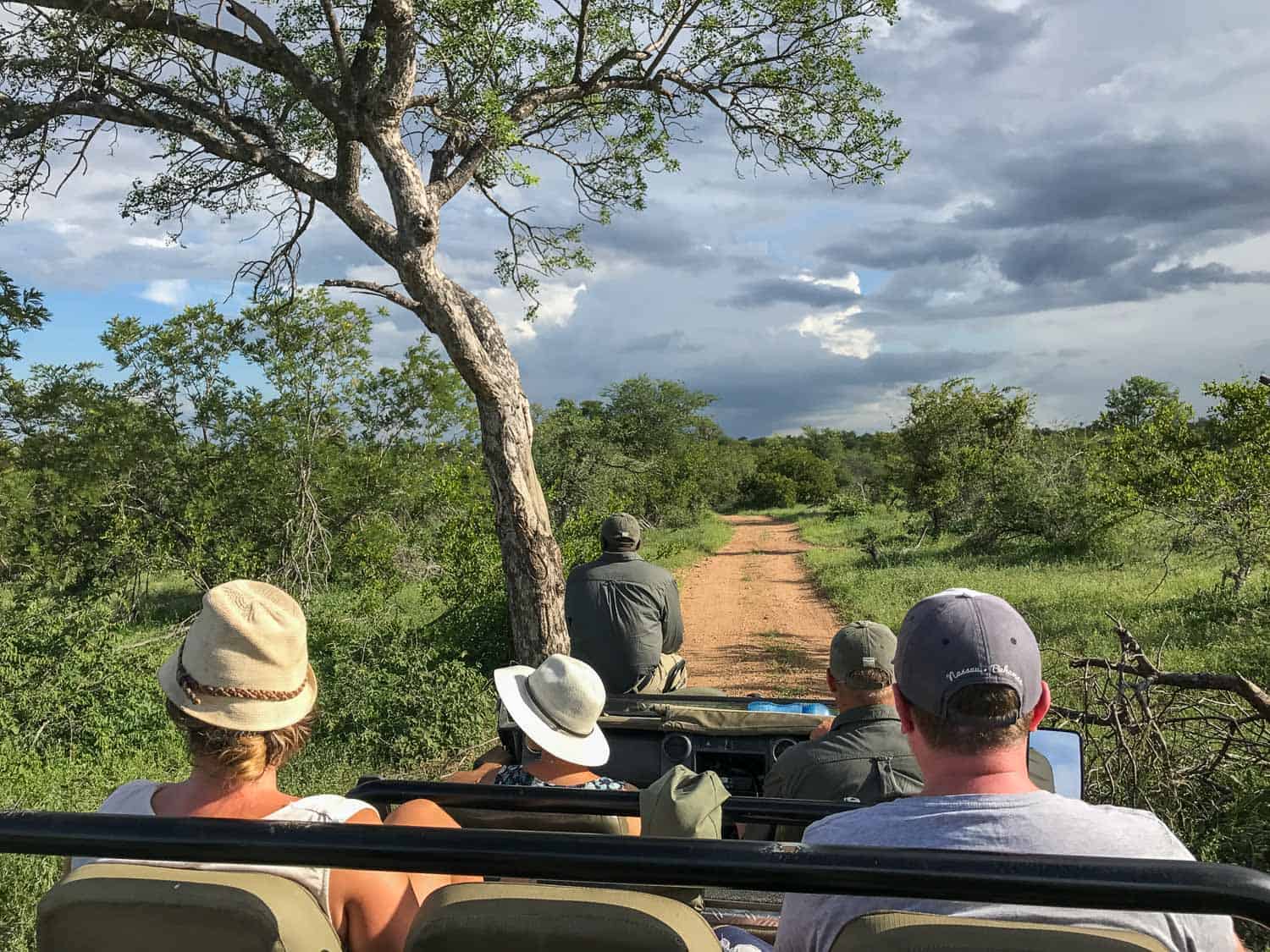 We benefited from the knowledge of the experienced ranger and tracker who accompanied us on each drive. They were excellent at finding animals and giving us lots of information about them.
We loved being able to drive off road in the private reserves. It was exciting to bump along dirt roads avoiding branches and navigating through dry river beds. We got incredibly close to the animals—close enough to lions and leopards that we felt like we could reach out and touch them.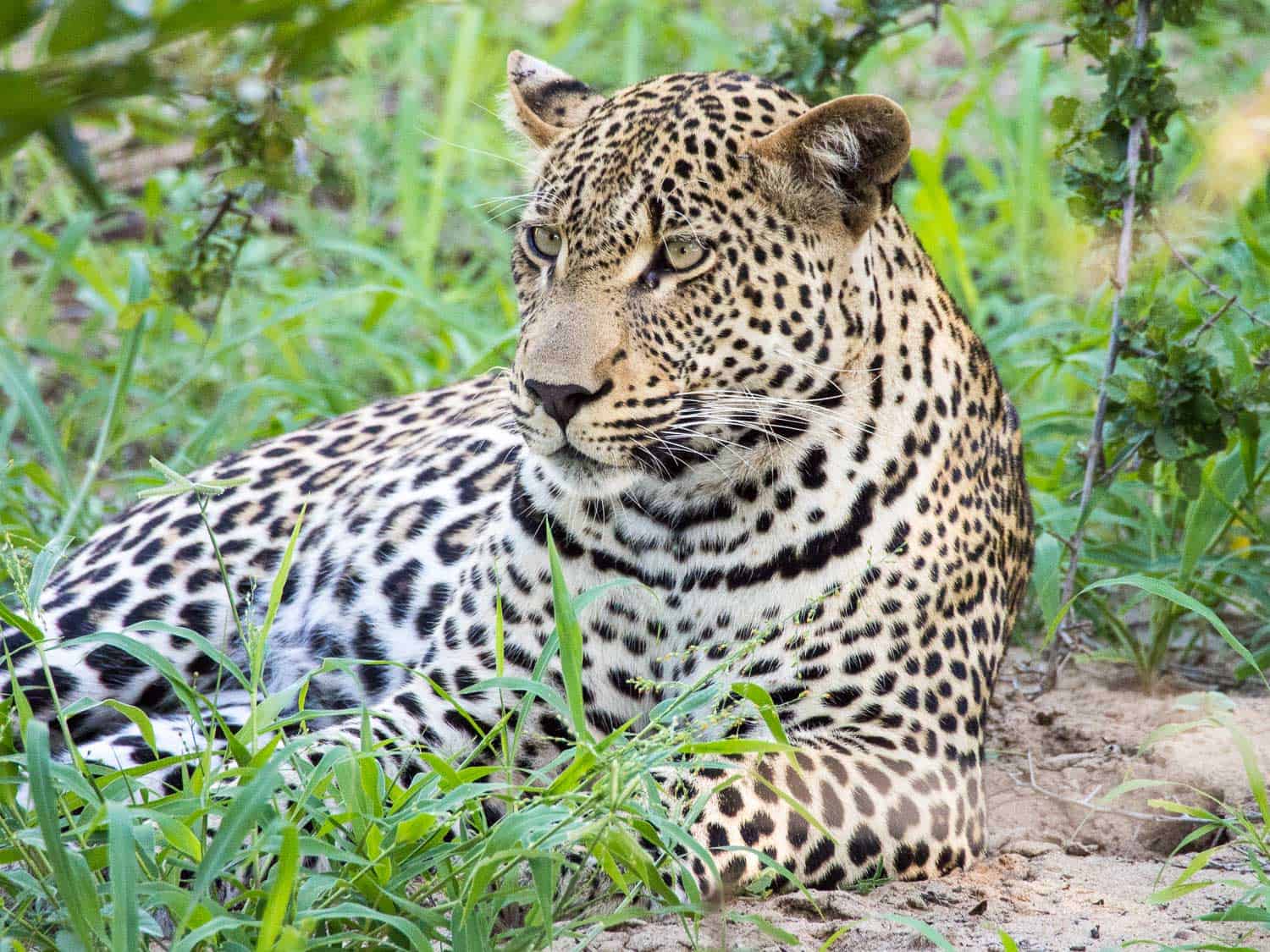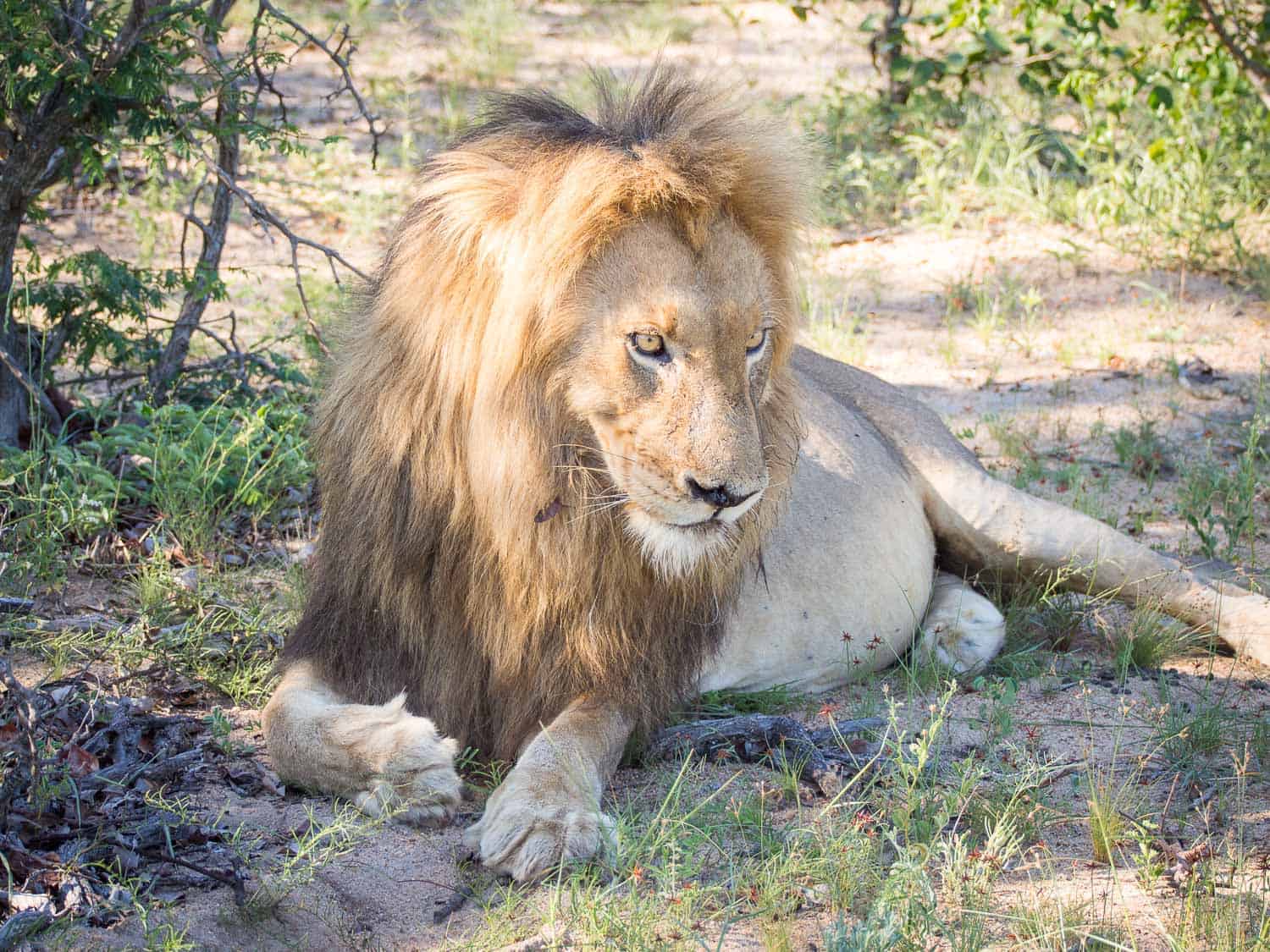 Our guides were superb and we never felt rushed at viewings. In fact, their expert knowledge meant we stuck around longer than we would have on our own. On one occasion we spent hours with a pack of rare wild dogs, watching them sleep, waking up for their pre-hunt ritual, then pursuing them as they raced off on the hunt. It was an incredible experience and one we could never have had by ourselves.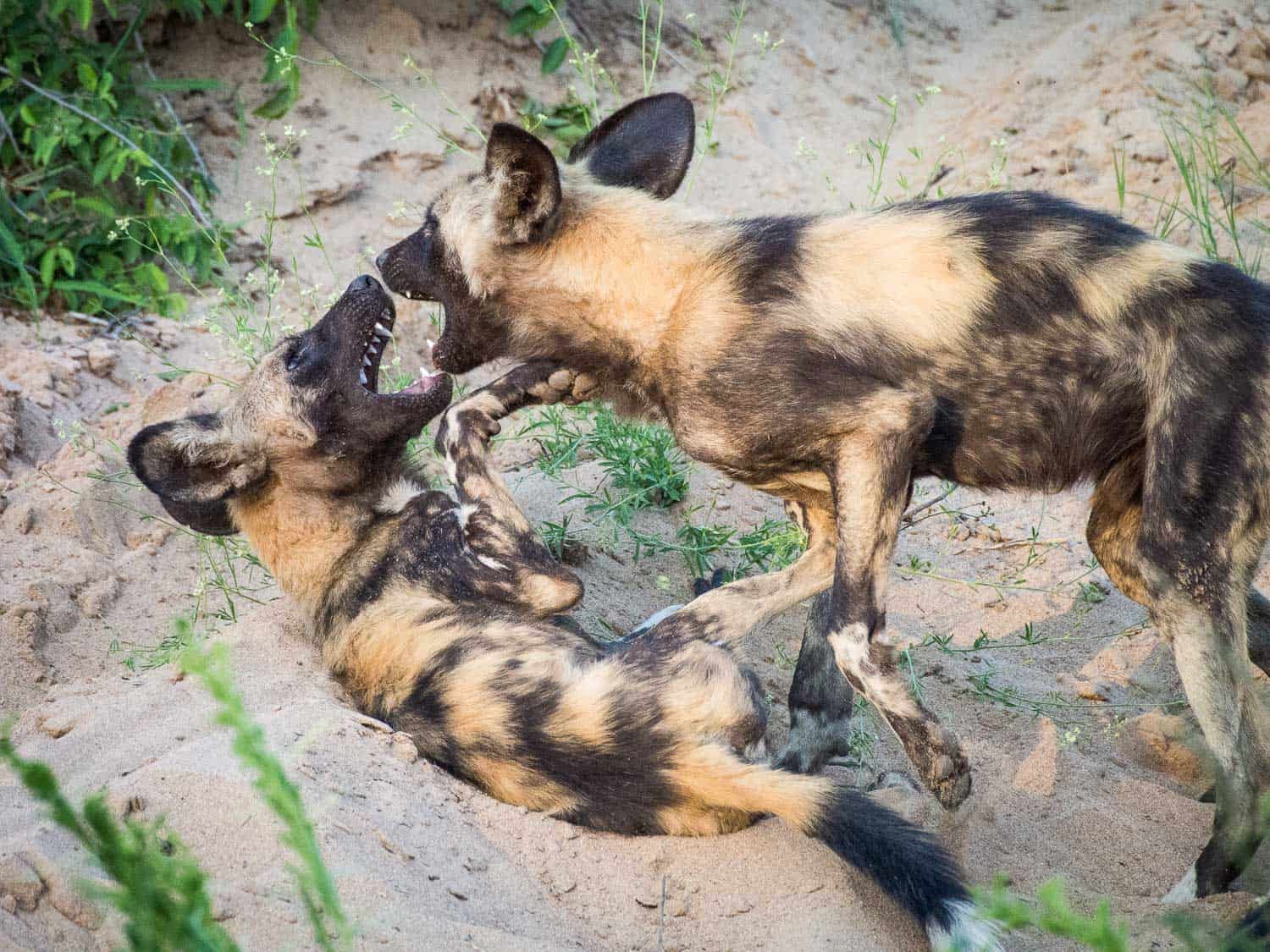 Despite visiting during the rainy season, we saw an incredible amount of wildlife at the lodges. We saw the Big 5 in one drive at Umlani, but we didn't manage that in three days of self-driving (we missed leopard, rhino, and buffalo and only had a glimpse of a lion).
A nice touch at the lodges is stopping in the bush on the afternoon drive for a sundowner drink and snack. Watching the sunset with a glass of wine in hand and the knowledge that a lion could be lurking nearby is a special experience! In private reserves you can also stay out after dark, whereas in the National Park you must be back in camp by sunset (unless you do an organised night drive). We even spent the night by ourselves in a treehouse out in the bush at Umlani.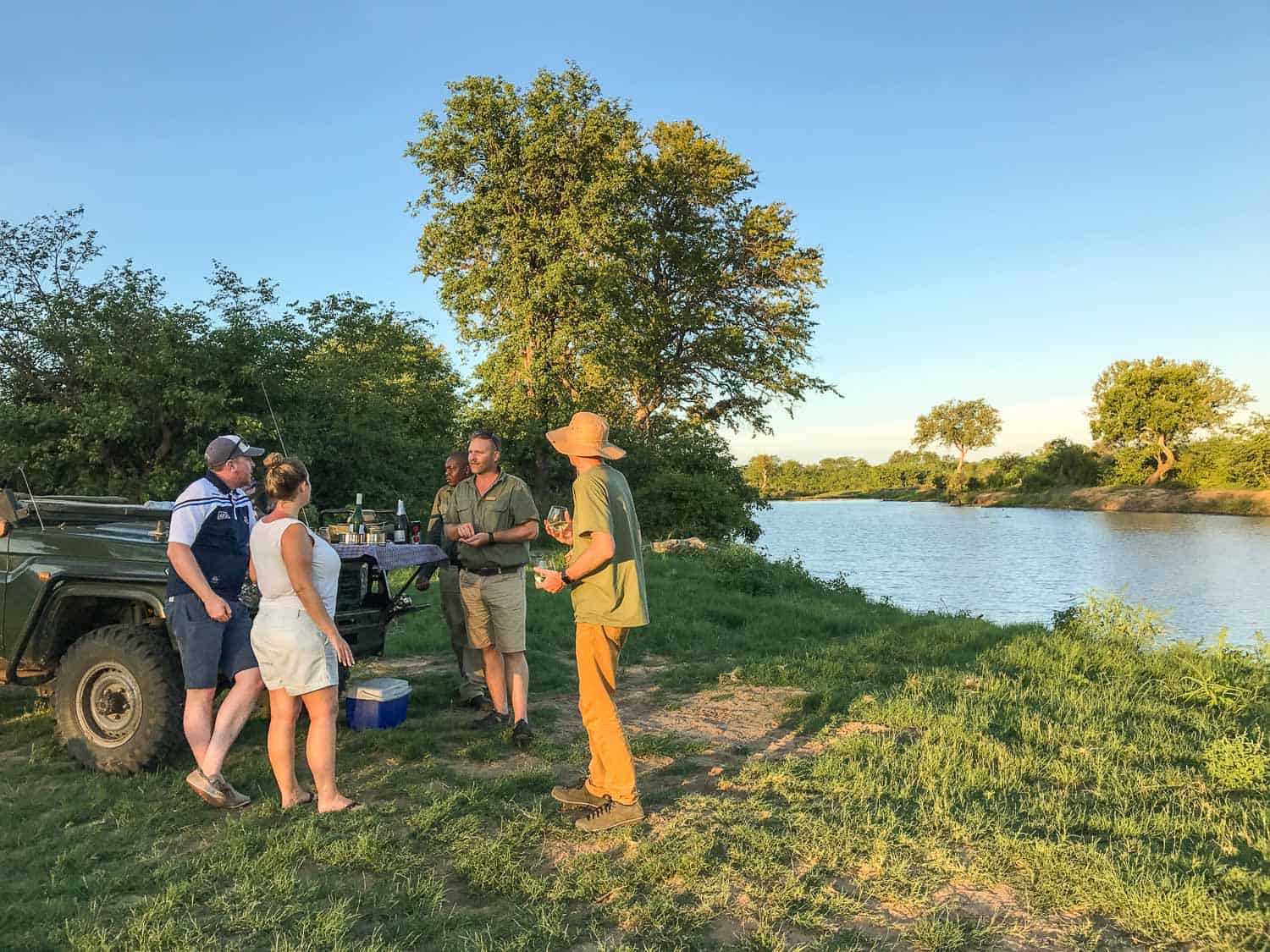 We preferred staying in a lodge on a private reserve to self-driving in Kruger National Park. Both were wonderful, but we saw so much more wildlife (and much closer) in the reserves, we benefited from the knowledge of the expert guides, and we felt blissfully relaxed staying in luxurious accommodation with all our meals provided. It was an intimate wilderness experience without having to give up any comforts.
Other Safari Options
There are also private lodges within Kruger National Park that offer similar packages to the private reserves—luxury accommodation with guided drives. We didn't consider these are they have to stick to the same roads as you do self-driving.
If you are on a budget and don't want to drive, you could take an organised safari tour. These often run out of Johannesburg and include guided drives, meals and basic accommodation or camping in or outside the National Park. Audrey from That Backpacker and The Travel Intern chose this option. Audrey's four-day/three-night tour cost R6500 ($505) camping or more to stay in an ensuite room.
Kruger Self-Drive vs Lodge: Which to Choose?
Your budget is the major consideration when choosing between self-driving in Kruger National Park or staying in a lodge on a private reserve. If you can afford it, stay in a lodge in an unfenced reserve that borders Kruger. It's a more relaxing, luxurious experience and you'll benefit from the expert knowledge of the guides and be able to drive off-road and get much closer to the wildlife. I recommend staying for at least two nights, ideally three. Six or seven nights split between two lodges would be perfect.
If you can't afford a lodge, self-driving in Kruger is definitely worthwhile, especially in the dry season. You will have more flexibility and be able to stay longer as accommodation is cheaper.
They are both very different experiences and if you have the time and budget, I recommend doing both. We started with two lodges and moved on to self-driving. This way we learnt from the lodge guides and could identify animals more easily on our own. If you have already been on an African safari, it would be better to do it the other way round—self-drive first and then relax in a lodge at the end. It was hard to come down from the lodge and return to the real world.
Whichever option you choose, a Kruger safari is an amazing travel experience.
If you enjoyed this post, pin it!