This page contains affiliate links. Please read our disclosure for more info.
Update October 2021: Since we visited, Klaserie Sands has been renamed Tulela and is under new management.
What is life like at a safari lodge in South Africa? We visited two lodges in the Greater Kruger area (Umlani and Klaserie Sands) and, like all lodges, they follow similar schedules to take advantage of when animals are active in the early morning and evening.
Most lodges are in remote locations and are all-inclusive, so you'll eat your meals with other guests at set times. We really enjoyed having a regimented schedule. We usually have to make so many decisions on our travels that it was good to take a break from that and totally relax. The lodges allow plenty of down time so it doesn't feel too overwhelming or rushed. And of course, you are free to skip any activities (although FOMO is pretty strong on safari!).
This day in the life is based on our stay at the wonderful Klaserie Sands River Camp, a luxurious, intimate lodge with just four rooms in the Klaserie Private Reserve, which shares an unfenced border with Kruger National Park. We visited during the rainy summer season in January when days are a little longer. In winter you'll get an extra half an hour in bed and leave slightly earlier for the afternoon drive.
As Klaserie Sands is such a small lodge, they are happy to adapt the schedule to suit you, although we found it worked perfectly.
5 am – Our ranger Gordon knocks on our door and we call out a bleary thanks for the wake-up call. Despite the early hour, the cacophony of birds and the rising sun remind us that the bush awaits and we stumble out of bed, throw on some clothes and sun cream, and grab our (pre-packed) bags.
5.20 am – We meet in the bar for a (much needed for some) coffee.
5.30 am – 9 am Morning game drive! We head off in the comfortable open-roofed safari vehicle with ranger Gordon driving and tracker Bricks sitting on the seat out front. Immediately any early morning bleariness is forgotten as we drive down dirt tracks and soak up the beauty of the African bush in the glowing early morning light.
Sightings of impala, kudu, zebra, giraffe, and a plethora of birdlife are almost guaranteed. One morning we also saw rhinos and lions, on another we spotted a dwarf mongoose and hyenas, and on our final morning it was buffalo, rhinos, lions and elephants (just missing the leopard in the Big 5!).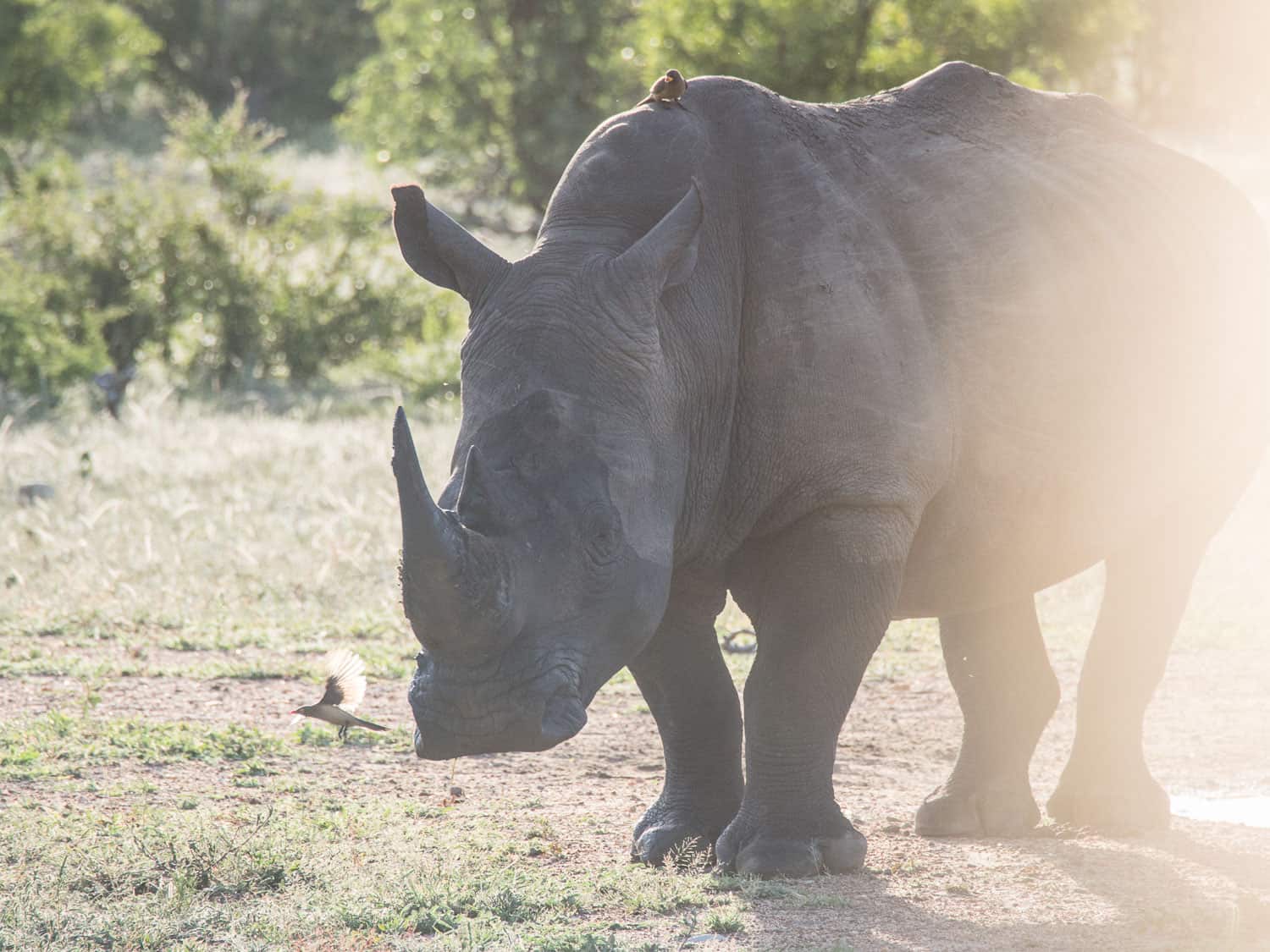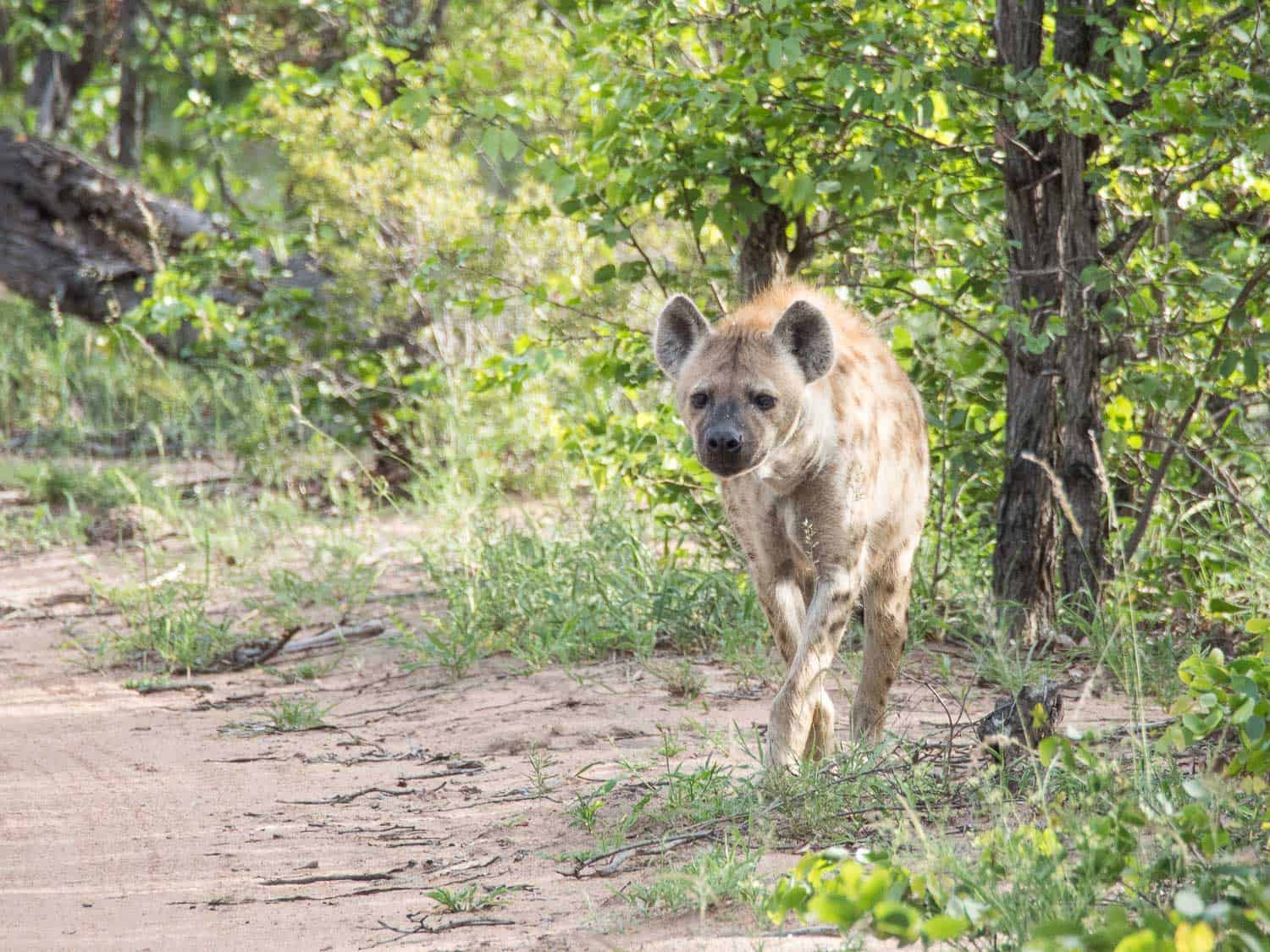 During the drive we stop for coffee, stepping out of the vehicle into the same bush where we'd been spotting so many animals. Gordon and Bricks set up the drinks on the front of the vehicle and we dunk rusks (South African hard biscuits) in our hot drinks. Most of the time the animals kept their distance, but one morning a herd of elephants appeared on the opposite side of the waterhole for their own morning refreshments—one of our safari highlights.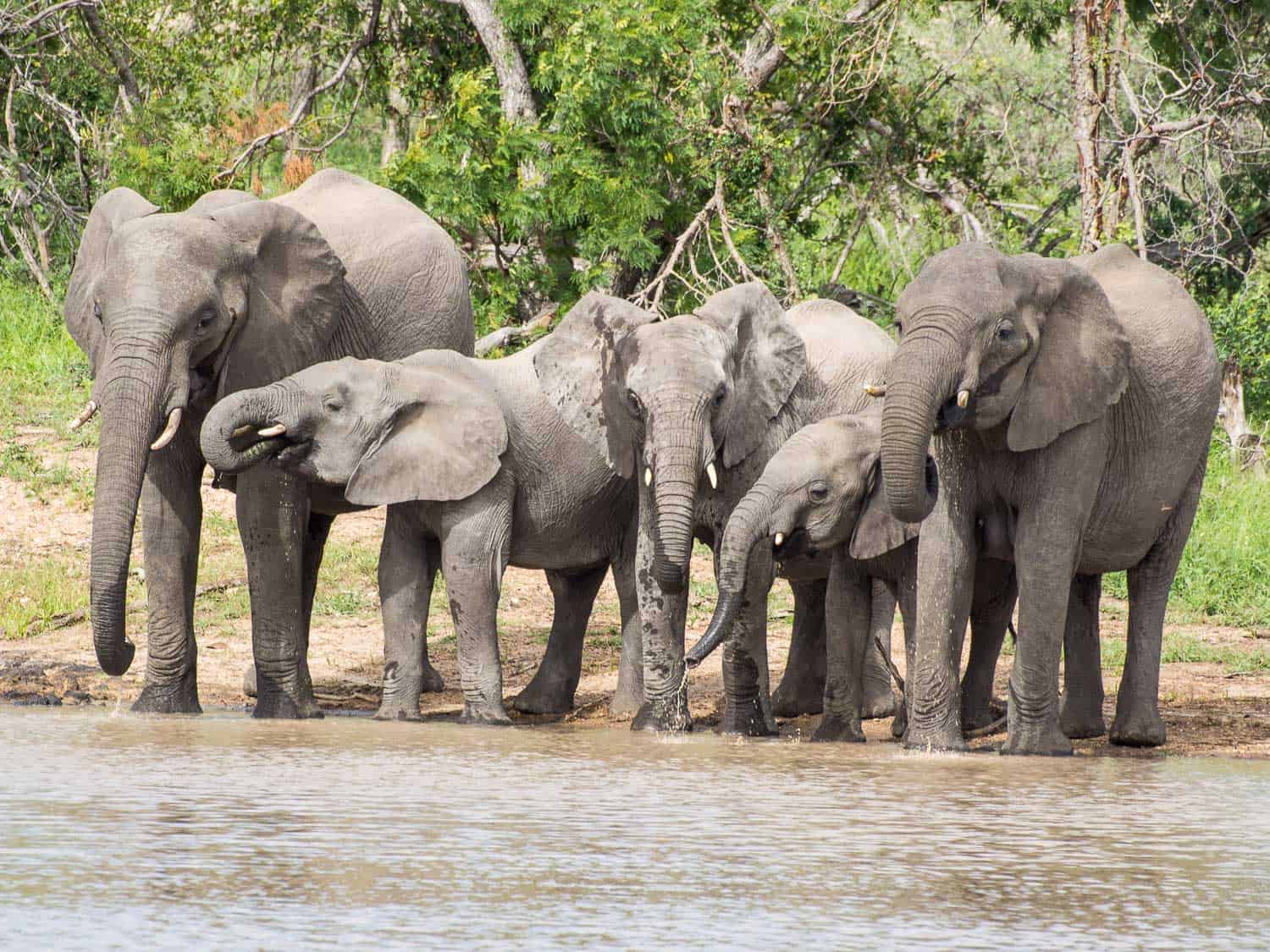 9.30 am Breakfast is at individual tables on the beautiful terrace overlooking the dry riverbed where animals can often be seen. We help ourselves to cheese, fruit, cereal and croissants and a hot breakfast is made to order (eggs, meat, hash browns, toast).
10 am Free time to relax. I take a much-needed nap, do some yoga (yoga mats are available to borrow), read a book, swim in the gorgeous infinity pool, and sort through my many photos. The lodge can also arrange a massage.
You can also do a bush walk at this time of day, but bear in mind that it's hot in the summer and you are unlikely to get close to animals on foot. We did one at another lodge and enjoyed learning about bush plants and how to identify animal tracks.
2.30 pm Lunch is served at individual tables on the terrace and is plentiful and delicious—typically a few different salads plus a main such as pasta or lentil bake (for us vegetarians).
4.30 pm – 8 pm Afternoon game drive, which is similar to the morning drive.
Drive times are flexible—on our first day we headed off early as Gordon had spotted two male lions and he was worried they'd move out of their territory. We headed straight there and started the afternoon observing this magnificent lion without any other vehicles around.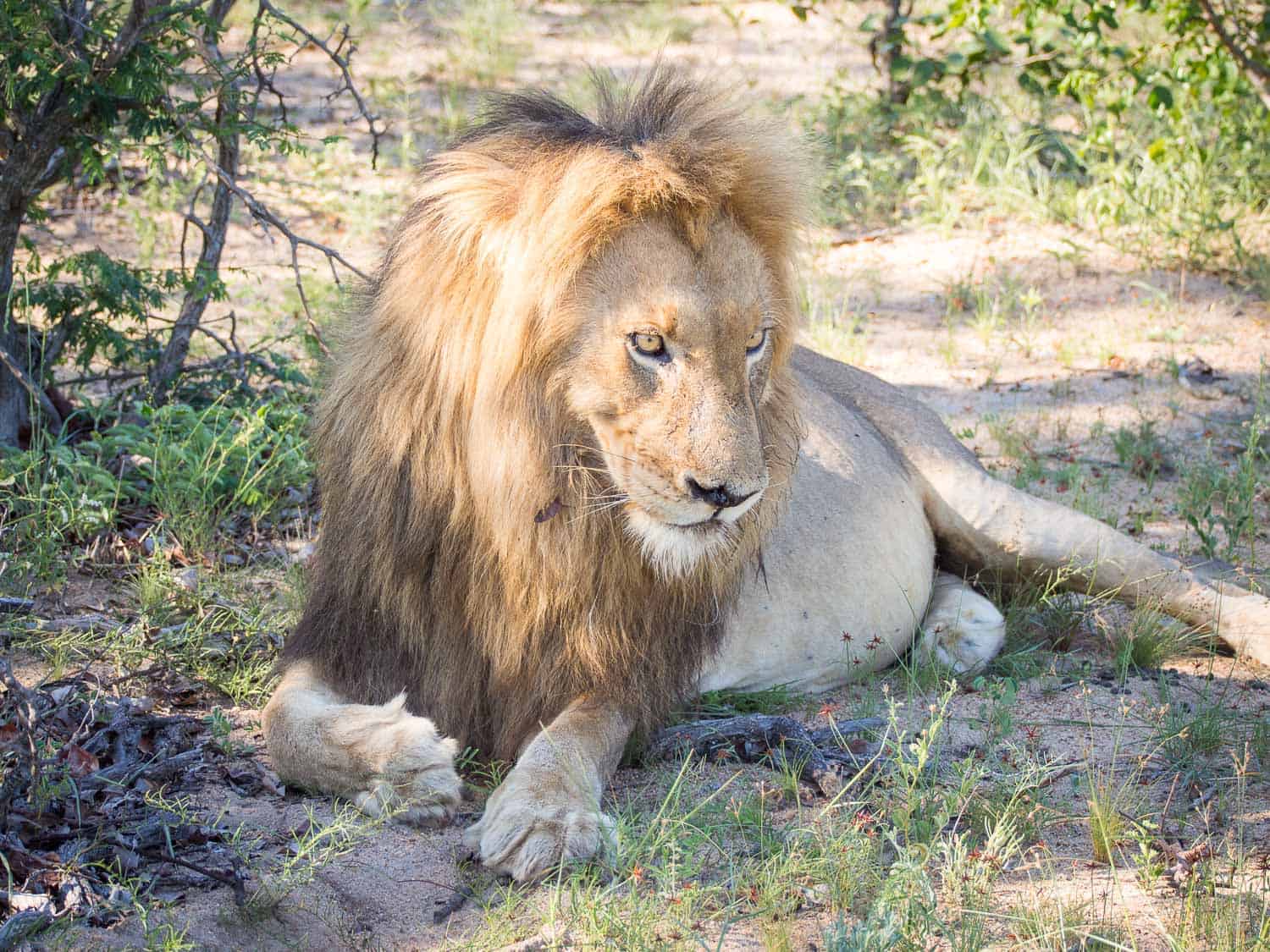 Other afternoon highlights included spotting enormous bull elephants, hippos in the dam, zebras, giraffe, rhinos, wildebeest, and honey badgers.
At sunset we stop for the classic African experience—a sundowner. We step out into the bush (or up in a treehouse) for a glass of wine and nibbles while watching the sun sink below the horizon.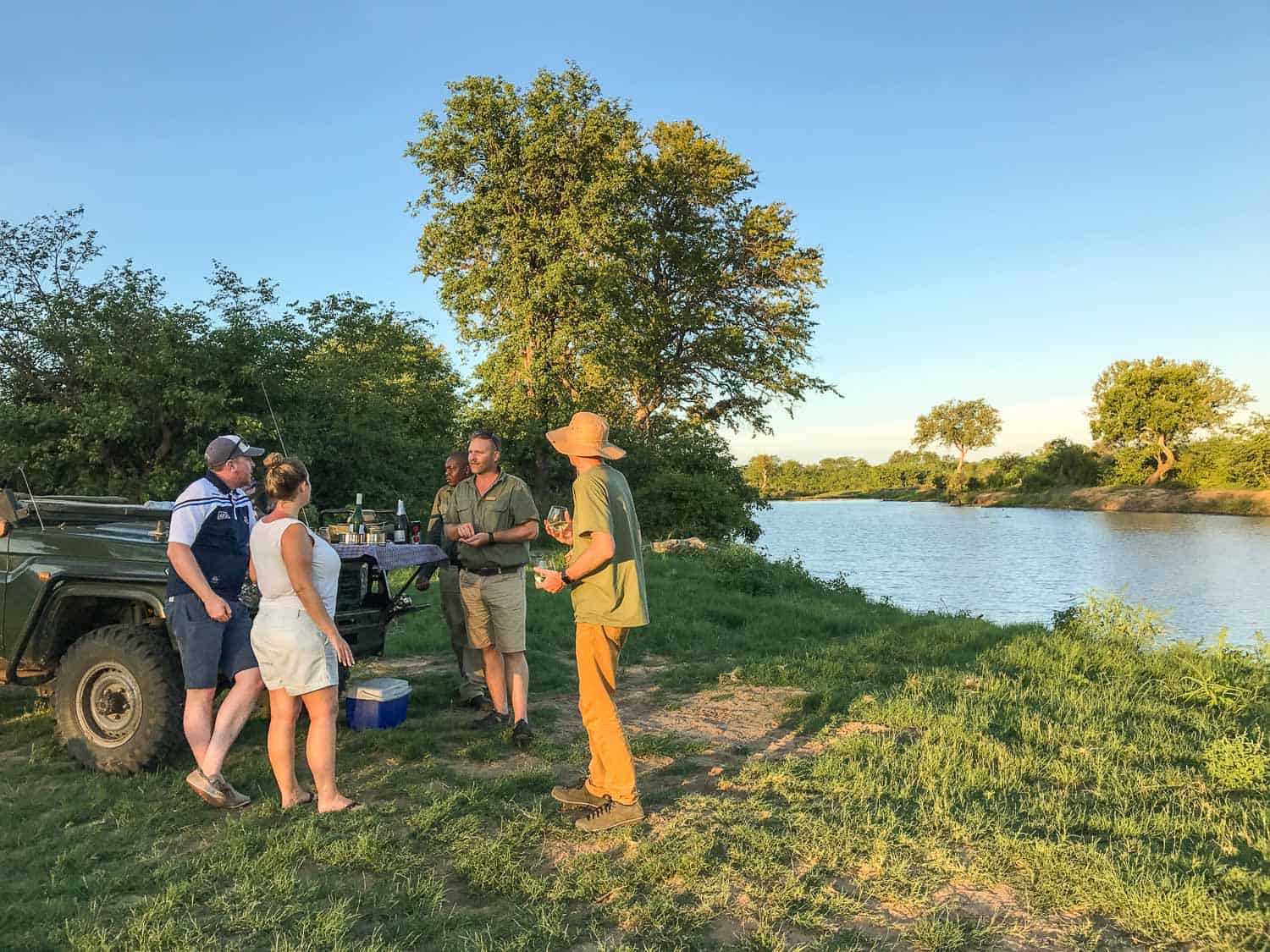 Driving through the bush as the sky turns red and eventually falls into darkness is a special time of day.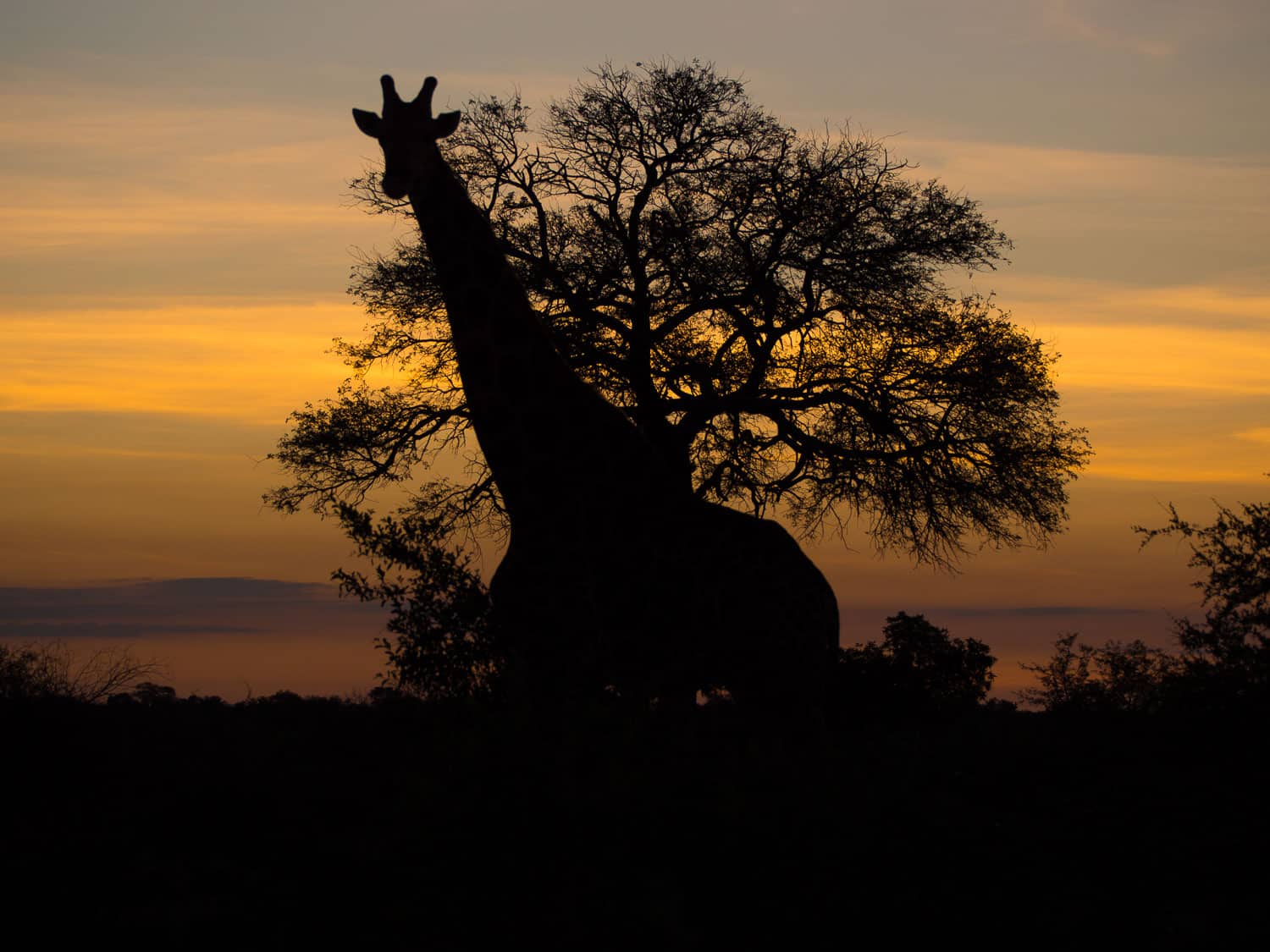 9 pm After heading back to our room to freshen up we meet for a drink in the bar and chat with the owners and other guests. One night we watched an elephant and hyenas at the waterhole opposite as we drank on the terrace.
A three-course dinner is served at a communal table on the terrace and is a social affair with guests discussing the sightings of the day and the lovely owners Lee-Ann and Louis recounting tales of life in the bush (that night I stepped outside and came face to face with a leopard…). A typical meal for us vegetarians was tomato and mozzarella bruschetta, chickpea and pumpkin curry with mashed potato and broccoli, and banana baked in pastry with a chocolate sauce, all with excellent South African wine.
11 pm Bedtime! And we sleep very well…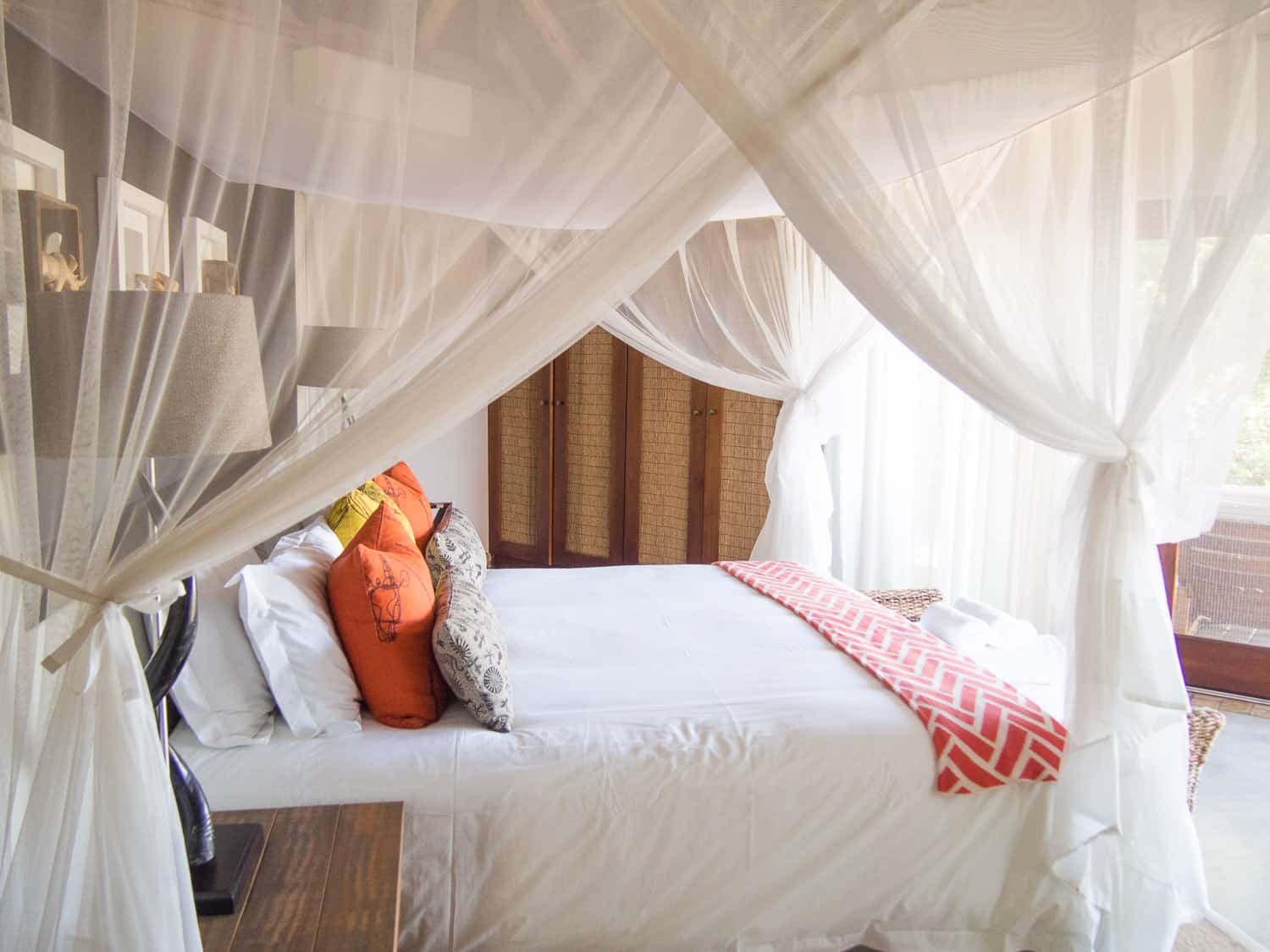 Although every day at a South African safari lodge follows a similar schedule, it never feels boring. You never know what you'll see on a game drive—from lions to mongooses and rhinos to tortoises every day is a new adventure.
For more about our experience at Klaserie Sands River Camp (now called Tulela) see our top 10 safari highlights and read our detailed Klaserie Sands review.
If you enjoyed this post, pin it!
Many thanks to Klaserie Sands who hosted us at the lodge.