This page contains affiliate links. Please read our disclosure for more info.
The Tortuga Outbreaker Backpack has all the same great features as the Tortuga V2, Simon's previous favourite backpack, including being the maximum carry-on size with plenty of space but with new improvements and a sleeker look.
In this Tortuga Outbreaker review we'll share the good and bad of the Outbreaker after a year of travelling full-time with it.
We'll also compare it to the previous V2 Tortuga Backpack and the Tortuga Setout Backpack which is lighter and cheaper than the Outbreaker although has fewer features.
To find out which backpack is right for you, see our Tortuga Setout review which includes a detailed comparison of the Outbreaker vs the Setout.
Contents
Tortuga Outbreaker Review
Tortuga Outbreaker 45L Backpack Details
Dimensions (cm): 56 x 36 x 23 cm
Dimensions (inches): 22 x 14 x 9 inches
Volume: 45 litres
Weight: 2.3 kg (5.1 lbs)
Colour: Black
Price: US $299 (and free US shipping)
Buy from:Tortuga website
This review is of the Outbreaker Travel Backpack 45L, which is the largest size. A 35L version is also available and has the same features.
Tortuga Outbreaker Backpack Pros
Tortuga was created by travellers for travellers. Fred and Jeremy created the original Tortuga backpack after being disappointed with traditional hiking backpacks while travelling around Europe. They set out to create their perfect backpack and have since grown into a company of nine people who truly understand the needs of urban travellers.
The Outbreaker is one of the few backpacks we've found that meets all of our requirements for long term and digital nomad travel.
Carry-on sized
The Outbreaker 45L is the maximum carry-on size that most airlines allow. The rectangular design maximises the amount you can take on a plane and makes it easy to pack, especially if you use packing cubes like us. It's very spacious and easily fits all of Simon's stuff including his extensive electronics collection.
Simon took the Outbreaker on 14 flights in Europe, Africa, and Asia including budget airlines EasyJet and AirAsia. His previous Tortuga V2 came on countless flights in 14 countries including Ryanair.
Durable
The Outbreaker is made from 4-layer, waterproof sailcloth that won't scuff or tear and feels very durable. It's highly water-resistant so you don't need a separate rain cover.
The Outbreaker is a step up from the quality of the Tortuga V2, which we were already impressed with. Simon used his previous Tortuga for full-time travel for over two years and it barely showed any signs of wear and tear. After a year of use the Outbreaker still looked like new—we'd expect it to last for many years.
Padded hip belt
A padded hip belt is the most difficult feature to find in a carry-on backpack, but we think it's the most important. The hip belt transfers the bag's weight onto your hips and prevents back and shoulder pain. This is especially important if you travel with a lot of heavy electronics like we do.
The Outbreaker has a very robust hip belt, which combined with the new suspension system makes it very comfortable to carry even when Simon's backpack weighs 12 kg (26 lbs). Although the Outbreaker is heavier than the Tortuga V2 it doesn't feel more of a burden on his back.
Perfect Fit
The Outbreaker has a height adjustment system, which allows you to adjust the torso height and find your perfect fit. This is great for people with smaller torsos who found the previous Tortuga too big.
Front-loading like a suitcase
Unlike traditional hiking backpacks that open from the top and make it hard to access your stuff, the Outbreaker opens along the entire front, like a suitcase. It's much easier to pack and keep things organised.
Laptop sleeve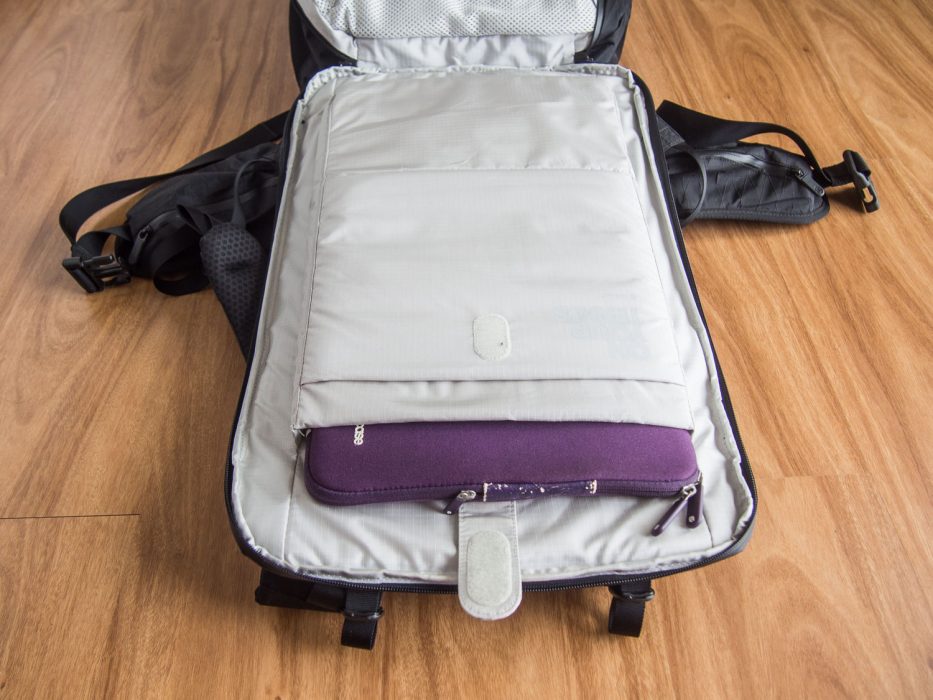 The fleece-lined laptop sleeve is located at the back of the Outbreaker, close to your body for the best weight distribution. It fits laptops up to 17-inches and there's enough padding that you could probably even skip a case. Simon packs his 15-inch MacBook Pro in a neoprene case first for extra protection and there's plenty of space for it.
In front of the laptop sleeve there's a tablet sleeve where Simon stores his 12-inch iPad Pro.
The Outbreaker's entire electronics compartment can be unzipped and laid flat on the conveyor belt at airport security.
Apparently this is approved by the TSA so that you don't need to remove your laptop from the backpack. I'm not sure if this works in practice, as on the flights we've taken with the Outbreaker they were often strict about removing your laptop, sometimes even from its sleeve.
Organised
The backpack has a ton of pockets to organise all your stuff. As Simon prefers using packing cubes, he doesn't use most of them, but they lie flat if you don't need them. You can also buy a set of three Outbreaker packing cubes that fit perfectly in the backpack.
There are three sections in the Outbreaker, each accessed by a different zip at the top of the bag. This is a little confusing until you learn which section is which.
Front section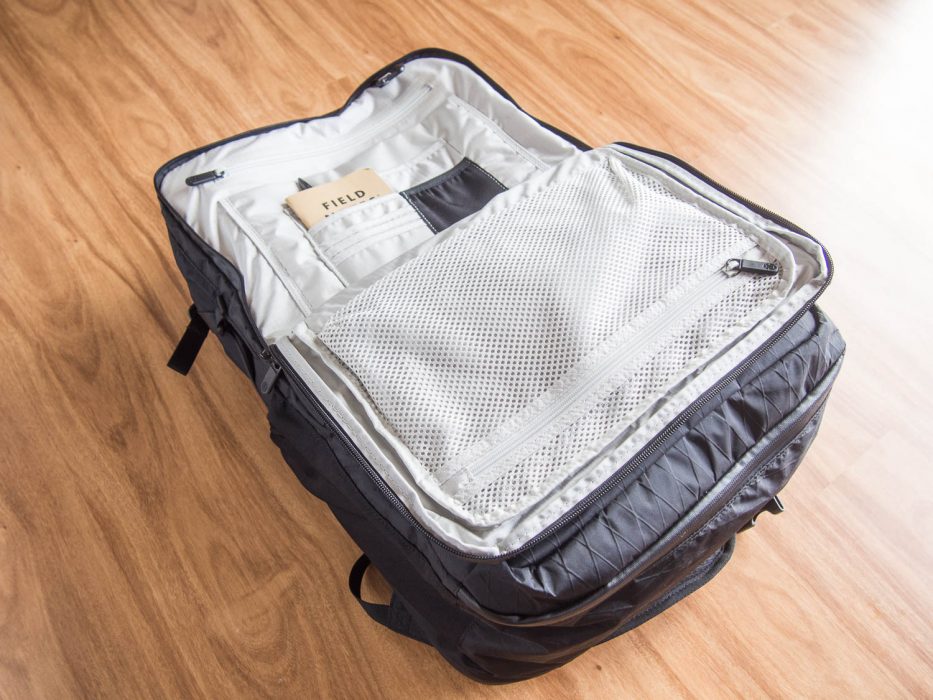 The front section unzips half way and is designed for easy access to small items in transit. There's a mesh pocket in the front, a zippered pocket at the back, and an organiser panel with small pockets for items like your passport (although we always carry ours on our person), pens, cards, sunglasses, etc. Behind that there's a fleece-lined section for an e-reader. There's also a clip for keys.
Main section
The middle main section is the largest and unzips on three sides so it's really easy to pack. There's plenty of space for Simon's large clothes packing cube, electronics cube, shoes, toiletry case, travel towel, and AeroPress coffee maker.
There are a number of pockets in the main section—four small pockets around the edges (Simon uses one for his hard sunglasses case and another for his AeroPress) and two mesh compartments on the opposite side (useful for dirty laundry or small items). If you don't need them, they can be flattened so they don't take up space.
Electronics compartment
The electronics compartment is at the back and lies completely flat. It fits a laptop and tablet in separate sleeves (as described above). Opposite there are three mesh pockets for accessories like chargers, adapters, cables, etc. (Simon prefers to use an electronics cube in the main compartment instead).
External pockets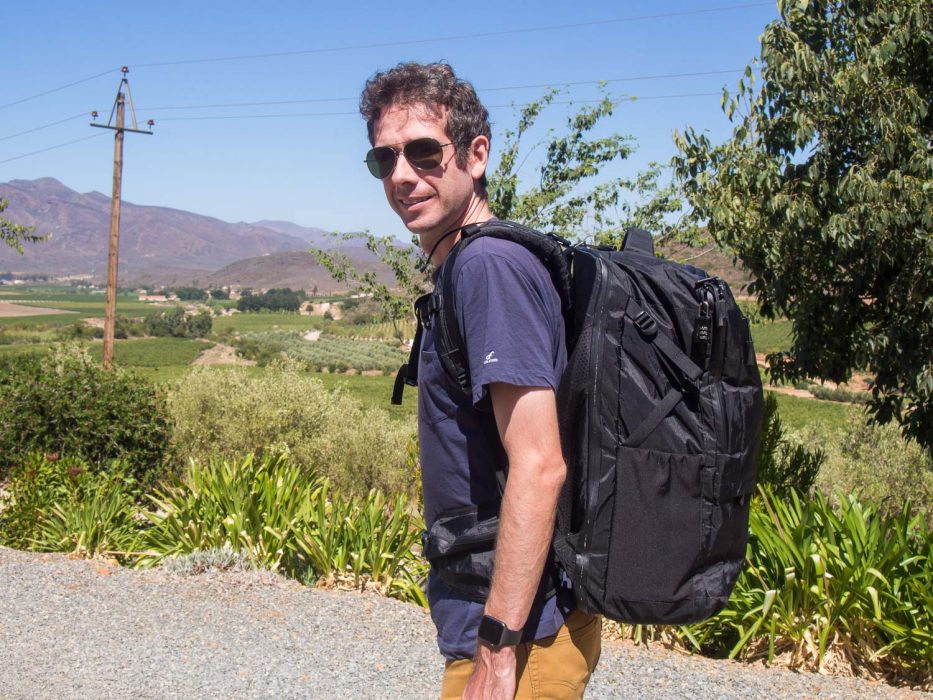 There are also a number of pockets on the exterior of the backpack. On the front there are two zippered pockets. The two stretch pockets on the sides fit a water bottle, yoga mat or umbrella.
The small pockets on the hip belt are designed to conveniently stash coins and keys when going through airport security. Simon doesn't use these pockets much other than for tissue in the front pocket.
Simple design
We love that the Outbreaker has a simple, sleek, black design so it doesn't stand out too much.
Lockable zippers
We like to lock our backpacks with a small combination lock to prevent opportunistic theft. All three compartments of the Outbreaker are lockable.
You do need two locks to fully secure the backpack. The two front compartments are close enough together to share a lock (or Simon keeps the front compartment unlocked for easy access) and you'll need a second lock for the electronics compartment at the back. Or you could choose just to lock your electronics compartment.
35L version available
The 45L Outbreaker is ideal if you want to pack the maximum possible in your carry-on, but it's too big for some people, so I'm pleased that Tortuga now offers the Outbreaker in a smaller 35L size.
The 35L has all the same features of the 45L but is smaller (20.3 x 12.9 x 8.2 inches), lighter (4.6 lbs / 2.15 kg), and slightly cheaper ($269).
Optional Accessories
Tortuga has an entire Outbreaker collection with products that compliment the main backpack including packing cubes and a packable daypack.
Free Shipping
Tortuga offers free US shipping and if the backpack doesn't work out for you after a test pack, return it unused within 30 days for a full refund. They also pay for the return shipping on US orders.
Tortuga Outbreaker Backpack Cons
Heavy
The improved build quality and organisation of the Outbreaker means that it's significantly heavier than the Tortuga V2. At 2.3 kg (5.1 lbs) the bag itself uses up a good chunk of your carry-on weight allowance, especially in places like Asia where allowances are a stingy 7 or 8 kg.
In practice though this hasn't been a problem. In nine years of travelling carry-on only our backpacks have only been weighed once, so we've managed to get away with them being overweight many times. We've written more about how to manage carry on luggage weight and size restrictions.
Bangkok Air did weigh Simon's Outbreaker on one of our two flights with them, but when he explained that it was full of electronics that couldn't be checked, they let him take it on.
The Tortuga Setout is much lighter than the Outbreaker and is the main reason Simon decided to travel with it instead.
Larger than some airlines allow
The Outbreaker is within most airline's allowed carry-on size, but it's a few centimetres over the size allowed by some strict airlines such as Ryanair, which has a 55cm x 40cm x 20cm limit. (Note: with Ryanair's new baggage policy you'll need to pay an extra fee for "Priority & 2 Cabin Bags" to be allowed a large bag as a carry-on).
We have travelled on Ryanair multiple times with the Tortuga, though, and had no problems taking it on the plane. We don't find airlines to be that strict about size and weight if you are travelling with a backpack which is less visible than a rolling suitcase.
Expensive
The Outbreaker costs $299, but your luggage is the most important item you travel with, so we think it's worth the investment and it will last for many years.
If cost is an issue, consider the cheaper Setout at $199.
No shipping outside the US (for now)
The Outbreaker is only available from the Tortuga website, and as of 2019, they no longer ship internationally.
Tortuga is working on a better solution for shipping abroad with lower fees—we'll keep you updated. In the meantime you could use a freight forwarder.
Tortuga Outbreaker Alternatives
Tortuga Setout
When we originally wrote this review in early 2017, the Tortuga Outbreaker was Simon's top pick for a carry-on backpack. At the end of 2017 Tortuga released the Setout and after travelling with it for two years, Simon now thinks it's an even better choice than the Outbreaker for most people.
The Setout is less full-featured than the Outbreaker, but it's lighter, cheaper, and has a more stylish design. It comes in 45 and 35 litre versions, in black or grey, and has options for women's fit.
Read our in-depth comparison of the Outbreaker vs Setout to decide which is right for you.
Tortuga Prelude
The latest Tortuga backpack is the Tortuga Prelude, a budget backpack with basic features. For us it wouldn't work as it doesn't have a laptop sleeve, but if you just want a simple bag for clothes and a tablet, it could be a good option.
It is smaller than the 45L Outbreaker and Setouts with a capacity of 38.5L. It's also lighter at 2.5lbs and cheaper at $149.
It has many of the same features including a hip belt, lie-flat water bottle pocket, lockable zippers, and a couple of pockets inside and out.
Osprey Farpoint 40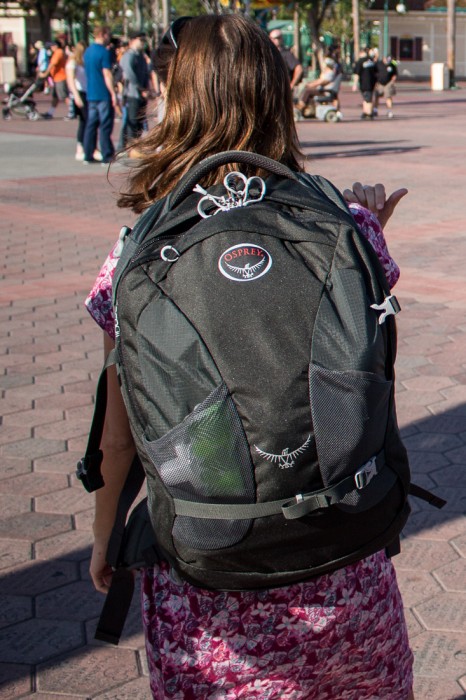 Although Simon loved the Outbreaker, I originally felt it was too big and heavy for my needs and travelled with the Osprey Farpoint 40 instead.
At 38 litres and 1.3 kg (2.87 lbs) it's a lot smaller and lighter than the Outbreaker. There's less organisation and the laptop sleeve isn't as large or well designed as in the Outbreaker, and it's at the front of the bag. This worked with my light 11-inch MacBook Air, but for heavier laptops it's more comfortable to carry the laptop closest to your body. The Osprey Farpoint 40 does have a hip belt and is comfortable to carry.
The Osprey Farpoint 40 is worth considering if you want a smaller, simpler, cheaper, and lighter backpack and you aren't travelling with a lot of heavy electronics.
Update: In 2019 I travelled with the Tortuga Setout 45L instead as I wanted more space after nine years of full-time travel.
Minaal Carry-On
Many digital nomads and long-term travellers end up choosing between Tortuga's backpacks and Minaal's. The Minaal 3.0 is a stylish carry-on backpack, but although it costs the same as the Outbreaker, it's only 35 litres and you have to pay extra for a hip belt (which doesn't look as comfortable as Tortuga's).
The number of carry-on travel backpacks on the market is growing but most miss features that we consider necessary like a hip belt, front-loading design, or lockable zippers.
Tortuga Outbreaker vs V2 Tortuga Backpack: What's New?
The Outbreaker has solved a number of small issues we had with the Tortuga V2.
Improvements
The Outbreaker comes in two versions—45 litres, which is similar to V2, and 35 litres, which replaces the Tortuga Air. Both now have hip belts, which was my main complaint with the Air.
The new adjustable hiking-style suspension system makes it even more comfortable to carry and means it should fit more people than the previous backpack did.
The bulky side pockets have been removed giving it a sleeker look.
Instead there are two discreet water bottle pockets on the side that lie flat when not being used.
The fabric is water-resistant and very durable.
It opens fully on three sides like a book making it even easier to access everything inside.
There is an improved fleece-lined laptop and tablet sleeve. The electronics compartment unfolds to lie flat on the X-ray belt to avoid taking your laptop out when going through airport security.
The external front pocket is slimmer and doesn't bulge anymore.
Downsides
It's heavier—the 45-litre backpack is 5.1 lbs (2.3 kg), which is 1.45 lbs (0.64 kg) heavier than V2.
The backpack straps can't be packed away (although the hip belt can be removed), but Simon never used this feature.
No side handle to carry it suitcase style (although Simon rarely used this).
It costs $299 (V2 was $199).
Update: The new Tortuga Setout solves all these downsides. It's lighter and cheaper (at $199) than the Outbreaker and has hideaway straps and a side handle.
If you already have the Tortuga V2 do you need to upgrade to the Outbreaker? I don't think so. Simon loved his V2 and had no real complaints with it. If Tortuga hadn't sent us the new Outbreaker to review he wouldn't have felt the need to upgrade.
That said, now that he has the Outbreaker, he wouldn't want to go back. If you are in the market for a new backpack, then go with the Outbreaker (or consider the lighter, cheaper Setout backpack).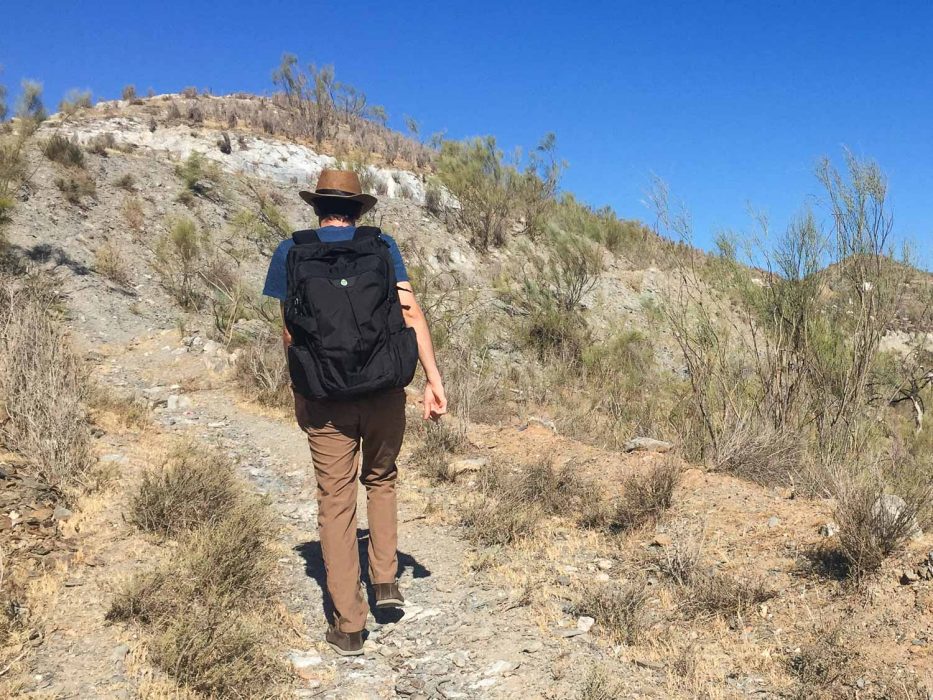 Tortuga Outbreaker Backpack Summary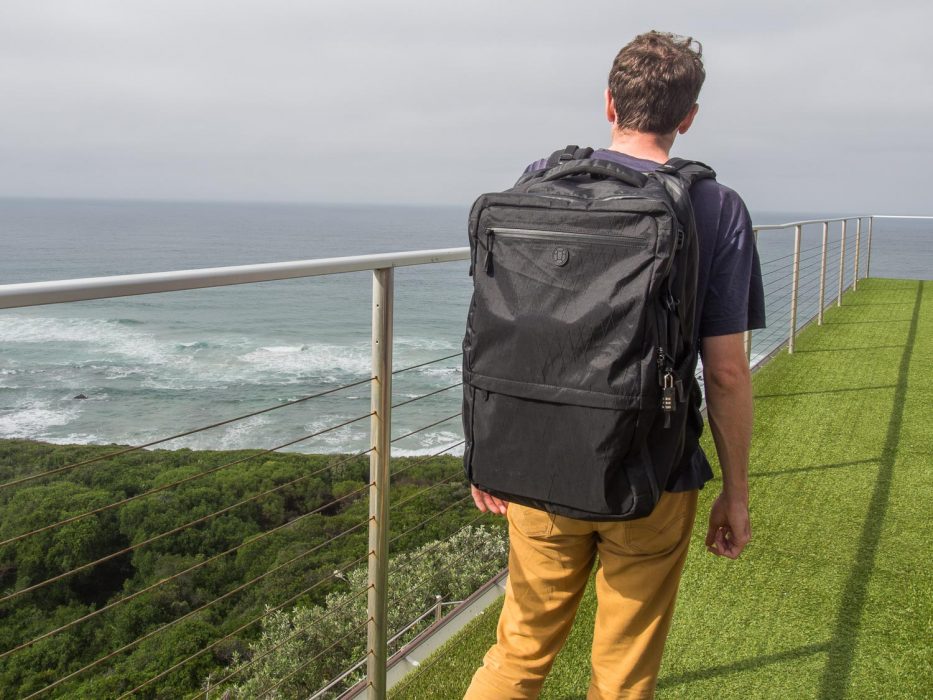 The Tortuga Outbreaker travel backpack is an extremely well-designed bag that's ideal for anyone who wants to maximise the amount they can travel with carry-on only. It looks great and is spacious, durable, comfortable, and has plenty of organisation including excellent protection for your laptop and tablet.
Simon loved it for the year he travelled with it and only switched to the Tortuga Setout because it's lighter. If you want a waterproof bag with lots of organisation and a robust and adjustable suspension system, then the Outbreaker is the backpack for you.
Click here to buy the Tortuga Outbreaker backpack on the Tortuga website.
Learn More About Carry-On Only Travel
If you'd like to learn more about how to travel carry-on only, see my book, The Carry-On Traveller: The Ultimate Guide to Packing Light, which is available on Amazon for the Kindle or in paperback.
You can also see our carry-on only packing list for exactly what Simon fits inside his Outbreaker.
If you enjoyed this post, pin it!
Disclosure: Tortuga sent Simon the Outbreaker backpack for review, but he wouldn't have travelled with it for a year if he didn't genuinely think it's an excellent bag.
This post was originally published in March 2017 and has been updated regularly since then (most recently in January 2021).