This page contains affiliate links. Please read our disclosure for more info.
Cape Town is a city of amazing experiences, but our absolute favourite was driving the Cape Peninsula—on a Harley Davidson motorbike! The Cape Peninsula is one of the best day trips from Cape Town and one of the most spectacular drives in the world.
There is so much to see along the way including beaches, mountains, penguins, cute towns, vineyards, the rugged cliffs of Cape Point, and the stunning Chapman's Peak Drive.
You can take a Cape Peninsula tour from Cape Town but having your own vehicle will give you the freedom to explore at your own pace. Many people rent a car, but if you have a motorbike driving licence we highly recommend driving the Cape Peninsula on a motorbike. Our Harley was more expensive than a car, but it was a much better way to soak up the gorgeous scenery—we felt like we were part of the landscape, rather than just looking at it through a window. It was truly exhilarating.
We recommend driving the Cape Peninsula in a clockwise direction so that you are driving on the sea side of the road (you drive on the left in South Africa) and can end with sunset at Camp's Bay.
Cape Peninsula Map
Cape Town
Simon had never ridden such a big bike before, so we were rather nervous when we picked up our Harley Softail Heritage in the centre of Cape Town. These bikes are heavy! He did a quick loop around the car park to get his confidence up before I hopped on and we headed out of the city.
Simon only got his motorbike licence last year but we've been riding scooters in Asia for years. The Harley was a revelation—it's a beautiful machine, all shiny chrome and curved lines. It's huge. It dominates the road and feels stable and secure in a way that smaller bikes don't. I appreciated the backrest and felt much more comfortable than on a scooter.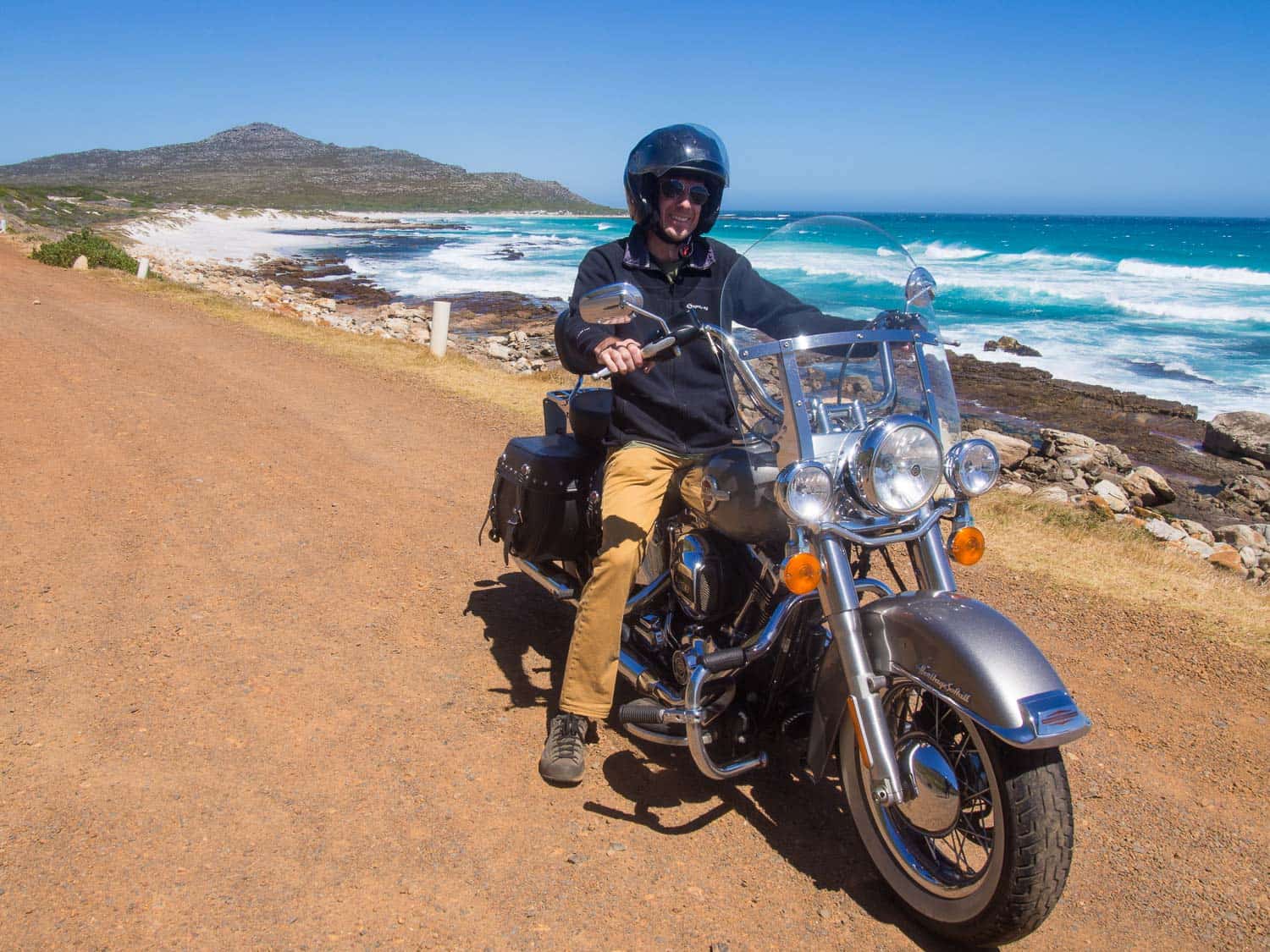 It didn't take long for Simon to get his confidence up and we sped down the M3, the sun shining and our spirits soaring. It's not the most spectacular section of the drive, but Cape Town is never ugly and there is always mountain scenery to enjoy. You could stop at the Kirstenbosch Botanical Gardens, but if you have the time visit them as a separate trip (we recommend the summer Sunday concerts) to allow more time on the Peninsula.
Cape Town to Muizenberg: 35 minutes
Muizenberg
Muizenberg is a bohemian beach town known for its surfing (lessons are available if you are brave enough for the chilly water). We stopped for a walk on the white sand beach with its colourful beach huts. The furious wind kept us from staying longer.
Muizenberg Beach to Kalk Bay: 10 minutes
Kalk Bay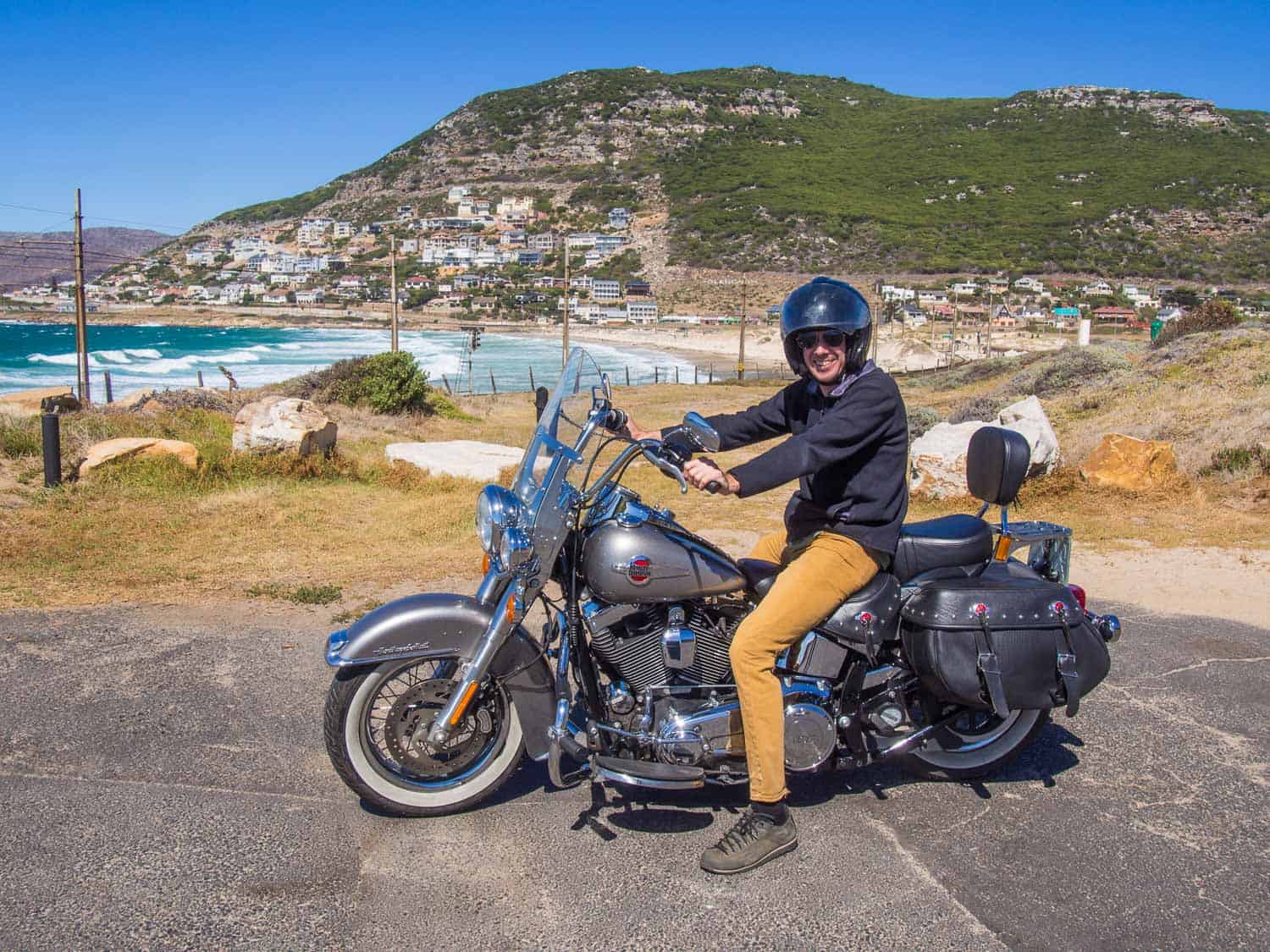 The drive along False Bay is beautiful past cute seaside towns backed by craggy mountains. We stopped in trendy fishing village Kalk Bay for breakfast at Olympia Cafe. It's a local institution but we found the pastries disappointing—perhaps the cooked breakfasts are better. There are lots of other cafes in Kalk Bay, as well as unique boutiques and antique shops.
Kalk Bay to Simon's Town: 20 minutes
Simon's Town
Picturesque Simon's Town is one of South Africa's oldest towns and has been a naval base for two centuries. We stopped for a quick look at the harbour fronted by restored historic buildings.
Simon's Town to Boulders Beach: 5 minutes
Boulders Beach
Boulders Beach (70R/$5 entrance) is home to a colony of endangered African penguins. There are two areas to see them. Boulders Beach is a small sheltered cove where you can swim or sunbathe with penguins on the rocks nearby. It was packed when we arrived at 10 am. Foxy Beach is a better place to view the penguins—follow the boardwalk through the dunes to see them swimming and waddling around the beach (you aren't allowed on the beach).
While it was amazing to see the adorable penguins in the wild, it was very windy and so crowded with tour groups that we struggled to enjoy it. It's best to get here early or visit Stony Point Nature Reserve in Betty's Bay instead where we had a much more relaxing penguin experience.
Boulders Beach to Cape of Good Hope Gate: 35 minutes
Cape Point
We left the towns behind for a gorgeous drive along winding roads between the mountains and the sea.
Cape Point is part of the Cape of Good Hope Nature Reserve (135R/$10 entrance) and is very popular—we had to queue for 15 minutes to get in the gate. The queues dispersed once we got inside the park and it was a stunning (if scarily windy) drive to Cape Point.
There are lots of hikes in the area, but as we had limited time and the wind was ferocious, we just did the 20-minute walk up to the old lighthouse (you can also take the funicular). This is the busiest area but the view is spectacular of the rugged sandstone cliffs, deep blue Atlantic and Indian Oceans, and white sand Diaz Beach. It's a shame we didn't have longer to escape the crowds—I would have loved to walk down to empty Diaz Beach.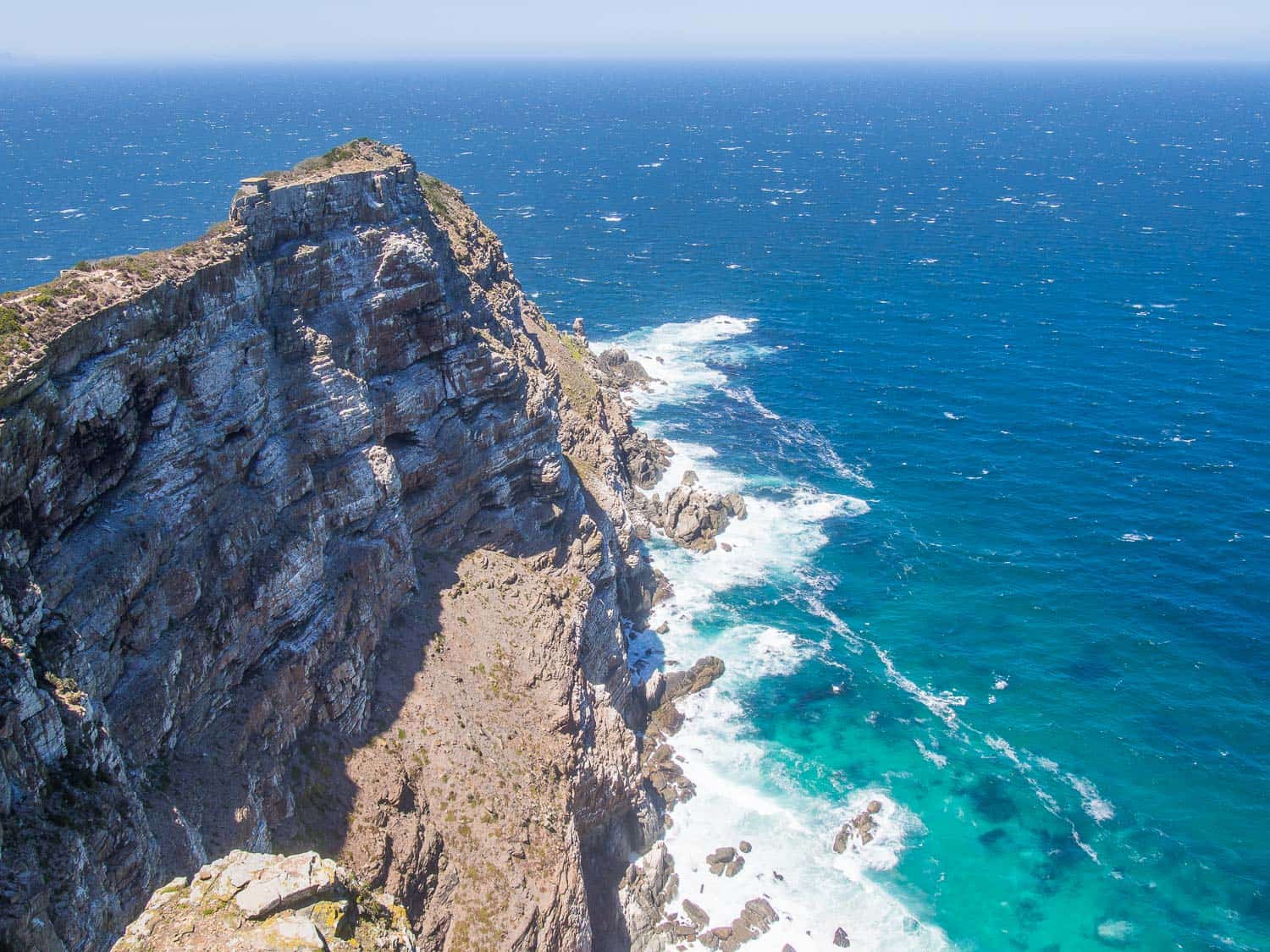 Cape Point to Scarborough: 35 minutes
Scarborough
From Cape Point you have to backtrack the way you drove in and then head left to the Atlantic side of the Cape Peninsula. We hadn't heard much about this section of the drive but it was quiet and gorgeous, hugging the coastline. We were enjoying the drive so much that we didn't stop, but the beaches at Scarborough and Misty Cliffs looked beautiful with white sand, turquoise sea, and kite surfers flying over the waves.
Scarborough to Noordhoek: 30 minutes
Noordhoek
Noordhoek has another of those long white beaches that look like the Caribbean (until you go in the freezing water). It's ideal for long walks or horse rides (we returned another day to go riding with Sleepy Hollow Horse Riding).
The small town is set back from the beach. We wanted to have lunch at The Foodbarn but we arrived 10 minutes after they stopped serving at 2.30pm. It's part of the Noordhoek Farm Village with a range of shops and cafes, so we ate a nice roast vegetable and goats cheese wrap at Cafe Roux instead.
Noordhoek is home to Cape Point Vineyards so you could stop for a wine tasting or picnic, or if you are there on a Thursday, they host an excellent food market from 4.30pm (contact them to see if it is running when you plan to visit). We combined the market with our horse riding trip (and another drive along Chapman's Peak) on another day.
Noordhoek to Chapman's Peak Drive: 5 minutes
Chapman's Peak Drive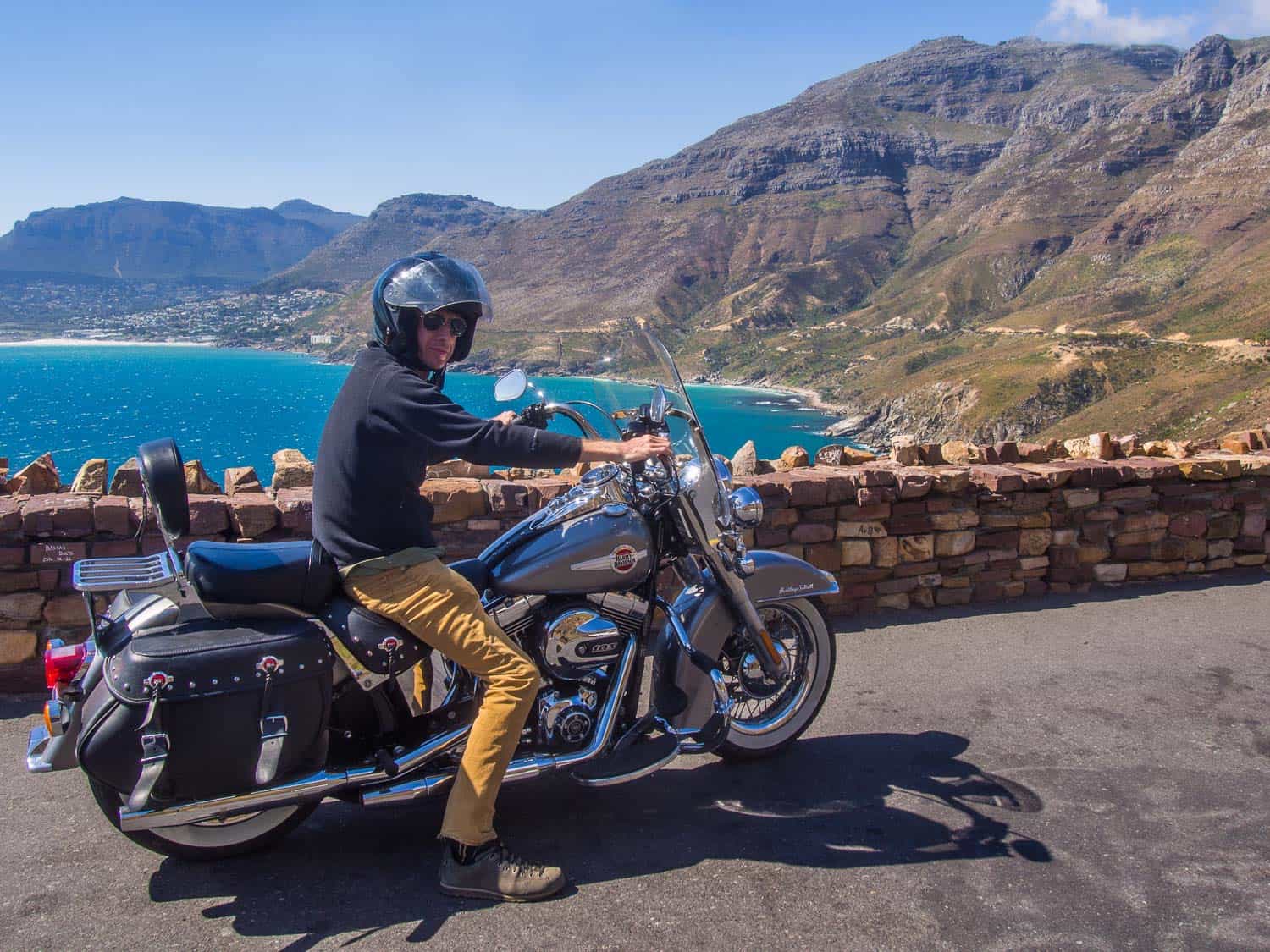 Chapman's Peak is one of the most scenic drives in the world. It starts just past Noordhoek—don't miss the view of Noordhoek Beach from above on your way past.
The windy road was incredible on a motorbike (there are 114 curves!) with dramatic craggy mountains on one side and cliffs plunging down to the blue green sea on the other. It's not a long drive but there are plenty of viewpoints to stop at, so take your time. Every time we turned a corner I was torn between the urge to take another photo and the desire to carry on enjoying the drive.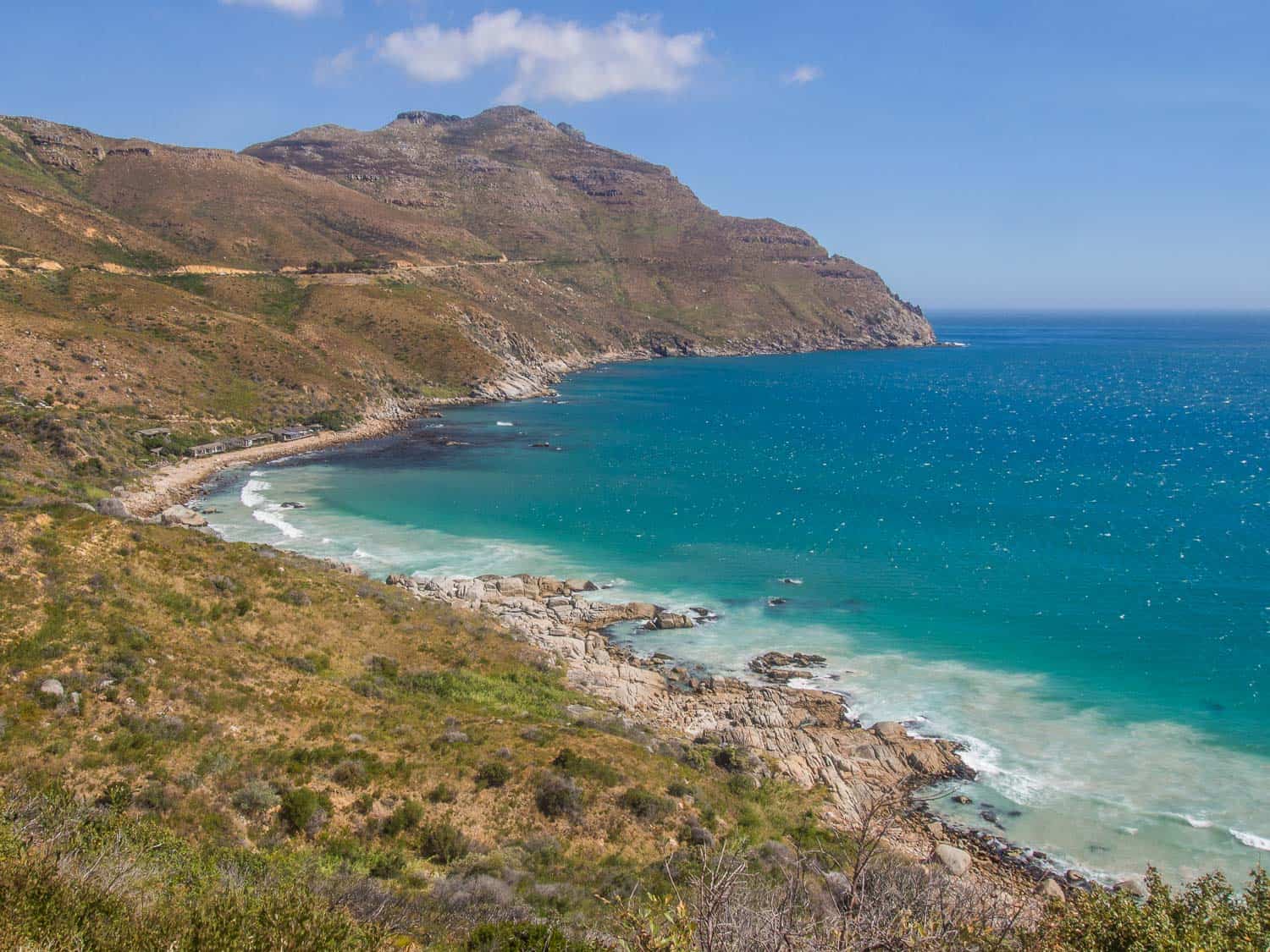 Chapman's Peak is a toll road and costs 29R ($2) for a motorbike and 45R ($3) for a car, cash only.
The drive ends at Hout Bay, where we hit awful traffic. We didn't stop in Hout Bay as we'd visited before for the weekend Bay Harbour Market. Llandudno Beach just past it is worth a visit if you have the time.
A great way to end the Cape Peninsula drive is with a sundowner at Camp's Bay about 15 minutes before downtown Cape Town. We didn't as we wanted to get our bike back before 5 pm so we didn't have to worry about finding secure overnight parking.
Chapman's Peak Drive to Cape Town: 1 hour 15 minutes
Cape Peninsula Drive Tips
We rented our motorbike from Harley Davidson Cape Town. It cost 1849R ($140) for 24 hours including two helmets.
You can also rent jackets but on a hot February day we were fine in jeans, t-shirt and fleece (we were too hot when we got off the bike).
Car hire costs around 300R ($23) for one day (less for longer rentals). Search for the best deals on Rental Cars.
Start early. Our trip took 7.5 hours but we could easily have taken longer.
To save time skip places that are closer to Cape Town (Kirstenbosch Gardens, Camp's Bay, Hout Bay) and visit them on separate trips.
Take cash for the toll road.
We felt totally safe driving in Cape Town, but you might want to avoid driving after dark.
Unofficial car guards will often look after your bike/car when you park. Tip them at least 2–5R when you leave.
We stayed in an Airbnb apartment in Sea Point, which we loved. Airbnb is great if you are staying in Cape Town for more than a few days. Save $39 on your first stay by signing up here.
You can find hotels in Cape Town on Booking.com.
Read more of our favourite things to do in Cape Town.
The Cape Peninsula is a stunning drive and experiencing it on a Harley only made it even better. Don't miss it when you visit Cape Town!
If you want to do a longer road trip across the country, see our South Africa road trip itinerary from Johannesburg to Cape Town.
If you enjoyed this post, pin it!