This page contains affiliate links. Please read our disclosure for more info.
There aren't many countries where you can get up close to lions, penguins, and meerkats, hike through verdant mountains, surf on wild beaches, relax at wineries, and enjoy gourmet feasts all in one trip. South Africa is a stunning, diverse, and affordable country that's best explored on a road trip.
You can read our detailed South Africa road trip itinerary for where we went, and in this post I'll cover how to plan your own perfect road trip.
Contents
Visas
Many nationalities including citizens of the US, UK, EU, Canada, and Australia don't need a visa for South Africa for visits of 90 days or less.
South Africa are strict about visa runs, so you can't just leave the country and return a few days later to get another 90 days. I've heard that you need to return to your home country before you can get another entry, but I'm not sure of the exact rules. We did return to South Africa for one night after two weeks in Namibia to transit through Johannesburg. We were asked about our plans and were only given a stamp for two days, not the usual 90 days.
When to Go
South Africa is in the southern hemisphere so the summer is from November to February and the winter is from June to August. The weather is temperate year-round so there is never a bad time to visit.
Our trip was complicated by the fact that the weather differs across the country. In the summer Cape Town and the Garden Route are dry, but Johannesburg, Kruger National Park, the Drakensberg Mountains, and the Wild Coast are rainy.
Our road trip was from January to February so we had warm weather throughout, usually in the high 20s or low 30s Celsius. It did rain quite a bit before we got to Cape Town (where there was a drought), but it didn't affect our trip too much and there were plenty of sunny days. Kruger is quieter and cheaper in the summer, but wildlife is harder to see (we still saw plenty).
Cape Town in February and March was glorious with hot, dry weather perfect for beaches and picnics.
It's best to avoid mid-December to mid-January when many South Africans travel during the summer holidays.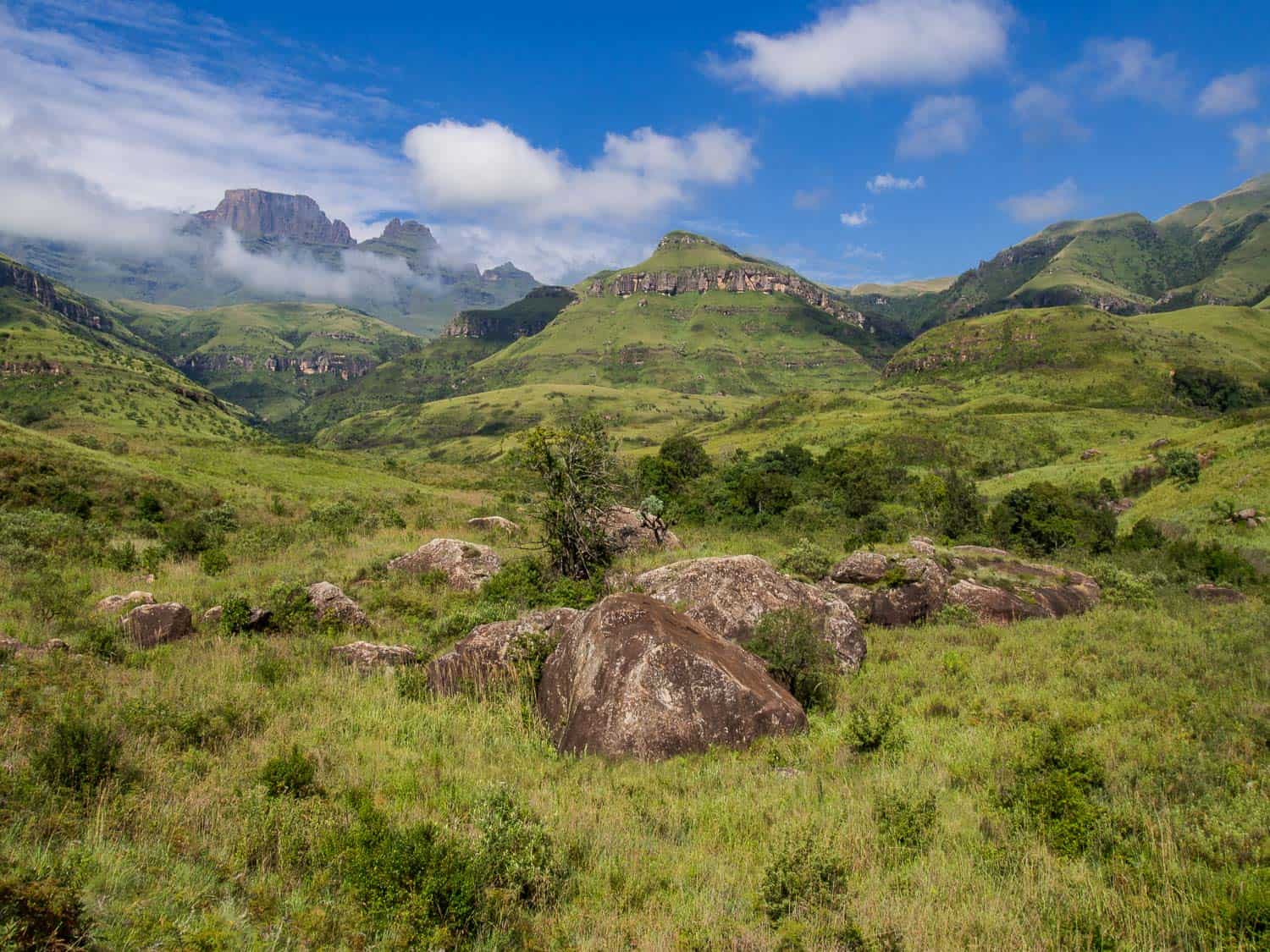 Getting There and Away
Unless you are overlanding across Africa you will most likely arrive in South Africa by plane. The main international airports are in Johannesburg and Cape Town. Johannesburg is usually cheaper so this is where we started our trip.
The cheapest flights from outside of Africa are usually from Europe or Dubai. We arrived from London via Addis Ababa on Ethiopian Airlines and left on a direct flight from Johannesburg to Singapore with Singapore Airlines. We used Kiwi and Skyscanner to search for the best deals.
We didn't need a car in Johannesburg, so we took an Uber from the airport (cheaper than a regular taxi) and back again three days later to pick up our car and start our road trip.
Language
South Africa has eleven official languages but English is widely spoken.
Safety
In the past South Africa has had a reputation for crime, including car jackings, so many people are concerned about safety. We felt safe on our road trip and didn't have any problems (our only minor issues were in downtown Cape Town). That said, we did take more precautions than we usually would, just in case.
Don't drive at night.
Keep your car doors locked.
Don't leave anything visible in the car, even sunglasses. We left our luggage in the boot but didn't open it when we parked somewhere.
Don't stop for anyone.
Keep the windows closed while driving in cities.
When you park in cities there is usually an unofficial guard who will keep an eye on your car. Tip him at least 2–5R when you leave (keep some change for this). Cape Town was the only place on our route that had car guards.
Watch for potholes.
Keep to the speed limit—on national highways it's 120km/h (75mph), on secondary (rural) roads it's 100km/h (60mph), and in built-up areas it's usually 60km/h (35mph).
Watch out for four-way crossroads. All cars have to stop and then the first one who arrived goes first.
Don't walk around at night in cities. We did walk around in small towns and safer neighbourhoods like Sea Point in Cape Town. If in doubt, ask a local.
Be careful in downtown Cape Town, especially at night and on weekends, and keep an eye on your possessions. This is the only place we had any issues on our trip with an attempted pickpocket and a threatening beggar.
We did feel safe in South Africa, though, so don't let this advice put you off. You just have to be a bit more cautious than in some parts of the world.
Car Rental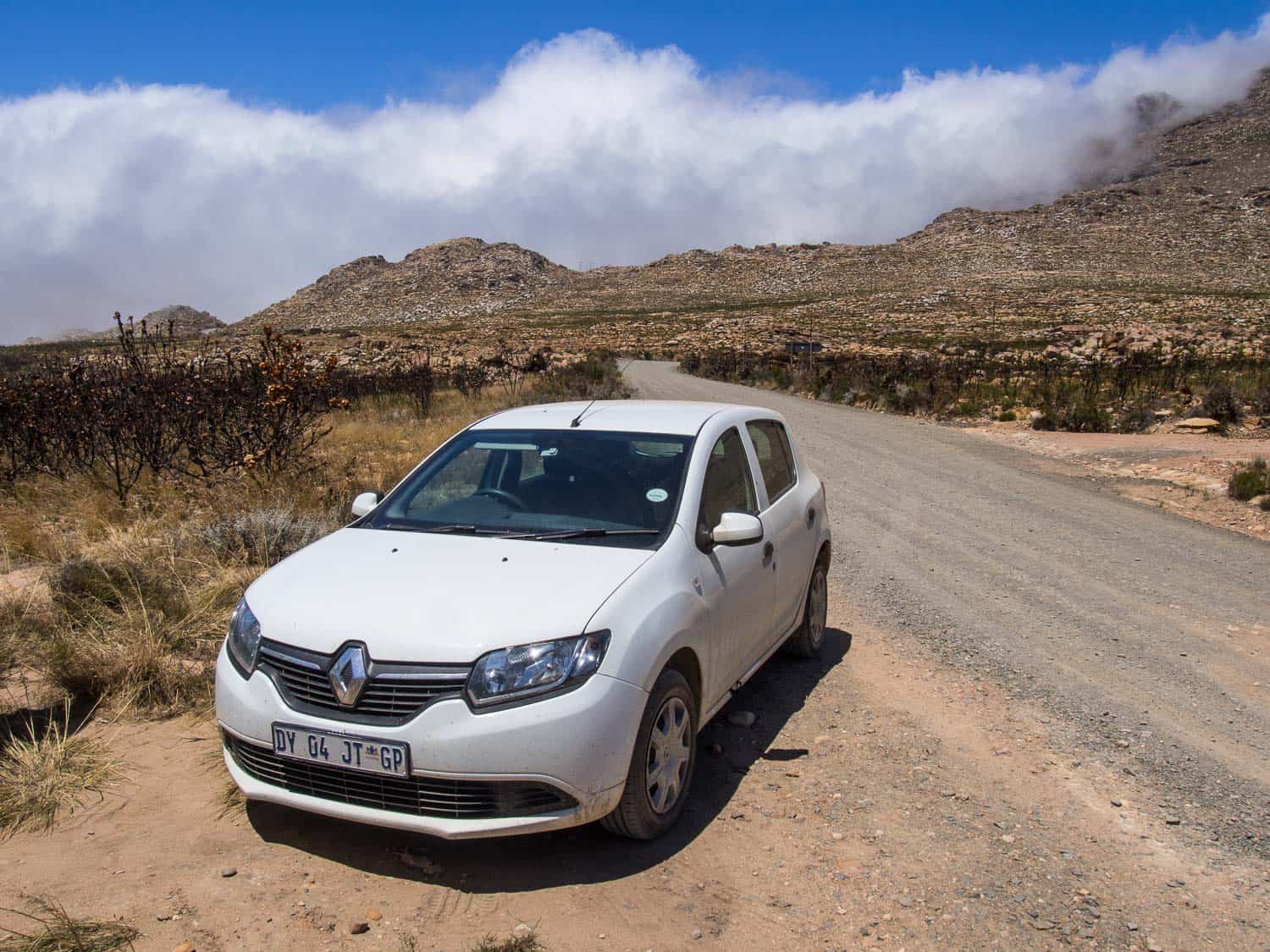 Car hire is reasonably priced in South Africa and you don't need a 4WD, so we rented the cheapest compact car with A/C which cost US$12.60 a day including one-way fee. Our Renault Sandero was fine, but in retrospect, a larger car with power steering and cruise control would have been more comfortable considering the distances we travelled.
You can usually find the best deals on comparison sites like Rental Cars, but it's also worth checking with local companies. As we were renting for a longer period (36 days), we were offered an extra discount from Around About Cars (who sub-contract to Tempest in Johannesburg) so they worked out cheaper. The only issue we had was Tempest charging us a cleaning fee at the end. We would have cleaned it ourselves if we had known this was expected.
When you are comparing prices make sure you include all the extra charges like contract fee, additional driver, and one-way fee, and make sure you have unlimited kilometres.
You'll also need a credit card in the driver's name for a deposit—a hold of 6500R ($490) was put on our card and removed on return.
We always buy separate excess car insurance as it's much cheaper than buying the policy the car rental company tries to sell you. An annual worldwide policy cost us £52 ($67).
Petrol Stations
It's a good idea not to let your petrol get too low as we did encounter some quieter stretches without petrol stations for a few hours. Some stations don't accept cards so keep some cash on hand. Most stations have a shop, toilets, and sometimes fast-food outlets.
Petrol stations in South Africa are not self-service. Stay in your car and an attendant will fill up for you and often clean your windscreen. They can also check your oil, water and tyre pressure if you ask. It's customary to tip around 5R—we usually gave more, especially if they cleaned the windows.
Road Conditions
Road conditions are generally good in South Africa and we rarely encountered traffic (Cape Town is the major exception). Although the main roads are usually tarmacked there are occasionally rougher sections with potholes. We also had to drive on bumpy dirt tracks for short sections to reach some of our accommodation as we chose more isolated locations. Our little car managed the dirt roads fine, if a little uncomfortably.
There are quite a few toll roads. We drove on five of them which cost from 43–78R ($3–6). Keep cash for these as they only accept South African cards.
Directions
We bought a SIM card and data plan (see below) and used Google Maps for directions, which worked well. The only area it didn't work was Greater Kruger as Google Maps didn't know that you had to leave the private reserves and enter through official Kruger National Park gates. Just make sure you get directions if you stay at a safari lodge.
We had 3G or at least Edge almost everywhere we visited. If you start turn-by-turn directions when you have signal they will continue even if you lose connection.
Choosing Your South Africa Road Trip Itinerary
There are so many places to visit in South Africa. I recommend getting inspiration from blogs and a guidebook (we used Lonely Planet South Africa) and creating a custom Google Map with pins for all the places you are interested in visiting. You can then calculate how long it will take to travel between them and work out a logical route. One-way rental fees and domestic flights are inexpensive so there's no need to drive back to your starting point.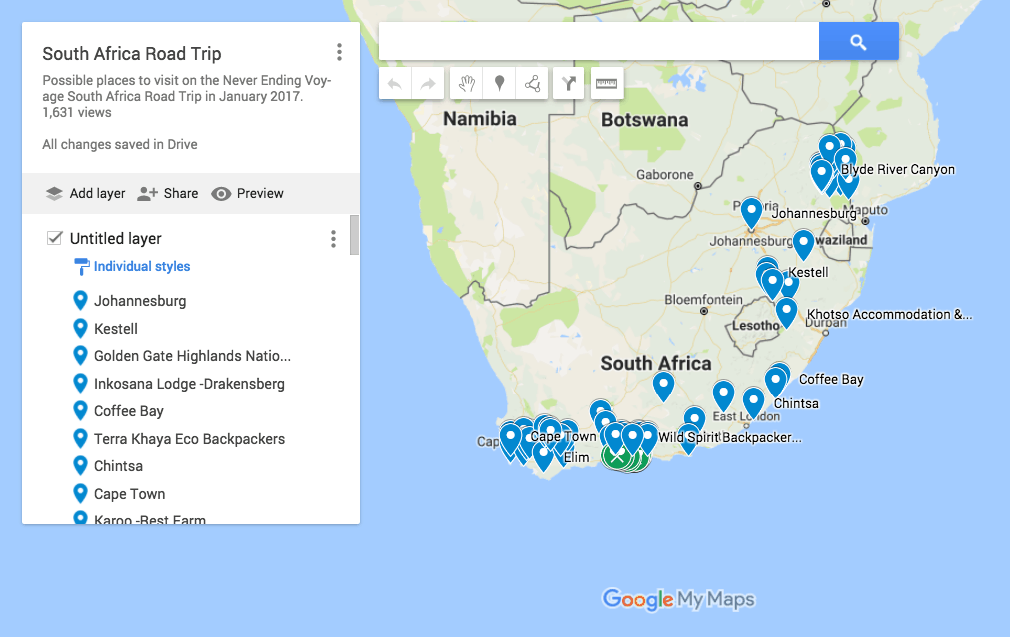 We spent 36 days (including three days at the start without a car) driving from Johannesburg to Cape Town via Kruger National Park, the Drakensberg Mountains, the Wild Coast, and the Garden Route. You can see our detailed South Africa road trip itinerary.
I highly recommend this route if you have the time as it covered a wide range of landscapes and activities. If you have less time, you could choose one section such as Kruger from Johannesburg (read our Kruger self-drive guide) or the Garden Route from Cape Town.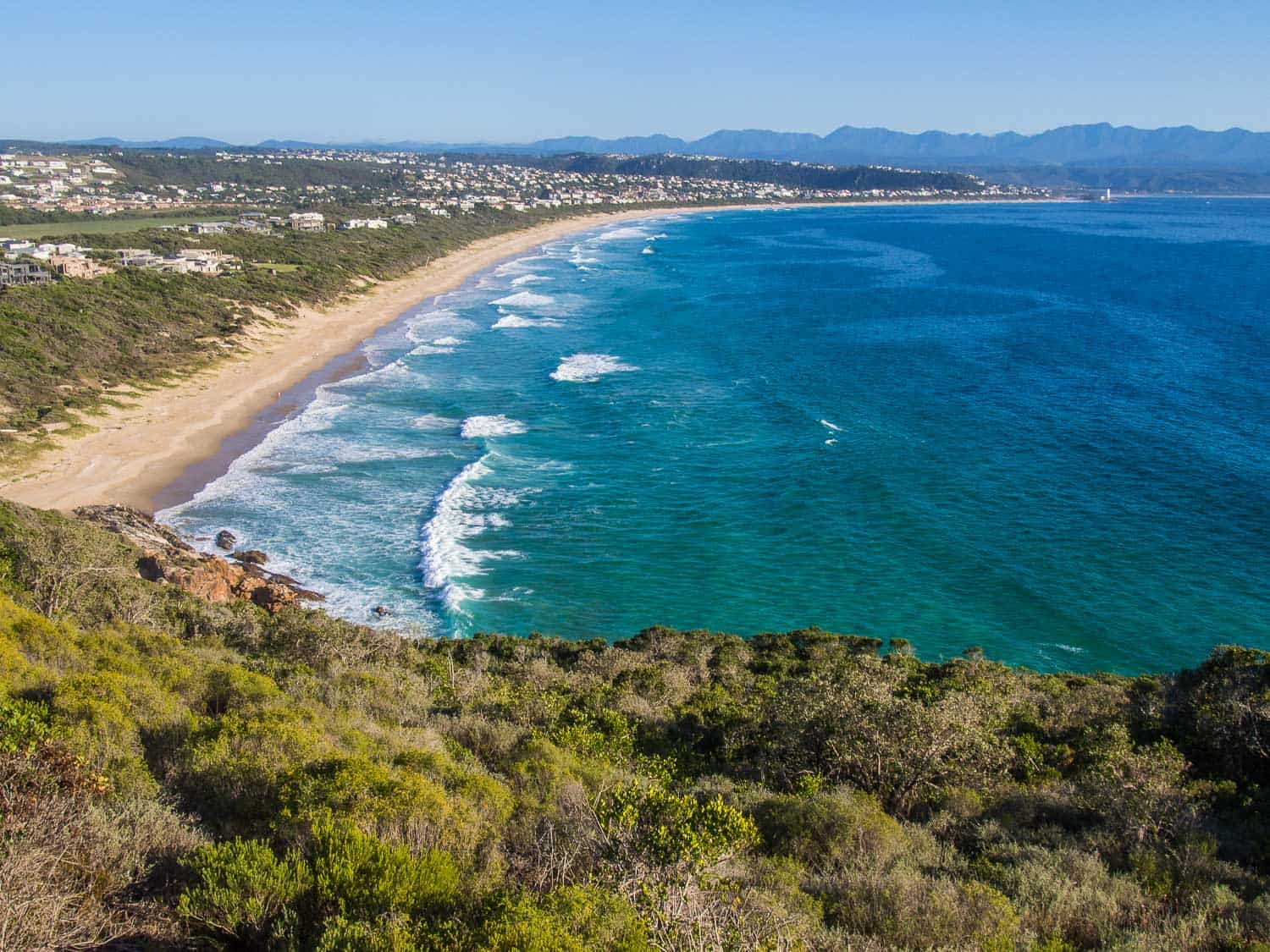 Money and Costs
The local currency is the South African Rand (ZAR). The current exchange rate is 1 USD = 13 ZAR and 1 GBP = 17 ZAR.
Credit cards are often accepted but not always, so keep some cash on you. Many ATMs charge withdrawal fees. FNB doesn't but the maximum amount you can withdraw is 2000R ($152). There are no ATMs in small towns like Coffee Bay on the Wild Coast so stock up before you go.
We spent an average of £52/ $65 per person per day on our 36-day road trip staying in mid-range accommodation and eating out frequently (we did self-cater sometimes). See our South Africa travel costs post for a detailed breakdown.
Accommodation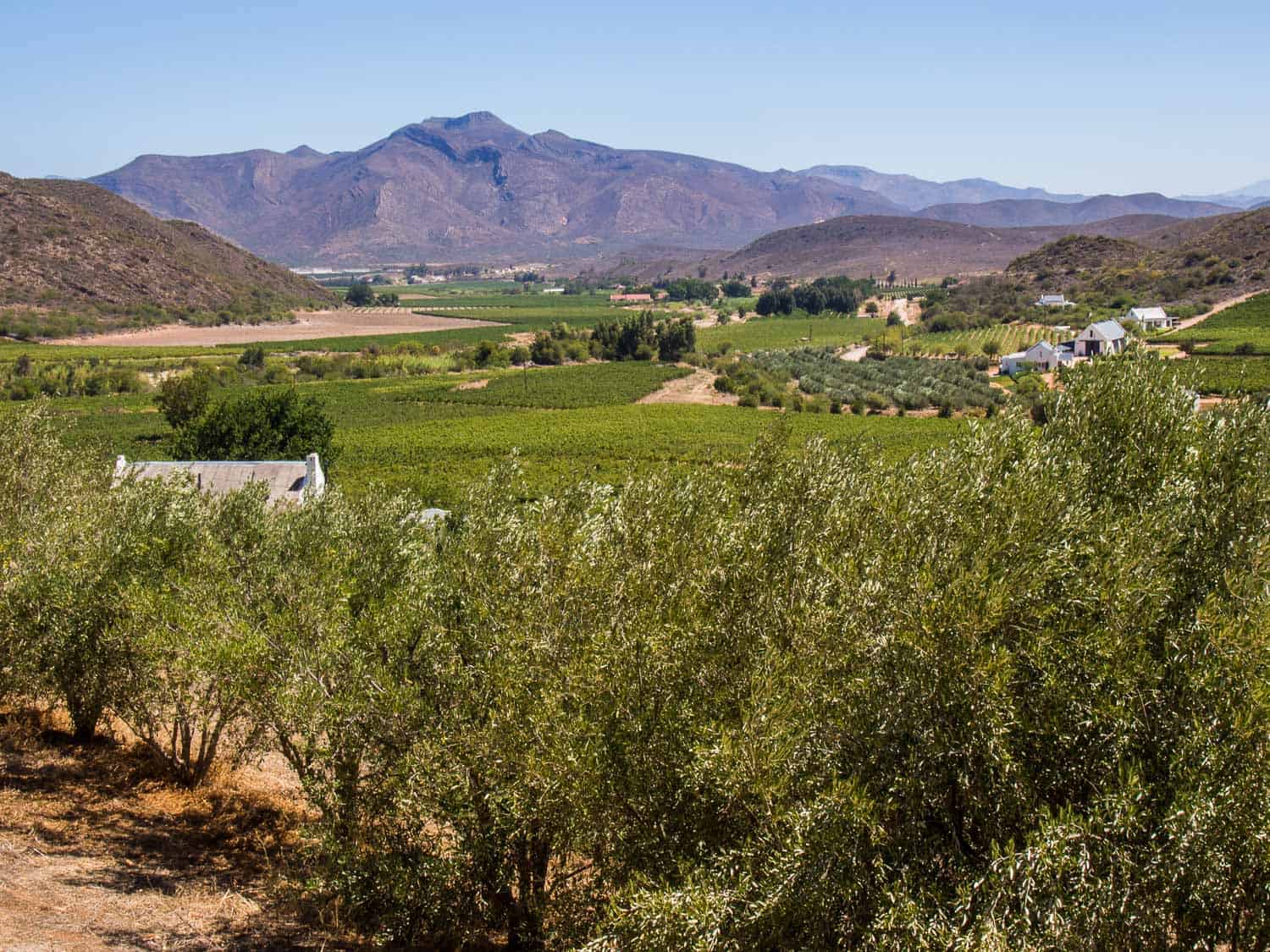 We mostly stayed in comfortable, mid-range accommodation that we found on Booking.com. Self-catering is very popular in South Africa and we almost always had a kitchen, either private in a bungalow/house or shared in a hostel.
Some of our favourites include Havana Nights in Graskop, Forellenhof Farm in Wakkerstroom, Wilderness Beach Resort in Wilderness, The Edge in Hogsback, and Orange Grove Farm in Robertson (our favourite and totally worth the splurge!).
You can read more about them in our post on special places to stay in South Africa.
Hostels are known as backpackers in South Africa and there are some good ones with private rooms as nice as hotels (such as the sea view room at Buccaneers in Chintsa). Dorm rooms are ideal if you're on a tight budget.
Airbnb is a good option in cities but limited everywhere else. We stayed in excellent Airbnb apartments in Johannesburg, Plettenberg Bay, and Cape Town. If you haven't used Airbnb before, sign up here for $39 off your first stay.
We also stayed in a few government-run SAN Parks camps in National Parks. The accommodation isn't amazing but you can't beat the settings. Rest camps are the most affordable option in Kruger National Park (book in advance as they are popular) and the best way to do a budget self-drive safari.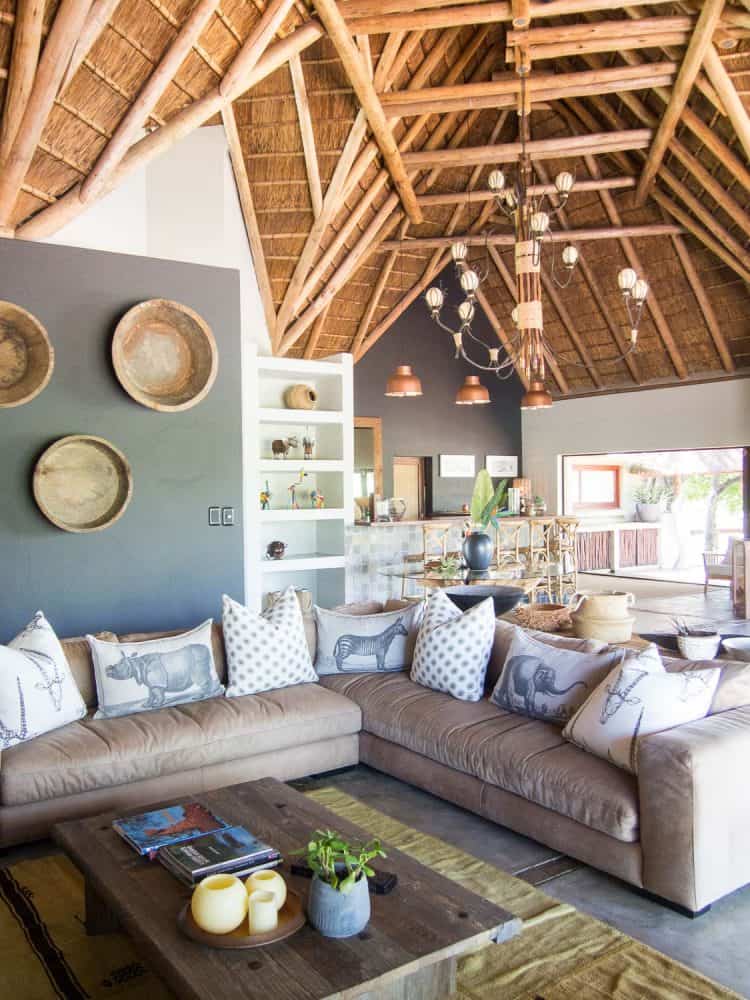 The best places we stayed were the two safari lodges in private game reserves that border Kruger National Park—read our reviews of Klaserie Sands River Camp and Umlani Bushcamp. If you can afford it, a safari lodge is well worth it.
We booked all our accommodation in advance. We booked our Kruger camps about three months in advance (as far in advance as possible is best) and other stops for our first two weeks (including eight days in Kruger) two months in advance. Outside of Kruger, I am sure we would have found availability on Booking.com nearer the time though.
Halfway through our road trip I booked accommodation for the remaining few weeks. Some places we wanted to stay were already booked up but there were plenty of alternatives. You could probably book as you go, especially outside of the summer, but we preferred to have it all sorted.
You can see exactly where we stayed in our road trip itinerary.
Internet and Mobile Data Plans
WiFi is generally slow and not all accommodation has it (or it's only in common areas). Some backpackers charge for WiFi.
We found a mobile data plan a better way to stay connected. We bought a Vodacom SIM for 105R ($8) from the Vodacom shop at Johannesburg airport and a 10GB data plan for 599R ($45). SIM cards are cheaper elsewhere but it was easier to buy it at the airport.
We had 3G most of the time but it sometimes dropped to Edge in more remote areas. We didn't have any signal in the private game reserves and outside of the camps in Kruger National Park.
Health and Travel Insurance
Malaria isn't present in most of the country except the far northeast. You might want to consider taking antimalarial pills if you are visiting Kruger National Park. It's best to get a doctor's advice before you travel.
Tap water is safe to drink in South Africa. We did get sick on the Wild Coast so you might want to be careful there.
Travel insurance is essential in case anything goes wrong. We use True Traveller insurance, which is the best and cheapest option we've found for UK/EU citizens. If you are from outside Europe, we recommend Heymondo, which is a well-respected company with excellent coverage.
Food and Drink
Wine is great and inexpensive—don't miss a visit to the Cape Winelands. Appletiser is a delicious sparkling 100% apple juice made in South Africa.
Most restaurants serve a wide variety of international cuisine like you'd expect in the US or UK. There are some traditional African dishes but these include meat. Indian food is a better option for vegetarians.
Almost all restaurants have vegetarian options although they might not be very exciting in rural areas. We ate a lot of toasted cheese sandwiches, Greek salads, and pizza. The food in Cape Town is much better—see our favourite vegetarian-friendly restaurants in Cape Town.
Self-catering is popular and you'll likely have access to a kitchen and/or braai (barbecue). South Africans love to barbecue. There are plenty of supermarkets like SPAR and Pick n Pay. Woolworths is a more upmarket option similar to M&S in the UK. Look out for farm stalls, which are small shops selling tasty homemade products like bread, jam, and baked goods.
What to Pack
A few items that would be useful:
Otherwise, we just packed our usual clothes, electronics, and toiletries in our carry-on size backpacks—see our carry-on packing list.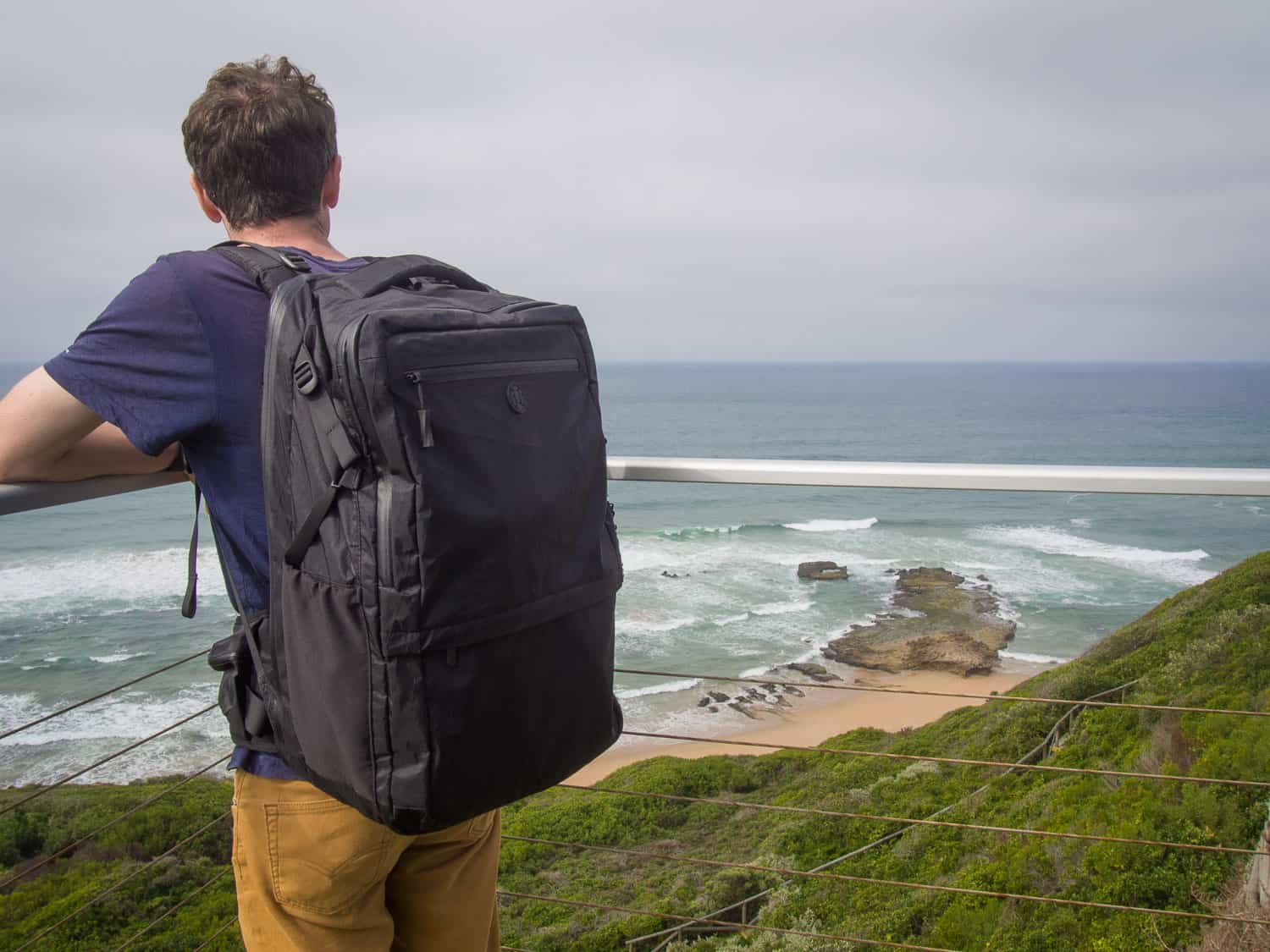 When we got to South Africa we stocked up on basic self-catering supplies at a supermarket as well as a tupperware pot for storing leftovers and a flask for coffee in the car. Simon usually made his own with his AeroPress coffee maker. A cooler would also be useful for storing perishables and cold drinks on long drives but we managed without.
Recommended Reading
I think it's important to have an understanding of recent history before you visit. If you only read one book, make it Nelson Mandela's inspiring autobiography Long Walk to Freedom. See my list of other South Africa books to read before you visit.
We also used the Lonely Planet South Africa guidebook on our Kindle.
Our South Africa Posts
For more about our experiences in South Africa, take a look at these posts:
General
Kruger
Cape Town
Other Destinations
We had an amazing time road tripping across South Africa. I hope this post has helped you plan your own road trip—let me know if you have any questions.
If you enjoyed this post, pin it!