This page contains affiliate links. Please read our disclosure for more info.
We have mixed feelings about Coffee Bay. It was both our least favourite and most memorable destination on our South Africa road trip and I wish we had given it more of a chance (we left after one night despite paying for two nights accommodation).
Coffee Bay is a small beach town on the Wild Coast in South Africa's Eastern Cape region, home to the Xhosa people and birthplace of Nelson Mandela. As we left the main road and drove down to the coast we felt like we'd entered another world. It was very different from anywhere else we'd been in the country, more traditional, more African. Lush pastures are backed by dramatic green hills and dotted with colourful rondavels (round huts with thatched roofs). Horses, cows, sheep, and goats roam freely and often wander into the road. School kids gaped at us as they walked in big groups on the side of the road.
The town didn't make the best first impression. Coffee Bay is a simple, rather scruffy village with just a handful of places to stay (mostly backpacker hostels). As we arrived outside our hostel a local asked where we were going, confirmed we were in the right place, then promptly asked for a tip. As we got out of the car more people tried to sell us handicrafts and weed.
It didn't help that we hated our hostel (more on that below) and in the heat of the day, without any shade on the beach, there weren't many places to escape to. We recovered from the long drive with a drink and cake at one of the few restaurants, enjoying the view of the bay down below, and hoping that we'd warm to the place.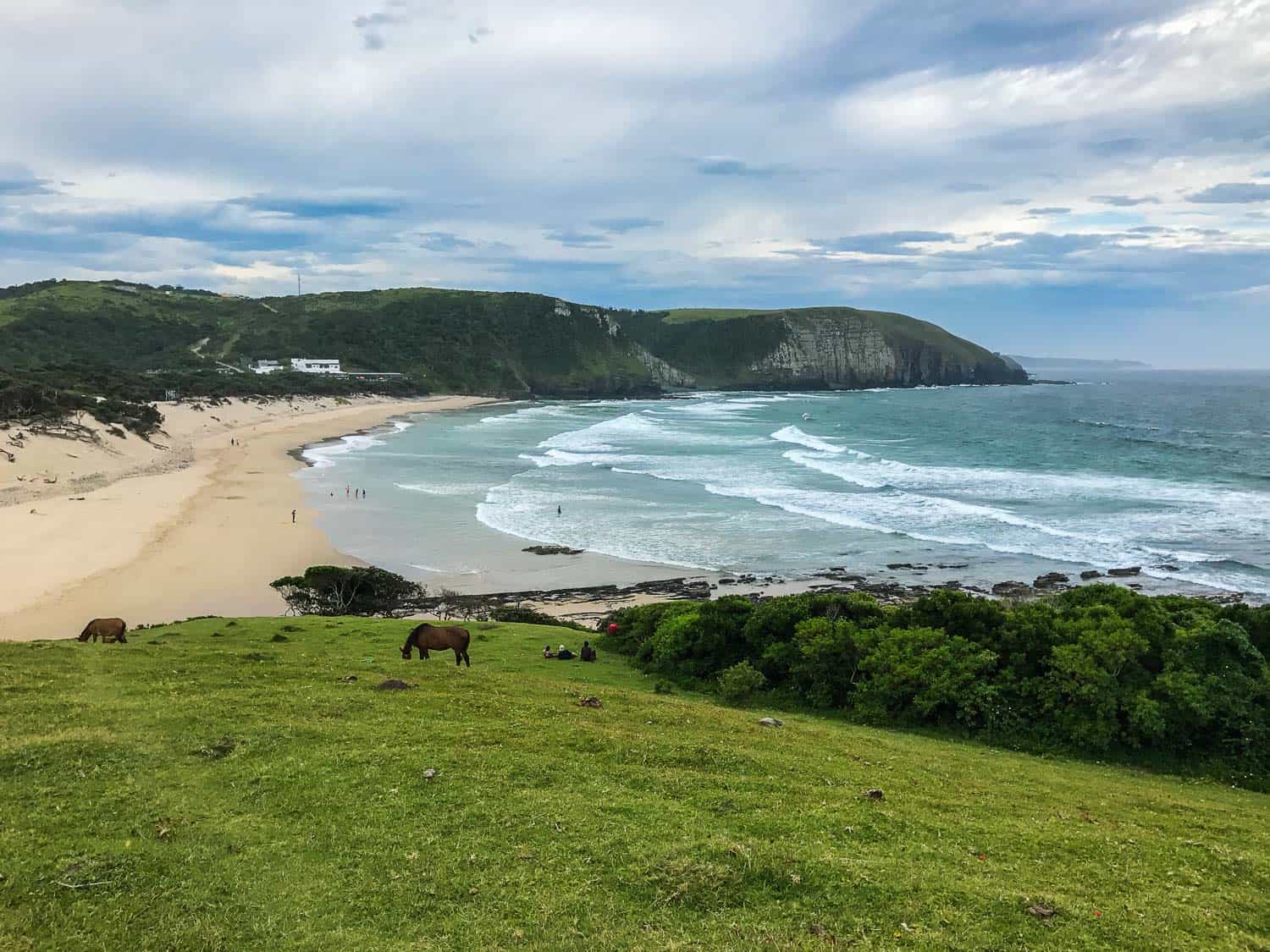 Once the weather had cooled we took a walk down to the beach, hiking along the hilltop amongst grazing horses then heading down to the kilometre-long stretch of sand. The beach is wild and beautiful and mostly empty, but it's not very inviting for sunbathing or swimming in the crashing waves. It's a popular surf spot, though, and lessons are available.
Hiking to Hole in the Wall
Other than surfing, hiking to Hole in the Wall, about 10km from Coffee Bay, is the most popular activity. Many people hire a guide or take a guided tour organised by their accommodation, but we went alone.
From Friends Backpackers we headed out of town on a grassy trail above the road. At first the path along the coastline seemed obvious, and if we kept the sea on our left, surely we couldn't go wrong.
The craggy cliffs and verdant hills reminded us of Cornwall or Ireland (complete with gloomy skies) with the addition of vibrant turquoise or orange rondavels perched high above the sea. We didn't see any other tourists on the hike, perhaps because we started at 7.30am.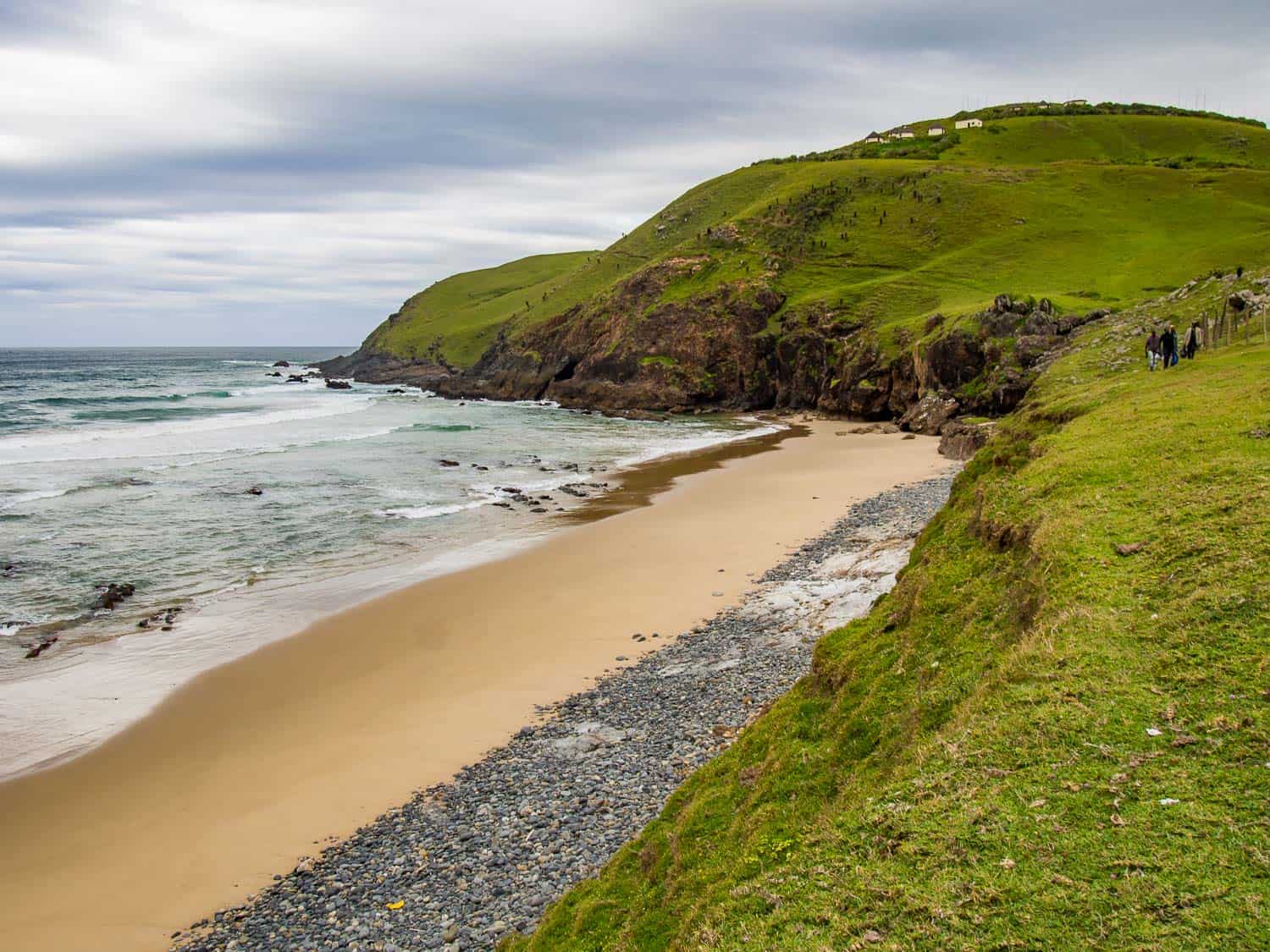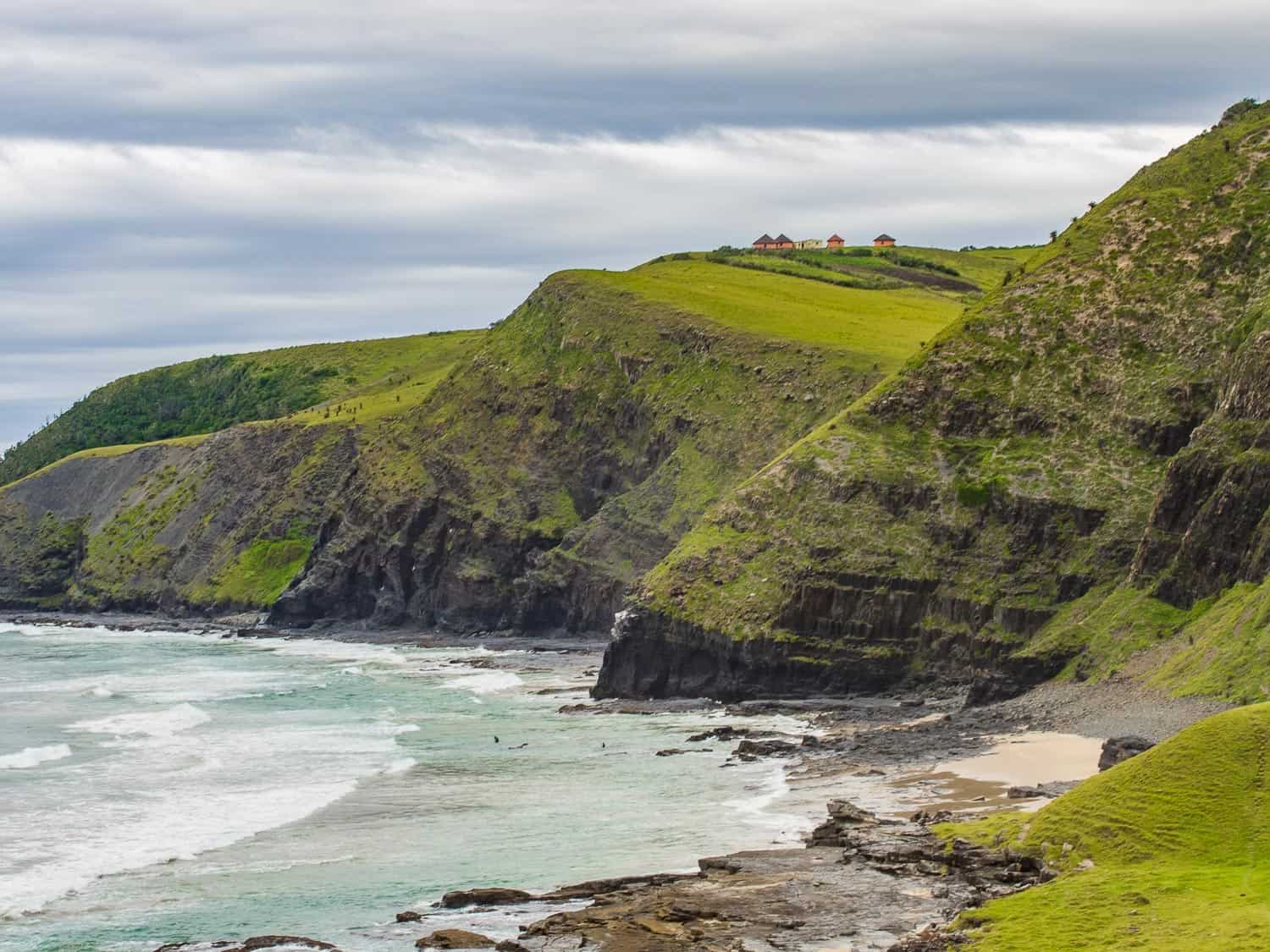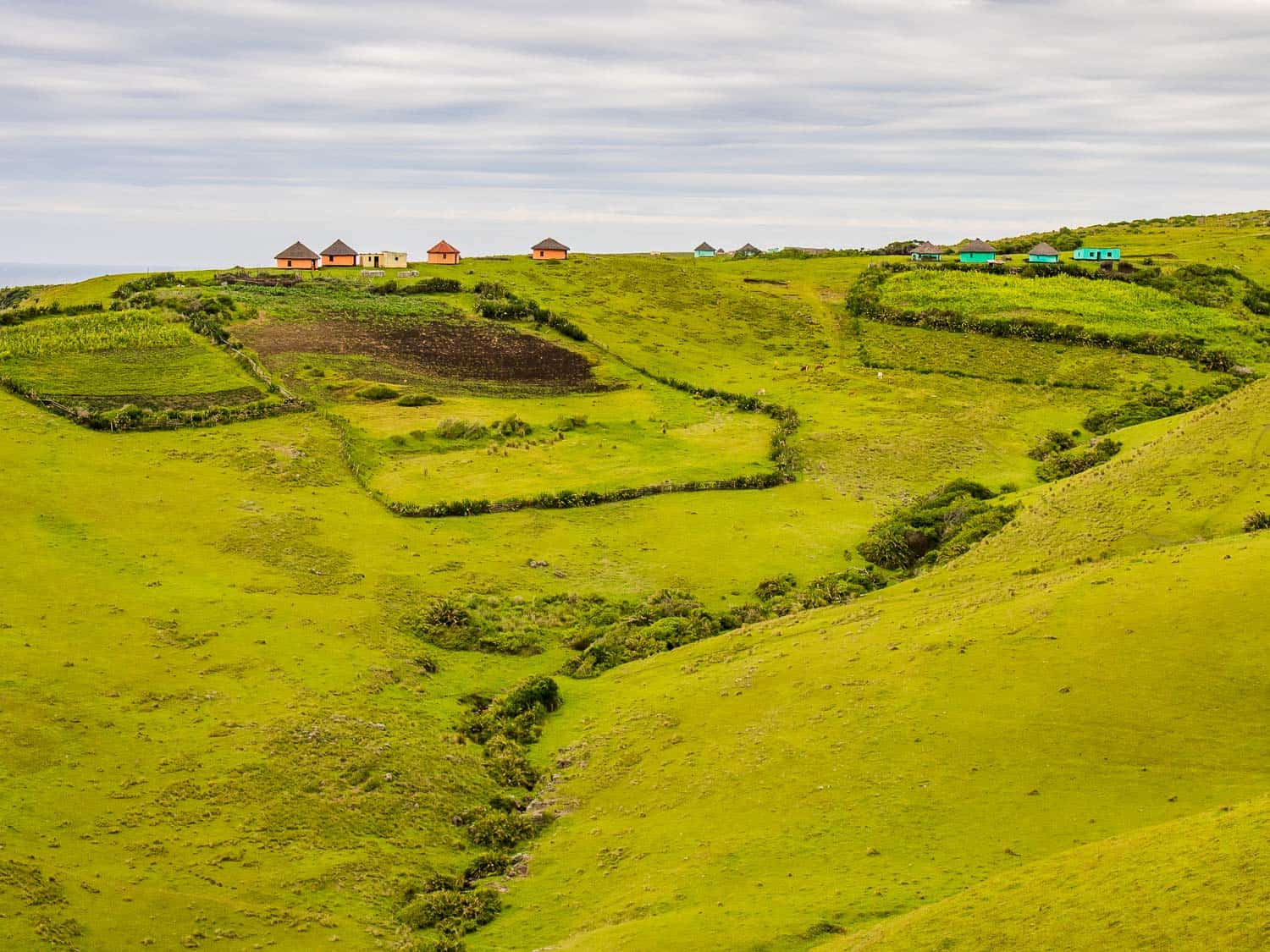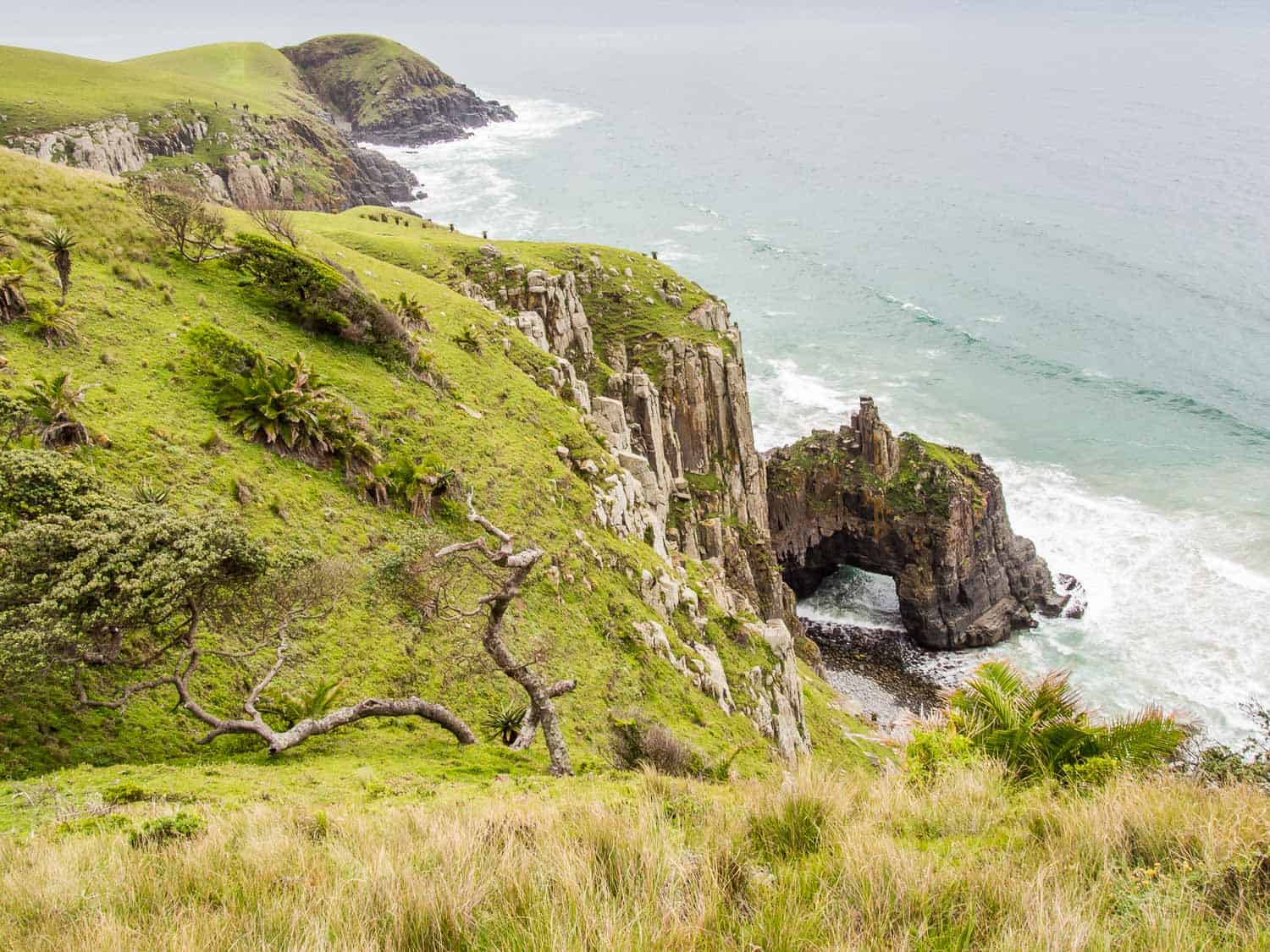 Soon the track disappeared and it wasn't clear where to walk. We ended up wandering through small clusters of rondavels and asking for directions. Each time we had to pay the young man that showed us the way, which felt a bit uncomfortable (and we were running out of change), but at least we were contributing to the local economy. Jobs are scarce here and from the look of their holey shorts and t-shirts, the people don't have much.
When we reached the small settlement of Hole in the Wall, we walked down onto the white sand beach, where more cows lazed than people. The end of the hike is a little further along the coast—the Hole in the Wall is an offshore rock formation with a gap created by the pounding waves. Honestly, it wasn't as impressive as the journey to get there.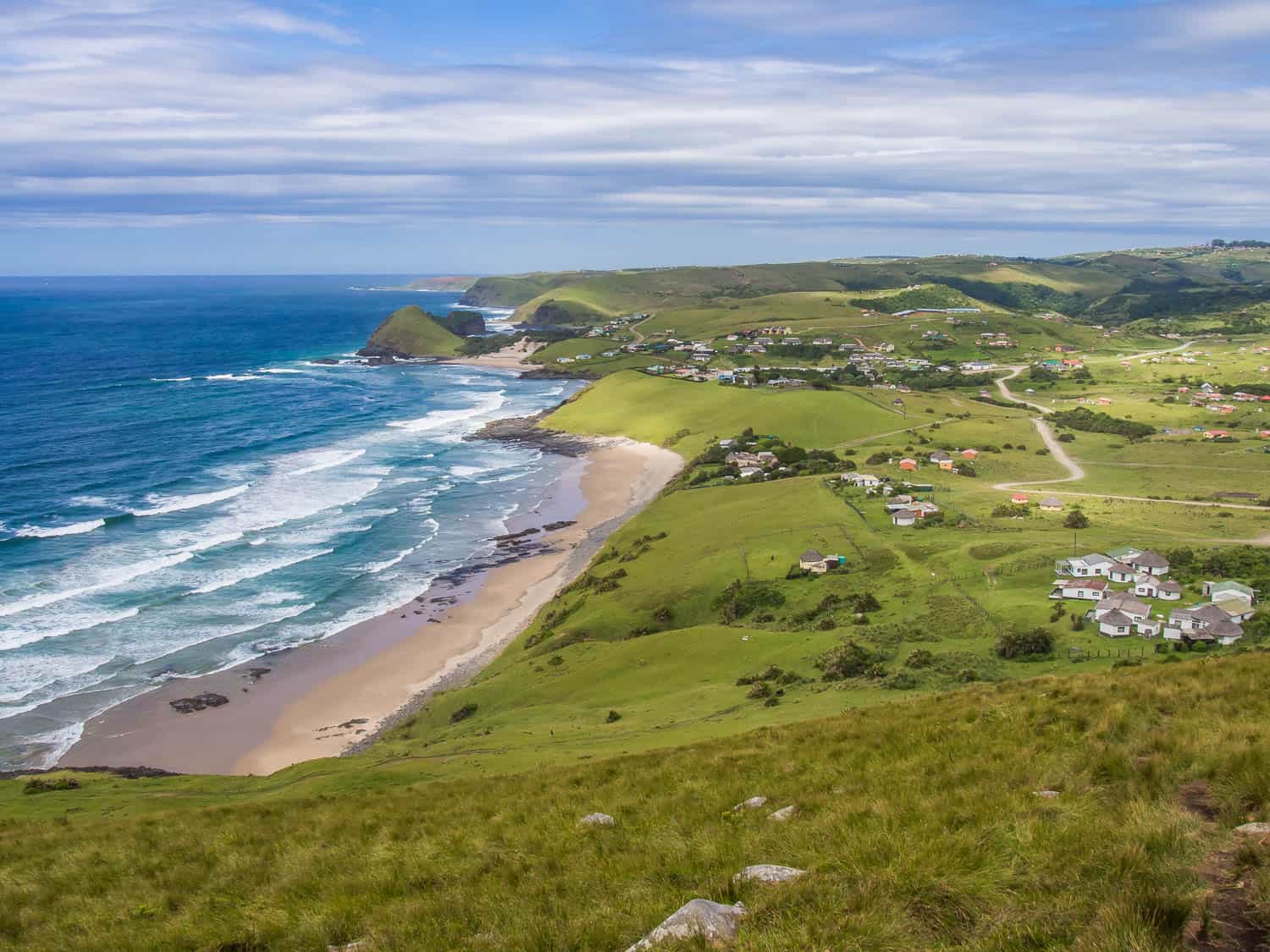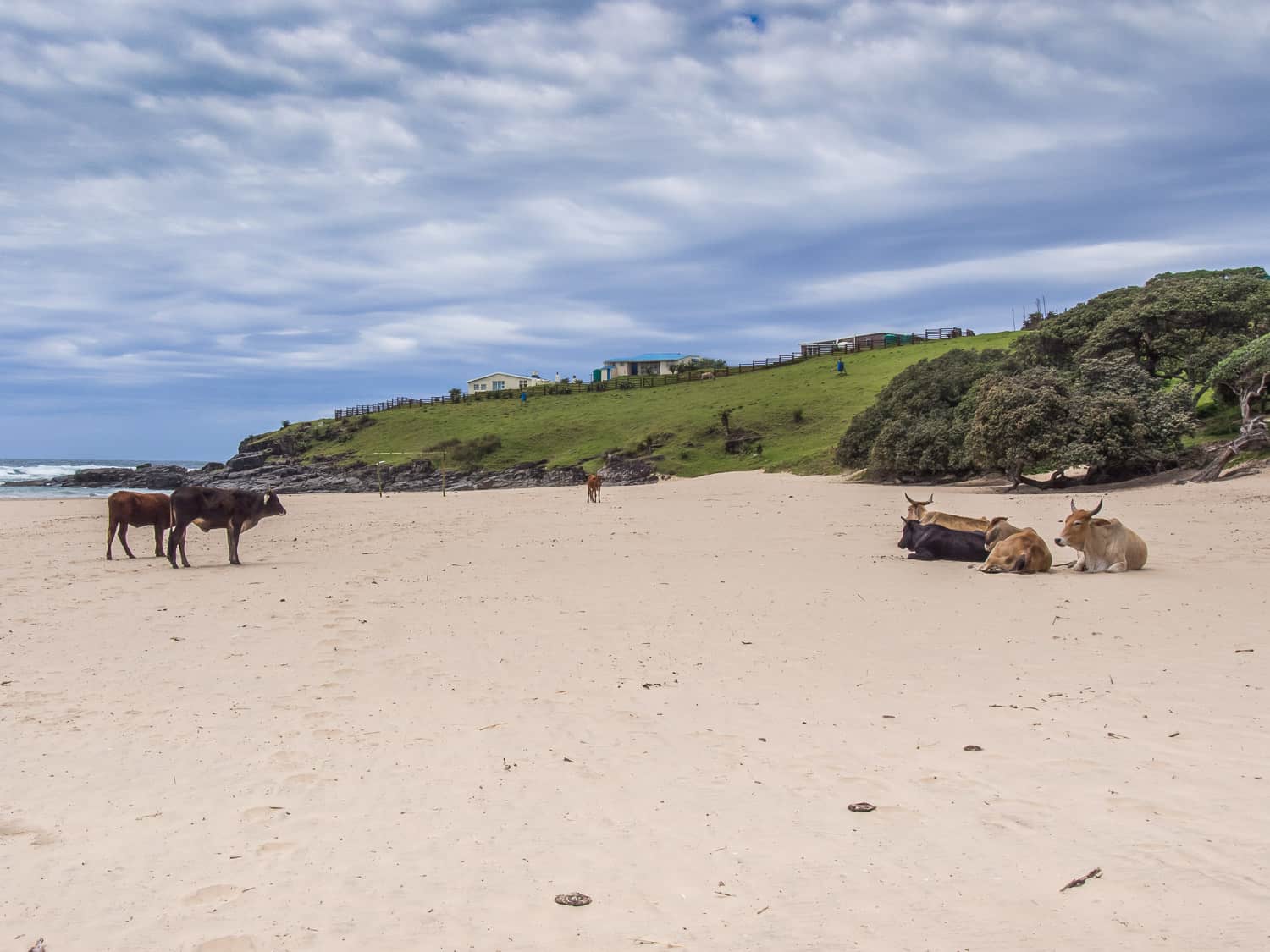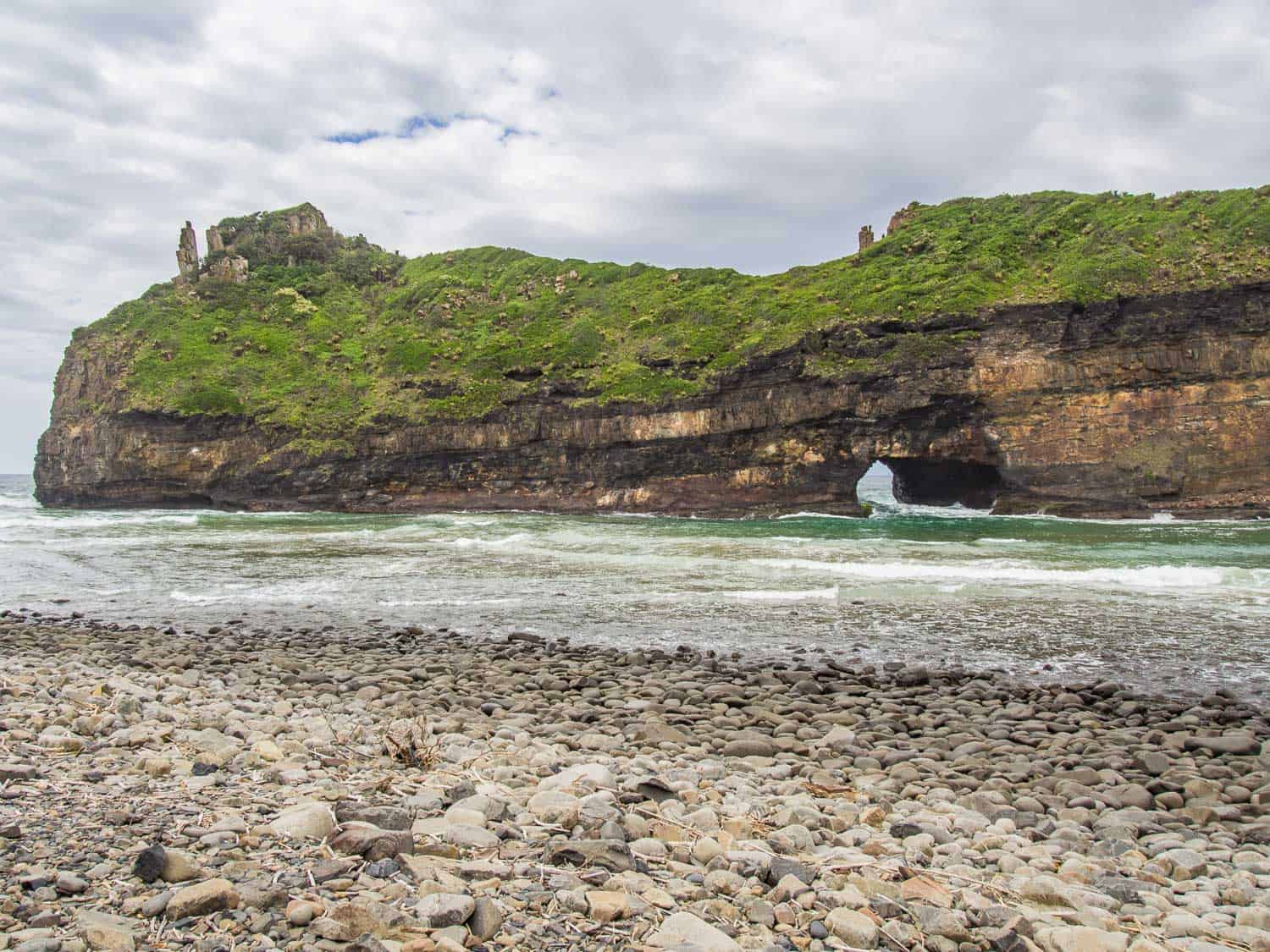 The hike took us just under three hours, and although you could walk back to Coffee Bay, most people take a taxi. We called our hostel to send the taxi (100R/ $7.60 per person) but had to wait 1.5 hours for it to arrive (things go slowly on the Wild Coast). Luckily there's a restaurant at the Hole in the Wall Hotel where we enjoyed a surprisingly good roasted vegetable, pesto and feta toasted sandwich while we waited.
The drive back to Coffee Bay took 20 minutes on a bumpy dirt road. On the way we chatted with the young driver (with an unpronounceable name—the Xhosa clicking language is a challenge). He'd been looking for a job for five years since he left school, but there's not much out there except temporary lifeguard work and occasionally driving his uncle's truck. He had big dreams when he left school but now all he wants is a steady pay cheque.
He can't afford to get married as the local custom means that he would need to pay his bride's parents 10 cows, which cost 10,000R ($760) each—a huge amount even to us, impossible for a young guy from this area. He explained he could maybe find a wife for five cows if she already has a child, but an educated wife who can work would cost even more, perhaps 20 cows.
It was an enlightening conversation that gave us a new empathy for the hustlers of Coffee Bay—what other choice do they have?
Where to Stay in Coffee Bay
There isn't a lot of accommodation in Coffee Bay—just a handful of backpackers, one B&B, and an overpriced hotel—and it gets booked up quickly (especially double rooms).
For mid-range accommodation, I recommend Geckos B&B, which has pleasant rooms, friendly owners, and an excellent breakfast included. It looks like the nicest place to stay in Coffee Bay and I'm sure we would have had a much better experience if we had stayed there (it was closed during our stay).
If you are looking for a hostel, Coffee Shack is the most popular one. It offers dinners, cheap surf lessons, and is known as the place to party. Sugarloaf Backpackers is another option.
I do NOT recommend staying at Friends Wild Coast Backpackers. We stayed in their best room—a garden ensuite double—and it had walls like cardboard, a leaking toilet, and was dark, damp, and smelt of mould. The shared kitchen was gross and it all felt very ramshackle. I'm pretty sure we got sick from here. We left after one night (straight after our hike) despite having paid for two.
The one hotel, Ocean View Hotel, has a great location right on the beach but the rooms look rather run down. We met a couple who said it was the most expensive and worst place they stayed in South Africa. That said, I think we would have been happier here than at Friends, so it's worth considering if you're not a hostel fan and the B&B is full.
You can find a few other accommodation options in Coffee Bay here.
Where to Eat in Coffee Bay
There isn't a lot of choice. Friends Wild Coast Cafe (just past Friends Backpackers) has a nice sea view, good cake, and a small menu including vegetarian options. Most backpackers also offer meals.
Getting to Coffee Bay
We visited on our month-long road trip from Johannesburg to Cape Town. We came from Underberg in the Southern Drakensberg (5.5 hours) and our next stop was Chintsa (4 hours) further along the Wild Coast. We had a small standard car and used Google Maps for directions. We'd heard that the road from the N2 to Coffee Bay was terrible, but the potholes must have been repaired as it was fine. It still took us 1.5 hours due to the animals on the road.
You can also reach Coffee Bay on the Baz Bus.
I wish we had given Coffee Bay more of a chance (and stayed somewhere else) as it was one of the most memorable places we visited in South Africa with dramatic coastal scenery and an insight into rural African life. If you are looking for somewhere different from the touristy beach towns of the Garden Route, I recommend adding Coffee Bay to your itinerary.
If you enjoyed this post, pin it!