This page contains affiliate links. Please read our disclosure for more info.
Oudtshoorn is often included on South Africa's Garden Route drive from Cape Town and it's definitely worth taking the detour inland. It's only a short drive from the coast but the scenery of the Klein Karoo semi-desert is dramatically different. It's hotter and drier but not at all lifeless—the wide open plains dotted with thorny bushes and backed by orange, red and chocolate mountains are starkly beautiful.
Oudtshoorn is known for its ostrich farms as it was the world's ostrich capital in the late 1800s when adorning yourself with ostrich feathers was the height of fashion. As vegetarians we decided to skip those (although our hotel did have some adorable baby ostriches), but there are plenty of other things to do in Oudtshoorn.
Contents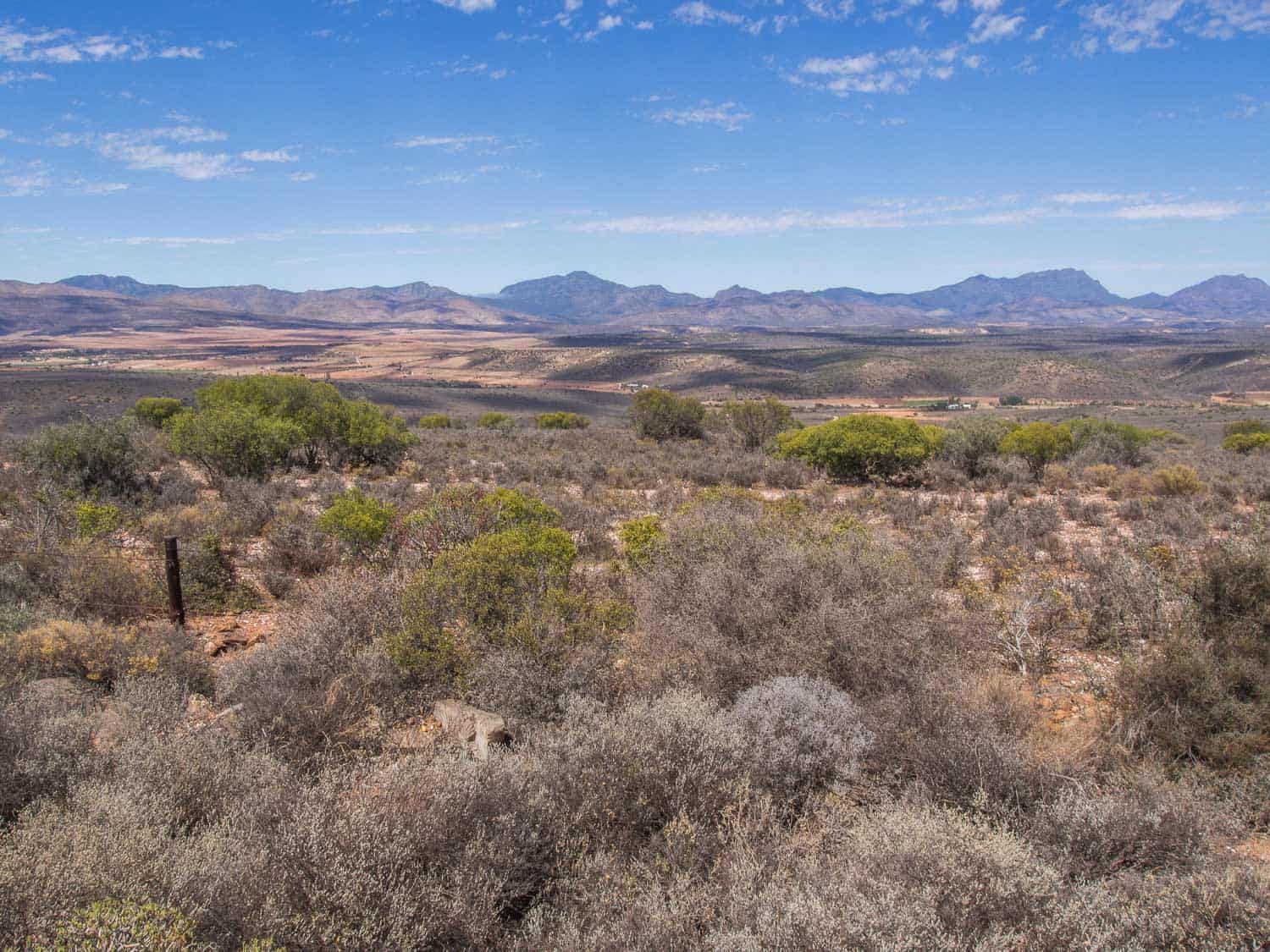 Things to Do in Oudtshoorn
We only had two nights in Oudtshoorn, but we managed to fit a lot in and still have time to relax by our hotel pool (much appreciated in the heat). We arrived in time for lunch on the first day before the 1pm tour of Cango Caves. On our second day we did an early morning meerkat safari followed by the drive up to Prince Albert over the scenic Swartberg Pass.
Cango Caves
The Cango Caves are a series of dripstone caverns with vast halls of towering stalagmite formations, some over a million years old. The extensive system of tunnels and chambers stretch for 5km but only 1.5km are open to the public. We did the one-hour Heritage Tour (there's also a longer Adventure Tour where you crawl through tight spaces) with a knowledgeable and entertaining guide who even sang for us to show off the cave's acoustics.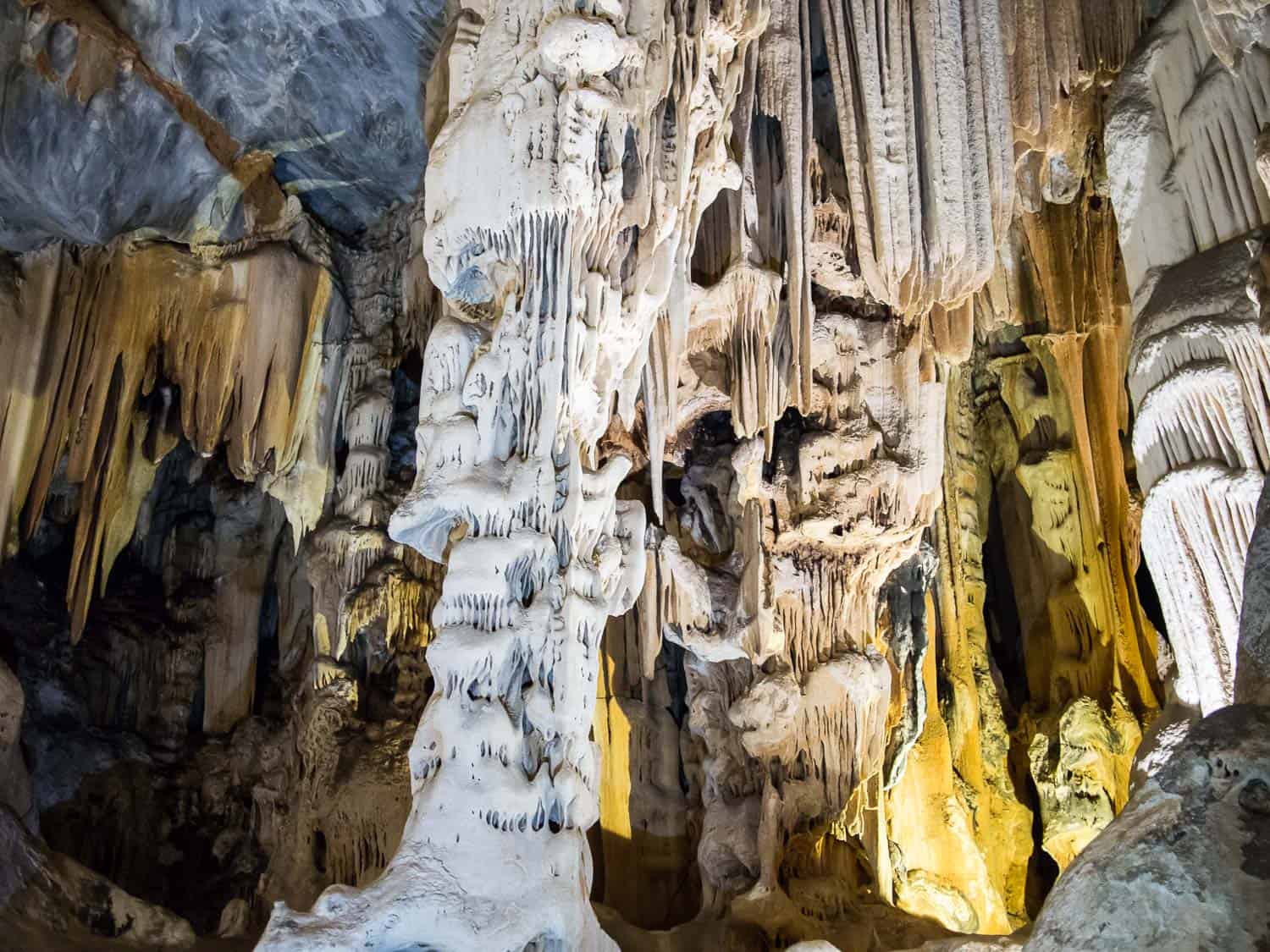 We found the group too big (the Adventure Tour groups are much smaller), but the caves are very impressive and definitely worth a visit.
The Cango Caves are 29km out of town so you'll need to drive or take a tour with one of the backpackers in town. The Heritage Tour costs R110 ($8) and it's recommended to book ahead.
Meerkat Safari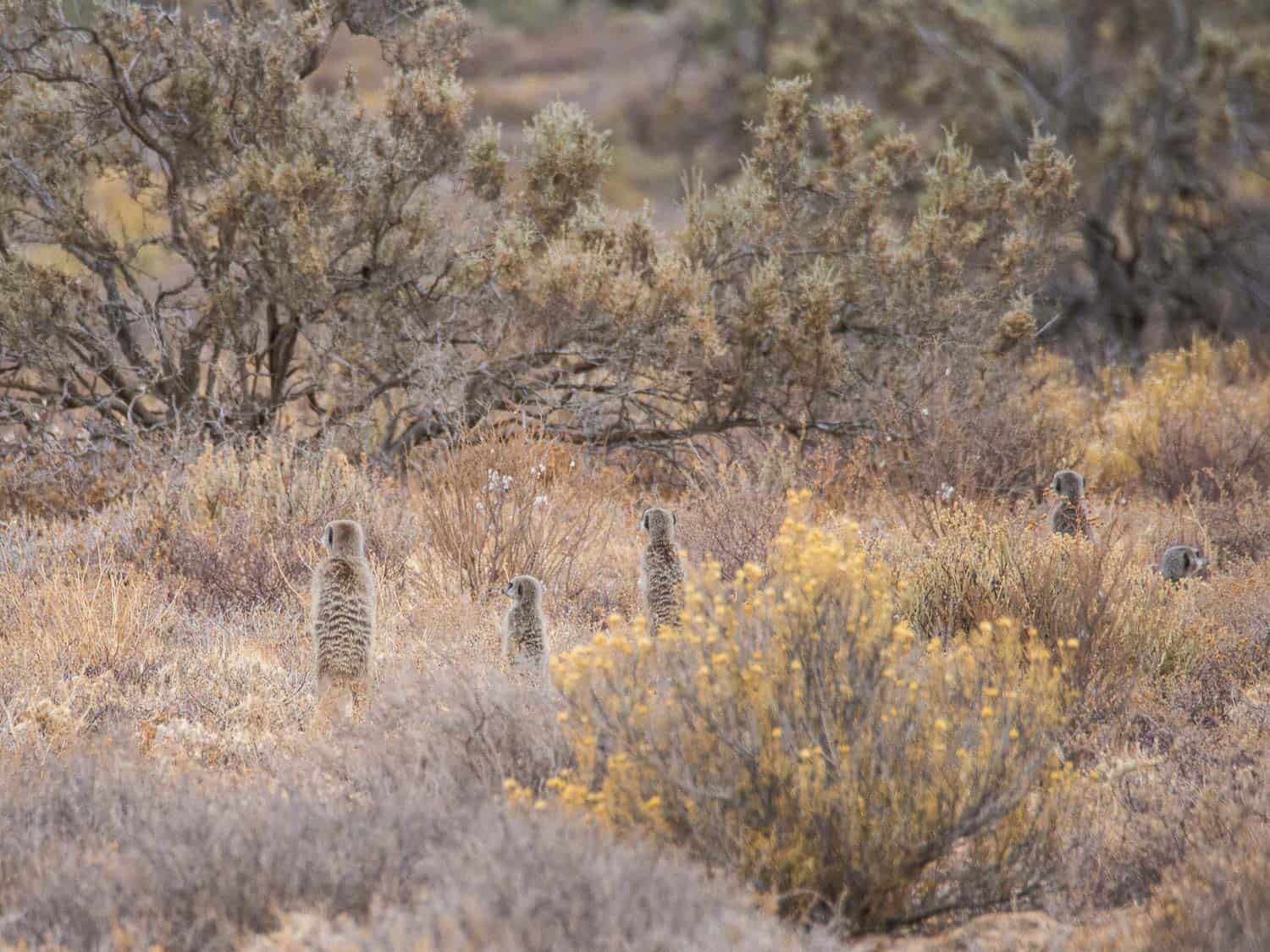 The highlight of our stay in Oudtshoorn was our tour with Meerkat Adventures to see meerkats in their natural habitat.
Meerkats are difficult to see in the wild (they are one of the Shy 5) as they are burrowing animals that live in large underground networks. The staff at Meerkat Adventures has been researching meerkats for years, tracking the families and their burrows and spending a year or more gradually getting the families used to the sounds and presence of humans (although they do not touch or feed them) so that we can observe them at a close distance.
Our tour began before sunrise at 5.30am with a coffee and rusk and then a short walk to one of the burrows—the staff had scouted out the location the night before. We were all given camping chairs which we set up in a semi-circle about 10 metres from the burrow and began our wait.
It was a cloudy, windy morning so the meerkats were reluctant to leave their burrow and we had to wait over an hour for them to emerge. In the meantime our guides gave us lots of information on these cute animals. We learnt how they mate for life and usually it's the alpha female in charge. They live in families of around 6–10 and the female babies stay with the family while the males are kicked out to start their own.
Meerkats are one of the few animals in this desert area that come out during the hot day. They wait until the sun rises and then one comes out to see what the weather is like before giving the others the all clear. They warm up in the sun then head out to hunt scorpions, small snakes and millipedes—anything small they can grab easily.
Finally, the first meerkat emerged from the burrow! He stood on his back legs and looked around to check everything was safe before inviting the others up. We watched them warm up—some of them play fighting—and they really are adorable. It felt very special to have this rare opportunity to see them in the wild.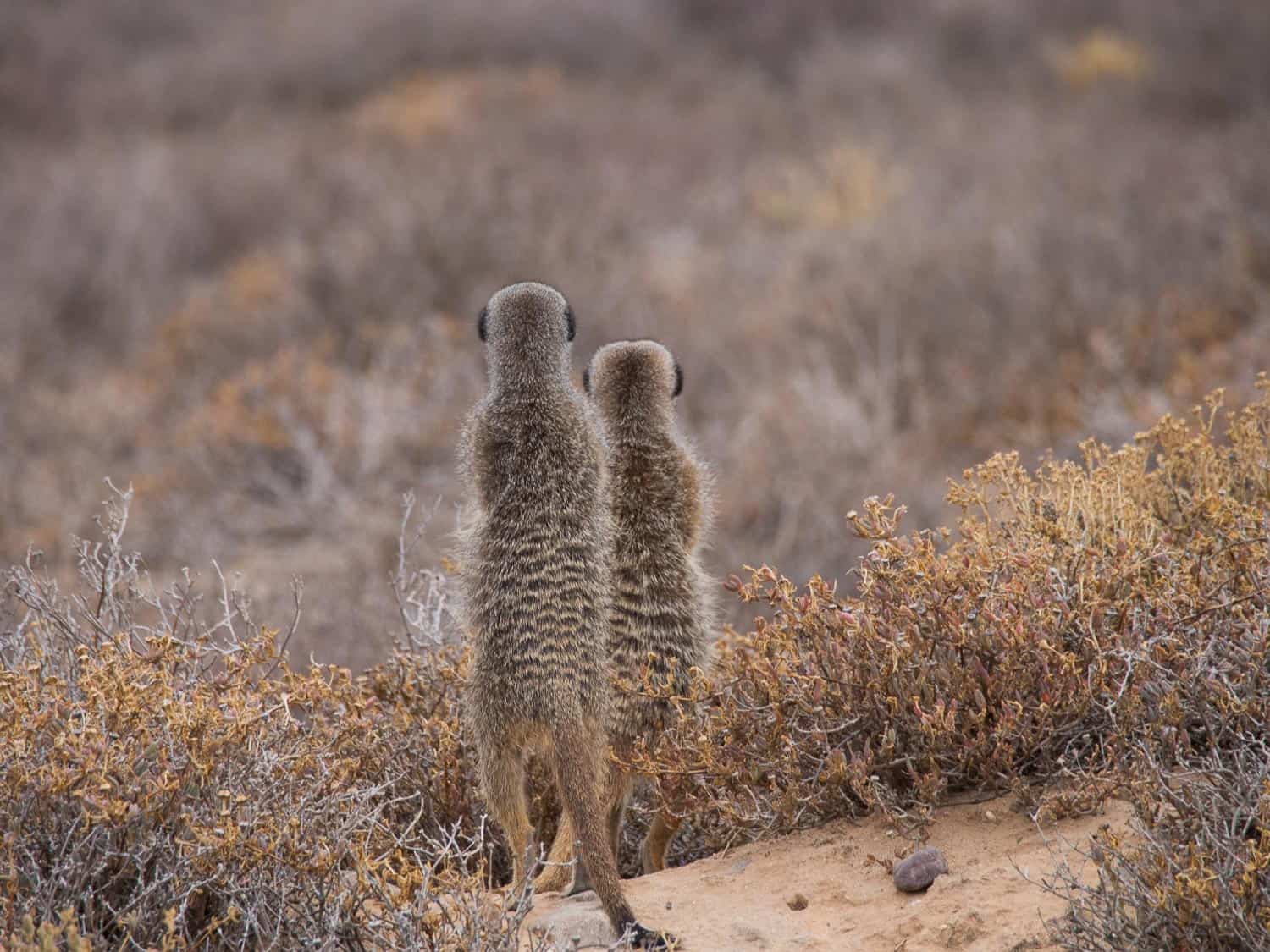 After a while they headed off on the hunt—too fast and camouflaged for us to follow—and we went back to our hotel for breakfast.
The Meerkat Adventures tour costs R600 ($45) and you can book on their website. Tours start before sunrise and last 2–3 hours. Ours was from 5.30–8.15am. Take warm clothes and a camera with a long zoom.
Swartberg Pass
After breakfast and a short nap we headed to Prince Albert over the Swartberg Pass, one of the most scenic mountain passes in South Africa. We found the drive rather arduous in our compact car with numerous switchback turns on the bumpy gravel road. On the first half the views were obscured by clouds but when we emerged on the other side we enjoyed the dramatic views of the rocky mountains.
It took us about 1.5 hours to reach Prince Albert, a cute historic village dating back to 1762. We wished we were spending the night here as it was too hot at midday to look around and I was feeling sick from the drive (I should have taken travel sickness pills).
We had lunch at The Lazy Lizard, then headed back to Oudtshoorn via De Rust and the Meiringspoort Pass. Although this is a longer route, it's paved so it felt much easier and was still beautiful, if less dramatic. The whole trip took us about four hours, but it could take all day if you spent more time in Prince Albert or stopped at the Meiringspoort Waterfall on the way back.
Where to Stay in Oudtshoorn
We chose to stay out of town for peace and relaxation. De Oulde Meul Country Lodge is a large farm on the road towards Cango Caves and Swartberg Pass. We liked the tranquil location and the two pools for cooling off in the desert heat. Our ensuite double room was a little dated, but it had a fridge and air conditioning and was good value at R630 ($47) a night including a large breakfast buffet. Self-catering accommodation is also available. The restaurant gets good reviews but we found the few vegetarian options uninspiring.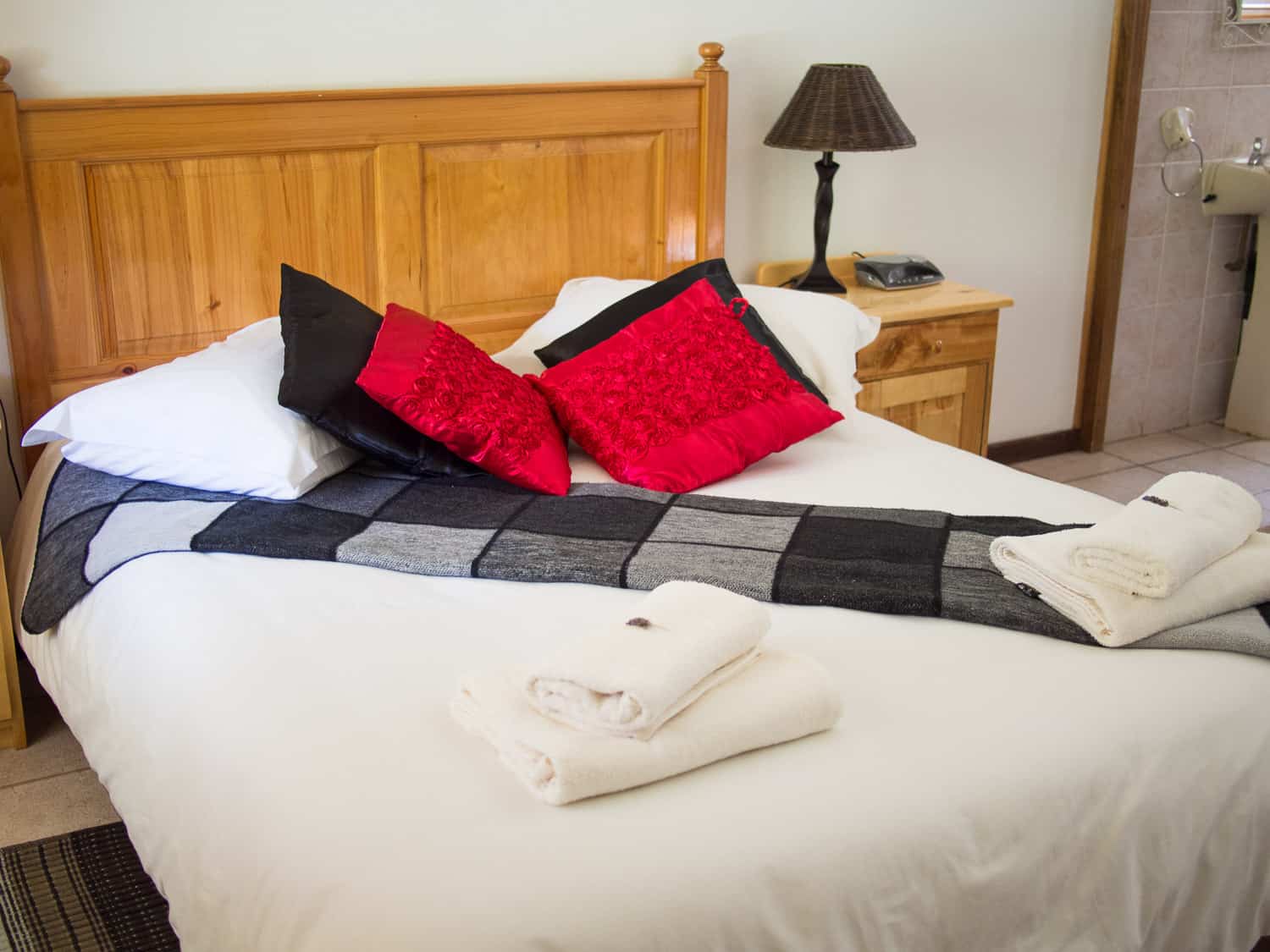 If you'd prefer to stay in town, there are plenty of B&Bs and backpackers such as Karoo Soul, Karoo Sun and the Gumtree Guesthouse. You can find more accommodation in Oudtshoorn here.
Where to Eat in Oudtshoorn
Oudtshoorn is a very meaty area—ostrich is popular—but we did manage to find some vegetarian options.
Buffelsdrift Game Lodge has a restaurant overlooking a waterhole where we ate while watching birds, hippos, antelope, and giraffe. The setting was gorgeous, especially at sunset, but the food (at least the vegetarian options) was just average. At least they do have veggie dishes though as not everywhere around here does.
Nostalgie in the centre of Oudtshoorn has good reviews and a few vegetarian dishes, but we didn't have time to try it.
Getting to Oudtshoorn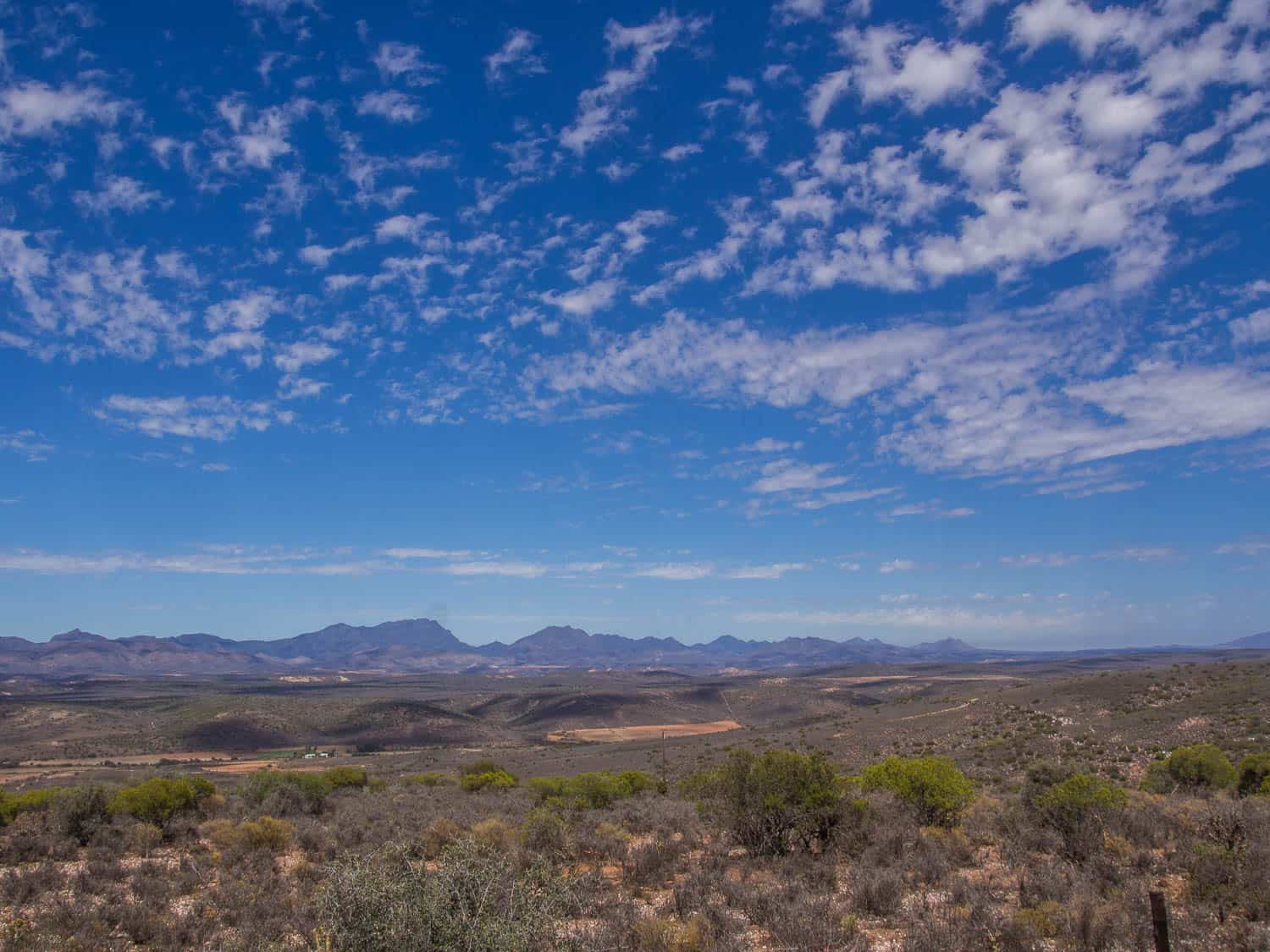 We drove to Oudtshoorn as part of our South Africa road trip from Johannesburg to Cape Town. It was a 1 hour 20 minute drive from Wilderness on the Garden Route.
Our next stop was Robertson, which took four hours from Oudtshoorn. It was a stunning drive past desert mountains on Route 62, the longest wine route in the world.
Oudtshoorn is about five hours drive from Cape Town.
Having your own car will give you the most flexibility, but you can also visit Oudtshoorn on the Baz Bus.
Things to Do in Oudtshoorn Map
Oudtshoorn was a last minute addition to our road trip itinerary and I'm so glad we stopped there. It's well worth the detour inland from the Garden Route to see a very different, stunning desert landscape and do some fun activities.
If you enjoyed this post, pin it!