This page contains affiliate links. Please read our disclosure for more info.
How do I get started as a digital nomad? This is one of the most common questions we are asked. You want to work online while travelling but your current job is not portable and you have no idea how to create a travel-friendly career.
Our advice is to look at your passions and interests and brainstorm ideas for digital nomad jobs you could potentially do—anything that requires little more than a laptop and internet connection. Don't worry if you don't currently have the skills you need—those can be learned. You won't start making money overnight—it could take years—but the life of freedom you'll have makes the hard work worthwhile.
That's how we got started once we discovered the world of digital nomads back in 2009. Travel was my passion and I loved giving friends advice for their trips, so starting a travel blog felt like the natural option. Simon had always been a geek messing around on computers and creating websites for fun, so he decided to pursue web design and development.
Neither of us knew how to do those things professionally at the time, but we set out to learn the skills we needed using any resources we could find online and putting them into practice. Nine months after we made the decision to become digital nomads, we set off for Rio with a one-way ticket and two new businesses.
Introducing Skillshare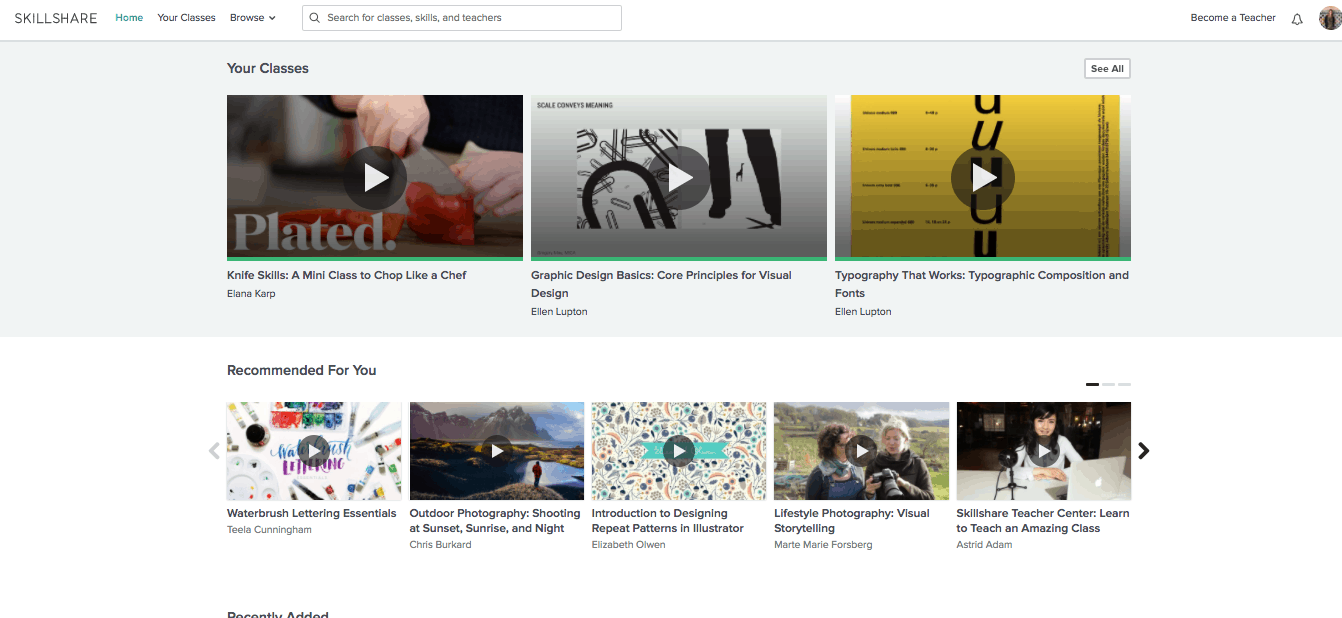 Luckily, online learning has come a long way since 2009 and there are now tons of resources online to learn anything you could possibly want to know. One of these is Skillshare, who recently invited us to try out their website.
Skillshare is an online learning community for creators with more than 16,000 classes in business, entrepreneurship, technology, design, photography, film, writing, creativity and more.
"Skillshare started with the powerful idea that anyone in the world can learn whatever they set their mind to." Michael Karnjanaprakorn, CEO and Co-Founder of Skillshare.
Skillshare aims to close the professional skills gap and provide high-quality learning to everyone. It's ideal for aspiring or existing digital nomads who want to learn the skills to start an online business.
Getting Started on Skillshare
Skillshare is usually $12 a month, but for a limited time they're giving Never Ending Voyage readers two FREE months of unlimited access. Just click here to start your two free months.
When you sign up choose topics that you are interested in to get class recommendations. I chose graphic design, photography, and writing. Other topics that might be useful to aspiring digital nomads include entrepreneurship, freelance, home business, marketing, or whatever area you are interested in (web development, film production etc).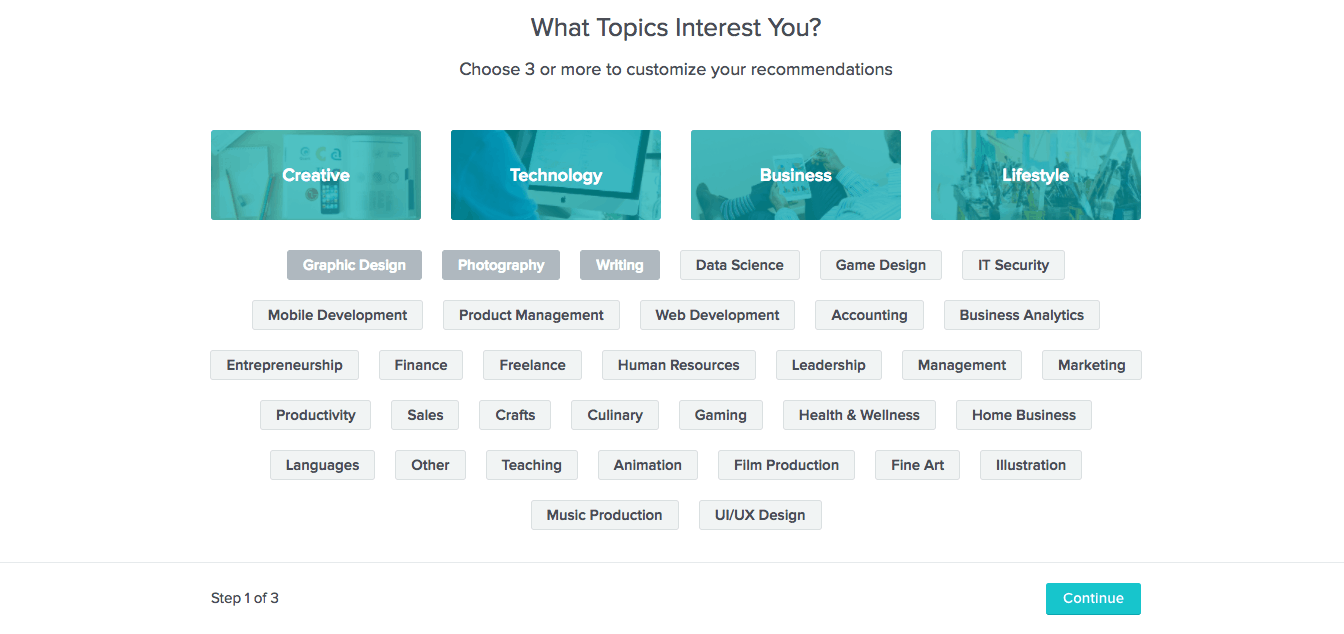 Skillshare presents you with a list of recommended classes and you can save the ones you are interested in.
There is an incredibly diverse range of classes, all taught with online videos that you can stream or download on a mobile device to watch offline. I was a little overwhelmed by the choice, so it's best to have a clear idea of the skills you want to learn and prioritise those that are most important. Skillshare has also curated some lists of classes such as "Freelance Essentials" that might be a good place to start.
Most classes are fairly short—all the ones I did were around 30 minutes—and focus on specific skills. Classes are divided into short videos of around one to 10 minutes that cover different aspects of the topic, so it's easy to study a little at a time. You can also speed up the video to save time if you find it slow.
One of the unique things about Skillshare is that anyone can sign up to teach on the site. Yes, if you are already an expert in something, you could become a teacher and create your first income stream!
I was a little concerned about the quality of the courses and how I could guarantee that the teacher knew what they were talking about. The best way to judge the quality of the class is to look at the number of students and the percentage of students that recommend it. If there are 1000+ students with a recommended rating in the high 90s then it's probably a quality course (in my experience it always was). You can also read the reviews, teacher bio, and see the completed class projects. I did find a difference in quality between the popular videos and the ones with only a hundred or so students, so stick to the tried and tested classes if possible.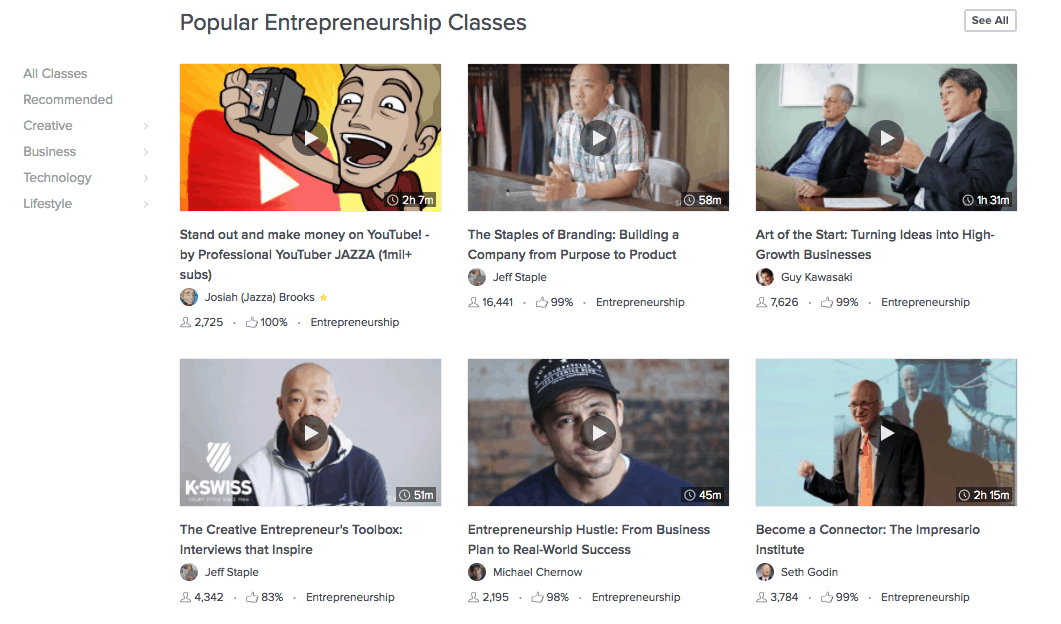 Many of the teachers are well-known experts and published authors in their field. In the business category I recognised many of the people we'd learnt from when building our business including Seth Godin, Guy Kawasaki, Gary Vaynerchuk, and Simon Sinek. Unsurprisingly these classes have thousands of students.
Skillshare Classes for Aspiring Digital Nomads
Even if you haven't decided which digital nomad career to pursue, you could do some of the entrepreneurship classes for ideas such as:
You can also take classes on specific skills such as web development, graphic design, blogging, social media marketing, freelancing, and productivity. You can learn to use Photoshop or Final Cut Pro, build a website, set up an email newsletter, market yourself on social media, and optimise your website for SEO. It seems to cover everything you could possibly need to run an online business.
Skillshare doesn't just cover business skills. You could take classes for fun on cooking (I did one on knife skills), art, crafts, and languages.
My Classes
These are the classes I took on Skillshare.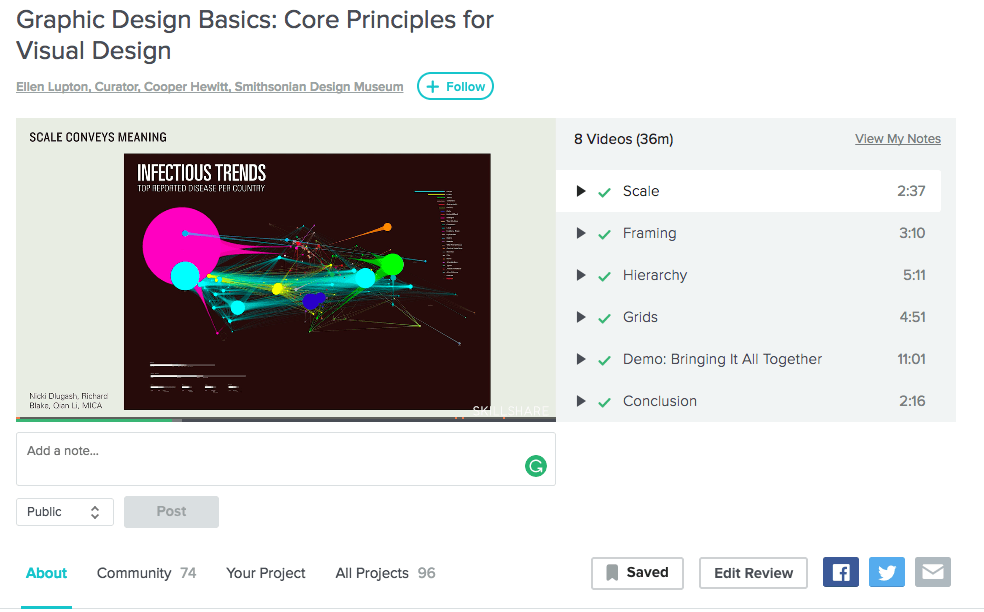 I've been learning Photoshop recently and trying to improve the Pinterest pins I create. I have been struggling without a design background, so I chose this 35-minute Graphic Design Basics class in the hope that learning some core design principles would help.
The class has nearly 15,000 students and a 99% recommend rating. The main teacher is the director of the Graphic Design MFA program at Maryland Institute College of Art, a curator at the Smithsonian Design Museum, and the published author of a number of books, so I felt sure she knew what she was talking about.
In a series of short videos the two teachers explained the basic design principles such as symmetry, scale, hierarchy, and grids with examples of how using these in different ways conveys meaning and relationships. It was professionally shot and easy to understand. The most useful video was them creating a page layout from scratch and putting the principles into practice. I loved seeing how designers work.
It was just a short introduction, but it has given me ideas to think about when creating my pins.
I always struggle with choosing fonts for my Pinterest pins so I chose this class. It's by the same teacher as Graphic Designs Basics and again has a very high number of students and recommendations.
The class gave an overview of the history of different fonts and their uses and explained how you can use alignment and emphasis to create different effects. She also created a business card and it was useful to see a designer's thought process.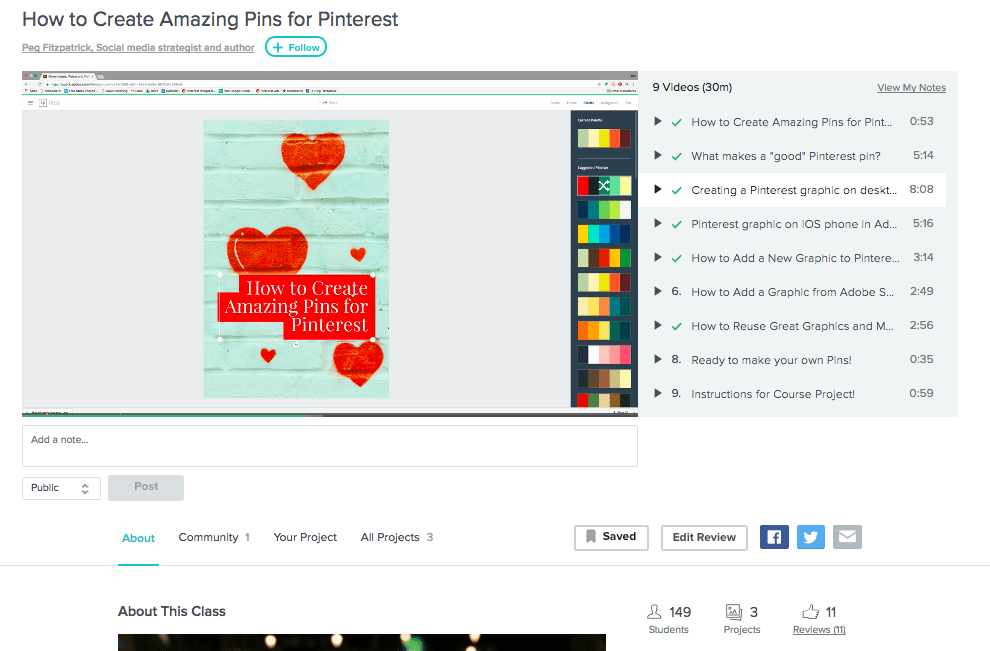 The design courses were useful but I wanted a class specifically about creating Pinterest pins. There weren't as many to choose from so I went with this class that only had 149 students but a 100% recommend rating. The video was not as high quality as the others—the volume was a bit low and the teacher wasn't quite as confident on camera as some of the other teachers—but it did have really useful content.
The class covered what makes a good pin and how to create them using the free Adobe Spark tool. It didn't have too much focus on design, so it wasn't quite what I was looking for, but this would definitely be a useful class for Pinterest beginners.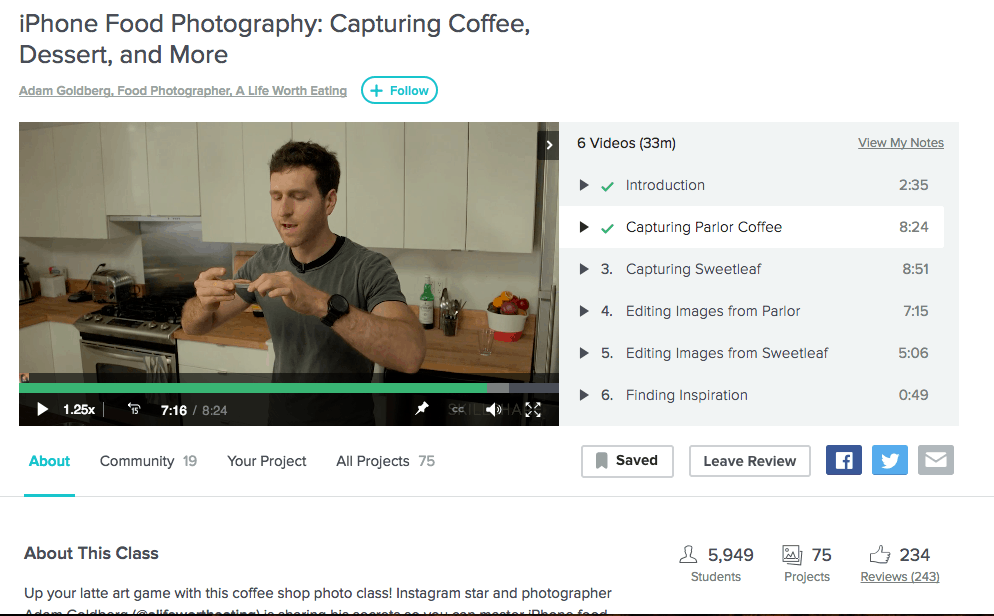 I take lots of food photos for the blog and often don't have my camera with me, so I'd like to take better iPhone photos. This class has nearly 6000 students, a 96% rating, and the teacher has 295,000 followers on Instagram.
This was my favourite class so far. The teacher was professional, confident and likeable. The videos followed him shooting in two cafes and then editing his work and it was very helpful to see his thought process. I learned loads of useful tips and was excited to try them out on our next visit to our favourite cafe.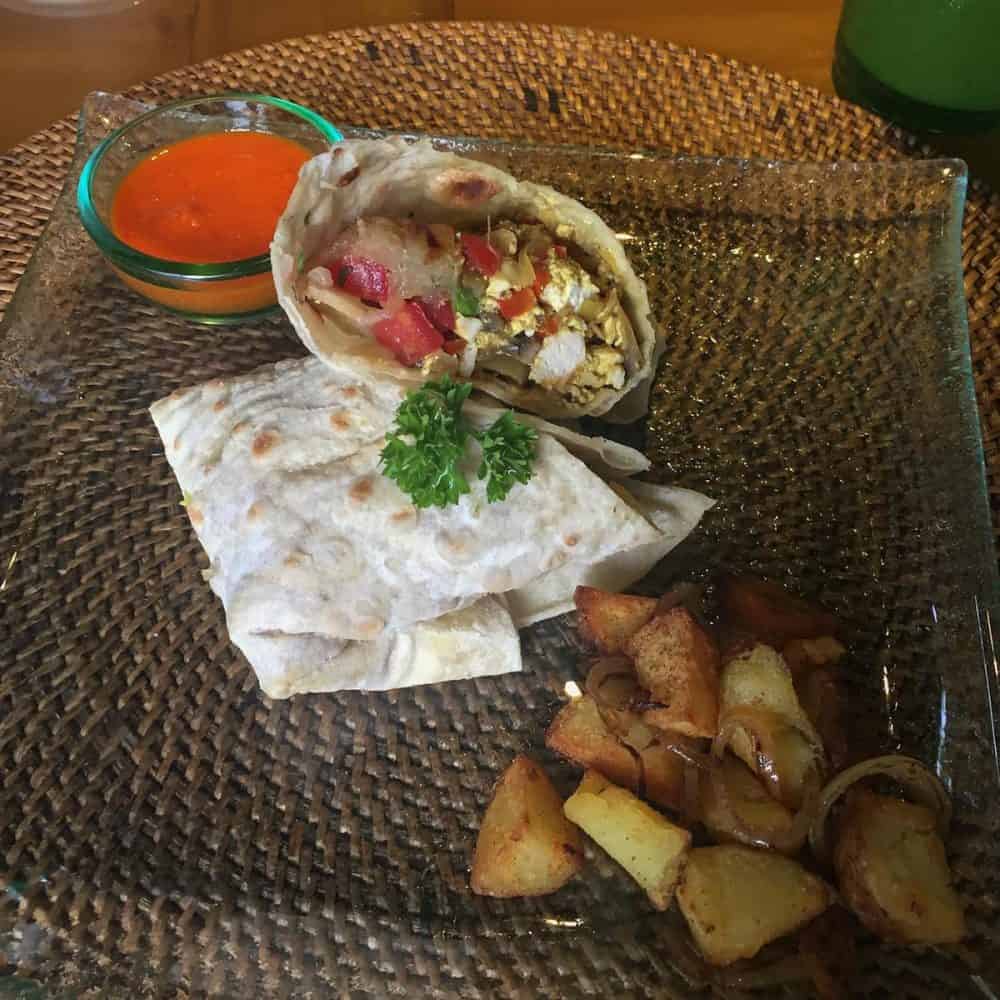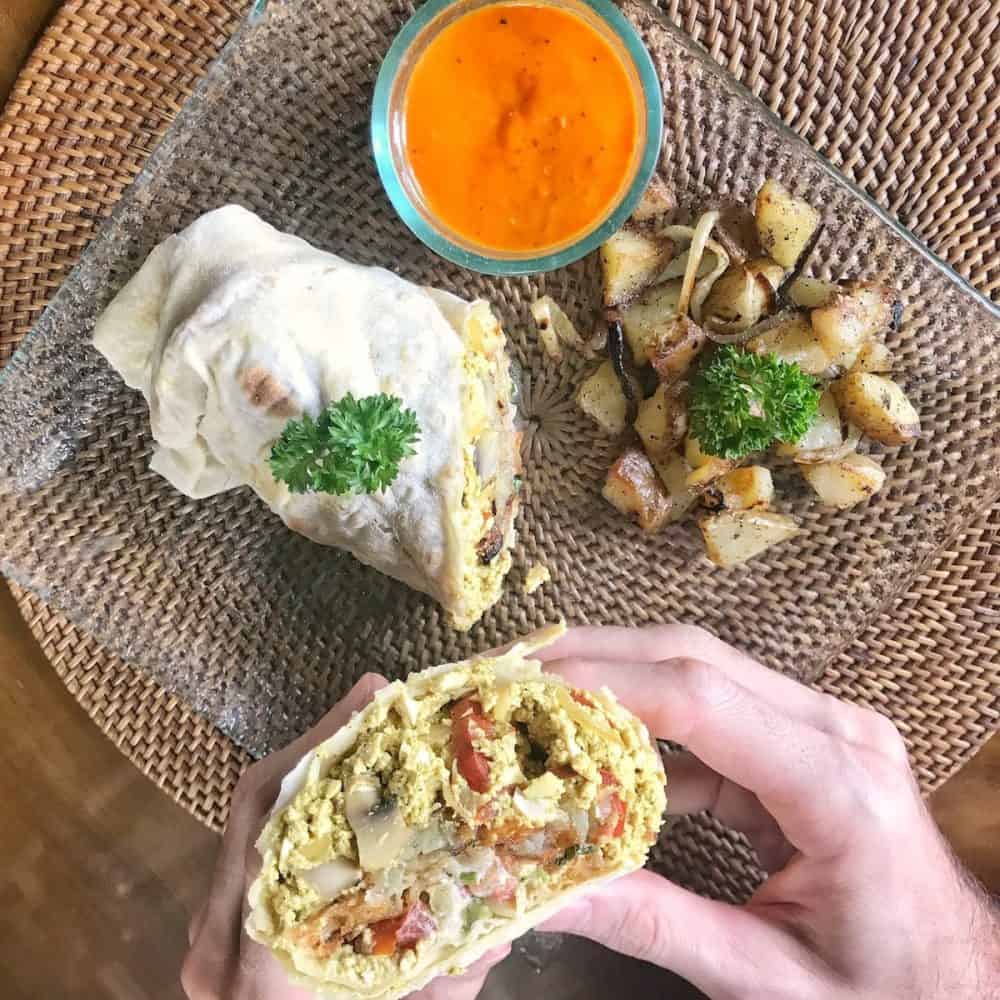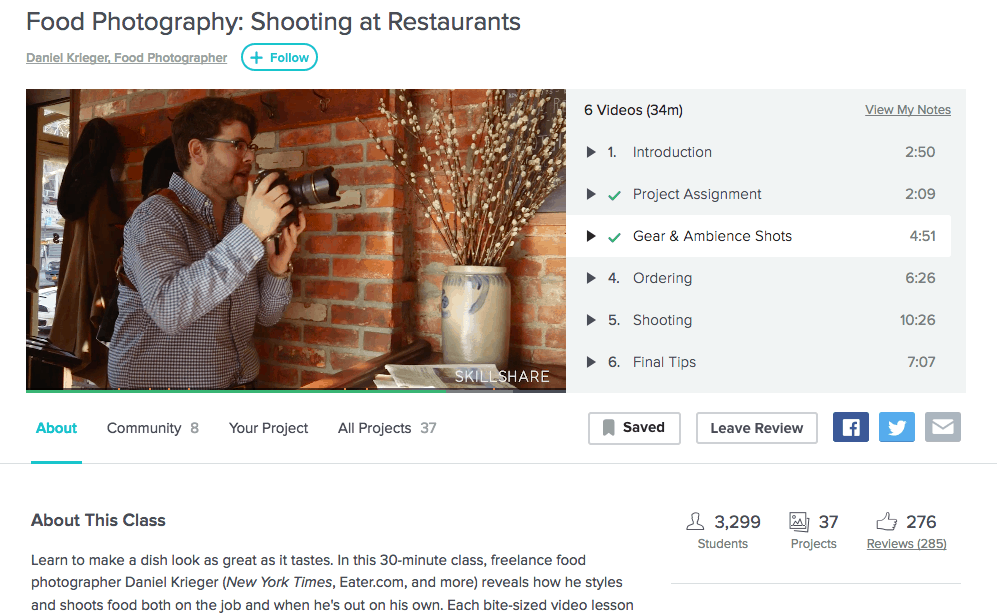 I loved the previous class so much that I decided to take another food photography class by a professional food photographer who has worked for the New York Times. The class has 3300 students, a 97% rating, and was very professional.
The class follows him on a lunch photo shoot at a restaurant using both his SLR camera and an iPhone. It gave me lots of ideas on how to create more interesting compositions and make sure I'm prepared for the shoot.
Skillshare Summary
Skillshare is a fantastic resource for anyone who wants to learn a new skill or update their knowledge. I wish it had been around when we started our business as it would have saved us so much time figuring things out on our own and searching for quality resources. Skillshare classes are available on almost every topic that an aspiring digital nomad could need from entrepreneurship to web design to marketing. Give it a try and let us know what you learn!
Click here to start your two FREE months with Skillshare.
If you enjoyed this post, pin it!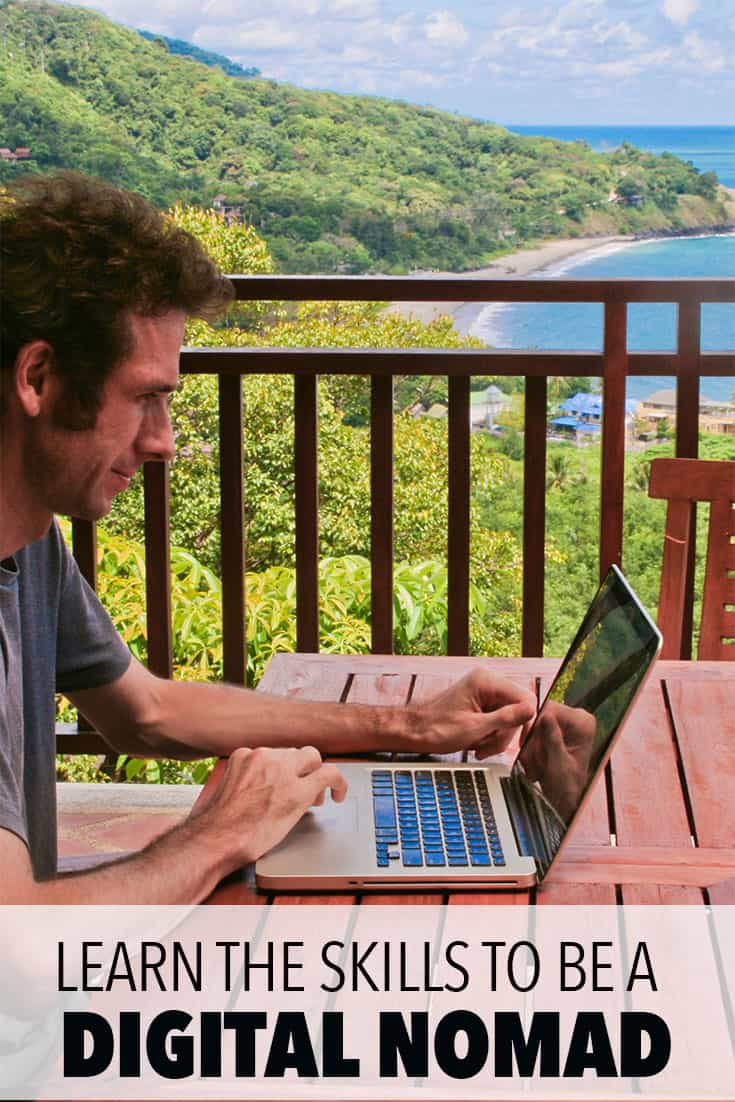 This post is brought to you by Skillshare who we are delighted to be working with to promote this great resource.